Road Trip from Berlin to Munich
This road trip from Berlin to Munich is your ticket to enjoy famous beer houses, lively festivals and historic architecture all in one. Making your way through Medieval landscapes, fairy-tale castles, cultural landmarks, and breathtaking scenery you are in for an unforgettable, once-in-a-lifetime trip!
The 1,080 km road trip from Berlin to Munich takes about 13 hours to complete going through Leipzig, Wartburg Castle, Frankfurt, Heidelberg, Rothenburg ob der Tauber, Romantic Road, Neuschwanstein Castle, or through Dresden, Prague and Nuremberg.
This amazing road trip is filled with rich historic experiences, romantic scenery, and incredible cities to visit. Read on to find out about the best routes you can take, amazing places to stop overnight, must-see things and the best time to visit Munich.
How far is Munich from Berlin, and how long will the road trip take?
Comparison of road trip routes between Berlin and Munich

| Route | Distance | Driving Time |
| --- | --- | --- |
| The Prague Route | 810 kilometers | 9 hours 10 minutes |
| The Frankfurt Route | 1.080 kilometers | 12 hours 50 minutes |
Depending on what you want to experience on the way, you can choose between two different, but equally exciting routes on this road trip.
The Frankfurt Route covers 1,080 km and takes 12 hours and 50 minutes to complete. This route will give you the ultimate Germany experience, winding through the beautiful countryside, and exploring celebrated towns.
The Prague Route gives you the opportunity to traverse the gorgeous Czech Republic. This shorter route covers 810 km, taking 9 hours and 10 minutes to drive non-stop.
Whether you are in the mood for a short, diversified journey or a leisurely ride through the charm of Germany, we suggest setting aside 6-7 days for this road trip from Berlin to Munich.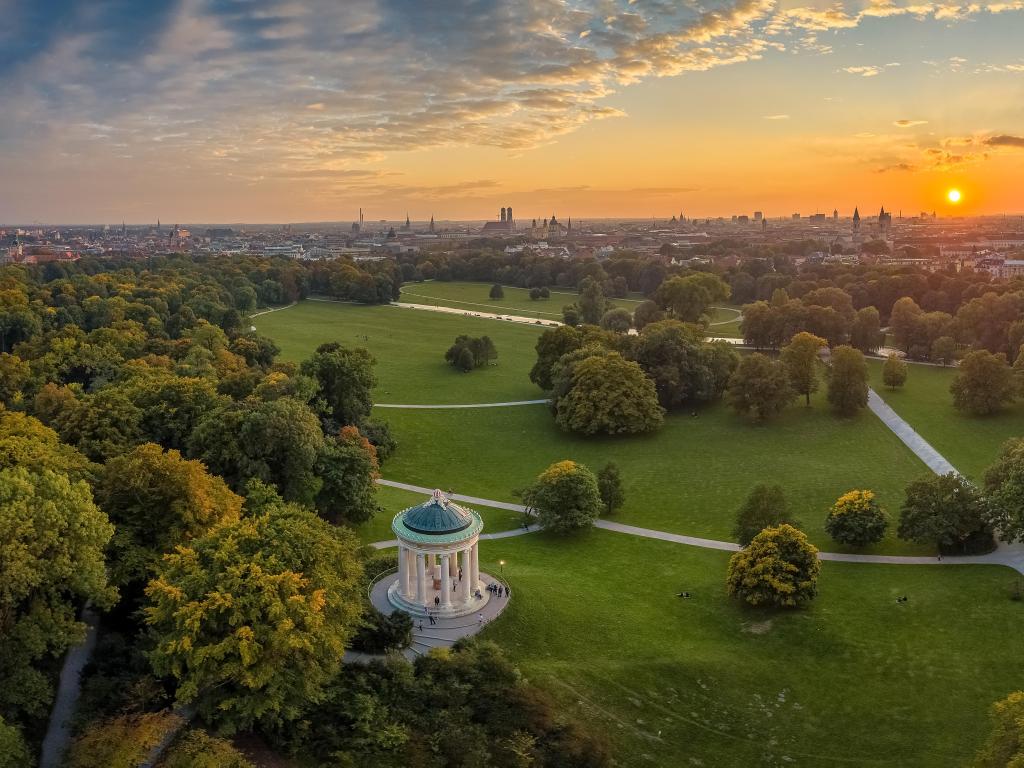 Best road trip route from Berlin to Munich
The Frankfurt Route is slightly longer, lined with small towns and castles that make Germany a pleasure to drive through. On this route, you will discover much of central and southern Germany, stopping in the major city of Frankfurt along the way.
This route will take you on a leisurely and idyllic ride along parts of the Romantische Strasse (Romantic Road), which grants access to dozens of medieval towns and fairy-tale castles. Sticking to Germany, you won't have the chance to experience Prague and the Czech Republic.
Stars on this route include Leipzig, the birthplace of J.S. Bach, where you can explore the magnificent Bach Museum and the captivating Wartburg Castle, recognized as a UNESCO World Heritage Site. It also gives you the option to take a detour to explore yet another stunning Neuschwanstein Castle.
The Prague Route is shorter and more direct, taking you through the beautiful Czech Republic to discover the absolutely stunning and cultural city of Prague. You will be able to take in the majesty of Dresden Frauenkirche, a stunning Lutheran Church that has been destroyed and rebuilt twice.
This route is ideal for history buffs as it offers a chance to stop in Nuremberg and explore the trials in the aftermath of World War II. You won't get to explore charming, small German towns on this shorter, less leisurely route.
The Frankfurt Route
Head northwest on A115 from Berlin and continue toward the birthplace of J.S. Bach, Leipzig. From there, follow B84 into Auf d. Wartburg which will take you to the sublime Wartburg Castle.
After exploring the glory of the castle, get on B19 and continue to Friedberger Tor and you will reach the buzzing city of Frankfurt. Stop here overnight to start the next half of your journey refreshed.
Resume your trip by heading west into the picturesque city of Heidelberg. Stop for a while to stretch your legs and explore the beautiful castle-like ensemble before following A7 to Rothenburg ob der Tauber. Now continue on L1060 toward Romantische Strasse.
Head southwest and weave through the enchanting "Romantic Road" and continue on B2R toward your culturally rich destination of Munich.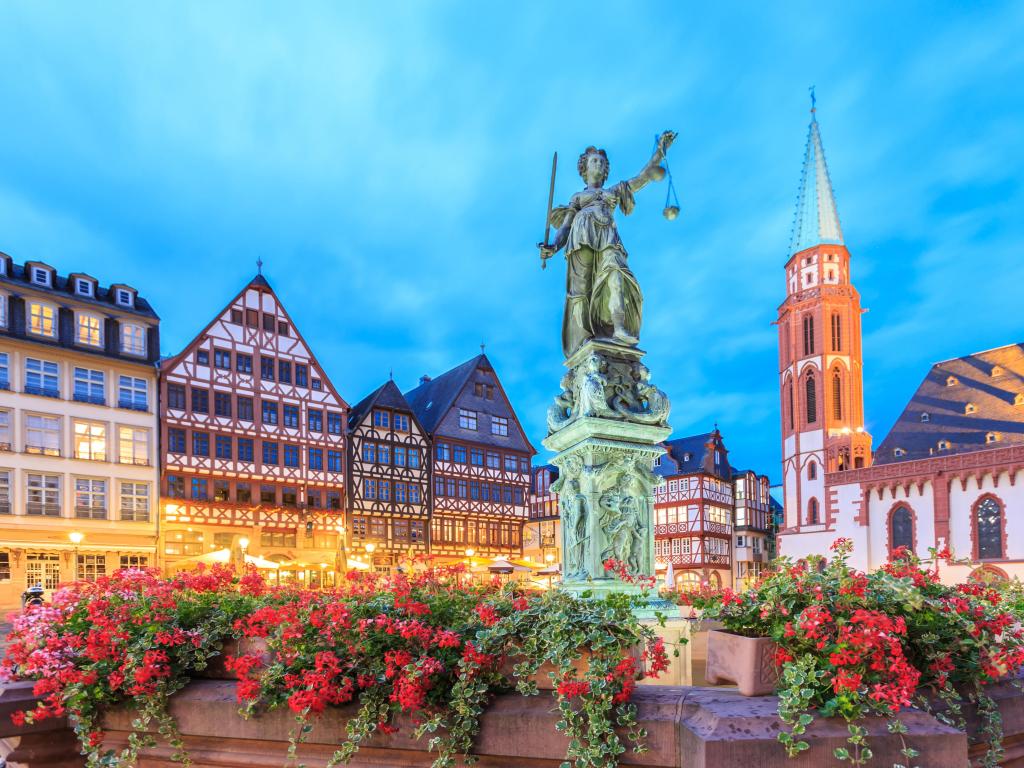 The Prague Route
On this route, get on A100 from Berlin and head toward the traditional capital of Saxony, Dresden. From there head west on Wilsdruffer Str and take D8 to Městský okruh and stop in the capital of the Czech Republic, Prague.
Stay here overnight in this larger city on the route and enjoy the active nightlife here. Prague Castle is something you wouldn't want to miss. Resuming your journey, head north toward Slezska.
Continuing on Frankenschnellweg, you will get to the city of well-preserved historical landmarks, Nuremberg. Explore this city for a while and hit the road again by taking A9 into your destination at Munich.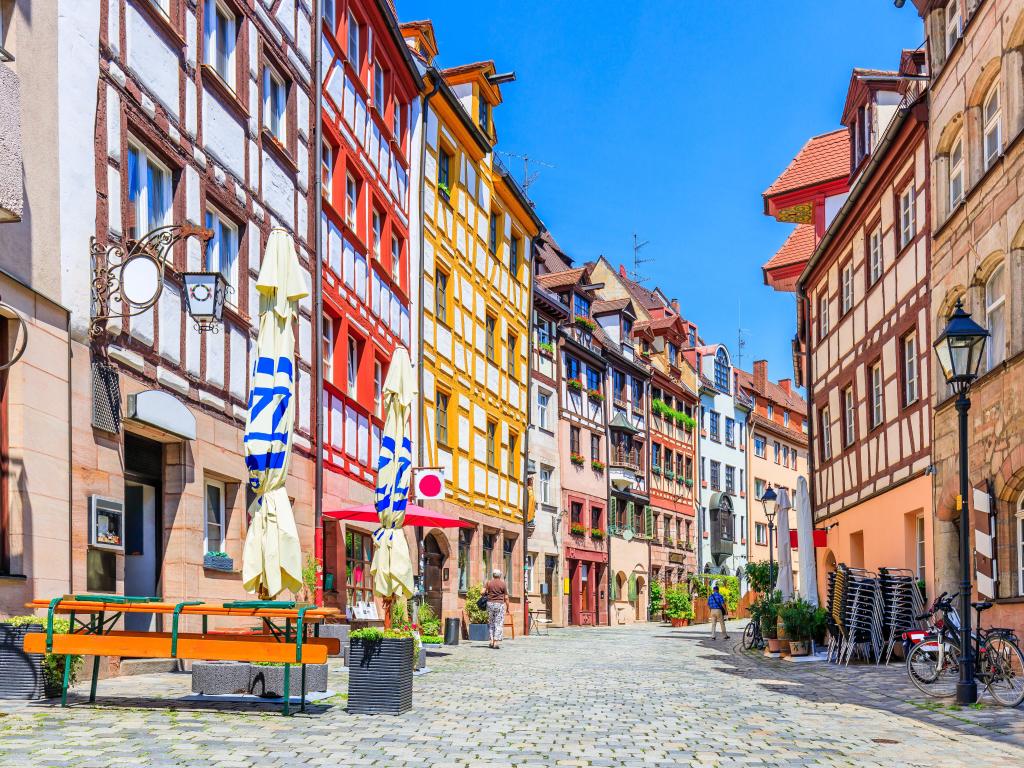 Best places to stop between Berlin and Munich
From rich historical sites and medieval castles to the breathtaking scenery of gardens, there is so much to do and explore on this road trip from Berlin to Munich. This is best enjoyed if you take a couple of breaks to rest and recharge.
Read on to discover our picks for the best overnight stops and things to do as well as our hotel recommendations on both routes.
Explore the urban heart of Frankfurt
On the Frankfurt Route, the best place to stay overnight is Frankfurt, known worldwide as the birthplace of delicious Frankfurter sausages. Located about halfway on this route, Frankfurt is the last large city before reaching Munich.
It is a transportation and business hub in Germany where you can enjoy the nightlife with lots to explore. Frankfurt is also nicknamed "Mainhattan" because of its majestic skyscrapers that give it a modern feel as compared to the more historic cities of Germany.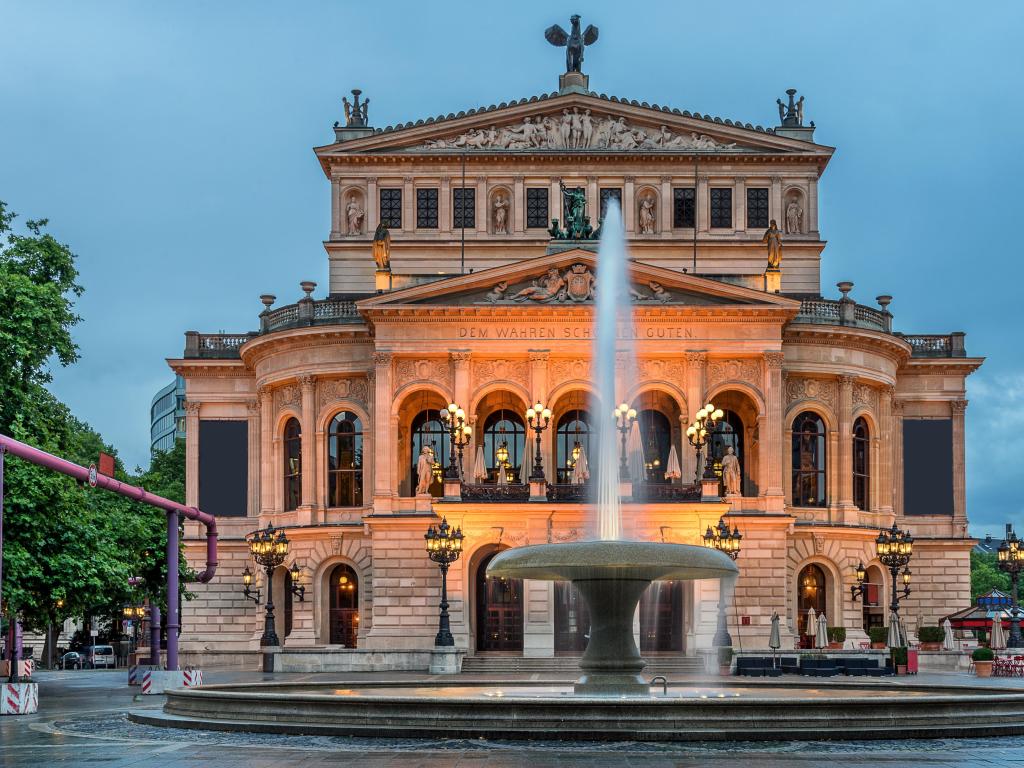 Alte Oper, a gorgeous 19th-century concert hall, is a remarkable place to explore in Frankfurt. It was the former opera house of this city which was rebuilt as an important art center after the war.
If you are after exploring more of the beautiful gems of the city, Gothic Frankfurt Cathedral will take you back through history. Then there is the Goethe House, a German author's birthplace where you can discover artefacts and learn more about his life and works.
Our vote for accommodation in this city goes to Steigenberger Icon Frankfurter Hof. Established in 1876, this historic and luxurious hotel is centrally located along the Main River allowing you to leave the car behind and explore the city on foot or the public transit system which is well-connected with it.
With luxe rooms and first-class amenities, this hotel has everything you would need during your overnight stay. You can book luxurious beauty treatments and a selection of massages in the Turkish bath and barbershop within the hotel's spa for a truly relaxing break from the road.
You won't have to leave the hotel to satiate your appetite because it has a restaurant (Hofgarten) that serves breakfast, Autorenbar that serves afternoon tea, a Michelin-starred, award-winning restaurant that offers fine dining, and a brasserie that offers more regional dishes.
Lose yourself in the medieval history of Prague
About halfway through your journey on the Prague Route, you will reach the "city of a hundred spires", Prague. Having covered half of the drive, this larger city on the route will help you relax, revive your energy and enjoy the nightlife.
With beautiful and historic architecture, Prague is a UNESCO-listed Old Town and is significantly cheaper than Germany; an ideal retreat for price-conscious travelers. It is a culturally notable city, especially within classical music, and was home to Mozart.
Prague is lined with famed medieval castles including the must-see, gorgeous Prague Castle, which dates back to the 9th century and is the biggest architectural highlight of the city. During your stay in Prague, visit the historic 14th-century Charles Bridge for walks surrounded by awe-inspiring views.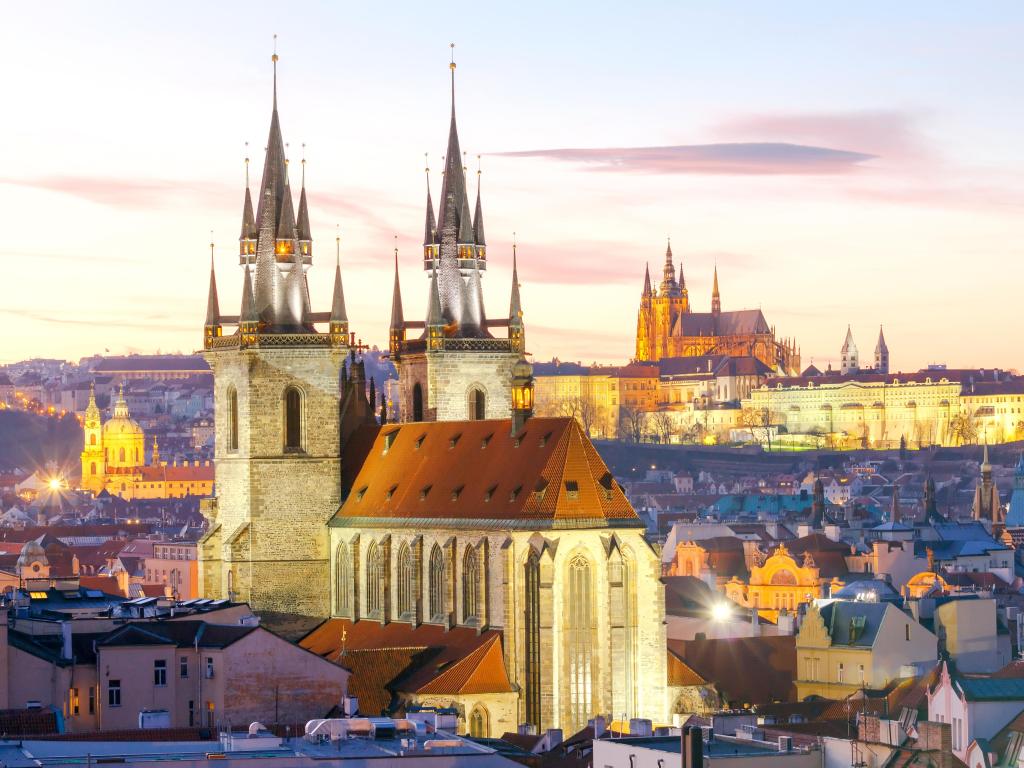 Then there is the Prague Astronomical Clock. Located in the Old Town Hall, this is a 600-year-old mechanical clock face and the oldest operational astronomical clock in the world.
Our recommendation for a hotel in this city is Grandium Hotel Prague and it's not hard to see why. The hotel boasts an amazing location in the heart of Prague, just around the corner from Wenceslas Square. It will also allow you to leave the car behind in the private car park and explore the city on foot or via public transport.
The property has modern, stylish rooms with luxurious bathrooms. Easy access to public transit as well as the main charm, on-site restaurant serving national and international cuisine and an on-site spa make this hotel an all-rounder in terms of comfort and luxury.
Where to stay when you reach Munich
After reaching your destination of Munch, you would need to stop to catch your breath for a while before heading out to explore its bubbly, refreshing speciality (fancy a beer?) as well as the rich architecture and history.
Our pick for accommodation in Munich is Pullman Munich with its modern spa and sauna facilities, making it perfect for relaxing after a long drive. Located in Schwabing, Munich's bohemian district, this hotel is near the English Garden allowing you to enjoy the beauty, beer, food, and relaxing walks right away.
Spacious and bright rooms, most of which are equipped with a private balcony, make for a comfortable and scenic stay. It also serves a rich buffet breakfast daily, allowing you to take off on your next adventure early.
If you want to stay in to recharge, you can easily do so because it has an on-site restaurant serving Bavarian cuisine with snacks and drinks available in the lobby throughout the day.
Things to see on a road trip from Berlin to Munich
Both the routes on this road trip from Berlin to Munich have plenty to offer, both indoors and outdoors. We have compiled a list of all the must-see places on this trip for an exceptional hiatus from the normal routine.
The Frankfurt Route
Leipzig – Explore this cultural city located a few hours' drive from Berlin, boasting the gorgeous architecture and celebrated as being the home of J.S. Bach.
Wartburg Castle – Go back to the Middle Ages in this beautiful castle and take in the awe-inspiring views of the overlooking countryside.
Marburg – Indulge in the medieval culture in this spire-dominated, cosmopolitan university town, which is home to the Marburger Schloss and several churches from the Middle Ages.
Frankfurt – Visit this central transportation and financial hub, producer of best-quality frankfurter sausages, offering tons of cultural attractions, including music halls and stunning botanic gardens.
Mannheim – Stop by one of the most innovative cities in Europe, the inventing place of bicycles and automobiles.
Heidelberg – Drop by the home to Germany's oldest university before taking a detour to the Black Forest High Road, voted as one of the 10 most scenic roads in Europe and take in wonderful scenery at the famed Black Forest.
Schwabisch Hall – Explore this small but mighty city to explore beautiful churches, the Hohenlohe Open Air Museum and several medieval buildings.
Augsburg – This small city boasts German Renaissance and Rococo architecture where you can discover the history of the Fuggers, a wealthy family of merchants and bankers.
Dachau – This concentration camp is located just outside of Munich and chronicles the history of the Jewish Holocaust during the Second World War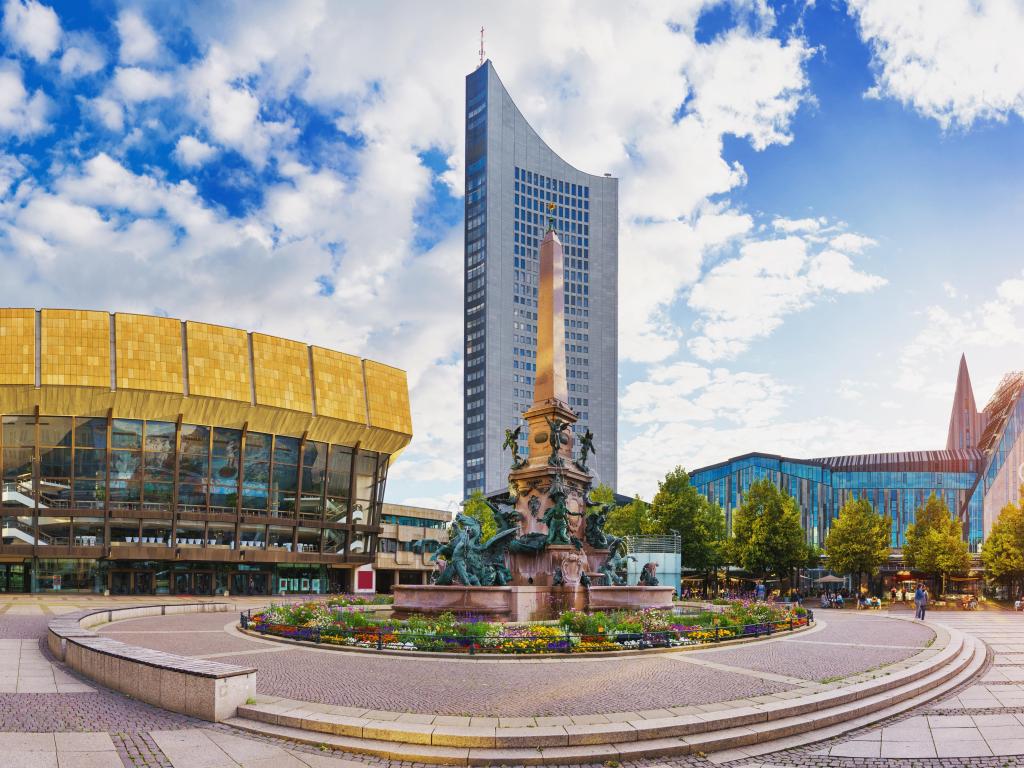 The Prague Route
Cottbus – The second largest in Brandenburg, Cottbus is a university city with many beautiful parks and a colorful array of buildings.
Dresden – Take in the architectural wonders of this city, dating back to the Middle Ages with a stunning Lutheran in an expansive square.
Usti nad Labem – Spectate the animals at the zoo and marvel at the stunning rock formations just across the German-Czech border.
Prague – Visit this must-see city that is home to several celebrated musicians and is one of the most historic and architecturally forward cities in Europe.
Pilsen – Home to several unique attractions including the Great Synagogue and the Cathedral of St. Bartholomew, this city offers a feel of the Czech Republic.
Nuremberg – Featuring several historic landmarks dating back to the Middle Ages, you wouldn't want to miss this city
Ingolstadt – The wonderful city of Ingolstadt is home to several unique museums including the Bavarian Army Museum and the Kelten & Romer Museum where you can inspect beautiful Roman and Celtic artifacts.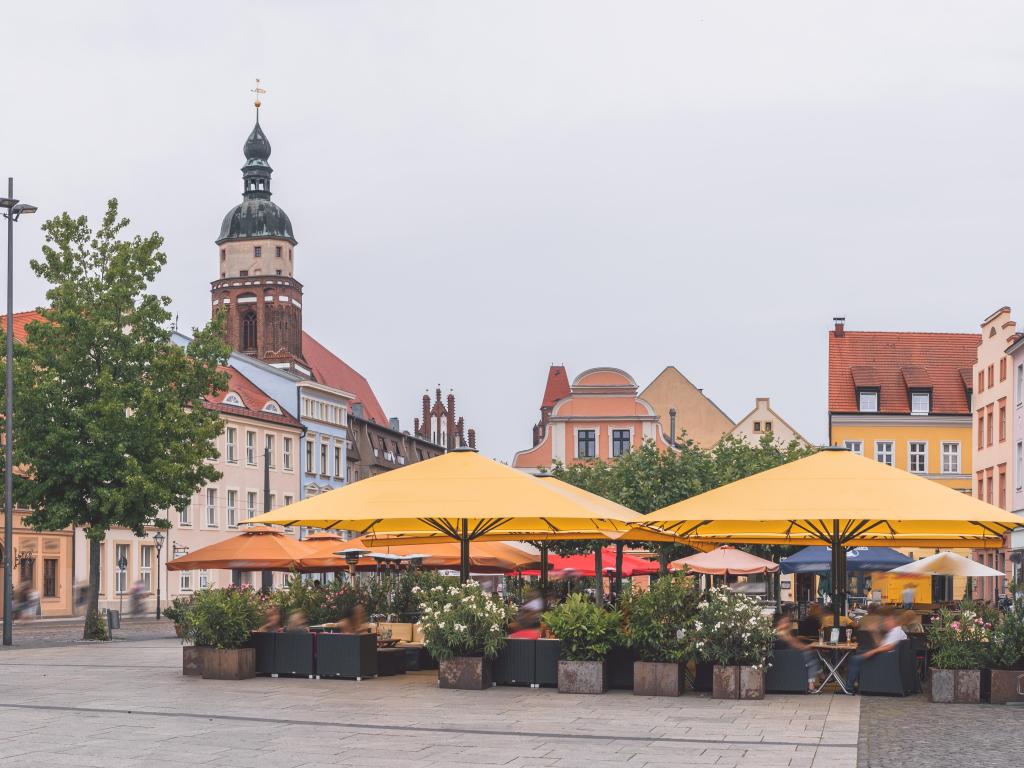 Best time to go on a road trip from Berlin to Munich
Munich can truly be visited any time during the year because this (almost) Mediterranean city has plenty of indoor as well as outdoor activities to offer. However, it is advised to avoid visiting during January and February as these are the wettest months and it can become a bit dreary.
Summer is a great time to visit Munich when budgeting or if you are into outdoor activities like rafting, dipping in the lake, surfing, and walking. This time of the year is a busier tourist season, with temperatures being around 30 degrees Celsius.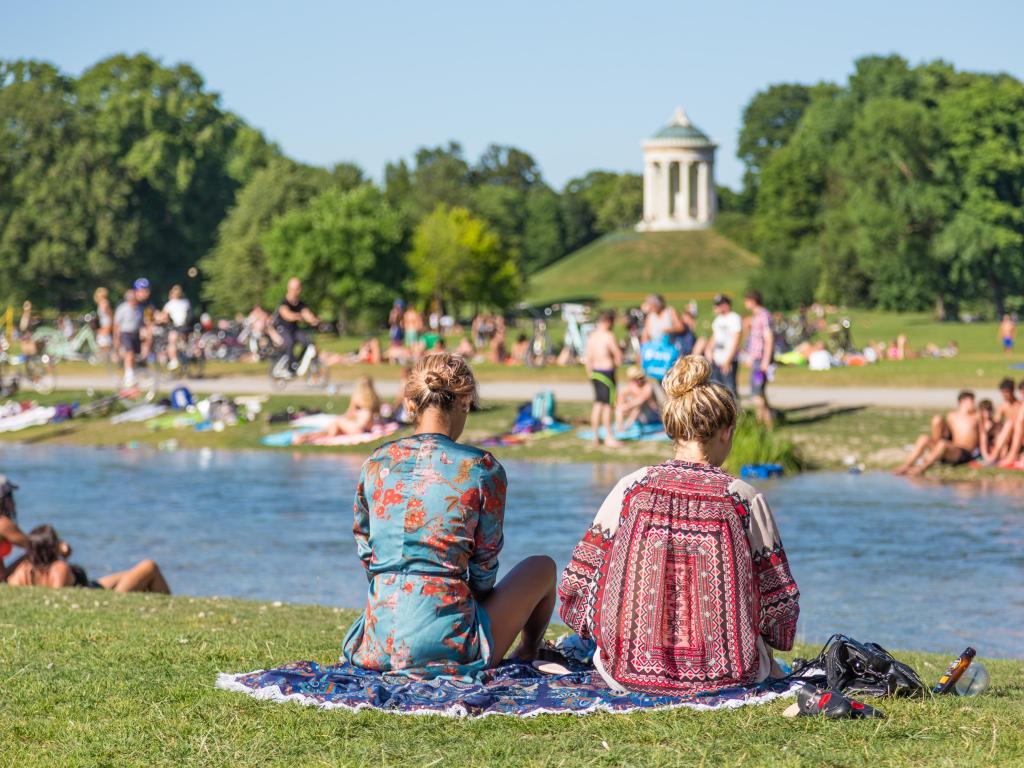 Winter makes the city come alive and turn into a truly charming and magical location, especially with the German Christmas Markets. Temperatures during this season can drop down to -5 degrees Celsius ruling out open-air activities.
If you are not a fan of large crowds, spring and fall are the perfect times for you to visit Munich. Temperatures during these seasons range from 5 degrees Celsius to 20 degrees Celsius, bringing in some wonderful weather for you to enjoy. Munich also brings in various festivals around the year.
Plan ahead if you are visiting Oktoberfest during the late September and early October months as this festival brings in a large number of people from around the world to Munich. Originally a wedding celebration, it has become an annual event with beer, German food, and a fair with games and rides.
March in Munich brings the strong beer festival, Starkbierfest with smaller crowds than Oktoberfest. Take part in the cultural and ecological activities at the festival of Summer Tollwood in July. Munish also offers you a chance to dance your heart out at the early morning festival of Kocherlball, also in July.
Then there is the amalgamation of a market and folk festival, Auer Dult that you can attend in May, August and October. Spring festival in Munich is the smaller-scale version of Oktoberfest but just as enjoyable.