Road Trip from London to Germany
Want to head on an exciting road trip across world-renowned European cities experiencing first-class sights, then look no further! This incredible trip from London to Germany takes you across the English Channel and then onto a historic, scenic and eclectic journey before landing in Germany's champion cities, Berlin or Munich.
The 770-mile trip from London to Germany is around 18 hours via ferry or the Eurotunnel crossing. Stops at The Hauge, Rotterdam, Amsterdam and Osnabrück are enroute to Berlin. For Munich, you'll peek at Calais, Dunkirk, Bruges, Brussels and Frankfurt.
You'll also find so many more inspiring places to stop off and enjoy on this European jaunt. Read on to find out more about the charming, unique sights and stunning landscapes you can see along the way, the best time to visit, and where to stay for a night or two. You'll be spoilt for choice!
How far is Germany from London, and how long will the road trip take?
Comparison of road trip routes between London and Germany

| Route | Distance | Driving Time |
| --- | --- | --- |
| The Berlin Route | 770 miles | 18 hours 10 minutes |
| The Munich Route | 840 miles | 16 hours 40 minutes |
The Berlin Route from London to Germany is 770 miles long. This route includes a ferry crossing from Harwich to Hook of Holland which takes around 7-8 hours and brings the total travel time to just over 18 hours. There are multiple ferry crossings each day on Stena Line.
If you head along the Munich Route then you cover around 840 miles, which will take just under 17 hours to complete. The trip from Folkestone to Calais via Eurotunnel takes just 35 minutes.
While you could cover both these journeys in a couple of days, we recommend allowing 4-5 days to really appreciate all the fantastic sights and cities you will travel through.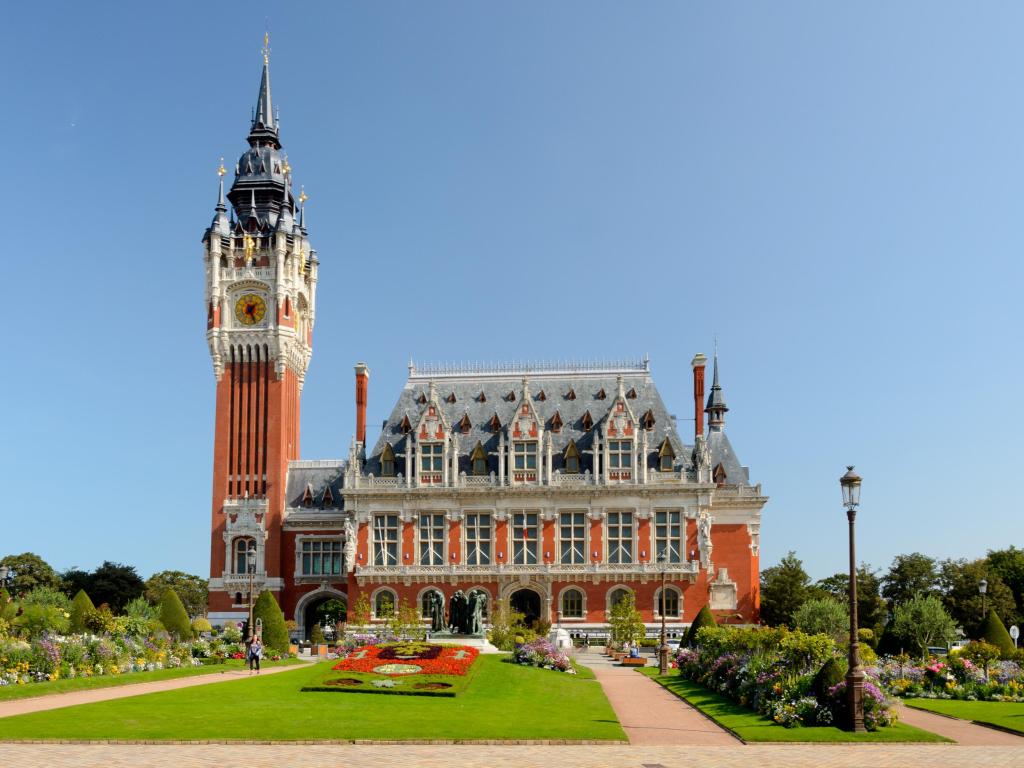 Best road trip route from London to Germany
The longer Berlin Route is packed with prominent sights and stunning landscapes. Take a visit to the political area of The Hauge 'The Royal City by the Sea', before chilling out in the iconic, flourishing city of Amsterdam.
You will have plenty of things to enjoy outdoors on this route as well. Stop off at Osnabrück Nature Park, a sight for sore eyes, with more scenic landscapes to be explored at Planten un Blomen and Mecklenburg Elbe Valley Nature Park along the way.
The Munich Route kicks off in the pretty Creative Quarter in Folkestone where you can enjoy cockles on the coast. After quickly arriving in Calais, a stop-off at Dunkirk to understand more about the WWII battles is enlightening.
A tour then across multiple metropolises including Bruges, Brussels, Cologne, Bonn and Frankfurt follows and is perfect for any city slicker. Before landing in the scenic landscapes of Romantische Straße (Romantic Street) and Neuschwanstein Castle, with fairytale-like scenery.
The Berlin Route
From London, head North taking the A13 then A12 along Chelmsford and Colchester to arrive at Harwich. A relaxing English Channel ferry crossing then takes you to Hook of Holland where you continue your drive on the N211 past politically interesting The Hauge.
From here follow the A4 towards eclectic Amsterdam, then head South on the A1 passing Amersfoort and Apeldoorn, which will lead you into Germany.
Along the 30 you will arrive at Germany's largest park Osnabrück, then North on the 1 to Bremen and then the vibrant new areas of Elbphilharmonie and HafenCity in Hamburg.
Travelling South from Hamburg then takes you on roadway 5 and then 195 to Havelberg, before heading down the 24 to reach the exciting sights of Berlin.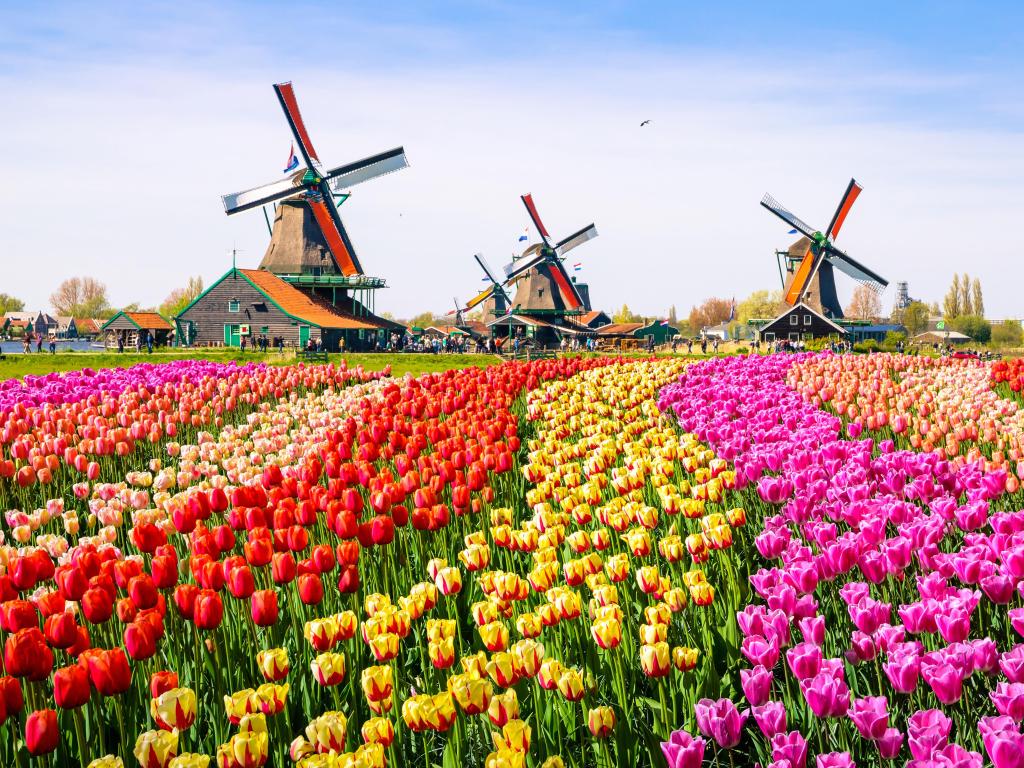 The Munich Route
Begin your trip in London by heading South along the M20, enjoying a short visit to Folkestone before travelling the Channel to Calais via the Eurotunnel.
The A16, then E40, leads you past the WWII stories of Dunkirk, arriving for chocolate, waffles and lace in Bruges. Once you've had your fill then head on the road again following the E40 past Ghent and Brussels.
Soon afterwards, you will enter Germany, where a stop-off at Cologne Cathedral provides incredible city views. Then head South passing Frankfurt and Rothenburg ob der Tauber.
The authentically German Romantische Straße is certainly an interesting stop-off, as is the beautiful Neuschwanstein Castle and you pass both on the 17, before arriving at your destination Munich.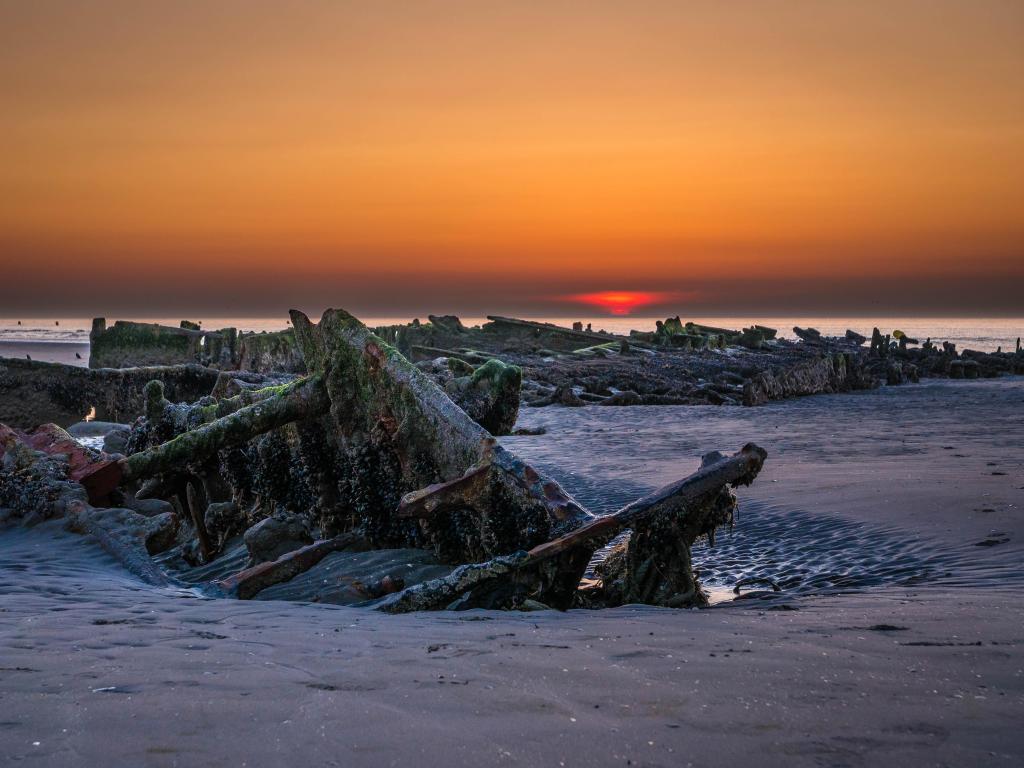 Best places to stop between London and Germany
There are so many fantastic places to visit during this road trip, from stunning landscapes and impressive museums to scenic boat cruises and fairy-tale castles.
We have chosen a couple of suggested places to stop at and enjoy an overnight stay, with ideas of what to do during your extended time and where to relax for the evening.
Discover the history behind Osnabrück
Based around halfway along the Berlin Route, Osnabrück is a great, unique central point to take a scenic break and unwind. The only city in Germany set within a nature park, TERRA.vita UNESCO Global Geopark, you will enjoy stunning landscapes as well as medieval and historical buildings.
The Osnabrück Town Hall is a great place to start, and the impressive Gothic architecture is arresting as you approach the site. Head inside for a tour to understand more about its importance in bringing peace to the area.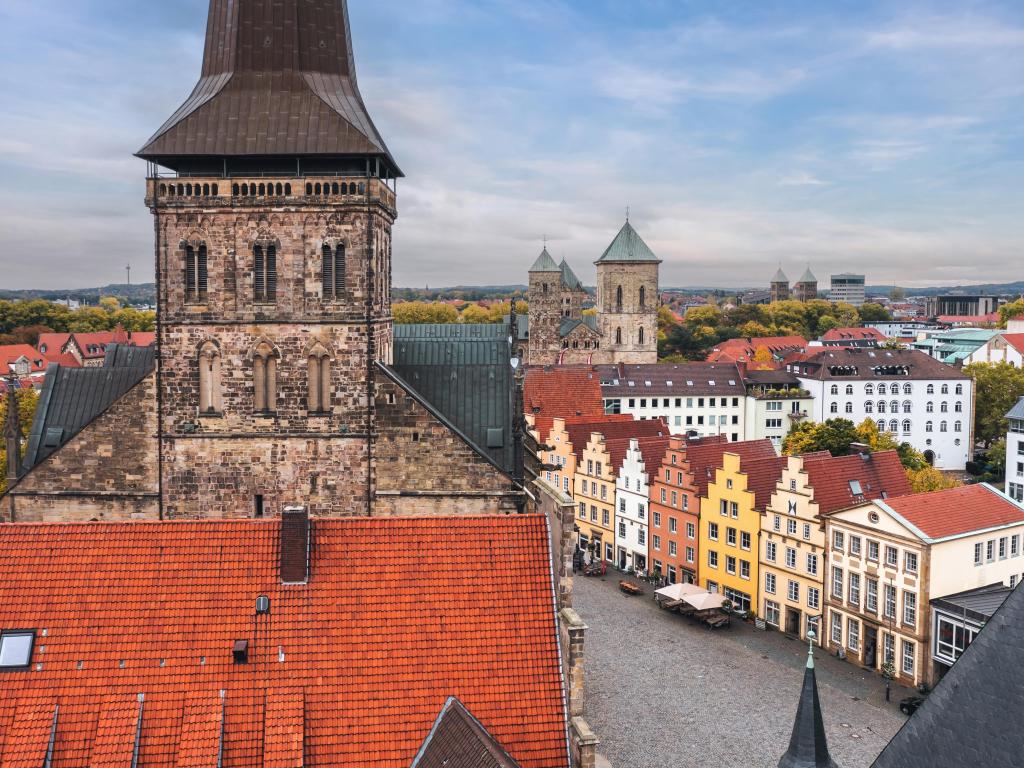 Afterwards, head off to Museum Industriekultur Osnabrück which provides a real snapshot into the history of this industrial area. This is an interactive and fun stop-off, particularly heading down the coal mine tunnel.
For a great stay look no further than the Romantik Hotel Walhalla, with its excellent location right in the heart of Old Town Osnabrück. It's only a short walk to many popular sites such as Weißenburger Platz, Cathedral Treasury and Diocesan Museum and Felix-Nussbaum-Haus.
The beautiful timber-framed building is authentic and pretty and houses stylish rooms and lounge areas, ideal for relaxing after a busy day. There is also an impressive on-site steam room and solarium for some serious downtime should you need it.
The beautiful terrace is perfect for a cocktail with a view, before heading to on-site Restaurant Walhalla serving delicious regional meals. Tasty local cuisine at its best and couldn't be closer.
Fall in love with Frankfurt
The Munich Route is teeming with great cities along the way, but there is no better place than Frankfurt as a convenient mid-point stop-off between London and Germany. A buzzing city packed with plenty of sights, both modern and historic, will whet your appetite before travelling onwards.
The Eiserner Steg Bridge, or Iron Bridge, links Sachsenhausen with the old town and is certainly worth a meander through, to see pretty views of the city. Add a padlock for a loved one before launching the key into the water.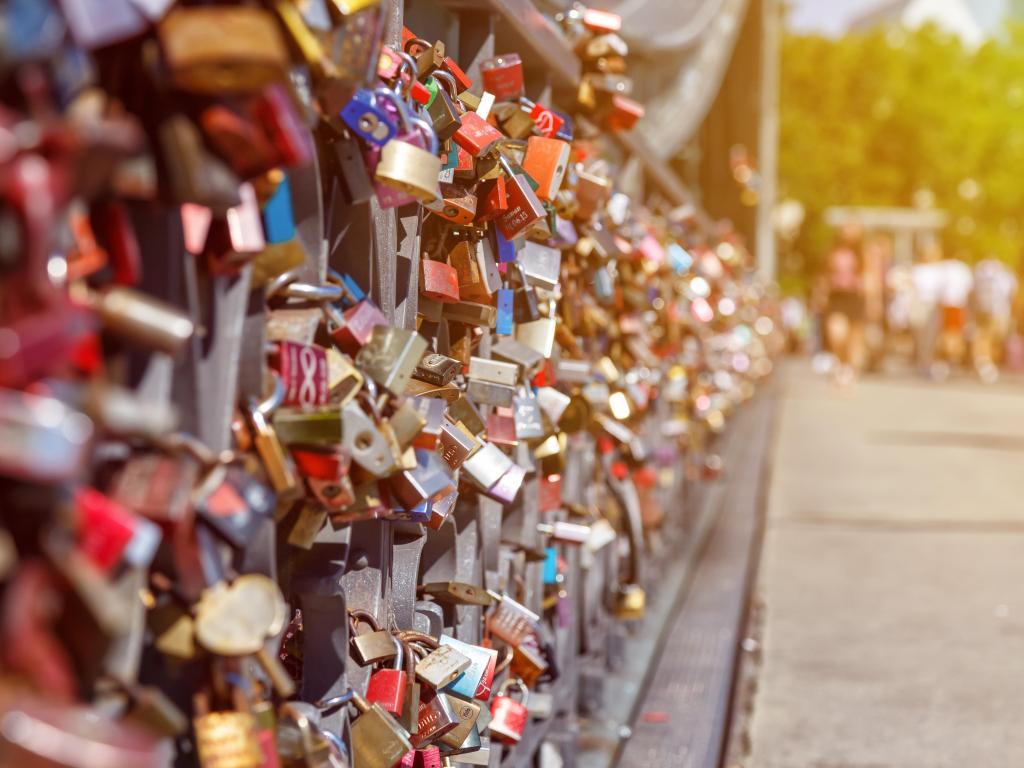 Afterwards, wander to Goethe House, once home to the poet and playwright Johann Wolfgang von Goethe. This beautiful childhood abode is definitely worth a visit, as you step back in time to his birthplace.
Impressed with what Frankfurt has to offer, then wait until you arrive at our recommended hotel Sofitel Frankfurt Opera right in the centre of Frankfurt. The superb location, off Opera Square, is very close to so many great attractions including the Historical Museum Frankfurt, Museum for Modern Art and Cathedral Museum.
Fancy a cocktail before dinner? Then Lili's Bar is the place to go. How about heading out on the terrace for stunning views as you sip on a pre-dinner drink, or two? Afterwards, head to the Bistronomique-concept Schönemann restaurant which will serve the most delicious evening meal.
Where to stay when you reach Germany
If you head along the Berlin Route, then we highly recommend a stay at the NH Collection Berlin Mitte am Checkpoint Charlie. Set in the heart of Berlin, it is the perfect spot to explore this incredible city.
Super close to many of the top attractions including Potsdamer Platz, the German Historical Museum and Memorial of the Berlin Wall, it's easy to stroll to the main sites or how about jumping on a complimentary bike to explore Berlin on two wheels.
The hotel is filled with stunning, modern décor, wonderfully spacious bedrooms and an inviting sauna and solarium to help wind down after a busy day. The wonderful NH Collection Berlin Mitte's restaurant serves tantalizing Berlin and Mediterranean meals, as renowned as a cocktail hour which you must also make sure to enjoy!
Things to see on a road trip from London to Germany
There is such a diversity of world-renowned cities and sights throughout this road trip and we have pulled together some of the best experiences you can have here:
The Berlin Route
Harwich - Arrived a bit early for the ferry? Enjoy the pretty Harwich seafront, with a harbour museum should you have more time to explore.
The Hauge - The 'home' of the Government, reflecting its importance in Holland, a walking tour is best to see this historically and politically important area.
Rotterdam Centraal - A signature building in the area, the old station site is now home to shops and entertainment and pretty grounds.
Amsterdam - A unique and lovely city, chill out in this relaxed haven. After a wander around the Jordaan and its quaint streets and canals, head to Westergas for whatever refreshments take your fancy.
Onze-Lieve-Vrouwetoren - This charming church in Amersfoort has impressive panoramic views once you climb the steep clock tower.
De Hoge Veluwe - Set in Apeldoorn, jump on a free bike to navigate through this beautiful parkland in Veluwe. The beautiful landscape is ideal for cycling, with plenty of attractions and wildlife along the way.
NaturZoo Rheine - Huge array of animals and birds to enjoy, with a petting zoo area to get even closer to the wildlife.
Osnabrück - Based in the centre of TERRA.vita UNESCO Global Geopark, the stunning landscapes and medieval buildings draw plenty of interest.
Bremen Marktplatz - Stroll the quaint Bremen Marktplatz in the centre of the city. Come evening, head here for a beer and people-watching. The holiday markets are dotted throughout this large historic square.
Hamburg - There are many new districts of Hamburg popping up that are great for a visit such as Elbphilharmonie and HafenCity. These new areas are architecturally interesting and vibrant.
Planten un Blomen - One of the largest city parks in Europe, you can easily spend the afternoon here. Spread over 100 acres there are plenty of walks, activities, and even nightly events to keep entertained.
Mecklenburgisches Elbetal (Mecklenburg Elbe Valley Nature Park) - An expansive and popular site teeming with lush woodlands, waterways, hills and valleys. A bike is a great way to tour round some of the thousands of acres here.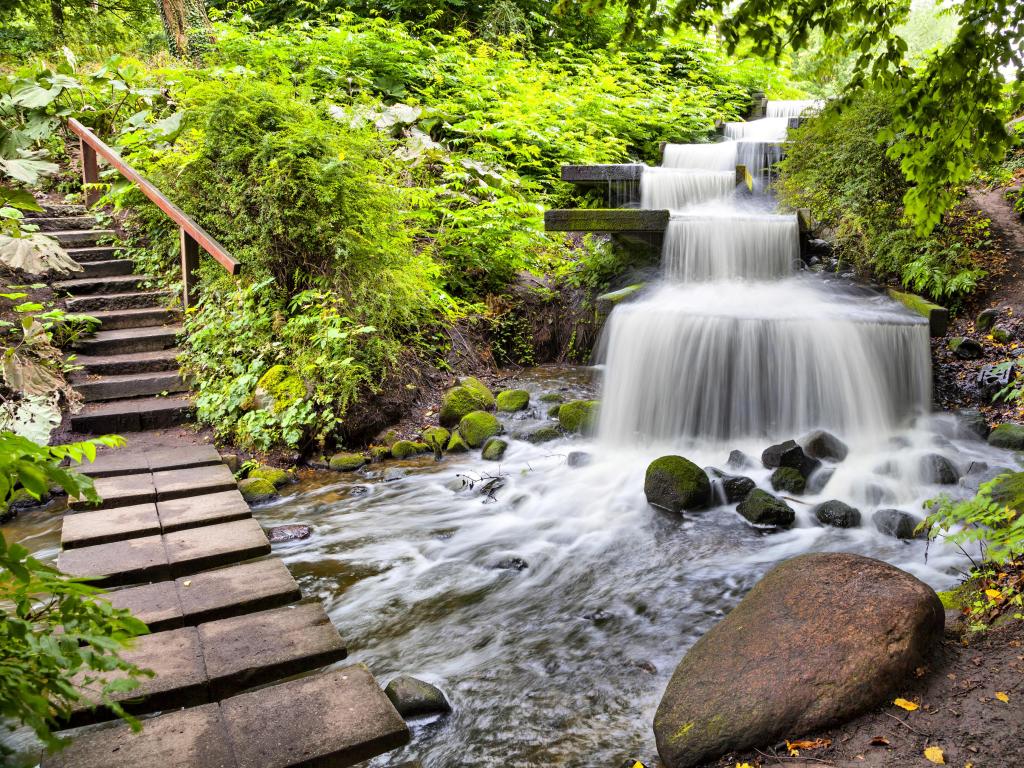 The Munich Route
Folkestone - Before heading across the Channel stop at Folkestone. The seafront Harbour Arm bars and restaurants are buzzing, and Creative Quarter is certainly worth a visit if you've time before your crossing.
Calais - Once you cross the English Channel, around a 35-minute journey, a quick stop in Calais means you can admire the sights of Place d'Armes, before heading onwards.
Dunkirk - Learn more about the Battle of Dunkirk by visiting the Dunkirk Museum 1940 Operation Dynamo, an interactive museum along the coast. Afterwards, walk the beach and be transported back to WWII.
Bruges - Best known for chocolate, waffles and lace, this charismatic and charming medieval town is well worth a visit. The Belfry of Bruges is a prominent landmark to best view the impressive scenery.
Ghent - Ghent's gentle waters are perfect for a boat ride with a great view! Jump on a day trip to see the sights of Ghent on a comfortable river cruise.
Brussels Grand-Place - This pretty and lively area is must-see. Once you have explored the Town Hall, head below to enjoy Belgian-style fries, smothered in mayo, in one of the cafes dotted around the square.
Cologne Cathedral - Listed as one of the UNESCO World Heritage Sites, this perfect example of great Gothic architecture provides incredible views of the city on top of the viewing platform.
Botanical Garden, Bonn - Visit Botanischer Garten Bonn to see thousands of plant varieties. Arrive in the warmer months to see the huge greenhouse packed with unusual species.
Frankfurt - A buzzing city packed with plenty of sights, both modern and historic. Head to Iron Bridge for impressive sights of the city.
Rothenberg ob der Tauber - The Medieval Crime and Justice Museum is a popular sight where racks and other devices show how punishment was dished out. An interesting museum – if a little gruesome!
Romantische Straße (The Romantic Road) - Founded in the 1950s this quirky area between Würzburg and Füssen appeals due to its traditional German scenery and picturesque buildings. Taste the Tauber Schwarz red wine that is only available in this area.
Neuschwanstein Castle - A fairytale-like castle protruding from the beautiful landscape. Head to Hohenschwangau to purchase a ticket to enjoy a tour round this world-renowned site.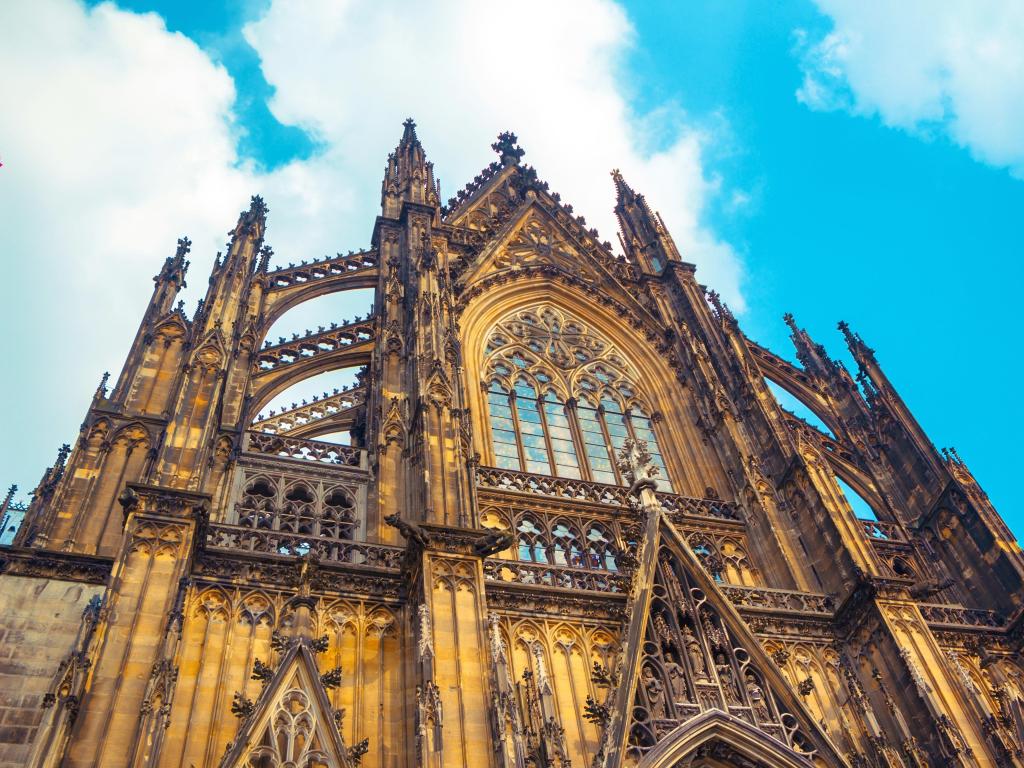 Best time to go on a road trip from London to Germany
Germany is certainly a year-round destination, with main attractions open throughout the year.
The weather is typically nicer from May to September, where temperatures can reach around 28 degrees Celsius and are very pleasant for sightseeing. There can be a spike in wet weather during the summer months, so be mindful that for outdoor attractions' precipitation may greet you.
Spring and autumn are great times to visit, with all attractions open and temperatures still mild. The weather can be unpredictable, but with a little outfit planning any time is good to go.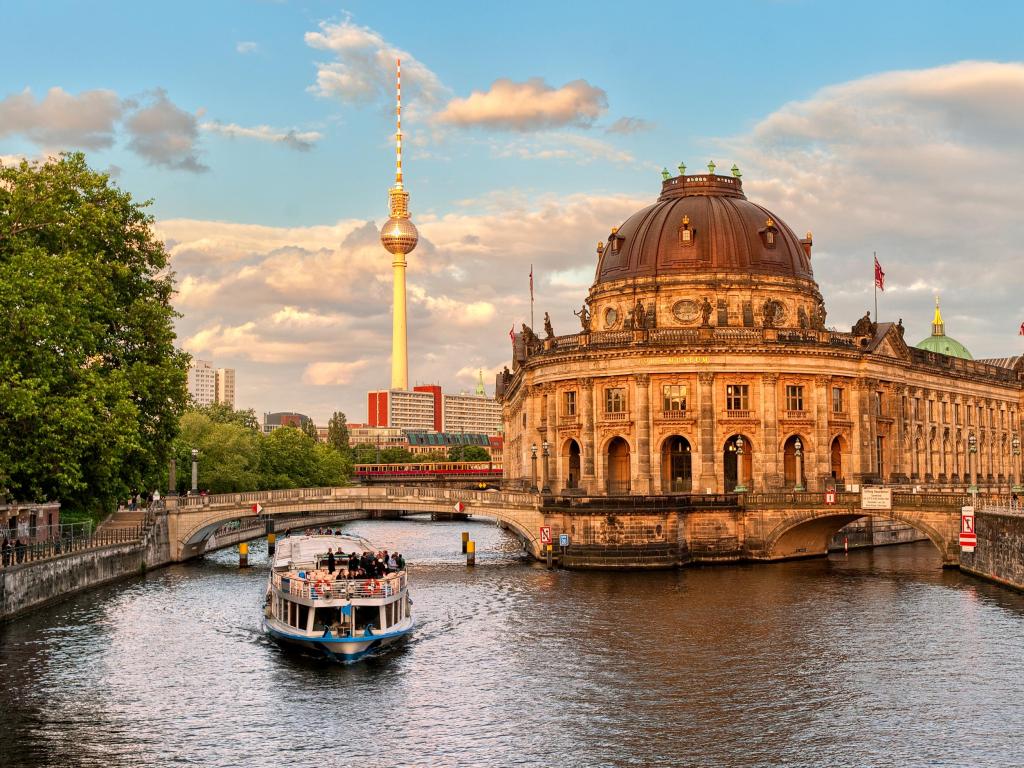 Winter is also a popular time to visit. The Christmas markets throughout Germany are a huge draw, with Munich and Berlin both holding some of the largest. A peak in visitor numbers should be expected, and for good reason.
In Berlin, there are heaps of art and cultural events. The annual Berlinale, running for over 60 years, is a huge film festival held in February. The Transmediale, celebrated in November, shares stunning art and digital work.
Oktoberfest Munich though is a huge celebration and one of the world's oldest parties. Beer from Munich Brewers is celebrated and enjoyed, with this being the 188th annual event – with revellers arriving from around the world.