Weekend in Berlin itinerary - The ultimate city break guide
Planning a weekend in Berlin or a quick city break? Our expert city break guide features advice, info and the ultimate 3-day itinerary with all the best things to do, most interesting attractions to visit, and top bars and restaurants to check out.
With its trendsetting nightlife scene, complex history and multicultural feel, it's pretty much impossible to be bored in Berlin, Germany's edgy capital city. And seeing as it's one of the cheapest destinations in western Europe, you can really make the most of everything it has to offer.
No matter what you're into - parties, history, food, art or architecture - this swinging city has it all and then some. Here's our guide on how to spend the perfect 2 nights in Berlin.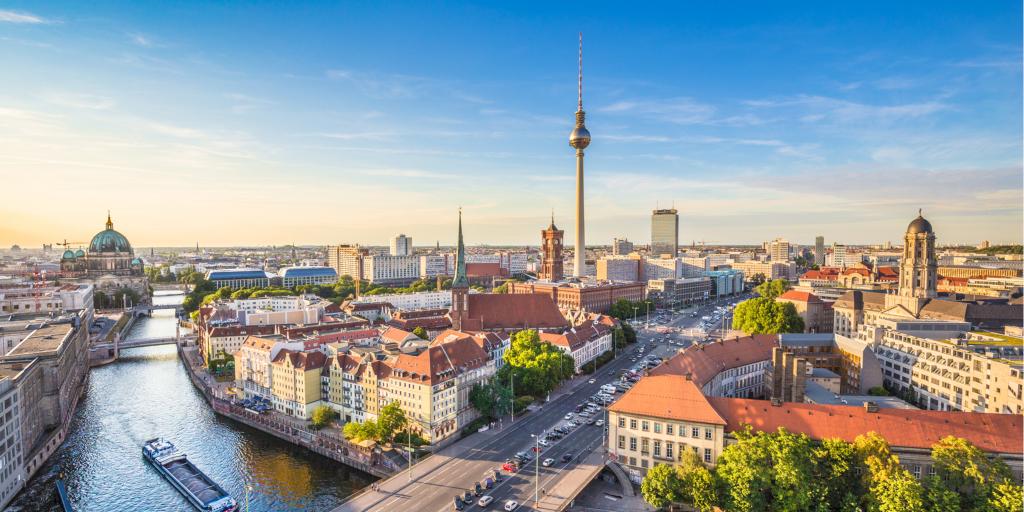 Getting to Berlin
Tegel International Airport (TXL) and Berlin Schönefeld Airport (SXF) are both very close to the city centre, making it easy to visit Berlin from London or anywhere else.
Getting around Berlin
The public transport system here is famously super efficient and easy to navigate, with first-rate tram, bus and subway services.
If you want to avoid buying a ticket every time you make a journey, the 72-hour Welcome Card (€28.90/$34) gives you free public transport and discounts for certain attractions during that period. It's valid for one adult and three children.
Since you're only in Berlin for the weekend, you might not need to use public transport at all.
If you're feeling adventurous (and if the weather permits) you should consider renting a bike for the weekend to explore the city, which has an amazing 620 kilometres of bike paths!
Berlin is sprawling but it's easy enough to see some of the most iconic sights - including the Holocaust Memorial and Reichstag - on two wheels.
Expect a rental bicycle to cost about 8 to 10 euros a day. You can also use one of Berlin's many bike-sharing apps (more on that later on in our city break guide).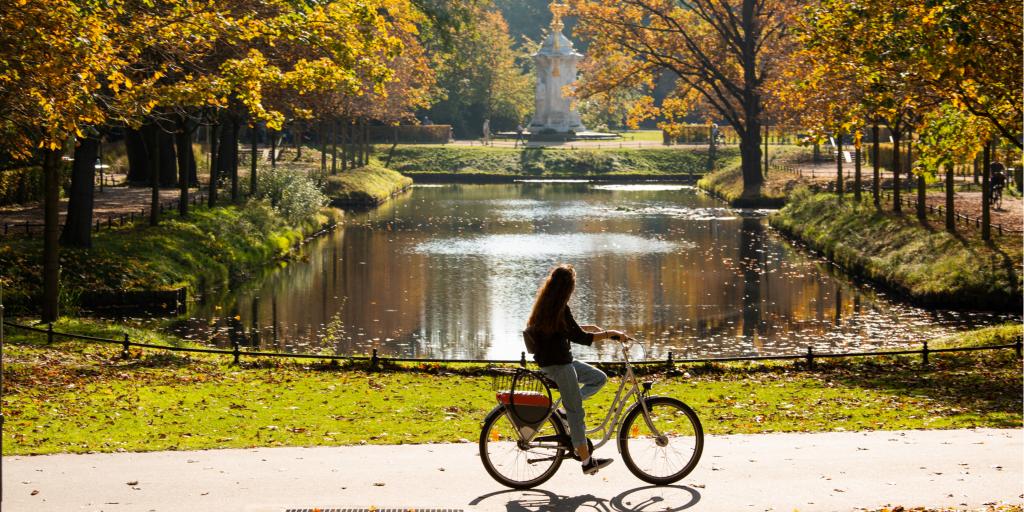 Berlin itinerary day 1: See all the top World War II landmarks
Your weekend in Berlin begins with a walking tour of the city's most famous historic landmarks, many of which are located within the central Mitte neighbourhood.
Visit Checkpoint Charlie
Start at Checkpoint Charlie, which marked the border between East and West Berlin and has been featured in many a Cold War film.
This legendary spot attracts a lot of tourists, but it's worth seeing it up close to understand a bit of Berlin's history.
Save your money and avoid taking photos of the guards though - they'll charge you a fee!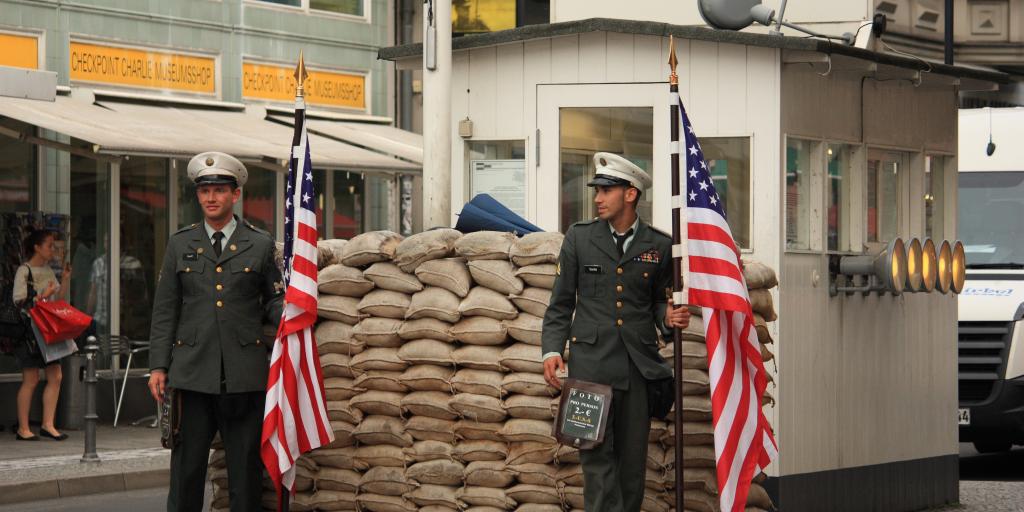 Head to Topography of Terror - the former Gestapo HQ
From there, walk west to Topography of Terror, located on the site of the former Gestapo headquarters, where the Nazis rose to power.
This chilling outdoor/indoor museum will give you an introduction to Berlin's dark and tragic past, making it a worthy stop on your historic Berlin tour.
Plus, entrance and audio guides in English are both free.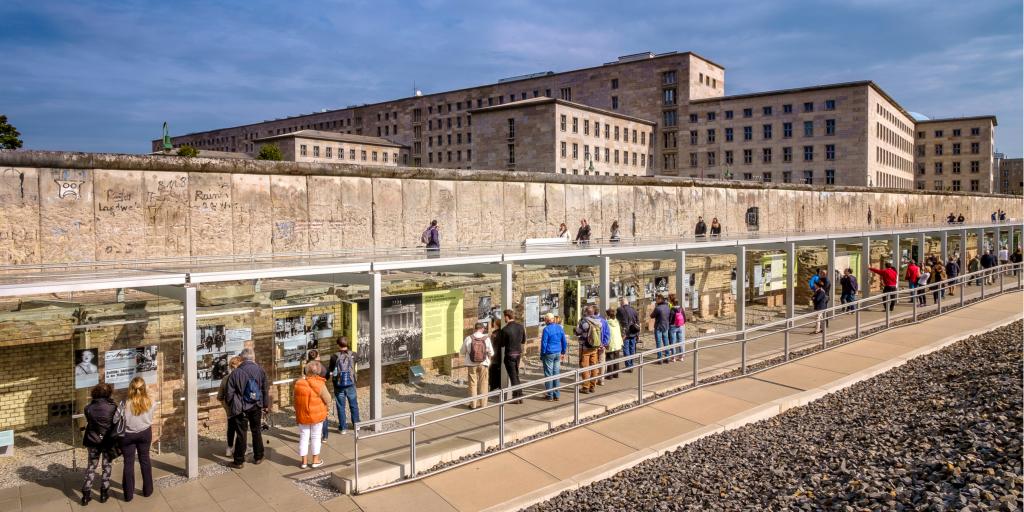 Learn the stories of Jewish victims at the Holocaust Museum
To get to your next stop, walk north on Mauerstraße towards the Holocaust Memorial, also known as the Memorial to the Murdered Jews of Europe.
You might want to bring along a box of tissues; this landmark dedicated to the millions of Jewish victims of the Holocaust is incredibly moving.
It's definitely a tear-jerker, but this memorial is one of the most important places to see in Berlin. For €3, you can get a pair of headphones to listen to the sad stories of these victims as you walk among the seemingly endless sea of concrete monuments.
Underneath, there's a free museum with even more detailed explanations of these harrowing events.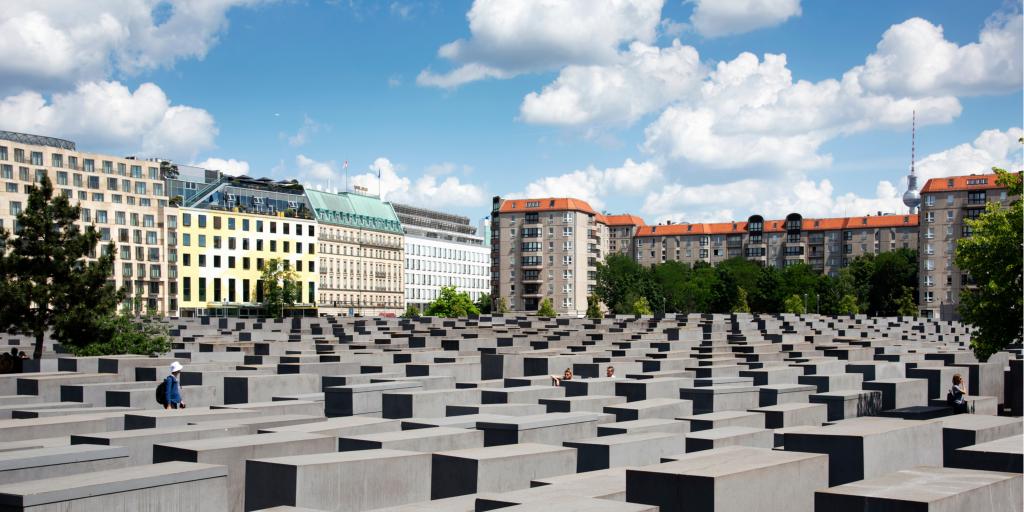 Gawk at the iconic Brandenburg Gate
After you've explored the museum, walk north along the edge of Tiergarten Park, and about halfway up you'll see one of the city's most famous landmarks: Brandenburg Gate.
Built in 1791, this 18th-century gate looks like something from Ancient Greece - and indeed, it was modelled after Propylaea, the gateway to the Acropolis in Athens, Greece. Twelve Doric columns are topped by a chariot drawn by four horses, making for quite the stunning sight.
Throughout the years, Brandenburg Gate has played a part in many important political and historical events.
These days, it has come to symbolise German unity and peace since the end of the Cold War. Every year on New Year's Eve, about a million people gather at the gate for a famous party, featuring live music and fireworks.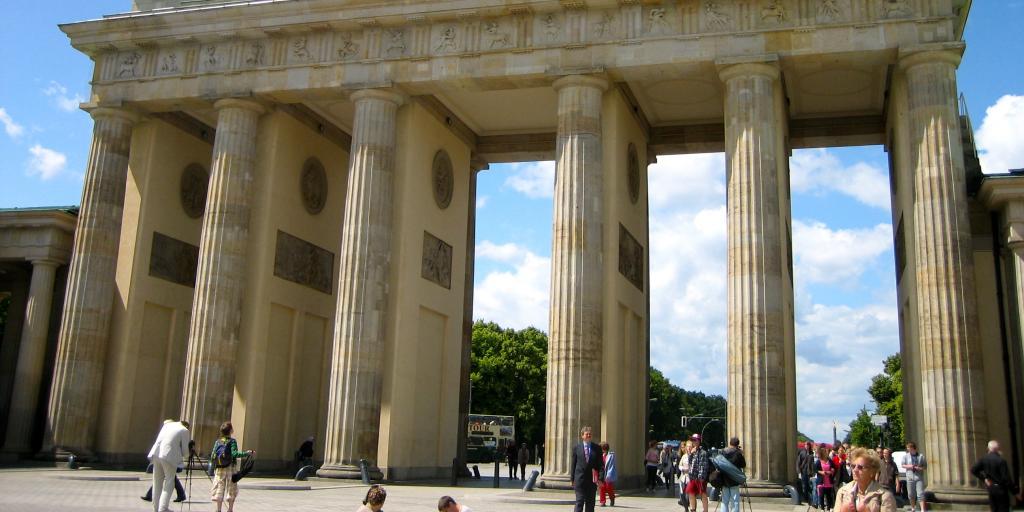 Tour the Reichstag
One block north of Brandenburg Gate you'll find the magnificent Reichstag building, with its Neo-Renaissance design and glorious glass dome.
The Reichstag once housed the Parliament of the German Empire and the Weimar Republic until a fire in 1933 destroyed much of the building.
It wasn't fully restored until the 1990s, with the construction of the huge glass dome adding to the building's touristic appeal.
At night, it's beautifully lit up and from within, you can see 360-degree views of the city.
(Note that entrance to the roof is free, but you need to register online in advance before you visit).
When you're visiting the Reichstag, it's worth paying for a tour of the building to learn about its fascinating history and the role it played in Hitler's rise to power.
It's also right on the edge of Berlin's oldest park, the Tiergarten (at 210 hectares, it's one of the largest urban gardens in the country.)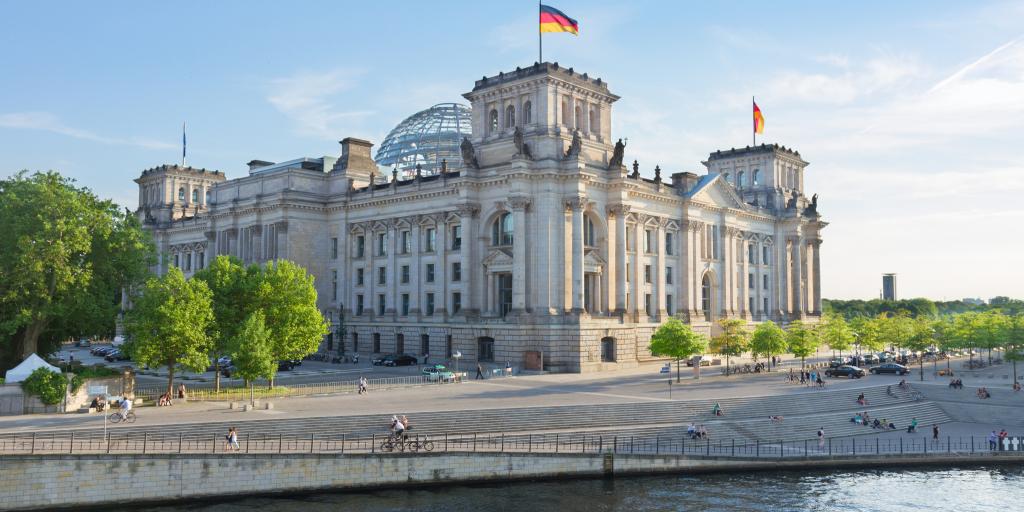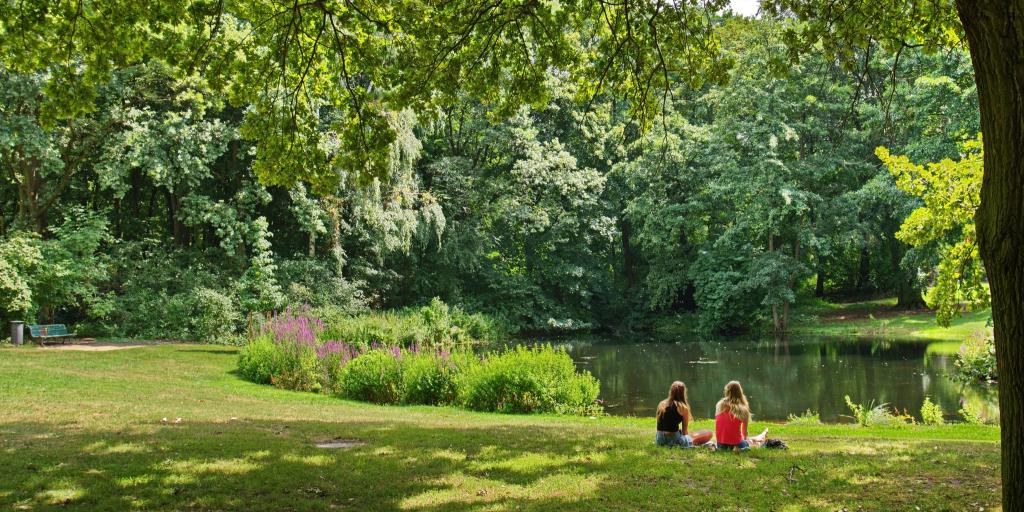 Have lunch in Alexanderplatz & see the World Clock
If you're feeling peckish, hang in there: it's almost lunchtime.
Next step on your itinerary is to walk eastward to Alexanderplatz if you feel like stretching your legs, or you can rent a bright orange bike from a nearby Donkey Bike station (go to Donkey Bike - Berlin bike rentals to get the app before your trip and unlock access to bikes all around the city).
Alexanderplatz, known to locals as simply Alex, is a large public square in the Mitte neighborhood and one of the main centres of life in Berlin.
Choc-a-block with fun restaurants and bars, Alexanderplatz is the perfect place to grab a bite and do some people watching. Treat yourself to a pretzel (brezel) at Ditsch or have some Asian fusion food at momotaro tavern to fuel up for the rest of the day.
It's also a good spot to view the Fernsehturm TV Tower, which at 368 meters high is the tallest building in Germany.
The World Clock (Uraniaweltzeituhr), built in 1969, is also located right in Alexanderplatz. It's shaped like a giant turret and features a revolving cylinder that displays the time in all 24 time zones across the world.
Nearby the clock on the other side of the square is Neptunbrunnen, an ornate 19th-century fountain depicting Neptune, the Roman god of water. This is a popular meeting place for locals and visitors alike.
If you're still hungry, hop on the U8 U-Bahn line from Alexanderplatz to the U Kottbusser Tor stop.
Two minutes west of the roundabout on Reichenberger Street is Konak Grill, a Berlin institution serving up delectable Turkish food. The traditional kofte sandwich is a must and will fill you right up!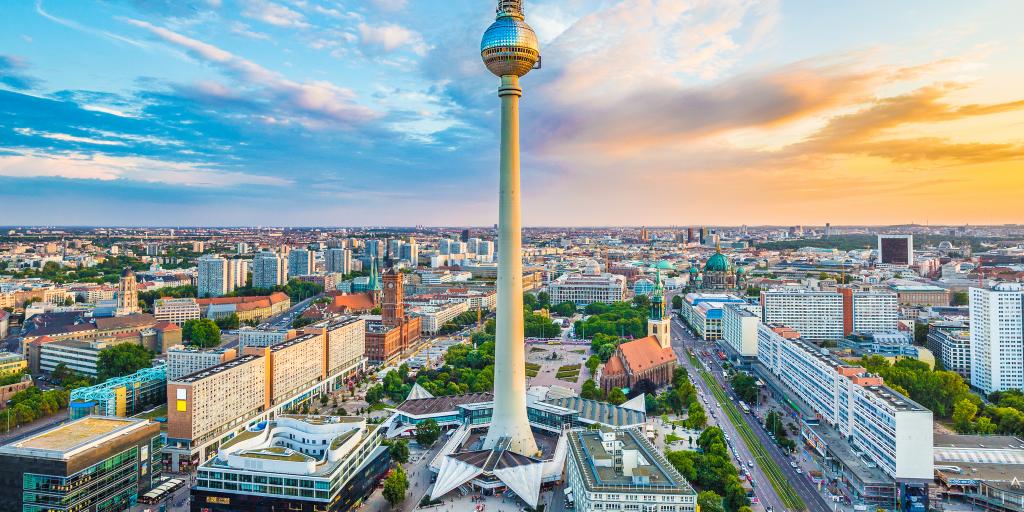 Experience Berlin's famous nightlife
Once you feel sated, head back to your hotel and rest up before experiencing the varied and vibrant nightlife that Berlin is famous for. It's the weekend (and a holiday at that) after all!
The canalside Club der Visionaere has a gorgeous location underneath an enormous weeping willow. It's perfect for watching the sunset while you enjoy a beer and mingle with local Berliners.
If you prefer something a bit calmer, spend the evening at one of Berlin's famed opera houses like the Berlin State Opera or the Komische Oper Berlin, where you can see incredible musical performances and plays.
If you're in the mood to party, note that clubs in Berlin don't get busy until around 1am.
Most of the popular hotspots are in and around the Mitte, Prenzlauer Berg and Friedrichshain districts Electronic music fans: be sure to check out Watergate! And if the weather's nice, you should make time to visit some of Berlin's top rooftop bars.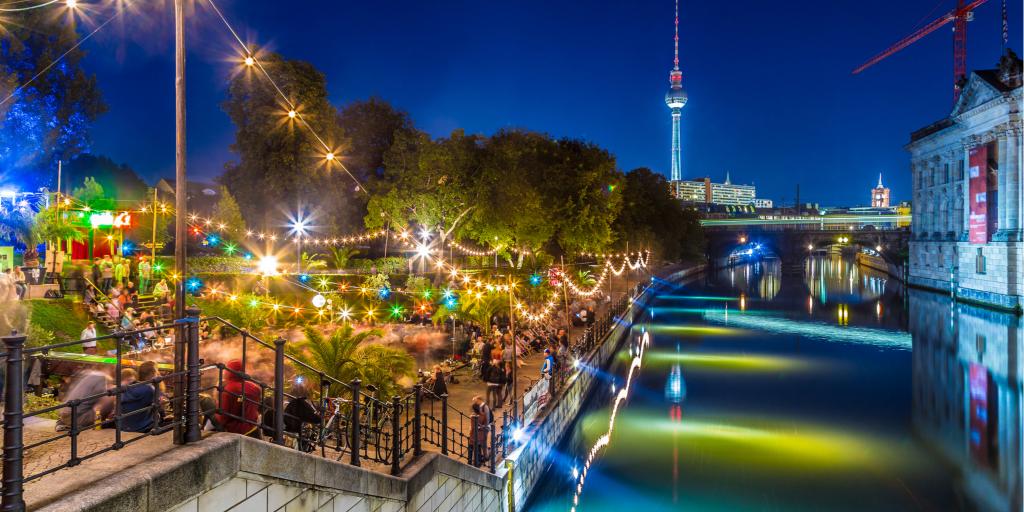 Berlin itinerary day 2: See the Berlin Wall & Explore Museum Island
Have a German breakfast at Kollwitzplatz farmers market
This morning you get to sample some of Berlin's best local produce at the Kollwitzplatz farmers market in Prenzlauer Berg, a pleasantly untouristy district.
This beautiful neighbourhood is filled with independent cafes and has a warm and welcoming atmosphere.
At the market, which takes place every Thursday and Saturday (open from around 9am), you'll find fruits, cheese, homemade jams, wine and other picnic-friendly foods that are mostly locally produced. Buy some snacks and soak in the atmosphere!
Once you've had your fill of German treats, take a walk along Knaackstraße to Wasserturm Park, home of Berlin's oldest water tower.
If you have kids in tow, let them explore the playground while you relax in the shade of the trees. Wasserturm Park is also the perfect spot for a picnic, so if you bought some goods at the market, now's the time to enjoy them!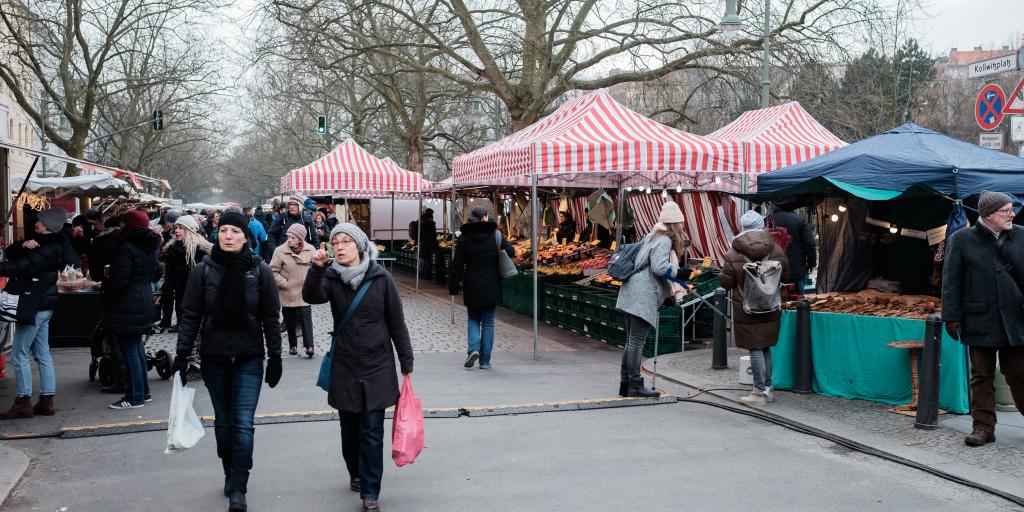 Cross the River Spree to Museum Island
A 35-minute walk southwest of the park in the middle of the Spree River is Museum Island (Museumsinsel), arguably the top cultural highlight in all of Berlin. You could spend all day exploring the five museums on the island, and the stunning architecture in itself will have you marvelling for hours.
The Pergamonmuseum, which houses ancient Greek and Roman art collections, is a popular choice, as is the iconic Altes Museum just steps away.
You can also visit the ornate 19th-century Berlin Cathedral Church (Berliner Dom) in front of the tranquil Lustgarten park.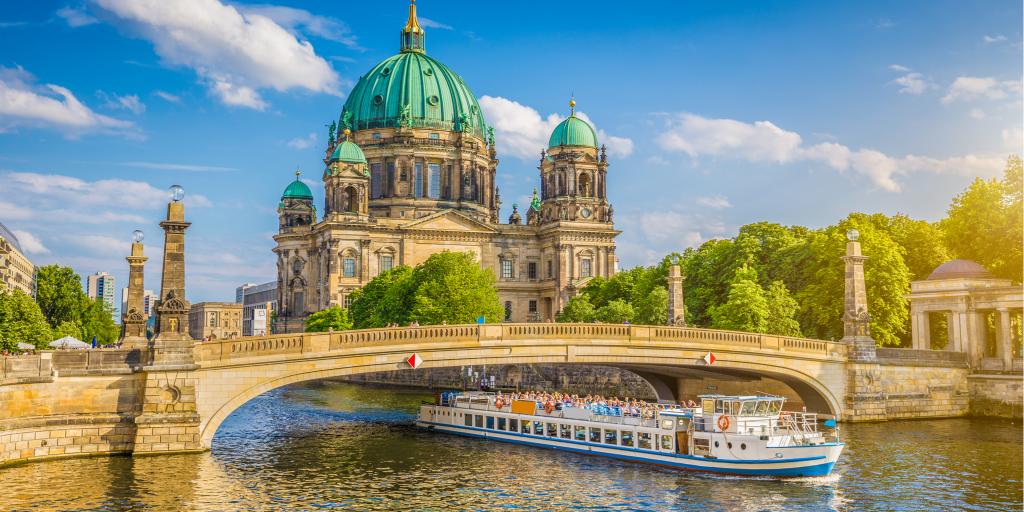 Bike to the East Side Gallery - part of the Berlin Wall
From Museum Island, ride your bike or hop on the 248 bus to the East Side Gallery, the last remaining stretch of the Berlin Wall and arguably one of the most amazing outdoor art galleries in the world.
Following the fall of the Wall in 1989, dozens of artists came over to the East and used this block of concrete in Friedrichshain-Kreuzberg as a canvas for their works.
The colourful murals they created have become an unofficial memorial to freedom.
The East Side Gallery is open to the public around the clock and receives more than three million visitors each year.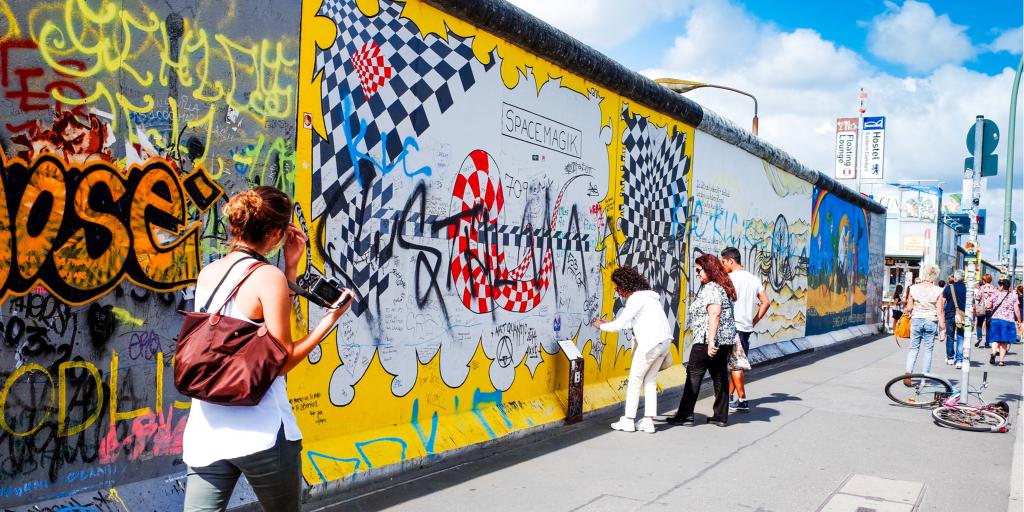 Have dinner at Joseph Roth Diele
Now's the moment you've really been waiting for: a chance to enjoy some authentic German fare.
The understated Joseph Roth Diele restaurant in Schöneberg is a veritable relic of the 1920s, with a warm, friendly atmosphere and an old school feel. Welcoming staff and a piano in the corner give it even more charm.
To make the most of your dinner, order the pork schnitzel, goulash and some local beer. Book your table in advance to avoid disappointment!
Berlin itinerary day 3: Brunch in Kreuzberg, bike to an abandoned airport & take a canalside stroll
Good morning! Your trip to Berlin is coming to an end (sad face), but before you leave there's some more exploring to do. Wake yourself up with a cup of coffee at your hotel and then make your way to Kreuzberg.
Have brunch in the trendy Kreuzberg neighbourhood
For one of your final weekend indulgences, head to the south bank of the river across the Oberbaumbrücke bridge and treat yourself to brunch at the super popular Restaurant Bastard in the trendy Kreuzberg neighbourhood.
Bastard is known for dishing out delicious fresh food in a cool, bohemian setting. Expect classic options like sausages and scrambled eggs along with vegetarian and vegan choices and homemade brioche.
You might have to wait 10 to 15 minutes for a table, but it will be worth it.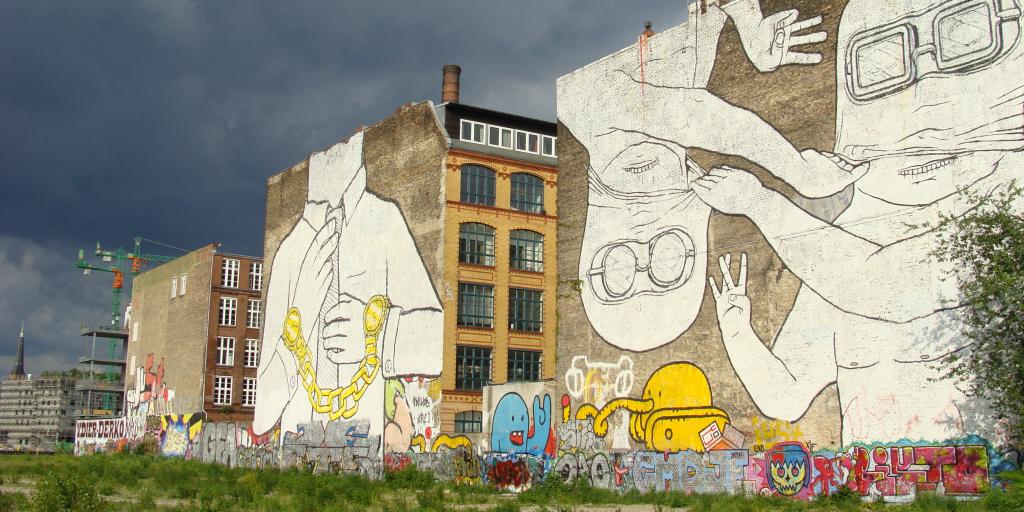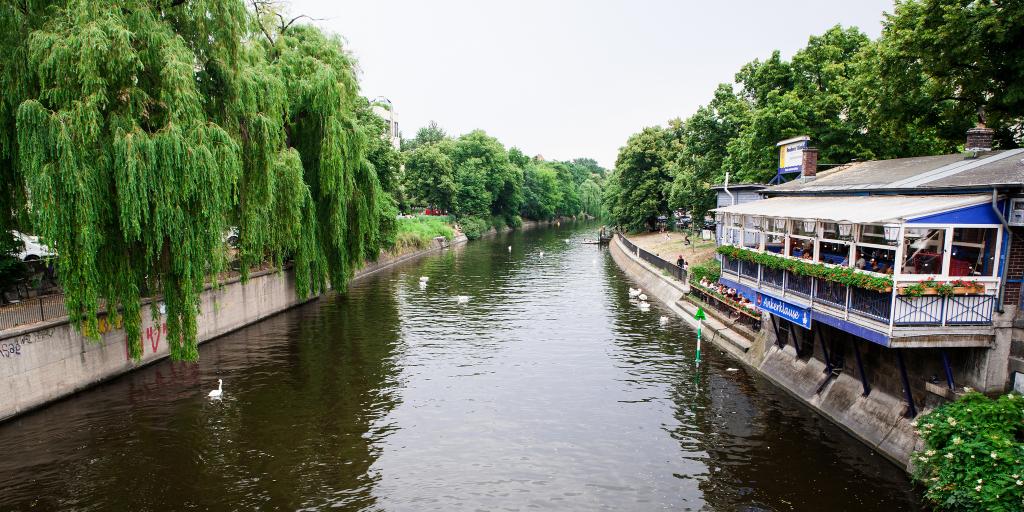 Bike to Tempelhof Feld abandoned airfield
Take some time to digest your food. Then, if you have a bike with you, ride southwest about 15 minutes (50 minutes if you're walking) to one of the most unique sites in Berlin: the abandoned airport at Tempelhofer Feld.
This old airfield was once home to Tempelhof Airport, one of the 20 largest buildings in the world when it was built in the 1920s. But Tempelhof's history goes even further back than that; the site of the airport was originally Knights Templar land in medieval times.
The airfield was officially closed in 2008 and has since been re-purposed as a public city park.
These days, it's locals' favourite place to picnic, have a barbecue, fly kites, go skateboarding, and generally enjoy the wide open outdoor space.
It regularly hosts festivals and events throughout the year, and since 2015, the airport has also been used as an emergency refugee shelter.
If you don't feel like biking or walking, worry not: Tempelhof is easily accessed by U-Bahn.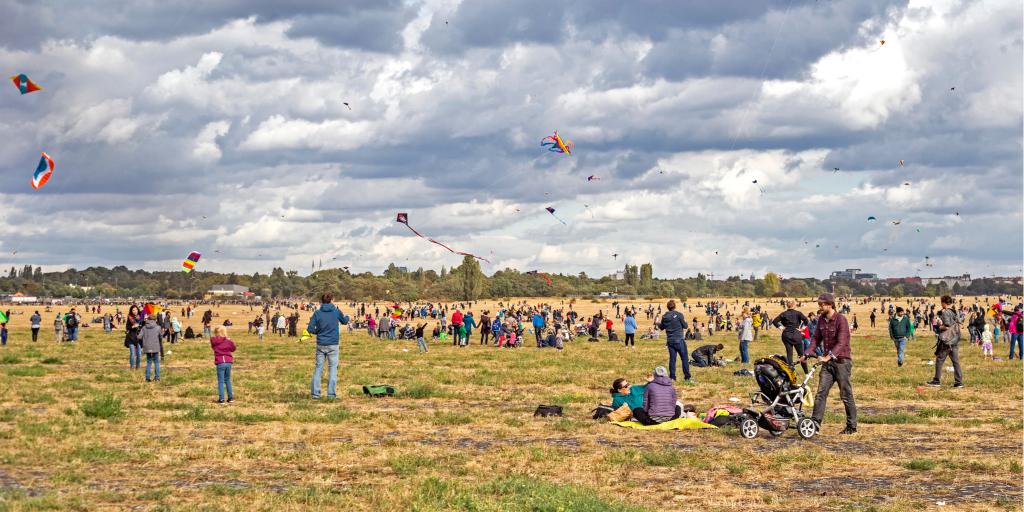 See the Soviet Memorial in Treptower Park
Once you've explored all that the airfield has to offer, bike or hop on the 104 bus to Treptower Park, on the edge of the Spree River.
Here you'll find pleasure boats, floating restaurants and the incredible Soviet Memorial, built to commemorate 7,000 of the 80,000 Soviet soldiers who died in the Battle of Berlin in 1945.
Enter the memorial through a giant archway and you'll see the main part of the memorial: a 12-meter-tall statue of a Soviet soldier holding a child and standing over a broken swastika. It was built between 1946 and 1949 and led by architect Yakov S. Belopolski.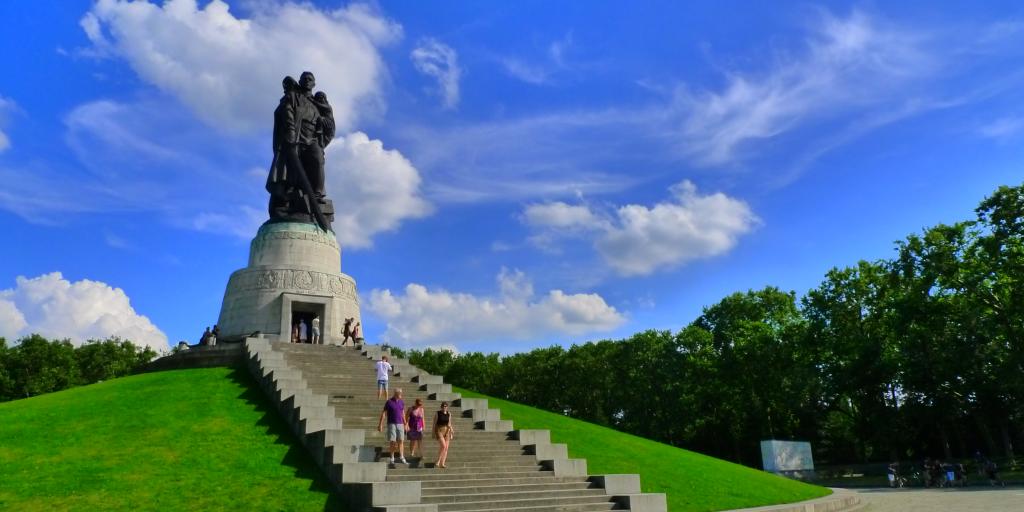 Walk along the Landwehr Canal & have lunch at BBI
Enjoy the outdoors some more by embarking on a leisurely walk along the Landwehr Canal.
Especially during the warm summer months, the canal is the best place to hang out with friends and watch the world go by.
Continue walking along the canal until you reach Admiralbrücke bridge, the centre of life and liveliness in the summertime in Berlin. This is where young Berliners gather to relax, drink beer and play music as the sun sets over the city. It's a truly incredible atmosphere and will give you a real taste of what makes Berlin so special.
You can't possibly end your trip to Berlin without having a meal at one of its most delicious restaurants: Berlin Burger International, aka BBI.
This super hip late-night burger bar is tiny, but it serves up some of the juiciest burgers in the land (as well as vegan and vegetarian options).
If the place is packed, get to know some strangers on the communal picnic tables and dig into your meal (along with a beer, of course!)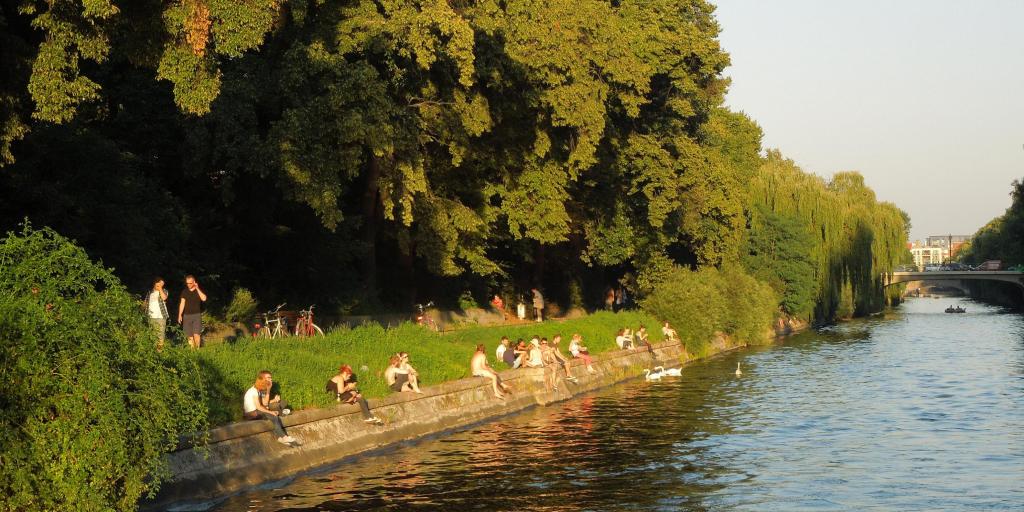 We hope you've enjoyed our action-packed weekend in Berlin itinerary! For more Germany travel inspiration, check out our road trip through Bavaria, a guide and itinerary that features beer, bratwurst and some pretty jaw-dropping castles.
Have you been to Berlin before? Are there other places and sights you'd recommend? Please leave a comment below - we'd love to hear from you.
Auf Wiedersehen!