Bavaria, beer and bratwurst - The definitive Romantic Road trip guide
Day 1: Spend the day in Munich
Fly into Munich and collect your hire car
Although the Romantic Road trip traditionally starts in Wurzburg and works its way south, we're actually going to start in Bavaria's capital, Munich, which is best known for its beer production, its world-famous beer festival (Oktoberfest), and its long-standing arts and culture scene.
As Germany's third largest city, it's used to welcoming tourists and so there are frequent and affordable flights to Munich from all over Europe, and numerous car hire outlets at the airport.
The first 48 hours will actually be spent in the city, so to save a penny or two you may prefer to wait a few days and hire a car from one of the booths near Munich Train Station.
Have a Bavarian breakfast in Marienplatz
Once you've checked into your hotel, spend your first day exploring Munich - there's so much to do in this city that you'll be spoilt for choice, so we've picked a few of our favourites.
Start with a traditional Bavarian breakfast in Marienplatz, which has been Munich's central square since the 12th century. Dotted with cafes and restaurants, you should have no problem finding somewhere that serves this meal, which consists of a soft and salty pretzel, accompanied by a weisswurst (a veal and bacon sausage) and a healthy blob of mustard. That should keep you going.
Around the square itself, you'll find a number of sights that speak to Munich's past, including the Glockenspiel, a clock decorated with life-size figures that act out historic events of the Bavarian region three times a day.
On the opposite side of the square you'll see the white facade of the Altes Rathaus, a reconstruction of the Old Town Hall that formerly stood here, which now contains a toy museum.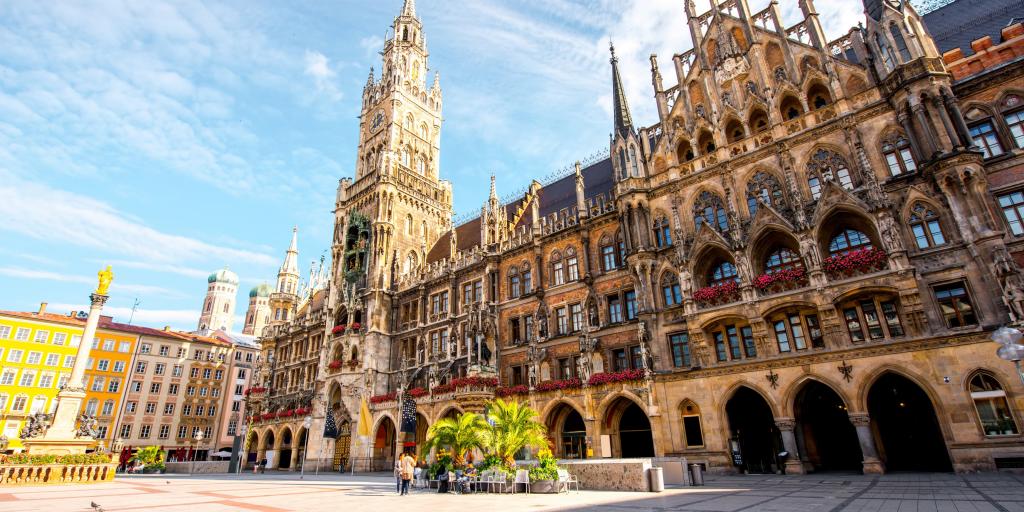 Explore Munich on foot
Once you've finished in Marienplatz start walking north before swinging a left when you get to Maffeistraße, which will take you along to the city's (slightly wacky) Michael Jackson shrine - actually attached to a statue of a long-dead German composer - which has been dutifully maintained by some extremely dedicated fans since his death in 2009.
Don't Stop 'Til you Get Enough of MJ, but when you do, continue north on Kardinal-Faulhaber-Straße and onto Salvatorplatz, admiring the shops, churches and facades of former palaces.
Turn left onto Brienner Straße, one of Munich's four main boulevards, to visit the eternal flame memorial to the victims of Nazi Germany. Then stop for cake at the famous Cafe Luitpold, a traditional Germany coffee house known for its decadent cakes and fruit tarts.
Next, continue north west, into the Kunstareal (art quarter), which is packed with art galleries and museums, including the State Museum of Egyptian art, the NS Documentation Center and the Museum of Crystals.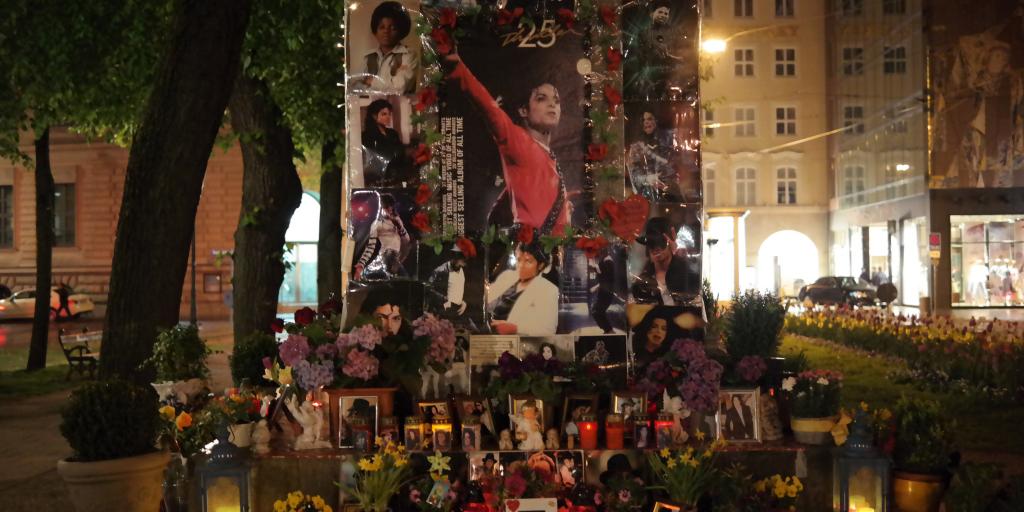 Pick a Pinakothek museum to visit
The Kunstareal is home to the Pinakothek museums, a trio of galleries covering different time periods and artistic movements.
The Alte Pinakothek focuses on art produced between the 14th and 18th centuries, the Neue Pinakothek is dedicated to 19th-century pieces, while the Pinakothek der Moderne exhibits 20th and 21st century works, as well as graphics-on-paper, product design and architecture.
Obviously the choice is yours, but our pick would have to be the Pinakothek de Moderne, because it's packed to the brim with artistic ideas you simply won't see elsewhere.
Watch Bayern Munich FC at home
So we've covered history, we've covered art, and we've probably covered beer at lunchtime (you're on holiday, after all), so there's only one thing left for it: Bayern Munich FC.
The locals are proud of their footballing heroes, which is understandable given that they are Germany's most successful ever team, so soaking up the atmosphere at the Allianz Arena is a box any footy fan should most definitely be ticking.
If you can't get there on a match day, there are also regular stadium tours.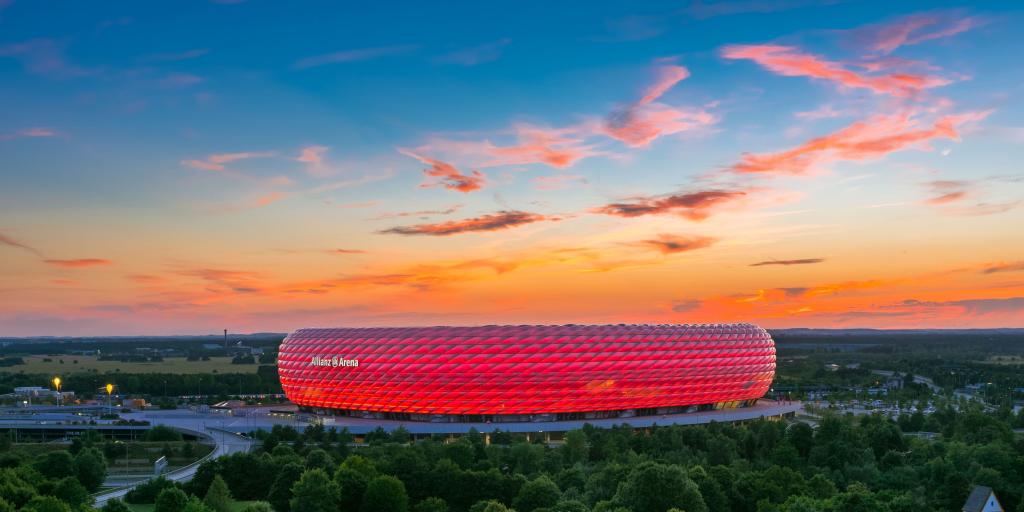 Day 2: Learn about Munich's past
Understand Munich's World War II history
On your second day in Munich you may wish to visit the Dachau Concentration Camp Memorial, on the site of Nazi Germany's first concentration camp.
Opened in 1933, over 200,000 prisoners walked through the gates in its 12 years of operation, with over 41,000 people perishing here.
Today, much of the camp's original infrastructure remains in place, and it is dedicated to educating future generations about the stories and experiences of those who were imprisoned at Dachau.
It's far from a cheerful excursion, but it is extremely moving and incredibly humbling.
If you've already collected your car then you can drive the roughly 25km to the camp; parking at the site is €3 between March-October and free the rest of the year.
Do note that the car park will be experiencing part closures until 2020, as a result of development work, so it may be worth taking public transport.
The S2 train from Munich will take you to Dachau station, then the 726 bus will take you the rest of the way to the entrance of the site.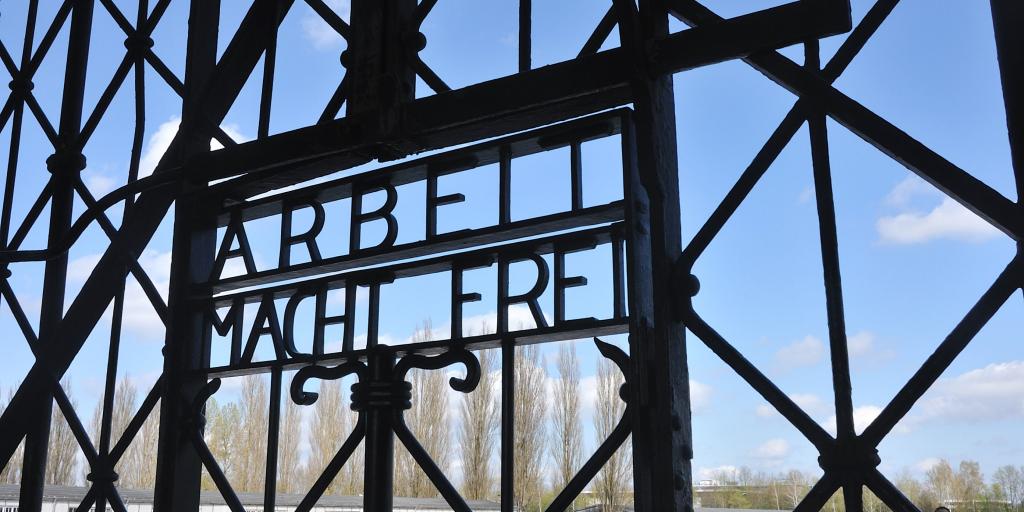 Time to spare in Munich?
Realistically, your visit to Dachau will most likely take the best part of the day.
However, if you do happen to finish early then there is plenty else to do in Munich; on a rainy day, visit the Nymphenburg Palace, which was a summer residence for many former rulers of Bavaria, or on a sunny day, try the English Garden, a park larger than New York's Central Park, which has jogging and cycling trails, a Chinese pagoda and sunny beer gardens.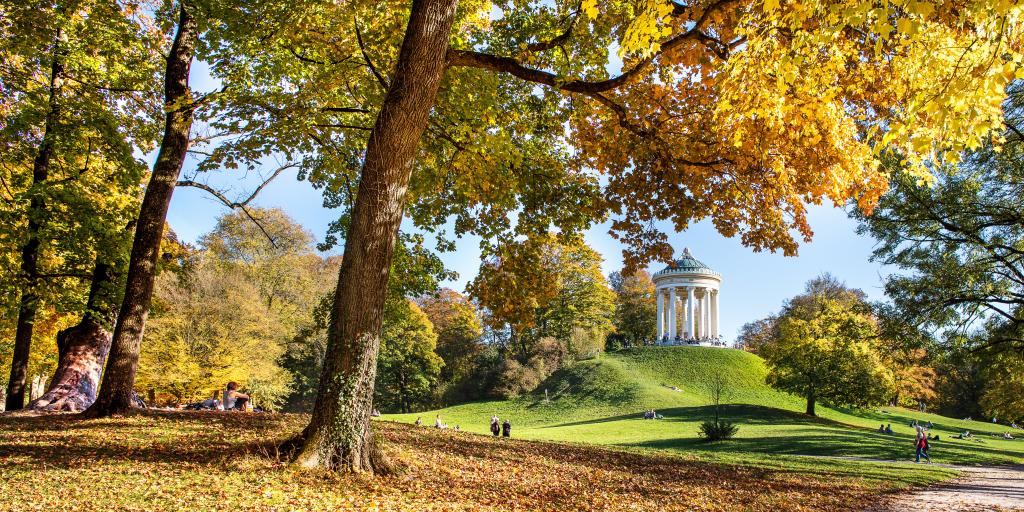 The best restaurants in Munich
Before you leave the big city and venture out into the countryside, you deserve a good meal, and our recommendation is Burg Pappenheim, which dishes up hearty local fare in generous portions.
For something cheaper, try Ringlers, where you'll find mouth-watering sandwiches, including ox grill, chicken, and pork and sauerkraut. The portions aren't the biggest, but that just means you'll have room to try a few flavours.
Day 3: Drive from Munich to Garmisch-Partenkirchen
Enjoy the Bavarian scenery
If you haven't collected your car already then do so this morning, because it's time to get out onto the open road!
When you think of Bavaria, it's likely you think of its lakes, mountains and open countryside, and this is exactly the kind of scenery you'll get to enjoy as you drive southwards to the town of Garmisch-Partenkirchen.
Less than 60 miles away, this could theoretically also be done as a day trip from Munich, but seeing as it's close to our next stop, Füssen, it makes more sense to make a night of it.
Along the way, there are plenty of places you could stop off at, but the lake known as "Munich's summer swimming pool", Starnberger See, which is surrounded by mountains is a real highlight.
Alternatively, you could plump for Lake Walchensee, whose peacock blue waters require a short (but very worthy) detour.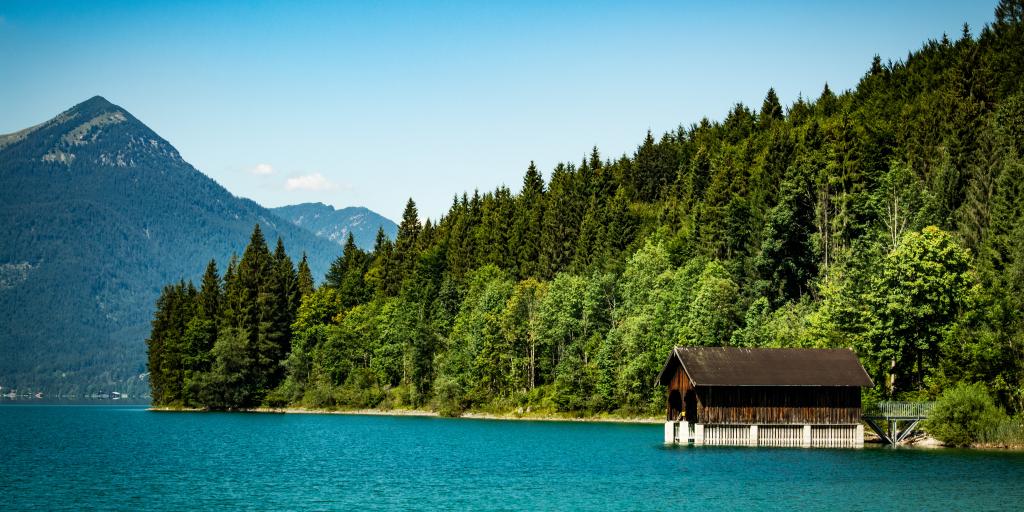 Arriving in Garmisch-Partenkirchen
With all of these mountains around, it's no surprise that Garmisch-Partenkirchen has become a popular ski town, with over 40 pistes, serviced by 38 ski lifts.
Despite being relatively small, Garmisch has a surprising amount to do and is a real hub for outdoor adventures; a great spot nearby is Partnachklamm, a dramatic gorge that's ideal for water sports in the summer and known for its dramatic frozen waterfalls in the winter.
Enjoyably, there's also a healthy selection of sights with funny names nearby - fancy a trip to Wank Mountain or Hell Valley, anyone?
After you've parked up at your hotel, it's worth spending the rest of your first day here just wandering around and taking in the sights of this historic town, soaking up its laid-back atmosphere and reclining with a Bavarian beer or two.
Ludwigstraße is the town's central street and this is where you will find Alpine-style houses decorated with colourful frescoes.
If you want to understand more about the history and culture of the town, and the wider region, then be sure to stop at the Werdenfelser Heimatmuseum, a five-floor museum detailing Bavarian traditions and everyday life, past and present.
When the day is done, make time to visit Wolpertinger restaurant, which specialises in those most German of delicacies (schnitzel, schnapps and soup) and has endearingly friendly staff.
Go hungry - the portions are huge!
Day 4: Head up into the mountains at Garmisch-Partenkirchen
Stand on top of the 'Roof of Germany'
Now you've had a nice day of rest, it's time to head out of the town centre and stand on the 'roof of Germany'- Zugspitze mountain peak - which sits at exactly 2,962 metres above sea level.
Funnily enough, you won't need the car for this; take the cogwheel train from Garmisch-Partenkirchen, either to Eibsee and continue by cable car, or to Schneeferner Glacier, where you'll hop onto a different cable car to the top.
At the summit, the options are endless - you can ski, enjoy the view, have a couple of jars at Germany's highest (and arguably most scenic) beer garden, go hiking, or even get married!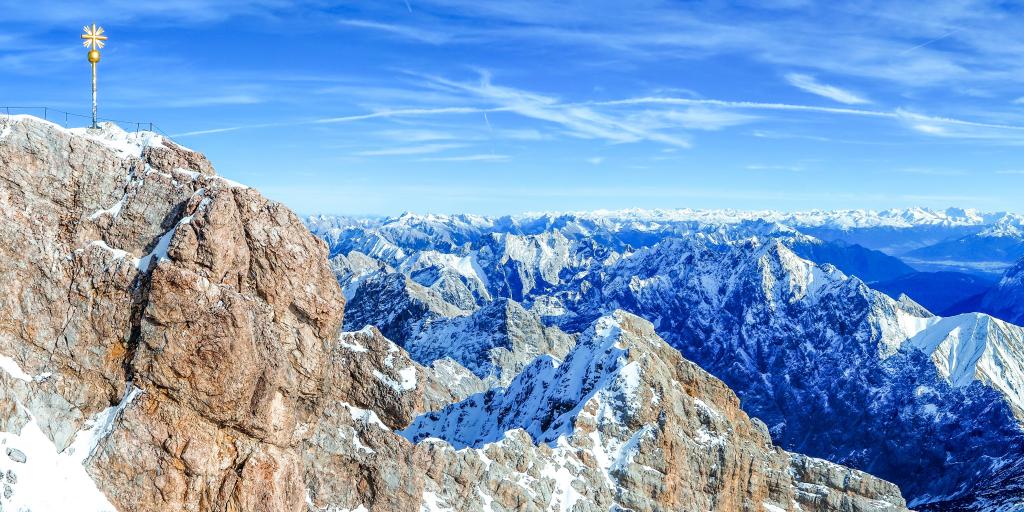 Go skating on Lake Eibsee
Spend a few hours at the peak then descend back to base level via cable car - walking down should only be considered by experienced hikers - and make your way over to the shores of Lake Eibsee for a few hours of tranquillity.
During the summer, it's prime for a refreshing dip or for a walk (approximately 2 hours around perimeter), and as the temperatures drop it turns into a giant natural ice rink, surrounded by snow-capped mountains.
Embark on a day trip to Austria
Alternatively, you could take a drive to Innsbruck, which is just an hour or so away, across the Austrian border.
A wonderfully photogenic city, Innsbruck's old town, which sits below soaring mountains, is a warren of squeeze-gut alleyways and tall colourful houses.
If you do spend a day here, don't miss the grand Baroque-era Hofburg Imperial Palace or the Goldenes Dachl, which is one of the city's most recognisable spots.
The border crossing process is easy, although when you reach the Austrian side you will need to buy a toll road vignette to put in your window screen - a 10-day pass is usually €9.
Day 5: Drive from Garmisch-Partenkirchen to Füssen
Your options for driving to Füssen
Another day, another short drive, because the next stop on the journey is Füssen, a small town along Germany's southern border.
There are two main ways to do this - either skimming into Austria (roughly 1 hour) or heading slightly north and then south again, staying in Germany (roughly 1 hour 20) - each with its own merits.
The national route offers the chance to travel through picturesque Alpine towns such as Oberau and Steingaden, and stop off at the pilgrim church Wieskirche, which attracts over one million visitors every year; the international route, on the contrary, roughly follows the Loisach river down to the village of Lermoos, a great breakfast spot at the foot of Zugspitze, before running through the lakeside village of Heiterwang and Reutte.
The choice is up to you!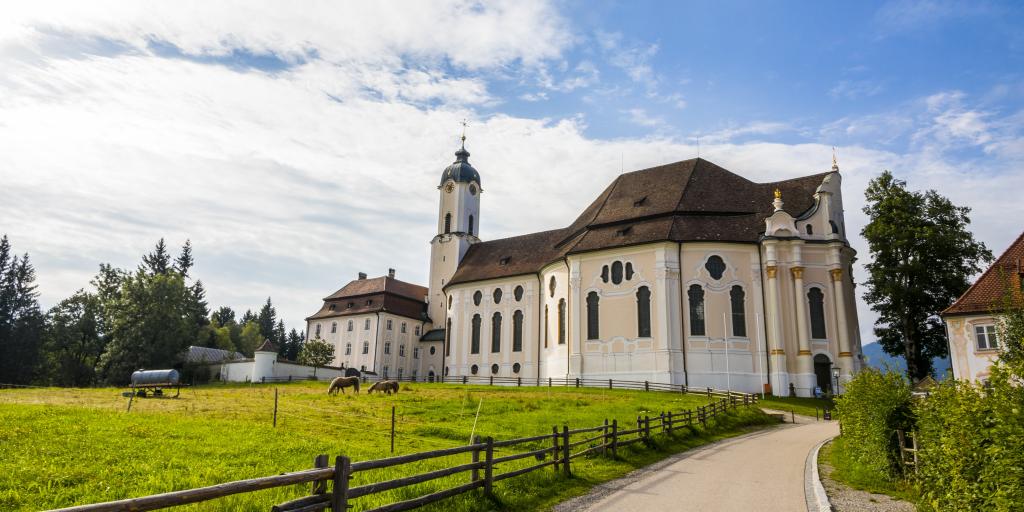 Castle hopping: Part 1
Among the main reasons for visiting Füssen is the Neuschwanstein Castle (Schloss Neuschwanstein), a grand Romanesque castle that reputedly provided the inspiration for many of Walt Disney's stories, as well as Cinderella's castle at Disneyland.
With soaring turrets, numerous murals and a view over the water, it's easy to see why its creator, Ludwig II, was known as the 'Fairytale King' (or, less flatteringly, 'Mad King of Bavaria').
Located roughly 5km away from the town centre, it's perfectly plausible that you could do your castle-hopping on the way into the town and check in later.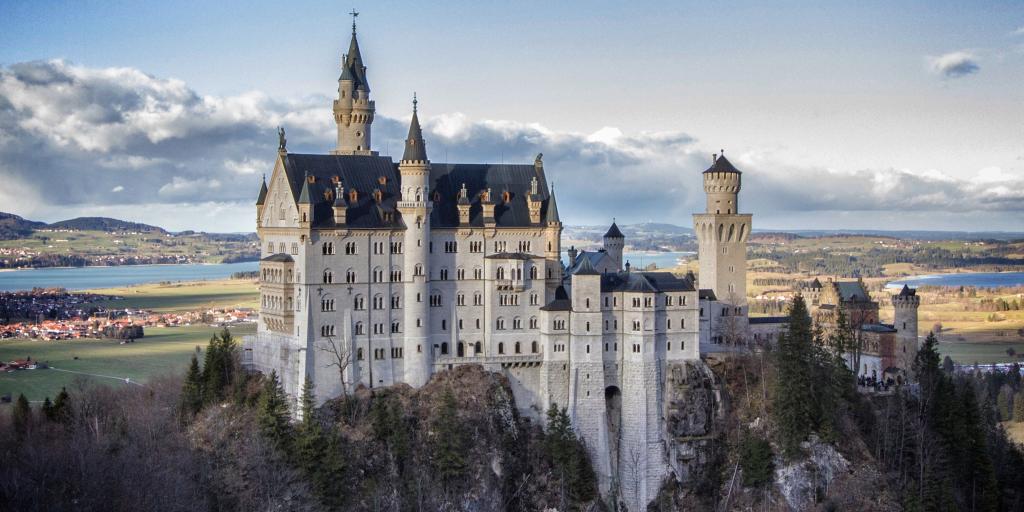 Castle hopping: Part 2
Just a couple of minutes down the road - and we mean that quite literally - you'll also find Hohenschwangau Castle, a 19th-century abode originally built for Ludwig II's father, King Maximilian II of Bavaria, and where the 'Fairytale King' spent much of his childhood.
Less Disney more Lego-block, this imposing building is also a lesson in German folklore and medieval legends, thanks to the storytelling paintings on its walls and ceilings.
Top tip: You can purchase a combined ticket to see both father and son's castles at a slightly reduced price.
Explore the cobbled streets of Füssen town
After your day of kings and castles, continue on into the town of Füssen itself for some on-foot exploration; as a firm favourite on the Romantic Road, many of the hotels in Füssen are used to dealing with roadtrippers and have ample parking, so getting checked in should be a simple process.
The town's Altstadt (Old Town) dates back over 700 years, and is a wonderland of cobblestone streets, rickety roofs and flower-lined courtyards.
Keep your eyes peeled for sights such as the High Palace of Fussen, once the summer residence of the Lord Bishops of Augsburg, today home to an offshoot of the State Collection of Paintings.
If you have time, then it's worth paying a visit to the Museum of the City of Füssen, which is located inside the ornate Baroque-era Benedictine monastery of St. Mang.
Day 6: Driving from Fussen to Rothenburg ob der Tauber
Places to stop on the way to Rothenburg ob der Tauber
The drive from Fussen to Rothenburg ob der Tauber will be the longest of the entire trip, and although it can be done in under three hours, there's so much to see and do along the way that it's best to allow the majority of the day for it.
There are multiple paths you could take, but the two primary direct routes are along the well-trod Romantic Road via Augsburg, one of Bavaria's most historic cities, or the A7 autobahn route, via Ulm (we'd suggest taking the latter).
Stop off at Ulm to explore the city where Albert Einstein was born and wander between the half-timbered houses of the Fisherman's Quarter (don't miss the 600-year-old crooked house).
You can also visit the church so big, it's often mistakenly referred to as a cathedral, and climb up its steeple - the tallest church steeple in the world.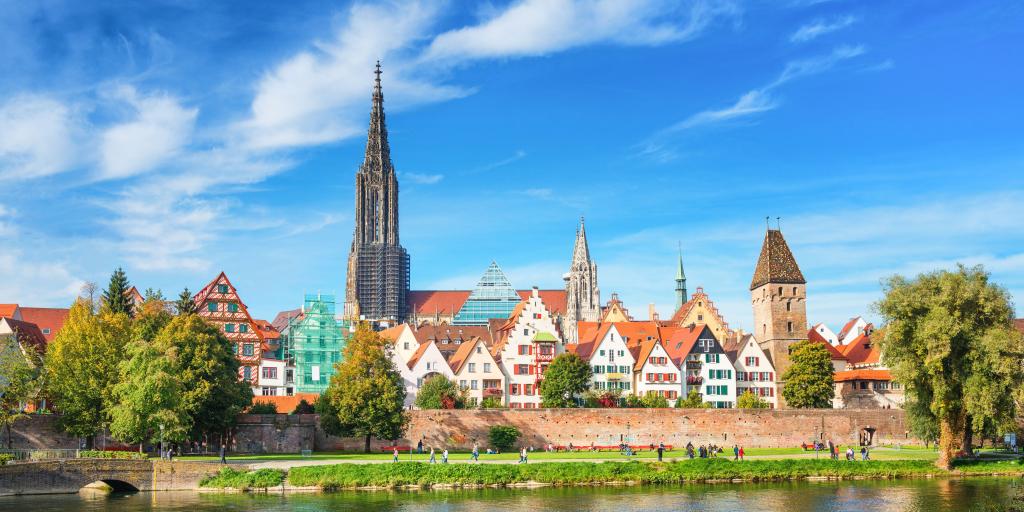 Once it's time to get moving, you could continue up the A7, but if you have more time to spare then instead travel via Heidenheim an der Brenz, stopping off at the walled city of Nördlingen, which was used as a backdrop for Willy Wonka and the Chocolate Factory, and then onto Dinkelsbühl with its much-photographed ochre and salmon houses and medieval market square.
When you're ready, just continue up the traditional Romantic Road route until you reach Rothenburg ob der Tauber.
Alternatively, if you did also want to visit Augsburg you could take the St2509 then the St2510 from Ulm, a detour that will add roughly 75 minutes (plus city exploration time).
Rove around Rothenburg
After a day of driving, check into your hotel then spend the rest of the day stretching your legs and getting to know Rothenburg ob der Tauber.
The word 'fairytale' is frequently used to describe Bavarian towns, but with its authentic old town and bustling stall-lined market square, encircled by medieval houses and cobbled lanes, this city really could be home to the Gingerbread Man or act as a stand in for Shrek's Far Far Away.
Be sure to make the walk along the old city walls, which will lead you - among other things - to the 500-year-old turreted Klingentor gate tower and the tranquil Burggarten, on the site of Rothenburg's original 12th-century castle.
There are plenty of restaurants in Rothenberg, but one worth noting is the restaurant of the Hotel Gasthof Goldener Greifen, which serves local dishes such as a delicious wild boar goulash and pot roast from a building that looks endearingly like a candy-cane.
Day 7: Christmas and criminality in Rothenburg
Rise and shine! Now you've had time to explore the town itself, it's time to get stuck into some of its coolest attractions - after a hearty breakfast, of course.
Hopefully you've got a strong stomach, because the first stop of the day does have the potential to make the faint-hearted lose their breakfast: The Medieval Crime Museum.
Showcasing the devices used by the town's former rulers and their henchmen to extract confessions, exact punishments and carry out executions, it's almost guaranteed to make you wince, even though it is presented in a fairly low-key way.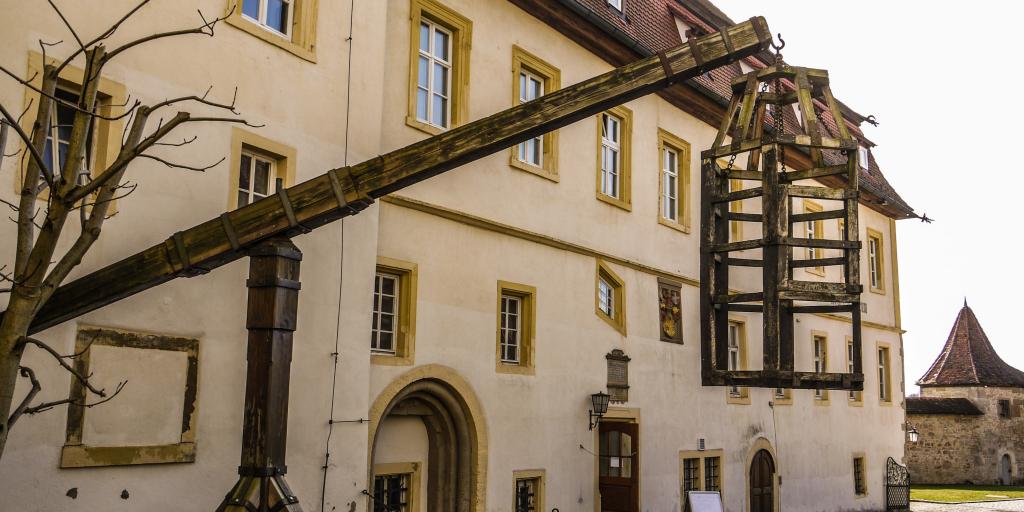 The history of Rothenburg
Sticking with the crime and punishment theme, the next stop is the pocket-sized Rothenburg Town History Museum in the Thirty Years' War (catchy, huh?) which explains how the city was saved from being burned down during a siege thanks to a 17th-century drinking contest.
Even more interesting are the museum's vaults, which are the city's original dungeons and where its most famous mayor, Heinrich Toppler, died in 1408.
It might be small, but it's worth the €3 entry.
Get into the festive spirit
After a lazy lunch it's time to move on to an attraction that's bound to fill you with cheer: the German Christmas Museum.
Featuring 122,000 twinkling fairy lights, glistening fake snow and winding 'streets', this museum traces the history of the festive season, the yuletide characters that have come and gone, and the weird and wonderful decorations that have existed through the ages.
Even if you're making this Bavaria road trip during the summer, you should still pop in and say hi to Santa.
Day 8: Driving to Würzburg
Where to go in Würzburg
Next up on our grand tour is Würzburg, a city whose mix of Bavarian, Baroque and Rococo architecture makes it seem unsure if it wants to look quintessentially German, or like the lovechild of Venice and Vienna.
A mere 40 miles away, with not an enormous amount to see along the way, Würzburg could certainly be done as a day trip from Rothenburg (or vice versa), and many people do also choose to stay in either one or the other, but there's a very good reason to stop overnight - more on that later.
After parking up, the first stop of the day should almost certainly be Würzburg's crowning glory, the Würzburger Residenz.
Originally built as a house for local prince-bishops, it was first commissioned in 1720 but took an astonishing 60 years to complete - and when you look at it, you can see why.
A UNESCO World Heritage site, the outside is subtly imposing, while the inside boasts a staircase fit for royalty, enormous richly painted frescoes and lavish gold decor.
Expect to spend a good few hours here, exploring the house and its perfectly manicured gardens.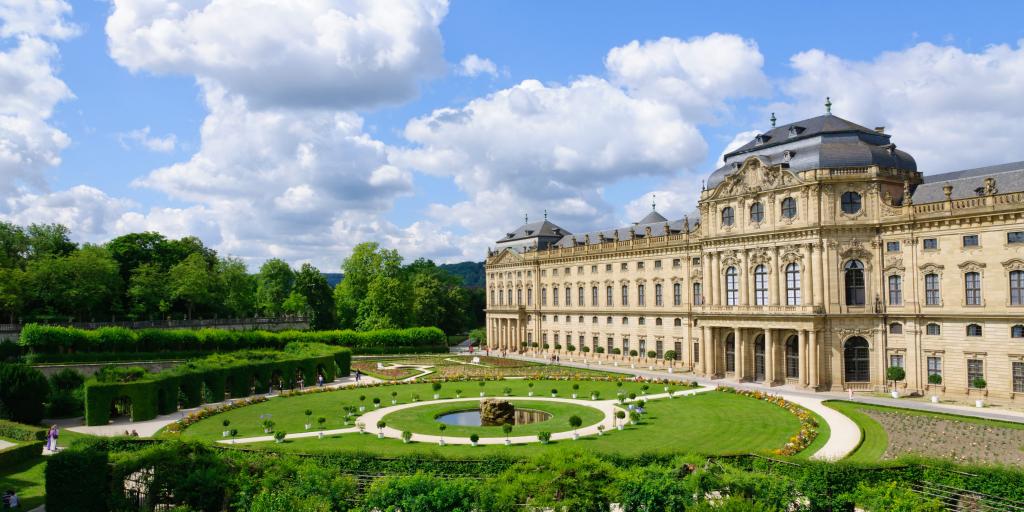 Indulge in a glass of Würzburg wine
You may be wondering why we've allowed a whole night in Würzburg rather than just suggesting it as a stop to break up your trip and there's only one answer - wine.
Although Bavaria may be best known for its beer, this city is surrounded by rolling vineyards, predominantly producing white wine with a smattering of reds thrown in for fun. And where there are wineries there is wine tasting - see where we're going with this...?
The Weingut Juliusspital is one of the area's more unusual wineries, located as it is in the basement of a working hospital.
Now, as much as we all know that a healthy glass of red at the end of the day can have medicinal value, the wine produced here isn't for the patients, but is instead sold, with proceeds helping to maintain the hospital and support the local community.
Weingut Juliusspital offers tours around the cellars, a wealth of information and a slurping session lasting approximately three hours, but be sure to allow yourself time to wander around the Juliusspital Park and gawp at the elaborate Baroque buildings too.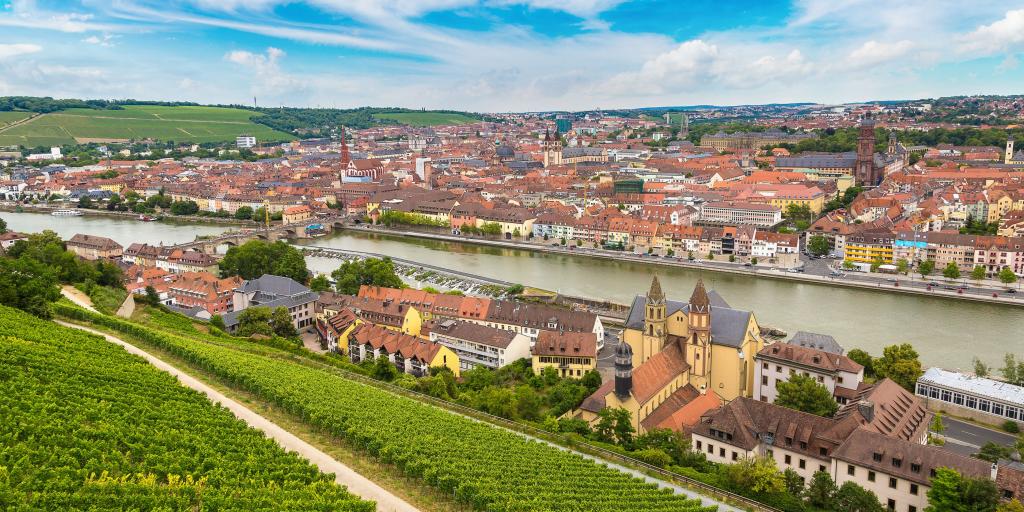 Relax on the Alte Mainbrücke bridge
Back in town, do as the locals do and take a stroll down to the Alte Mainbrücke, a beautiful 18th-century bridge dotted with statues, for (another) glass of wine, this time with a view over the water.
There are vendors on both ends of the bridge and you're free to walk around, take a perch where you wish and spend as long as you like soaking up the low-key atmosphere.
As the evening settles in this becomes a great spot for people watching, before you hunt down some dinner in one of the nearby restaurants.
Day 9: Drive from Würzburg to Bamberg
Bumble along to Bamberg
Have a lazy lie-in this morning, because although we're moving on today, we're not exactly going too far - our destination is the town of Bamberg, about an hour away.
It's a pleasant ride through the lush green countryside to reach this small town, best known for its world-class old town and its mightily enthusiastic attitude towards beer production.
If you did want to make a pitstop somewhere, the town of Werneck is a nice choice; you can't go inside its grand castle, Schloss Werneck, but you can walk around the outside and stretch your legs in its landscaped gardens.
Once you've arrived, get settled in and change into some comfortable shoes as you're almost certainly going to want to walk around for hours.
As in many other Romantic Road towns, hotels commonly provide parking, but if you are just visiting for the day you'll be glad to know that the town has ample (and well signposted) car parks in which to abandon your vehicle for the day.
So what does Bamberg have to offer? Let's find out.
Explore the UNESCO-listed old town
Fortunately, Bamberg escaped the bombing that destroyed many German cities during World War II, and so it has one of the best-preserved historic centres in the country, receiving World Heritage Status in 1993.
With that in mind, one of the best ways to spend a morning here is to just walk around the Altstadt, getting lost and soaking up all of the history, stopping off for a coffee or two along the way.
Aside from the giant frescoes and beautiful houses, the real magic of this area lies in the details so small you could almost miss them - the etchings on the balconies or the statues attached halfway up a building - so remember to look in every direction!
Among the most iconic sights are the yellow-timbered Altes Rathaus (the Old Town Hall), which sits in the middle of two bridges above the Regnitz River, and Bamberg Dom, a cathedral notable for its detailed stone carvings on the outside and an elaborately painted dome on the inside.
Like many other waterside settlements, the Fisherman's Quarter of the city is often referred to as Little Venice; we've got to say here it's a bit of a stretch, but it is nonetheless worth taking a walk - or a float - around it to see the pretty waterside cottages.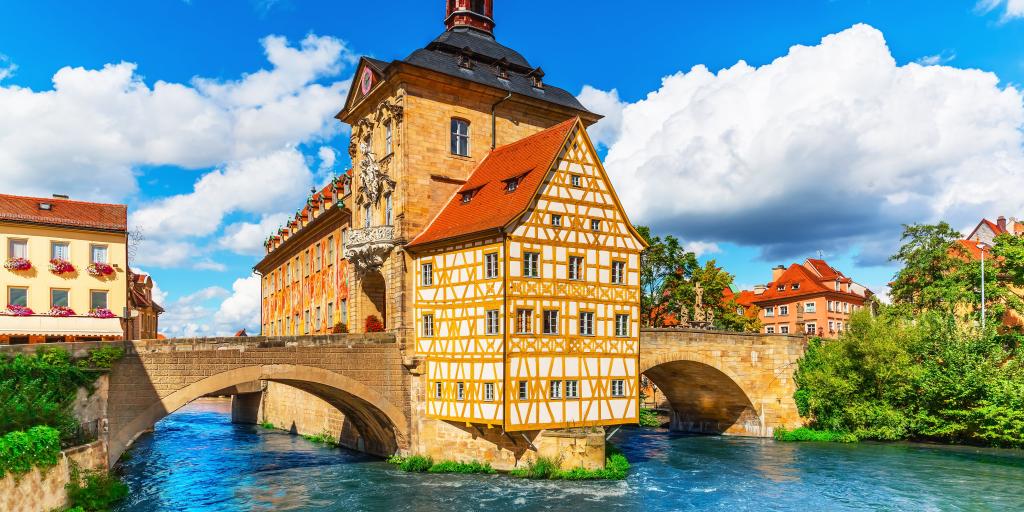 Tour Bamberg's breweries
Now you've experienced the old town, it's only right to get stuck into Bamberg's other big claim to fame - the beer.
With 11 breweries within the town and a further 60 in the wider county, there are a lot to choose from, but of particular importance is its smoked beer, or Rauchbier as the locals call it.
Dark, spicy and smokey, legend has it that this local speciality was created accidentally many years ago when the local brewery caught fire and the smoke billowed through the malt store, leaving it with an unusual - but surprisingly delicious - taste.
Today, there are two breweries that specialise in this tipple, the most iconic being the Schlenkerla Smokebeer.
If you have the time and the stamina, you could also stay another day and do a self-guided "13 Breweries" hike through the lush green countryside that surrounds Bamberg, along a 32km-long trail dotted with - you guessed it - 13 breweries, as well as restaurants and inns.
Those with less time to spare could also do the 10-brewery version of this by utilising a sneaky shortcut, or even heading to just a few and then get a taxi back to Bamberg.
Day 10: Drivie from Bamberg to Nuremberg
Today it's time to move onto the final city of our Bavaria road trip, Nuremberg, which sits less than 40 miles south of Bamberg but feels light-years away from this quaint little town.
The second largest city in the region, Nuremberg is often associated with Christmas markets, signature sausages and World War II history, but it actually has a rich cultural history stretching back a millennium, with gems to be discovered at every turn, even despite the extensive bombing that the city suffered.
You may as well return your car to the hire centre as soon as possible in Nuremberg - with an efficient subway system, trams, buses, and cycle lanes dissecting the city, you really won't need it here.
Once you've sorted that, make one of your first priorities buying the Nuremberg Card, which costs €23 and grants you access to over 40 museums and attractions, as well as two days consecutive travel on public transport within Zone A.
Ready to start exploring? Let's go.
Discover Nuremberg's Nazi History
The first stop of today is, unfortunately, quite a depressing one - a museum dedicated to acknowledging Nuremberg's history as a centre for Nazi propaganda.
The Documentation Centre and Nazi Party Rally Grounds examines the Nazi's journey to power, the social context that allowed their atrocities to thrive and the enduring consequences of their actions.
Built in the remains of a never-finished Congress Hall that was commissioned as a centre of congress for the Nazi party, and next to the site of the infamous Nuremberg Rally, it's an interesting and informative glimpse into a much darker past.
Realistically, there isn't a great deal else to see in the area surrounding the Documentation Centre, so once you're done, hop straight onto the U1 line up to Bärenschanze to find out what happened next…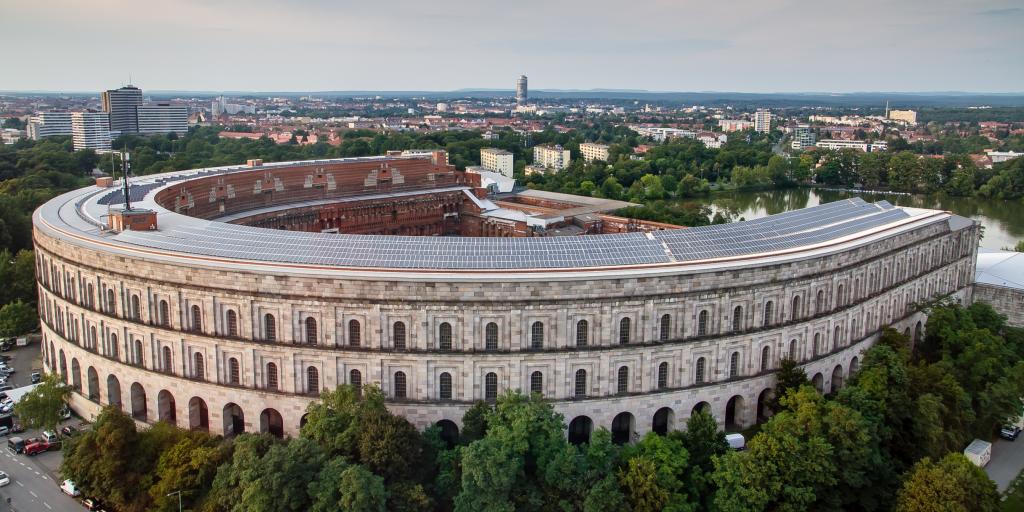 Nuremberg post-1945
Just a short walk from Bärenschanze station is the Nuremberg Trials Courthouse and Memorial, located at the Nuremberg Palace of Justice; as much as Nuremberg was the site of many Nazi rallies, it was also where, post-war, the party's most prominent political and military figures were put on trial.
This museum recounts the story of the trials and even allows you to walk inside Courtroom 600, where the accused were held.
Over 70 years later, this is still a working courtroom and access to this room is limited to when court is not in session, so if possible try to time your visit to a weekend.
When you've finished exploring the Nuremberg Trials Courthouse and Memorial, walk back towards the Altstadt - by following Bärenschanzstraße you will (most likely) come into the St Lorenz section, south of the river, so now may be a good time to take in some of the area's sights.
Here, you'll find the striking St Lorenz Church, a medieval church that was heavily bombed during World War II and later rebuilt, as well as many boutiques and well-known stores to browse.
Enjoy a Nuremberg Rostbratwurst
No trip to this historic city would be complete without munching on a true Nuremberg Bratwurst, and dinner is the perfect time to get stuck in.
Usually eaten in batches of six, eight, ten or 12, and accompanied by bread, sauerkraut or potatoes, these sausages have been given special protection by the EU, meaning only those produced locally can be described as a Rostbratwurst.
The Bratwursthäusle, which has been serving up these sausages since 1313, is a great place to tuck in - be sure to relish the opportunity to do as the locals do and drizzle it in spicy mustard.
After dinner, stop for a drink at one of Nuremberg's many bars - whether you're after a quiet pint or a full-on karaoke session, this city's got it all.
Our top pick is the Hausbrauerei Altstadthof, a small pub producing a range of different beers which are brewed on-site, as well as a whiskey.
Day 11: Get to know Nuremberg
We know that it's tempting to steal just one more lie-in on your last day on holiday, but there's so much to see in Nuremberg that making the effort to get up and about bright and early will most certainly be rewarded - you can always sleep on the plane home!
Visit Nuremberg Castle & explore the castle quarter
The first spot on our travels today is Nuremberg Castle, which was originally built almost a thousand years ago and is a relic from the days when powerful rulers travelled from castle to castle, rather than being stationed in one place.
Once a symbol of Imperial power, it today dominates the northwestern quarter of the St Sebald area of the Altstadt, and offers a bird's-eye view of Nuremberg's castle quarter from the Sinwell Tower.
Have a wander round and admire the hotchpotch of buildings; don't miss the Imperial Chapel, which illustrates the hierarchy of medieval society.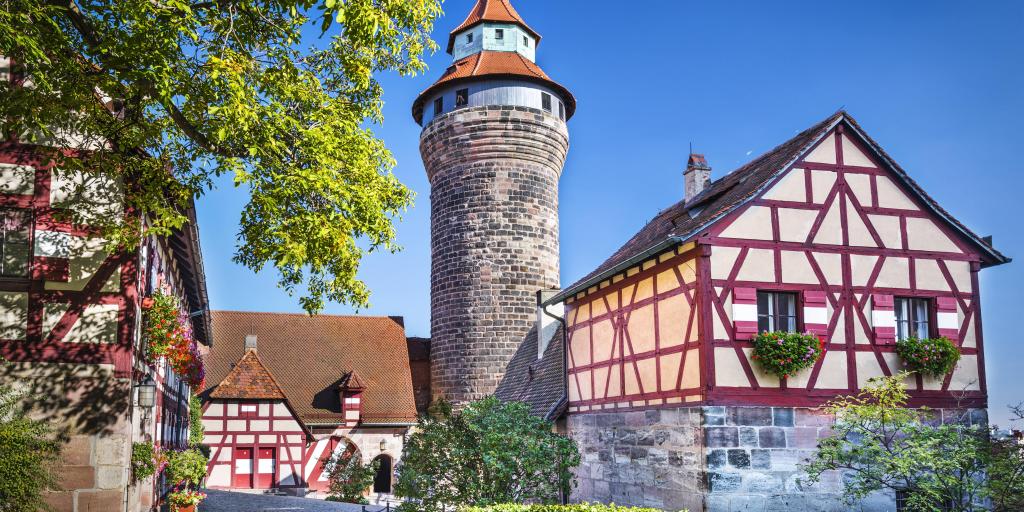 While the castle was built for the great and good of German society, down on ground level, the castle quarter illuminates the lives of Nuremberg's everyday citizens.
In Füll Street you'll find merchants' houses made of sandstone, and in the winding Weissgerbergasse you'll find the narrow timber-framed houses that would have been home to the city's craftsmen.
Also in this area is the former house of artist Albrecht Dürer, numerous churches from throughout the ages, and the entrance to the extensive subterranean passages of Nuremberg (Förderverein Nürnberger Felsengänge e.V.), the last of which must be visited as part of a guided tour.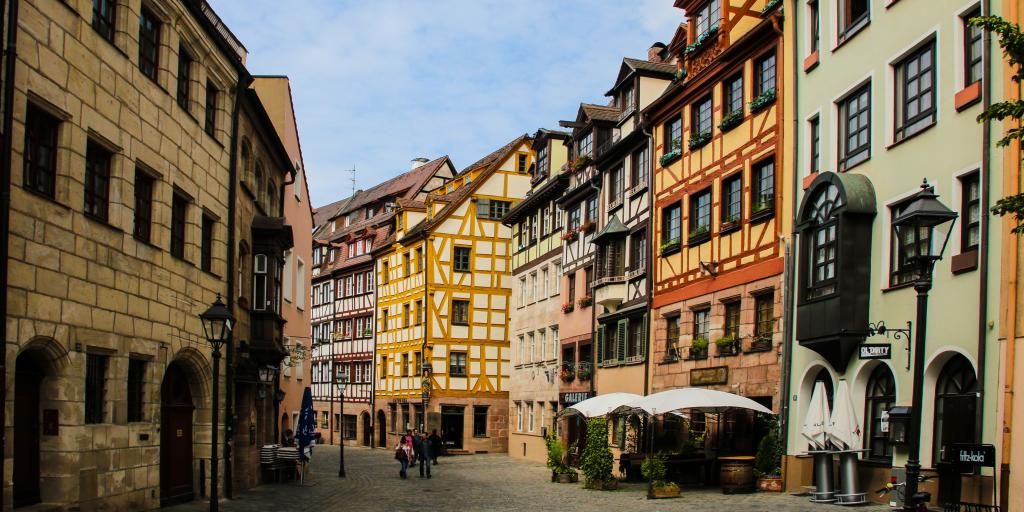 Delve into the Kunstbunker
If you decide not to take a guided tour of the Nuremberg's underground labyrinth but still wish to have a peek underground, then a visit to the Kunstbunker may be just the solution.
Buried 24 metres below the city's pavements, this space was originally used to brew beer before being converted into bomb shelter during World War II, when it used to protect priceless artworks and the city's residents.
A guided tour takes roughly an hour and a half, so it's perfect for a pre-lunch time filler.
Stop for lunch by the Pegnitz River
Speaking of lunch… who's hungry?
For your last lunch of the trip, visit the Heilig Geist Spital, a dimly lit but fiercely Bavarian restaurant that sits above the river near the St Lorenz church.
Housed in a 700-year-old building that was once the Holy Ghost Hospital, many of the tables enjoy views over the water, and although it could be easy to rely on a tourist market here, the fact that you get so many German diners here speaks volumes about the quality and authenticity of the food.
After your lunch on the river it's time to head back into the Altstadt St Lorenz, south of the river.
This time, head towards the Germanisches National Museum, which focuses on German cultural history, with a collection spanning from prehistory to the present.
With over 1.3 million items, including art, musical instruments, toys, weapons and scientific devices, it should clear up any remaining questions you might have about the country, and teach you a thing or two in the process.
Be warned - you could easily spend hours here.
Just next door to the museum you'll also find the Way of Human Rights, a series of 30 pillars inscribed in German and one other language with articles of the UN Declaration on Human Rights.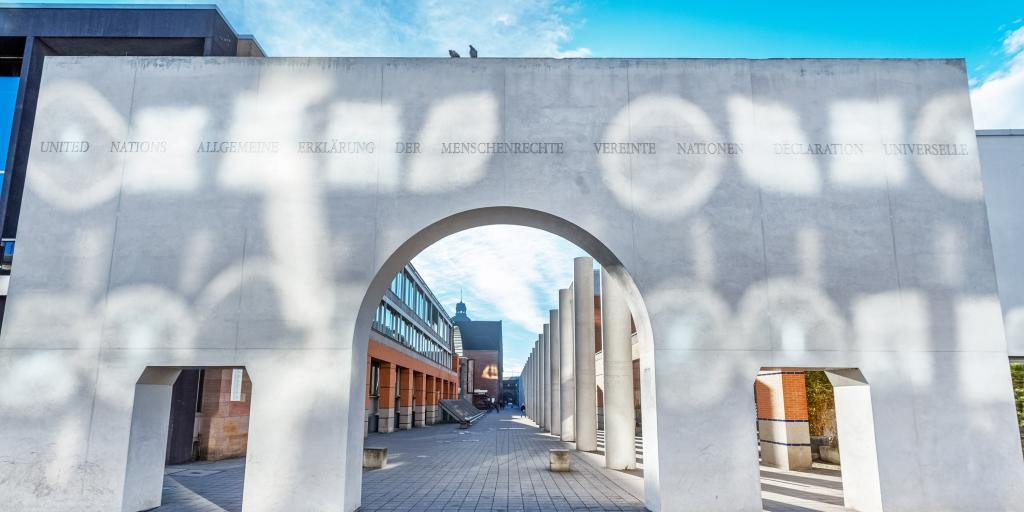 Finish up your Bavaria road trip with some souvenir shopping in Nuremberg
While away the last few hours of your Bavarian road trip by doing some all-important souvenir shopping and taking some chill-time at the Handwerkerhof, a small 'medieval' village area packed with cafes, bakeries and craft shops.
One last Bavarian beer before you head home to use up those spare euros floating around in your pocket? Go on then.
Head home
Well, 11 days later and it's time to head home - Nuremberg Airport is connected to the city centre by the U2 Subway line, a journey that takes approximately 12 minutes, so you shouldn't have any problems getting there.
We hope you've enjoyed the your Bavarian road trip.
Auf wiedersehen for now!