Road Trip from Durban to Cape Town
For an action-packed and exciting adventure which promises a lot of big game, outdoor activities, national parks and great cities, the incredibly scenic road trip from Durban to Cape Town is one of the most beautiful ways you can enjoy these unique experiences in South Africa.
The 1,900 km road trip from Durban to Cape Town takes 23 hours to drive. Key stops include Howick Falls, Oudtshoorn, Kokstad, Gqeberha and Bloukrans, as well as Grotto Beach, Agulhas National Park, PheZulu Safari Park and Nelson Mandela Capture Site.
To help you plan this stunning journey, we've set out the best routes and places to stop overnight, as well as our favorite things to do and the best time of year to make the trip.
How far is Cape Town from Durban, and how long will the road trip take?
Comparison of road trip routes between Durban and Cape Town

| Route | Distance | Driving Time |
| --- | --- | --- |
| The Inland Route | 2,010 km | 23 hours |
| The Coastal Route | 1,900 km | 24 hours |
There are several ways to tackle the brilliant road trip from Durban to Cape Town. Though there are quicker ways, our recommended routes will add a little bit of extra distance to your journey, but they offer such incredible scenery and attractions that it'll be worth it.
If you drive inland, our recommended route will cover 2,010 km and take 23 hours to drive without stopping. Alternatively, if you'd prefer to follow South Africa's beautiful coast, then our Coastal Route will take slightly longer at 24 hours but will see you drive 1,900 km instead.
Whichever way you look at it, this road trip cannot be completed in a single day. We recommend that you take at least three to four days. That way you can split your drive into manageable chunks and have enough time to stop at your favorite attractions en route.
Best road trip route from Durban to Cape Town
This incredible trip offers something for everyone. If you want to see some big game animals and beautiful vistas firsthand, then our Inland Route is a fabulous option. You'll get to take in Howick Falls, Swellendam, PheZulu Safari Park and Nelson Mandela Capture Site.
Instead, if you like to enjoy a beach or two on your trips, then our Coastal Route is ideal. This gorgeous route takes you along the coast and through multiple national parks and cities in South Africa including Grotto Beach, Gaeberha and Agulhas National Park.
There's little difference in terms of distance or time between the two routes, so it really will come down to preference of attractions and scenery along the way. But if you like the look of both, why not follow the other on your return leg to Durban?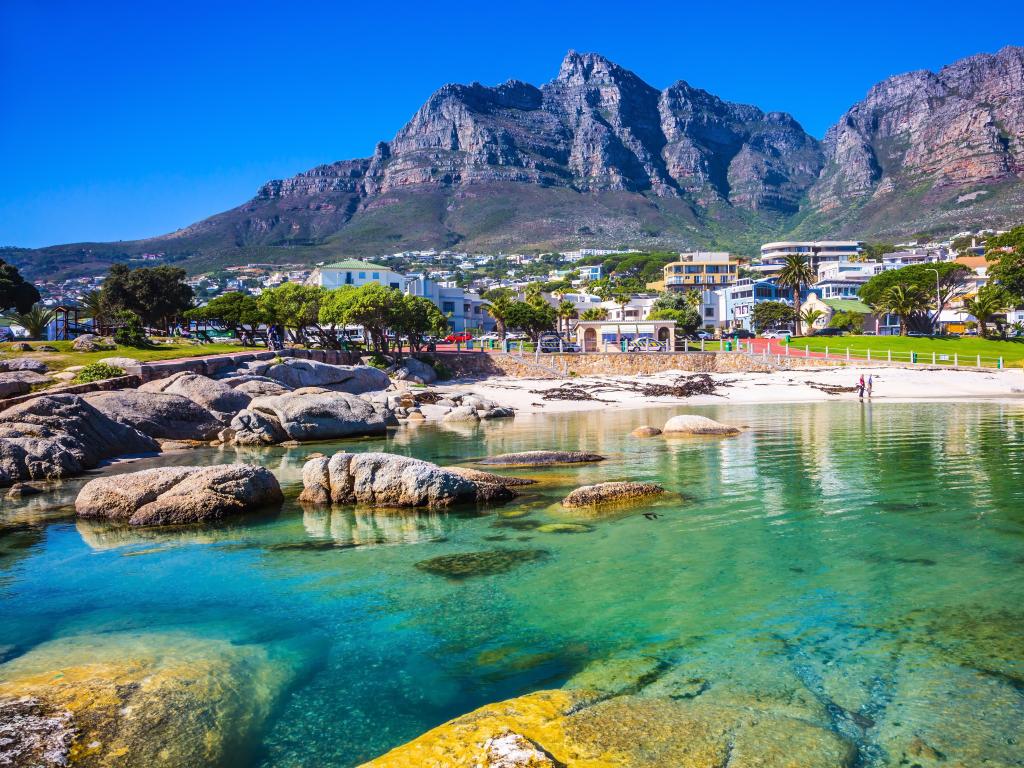 The Inland Route
Begin by leaving Durban on N3 past Westville and Pinetown and all the way to the city Pietermaritzburg. Still on N3, take Exit 99 for R617 before turning right onto R103. This will lead you to Howick Falls, the stunning 95-meter waterfall.
Stay on Main Road when you leave and join R103 and then R107 to the Nelson Mandela Capture Site. After spending some time at this visitor center, get back on N3 and continue heading north through several towns.
You could take a longer detour to Maloti-Drakensberg Park, or simply continue on N3 as far as Exit 194 to join R74 and turn onto N11. Follow this until you reach Nambiti Big 5 Private Game Reserve. This detour will give you the opportunity to go animal spotting.
Retrace your steps back and join R103, leaving at Exit 246 and rejoining N3. At Harrismith, you'll merge onto N5, as you drive near Sterkfontein Dam Nature Reserve and Golden Gate Highlands National Park.
Continue on N5 as far as Winburg where you'll merge onto N1 all the way to the city of Bloemfontein. Stop here for an early overnight rest, where you can enjoy exploring the city and nearby nature reserve.
Once back on the road, you'll follow N1 past Oviston Nature Reserve and several more towns before taking N12 at Beaufort West and making a stop to explore the semi-desert Karoo National Park.
Continue on N12 to Klaarstroom, where the landscape changes and you'll drive through stunning nature reserves, wilderness areas and beautiful mountains, eventually arriving at Oudtshoorn, known as the ostrich capital of the world.
You'll leave on N12 and drive alongside Witfontein Nature Reserve, taking a short detour to visit Wilderness National Park which is set on the coast, giving the opportunity to spot a dolphin or two.
Back at George, join N2 as you follow the coast to Mossel Bay, before heading further inland and passing below Langeberg Mountain Catchment Area and arriving at the town of Swellendam.
Follow N2 to Caledon before taking the scenic drive on R43 to R45 to Franschhoek Pass which gives you the opportunity to visit the Mont Rochelle Nature Reserve. Follow R45 and R44 to rejoin N1 which you will then follow the rest of your way to Cape Town.
The Coastal Route
Our Coastal Route begins in Durham and follows the M4 to N2 along the coast through Bluff, Kingsburgh and several other towns. Pass Bazley Beach and Hibberdene, before arriving at Port Shepstone where you'll take Exit 45 before following R2 inland.
Follow R2 through Harding and Copperdale before taking R56 to Kokstad, the capital and biggest town of the East Griqualand region. After exploring all that this city has to offer, retrace your steps back to N2.
The mountainous drive will take you through a series of towns, before you arrive at Exit 1049 and follow R72 to East London, a beautiful seaside city worth a short stay.
Continue on the same road as you follow the coast to Kenton-on-Sea, where you can stop and explore nearby Kariega Game Reserve Eastern Cape. Still on R72, follow the road past Amakhala Game Reserve and through Paterson where you'll switch to R335.
A short detour off this road is Addo Elephant National Park on R342, a stunning and diverse conservation area. Afterwards, take R335 back towards the coast where you'll rejoin N2 to the city of Gqeberha, also known as Port Elizabeth.
Follow N2 through Thornhill and beside Longmore State Forest, alongside the coast before taking a short detour on R319 to visit Tsitsikamma National Park.
Back on N2, driving along the outskirts of Garden Route National Park, you will continue to enjoy coastal views as you pass several more towns as well as the city of George and all the way to Swellendam.
Leave N2 and follow R319 a short distance before joining R43 to the coastal park of Agulhas National Park. After spending time in this stunning area, you'll rejoin R326 and follow it to R43 where you should definitely make a stop at the white sandy Grotto Beach.
Continue on R43 and drive alongside Hottentots-Holland Mountain Catchment Area where you'll merge onto N2. Follow this road to your final destination in Cape Town.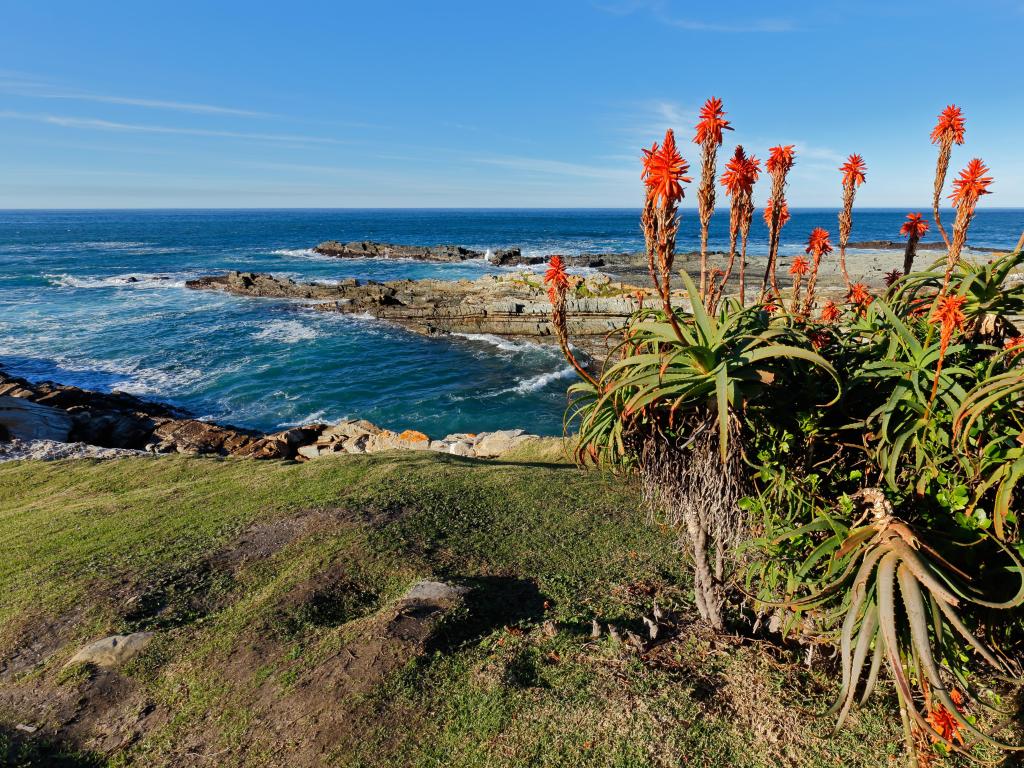 Best places to stop between Durban and Cape Town
An epic road trip of this length means you will need at least a couple of overnight stops on the way from Durban to Cape Town. Luckily both routes pass through some great cities and towns, giving plenty of options for enhancing your trip.
Of all the great hotels en route, here are a few of our favorites.
A luxurious stop in Bloemfontein
A great place to stop early on if you're following the Inland Route to Cape Town is the city of Bloemfontein. At just over 8 hours and 30 minutes from Durban, this would make a great stop on day one or two.
Bloemfontein makes an ideal place to rest for the night as it is the last big city you'll pass before arriving at Oudtshoorn. This city is a fantastic destination thanks to its natural and manmade nearby beauties like King's Park and Franklin Game Reserve.
Just some of the great nearby attractions in Bloemfontein include the Free State National Botanical Garden which covers 70 hectares and is home to about 400 species of plants, 140 bird species, 50 mammal species and 50 reptile species.
For history fans, there's also the brilliant National Museum Bloemfontein which is an institution focusing on natural history, cultural history, and art and hosts a wide variety of natural and human science artefacts.
There's a good selection of hotels in Bloemfontein, but one of the most luxurious is the Anta Boga Hotel. This 5-star hotel is ideally close to the city and offers an outdoor swimming pool, an onsite restaurant, and a sun terrace - ideal for relaxing before your long drive to Oudtshoorn.
Located a short drive from Loch Logan Waterfront, Oliewenhuis Art Museum and Naval Hill Planetarium, this stunning hotel provides the perfect mix between offering a comfortable rest while still allowing opportunities to enjoy more of the surrounding attractions.
A coastal retreat at Kenton on Sea
Halfway between Durban and Cape Town on the Coastal Route, Kenton on Sea is the ideal stop if you've chosen this option for its beautiful beaches and sea views.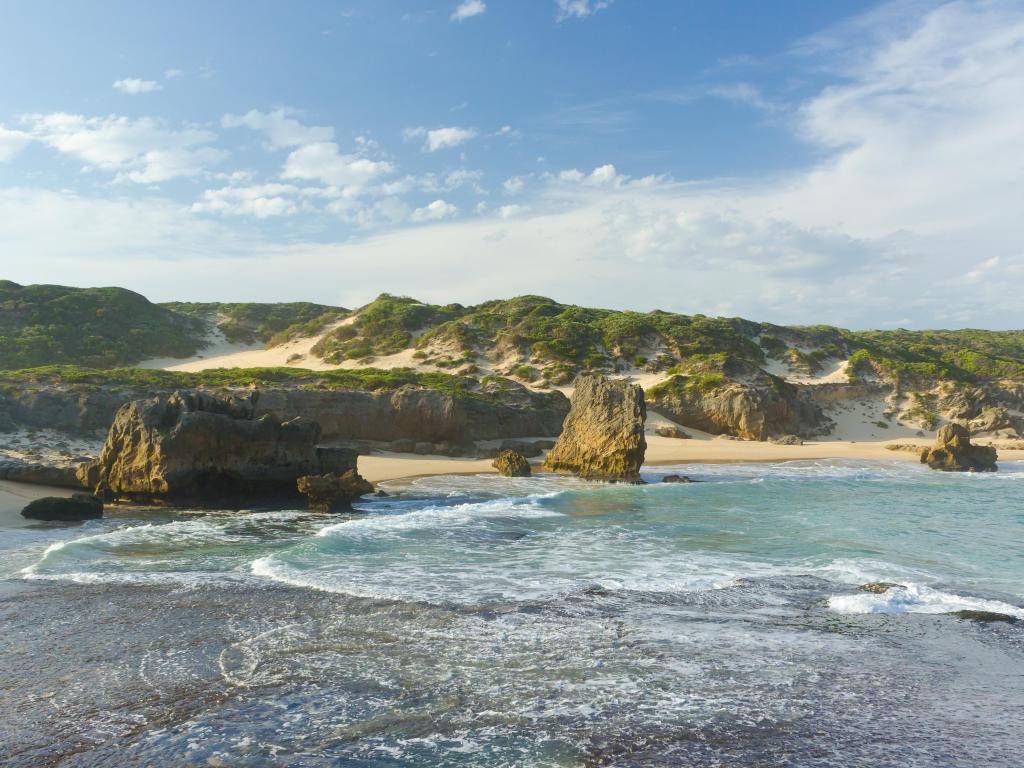 Located between East London and Gqeberha, Kenton-on-Sea, more commonly known as Kenton, is a small coastal town on the Sunshine Coast, in the Eastern Cape of South Africa. This charming town is known for its beautiful beaches, like Kariega Beach.
Another worthy visit is to Shelly Bay, a scenic viewpoint which also offers interesting rock formations and a beautiful, seemingly endless sea to look at.
Slightly more remote than some of the nearby bigger cities, an ideal resort for making the most of its scenic location is The House Quarters. This stunning hotel sits just 500 meters from nearby Kariega Beach and offers a fantastic onsite restaurant.
Each room at this hotel comes with a lounge area, a kitchenette, and a viewing deck for gorgeous views of the ocean. If you want to experience the ultimate relaxation, you can head to the onsite spa to enjoy a massage and then unwind on your viewing deck overlooking the beach.
Conveniently located centrally in town, you'll also have access to nearby Kariega Beach, Middle Beach, and Shelly Bay scenic viewpoint. You're also not far from Kariega Game Reserve if you wish to head further inland.
Where to stay when you reach Cape Town
In the heart of Cape Town sits Taj Cape Town, a 5-star luxury hotel that's the perfect place to stop once you've arrived in beautiful Cape Town. Within walking distance of many tourist attractions and offering incredible mountain views, this hotel will meet all your needs.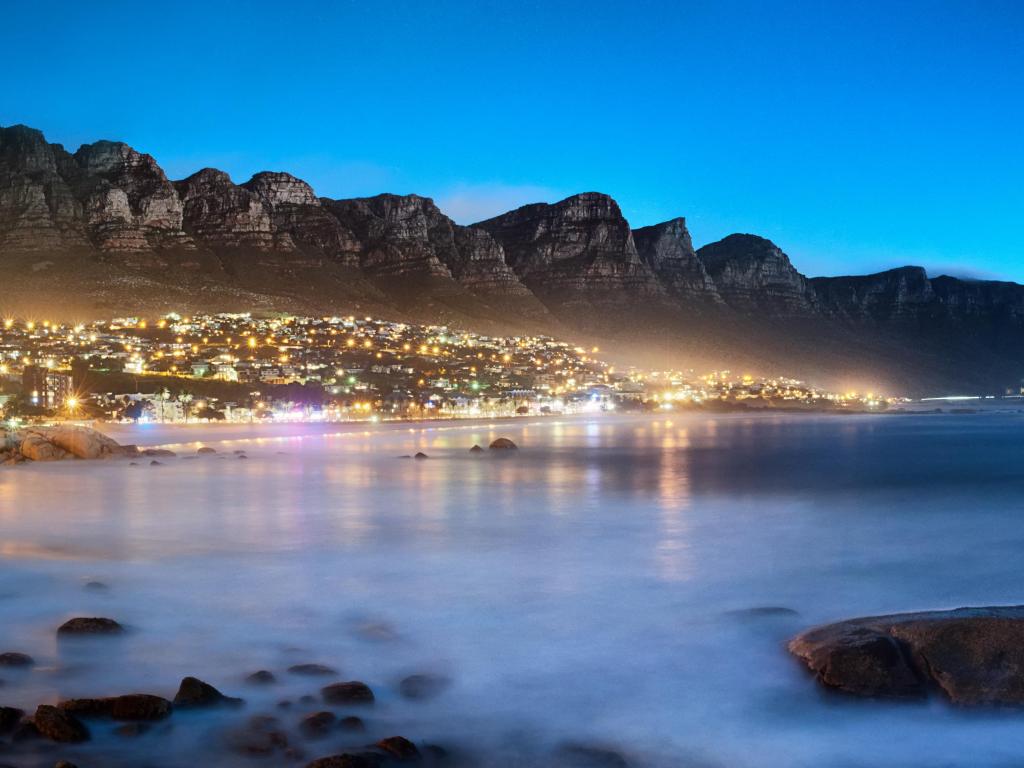 Offering an onsite spa and gorgeous rooms with stunning bathrooms, plus some with balconies, you'll also get access to the sauna, steam room and heated pool. This is the ultimate hotel for relaxing after your long road trip to Cape Town.
The fun doesn't stop at the hotel, though. If you feel like branching out, the famous Long Street is only a one-minute walk, while the V&A Waterfront is 3 km away.
Whilst staying in Cape Town, you have to take the rotating cable cars which climb to Table Mountain, where you can enjoy sweeping views of the city, and the busy harbour. You can also see Robben Island, the notorious prison that once held Nelson Mandela, which is now a living museum.
Things to see on a road trip from Durban to Cape Town
There's so much to see on this road trip from Durban to Cape Town that you could easily spend several weeks visiting all the national parks, cities and beaches along the way.
But if you are pressed for time, here are some of the highlights you'll find along both routes.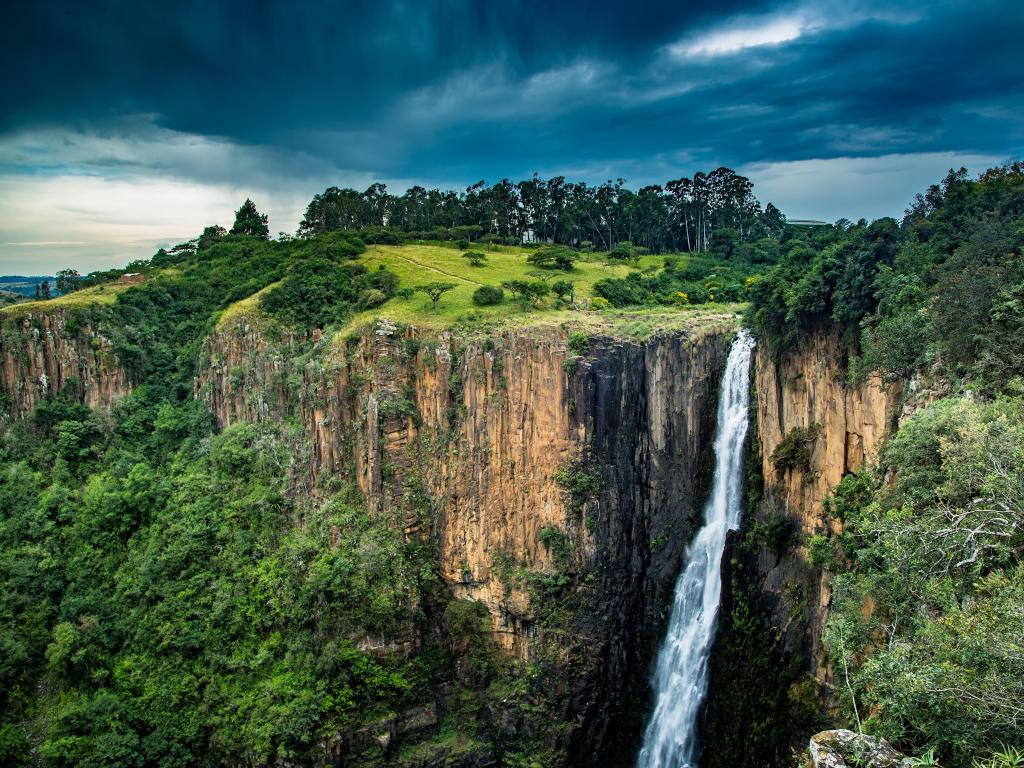 The Inland Route
PheZulu Safari Park - Located in Botha's Hill just 35km from Durban, this picturesque park has views of the Valley of a Thousand Hills and animal watching including crocodiles, giraffes, and venomous snakes!
Howick Falls - This 95-meter waterfall lies on the Umgeni River. It is called KwaNogqaza by the Zulu people, meaning "Place of the Tall One".
Nelson Mandela Capture Site - This steel sculpture and visitor center mark the arrest site of Nelson Mandela in 1962. He spent the next 27 years in prison.
Nambiti Big 5 Private Game Reserve - This reserve provides lodging, safari tours, and animal-spotting, including elephants, rhinos, and leopards.
Karoo National Park - This semi-desert covers 750 square kilometers and offers mountain biking trails, walking and hiking trails, 4x4 trails, scenic landscapes, and guided game drives.
Oudtshoorn - Known as the ostrich capital of the world, Oudtshoorn sits along the Route 62 wine route. Some things to do here include Meiringspoort Waterfall, Cango Caves, Swartberg Pass, and Highgate Ostrich Show Farm.
Wilderness National Park - Set in the scenic Garden Route, this park provides stunning vistas and diverse wildlife. You can even spot dolphins and whales from Dolphin Point!
Swellendam - This is the fifth oldest town in South Africa with over fifty provincial heritage sites. Things to do include Sanbona Wildlife Reserve and Bontebok National Park.
Franschhoek Pass - This scenic drive with lookout points of mountains and valleys includes the entrance to the Mont Rochelle Nature Reserve.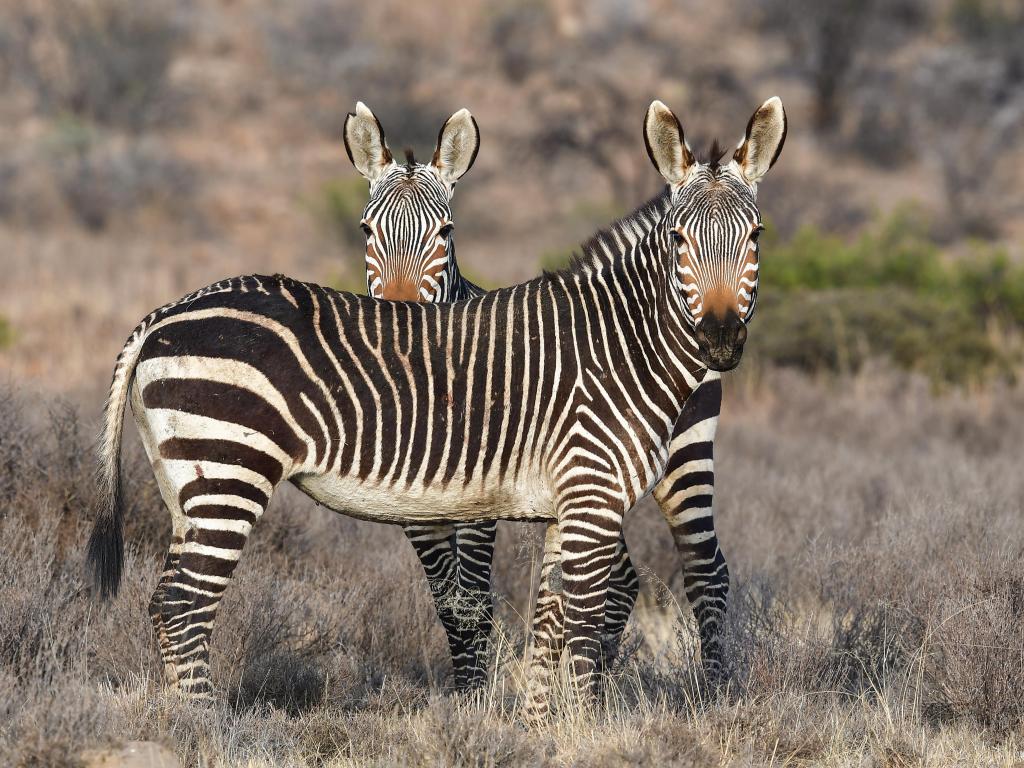 The Coastal Route
Kokstad - The capital and biggest town of the East Griqualand region boasts nearby things to do like Garden Castle Nature Reserve, Oribi Gorge Nature Reserve, and Sani Spoors.
East London - This seaside city on the Indian Ocean is known for its beaches, including Nabob and Cove Rock. At the East London Museum you can find fossilised human and animal footprints.
Addo Elephant National Park - This conservation area with diverse wildlife is one of the country's twenty national parks. It's the third largest national park behind Kruger National Park and Kgalagadi Transfrontier Park.
Gqeberha - Also known as Port Elizabeth, this city is known for its beaches and being the gateway to the Garden Route. Taking to the seas will offer whale sightings while going inland will offer elephants, rhinos, and other big game.
Tsitsikamma National Park - This area of the Garden Route National Park sits on South Africa's southern coast and encompasses a marine reserve. Make sure to check out Storms River and the 5-day Otter Trail!
Bloukrans Bridge - If you're a bit of an adrenaline junky, this arch bridge stands at a height of 216 meters and offers the highest commercial bungy jump in the world!
Garden Route National Park - Known for its dramatic coastline, this national park offers a scenic drive 300 km long, hiking trails, and indigenous forests.
Agulhas National Park - This coastal park offers whale watching, shipwrecks, and over 2,000 native plant species. Although one of the smallest national parks in South Africa, it's definitely worth a visit if you have the time!
Grotto Beach - This 18km white sand beach provides a view of the mountains behind Hermanus. The beach is perfect for swimming and sunbathing.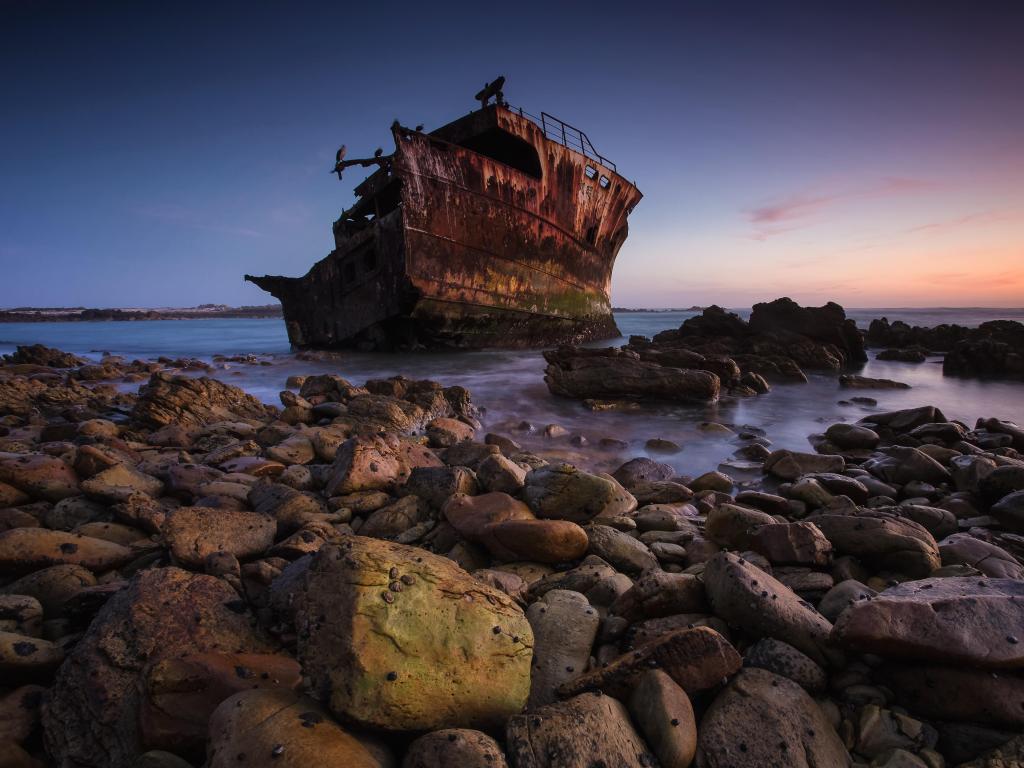 Best time to go on a road trip from Durban to Cape Town
One of the many great things about this road trip from Durban is that Cape Town is a year-round destination, whether you're planning a summer beach holiday, whale watching in the winter, blooming flowers in the spring, or hiking in the fall.
Summers in this part of South Africa are warm and pleasant, with average temperatures of 23 degrees Celsius, though they can reach as high as 35 degrees. With warm weather, this is the perfect season for enjoying the beaches on the Scenic Route.
If you're looking for a road trip on a budget or to avoid busy crowds, then winter is a great time to visit Cape Town. That said, it's also peak whale-watching season so we definitely recommend going during this time if you're not fussed about swimming or the rainy weather!
Another solid option is to plan your trip in spring when you'll see gorgeous blooming flowers, brushing the landscape with colour. Rainy days start to calm down and although the weather can still be a bit chilly, the temperatures start to rise again.
Fall is also a lovely time to visit Cape Town, as the weather is 22-28 degrees during the day. You don't have to worry about boiling temperatures and as a bonus, there is a lot less wind! You'll have calm days with the perfect temperature for outdoor activities.
If you aren't worried about tourists, then you could plan your visit with the Cape Town Cycle Tour in March or the International Jazz Festival in the same month. For something sportier, there's the Old Mutual Two Oceans Race, the two biggest running events both held in April.