Road Trip from Queenstown to Milford Sound
If you want to explore the eighth wonder of the world, with its impressive waterfalls, lakes, and magnificent mountains, there is no better way than this road trip from the adrenaline city of Queenstown to Milford Sound, weaving through drastic scenery changes, Southland area, and lovely coastlines.
The 510 km road trip from Queenstown, New Zealand to Milford Sound will take you 6 hours to drive. Highlights include Kingston Invercargill, Manapouri, Te Anau Downs, Monkey Creak, Devil's Staircase Lookout, and Eglinton Valley, Fiordland National Park.
On a road trip like this one, filled with the beauty of nature, you are in for the trip of a lifetime. Read on to discover the best routes to take, places and hotels to stop, things to see on the drive as well as the best times to set off.
How far is Milford Sound from Queenstown, and how long will the road trip take?
Comparison of road trip routes between Queenstown and Milford Sound

| Route | Distance | Driving Time |
| --- | --- | --- |
| The Small Loop | 280 kilometers | 3 hours 30 minutes |
| The Big Loop | 510 kilometers | 6 hours 30 minutes |
Covering 280 km, The Small Loop will take you from Queenstown to Milford Sound in 3 hours, driving through the quaint countryside, exploring the nature and wildlife of New Zealand.
If you have ample time on hand and want to explore more of the Southland area of New Zealand, The Big Loop will take you through nature, history, and city life covering 510 km in 6 hours.
Although this trip can be covered in a day, we recommend setting aside at least 2 days for a wholesome experience.
Best road trip route from Queenstown to Milford Sound
Regardless of the route you take, this road trip from Queenstown to Milford Sound is lined with natural beauty that makes you feel like you are entirely on another planet.
The Small Loop will take you from Kingston and Te Anau to Milford with minimal stops. It is a quaint route taking you through the countryside. You will have lots of opportunities to take in the nature and wildlife of New Zealand. This route is faster and most commonly used route to Milford Sound.
If you are feeling adventurous and want to make the most of this trip, consider taking The Big Loop. It is longer and provides the opportunity to visit more of Southland New Zealand. It follows dramatic scenery changes as you move from the countryside to coastlines, with an option to visit Doubtful Sound.
Even though this route is longer, it offers a wholesome experience from the countryside to mountains and lakes while giving you an opportunity to explore the city experience in Invercargill.
The Small Loop
If you are short on time or would like to spend most of the time at your destination instead of travelling, The Small Loop would be the perfect choice. Head southeast from Queenstown on State Hwy 6A toward Ballarat St. then turn right onto State Hwy 97.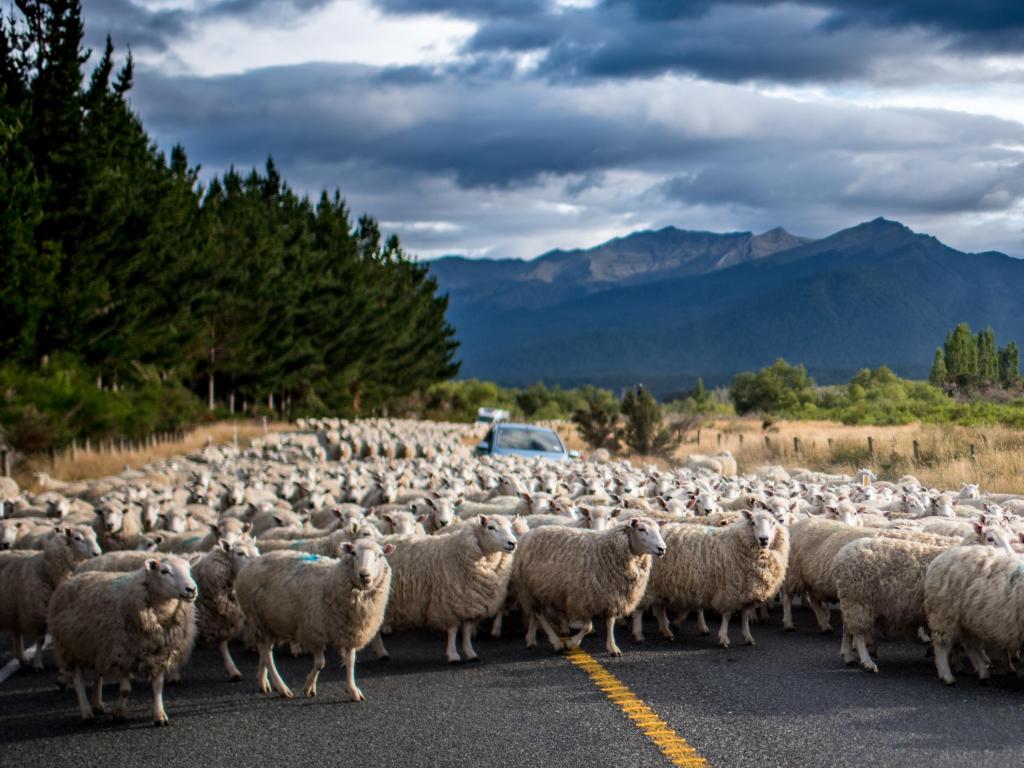 Following this highway, you will reach Te Anau. Stop here overnight and enjoy the many attractions this small town has to offer. Famously known for being the gateway to Fiordland National Park, it gives you a chance to take a detour to this park and take in the breath-taking beauty of nature.
Resuming your journey, turn right onto State Highway 84 and get onto Sandy Rd. Turning right from there onto State Hwy 94, you will reach the eighth wonder of the world, Milford Sound.
The Big Loop
Choosing The Big Loop head southeast from Queenstown toward Ballarat St. Turn right onto State Hwy 94 and head toward the town of country music, Gore. You can stop here for a while to fish and take in the beauty of nature.
From there, head southwest toward Hyde St and turn left onto Lindisfarne St toward the "City of Water and Light", Invercargill. Stop here overnight and explore the natural beauty in this city known to showcase the jaw-dropping Southern Lights, Aurora Australis.
When you are ready to hit the road again, head west toward Elles Rd and continue onto Queens Dr. Turn left onto State Hwy 99 and drive toward Whare Creek. Explore the farmstead for a while before heading north into Manapouri.
This is your last stop before Milford Sound and while you can enjoy scenic lakes and natural beauty at your destination, Lake Manapouri is worth stopping by. When you are done, head west onto State Hwy 95 to your destination of Milford Sound.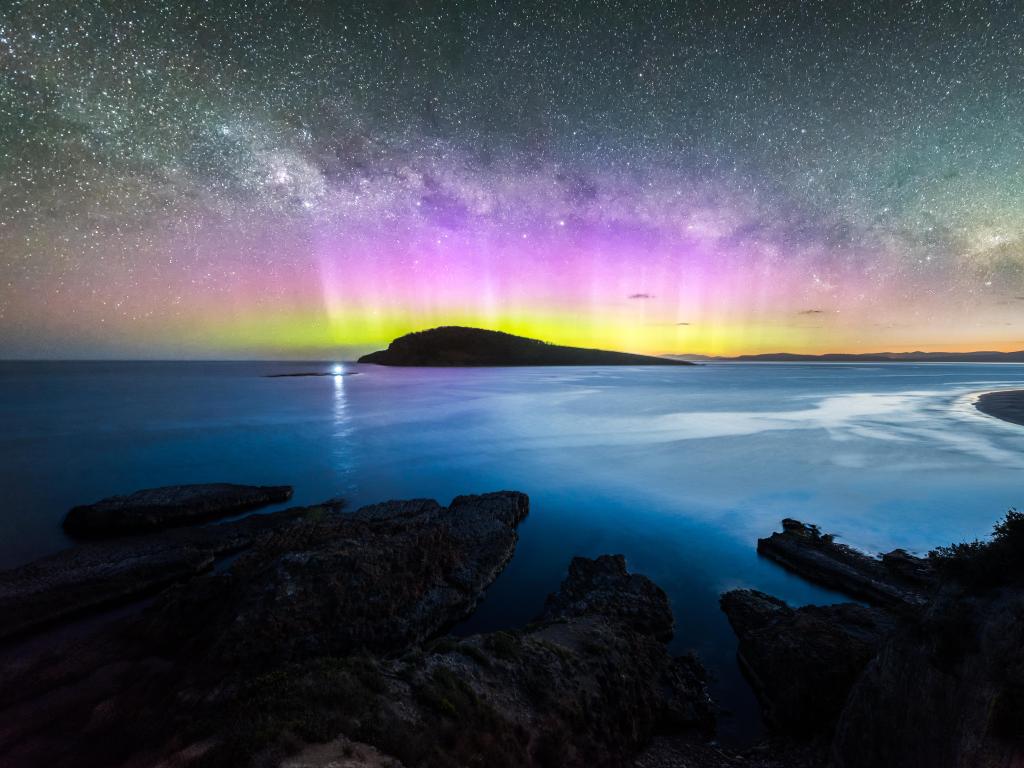 Best places to stop between Queenstown and Milford Sound
While you could cover this road trip while driving non-stop to your destination and call it a day, we recommend taking a few stops to make this trip truly memorable. We have curated a list of the best places and hotels to stay overnight on both routes.
Explore the Glowworm Caves at Te Anau
Sitting just an hour and a half away from your destination from both the routes, The Small Loop as well as The Big Loop, sits the gateway to Fiordland, Te Anau. Located on the South Island of New Zealand, this is a serene and picturesque town to relax and take in the scenery.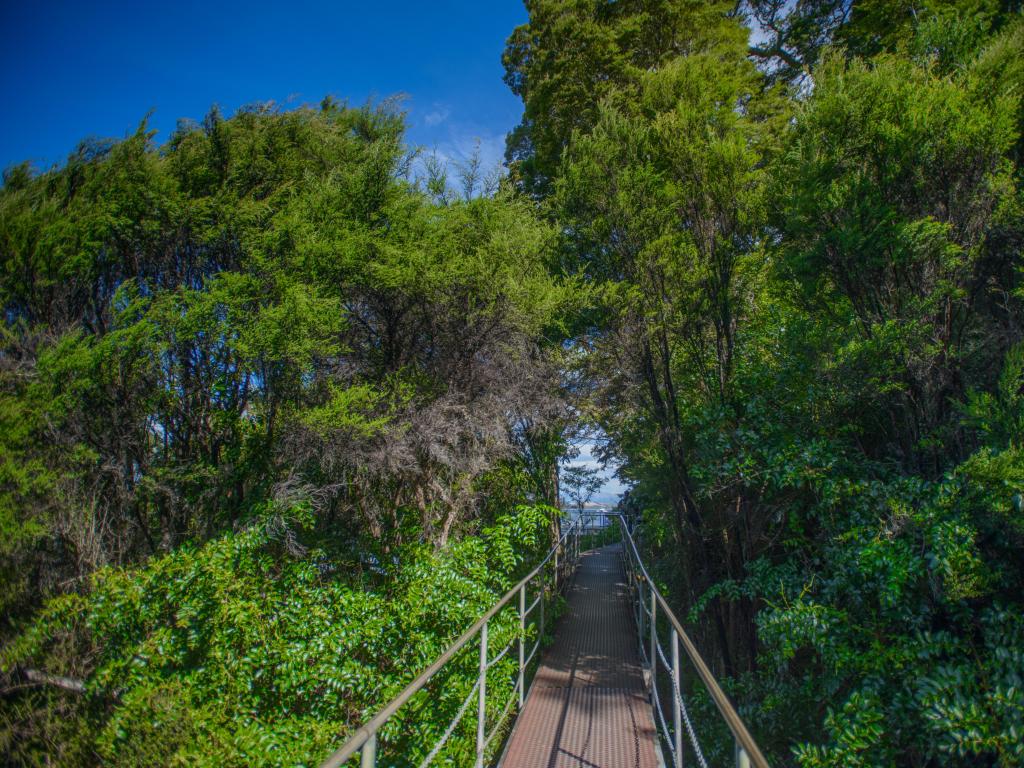 With many unique attractions to offer, Te Anau is one of the final destinations before visiting Milford Sound. Home to the largest lake in the Australasia area, this town showcases an underground waterfall, beech trees, glacial valleys, and mountains.
During your stay in this magical town, visit Te Anau Glowworm Caves where you can take a boat ride through the caves and see the many glowworms as they radiate and light up the tunnels. Another must-see place is Lake Te Anau, one of the largest lakes in New Zealand, perfect to relax and marvel at nature.
Dunluce Boutique B&B takes all our votes for accommodation and it's not hard to see why. This hotel is a quaint and peaceful B&B with picturesque scenes of the lake and mountains. It also offers continental breakfast and a guest lounge with a fire pit.
It has a complimentary concierge for restaurant and tour bookings to take the burden of preparations off your shoulders and give you a truly relaxing stay. Beautifully curated gardens give you the opportunity to take leisure walks and loosen up from the journey.
This hotel is close to attractions like Milford Sound and Doubtful Sound, allowing you to easily reach them without having to travel for miles. With free parking, you wouldn't have to think twice about your car.
Chance a glimpse at aurora australis in Invercargill
Halfway along The Big Loop, you will encounter Invercargill, one of the coolest and cloudiest cities in New Zealand. It offers you a chance to experience the urban side of New Zealand. One of the more urban cities in Southland, it showcases incredible landscapes, unique museums, and other attractions.
You can also grab the once-in-a-lifetime chance to marvel at the Southern Lights, Aurora Australis from Oreti Beach for a night to remember, so go prepared with your best camera.
During your stay in the most Southern city of New Zealand, visit the Bill Richardson Transport World. It is a unique museum where you can find more than 300 vehicles dedicated to this family's legacy. Then there is the incredible Oreti Beach where you can enjoy a dip in with just a small drive.
We recommend staying at The Langlands Hotel during your stay in Invercargill. This is the newest hotel in the city and brings in a contemporary style. With 5 dining options providing everything from morning coffee to late-night curated cocktails, you are in for the utmost comfort in this hotel.
With the rooftop bar, you can enjoy skyline views of the city while loosening up. An inner-city location makes it easy for visitors to leave their car in the free, private parking and explore shops and dining options on foot. It also has a fitness centre so you won't have to miss a workout.
Where to stay when you reach Milford Sound
After reaching your destination, you would need to set your feet at rest before heading out to explore the jaw-dropping beauty of graceful waterfalls, lush mountains and tranquil lakes that Milford Sound has to offer.
We recommend staying at Milford Sound Lodge. With incredible views, it is one of the only places to stay in this location. This hotel offers delicious, continental breakfast, allowing you to start your adventures early without having to travel miles for your morning morsel.
Luxurious studios in a riverfront property make for a comfortable yet extravagant stay. It also has a cosy restaurant serving New Zealand cuisine, wine, and craft beer. It is located near many amazing hiking trails, keeping you close to adventure.
Things to see on a road trip from Queenstown to Milford Sound
The road trip from Queenstown to Milford Sound has a bit of everything; history, scenic beauty, serene walks, you name it! Read on for our curated list of the best places to visit on both routes while on the road.
The Small Loop
Mossburn – Enjoy deer-spotting and stunning mountain backdrops in this small town known to be the deer capital of New Zealand.
The Key – Stop here to take in the beautiful mountainous views and stunning New Zealand countryside.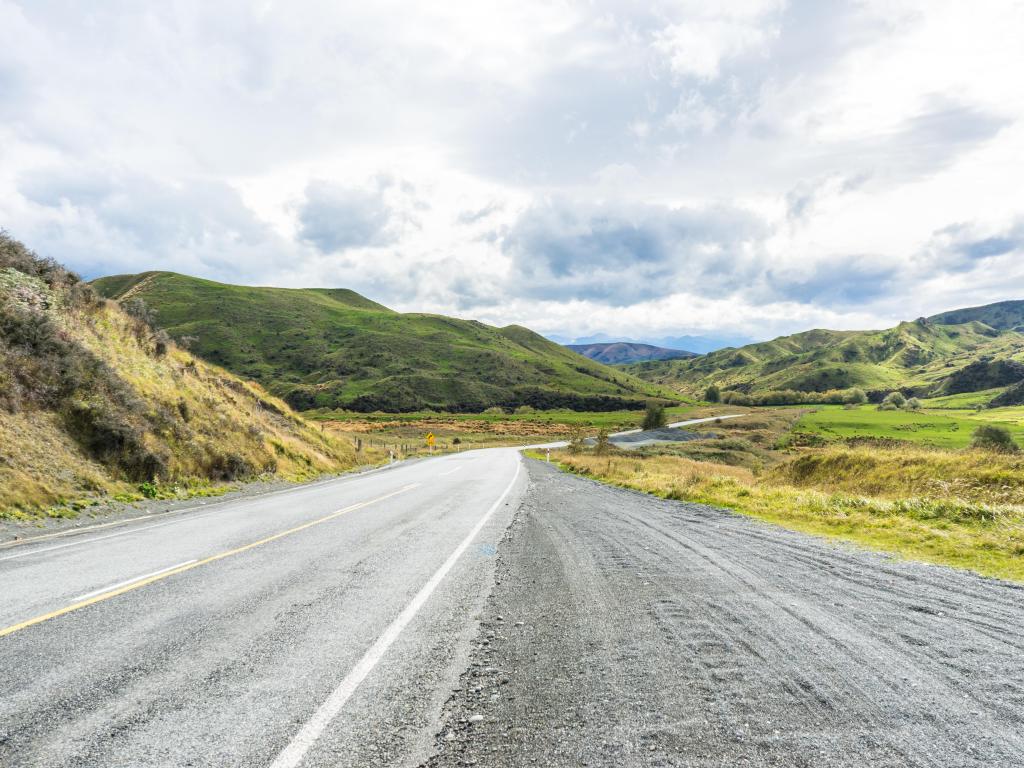 The Big Loop
Hokonui Moonshine Museum, Gore – Visit this unique museum to learn about the history of illicit whiskey-making and consumption through the prohibited area.
Anderson Park – Experience the generosity of Sir Robert Anderson and explore the unused homestead he bought, built in 1910 in this historical park.
Queens Park, Invercargill – Spend an afternoon relaxing in this lovely park with well-manicured gardens, perfect for a leisure walk!
Clifden Caves – Become a cave-man (or woman) for 2 hours and tour through this cave system to take in the beauty of the many glowworms that light up the tunnels.
Manapouri/Doubtful Sound – Use this town as a hub to explore the Doubtful Sound area through kayak or cruise boat.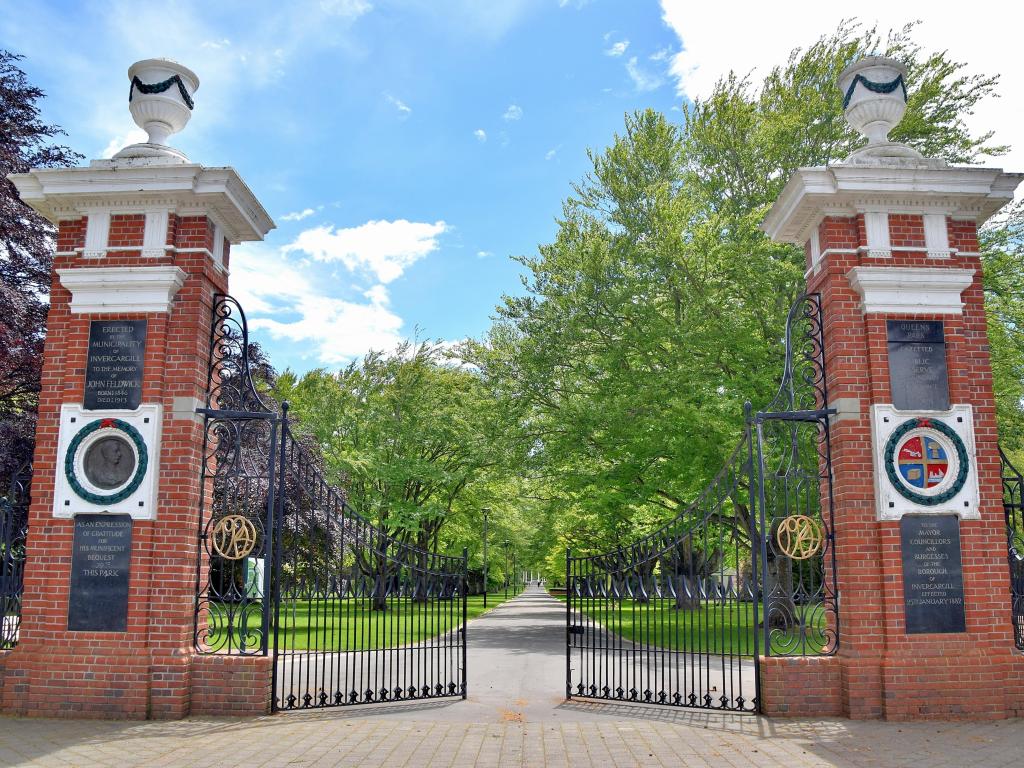 Both Routes
Devil's Staircase Lookout – View this stretch of road that curves and allows for you to take in the amazing lakeside views on this lookout.
Kingston – Take a bike ride through this quiet and serene town that is located on the banks of Lake Wakatipu.
Te Anau Downs – Walk in the lap of beauty on the starting point of the famous Milford track hike, considered one of the 10 great walks in New Zealand.
Eglinton Valley, Fiordland National Park – Explore one of the beautiful filming locations of the "Lord of the Rings" movies with drastic scenic changes from land to mountains.
Monkey Creek – Take a walk along the glacier-fed creek outside of Milford Sound.
Best time to go on a road trip from Queenstown to Milford Sound
Regardless of the season, this trip always gives something to do, qualifying it for a year-round destination. But mindful preparation is required because the weather can change drastically when getting closer to Milford Sound. It is also one of the wettest places in New Zealand so keep that rain jacket handy!
Summer is considered peak season for travelling in New Zealand, with increased prices and decreased hotel availability. Many locals will also be travelling during this time due to summer and Christmas break during the months of December to February.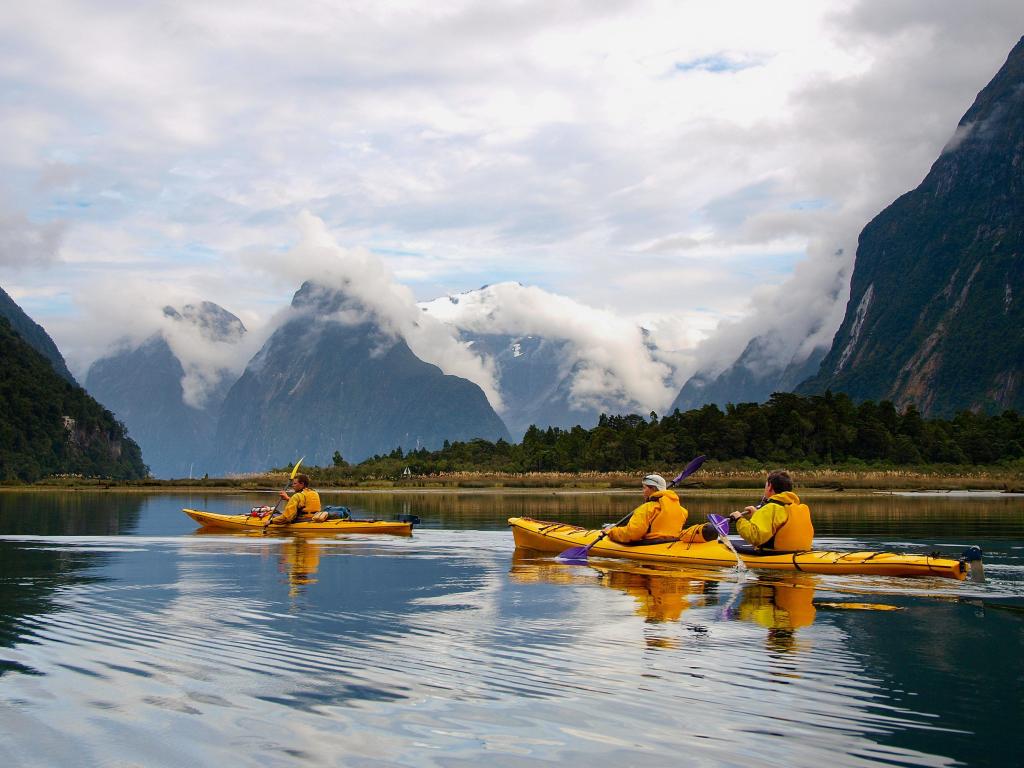 With average temperatures ranging from 20 degrees Celsius to 25 degrees Celsius, it rains the most during the months of December and January. If you are not a fan of huge crowds or are low on budget, you might want to avoid visiting Milford Sound in the summer.
Winter is also busy in towns like Queenstown, which is a famous ski area. Snow is quite common from June to August, most of it happening in July, creating difficult road conditions for which the country recommends packing tire chains. Temperatures range from 12 degrees Celsius to 16 degrees Celsius.
Spring and fall in Milford Sound are often quieter and more enjoyable, considered as "shoulder season". The spring months of September to November still bring in a high chance of rainfall but the weather is still warm to enjoy outdoor activities and possible spring skiing.
Spring it the best time to visit Milford Sound as you will find more availability and better rates on accommodation and activities. Fall months from March to May bring in sunshine and autumn colors with fewer crowds and warm weather. The temperature ranges from 17 degrees Celsius to 21 degrees Celsius.
While most of the Milford Sound area is inhabited, it is known for hosting the Milford Music Festival. Held on the weekend of June 24th, this festival is the most anticipated event of the year where tourists and locals come to experience the music and let their hair down for the evening.