Road Trip from Auckland to Queenstown
A road trip through New Zealand takes you through almost every type of scenery on earth, from white sandy beaches to staggering glaciers. Every turn on the epic journey from Auckland to Queenstown offers a new surprise, from the glowing ​​Waitomo Caves to the miniature world of Hobbiton.
The 2,000-km road trip from Auckland to Queenstown takes 29 hours to drive. You'll pass through Waitomo Caves, Pureora Forest Park, Wellington, Fox Glacier and Wanaka on the East Coast, or head west via Hobbiton, Lake Taupo, Napier and Christchurch.
Discover the distinct cultures of both the North and South Islands on this epic Kiwi adventure. There is so much to explore on this sweeping tour of New Zealand that you'll need a plan. Keep reading for our recommended routes, when to travel and where to stop along the way.
How far is Queenstown from Auckland, and how long will the road trip take?
Comparison of road trip routes between Auckland and Queenstown

| Route | Distance | Driving Time |
| --- | --- | --- |
| The Napier Route | 2,000 km | 29 hours |
| The Hamilton Route | 1,660 km | 23 hours 50 minutes |
The Napier Route is about 2,000 km long and takes 29 hours to drive. It is the longer of our suggested two routes and sticks mainly to major highways, meaning that the road conditions should be reliable even in the winter.
The Hamilton Route bypasses some of New Zealand's major cities to wind through the glaciers of the West Coast. This route is 1,660 km long, which takes 23 hours and 50 minutes to drive.
Due to the mountainous nature of this route, your journey might be impacted by adverse weather conditions, so keep in mind to check ahead.
When calculating your journey time, be aware that although the speed limit is 100 km/hr on almost all the roads in New Zealand, you won't be able to hit this maximum speed on many of them due to road conditions and the vast number of bends and corners.
With so many kilometres to cover on either route, we'd recommend taking at least 2 weeks to complete this trip, though you could easily take 3 weeks or longer. Even so, you may have to pull yourself away from some of the towns en route, many of which have such a welcoming atmosphere you'll want to park up for longer.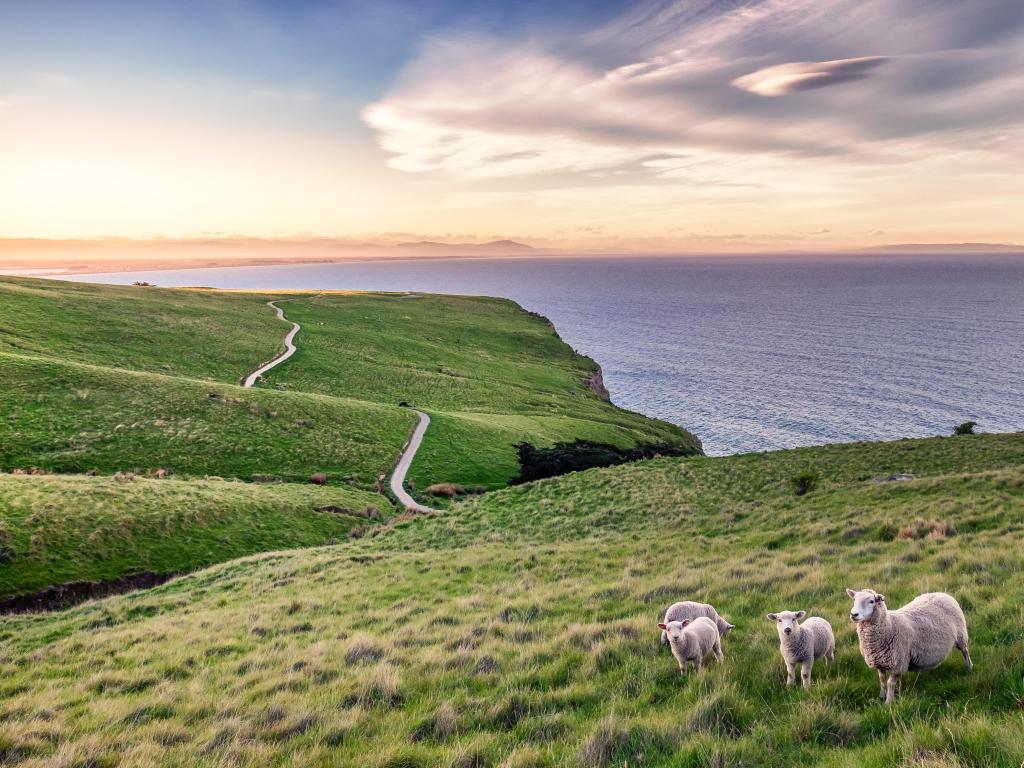 Best road trip route from Auckland to Queenstown
We've chosen two different routes heading from Auckland to Queenstown, one of which travels through glacier country on the East Coast of the South Island while the other travels down via the vibrant cities of the West Coast.
The Napier Route is the slightly longer option, while offering more of a straightforward drive. You'll get the chance to discover major cities like Napier, Wellington and Christchurch, as well as the rolling green landscapes of Hobbiton.
There is no shortage of natural scenery, from the crystal waters of Lake Tekapo and Lake Taupo to the thermal mud pools of Rotorua. You'll get a taste of altitude on this route as well, with the opportunity to drive up to Mount Cook village.
The Hamilton Route is the shorter and more nature-heavy of the two options. It takes you right into the middle of nowhere, into some of the most dramatic landscapes in the world. You'll get to see the twinkling glow worms of Waitomo Caves and the open space of Pureora Forest Park, before stopping in the cultural hub of Wellington.
From there you'll enter Glacier Country, with the opportunity to hike up Fox Glacier or sky-dive over its peak. You'll wind via the mountain towns of the Southern Alps before lake-hopping your way to Queenstown.
The Napier Route
Take State Highway 1 south out of Auckland and turn onto State Highway 2. Hop onto State Highway 25 to head up through the Coromandel Forest Park. Stop in Coromandel for golden beaches and wildlife-filled rock pools.
Head south to follow the Waihou River via Awaiti and Otway. Join State Highway 27 and follow signs for Hobbiton Movie Set Tours. After your camera roll is full, take State Highway 5 all the way to Rotorua.
Continue on State Highway 5 to reach Lake Taupo, where you can swim or paddle board in the huge expanse of the freshwater lake. Follow this road across the country to hit the East Coast and arrive in Napier. This city has a thriving food and drink scene along a stunning waterfront.
Take State Highway 50 and State Highway 2 to pass through Masterton on the way to Wellington. From here you'll take a ferry over to the South Island. Picton is the first stop, which is the gateway to the Marlborough Sounds.
Follow State Highway 1 along the East Coast to arrive in the cultural hub of Christchurch. Continue on this road, then follow State Highway 79 and follow signs for Lake Tekapo. Here you can hug the shores of Lake Pukaki to head up to Mount Cook.
Wind down through the Southern Alps on State Highway 8 to pass through Cromwell and arrive in Queenstown.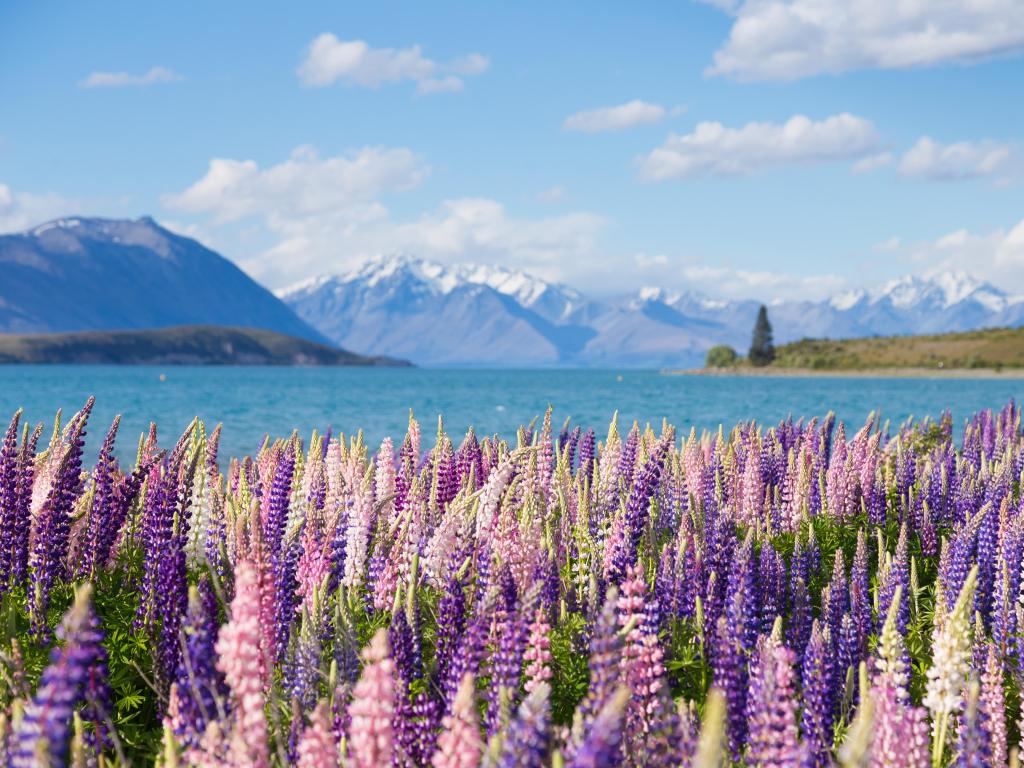 The Hamilton Route
Head out of Auckland on State Highway 1 to arrive in Hamilton. You can see the whole world via Hamilton Gardens, from Japanese to Italian Renaissance garden designs. Take a detour from here to Waitomo Caves to see the famous glow worms.
Continue south on State Highway 1 and turn off to follow signs for Waikato River Trails. Join State Highway 32 to head into Pureora Forest Park, which is a great place to stretch your legs.
Take State Highway 41 to arrive at the volcanic landscapes of Tūrangi, before continuing on State Highway 1 through Tongariro National Park. You can hike the Tongariro Crossing to see its characteristic acid green sulphurous pools.
State Highway 1 takes you down via the West Coast to Wellington. Take the ferry to cross the channel and pass through Picton, before following the Wairau River south via Mount Richmond Forest Park. Take a mini detour to visit Nelson, which has some brilliant local art galleries.
You'll hit the West Coast at the aptly named Westport, which has plenty of character as an old European settlement. Continue south on State Highway 6, passing through Greymouth, which is a great base for exploring Arthur's Pass National Park.
Keep on this road to arrive at Franz Josef, where you can take advantage of all the outdoor activities based around Fox Glacier. Continue winding through the Southern Alps on State Highway 6 to reach the lakeside haven of Wanaka.
Turn off the highway down Cardrona Road, then turn back onto the Highway to reach the banks of Lake Wakatipu and Queenstown.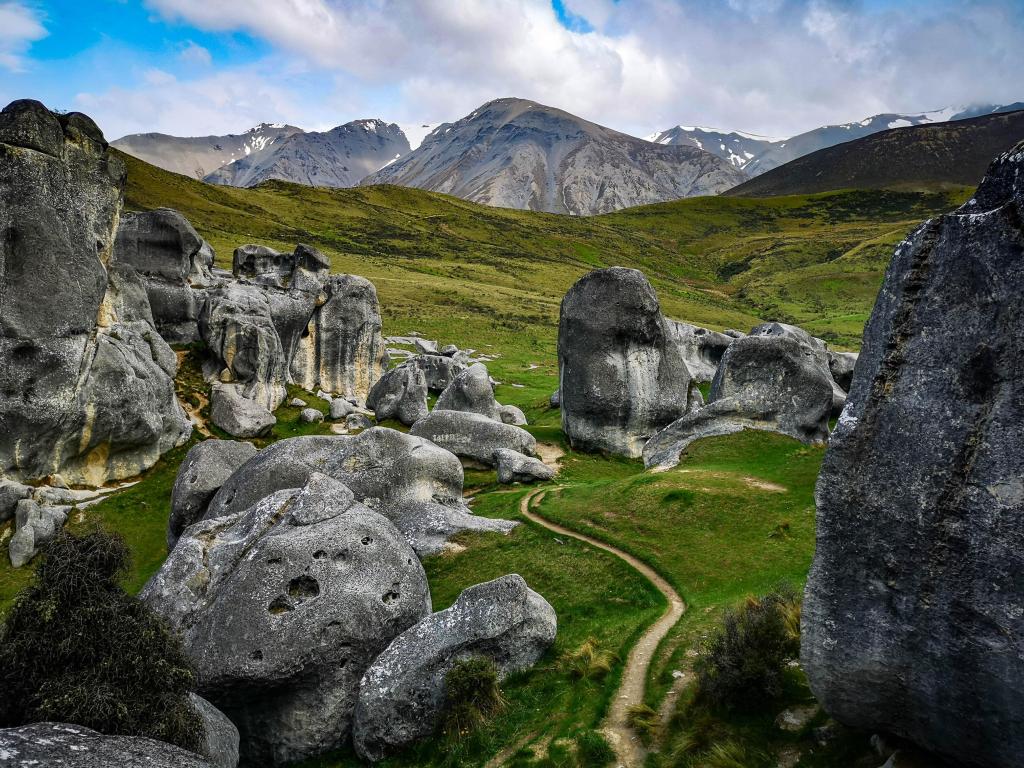 Best places to stop between Auckland and Queenstown
New Zealand is home to diverse scenery and characterful cities, which make for an incredible variety of overnight stays. We've selected some of our favourite stops to inspire your planning, including freshwater lakes, stunning hikes and fabulous museums.
Soak up Kiwi culture in Wellington
On both routes, Wellington is the crossover point, where you can take the ferry from North Island over to South Island. Consequently, it's about midway and makes a natural overnight stop.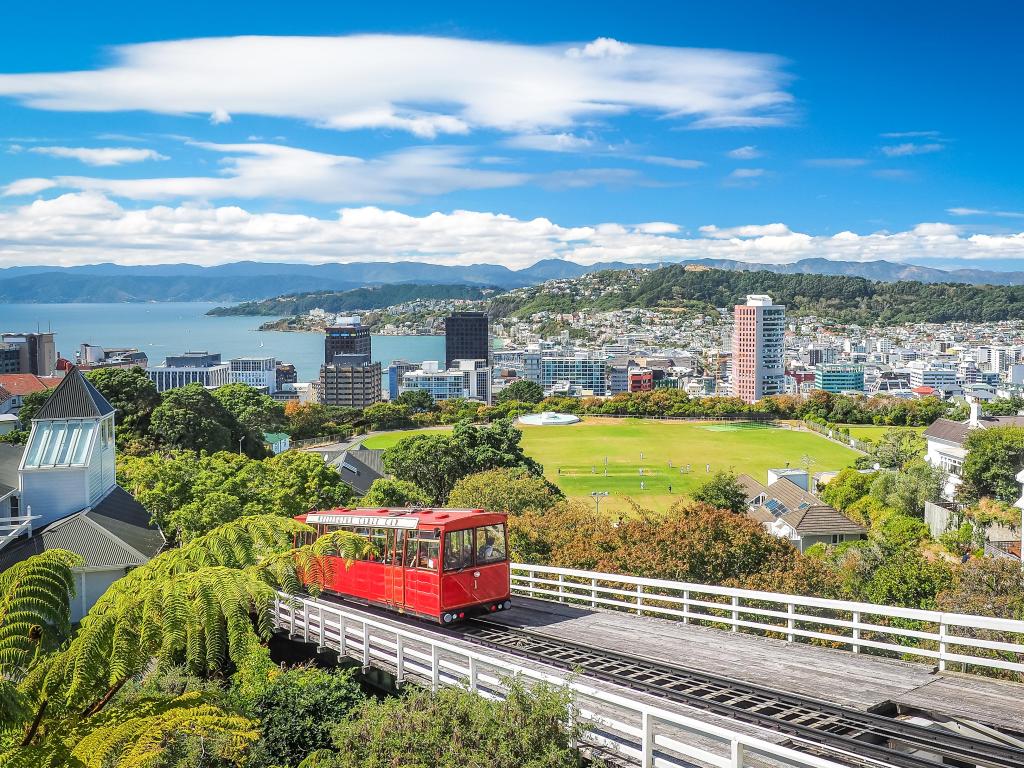 New Zealand's capital boasts a thriving cultural, food and drink scene, as well as being home to the country's government buildings and landmark museums.
Wellington is the centre of New Zealand's film industry, and Weta Workshop, the home to the amazing design and CGI of the Lord of the Rings, offers tours and workshops covering everything from the making of movie props, miniatures, make-up and special effects.
Support the local rugby team and get to grips with the national sport at Hurricanes Super Rugby Stadium. You'll get to see a live Haka, the ancient war dance, being performed, as well as fire shows and mascots.
The beautiful Mövenpick Hotel overlooks the Cuban Quarter and is located by the scenic hills of Wellington. It's a great choice if you want elegant rooms and suites with great views of the city.
The heated pool, sauna and in-house restaurant make for a great place to relax after a busy day in the city, and hotel parking means you won't have to worry about your car.
Go lake-hopping in Wanaka
Wanaka is just an hour's drive from Queenstown, so is the perfect place for a refreshing stop before driving to your destination on the Hamilton Route.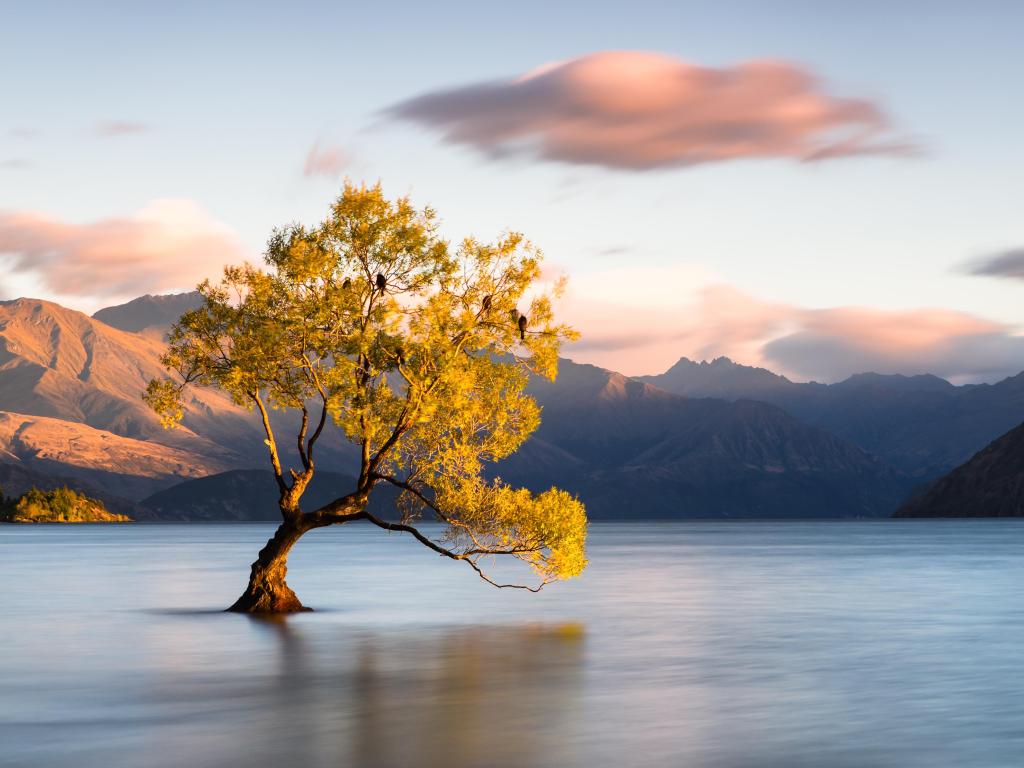 This small town packs a punch with incredible scenery, even by the standard of New Zealand, known for its epic landscapes. During autumn, the trees around the lake turn the most beautiful shade of auburn, while summer is the best time to take the (relatively short) hike up to Roys Peak.
Wanaka is known for its outdoor activities, offering winter skiing in the Southern Alps, great hikes all-year round and the opportunity for water-based leisure activities on Lake Wanaka. The lake itself is prime for swimming, paddling and seeing the famous Wanaka Tree.
Try Mount Aspiring National Park for great tramping, walking and mountaineering. The flora and fauna here are deemed so beautiful that the park has been added to the World Heritage list - keep your eyes open to spot the Rock Wren bird.
With such scenic surroundings, you will want to stay at a hotel that embraces the natural beauty around. At the Edgewater Hotel, not only the views are amazing, but kayaking and mountain biking can be arranged through the hotel if you want to immerse yourself in the landscape one-on-one.
After your adventures outdoors, you can treat yourself to the hotel's fabulous restaurant serves New Zealand cuisine paired with delicious local wines or to the state-of the art spa taking advantage of a variety of massages and treatments.
The hotel offers the best of both worlds - it is located a little outside of Wanaka surrounded by the water and magnificent mountains, though you can get to the centre of the charming town in 4 minutes.
Where to stay when you reach Queenstown
Once you get to Queenstown, you'll want to stay somewhere comfortable while you take advantage of all that's on offer in this adventure-fuelled town. The Sherwood is an eco-friendly hotel with plenty of charm, in a beautiful natural setting.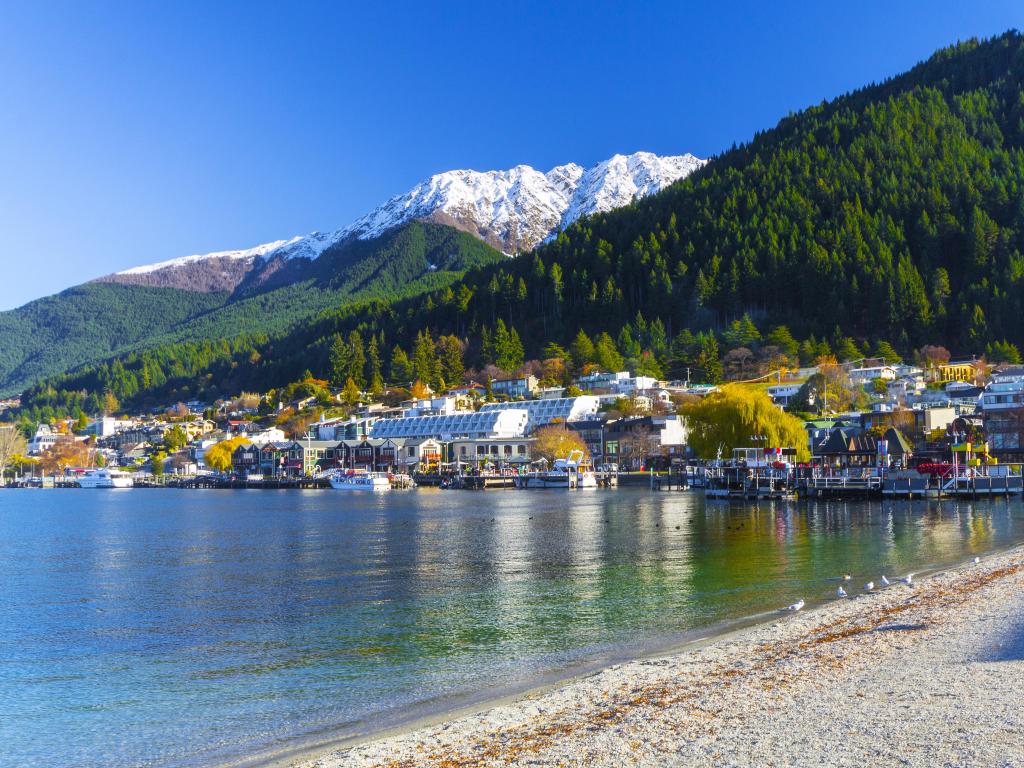 Set on a stunning hillside overlooking the Remarkables Mountain Range and Lake Wakatipu, this stunning property even has its own vegetable garden! If you are looking for some exercise the hotel has its own biking track, but you will also be within short driving distance to the ski ranges, if feeling adventurous.
Offering plenty of ambience with a sauna, restaurant, movie nights, live music, yoga and bonfires, this place will make you want to stay forever.
Things to see on a road trip from Auckland to Queenstown
From forest parks to glacial rivers and beachfront towns, we've rounded up a list of the best things to see on both routes.
The Napier Route
Coromandel Forest Park - This peninsula park is a breathtaking leap into the wilderness after leaving the suburbs of Auckland.
Hobbiton - Visit the set of the famous Lord Of The Rings series, where you can walk amongst the Hobbit houses and enjoy a beer in the local tavern.
Rotorua - This area is bursting with volcanic activity, where you can see geysers, hot springs and walk among the geothermal landscape.
Napier - This cute beachfront town, also referred to as the Nice of the Pacific, is filled with places to relax and 1930 art deco architecture.
Hastings - Known along with Napier as one of the Bay Cities, this is a great place for a beach day.
Christchurch - The second city on the South Island is well worth the visit. A series of earthquakes between 2010-2012 were a major setback for this city, but it has been flourishing again ever since. Take a trip around the city in the vintage tram or visit one of the many museums.
Rakaia River - This river is one of the largest braided rivers you will find in New Zealand and is mostly known for its fishing.
Tekapo Dark Sky Reserve - A must-visit for stargazers, stars shine more brightly on this quiet expanse than anywhere else.
Mt. Cook National Park - Drive up to the peaceful Mount Cook village and soak in the snow-capped mountain views.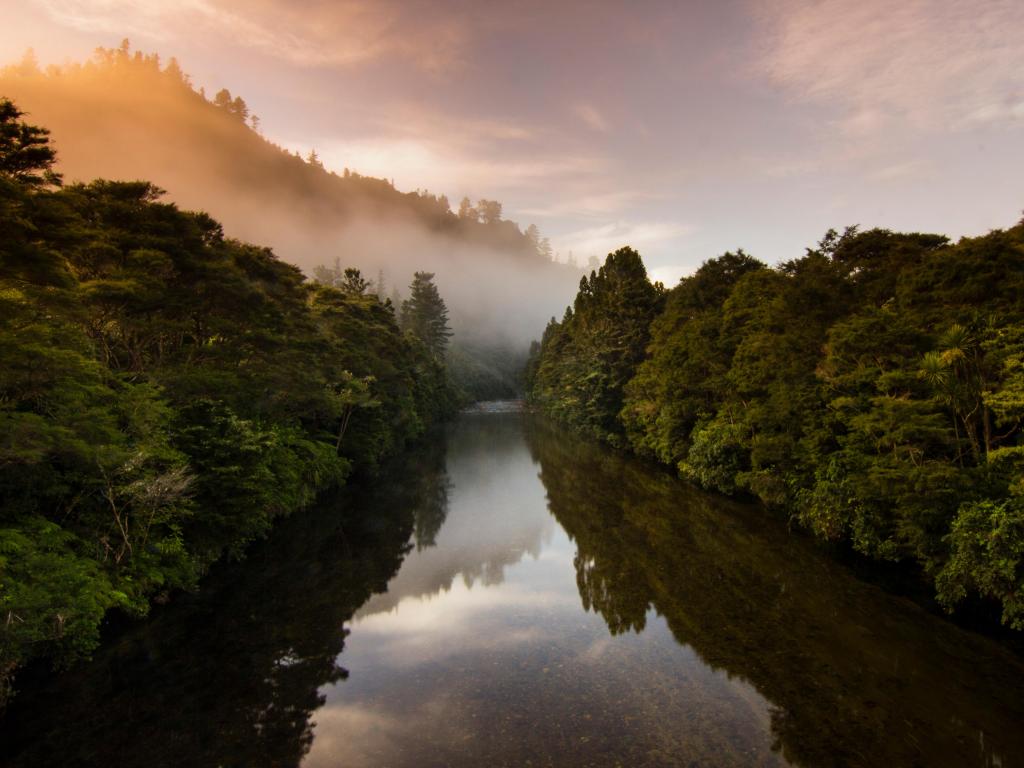 The Hamilton Route
Cathedral Cove - A beautiful beachside cove just an hour's walk from Hahei Beach. Walk on the white sand beaches and spot some little blue penguins if you're lucky!
Hamilton Gardens - Hamilton Gardens showcases garden designs from all over the world and throughout history, and are well worth a stroll.
Waitomo Caves - Go for a boat and walking tour through these limestone caves, where you'll find a space-like environment created by the glowworms scattered across the dark caves.
Pureora Forest Park - Enjoy this lush green forest park with a vast amount of hiking and mountain biking trails. Make sure to stop by the Maramataha Bridge, the longest suspension bridge in New Zealand spanning 141m.
Mount Richmond Forest Park - The second largest forest park in New Zealand is on your route! It offers different kinds of tracks, from one-hour walks to tracks into the ranges for experienced hikers.
Punakaiki Pancake Rocks and Blowholes Walk - This easy 20 minute walk takes you to see some of the most peculiar rocks you've ever encountered, layered like stacks of pancakes.
Franz Josef/Fox Glacier - Most glaciers call for a long, intense hike or helicopter ride, but these two are quite easy to reach. Don't miss out on stopping here to view one of these spectacular glaciers up close!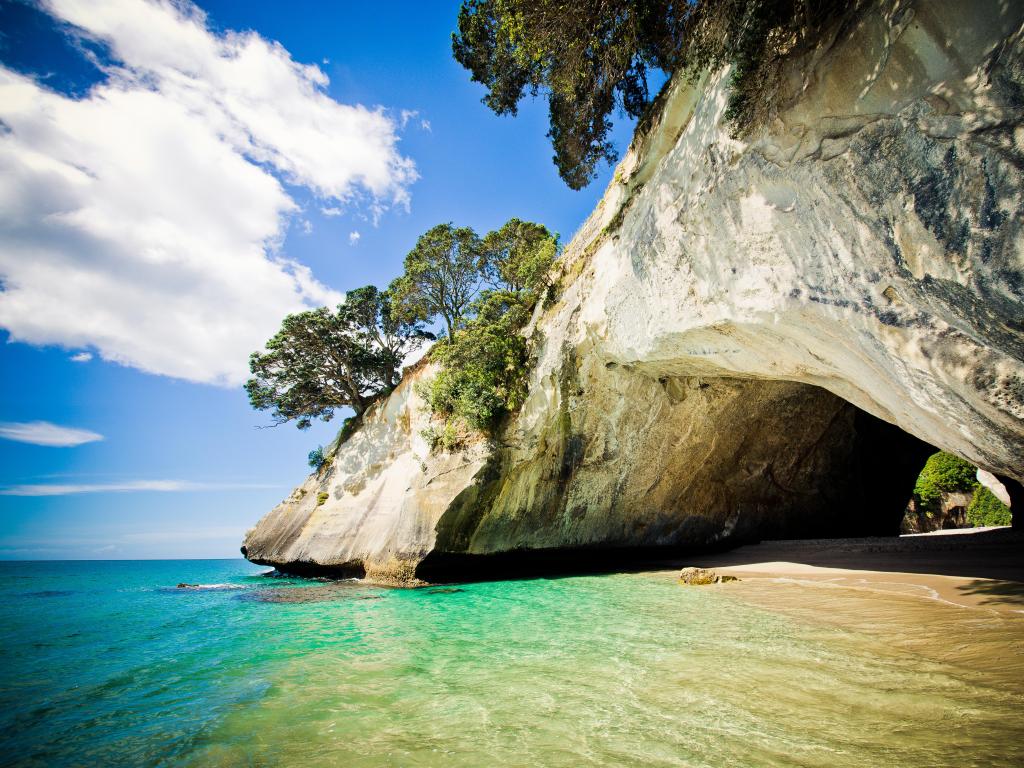 Both routes
Lake Taupo - This "inland sea" is the largest freshwater lake in Oceania and Asia. Enjoy a scenic boat tour, visit the Maori Rock Carvings or go fishing.
Rugby Museum, Palmerston North - Become a true Kiwi by learning more about the national sport. This museum shows some one of a kind relics, like the whistle that heralds the start of the world cup.
Tararua Forest Park - Take a memorable walk to stretch your legs in this wild landscape, which also offers hunting.
Space Place, Wellington - Explore the galaxy at this planetarium, which offers shows and sky observations if you opt for a nighttime visit.
Botanical Gardens, Wellington - This place is great for a lazy afternoon, with a variety of plants and a lush greenhouse.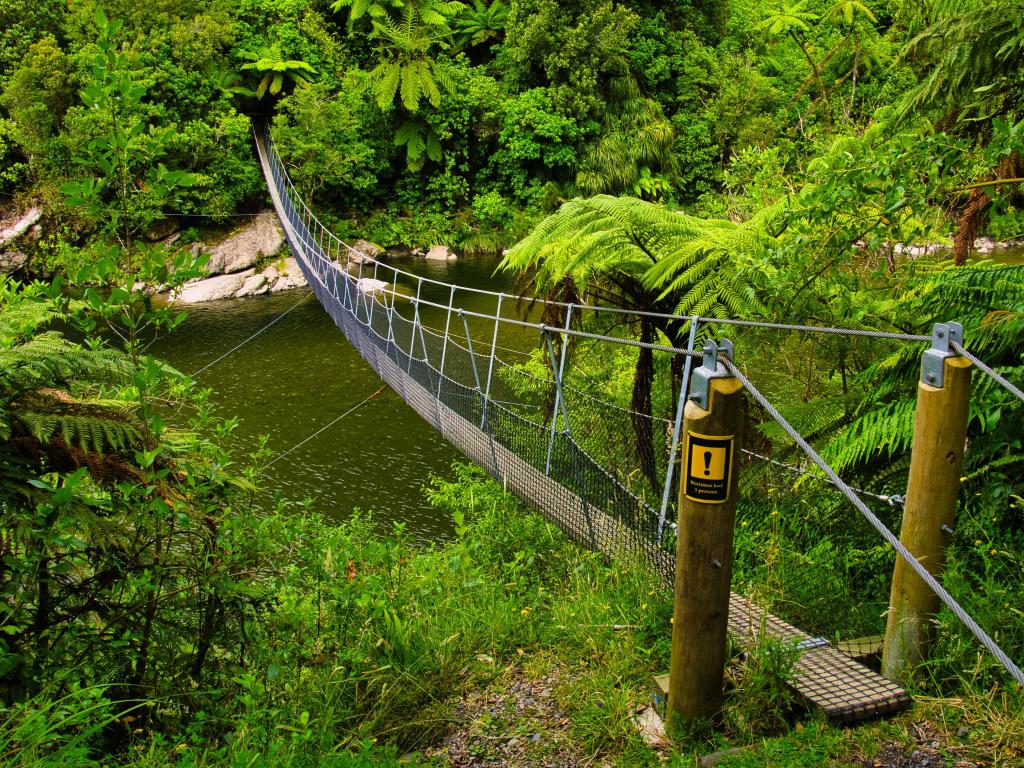 Best time to go on a road trip from Auckland to Queenstown
New Zealand is famous for its ability to have "four seasons in one day". Especially when covering such a big stretch of the country, it is definitely a year-round destination, but make sure to pack accordingly as you could be sunbathing in the north and skiing in the south.
New Zealand gets very crowded during the summertime (Dec-Feb) and accommodation can book out months in advance. Temperatures range from 15-20 degrees Celsius in Queenstown, though they can peak higher in the more tropical north. The major South Island summer event is the Rhythm & Alps festival in Wanaka.
Visiting New Zealand in the winter brings with it great opportunities for alpine sports and offers beautiful snow-capped scenery. However, skiing resorts can become crowded during peak season and harsh weather can make for tricky driving conditions.
Temperatures at this time of year range from 7 to 11 degrees Celsius in Queenstown. If you're lucky, you can catch Queenstown Winter Festival in June and New Zealand Mountain Film Festival Wanaka in July.
The shoulder seasons tend to be a bit quieter and you might be able to get some discounts at certain places. New Zealand offers such a variety of scenery and climate that spring and fall can also be beautiful moments to visit as the landscape changes.
Temperatures in Queenstown will be around 10 to 20 degrees Celsius at these times of the year. The New Zealand Open takes place in February, while April sees Arrowtown Autumn Festival and the Queenstown Jazzfest takes place in October.