Road Trip from Auckland to Queenstown
A road trip through New Zealand takes you through almost every type of scenery on earth, from white sandy beaches to staggering glaciers. Every turn on the epic journey from Auckland to Queenstown offers a new surprise, from the glowing ​​Waitomo Caves to the miniature world of Hobbiton.
The 2,000-km road trip from Auckland to Queenstown takes 29 hours to drive. You'll pass through Waitomo Caves, Pureora Forest Park, Wellington, Fox Glacier and Wanaka on the East Coast, or head west via Hobbiton, Lake Taupo, Napier and Christchurch.
Discover the distinct cultures of both the North and South Islands on this epic Kiwi adventure. There is so much to explore on this sweeping tour of New Zealand that you'll need a plan. Keep reading for our recommended routes, when to travel and where to stop along the way.
How far is Queenstown from Auckland, and how long will the road trip take?
Comparison of road trip routes between Auckland and Queenstown

| Route | Distance | Driving Time |
| --- | --- | --- |
| The Napier Route | 2,000 km | 29 hours |
| The Hamilton Route | 1,660 km | 23 hours 50 minutes |
The Napier Route is about 2,000 km long and takes 29 hours to drive. It is the longer of our suggested two routes and sticks mainly to major highways, meaning that the road conditions should be reliable even in the winter.
The Hamilton Route bypasses some of New Zealand's major cities to wind through the glaciers of the West Coast. This route is 1,660 km long, which takes 23 hours and 50 minutes to drive.
Due to the mountainous nature of this route, your journey might be impacted by adverse weather conditions, so keep in mind to check ahead.
When calculating your journey time, be aware that although the speed limit is 100 km/hr on almost all the roads in New Zealand, you won't be able to hit this maximum speed on many of them due to road conditions and the vast number of bends and corners.
With so many kilometres to cover on either route, we'd recommend taking at least 2 weeks to complete this trip, though you could easily take 3 weeks or longer. Even so, you may have to pull yourself away from some of the towns en route, many of which have such a welcoming atmosphere you'll want to park up for longer.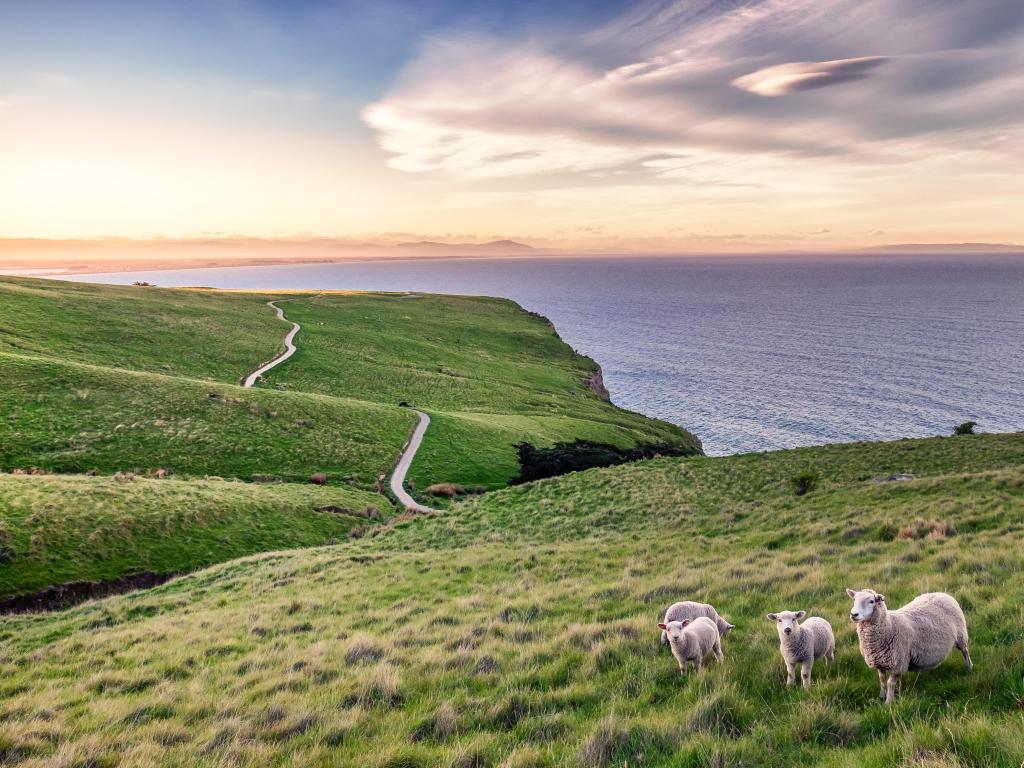 Best road trip route from Auckland to Queenstown
We've chosen two different routes heading from Auckland to Queenstown, one of which travels through glacier country on the East Coast of the South Island while the other travels down via the vibrant cities of the West Coast.
The Napier Route is the slightly longer option, while offering more of a straightforward drive. You'll get the chance to discover major cities like Napier, Wellington and Christchurch, as well as the rolling green landscapes of Hobbiton.
There is no shortage of natural scenery, from the crystal waters of Lake Tekapo and Lake Taupo to the thermal mud pools of Rotorua. You'll get a taste of altitude on this route as well, with the opportunity to drive up to Mount Cook village.
The Hamilton Route is the shorter and more nature-heavy of the two options. It takes you right into the middle of nowhere, into some of the most dramatic landscapes in the world. You'll get to see the twinkling glow worms of Waitomo Caves and the open space of Pureora Forest Park, before stopping in the cultural hub of Wellington.
From there you'll enter Glacier Country, with the opportunity to hike up Fox Glacier or sky-dive over its peak. You'll wind via the mountain towns of the Southern Alps before lake-hopping your way to Queenstown.