Road Trip from Queenstown to Christchurch
Discover New Zealand's South Island on this breathtaking road trip that takes you from Queensland all the way to the cultural hub of Christchurch. You'll travel through crystal clear alpine lakes, towering mountains and rolling Canterbury Plains, with the chance to spot familiar landscapes from the Lord of the Rings films.
The 560 km road trip from Queenstown to Christchurch takes 7 hours 30 minutes to drive. You'll visit Lake Hayes, Wanaka, Lindis Pass and Mount Hutt, or hug the coast to pass through Glacier Country, Mount Cook, Haast and Arthur's Pass Village.
Spanning the length of the emerald and glacier-filled South Island, this road trip shows New Zealand's stunning landscapes to their full advantage. We've listed out the best route options, highlight stops and overnight stays to help plan your adventure.
How far is Christchurch from Queenstown, and how long will the road trip take?
Comparison of road trip routes between Queenstown and Christchurch

| Route | Distance | Driving Time |
| --- | --- | --- |
| The Inland Scenic Route | 560 km | 7 hours 30 minutes |
| The Glacier Country Route | 740 km | 9 hours 30 minutes |
There are two different routes to make the journey from Queenstown to Christchurch, both of which have plenty to offer.
The Inland Scenic Route is the shorter option at 560 kilometres, which takes 7 hours 30 minutes of direct driving time. This faster route plots an inland and nature-filled journey - it doesn't include any coastal driving, but there is always the option to make a detour less than two hours to reach the beach.
The Glacier Country Route spans a longer distance of 740 kilometres, which takes 9 hours 30 minutes to cover. This more leisurely drive winds through Glacier Country and along the New Zealand coast, though it misses out the Lord of the Rings tours.
Neither of the driving times allows for stops along the routes, so we'd recommend giving yourself 6 to 7 days to enjoy a night or two amongst the natural wonders and characterful towns along the way.
Best road trip route from Queenstown to Christchurch
The Inland Scenic Route is the more direct of the two but doesn't skimp on beautiful sites. You'll pass countless crystal-clear lakes, including Lake Hayes, Lake Pukaki and Lake Tekapo, against the backdrop of the towering mountain ranges of Mount Hutt and Lindis Pass.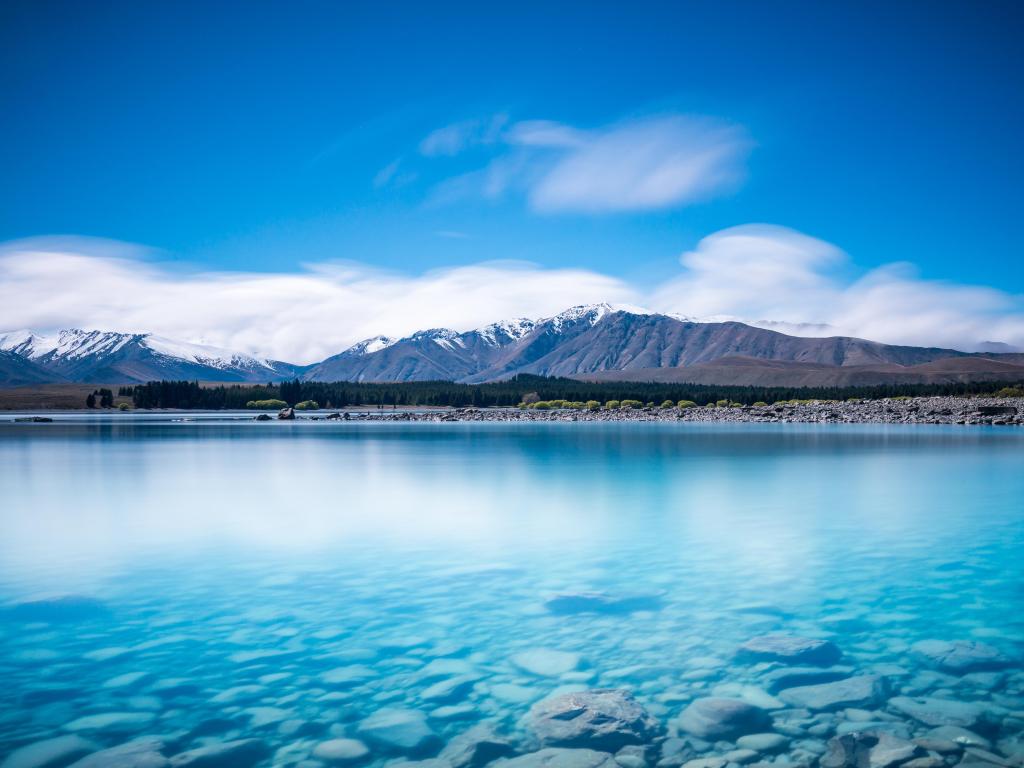 You'll drive through rolling lush green passages, with tons of opportunities to take in the stunning nature that makes New Zealand such a unique travel destination.
If you're a fan of the Lord of the Rings franchise, you'll enjoy the many shooting locations along or near this route, including Mount Sunday, the Kawarau Gorge, and Twizel, where you can participate in Lord of the Rings reenactments!
The Glacier Country Route travels through New Zealand's Glacier Country, which boasts a variety of stunning natural wonders including New Zealand's tallest mountain (Mount Cook), the country's largest glaciers, gorgeous rainforests and pristine beaches.
You'll stumble across some amazing beaches, and get to stop in Haast, a small town in the Westland district boasting dramatic landscapes that have been recognized by UNESCO as World Heritage Sites. Your final stop before Christchurch is Arthur's Pass Village, a quaint township nestled within South Island's mountain range.
The Inland Scenic Route
Starting in Queenstown on the banks of Lake Wakatipu, follow State Highway 6 to Lake Hayes. From here, it's only a short hop up Cardrona Valley Road to the third stunning lake of the trip, Lake Wanaka. The town on its banks is full of outdoor adventures, with both summer and winter offerings.
Take State Highway 6 and State Highway 8A down Clutha River to join State Highway 8 and reach the mountainous heights of Lindis Pass. The town of Omarama is nestled in between mountain ranges and is a great base from which to explore Lindis Pass.
Continue on State Highway 8 to arrive in Twizel, the gateway to exploring Mount Cook. You'll arrive shortly at Lake Pukaki, and the best view on offer is from the Lake Pukaki Viewpoint.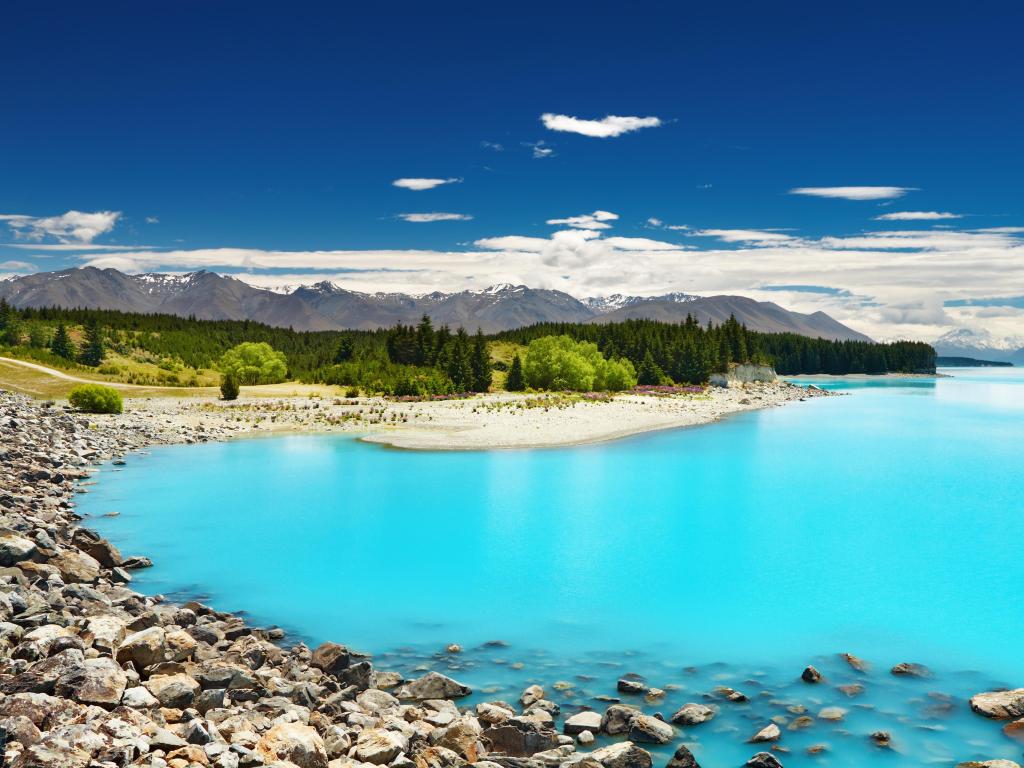 Follow State Highway 8 up to Lake Tekapo, a township famous for its turquoise lake and mountain backdrops. From State Highway 8, continue onto State Highway 79, then follow signs for Mount Hutt. If you're here in the winter, this is a fabulous ski resort for all abilities.
Get on State Highway 77, then turn onto Leaches Road and follow signs for Christchurch.
The Glacier Country Route
Follow State Highway 6 to Crown Range Road and head north through Wanaka to hug the shores of Lake Hawea and Lake Wanaka. This road winds through the stunning mountain and valley landscapes created by Mount Victor and Mount Aspiring.
You'll reach the coastal town of Haast, where you can relax on trails and beaches against the dramatic landscapes of Mount Aspiring National Park. Continue up the coast on State Highway 6, which passes through Franz Josef - a hotspot for skydiving and snow-shoeing on Fox Glacier.
Follow the coast until Jumara Junction, then take State Highway 73 up into the mountains to reach Arthur's Pass Village. This is the highest pass through the Southern Alps, and makes for a stunning hike.
Head south on State Highway 73 through Torlesse Tussocklands Park, then turn right onto Old West Coast Road to arrive in Christchurch.
Best places to stop between Queenstown and Christchurch
There are a whole host of friendly towns and mountain villages along both routes, which means there are plenty of options when choosing where to park up and take a break.
We've selected some great overnight stops that are worth giving some serious time to get to know.
Go lake-hopping in Twizel
Located halfway along the Inland Scenic Route, Twizel is a great base for exploring the surrounding area and participating in a variety of outdoor sports, set against a backdrop of New Zealand's beautiful landscapes.
This small town grants access to the McKenzie Basin, Lake Pukaki, Lindis Pass and the surrounding mountains of Mt. Cook National Park. It was also a shooting location for the Lord of the Rings movies, and so you can take a tour of the many spots here that made movie history!
Make sure you check out Mount Cook National Park, located just 45 minutes from Twizel. This gorgeous park is home to Aoraki/Mount Cook, the largest mountain in New Zealand.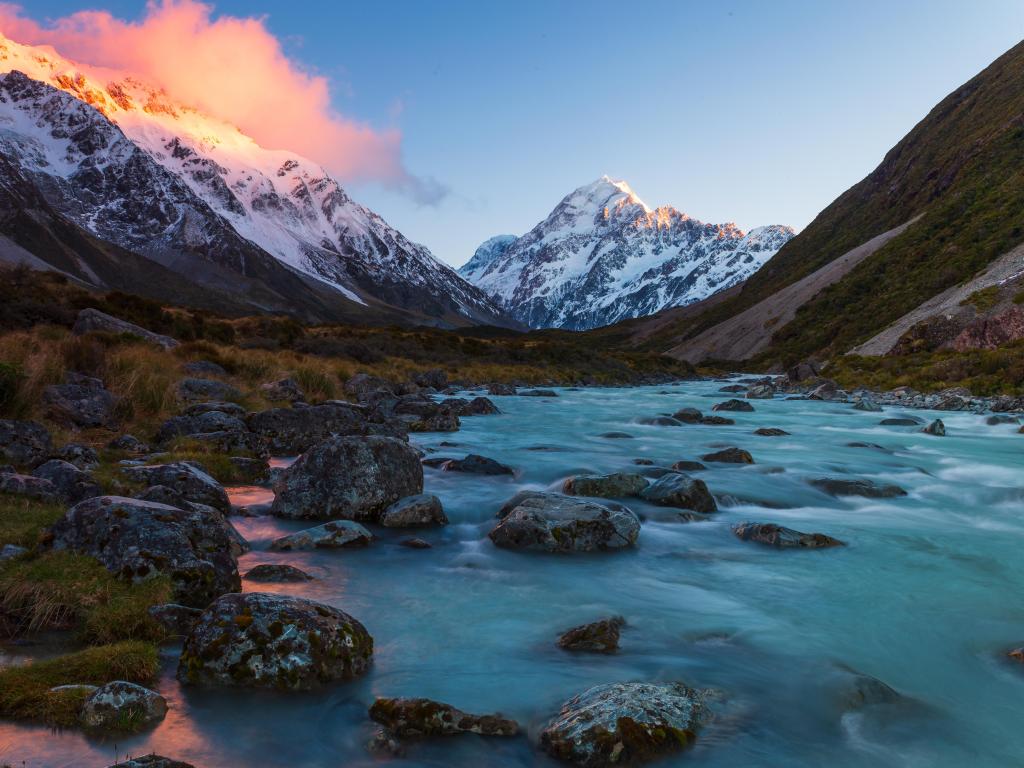 This region is well-known for its lavender offerings, and there are several farms that you can visit and take a tour of - the purple fields are a sight to behold!
There is also great fishing in the nearby lakes, and you can visit High Country Salmon Farm to try delicious salmon, and even have a go at catching your own king salmon!
For a cosy place to stay try Mountain Chalets Motel, a collection of small private chalets that offer kitchens, BBQ facilities, and free WiFi. There is free parking available on-site and they also have a tour desk that can take care of bookings for Lord of the Rings tours or trips to Mount Cook National Park.
This hotel is located close to many of the natural sites that make this region so special including Lake Ruataniwha and Lake Pukaki. You can rent bicycles to do some exploring on two wheels. It's also located close to the route, so you can continue on to Christchurch the next day.
Hike into the clouds in Wanaka
Wanaka is located on both routes, about two hours out of Queenstown. It is home to beautiful Lake Hawea and boasts tons of opportunities for outdoor adventures including skiing and hiking to glorious viewpoints.
This is one of the more popular small towns on this route, where visitors flock to the famous Wanaka Tree. Take a picture of this famous willow tree, growing smack dab in the middle of Lake Wanaka.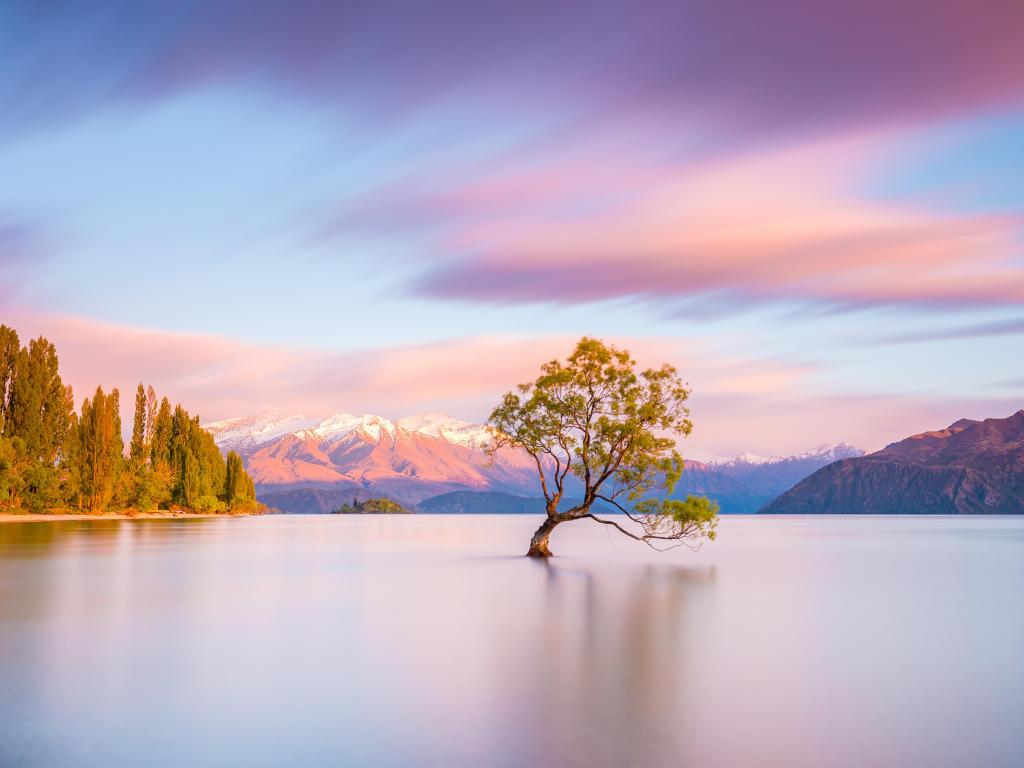 Surrounded by New Zealand's Southern Alps, there is some fantastic hiking nearby. Hike up Roy's Peak to discover one of the most famous viewpoints in all of New Zealand - it's a bit of a tough walk, but well worth it!
New Zealand is incredibly well-known for its wine offerings, and Wakana is surrounded by tons of vineyards that you can visit for a tour or tasting of the local grapes.
The Hawea Hotel is located right on Lake Hawea, with rooms featuring stunning lake and mountain views, as well as private balconies. It's just 15 minutes drive from the township of Wanaka and a great base if you're looking to enjoy the beautiful surrounding nature.
You'll have everything you need, with an on-site restaurant and bar, free parking and wifi - it's also near the highway so you can get back on route in the morning without any difficulty.
Where to stay when you reach Christchurch
Christchurch is a cultural hub, so you'll want to stay right in the heart of the city when you reach your destination. The Observatory Hotel Christchurch is located in the city centre, so you'll have easy access to top museums and galleries such as Canterbury Museum and Christchurch Art Gallery.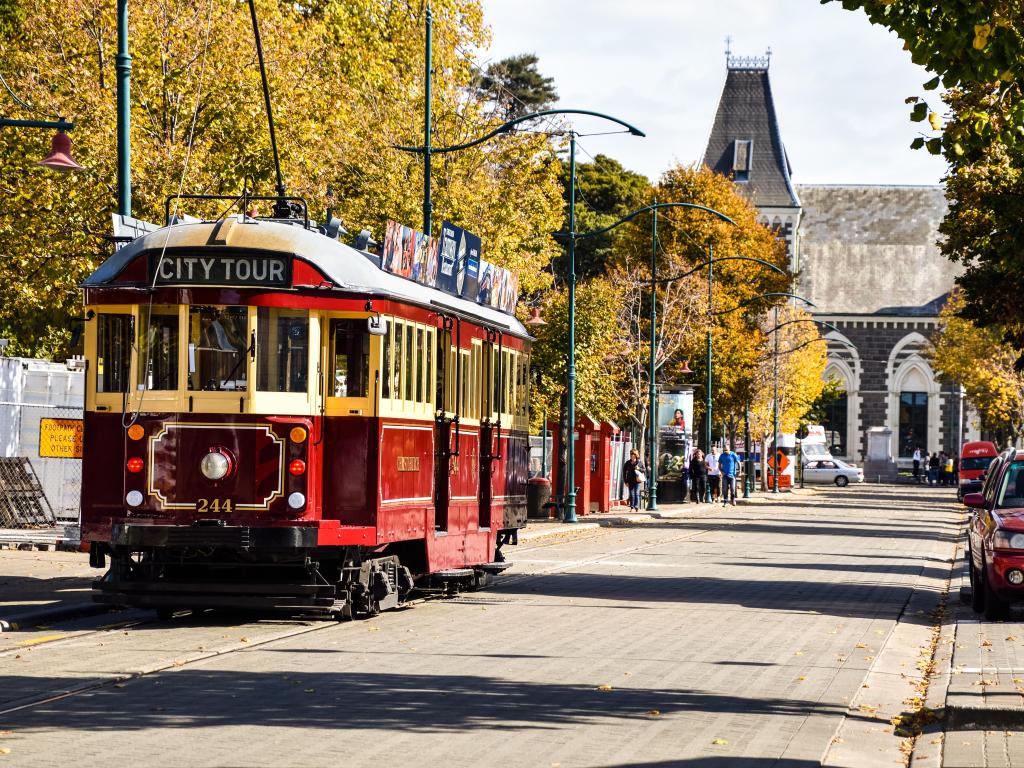 It's an extremely comfortable place to rest up after a long drive - with 5 stars, you can expect to be greeted by a gorgeous exterior and luxury interiors. There is a concierge service which will help make you feel like a local as you are exploring Christchurch.
Make sure to enjoy the hotel's complimentary continental breakfast before heading out to sightsee. Bridge of Remembrance, The Chalice and Victoria Square are all within a short distance of the property.
Things to see on a road trip from Queenstown to Christchurch
The views are so good on this trip that you'll want to stop every few minutes to take a photo. However, some stops are better than others, so we've rounded up the top hikes, natural landmarks and friendly towns to park up at along the way.
The Inland Scenic Route
Lindis Pass - Discover this stunning pass through the green rolling hills and mountains of the South Island.
Omarama Hot Tubs - There's no better way to take in the beauty of the Omarama area than this experience, which combines relaxing hot tubs and saunas with the stunning outdoors.
Omarama Clay Cliffs - While in Omarama, make sure you check out the breathtaking clay cliffs, a popular Instagram spot that's definitely worth stopping for.
Twizel - This small town is the perfect base for the surrounding outdoor adventure activities in Mount Cook National Park and the Mackenzie Basin. The town itself is quaint and lovely to explore on foot.
Lake Pukaki - One of several crystal-clear alpine lakes, Lake Pukaki is best viewed from the Lake Pukaki Lookout located just north of your route.
Mount Cook - The largest mountain in New Zealand, you'll see Mount Cook coming from a distance; we recommend getting up-close via a hike!
Lake Tekapo and the Tekapo Springs - Bathe in the sprawling Tekapo Springs thermal pools while enjoying the views of this beautiful alpine lake.
Mount Hutt - With a summit of 2190 metres, Mount Hutt is another stunning mountain on this route, rising to the west of the Canterbury Plains and a favourite amongst alpine sport-lovers.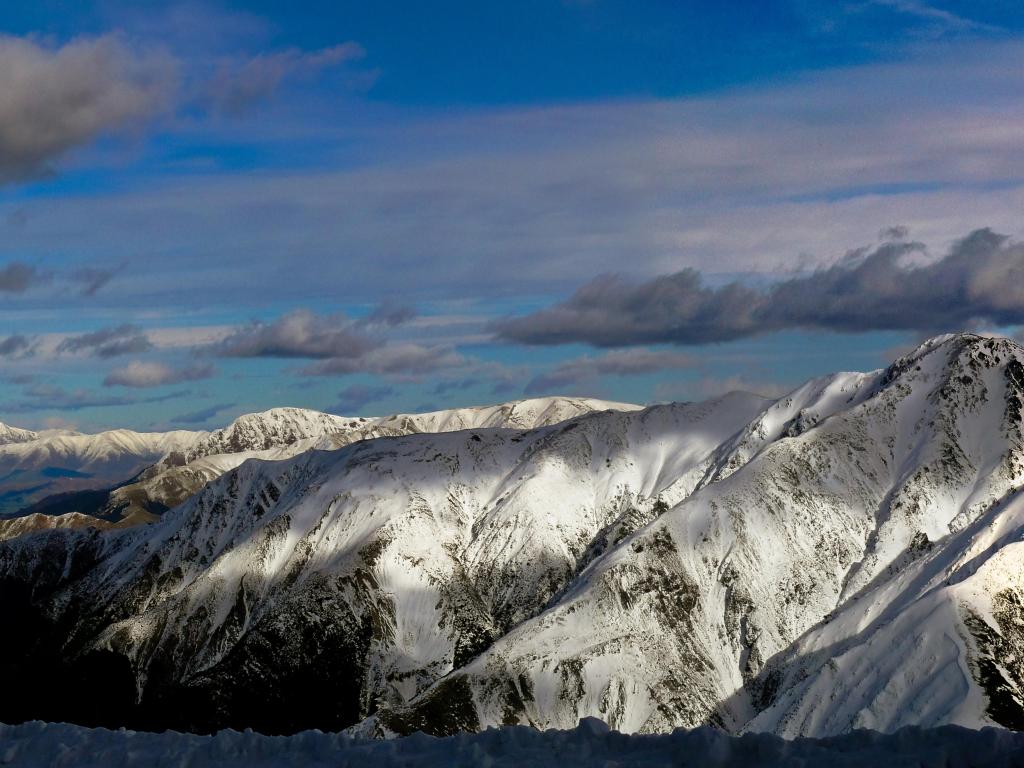 The Glacier Country Route
Haast - A small town along this route, Haast boasts stunning views of the Tasman Sea.
Rakaia Gorge - This wonderful gorge is a must-see along your route; hop out of the car to grab some pictures with the beautiful Rakaia River and to stretch your legs.
Westland Tai Poutini National Park - The Westland Tai Poutini National Park contains some stunning geological formations and is known for its glacier country.
Jetty Point - Take a hike up to this viewpoint located near Lake Matheson; the walk in its entirety takes about 40 minutes for the round trip and promises stunning vistas.
Arthur's Pass - The highest pass over the Southern Alps, Arthur's Pass is one of the most breathtaking stretches of this route. It's recommended to pack chains for the car in case of snow!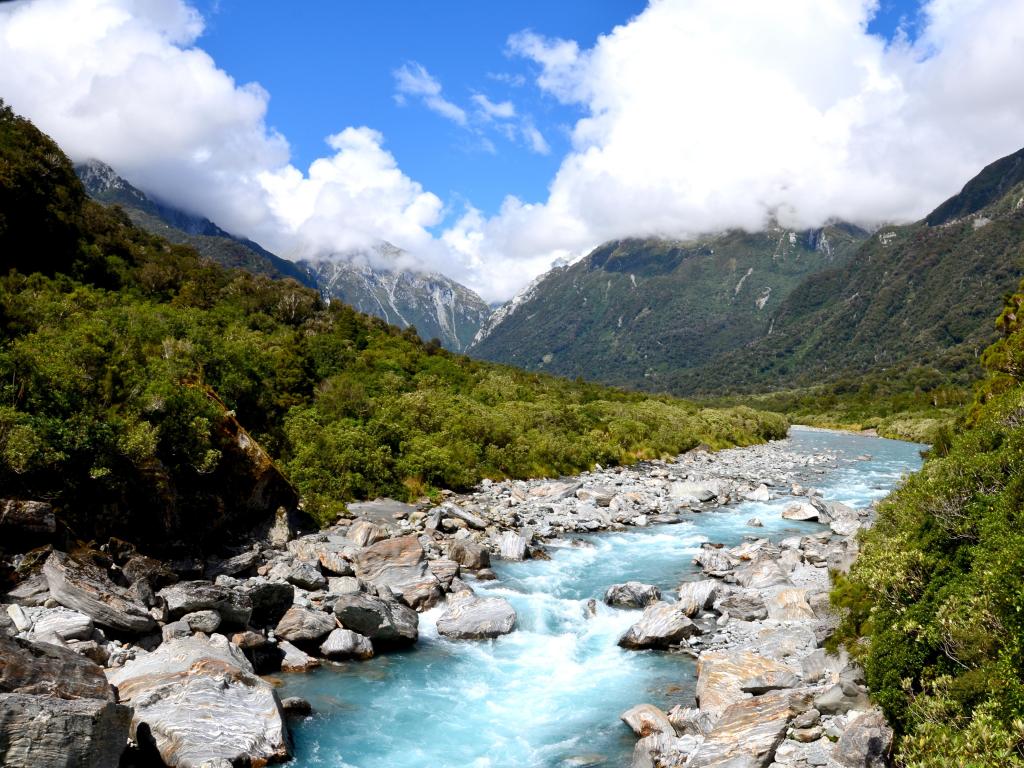 Both routes
Arrowtown - This adorable town near Queenstown dates back to the 1800s and boasts delicious food as well as historic streets and cottages.
Lake Hayes - Easily accessible along both routes, Lake Hayes is a small lake and popular swimming spot near Queenstown.
Wanaka - Discover Wanaka, a wonderful little town known for its outdoor sport offerings and stunning surrounding landscapes.
Crown Range - Located between Queenstown and Wanaka, the Crown Range is a beautiful mountain range that boasts the highest main road in New Zealand.
Kawarau Gorge - A Lord of the Rings shooting location, Kawarau Gorge is a major river gorge that extends for about 60 kilometres. Add on an hour to either route to discover this attraction!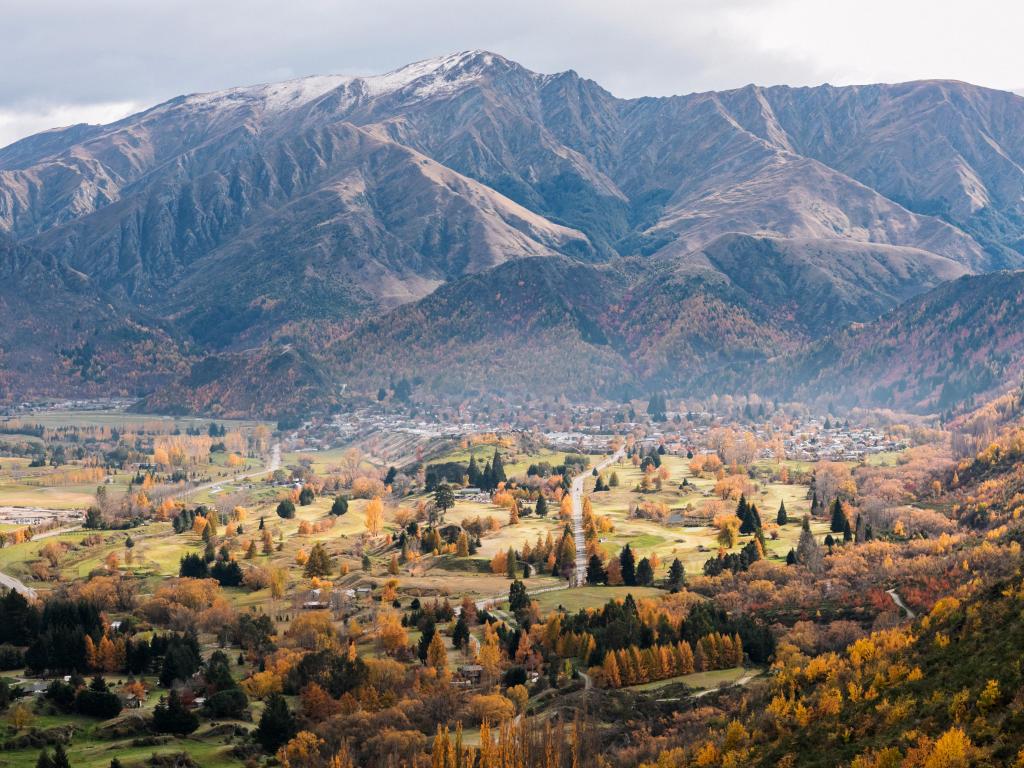 Best time to go on a road trip from Queenstown to Christchurch
Christchurch is best visited during the summer months (December to March) when the weather is warmest, though there is still plenty to get out of the city if during the winter (June to August).
The summer is a great time to visit, as temperatures are warm but comfortable, ranging between 11 and 21 degrees Celsius. It's the most popular time of the year for tourists. If you visit in June you can catch celebrations for Maori New Year, while WORD Christchurch Festival takes place in August.
In winter, temperatures range between 3 and 10 degrees, and tourism dips during this season. Consequently, it's a good time to visit Christchurch if you're looking to enjoy reduced accommodation rates and fewer crowds. If you're there in January, you'll get to witness Kite Day at New Brighton Beach.
As you'll be driving through mountainous regions on your way to Christchurch, be prepared for a fair amount of snowfall if visiting during the winter. You'll want to pack some snow chains and it's even recommended to keep some sleeping bags in the car just in case.
The same is true regarding cheap accommodation for spring and autumn, when temperatures range between 5 and 20 degrees. There are some great events during these times of the year, including Christchurch Pride, City 2 Surf Open Christchurch and NZ Music Month in spring, with the Christchurch Heritage Festival taking place in October.