Road Trip from Queenstown to Auckland
For anyone wanting to explore New Zealand from top to bottom, the journey from Queenstown to Auckland will be the scenic trip of a lifetime. Covering both the North and South Islands, you can get an all-encompassing taste of the Land of the Long White Cloud.
The 1,720 km road trip from Queenstown to Auckland will take 25 hours to drive. Highlights include Queenstown, Lake Hayes, Wanaka, Lake Hawea, Franz Josef Glacier, Tongariro National Park, Christchurch, Napier, Coromandel, and unforgettable Auckland.
You'll experience the best of New Zealand with its volcanic mountains, dramatic coastlines, lush green forests and turquoise lakes. Auckland is a maelstrom of urban landscapes and the great outdoors where you can enjoy beaches and nightlife all in one city. Read on to start planning this incredible road trip of a lifetime.
How far is Auckland from Queenstown, and how long will the road trip take?
Comparison of road trip routes from Queenstown to Auckland

| Route | Distance | Driving Time |
| --- | --- | --- |
| The Glacier Route | 1,720 kilometres | 25 hours |
| The Iconic Coromandel Route | 1,940 kilometres | 29 hours |
The Glacier Route will take you through some of the most incredible scenery on the South Island. You'll travel 1,720 km and around 25 hours to reach your destination.
On the Iconic Coromandel Route, you'll see the incredible eastern coasts of the South and North Islands. You'll travel a distance of 1,940 km in 29 hours if you were to drive nonstop.
No matter which route you choose, you'll be able to explore New Zealand's postcard-worthy terrain. Read on to learn more about the two routes so you can start planning this epic journey. We recommend six to eight days to enjoy this epic road trip.
Best road trip route from Queenstown to Auckland
There are two incredible routes to take from Auckland to Queenstown. Each depends on what you want to see and do and also the amount of time you have, so the best road trip will depend on your choices.
The Glacier Route takes you through the Southern Alps in South Island. Here you'll visit the prominent glaciers of New Zealand, none more famous than the Franz Josef Glacier.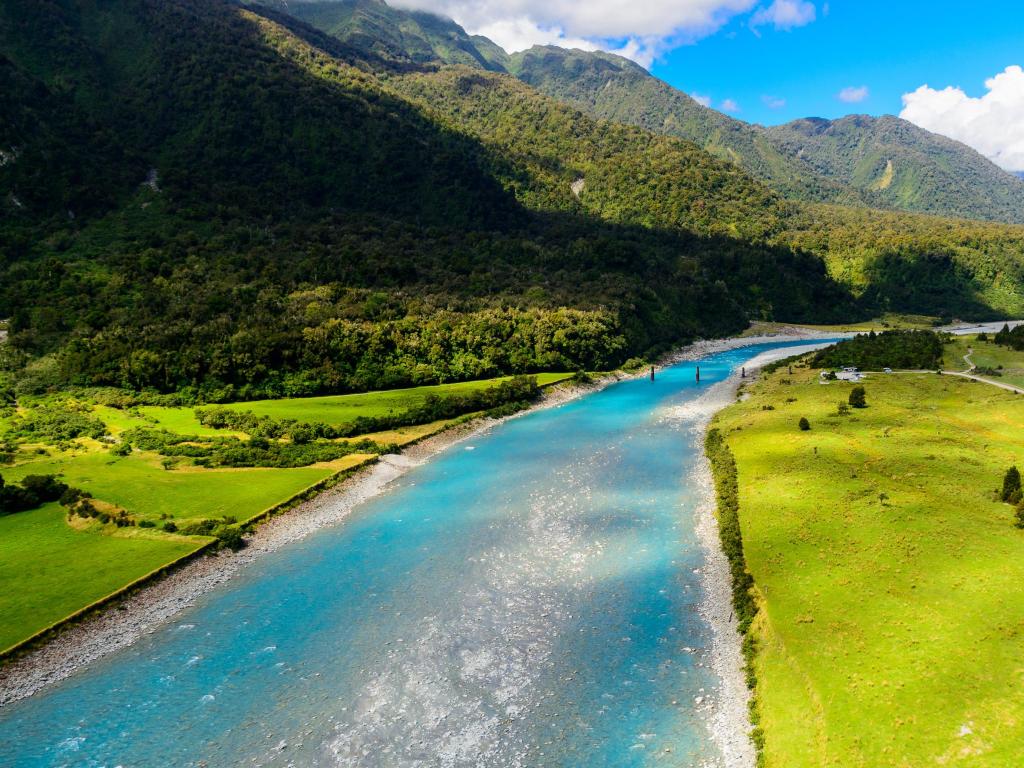 Throughout the journey, you'll encounter national parks with waterfalls and fulfilling hikes. Crossing on a car ferry from Picton to Wellington, you'll enter North Island, where the direct route takes you through more outdoor adventures including volcanic mountains.
Longer than the more direct Glacier Route, The Iconic Coromandel Route takes you through the central South Islands with its turquoise lakes. After driving through Lindis Pass, you'll meet the tallest summit in New Zealand, Mount Cook.
It's a detour, but the iconic Coromandel is your last stop before Auckland, where you can enjoy pristine beaches and forested mountains.