Road Trip from Texas to Florida
Florida is known for its beautiful summery vibes, white sand beaches that either hug the Atlantic Coast or the Gulf of Mexico, and endless entertainment options. A road trip from Texas to Florida lets you discover all this and more as you travel through history-rich Louisiana and along the gorgeous coast of Mississippi.
The road trip from Texas to Florida is an unforgettable 2,500-mile adventure that takes you to beautiful Destin, the unique Everglades, stunning Key West and fabulous Miami. No matter what you're looking for in a road trip, you'll find it on our ultimate Florida road trip itinerary from Texas.
Whether you're after dipping your toes in the sand in Key West, riding the waves in Palm Beach, having the time of your life on Orlando's rollercoasters, people watching in glitzy Miami or exploring the rich history of St. Augustine, you'll find exactly what you are looking for in Florida.
How far is Florida from Texas, and how long will the road trip take?
Travel times and distances from San Antonio to Florida

| Destination | Distance | Driving Time |
| --- | --- | --- |
| Pensacola | 790 miles | 12 hours |
| Destin | 840 miles | 13 hours 10 minutes |
| Apalachicola | 960 miles | 15 hours 50 minutes |
| Crystal River | 1,170 miles | 19 hours 30 minutes |
| Tampa | 1,250 miles | 20 hours 50 minutes |
| Myakka River State Park | 1,320 miles | 21 hours 50 minutes |
| Fort Myers | 1,390 miles | 23 hours 10 minutes |
| Key West | 1,660 miles | 28 hours |
| Miami | 1,820 miles | 32 hours |
| Cape Canaveral | 2,030 miles | 35hours |
| Orlando | 2,080 miles | 35 hours |
| St Augustine | 2,190 miles | 37 hours |
| Jacksonville | 2,230 miles | 38 hours |
| Tallahassee | 2,390 miles | 40 hours |
There's no avoiding the fact that a road trip from Texas to Florida is going to involve a lot of hours on the road. 42 hours, in fact, starting in San Antonio and then making a loop around Florida once you've reached Pensacola.
The 790-mile drive from San Antonio, Texas, to Pensacola, near the Florida's state border, will take you around 12 hours to cover. Don't be tempted to try and tackle this drive in one long day though - as you'll see, there's plenty to see and do before you reach Florida.
Once you're ready to move on and start exploring the Sunshine State, the ultimate road trip route around Florida takes around 31 hours to drive. The loop across the Panhandle and around Florida's stunning coastline will cover a distance of 1,800 miles.
That adds up to a mammoth 2,590-mile road trip. Or put another way, 2,590 miles packed full of places to explore!
We'd recommend allowing at least 3 days to make the trip from Texas to Pensacola, as you'll drive through some amazing cities where you might want to stop overnight.
For the loop in the state of Florida alone, we suggest putting aside at least 7 days. You can easily extend this to two weeks as there is simply so much to do in Florida!
That means you'll need at least 10 days for this epic road trip - with a disclaimer that the longer you can spare, the better!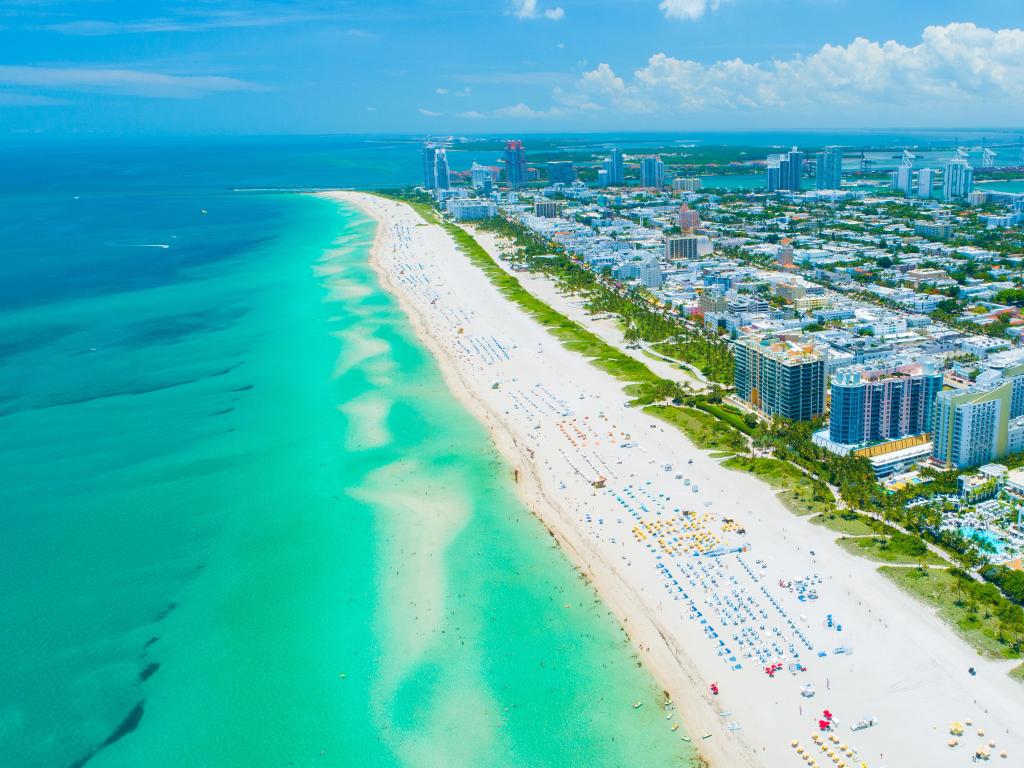 Best trip route from Texas to Florida
We're not exaggerating when we say there's something for everyone on this epic road trip, from history buffs and art enthusiasts to sun worshippers, surfers, outdoorsy types and thrill-seekers. This really is an all-encompassing adventure!
Your road trip from Texas to Florida starts out in San Antonio and takes in the fabulous Texan cities of Austin, Houston and Beaumont before finally leaving the state.
Following the coast of the Gulf of Mexico, the route then takes you through Louisiana to visit Baton Rouge and New Orleans, before crossing Mississippi and travelling through Mobile, Alabama.
Located close to the northwestern border of the state, Pensacola makes an ideal entry point to Florida. It's a lovely coastal city, which makes it the perfect "introduction" to the sunny, beachy state of Florida.
Once in Florida, you'll be able to admire coastal scenery, enjoy beachy vibes, explore urban cities and let your hair down in entertainment capitals.
The ultimate Florida road trip takes you down the state's Gulf of Mexico coast first, visiting Destin, Apalachicola, Crystal River, Tampa, St. Petersburg, Fort Myers and Myakka State Park before heading to the southernmost point of Florida, Key West.
The trip continues along Florida's Atlantic coast, travelling through buzzing Miami, Cape Canaveral, the theme parks of Orlando, St Augustine and Jacksonville before making a final stop at state capital Tallahassee on the way back to Pensacola.
Road trip route from Texas to Pensacola, Florida
Starting in San Antonio, follow I-35 to visit Austin then make your way along the highway past Wyldwood, Plum and La Grange to connect with I-10 which will let you pick up the pace as you travel east.
The interstate takes you through the vibrant city of Houston then across Old River Lake before passing Beaumont on the way to Louisiana.
As you travel across the state, you'll have the chance to stop and spend time in the three cities of Lafayette, Baton Rouge and New Orleans, before skirting around Lake Pontchartrain to resume your journey eastwards.
If time allows you can detour onto the coast road as you make your way across Mississippi towards Alabama, following US-90 through Long Beach and Biloxi. But if you're in a hurry simply stay on the interstate which will take you up to Mobile.
Look out to sea as you cross Mobile Bay and then continue inland towards the Perdido River which marks the boundary between Alabama and Florida, where you'll end this part of your journey looking out over the sparkling water of Pensacola Bay.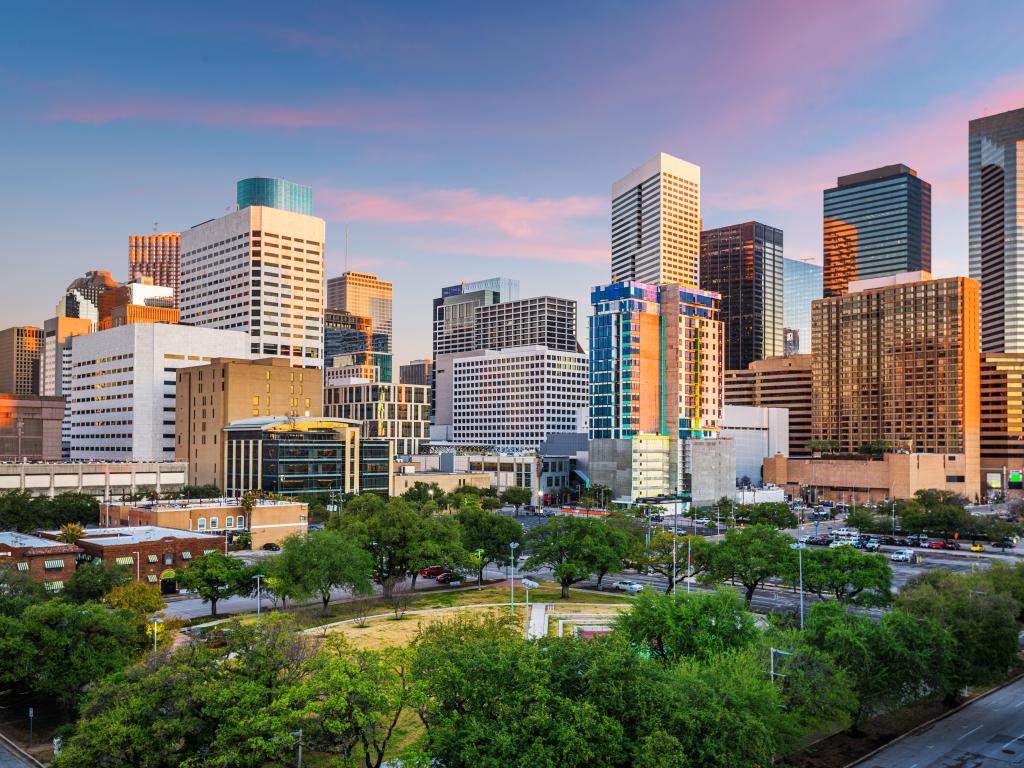 Road trip route around Florida
Although it's a marathon 31-hour drive, the road trip around Florida is mostly straightforward to navigate. From Pensacola, Route 98 hugs the coast and takes you through Destin, Panama City and Apalachicola.
As you leave the Panhandle and start to make your way south, you can detour off US-98 to explore smaller towns including Horseshoe Beach and Suwannee, perched on the beautiful Gulf Coast, or visit Big Bend Seagrasses Aquatic Preserve.
From Crystal River, switch onto FL-589 which takes you on into Tampa before connecting with the interstate to cross Old Tampa Bay on the Howard Frankland Bridge.
After St. Petersburg you'll take the long Sunshine Skyway Bridge across the mouth of Tampa Bay before continuing south on the interstate. You'll pass Myakka River State Park before the road swings round towards the city of Fort Myers.
When you reach Golden Gate it's time to exit the interstate and make your way onto Highway 41. You might like to think about stopping at Marco Island, from where you can take the ferry all the way across to Key West.
This is a passenger ferry, which means that you'll have to leave your car behind. However, Key West is a very walkable island and it's easy to explore on foot.
Continuing along the highway you'll have the chance to explore the unique Everglades. Head down to Everglades City to take an iconic airboat tour.
As you reach the eastern side of Florida, turn onto FL-997 which takes you south through Homestead and Florida City. This is your chance to visit the Florida Keys if you haven't already been there by ferry.
Route 1 will take you across to Key Largo, then simply follow it along the bridges, tunnels and islands that connect these stunning islands en route to Key West.
Make your way along Route 1 back to the mainland, then from Florida City take the Ronald Regan Turnpike as far as Three Lakes as you head into Miami via the expressway.
When it's time to move on, join I-95 N which will take you through Fort Lauderdale, Pompano Beach, Boca Raton and Palm Beach as you travel north. Alternatively, to avoid some of the urban traffic, switch to Florida's Turnpike and follow it all the way to Fort Pierce.
From here, I-95 runs parallel to the Atlantic coast, and there are plenty of opportunities to exit and explore the coastal towns you'll pass along the way.
Next, take the exit towards Port Canaveral and follow Route A1A across the Indian River to reach Cape Canaveral where you can immerse yourself in all things space before retracing your route back to the mainland.
Follow the highway to Orlando then, when you've exhausted the city's theme park thrills, pick up I-4 and head north around Lake Monroe and past Lake Helen.
You'll rejoin I-95 again outside Daytona Beach, ready to carry on following the Atlantic coast northwards. Stop off at historic St Augustine before making your way to Jacksonville.
You're almost at the end of your Florida road trip now, so join I-10 heading westward. You'll pass through Osceola National Forest and Lake City on your way toward the state capital of Tallahassee. Then simply ride out the interstate on your way back to your starting point, Pensacola.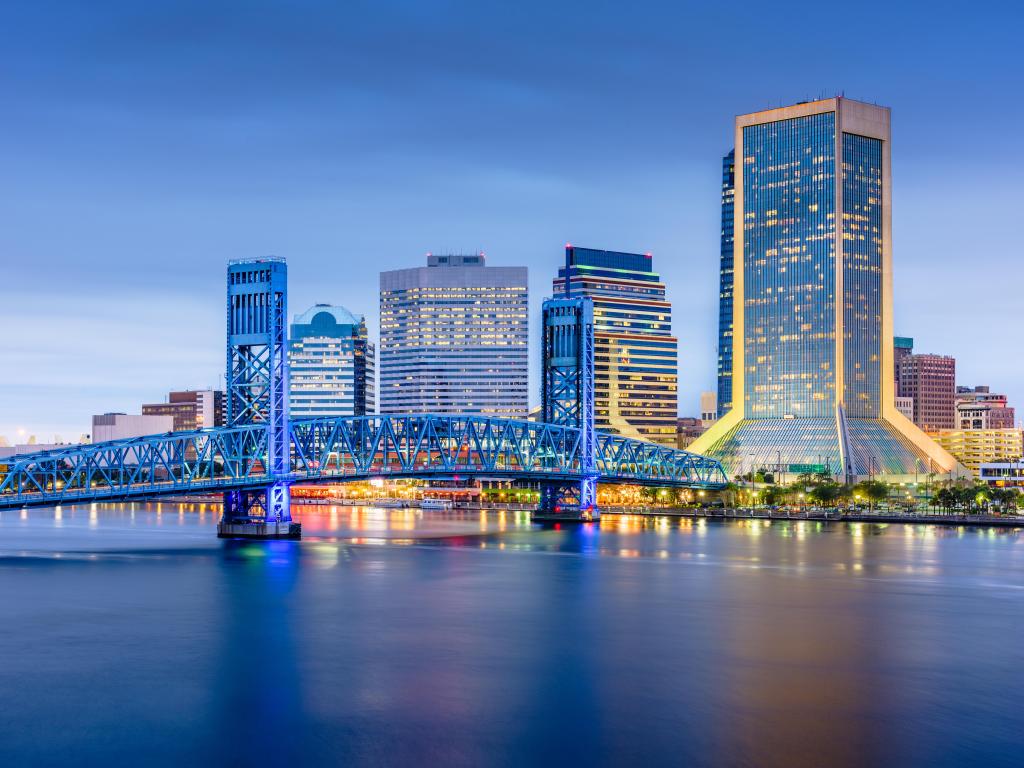 Best places to stop between Texas and Florida
With more than 2,000 miles to cover, you're going to need to make several overnight stops on your epic road trip.
The choices are endless, but we've listed a few of our top picks to get you started with your planning.
Party in New Orleans
After around 9 hours on the road, you'll reach the fabulous city of New Orleans, probably your last overnight stop before you reach Florida.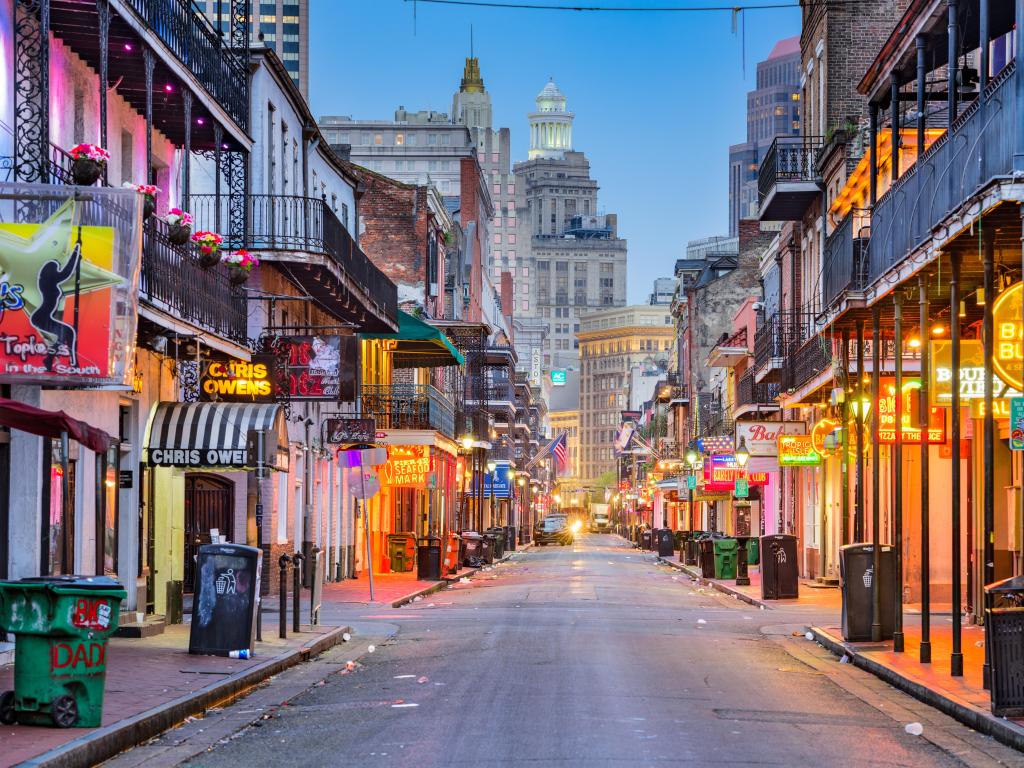 Known for its flamboyant nightlife, New Orleans also has its own distinct culture that's likely to see you enjoying live jazz, staying out late on Bourbon Street or partying your way through Mardi Gras Festival during your visit.
Bourbon Street, in NOLA's French Quarter, is the place to party while you're in town. Or if you'd prefer a more mellow evening of live jazz and unforgettable Creole cuisine, you can't beat the Steamboat Natchez Jazz Cruise which travels along the Mississippi River in style.
When you've recovered from the night before and you're ready to head out and explore again, you'll find Jackson Square just a short walk from Bourbon Street. Come and watch artists at work here or treat yourself to a horse-drawn carriage ride before you hit the road again.
Elsewhere in the city you'll find the Garden District. It's a world away from buzzing Bourbon Street, instead its streets are lined with historic mansions and fabulous restaurants.
With a fabulous location on Canal Street, in the French Quarter, Four Seasons New Orleans is close to the action but, with its outdoor pool plus spa and wellness facilities, also gives you plenty of opportunity for relaxation.
It's the perfect place to stay if you're looking for a little luxury, but you're also sure to appreciate its stylish, modern decor. And you won't have to worry about your car, as private valet parking is available for guests.
You can even enjoy delicious Cajun and Creole food and the on-site Miss River restaurant, although its downtown location means you'll have your choice of amazing cuisine on your doorstep.
You can also walk from the hotel to Bourbon Street and the New Orleans Jazz Museum, alongside many of the city's other attractions.
Walk in the waves in Key West
Key West is a stunning island with quintessential beachy vibes. It's the perfect place to take a break after all the driving and enjoy the peaceful coastal atmosphere. It's also a very walkable place, meaning that you can forget about your car and driving for the duration of your stay.
You'll reach the island around 28 hours after leaving San Antonio, or 16 hours into your loop around Florida. It's the southernmost point of the continental United States and offers stunning views out across the ocean. Take a tour of Key West Lighthouse for an even better view.
Key West is a popular vacation destination, known for its gorgeous beaches, lovely year-round weather, watersports opportunities and for being home to famous author Ernest Hemingway's residence in the 1930s.
In fact, for literary fans the Hemingway Home and Museum is a must-see attraction, where the writer spent a lot of his time.
Another notable figure who enjoyed visiting Key West was President Harry S. Truman. You can visit his Little White House on the island.
When you're ready to take a beautiful break from the beaches, head to Key West Butterfly and Nature Conservatory, where you can walk among the many gorgeous butterfly specifies flying through the conservatory.
Just a stone's throw from the Ernest Hemingway House and Clinton Market Square you'll find Santa Maria Suites Resort, a charming all-suite hotel where you can experience a luxurious twist on the home-away-from home feeling.
You'll find two fabulous, heated pools surrounded by beautiful gardens, and the Atlantic Ocean is only a block away, so you will never be too far away from the stunning beaches of Key West
You can enjoy delicious smoothies and fruits by the poolside and a complimentary happy hour daily where you can sip some wine and unwind. There's a great on-site Japanese restaurant too.
Feel the thrills of Orlando
As you approach the end of your ultimate Florida road trip you'll reach Orlando, which is around 35 hours' drive from San Antonio if you're following the Florida loop.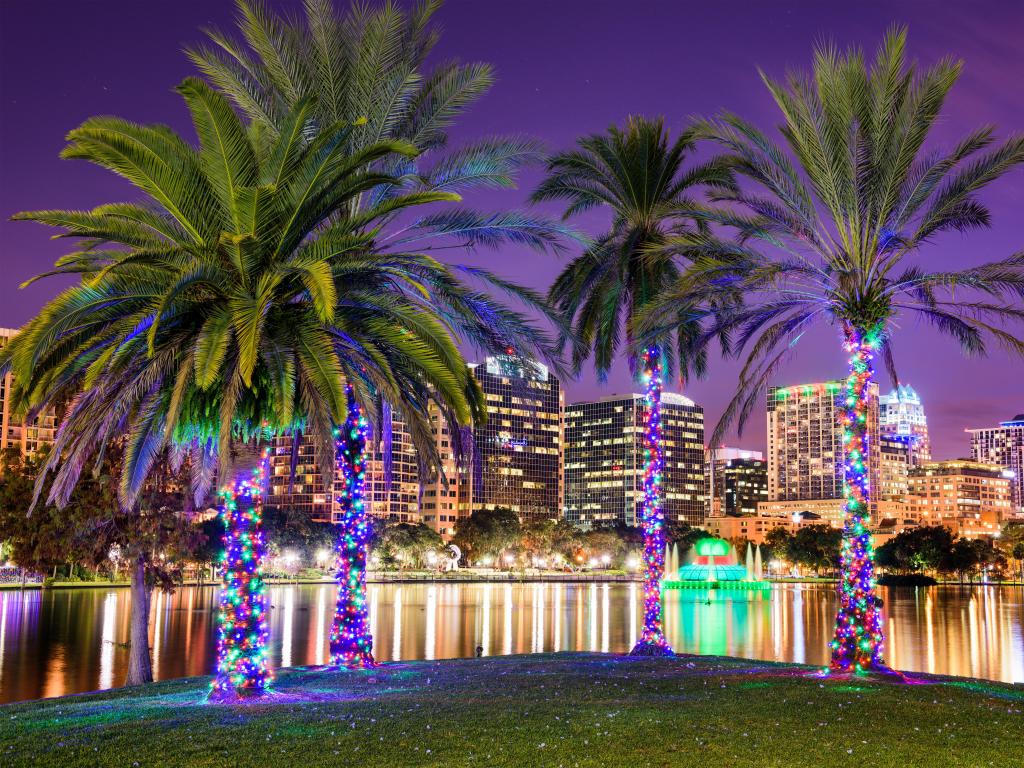 Orlando is one of the most-visited parts of Florida, and for good reason. Its buzzing urban vibe and numerous lakes provide a fabulous backdrop to the city's world-famous theme parks.
Whether you're headed to the thrilling rides of Universal Studios and the magical Wizarding World of Harry Potter, or if you're sticking to Disney's Magic Kingdom, Orlando's theme parks can keep visitors entertained for days.
If you're travelling without children then the EPCOT Center should definitely be on your itinerary. You can take a trip around the globe here without leaving the city.
For something a little different head to Gatorland to find out more about Florida's resident crocs and alligators.
When you're ready for a break from the theme parks, why not take a boat ride on Lake Eola or watch the light show that illuminates the lake every evening. Or check out Orlando Fine Arts Museum and book an evening performance at Dr Phillips Center for the Performing Arts.
Right in downtown Orlando you'll find Aloft Orlando, just a short walk from many of the city's bars and restaurants. Enjoy more of the Florida sunshine when you relax beside the outdoor pool, then head back to your spacious and bright room for some much-needed rest.
The hotel is just off the interstate so it's easy to navigate to, and this also makes it a convenient place to stay if you're planning on sticking around in Orlando for a few days to drive out to some of the theme parks. Surprisingly for a downtown hotel, guest parking is available.
Things to see on a road trip from Texas to Florida
There's so much to see and do on a road trip from Texas to Florida that you'll always be able to find something to entertain you.
Here are our must-see attractions for a 10-day road trip, though you can easily stretch this amazing adventure out for a lot longer and still never have time to feel bored.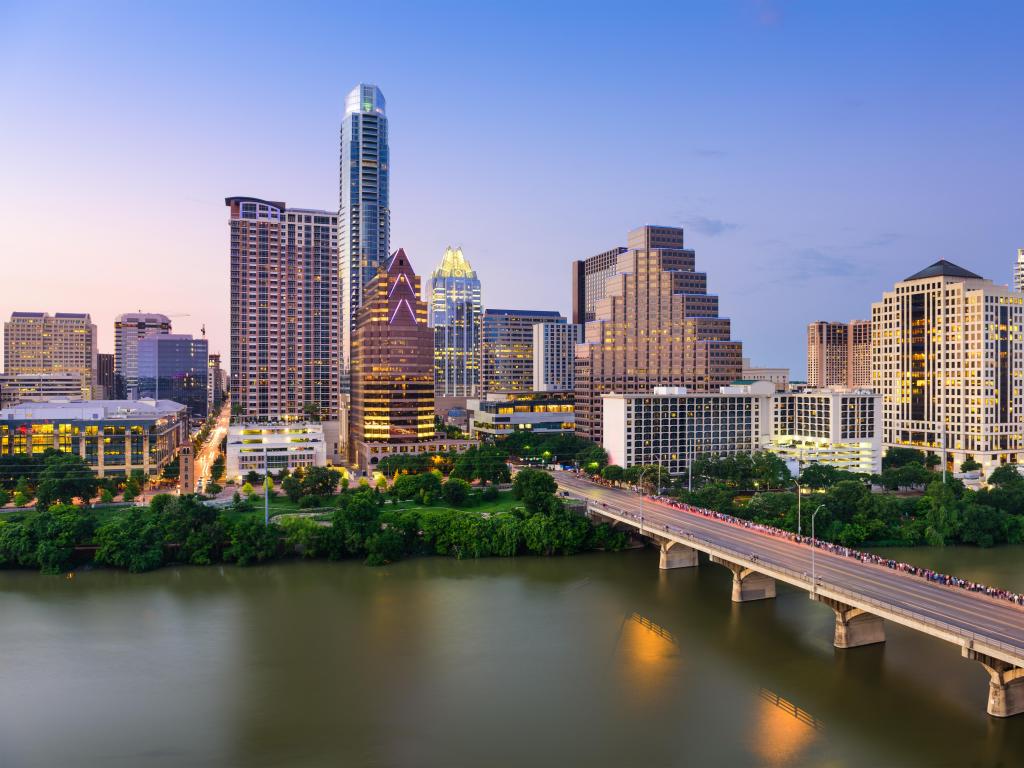 Things to see on the way to Florida
Austin, TX - Start your road trip listening to the live music that Austin is famous for. Head to 6th Street to check out the unique sound of Hippie Haven locals.
Houston, TX - The Space Center is one of Houston's most popular attractions and it's a great introduction to the science of space, especially if you're planning on heading to Cape Canaveral later in your trip.
Beaumont, TX - Take a step back into the Texas of days gone by at Spindletop-Gladys City Museum.
Lafayette, LA - Known for its French Cajun culture, you will find incredible cuisine in Lafayette. Make sure to check out Acadiana Center for the Arts while you're in the city.
Baton Rouge, LA - This lively city is home to both the Louisiana State Capitol and the Louisiana Old State Capitol! You can also visit the famous warship USS Kidd.
New Orleans, LA - There's nothing quite like a visit to New Orleans, with its lively French Quarter, never-sleeping Bourbon Street and spectacular Mardi Gras celebrations.
Biloxi, MS - If you have a head for heights, let a guide show you up the spiral staircase of Biloxi Lighthouse and you'll be rewarded with another stunning view out across the ocean.
Mobile, AL - USS Alabama is a must-visit while in Mobile for all history buffs. Also pay a visit to the Mobile Carnival Museum and the beautiful Cathedral of the Immaculate Conception.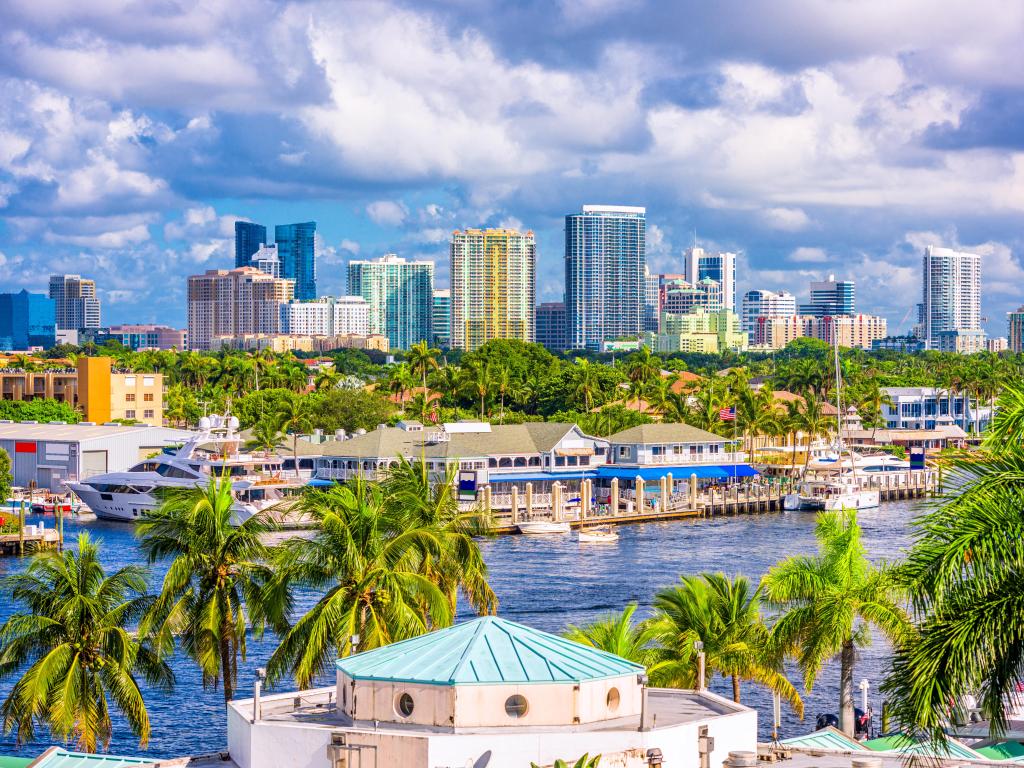 Things to see around Florida
Pensacola Lighthouse - Join a tour to enjoy the view from historic Pensacola Lighthouse, which has been keeping sailors safe along the Gulf of Mexico for over 150 years.
Pensacola History Museum - Pensacola is the perfect place to learn about Florida's unique history - look out for the self-guided tour of the town that will help bring the region's history to life.
Big Bend Seagrasses Aquatic Preserve - This beautiful part of the coastline is one of the least developed parts of the state and with the crystal clear waterways it's just crying out to be explored by kayak or on a small boat trip.
Ybor City - This historic Tampa neighborhood is said to be one of the country's most haunted - join a ghost hunt if you're feeling brave!
Ding Darling National Wildlife Refuge - Alligators are plentiful in Florida but hiding in this wetland refuge you might be able to spot the much rarer American crocodile.
Cape Coral - Known as "Florida's Venice," take a stroll among the beautiful canals of Cape Coral.
John Pennekamp Coral Reef State Park - As you start to make your way south along the Florida Keys you can visit this stunning underwater park - the only living coral reef in the United States. Take a boat ride to see the reef or get even closer on a scuba excursion.
Fort Lauderdale - Famous for its beaches and canals, the Strip is also great for people watching as you look out across the ocean.
Boca Raton - If you've brought your clubs why not enjoy a round of golf in the sunshine at this popular destination?
The National Navy SEAL Museum - Looking out over the ocean at Fort Pierce you'll find this museum dedicated to telling the story of the elite Navy SEALs.
Disney World - With four amazing theme parks to choose from you could spend a whole vacation at Disney World!
Universal Orlando Resort - Choose from Universal Studios or Islands of Adventure or enjoy the sunshine at Universal's Volcano Bay Water Theme Park.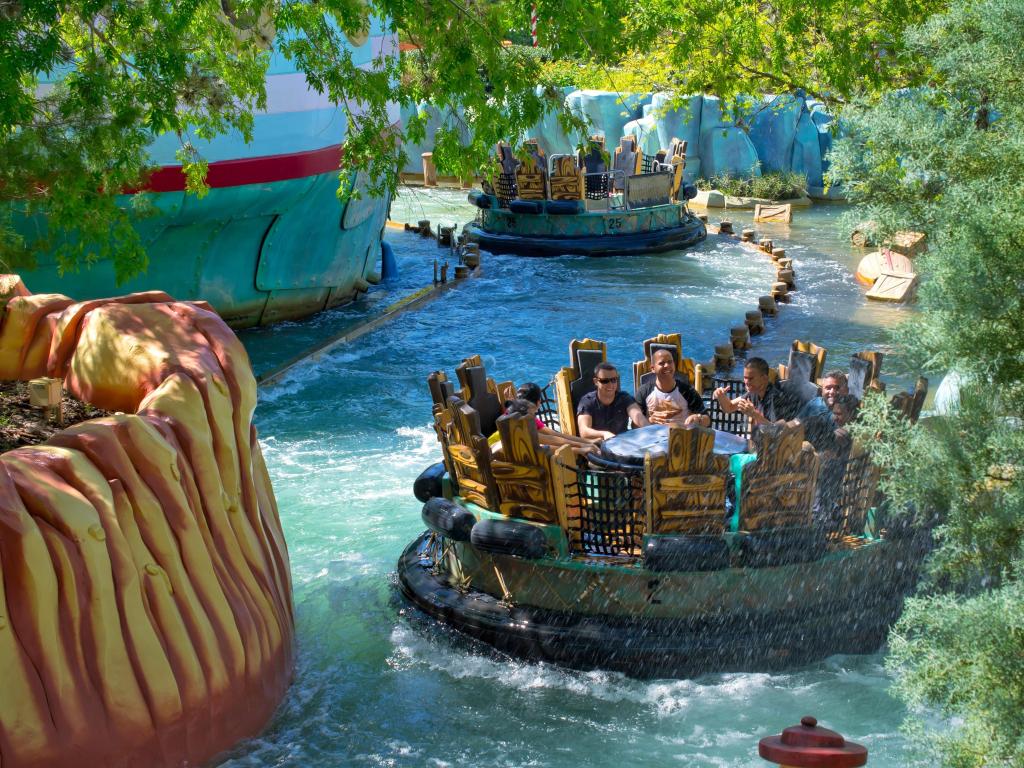 Best time to go on a road trip from Texas to Florida
With its sparkling sunshine and warm weather, Florida is a great place to visit at any time of year.
Although temperatures only reach the low 90s Fahrenheit in summer, some travellers find the humidity can make things a little uncomfortable.
You'll also have to factor in the risk of hurricanes from June to October - always follow local advisories if severe weather is on the horizon. Chances are you probably won't experience a hurricane, but even so Florida receives heavy rainstorms through this period too.
Even in winter, temperatures only drop to the mid-70s Fahrenheit, so it's a great winter escape. That makes it a busy time to visit, and prices are likely to rocket in the holiday period. Events like Gasparilla Pirate Fest, held in Tampa in January, just add to the party feel of the Sunshine State in winter.
As you might expect, spring break is another popular time to visit Florida. The whole season is the ideal time to visit Florida, as the temperatures sit around a balmy 80 degrees Fahrenheit, and you can often find great deals on accommodation.
Check out the Sugar Sand Festival in Clearwater if you're visiting in April, when the beaches are decorated with amazing sand sculptures.
The same applies to late fall, when the ocean is at its warmest after all those months of summer sunshine.