21 Best Road Trips From Dallas
Come to Dallas for a big dose of Texan charm coupled with a vibrant arts and cultural scene and first rate sports.
Everybody knows that Dallas is a well-connected transit hub as well as a compelling destination in its own right. For those looking to use Dallas as a base, however, there is a whole host of options to get out on the road and explore Texas and beyond.
From day trips to multi-leg road trip itineraries, we've got you covered. Featuring fabulous natural wonders such as Big Bend National Park, to the bustling music scene in Austin, you can dial up the adventure, the culture or the chill as you pick and choose from the options below.
Note - all the distances and times below are for the full return road trip from Dallas to show you the total time on the road for each trip.
Here are our 20 best road trips from Dallas.
Road trips from Dallas you can do in a day
1. Turner Falls Park in Oklahoma
Located in the Arbuckle Mountains, Turner Falls is the oldest park in Oklahoma and is worth a visit for its stunning scenery and family-friendly adventure fun.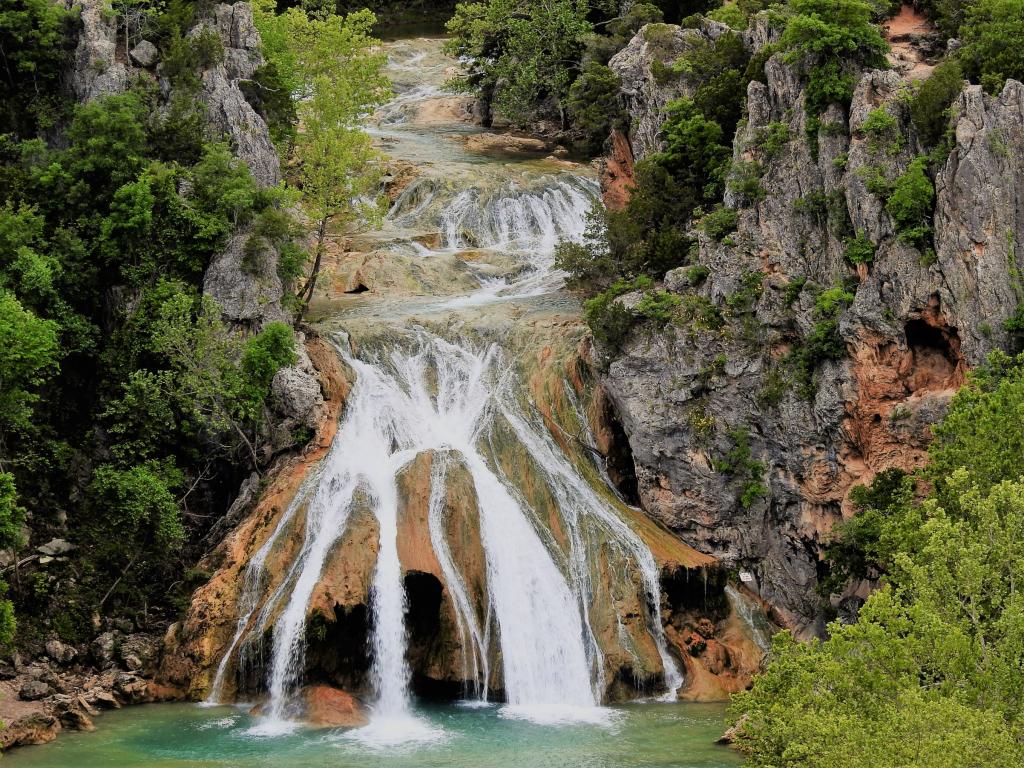 The park is great for spending time in nature - there are plenty of hiking trails and a 77 foot waterfall.
If you want more nature, the Chickasaw National Recreation Area is just up the road - a 20 minute drive and offers a lot more trails and fishing in the Lake of the Arbuckles it surrounds.
You can book one of the cabins in the park which seem expensive at $250 a night, but that includes park admission for 4 which makes them slightly better value.
Alternatively, there are a number of other cabin options surrounding the park which can be better value.
Remember that you need to make sure you have tickets for the length of your stay in the park - adult tickets are $14, children and seniors pay $7 per day and children under 5 go free. You then need to pay $12.50 for your vehicle on top plus taxes and fees.
Road trip distance from Dallas: 260 miles
Driving time: 4 hours
2. Fort Worth, Texas
Fort Worth and Dallas are joined at the hip in many people's eyes and in some ways that is true given they are part of a large Dallas - Fort Wort - Arlington metropolitan area.
However, the 13th biggest city in the United States does have plenty to see and do in its own right.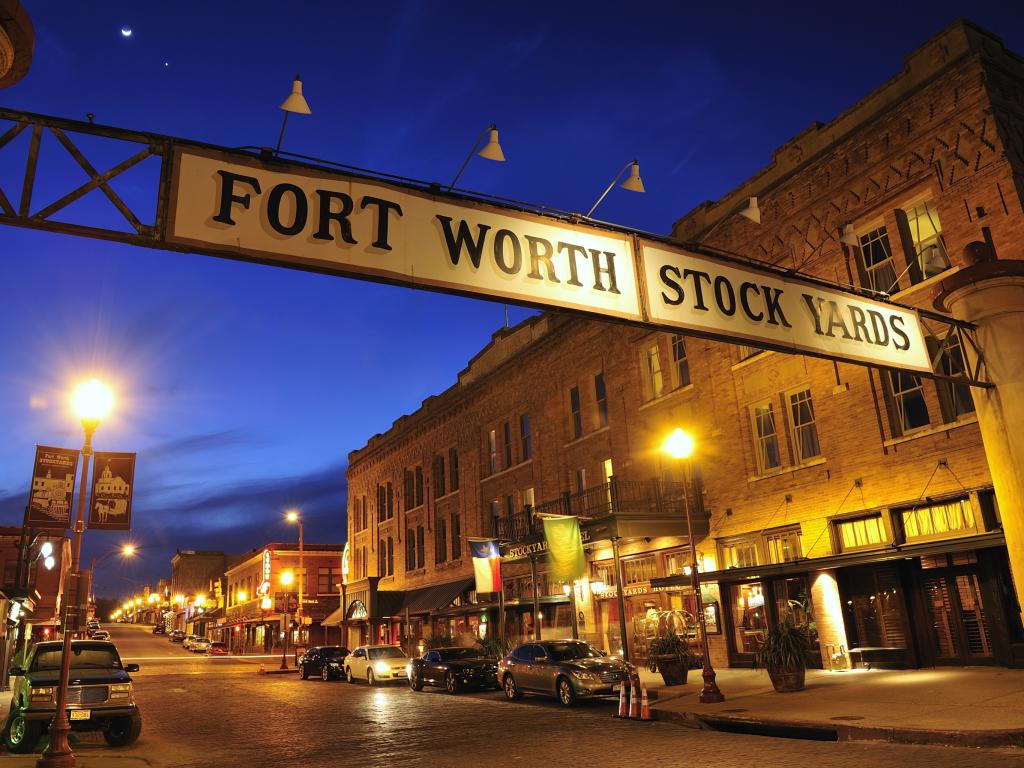 The road from Dallas to Fort Worth is simple and will get you over in just over an hour along the I-30.
If you're visiting for a day, make sure you go to the Fort Worth Stockyards National Historic District. This is a representation of traditional Texas complete with cowboys, cattle and a rodeo to attend.
After visiting your choice from a range of museums, the Botanic Garden or even the Fort Worth Zoo, you can grab dinner at one of over 30 hip restaurants at Sundance Square.
Road trip distance from Dallas: 65 miles
Driving time: 1 hour 20 minutes
3. Grapevine, Texas
Sitting on the Grapevine Lake in-between Dallas and Fort Worth and right next to the Dallas Fort Worth Airport is the city of Grapevine.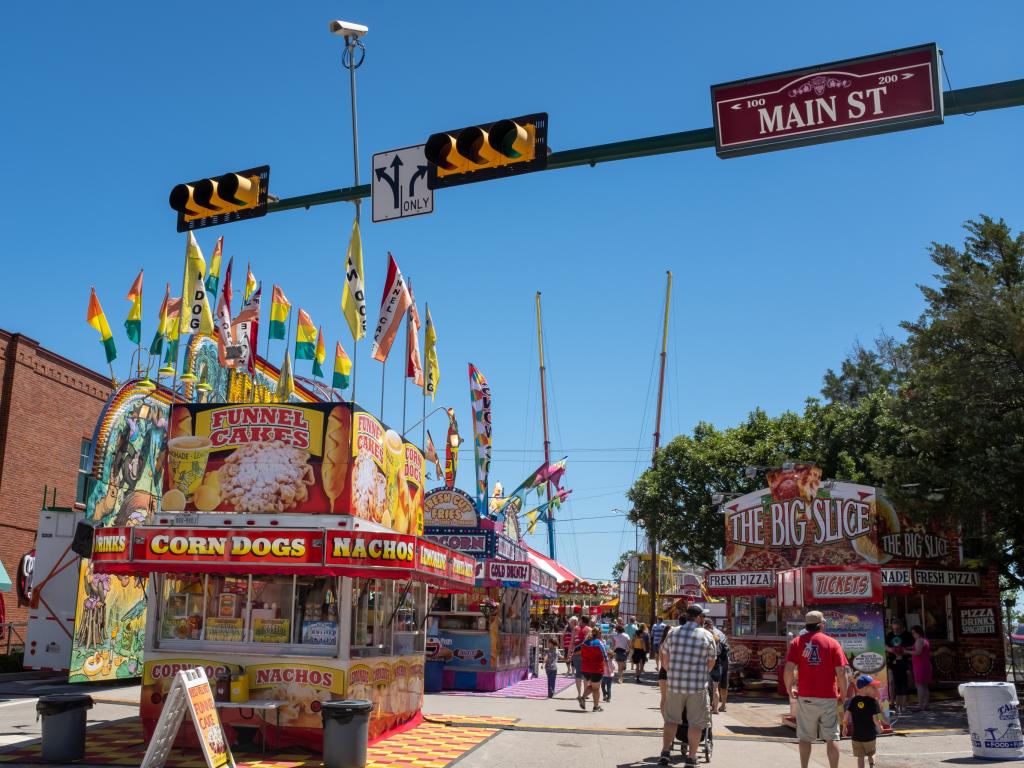 So often overlooked in favour of its big cousins next door, Grapevine is perfect for a day road trip from Dallas at only an hour away from downtown.
The name might give away the fact that Grapevine is a city that is obsessed with wine - there are wineries all over and a number of places through the city where you can taste locally produced wines.
There is the Grapevine Vintage Railroad where you can try out the 1920s train coaches and if you're staying overnight you can even do the evening Jazz Wine Train which does exactly what you think it does.
The downtown area has a lot of restored 19th and early 20th century buildings giving the place an elegant romantic feel.
Road trip distance from Dallas: 50 miles
Driving time: 1 hour
4. Terrell, Texas
If you want to visit a relaxed town not too far from Dallas or you love ghost stories, Terrell might just be the place to go to.
Equally famous as a chilled out spot for a drive out of Dallas and as a place where ghosts roam the streets, Terrell can be popular over the weekends.
In the fall, the Thrillvania Haunted House Park runs events on Friday and Saturday nights in large haunted mansions if you fancy an evening full of spooks.
Other than that, Terrell is a quiet town that is only particularly known for its flying school that trained British military pilots during the Second World War. It comes with a museum that you can visit although it's only open Wednesday to Saturday.
Road trip distance from Dallas: 65 miles
Driving time: 1 hour 15 minutes
5. Waco, Texas
At one and a half hours each way, a trip to Waco can just about be done in a day.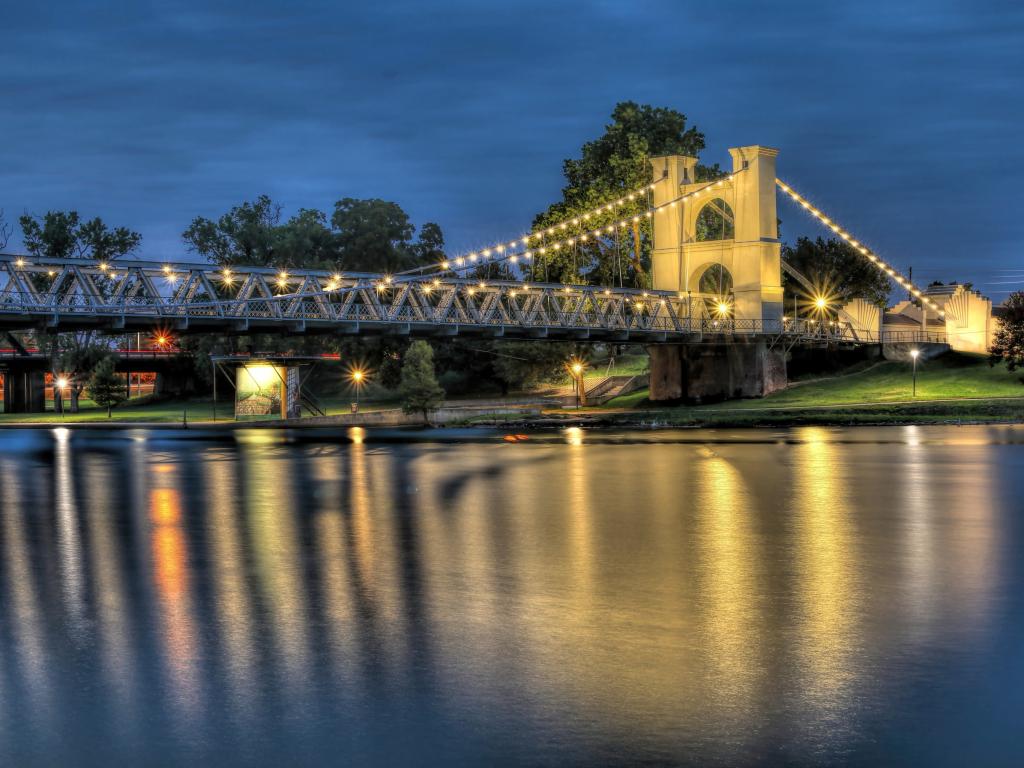 Waco has become well known as the home town of Chip & Joanna Gaines - hosts of the HGTV show Fixer Upper where they carry out house restorations screened all over the world.
In fact, one of the most popular attractions in the city is the Magnolia Trail tour taking in some of the highlights from the show.
The main attraction here is the Magnolia Market located by a pair of old silos that have become an Instagram must for younger visitors.
Waco is well known for a number of antiques shops including the Findery and Junque in the Trunk so take a browse around if old furniture is your kind of thing.
You can also visit the shops and restaurants of Spice Village or get to the Farmers Market on Saturday for all kinds of fresh local produce accompanied by live music.
If you like your soft drinks, stop by the Dr Pepper Museum for 3 floors of exhibits about the oldest major soft drink in the United States. The company started off in Waco and the museum is full of memorabilia from across the decades.
Road trip distance from Dallas: 190 miles
Driving time: 3 hours
6. Marshall, Texas
Marshall, Texas is sometimes called the Cultural Capital of East Texas and offers plenty of small town charm for a short visit or a weekend getaway.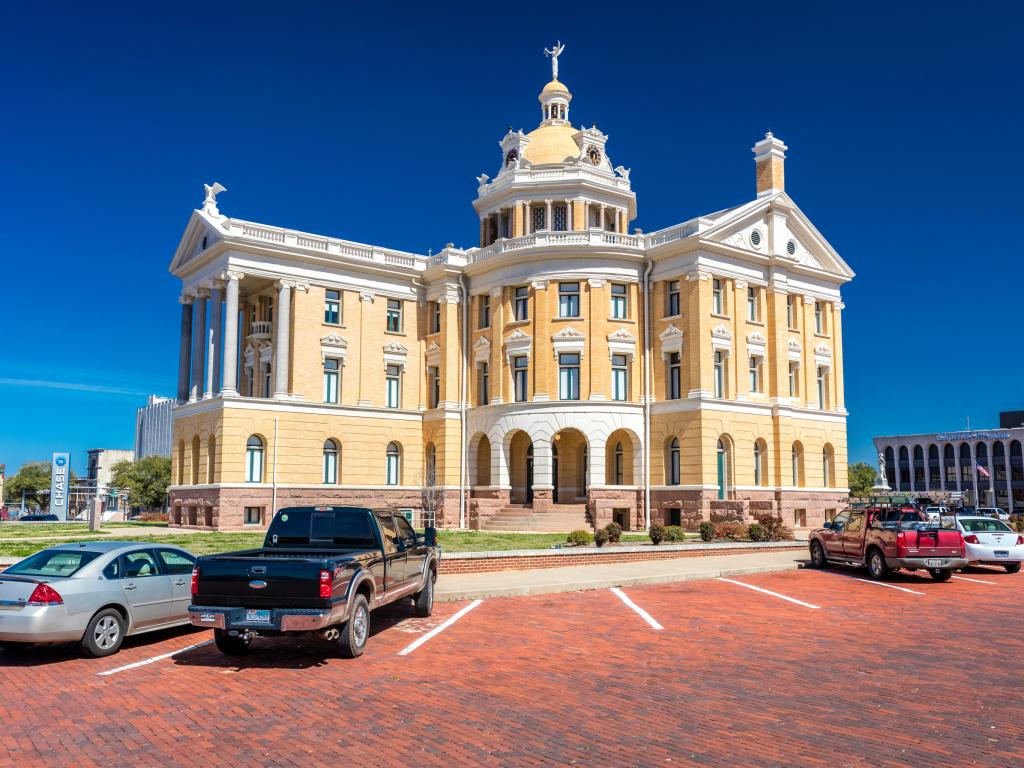 Marshall was a major rail transportation hub in the 19th and early 20th centuries and you can explore this history by visiting the Texas and Pacific Railway Museum.
There's not many other museums or tourist sights in the city, but it does host one of the largest light festivals in the United States with the Wonderland of Lights taking place in late November and December.
The entire town transforms into a giant Christmas display complete with lights everywhere you look, an ice rink and horse drawn carriages.
Road trip distance from Dallas: 300 miles
Driving time: 4 hours 30 minutes
Weekend road trips from Dallas
7. Austin, Texas
The capital of Texas is only a 3 hour road trip away and is perfect for a weekend getaway from Dallas.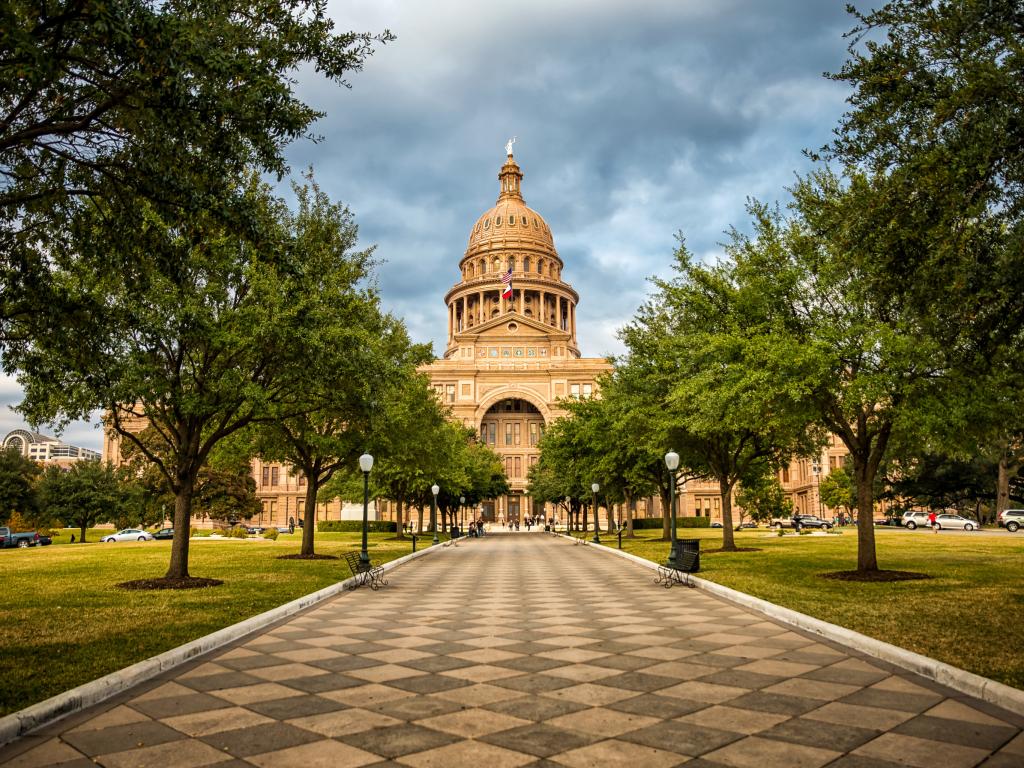 Austin is home to the state capitol (which you can and should visit) and is different to a lot of other major Texas cities. It is the fastest growing city in the United States and frequently gets voted as the best place to live by prominent publications.
Austin is known as a liberal city in what is traditionally a conservative state, fuelled in part by a large student population.
This student population means Austin has a vibrant night life with life music bars, funky restaurants and a number of local craft beer breweries to try out.
If you get hot, the Barton Springs Pool is a popular place to cool down with a crystal clear spring water-filled natural pool in Zilker Park. Be careful though as the water is very cold and parts of the pool can be up to 20 feet deep.
One thing you have to try in Austin is food trucks. There are reportedly over 1,000 of these around the city and they are something of a cultural phenomenon. Alternatively if you want a family dining experience, head out of town to Salt Lick BBQ where endless quantities of meat are cooked on a giant barbecue that will leave you struggling to get back up.
Road trip distance from Dallas: 390 miles
Driving time: 6 hours
READ MORE - Road trip from Dallas to Austin
8. Bandera, Texas
Via Texas Hill Country
The Texas Hill Country is famous for 2 things - wine (see #10 below) and cowboys.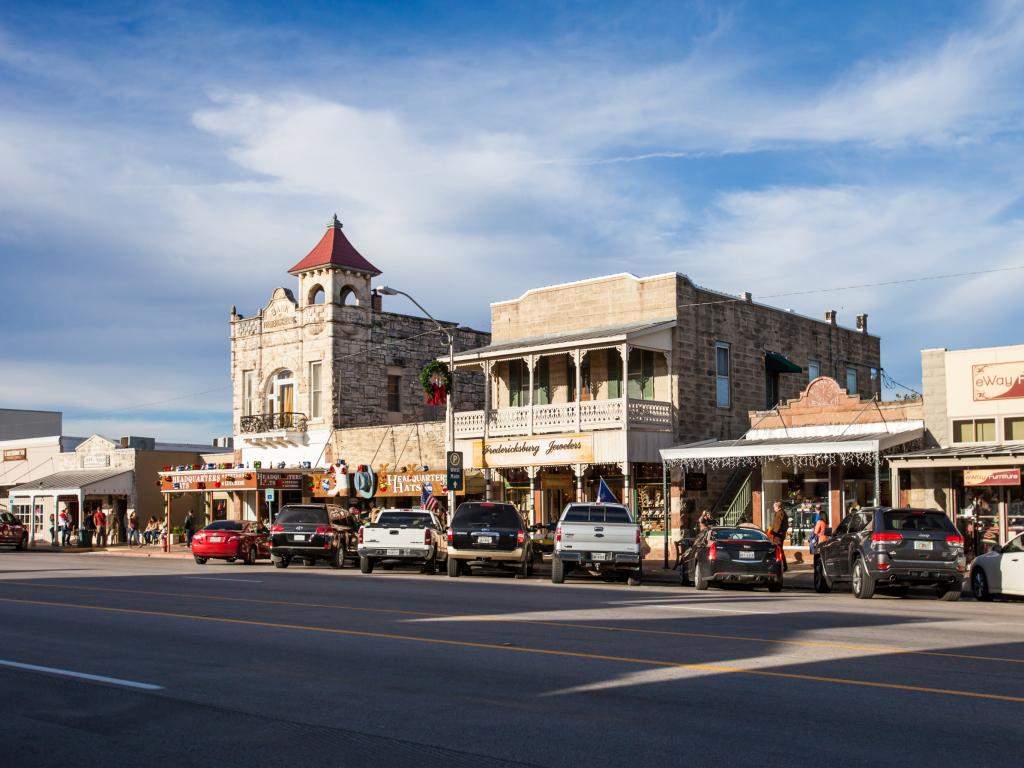 Exploring the Texas Hill Country might be a bit of a stretch for a weekend - you'll need to cover over 600 miles which is a lot even with the high speed limits in Texas (the toll road stretch from Austin to San Antonio has the highest speed limit in the United States at 85 mph!)
The two towns you should spend some time in are Bandera and Fredericksburg.
Bandera is up in the hills just outside San Antonio - if you want to extend your trip, you can combine Austin, San Antonio and the Hill Country into an amazing week-long road trip.
Bandera is the self proclaimed Cowboy Capital of the World.
And it really does feel that way - the locals rock the jeans and shirts and the buildings have that wild west look about them.
Stick around for the rodeo which is well worth the experience! We loved it despite being spotted by the entertainers in the crowd and having to tell the whole arena about our road trip!
Fredericksburg and the surrounding countryside are worth your time - the pretty streets have great shops to stroll through and you can try some fantastic food inspired by the German population that originally settled here and gave the town its name.
Road trip distance from Dallas: 610 miles
Driving time: 10 hours
9. San Antonio, Texas
San Antonio is one of the most well known historic cities in Texas and can make for a really diverse and interesting weekend away from Dallas.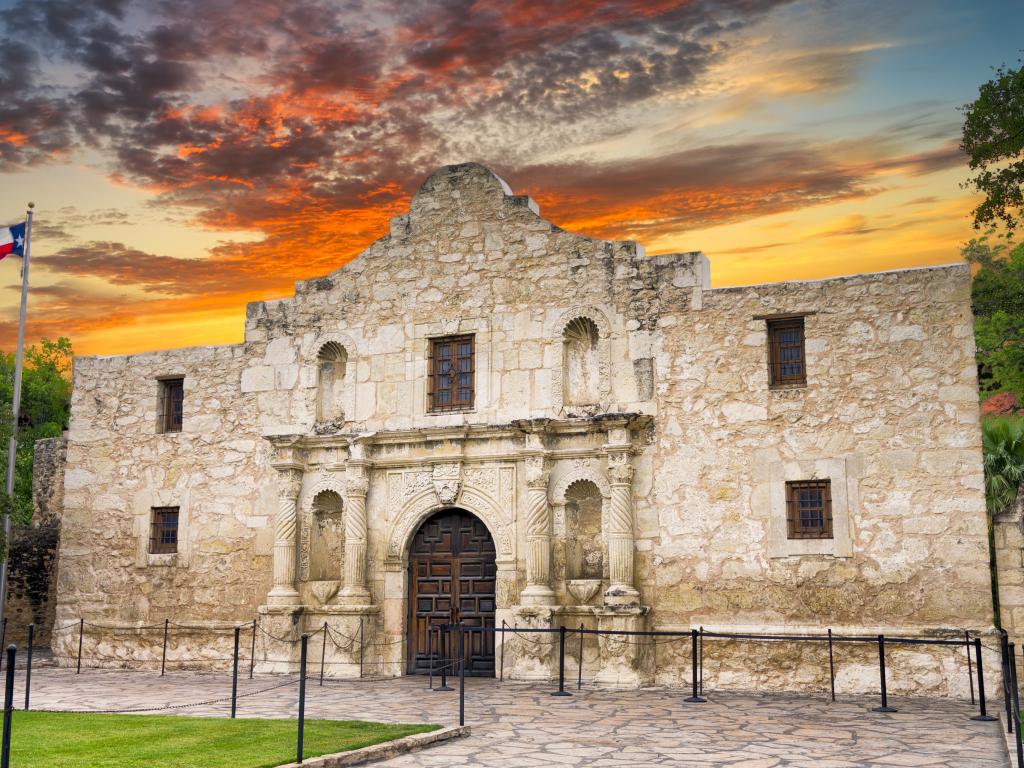 It'll take a good 4 hours to get down the I-35 through Waco and Austin, but once you get there, you can explore amazing history, great food and lively nightlife.
The Alamo needs little introduction and you must stop by to see one of the most famous buildings in American history.
But there's more!
Mission San Jose within the National Park bearing its name is a 1720 Spanish mission that still serves as a church today.
Then there's the riverwalk with restaurants stretching as far as you can see as you take a relaxing stroll along the river with the breeze helping in San Antonio's heat.
While there's a lot of different options, try the local Tex-Mex which can be had from breakfast to dinner. The tacos are infamous and the chilaquiles verdes are a perfect alternative for breakfast.
Road trip distance from Dallas: 550 miles
Driving time: 8 hours 20 minutes
READ MORE - Road trip from Dallas to San Antonio
10. Texas Wine Country
The Texas Wine Country road trip shares some of the places you'd see on the drive to Bandera above, but has a very different purpose which gives it is very own road trip slot on this list.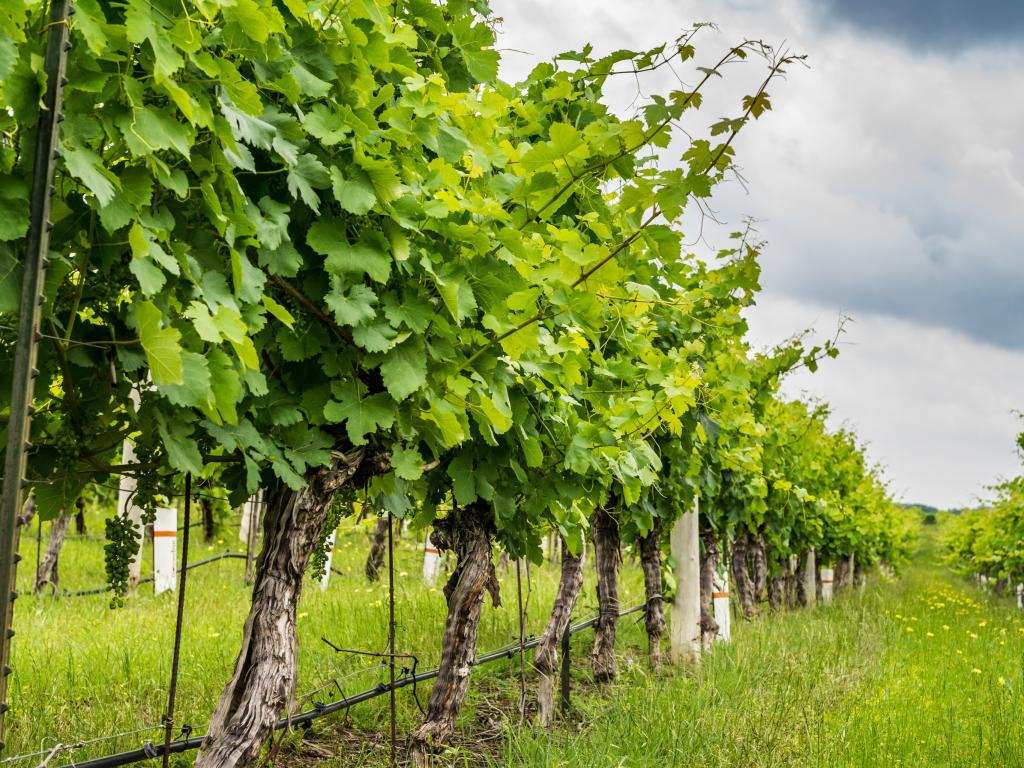 Texas might not be as well known for wine making as the West Coast states of California, Oregon and Washington that produce over 90% of the total wine made in the United States.
But Texas Hill Country centred around Fredericksburg produces some really outstanding wines and we're happy for that to be kept a secret to keep the prices down!
With a climate similar to Lebanon and Sicily and rocky hillsides, the wines that come out of the Texas Wine Country have all the natural ingredients to match the best in the world.
You can plan a route taking in some of the 50+ wineries in the area - try the Cabernet Sauvignon and Cinsault based wines as these particularly like the heat and are commonly used in the Middle East and North Africa.
Road trip distance from Dallas: 650 miles
Driving time: 11 hours
11. Oklahoma City, Oklahoma
Oklahoma City is the largest city and the capital of Oklahoma State and is only around 3 hours from Dallas.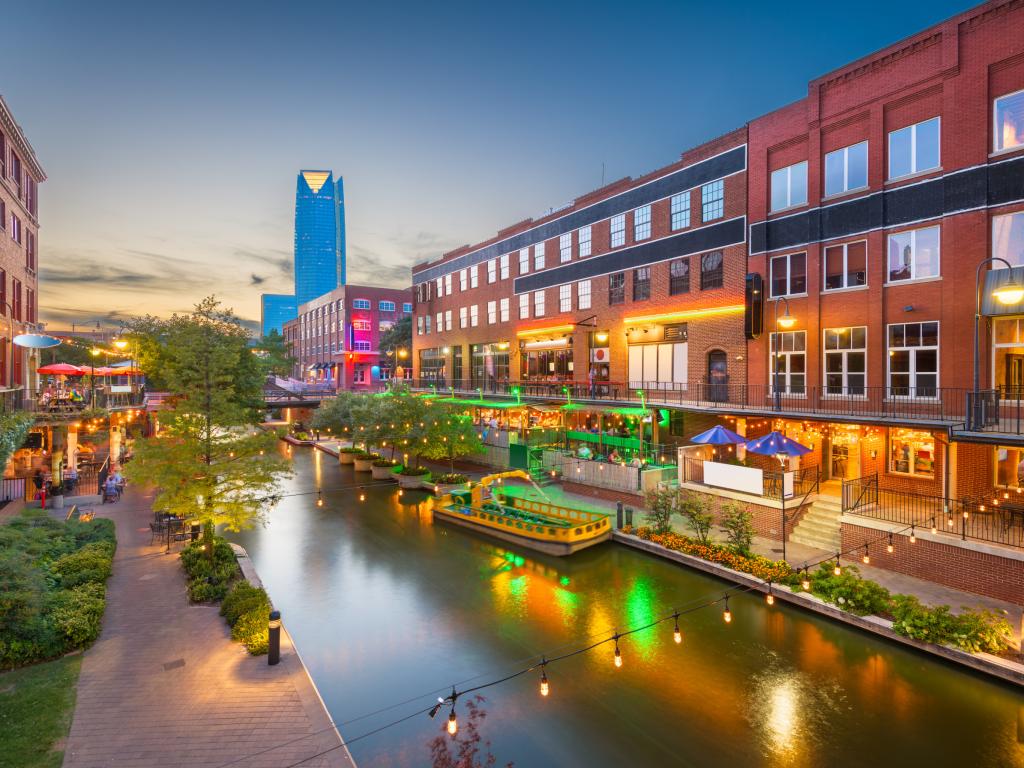 Located on the great plains, Oklahoma City is often associated with oil and cowboy culture, but this up and coming city has so much more to offer.
The majority of things to do and activities are in the Bricktown neighborhood - a major redevelopment of an area that used to have old warehouses and heavy industry.
Today the area has been restored and boasts stunning riverside walks, restaurants, quirky shops and concert venues.
Make sure you stop by and pay tribute at the memorial for the 1995 bombing which has a poignant display in memory of the 168 people killed.
Road trip distance from Dallas: 415 miles
Driving time: 6 hours 15 minutes
12. Caddo Lake
Caddo Lake on the Texas - Louisiana border is unlike any other Texas lake. It is a huge swamp with giant cypress trees growing straight out of the water splitting the lake into a labyrinth of channels and bayous.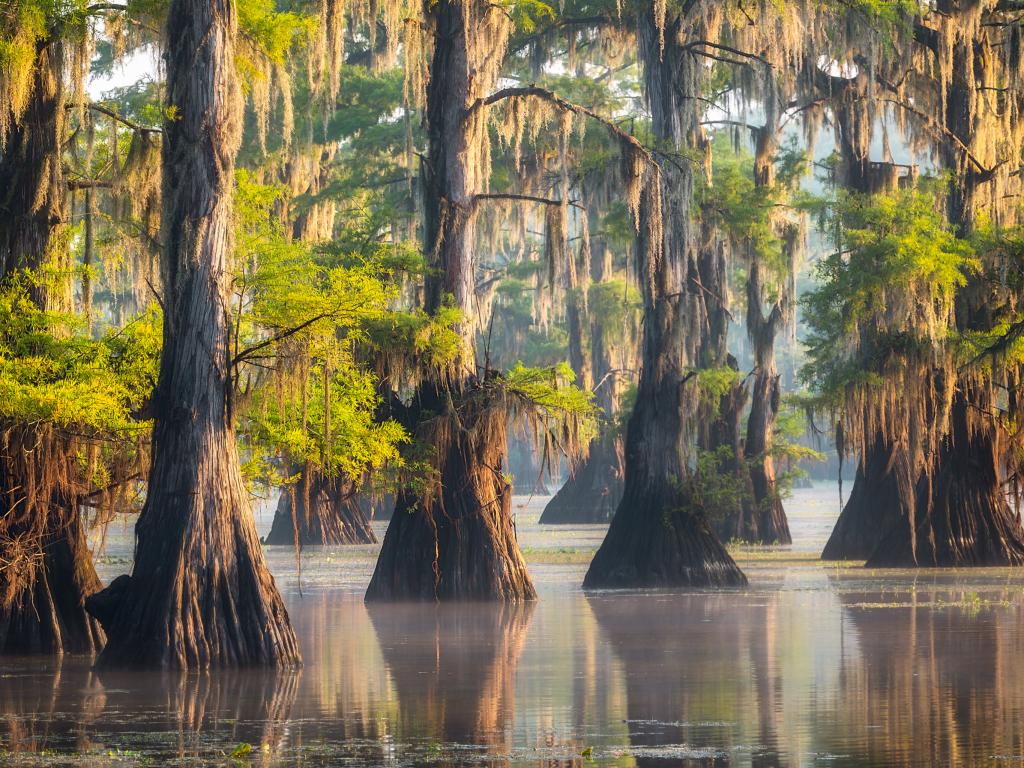 The lake offers a lot of water-based activities from general boating and canoeing to fishing and hiking along the paths that run through it.
The lake attracts a lot of people from the major cities of Texas and Louisiana to relax in complete wilderness. You can take a steamboat tour and visit quaint local towns and if you're up for it, you can camp in the wild.
The Caddo Lake State Park charges $4 per day for adults while children 12 and under go free which is fantastic value compared to some of the other parks you can visit from Dallas.
If you'd like to learn more about other stunning lakes you can visit from Dallas, click here.
Road trip distance from Dallas: 400 miles
Driving time: 6 hours 20 minutes
READ MORE - 20 Best Lakes near Dallas
13. Houston, Texas
Houston is the biggest city in Texas by population and claims to be the most diverse city in the United States, so a weekend road trip from Dallas will offer a huge amount to see and do in the Space City.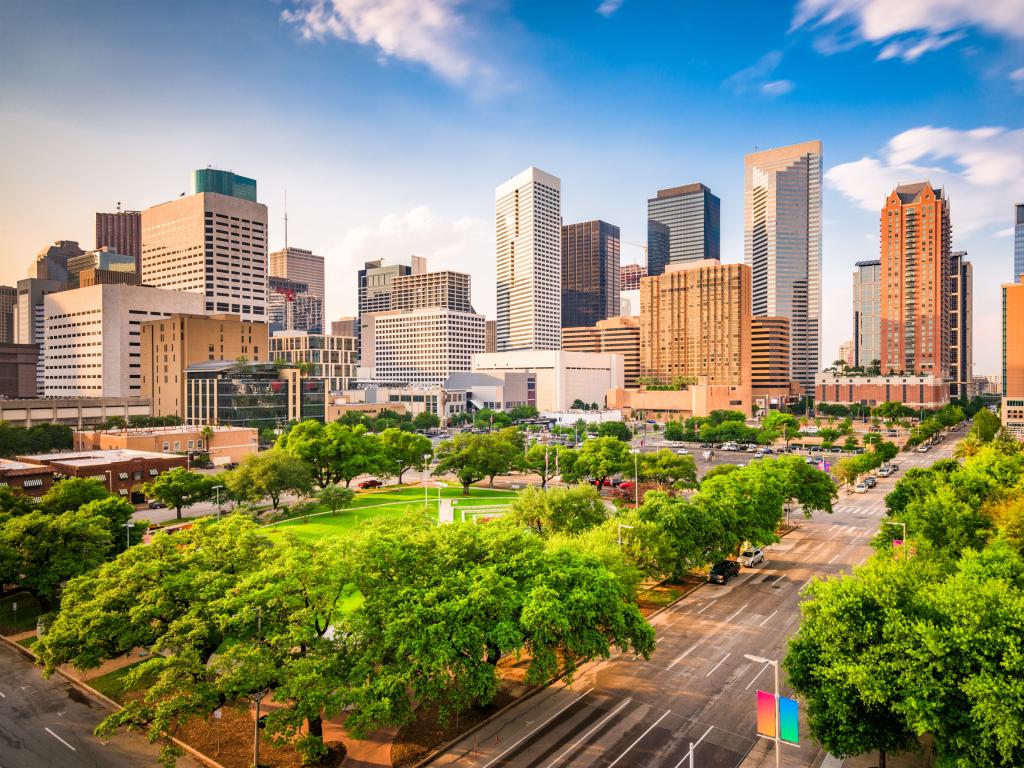 Houston is best known for its role in the U.S. space programme and the Space Center is the most visited attraction to the south east of the city.
The Houston Museum District combines 19 popular museums and sights in the city (including the zoo) that you can visit - a lot of these offer weekly hours with free admission so check before you go.
One top tip on the weather - Houston can get seriously hot in the summer so make use of the tunnels that run underground through the city. Most office buildings have publicly accessible entrances that lead down to the relative cool of the tunnel network.
Road trip distance from Dallas: 480 miles
Driving time: 7 hours
READ MORE - Road trip from Dallas to Houston
14. Beavers Bend, Oklahoma
The Beavers Bend State Park is just across the state line in Oklahoma and sits around the Broken Bow Lake.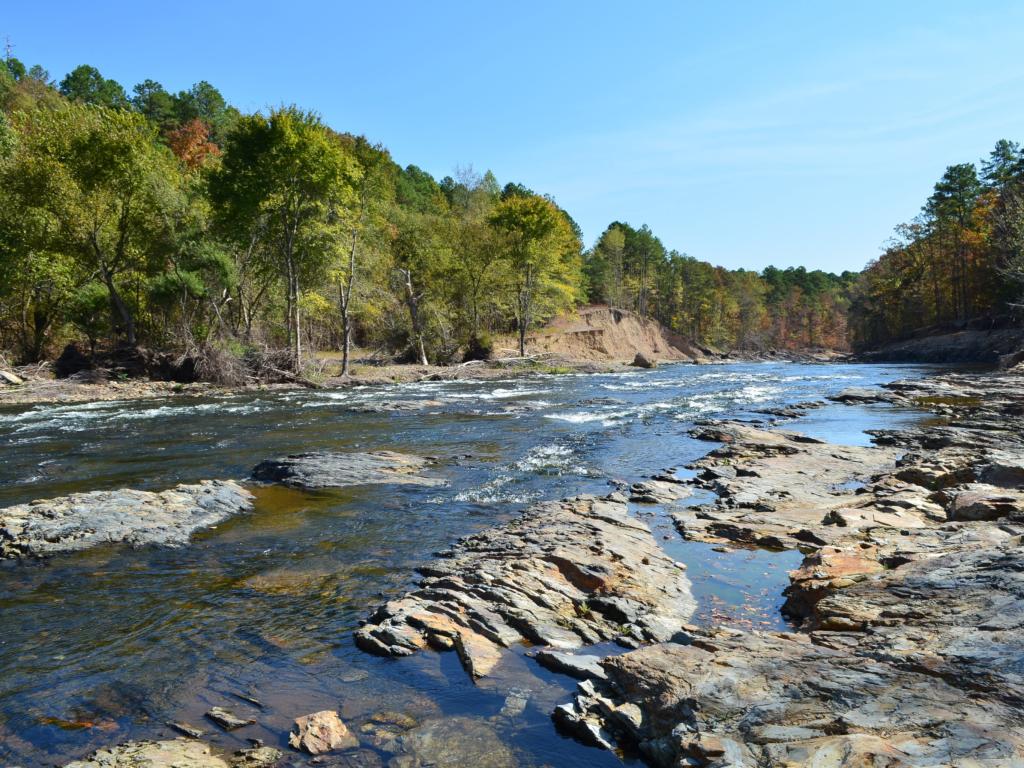 The park is one large pine forest with walking trails, trout fishing, camping, canoes and kayaks and even horseback riding.
The park offers different camping and RV options and has a number of cabins you can rent. Be prepared for complicated pricing with tent pitches being charged by the tent, extra costs for electricity and even some amenities being chargeable.
The park itself, though, is best explored on foot - there are walking paths and trails ranging from short strolls to offroad trails that go on for 16 miles (and do not loop so you will need to return)!
The Forest Heritage Center has a museum that tells the history of the local forests and development with interactive displays that are worth stopping by for.
Road trip distance from Dallas: 385 miles
Driving time: 7 hours 15 minutes
Long road trips from Dallas for a week or more
15. Denver, Colorado
Denver, the Mile High City, is an outdoorsy city that is also known for its vibrant arts, music and food scenes as well as top-notch cultural attractions. Even though the drive from Dallas to Denver might be long, this road trip will be absolutely worth it.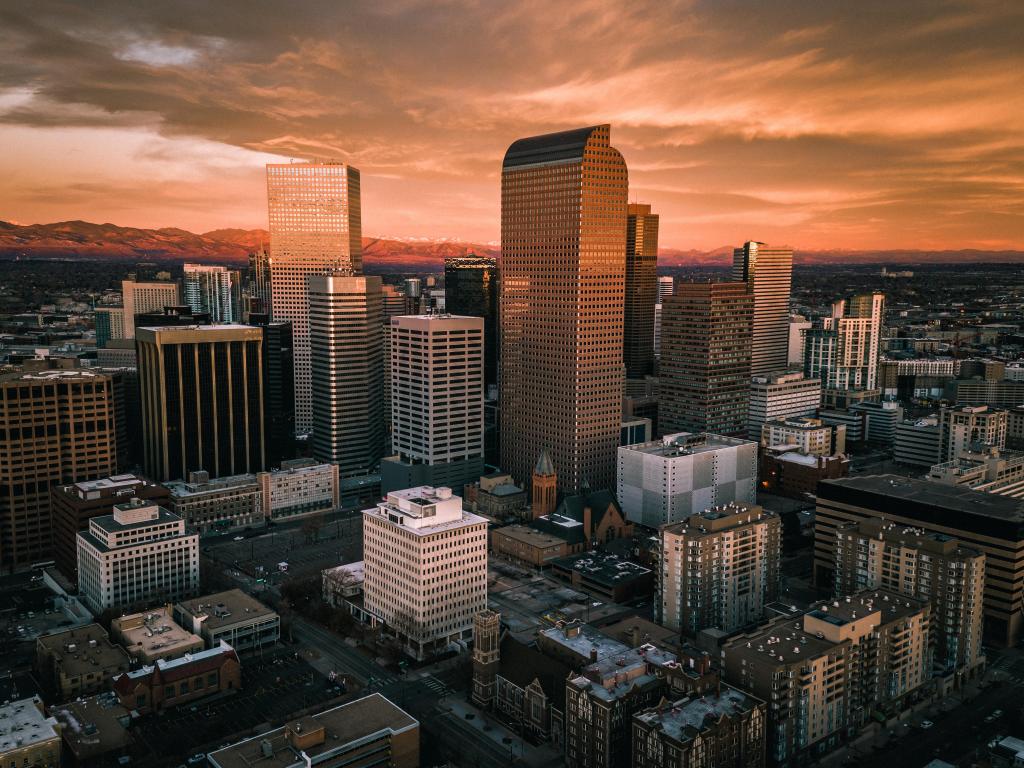 On your way to Denver, you will drive through Amarillo and Colorado Springs, so you can easily extend your trip and add a couple of days to visit these two colorful cities. Colorado Springs would make a great overnight stop.
Visiting the Garden of the Gods in Colorado Springs is almost a must if you'd like to appreciate the great outdoors. This breathtaking National Natural Landmark features beautiful hiking trails as well as vehicle, segway and bike tours and even opportunities to rock climb if you are feeling adventurous.
Denver Botanic Gardens is a must-visit while in the city. You will get to see an impressive collection of stone statues, nestled in the picturesque gardens. These gardens will allow you to catch your breath and center yourself as you get away from the hustle and bustle of the city.
If you are visiting in winter and cannot wait to hit the slopes, Breckenridge and Aspen are easily accessible from Denver and boast some of the nation's best ski centers.
Road trip distance from Dallas: 780 miles
Driving time: 12 hours
READ MORE - Road trip from Dallas to Denver
16. Big Bend National Park
The Big Bend National Park is known for its dramatic landscapes, hot temperatures and huge expanse of wilderness. Located along the Mexican border, it's well worth the long drive from Dallas.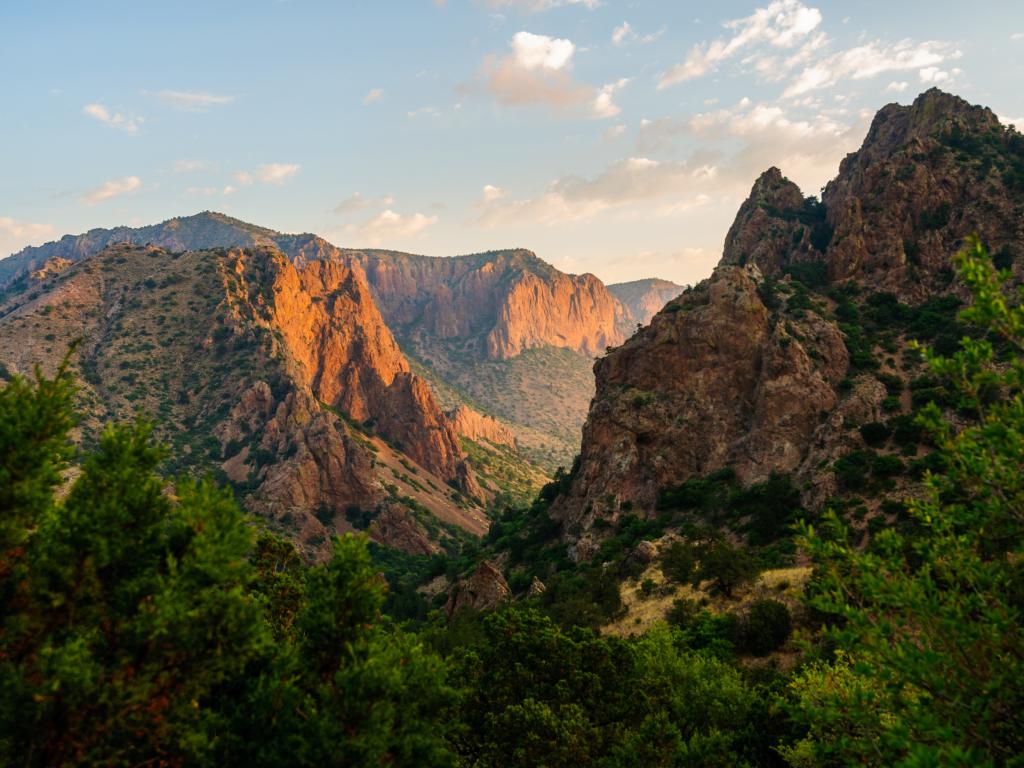 It's a good idea to break up the drive which can take 9 hours without a stopover. The quickest route is along the I-20 before turning south after passing Odessa.
The park is one of the largest and most wild in the United States and its remote location means not many people visit which is what makes it an amazing escape from the city.
Hiking trails are designed for long walks and backpacking hikes over several days. The views throughout the park are stunning and the Rio Grande runs through it including parts that go through a canyon. There are a few activities on and along the river but make sure you bring a passport as Homeland Security consider you to have left the country the moment you step in the water!
Marfa can be a good place to stop overnight if you want to enter the park in the morning - the historic town is known for its arts scene and is popular with movie makers with No Country for Old Men and There Will Be Blood both set here.
Road trip distance from Dallas: 1,230 miles
Driving time: 19 hours 30 minutes
17. Amarillo, Texas
Amarillo is located in the Texas Panhandle in the north of the state and the infamous Route 66 passes right through the city.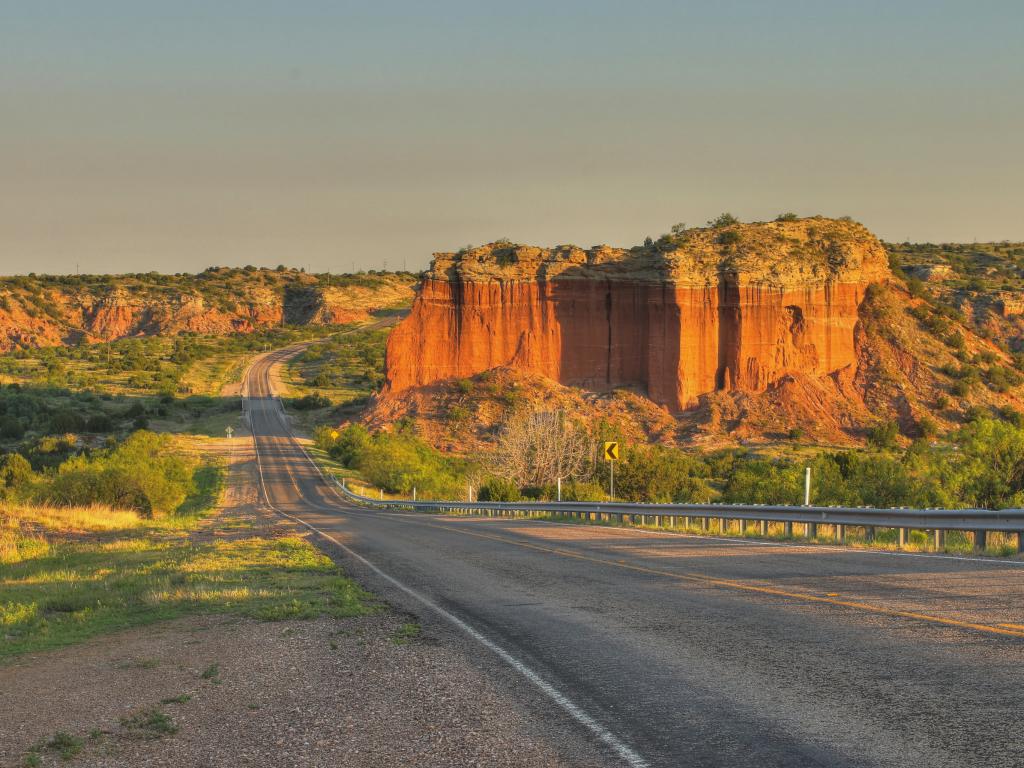 The best things to do are outside the city - the Palo Duro Canyon State Park is a rocky desert with unique rock formations such as the Lighthouse rock that is great for hikes and scenic drives.
In Amarillo itself, there are a number of weird and wonderful museums that can be hugely entertaining ranging from an old RV Museum (yep - it has old RVs) to the American Quarter Horse Museum dedicated to the breed that is famous for short sprint speed.
An art installation just outside the city has a number of classic Cadillacs half buried in the ground. You are welcome and in fact encouraged to leave your own graffiti over the decades' worth of layers left by previous visitors.
If visiting in the summer, be prepared for heat and bring plenty of water - Amarillo sits between a desert and the southern plains.
Road trip distance from Dallas: 785 miles
Driving time: 12 hours 15 minutes
18. Alpine, Texas
The drive to Alpine and exploration of the Chihuahuan desert goes to the same part of western Texas as the Big Bend road trip at #15 above so if you have time on your hands, you can combine the two into one.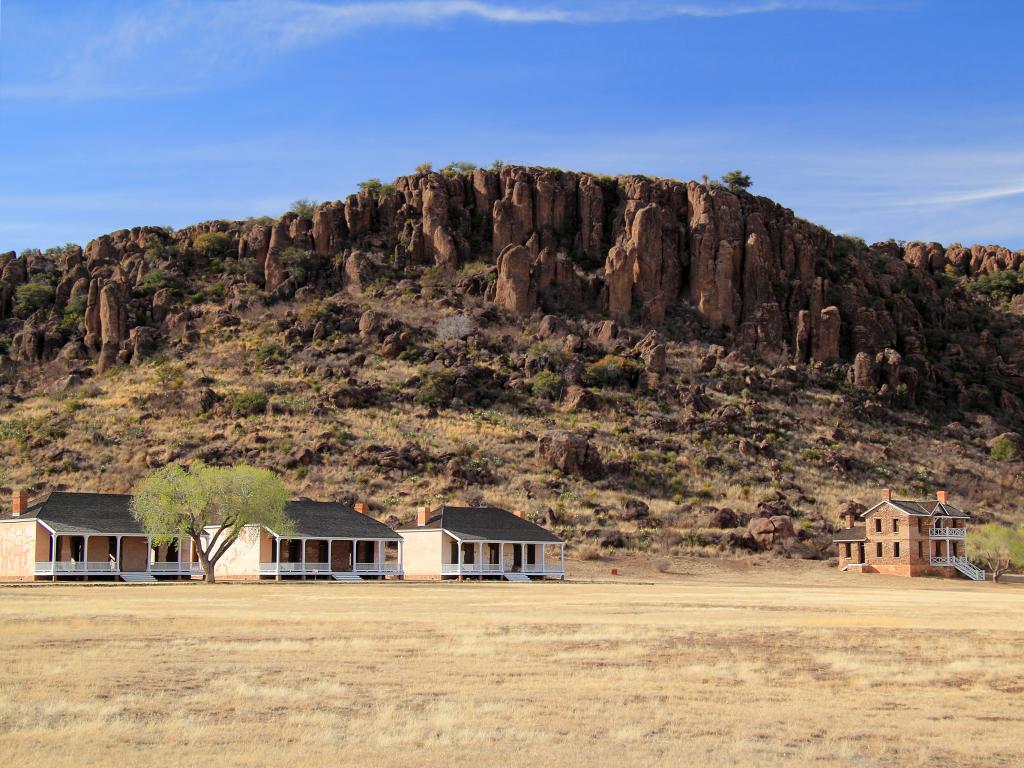 Alpine is a small town that will make you feel like you've stepped onto the set of a movie being filmed a few decades ago. Its small size makes it walkable so get out there and admire its charm.
While Alpine is small, you will notice that the entire area around it is considerably more empty. With only 12,000 people spread across three counties, you will get used to not seeing people for long stretches of time.
Make sure you add Fort Davis to your itinerary - the Fort Davis National Historic Site is an old United States Army Fort that is open to visitors. Entry is just $20 per car that includes tickets for whoever is inside so you can explore the 24 restored buildings dating back as far as 1854 as well as ruined parts of the fort.
The dry Chihuahuan desert has a lot you can add into your drive - the Cathedral Mountain is in the Glass Mountains a few miles east of Alpine and there are endless trails and scenic drives through the rugged terrain that can take days to explore - get your picnics ready and don't expect to have cell signal.
Road trip distance from Dallas: 1,050 miles
Driving time: 15 hours 45 minutes
19. Guadalupe Mountain National Park
Going even further into western Texas, you can visit the Guadalupe Mountain National Park and visit the city of El Paso on the New Mexico and Mexico border.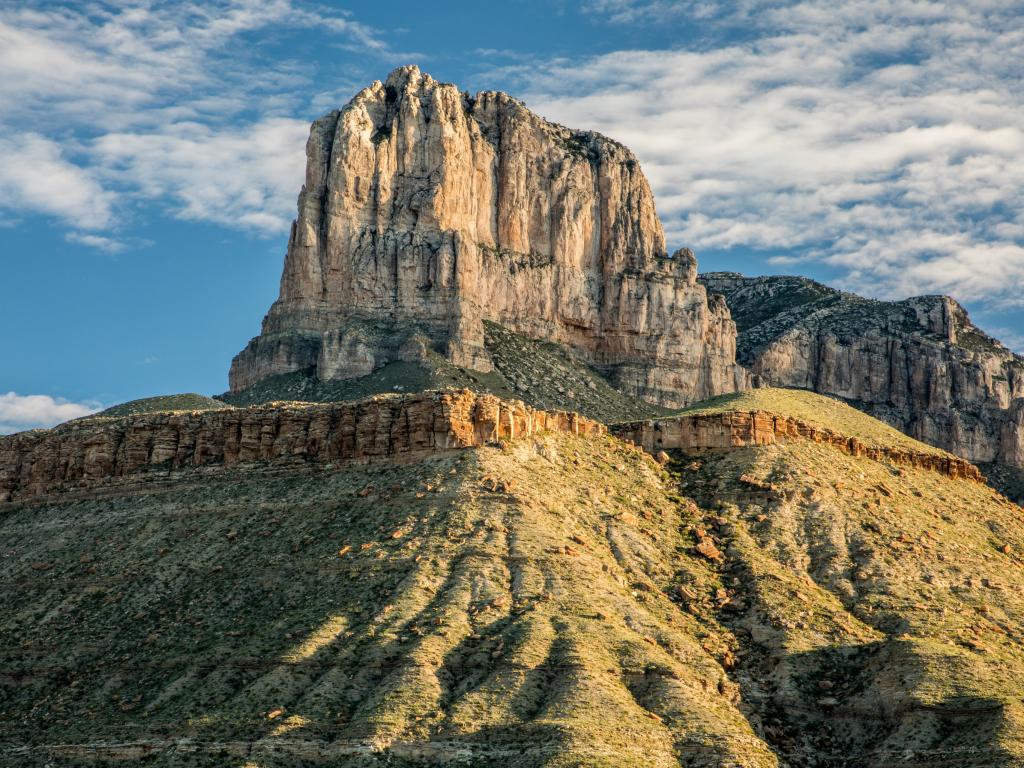 Despite technically being part of the Chihuahuan desert, the park has areas of forest and a mixed terrain.
The park has its very own vertical cliff called El Capitan that you can see from afar. Not quite as tall or popular with climbers as its namesake in Yosemite National Park, it is still an awesome sight.
The park has a number of long hiking trails and offroad driving roads for you to get stuck into. The Guadalupe Peak is the tallest point of Texas at 2,667m above sea level.
The city of El Paso offers more nature exploration with the Franklin Mountains State Park while in the city itself, there is a selection of art museums and Mexican markets serving amazing street food reminding you how close the Mexican border is here.
Road trip distance from Dallas: 1,280 miles
Driving time: 19 hours
20. Padre Island and Port Isabel, Texas
The southern part of the Texas Gulf coast has stunning scenery, beautiful historic towns and the opportunity to relax by the sea and swim with dolphins.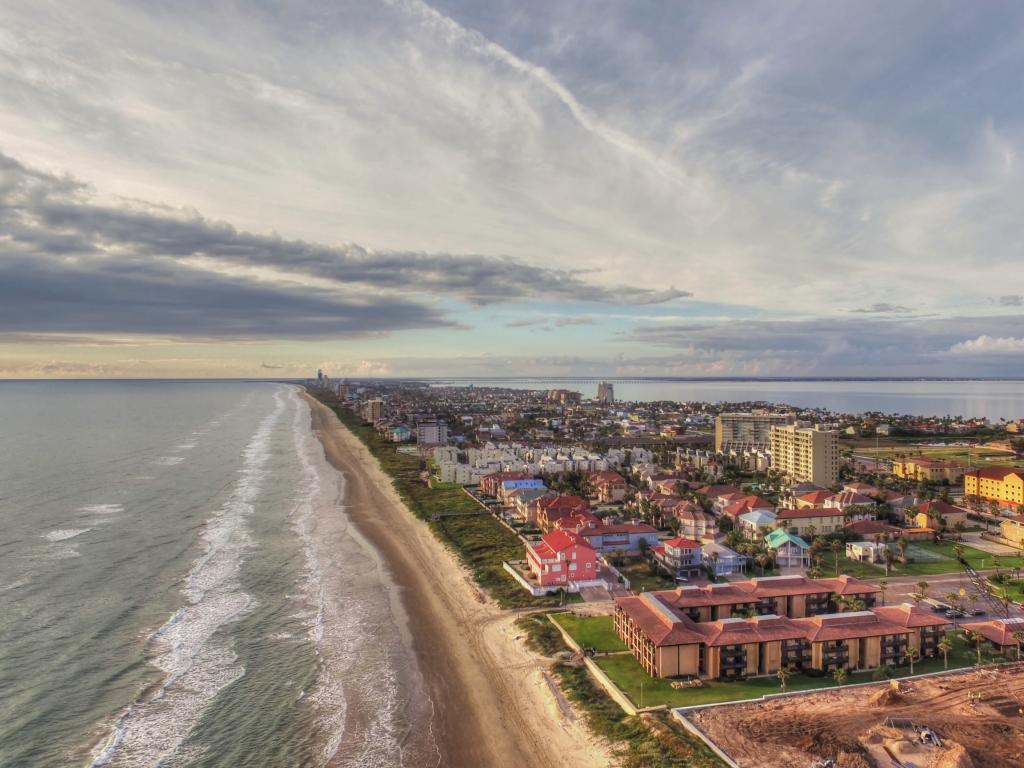 The entire length of this coastline has long islands stretching just in front of the mainland coast and you can start off by visiting Mustang Island and Padre Island just off Corpus Christi.
The Padre Island National Seashore is a large national park with amazing beaches that stretch for miles and few visitors to share the views with.
Further down the coast and near the Mexico border is the town of Port Isabel. One of the most beautiful towns in the Lone Star State, dolphins frequent the bays surrounding it and you can check out the lighthouse standing in the town square.
There are nature reserves in every direction from Port Isabel - if you're into camping with the sea breeze, bird watching or fishing, this might just be one of the best spots in Texas to visit. Click here to learn more about how you can drive to Padre Island.
Road trip distance from Dallas: 1,220 miles
Driving time: 19 hours 30 minutes
21. Louisiana
The state of Louisiana may not be too far from Dallas, but most of the sights and best places to see are right in the south wetlands - this trip combines the unique nature, New Orleans culture and stops along the Mississippi River.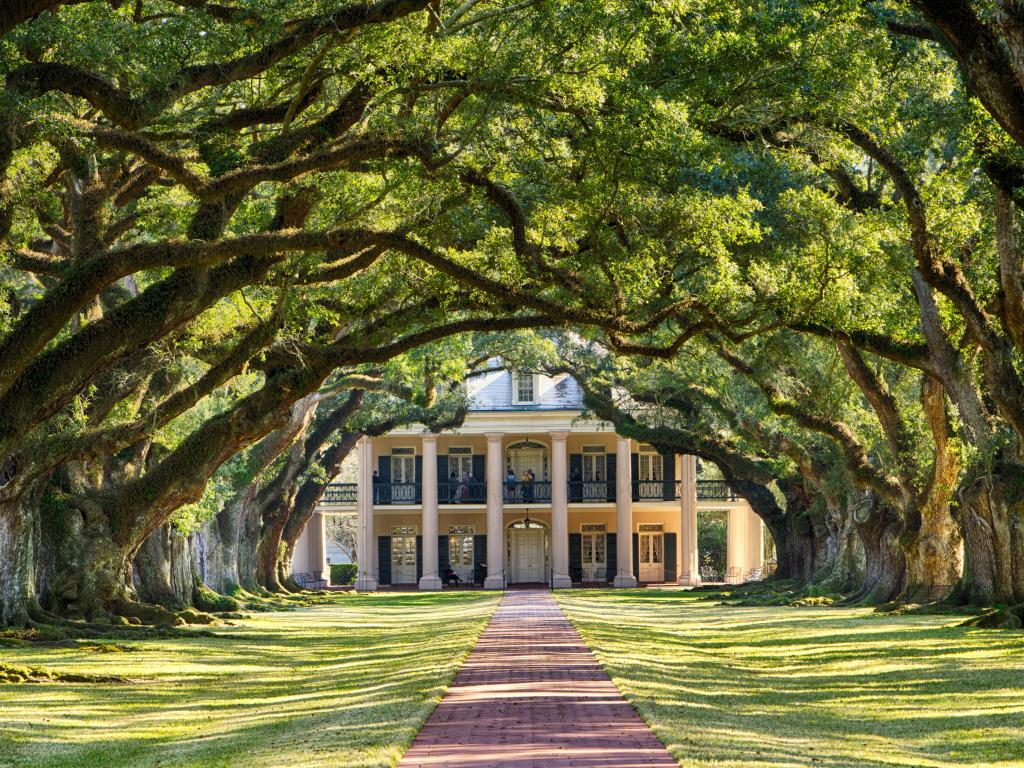 The main stop en route is New Orleans - a city that needs no introduction and where jazz and blues music comes out of virtually every doorway in the French Quarter.
Make sure you try the gumbo - it might just be my all time favourite thing I have ever tasted and I don't even normally like soup!
Other stops include the plantations at Oak Alley and Laura Plantation before a trip to Avery Island - the home of Tabasco sauce.
Louisiana's other major cities of Baton Rouge and Lafayette are worth including in the route on the way down and back up as well as a stop in Natchitoches, Louisiana's oldest town with an old fort and plenty of colonial buildings to explore.
Road trip distance from Dallas: 1,100 miles
Driving time: 17 hours 30 minutes
READ MORE - Road trip from Dallas to New Orleans