30 Best Day Trips From Fort Worth
If you live in Fort Worth or just visiting Cowtown, there are lots of places you can go and visit on a day trip out of the city.
We've got day trips to nature parks, waterfalls, lakes and rivers, historical town squares and buildings, markets, flower gardens, amazing cities and a whole lot more!
The day trips are ordered from closest to furthest away from Fort Worth. Most will take 2 hours or less to get there, but we've got a few slightly further out options if you're feeling adventurous!
1. Go wine tasting in Grapevine
30 minutes from Fort Worth (23 miles)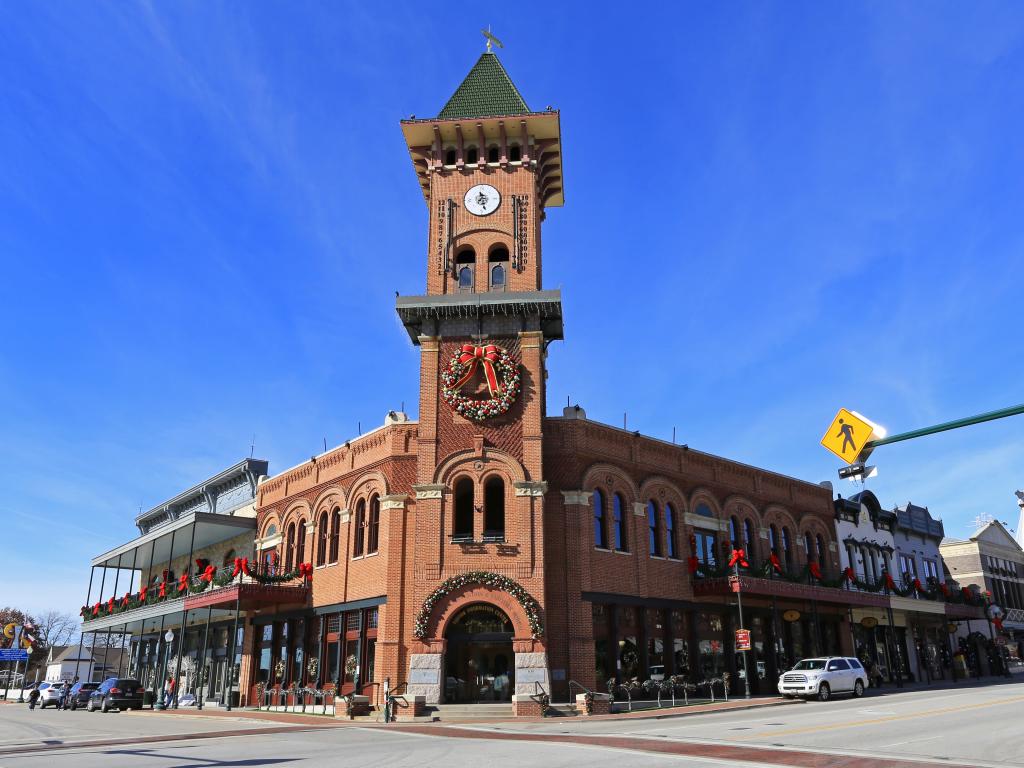 The town of Grapevine is the closest of our list of 30 to Fort Worth and opens up the list as a result. Only half an hour from downtown Fort Worth and right next to the Dallas/Fort Worth International Airport, you'll feel a lot further away when you get there.
On the edge of the city there are a few wineries which you can visit or you can go to one of the tasting rooms in Grapevine itself. Although it is only half an hour, you might want to stay over to avoid having to nominate a designated driver or get a cab instead.
This wine region may not be as well known as California and Oregon or even the Texas Wine Country further south, but don't knock it until you've tried it and stay for dinner to get the most out of your day trip.
If you want your dinner to come with a little more entertainment and a slight touch of kitsch, the Jazz Wine Train that runs along the 1920s Grapevine Vintage Railroad offers the same wine and dinner combo with a twist.
Don't miss out on walking through the town of Grapevine itself. There's some great shops & things to see other than wine here too!
2. Drive up the road for a day in Dallas
35 minutes from Fort Worth (32 miles)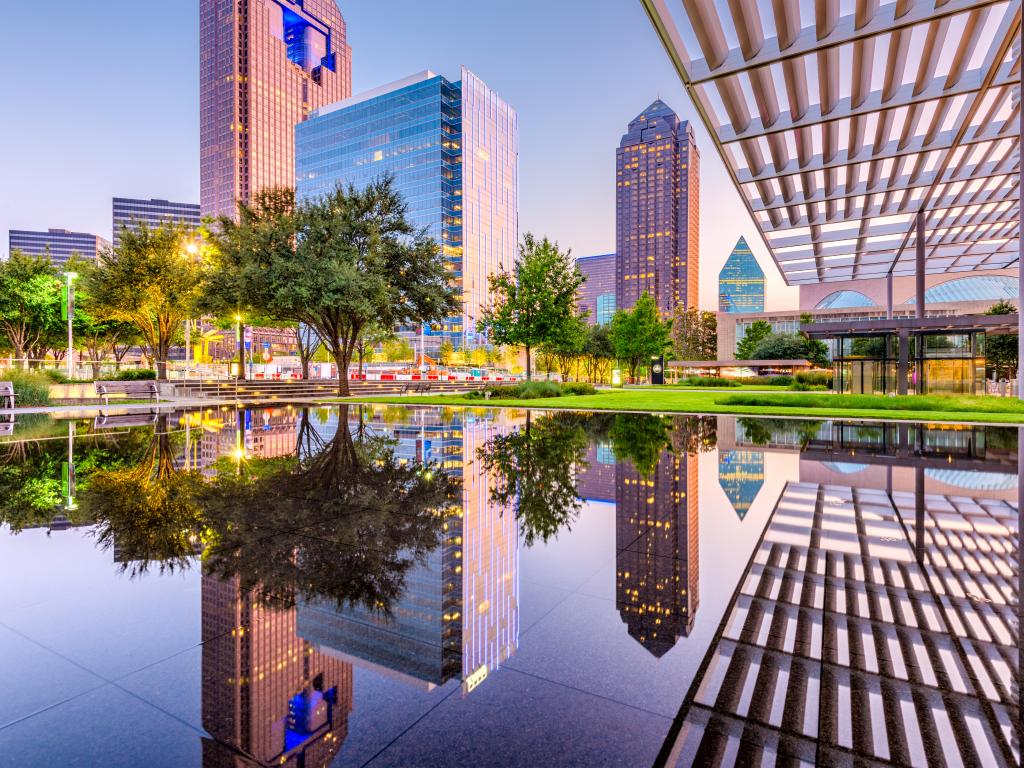 Fort Worth's bigger brother is only a short drive up the road and we couldn't not include it on our list as although you may well have been to Dallas a few times already, it's well worth visiting more than once.
There is so much to see and do in Dallas that you can take day trips for weeks and not cover all of it. If you want to spend more time, a long weekend will give you a lot more opportunity to explore the city.
The Sixth Floor Museum and Dealey Plaza are a good place to start. Although they relate to a grim part of the local history, the poignant museum is really interesting and you can look out of the window from which the shot was made with a white X marking the spot.
If you like art, the Meadows Museum and the Dallas Museum of Art should be on your list. Add to that some great parks and walks through the cattle statues on Pioneer Plaza and along the Margaret Hunt Hill Bridge over Trinity River.
To get the ultimate view of Dallas, stay until the evening and book the Five Sixty restaurant that is located... you guessed it - 560 feet up in the air at the top of Reunion Tower. A table by the window will give you a 360 degree view as the restaurant slowly rotates as you eat.
3. Visit the historic city of Denton, Texas
40 minutes from Fort Worth (37 miles)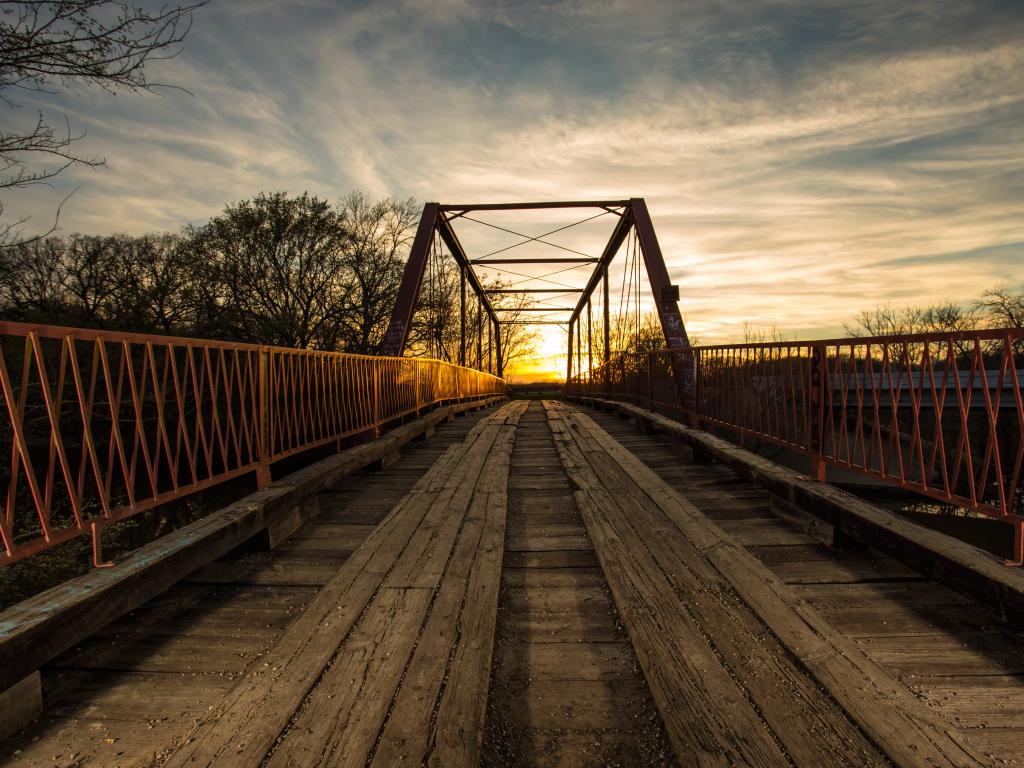 Denton is a short drive up the I-35W from Fort Worth - the city sits at the point where the two spurs of the Interstate merge into one and the I-35 then heads north to Oklahoma and Kansas.
The I-35W can get pretty busy in the morning rush hour so don't spend the 20-30 minutes sat still on the highway and have breakfast in Fort Worth first. Then get on the road at around 9:30 a.m. and you'll still have virtually the whole day to explore Denton.
Right in the middle of Denton is the Courthouse-on-the-Square. Dating back to 1896, it literally is a giant courthouse building on Denton Square.
Head inside to find a museum about Denton's history and culture going back to the first settlers and focusing a lot on the different immigrant groups that made Denton their home.
After you've walked around the small downtown and had your lunch at one of the restaurants along Hickory Street, take your pick of the Clear Creek Heritage Center (closer) and Ray Roberts Lake State Park (further away) for an afternoon walk in nature.
Both have good gentle hiking trails but Ray Roberts adds to the woods with pretty coves and a beach on the lake and wild deer if you don't mind the extra driving.
4. See classic aircraft at the Cavanaugh Flight Museum
50 minutes from Fort Worth (40 miles)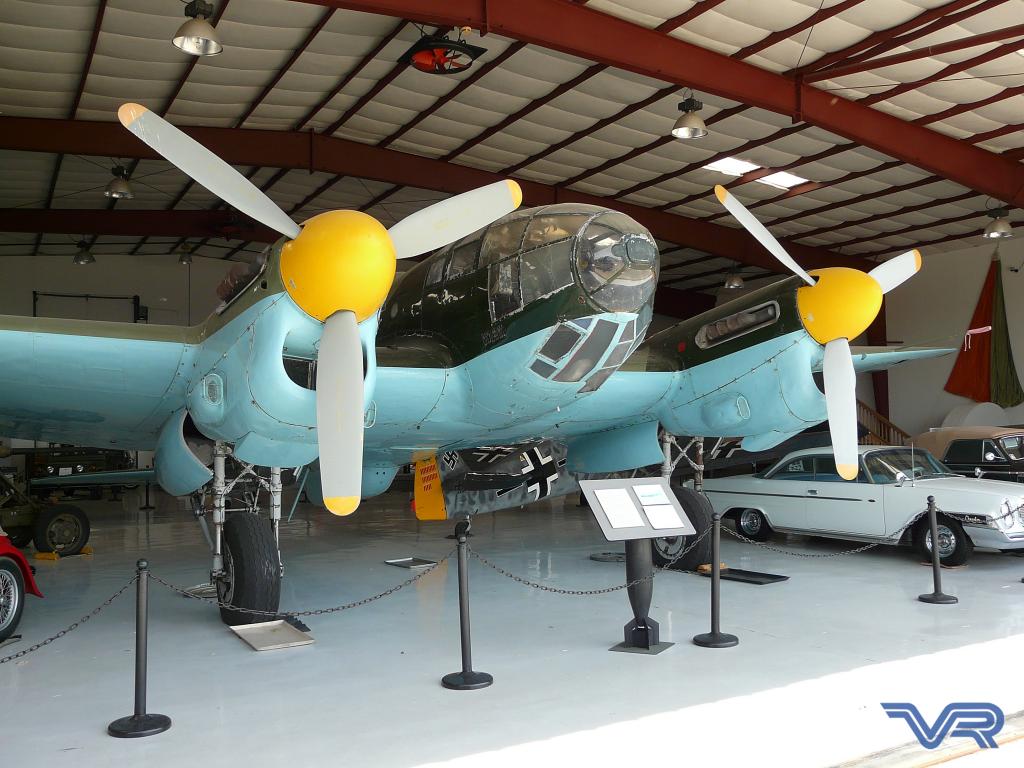 If you or your kids like airplanes, the Cavanaugh Flight Museum is just north of Dallas sitting in the grounds of Addison Airport.
The main collection here has military aircraft starting with World War I and progressing through to all the other major conflicts during the 20th century. Some of the displays sit inside a hangar while others can be seen outside.
For those with a geek gene, you can check out some unique aircraft engines as part of the display where you can track the way their design changed and improved over time.
Random as it may seem, alongside the airplanes, the museum has a small selection of vintage cars from the 30s and 40s that inexplicably sit right among the airplane collection. Not that I object as I love classic motors, but it does seem unusual!
If you book in advance, you can make use of the museum's location right next to a landing strip and go for a flight in one of the classic fighter or bomber planes. It'll definitely make your day and there's nothing like climbing aboard a bomber plane that is almost 80 years old!
5. Walk through the Windmill Farm at Tolar
55 minutes from Fort Worth (44 miles)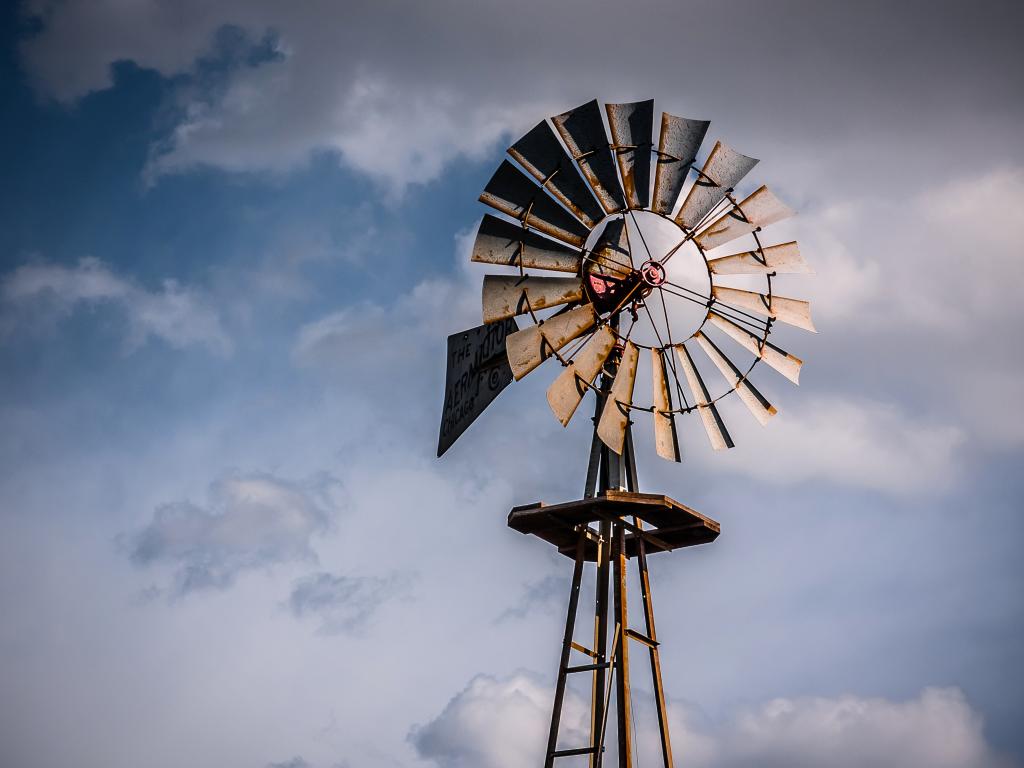 Just about an hour out of Fort Worth along Highway 377 is one of the more unusual options for a day trip - the Windmill Farm near Tolar.
Just a short way off the highway, the farm is free to enter, but I really recommend you donate for the upkeep as you enter. Pick up a leaflet once you've paid your dues and follow the road through the park.
The Windmill Farm has about 30 classic restored windmills that have been aggregated from various local farms and ranches. Each one has a story to tell and has been meticulously restored to work exactly as it did when it was brand new.
The farm is generally open every day during daylight hours. You can see most of the windmills from the road, but you'll have a much better experience if you park up and take a walk through the park to see them up close and personal.
6. Go to the historic town of McKinney
1 hour from Fort Worth (57 miles)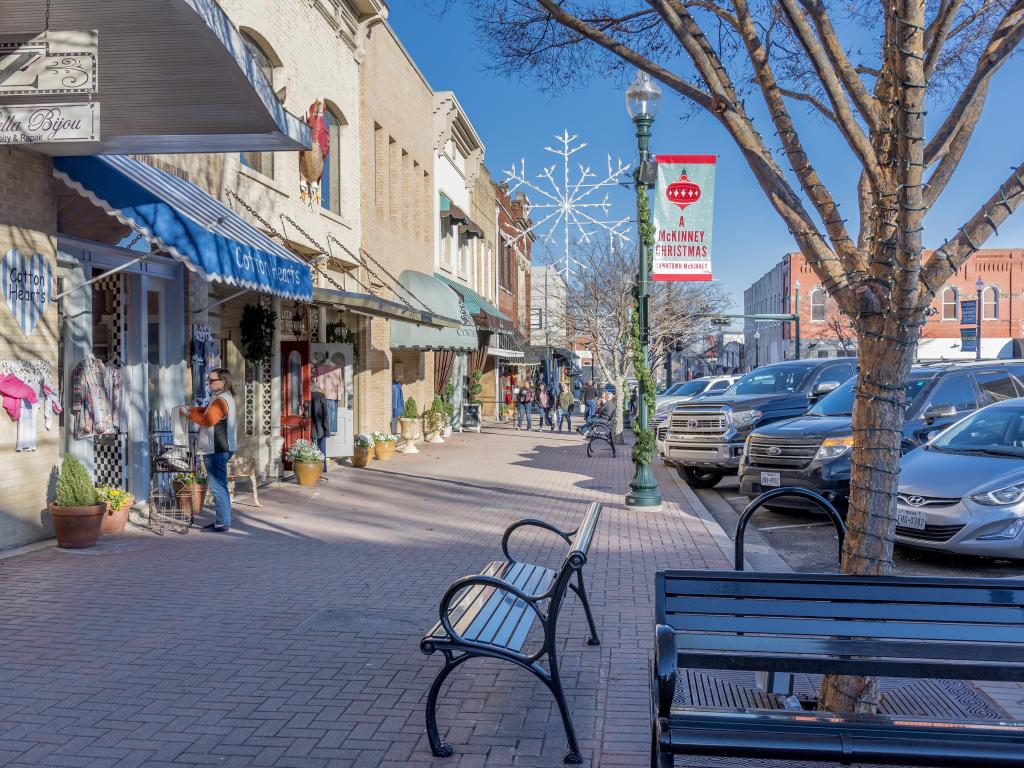 If you don't know much about McKinney, you're not alone. This town that is just outside the metro area is small and unassuming at first sight, but look closer and you'll find exactly why you should go.
Money Magazine voted it the Best Place to Live in America in 2014 and it is frequently rated in the top 10s by other publications. Why? The town is known for a great local community, a vibrant vibe and a focus on work life balance.
These accolades haven't gone unnoticed and McKinney has become a popular relocation destination for those seeking to get more from life. In 2019 the U.S. Census Bureau had McKinney as the 6th fastest growing city in the United States.
Start your visit by walking down Main Street. You'll find quirky local shops and great places to stop for a coffee or lunch in buildings that date back to the late 1800s.
Head on over to the Historic Downtown and you'll discover more charm and history. A few blocks further south is the Chestnut Square Historic Village where 10 restored historic buildings dating as far back as 1854 are open to visitors and costumed actors will help explain what life was like in McKinney 150 years ago.
7. See prehistoric footprints in the Dinosaur Valley State Park
1 hour from Fort Worth (58 miles)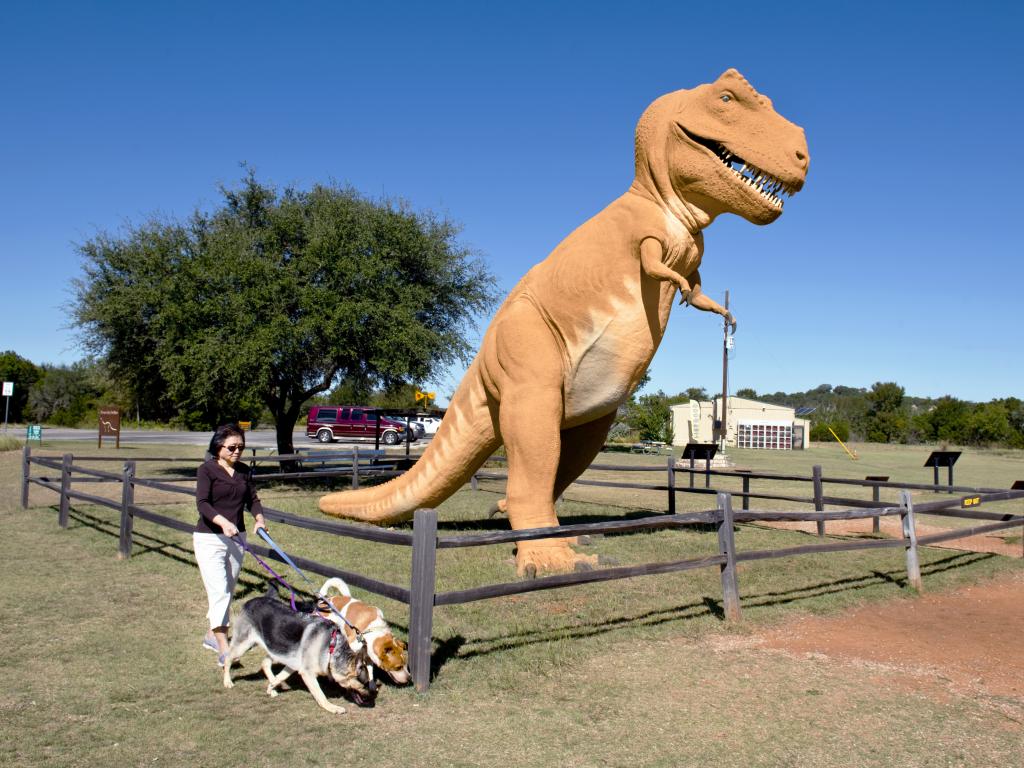 Dinosaur Valley State Park is an hour to the southwest of Fort Worth - allow for up to 15-20 minutes on top of your journey time if you're heading out during the morning rush hour.
The park is not one of the largest, but it has some very pretty wooded terrain with small streams running into the Paluxy River and a number of well laid out hiking trails that criss-cross the park.
The hiking is very good as it is, but to add to the experience, Dinosaur Valley State Park has some of the best preserved dinosaur footprints in the world - some are in the rocks surrounding the river and others run along the river bed, although you can see them through the water.
The thick clay through which the dinosaurs walked turned to stone over millions of years and you can go and see and even touch these footprints today.
Don't miss stopping in Glen Rose - the nearest town to the park. It's a small charming Texan town complete with a courthouse building on Historic Courthouse Square in the middle that was built in 1893.
8. Explore the historic homes of Terrell
1 hour 5 minutes from Fort Worth (68 miles)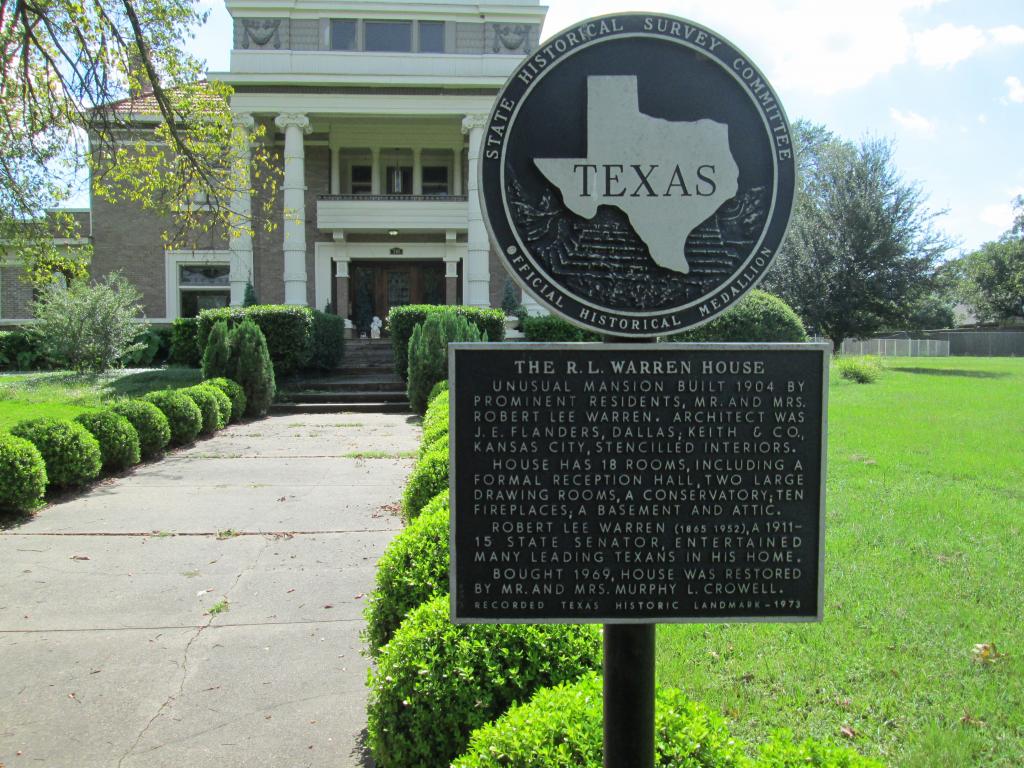 Terrell is a town on the east side of Dallas and you'll need to drive around the Big D to get there - your fastest option is to take the I-20 which will take you right to the outskirts of Terrell.
The small town is known for 2 main things: its historic buildings that come with in-depth plaques describing what their significance and ghosts.
The historic buildings are primarily located in the historic downtown area and interspersed with murals painted on building walls and some very bizarre local shops.
If you drive over on a Saturday, there is an official guided ghost walk which will tell you the history of the ghosts that live around town. If that gets you interested, you can sign up for a weekend themed event at Thrillvania Haunted House Park which hosts ghost-based experiences in haunted mansions.
The small town is also home to the No. 1 British Flying Training School. This is a museum on the site where the British RAF (air force) pilots trained during the Second World War before going into battle. There's some really interesting things to look at giving you a glimpse of what life was like in the camp during the war.
9. Relax by the water at Lake Whitney
1 hour 10 minutes from Fort Worth (72 miles)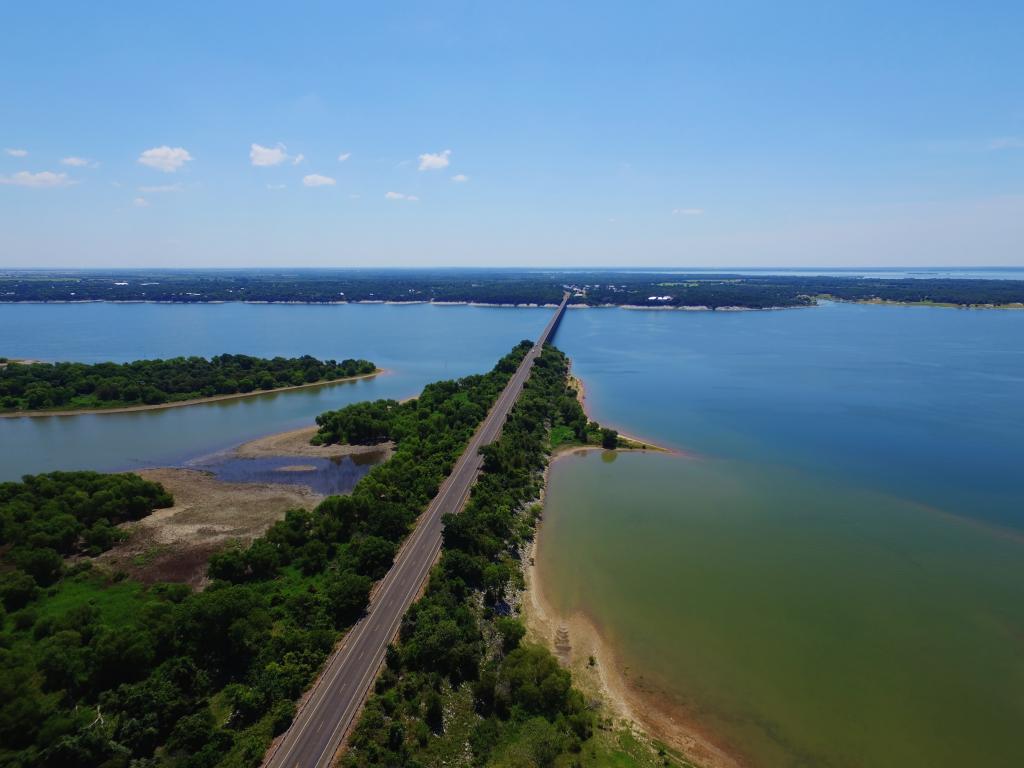 Just over an hour south of Fort Worth is Lake Whitney, a reservoir formed along Brazos River behind Whitney Dam constructed in the 50s.
The large man-made lake is a perfect spot for spending time on the water and around it with more activities than you can do in a day.
On the lake you can do everything from fishing for bass and catfish (with a license) or boating to water skiing and even scuba diving.
There are parks dotted all around the perimeter of the lake - McCown Valley Park, Cedar Creek Park, Steele Creek Park, Steiner Valley Park, Old Fort Park and the Lake Whitney State Park.
The State Park is the most popular with visitors - it's got two short official trails that are about a mile long each and at weekends the park becomes popular with campers staying the night.
The largely unspoiled nature around the lake has become so popular that in 2005 the Texas legislators saw it fit to officially designate Lake Whitney as the Getaway Capital of Texas. I am not sure exactly what legal privileges that gives to the lake, but it's a cool title!
10. Get a history lesson at the Fort Richardson State Park and Historic Site
1 hour 10 minutes from Fort Worth (60 miles)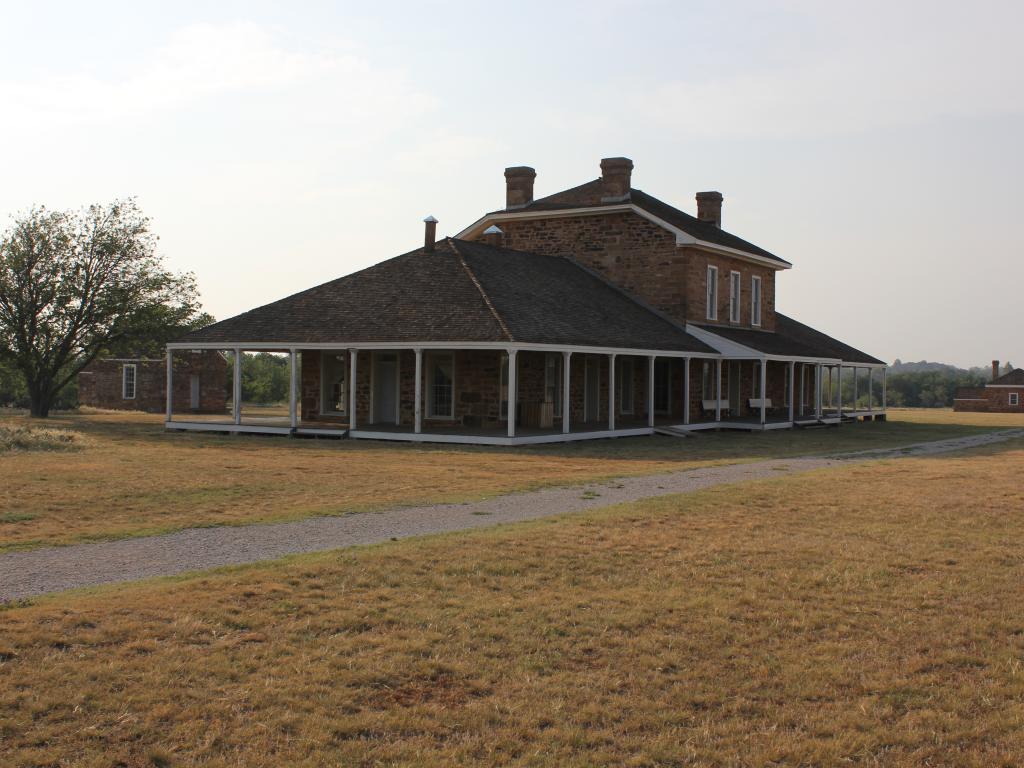 To learn a bit about the history of 19th century Texas, you'll need to drive from one fort to the next. Head out from Fort Worth along State Highway 199 (that starts right in downtown) and stay on it for just shy of 60 miles until you see a sign telling you that Fort Richardson is to your left.
Built in 1867, Fort Richardson was a frontier outpost as settlers occupied more territories in northern Texas and pushed back the Comanche and Kiowa tribes.
The fort served its purpose as by 1878, the Texas panhandle and parts of today's Oklahoma were secured by the U.S. Army and the post was abandoned for almost 100 years.
It was not until the 1970s that the disused ruin was partially restored as a piece of national heritage and reopened as the Richardson State Historic Park.
The fort is spread out through the park grounds and the 55 buildings have been restored to open the fort to visitors. The hospital and morgue buildings are very popular and there is everything from the magazine building to the officers' quarters as well as 2 replica soldier barrack buildings to complete the restoration.
If you get here early, the first tour starts at 10 a.m. on weekdays. The second one is not until 2 p.m. so it pays to get out of Fort Worth in the morning.
The park that surrounds the Historic Site is great for an afternoon stroll after you've seen the fort itself. There are some great trails that are relatively easy to walk - a $3 entrance fee covers both, the fort and the park which is amazing value for a day trip from Fort Worth.
11. Try your luck at the largest casino in the world
1 hour 10 minutes from Fort Worth (75 miles)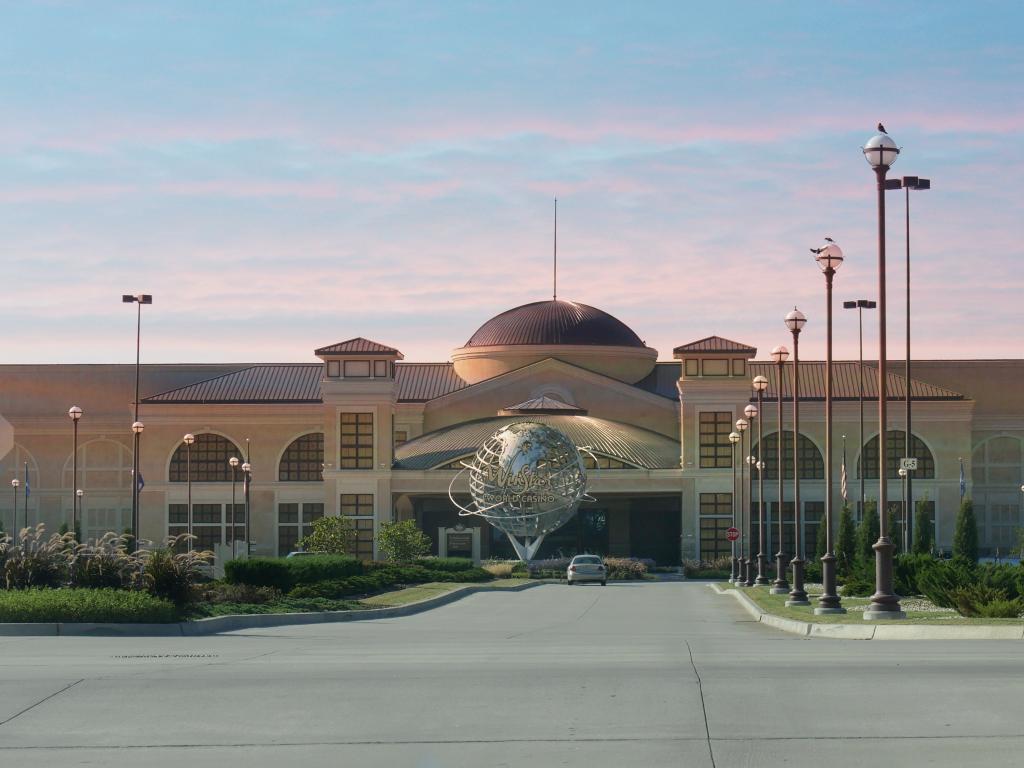 Just across the border into Oklahoma, north of Fort Worth is the WinStar World Casino. If you're not heard of it before and think that a local casino owned by the southern Oklahoma Chickasaw Nation is not going to tick the boxes, think again.
With around 600,000 square feet of casino floor space, the WinStar is the largest casino in the world. It beats everything you'll find along the Las Vegas strip, Atlantic City and even the huge casinos in places like Macau.
Texas is a pretty conservative state and therefore casinos aren't coming to Fort Worth any time soon. This is precisely why WinStar exists - reportedly over 90% of the visitors are residents of the Dallas - Fort Worth metro area who head up for a day at the tables.
Whatever game you like playing in the casino, there will be a crazy amount of options for you. The poker room alone has 55 tables and occasionally hosts huge multi-table tournaments.
If you want to stay for the evening, there are many good restaurants on site and for those who like to play through the night, the hotel on top of the casino has almost 1,500 rooms!
12. Buy antiques at the Magnolia Market at the Silos in Waco
1 hour 20 minutes from Fort Worth (89 miles)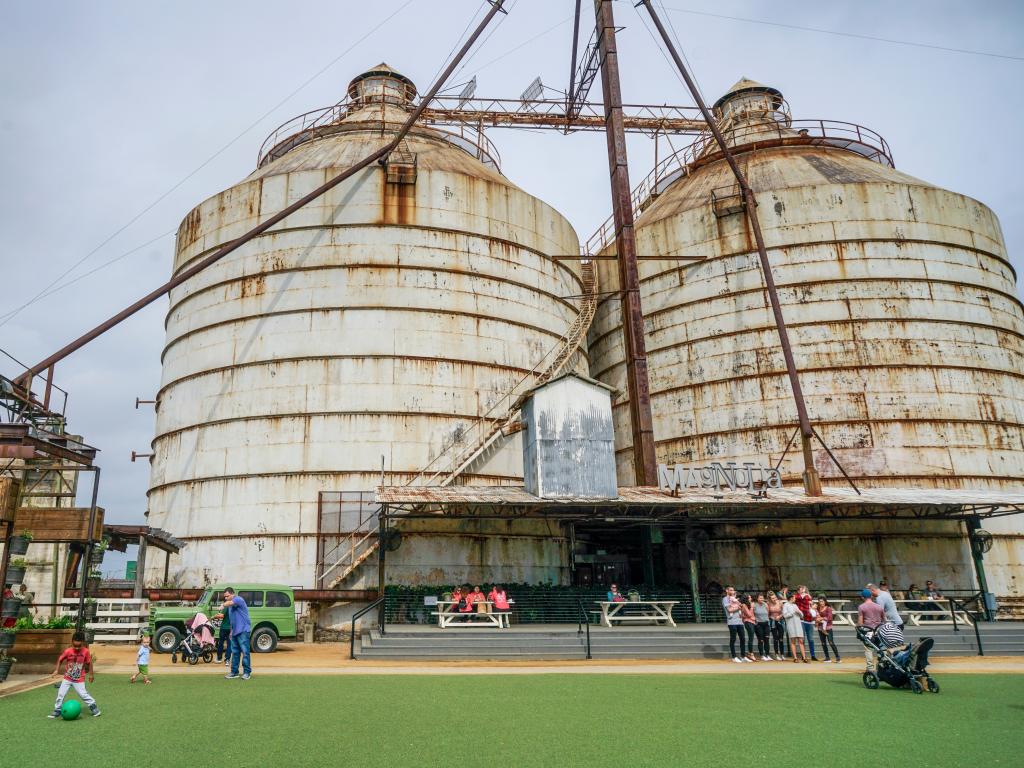 If you like antique furniture, design in general or just want a fun day out going through quirky stalls and shops, Waco is less than 90 minutes south of Fort Worth.
Take the I-35W from right outside downtown Fort Worth and follow it all the way, along the I-35 after the merger with the Dallas-bound I-35E and you will get right into the heart of Waco without having to make a single turn!
Magnolia Market has become the main sight in Waco. It's easy to find - the two giant old silos are the thing to look out for. The market was set up and is owned by Chip and Joanna Gaines of Fixer Upper TV show fame.
Not content with the selection of antiques and general interesting furniture, they've gone and made Waco the place to come for buying classic pieces. They have stopped filming the show to focus on family and their other businesses so you might just spot them on your way around.
Don't miss the 3-floor Dr Pepper museum which is also based in Waco. The museum occupies the first purpose-built factory building where Dr Pepper was produced for over 50 years up to 1960. From cool advertising posters to classic bottle designs, there is a lot to see and it's a great way to follow the development of industry through time.
13. Get that small town feel in Greenville, Texas
1 hour 25 minutes from Fort Worth (83 miles)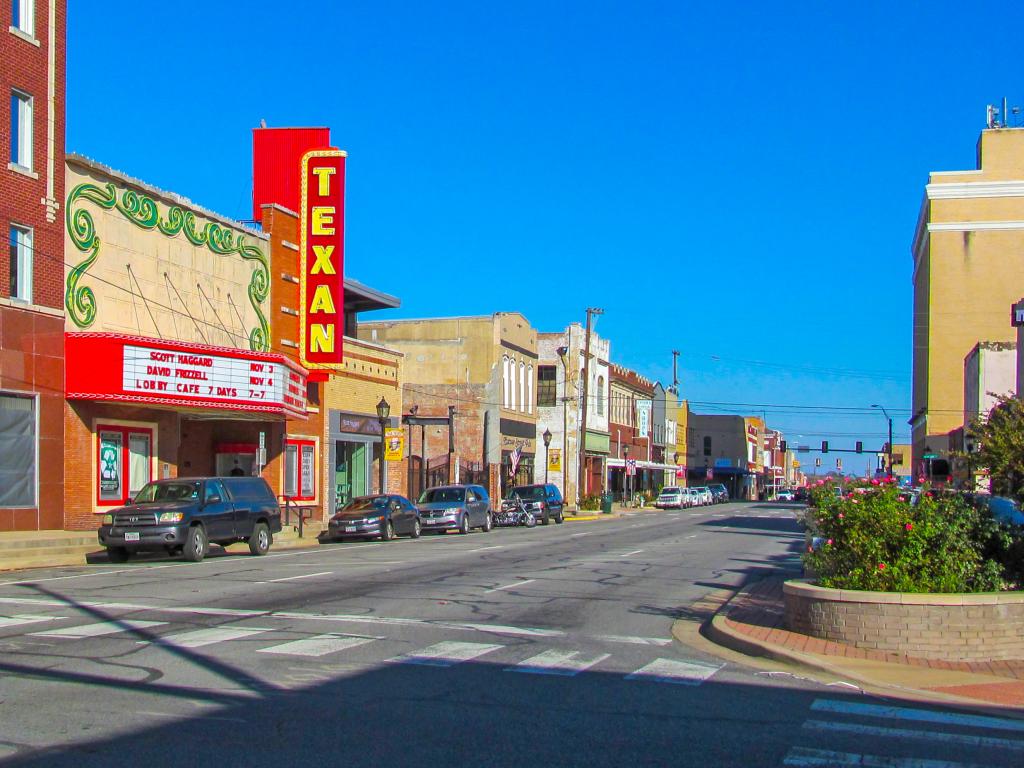 If you want to visit a small relaxed town that is a little way off the beaten track and spend a day walking through local streets, seeing some historic houses and learning a bit about the town's history, Greenville, Texas is that town.
To get to Greenville from Fort Worth, the fastest route is to take the I-30 that runs right through Dallas. Even during the morning rush hour, you're likely to take 10 to 15 minutes longer trying to bypass downtown Dallas and going north.
Greenville's historic downtown is not quite as fancy as McKinney (#6 above), but there's a number of buildings on the National Historic register with plaques outside telling you about their significance. The city was founded in 1852 and some buildings do date back to the 19th century.
The Audie Murphy/American Cotton Museum is worth a stop - the unusual museum combines an exhibit about Audie Murphy, who was the most decorated American soldier in the Second World War, with a display about the history of the local cotton industry.
The combination of medals, uniforms and World War II memorabilia and a poignant section telling about the life of settlers and slaves in a classic Texan cotton plantation does seem odd but it somehow just about works.
14. Get a bargain at the world's largest flea market in Canton
1 hour 25 minutes from Fort Worth (94 miles)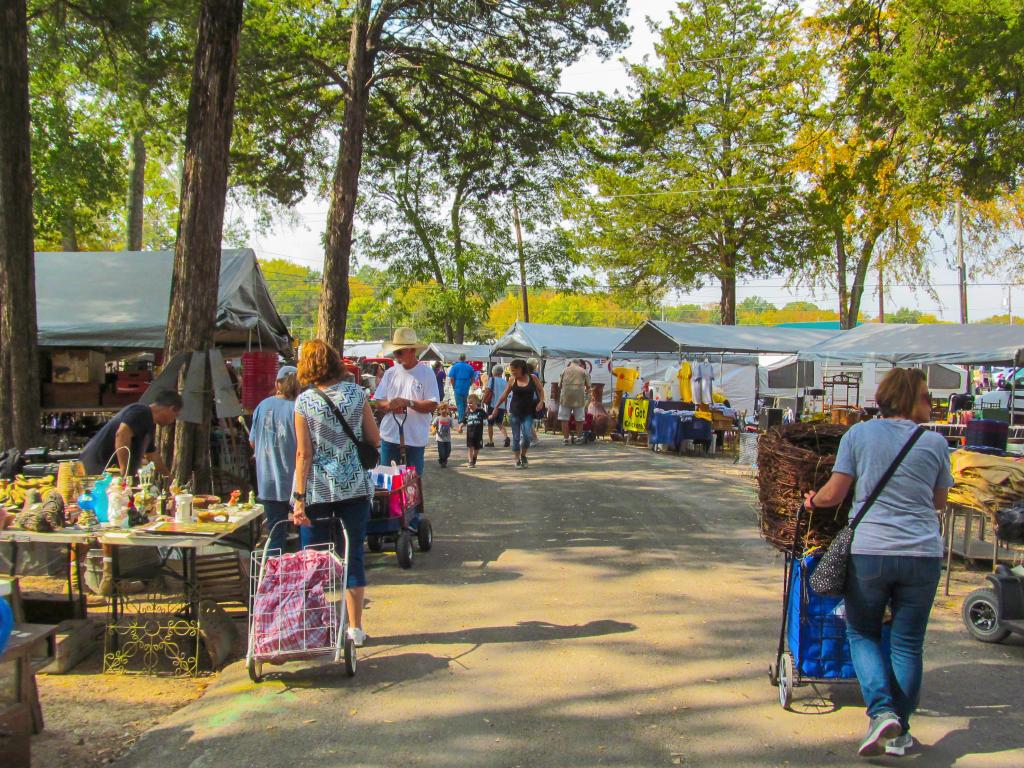 If shopping for random trinkets, a super rare first edition vinyl or a car part that the manufacturer stopped producing 20 years ago is the kind of thing that makes a day out extra special, the First Monday Trade Days flea market in Canton will serve you up a treat.
The market sets up once a month over the weekend that comes before the first Monday of the month - sometimes this means it comes right at the end of the month or at the beginning depending on how that Monday falls.
Running from Thursday to Sunday, the 100 acre site has a mix of stalls, semi-permanent stores and entire pavilions. Over 6,000 traders come to sell you everything from handmade arts and crafts to 1960s TV sets.
This is the place where one man's attic junk becomes another's treasure all the time!
First Monday Trade Days is officially the largest flea market in the United States and (depending on your definitions) the world and so if there's something you're looking to buy, no matter how rare, you'll probably find somebody here selling it.
15. Go for a scenic drive around Lake Murray in Oklahoma
1 hour 30 minutes from Fort Worth (97 miles)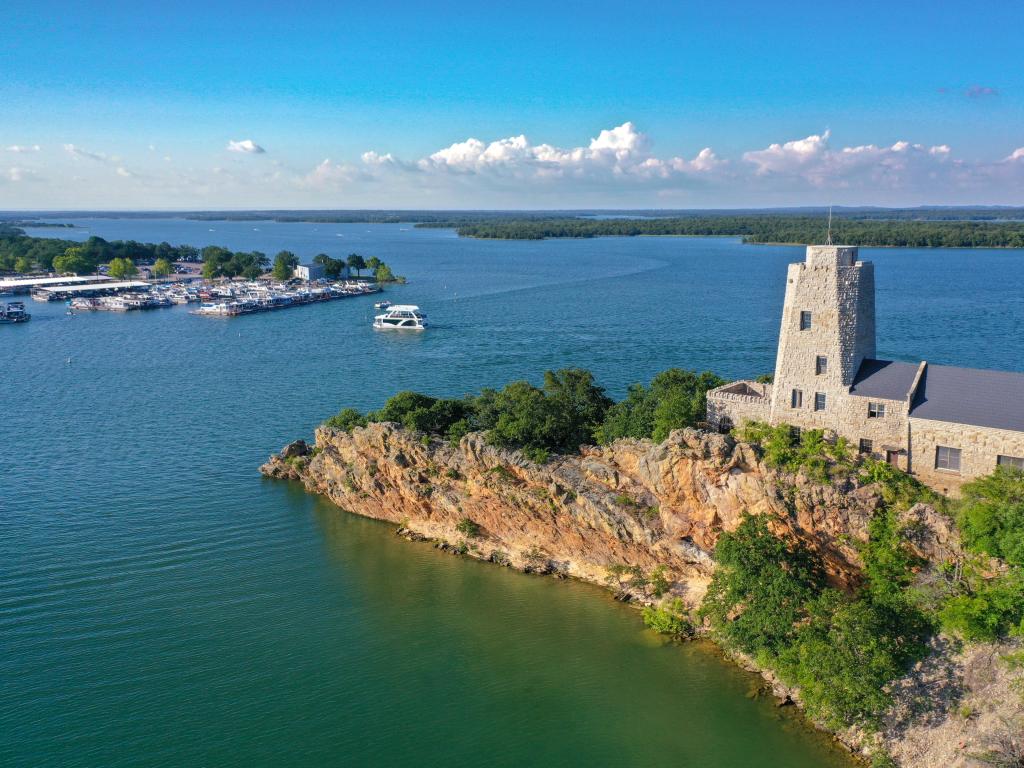 Another very simple drive, the way to get to Lake Murray from Fort Worth is almost identical to that for Waco, except you have to keep driving north rather than south along the I-35 until you reach Marietta. Lake Murray is just a few miles off the highway from there.
For those who like to spend the day on the water, every option is available here from paddle boarding and kayaking to fishing. Off the water, there's ATV trails, the option to go horseback riding, a full golf course and a mini golf if you don't want to spend 4 hours playing.
The best reason to come up to Lake Murray is the road that loops all the way around - Highway 77S. It's 25 miles long and has a number of smaller roads coming off it to explore the State Park and various lakeside coves and woods.
It's definitely worth it doing the full circle in the afternoon before heading back to see the lake from every angle.
Given my obsession with perfect driving roads and road trips, I may be a little biased, but you can make stops all the way along - there's the Lake Murray Beach, the Marina, Tucker Tower (you should climb to the top for a good view) and lots of places to park up and small campgrounds.
16. Marvel at the architecture in Sulphur Springs, Texas
1 hour 45 minutes from Fort Worth (111 miles)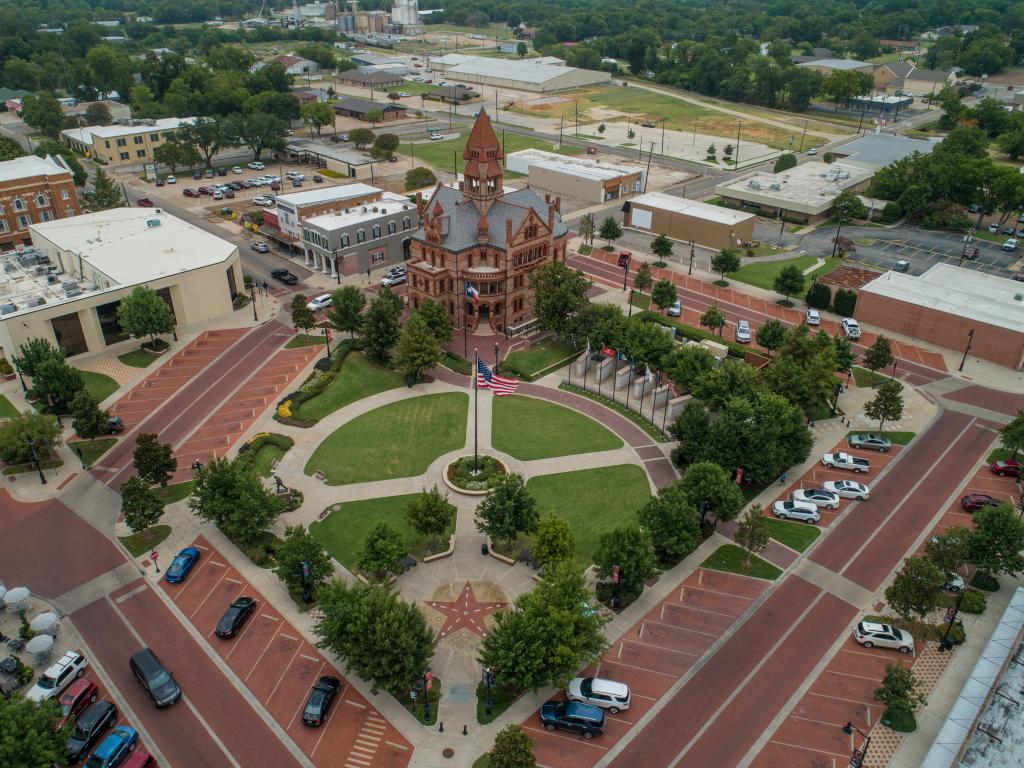 If you jump on the I-30 heading east and keep going for just under 2 hours, you'll come to Sulphur Springs about 20 miles after Greenville (#13 above). In fact, if you set off early, you might want to combine the two into a great big day trip out!
Right in the middle of Sulphur Springs is the Hopkins County Courthouse building. Sitting on Celebration Plaza, it has an unusual mix of materials and design that puts it at odds with everything else in Sulphur Springs and even Texas.
We're talking granite of various shades of pink, little turrets at the top and classic looking arches.
The courthouse is an acting building - there are court cases going on inside and various governmental services like passport issue. You're free to go in to take a look at what this amazing building looks like from the inside.
Outside on Celebration Plaza, you can't not notice the two glass restrooms. The glass is mirrored from the outside but see-through from the inside which creates an eery and very odd feeling if you happen to be using it while seeing everybody else around you.
17. Explore the coves of Possum Kingdom State Park
1 hour 45 minutes from Fort Worth (103 miles)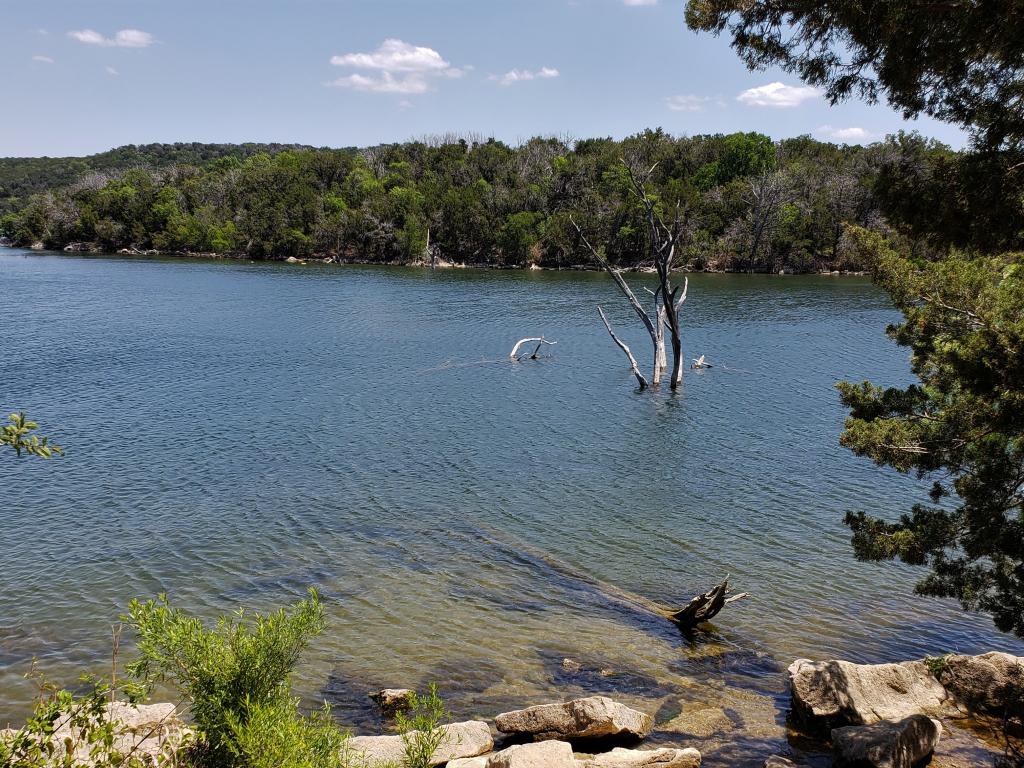 Like many of the lakes in Texas, Possum Kingdom is not really a lake, but a reservoir formed as the Brazos River was blocked by a dam to manage the water flow and irrigation.
Also like many of the lakes in Texas, this is exactly why it's a great place to come for a day - the way that dammed rivers spill through the various valleys creates an amazing number of small cozy coves, little rocky beaches and outlets that are perfect for spending a day unwinding from the daily grind.
The best way to enjoy and explore the lake is to get yourself onto it. Grab your choice of kayak, canoe, paddle board or boat and go exploring up and down. For the more adventurous, scuba diving and water skiing is available although Possum Kingdom isn't quite the Barrier Reef.
With over 300 miles of coastline, there are a lot of parts to Lake Possum Kingdom and the State Park covers only a small area on the southwestern side.
There's not a huge amount to do here but you can chill by the trees or camp and stay overnight. The two trails don't cover even 2 miles between them. Technically there are 3 official trails but the third is just a shortcut for the 1.4 mile "long" trail.
18. Catch striped bass and catfish on Lake Texoma
1 hour 50 minutes from Fort Worth (109 miles)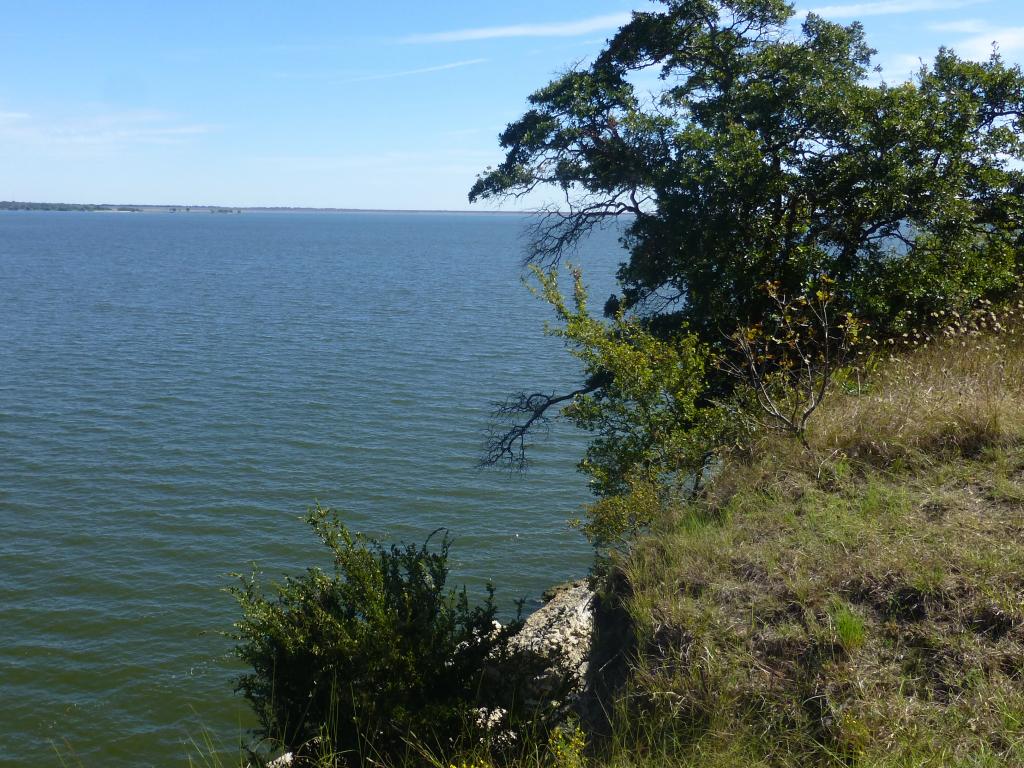 While we're on the theme of lakes that are actually rivers with a dam, enter Lake Texoma.
The massive lake sits on the border between Texas and Oklahoma and was formed in 1944 when the Red River was dammed downstream. Today it's the place where people from both states come to relax.
The best reason to go to Lake Texoma is fishing. The large lake apparently has 70 different fish species and unusually for inland rivers, the water is salty so the catch of the day is saltwater fish.
The area where the river was dammed and flooded had been the bed of a small sea many thousands of years ago and the salt that remained when the sea was gone got absorbed by the lake.
As a result, you can catch things like striped bass which usually can only be caught in seas and oceans right in the middle of Texas!
Around the lake are dozens of campsites, parks, resorts and golf courses. Some are worth going to but a few are not as well maintained as other parks in Texas and if you're looking to camp overnight, do your research and maybe opt for a different location.
19. See exotic animals at the Arbuckle Wilderness Park
1 hour 50 minutes from Fort Worth (123 miles)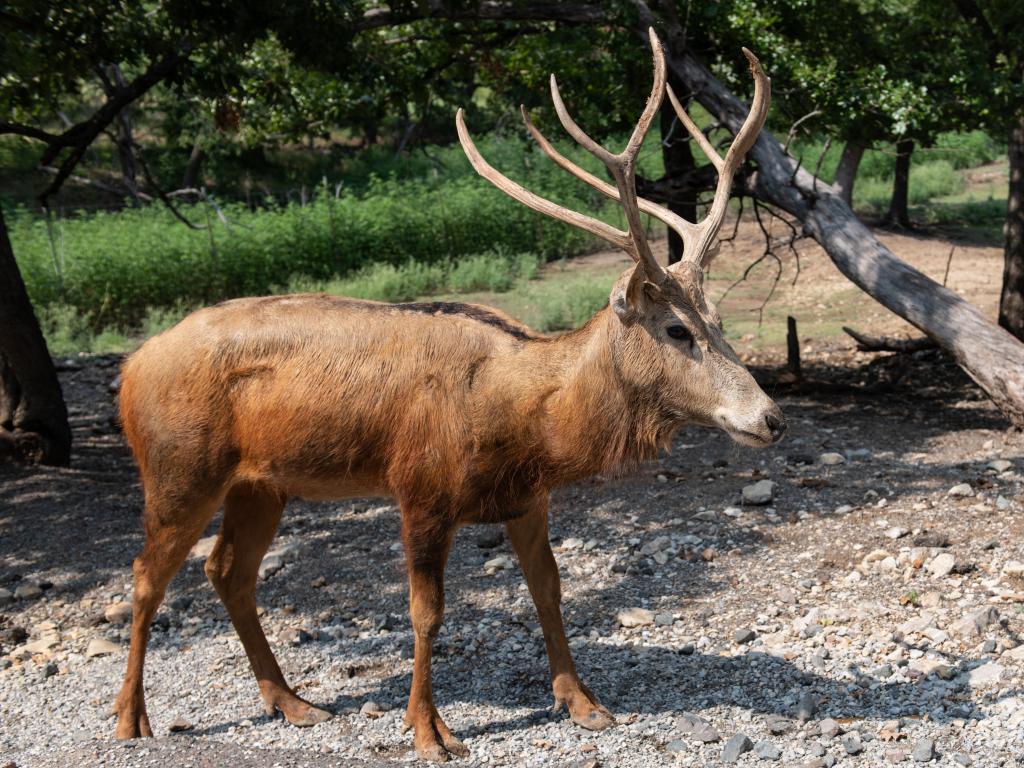 We've already mentioned a few places that can be found going north along the I-35. Denton (#3), Lake Murray (#15) and the WinStar casino (#11) are all en route, but if you keep on going a little further into Oklahoma you'll come to the Arbuckle Wilderness Park.
Arbuckle Wilderness and Turner Falls are a few minutes away from each other either side of the highway, so if you're driving all this way, you might as well make the most of it and visit both.
The wilderness park is a drive-through safari experience. A lot of the animals come from Africa and you'll see giraffes and a rhino. Other residents include llamas, deer, bison and curious donkeys.
The roads through the park can be bumpy, have potholes and some are unpaved so make sure you're happy for what that's likely to do to your car (as well as animals that take a liking to your mirrors). Also don't come in a low clearance sports car!
20. Cross the border into Oklahoma to see Turner Falls
1 hour 55 minutes from Fort Worth (122 miles)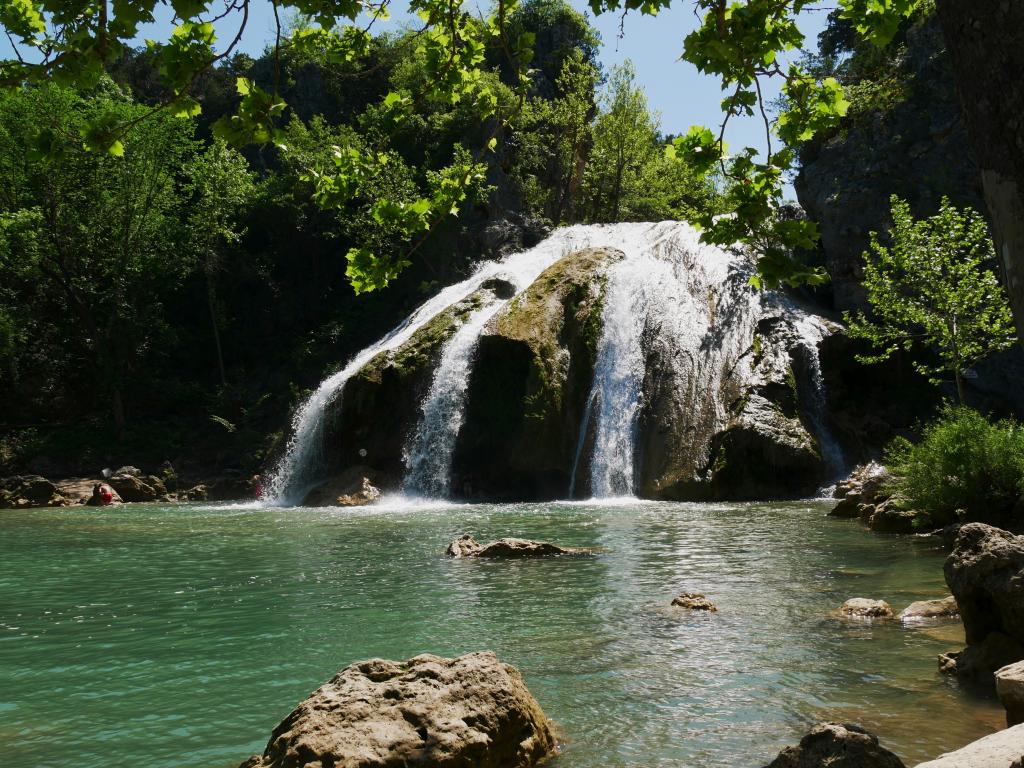 Just a few minutes away from the Arbuckle Wilderness Park are Turner Falls - a 2 hour drive north along the I-35 from Fort Worth.
At 77 feet tall, Turner Falls shares the accolade of being the tallest waterfall in Oklahoma with one in the Natural Falls State Park and the area around the falls is a popular weekend retreat.
There are lots of things to do in and around the water - there's a creek running through the park but you'll definitely want to take care with water shoes and life jackets are mandatory for kids.
Take care if you venture up the short hike to the overlook or into the deeper water. The hiking routes can be a little treacherous and have steep drops to the side and the water is known for being very cold and deep.
If you're thinking of staying over, I'd definitely recommend picking a different park for camping. Although the waterfall is worth seeing and spending the day at, there have been a lot of reports over several months of poor upkeep, trash being left around and poor park management with loud music and tents being put up close to others.
Lake Murray is on the way back to Fort Worth and is a much better camping option if you want to make it a weekend getaway.
21. See the roses and azaleas in Tyler, Texas
2 hours from Fort Worth (142 miles)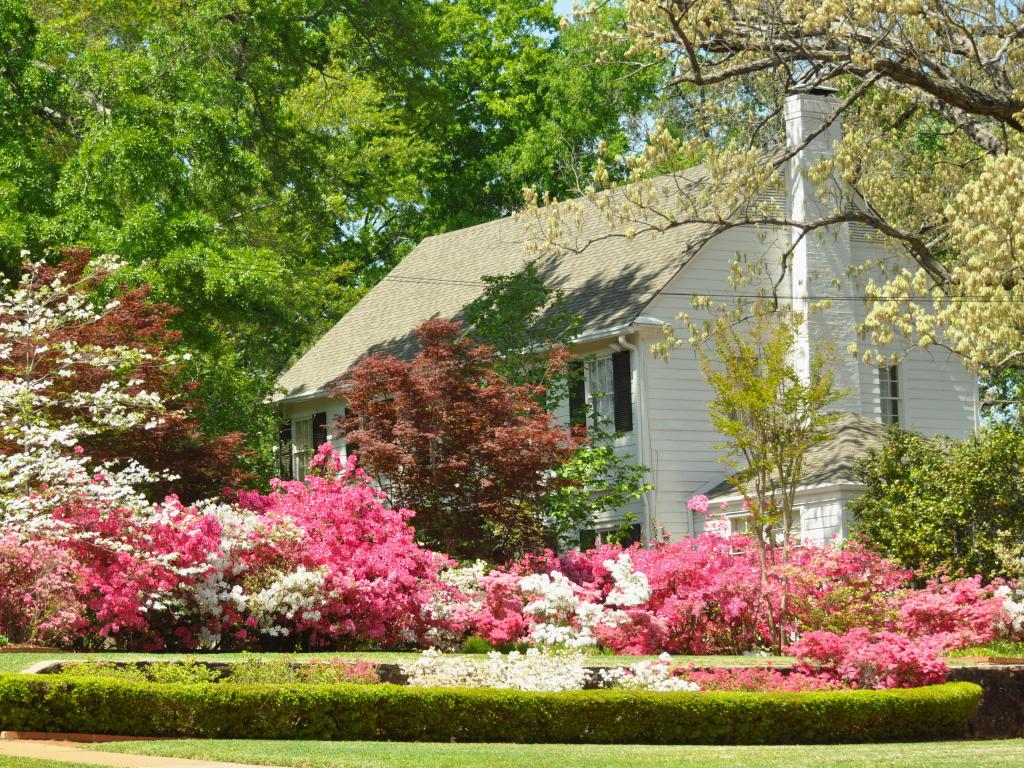 Tyler may be a 2-hour drive from Fort Worth, but if you're planning to go on a day trip in spring or early summer, this may be just the right place to go!
The best way to get here is to follow the I-20 out of Fort Worth all the way to just outside Tyler. Navigation systems might send you through Dallas along the I-30, but you'll be playing traffic roulette as you loop around downtown Dallas.
The small and unassuming city of Tyler has not just got one, but two stunning places to see flowers and if you want to take the family for a day amid all shades of pink, purple and red, you're in luck.
The main sight is the Municipal Rose Garden - the 14 acre and 40,000 rose bush garden is the largest in the United States and has rose bushe varieties that date back to the 1860s and experimental rose types that are not available to the public.
Although the Rose Garden has given Tyler the Rose Capital of America nickname, don't forget to visit the Azalea Trails. In full bloom, the azalea bushes are amazing and are often overlooked in favor of the more famous garden 6 miles up the road.
22. Ride the classic trains of the Texas State Railroad in Palestine, Texas
2 hours 15 minutes from Fort Worth (141 miles)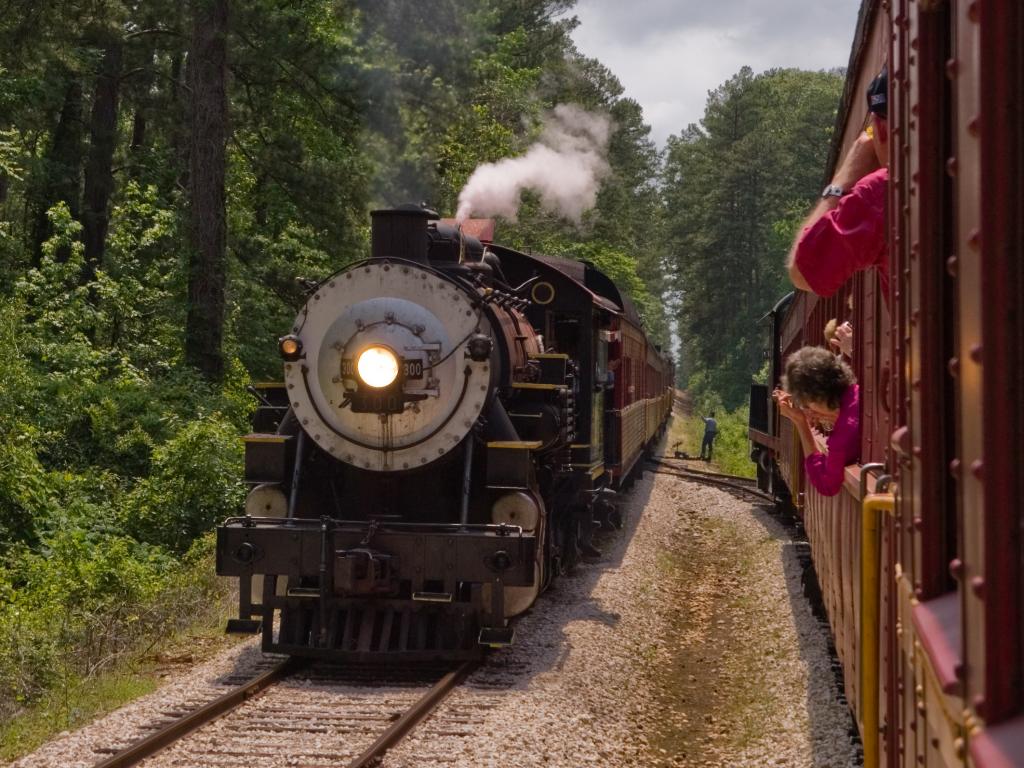 The Texas State Railroad is a 25-mile track that runs between the towns of Palestine and Rusk in Texas. A freight train company operated on the track until 1921 and decades after it became disused, the track has become a tourist attraction.
You can get onto the train at either station, but Palestine is closer to Fort Worth and as the train does a round trip, it makes most sense to head here first.
To get here, you'll need to drive west, past Dallas and then find the station a little way past the town of Palestine along U.S. Highway 84 - it should take you a little over 2 hours on the road.
The railway doesn't miss a beat when it comes to history. The depot buildings have been restored to their original glory and the trains themselves are 19th century masterpieces.
Depending on the schedule and your luck, you will be pulled along by either a classic diesel or steam engine and the 4-hour journey can be done in a number of different classes ranging from the spartan wooden bench open air carriage through to the Presidential Car.
If you're going alone, $250 buys you a ride in the engine along with the driver but you'll need to book ahead and space is limited to 1 so don't do it if you're coming with your family and want them to like you afterwards!
23. A culture day trip to Marshall
2 hours 45 minutes from Fort Worth (185 miles)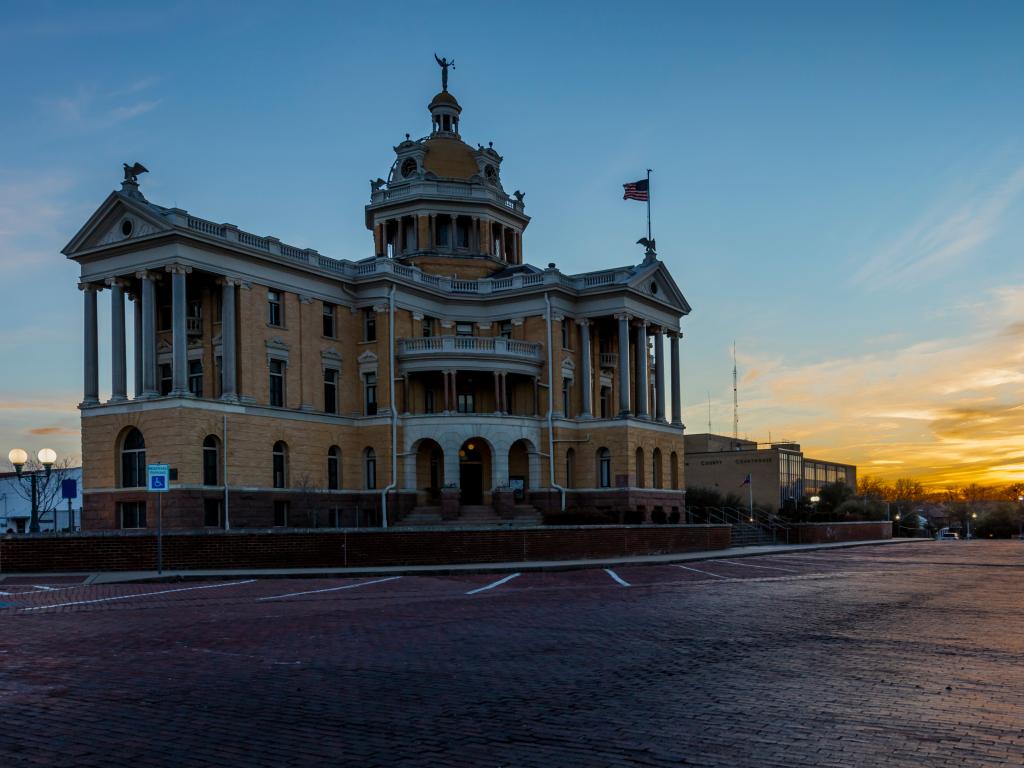 Almost 3 hours is a long way to drive and although Marshall is an amazing town for a day trip from Fort Worth, you might want to extend your trip to a weekend or longer and add in the nearby Jefferson (#25 below) and a trip to Caddo Lake (#26) as well.
Some of the other entries on our list including Tyler (#21) and Terrell (#8) are on the way so you can break up the journey.
Marshall has called itself the Cultural Capital of East Texas and there are a few sights where you can explore this culture starting with the Harrison County Historical Museum in the Courthouse building (pictured above).
The Texas and Pacific Railway Museum will show you the history of Marshall being an important railway hub in the 19th century and the Michelson Museum of Art and Starr Family Home State Historic Site will help complete your cultural awakening.
If you're planning to come from late November through to Christmas, the Wonderland of Lights is the largest light festival in the United States so come and get some Christmas cheer on your day trip!
24. Visit the Texas State Capitol building in Austin
2 hours 50 minutes from Fort Worth (189 miles)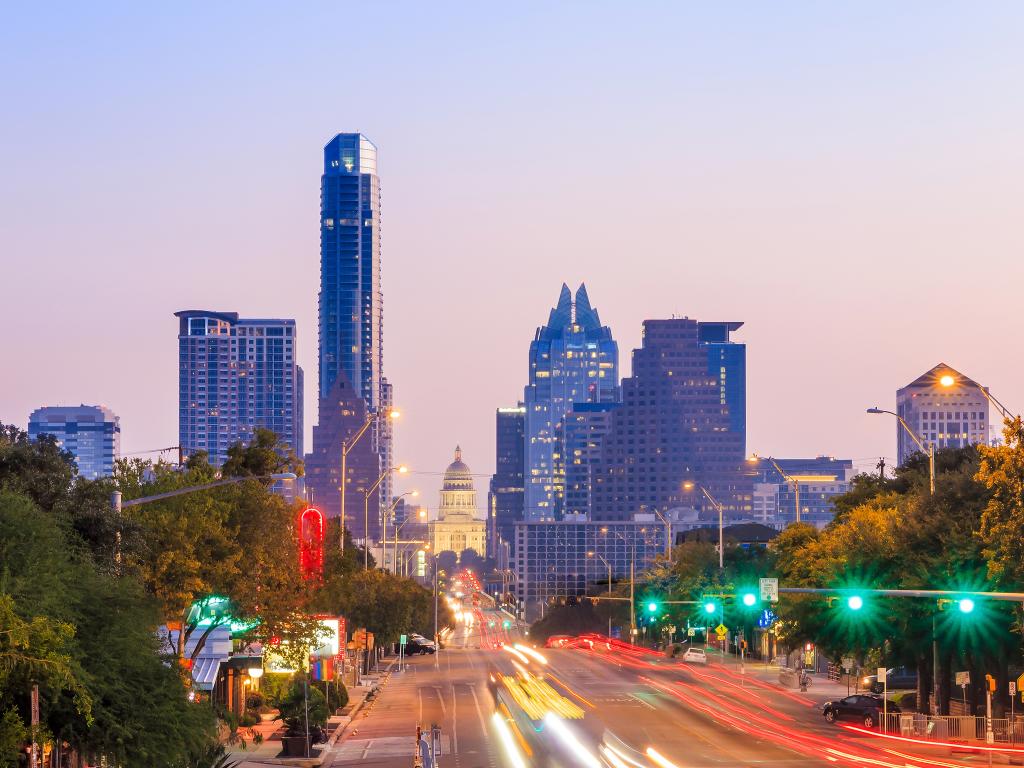 It may be the best part of 3 hours to drive from Fort Worth to Austin which may feel a long way to come for a day trip. I've done the drive from Fort Worth Airport and back and although it does take a bit of time, it's not too bad - the I-35 will take you all the way.
There's lots to see if you keep going past Texas - the Texas Hill Country has amazing cowboy towns and a famous wine region and San Antonio is also worthy of a trip, but these are all a little too far to come on a day trip, so Austin is as far as I've allowed on the way south.
Austin is the capital city of Texas - the State Capitol building can be seen from many parts of the city and worth a short stop. If you are particularly interested, find the guided tour times and get yourself on one of them.
Right near the Capitol is the Bullock Texas State History Museum which has a lot of interesting exhibits about the history of Texas and Austin specifically.
If you want to relax with perfect views of Austin, Zilker Park on the south bank of the Colorado River is the place to come. There is a natural spring water pool where the water is perfectly clear (and chilly!) if you fancy a swim.
25. Take life in the slow lane in Jefferson
3 hours from Fort Worth (201 miles)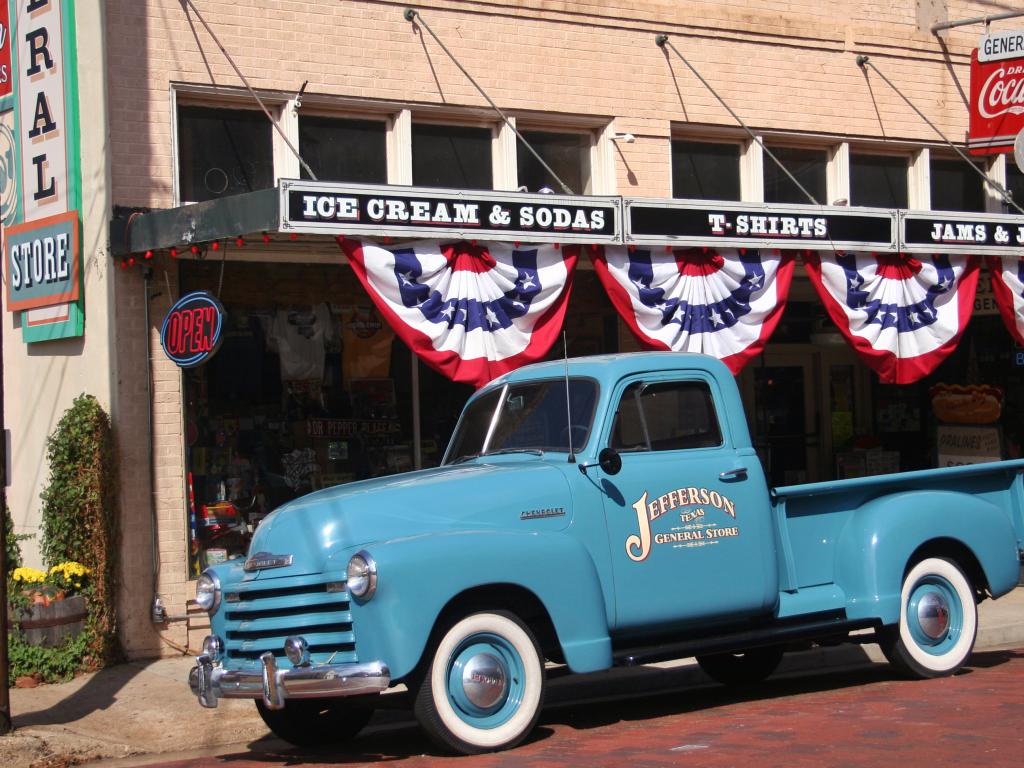 It will take you a good 3 hours to get to Jefferson - it's a long drive and you may well want to make your trip longer to make the most of it. Caddo Lake is just down the road (see #26 below) as is the city of Marshall (#23) so you can make a weekend out of it.
Known as the Bed and Breakfast Capital of the U.S., you'll have some great options for overnight lodging all over the city too.
The best way to see Jefferson is to get out of the car and take a walk through the historic downtown. There's small local shops to pop into and the Big Cypress Bayou flows through town - you can go on a short boat ride along it!
The most famous attraction in Jefferson is the Jefferson General Store - you won't miss it with a bright blue classic Chevy pickup parked outside and inside you'll find a classic Americana store complete with a soda fountain and Blue Bell Ice Cream.
There's a few other interesting museums in town - the local Museum of Measurement and Time has a collection of clocks and other interesting instruments for measuring pretty much everything you can measure. The Jefferson Historical Museum tells the history of the town and the Historic Jefferson Railway behind it is a sure hit with the kids.
26. Go to a real Southern swamp at Caddo Lake
3 hours from Fort Worth (203 miles)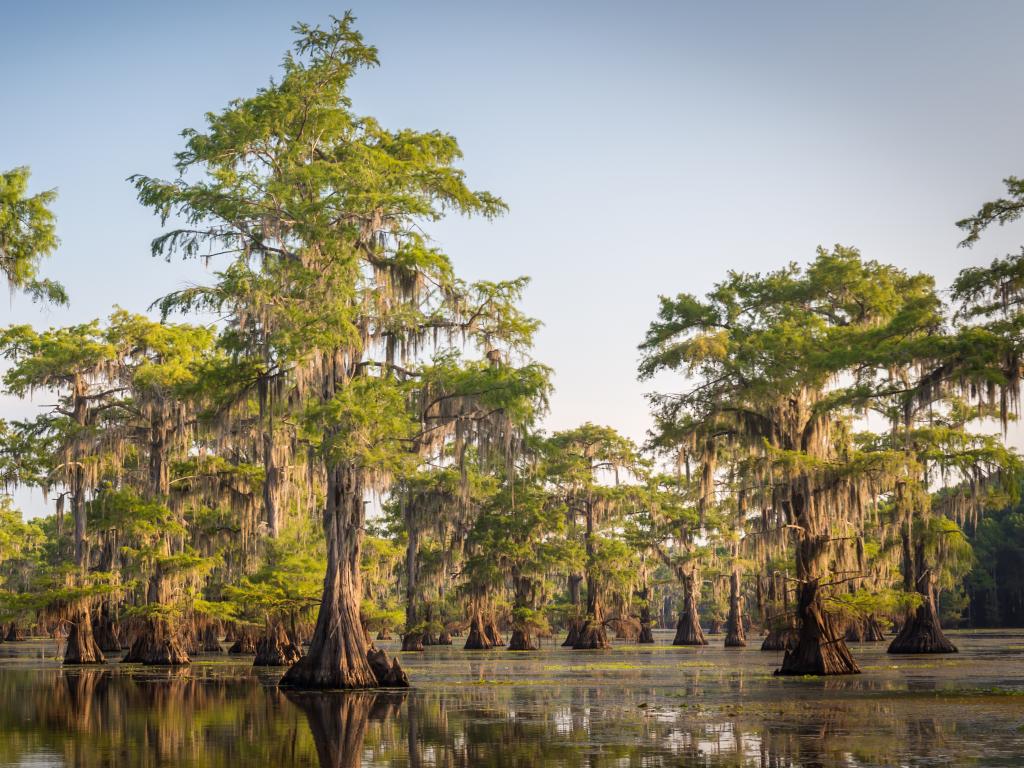 You may think that real Southern swamps are reserved for Louisiana, Florida and select other locations along the Gulf Coast - way too far to visit from Fort Worth.
But Caddo Lake on the border between Texas and Louisiana is just 200 miles away and although it's a fairly long drive, you can easily do it in a day with an early start and see it for yourself.
The Big Cypress Bayou flows into the lake and all the compulsory ingredients of a real southern swamp are here. Complex hard to navigate waterways through shrubbery, tall grass and surface growth? Tick. Tall bald cypress trees growing right out of the water? Also tick. You want to see gators? Big tick here too!
Entry to the Caddo Lake State Park costs just $4 and you can see a lot here. There's also steamboat tours that go around the lake stopping at some of the towns that are a great way of seeing different parts of the lake.
The towns of Jefferson (#25 above) and Marshall (#23) are great places to stop and there's lots of other towns along the I-20 where you can break up the journey with Tyler, Terrell and Canton all on our list.
27. Get lost in the pine woods of Davy Crockett National Forest
3 hours 5 minutes from Fort Worth (203 miles)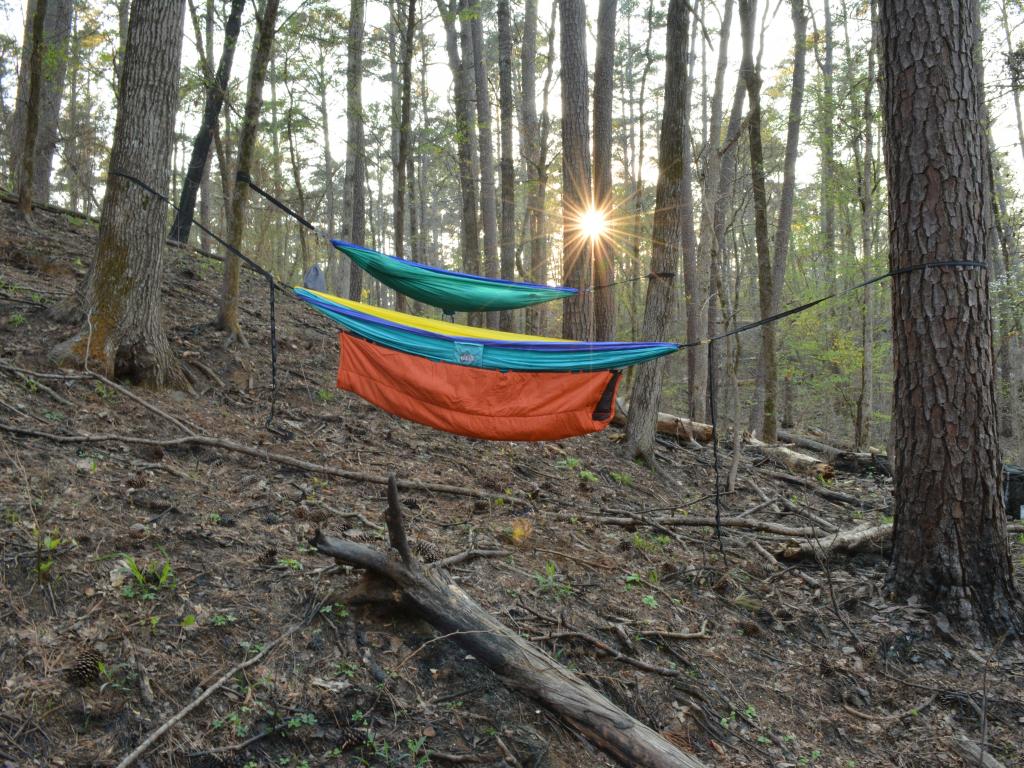 Part of the large Piney Woods in Eastern Texas, the Davy Crockett National Forest can feel a million miles away from Fort Worth. The drive is not quite that long although expect to take over 3 hours to get over in the morning.
The National Forest is full of pine trees, creeks and small roads rather than the more arid landscape around Fort Worth.
The most popular part is the Ratcliff Lake Recreation Area. There's easily walkable hiking trails with nice wooden benches and picnic stops along the way which is great if you're bringing kids or need more frequent stops.
Parking is also decent and the distance to major cities in Texas is just big enough for it to not get too busy even at weekends.
If you are looking for a place where you can really get away from the hustle and bustle of the Dallas - Fort Worth metro area and listen to the swaying pine trees murmuring in the wind, get in the car and head down to the Davy Crockett National Forest.
28. A day out in Oklahoma City
3 hours from Fort Worth (200 miles)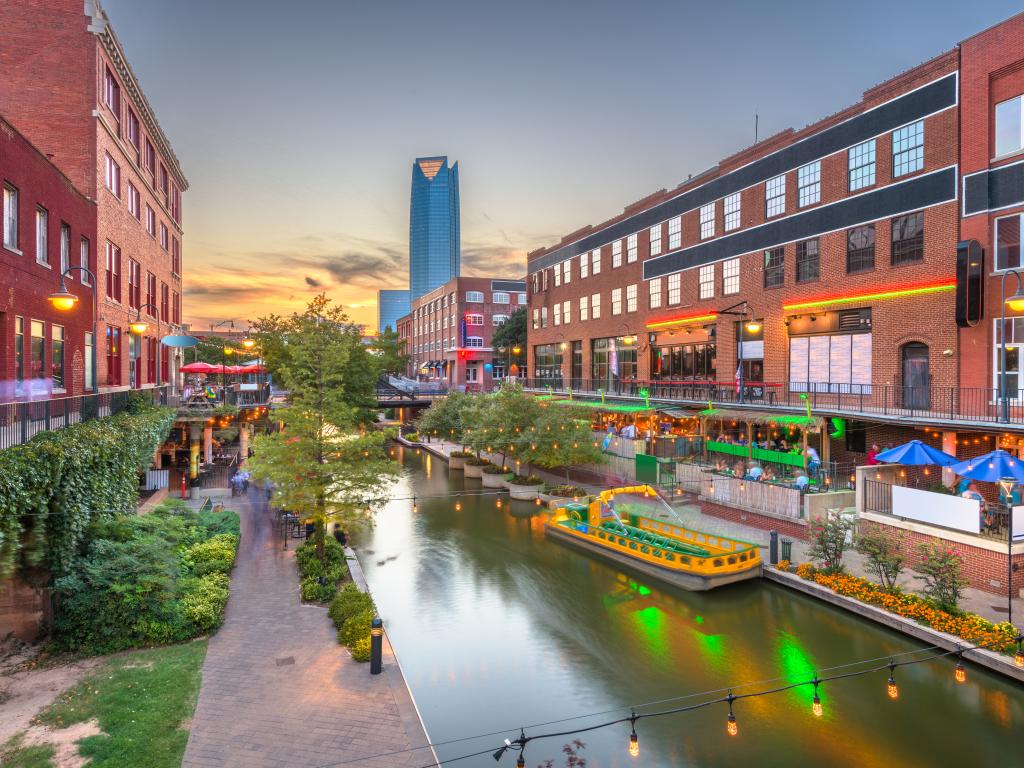 With cities like Dallas and even Austin a shorter drive from Fort Worth, Oklahoma City may not be top of your agenda, but if you've already been to the big Texas hubs, the up and coming OKC is a great alternative.
The I-35 runs right from Fort Worth to Oklahoma City and once you get there, park up somewhere in Bricktown or the Business District - the parts of the city you want to see are very walkable and 3 hours each way is long enough to spend in a car!
The Oklahoma City National Memorial is a few blocks northwest of Bricktown and you really should visit. The poignant garden and pool pay tribute to the victims of the 1995 bombing.
On the way back to Bricktown, stop at the Oklahoma City Museum of Art or the American Banjo Museum if you like your museums a little more edgy.
Bricktown is a regenerated neighborhood with the canal and streets lined with bars and restaurants in beautiful converted warehouse buildings. Grab an early dinner here before heading back to Fort Worth!
29. Angelina National Forest
3 hours 20 minutes from Fort Worth (202 miles)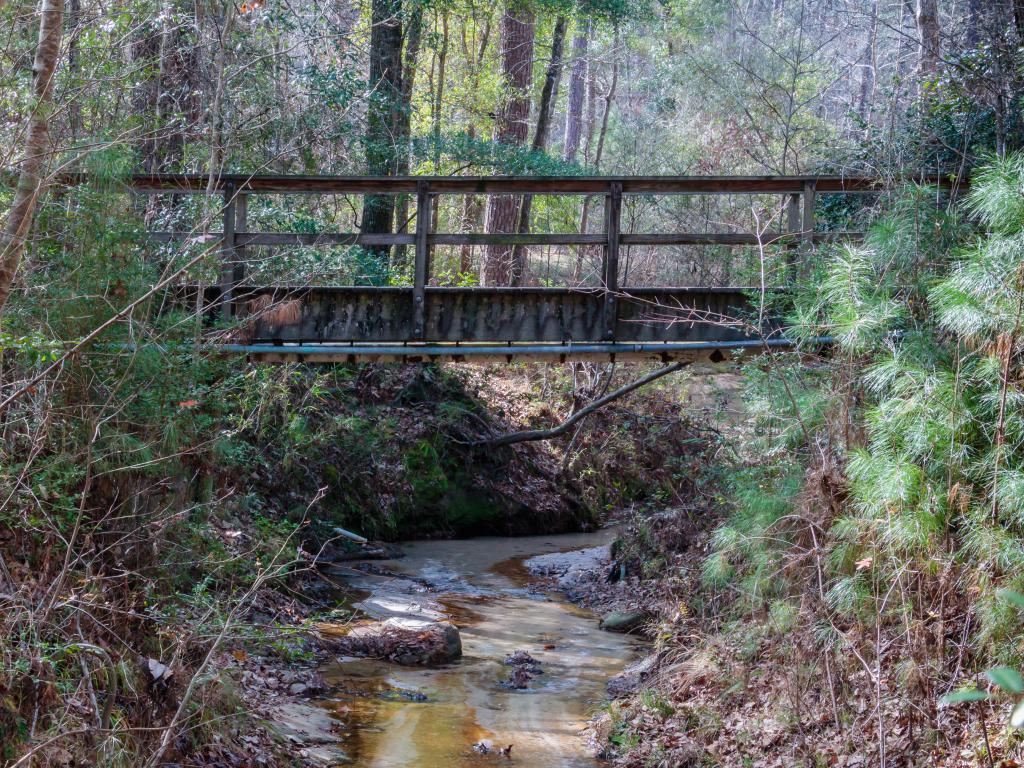 Angelina National Forest is a long stretch of protected land along the banks of the Angelina River, Sam Rayburn Reservoir and Neches River. The forest is predominantly pine and full of cool ways to spend the day.
The Sam Rayburn Reservoir area is the place to head and the forest covers both sides so save 20 minutes and go to the west shore.
There's hiking trails that run through the forest and along creeks and if you have a bike, there's some great routes in the area.
If you head a little further south, you'll find Boykin Springs where natural spring water emerges from the ground and flows down the rocks.
The most popular hiking trail in the park is in Boykin Springs - the Sawmill Hiking Trail is over 5 miles long but it's a relatively easy walk and goes through a mix of woods, fields and along the water.
30. Be at one with nature in Beavers Bend State Park, Oklahoma
3 hours 30 minutes from Fort Worth (209 miles)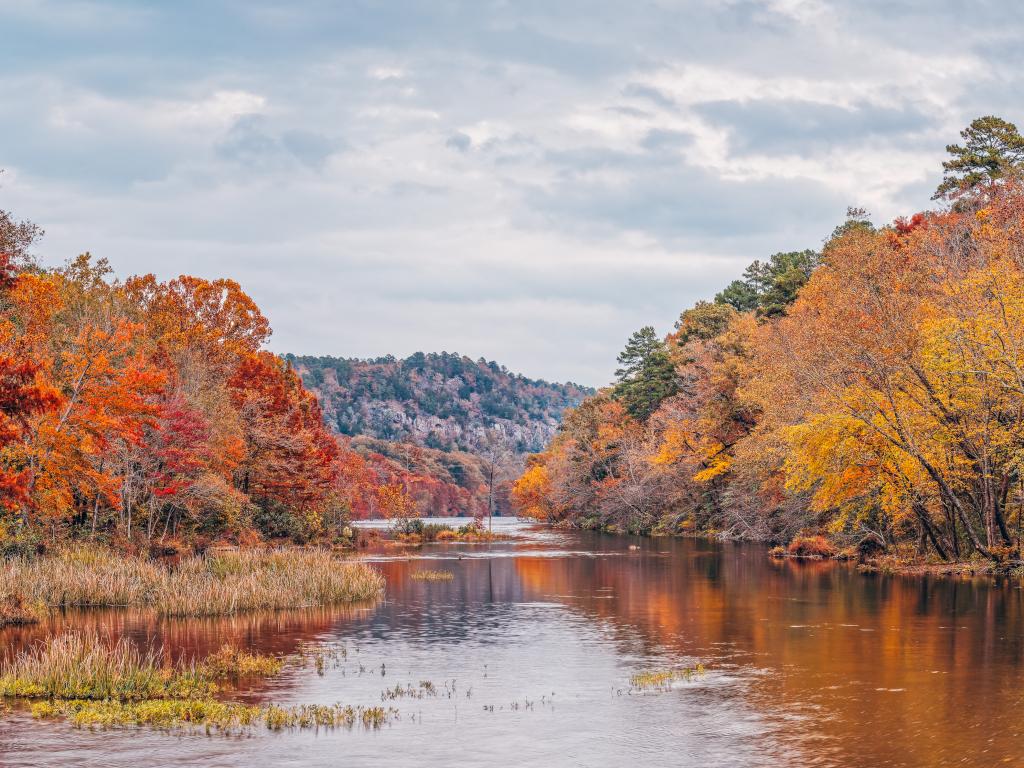 Beavers Bend is the furthest away from Fort Worth on our list and you may well look at how long it'll take you to get here and opt for the many parks and lakes further up the list instead.
But if you want to go for a real day-long escape, Beavers Bend is in the southeastern corner of Oklahoma, near the border with Arkansas.
With at least 3 hours worth of driving from all big metro areas, Beavers Bend stays relatively quiet even during the peak season when the weather is at its best.
The Broken Bow Lake has every water-based activity you may want - there's kayaking and paddle boarding, fishing and water skiing.
Off the water, along with hiking, biking and horseback trails, there are some great driving roads through the State Park - most leading to the lake from the surrounding highways.