26 Best Road Trips from Charleston, SC
Charleston is an iconic southern city with a hint of East Coast charm, filled with antebellum architecture and romantic waterways. From fresh oysters to cornbread and grits, it's the perfect place to sample the laid-back Lowcountry lifestyle while also exploring landmarks relating to the history of the colonial period and civil war.
If you want to branch out, there are some fantastic road trips within reach of Charleston, including picturesque southern towns, mountain forests, island state parks and iconic cities like Nashville and New York.
Venture out into South Carolina and beyond by checking out one of the 26 road trips on this list. Keep reading for all the inspiration you need to plan and book your adventure.
26 Best Road Trips from Charleston, SC
Day trips (under 3 hours each way)
These pint-sized road trips can easily be achieved in a single day, so you can return to Charleston by nightfall feeling refreshed.
1. Kiawah Island and Seabrook Island, SC
50 minutes from Charleston (30 miles)
Why you should visit: Enjoy seaside golf courses, beach walks, and nature parks on these beautiful islands within an hour's drive from Charleston.
This island pair is renowned for its manicured golf courses with ocean views, as well as for its nature and wildlife conservation.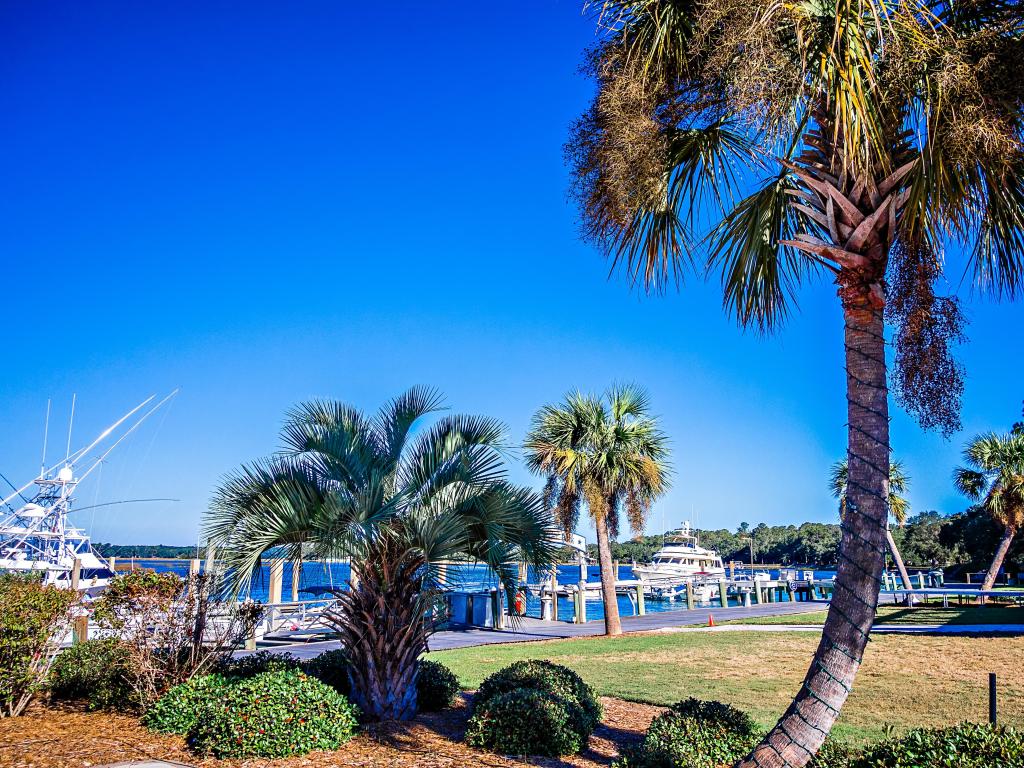 How to get there: Take SC-700 W to State Road S-10-20 (Betsy Kerrison Parkway). Then take either Kiawah Island Parkway to the north or Seabrook Island Road to the south.
Our highlights: If you're working on your swing, try a round of golf at Seabrook Island Club or Kiawah Island Resort, home to many famed courses including "the Ocean Course".
There are beaches a plenty to get to know, including the Kiawah Island Beachwalker Park which is great for a stroll, Seabrook Beach and Seabrook Island Beach.
Spot some local wildlife at Heron Park Nature Center and Night Heron Park, where you can hike or bike on one of hundreds of trails, rent kayaks or take a paddling tour through the swamp lands on the islands.
Stop at Angel Oak Park just off SC-700 W to see a majestic oak tree with a photo-worthy trunk and canopy. You can also stop off and see the Martins Point Plantation, which is the iconic white house from the film The Notebook.
Bonus: Kiawah is known as a retreat for many famous celebrities including Reese Witherspoon, George Clooney, Bruce Willis and Richard Gere.
Our travel tips: Although you could do this trip in one day, booking a night at one of the resorts gives you access to enjoy all the amenities.
You can access all the beaches from the public entrances.
2. McClellanville, SC and Francis Marion National Forest
50 minutes from Charleston (40 miles)
Why you should visit: Explore this dense low country forest and swamp land within the solitude of this stunning national forest. You can hike boardwalk trails through the swamps, fish in remote ponds and learn about conservation of species in the forest.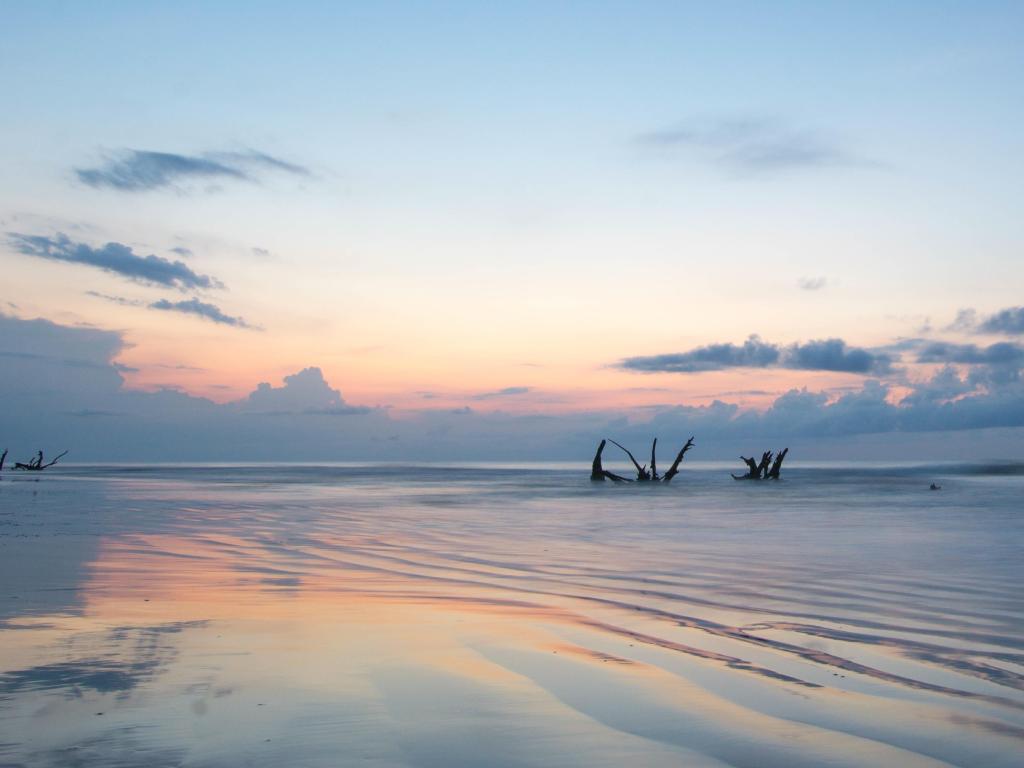 How to get there: Take Highway 17 N to McClellanville through the national forest.
Our highlights: To learn about the environment of the Lowcountry, check out Sewee Visitor Center, or walk the I'on Swamp Interpretive trail for a walk through the forest and swamp areas to see wildlife and native plants.
You can also visit the Cape Romain National Wildlife Refuge to see live endangered red wolves.
If you're driving along and want a break to stretch your legs, stop off for a picnic or hike along the Palmetto Trail, the Wappetaw Trail or the Awendaw Passage Trail, where you can see anthropological site the Sewee Shell Ring.
Drive a different kind of vehicle by taking a paddle or fishing boat along the Intracoastal waterway, or sit back and relax on the Bulls Island Ferry for a sightseeing tour.
McClellanville is a small fishing town where you can get fresh Lowcountry seafood, and is a great place to use as an outfitting base for hunting or rifle ammunition if you plan on using the rifle ranges in the forest.
If you have time, take the loop from Highway 17 N to Steed Creek Road and Halfway Creek Rd to SC-41 S for a scenic detour through the national forest.
Bonus: The American black bear is occasionally sighted in the forest, so watch out!
Our travel tips: Hunting season is during fall and winter, so avoid the area during these times if you want to explore.
Swamps like I'on are flooded in winter to support hunting – check conditions before driving.
3. Cottageville, SC
1 hour from Charleston (40 miles)
Why you should visit: This quiet town has plenty of rural attractions and is a great base to explore the great outdoors. It's just a short drive out of Charleston into rural South Carolina where you can see plenty of wildlife and enjoy the cold Edisto River on a warm southern day.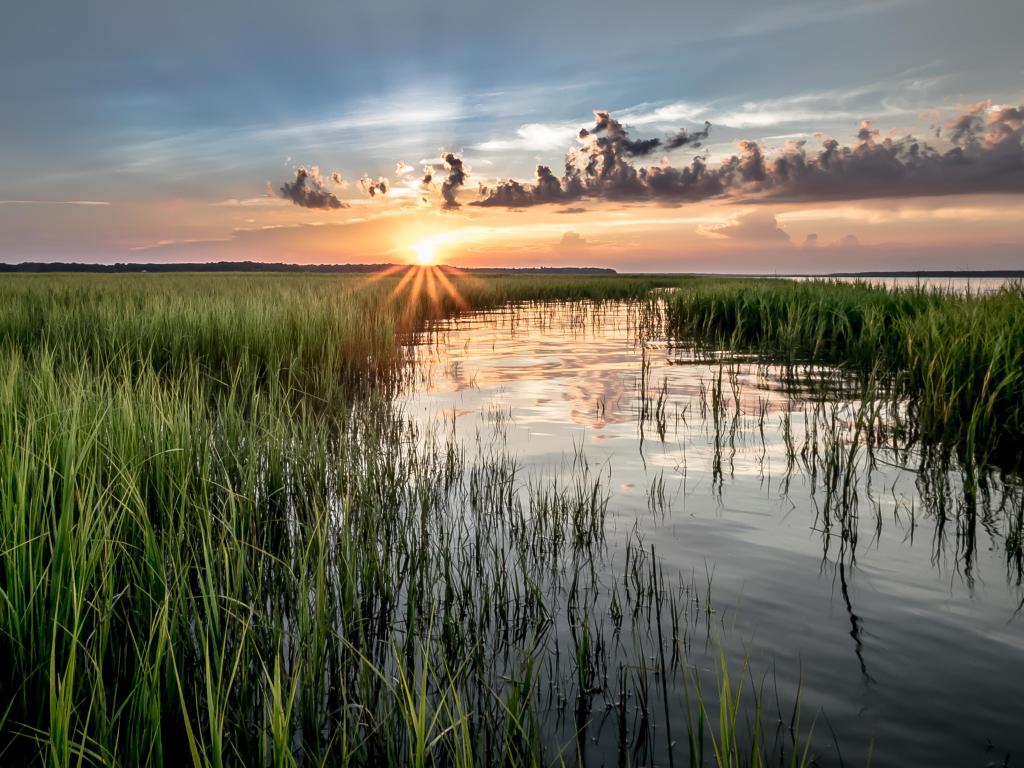 How to get there: Get on Highway 17 S, turn north on State Road S-10-317 and Clubhouse Road to US-17 S in Dorchester County, then turn left onto US-17 ALT S.
Our highlights: Visit the family-run business at Bee City, where you can learn about local honey bee-keeping practices, as well as taste some honey and experience the interactive zoo.
For more wholesome fun, stop by Herd it Here Farm and visit the family farm - you're allowed to feed and play with the animals so don't dress up!
The Edisto River runs alongside this town, and is best explored by tubing on an eco-tour - you can book a company to take you to the top of the river and enjoy floating back down to the pickup point.
Bonus: Despite its tiny population, Cottageville has a City Mayor who has served the town for over ten years.
Our travel tips: This town can be easily tacked onto a trip to Walterboro, Canadys or Edisto River.
4. Walterboro, SC
1 hour 10 minutes from Charleston (50 miles)
Why you should visit: Step back into the past in this settlement town with an abundance of southern heritage and hospitality. This quaint Lowcountry town is a short drive from Charleston and offers plenty of the charm and hospitality without throngs of tourists crowds - it's great for history lovers.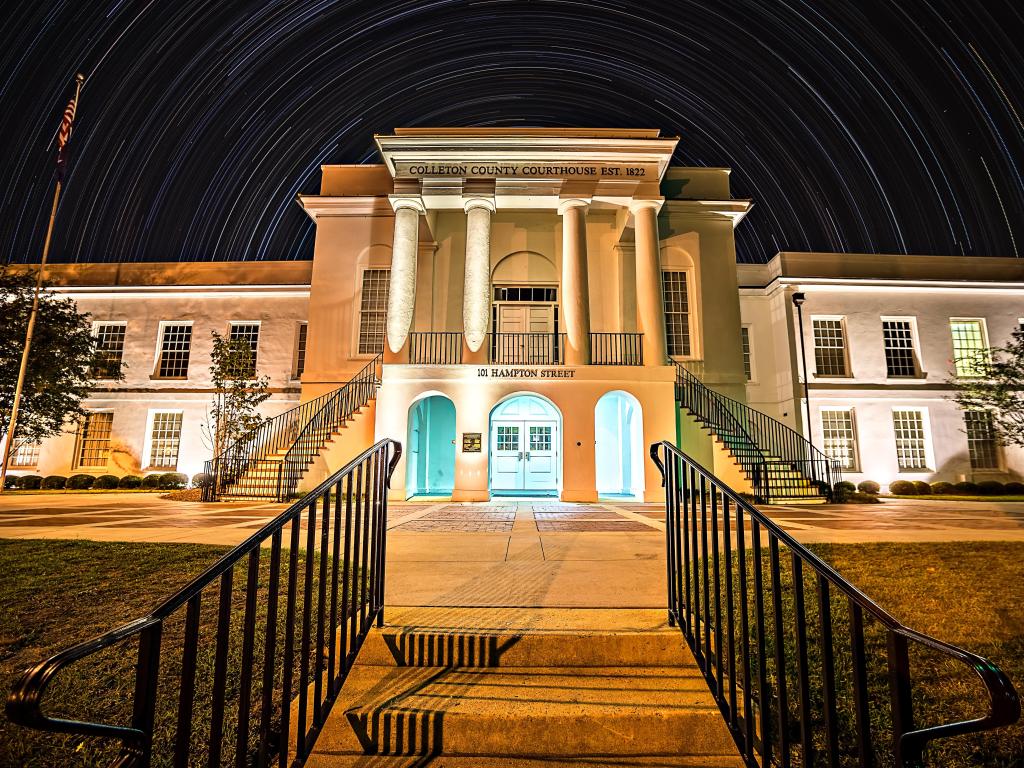 How to get there: Get on Highway 17 S, turn north on State Road S-10-317 and Clubhouse Road to US-17 ALT S in Dorchester County, Turn left onto US-17 ALT S -past Cottageville to Walterboro.
Our highlights: There is plenty of wildlife in Waterboro, and there's no better place to see it than Walterboro Wildlife Center or the Wildlife Sanctuary - take one of the boardwalks or biking trails to see the nature up close.
If you're keen to hit the shops, head to downtown Walterboro and check out the local artisans in the quaint Washington St district. Get a feel for the history of the town by walking around the 55 interest points marked throughout the city on the National Register of Historic Places.
Just a short drive north from Walterboro is the town of Canadys, where you can visit the beautiful Colleton State Park. Located on the Edisto River, it's a great spot for picnics, hiking, boating or tubing.
You can camp, or book to stay at the Edisto River Treehouses Island in a private nature preserve accessible only by canoe.
Constructed in 1820, the Bedon Lucas House Museum is a beautiful historic home that's also a museum, where you can take a tour and learn about the original settlement of the valley area.
Bonus: Visit the Tuskegee Airmen Memorial honoring the WWII African American pilots and see the site of a POW camp.
Our travel tips: You can also take SC64 W to get to Walterboro from Charleston.
5. Edisto Island and Edisto Beach, SC
1 hour 10 minutes from Charleston (50 miles)
Why you should visit: It's just a short drive to this pristine coastal island with sandy beaches and plantations where you can learn about Native American history and the colonial settlement of the island.
See historic plantations, sea turtles nesting on beaches, pristine marshland and large oak trees surrounding the quaint town on Edisto Island.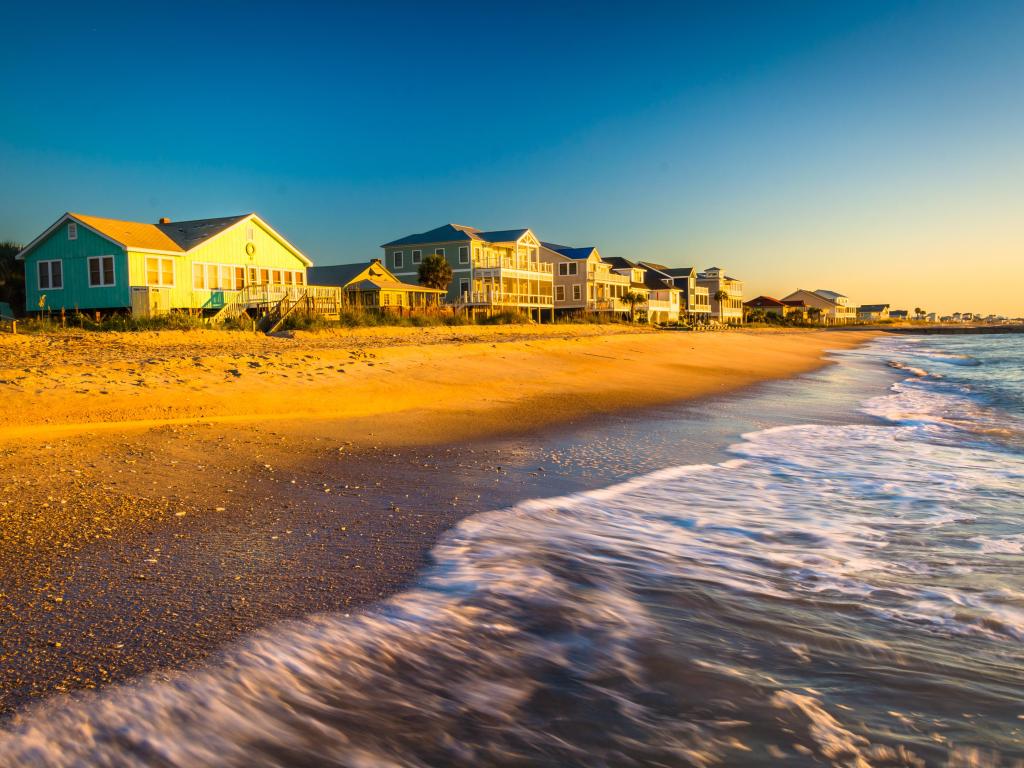 How to get there: Head west on Highway 17 S and SC-174 S to reach Edisto Island.
Our highlights: You can travel part of this journey on the Edisto Island National Scenic Byway, a stunning road which passes through points of interest including colonial era churches, buildings, and natural attractions on the way to the island.
Botany Bay Plantation Heritage Preserve and Wildlife Management Area is home to ancient oak trees, beaches littered with driftwood, sea turtle nesting sites, tide pools, wetlands and a heritage center surrounding colonial-era plantation ruins.
If you like the beach but don't want to just sit and tan, visit Edisto Beach State Park where you can experience the oceanfront on a walking trail to Bache Monument or check out the Edisto Environmental Learning Center.
To learn more about the colonial period throughout slavery and the American Civil War era, take a booked tour of the historic plantation homes on the island.
Bonus: The area is named after the Edisto Native American people, who left behind an ancient shell midden that you can still see today at Spanish Mount Point.
Our travel tips: Loggerhead turtles nest in spring and summer and is a truly rare event to witness if you time it right - you can take a guided night walk with the state park staff in June and July.
6. Beaufort, SC
1 hour 30 minutes from Charleston (70 miles)
Why you should visit: This lesser-known southern Lowcountry town is rich in history, set against picturesque moss-draped live oaks and winding colonial streets. Visit this coastal town and explore the historical homes, breath-taking scenery and abundance of southern charm.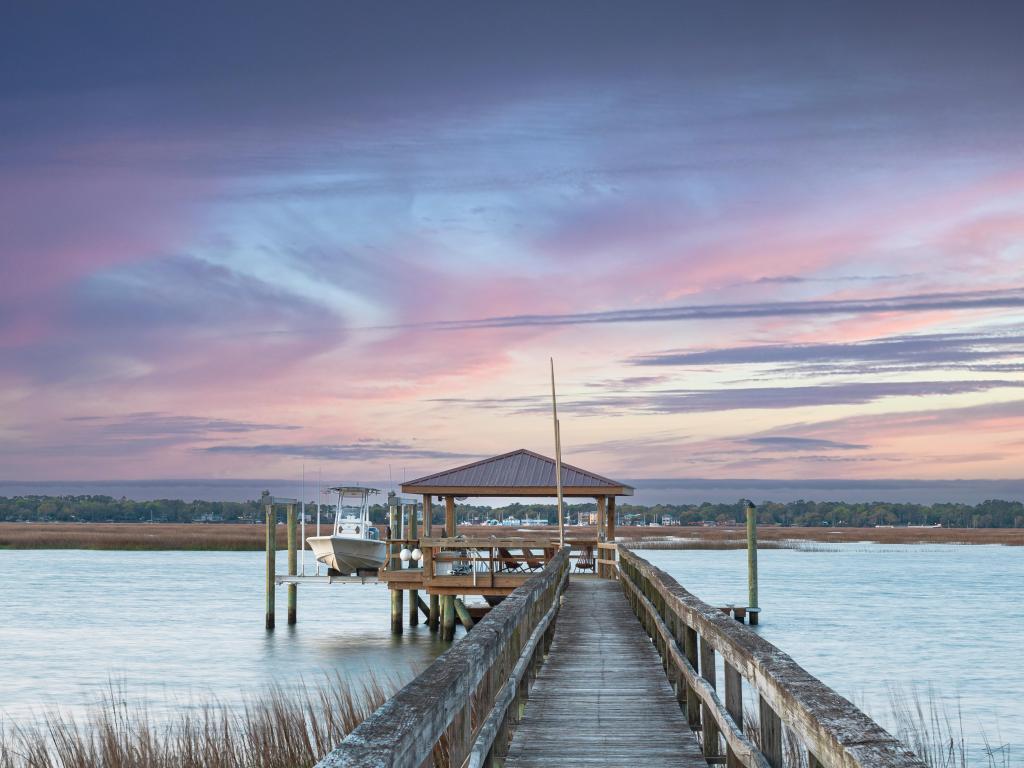 How to get there: Take Highway 17 S west out of Charleston, then turn south on Highway 21 near Gardens Corner.
Our highlights: Breathe in the salty coastal air on a walk through the cobblestoned Henry C. Chambers Waterfront Park. Catch a performance at the stage, watch the sunset on the swings or take a carriage ride from the marina.
Check out uptown by taking a stroll down Bay Street or Carteret Street for unlimited seafood options, craft cocktails, Lowcountry soulfood and local artisan shops and boutiques.
Wander around the streets of Old Point to see the cultural district, home to antebellum houses and mansion museums including Robert Smalls House, The Oaks, Marshlands, Riverview and Old Barnwell House.
The nearby town of Port Royal is great for birdwatching, with a rookery and the nature-filled Port Royal Cypress Wetlands. You can take a walking trail along the boardwalk, relax on the beach or charter a fishing boat.
Bonus: Beaufort is the second oldest city in South Carolina after Charleston, founded in 1711.
Our travel tips: Beaufort is a great stop on the way to Hunting Island - combine the two for a weekend trip!
7. Hunting Island State Park
2 hours from Charleston (90 miles)
Why you should visit: This scenic coastal state park is a chance to step away from civilization and experience the natural beauty of the forested sea islands.
Maybe one of the best beaches in America, this pristine white sand coastline is popular yet remains beautifully unspoiled.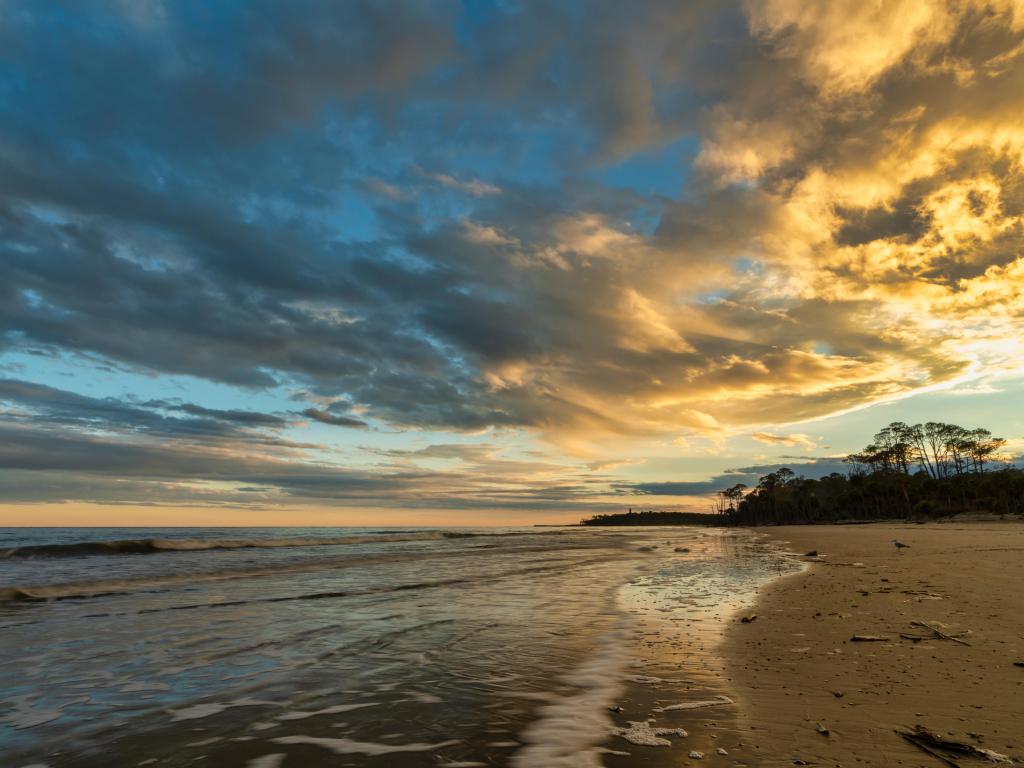 How to get there: Take highway 17 S west out of Charleston, then turn south on Highway 21 near Gardens Corner. To go via Beaufort, continue on Highway 21 to the State Park and Sea Islands.
Our highlights: Within the park there are several lovely trails to explore, as well as 5 miles of coastline and beaches. Even the drive through the gates with its towering palmettos is an experience, leading on to a fishing pier and access for boats, a lagoon, and a marsh boardwalk.
There are several outfitters in the island area that can kit you out with kayaks or crabbing equipment, or whisk you away on a dolphin watching cruise or fishing trip.
For a great view, climb to the top of the Huntington Island Lighthouse where you can take in a bird's-eye perspective of the coast and surrounding forests.
Drive across Tarpon Bridge to nearby Fripp Island for more trails, a golf course, fishing and crabbing docks. There are also acres and acres of undeveloped marsh wetlands to explore that are teeming with birds and wildlife.
Bonus: Frogmore stew is a famous Lowcountry dish that you can find in the town of Frogmore and surrounding Sea Island towns.
Our travel tips: This park is a great day trip from Charleston, or can be paired with a stay in Beaufort for more time exploring the whole Sea Island area.
8. Savannah, GA
2 hours from Charleston (100 miles)
Why you should visit:Another charming Southern escape, Savannah is the oldest city in Georgia. Visit for a buzzing food and drink scene, fantastic hospitality, and an intriguing history full of ghosts and folklore.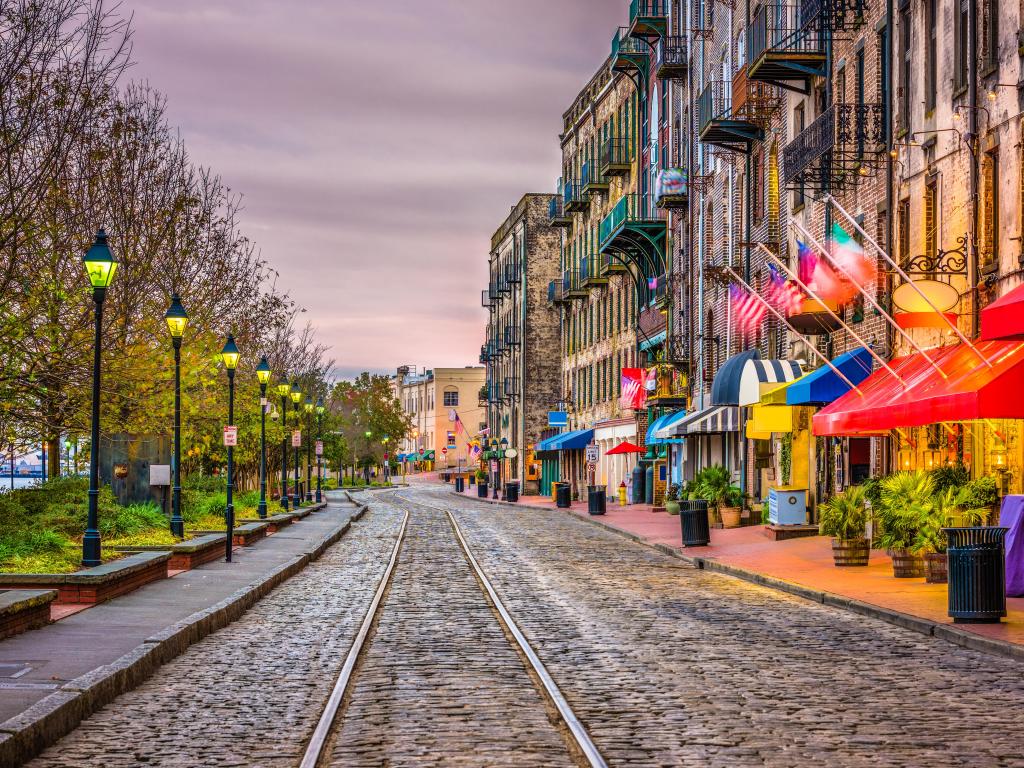 How to get there: Take Highway 17 S to I-95 S. Then take Highway 17 S to GA-404 in Savannah via Hutchinson Island.
Our highlights: To get a feel for the city take a walk along River Street, the waterfront of Savannah River where you can find local shops, dining options, historic buildings and parks, as well as monuments like Old City Exchange Bell, and the WWII Memorial.
The Historic District is the most picturesque part of old Savannah, with live oak trees covered in Spanish moss surrounded by squares and parks with historic antebellum houses. Don't miss seeing Forsyth Park, and see if you can spot the iconic white fountain under the trees!
Old Fort Jackson and Fort Pulaski National Monument are two historical military landmarks to visit while in Savannah, known for their early 1800s style and Civil War significance - they offer live canon firings and daily tours.
Tybee Island is a beach island located just a short drive from Savannah, and is a great place to escape onto the water and hire paddle boards, walk the pier and relax beside the Atlantic Ocean.
Bonus: Savannah claims to be one of America's most haunted cities, so take one of the many ghost tours if you're feeling brave!
Our travel tips: The Savannah Stopover Music Festival happens every March, tied to Austin's famous SXSW festival, so the city fills up with musicians and their fans during this month.
READ MORE - Road Trip from Charleston to Savannah
9. Hilton Head Island and Bluffton, SC
2 hours 10 minutes from Charleston (100 miles)
Why you should visit: Known for its white sandy beaches, surf-ready waves and relaxed atmosphere, this island is a great destination if you crave some time off the grid.
The charming culture of the surrounding town and island community make this beach town entirely unique.
How to get there: Take Highway 17 S to the west to meet I-95 S, then take US Highway 278 east out of Hardeeville to the island, passing through Bluffton.
Our highlights: The most popular beach in this area is Coligny Beach Park, known for its scenic views, white sands and bleached wood boardwalks, as well as many shopping options and restaurants.
Harbour Town Lighthouse is a postcard-worthy site, striped red and white amidst a quaint harbor and marina. You can enjoy a meal with a view here, or rent bikes and explore the surrounding trails in the Sea Pines community and Sea Pines Forest Preserve.
The Coastal Discovery Museum is a historical property where you can learn more about the Lowcountry through interesting exhibits, set in beautiful grounds under Spanish Moss draped oak trees.
Before you get to the island you'll pass through the little town of Bluffton, which has charming shopping dining options and shopping without the island price tag. Bluffton has its own rich history and is another Southern coastal city reminiscent of Charleston or Savannah, surrounded by coastal marshes, historic antebellum architecture and Lowcountry forests.
Bonus: In Hilton Head it is illegal to display neon signs, in an attempt to keep the town from becoming over-commercialized.
Our travel tips: You can take Highway 17 S to Highway 64 which heads north through Walterboro before joining I-95 to add another stopover to this trip. Alternatively, take Highway 21 and Highway 170 through Port Royal Island to stopover in Beaufort.
Sea turtles nest here between May-October, so you have to keep the lights out at night.
10. Myrtle Beach, SC
2 hours 10 minutes from Charleston (100 miles)
Why you should visit: Visit this iconic beach town for endless entertainment and lively nightlife along the picturesque boardwalk. An iconic beach town with amusement parks, arcades, golf courses and pristine white sands with choppy waves great for surfing.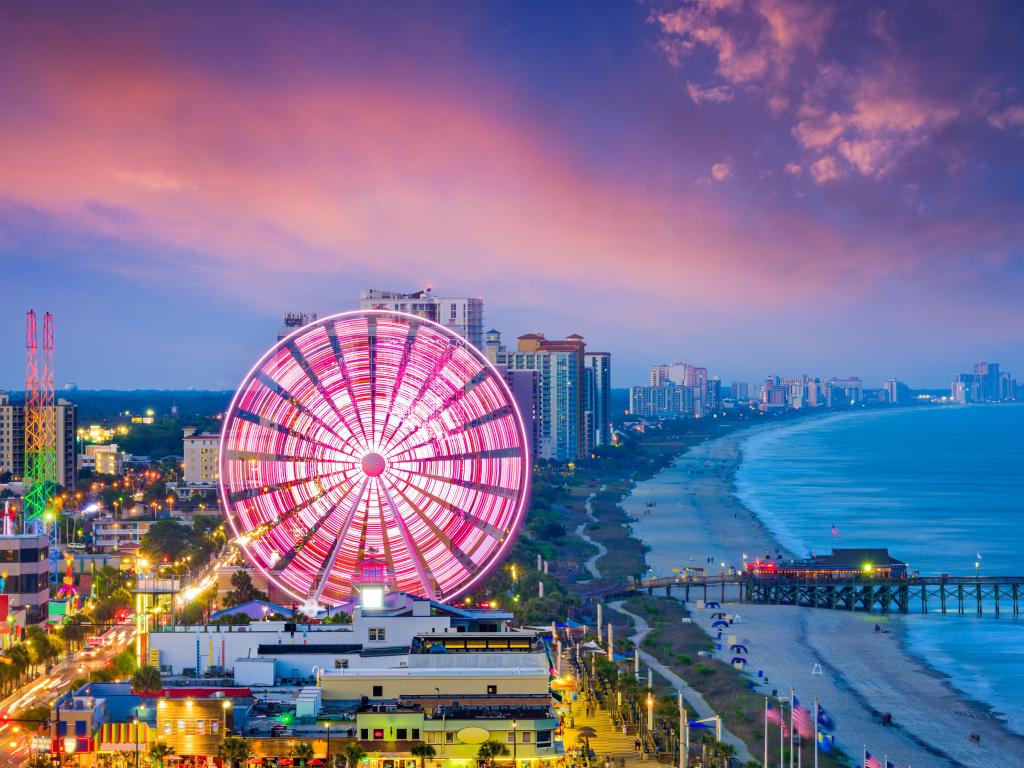 How to get there: Head north on Highway 17 via Georgetown to arrive in Myrtle Beach.
Our highlights: Huntington Beach State Park is on your right as you approach Myrtle Beach. Stop here to explore the coastal and marsh walking trails, as well as the Atalaya Castle, a 1930s Moorish-style house with a unique history and sculpture garden.
Brookgreen Gardens are just across from the state park, where you can visit the Lowcountry Zoo.
You can walk for miles on the sandy shores that give Myrtle Beach its name - stroll along the boardwalk, fish off the pier, swim in the waves or even take a surf lesson.
The Boardwalk and Promenade offer up a world of fun in the form of arcade games, dining and carnival rides with an art-deco flair. Attractions include Ripley's Aquarium, the SkyWheel and Broadway at the Beach.
If you'd rather relax on an undeveloped stretch of beach, visit Myrtle Beach State Park and Pier.
There are plenty of resorts along Ocean Boulevard that offer amenities such as luxury golf courses, spas, waterparks, jet ski rentals, boating and fishing trips.
Bonus: Myrtle Beach is famous for its golf courses and hosts international pro golf tournaments every year.
Our travel tips: This drive takes you through the Francis Marion National Forest and Huntington Beach State Park.
Summer is the peak tourist time in Myrtle Beach, while the shoulder seasons have less crowds and lower rates.
11. Columbia, SC
2 hours 20 minutes from Charleston (120 miles)
Why you should visit: This Southern city is a state capital, meaning it packs a punch for bustling nightlife and entertainment. Surrounded by old hardwood forests and rivers, this lowlands city holds plenty of thrills while but maintaining its classic history and charm.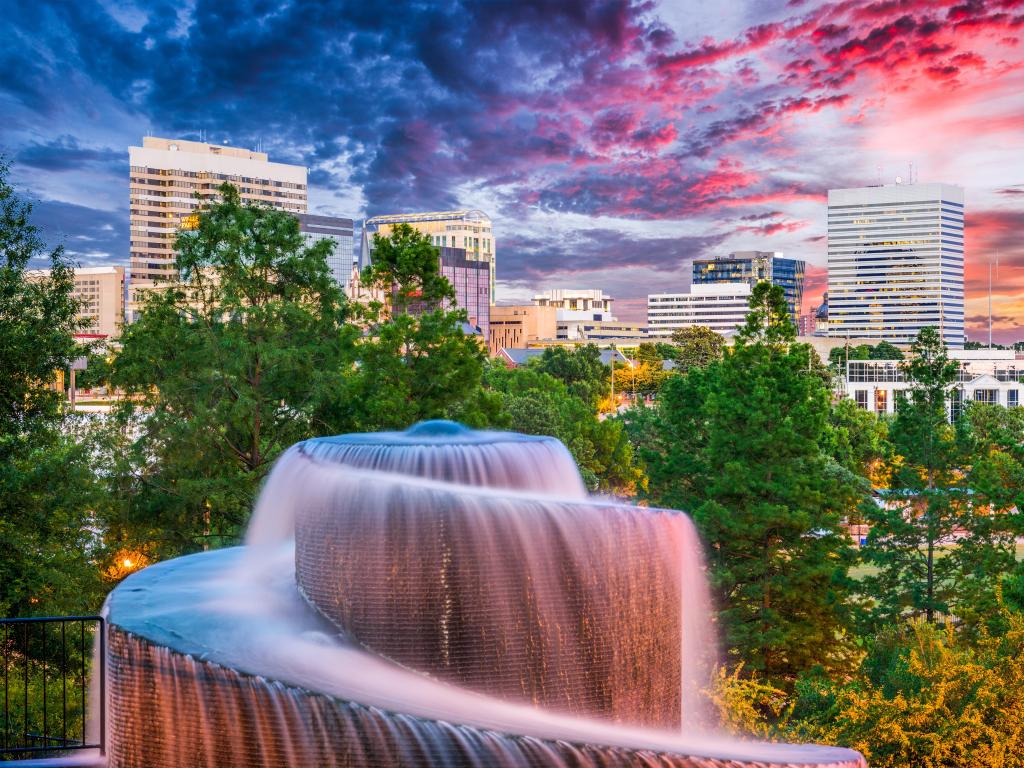 How to get there: Take I-26 W then take US-1 towards Columbia.
Our highlights: As you drive out of Charleston, stop off at Francis Beidler Audubon Forest to see the Four Holes Swamp. You'll see bald cypress trees and an old growth forest that is home to tons of birds and rare biological sites, as well as tracing the path of the National Underground Railroad.
Stop at Santee State Park along the drive to discover the sandhills and go boating, canoeing or kayaking on Lake Marion. The town of Santee is also worth exploring, with antique shopping and great local cuisine.
For a slice of nature a bit closer to the city, check out Congaree National Park where you can hike through the boardwalk trails or venture out on a canoe to discover this hardwood forest via its network of waterways.
Columbia Riverbanks Zoo and Garden is great for families, with animal exhibits and exotic botanical gardens. For older visitors, check out South Carolina State Museum and State House, which offers tours of the building as well as art and science exhibits.
To get a general feel for the city, head into downtown along Gervais St where you will find great restaurants, bars, and nightlife. In the daytime, stroll around the Canal and Riverfront Park for picnic spots and scenic views of the city and river.
Bonus: Columbia is home to University of South Carolina, where you can visit the beautiful campus or even catch a football game in the fall.
Our travel tips: The state capital is walkable and easy to navigate, so park up and explore on foot.
Click here to skip back to the top.
Weekend trips (3-5 hours each way)
If you can spare a whole weekend, head out a bit further and take a city break somewhere completely new, hit the beach, or hike your troubles away in a dense national forest.
12. Wilmington, NC
3 hours 40 minutes from Charleston (180 miles)
Why you should visit: A buzzing city on the beach, travel here for access to the Cape Fear Coast and River District. Known for its vibrant riverfront and island beaches, this city is a waterfront paradise with thriving culture and a rich history to boot.
How to get there: Take Highway 17 north, then detour around Myrtle Beach on SC-31.
Our highlights: The Riverfront District is a vibrant part of the city blending old and new, with an amphitheater, lively restaurants and bars, shopping, and a scenic riverwalk paved walkway.
Battleship North Carolina is docked right near the Riverfront district at the port - get a taste of WWII history by touring this massive wartime craft.
For an atmosphere wander stroll through the Historic District, which encompasses quintessentially southern squares and blocks of brick streets with historic antebellum houses.
Wrightsville Beach is the closest beach to Wilmington and has a lovely walkable beach and surrounding marsh lands, where you can kayak, canoe, surf, wind surf, sail, boat and fish on the piers.
Carolina Beach and Kure Beach are located a bit further south and are more remote with peaceful winds, sand dunes and piers, as well as the North Carolina Aquarium and Fort Fisher State Historic Site.
Bonus: Wilmington isn't far from the Carolina Outer Banks, made popular by the tv show "Outer Banks".
Outer Banks is also the fictional setting of the marshlands in the popular book and movie "Where the Crawdads Sing".
Our travel tips: This route takes you through Francis Marion National Forest, Georgetown and Myrtle Beach, which are also destinations in this list.
13. Greenville, SC
3 hours 20 minutes from Charleston (210 miles)
Why you should visit: This smaller city has a great arts and entertainment scene, with highlights like Greenville County Museum of Art and the Carolina Music Museum. Enjoy the local shopping, dining, and spot the central scenic waterfall in a laid-back atmosphere.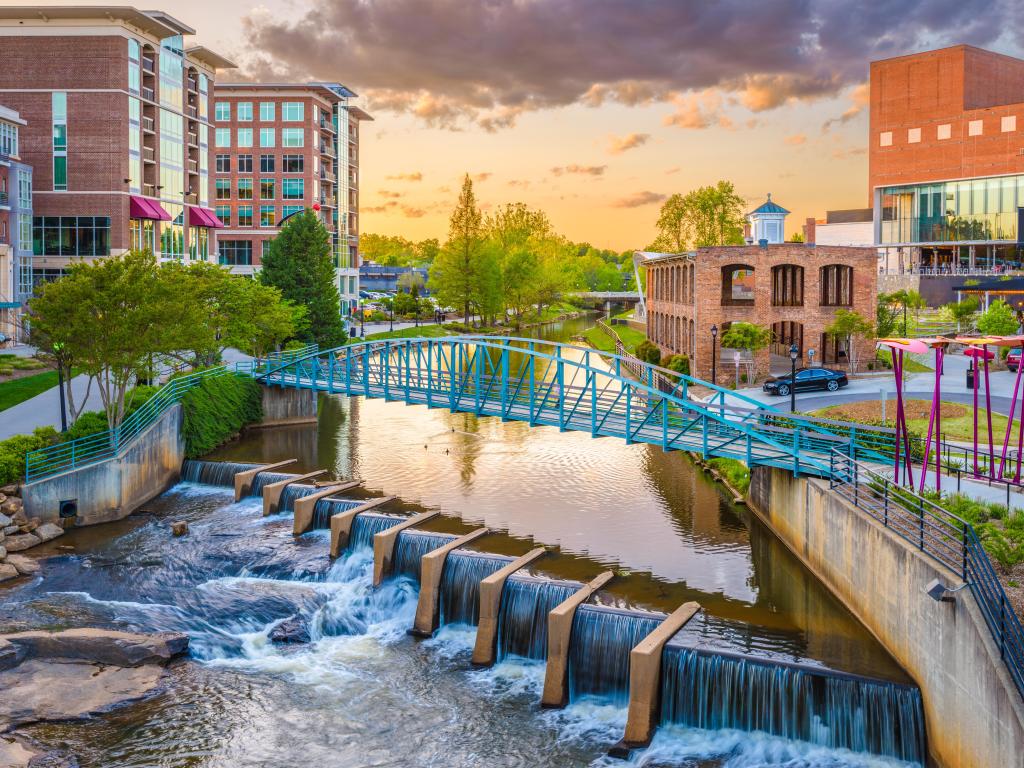 How to get there: Take I-26 W to US-1 towards Columbia, then continue on I-26 through Sumter National Forest. Take the exit onto I-385 N to reach Greenville.
Our highlights: For amazing waterfalls in the heart of the city, hop over the suspension bridge to visit Falls Park on the Reedy. Continue your hike along the Swamp Rabbit trail to head along the river and up the creeks that cut through the city.
Just to the north of Greenville sits Paris Mountain State Park - an adventurer's paradise with mountainous trails, canoe and kayak rentals on Lake Placid and impossibly scenic views.
Greenville Zoo's is one of South Carolina's most-loved attractions, with a huge range of animals including red pandas, ocelots, African lions and giraffes.
For the best shopping and dining head to downtown Greenville - Lauren Street and Washington Street are home to great southern food, locally-owned boutiques and antique stores.
It's less than an hour drive north to Mountain Bridge Wilderness Area and Jones Gap State Park along SC-276. This scenic drive takes you all the way to the North Carolina border for a spot of wilderness recreation.
You can also go via the Merry Falls and Corn Mill Shoals Trail Waterfall and circle back down the Cherokee Foothills Scenic Highway.
Bonus: Home of Shoeless Joe Jackson – a legendary baseball figure – baseball is central sport for Greenville. See if you can catch a game at Fluor Field!
Our travel tips: This area is especially scenic during the fall when the foliage changes.
14. Charlotte, NC
3 hours 20 minutes from Charleston (210 miles)
Why you should visit: Charlotte is a fun Southern city with plenty of culture and beautiful parks, set in the beautiful sandhills.
The central city of North Carolina, Charlotte has southern roots with rich Native American and Civil war history, culturally rich neighborhoods and photo-worthy sites and attractions.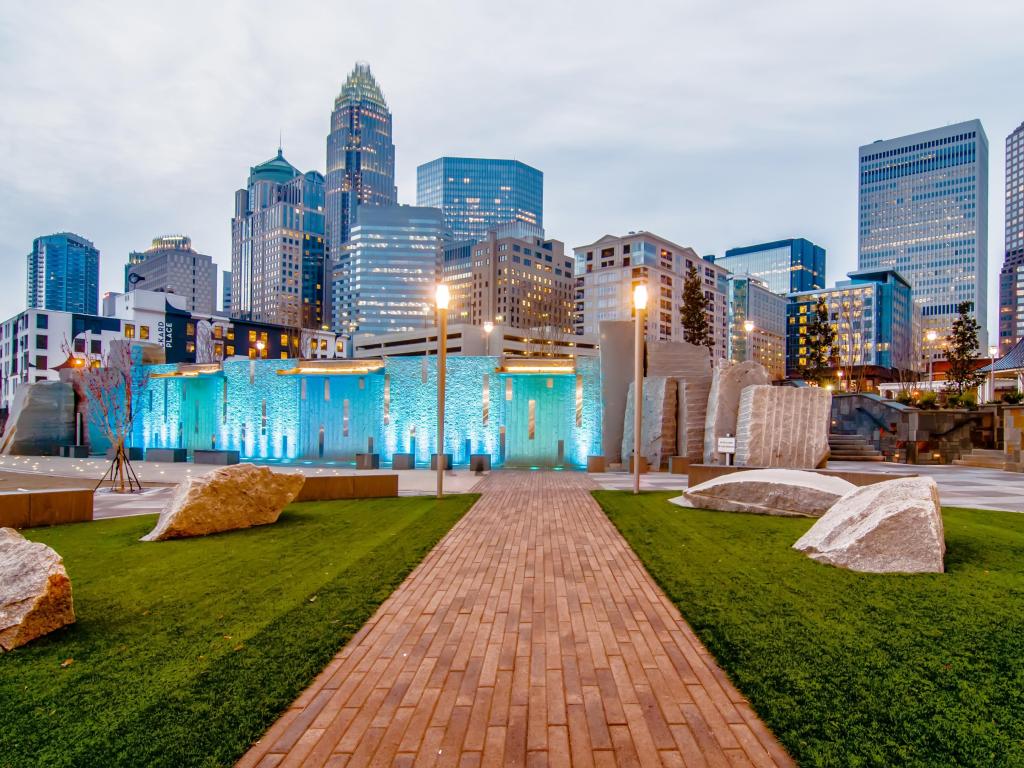 How to get there: Follow I-26 W to I-77 N, or see the alternative scenic route below.
Our highlights: Probably Charlotte's most famous monument, the NASCAR Hall of Fame is a must-see for any car-racing fans.
The largest green space in the city is Freedom Park, which is home to walking trails, tranquil ponds and historical markers. Especially in the summer, it hosts a range of concerts and festivals.
Mint Museum and Levine Centre for the Arts is a unique visit where you can explore an old coin mint alongside a fantastic art collection. It has two locations - one in the heart of Eastover and one uptown.
If you're feeling brave, take a haunted sites segway or bike tour from downtown to discover the historic homes and sites that are said to have an unsettled past.
During the Caroline Gold Rush, the first treasure was found in Reedy Gold Mine - today you can tour the mine and even mine for your own gold at this historic landmark.
Bonus: Charlotte is the hometown of Carolina Panthers football, who play at Bank of America Stadium.
Charlotte is nicknamed the "Queen City", named after Queen Charlotte of Mecklenburg-Strelitz, who was the Queen of Great Britain when the city was first settled in 1755.
Our travel tips: There is an alternative scenic route which takes 4 hours 20 minutes. It takes you up through the sandhills and national forestlands on US-52 W, past Lake Moultrie and towards Lee State Park.
Take US-1 N towards Cheraw State Park, then follow SC-151 past Carolina Sandhills National Wildlife Refuge.
15. Asheville, NC and Pisgah National Forest
4 hours 40 minutes from Charleston (270 miles)
Why you should visit: A mountainside city known for its art scene and history, with scenic views and a mecca of outdoor recreation. Enjoy the scenery of the Smoky Mountains while you explore the quaint town of Asheville, or treat yourself by checking into one of its many spa retreats.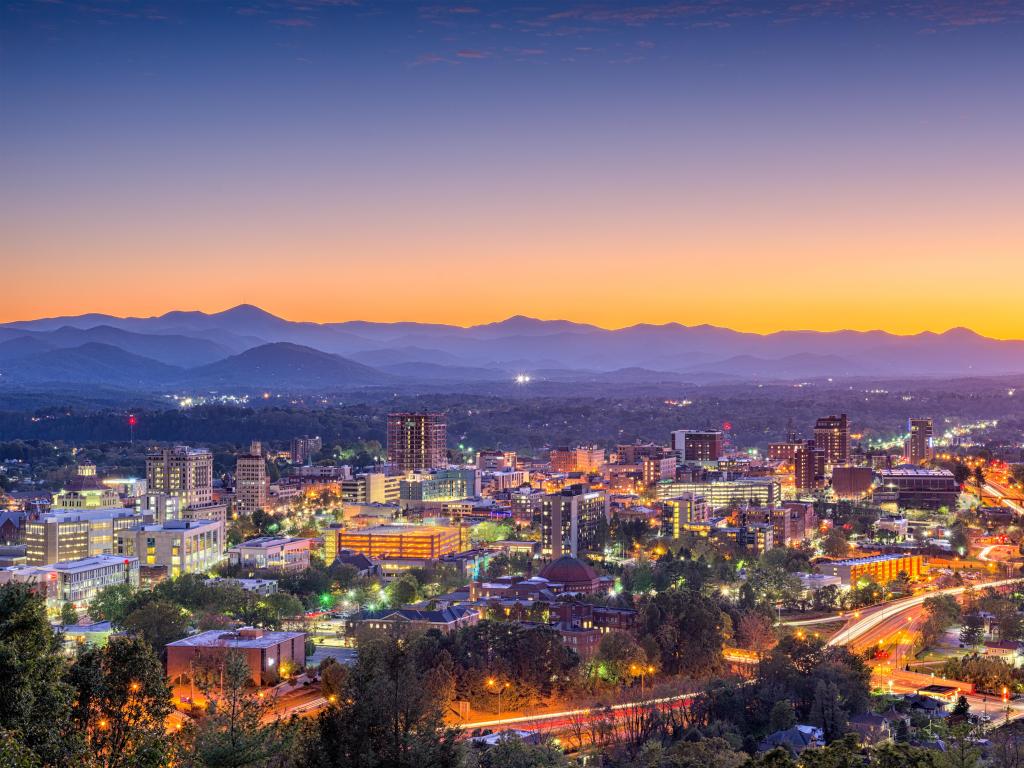 How to get there: Head to Asheville via I-26 W from Charleston.
Our highlights: En route you can stop at Lake Lure, just off NC-9 and Alt 74. There are plenty of natural attractions here, including the Flowering Bridge Garden, Chimney Rock State Park and the Chimney Rock Village Riverwalk along the Broad River.
The downtown art district in Asheville has multiple galleries and museums to explore, many showcasing local artisans and crafts as well as exhibits from national and international artists. This district is also filled with local wineries and eclectic restaurants.
The Basilica of Saint Lawrence is a beautiful gothic-style cathedral that is worth seeing for its grand architecture, or check out 19th century French Renaissance château Biltmore Estate for its historic art collection, gardens and spa.
Jump on the Blue Ridge Parkway in Asheville and drive north to reach Pisgah National Forest, where you can hike, walk, or take a scenic drive with stunning mountain overlooks. You can take a 100-mile loop back to Asheville through Micaville and Pensacola.
Alternatively, you can take the Blue Ridge Parkway south towards Highway 276, then make a loop back north to Asheville through Woodrow and Canton.
Bonus: The LaZoom comedy tour bus is a one-of-a-kind comedy show on wheels that takes you on a tour of the city. Another fun option is a visit to the Pinball Museum!
Our travel tips: You can tack on a stop in Columbia or detour to Greenville on this route.
There are plenty of nearby ski resorts open in the winter.
When it shows, be prepared for road closures in the mountains and look up alternate routes.
16. Atlanta, GA
4 hours 50 minutes from Charleston (300 miles)
Why you should visit: Atlanta is a highlight of the South known for its scenic beauty as well as great food, culture and downtown attractions. Atlanta has it all - rich history, craft beer, glittering skylines and eye-catching street art.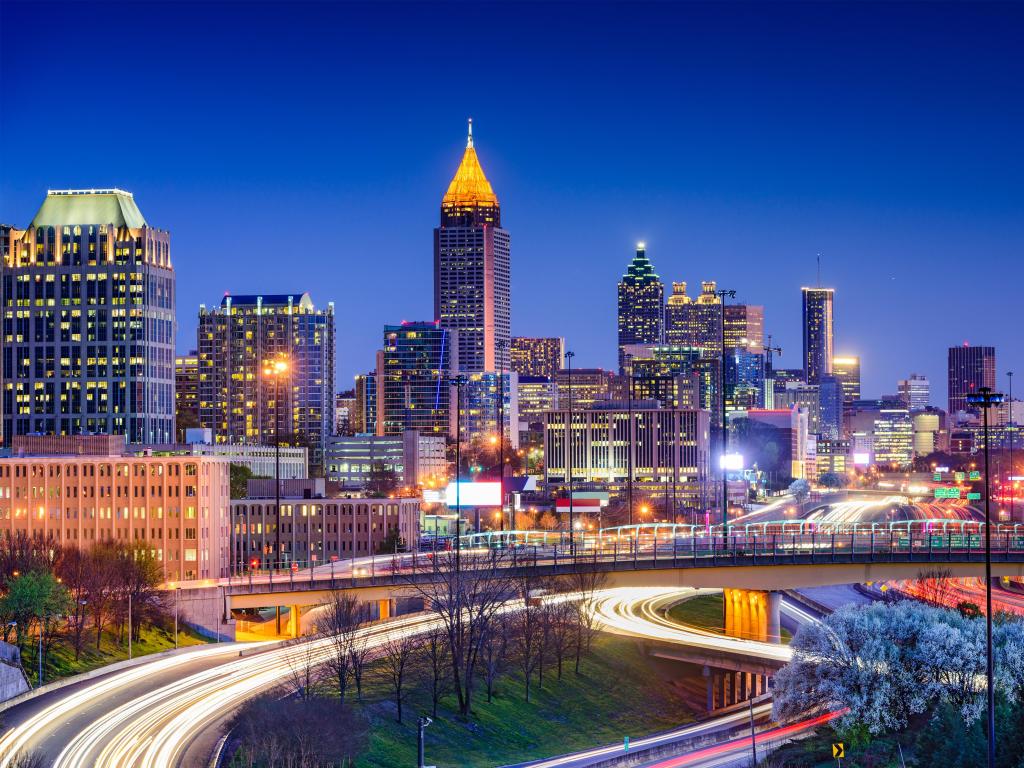 How to get there: Take I-26 W and then follow I-20 W through Augusta and Oconee National Forest.
Our highlights: Oconee National Forest is en route and is certainly worth a stop to stretch your legs. As well as hiking, you can hire a boat to take out on Lake Oconee.
Stop at the World of Coca Cola attraction to tour and taste the history of the world's most famous soft drink, and taste samples from around the world!
If the rich and famous visit Atlanta, they head to the suburb of Buckhead. This area offers great high-end shopping, dining, and luxury art galleries.
Georgia Aquarium is one of the largest aquariums in the US, and features whale sharks, penguins, sea lions and many other aquatic species.
Just outside of Atlanta sits Stone Mountain Park - this large granite mountain and surrounding park has a cable car to the top, or you can drive all the way around the mountain to see a carving of Civil War Confederate generals.
Bonus: CNN Center is located here, the filming location for CNN world news and associated shows. You can take a studio tour to see it up close.
Our travel tips: We've listed only a handful of museums in the city, but there are plenty more to explore for culture-lovers.
Click here to skip back to the top.
Long weekend trips (5-8 hours each way)
There's plenty to be found outside of South Carolina, and these trips take you out of the state into pastures new.
17. Blowing Rock and Boone, NC
5 hours from Charleston (300 miles)
Why you should visit: This part of the world has plenty of attractions for road trippers, including amusement parks and museums, as well as unspoilt surrounding public lands for hiking and scenic vistas.
Here you have easy access to the Blue Ridge Parkway and all of its natural attractions, making it the perfect destination for exploring the outdoors.
How to get there: Follow I-26 through Columbia and take I-77 N to Charlotte, then follow NC-321 towards Blowing Rock.
Our highlights: Boone is the home of Appalachian State University, and has many quaint shopping and dining districts. It's a great base for day hikes or tours to the nearby mountains and parks, as there are plenty of outdoor recreation outfitters in town.
Both Sugar Mountain and the Appalachian Ski Mountains are nearby, and their high elevation makes them perfect for winter skiing and other snow sports like snow-shoe hiking, tubing, snowboarding and snowmobile trails.
The Blue Ridge Parkway is world-famous for its scenic overlooks, with plenty of opportunities to stop and hike trailheads, waterfalls and mountain peaks. Photographers gather every sunrise and sunset to capture the vistas, and even more so in the fall when the leaves are changing colors.
Bonus: You can visit the city's namesake The Blowing Rock, a windy mountain peak with gusts so strong it can blow objects back to you.
Our travel tips: Many scenic loops can be taken from Boone and Blowing Rock, including the Blue Ridge Parkway, Highway 221, 321, and 19E. You can also take a scenic drive from here towards Gatlinburg via Blue Ridge Parkway.
The Parkway is known for being winding and can be difficult to drive in rain or snow conditions, and can have traffic and delays. Ideally, plan a few overnight stays along the way to take advantage of all it has to offer.
18. Orlando, FL
6 hours and 10 minutes from Charleston (380 miles)
Why you should visit: A year-round warm weather destination known for its world-class entertainment, including the iconic Disney and Universal Studio parks.
The drive from Charleston to Orlando has plenty of opportunities for stops in vibrant southern cities, en route to warm Atlantic beaches and a welcoming tropical climate.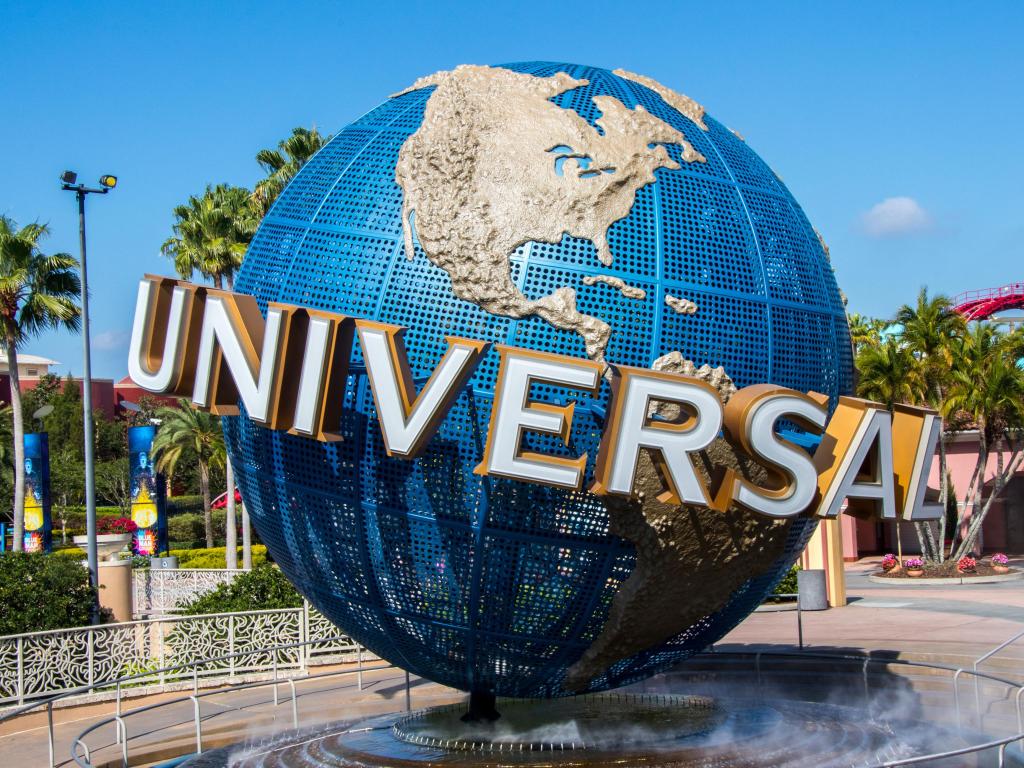 How to get there: Take Highway 17 W to meet I-95 S to Savannah and Jacksonville. Follow I-95 south to Daytona Beach and then take I-4 to Orlando.
Our highlights: There's a lot going on at Cape Canaveral Florida - it's where rockets launch and is home to Kennedy Space Center NASA. If that's not your thing, you can surf at Cocoa Beach or relax on Canaveral National Seashore.
It wouldn't be a visit to Orlando without seeing Disney World - discover Hollywood Studios, Epcot, Animal Kingdom Theme Park, Magic Kingdom, Walt Disney World Resort, Downtown Disney, Blizzard Beach and Typhoon Lagoon.
Disney World is just the tip of the iceberg, there's also Universal Studios where you can visit The Wizarding World of Harry Potter, Islands of Adventure, Volcano Bay, Universal Orlando Resort. You could easily spend a few days getting lost here!
To get away from the crowded parks, visit one of the incredible natural attractions in the area, including over 100 lakes, Lower Wekiva River Preserve State Park and Blue Springs State Park for swimming.
Bonus: Orlando got more visitors than any other destination in the world in 2015.
Our travel tips: You can tack on plenty of other cities to this route, including Savannah, Hilton Head Island, Jekyll Island.
19. Knoxville, Gatlinburg and Pigeon Forge, TN
7 hours 20 minutes from Charleston (380 miles)
Why you should visit: This scenic drive through the Smoky Mountains has a whole range of attractions, from nature and amusement parks to shows and museums. These charming towns play host to all sorts of exciting activities, all set against stunning mountain scenery.
How to get there: Take I-26 through Columbia to Asheville. From Asheville, follow I-40 E through Smoky Mountains, then take US-321 S to Gatlinburg and continue on Parkway to US-441 N.
Our highlights: Knoxville is known for being a bigger city with mountain charm. It's a great place to explore downtown, hear live music, eat soul food, and have a drink at a local microbrewery.
Pigeon Forge is home of the famous Dollywood amusement park, but also hosts attractions such as the TITANIC museum, alpine coasters, zip lines and other amusement rides.
Set at the foothills of the Smoky mountains, Gatlinburg is picturesque with lots of attractions to choose from, including many nature-based activities. You can ride the gondola at Ober Gatlinburg amusement park or hike to Mount Harrison and Cataract Falls.
The Great Smoky Mountains National Park is very driveable, with plenty of opportunities to stop and hike some waterfall trails. It's famous for its fall foliage and is accessible from plenty of directions including the Blue Ridge Parkway.
Bonus: Pigeon Forge is the hometown of Dolly Parton, so you'll see her name splashed on many attractions in the town.
Our travel tips: This area is a popular tourist center and so can be busy any time of year.
Click here to skip back to the top.
Longer trips (Over 8 hours each way)
Fill the car with gas and pack a suitcase before heading out on one of these bucket-list longer trips - dream big and you can make it all the way to fabulous beaches and iconic cities.
20. Panama City and Panama City Beach, FL
8 hours from Charleston (510 miles)
Why you should visit: Panama City boasts one of the most stunning beaches on the Gulf Coast with white sands and emerald-green water. Gulf Coast beaches are very different from the Atlantic coast, plus Panama City has endless entertainment and nightlife to pair with days spent tanning.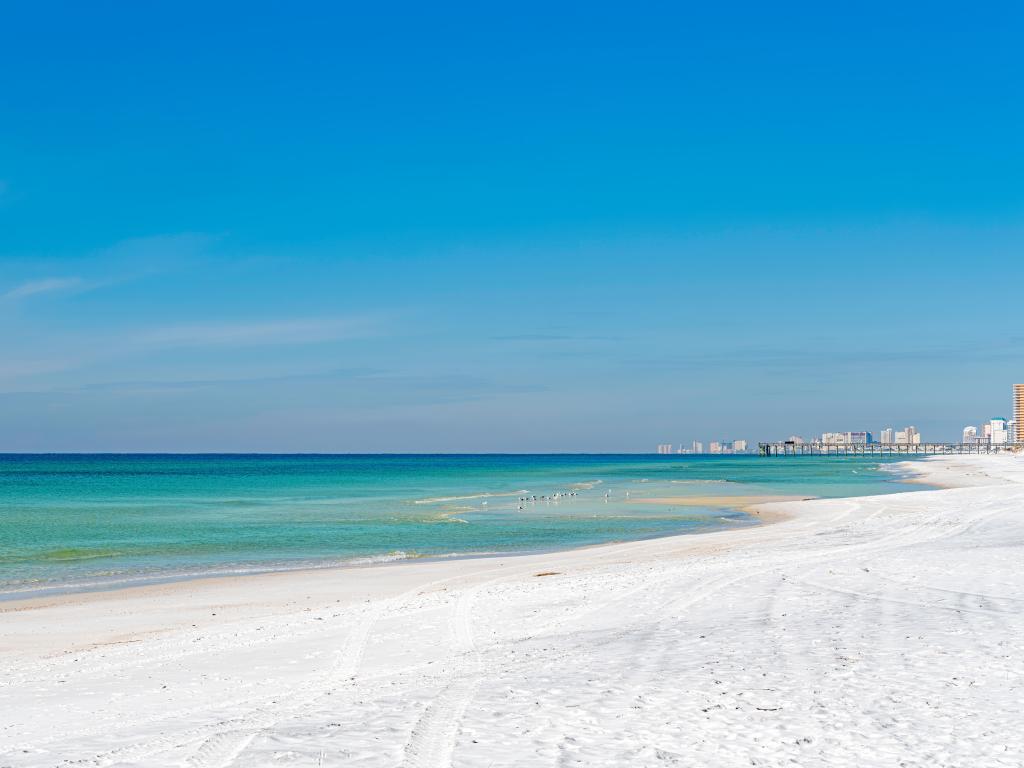 How to get there: Take Highway 17 west to meet I-95 S towards Savannah and Jacksonville. Follow I-10 W to Tallahassee and then turn south on Highway 12 and Highway 20 to FL-231.
Our highlights: Panama City Beach has emerald-turquoise water, soft white sands, seafood restaurants, cocktail bars and a delicious Gulf breeze. There are beach options to fit any mood, from sparsely populated to party-central - enjoy the solitude in Shell Island or have a cocktail on the famous PCB.
St. Andrews State Park is a more natural beach setting with bay waters for fishing. You can get to Shell Island from here via a boat tour. Gulf Islands National Seashore is another undeveloped beach without crowds. You might even catch the Blue Angels doing some practice flights above the beach!
Rosemary Beach is a picturesque town with colorful antebellum houses and delightful shopping. It's smaller than Panama City with fewer tourists and local crafts for sale.
Apalachicola is just a short drive from Panama City - it's a quaint south-eastern town with oyster bars and plenty of places to grab some fresh Gulf seafood.
Bonus: Panama City is a popular Spring Break destination for high school and college students.
Our travel tips: This is a busy city, but the shoulder seasons will have fewer crowds.
21. Nashville, TN
8 hours 20 minutes from Charleston (550 miles)
Why you should visit: Nashville is a big city with a small-town feel - it's the hometown of country music but all genres and types of people are welcome here. Visit "The Music City", where you can find vibrant nightlife, live music at every turn, southern food and great hospitality.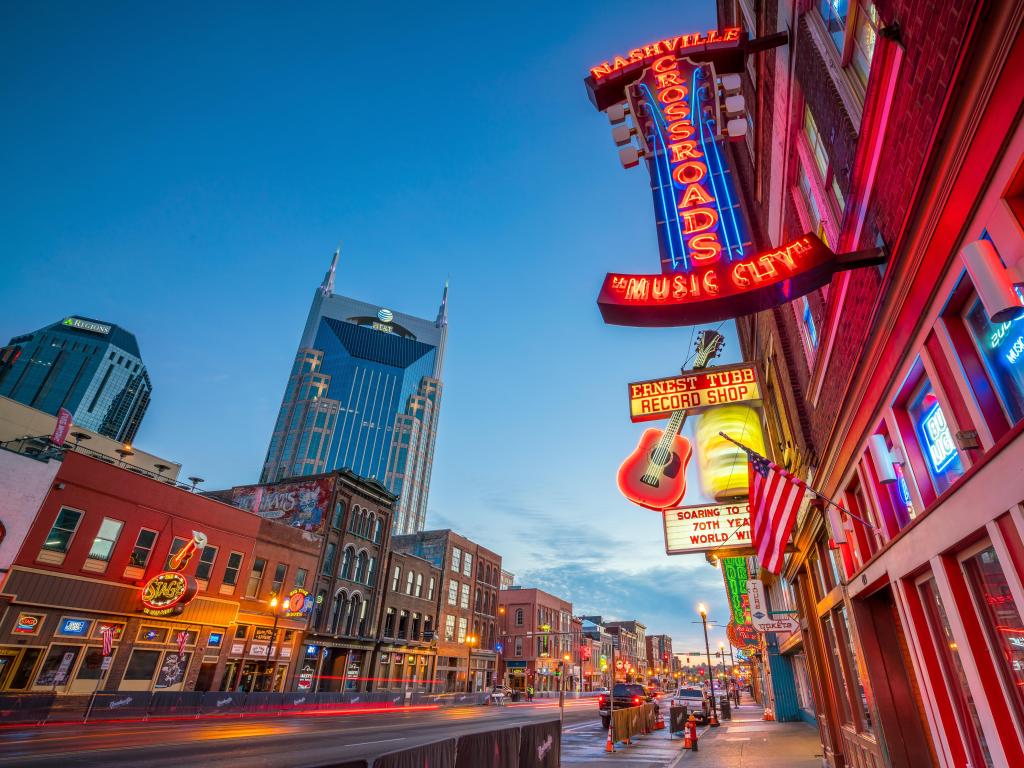 How to get there: Take I-26 and I-20 W to Atlanta. Then follow I-75 N to Chattanooga and I-24 N to Nashville.
Our highlights: It's practically impossible to come to Nashville and avoid hearing live music - the best nightlife and entertainment can be found on Broadway Street or Honky Tonk Row. If you want to catch a proper show, try one of the famous venues like Ryman Auditorium or the Grand Ole Opry.
If you can't get enough, visit the Country Music Hall of Fame and Museum to get a peek at the costumes, instruments, and other memorabilia representing your favorite artists.
It's just a short drive north to Bowling Green and Mammoth Cave - explore the world's longest known cave system or have a scenic meal in the charming town.
Bonus: Some of the biggest Nashville events occur in the summer, like the CMA Music Festival in June and Bluegrass Nights at the Ryman.
Our travel tips: You can link this trip up with Knoxville, Asheville, and Charlotte by taking I-77 out of Columbia to I-40 W.
22. Miami, FL
8 hours 50 minutes from Charleston (590 miles)
Why you should visit: Miami has world class beaches with amazing restaurants and a hip and happening nightlife scene. This city is where you come to party and be entertained alongside the rich and famous, set on the gorgeous Florida coast.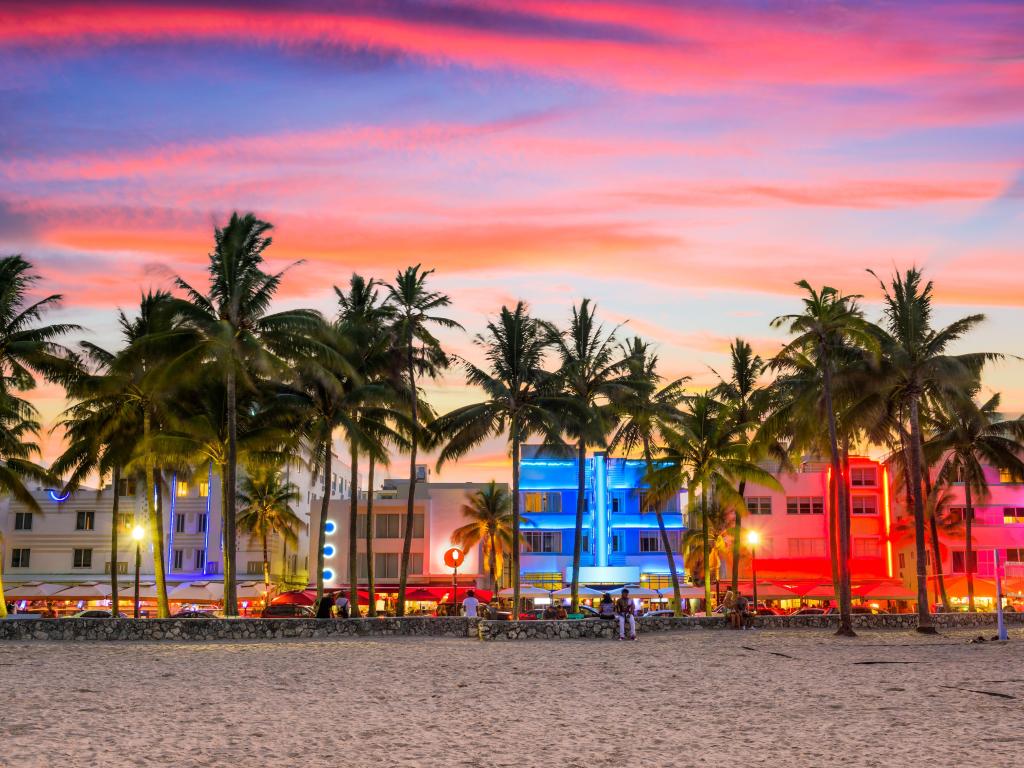 How to get there: Take I-26 south to meet I-95 S to Jacksonville. Follow I-95 to Miami or detour via I-4 and the Florida Turnpike through Orlando.
Our highlights: Before you even get to Miami, stop off at Hilton Head Island, Jekyll Island or Cape Canaveral Florida. Alternatively, stop off at one of the theme parks in Orlando and spend a few days here before continuing your journey.
Miami has plenty of gorgeous beaches, but if you want to venture a bit further out, West Palm Beach and Fort Lauderdale offer art, food, and beaches as well as vibrant Cuban culture and cuisine.
If you want beaches without the high-rise developments of Miami beach, head to Key Biscayne where you can find golf courses and nature trails, or hike to the lighthouse on Bill Baggs Cape Florida State. You can also take a boat tour to go snorkeling or scuba-diving in Biscayne Bay.
Bonus: Miami is home to celebrities like Jennifer Lopez, The Rock, Matt Damon, Shakira, and Cher - you can see many luxury homes from the water.
Our travel tips: You can take a ferry from Miami to the Bahamas, which is a great way to travel internationally without taking a flight.
23. Memphis, TN
10 hours 30 minutes from Charleston (690 miles)
Why you should visit: Memphis is located on the Mississippi River - you can find tons of culture, music history, and artists here, as well as amazing soul food and live music entertainment. This city was made famous as the birthplace of Rock and Roll, so it's perfect for any music lover!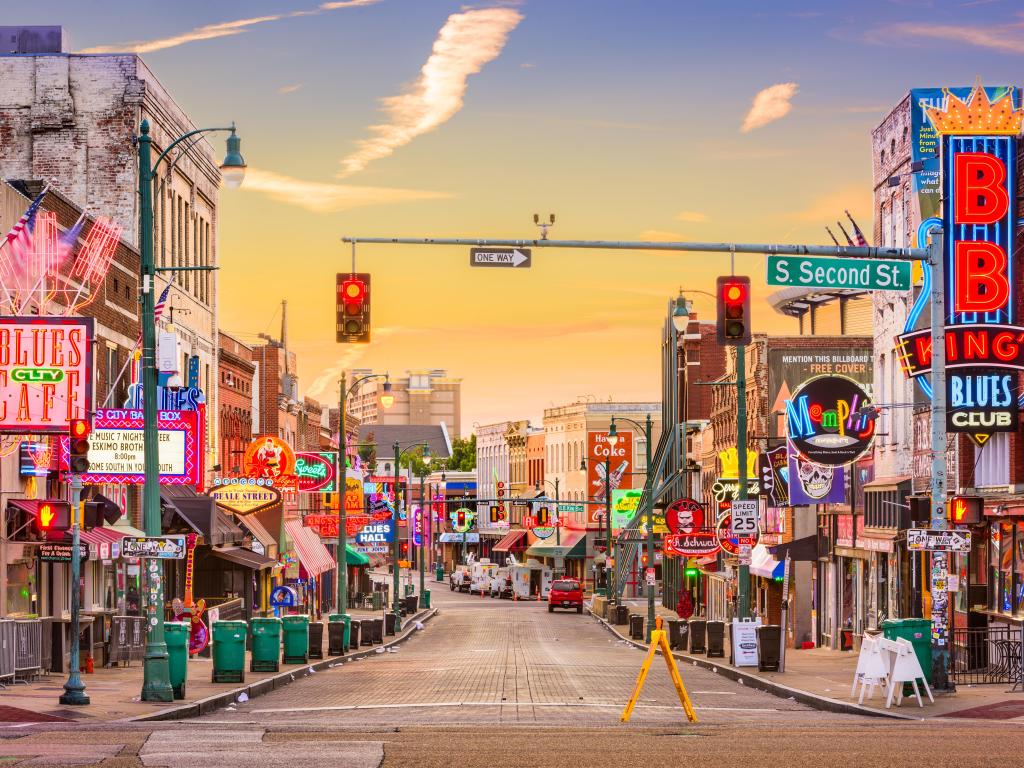 How to get there: Take I-26 and I-20 through Atlanta and Birmingham, then take I-22 N to Memphis.
Our highlights: If you want to get out of the city, take a scenic drive through Holly Springs National Forest, or head to Fuller State Park. Mud Island River Park houses a scale replica of the Mississippi River that you can explore on foot or by bike.
To get to know the musical history of the city visit Stax Museum of American Soul Music - located in Soulsville USA, it's the origin of Stax Records and has tons of cultural exhibits and artifacts from culturally significant figures from Isaac Hayes to Aretha Franklin.
If you can't get enough, take a tour of Sun Studios where some of the most famous musicians in the world have recorded their songs, including Elvis and Johnny Cash.
Beale Street is the "home of the Blues", where you can listen to live music and eat delicious barbeque. Head here for nightlife and entertainment like nowhere else in the city.
Bonus: Memphis is known as the birthplace of Rock and Roll, made famous by Elvis Presley and many other rock and roll artists.
Our travel tips: The city also has a deep rooted history in the Civil Rights movement, with museums and historic sites to see devoted to freedom fighters.
24. New York City, NY
11 hours 30 minutes from Charleston (760 miles)
Why you should visit: The Big Apple needs no introduction - it's a once-in-a-lifetime city experience and a chance to see all the bucket-list landmarks like Times Square and The Statue of Liberty.
New York is so much more than just Manhattan - you can also find local gems and lots of fun in Brooklyn, Long Island and other lesser-traveled boroughs.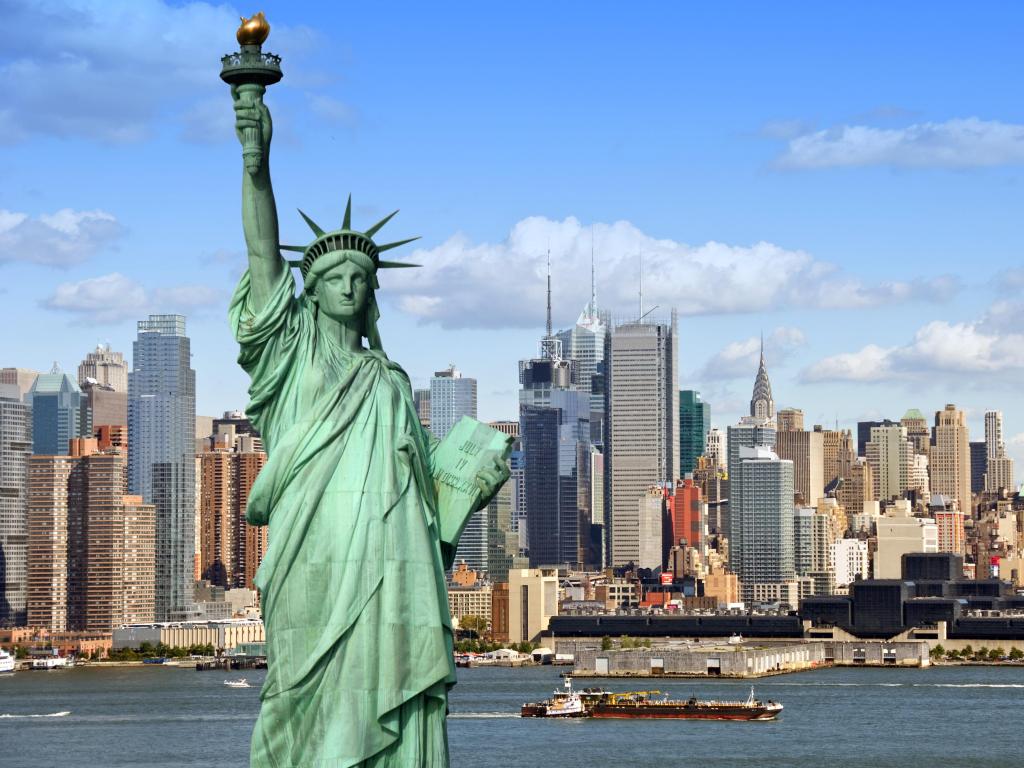 How to get there: Take I-95 north to Newark then join US-278 to cross into Brooklyn - on the journey you'll pass through Washington DC, Baltimore and Philadelphia.
Our highlights: As you are crossing into Brooklyn on US-278, turn south to head to visit Coney Island, an iconic beach and amusement park set along a beach boardwalk. You can choose your own pace here - relax on the sand, ride a thrill coaster, or chow down on the famous hot dogs.
Manhattan is best explored on foot, or by subway - climb up to the top of the Rockefeller Center or the Empire State Building for an amazing view. Once your feet get tired, see if you can catch a Broadway show and be wowed as the lights go down.
Fifth Avenue is the most famous shopping street in the city, offering luxury brands and storefronts straight out of glossy fashion magazines. If you fancy a more relaxed vibe, hit East side Orchard Street which has art galleries, museums, and more eclectic shops to browse.
Central Park is a must-visit - this iconic green space in the middle of Manhattan is too massive to explore in one trip, but make sure to take a stroll through at least once during your stay.
Bonus: New York is the most populous city in the US, and the food and languages found on every street corner reflect the diverse population.
Our travel tips: Travel to New York any time of the year, but be prepared for hot humid weather in the summer and cold snow in the winter. The holidays can bring big crowds to the city, so buy tickets to any Broadway shows in advance.
Staying in Brooklyn is a good way to find more affordable accommodation with better availability.
25. New Orleans, LA
11 hours 20 minutes from Charleston (780 miles)
Why you should visit: The French influence makes this city a cultural experience unlike anywhere else in the US. New Orleans is the home of Mardi Gras, but the party atmosphere lasts all year round in this vibrant center for music, Creole food and French architecture.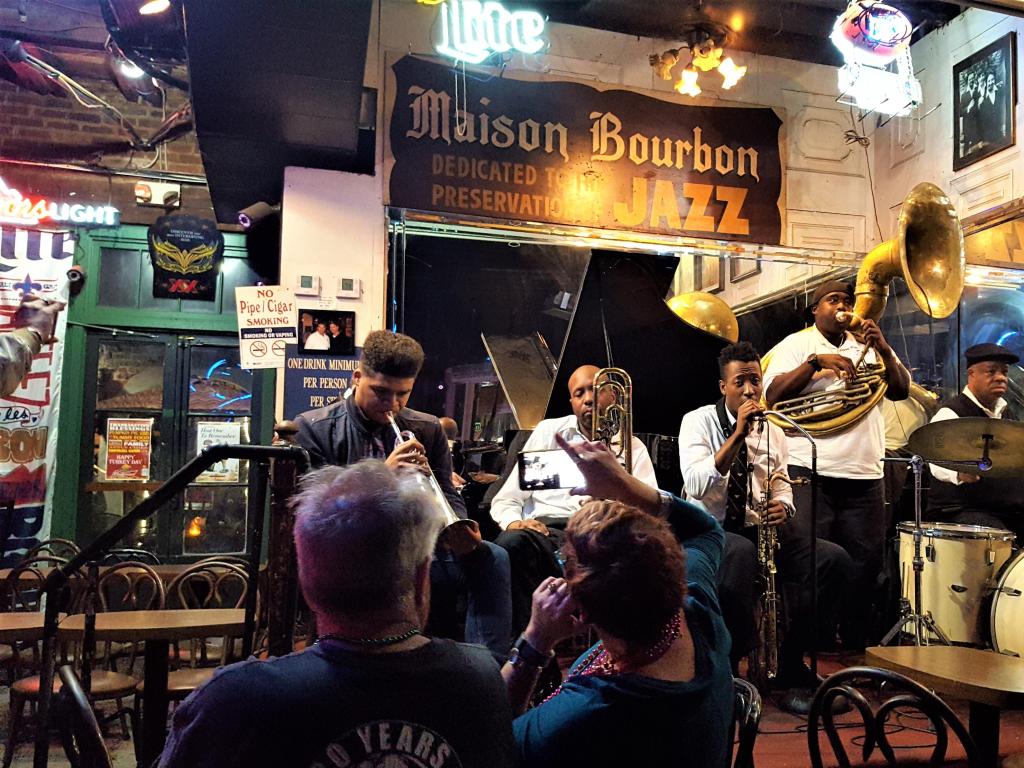 How to get there: Take Highway 17 S on this road trip from Charleston to New Orleans, then follow I-95 S to Jacksonville. Get on I-10 W to go via Tallahassee, Pensacola, Mobile en route to New Orleans.
Our highlights: Stop for a break in Pensacola en route, which has a great food scene. There are military and air force museums to visit, but the highlight is the diverse exhibits at the Pensacola Museum of Art.
Mobile is a charming antebellum city rich with history. Take a tour of the preserved 19th century mansions, sample the delicious local Gulf seafood and take a stroll under the Spanish mossy oaks. For military fans, there are WWII vessels on display at USS Alabama Battleship Memorial Park.
New Orleans has it all - history, charm and flair. Take a tour around the French Quarter to see the colonial architecture, or head to Bourbon Street to drink your way down the bars to the soundtrack of jazz and country western.
If you're feeling lucky, play a few rounds at Harrah's Casino, or for something more relaxing, take a river boat cruise down the waterfront - some of them have live music included! You don't need to book an activity to feel part of the city - there is tons of street art and buskers to be found strolling the streets, as well as local artisan shops.
Bonus: In 2023, Mardi Gras falls on Tuesday February 21, although celebrations begin about a week before. Expect lots of parties, parades, music, libations, and a flock of tourists.
Our travel tips: New Orleans can be hot and humid in the summer, but is still a great time to visit as long as you keep an eye on the weather for hurricane warnings.
Mardi Gras is peak tourism season, so plan in advance. For a fun experience without the crowds, book a hotel with a balcony on Bourbon Street so you can observe the parades with a front row seat.
READ MORE - Road Trip from Charleston to New Orleans
26. Niagara Falls
13 hours 40 minutes from Charleston (880 miles)
Why you should visit: Niagara Falls and the town of Niagara is a beautiful destination to witness a bucket list-worthy natural phenomenon. An iconic American natural wonder, the surrounding area including Niagara-on-the-Lake is renowned for its distinctive wine making.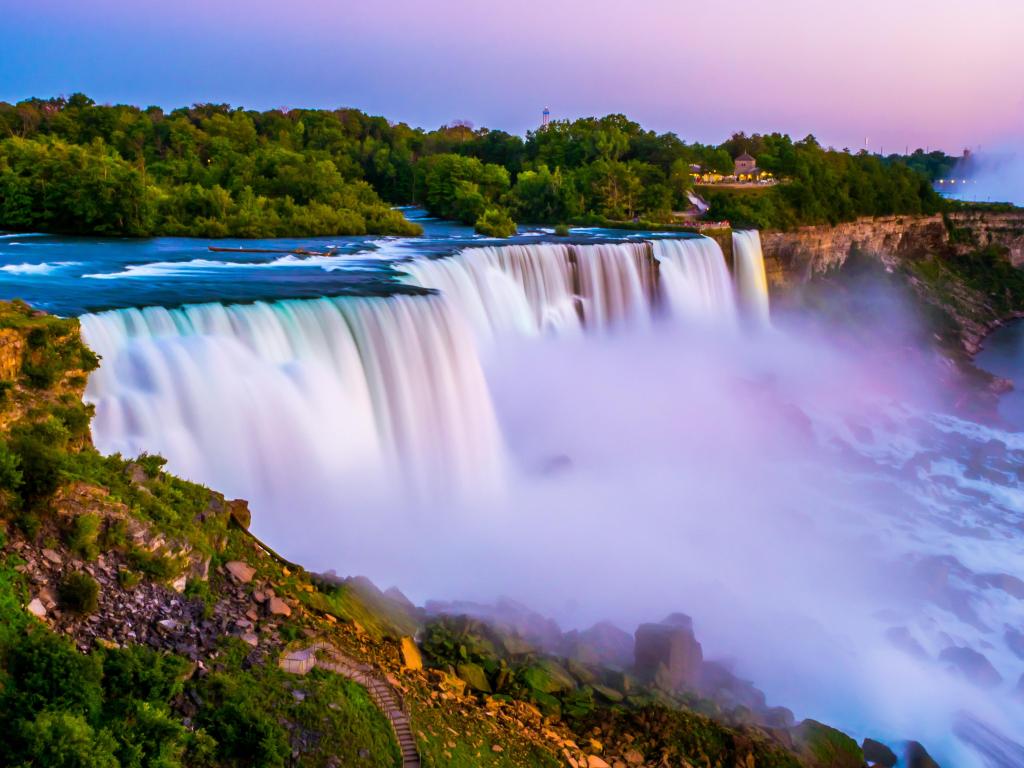 How to get there: Take I-26 to Columbia, then follow I-77 north to Beckley West Virginia. Take VA-19 to Fayetteville, then merge onto I-79 N in Sutton. Take I-90 east out of Erie to reach Niagara.
Our highlights: Of course, Niagara Falls is the main attraction here - in warmer weather take the famous Lady of the Mist tour to see behind the falls. The American Falls have a boardwalk with stairs so you get up close (and get wet!). Winter brings another side to the falls as the surroundings freeze over with ice.
There are tons of wineries in the local area - we recommend Wayne Gretzky's which has an ice rink on site, or Peller Estates which in winter hosts its own ice bar. If you're planning a romantic weekend, Trius Winery and Restaurant is a great pick for couples, and you could even book a stay on site in their lovely B&B.
The city of Niagara is not to be missed - you'll find plenty of attractions including restaurants, shopping, a Ferris wheel and a butterfly conservatory.
There are plenty of great stops en route - see the white-water and deep canyon at New River Gorge National Park, or head to Pittsburgh to see the dramatic skyline. Alternatively, Erie is a small bustling city with charm and plenty of Pennsylvanian history.
Bonus: Niagara Falls are often considered the "eighth wonder of the world"
Our travel tips: You can cross the Rainbow International Bridge to get a view of the falls from Canada (immigration customs apply).
The Icewine festival in Niagara takes place in the last two weekends in January.