Road Trip from Charleston to Myrtle Beach
For a relaxing weekend getaway to one of the most famous beaches in the US, look no further than this epic road trip from Charleston to Myrtle Beach. From golden sandy beaches and charming towns to historic sites and scenic outdoors, this trip has a fun, laid-back vibe.
The 100-mile road trip from Charleston to Myrtle Beach will take a little over 2 hours to drive. Notable stops are Pawley's Island, Mt Pleasant, Santee, Columbia, Congaree National Park, Lake Marion, Georgetown, Murrells Inlet and Surfside Beach.
Depending on your chosen route, you'll experience a different part of South Carolina on this journey. As you read, you'll find the route that suits your vibe and various things to see and do on the way.
How far is Myrtle Beach from Charleston, and how long will the road trip take?
Comparison of road trip routes between Charleston and Myrtle Beach

| Route | Distance | Driving Time |
| --- | --- | --- |
| The Coastal Route | 100 miles | 2 hours |
| The Columbia Route | 280 miles | 5 hours |
A direct drive to Myrtle Beach from Charleston via The Coastal Route takes 2 hours to cover 100 miles without any detours and gas breaks.
For a slightly longer ride through inland South Carolina, you can take The Columbia Route, covering 280 miles over 5 hours of driving, not considering any stopovers or food breaks.
Although you can complete this journey within a day, we highly recommend you take a couple of days to enjoy beach activities, delicious seafood, museums, and the natural beauty en route at leisure.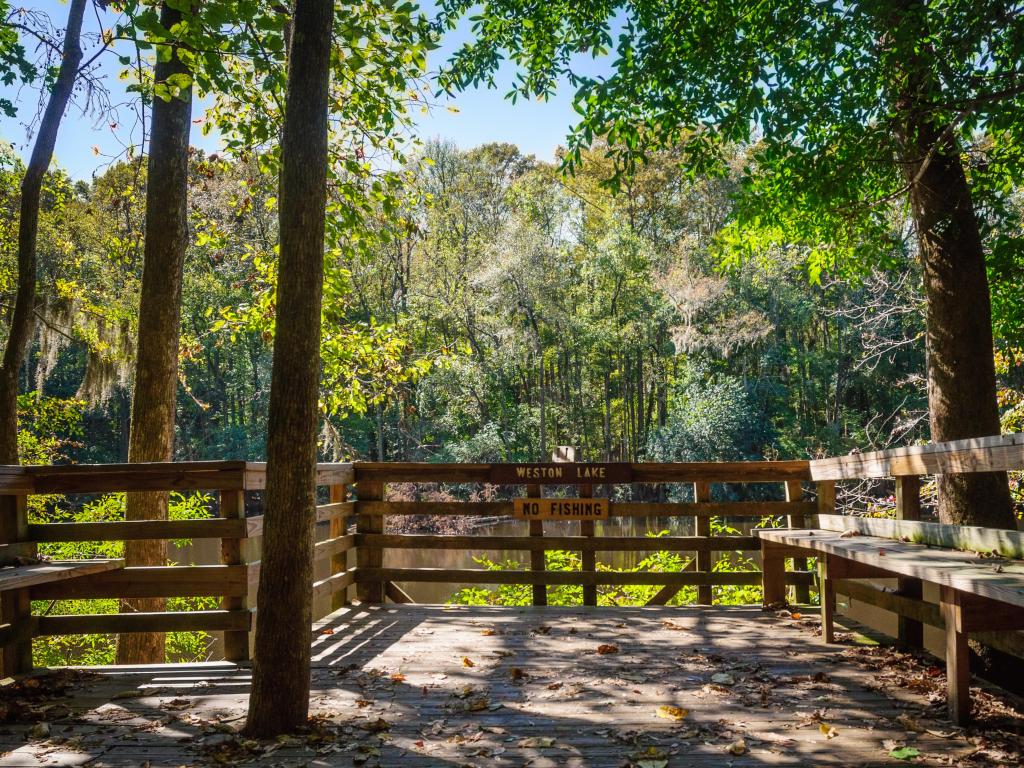 Best road trip route from Charleston to Myrtle Beach
Below we highlight two distinct yet fantastic routes to reach Myrtle beach. Both routes take you on well-maintained, easy-to-drive roads with breathtaking views.
The Coastal Route takes you on a scenic drive along the Atlantic coast, passing through charming towns and beautiful beaches such as Pawleys Island and Surfside Beach.
You can expect a relaxing trip with plenty of opportunities for beach activities such as swimming, sunbathing, and surfing. The route is also known for its delicious seafood, with many restaurants and seafood shacks.
The Columbia route, on the other hand, takes you through the heart of South Carolina. It passes through the state capital of Columbia, where you can explore museums and historical sites and enjoy outdoor activities like hiking and kayaking in Congaree National Park.
Along the way, you can explore several scenic spots, such as Lake Marion and Lake Moultrie, which offer great views of the water and the surrounding landscapes.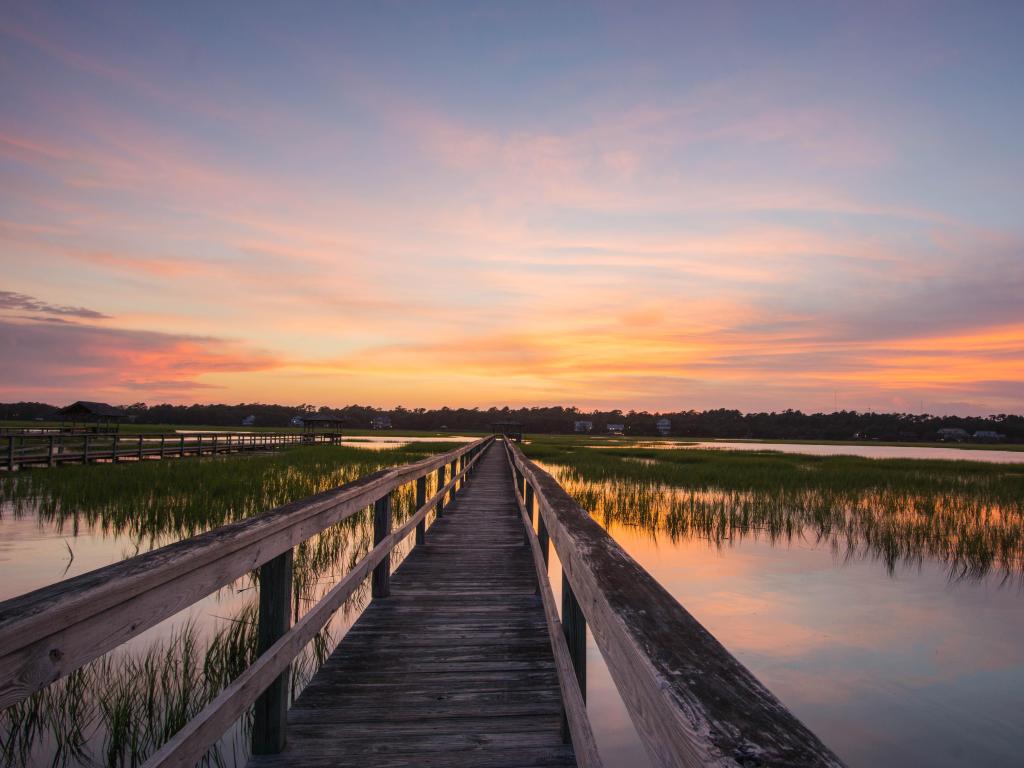 The Coastal Route
For the most direct route to Myrtle Beach, take US-17 out of Charleston. Take the Arthur Ravenel Jr. Bridge, crossing Drum Island and enjoying stunning city skyline views.
As you continue driving on US-17, you'll cross the charming town of Mount Pleasant. As the road winds through the Francis Marion National Forest, you'll reach the beautiful historic port town of Georgetown.
As you exit Georgetown, you'll find yourself in the middle of several scenic marshes and waterways before arriving in the stunning Pawleys Island.
After exploring the beaches and fishing opportunities, continue your journey on US-17 northward, passing several coastal towns.
Take this opportunity to get out, stretch your legs, enjoy local seafood, and admire the coastal views before finally reaching Myrtle Beach.
The Columbia Route
For a longer inland route to Myrtle Beach, take I-26 out of Charleston toward North Charleston. Drive through the heart of South Carolina's Lowcountry region, passing through several historic towns like Summerville and Orangeburg on the way.
Take a brief detour to Santee to visit Lake Marion before joining I-26 again to reach Columbia.
After exploring the state capital and the many attractions in the city, head out on I-20 to Florence. Bypass the town by taking US-501 to Myrtle Beach. You'll see beautiful rural landscapes and the small towns of Marion and Conway.
And before you know it, you'll be welcomed by the palm trees and the coastal vibes of Myrtle Beach.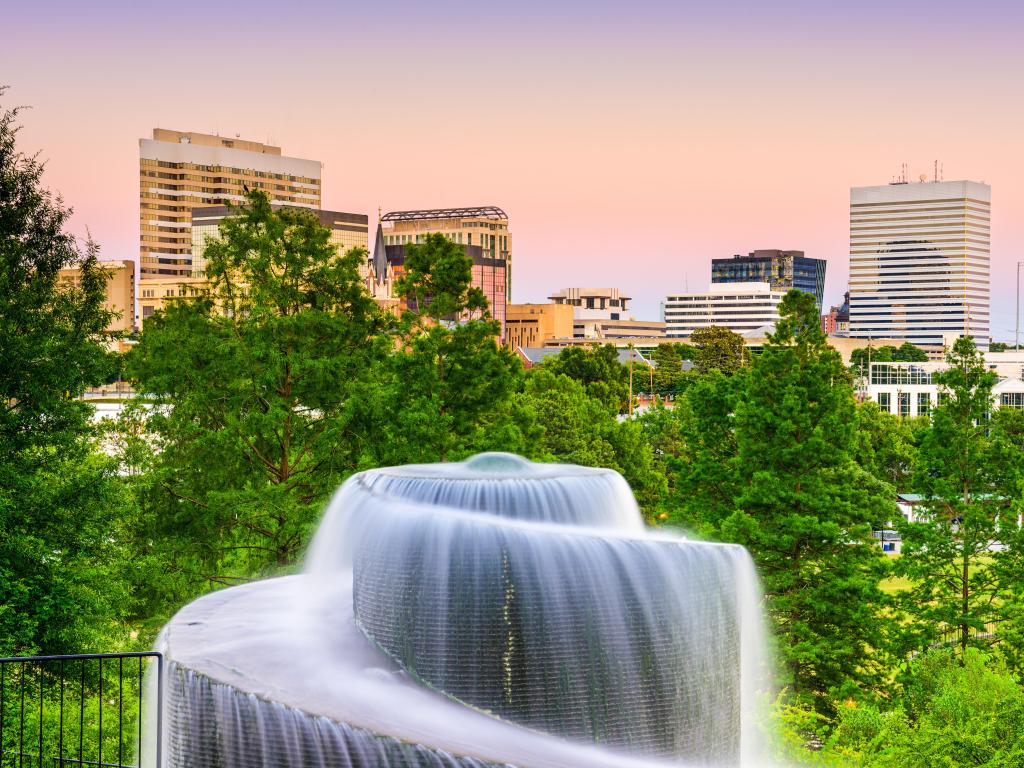 Best places to stop between Charleston and Myrtle Beach
You might be in a hurry to reach Myrtle Beach, but let that not rob you of a fun-filled enriching experience of exploring South Carolina.
The route has some excellent stopover points, and we have put together a list of our favorite hotels for you.
Soak in the history at Georgetown
Located halfway between Charleston and Myrtle Beach, Georgetown is a great overnight stop on The Coastal Route. Situated on Winyah Bay, it is known for its beautiful scenery, antebellum architecture, and quaint downtown area with unique shops and restaurants.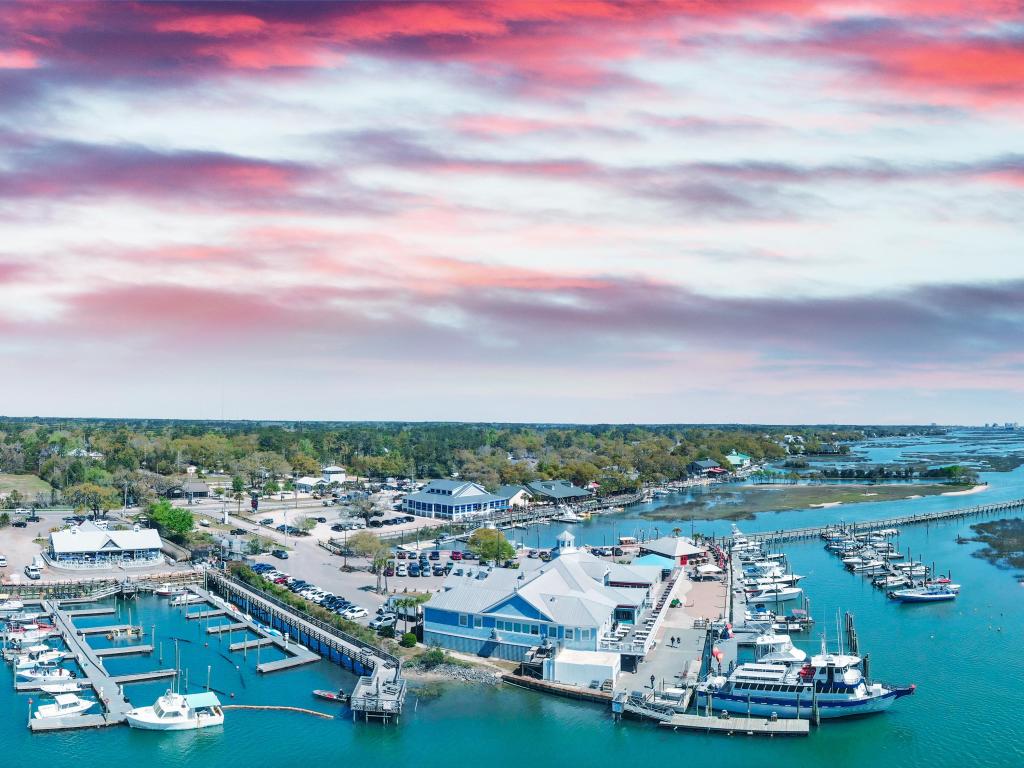 Visiting Georgetown's Historic District is a must if you're even remotely interested in history. The district is filled with beautifully preserved homes, churches, and other buildings, dating back to the 18th and 19th centuries, offering a glimpse into the town's rich history.
Coastal South Carolina is also famous for its unique marshlands. For exploring the stunning coastal estuary, forests, and wetlands, as well as a variety of historic structures and artifacts, visit the 16,000-acre Hobcaw Barony wildlife refuge.
For a more relaxed walk amidst the harbor and marshland, stroll the Georgetown Harborwalk, a boardwalk along the Sampit River with shops, restaurants, and historic buildings.
Located right off US-17 and close to most of Georgetown's attractions, Hampton Inn Georgetown-Marina is a superb hotel for an overnight stop.
After a day of exploration, unwind at their outdoor pool and then retire in your comfortable rooms with awe-inspiring views of the marina.
What we love the most about this hotel is that they offer free parking for guests. Before you hit the road in the morning, don't forget to enjoy a complimentary breakfast at the property.
Enjoy the serene Lake Marion at Santee
Santee is almost halfway between Charleston and Columbia and is a practical stop for road trippers. Known for its beautiful and expansive lake - Lake Marion, you can also enjoy the natural scenery at the Santee State Park.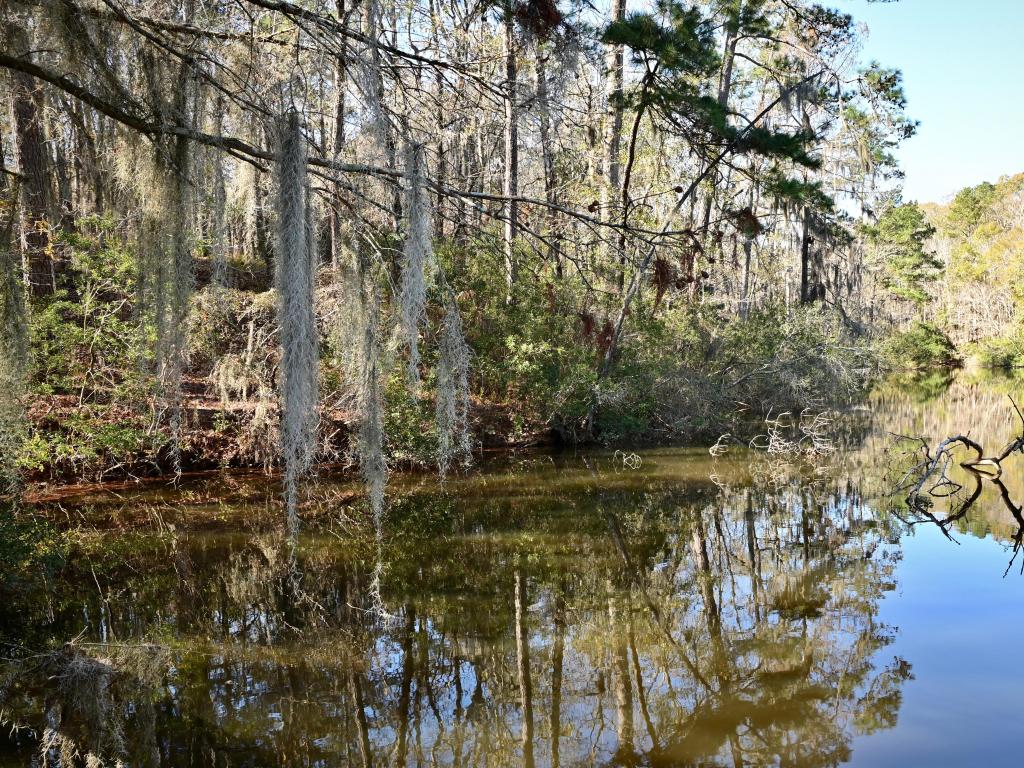 While you can experience fishing and boating at Lake Marion, you can engage in various outdoor activities like hiking and biking at Santee State Park. Both places are excellent spots for nature lovers.
If you wish to sharpen or show off your golfing skills, spend an afternoon at the Santee National Golf Club, known for its excellent golf course. Designed by golf legend Mark McCumber, the club is in a scenic area and provides an enjoyable golfing experience for all skill-level players.
Fairfield Inn & Suites Santee is one of our all-time favorite hotels, located a short drive from the city's major tourist attractions. Besides the comfy rooms and excellent location, you'll appreciate their beautiful sun terrace.
The hotel offers free bikes, which allow you to explore the surroundings leisurely, leaving your cars behind. For a laid-back afternoon, chill at their fantastic outdoor poolside and enjoy a bite at their cool snack bar.
During your stay, you can choose between continental, American, or buffet breakfast before starting your itinerary. If traveling with family, one of the must-visit spots near the hotel is Santee Recreation and Water Park.
Where to stay when you reach Myrtle Beach
For a slice of luxury, stay at the Marriott Myrtle Beach Resort & Spa at Grande Dunes when you reach Myrtle Beach. If you adore beaches and the beachfront experience is on your bucket list, this hotel is right for you.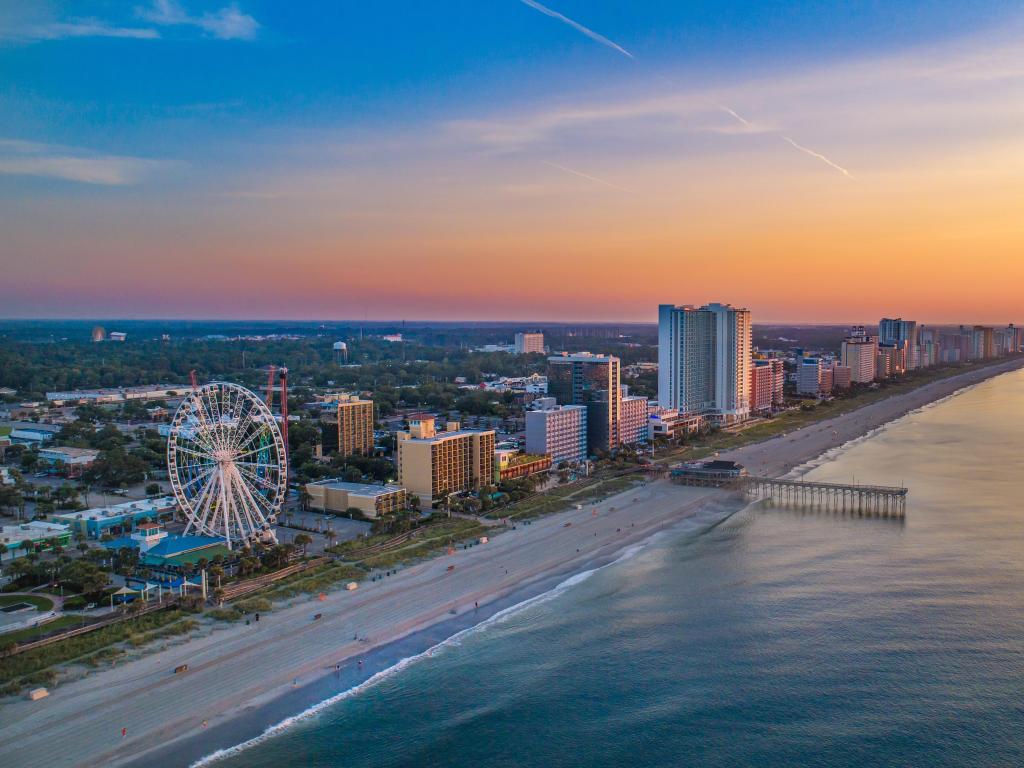 You can enjoy excellent on-site amenities like two golf courses, a spa, and multiple pools, including an oceanfront infinity pool. When hungry, you can dine at one of several fantastic on-site restaurants.
While you enjoy the world-class five-star luxury, you'll be just a short drive from popular attractions like Myrtle Beach Boardwalk and Broadway at the Beach.
Things to see on a road trip from Charleston to Myrtle Beach
However long or short the route, we always find the best things to do and the must-see hidden gems for all our road trips. Here's our list of things to see on both routes to Myrtle Beach.
The Coastal Route
Brookgreen Gardens – Located in Murrells Inlet, these beautiful botanical gardens feature sculptures and wildlife exhibits and offer tours.
Huntington Beach State Park – In Murrells Inlet, this state park offers hiking trails, bird watching, and beach access.
Atalaya Castle – Located within Huntington Beach State Park, this historic castle is open for tours and provides insight into the early 1900s life of the wealthy Huntingtons.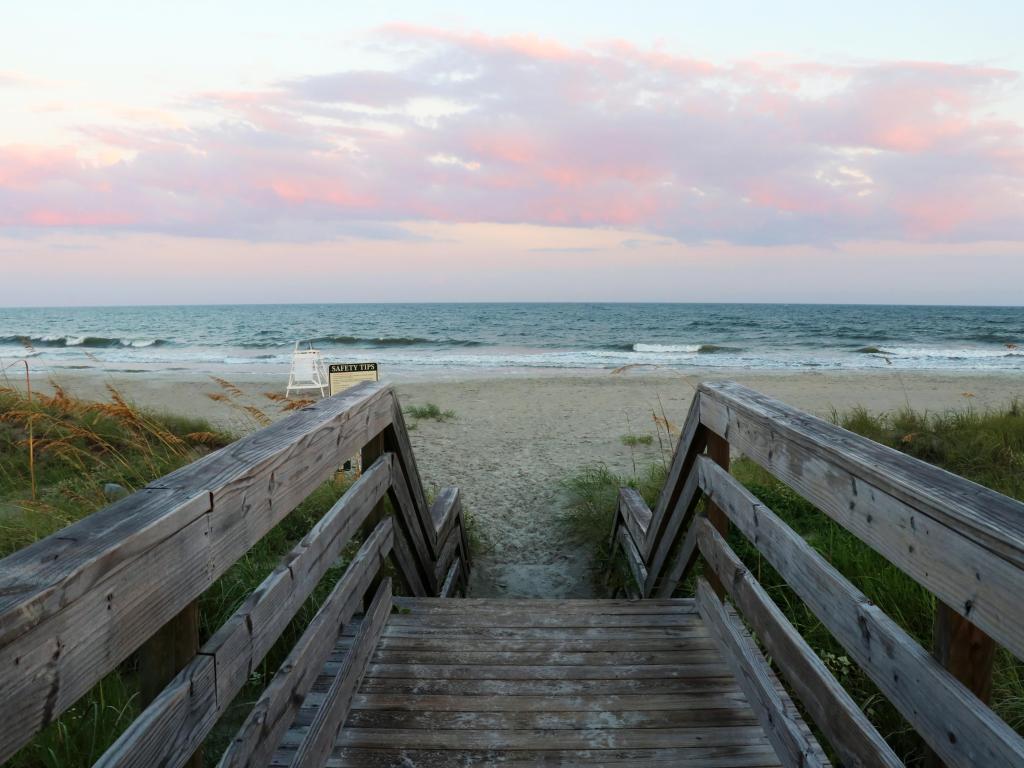 The Columbia Route
Congaree National Park, Hopkins, South Carolina – It is a beautiful park with hiking trails and boardwalks through old-growth forests and a swamp. Get close to nature and experience a unique ecosystem at this site.
South of the Border, Dillon, South Carolina – This quirky and colorful roadside attraction offering plenty of photo opportunities, restaurants, and souvenir shops has been popular with road trippers for over 60 years.
Lake Murray, Columbia, South Carolina – It is a beautiful lake with plenty of recreational opportunities like boating, fishing, and swimming. There are also parks and trails around the lake for those who prefer to stay on land.
Riverbanks Zoo and Garden, Columbia, South Carolina – An excellent destination for families and animal lovers, this large zoo has a wide variety of animals and exhibits, including a botanical garden.
Santee State Park – You can engage in many outdoor activities, like hiking, biking, fishing, and boating. The beautiful lake and the surrounding campground are indeed a nature's paradise.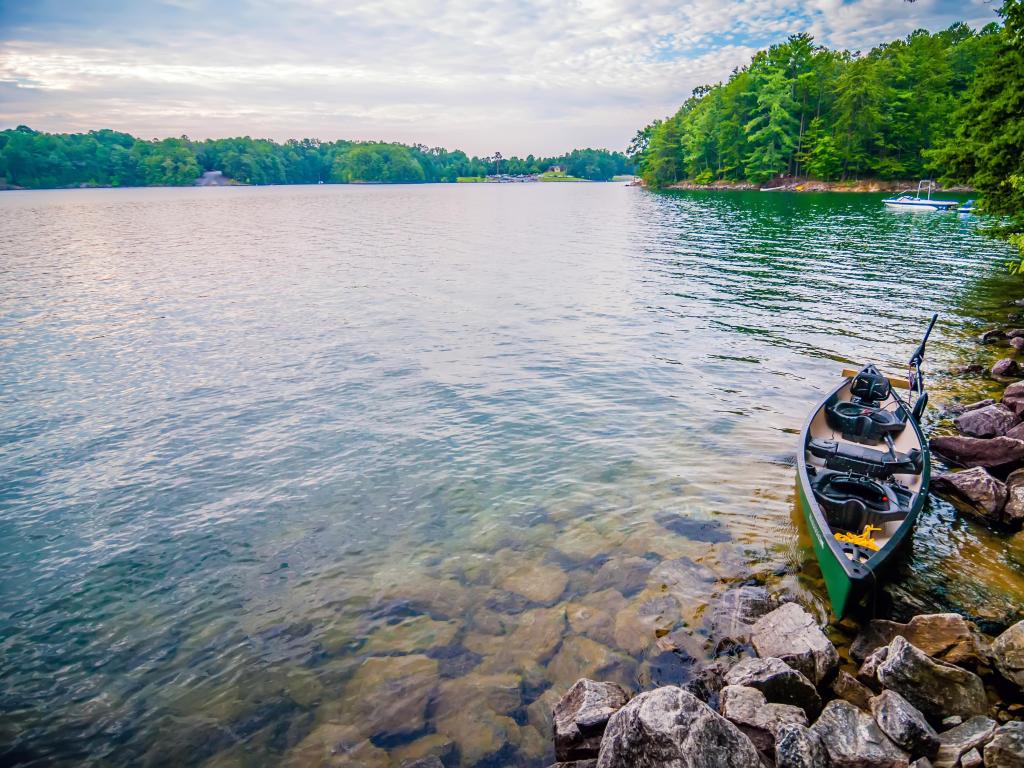 Both routes
Broadway at the Beach, Myrtle Beach, South Carolina – One of the most-visited tourist destinations on Myrtle Beach, it is an extensive outdoor shopping and entertainment complex with restaurants, shops, and attractions like an aquarium, an amusement park, and a zip line.
The Market Common, Myrtle Beach – You can enjoy shopping and entertainment at this massive complex featuring a variety of shops, restaurants, and a movie theater.
Myrtle Beach Boardwalk and Promenade – Stretching 1.2 miles along the beach, this boardwalk offers stunning ocean views, amusement park rides, shops, and restaurants.
The Battery, Southern tip of the Charleston peninsula – The Battery is a historical landmark with beautiful views of the Charleston Harbor. You can stroll the area leisurely and admire the stunning antebellum mansions that line the streets.
Fort Sumter National Monument, located on an island in Charleston Harbor – The first shots of the Civil War were fired at this very place. You can take a ferry to the fort and explore the museum, learn about the history, and soak in the scenic views of the harbor.
The Charleston City Market – This historic market dates to the 1800s and is a great place to find unique souvenirs and local crafts. It is also a fun spot to grab a bite and enjoy live music.
Rainbow Row, Bay Street – Rainbow Row is a series of brightly colored historic houses that are a popular spot for photos. It is a beautiful and unique sight that captures the charm and character of Charleston.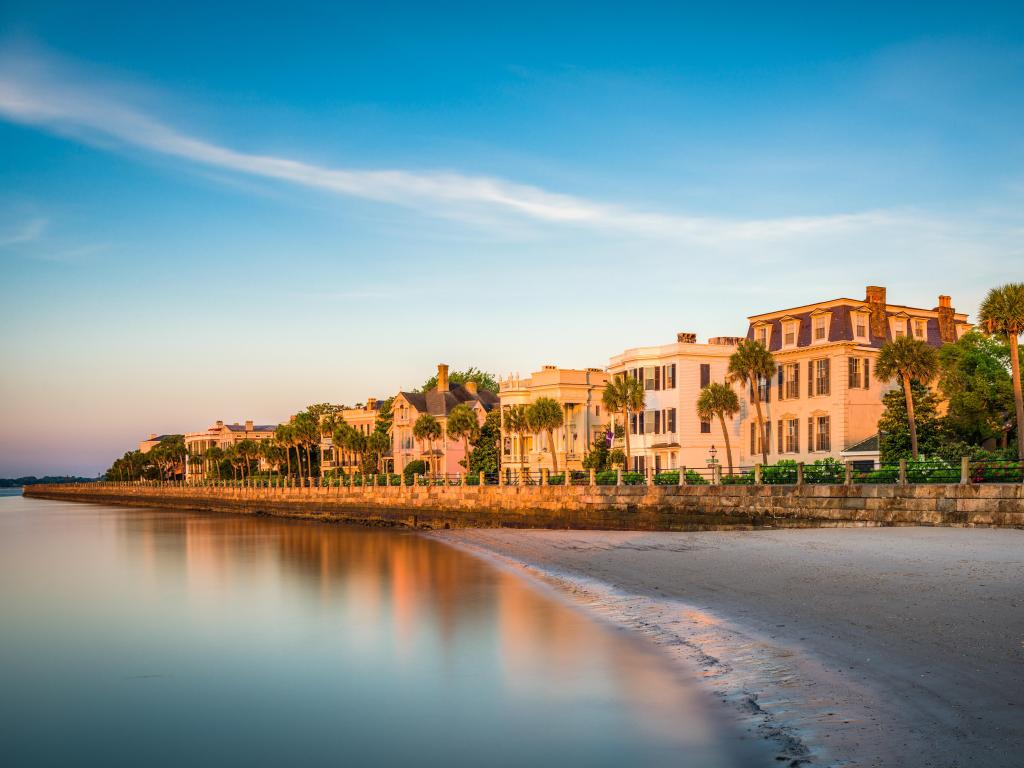 Best time to go on a road trip from Charleston to Myrtle Beach
You can visit Myrtle Beach anytime during the year with a few weather considerations. It has many indoor attractions, such as museums, theaters, and shopping centers, making it a great destination all year round.
The summer months from June to August are the busiest, warmest, and ideal for outdoor activities like golfing, swimming, and sunbathing. Temperatures in Myrtle Beach during the summer average around the high 80s to low 90s Fahrenheit so it can be pretty hot and humid.
If you don't enjoy crowded destinations, you may want to avoid Myrtle beach during summer.
Myrtle Beach is generally cooler and less crowded in winter, with average temperatures ranging from the high 40s to the low 60s Fahrenheit. While it may not be as warm and sunny as in the summer, you can enjoy plenty of indoor attractions.
The fall and spring months are mild and comfortable, making it a great time to enjoy outdoor activities and avoid crowds. The temperatures in spring and fall generally range from the mid-60s to the mid-70s Fahrenheit, and the seasons are an excellent opportunity to witness blooming flowers and foliage.
Although hotel prices are affordable during these seasons, they also fluctuate depending on events and festivals happening in the area.
Myrtle Beach hosts many annual events throughout the year, like the Myrtle Beach Bike Week in May and October, Carolina Country Music Fest in June, Beach, Boogie & BBQ Festival in September, and Myrtle Beach Oktoberfest in October.