Road Trip from Charleston to Savannah
If you're traveling from Charleston, South Carolina to Savannah, Georgia, why not take your time to experience all the amazing sights along the way? These two detours are perfect for travelers looking to get better acquainted with beautiful South Carolina and Georgia.
This road trip from Charleston to Savannah will take you 270 miles and 6 hours and 30 minutes to drive. You'll visit Folly Beach, Kiawah Island, Hunting Island State Park, Hilton Head Island, Moncks Corner, Santee, Columbia, and charming Augusta.
You'll discover South Carolina's beautiful coastline, including the famous Hilton Head Island on the South Carolina Islands Detour. Or, you can travel deep into the state's forests and wetlands before visiting bustling Augusta and artistic Columbia on the Inlands Detour.
How far is Savannah from Charleston, and how long will the road trip take?
Comparison of road trip routes between Charleston and Savannah

| Route | Distance | Driving Time |
| --- | --- | --- |
| The South Carolina Islands Detour | 270 miles | 6 hours 30 minutes |
| The Inland Detour | 340 miles | 6 hours 50 minutes |
| The Direct Route | 150 miles | 2 hours 30 minutes |
The road trip from Charleston to Savannah will take you 2 hours and 30 minutes to complete, covering 150 miles on the most direct route. However, you will be missing out on beautiful sights and experiences if you choose this faster route.
The South Carolina Islands Detour is longer and will cover 270 miles, taking 6 hours and 30 minutes to drive nonstop without accounting for any stops.
Even longer than the South Carolina Islands Detour is The Inlands Detour, which will take 6 hours and 50 minutes to drive and span 340 miles. This route takes you deep into the beautiful forests of South Carolina, stopping in small towns and natural areas along the way.
Although you can easily do this trip in a day, you'll have an unforgettably fun road trip by following one of these detours. Since there's so much to see, we recommend taking two to three days on your way to Savannah.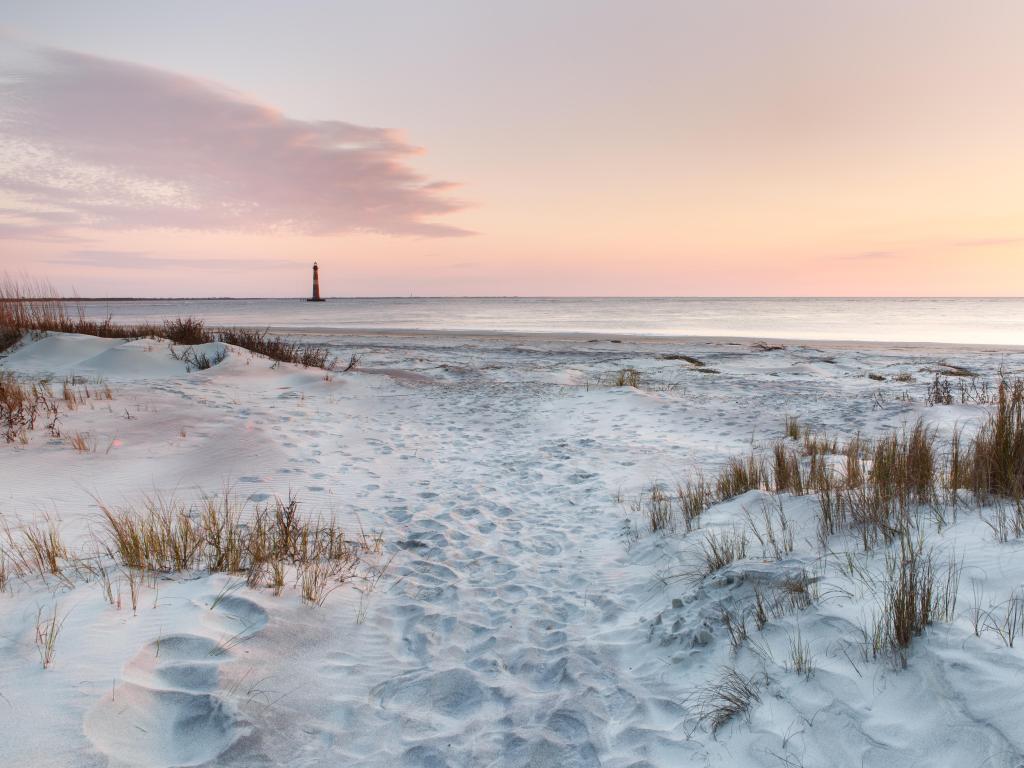 Best road trip route from Charleston to Savannah
Depending on what you want to see, you'll drive through some of the most beautiful and iconic landscapes of the American South.
The two detour routes take you through equally rich scenery and historical places. Depending on what you want to see, you'll get to explore amazing landscapes and cultural sights regardless of which route you choose.
On the South Carolina Islands Detour, you'll explore the state's coastline as well as its many islands and beaches. Stops include Folly and Edisto Beach, Kiawah and Hilton Head Islands and the beautiful Hunting Island State Park.
However, its smaller roads might be less maintained than the direct route's larger interstates and highways. However, these smaller, winding roads will take you through South Carolina's inspiring green spaces and coastline.
The leisurely Inlands Detour takes you through the beautiful forests of South Carolina, stopping in smaller towns including Moncks Corner, Cross, Santee, Elloree, and Orangeburg. You'll also pass by several lakes including Lake Marion and Lake Moultrie.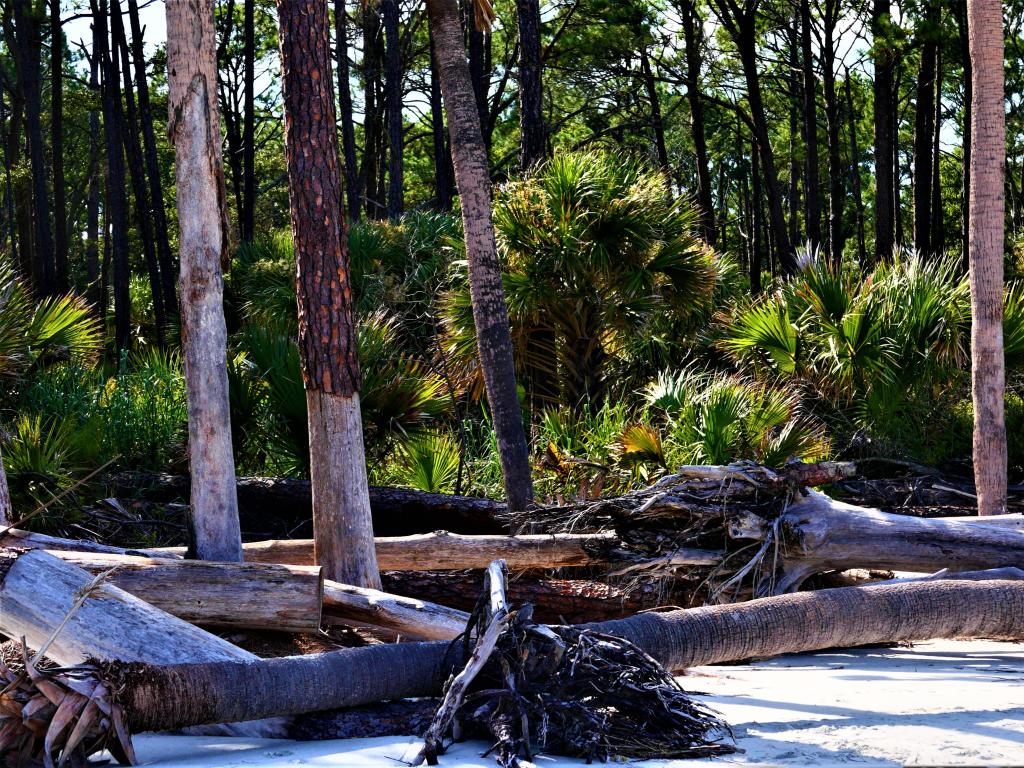 South Carolina Islands Detour
From Charleston, take Highway 171 to Folly Beach to enjoy the beautiful white sand. Next, take the short drive to Kiawah Island to play a few rounds at its world-class beachside golf courses.
Next, get back on the road and wind your way over to the lush Edisto Island and explore the town of Edisto Beach. Famous for its reptile zoo, Edisto is sure to be a thrilling place to spend a few hours.
Continue on to Hunting Island State Park and check out its famous lighthouse and beautiful beaches. Once you've gotten your fill of fun in the sun, continue on to Hilton Head Island.
Hilton Head is full of endless beaches, golf courses, and restaurants to explore. From Hilton Head Island, Savannah is only 45 minutes away.
Inland Detour
Take US-52 north from Charleston to the beautiful town of Moncks Corner. Next, on your way to Santee, make a short stop at the lakeside town of Cross.
From here, continue on to Santee. Here, you can explore lakeside trails and picnic areas before driving through the charming towns of Elloree and Orangeburg on your way to Columbia.
After getting to know Columbia's museums and downtown, head southwest on Interstate 20 (I-20) to beautiful Augusta, Georgia. Once in Augusta, enjoy the city's lively art scene and restaurants before making your way to Savannah.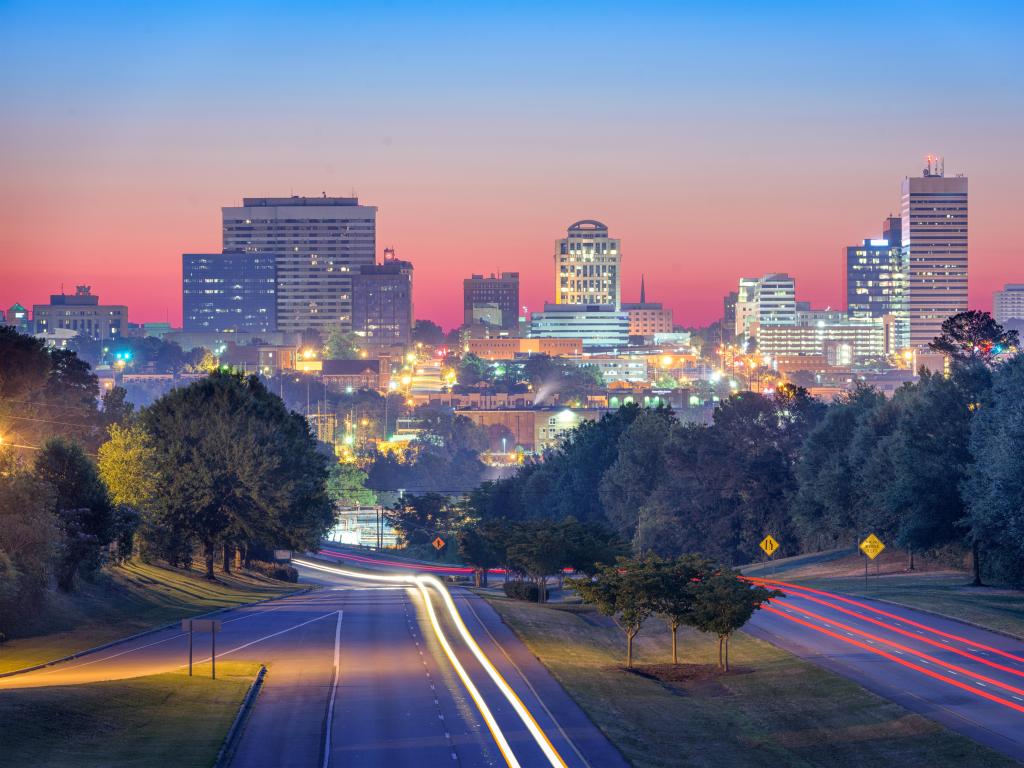 Best places to stop between Charleston and Savannah
Although the direct distance is not very long, you'll want to split this trip up to enjoy all the amazing experiences this region has to offer.
From fun coastal activities to exciting art and food walks, there's plenty of fun and relaxation to enjoy by staying in one of these destinations along the way.
Explore the island life on Hilton Head Island
We recommend breaking up the South Carolina Islands Detour with a restful stop in Hilton Head Island. At just over halfway, Hilton Head is regularly voted as one of the best vacation destinations in the world.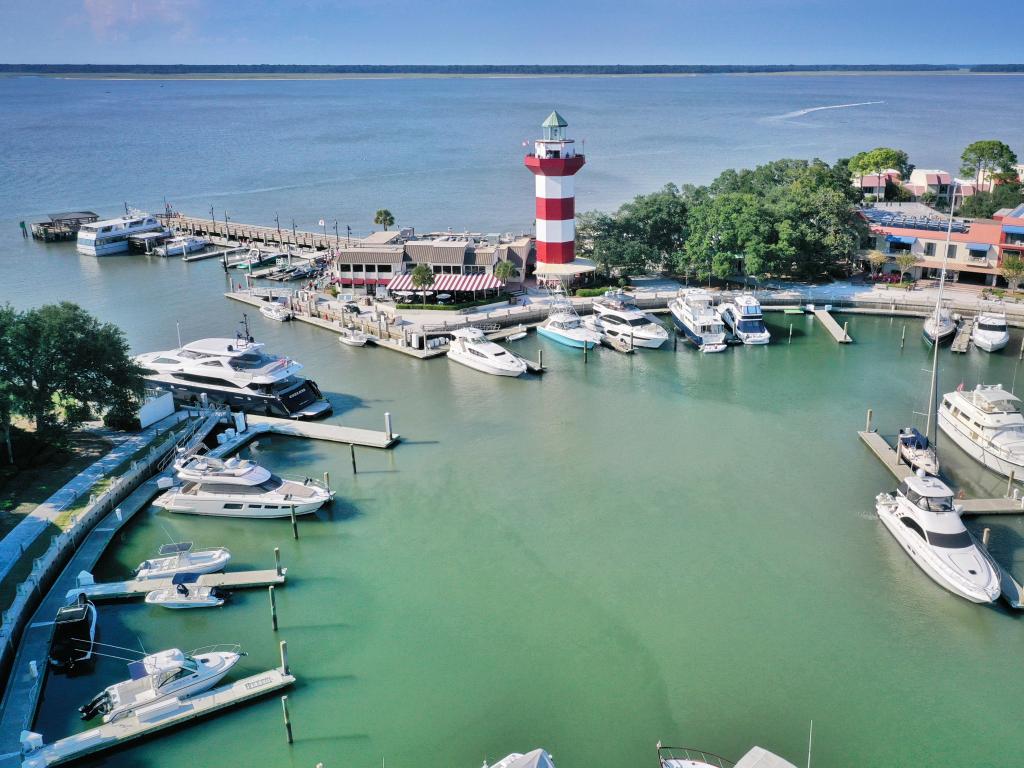 With its celebrated beaches and world-renowned golf courses, this little island is the perfect place to stop overnight after a day exploring the coastline.
Biking and walking trails tie together the many hotels and attractions on this little island. You can easily explore its major attractions like Coligny Beach Park and the Coastal Discovery Museum on foot.
For a luxurious rest during your visit to Hilton Head Island, you cannot go wrong with Inn and Club at Harbour Town. Just a stone's throw away from the white, sandy beaches and boasting beautiful golf courses, this hotel is the perfect place to take a few days to relax.
Enjoy art and culture in Augusta
Just over halfway from Savannah is Augusta, Georgia on the Inland Route. After traveling through smaller towns, Augusta brings a welcome change with its historic architecture and many cultural attractions.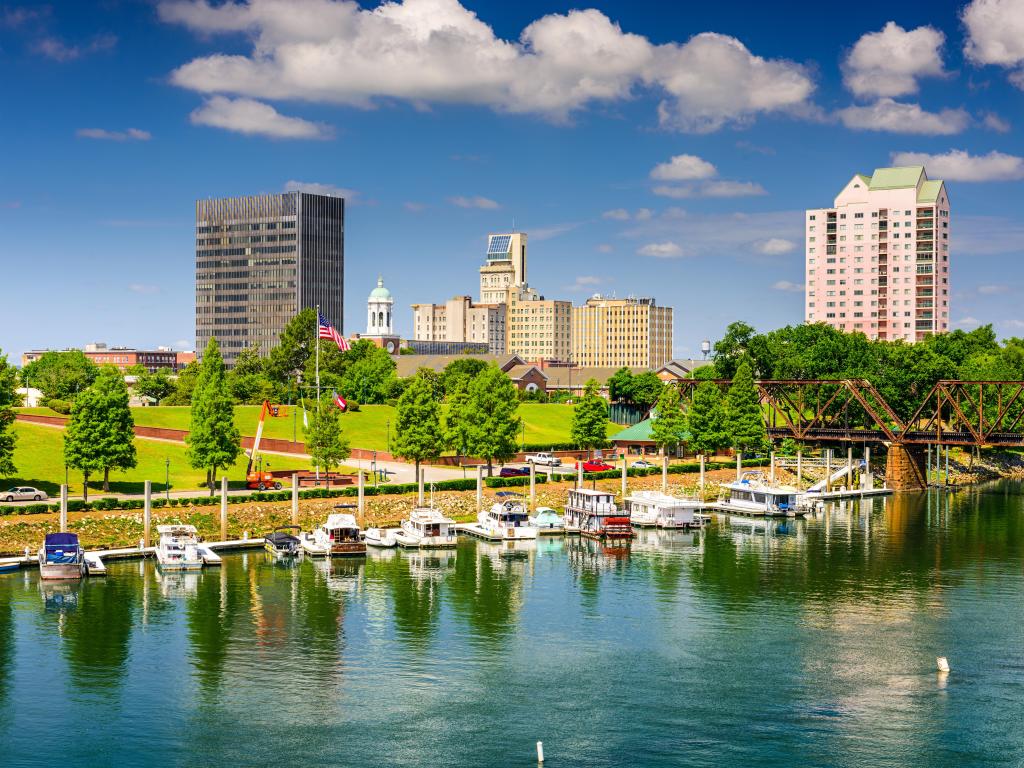 Augusta is famous for its thriving arts community, as well as for being the host city of the Masters Golf Tournament. This city is also celebrated for its rich history and for being the home of several artists, including James Brown and Jessye Norman.
After your long drive through the countryside of South Carolina, there is no better place to spend the night than the Hyatt House Augusta Downtown. Located in the heart of the city, it boasts a fantastic on-site restaurant.
Some rooms are fully equipped with kitchens in case you want to test your skills at making Southern Cuisine.
The hotel is walking distance from many of Augusta's signature attractions like Artists Row, Gensheer's Studios and Gallery, and the Morris Museum of Art. If you need a break from the downtown crowds, walk over to Springfield Village Park.
Where to stay when you reach Savannah
When you arrive in Savannah, Georgia, you'll want somewhere central to relax with luxurious amenities. We recommend the JW Marriott Savannah Plant Riverside District.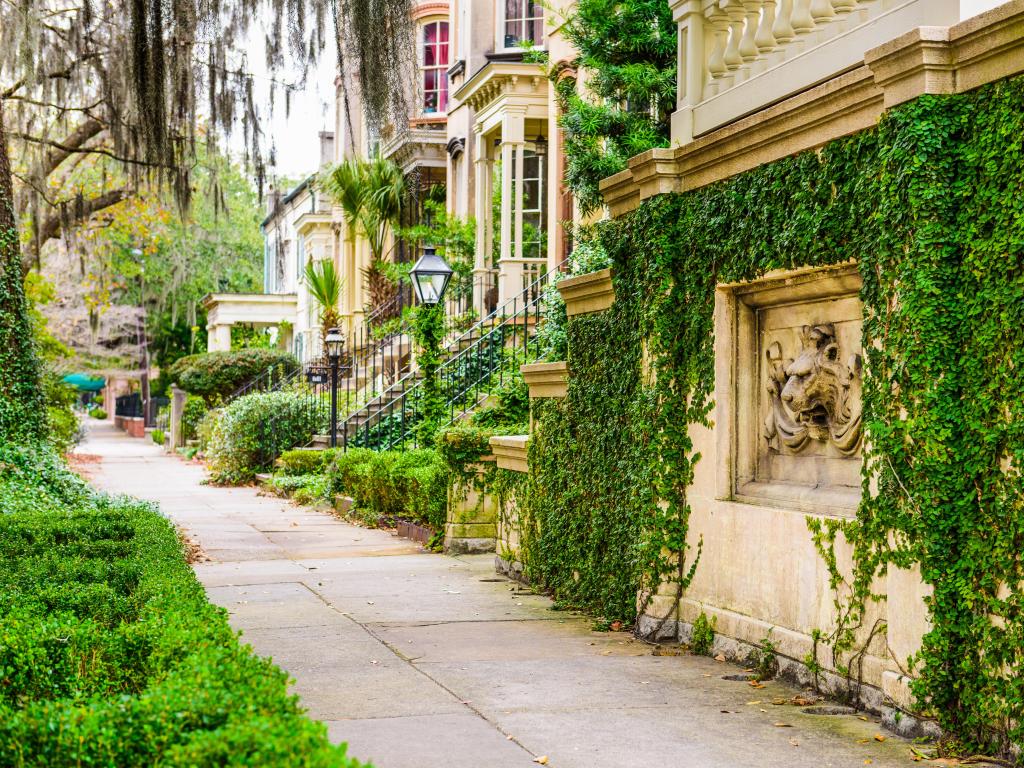 Centrally located in the heart of the historic Savannah riverfront, the hotel has three unique buildings that house a full-service spa and several dining options. It's within walking distance of most of Savannah's attractions, including the must-see entertainment district.
When you venture out to explore this beautiful and historic city, you will find the River Street Train Museum, City Market, Franklin Square and Ellis Square within a short distance from the property, which makes it a perfect base as you enjoy your time in Savannah.
Things to see on a road trip from Charleston to Savannah
There's so much to see and do on a road trip from Charleston to Savannah. From historical places and unbeatable nature, you're sure to find several places and activities that make this road trip one of a kind.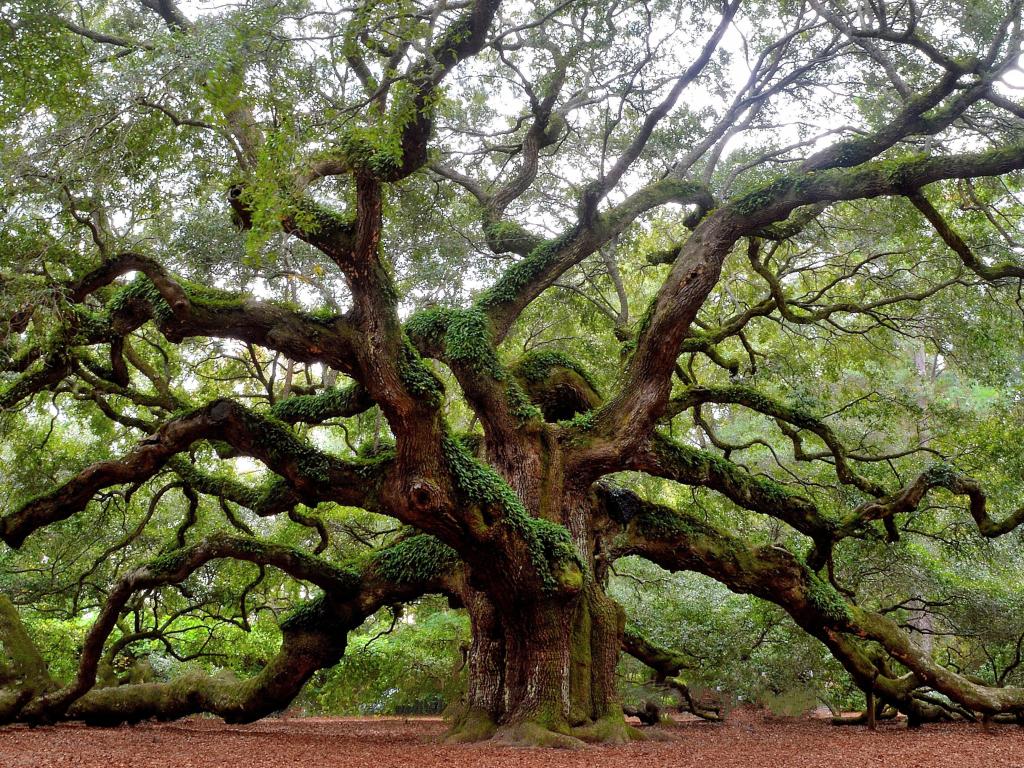 The South Carolina Islands Detour
Angel Oak Tree - This legendary and now Instagram-famous oak tree is over 600 feet tall with a wide canopy of tangled branches.
Charleston Tea Garden - Perfect for tea lovers, this tea garden is the only one of its kind in North America and admission is free! Take a tour of their tea factory while you're there.
Dungannon Plantation Heritage Preserve/ Wildlife Management Area - A 643-acre wooded preserve located amidst the rivers and lakes of South Carolina. It has plenty of hikes, hunting, and birdwatching opportunities.
Edisto Island Serpentarium - For the brave-hearted, this zoo and reptile sanctuary has dozens of snakes and other cold-blooded creatures on display throughout their indoor and outdoor gardens.
Pon-Pon Chapel of Ease - Take in the ruins of this beautiful and historic facade, which is currently being rebuilt after it incurred damage during a storm in 2020.
Henry C. Chambers Waterfront Park - This celebrated riverfront park offers tons of green space as well as a playground and stage. Perfect for a walk or lunch break.
Verdier House - Built in 1804, this newly restored grand mansion is a wonderful example of Federal-style architecture. 30 minute tours are available every day except Sunday.
Victoria Bluff Heritage Preserve - Boasting over 1,100 acres of nature trails, this park offers tons of opportunities for bird-watching and wildlife viewing.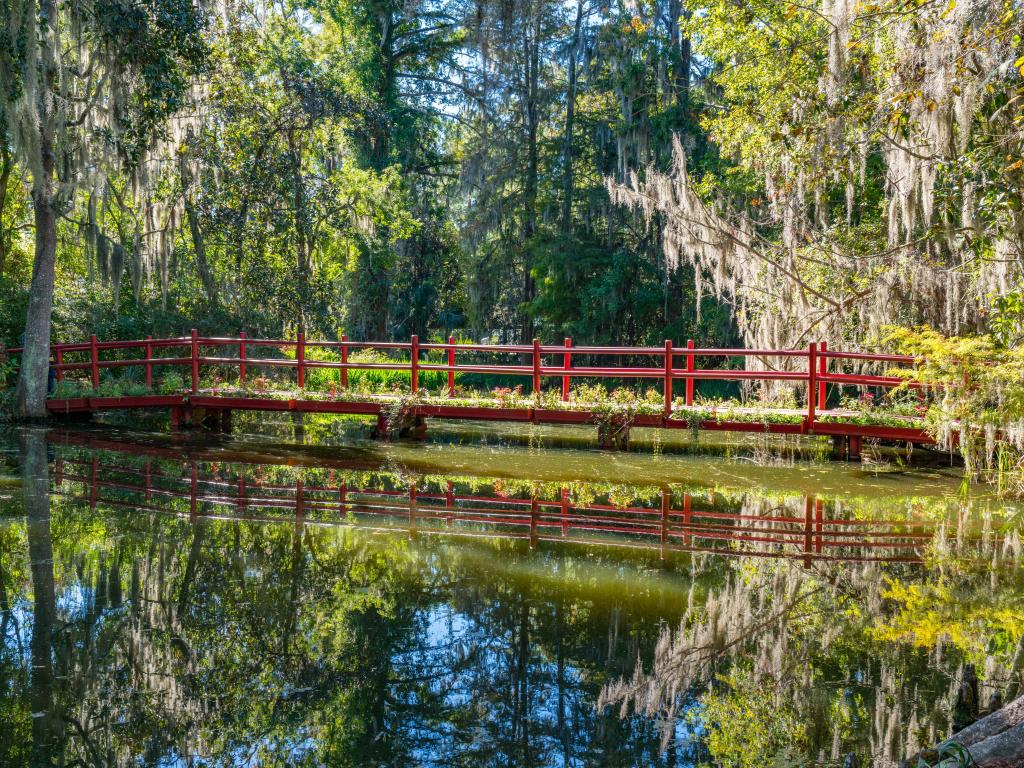 The Inlands Detour
Santee State Park - Located along the shores of Lake Marion, this well-maintained state park offers lakeside trails and picnic areas.
Camden Archives and Museum - About half an hour off-route, this local history museum boasts exhibits containing indigenous artifacts and genealogical records.
Columbia Museum of Art - Boasting a rich collection of permanent contemporary and historic art, this museum in downtown Columbia also offers tours and interesting temporary exhibits.
Riverbanks Zoo and Garden - Featuring a birdhouse, botanical gardens, a penguin enclosure and reptile galleries, this zoo is full of various animals from around the world.
South Carolina State Museum - Housed on four floors of a former textile mill, this contemporary museum offers exhibits on a variety of subjects including art, nature, history, and science & technology.
Redcliffe Plantation State Historic Site - This historic plantation is now a museum dedicated to exploring and showcasing what life was like in the 19th century south, including the legacy and hardships caused by slavery in America.
Cypress Gardens - This swamp garden is filled with towering cypress trees and has become a favorite Hollywood filming spot. It was featured in the movies The Notebook and Cold Mountain. Take a boat tour of this property before enjoying its exciting butterfly enclosure.
Bee City Zoo and Honeybee Farm - Offering hands-on and interactive experiences with wildlife ranging from snow leopards to tigers, this zoo is a must-visit for all animal lovers.
McLeod Plantation Historic Site - Take a walk along the grounds of this massive plantation, complete with a Georgian-style mansion and slave cabins, where you can learn more about this dark period in American history.
Savannah National Wildlife Refuge - Located just outside of Savannah on the border of Georgia and South Carolina, this 29,000-acre refuge features a visitor center and a 4-mile drive.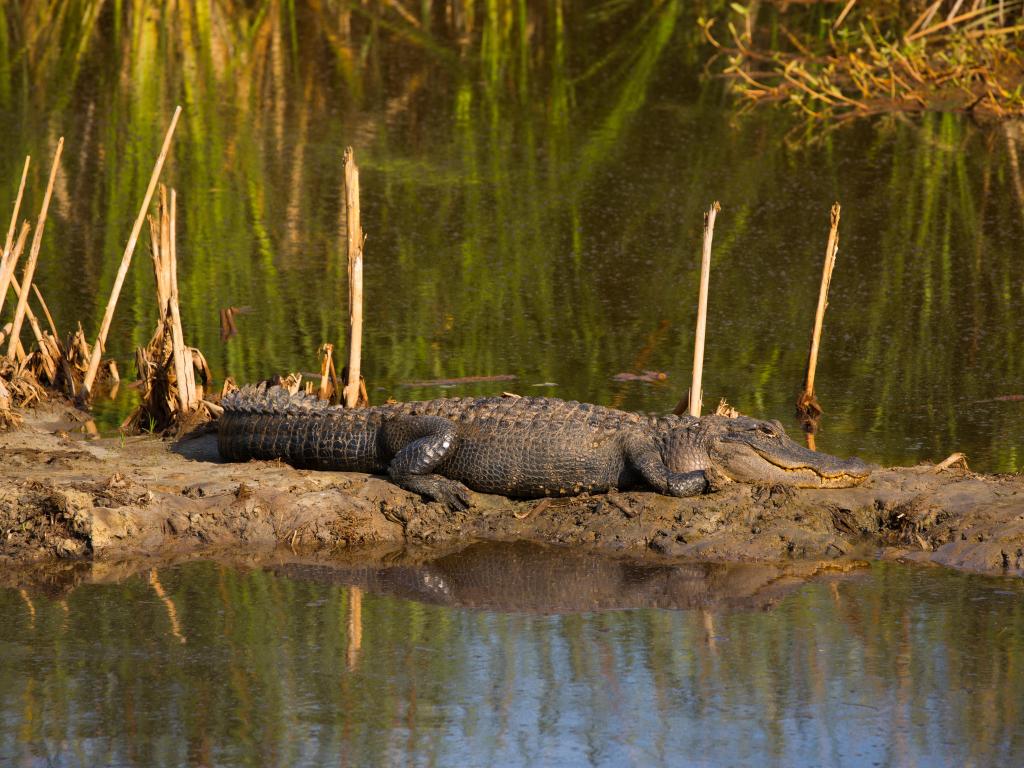 Best time to go on a road trip from Charleston to Savannah
While Savannah is certainly beautiful year-round, its hot and humid summers make it a destination best enjoyed during the spring, fall, and winter.
However, this bustling city full of beautiful architecture and southern cuisine offers tons of year-round activities and festivals to keep you entertained and busy during your stay.
Like many parts of the American South, Savannah enjoys incredibly hot and humid summers, with an average daily high temperature above 85 degrees Fahrenheit. This season also brings lots of precipitation and humidity, so make sure to pack accordingly.
While the heat may be oppressive to some, it still brings out tons of celebrations and events. Also, hotels and tours have been known to offer discounts to draw in visitors during these hotter months.
Winter is a great time to visit the city, as the temperatures tend to be a bit more temperate due to the city's proximity to the coast, ranging between 40- and 70 degrees Fahrenheit.
Savannah is celebrated for its beautiful Christmas decorations, making it a great destination for those looking to get into the holiday spirit in December.
Spring and fall are both wonderful times to discover this historic city. Spring brings the blooming of Savannah's signature pink azaleas and a bevvy of musical events, like the Savannah Stopover, Savannah Music Festival. It also has pleasant temperatures ranging between 48- and 85 degrees Fahrenheit.
Fall sees similar temperatures and a whole host of fun festivals and events. The most famous include the Savannah Film Festival, Bacon Fest, and the Tybee Island Pirate Fest.