Can you Drive to Tasmania?
Tasmania is an island of outstanding natural beauty located 240 kilometres south of mainland Australia. This scenic wonderland is filled with picture-perfect beaches, towering mountains and rugged cliff edges, as well as UNESCO-listed landmarks. Besides the great outdoors, the capital Hobart, albeit small, is bustling with cafes, marketplaces, and scenic overlooks.
It is not possible to drive directly to Tasmania, but you can access the island by boat. Visitors can take the Spirit of Tasmania car ferry from Geelong and cross over the Bass Strait, which takes 10 hours to cover a distance of 380 nautical kilometres.
Keep reading to discover the best travel options for reaching this beautiful island, including when to drive, how best to get there and places to see en route.
Can you drive to Tasmania?
Tasmania is an Australian island state and the country's lowest point. It is located 240 kilometres south of the mainland across the Bass Strait. To the southeast sits New Zealand across the Tasman Sea.
It takes 10 hours to make the crossing from mainland Australia to Tasmania. The Spirit of Tasmania car ferry leaves from Geelong, which is the second largest city in Victoria after Melbourne. The departure port is North Geelong, just about 10 kilometres along the Geelong Waterfront.
From North Geelong, it is a journey of 376 nautical kilometres to arrive in Devonport, Tasmania. The car ferry is the most popular and direct way to make the crossing, though there is also the option to take a 5 or 6-night cruise from Sydney to Hobart.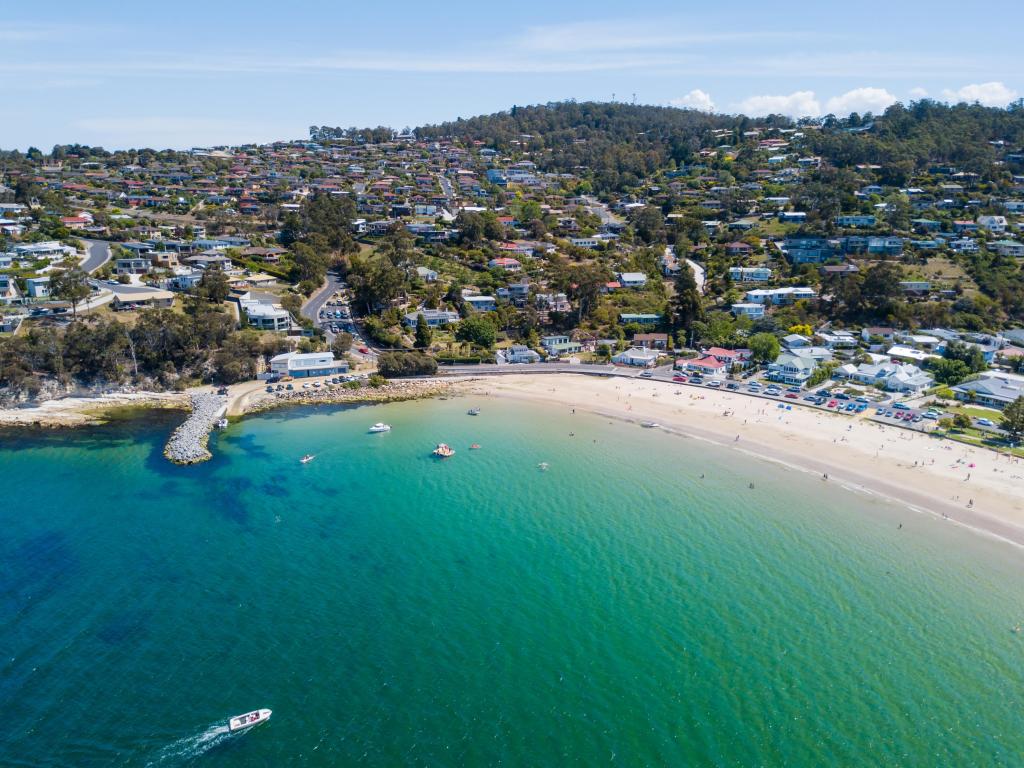 There are airports in Tasmania, the main ones being Hobart and Launceston, with many direct flights from mainland Australia. While flying is the most time-efficient way to travel, the ferry is more frequent and you can take your car.
Considering the island of Tasmania is approximately 65,000 kilometres squared (a similar size to Switzerland), we recommend having a car. Hiring a car can bump up the price of your trip, while public transport won't take you to the more remote and beautiful parts of the island.
How to drive to Tasmania from mainland Australia
Some of the main ways to reach Tasmania from mainland Australia
Departure Point
Arrival Point
Mode
Operator
Crossing Time
Fare
Melbourne
Launceston
Flight
Jetstar, Virgin Australia and Qantas
1 hour
From $120
Sydney
Launceston
Flight
Jetstar, Virgin Australia and Qantas
1 hour 30 minutes
From $150
Sydney
Hobart
Flight
Jetstar, Virgin Australia and Qantas
1 hour 50 minutes
From $150
Gold Coast
Hobart
Flight
Jetstar
2 hour 40 minutes
From $270
Geelong
Devonport
Vehicle ferry
Spirit of Tasmania
11 hours 40 minutes
From $200


Plus $200+ for vehicle

Sydney
Hobart
Cruise
Celebrity Cruises
5 nights
From $800
Sydney
Hobart


via Eden

Cruise
Celebrity Cruises
6 nights
From $1,450
*Prices calculated at the time of writing for 1 person, return trip. Please check the provider's website for up-to-date prices.
It is a simple drive from central Geelong to the North Geelong port, from which you can board the ferry.
Starting at Geelong waterfront, hug the bay to drive along Ritchie Boulevard, Eastern Beach Road, Western Beach Road and Mercer Street to get on the Princes Highway. You'll pass the golden beaches of Geelong, as well as the National Wool Museum.
Follow this road into North Geelong and take the exit towards Corio Quay to arrive at the Spirit of Tasmania Quay. You can take a quick detour here to hit up the Geelong Vintage Market to pick up some pre-loved antiques or clothing. From here, board the ferry to arrive in Devonport, Tasmania.
If you are driving from Melbourne, take State Route 30 to M1, then take the exit towards C115. Follow signs for Shell Parade, then turn right onto Abery Road. At the roundabout, take the exit for Corio Quay, then continue on to reach the Spirit of Tasmania Quay.
The Geelong to Devonport car ferry runs daily, with two ferries per day in the summer in the morning and evening. In winter there are one or two ferries per day, with one ferry operating on Christmas and New Year's Day.
The Spirit of Tasmania costs approximately $100 each way for an adult return ticket, and the same price for a car. Therefore, the total price for a return journey should cost around $200 if booked in advance.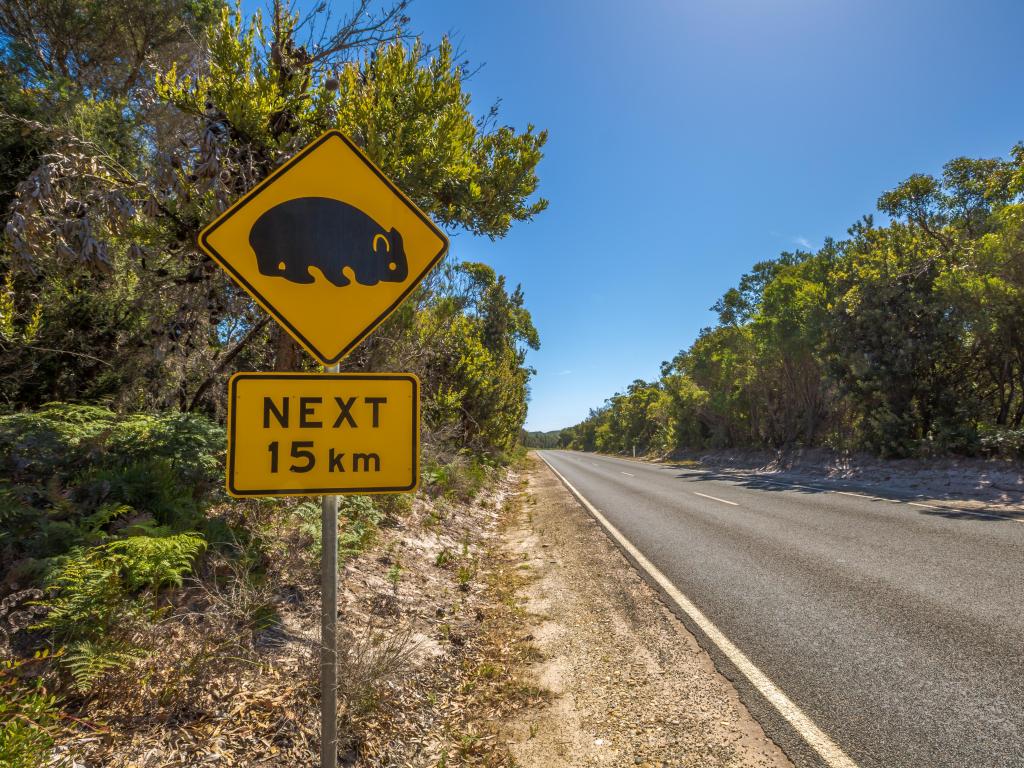 Alternatively, you can choose to take one of the passenger cruises from Sydney to Hobart. These routes are run by Celebrity Cruises and there is only one opportunity to board each cruise per year - so book well in advance if this option is for you. There are two routes - a direct cruise from Sydney to Hobart over 5 nights, or a 6-night cruise via the coastal town of Eden. Note that cars are not permitted on either cruise route, and prices range from $800 to $1,450.
If you'd prefer to fly, there are frequent commercial flights available from most major Australian cities, including from Gold Coast, Sydney and Brisbane to Hobart. Alternatively, you can fly to the northern Tasmanian city of Launceston from Sydney, Brisbane or Melbourne.
Flight prices range from $120 return to $290 return depending on the length of the journey. The cheapest flight is from Melbourne to Launceston, while the most expensive is from Brisbane to Launceston. Flight operators include Jetstar, Virgin Australia and Qantas.
How long does it take to drive to Tasmania?
As explained, any drive to Tasmania is dependent on a journey by car ferry. Therefore, door-to-door journey times will vary based on your starting city, the ferry times according to season, and whether you're able to align your car journey to coordinate with the ferry sailing schedule.
If you plan ahead, you can anticipate the following direct driving times when travelling from major cities nearby, including Geelong, Melbourne, Canberra, Adelaide, Sydney, Gold Coast, Brisbane and Perth. Each distance estimates the drive to the North Geelong ferry port and includes the ferry crossing, as set out in the table below.
Please note the check-in time on your ticket when planning your journey, which operates between 1 hour 30 minutes and 2 hours 30 minutes in advance of sailing time, and closes 45 minutes beforehand.
The shortest total driving times are from Geelong and Melbourne, whereas if you're travelling from further out in mainland Australia you could be looking at a journey time of anything from 29 hours from Brisbane on the East Coast and a whopping 47 hours from Perth on the West Coast.
Comparison of routes and transit times to Devonport, Tasmania via ferry

| Origin City | Distance | Time |
| --- | --- | --- |
| Geelong | 470 km | 11 hours 40 minutes |
| Melbourne | 520 km | 12 hours |
| Adelaide | 1,150 km | 18 hours 50 minutes |
| Canberra | 1,180 km | 19 hours |
| Sydney | 1,380 km | 20 hours 50 minutes |
| Gold Coast | 2,210 km | 29 hours |
| Brisbane | 2,290 km | 29 hours |
| Perth | 3,830 km | 47 hours |
Which port should you arrive at in Tasmania?
The Spirit of Tasmania ferry only travels to one port on the island of Tasmania, Devonport. There are no alternative routes by ferry, though you can consider a cruise of flight for a direct arrival in Hobart, or a direct flight to Launceston. If arriving in Devonport, it will take around 3 hours and 15 minutes to reach Hobart.
From Devonport, almost the whole extent of the island is accessible by car, excluding the southwest region of the island which is covered by Franklin-Gordon Wild Rivers National Park and Southwest National Park.
From Devonport, it's an easy drive to some of Tasmania's most popular attractions, including Salamanca Place and Market, Port Arthur, the Tasmanian Museum and Art Gallery, the Royal Tasmanian Botanical Gardens and Hobart Convict Penitentiary.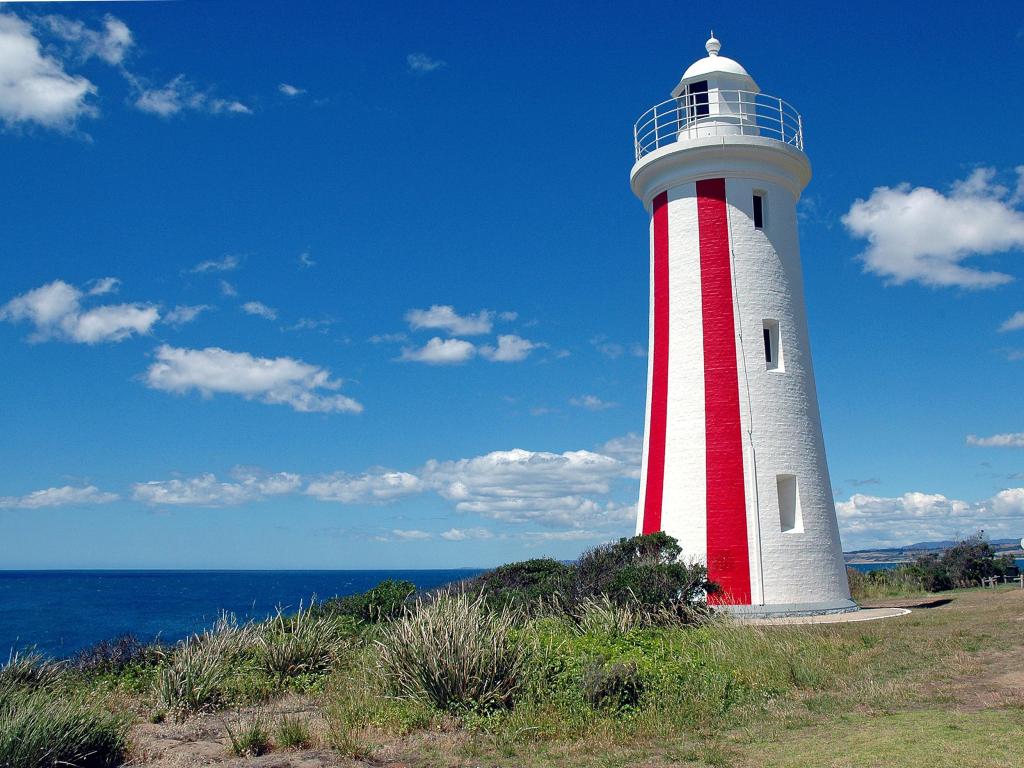 Things you need to know about driving to Tasmania
The drive to Tasmania is fairly straightforward, though you are advised to plan ahead to ensure your journey aligns with ferry times and to check ahead for adverse weather conditions that might affect the crossing.
The same driving rules apply in Tasmania as in Australia. Cars drive on the left, with city speed limits at 50 kilometres per hour and highways limited for the most part to 100 kilometres per hour.
In general road conditions are good on this journey. However, keep in mind that Tasmania is mountainous, and some roads are narrow with sharp bends - consequently, driving from place to place may take longer than maps suggest. Unsealed roads are common, so driving after rainfall isn't advised, while in winter there may be extra challenges with ice, snow and fog.
It is always a good idea to book your ferry tickets in advance, because the prices can get more expensive closer to date, and during the summer and school holidays. Booking the Spirit of Tasmania 5 months in advance most often halves the ticket price.
Here are our top tips when it comes to preparing for a drive to Tasmania:
You can drive to Tasmania without a passport if you're from Australia, but you'll need an ID such as a photo driving licence.
When flying, different airlines have varying rules, so check with the airline but to be sure, carry your passport.
You can board the ferry to settle into your cabin anywhere from 1 hour and 30 minutes before departure.
You can book the ferry up to 11 months in advance.
Standard vehicle sizes are 6m in length with a maximum width of 2m. When booking, make sure you select the correct vehicle size and state whether you'll have other items like a roof rack.
On the ferry you might not be able to stay in the car or have access to your car (check ahead), so it might be good to pack a few necessities and snacks for your time onboard. On board there are cinemas, bars, and restaurants, so don't leave your card or money in the car.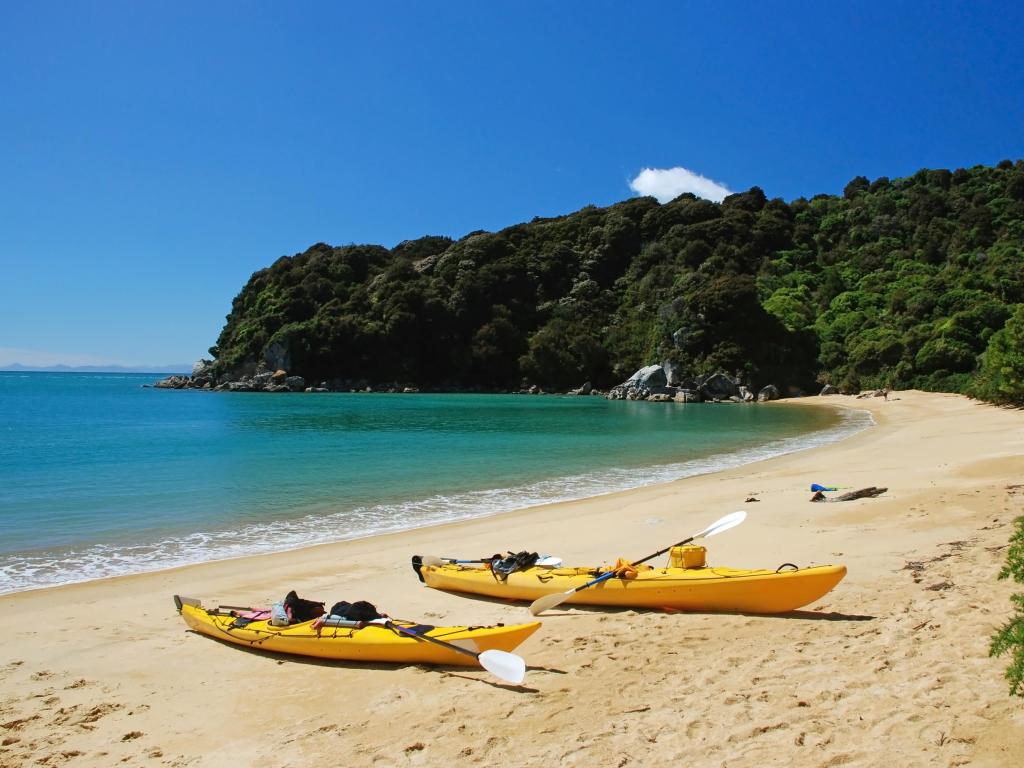 Things to see once you reach Tasmania
Driving to Tasmania is a chance to immerse yourself in the rugged landscapes of this untouched island, with the chance to come across wildlife such as wombats, wallabies and dolphins surfing the coast.
We've pulled together a list of recommendations to check out on the island.
Don River Railway - Take a vintage train ride to Cole Beach. The sandy beach is a popular spot for locals, with walking tracks and facilities such as picnic shelters, public toilets and showers.
Southern Wild Distillery - Taste the award-winning Dasher+Fisher Tasmanian gin. Distilled in Devonport, you can also tour the distillery.
Tasmanian Arboretum - The garden of trees is a great place for birdwatching. There's also a viewing platform where you can spot platypus in the waters.
Mersey Bluff Lighthouse - This red striped lighthouse is a distinct landmark. It's situated on rugged cliffs where you can gaze out at sea.
Cradle Mountain-Lake St Clair National Park - Only 1 hour and 20 minutes from Devonport is the Cradle Mountain National Park. There is great hiking here via rock faces, pristine lakes and forests. Try Lake Dove Walk for views of the mountain and Weindorfer Walk for a round trip through forests.
Freycinet National Park - White sands and postcard-perfect seas sit to the east of Tasmania. You can camp, but remember it gets busy in summer.
Hobart - For culture and history, visit Hobart, which is filled with museums, galleries and trendy cafes and restaurants. For hip independent venues, visit North Hobart.
Mount Wellington - 30 minutes' drive west of Hobart is Mount Wellington. Drive to Mount Wellington and walk the Pinnacle Boardwalk to enjoy the views. Keep in mind that in bad weather, the drive is difficult and views may be obscured.
Port Arthur Historic Site - Around 100 km from Hobart is the old convict settlement of Port Arthur. The UNESCO World Heritage Site has 30 buildings dating back to the 18th century overlooking rocky cliffs.
Tasman National Park - While at Port Arthur, take the 30-minute drive to Tasman National Park. The distinct coastline has unique rock formations and plenty of trails to reach them.
Mount Field National Park - It's known as the 'Park for all Seasons'. Discover waterfalls amid the towering fern forests and head to the visitor centre for advice on exploring.
Driving to Tasmania is well worth the trip to experience the distinct beauty of the island state. Start planning your trip well in advance, then take the wheel and get out there to discover this unique local culture and breathtaking nature.