20 Best Road Trips From Sydney
If you're living in Sydney or just visiting and have a few days (or better yet, weeks) to spare, you could throw a stone in a random direction and follow it to a number of beautiful road trip destinations.
Starting off at Australia's east coast is very advantageous for thrill-seekers and explorers, as the area is rich in expansive parks and preserves, sky-high mountains, and cities and towns that'll win you over in a matter of hours.
Featuring everything from ghost towns in the middle of nowhere to the world's largest rainforest, here are some of the road trips that will stay with you for life and make you an expert on all things Australia.
1. Moss Vale Road
2 hours 10 minutes from Sydney (160 km)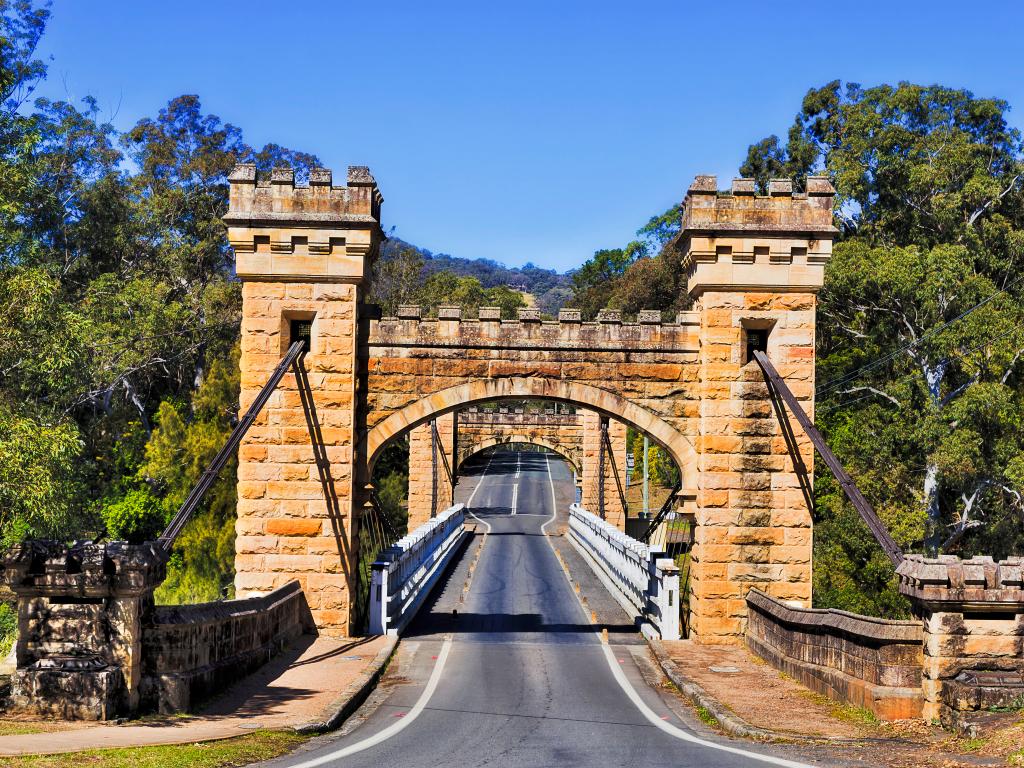 If you want to get away from the bustle of Sydney life and visit someplace more rural yet nearby, Moss Vale makes for a beautiful Highlands retreat, and getting there via Moss Vale Road makes for a very scenic experience.
You can get to Moss Vale Road by simply following Highway 1 and Princes Highway along the coast, then joining Kangaroo Valley Road at Berry and staying on it for about 15 km.
Following Moss Vale Road north will take you through Kangaroo Valley and across Kangaroo River via the beautiful Hampden Bridge. Here, you can check out the KV Pioneer Village or keep going further north through the Barrengary Nature Reserve, which is roughly where the road ends.
If you're itching for more, continue north along Nowra Road (stopping at Fitzroy Falls is a must!) until you reach the town of Moss Vale - thanks to its pleasant summer temperatures and the unique ambient of places like Argyle Street, you'd be hard-pressed to find a homelier town in East Australia.
One of the fastest-developing towns in New South Wales, Moss Vale has plenty of bars, retail stores, and a great golf course - great news for prospective visitors like yourself!
This is a town with a lot of history, so while you're here, take a few hours and enjoy a self-guided heritage tour that covers everything from the beautiful Leighton Gardens and Pavilion to the historic houses on Argyle and Brownley Streets.
2. Newcastle
2 hours 15 minutes from Sydney (163 km)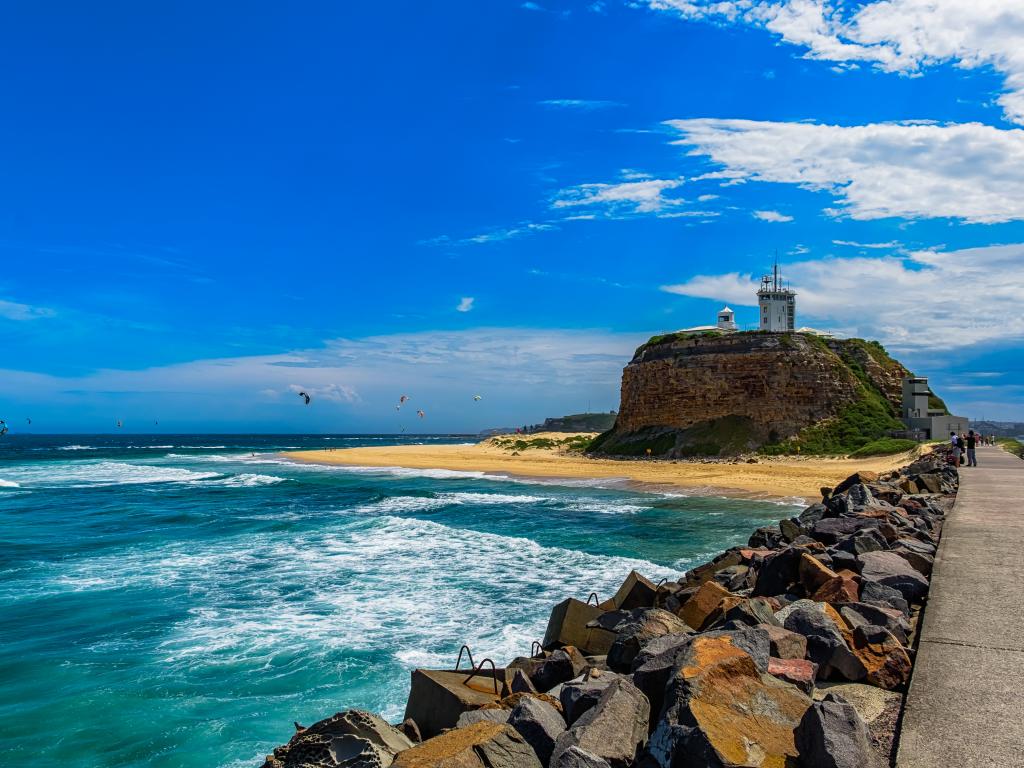 For those looking for something more urban but still by the ocean, follow the Pacific Highway north for two hours to reach Newcastle, New South Wales' second-most populated city.
This coal export juggernaut (named after England's very own coal port of Newcastle) is a beautiful coastal city boasting incredible beaches, countless scenic parks, and year-round cultural events, courtesy of the gorgeous Newcastle Civic Theatre.
If you're visiting on a sunny day, definitely go on a picnic and fire up a barbecue at Blackbutt Reserve or enjoy a swim at the near-100-year-old Mereweather Ocean Baths. Alternatively, if you're a history buff, take a tour of the monumental Fort Scratchley and see some breathtaking views of the ocean while you're there.
A good place to get a great view of Newcastle is the Obelisk, a monument for a windmill that once pumped water to the area. Because you won't be directly by the coast, your beautiful panoramic view will include not just the city but the blue ocean waters as well.
On the way to Newcastle, be sure to stop at Broken Bay Pearl Farm to learn some trivia on pearls or rent a boat to catch some oysters yourself. Also on the way is Lake Macquarie, the largest saltwater lake in the southern hemisphere (and a beautiful one at that).
Finally, check out Hunter Valley, known for having some of Australia's best wineries – be sure to enjoy a bottle of the iconic Hunter Valley Semillon, and experience Chardonnay like you never have before.
3. Blue Mountains National Park
2 hours 20 minutes from Sydney (139 km)
As great as East Australia's towns and cities are, our next itinerary demonstrates the country's greatest asset, its natural beauty – we're talking about Blue Mountains National Park.
Although there's some stiff competition, the signature features of this park are the Three Sisters, a one-off triad of rock formations which you can access via the Giant Stairway or admire from the nearby town of Katoomba.
Speaking of, Katoomba's Scenic World is as scenic of an experience as they come – featuring an incline railway system and a cableway ride from Doppelmayr to Jameson Valley, this place is not to be missed.
The park features countless hiking trails that seem to go on forever, and you can enjoy an outdoor meal by Wentworth, Katoomba, or Gordon Falls as you listen to the relaxing sounds of water.
You can get to Blue Mountains NP by taking a 2.5-hour drive along the M4 Motorway and Great Western Highway west of Sydney.
If you're looking to take the road trip a bit further, consider visiting the town of Lithgow – combining a small-town feel with the nearby Blue Mountains and national parks from all sides, this makes for a very scenic afternoon stop before venturing deeper into New South Wales for your next adventure.
4. Grand Pacific Drive to Jervis Bay
3 hours from Sydney (196 km)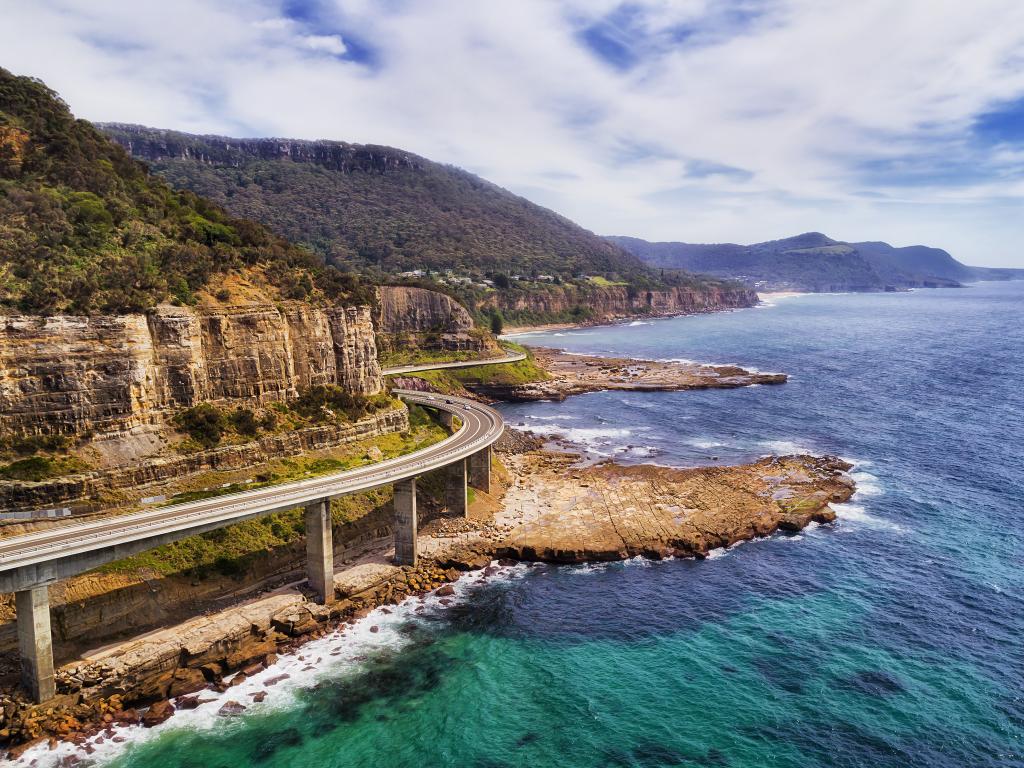 Capitalizing on the beautiful coastline of the South Pacific, Jervis Bay is definitely one of the crowning jewels of New South Wales.
The bay features impossibly white sand, often said to be the whitest in the whole world. You can cruise along the entire bay or settle on one of the beaches and camp out there – the White Sands Park is definitely a highlight, as are Jervis Bay Marine Park, Cave Beach, and Greenfield Beach.
Jervis Bay is ideal for water-based activities, so consider going sailing, kayaking, or take full advantage of the many dive boat services and explore the ocean bed.
If you want to see one of the best national parks in the South Pacific Coast, check Booderee National Park's unique blend of beaches, high cliffs, and botanic gardens. For something a little bit different, visit the historic Point Perpendicular Lighthouse and enjoy the splashes of the ocean waves from its titular peninsula.
The drive from Sydney can be every bit as scenic as Jervis Bay itself – along the Grand Pacific Drive, you can turn your trip into a full-fledged coastal vacation by stopping at Royal National Park, Wollongong, Shellharbour, and a slew of other beautiful places that deserve their own travel guide.
5. Canberra
3 hours from Sydney (290 km)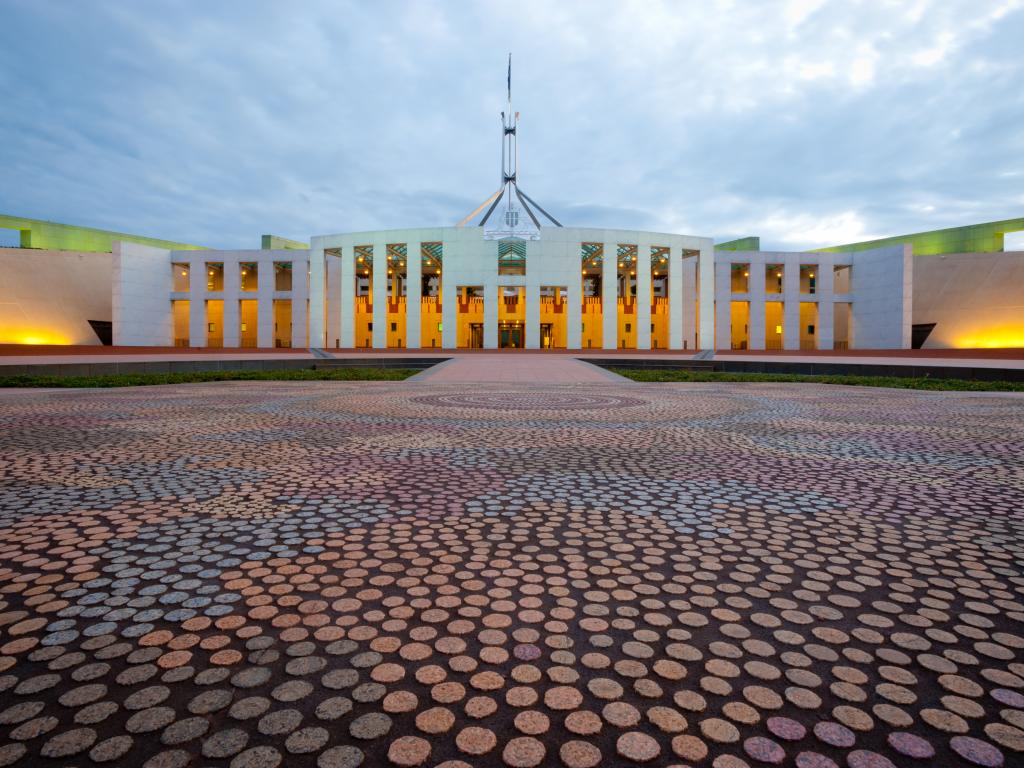 An uninitiated foreigner may be surprised to find out that Sydney is, in fact, not the capital of Australia – Canberra is. That aside, a road trip from one of Australia's biggest metropolises to another is sure to give you plenty to look at.
Driving through Campbelltown, follow the M31 Motorway and the Federal Highway all the way to Canberra. The trip Sydney to Canberra spans just under 300 km and can be done in about 3 hours.
Designed some 100-odd years ago by American architect W.B.Griffin, the 'Garden City' of Canberra beat out Sydney and Melbourne for the title of capital of Australia, and it's not hard to see why.
With beautiful landscapes like the National Arboretum and the Australian National Botanic gardens, this is one of the greenest major cities you're ever likely to visit. Keep a camera handy even in the most urban parts of town.
As you might expect from such a large city, the list of things to do here is practically endless – relax in the Lennox Gardens by Lake Burley Griffin, brush up on the country's history at the National Museum of Australia and the War Memorial, or enjoy a fancy night out in one of the countless bars, restaurants, and entertainment venues.
For the ultimate Canberra experience, you should explore the Parliamentary Triangle – this part of the city was designed with tourism in mind, and most of Canberra key buildings and constructions can be found here, from the Parliament House to various recreational facilities.
READ MORE - Road Trip from Sydney to Canberra
6. Mollymook
3 hours 10 minutes from Sydney (225 km)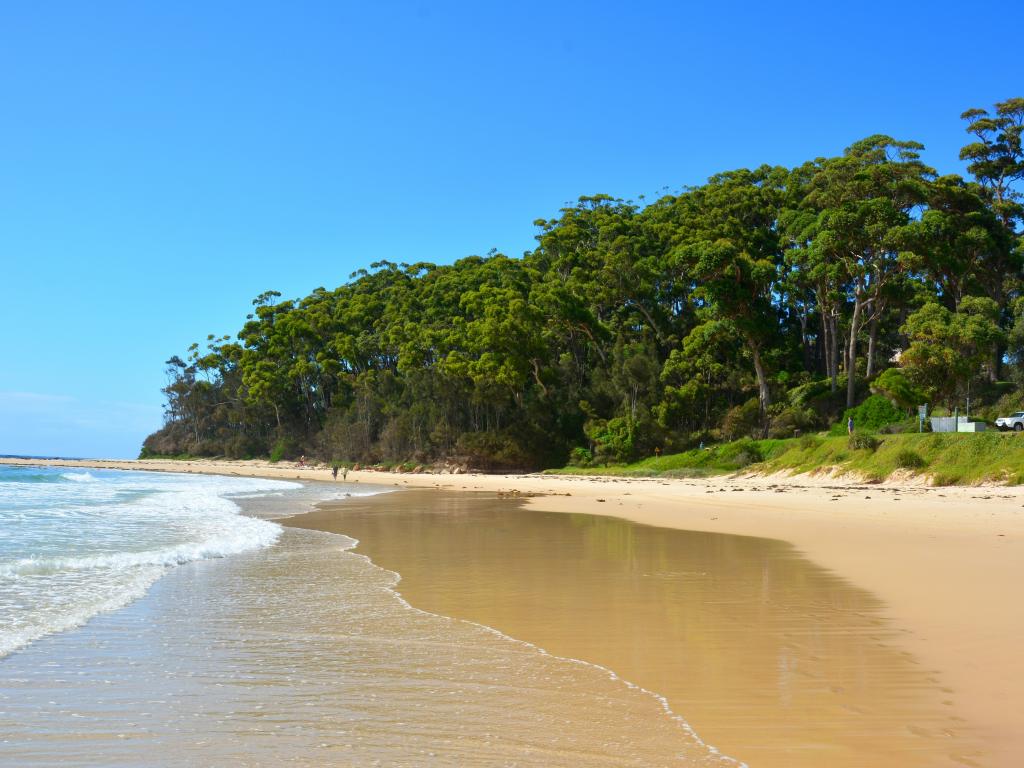 Mollymook is a small beachside town with a population of just over 1000, whose name is thought to be derived from a species of albatross.
Getting here from Sydney couldn't be much simpler – follow Highway 1 and Princes Highway south (mostly sticking right by the coast) for about 225 km, or 3 hours.
Mollymook is actually generally used as a blanket name for two locations – the town of Mollymook and the adjacent Mollymook Beach, which has double the population and, as the name suggests, a beach on the Tasman Sea.
There's nothing exceptionally flashy about this town, yet it simply commands your attention with its beautiful coastal views, surf-friendly beaches, and events such as poker tournaments and boat races.
In the charming town of Mollymook, be sure to check out Bannisters Day Spa & Walking Track, and take a few swings at the Mollymook Golf Club or Hilton Golf Course if you feel so inclined.
On your way here, you should definitely consider stopping at Milton, a unique little town along the Princes Highway and an important thoroughfare for its region.
7. Central Tablelands
5 hours from Sydney (435 km)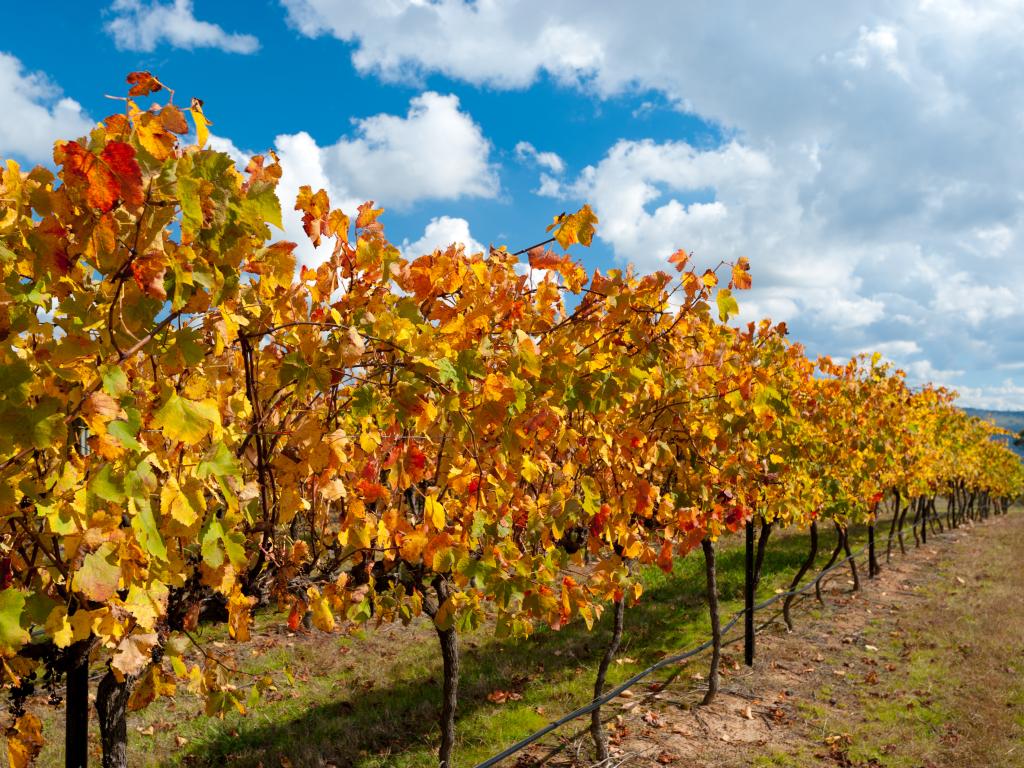 If you're looking for something a little bit more obscure, you can explore the hidden gem that is the Central Tablelands region, a sequence of several small towns best known for their wineries. The towns are sprawled along the M31 motorway and the Lachlan Valley Way, and you can reach the last one in the chain in about 5 hours.
Your first stop would be the town of Gundaroo, which is close to Lake George (check out Weereewa Lookout – it's beautiful!), as well as Tallagandra Hill Winery and Lerida Estate – you can actually order the former's wine from anywhere in Australia if you wind up liking it, and the latter offers servings of delicious truffle dishes to go along with your wine sample.
Next up are the twin towns of Harden and Murrumbateman – being slightly bigger than Gundaroo, you'll have a bigger selection of charming locales to visit here. On top of that, wineries include Clonakilla, Helm Wines, and Dionysus Winery, among others.
The last town on this itinerary is Young. Because of its annual Cherry Festival, this town is affectionately called the Cherry Capital of Australia. Visit Wombat Heights to sample the fabled Young cherry, and cap off your road trip with a picnic at Lambing Flat Chinese Tribute Garden.
Another thing that's great about this route is how close it is to Canberra (Gundaroo is less than 2 hours away). If you have some extra time and took us up on our Canberra suggestion (#5), be sure to stop by Central Tablelands on the way back.
8. Thunderbolts Way
5 hours 30 minutes from Sydney (415 km)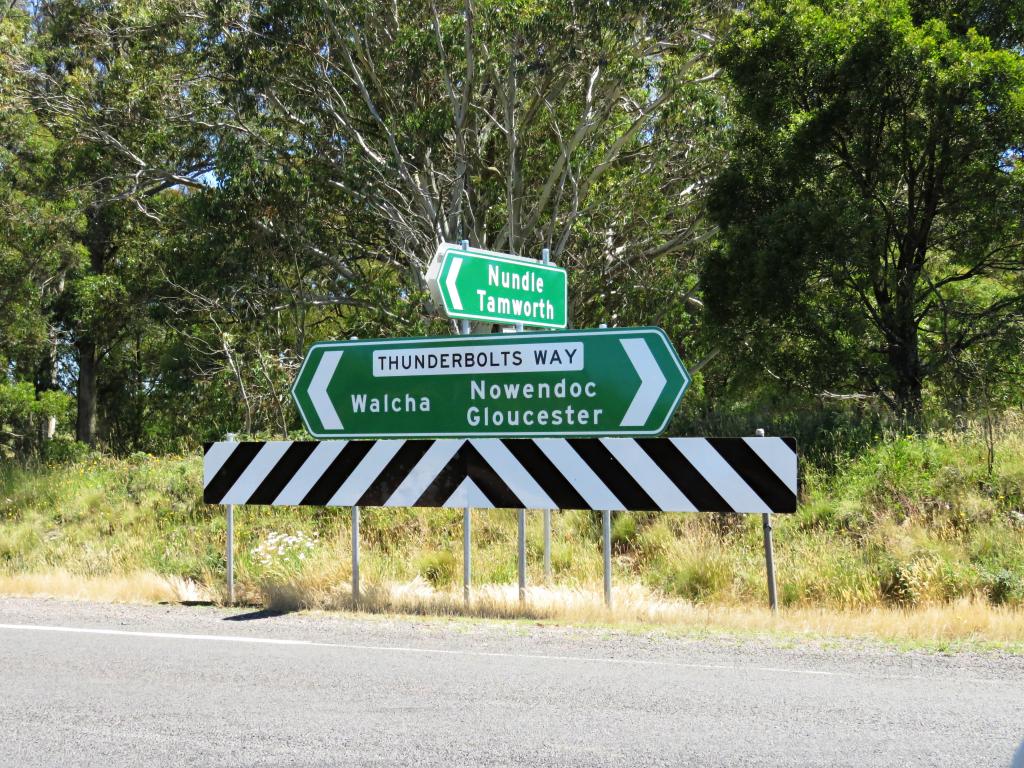 Some 150 years ago, an escaped convict, alias Captain Thunderbolt, ran and hid from the authorities along a route that spanned several hundred kilometers. This route would later come to bear his name, and is one of the most beautiful stretches of land in East Australia.
Thunderbolts Way combines the Eastern Highlands, various national parks, and a couple of quaint villages and farmlands into an unforgettable experience. After following Highway 1 north of Sydney to Gloucester, your journey officially begins.
As great as cruising along the Great Dividing Range is, it's even better for you to stop by Chinamans Creek, Manning River, or any of the National Parks on either side of you to soak in the beautiful scenery.
Around the halfway point of the route, you'll enter the farming town of Walcha, home to the Apsley River. The town also acts as a passageway towards Werrikimbe and Oxley Wild Rivers National Parks, the latter of which features the gorgeous Apsley Falls.
If you want to dedicate more time to this area, make an overnight stop at the next town – Uralla. Featuring museums, memorials, and heritage sites, this historic town is a staple of the route and a definite must-see.
As soon as the route ends in Inverell, things get a lot more urban. Finish your trip by learning about the town's rich history at Inverell Pioneer Village, and enjoy the vintage vehicle exhibits at the National Transport Museum.
9. Jindabyne and Kosciuszko National Park
6 hours from Sydney (520 km)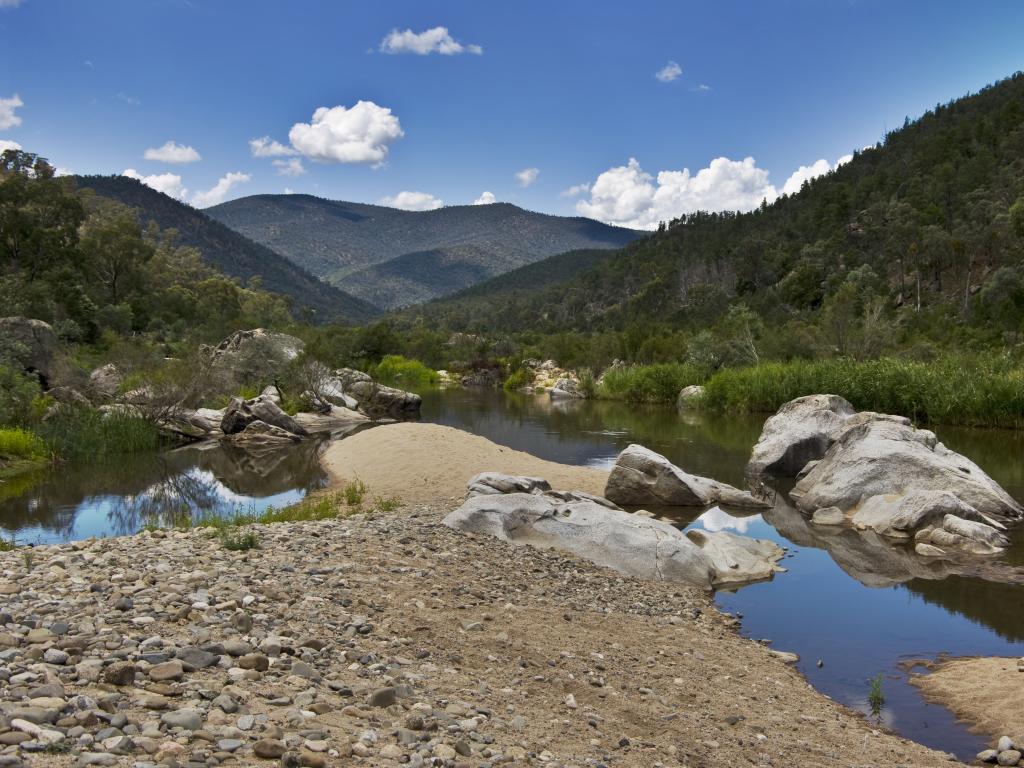 Traveling with a backdrop of the Australian mountains is one thing, but getting up close and personal is a different animal altogether. Following Monaro Highway and Boboyan Road past Canberra and into Snowy Mt Highway, it won't be long before you reach the beautiful Kosciuszko National Park.
Featuring, among others, the tallest mountain in the Australian Mainland (Mt Kosciuszko, at well over 2,200m) and a network of rivers including Eucumbene and Snowy Rivers, you'll have a virtually endless supply of hiking trails and campout spots here.
Thanks to its Alpine climate, the park has enjoyed a rich skiing history spanning over 150 years, and it features the Perisher and Selwyn Snow Resorts, both quintessential Kosciuszko experiences if you're traveling in the winter.
To really make the most of this trip, your best bet would be to visit the town of Jindabyne first – check out the town's visitor centre to get acquainted with the area and enjoy a stroll along the Lake Jindabyne shoreline.
From there, take the Alpine Way running for over 120 km, through Kosciuszko National Park and to the edge of New South Wales. Following this road into the high country, you can explore the gorgeous Alpine woods and enjoy a scenic hike or mountain bike ride.
10. Coffs Harbour
7 hours 30 minutes from Sydney (670 km)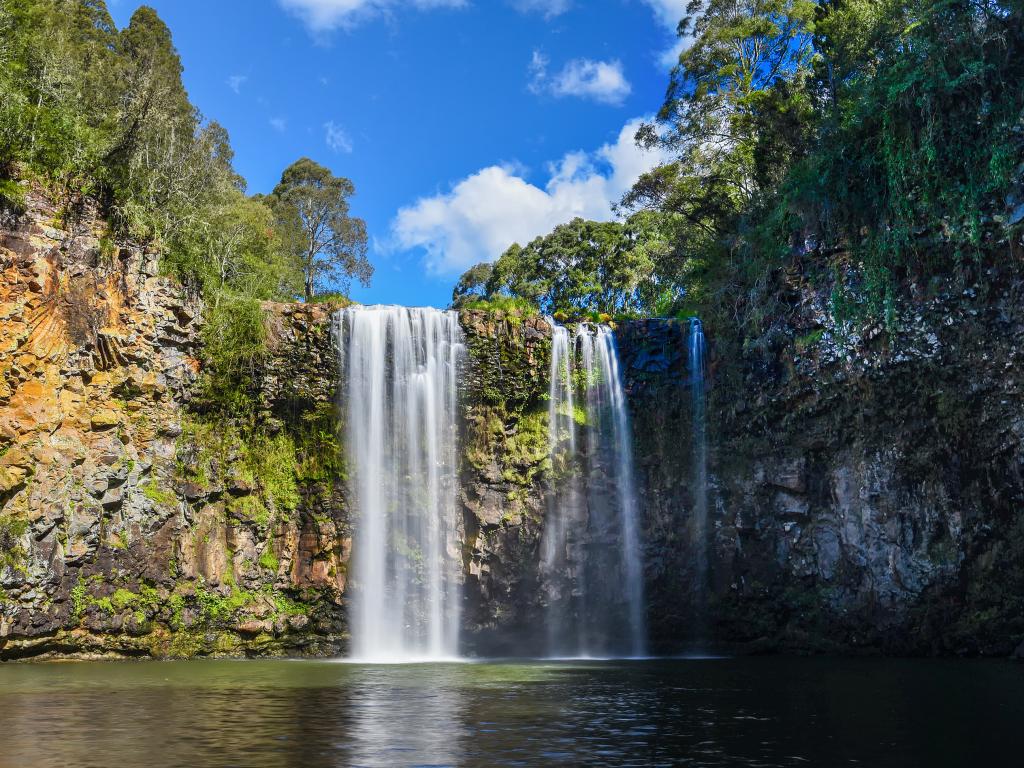 If you're up for a scenic ride including coastlines and rainforests alike, and especially if you took our advice and checked out Newcastle (#2), consider driving out to Coffs Harbour along Highway 1 and then trekking through some gorgeous natural parks.
Coffs Harbour is a beautiful coastal city with plenty to see and do. The Regional Botanic Garden should make for a great warm-up for the rest of the route, and you can admire the tropical haven that is the Coffs Harbour Butterfly House (which also features dinosaurs, because why not?)
Prior to becoming a major tourist attraction, Coffs Harbour owed most of its economic growth to the production of bananas. If you're up for something a little bit different, you could spend a few hours at the banana-themed Big Banana Fun Park – it's every bit as wacky as it sounds!
Taking a two-hour drive west of here along the aptly named Waterfall Way, you'll drive through (or past) several national parks and various breathtaking waterfalls before reaching the town of Armidale.
Bongil Bongil National Park a coastal park featuring lush eucalyptus forests, beaches with dunes, and the ever-so-adorable koala. Be sure to check out the beaches to the east to take a quick dip or relax by the dunes.
Further west, Durango's dangling boardwalk will literally have you walking above the park's gorgeous rainforests. Some of the waterfalls featured here include Crystal Shower, Red Cedar, and Dangar Falls, each more beautiful than the last.
Rounding off the chain is Cathedral Rock, which combines forests and granite formations into a very unique national park. Once you're done exploring, definitely stop at Wollomombi Falls, not far from Armidale.
11. Byron Bay
8 hours 30 minutes from Sydney (760 km)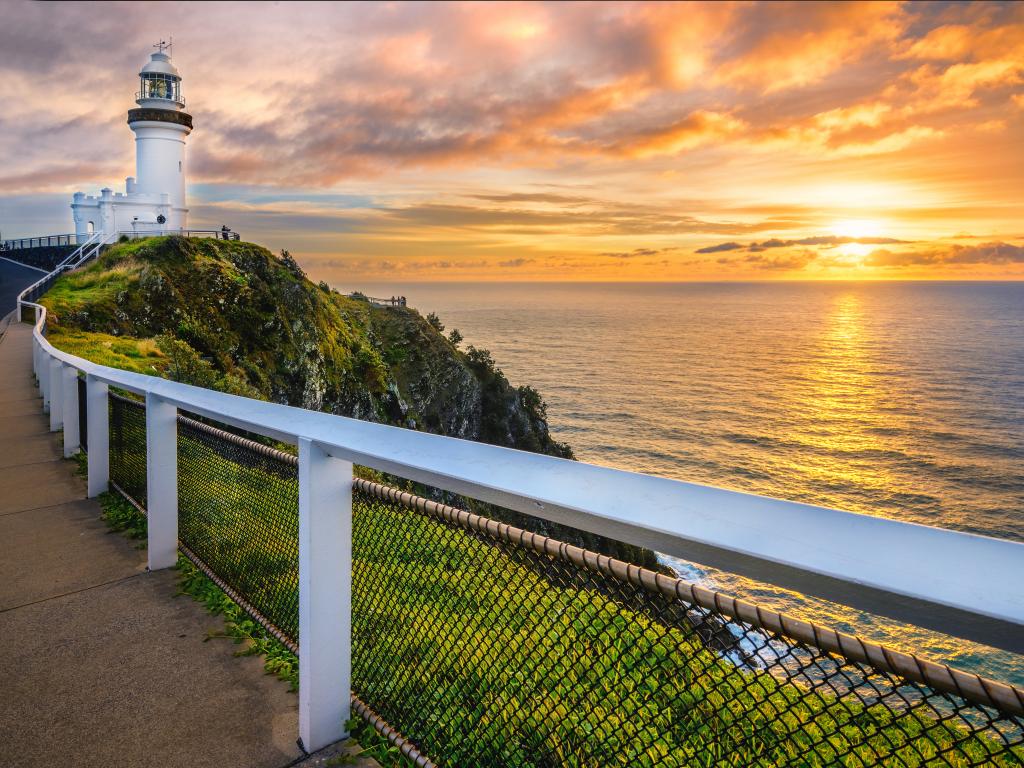 Byron Bay marks the easternmost point of mainland Australia and is quite beautiful to boot, so if you have about 8h 30m, consider making the drive here from Sydney.
From its humble beginnings as a logging town to one of the fastest-developing towns in the east coast, Byron Bay has grown to attract hundreds of thousands of tourists each year thanks to its beautiful landmarks and relaxed, hippie-esque community.
Later on, farming would become the main industry in Byron Bay and has continued to thrive until the present day. Get a sample of the local delicacies by checking out The Farm at Byron Bay – after visiting bakeries, restaurants, and home-grown food freshly picked from the soil, you definitely won't be leaving town hungry.
To see the actual easternmost point of this easternmost town, go and visit the Cape Byron Lightstation. On top of its beautiful ocean views, the lighthouse is also a museum that teaches you about its own history, and that of Byron Bay as a whole.
The lighthouse is nestled between some beautiful beaches, The Pass being the most iconic, and is part of the incredibly scenic Cape Byron State Conservation Area – if you're going to stay in Byron Bay for the night (which you really should), you'd be wise to find a room here.
READ MORE - Road Trip from Sydney to Byron Bay
12. Lightning Ridge
8 hours 45 minutes from Sydney (715 km)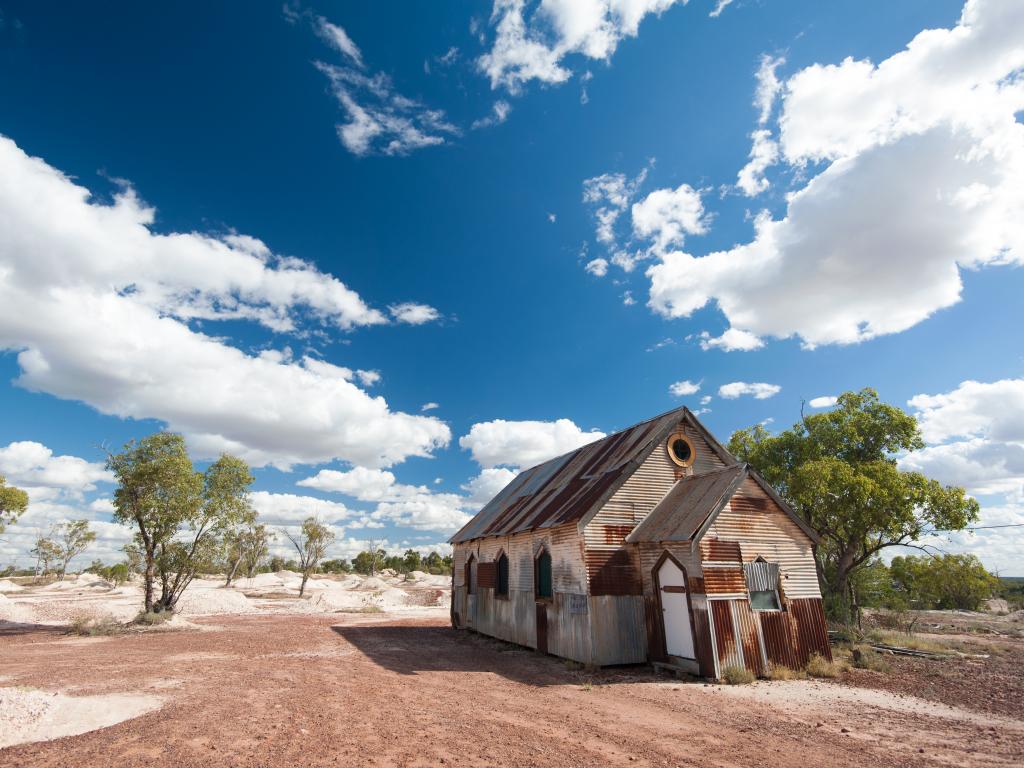 For a small settlement with barely over 2,000 people and no major parks or preserves to its name, this quaint mining town is sure to keep your schedule full, especially if you love art. It might seem like too long a drive to see such a small place, but it's well worth it.
Following the Great Western Highway out of Sydney, past several beautiful national parks and onto Castlereagh Highway, you'll reach Lightning Ridge in just under 9 hours, breaks excluded.
This inconspicuous town is very special, in that it's one of the few places worldwide where you can find the gorgeous black opal. To get an idea of what the excavation process entails, take the Big Opal Underground Mine Tour and check out the Walk In Mine.
Amigo's Castle is probably the last thing you'd expect to see in a place like this – in this tower-turned-art-gallery, you can admire local art and paintings as you learn the story of the former miner who built a castle of his own.
Another must-see in town are the Chambers of the Blackland, an underground opal shop featuring sandstone carvings of Elvis, Chewbacca, Medusa, the Buddha, and a few hundred others.
If you haven't had enough exposure to beautiful, yet bizarre art, be sure to visit John and Viki Murray's Art Gallery – you can purchase paintings and admire murals of decrepit vehicles, arid desert landscapes, and emus wearing makeup.
13. Melbourne
9 hours from Sydney (880 km)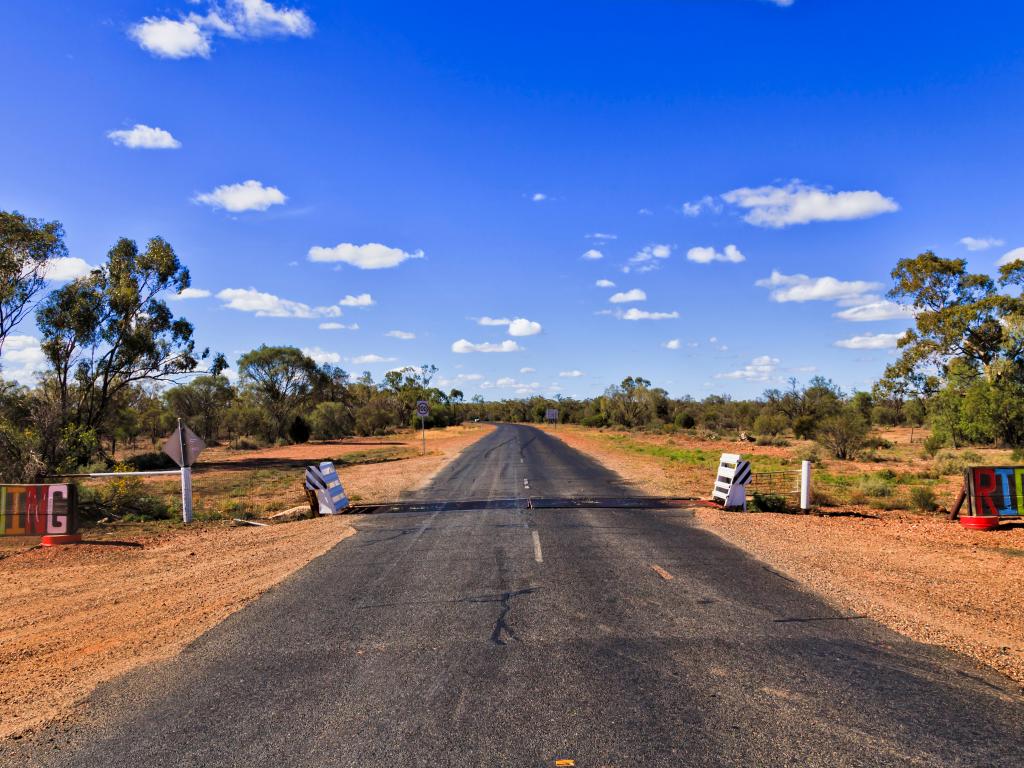 The city of Melbourne truly needs no introduction – Australia's former seat of government is one of the richest and most beautiful cities in the modern world. Getting to Melbourne from Sydney involves a relatively simple drive down Hume Fwy and Craigieburn Bypass.
European influence permeates throughout Australia, but it is probably most apparent in Melbourne. From the domed Flinder Street Station and its multicolored art trams to countless themed restaurants and locales, the city borrows aspects of European culture and makes them its own.
Exploring the city can be quite the experience, as it is said to go through "four seasons a day". You can expect the unexpected here, including sudden, heavy rain which may or may not clear up in a matter of minutes – nevertheless, it's a quintessential part of visiting here.
Some of the most obvious places to check out include the Royal Exhibition Building (with the gorgeous Carlton Gardens), the iconic Melbourne Cricket Ground, and Queen Victoria Market, the Southern Hemisphere's largest outdoor marketplace.
Although there are plenty of strong contenders, the natural highlight of the city would have to be the Royal Botanic Gardens – combining lovely lakes, thousands of floral species, and a breathtaking view of the city, no visit to Melbourne can be complete without visiting the Gardens.
If you're historically curious, check out the Old Melbourne Gaol, a former prison that housed the most hardened of criminals, as well as the Shrine of Remembrance, which commemorates those who served in World War I.
READ MORE - Road Trip from Sydney to Melbourne
14. Murray River
9 hours 30 minutes from Sydney (880 km)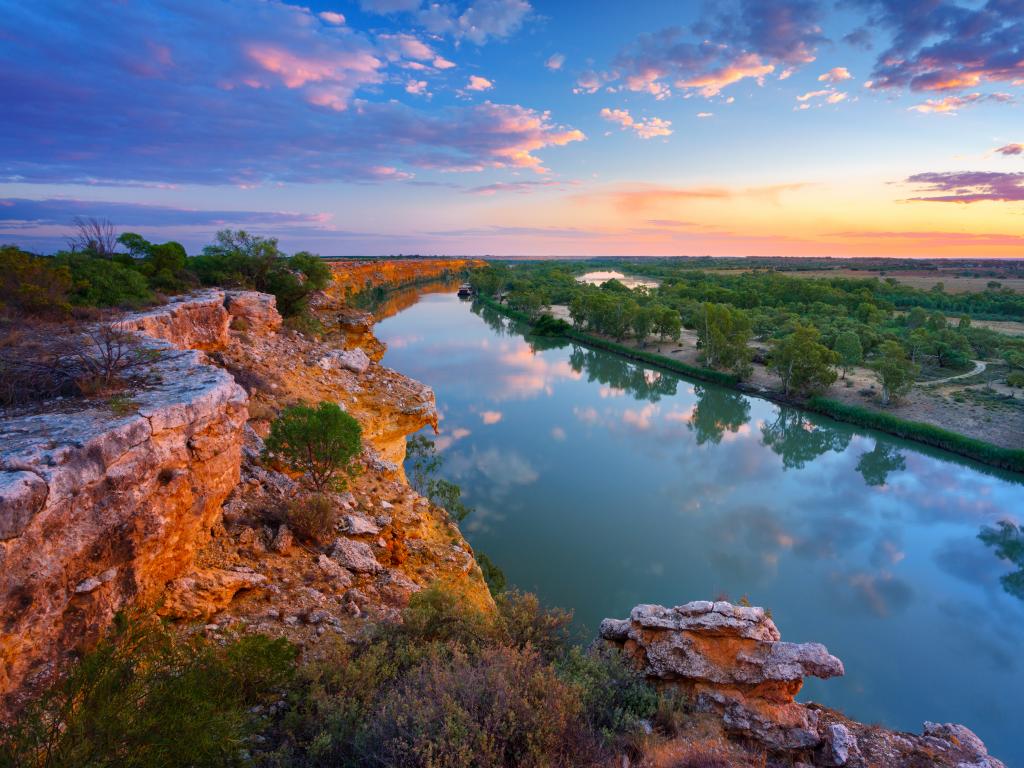 A great way to sweep through the Australian southeast is to travel along the Murray River, the longest in all of Australia at just over 2,500 km.
Starting from the Australian Alps and continuing northwest, the river defines the border between New South Wales and Victoria and empties into the Southern Ocean at Murray's Mouth. On the way, it cuts through plenty of interesting towns, especially towards the east.
For instance, the charming town of Echuca makes the most of its proximity to the river. For example, you can take a walking tour of the Port of Echuca, or take a riverboat and cruise along the Murray River, enjoying an on-board meal and snapping some great pictures.
Right across the river is the town of Moama, well-known among gambling aficionados for its poker machines. You can expect some crowds if you visit in mid-February, as the town marks the finish line of the Southern 80 Water ski race.
Up north is Deniliquin, and you should definitely consider stopping at Waring Gardens for a picnic – what started off as a testing ground for the fertility of the soil is now a beautiful park featuring Italian sculptures and a lagoon system.
Further east, in the Tocumwal area, you shouldn't miss out on Barmah and Murray Valley National Parks, characterized by their beautiful flooded forests. In conjunction, these two parks form the largest red gum forest in the entire world.
15. Brisbane and Gold Coast
10 hours from Sydney (910 km)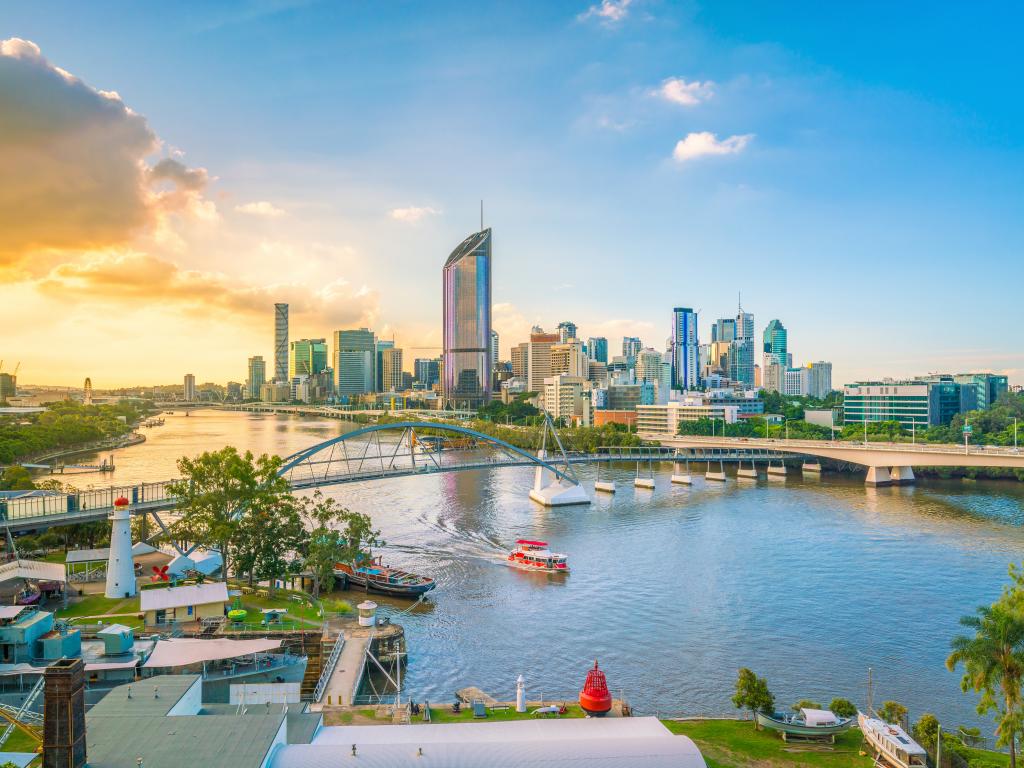 Our first venture into Queensland takes us to the large-and-in-charge city of Brisbane and its adjacent Gold Coast. To get there, follow the classic Pacific Highway route north for about 900 km.
Once you get to Brisbane from Sydney, your first order of business should be to cross Victoria Bridge into the South Bank precinct. Located by the Brisbane River, this beautiful area features plazas, rainforests, and the iconic Wheel of Brisbane.
For a once-in-a-lifetime view of Brisbane, you should go to the Mount Coot-tha Lookout. Try to avoid visiting during the weekend if you can help it, though, as it can get rather crowded and take away from the serenity of the experience.
Eat and shop at the Northshore, go rock climbing at Kangaroo Point Cliff Park, or go for a cruise on the Brisbane River – there truly is something here for everybody.
Thanks to their proximity and shared status of large coastal towns, Gold Coast and Brisbane are like two sides of the same coin – there's no reason to visit one without stopping at the other too. Click here to read our detailed guide on the ultimate road trip from Sydney to Gold Coast.
If the name didn't give it away, the beaches at Gold Coast are absolutely incredible. The view of the city's gigantic buildings from Surfer Paradise Beach is incredible, and if you'd like to hit the waves, Snapper Rocks is one of the area's best surf breaks.
Gold Coast has theme parks, and lots of them – here, you can awaken the child in you and have a blast at Sea World, Warner Bros. Movie World, Wet n Wild Gold Coast, and so many others.
Much like the one in Brisbane, the highest point in Gold Coast is one you don't want to miss. The SkyPoint Observation deck offers an outright unbelievable panoramic view of the city and ocean. If you're up for an adrenaline rush, grab a harness and do the SkyPoint climb to the top pf the building.
READ MORE - Road Trip from Sydney to Brisbane
16. Old Glen Innes Road
10 hours 30 minutes from Sydney (790 km)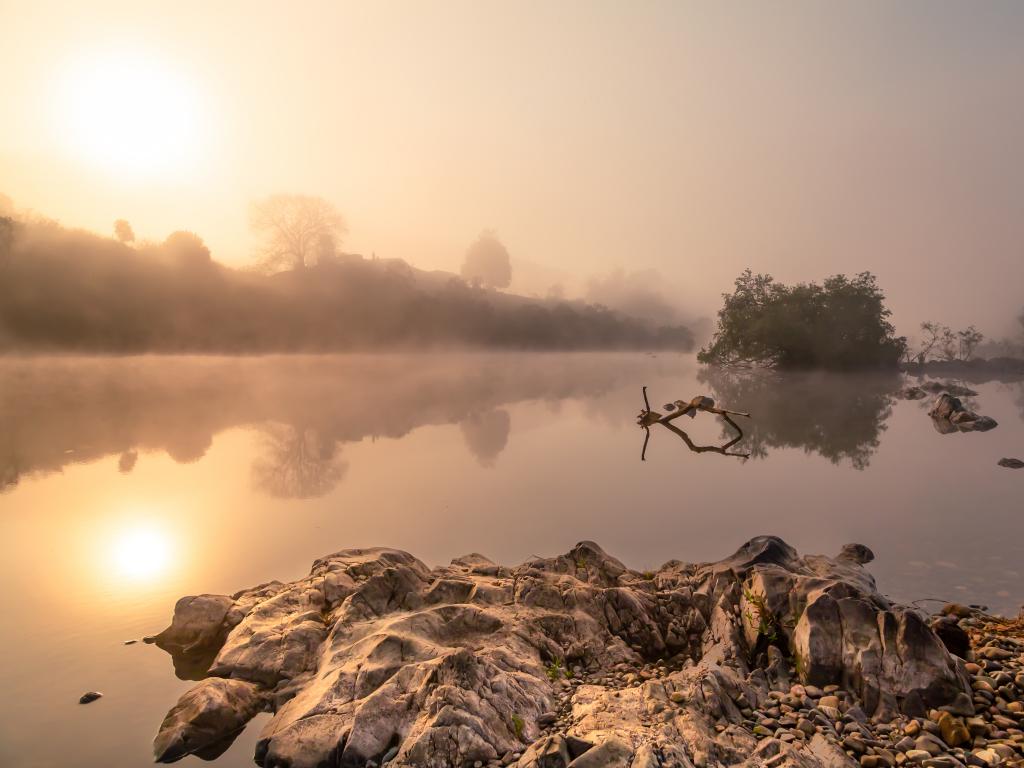 Before the advent of highways and motorized vehicles, going along Old Glen Innes Road (or Old Grafton Road) was the only practical way of accessing the mountains in the Australian northeast. The benefit of driving it today is the long stretch of beautiful landscapes.
From Sydney, follow the Pacific Highway for about 6.5 hours to Grafton. You'll definitely want to fuel up here, as Old Glen Innes Road takes 4 hours to drive through and has no petrol stations of its own. From Grafton, follow the Gwydir Highway for just over 5 km to get to Old Glen Innes Road.
One thing you'll be seeing plenty of along this road are rivers – Orara, Guy Fawkes, Nymboida, and Boyd are just a few in a long list of rivers worth checking out on the way. As is typical of water-rich areas, you can also expect to see lots of gorgeous valleys and forests that time forgot.
Just past the halfway point is the town of Dalmorton, once a prosperous mining area, but currently a ghost town featuring campsites for travelers of the Old Glen Innes Road. The main thing of interest here is the Historic Tunnel, whose walls are decorated by near-150-year-old black graffiti.
17. Nightcap National Park and Dorrigo National Park
12 hours from Sydney (970 km)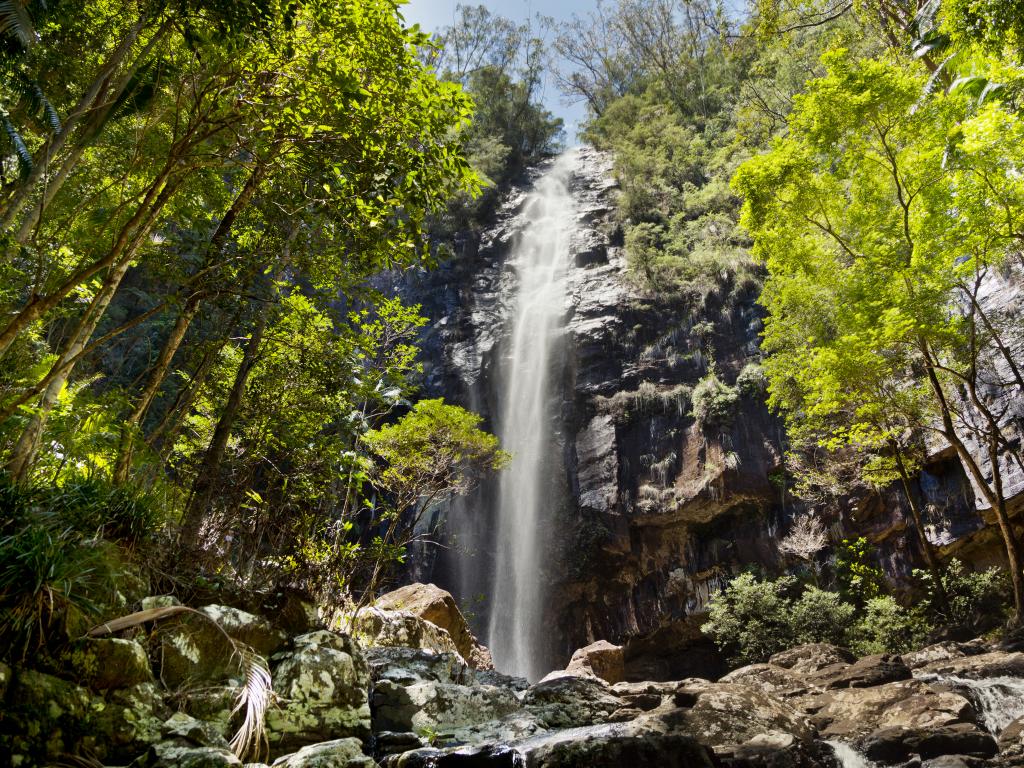 The Rainforest Way is a choose-your-own-adventure-type itinerary that'll have you driving through a few dozen towns and cities, as well as the Gondwana Rainforests and various national parks in Queensland and New South Wales.
We've already said our piece on Byron Bay (#11) and Gold Coast (#15), two of the key stops along this route – if you do visit either of these places, consider pivoting from there into some of the other spots of interest along this route.
For example, west of Byron Bay begins a northward sequence consisting of Whian Whian State Conservation Area (home to Minyon Falls and countless hiking trails), Nightcap National Park (named after and containing the endangered Nightcap oak), and Mount Jerusalem National Park (rich in rivers and great for bird watching).
Dorrigo National Park deserves a special mention because of its popularity – boasting beautiful vistas and a slew of hiking spots, this park and its neighbors in New South Wales form the largest rainforest stretch in the world, the Gondwana Rainforests.
A prominent feature of the Rainforest Way is the Scenic Rim, a series of forested mountains belonging to the Great Dividing Range. While you can't go wrong with any of the parks or ranges here, some highlights include O'Reilley's Rainforest, Tamborine National Park & Mountain, and the Gallery Walk just off Gold Coast.
18. Darling River Drive: from Walgett to Wentworth
19 hours from Sydney (1,560 km)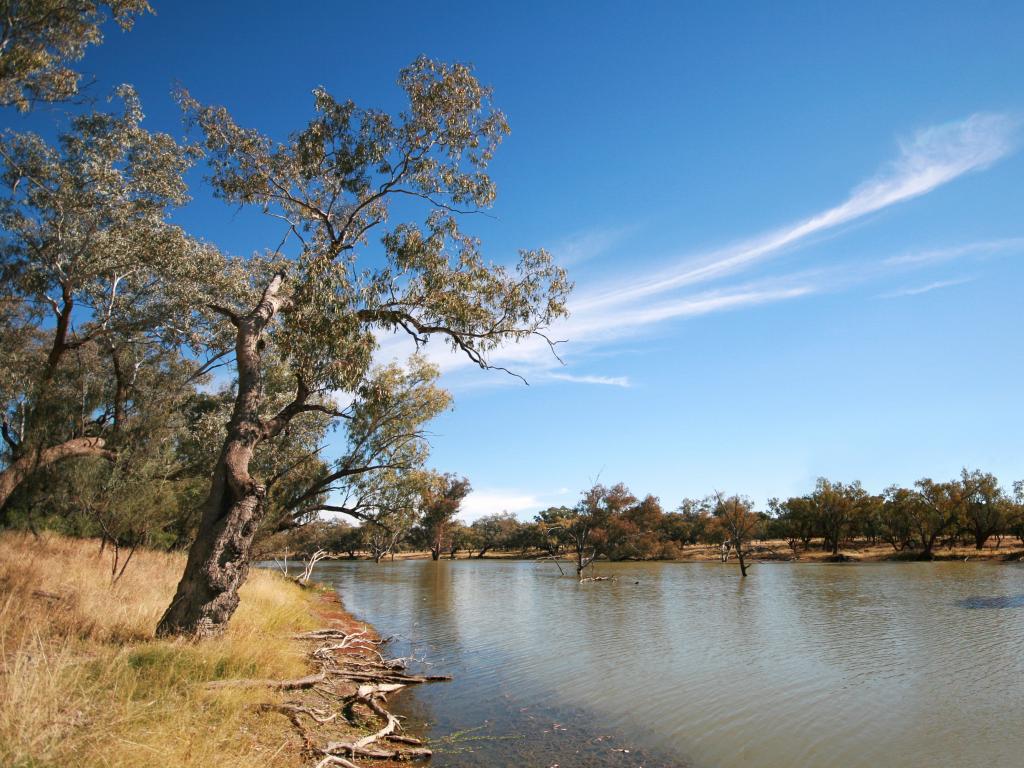 If you'd be willing to commit to a longer drive, a road trip along Darling River, one of Australia's longest rivers, would make for quite a scenic travel experience across New South Wales.
First off, you'll want to get to the town of Walgett. The quickest way there from Sydney would be driving through Blue Mountains National Park, then following Castlereagh Highway and the B55 the rest of the way.
From Walgett, take Kamilaroi Highway to get to Bourke – be sure to stop at Brewarrina to check out its camping reserve by the Barwon River, which features beautiful, partially submerged trees. From Bourke, you can start following the Darling River.
Just outside of town is the Gondabooka National Park, which contains petroglyph art. In Louth, you could stop for the night at Trilby Station, or continue on forward to Tilpa – further down, you can check out the Paroo-Darling National Forest, which features red sands and the Peery Lake, which is a great bird watching spot with a free picnic area.
Menindee is the Darling riverside's oldest town, and the first to be inhabited by European settlers. Adjacent to the town is Kinchega National Park, featuring campgrounds and lovely river red gum trees.
Past the village of Pooncarie, you'll reach Mungo National Park, where the oldest human remains in all of Australia were found. In addition, the park is famous for the beautiful Walls of China, Lake Mungo, and over a dozen other ancient dry lakes.
The town of Wentworth marks the end of the route and the meeting point of the Darling and Murray Rivers - at this very point lies Junction Park, ideal for a riverside picnic. Also located in Wentworth are Australian Inland Botanic Gardens, which house lemon-scented gums and other trees that thrive in dry living conditions.
19. Tasmania
24 hours from Sydney (1,600 km)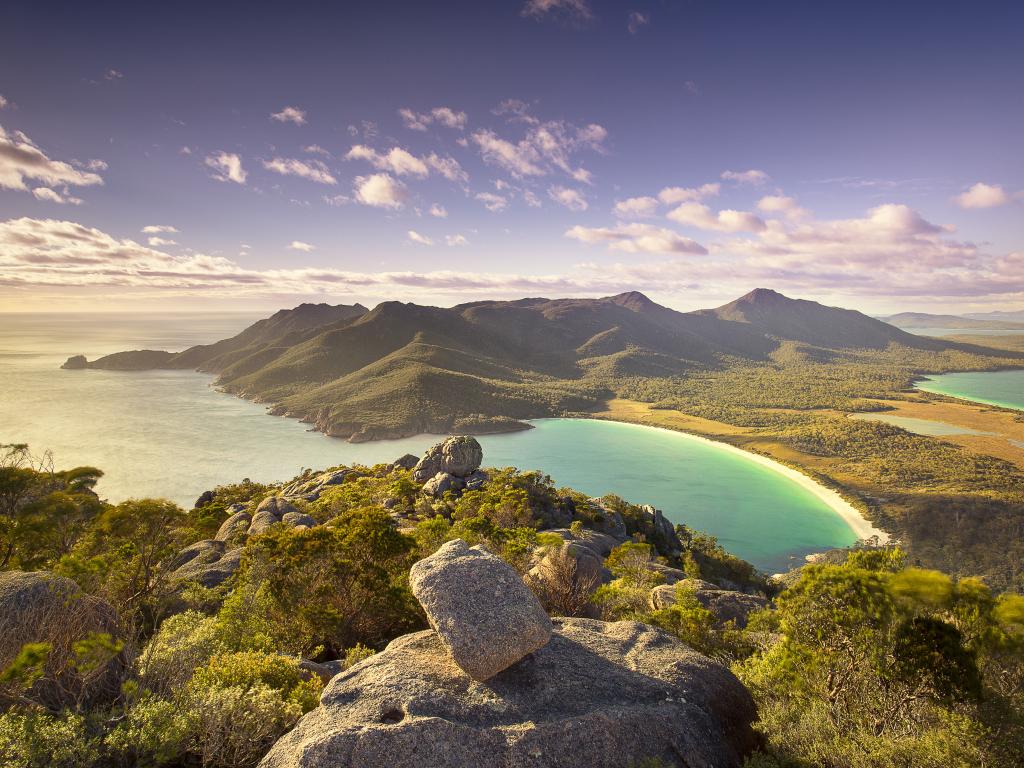 Few places in Australia and beyond can compare to the rugged natural beauty of Tasmania, so this long and winding road trip is definitely worth considering.
The first step of the journey is to get to Melbourne, which we discussed above (#13). From there, take the Melbourne – Devonport ferry over to the island, which should take around 10 hours.
Tasmania's national parks are out of this world – for example, the Cradle Mountain – Lake St Clair National Park features Mount Ossa (the highest in Tasmania), and Mount Pelions East and West. The highlight here, however, is the Overland Track, which connects its titular mountain and lake and amounts to one of the most scenic walks you'll ever take.
Freycinet National Park contains one of Australia's most beautiful bits of nature, and certainly the most beautiful spot between all the natural parks – Wineglass Bay. The arched beach, crystal-blue water, and green, sunny backdrop look amazing from any angle, and any elevation. Also worth noting is the park's unique 5-mountain granite range known as The Hazards.
Obviously, you'll also want to visit Hobart, the state capital. One thing that should immediately strike you about this city is the Victorian-era architecture – although many locals associate it with the country's dark history, it nonetheless creates a unique atmosphere for tourists and visitors.
Tasmania's most famous tourist attraction is definitely the Salamanca Market in Hobart. Every Saturday, thousands of tourists flock around the 300 stands, which sell everything from local food and wine to paintings and hand-made jewellery.
Even if you don't find museum trips particularly fun, the Museum of Old and New Art will definitely be of interest to you. Featuring a surface-level exterior and a burrowed interior, the museum's provocative art and unique ambient are bound to get a reaction out of you.
Besides the capital, Launceston is Tasmania's second-largest city and it houses a sizable chunk of the population. The best-known spots in town would be the scenic City Park, as well as the Cataract Gorge Reserve, an incredible river gorge less than a mile from the center of town.
20. Silver City Highway: from Buronga to Tibooburra
26 hours from Sydney (2,300 km)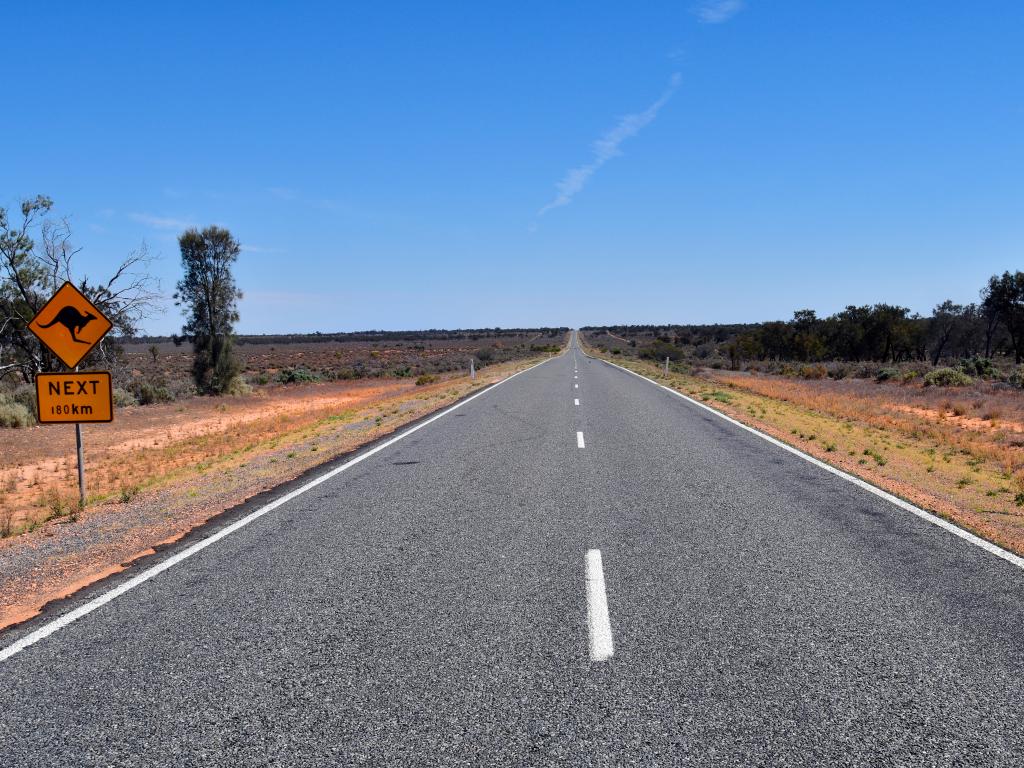 If you prefer the thrill of a long, scenic trip over driving to reach a single final destination, the Silver City Highway is the ultimate Australia road trip for you.
At a staggering 683 kilometers, this highway connects the towns of Buronga and Tibooburra, located on opposite ends of New South Wales. The drive is different than most of the ones we've proposed so far, in that it has you driving through The Outback – petrol stops are scarce, so load up.
One of the earlier stops you can make is in the town of Wentworth, located at the junction of the Murray and the Darling – you can admire the beauty of the two rivers from Junction Park, and visit the Old Wentworth Gaol to learn what life was like for prisoners some 200 years ago.
Further north, next up is Broken Hill, also known as Silver City– this is a major player in Australia's mining industry, as reflected in the countless mine-themed museums and memorials.
For something that hits a bit closer to home, you can visit the Mad Max 2 Museum (you read that right) to pay tribute to one of Australia's greatest films, or check out the Living Sculptures, erected to act as guardians of the flora in the Living Desert.