Road Trip From Brisbane To Tasmania
A road trip from Brisbane to Tasmania is one of Australia's quintessential driving experiences. As you wind along some of Australia's most incredible stretches of coastline, you'll get to tour through the heart of Riverina and Victoria, as well as crossing the Bass Straight on a ferry to Tasmania.
A road trip from Brisbane to Tasmania takes 42 hours of pure driving and ferry time to cover a 2495-km distance. But stop-offs can include Surfer's Paradise, Byron Bay, Coffs Harbour, Sydney, Goulburn, Canberra, Albury, Wondonga and Melbourne en route.
These are just a small selection of the hundreds of fantastic places you can visit on this incredible journey. So please keep reading until the end to find out where else you can go and create the best itinerary for this epic trip.
How far is Brisbane to Tasmania and how long will the road trip take?
Most people who drive from Brisbane to Tasmania tend to take the coastal route along the Pacific Motorway, before heading inland along the National Highway M31 to Melbourne.
This route takes you via the Riverina and rural regions of New South Wales and Victoria, meaning it is varied and stimulating despite the relatively long distances involved.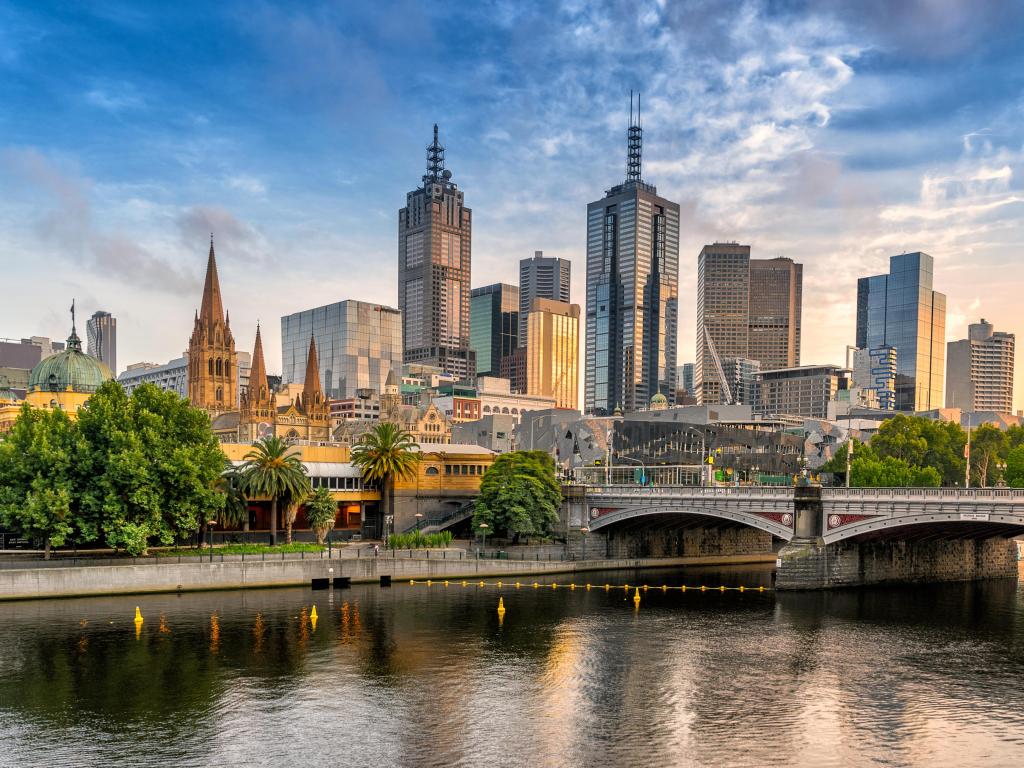 The drive is a fairly easy one to complete as it takes place on good bitumen roads that are well signposted. There are also plenty of amenities and services like gas stations, toilets and shops for you to utilse as needed.
Along the way you will see some incredible beachscapes, as well as stunning rural landscapes too. You will also get to eat some fabulous meals that feature delicious local produce - and meet some of the nicest and most genuine people in the country too.
Best road trip route from Brisbane to Tasmania
From Brisbane, the first part of the drive will take you down the coast towards Sydney on the Pacific Highway.
Along this part of the journey you will pass through the Gold Coast, Byron Bay and Coffs Harbour. All of which provide fantastic opportunities to sunbathe, beach walk or go surfing. As well as enjoy excellent nightlife and a range of cool tourist attractions.
After you pass Coffs Harbour you should definitely try and stop in at Crowdy Bay National Park as well, to see the awe-inspiring sight of kangaroos playing in the surf every morning at sunrise.
You might also want to check out the lively harbor city of Newcastle. Or visit the gorgeous beach at Terrigal which is lined by princely Norfolk pine trees.
Fans of the TV show Home and Away will want to check out Palm Beach, with its iconic twin beaches that serve as a filming location for the TV show.
Sydney is a world class city that you should definitely visit, and after you have spent some time there you will start to make your way inland to Canberra on the M31.
On the way, you'll pass by Bowral, which is home to the famous Bradman cricket museum. Next up is Goulburn, which is a fabulous spot for outdoor activities like abseiling, rock climbing and caving.
The nation's capital of Canberra is another must visit destination that showcases graceful architecture, a very good dining scene and splendid cultural attractions.
While the lively Riverina city of Wagga Wagga is another lovely place to stop, on account of its attractive beach, picturesque botanical gardens and some enchanting museums and art galleries.
After Wagga Wagga, you will soon make your on to Albury and Wodonga. Two lovely towns on the historic banks of the Murray River, which have terrific food scenes and plenty of opportunities for outdoor recreational activities like kayaking, paddle boarding, jet skiing and wakeboarding.
The final stretch of this drive to Melbourne will see you pass through Wangaratta, which is a charming rural town that is known for hosting the celebrated Wangaratta Festival of Jazz and Blues every year.
You can also choose to stop at Seymour; a well-known foodie destination that lies at the foot of the Goulburn Valley wine region.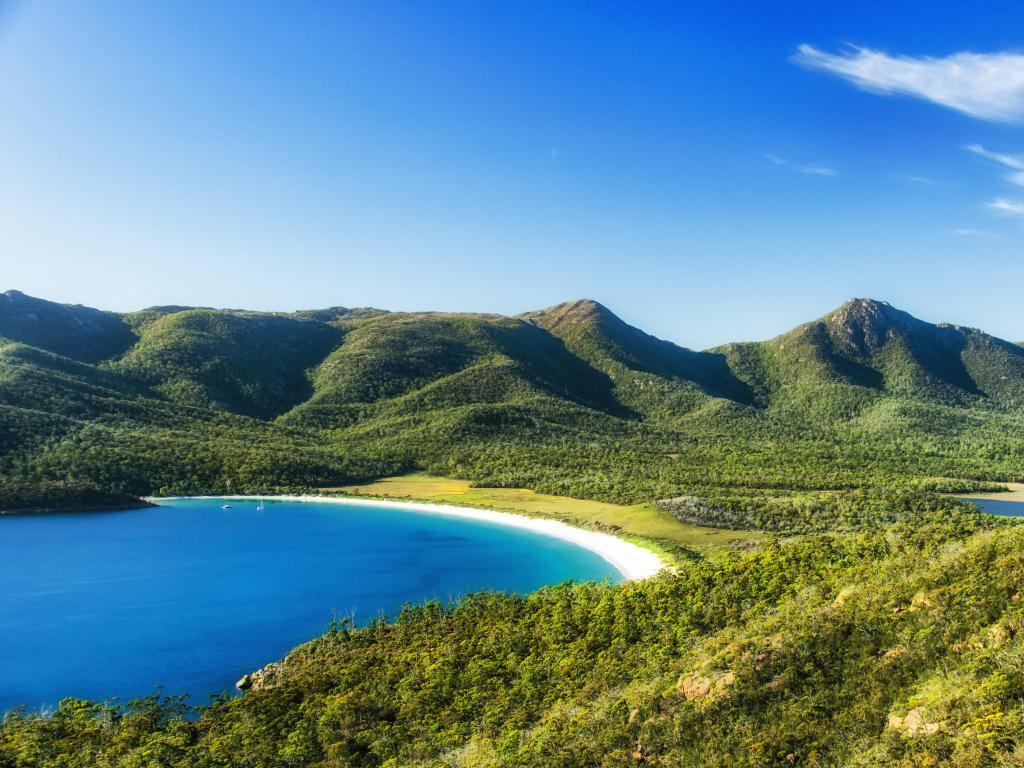 Once you have had a couple of days of touring around Melbourne, you will need to make your way to the port, to catch the 'Spirit of Tasmania' ferry which will take you to Devonport in Tasmania.
Best places to stop between Brisbane and Tasmania
Given how long it takes to drive from Brisbane to the ferry port in Melbourne, and also how many wonderful places and tourist attractions there are to visit, you will need to make some stopovers during your trip.
There are plenty of places you can do this at. But here are a couple of our favourites.
Embrace the Byron Bay vibe
Byron Bay might only be a couple of hour's drive from Brisbane, but it is somewhere you should definitely stay.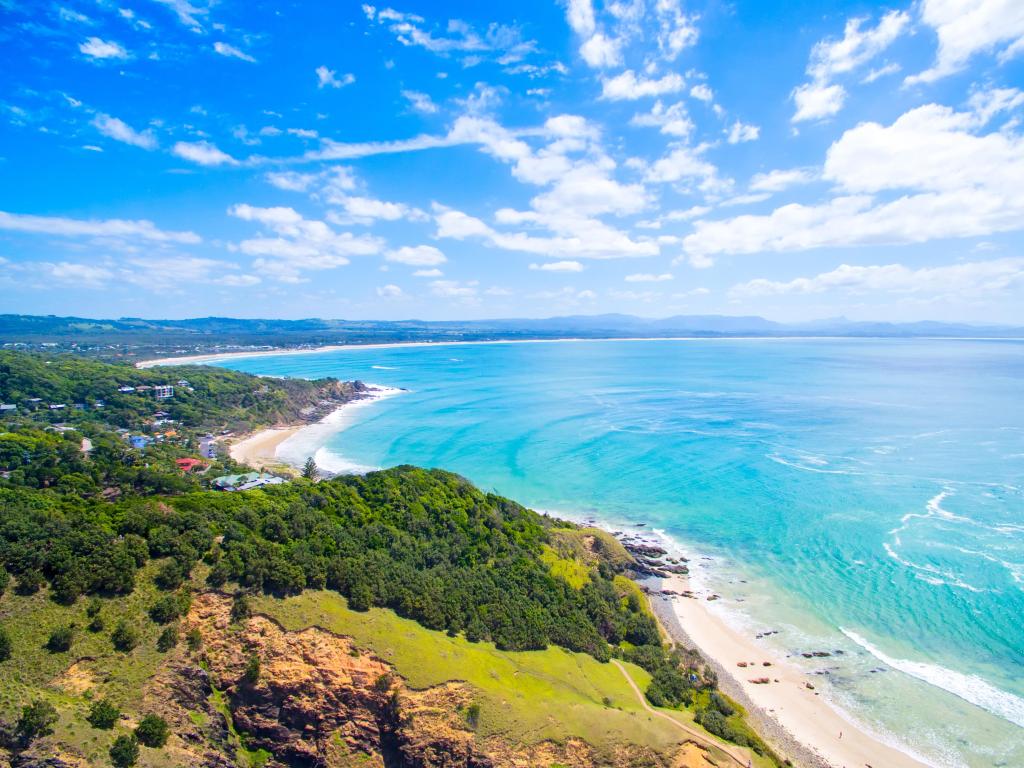 Famed for being one of Australia's hippest and most alluring coastal towns, Byron showcases incredible beaches, lush hinterland and a laid-back, yet lively restaurant and bar scene.
Whilst here, The Villas of Byron is a great choice for a truly memorable stay. A luxury 5-star resort with plush villas that have a private hot tub and pool, this property provides a welcome oasis of calm and relaxation after a busy day of exploring.
Handily located close to the major beach, and Byron's vibrant main strip of trendy bars and eateries, it is also not far from the iconic lighthouse. Which is the first place in Australia to see the sunrise every day.
Explore the bright lights of Sydney
Blessed with stunning beaches, a fantastic restaurant and nightlife scene, some of the country's most prominent landmarks, and a plethora of outstanding museums and galleries, Sydney is a world class city you simply have to check out.
If you do visit there, the Sheraton Grand Sydney Hyde Park is a wonderful place to stay. Situated on Elizabeth Street in the CBD, it overlooks Hyde Park and places you within easy walking distance of The Rocks, Circular Quay and the Sydney Opera House.
A luxury 5-star hotel, each of the rooms are well appointed and elegantly decorated. They feature deluxe marble bathrooms, a private terrace and a very comfortable bed, which is guaranteed to give you a good night's sleep.
The hotel also has an excellent lap swimming pool and fantastic fitness centre for those who like to work out. While there is an acclaimed restaurant and bar onsite too which provides excellent meal and drink options for those who don't want to venture out.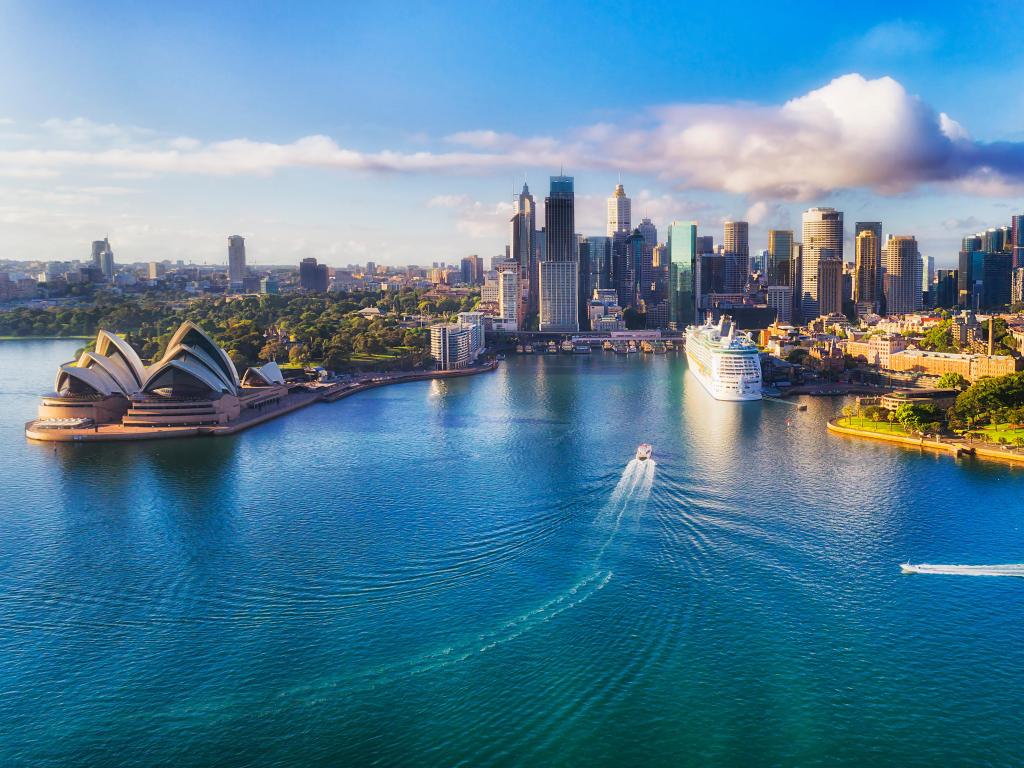 Things to see on a road trip from Brisbane to Tasmania
There are so many captivating places to visit between Brisbane and Tasmania, that it can be difficult to know which ones to visit.
Whilst time won't permit you to see all of them on this one trip, we recommend you try and go to as many of the following as you can.
Surfer's Paradise - Renowned for its gorgeous beaches, stunning skyline and world class bars and nightclubs. If you are not afraid of heights be sure to visit the SkyPoint observation deck, which presents incredible 360° views.
Byron Bay - Hip coastal town that boasts a wonderful beach and cool bars and cafes. Also known for being the first place in Australia to see the sunrise every morning.
Coffs Harbour - Check out the Big Banana and visit the fabulous Dolphin Marine Conservation Park.
Crowdy Bay National Park - Witness the magnificent sight of kangaroos playing in the surf every morning at sunrise.
Newcastle - Nestled within the Sydney Basin, this lovely harbor city is a real gem.
Terrigal - Rest and relax at a wide stretch of beach that is flanked by an esplanade which is lined with princely Norfolk pine trees.
Palm Beach - Take in the gorgeous twin beaches that serve as the backdrop for the TV show Home and Away.
Sydney - World class city with stunning beaches, some of the country's most prominent landmarks, a wonderful entertainment scene and world class cultural attractions.
Bowral - A must for all cricket lovers. This awesome museum celebrates the life and achievements of Don Bradman, as well as the history of cricket.
Goulburn - Renowned for being Australia's first inland city, its houses fantastic art galleries and museums and is a great place for caving, rock climbing and abseiling.
Canberra - The nation's capital is a refined and stately city that features graceful architecture, an acclaimed dining scene and outstanding cultural attractions.
Wagga Wagga - Lively Riverina city with a lovely beach, stunning botanical gardens and some absorbing art galleries.
Albury & Wodonga - Nestled on the historic banks of the Murray River, they both offer a vibrant art scene, a terrific food scene and lots of opportunities for outdoor recreation.
Wangaratta - Charming rural centre known for hosting the iconic Wangaratta Festival of Jazz and Blues. Also a great base to explore some of Victoria's finest wineries.
Seymour - Renowned foodie destination at the foot of the Goulburn Valley wine region.
Melbourne - World class city, and must visit destination on the Yarra River, with world class nightlife, dining, sporting events, tourist attractions and cultural landmarks.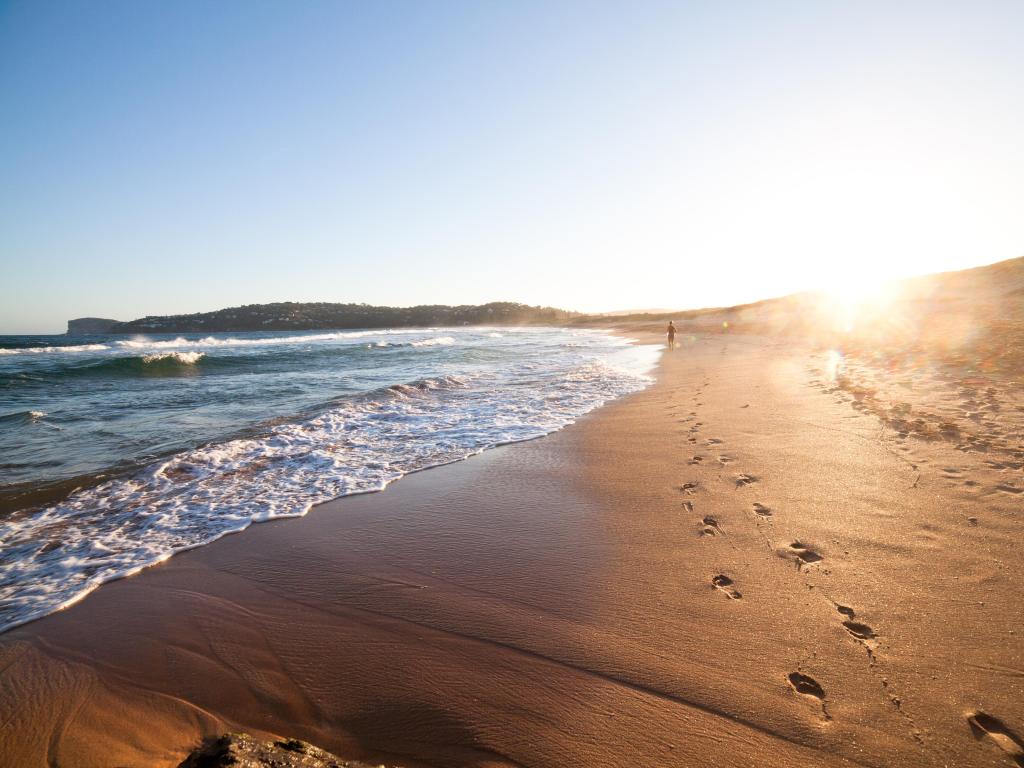 Best time to go on a road trip from Brisbane to Tasmania
To get to Tasmania you will need to take the 'Spirit of Tasmania' ferry from Melbourne.
You will find that the summer months of December to February are the most popular times to take this ferry. In fact it is so popular that they often run two vessels over to Tasmania per day.
Between February and May, which is the period of late summer and autumn, you will find the return sale from Devonport in Tasmania, to Melbourne, will be busier than the outgoing leg. This is because many grey nomads leave the island for a couple of months to take advantage of the warmer weather on the mainland.
During the winter months of June to August you will find the ferry will be generally less busy. The crossing might be rougher too, but when you get to Tasmania you will arguably see it at its most beautiful.
On the drive down from Brisbane, it's worth nothing that hotel prices and levels of traffic will likely be increased during the summer months, and in particular in the school holidays, or at weekends. Most notably around the big cities of Melbourne, Sydney and Canberra.
Apart from that though, you can start your trip whenever you feel like it. Though you might want to get your car fully serviced by a qualified mechanic before you head off.