How long does it take to drive across the USA?
For many road-trippers, the ultimate dream is to drive across the USA, an iconic adventure that's been well documented in books and movies like Jack Kerouac's On the Road and 'Easy Rider' with Peter Fonda.
There are several different ways to make the coast-to-coast trip, including embarking on the famous Route 66, taking the northern route through many of the country's most jaw-dropping national parks, or travelling diagonally from Florida up to San Francisco.
But just how feasible is the American cross-country trip, and how long will it actually take?
Depending on which route you go on, a road trip across the USA will take between four and six days, assuming you're willing to spend up to eight hours behind the wheel per day. If you'd rather limit driving time and spend a bit more time at stops, the journey can take anywhere between a week and a month - or even longer!
Generally people choose to go from east to west, because time changes are in your favour and it means you'll finish your trip on the west coast, where the landscapes are more dramatic and the weather is generally more pleasant.
The northern and central routes will take longer, since they cut through the country at its widest point. If you want to save time (and see some pretty cool sights along the way), we recommend the southern route.
Here are our top 5 different ways to drive lengthwise across America, including how long each route takes in hours, how many miles they cover, and what to see along the way.
Driving from New York to Los Angeles
Miles: 2,763
How long does it take? 41 hours
What could be more iconic than a trip between two of America's biggest and most exciting cities?
Ideally, you'll begin with a few days to explore NYC (unless you're a local, of course).
Then you'll drive west across Pennsylvania, Ohio, Indiana and southern Illinois, cutting right through the middle of Missouri and Kansas before veering southwest through Arizona and southern Nevada and finally reaching Los Angeles.
Of course, you're free to change and adapt this route as much as you want in order to hit up the sights and attractions that are on your bucket list.
What to see along the way
Chicago
If you have time and you've never been, it's definitely worth making a stop in Chicago, aka America's 'Second City.'
Sort of like a smaller, windier and more spacious version of New York, Chicago has tons to offer, from top-notch stand-up comedy to stellar sports teams, beautiful architecture, and a spectacular food scene.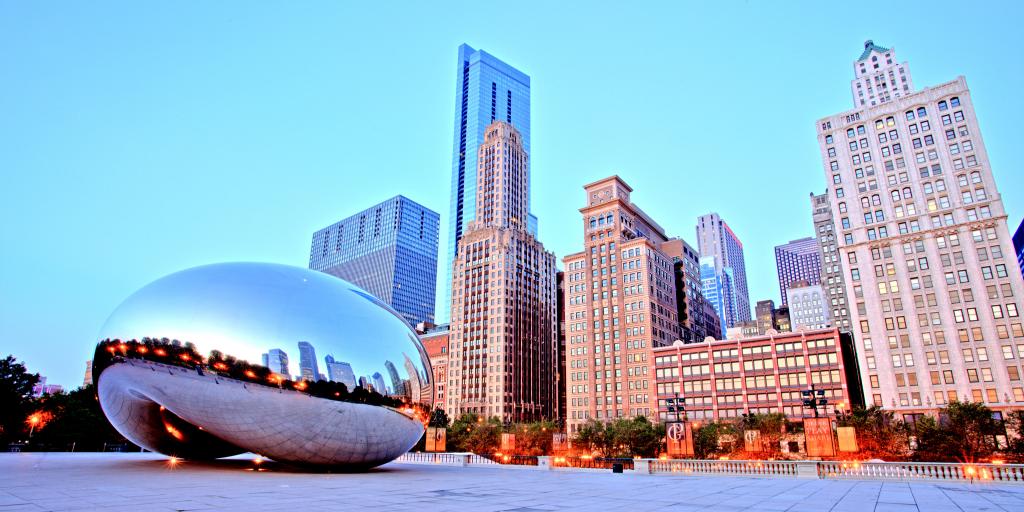 Nashville
Another cool destination to visit between NYC and L.A. is Nashville, Tennessee, home of the famous Grand Ole Opry and countless buzzing country music venues.
If you're a music aficionado or play an instrument yourself, you'll get a kick out of all the music-themed attractions in Nashville, including museums dedicated to Willie Nelson and Johnny Cash.
Bonneville Salt Flats
You'll have to veer a little bit northward to reach this one, but it really is a once-in-a-lifetime opportunity, so go for it!
Located just outside Salt Lake City, Utah, this glistening white landscape resembles a snow-covered plain - except that it's actually salt, not snow, that blankets the ground.
Get out of your car, have a walk around the flats and sneak a taste to see for yourself!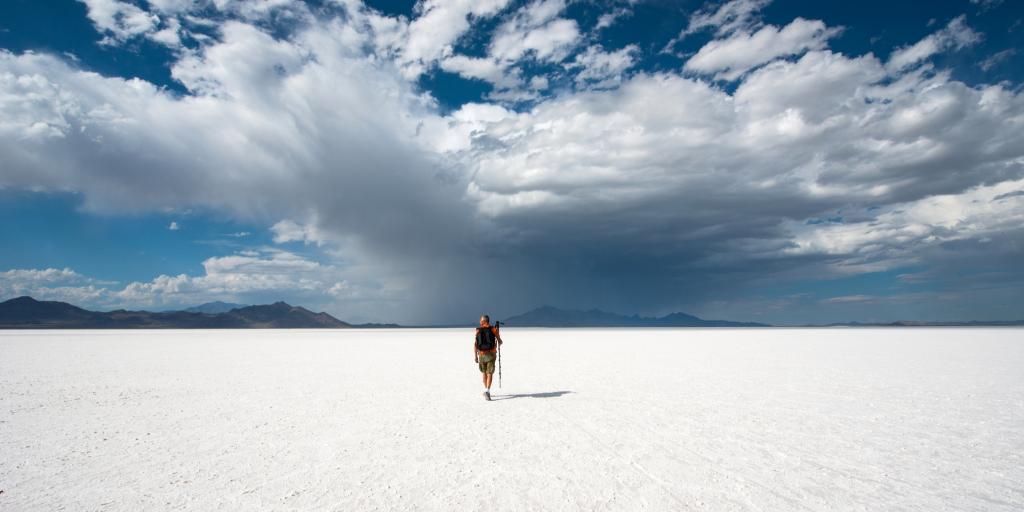 Driving from Washington D.C. to San Francisco - the middle-America route
Miles: 2,807
How long does it take? 41 hours
This route through middle America follows along Highway 20 for much of the journey as well as taking a detour down I-50, aka the 'Loneliest Road.'
Despite the name, the latter highway - which passes through 11 states - is home to plenty of American highlights including the Rocky Mountains and the stunning Lake Tahoe.
The section that snakes through the deserts of Nevada is known as the lonely part, since there's really not much to see there apart from arid land resembling the surface of Mars.
Still, Time magazine once dubbed this road the 'Backbone of America,' so you know it's entirely worthwhile!
What to see along the way
Rocky Mountains
Take a slight detour into Rocky Mountain National Park in northern Colorado for some truly hair-raising driving.
The scenery here is positively mind-blowing, characterised by green alpine forests and dramatic snow-capped peaks.
No matter what time of year it is, the Rocky Mountain views will undoubtedly be one of the most incredible highlights of your USA road trip.
Reno, Nevada
This one is for all the gamblers out there - Reno, Nevada, is like a smaller, cuter version of Las Vegas, with lots of hotels and casinos dotted around the city.
But whether you're into Black Jack or not, you'll find plenty of things to amuse you in Reno - which is adorably known as 'The Biggest Little City in the World.'
A vibrant art scene, a growing number of hipster cafes and restaurants, and Tesla's enigmatic new Gigafactory… these are just some of the things to draw you to Reno on your travels.
Lake Tahoe
Just an hour south of Reno is the picturesque Lake Tahoe, with its crystal-clear lake and awesome ski resorts.
Whether you're visiting in summer and fancy some water-skiing, or doing a winter snowboarding trip, there's no lack of entertainment in Lake Tahoe.
Plus, the lake is surrounded by lovely towns and cities with plenty of nice eating and drinking options to suit every taste.
Driving from Chicago to L.A. - Route 66
Miles: 2,034
How long does it take? 30 hours
This world-famous drive doesn't technically traverse the entire country, but at 2,400 miles long, it still covers a lot of quintessentially American ground.
Historically, Route 66 ran all the way from Chicago to Los Angeles, passing through Missouri, Oklahoma, north Texas, New Mexico and Arizona along the way.
Today, much of the original highway is unpaved and virtually inaccessible - but you can still follow the general route.
Start your trip with a few days in Chicago before embarking on the adventure of a lifetime.
What to see along the way
Grand Canyon
One of the wonders of the natural world, the Grand Canyon's beauty is impossible to grasp in photos or videos; you have to see it in real life to believe it!
It's an easy detour from Route 66, so you should definitely spend some time admiring its sheer size and unbelievable splendour.
If you have a few days to spare, consider taking a rafting trip down the Colorado River to get a perspective of the canyon from below.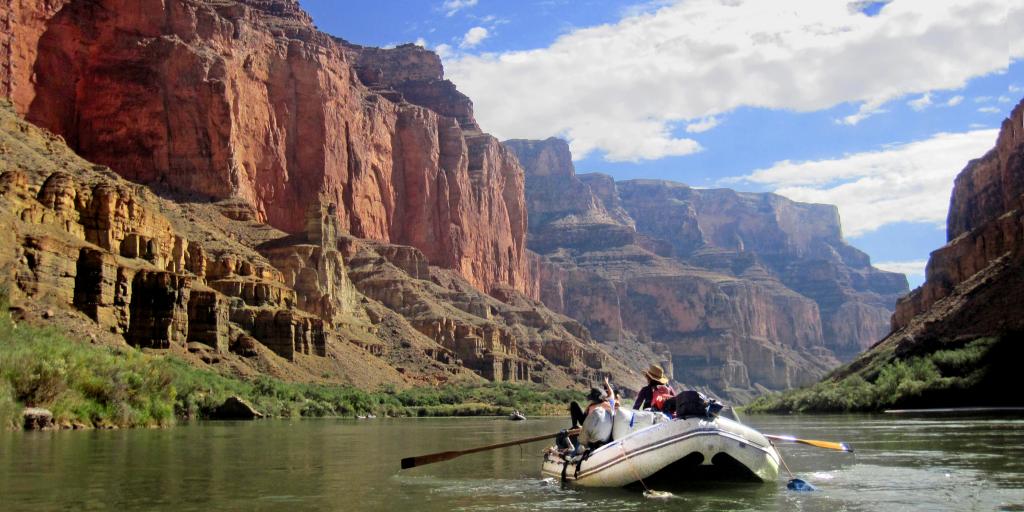 Las Vegas
Even if you're not much of a gambler, Las Vegas is such a unique and recognisable sight to behold that it's worth doing a quick stop here.
Stay long enough to catch a glimpse of famous attractions like the Las Vegas Strip, the Bellagio Hotel and the ritzy MGM Grand casino.
For a fuller experience of this playground for adults, take in dinner and a show.
Driving from Maine to Washington state - the Great Northern Route
Miles: 3,226
How long does it take? 53 hours
The Great Northern Route starts in the city of Seattle and finishes up in Maine's stunning Acadia National Park (or vice versa, if you so please).
One thing that sets this route apart is the fact that there are hardly any cities on the way at all; instead, you can expect to be overwhelmed by the incredible variety of landscapes, from dramatic alpine mountains to the peaceful Great Plains and the arid region of the Columbia Plateau.
And throughout the trip you'll see a handful of the most beautiful national parks in the U.S.
If you're travelling in the colder months, you'll want to bring snow chains with you so that you're well prepared to drive through snowy and icy weather.
What to see along the way
Niagara Falls
To catch a glimpse of the country's most famous waterfall, head south west through New York state and make your way to Niagara Falls, which lies on the border of Canada.
This jaw-dropping natural feature actually consists of three waterfalls - the Horseshoe Falls, the American Falls, and the Bridal Veil Falls.
Don your finest waterproof poncho and get up close and personal with the waterfalls before continuing on with your USA road trip.
Yellowstone National Park
Straddling the northwest corner of Wyoming, eastern Idaho and the southern border of Montana, this world-famous park is home to scenic hiking trails, exciting wildlife, and the largest collection of geysers in the world, including the famed Old Faithful.
You could - and should! - spend days getting back in touch with nature and exploring all the incredible sights and attractions here. If you're lucky, you just might spot a grizzly bear prowling around the park.
There are a number of charming hotels, resorts and cabins around Yellowstone where you can take a much needed break from your long trip.
Glacier National Park, Montana
Way up north near the border between Montana and Canada is the outstanding Glacier National Park, yet another park worth stopping at on your road trip.
Go on an adventure down one of the more than 700 walking trails and see if you can spot any bald eagles soaring overhead.
For something a little different, why not try your hand at fly fishing? Glacier National Park has some of the best fly fishing in all of the country, and you don't need a permit to fish in its waters.
Driving from Georgia to California via U.S. 80 - the Southern Route
Miles: 2,387
How long does it take? 35 hours
Experience some of the most typically American destinations on a road trip through the American South starting in Savannah, Georgia, and ending in San Diego.
This route follows along Route 80 for much of the way, travelling through Georgia, Alabama, Mississippi, Louisiana, Texas, New Mexico and Arizona before finishing in California.
Expect historic towns, lots of barbecue and heaps of southern hospitality!
What to see along the way
Georgia islands
If you have time at the start of your trip, consider discovering some of the many little islands that dot the Georgia coast near Savannah.
You'll be blown away by the area's rich history, diverse marine life and romantic feel.
Just 20 minutes from downtown Savannah, Tybee Island is the closest and one of the most popular nearby islands. Come here to relax on the wide, peaceful beaches and partake in watersports and eco-tours.
Drive an hour and a half south of Savannah and you'll reach the historic Jekyll Island, part of Georgia's Golden Isles.
Highlights here include an educational turtle rescue centre, a collection of old mansions once owned by some of the most prominent families in America, and the famous Driftwood Beach - an otherworldly stretch of sand covered in sun-bleached trees.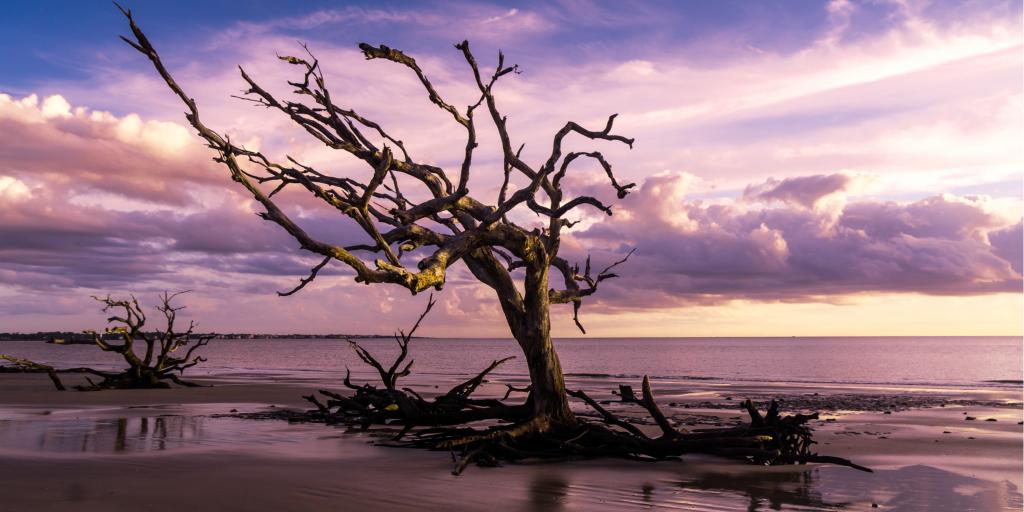 New Orleans & the Mississippi River
Walk in the footsteps of Tom Sawyer and Huckleberry Finn with a trip along the Mississippi, America's second longest river.
There are several old-fashioned riverboat rides departing from New Orleans, which will make you feel like you've stepped back in time to the 19th century.
Of course you should also spend some time on dry land in New Orleans itself, known for its vibrant music and nightlife scene as well as being a cultural melting pot of French, African and American heritages.
Dallas, Texas
Now's the time to get your fill of authentic American barbecue in the state that has one of the highest number of barbecue restaurants in the country: good ol' Texas.
The signature BBQ dish in the Lone Star State is beef brisket, which is seasoned, injected with marinade, and slow smoked until it is cooked to perfection.
If you're driving through Dallas and fancy sampling some of the best brisket around, head to Slow Bone BBQ on Irving Boulevard, or sample the deceptively simple (read: mouth-wateringly delicious) fare at old-time institution Mac's Bar-B-Que on Main Street.