Pacific Northwest road trip - Scenic round trip from Seattle
Day 1: Arrive in Seattle and explore the city
Your Pacific Northwest road trip begins in Seattle - one of the most vibrant, exciting and underrated cities in America.
Heathrow has direct flights to Seattle, with a journey time of about ten hours. If you're travelling from elsewhere, Seattle-Tacoma International Airport (aka Sea-Tac) welcomes plenty of arrivals from all over the world, and it's an easy 40-minute train journey to downtown Seattle from there.
Grab a coffee and ascend the Space Needle
Once you've found your hotel and dropped your bags, go into town and find Elm Coffee Roasters in Pioneer Square.
The friendly and helpful baristas at this popular cafe make a mean brew; pair yours with a flaky pastry or tasty muffin to kickstart your day.
From here, make your way to Seattle's most famous landmark: the Space Needle.
This distinctive observation tower, which looks as though it dropped to Earth from outer space, is of course the principal tourist attraction in the city, so expect crowds upon your arrival.
That being said, the Space Needle is so incredibly iconic that you can't possibly visit Seattle without going to see it. Plus, it's very much worth it for the stellar views you get from the top.
To avoid the queues, book your tickets online ahead of time and ascend the tower to the upper level, where you'll be treated to panoramic views of the city.
Make sure you marvel at the views from the Loupe - the world's first and only rotating glass floor, located 50 stories above street level.
The Space Needle is open from Monday through Thursday from 10am to 7pm, and 9am to 7pm on Fridays and Saturdays.
General admission costs $32 to $38 for adults, $27 to $33 for seniors (aged 65+) and $24 to $29 for kids between 5 and 12.
Travel tip: Arrive at the ticket office between 10am and 12pm to get an early bird ticket, which can save you up to $5.
Have breakfast/brunch at Pike Place Market
Food time! Walk southeast of the Space Needle for 20 minutes until you reach Pike Place Market, widely regarded as one of the best markets in the whole country.
This historic market, which dates back to 1907, is home to more than 500 shops, vendors, bars and restaurants, including one of the very first outposts of Starbucks, which originated right here in Seattle.
Whatever it is you're craving - whether it's local seafood, Russian pastries, charcuterie, cheese, or freshly baked doughnuts - you'll be able to find it in Pike Place Market.
Some particular highlights are the award-winning New England clam chowder at Pike Place Chowder, and the gooey mac & cheese from Beecher's Homemade Cheese (Oprah even named it one of her 100 favourite things in 2010).
Our tip? Have a wander around the market and sample a whole smorgasbord of foods. This is a holiday after all - you might as well make the most of it!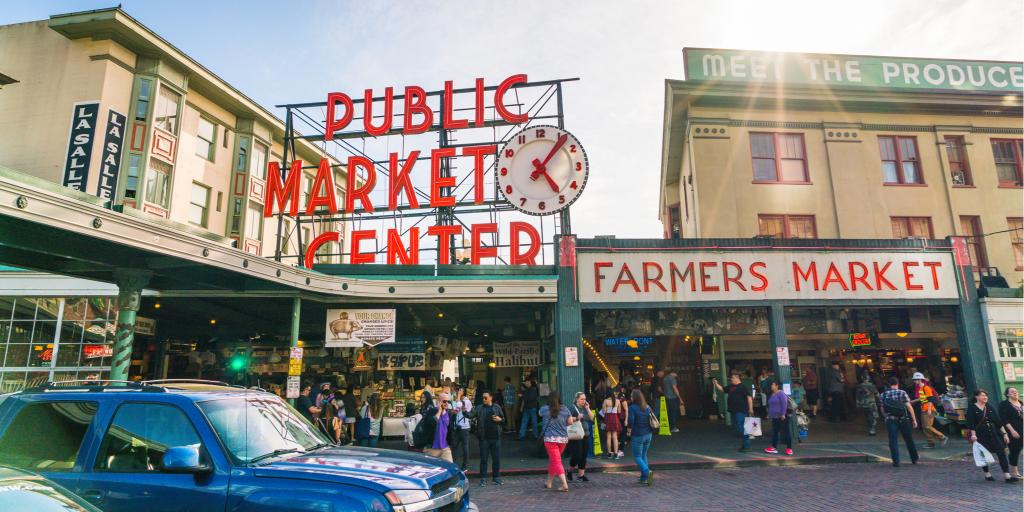 Take a break in Freeway Park
Now that you're suitably stuffed, it's time to take a breather in one of Seattle's most unique sights: Freeway Park.
Walk east along Pine Street, hang a right on 2nd Ave, then turn left on Union Street. Right near the Convention Centre you'll see an entrance to Freeway Park, a concrete jungle built right above the I-5 freeway.
Freeway Park represents a unique and clever use of urban space, with stark brutalist structures softened by wildflowers, grassy walkways and waterfalls. Seeing as it's hidden away, the park is a sort of secret garden, well off the tourist beaten path.
Settle into a sunny nook and read a book for an hour or so. This is a great place to escape the hustle and bustle of the city, even though it's right in the middle of the action.
Travel tip: Although it's generally safe to walk through Freeway Park, you probably shouldn't visit after sundown.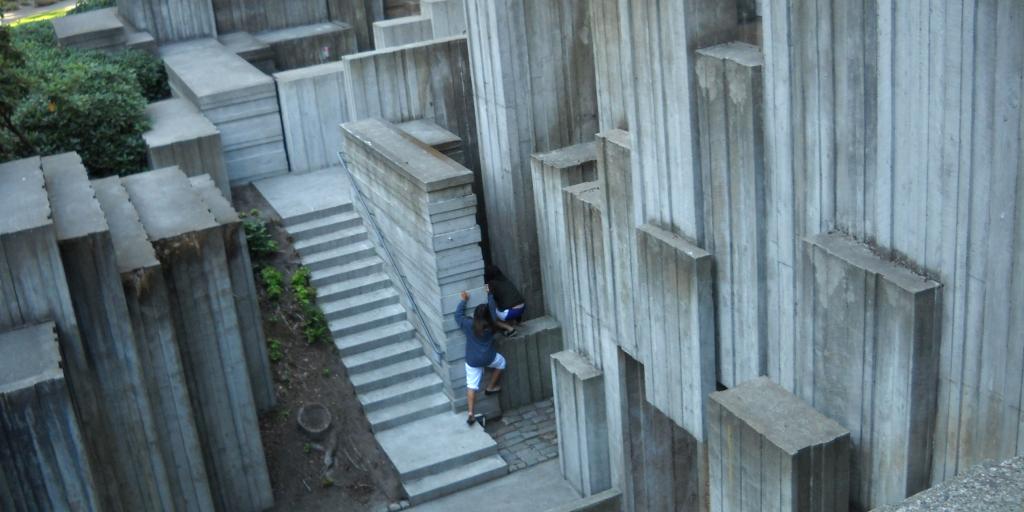 Visit Pier 55 and stroll along the waterfront
Walk back towards the waterfront and stroll along the scenic Pier 55, taking in all the sights and sounds of Seattle.
If you're travelling with children, you should definitely consider checking out Seattle Aquarium, which has an awesome underwater viewing dome. The Seattle Great Wheel is another fun family-friendly activity, offering amazing views over the sea.
Grab lunch at one of the restaurants by the water before heading to your next destination: Capitol Hill.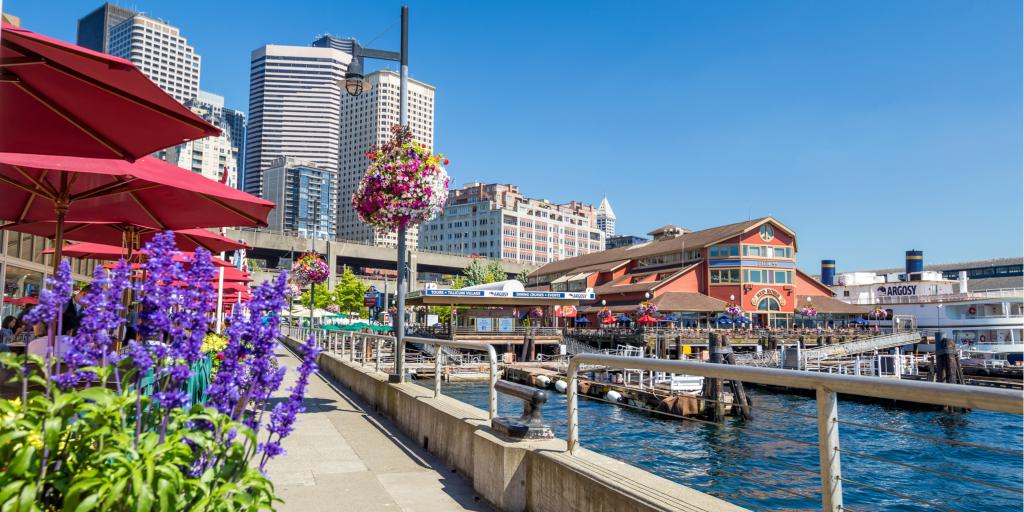 Take the bus to the trendy Capitol Hill neighbourhood
To reach Capitol Hill from Pier 55, hop on the 11 bus from Pike Street & 4th Ave and ride it seven tops to E Pine Street & 10th Ave. The journey should take about 25 minutes and costs $2.75.
This residential neighbourhood is one of the hippest areas of the city, chockablock with cool cafes, bars and quirky shops to peruse.
It's also the home of Seattle's Pride Parade, so there's a whole plethora of fun LGBTQ+ bars and clubs to explore if you want to come back in the evening.
Start your Capitol Hill walking tour with a trip to Everyday Music, a funky used record shop on 10th Avenue.
If you're a music fan, Everyday Music will feel like candyland. Spend some time rifling through the shelves and shelves of vinyls, cassettes and CDs, all of which come at reasonable prices.
Next, check out the free trade wares and homemade goods at Casita International, and then grab a coffee at one of the buzzy cafes nearby before heading north to Volunteer Park.
Walk through Volunteer Park
The sprawling 48-acre green space that is Volunteer Park is a spectacular playground for children and adults alike.
Here you can go for a stroll around the reservoir, admire the diverse flora and fauna in the Conservatory, climb up the old water tower, and admire the Black Sun - a striking doughnut-shaped sculpture perched at the water's edge.
In the summertime, look out for incredible concerts and plays that take place right in the park.
If you feel like an early dinner or a hearty snack, get a bite to eat at Dick's Drive-In, a beloved Seattle institution. Treat yourself to a greasy cheeseburger and fries before heading back to your hotel for a rest.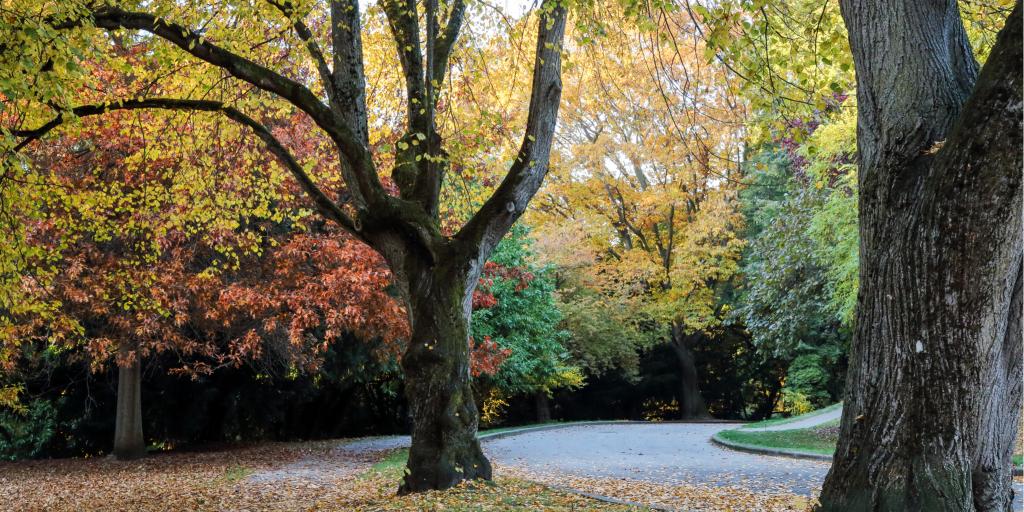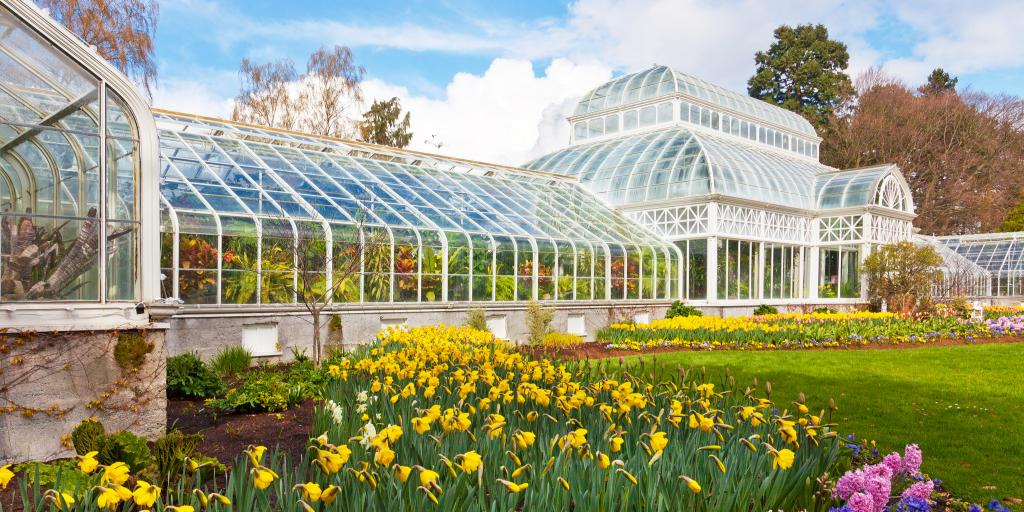 Enjoy a Vietnamese dinner in town
While we love a good cup of joe, luckily it's not all coffee and seafood in Seattle; the city is also (somewhat surprisingly) famous for its fantastic Vietnamese restaurants.
Tonight, seek out some heart-warming Pho, which should help you shake off that jet lag. The popular Ba Bar is a safe bet and has a couple of different outposts dotted around the city.
After dinner, waddle back to your hotel room and hit the hay; there's plenty more exploring to do tomorrow!
Day 2: Explore Seattle
Begin day 2 of your Pacific Northwest trip with a shot of culture at one of two places (whichever one sounds more interesting to you): The Seattle Art Museum, or the Museum of Pop Culture, aka MoPop.
Get your culture fix at one of Seattle's top museums
The Seattle Art Museum, which is located downtown on First Avenue, is a 150,000-square-foot space dedicated to a hugely diverse array of art - from ceramics and sculptures to abstract paintings and photography.
You could spend hours wandering through the many exhibition spaces and browsing the unique products for sale in the gift shop.
Note that SAM is closed on Mondays and Tuesdays as well as major holidays, so be sure to plan your trip accordingly.
If you'd rather something a bit more atypical, head to the Frank Gehry-designed Museum of Pop Culture on 5th Ave, right near the Space Needle.
You'll immediately notice that the building itself is a veritable work of art, resembling some of the famed architect's other projects like Bilbao's Guggenheim Museum and the Walt Disney Concert Hall.
Just as you'd expect, MoPOP showcases popular movies, TV shows, music and books, with a selection of rotating exhibitions that are consistently fascinating.
Children in particular will get a kick out of the hands-on displays and interactive games, so plan to spend between two and three hours here.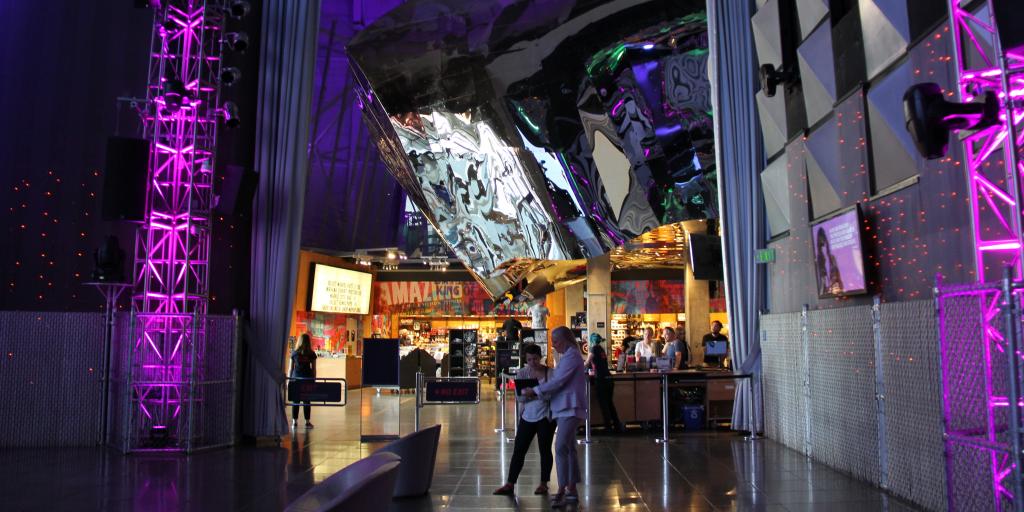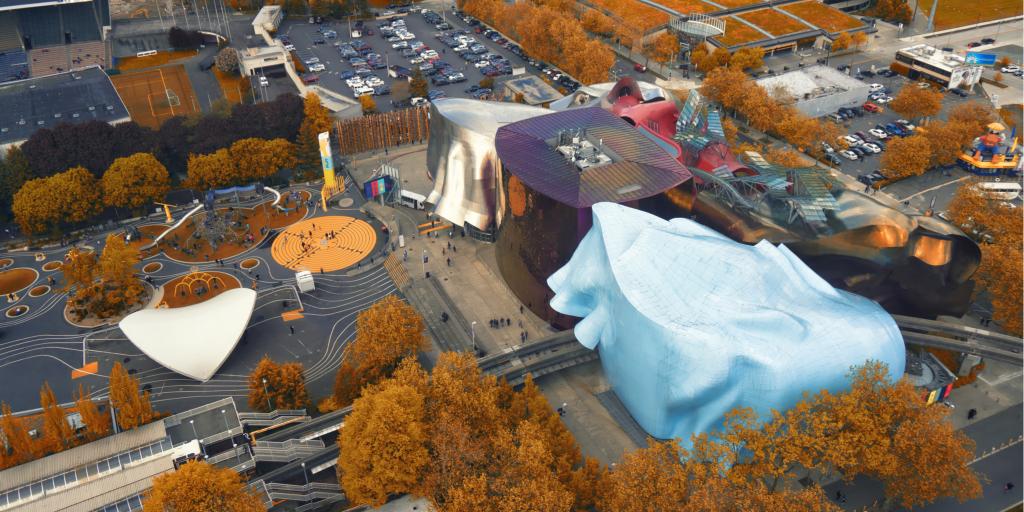 Snack on a Seattle Dog for lunch
Once you've had your fill of pop culture, it's time to fill up on something altogether unique to this city: a Seattle Dog.
If you've never heard of this variety of hot dog, you're in for a real treat. A Seattle Dog consists of a grilled Polish sausage sandwiched in a toasted bun. The key ingredient is a healthy slathering of cream cheese, and sauteed onions sprinkled on top. Bon appetit!
Spend the rest of your afternoon doing some shopping in Seattle and picking up a few souvenirs to take home with you.
If you enjoy getting totally immersed in bookstores as much as we do, it's worth making the trip to Elliott Bay Book Company, which is back in the Capitol Hill area.
Here you'll find shelves and shelves of classic and modern tomes as well as a cosy cafe in the back where you can read the first few chapters of your new purchases.
On rainy days in particular (of which there are many in Seattle!) Elliott Bay Book Company provides a warm and comforting haven in the centre of the city.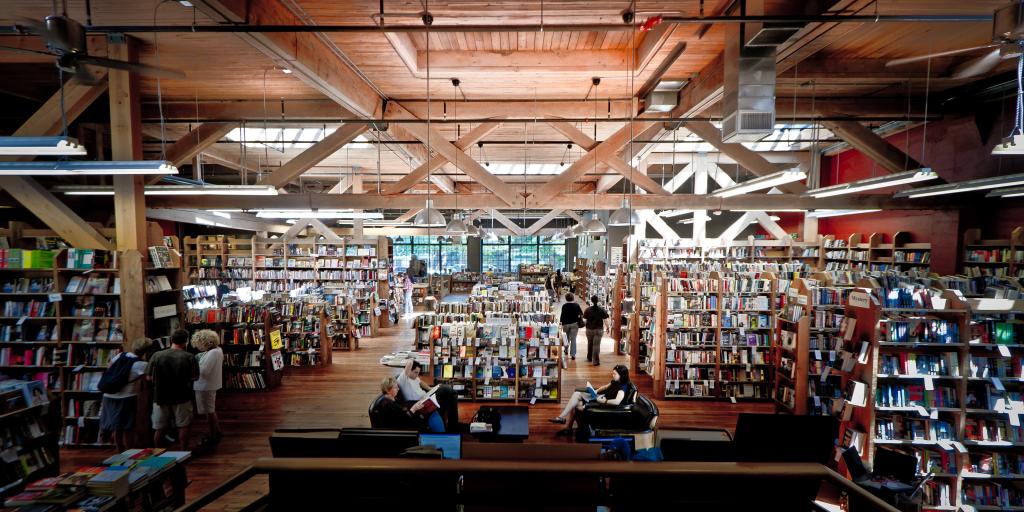 Eat dinner in a secret restaurant
Time to put on your best outfit; this evening's dinner is truly a special one.
The Pink Door is a charming and intimate Italian restaurant located behind - you guessed it - an unassuming pink door right in Pike Place Market.
Not only do they serve up fantastic Italian-American dishes in an unpretentious setting (think classic Caesar salad, meatballs and truffle risotto), but the restaurant also boasts lovely views of Elliott Bay.
With its speakeasy feel and sophisticated atmosphere, the Pink Door is the perfect place for a romantic dinner date or a fun and one-of-a-kind meal among friends.
The Pink Door is understandably something of a hotspot, so make sure you book a table well in advance (they accept reservations up to 30 days ahead).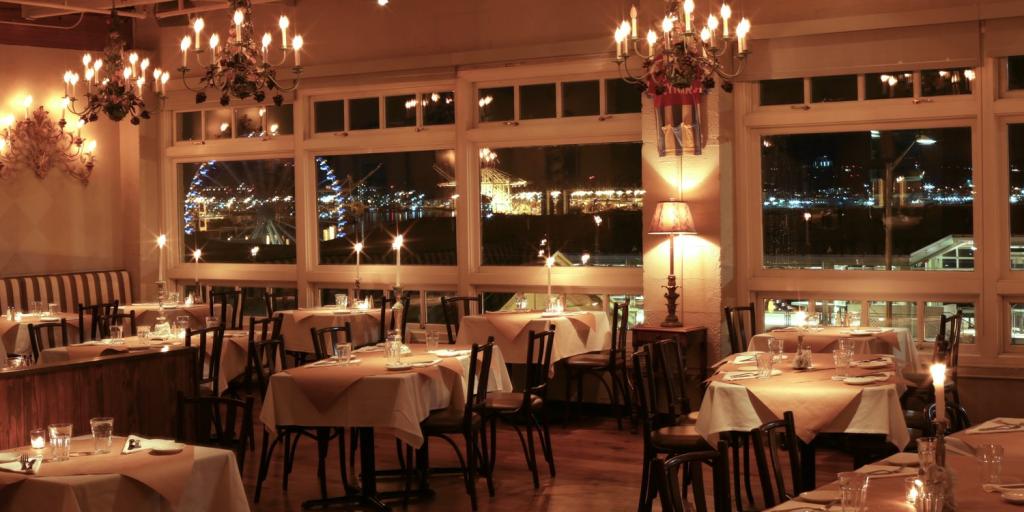 Day 3: Drive from Seattle to Mt Rainier to Portland
Miles: 238
And now, the moment you've really been waiting for: the official start of your Pacific Northwest road trip.
Once you've checked out of your Seattle hotel, it's time to pick up your rental car and hit the road.
There are lots of car hire companies right in town including Enterprise, Sixt and Budget; ideally you'll have booked your vehicle in advance to save some time and money.
Drive from Seattle to Mount Rainier National Park
Plan to set off from Seattle by around 9am so that you can reach Mount Rainier National Park by mid-morning. The drive should take you about 1.5 hours.
Mount Rainier National Park is one of the most breathtaking parks in America, if not the world, with countless scenic hiking trails, bright wildflower meadows, snow-capped peaks, roaring waterfalls and peaceful glacial lakes.
This is undoubtedly one of the highlights of your Pacific Northwest road trip; we advise keeping your camera in hand at all times!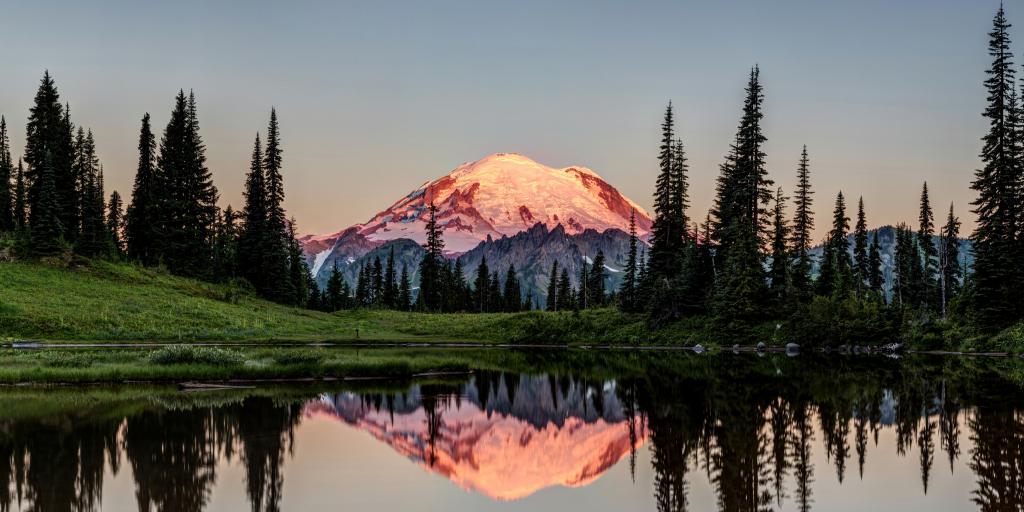 Hike the trails at Paradise
The 236,000-acre park, which is centred around the majestic Mount Rainier, is divided into several regions, each of which has its own distinct character.
Assuming it's your first time here, we highly recommend making your way to the most popular area, an incredibly picturesque subalpine vale which is aptly named Paradise.
To get to Paradise, which is in the southwest corner of the park, follow the main park road 11 miles east, beyond Longmire.
Find a parking spot at the Paradise Visitors Centre and set off from there (you might need to park a little bit up the road if it's a weekend or a holiday, when it tends to be busier).
One of the many appeals of Paradise, which is situated on the south slope of Mount Rainier, is that it's open year-round.
If you visit in summer, expect to see fields of colourful blossoms bursting into life, and wildlife sleuthing around the forests, trails and gurgling streams.
In winter, Paradise is blanketed in snow, making it a top spot for snowshoeing and cross-country skiing.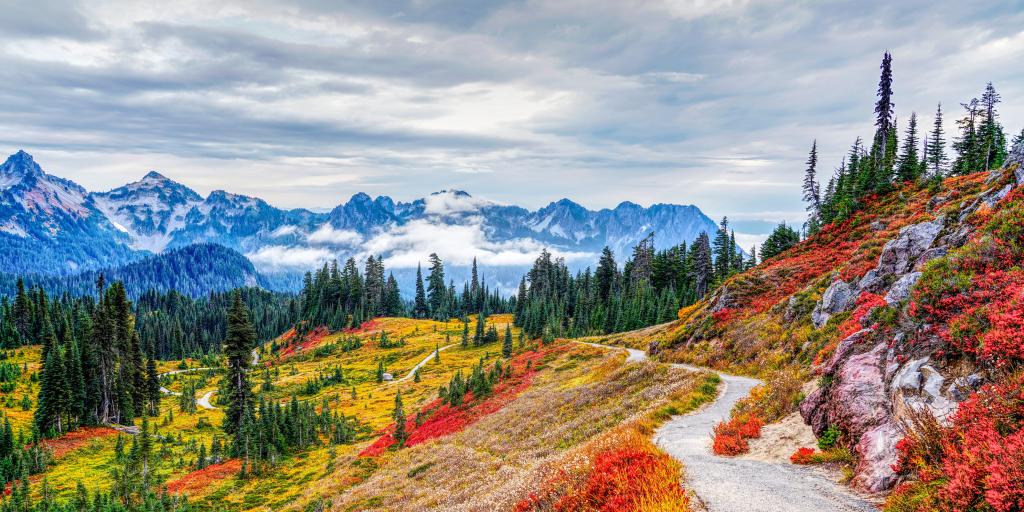 Some of the top Paradise highlights:
Nisqually Vista Trail - This paved one-mile-long scenic loop is low-intensity (read: good for beginners, youngsters and those with mobility issues), offering spectacular views of the Nisqually Glacier.
Bench & Snow Lakes Trail - Somewhat experienced hikers will like this 2.7-mile-long trail, with is rated as moderate. It will take you about two hours to do the whole trip. Make sure you keep an eye out for bears!
Myrtle Falls - Technically just outside of the main Paradise area, this powerful waterfall cascades down the mountains into a rugged gorge. With Mt Rainier standing right behind it, it's the perfect photo op.
Reflection Lakes - Check out the majestic Rainier from another perspective with a trip to Reflection Lakes, where the mountain's image appears on the water's impossibly still surface.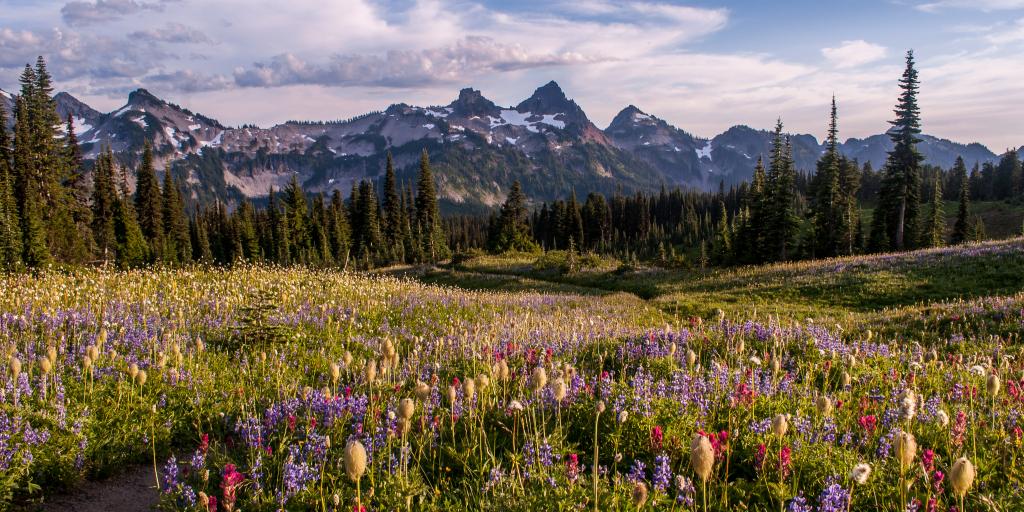 Break for lunch at Paradise Inn
After all that hiking and photography, you're undoubtedly feeling peckish. The best place to stop for lunch is the beautifully rustic and historic Paradise Inn, which was built back in 1916.
Perched on the slopes of Mt Rainier, Paradise Inn has long been a popular spot to relax, dine and enjoy the views of the mountain from just below it.
Treat yourself to a warming dish like salmon bisque, a truffle-infused hamburger or a bacon, brie and chicken sandwich. If it's a sunny day, enjoy your meal outside on the patio and soak up the rays.
Note that Paradise Inn is only open during the summer months, so plan your trip accordingly!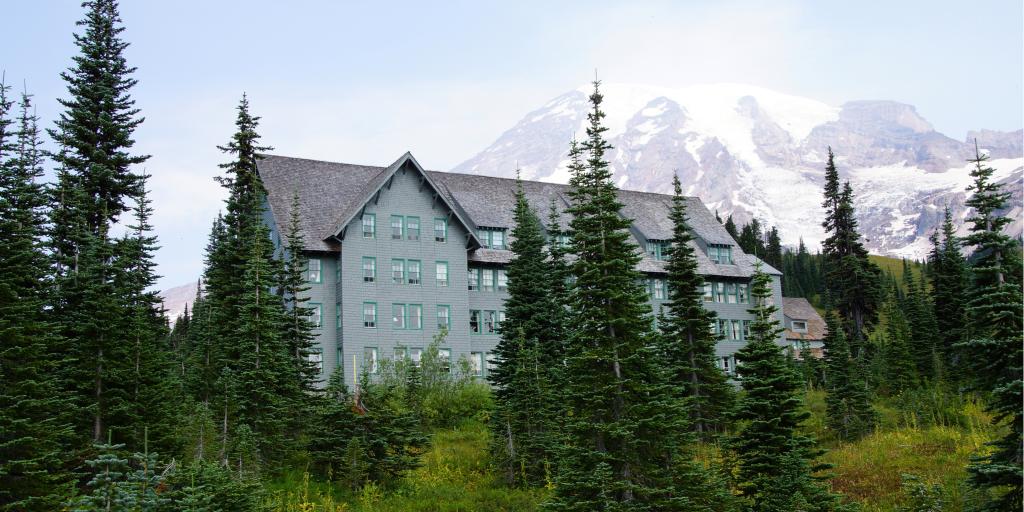 Drive to Portland
After lunch, make your way back to the car and set your Sat Nav to Portland. The drive from Mount Rainier National Park should take you about three hours.
Once you arrive and check into your hotel, have a relaxed dinner somewhere nearby and then get to bed early; you'll be craving a good sleep after all that hiking!
Day 4: Portland - Doughnuts, books and gardens
While Portland is a little bit smaller than Seattle, there's no shortage of places to see and things to do in this laid-back northwestern city.
In fact, many people (us included) prefer Portland, citing its friendly residents, strong culinary culture and overall quirky charm.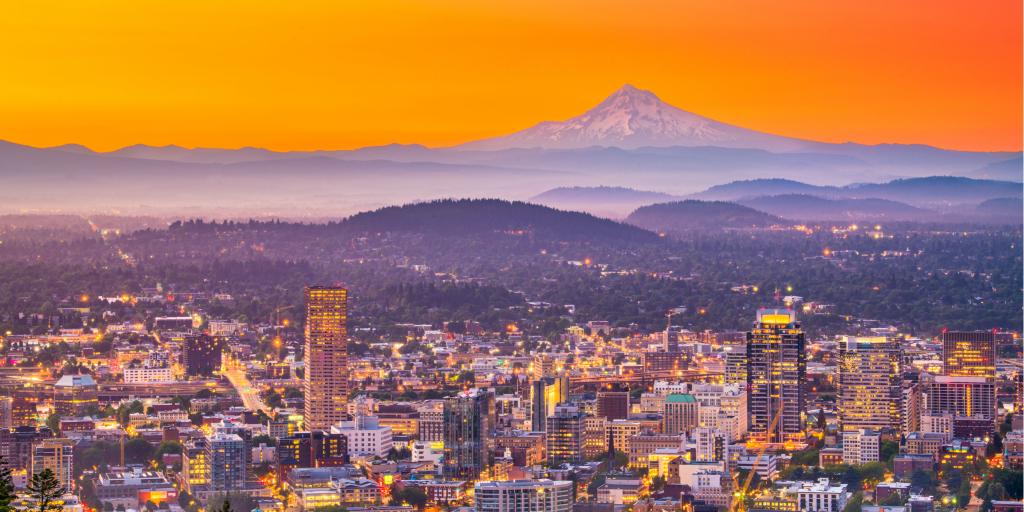 Grab a doughnut at Voodoo Doughnut
Start your day right with a sugary treat from Voodoo Doughnut on SW 3rd Avenue, in the heart of downtown Portland.
The shop's bright pink interior and seemingly endless variety of doughnuts (maple bacon flavour, anyone?) is an Instagrammer's dream come true.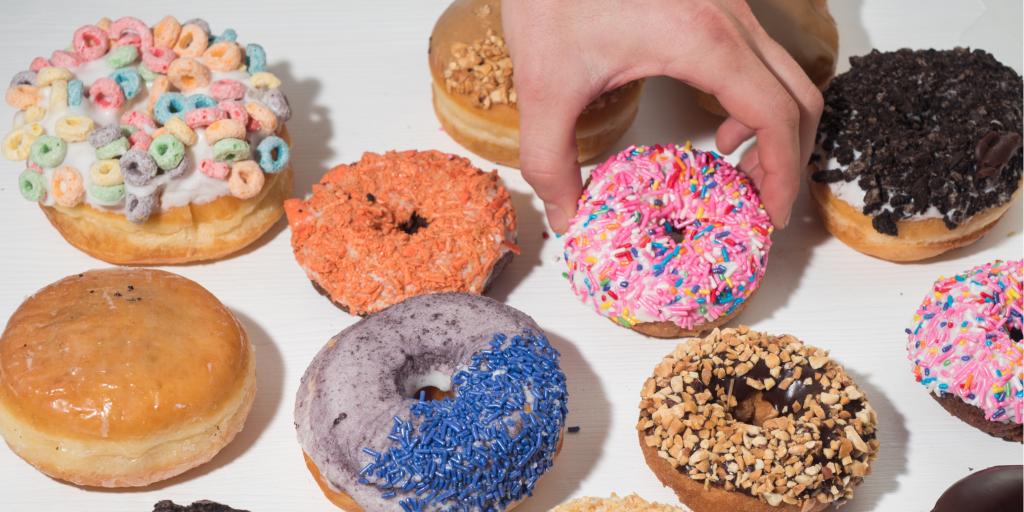 Leaf through the pages of Powell's City of Books
After you've tamed your sugar high, it's time to walk to your next Portland destination: Powell's City of Books.
This massive and rather labyrinthine shop is widely regarded as the largest independent bookstore in the world, with more than a million new and used books lining its shelves.
You could genuinely spend hours walking through the aisles of Powell's, which is less like a normal bookstore and more of a community centre, popular among people from all walks of life.
Be sure to check out the Rare Book Room for one-of-a-kind gifts to get for that avid book lover in your life.
Head to Pine Street Market for lunch
One of Portland's claims to fame is its penchant for superb street food, and there's no where better to have a taste than Pine Street Market, which is 11 minutes east of Powell's.
This bustling food court offers up every type of cuisine under the sun, from Israeli street food to Spanish pintxos and Korean barbecue.
With its open layout and communal tables, it's a great way to enjoy some local fare while mingling with the locals.
After lunch, grab a coffee at a cafe nearby before making your way to the Japanese Garden. You can walk there in about 45 minutes or hop on the number 20 bus and head westward.
Explore the Japanese Garden & International Rose Test Garden
Portland's Japanese Garden is not only a beautiful natural space with stunning gardens and views of Mount Hood, but it's also something of a cultural centre.
Visitors can go to the Cultural Village at the top of the hill to immerse themselves in traditional Japanese arts and enjoy tea in the Umami Cafe.
Follow the walking paths that wind through this 12-acre oasis, admire the koi ponds and bonsai trees, and bask in the garden's peace and serenity.
If you're there in the autumn, expect to glimpse wonderfully vibrant fall colours, while springtime brings delightful pink cherry blossoms and sweet camellias.
Admission to the Japanese Garden costs $17.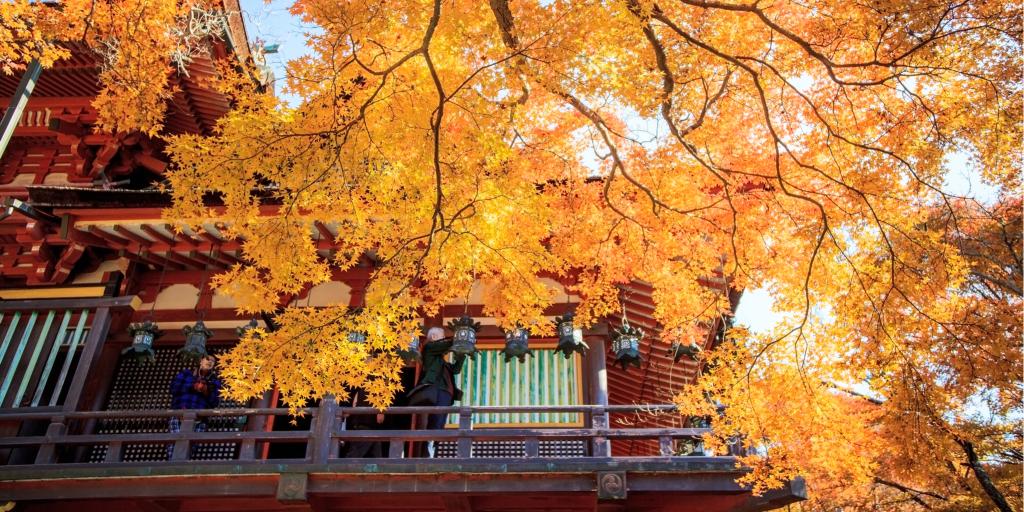 One of Portland's nicknames is the City of Roses, so it's only fitting that it's home to one of the prettiest and most colourful rose gardens in the country.
The International Rose Test Garden was set up during World War I - more than 100 years ago - in order to preserve the species of European roses believed to be under threat from bombings.
More than 7,000 rose bushes are planted here, giving off a lovely floral aroma and creating a calm and restorative atmosphere; it's nigh on impossible to believe you're right in downtown Portland.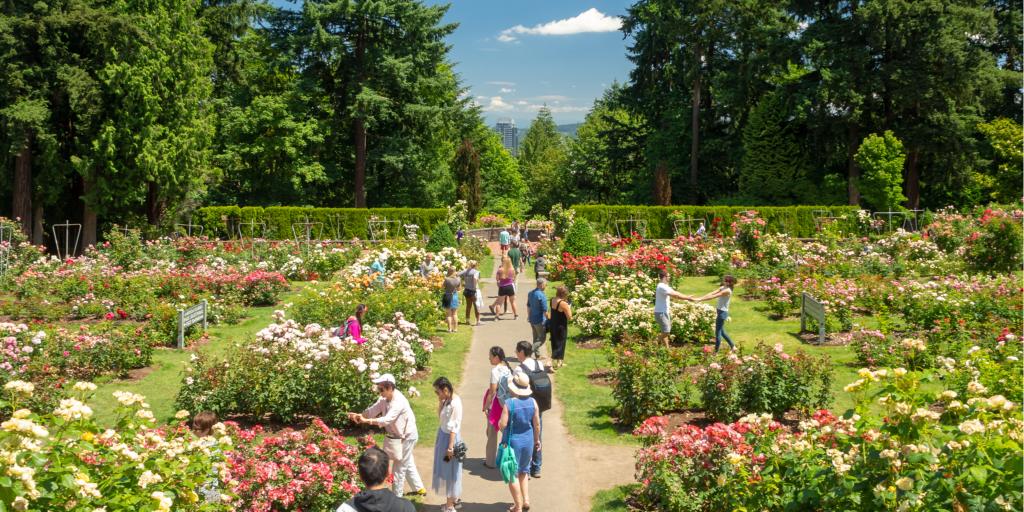 Grab a beer at a craft brewery
According to some counts, there are more than 60 breweries in Portland, so if you're a fan of beer, this is the place for you!
Find a brewery near your hotel or dinner spot and take your pick from dozens of varieties of IPAs as well as Belgian, British and sour beers. If the weather's nice, choose a brewery with an outdoor patio and catch a glimpse of the sunset while you imbibe.
Eat authentic Chinese food for dinner
Portland is known as a foodie hub, so you're positively spoiled for choice when it comes to dinner options.
If you like your food with a peppery kick, head to Duck House, a super casual Chinese restaurant on SW 5th Ave near Portland State University's campus.
Despite the name, this eatery does not actually serve up duck (unless you order it 24 hours in advance), so don't get your hopes up for nothing.
They do, however, have some pretty delectable handmade dim sum, pork buns, spicy noodles and rice dishes on offer.
Day 5: Drive from Portland to Crater Lake
Miles: 232
Rise and shine! You'll want to get an early start this morning (around 7am or so) so you can arrive at Crater Lake in good time. Bring along some picnic sandwiches and water with you to enjoy at lunchtime before embarking on your hike.
Travel tip: It might be a good idea to head to the Crater Lake website before you set off to check the webcams. These will tell you what the visibility at Crater Lake is like, and whether it's been affected by smoke or wildfires. If there's not much to see, it's probably not worth the trip!
At 1,949 feet (594 metres) deep, Crater Lake is the deepest lake in all of the United States. With its striking azure water and dramatic slopes, the lake seems almost unreal when you look at it, like a detailed painting.
Arrive in Crater Lake and hike to the water's edge
You should arrive in Crater Lake around noon. Go in via the north entrance (note: this entrance is closed from early November to June) and drive to the north side of the lake, 11 miles from Rim Village, and find a parking spot.
From here, it's about a one-mile hike down the switchback Cleetwood Trail to the edge of the lake.
This walk is relatively strenuous, with a steep grade and some pretty rocky terrain. But the journey is very much worth it for the sensational sight that greets you at the end.
Enjoy your picnic lunch on the shores of Crater Lake before heading back uphill and making your way to your car again. The return climb is equivalent to ascending 65 flights of stairs - so take your time!
Have a drive around the rim of the lake and stop at all the various vista points to snap photos of the park.
Sleep under the stars
In the late afternoon, find your way to one of the B&B's or hotels in the area and treat yourself to a nice, long sleep.
If you'd rather try something a bit more adventurous, pitch a tent at Mazama Campground, which is seven miles south of Rim Village, and sleep under the open sky.
The campground is only open from June to September, and tent sites cost $21 per night. You'll be able to purchase camp supplies, basic groceries and firewood at the Mazama Camper Store.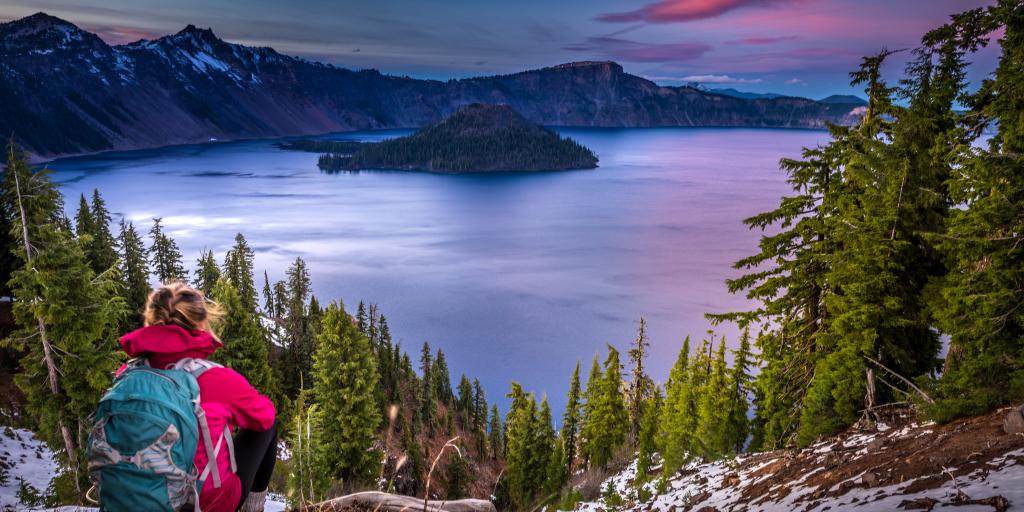 Day 6: Tour Crater Lake
After breakfast, join a park ranger and hop aboard a three-hour boat tour of the lake, taking in Wizard Island, the volcanic cinder cone that sits in the middle of the water.
Go on a boat tour to Wizard Island
Wizard Island was formed more than 7,700 years ago, when Mount Mazama - a large stratovolcano - violently erupted, forming a caldera.
In the centuries since, it has acquired something of an otherworldly mystique, with some people claiming to have witnessed ghostly campfires on the island at night.
Once you reach the island, you can explore the two hiking trails that flank the cone and take in the amazing views from the top of the mountain. If you're feeling daring, dip your toes into the water or have a swim!
Boat tours depart several times a day from Cleetwood Cove at the north end of the lake. Tickets cost $57 for adults and $36 for children.
Stay the night in Crater Lake
After a long day of hiking and exploring, you'll want to rest your head somewhere relatively luxurious tonight.
Diamond Lake Resort (just north of Crater Lake) and Crater Lake Lodge are two popular and lovely hotel options for tonight.
Make sure you book your room well in advance, as these tend to fill up quickly - especially during the busy summer season.
Day 7: Drive from Crater Lake to Newport
Miles: 218
It's another early morning today. This time, you're setting off for the coastal city of Newport - Oregon's home of marine life.
Drive to Newport - the home of marine life
Check out of your accommodation by 8am or 9am so you can make it to Newport by lunchtime.
Newport is the quintessential seaside city, which means one thing: sublime seafood!
After you've found your hotel and settled into your room, head out to the Historic Bayfront. You'll feel like you've stepped onto the set of a Western movie and locate a seafood restaurant that takes your fancy.
Sharks Seafood Bar & Steamer Co is a consistent local favourite specialising in super fresh and succulent shrimp, cioppino (San Franciscan fish stew) and Newport's iconic dish - dungeness crab.
Gorge yourself on shellfish and chowder and wash it all down with a local beer.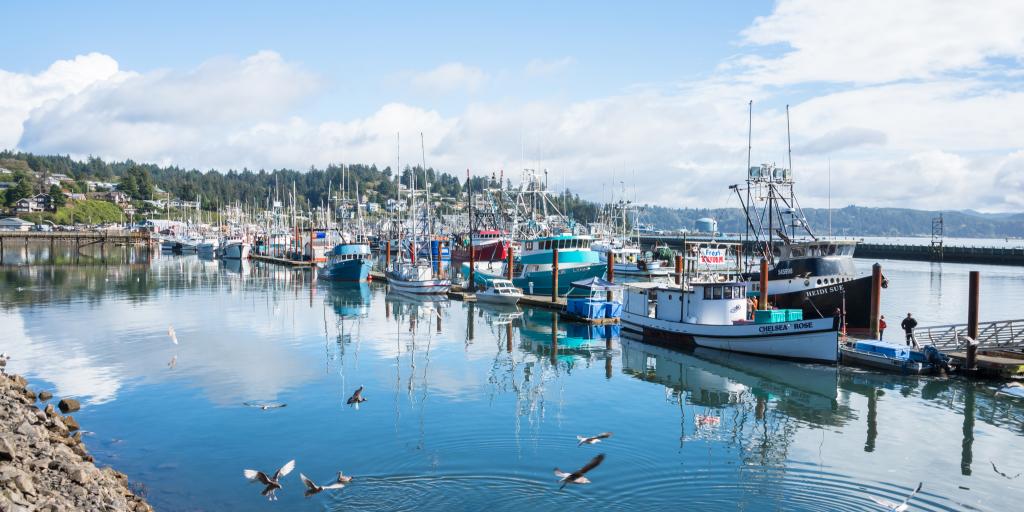 Check out Oregon's tallest lighthouse
After lunch, head south along the water toward the Yaquina headland Perched at the top of the Yaquina Head Outstanding Natural Area, 93 feet above the basalt headland, you'll see the tallest lighthouse in all of Oregon.
Built in 1871, the Yaquina Bay Lighthouse is a historic landmark that you can tour for free (or provide a small donation). It's worth doing the guided tour with a Docent (who will be kitted out in period dress) and learning about its history.
Spend some time touring the area, exploring the trails and looking out at sea to try and spot whales.
If you have children in tow, you can also pay a visit to the nearby tidepools where you might discover bright sea anemones and sea stars.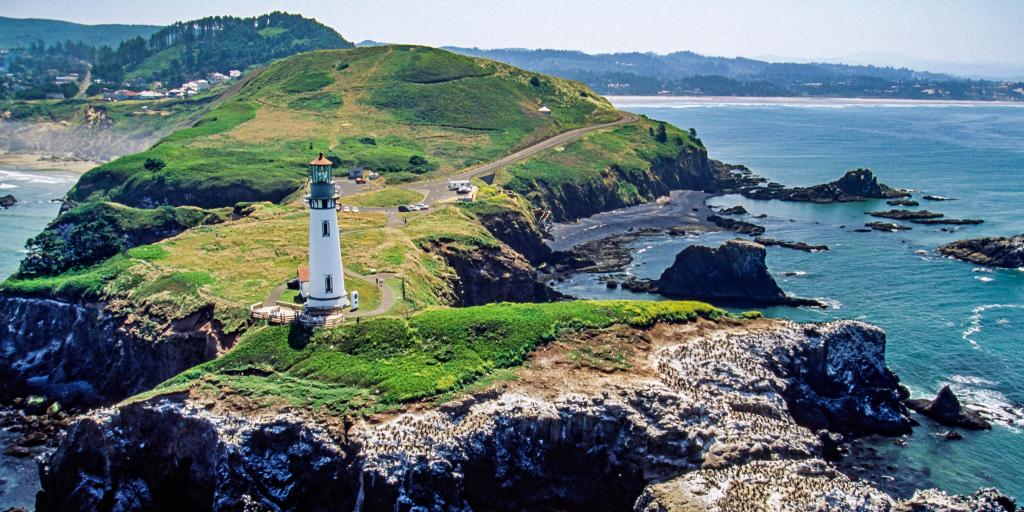 Have dinner in Newport town
Head back to your hotel room after touring the lighthouse and freshen up before dinner.
If you're a bit tired of seafood, there are plenty of other options in town, from Irish pubs, barbecues and and vegetarian eateries to Thai and Italian restaurants.
Go back to your hotel and try to get an early-ish night; tomorrow, it's back to the great outdoors again!
Day 8: Drive from Newport to Cannon Beach to Olympia
Your ultimate destination today is Olympia, the regal capital of Washington state. But first, a scenic stop-off at Cannon Beach, a small seaside city with a wild and rugged coastline.
The drive from Newport to Cannon Beach should take you about two to three hours, so plan to get there before lunchtime.
Visit Haystock Rock and look for puffins
Upon arrival in Newport, park your car near as close to the water as possible and get out to walk the beach.
The defining feature of Cannon Beach is Haystack Rock, a colossal 235-foot-tall sea stack that towers over the shoreline.
Famously, the rock is home to a variety of marine life, from sea stars to tufted puffins. If you're there in the summer, see if you can spot these adorable birds perched at the top of the rock.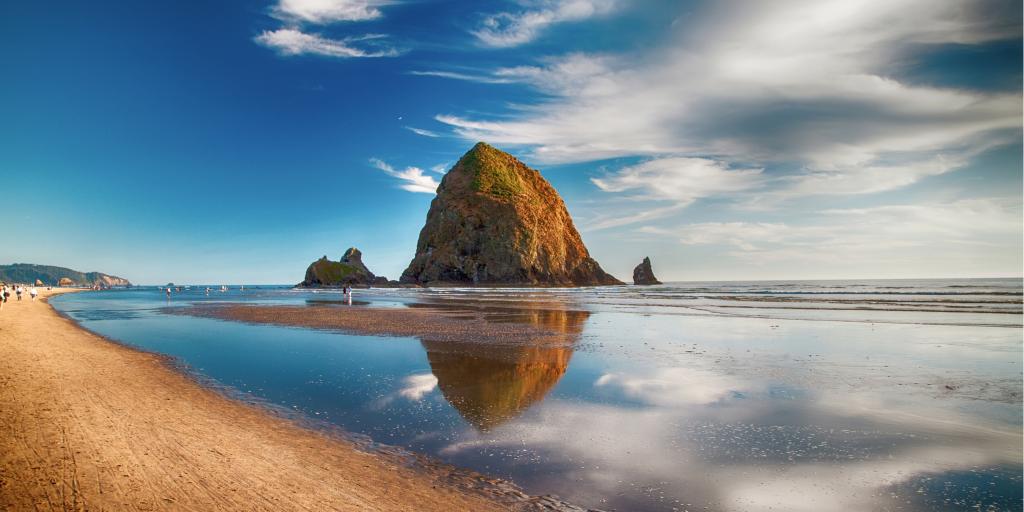 Get lunch in Cannon Beach
Cannon Beach is a small and quaint town, but that doesn't mean there's no great food to eat!
In fact, strict regulations against the introduction of large chain stores and restaurants means that you'll only find independent and family-run eateries here.
Nab a table at Ecola Seafood Restaurant and Market and make the most of the locale by sharing a seafood basket with your road trip companions.
For something a bit lighter, try the fish tacos, which are to die for!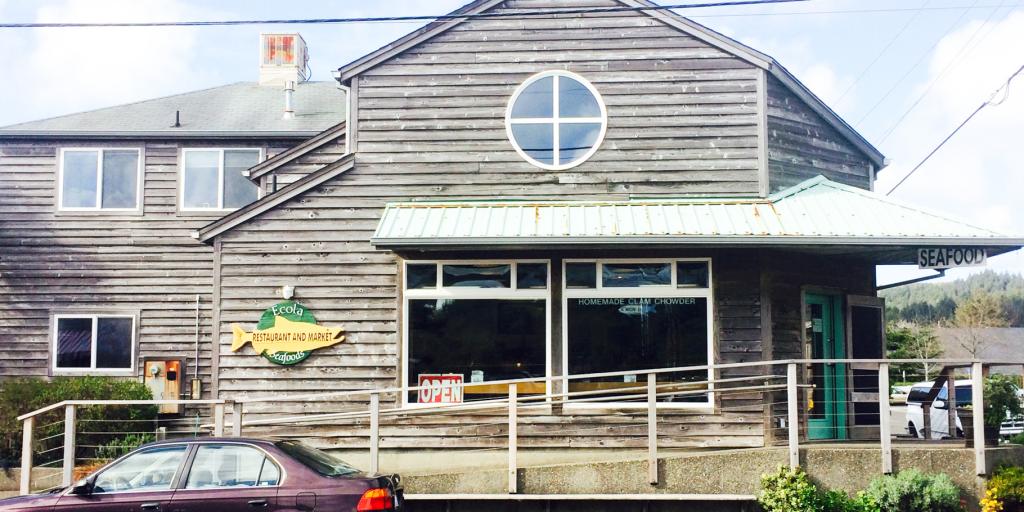 Drive to Olympia & have dinner in the Historic District
Around 2pm or 3pm, head back to your car and set your sights on the city of Olympia, or Oly, as it's known to locals.
Washington's picturesque capital sits among evergreen forests on the Puget Sound about three hours north of Cannon Beach.
Catch a glimpse of the iconic State Capitol building sitting atop a hill before grabbing dinner in town.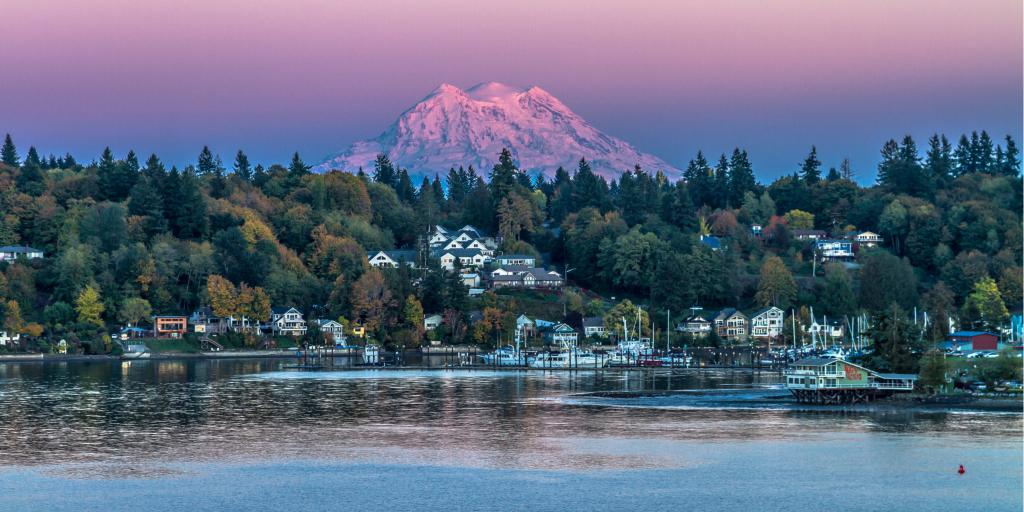 Whether you're in the mood for an upscale dinner experience or a chilled out restaurant, you'll find it all in Olympia's Historic District.
Some local favourites include Basilico Ristorante (an elegant Italian restaurant), Chelsea Farms Oyster Bar, and Fish Tale Brew Pub.
Day 9: Drive to Olympic National Park
We know what you're thinking; is it really necessary to visit yet another national park?
The answer, in short, is absolutely.
One thing you should know about Olympic National Park is that it's not your typical park; spending a day here is like visiting a whole range of different countries all at once.
In fact, the park has four distinct regions: the Pacific coastline, the alpine areas, the west side temperate forest and the east side drier forests.
Adventure through all the different regions of the park
To get the most out of your day, try to see each of the four regions.
At an elevation of 5,242 feet, the mountainous Hurricane Ridge in the north part of the park offers some of the best views in the area.
And to the west is the enchanted Hoh Rainforest, one of the largest temperate rainforests in the U.S.
You'd be forgiven for thinking you're in a prehistoric jungle as you wander through the forest, with is teeming with plant life and lush green moss.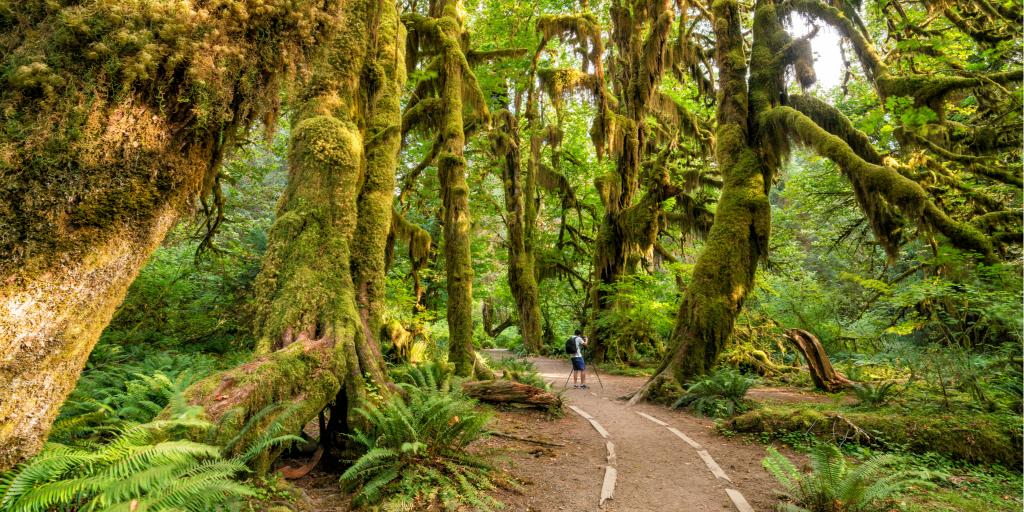 Drive to the coast and sink your toes into the pebbles at Rialto Beach, a stunning and picture-perfect expanse covered with driftwood, sea stacks and smooth sea glass.
You should also check out the deep blue Lake Crescent, where you can follow the hiking trails or go kayaking on the lake's mirror-like surface.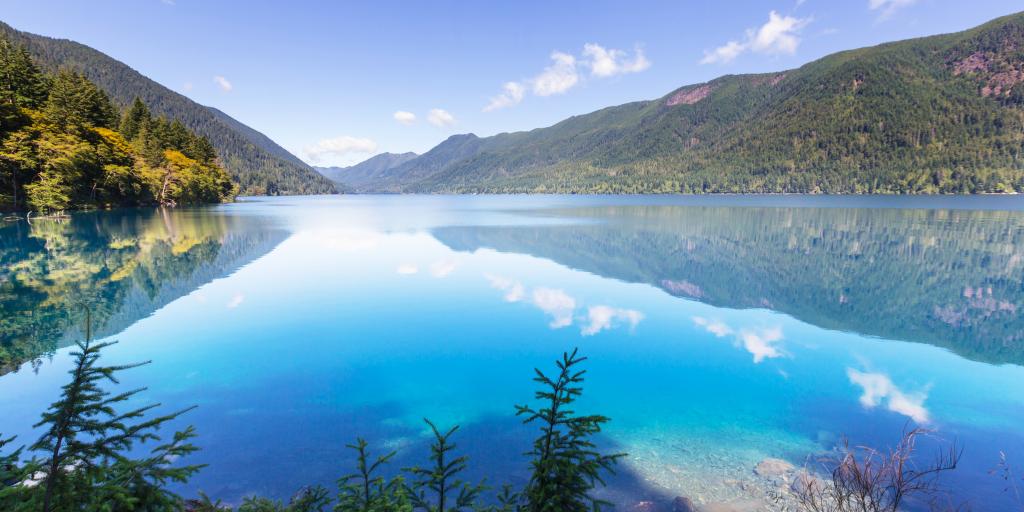 Have a casual dinner at Old School Pizzeria
Once you feel like you've conquered the park, drive back down to Olympia in time for dinner.
After all that walking and hiking in the fresh air, you'll probably want to treat yourself to something cheesy and just a little bit greasy tonight.
Far from fancy, the atmosphere at Old School Pizzeria is sort of divey, so don't expect pristine white tablecloths or candelabra.
That being said, the delicious New York-style pies on the menu here are worth their weight in gold - and the garlic knots are pretty great too.
Forget about greens; the salads here are nothing to write home about, but the pizza and beer selections will most definitely leave you feeling satisfied.
Day 10: Drive back to Seattle and return home
If you can bear it, wake up at sunrise this morning to watch the city of Olympia turn pink as dawn breaks.
Then pack your things, check out of your hotel and hit the road; it's time to get back to Seattle, your starting point, and return home.
It will take you about two hours to drive from Olympia to the city of Seattle, or 1.5 hours to the airport. Be sure to leave plenty of time to return your rental car before your flight!