Idaho road trip - The ultimate travel itinerary
Idaho may not be an obvious place for a road trip, but with its wild rivers, dramatic mountains, scenic byways and expansive national parks, there truly is no better place to get away from at all.
This epic Idaho road trip itinerary starts in Boise and dips briefly into Oregon, taking in all the most amazing sights in south-central Idaho - from the stunning Sawtooth National Forest and otherworldly Craters of the Moon National Monument and Preserve to the iconic Hells Canyon Scenic Byway, and numerous spectacular waterfalls along the way.
While this itinerary goes at a pretty quick pace, you can always opt to spend more or less time in each destination, extending the trip from 9 days to 12 or even to 2 weeks.
Here's how to make the most out of a road trip in Idaho.
Day 1: Start in Boise, then drive to Twin Falls
Welcome to the Gem State!
Arrive in Boise and see the city
You'll start your Idaho road trip in capital city Boise, which has an international airport with arrivals from many different airlines all over the world.
If you're not local, pick up your rental car at the airport (Budget, Enterprise and Avis all have offices in the area). There will be plenty of time to explore Boise on days 8 and 9, so for now set your sights on stop number 1: the majestic Bruneau Sand Dunes, an hour south of the airport.
Go sand-boarding Bruneau Sand Dunes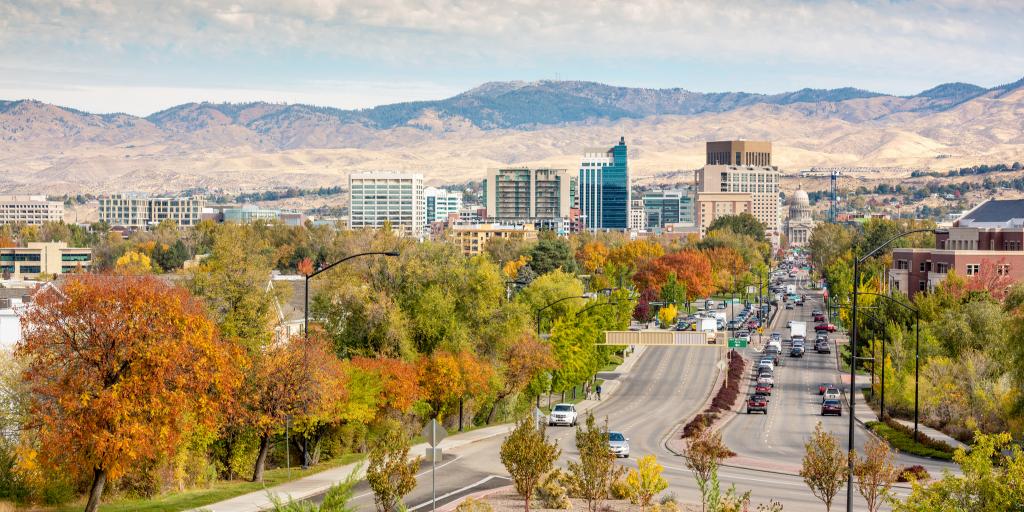 The first destination on your driving itinerary does not feel like typical Idaho; in fact, you'd be forgiven for thinking you're in Dubai or Africa when you arrive at Bruneau Dunes State Park.
This 4,800-acre geologic preservation area features an array of massive sand dunes sitting next to small lakes, making for quite the dramatic sight.
It's believed that the dunes were formed about 15,000 years ago during the last Ice Age, when the Bonneville Flood inundated parts of southern Idaho and eastern Washington.
Today, it's a popular attraction for Boise residents and visitors alike, who come to fly kites, do some stargazing, fish in the lakes or surf down the dunes.
Entry to the park costs $5.
Plan to arrive at Bruneau by around 10am so you can take full advantage of the park and still have plenty of time to travel to your next road trip destination.
Set your Sat Nav for the Bruneau Sand Dunes visitor centre, where you can park your car and head inside to rent a sandboard for $15 a day. Then make your way to the top of the dunes and surf your way down!
For more information about getting to Bruneau Sand Dunes and what to do once you're there, head to the NPS website.
Drive to Twin Falls
After you've mastered sandboarding, dust off the sand, hop back in your car and drive towards Twin Falls. It's about 1.5 hours away, so you should arrive by lunch time.
The stunning city of Twin Falls is known as the gateway to Snake River Canyon, one of the most scenic parts of the state.
It's also a hotbed for water activities and adventure sports; to see what we mean, just head to Perrine Bridge and watch the base jumpers leap off the edge!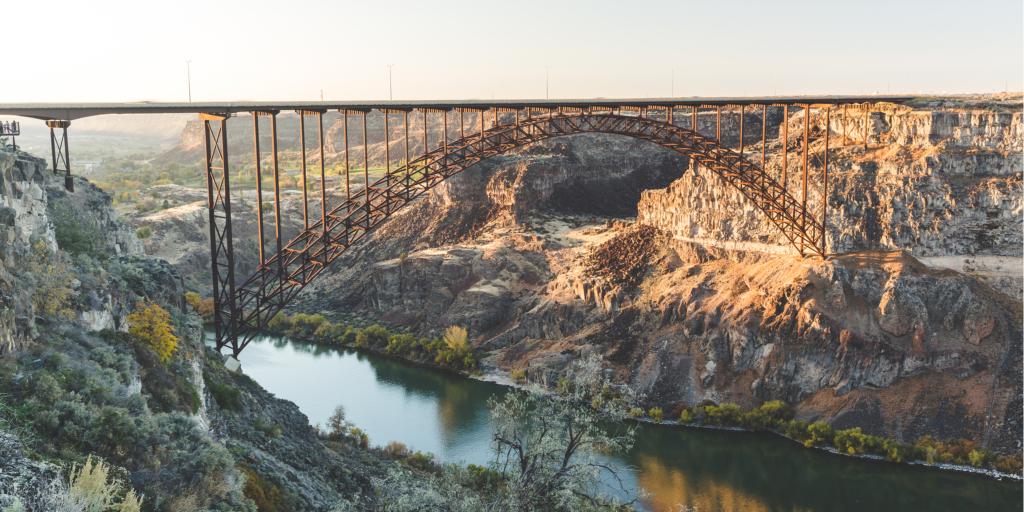 Have lunch at Idaho Joes
Seeing as you've had a big day already (and it's far from over!) you deserve a big, hearty, super American lunch.
For that, make your way to Idaho Joes, a casual local haunt that specialises in all things fried and delicious.
If you happen to be visiting at the weekend, the buffet breakfast is seriously popular. And be sure to save some room for pie!
See Shoshone Falls - the 'Niagara of the West'
Once you're suitably stuffed, pile back into the car and drive to Shoshone Falls. Don't worry, it's just 15 minutes away.
This awe-inspiring waterfall is known as 'The Niagara of the West,' and it's easy to see why. In fact, it's actually a whole 42ft taller than Niagara, spewing out water at an incredible 3,600 cubic feet per second.
It's especially amazing to look at after rainfall, when the falls are at their most impressive.
There's plenty of parking at Shoshone Falls, and it's an easy walk to the viewpoints.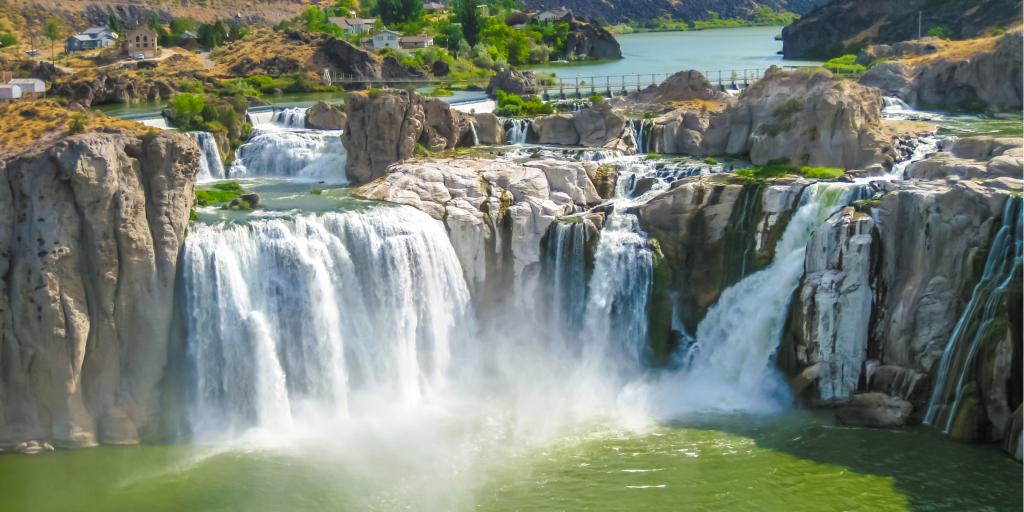 Head onwards to the city of Blackfoot
After about 45 minutes or so of admiring the falls, it's time to continue on with your Idaho trip.
Your final stop of the day is Blackfoot, a small city with a big claim to fame: 'the Potato Capital of the World.'
You'll get your fair share of spuds tomorrow, but for now you should find your hotel, check in, drop your bags and head into town for dinner.
There are a couple of food options in town, depending on what you're in the mood for. You'll soon notice that 'light bites' are not really a concept in Idaho, so be prepared for some more hefty portions and lashings of fried food!
Day 2: Blackfoot to Swan Valley
Rise and shine! It's time to explore more of this wild and wacky state, starting with perhaps one of the wackiest Idaho tourist attractions you'll see on this road trip: the Idaho Potato Museum.
Visit the Idaho Potato Museum (because obviously)
Yes, it is as corny as it sounds, but the Idaho Potato Museum is also surprisingly interesting, offering a wealth of historical and cultural information about the humble spud.
Plus, museum visitors get a free box of tater tots when they leave - how could you turn that down!
Entry to the museum costs $4 for adults and $2 for children aged 5 to 12. Kids aged 4 and under go for free.
Note that the museum opens at 9:30am and is closed on Sundays.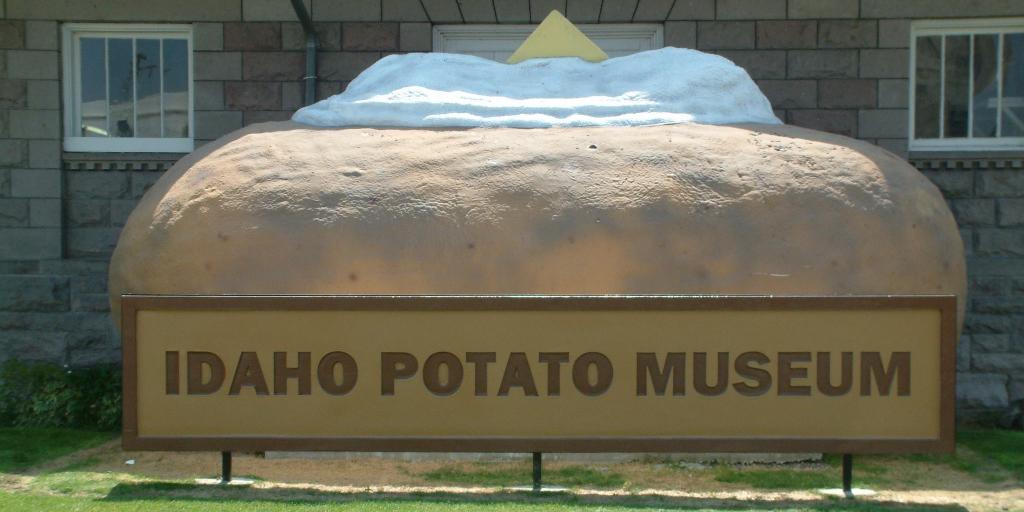 Drive Blackfoot to Swan Valley
Around 10:30am or so, jump into the car once more to drive to your next Idaho road trip destination: Swan Valley, which is an hour northeast of Blackfoot.
The lovely Swan Valley is famously the location of the South Fork of the Snake River, the best wild trout fly-fishing river in the country.
This waterway boasts an incredible 4,000 fish per mile, making it one of the most productive rivers in the country.
Seeing as fishing is king here, it's only right for you to spend the rest of the day out on the river, seeing what you can catch.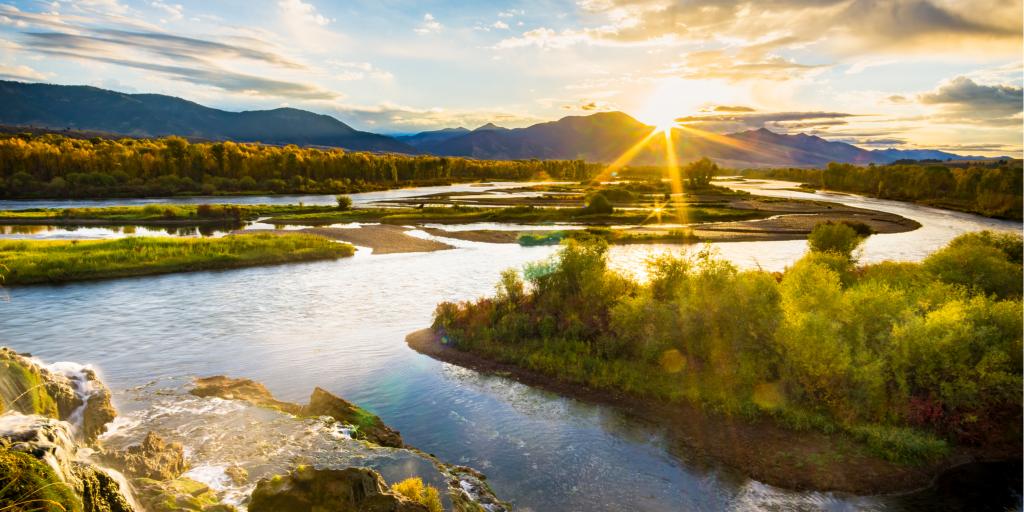 Hire a guide and do some fishing on Snake River
If you're new to fly-fishing, there are several guide companies in the area that will provide equipment and show you the way.
The Lodge at Palisades Creek is a highly rated tour agency, offering half-day guided fishing excursions for $450 for 1 to 4 people (including water and tackle, plus lunch for an additional $20).
The trip lasts four hours, so plan to arrive by around noon or 1pm so you can be out on the water all afternoon.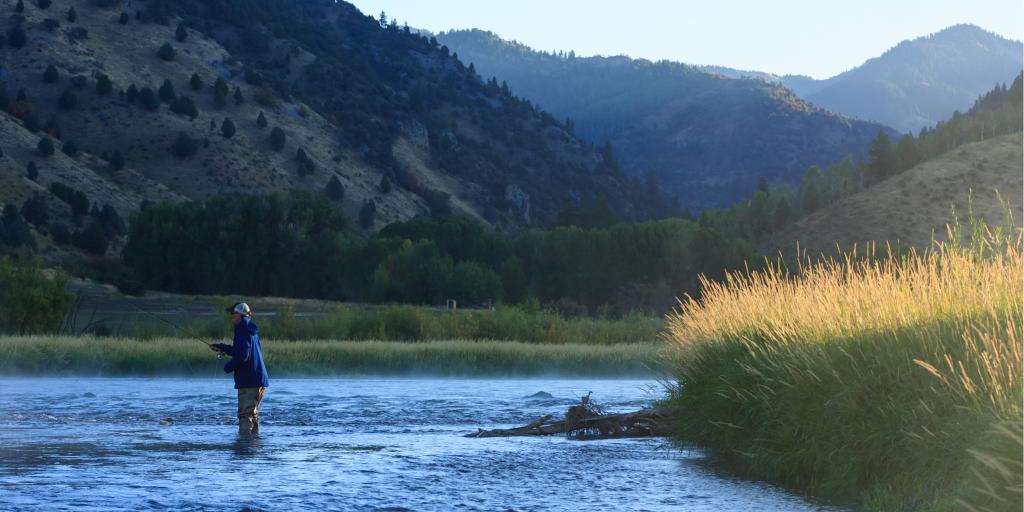 Alternative: Dip into Wyoming and explore Grand Teton National Park
If fishing's not your thing, you can opt out of Swan Valley and instead drive a bit further east to the mind-blowingly beautiful Grand Teton National Park, Yellowstone's less crowded neighbour.
You could easily spend several days wandering around this wild expanse, but it's also completely doable to squeeze a lot into one day.
Your Grand Tetons itinerary should definitely include taking the ferry across Jenny Lake to Hidden Falls, hiking around Cascade Canyon, and seeing how close you can get to the summit at Inspiration Point. The views from there are absolutely breathtaking.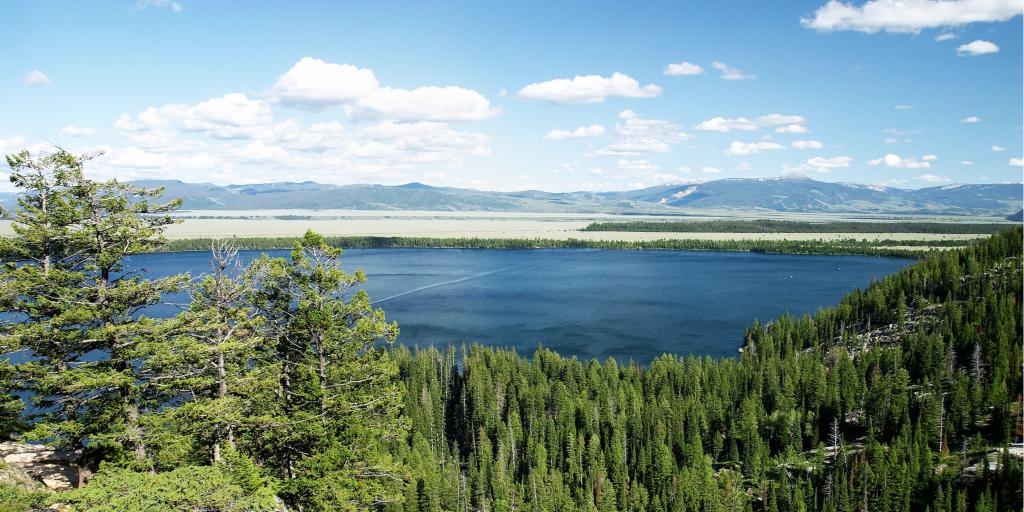 Tonight, you can either stay in luxury in a cabin at the Lodge or head to one of the other, less expensive, accommodation options in the area.
There are also plenty of campgrounds and RV parks if you've brought a tent or a campervan.
Day 3: Drive from Swan Valley to Sun Valley via Craters of the Moon
On day 3, before continuing on with your Idaho road trip, treat yourself to a big breakfast at Angus Restaurant.
The menu at this friendly and rustic truckstop-style eatery consists of breakfast classics like delicious omelettes, sizzling bacon, biscuits and gravy, and free coffee refills.
Throw in a milkshake if you're feeling crazy!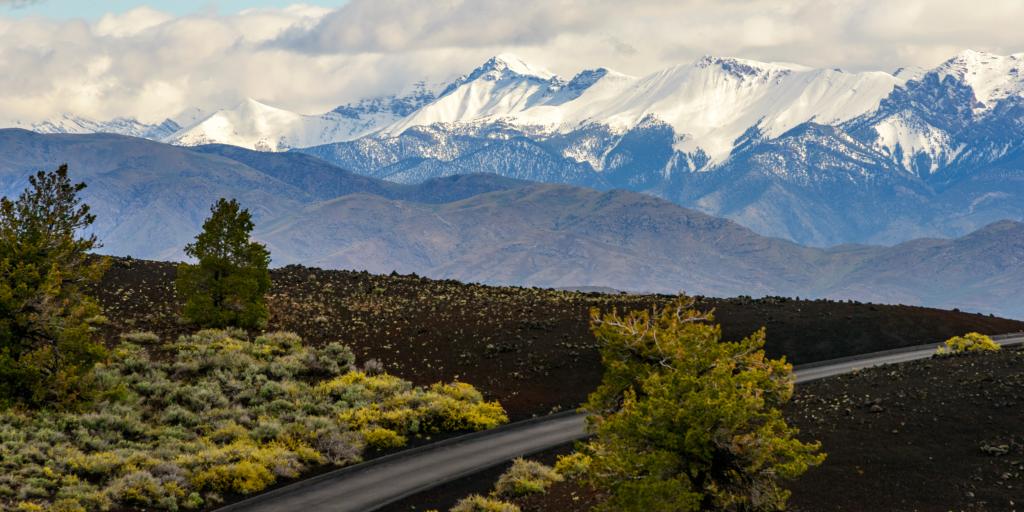 Drive to Craters of the Moon National Monument and Preserve
Breakfast devoured, it's time to move on to your next stop: the mystically named Craters of the Moon National Monument and Preserve.
It's a 2.5-hour drive from Swan Valley, so stop halfway in Idaho Falls to buy some food and water for a picnic lunch later. Gandolfo's New York Deli on S Woodruff Avenue has a great selection of sandwiches and salads. And if you've got a sweet tooth, pick up one of their mousse cakes as well - you won't regret it!
You should plan to arrive at the Craters by around 1pm.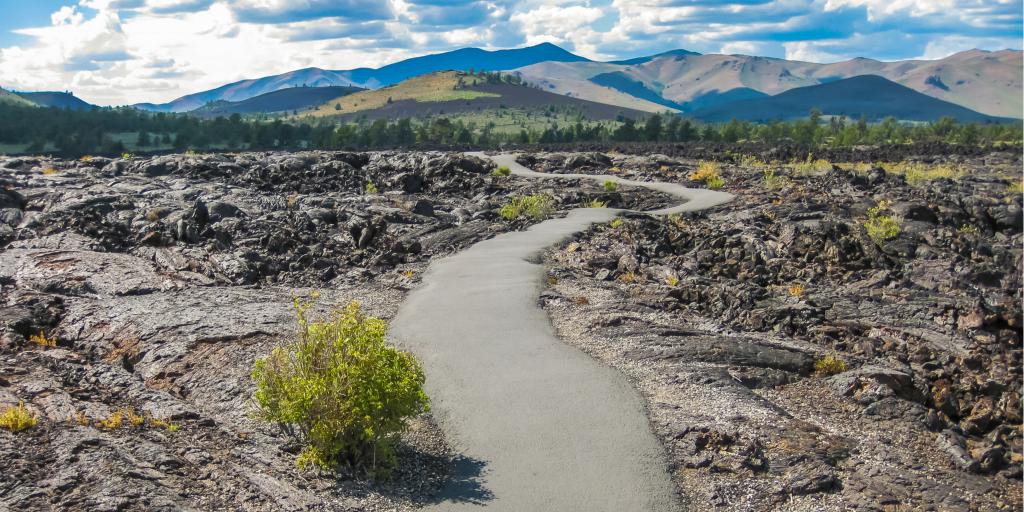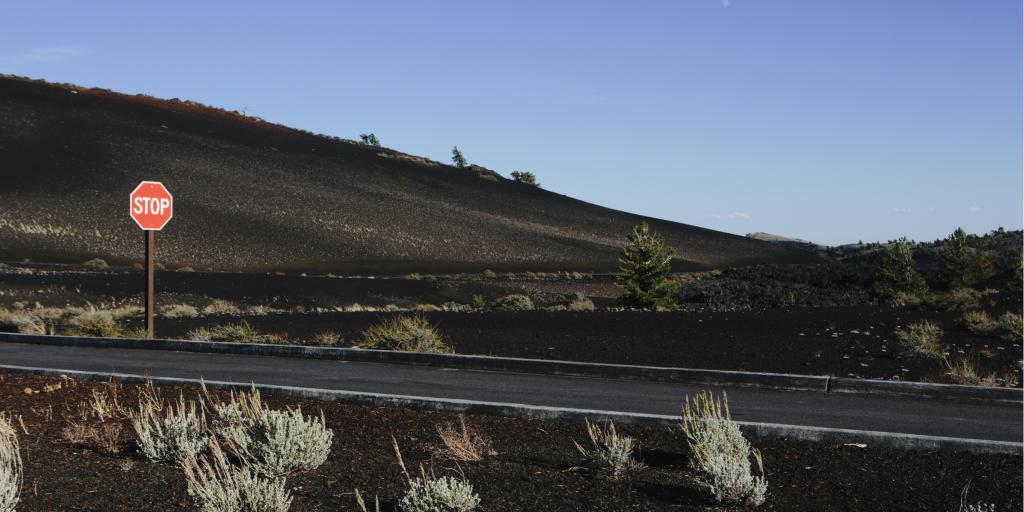 Explore Craters of the Moon
Begin your visit to this jaw-dropping place at the Craters of the Moon visitor centre (or the Robert Limbert Visitor Center, as it's called on Google Maps), where they'll give you trail suggestions and information about the park.
You can also watch a short film there that provides more background on the natural history context.
Craters of the Moon National Monument and Preserve consists of 1,600 square km of blackened lava flows, cinder cones, volcanic fissures and lava caves.
It was formed during eight major volcanic eruptive periods between 15,000 and 2,00 years ago.
You'll definitely want to bring your camera (and a torch!) to capture these amazing natural features and venture into the caves, which date back thousands of years.
To get the most out of your visit, embark on the 7-mile loop, which includes access to hiking trails that take you up close to the incredible volcanic features.
(You can find a Craters of the Moon map and details of the Loop Road on the National Park Service website.)
The seven-mile loop takes about 30 minutes to drive, but you should allow about 3 hours for stops, hikes, and lunch.
Note that there's a $10 entrance fee per vehicle.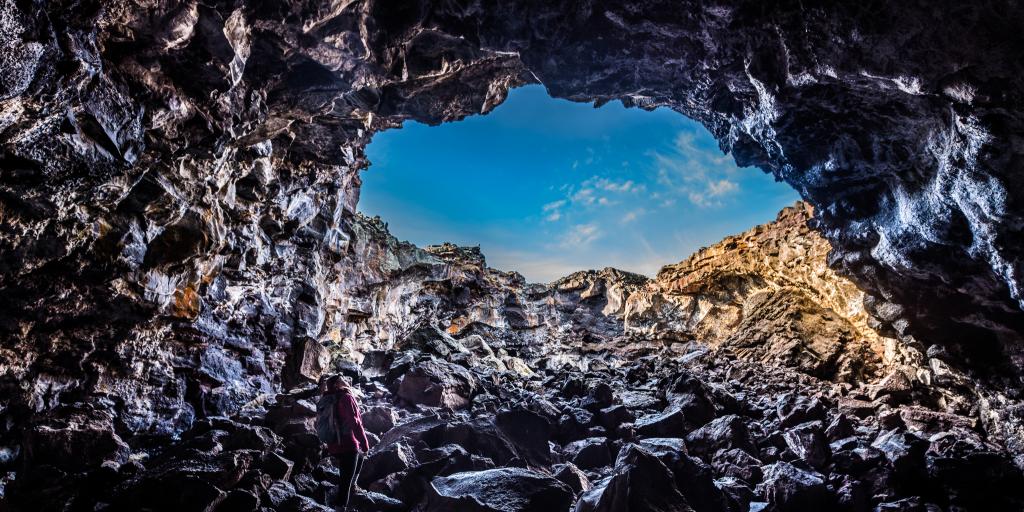 Drive on to Ketchum/ Sun Valley
Once you've completed the loop, it's time to drive on to the next stop on your Idaho road trip: the beautiful Sun Valley.
Not only is Sun Valley incredibly scenic, but it's also historically important. It was one of the original stops on the Union Pacific Railroad (founded in 1862), and it's the final resting place of author Ernest Hemingway, who wrote his most popular novel, For Whom The Bell Tolls, right here in Sun Valley Lodge.
You can head to the Visit Sun Valley website for more info about Hemingway's Sun Valley legacy.
To get to the Sun Valley-Ketchum area from the Craters, follow Highway 20 west for about an hour before hanging a right onto Gannett Road. From there, get on State Highway 75 North, which will take you into the city of Ketchum.
It's a 2-hour drive from Craters of the Moon, so you should arrive around 6pm.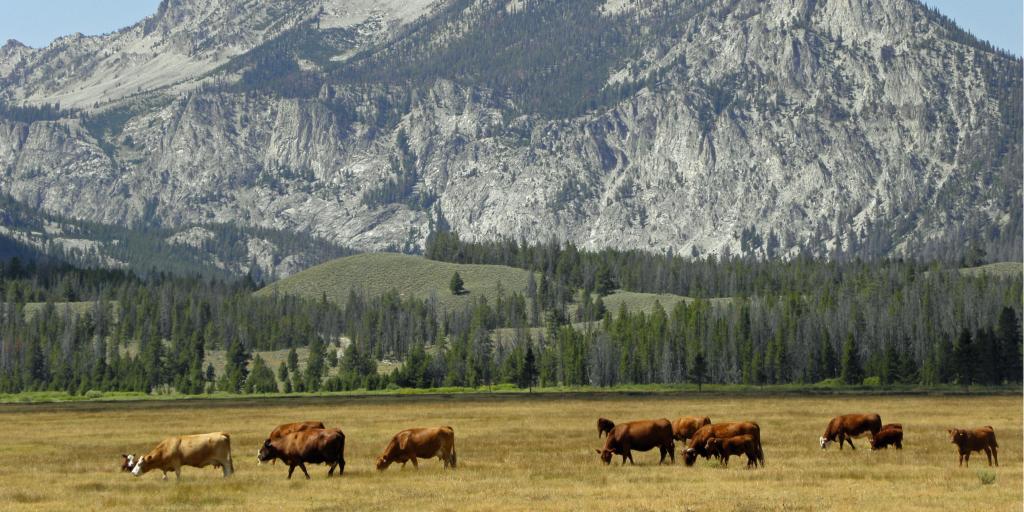 Check into your Ketchum hotel and go out for dinner
Ketchum is the gateway to Sun Valley, the country's first ski resort and one of its most popular, so as you can imagine it's an outdoor lover's dream!
We'll explore the ins and outs tomorrow, but for now it's time to get some dinner.
There are lots of places to grab a bite in the centre of Ketchum, from Mexican eateries to casual burger joints to romantic family-run Italian restaurants.
Make your way to the corner of North Main Street and Sun Valley Road to browse your options.
Day 4: Sun Valley - Skiing / fishing / hiking in the great outdoors
Good morning Idaho road trippers!
Today you get to immerse yourself in the great outdoors. What you get up to completely depends on the time of year you've decided to go on your Idaho road trip.
Lucky for you, Sun Valley is fantastic no matter the season, so here's how to make the most of your day:
Sun Valley in winter: Spend the day skiing or snowboarding
With two gorgeous mountains (Dollar Mountain and Bald Mountain) and more than 2,000 acres of snowy terrain, Sun Valley is the ultimate skiing paradise.
Chair lifts start running at 9am, so roll out of bed, layer up, and make your way to Door 2 Door Ski and Snowboard Rental Delivery on 9th Street East, which opens at 8am every day, to pick up all the equipment you need.
From there, it's a 5-minute drive to the Roundhouse Express gondola, which takes you to the base of Bald Mountain.
Spend the day shredding and skiing to your heart's desire, pausing for a warming lunch at Seattle Ridge Day Lodge at the top of the Seattle Ridge chairlift.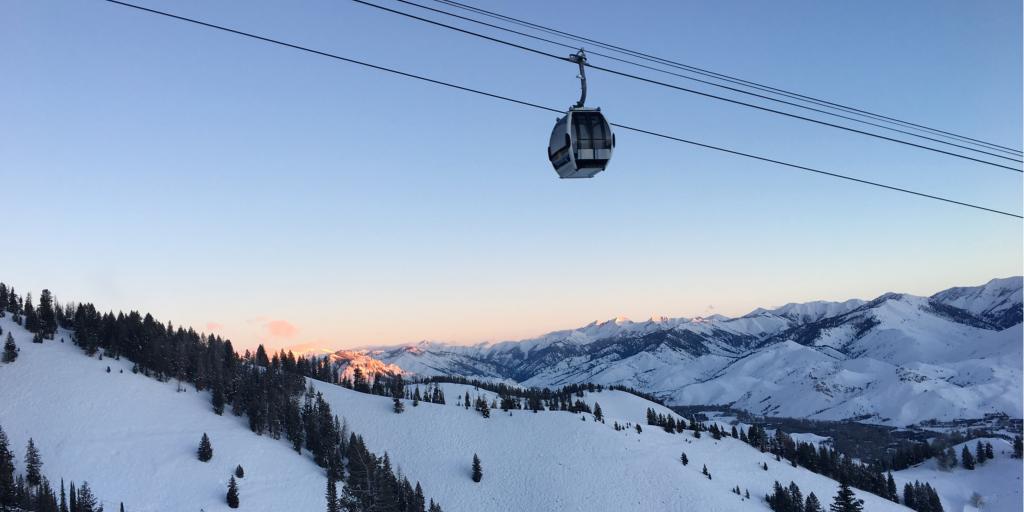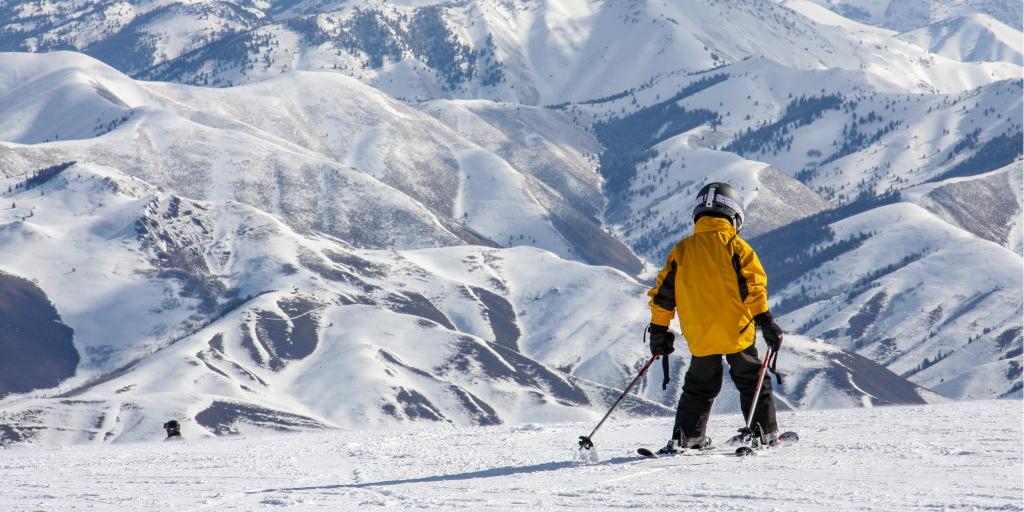 Sun Valley in spring/summer: Go mountain biking in Silver Creek
When the ice thaws and the sun comes out, Sun Valley becomes a veritable haven for cyclists.
Whether you like to ride on hardcore, rugged terrain or prefer cruising along gentle trails, there are literally hundreds of miles of mountain biking tracks to choose from.
In the morning, head to Sturtevants of Sun Valley on Ketchum's Main Street, where you can rent a mountain bike starting from $40 for a half-day. (Don't forget a helmet!)
Then pick up some snacks and embark on your mountain biking adventure.
For more ideas on where to go, head to the official Sun Valley tourism website, which has a detailed list of the best trails for every ability.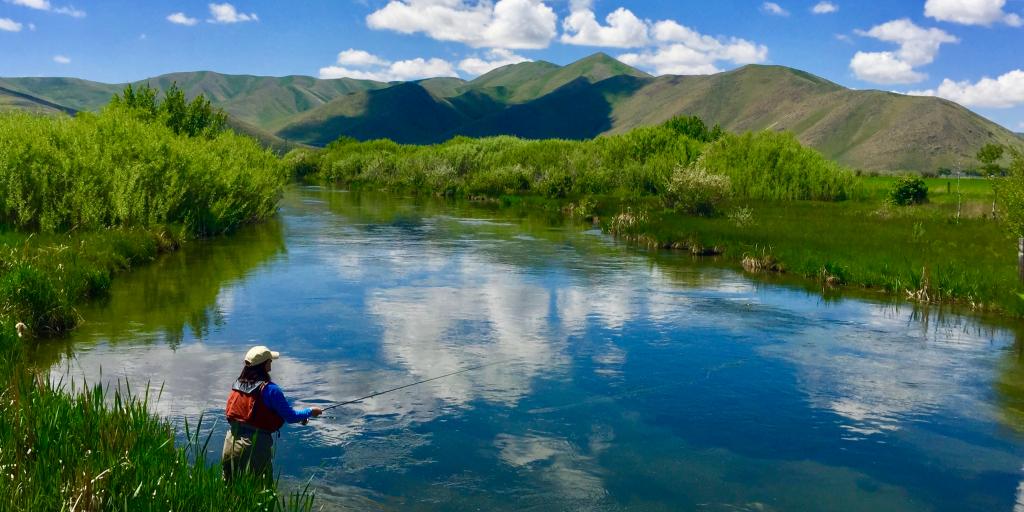 Sun Valley in Autumn: Go on a hike to see the fall foliage
There's nothing more magical than fall in Sun Valley, when the trees take on lemon yellow and golden hues, turning the landscape into an autumnal dreamland.
Not only is this one of the most beautiful times to visit Sun Valley, but it has the added benefit of being less crowded than in winter or summer, which means you'll have no trouble finding a peaceful hiking trail.
Plus, hotel and restaurant rates tend to drop outside of tourist season, so you'll get more bang for your buck!
The best way to see the beautiful autumnal foliage is by going on a nice long hike.
For a moderate five-mile hike, head to the scenic Proctor Mountain loop, which offers lovely views of Ketchum below.
If you want more of a challenge, try taking on Pioneer Cabin loop, an 8.7-mile trail with steep inclines and rugged terrain.
For driving directions, mapped routes and lots more information about the best hikes in Sun Valley and Ketchum, head to the Hiking Project website.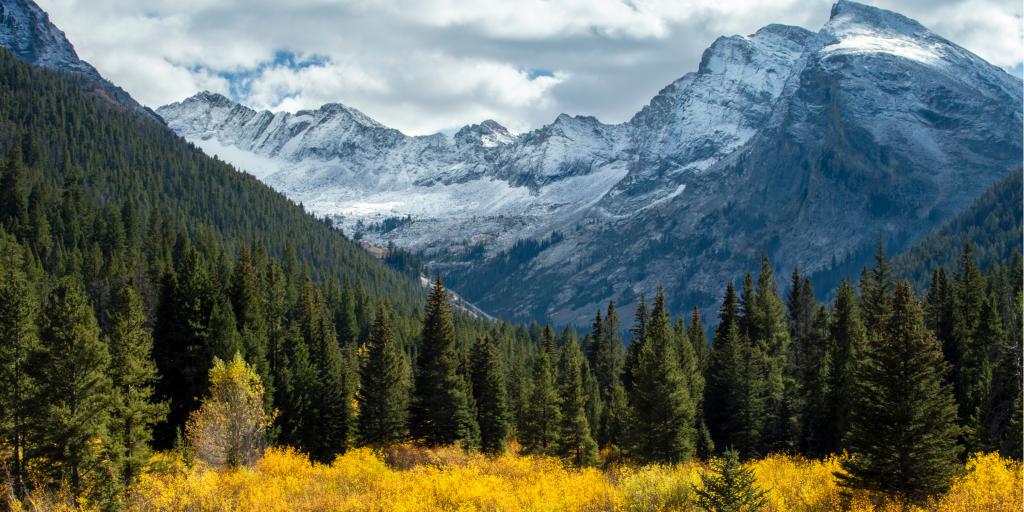 Go stargazing and spot the Milky Way
After you've warmed up at your hotel, had a hot shower, and eaten some dinner, it's time to do some stargazing.
Sun Valley and Ketchum are part of the Central Idaho Dark Sky Reserve - the only such reserve in the whole country, and one of just 12 in the entire world.
What that means is that, thanks to clear skies and efforts to limit light pollution, the stars here are unusually brilliant, illuminating up the night sky - and there's a good chance you'll be able to see the Milky Way as well.
Unbelievably, a 2016 survey found that 80% of Americans can't view the Milky Way anymore from where they live, so this is an opportunity you won't want to miss.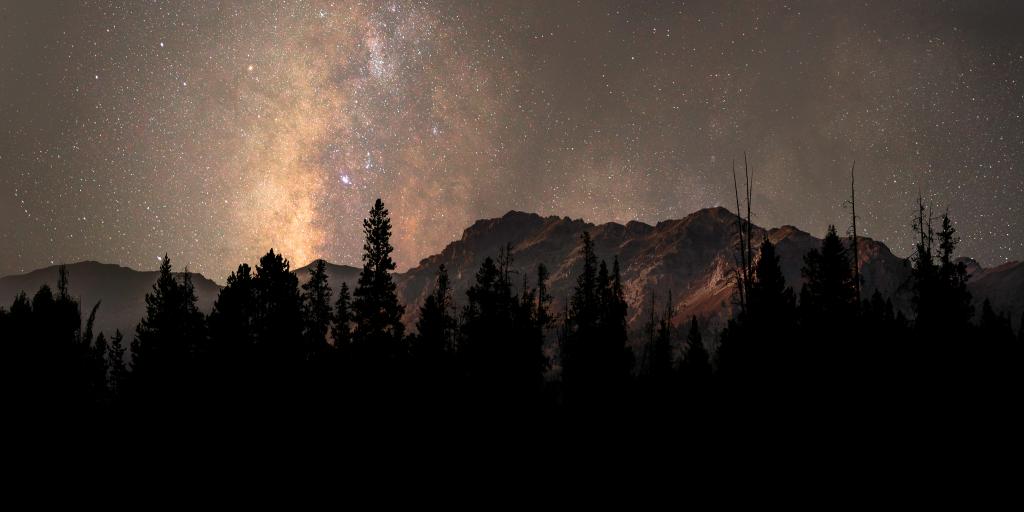 Day 5: Drive Ketchum to McCall via Sawtooth National Forest
On day 5 of your Idaho road trip, it's time to experience one of America's famous scenic byways - the first of two on this trip.
What is a scenic byway, you ask?
In short, it's a road recognised by the U.S. Department of Transportation as being outstanding for having one or more of these 'intrinsic qualities': cultural, archaeological, historic, recreational, natural, and scenic.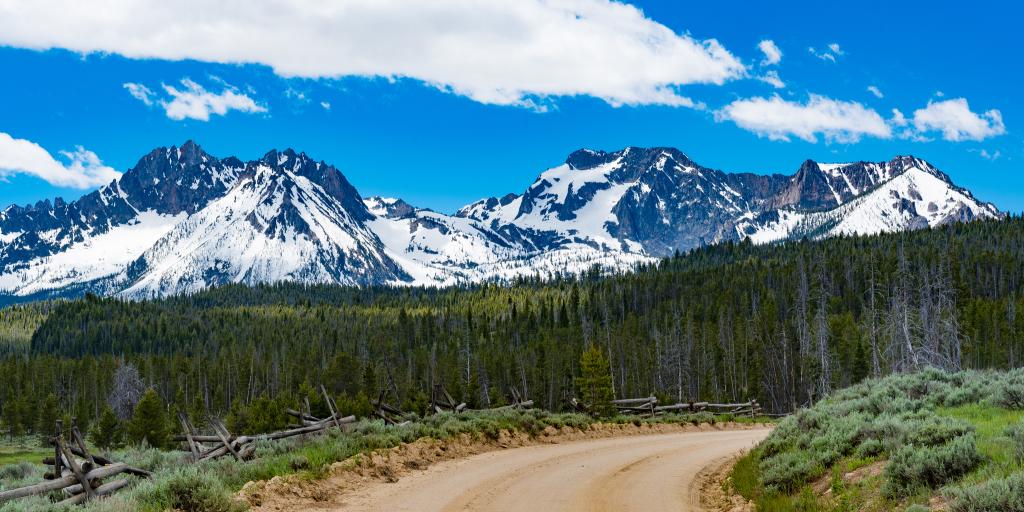 Drive along Sawtooth Scenic Byway
Sawtooth Scenic Byway, which runs through the wild Sawtooth National Recreation Area, starts about an hour northwest of Ketchum by car.
Once you've checked out of your hotel, make your way north along Highway 75 to the town of Stanley.
On your way along the scenic route you'll pass by the panoramic Galena Summit overlook, the glittering Alturas and Redfish Lakes, and the dramatic Sawtooth Mountains
The drive from Ketchum to Stanley takes just over an hour, but allow three so you have time to get out at all the amazing stops along the way.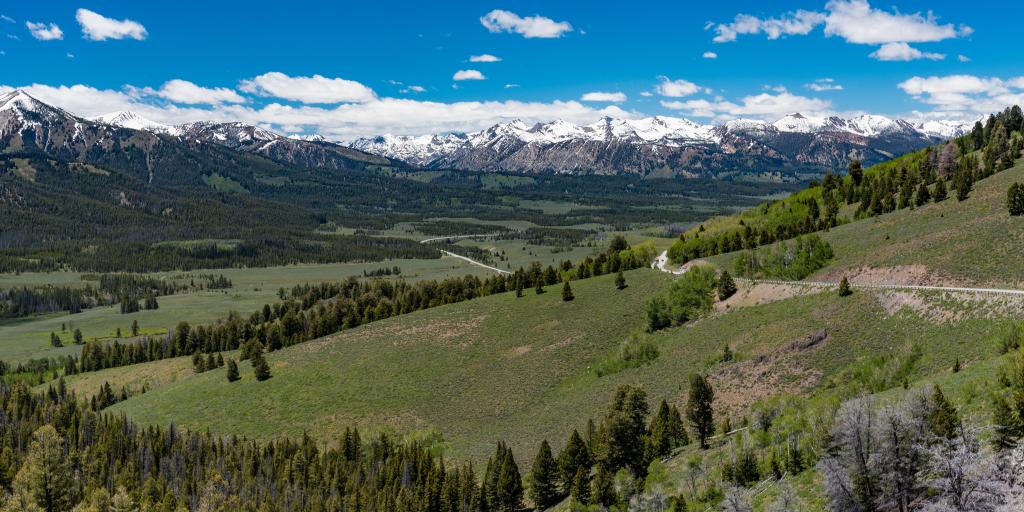 Have lunch in Stanley, Idaho
Sitting at the base of the Sawtooth Mountains, Stanley is a tiny hamlet (population below 100) and one the last vestiges of the old Idaho frontier.
If you want to extend your Idaho road trip, Stanley is a great place to use as a base for exploring the surrounding area, where you'll find horseback riding opportunities, hiking, and therapeutic hot springs (we highly recommend Goldbug Hot Springs in particular, which is just under 2 hours northeast of Stanley).
Once you reach Stanley, make your way to the super popular Papa Brunee's on Ace of Diamonds Boulevard for lunch.
This laidback eatery specialises in all things pizza, with tonnes of flavours and toppings to choose from.
They also serve up some seriously delicious calzones in unique flavours like the 'Buffalo hot wing' and the 'Stanley Cheesesteak' (made with garlic sauce, sirloin steak and vegetables).
Grab an ice cream to go at Stanley Scoops next door, then get back in your vehicle and set your Sat Nav for McCall, which is about 3 hours away.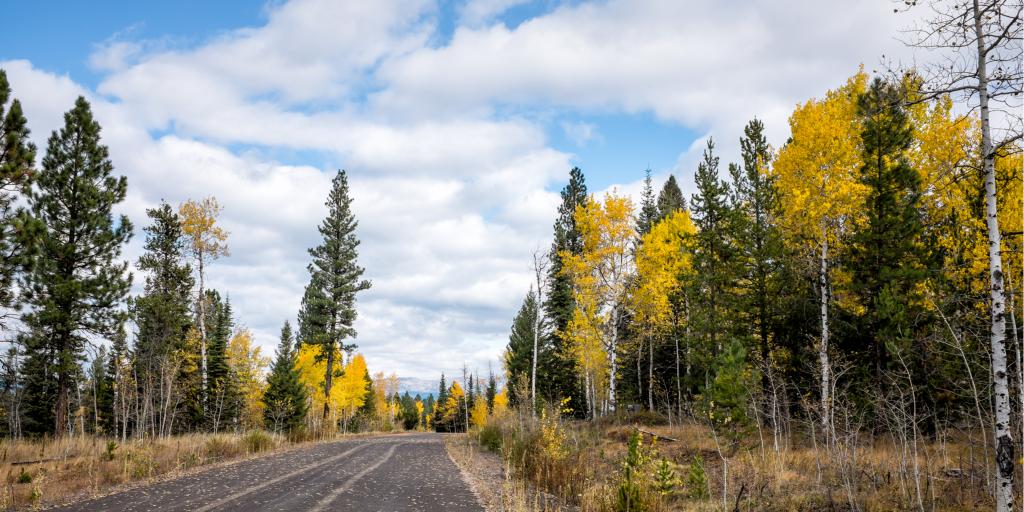 Drive from Stanley to McCall
If all goes to plan, you should arrive in McCall by around 5pm, with plenty of time to do some exploring after you've checked into your hotel and freshened up for the evening.
This lively mountain town sitting on the south shore of Payette Lake is known as the gateway to Ponderosa State Park, yet another one of Idaho's spectacular natural areas.
With golf courses, hiking trails, and lots of opportunities for water sports on the lake, McCall is a popular summer vacation spot for Idahoans and day/weekend trip destination from Boise.
And in the wintertime, the town buzzes with skiers and snowboarders who use McCall as a base as they venture to the surrounding mountains.
Have a walk around town and admire the views of the lake before treating yourself to a hearty dinner.
If you need some food inspiration, My Father's Place has the best burgers around, and Pueblo Lindo is famous for its authentic fajitas and tacos.
Day 6: Spend the day at Ponderosa State Park
After waking up to a croissant breakfast sandwich and lavender latte at Fogglifter Cafe, pick up some picnic food for later at Albertsons grocery store.
Then put on your comfy walking shoes and hiking gear and head to Ponderosa State Park, which covers the majority of a 1,000-acre peninsula jutting into the lake.
With peaceful beaches, a huge network of hiking trails and wildlife galore, it's easy to while away the day exploring this beautiful park.
We do recommend hiking to Osprey Point via the Ridge Line trail to breathe in the fresh air and admire the fantastic views from the overlook.
It's the perfect place to spread a picnic blanket and sit down for some well-deserved lunch.
If you're visiting Idaho in the wintertime, take to the hills in the park for some cross country skiing or snowshoeing.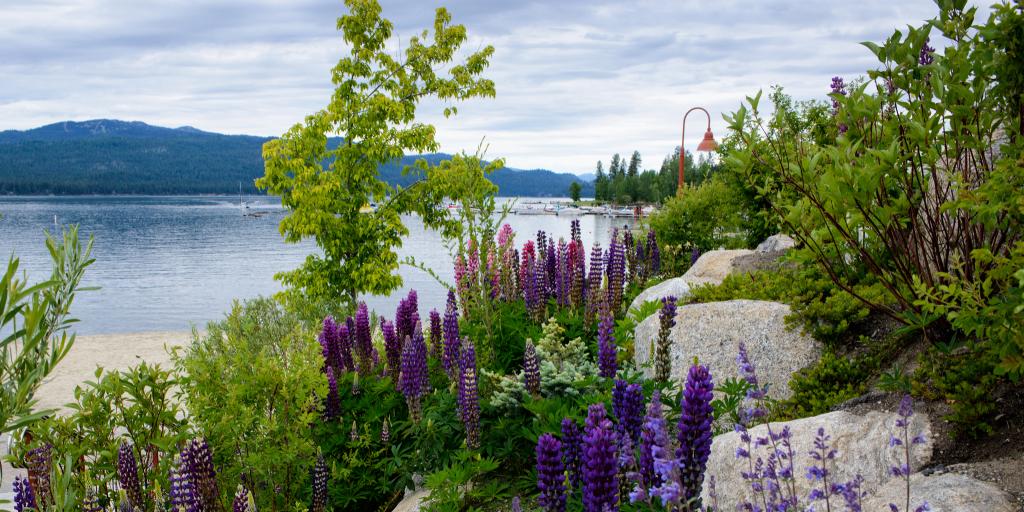 Stay the night in McCall
In the evening you have the choice of either staying in a hotel back in town, or pitching a tent on a campground in the park itself.
You can also stay in one of the deluxe cabins or yurts near the shores of the lake.
Day 7: Hells Canyon Scenic Byway road trip
To wrap up your epic Idaho road trip, we're taking you to the incredible Hells Canyon Scenic Byway, which is just under 3 hours away.
Plan to leave McCall by 9am so you can make it to Hells Canyon before lunchtime.
The Hells Canyon Scenic Byway is a 218-mile-long road in west Idaho and eastern Oregon featuring lush valleys, colourful fields of wildflowers, rugged basalt cliffs and the snow-capped Wallowa Mountains.
Getting to the route can be somewhat confusing for first-timers, as it's not clearly marked on Google Maps.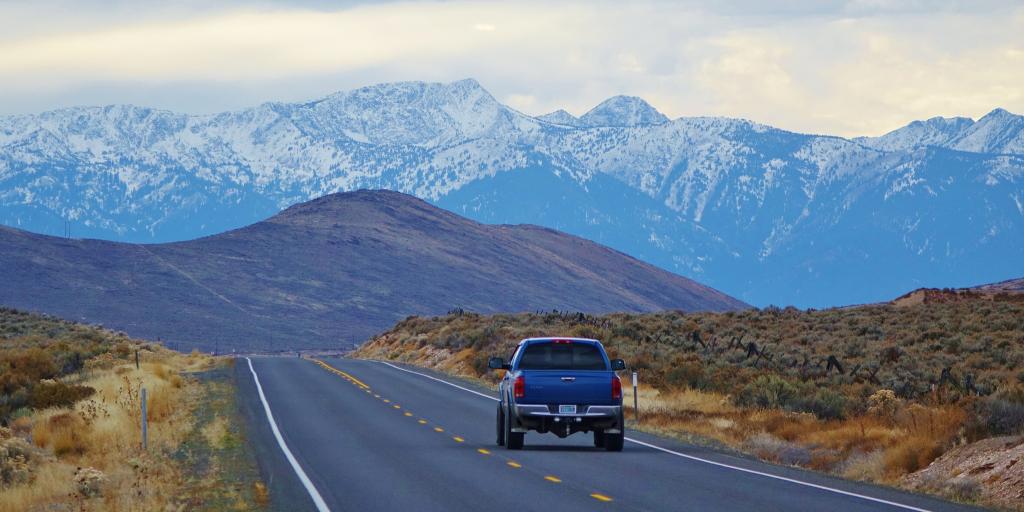 The road technically starts in Baker City, Oregon, looping northeast through Richland and Halfway to the Hells Canyon dam, then veering west through Joseph and Enterprise before finishing in La Grande.
Coming from McCall, you'll probably want to hop on the route from Oxbow and follow the loop anti-clockwise.
You can download a PDF map of the region on the official Hells Canyon Byway website.
If you were to do it all in one go, the drive would take 6 hours, but we recommend allowing a day and a half to fully enjoy the route.
Some Hells Canyon highlights:
Snake River - You're already familiar with Snake River thanks to your fishing trip on day 2, but in this part of Idaho it's even more spectacular. Watch as the water tumbles through Hells Canyon, North America's deepest canyon.
Hells Canyon Dam - Generally considered one of the best parts of this mini road trip, this colossal concrete dam is built on the Snake River, marking the border between Idaho and Oregon. From here, the views of the canyon are truly spectacular.
Hells Canyon Overlook - With easy parking and lovely picnic areas (plus a bathroom), this is the perfect place to get out, stretch your legs and admire the views. From here, you can see McGraw Creek and look over the canyon at the Seven Devil Mountains.
Wallowa Lake - This deep blue ribbon lake is sometimes referred to as 'The Crown Jewel' or 'The Sapphire in a Sea of Astounding Landscapes'. The surrounding Wallowa Lake State Park is home to lots of activities for the whole family including fishing, horseback riding, mini golf and go-karting.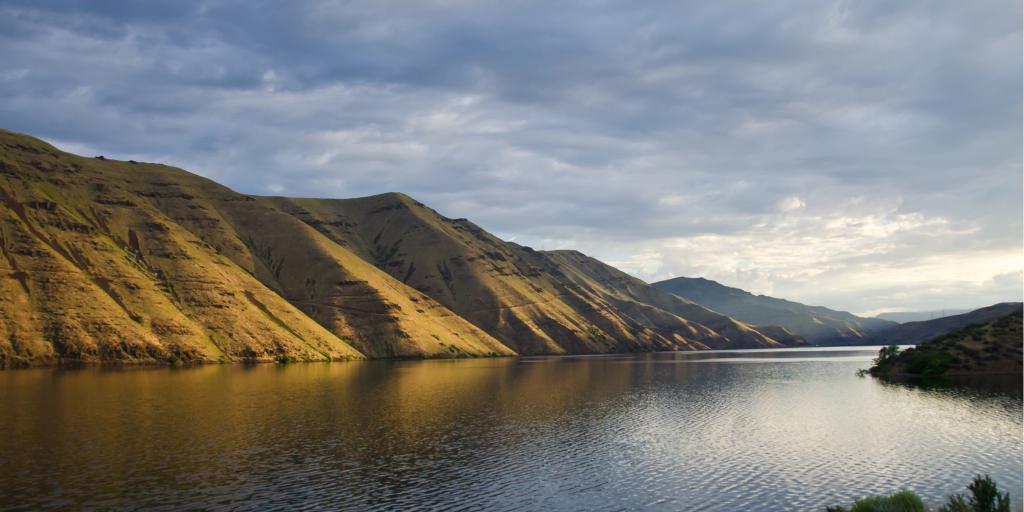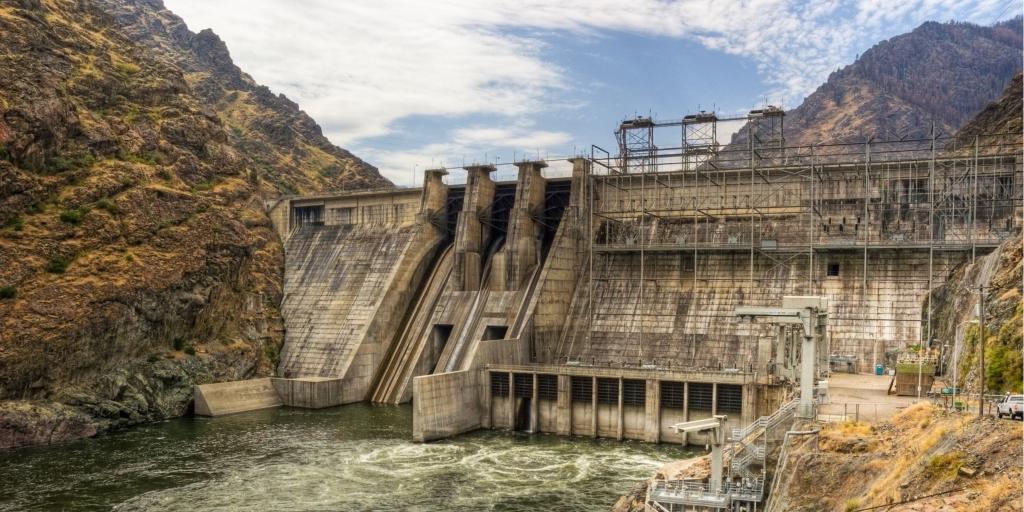 Stay in Joseph for a night
However you decide to spend your Hells Canyon time, aim to get to Joseph (a town just north of Wallowa Lake) by nightfall so you can check into one of the charming inns and B&Bs there for the night.
The Bronze Antler Bed & Breakfast is handily situated in the centre of town and has some elegant guest rooms that are perfect for cosying up after a long day.
Before you nod off, walk north along Main Street to Embers Brewhouse, where you can round out the night with a local beer (or two).
Then stumble back to the B&B and roll into bed.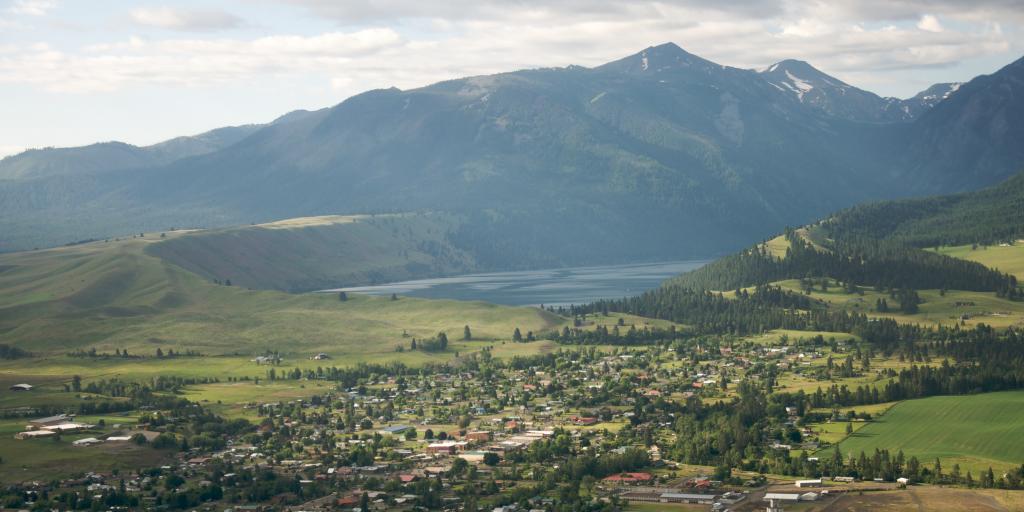 Day 8: See the rest of Hells Canyon Scenic Byway & return to Boise
Breathe in that fresh mountain air and get ready to hit the road; today is the final driving day of your Idaho road trip!
But don't fret - there's plenty more to do before we send you off home again.
After you've packed up your things and left your hotel room, grab a cup of coffee and a bagel at Old Town Cafe for breakfast.
Go for a stroll in Joseph, which is characterised by an eclectic mix of old-school cowboy charm and modern art.
Now's also a good time to fill up your tank before continuing on with the driving itinerary.
Once you and your vehicle are fuelled up, drive north on Highway 82 to complete your Hells Canyon route.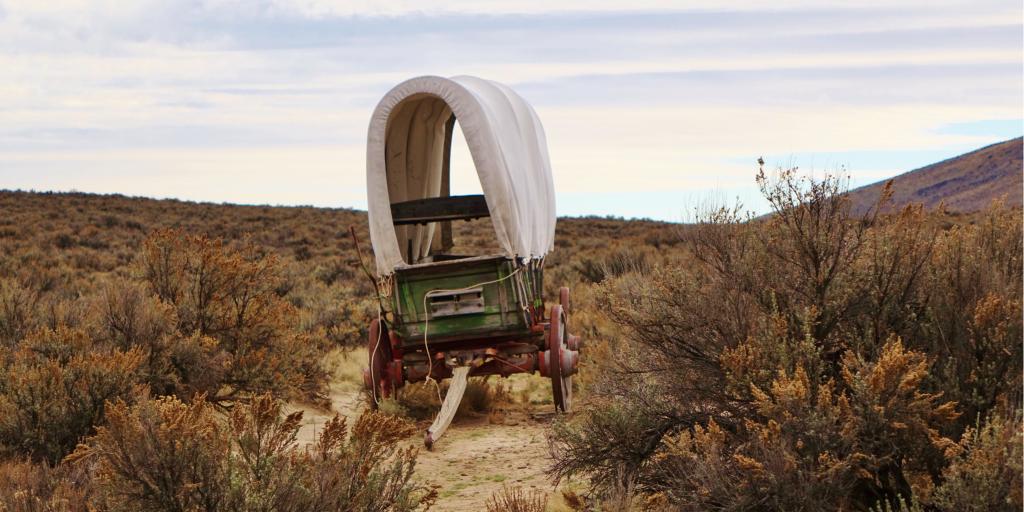 Drive through Enterprise, Wallowa, Elgin and La Grande
On your way to La Grande at the end of the scenic byway, you'll drive through a number of lovely towns and villages, passing by gorgeous ranches, farmlands, forests, and the ever-present Wallowa River.
Stop at any viewpoints and rest stops that catch your eye, then follow Highway 82 all the way to La Grande, where you can get out for some lunch.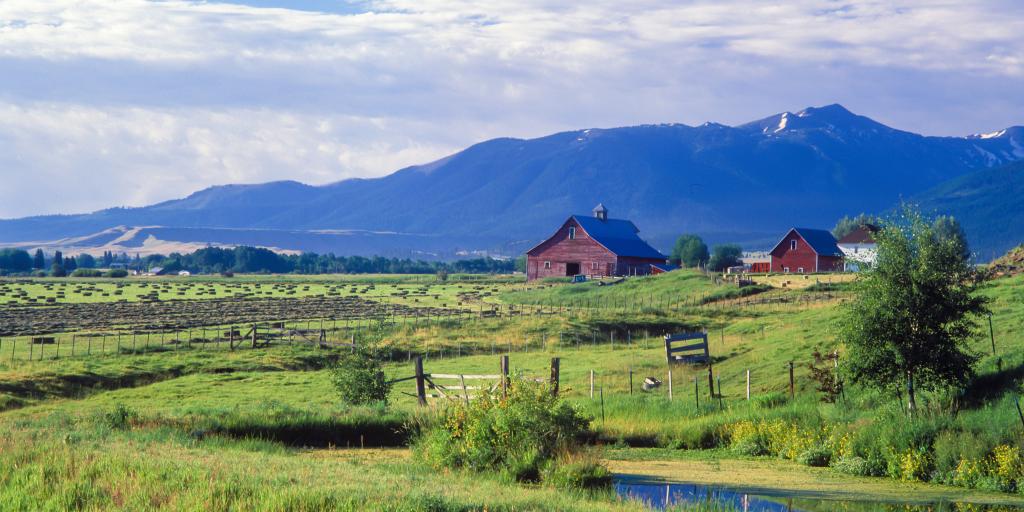 Stop for lunch in La Grande
Thanks to the presence of Eastern Oregon University, La Grande is a bit more vibrant and bustling than the cities you've visited so far on this Idaho road trip.
It was also one of the stops on the Oregon Trail, and you can even see remnants of the historic path travelled by pioneers in La Grande's Oregon Trail Interpretive Park.
Spend an hour so browsing through the city's quaint antiques shops, small museums and independent art galleries before settling in somewhere for lunch.
For an all-American treat, nab a table at Side A Brewing, housed in an old fire station on Washington Ave, which serves up delicious meals made with locally sourced ingredients.
Stars of the menu include the Ahi tuna sandwich and the peanut butter bacon burger (trust us!) and we highly recommend getting a helping of Dirty Fries to share.
Last leg of your Idaho road trip: Drive back to Boise
After lunch, it's time to come full circle by driving back down to Boise, where this road trip began. The journey from La Grande to Boise should take you about 3 hours.
You can return your rental car as you won't need to drive from now on; the next day and a half will be spent getting to know Idaho's underrated capital city.
Drop off your vehicle at the airport and then hail a taxi to downtown Boise. It's an easy 10-minute journey to the city centre.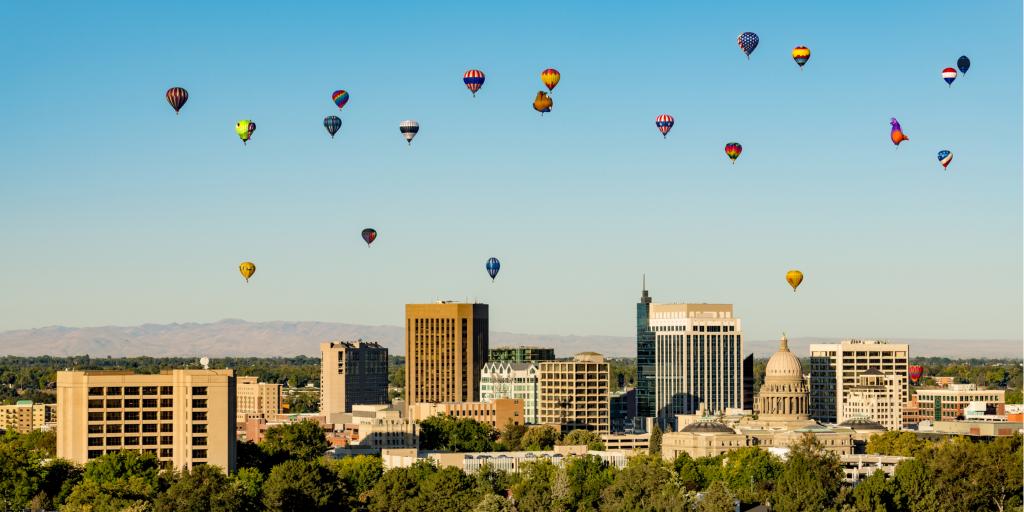 Have dinner at every Boise local's favourite restaurant
Once you've found your accommodation for the night and dropped your stuff there, take a walk or a taxi to the corner of North 8th street and West Idaho Street and nab a table for dinner at Fork.
Ask any local where to have dinner in Boise, and chances are they'll recommend this atmospheric gem, which is housed in an elegant old bank building.
Some of the most mouth-watering menu items are the asparagus fries, the glazed Brussels sprouts and the Cubano pulled pork sandwich. Yum!
On your way back to your hotel, take a five-minute walking detour just around the corner to see the famous Idaho State Capital Building all lit up at night.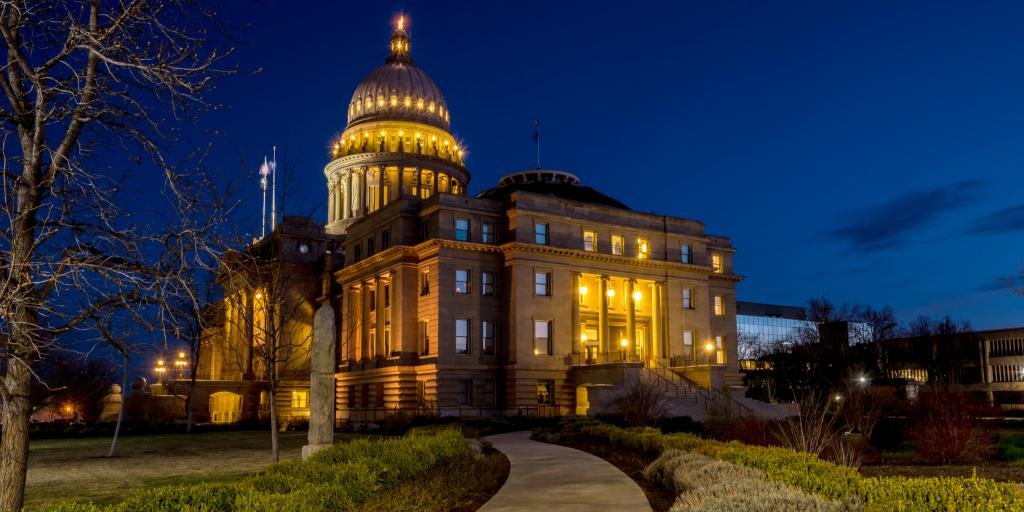 Day 9: Boise - Make the most of your last day in Idaho
It's the last day of your Idaho itinerary, and there are lots of activities to squeeze in!
Boise truly is an under-the-radar gem of a travel destination, with a lively downtown area that's a joy to explore. Some even say it's the new Portland... we'll let you judge for yourself!
Grab a coffee at Big City Coffee & Cafe
The delightfully kitschy Big City Coffee & Cafe always attracts morning crowds - and for good reason. They serve up some of the best breakfast offerings in the city, from homemade biscuits and gravy to Belgian waffles and toasted bagels.
Plus, for every can of coffee they sell, the cafe donates $1 to breast cancer detection services. Time to stock up on those Idaho souvenirs!
Get your culture fix at BAM
Once you're suitably caffeinated, walk southeast about 20 minutes from the cafe until you reach the entrance to Julia Davis Park, the location of your next stop: the Boise Art Museum (BAM).
This small but charming art deco-style museum has a wonderful array of fascinating exhibitions centred around contemporary realism, ceramics and fine art, as well as a hands-on activity area for children. There's also a cool sculpture garden out back.
Entry costs $6 for adults and $3 for children between first and 12th grade.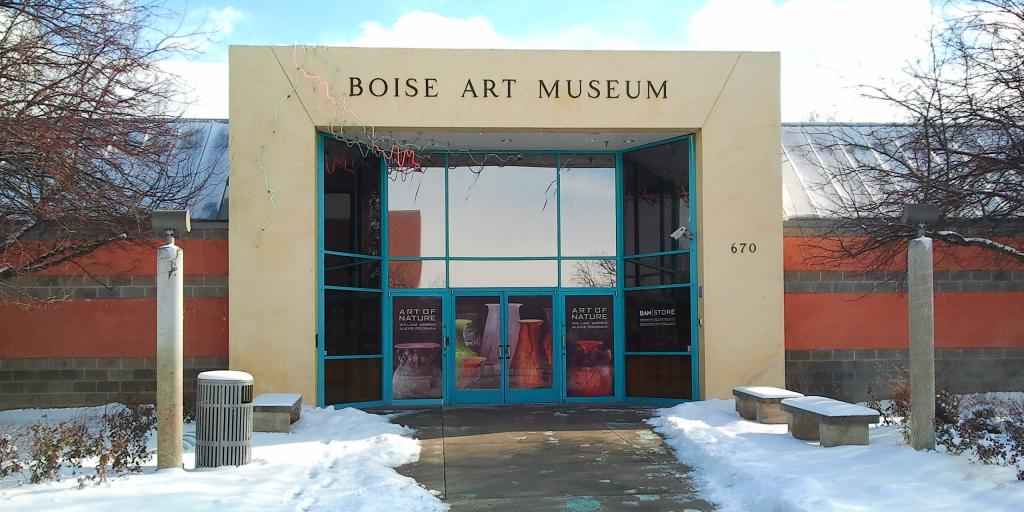 Take a taxi to the Old Idaho Penitentiary
From BAM, hail a taxi or get an Uber to the Old Idaho State Penitentiary, which is about 10 minutes away.
First opened in 1872, this former jail once housed some of the West's most notorious criminals, including a prominent member of Butch Cassidy's gang.
It stopped functioning as a prison in 1973, and these days, you can walk amongst the grounds, gallows and prison cells, imagining what life was like for the inmates way back when.
This may sound like a spooky tourist attraction (and it certainly is), but it's also a fascinating insight into America's penal system over the last century.
The Old Idaho Penitentiary is open 7 days a week from 12pm to 5pm.
Admission costs $6 for adults and $3 for children between the ages of 6 and 12.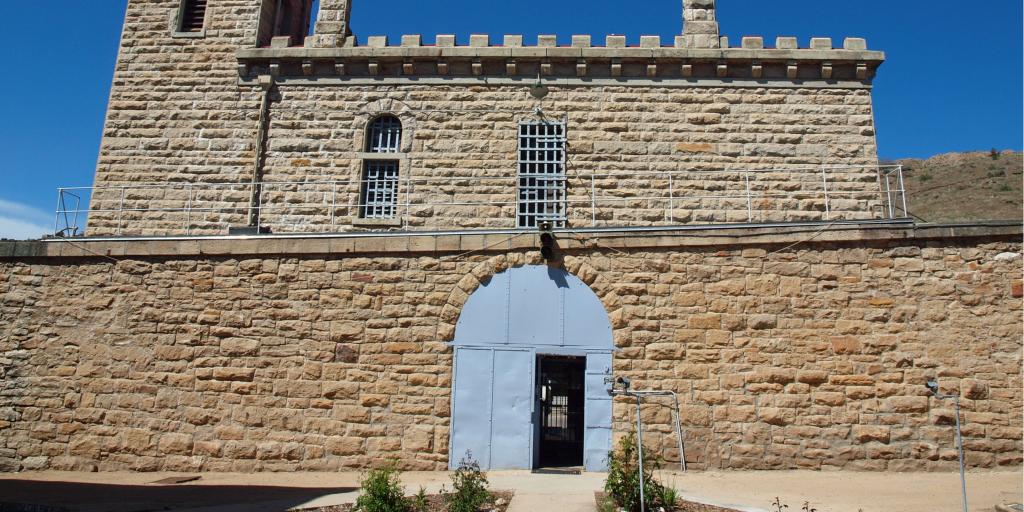 Walk along the Greenbelt back to the city centre
After you're finished exploring the jailhouse, make your way to the river and walk west along the Greenbelt, a pleasantly serene 30-mile-long pathway that connects many of Boise's best parks and sights.
Visitors and locals alike agree that the Greenbelt is a big part of what makes Boise so special, offering an unusual opportunity to immerse yourself in nature right in the middle of the city. There's a reason Boise is known as 'The City of Trees'!
After about 40 minutes you'll reach Julia Davis Park again, and from there it's a 20 minute walk to your next stop: the Basque Block.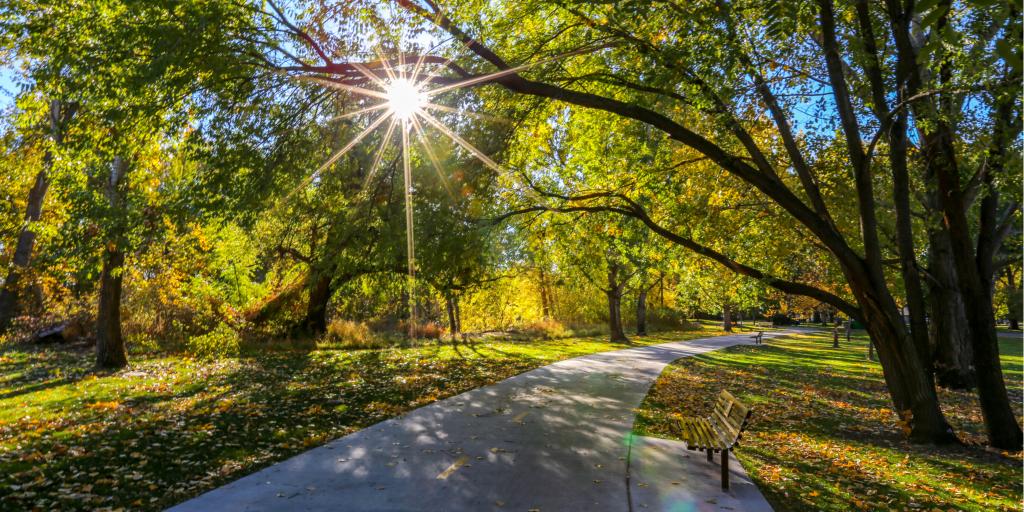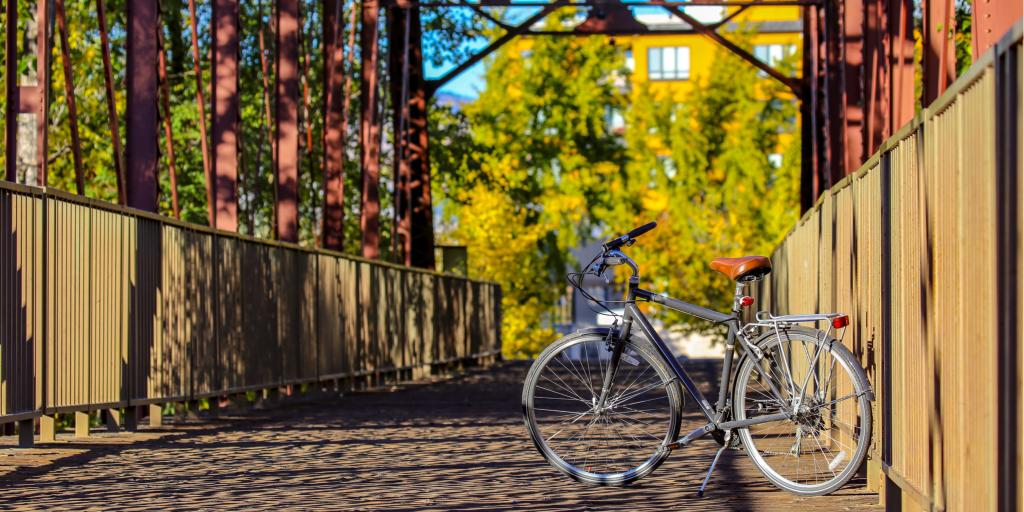 Have lunch on the Basque Block
Bet you didn't know that Boise has one of the biggest Basque populations in the world!
This unique cultural heritage is celebrated and painstakingly preserved on Basque Block, an area of downtown Boise that's home to a historic Basque museum, a cultural centre, and a handful of restaurants and bars serving up traditional Basque cuisine.
For lunch, take your pick from the eateries in the area (the Basque Market and Bar Gernika are local favourites). On Saturdays, Bar Gernika serves up a ridiculously popular beef tongue sandwich... get there early to get your order in before they run out!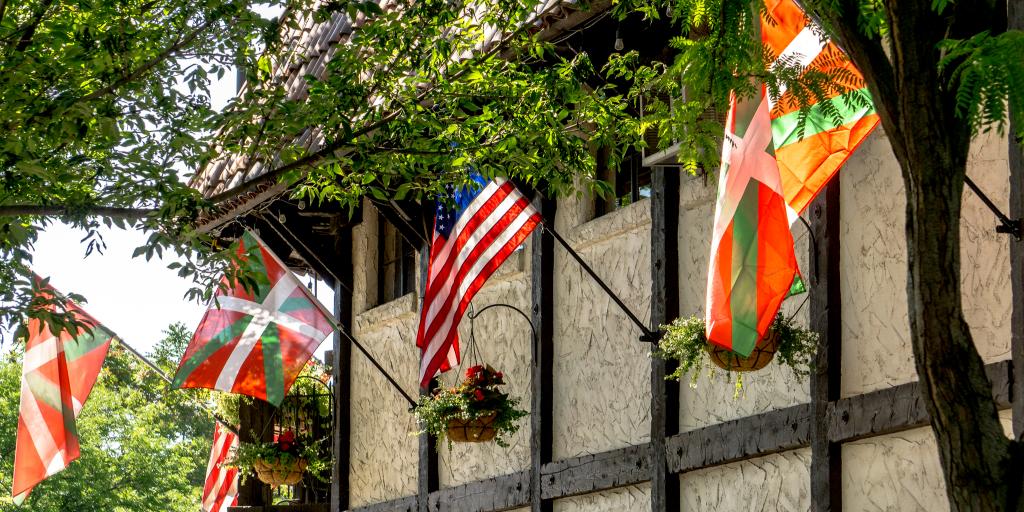 Go on a brewery crawl
Now that you've lined your stomach with all the Basque food you can eat, it's time for a drink.
The perfect way to round off your trip to Idaho is with a tour of all the best breweries in Boise, many of which are concentrated around the downtown area.
Start with a stroll along Freak Alley, where you'll see an outdoor art gallery of brightly coloured graffiti and wall murals adorning the buildings, highlighting the urban, edgy side of Boise.
From there, you're within easy walking distance of many of the city's best breweries including Boise Brewing, White Dog Brewing Co. and the Woodland Empire Brewery.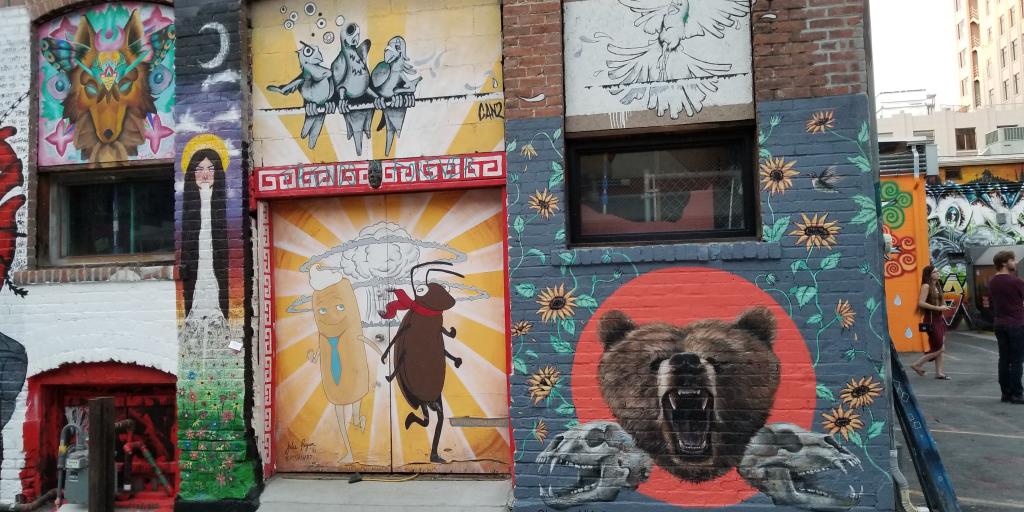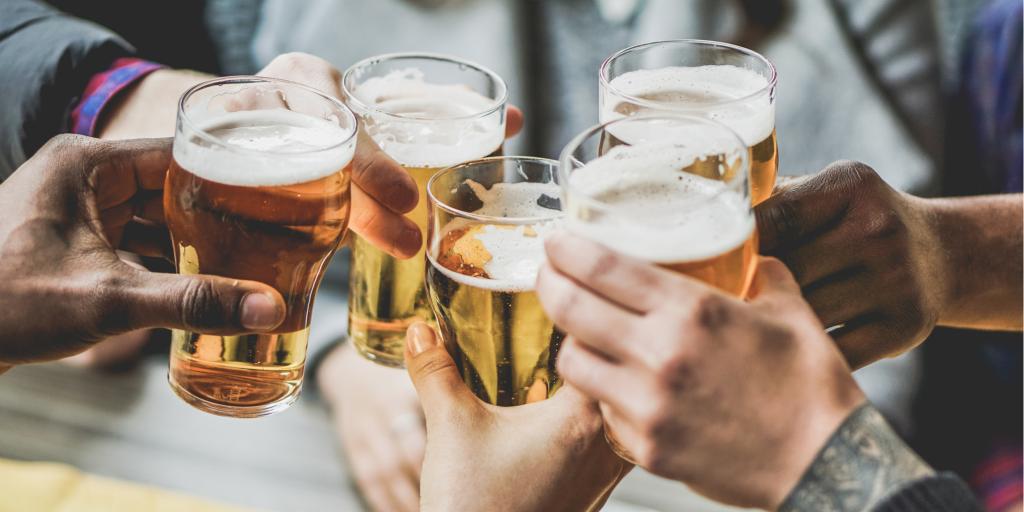 When the hunger pangs set in again, make your way to one of the many cheap eats options in the city. If you like Mexican food, you can't go wrong at the no-frills Tin Roof Tacos, where tacos cost less than $3 each.
Then roll back to your hotel and get some well-deserved rest before setting off for home tomorrow morning.