Is There a Car Ferry to Newfoundland?
Newfoundland is part of the gorgeous Canadian province of Newfoundland and Labrador. Although Labrador is connected to the mainland, the island of Newfoundland is not, which means it is accessible by the sea via ferry services.
Fortunately, you can take various car ferry options to reach Newfoundland. The most direct ferry takes you from Blanc-Sablon in Labrador to St. Barbe on the island of Newfoundland, but which ferry to choose will depend on where you are traveling from.
Continue reading below to learn more about the car ferry options, other alternatives to get there, and what to do once you arrive at this beautiful Canadian destination.
Is there a car ferry to Newfoundland?
There are three convenient car ferries that travel to beautiful Newfoundland. Each one is convenient and affordable, but some take longer than others.
The ferry from Blanc-Sablon, Quebec, takes you directly to the St. Barbe, Newfoundland. This trip is the most direct route, with just 1 hour and 45 minutes of travel time.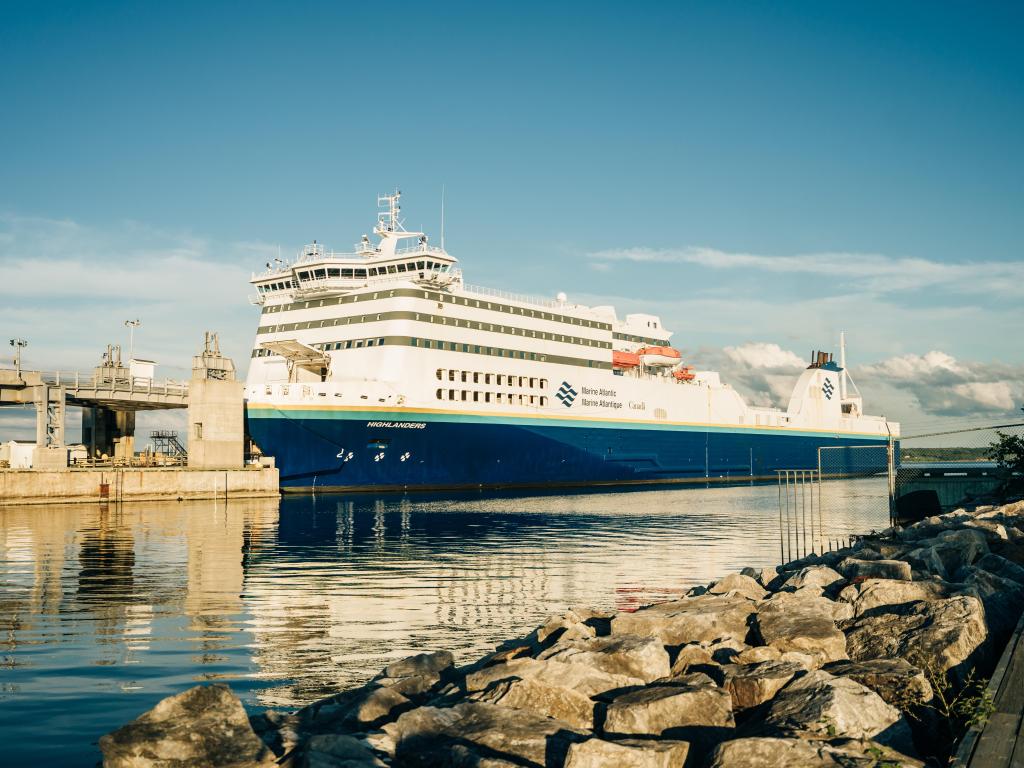 You have two options if you're departing from North Sydney in Nova Scotia. One brings you to the Marine Atlantic - Channel-Port aux Basques Ferry Terminal in Channel-Port aux Basques, with a journey time of 7 hours.
The other ferry connects to the Marine Atlantic Argentia Ferry Terminal in Argentia. This seasonal ferry runs from June to September, with a longer crossing time of 16 hours and 30 minutes.
Taking the ferry from Blanc-Sablon to St. Barbe
The car ferry service from Blanc-Sablon to St. Barbe provides an easy and stress-free connection between Quebec and Newfoundland. The service departs from the Terminal du Traversier de Blanc-Sablon in Blanc-Sablon, Quebec, and its destination is the St. Barbe Ferry Terminal in St. Barbe, Newfoundland.
Being a car ferry, you'll be able to drive your vehicle right into the ferry, making it an excellent choice if you want to explore Newfoundland with your own car.
The ferry operates every day of the year except for Christmas Day. Even in the depths of winter, you can make this safe and beautiful passage.
During the busier months of summer, spring, and fall, you'll find extra crossings adding to the schedule. Make sure to check the operator's website for up-to-date schedules before you plan your visit to Newfoundland.
All the schedules mentioned in this article are subject to change, so double-check before travelling to make sure that there is a ferry available that is convenient for you.
Taking the ferry from North Sydney to Port Aux Basques
The ferry service from North Sydney to Port aux Basques offers a perfect getaway on the high seas. Departing from the North Sydney Ferry Terminal in Nova Scotia, the ferry takes you to the Marine Atlantic - Channel-Port aux Basques Ferry Terminal on the gorgeous southwestern tip of the island.
Managed by Marine Atlantic, the number of crossings changes according to the season. Most days have two sailings in the morning and evening. Check Marine Atlantic's website for up-to-date schedules.
Marine Atlantic takes pride in ensuring that the ferry operates year-round, even in winter. Because this is a car ferry too, you can drive your car right on board.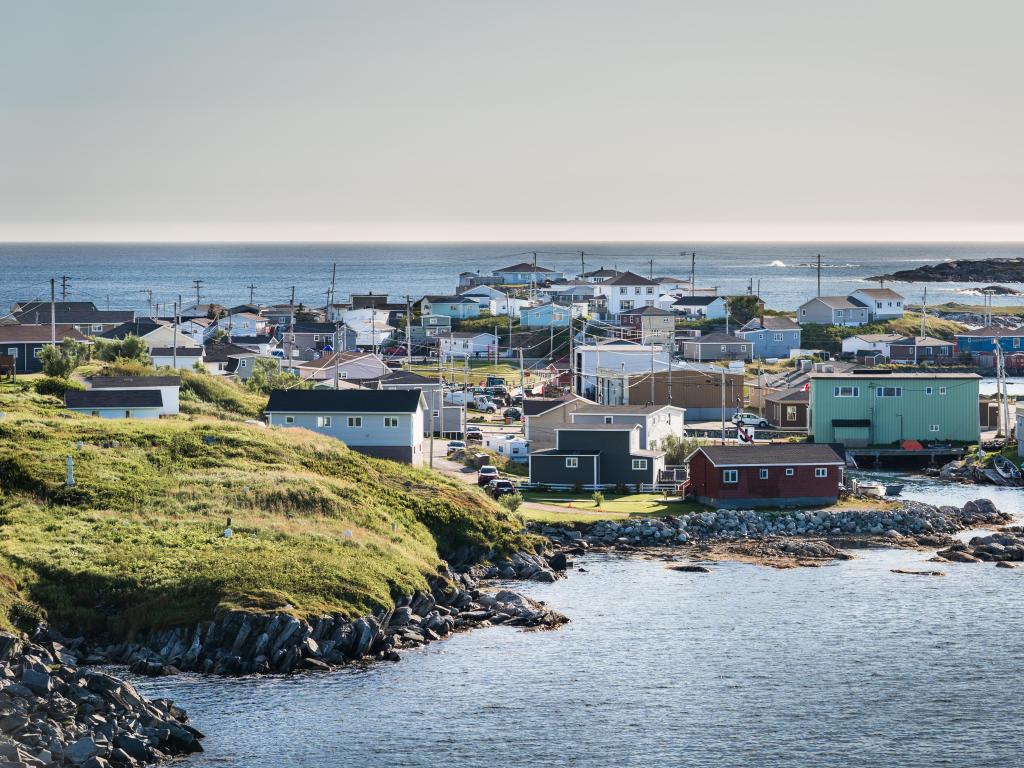 Travelling to Argentia from North Sydney via ferry
Travelling between Nova Scotia and Newfoundland's eastern region? The ferry from North Sydney to Argentia is the perfect mode of travel for you.
Setting sail from the North Sydney Ferry Terminal in Nova Scotia, this ferry route takes you to the Marine Atlantic Argentia Ferry Terminal in Argentia, just a short drive from the largest city of St. Johns.
Marine Atlantic also oversees this wonderful service. However, it only operates only from the busy summer months of June to September.
This ferry is also a car ferry, so you can drive right on board and start exploring the countryside when you arrive.
How long does it take to reach Newfoundland?
Journeying to Newfoundland via one of these incredible ferries gives you unbeatable scenery and adventure, plus the convenience of taking your own car. However, expect a wide range of travel times between them.
If you're setting off from Blanc-Sablon in Quebec, the ferry to St. Barbe in Newfoundland is the quickest, clocking in at just 1 hour and 45 minutes.
However, if you're departing from North Sydney in Nova Scotia, the duration changes depending on where you're going.
A ferry ride to Channel-Port aux Basques takes around 7 hours. If you're travelling to Argentia, your crossing will be closer to 16 hours and 30 minutes.
But remember, the North Sydney to Argentia route is operational only between June and September.
Keep in mind, you can also fly to Newfoundland if taking a car ferry is not your thing. Flights frequently leave from several Canadian destinations and arrive in St. John, Gander, and Deer Lake.
How much does it cost to travel to Newfoundland?
Although the scenic Newfoundland car ferries are incredibly affordable, their prices differ depending on which one you take. To help you plan, we've included a helpful table below that shows the prices for each service.
Comparison of travel prices to Newfoundland

| Route | Operator | Adult Fare | Vehicle Fare |
| --- | --- | --- | --- |
| Blanc-Sablon to St Barbe | Labrador Marine | $11.75 | $35.25 |
| North Sydney to Argentia | Labrador Marine | $116.27 | $234.19 |
| North Sydney to Port aux Basques | Marine Atlantic | $43.78 | $114.19 |
* All prices are based on a single journey, including 1 adult ticket, calculated at the time of writing
Things you need to know about travelling to Newfoundland
When planning your trip to Newfoundland, you'll be excited thinking about the rugged landscapes and cultural experiences that await you on the other side. To make sure your journey goes smoothly, here are a few things to keep in mind:
Always plan your trip and book tickets. The ferries, especially during peak seasons, can get fully booked. Securing your tickets early ensures you won't miss out on the travel date you need.
Make sure to arrive at the terminal at least 2 hours before the departure time, but no more than 4 hours beforehand. This gives you plenty of time to check in, especially during the busy summer months. And remember, the boarding process usually begins around 45 minutes before the departure.
Although Newfoundland is a part of Canada, bring your passport and other essential travel documents, especially if you intend to explore other parts of Canada or return to a different country.
It's always important to check the ferry schedule for any delays or cancellations before embarking on your journey. After all, this is Canada, a country known for its cold winters.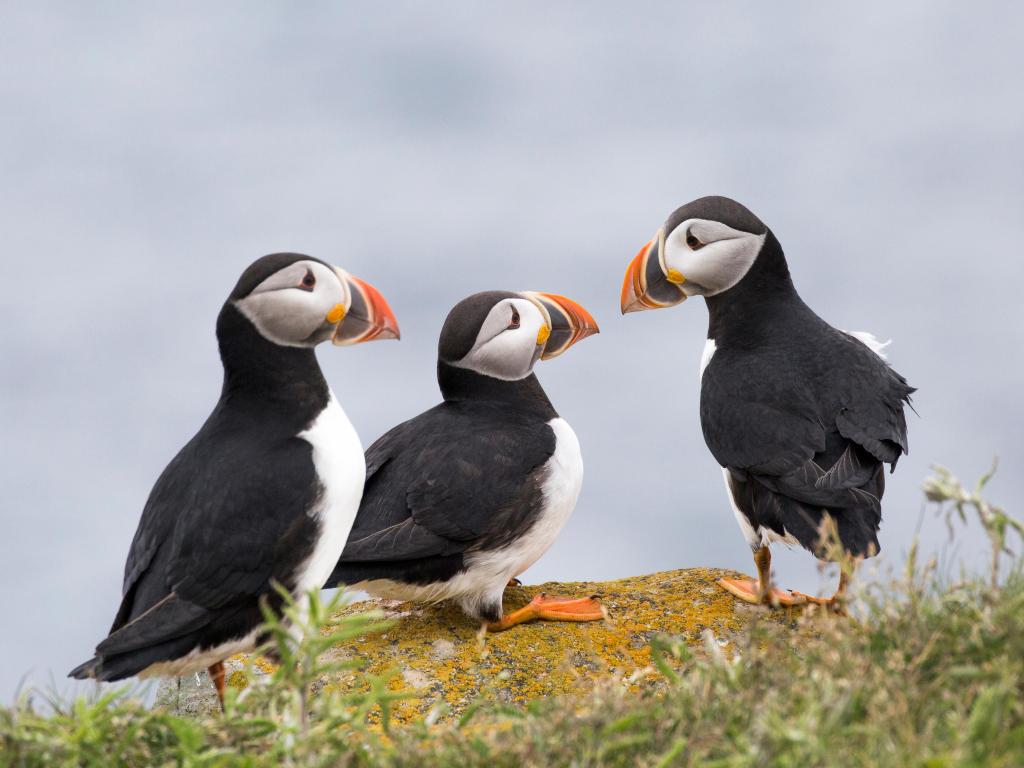 Best time to visit Newfoundland
Newfoundland, Canada, is a year-round destination with plenty to see and do depending on the season. You can catch beautiful summer beach weather, cosy snowfalls, and everything in between.
Winter in Newfoundland can be very cold, yet many days are sunny and beautiful. If travelling during the blustery winter months, make sure to always check the weather and bring plenty of warm clothes and hot chocolate.
Springtime sees warming temperatures between 5 to 20 degrees Celsius. You'll see plenty of wildflower blooms and cheaper accommodation.
Summer is the busiest and most expensive time to travel to Newfoundland. However, the warm weather, often above 20 degrees Celsius, allows you to enjoy all the outdoor activities the island is known for.
Fall is another great time to explore the island, with pleasant weather, cheaper accommodation, and plenty of gorgeous fall colours. This is also the best season to witness Newfoundland's surfers take on the beautiful Canadian waves.
Things to see once you reach Newfoundland
Newfoundland is full of incredible sights and destinations to see. Below is a list of our favourites, to help you plan this incredible Canadian voyage easier.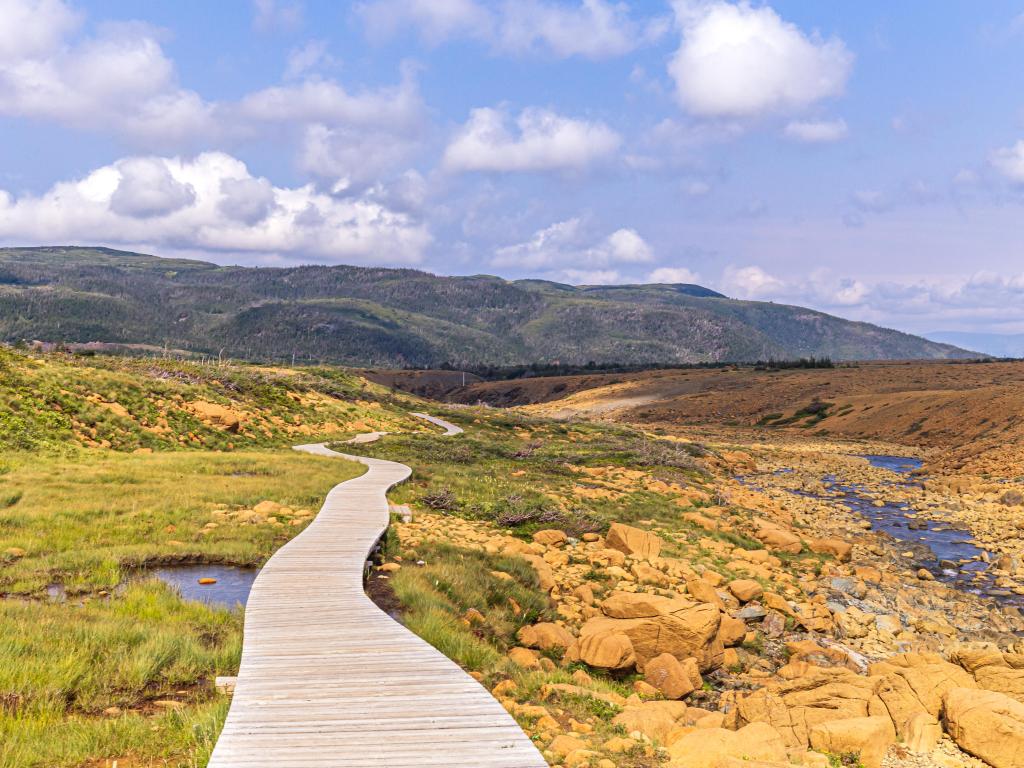 Gros Morne National Park - Explore the stunning landscapes inside this UNESCO World Heritage Site. Hike or take a boat tour to see fjords and dramatic cliffs.
Iceberg Alley - Huge icebergs from Greenland adorn the Newfoundland coast. In late Spring and early summer is a good time to see the icebergs in places such as Bonavista, Twillingate, Bonavista, and St. John's.
L'Anse aux Meadows - See archaeological remains and reconstructions of a Viking settlement. This was the first place in North America inhabited by Europeans.
Wildlife spotting - Join a guided tour to see humpback whales and dolphins. Puffins are also commonly spotted along the Newfoundland coast.
Signal Hill - Just a quick trip from St John is the historic site. Climb the tower for views of the ocean.
Get ready to plan your ultimate adventure to Newfoundland via one of the wonderful and stress-free car ferries from the Canadian mainland. This adventure will surely leave you with lifelong memories and plenty of adventures.