Road Trip from Toronto to Newfoundland
If you are looking for an epic road trip that takes you past famous lakes and waterfalls, through great cities and national parks, across Canada and the US, then the road trip from Toronto to Newfoundland is the perfect trip for you!
The 2,325-km road trip from Toronto to Newfoundland takes 29 hours to drive. The route passes Buffalo, Boston, Albany, Bangor, Salem and Port Hastings, as well as Niagara Falls, Lake Ontario, Lake Erie, Acadia National Park and Cape Breton National Park.
This road trip passes across bays, gulfs and oceans on your way to the eastern-most province in Canada. Read on to learn about the great places you'll pass en route, and also tips on where to stay and the best time of year to make this amazing trip.
How far is Newfoundland from Toronto and how long will the road trip take?
A road trip from Toronto to Newfoundland takes at least 28 hours to drive and covers a minimum of 2,080km (1,360 miles). However, it is worth noting that the final 165km, accounting for at least 6 hours, is spent on the ferry that takes you from North Sydney to Port Aux Basques in Newfoundland.
Minus the ferry ride, that leaves a minimum of 22 hours of non-stop driving for the most direct route. However, the trip we recommend taking is a little further at 2,325km (1,445 miles) and adds an hour to the driving time, bringing it to 23 hours driving and 29 hours overall.
With a trip of this length, you're realistically going to need at least 4 days, with an additional day on top for the ferry trip, to cover the journey. The extra detour split over these days will be barely noticeable, while providing some stunning attractions that you won't want to miss.
As the route will be crossing the Canadian/US border, you will need to bring the correct documentation and proof of identification. It's best to check ahead of travelling for the latest rules and restrictions.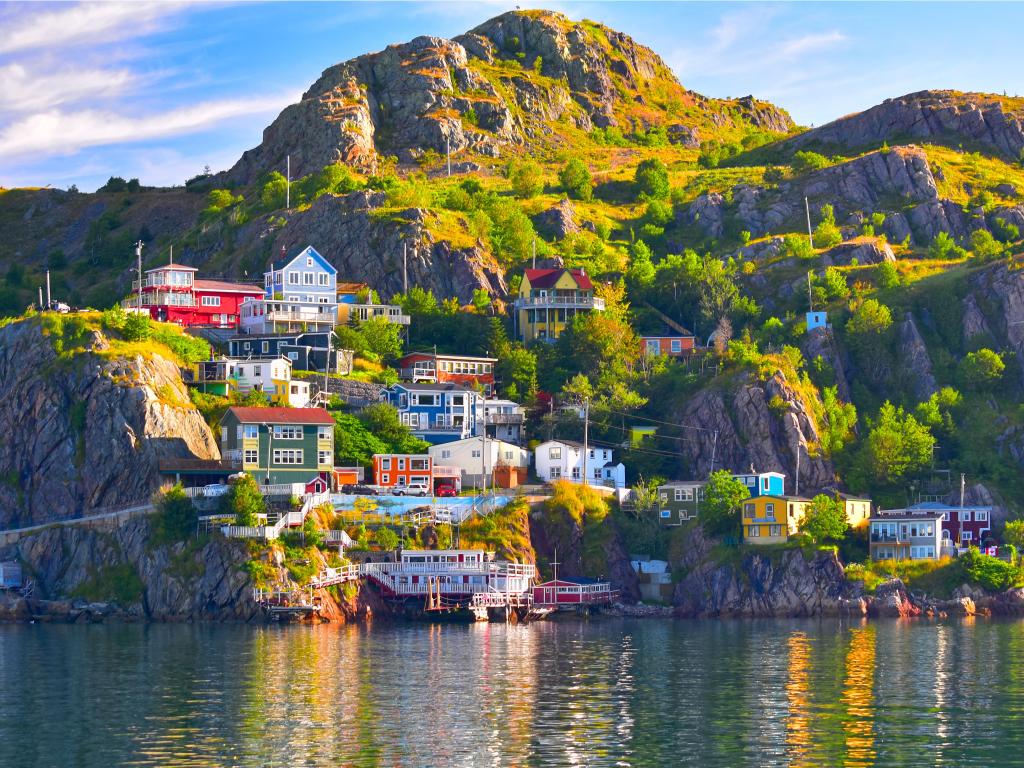 Best road trip route from Toronto to Newfoundland
While it is possible to complete a road trip from Toronto to Newfoundland without leaving Canada, the route we recommend will instead take you through America, across the states of New York, Massachusetts, New Hampshire and Maine.
If you prefer a Canada-only option, you can drive from Toronto to Newfoundland in just under 20 hours. Covering 1,994km (1,239 miles), this route takes you along the Trans-Canada Highway via Montreal, Quebec City and across New Brunswick before joining the US route at Moncton.
While still a fascinating journey taking in some Canada's beautiful cities, our recommended Canada/US route offers a bigger variety of attractions, some brilliant US cities and awesome natural wonders. Given the similar distance and drive time, it simply offers more bang for your buck!
Road trip route from Toronto to Newfoundland
Start by heading west on Queen Elizabeth Way, passing Mississauga, Oakville and Burlington as you follow the edge of Lake Ontario to where it meets Ontario Highway 420, in Royal.
Continue on this road as you cross Rainbow International Bridge into America. Once you're across the border, take Rainbow Blvd south to John Daly Boulevard. Turn right onto this and then cross the roundabout onto Niagara Scenic Parkway.
At this point, you definitely need to stop to visit the stunning Niagara Falls. You could also consider a detour to Buffalo or continue before merging with Interstate 190 heading south.
Once you've crossed Grand Island and arrived back on the mainland, switch to I-290. Follow this for its entire duration of 16.5km (10 miles), at which point it will meet the I-90 and you'll follow that east.
Continue heading east and consider a stop at Albany in New York or a detour to visit Green Mountain National Forest, before finally reaching Auburn in Massachusetts.
Follow I-90 before reaching Boston, another great city to explore, before taking I-95 north, passing Portland and changing to I-295 through Augusta to Bangor in Maine.
Here you'll join State Route 9 and follow it to the border. Once you pass into New Brunswick in Canada, you'll be on NB Route 1 as you pass Saint John. Follow it until it merges with Trans-Canada Highway 2 just south-west of Moncton and continue until you reach the provincial border.
Once in Nova Scotia you'll be on Trans-Canada Highway 104, which you'll take 275 km (170 miles), until you cross the Canso Causeway into Port Hastings. Here you'll switch to Trans-Canada Highway 105 and follow it the remaining 130 km (82 miles) to the ferry port in North Sydney.
The ferry from North Sydney to Port aux Basques is mainly provided by Marine Atlantic ferries. This year-round service has two siblings - mornings and evening and the crossing takes six to eight hours, depending on weather.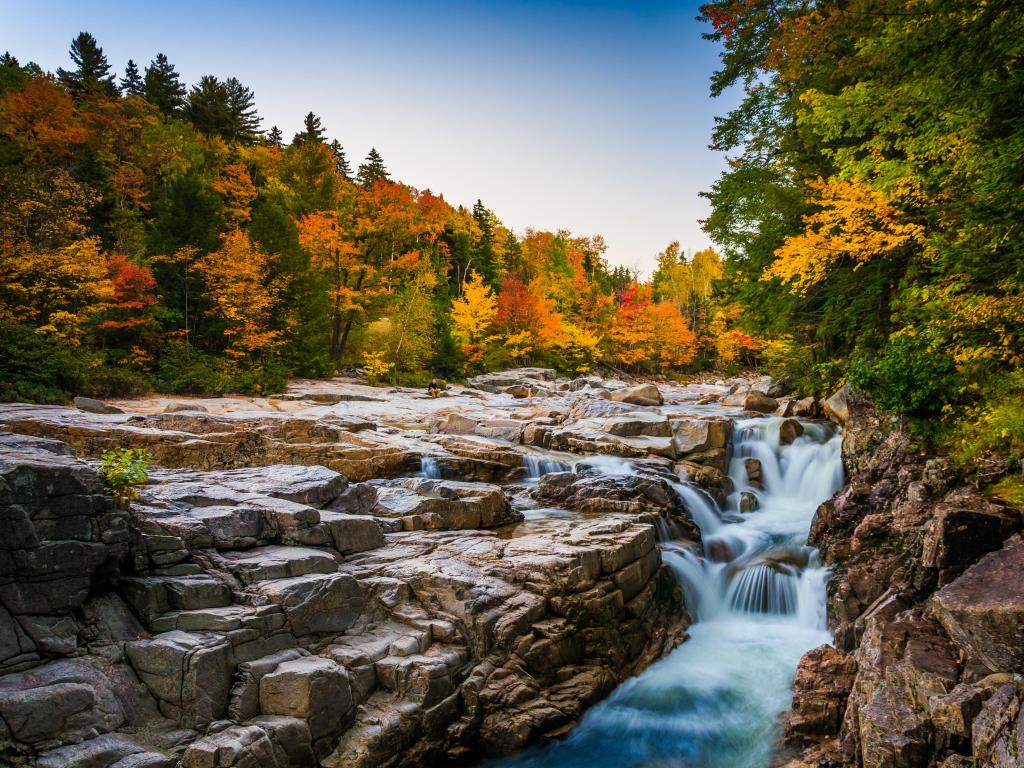 Best Places To Stop Between Toronto And Newfoundland
With almost a full days' worth of driving on a road trip from Toronto to Newfoundland, it's a given that you're going to need to make a few overnight stops along the way.
There are lots of interesting places to stop, but these are some of the ones you definitely don't want to miss:
Stay in New York State's historic capital, Albany
Full of sights and attractions dating back to its colonial origins in the early 1600s, Albany in New York is one of the oldest cities in America. You'll pass this city early in your trip (620km in and just over 6 hours of driving), so it's an ideal first overnight stop.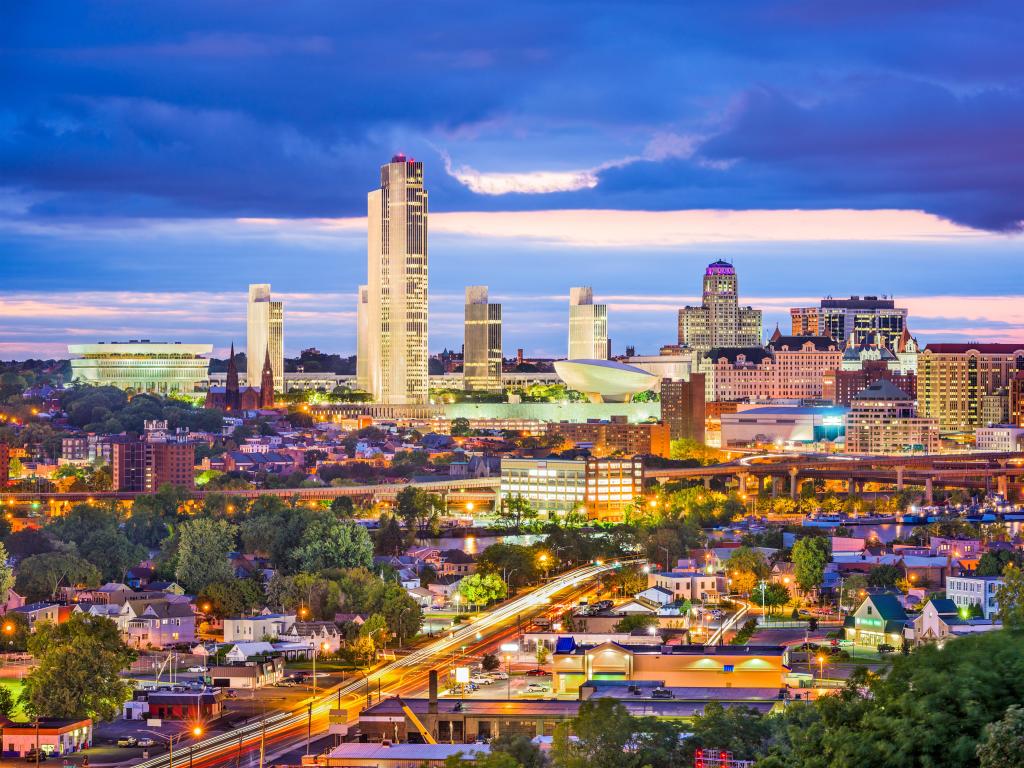 Given its vast history, it's not surprising that you'll be greeted with some fascinating buildings like the ornate State Capitol, to historic vessels such as the USS Slater, as well as a fantastic collection of museums and galleries. Albany has everything a history enthusiast could want.
With such an array of beautiful, historic buildings in this city, it seems very fitting to stop at the Renaissance Hotel. Originally known as the Dewitt Clinton hotel, the building is ideally located near the Times Union Center, Corning Tower and Empire State Plaza Convention Center.
Despite its grand exterior, the hotel is beautifully decorated, giving a luxurious and modern feel to its interior. For convenience and ease, there's also private parking available and an onsite restaurant. With former guests such as former president John F. Kennedy, you'll definitely be in very good hands at this hotel.
Recharge in Boston, Massachusetts
At almost halfway through the road trip from Toronto to Newfoundland, Boston in Massachusetts is another great option for an overnight rest. Also steeped in history, Boston is full of incredible historic locations to explore.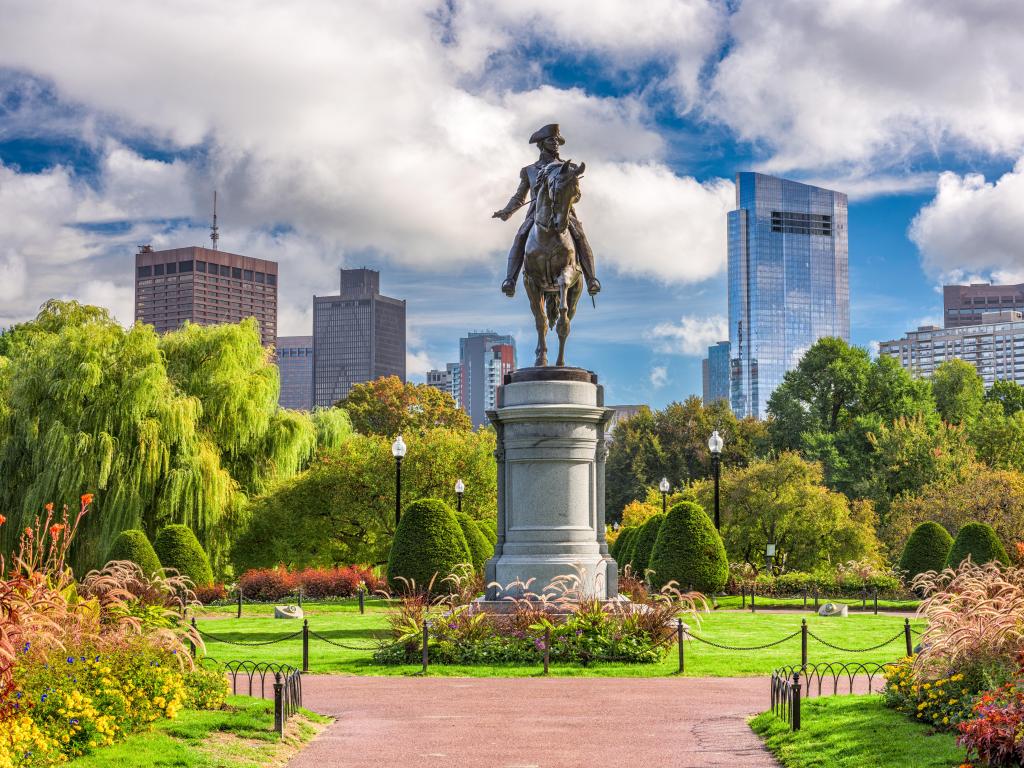 Known for one of the most unique cultures in the area, with its prominent Irish American population, this city offers fantastic bars, restaurants, coffee shops and parks. Key attractions include the Museum of Fine Arts, the New England Aquarium and Boston Common. It's also famed for its Boston Marathon.
There are so many historic and luxurious hotels in Boston, but a stay at The Colonnade Hotel is guaranteed to put a smile on your face. After a long drive, take a soak at the seasonal rooftop swimming pool or relax on the terrace overlooking the city at this fabulous hotel.
Located in downtown Boston, this luxury hotel is adjacent to the Prudential Center and offers modern and stylish rooms with floor-to-ceiling windows to really make the most of fantastic city view, as well as parking on site and sumptuous dining options.
With the Symphony Hall just a 7-minute walk away, The Colonnade Hotel is that perfect mix of 4-star luxury with the convenience of a downtown location. It's a great option for exploring Boston and recharging before you embark on your next part of the road trip.
An outdoor oasis in Maine: Bangor
Our final recommendation is perhaps not as famous or historic as our previous two stops, however set just over 9 hours to the ferry port in North Sydney, Bangor is a great option for a stop city.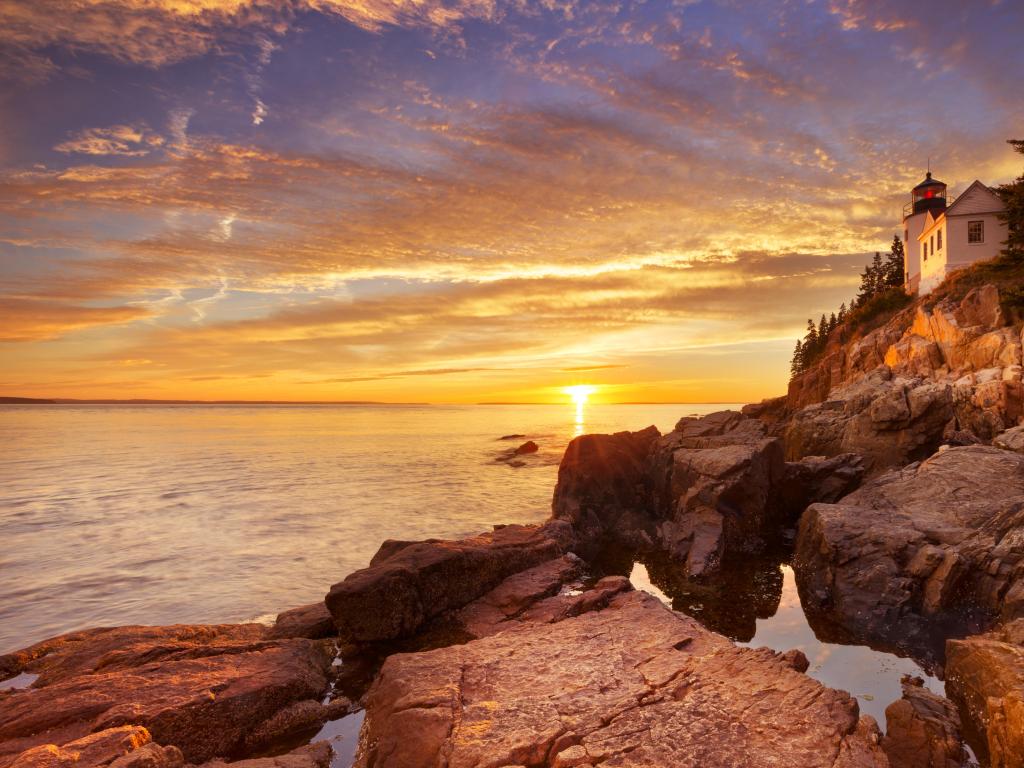 Known for its year-round selection of outdoor activities, Bangor in Maine is a great city to explore for anyone who loves being outdoors. There's also fantastic museums to visit and the Bangor City Forest which has great trails and is inhabited by beaver and deer
To really make the most of your stop at Bangor, less than an hour from the city is Acadia National Park. Famous for its stunning foliage, this park is great for hiking, skiing or just those who want to escape the city life for a walk amongst nature.
Residence Inn by Marriott Bangor is a great option for an overnight stay in this brilliant city. Situated within Bangor itself, this conveniently placed hotel is beautiful designed and offers the ultimate in relaxation in either its indoor pool or hot tub.
With free parking on site, you can spend your days exploring the city or nearby parks and forests, before relaxing back at your hotel and enjoying a drink at its onsite bar.
Things to see on a road trip from Toronto to Newfoundland
With the driving section of your road trip from Toronto to Newfoundland taking 23 hours, across four states and three provinces, you're going to have plenty of opportunities to see some incredible sights.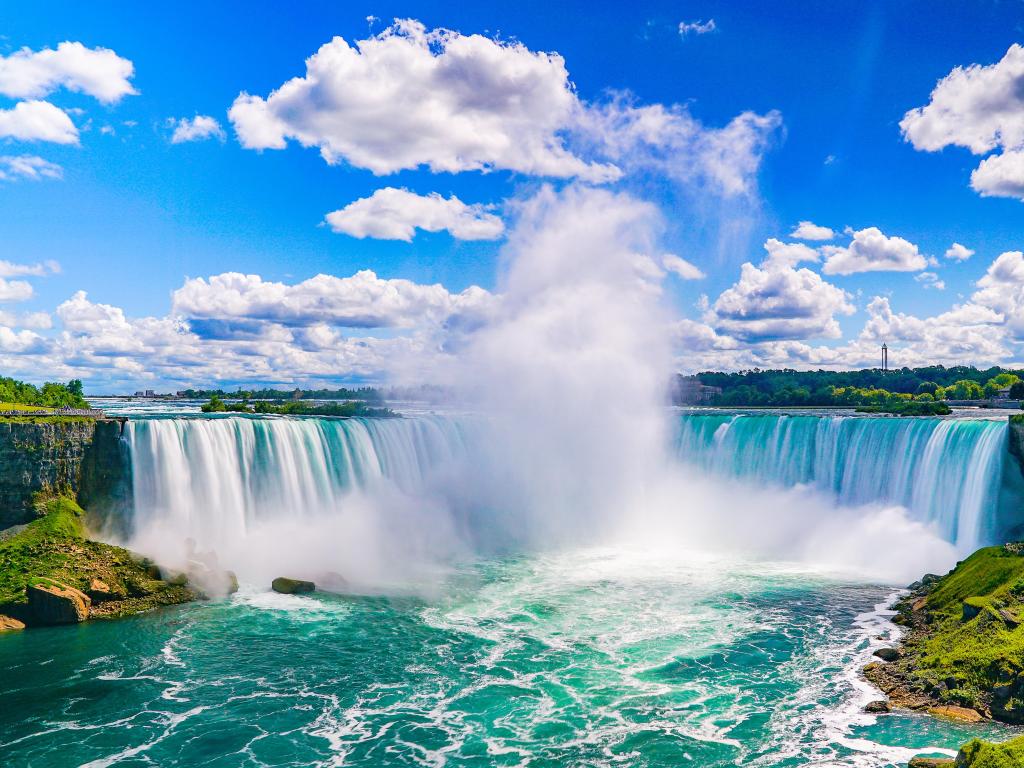 If you are limited on time, here's our pick of some of the absolute best attractions that you're not going to want to miss out seeing:
Lake Ontario - The road trip begins by the 13th largest lake in the world. A stunning location that, despite its immense size, still only ranks as the smallest of the regions five Great Lakes.
Lake Erie - The fourth largest lake of the five Great Lakes, Lake Erie is also the warmest and home to one of the largest commercial freshwater fisheries in the world.
Niagara Falls - A collection of three separate falls that combine to make the most powerful set in North America. If being a world-famous tourist attraction wasn't enough, they also function as a hydroelectric plant that is pivotal to providing a large portion of the regions power.
Buffalo - the second-largest city in the US state of New York and at the eastern end of Lake Erie, Buffalo is only a short detour from the road trip and yet offers a great cultural and historical city to explore. Buffalo has a Botanical garden, several museums, a beautiful canal to walk beside and a great zoo.
Albany, New York - One of the oldest and smallest state capitals in the country, settled as a fur trading post in 1614, Albany is a fabulous location to visit for those interested in learning about the country's colonial past.
Green Mountain and Finger Lakes National Forest - encompasses more than 400,000 acres in southwestern Vermont. Offering a variety of camping experiences, its a great space to get back to nature and discover the native wildlife including coyote and wild turkey.
Boston, Massachusetts - The largest, most populous city in both Massachusetts and New England, Boston is also one of the oldest and largest state capitals in America.
Salem, Massachusetts - Famous for its 1692 witch trials, Salem is a big tourist hotspot which also offers fantastic examples of colonial architecture, world-class museums and great restaurants.
Portland Head Light, Maine - Set on a peninsula extending into Casco Bay, Portland is a great city set on the sea front which offers restaurants and shops. Nearby, there's the Western Promenade and six lighthouses to visit with 20 minutes of the city, including the most photogenic one, Portland Head Light.
Bangor, Maine - Maine's third largest city, known for having a stunning collection of parks and forests, that provide plentiful outdoor activities year-round, from skiing and snowmobiling in the winter to hiking and fishing in the summer.
Acadia National Park - A stunning national park just off the coast of Maine, it is home to stunning views and some of the most amazing marine wildlife you'll find anywhere in the US.
Moosehorn National Wildlife Refuge - One of the most northern refuges on the Atlantic Flyway, it is a vital location for many species of migratory birds to water and feed along their journey. It's also home to many other rare and unusual species, as well as the moose that give the park its name.
Fundy National Park of Canada - This park is a short detour from the main route but offers fantastic views of its rugged coastline which rises up to the Canadian Highlands. There's lots of hiking trails, plus campsites and more than 25 waterfalls.
Cape Breton National Park - If you arrive in Sydney early and need something to do until your ferry the next day, I would highly recommend a trip north to Cape Breton National Park. The first location in Canada's Atlantic provinces to be designated a national park, you'll get the opportunity to see mountains, valleys and waterfalls, filled with all manner of different species of plants and animals.
Florence Beach, Nova Scotia - For sandy stretches and beautiful views, Florence Beach is a great place to relax before embarking on your ferry trip.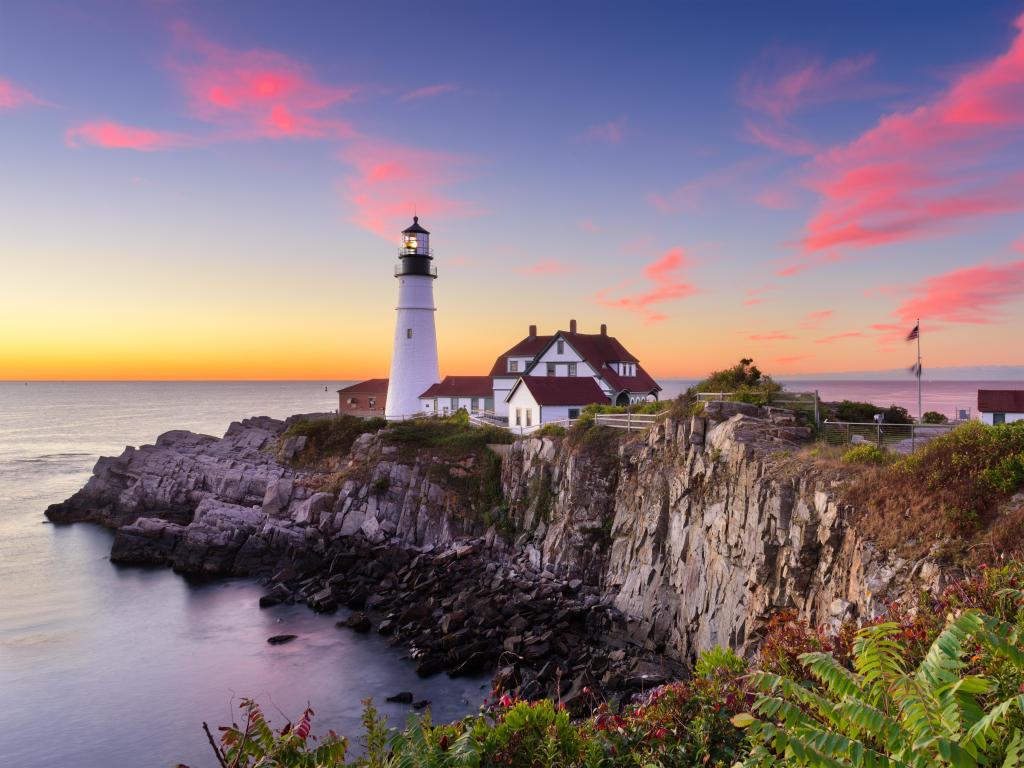 Best time to go on a road trip from Toronto to Newfoundland
When planning your road trip from Toronto to Newfoundland, pinpointing the perfect time to go depends largely on what you are hoping to experience.
As one of the most northern parts of a generally cool country, if you visit any time between November and April, you will likely discover some snow and ice. Temperatures in Toronto can get as low as 18 degrees Fahrenheit, whereas North Sydney is only slightly warmer.
With a large range of outdoor attractions, a trip during the warmer months will be more palatable and offer a greater choice of things to see and do. Late April to May, and September through October are generally considered the best months for visiting this part of Canada and US.
However, if you're looking to experience Newfoundland in a warmer, more pleasant temperature, July and August are the best months for guaranteed sunshine. Temperatures can top 77 degrees during its short but pleasant summers, though be warned, travelling during these months will mean larger crowds and likely congestion in some of the US cities.
If you particularly want to avoid crowds, it would be worth checking some of the big festivals in Canada and the US. For example, the Boston Marathon in April sees crowds of over 500,000 take to the city. Elsewhere Niagara Falls has its biggest crowds during July and August.
Ultimately, when you decide to visit will depend on your timescale, preference for nearby attractions and whether you'd be put off by large crowds. If you aim to visit during some of the peak months, just remember to book accommodation in advance.