Is there a Ferry from Manhattan to Fire Island?
Stretching out along the south shore of Long Island, the half-mile-wide Fire Island is a stunning place to escape the bustle of the Big Apple. The eastern section was referred to Great South Beach in the past and the island's dunes, forests and ocean views provide an atmospheric retreat all year round.
There isn't a ferry direct from Manhattan to Fire Island. Instead, it's just a 55-mile drive to Bay Shore, from where ferries make the 30-minute crossing to Saltaire Dock on Fire Island. You can also drive the island via the Fire Island Inlet Bridge.
Whether you're heading to Fire Island to cool off on the beach in mid-summer or in search of the whales, dolphins, seals, and monarch butterflies that pass by at different times of year, Fire Island makes the ultimate contrast to Manhattan. Keep on reading to find out the best way to reach the island by ferry, and how to make your trip as straightforward as possible.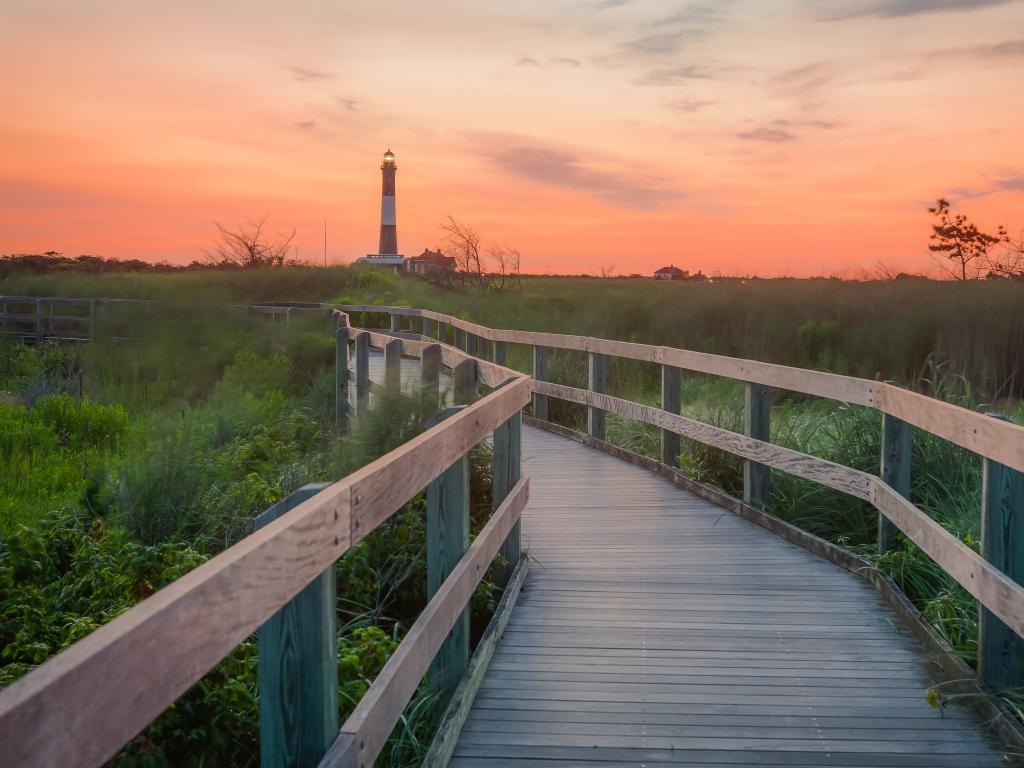 Is there a ferry from Manhattan to Fire Island?
As we've mentioned, there are no ferry services sailing between Manhattan and Fire Island. However, you can drive to nearby ports to catch a boat across Great South Bay.
Out of the three ferry routes to Fire Island, Bay Shore on Long Island is the closest to Manhattan. From here, ferries depart throughout the day for Saltaire Dock on Fire Island, as well as several other destinations on the island.
The destinations are Kismet, Fair Harbor, Atlantique, Dunewood, Ocean Beach, Seaview and Ocean Bay Park.
Alternatively, you can take a ferry to Fire Island from Sayville or Patchogue. Both of these ferry crossings have the advantage of being slightly cheaper than the crossing from Bay Shore, and you'll spend a little less time on the water, although it's a longer drive from Manhattan to the ferry port.
You might find it more convenient to drive to Fire Island, which is a straightforward trip via Fire Island Inlet Bridge. This gives you the flexibility to stay as long as you like, and you won't have to plan your trip around the ferry schedule.
However, most of the island is car-free and you'll have to pay to park before exploring the island on foot. You'll be limited to visiting just the westernmost part of Fire Island, so if you'd prefer to see other parts of the island, then the ferry is probably a better option.
Depending on your starting point in Manhattan, it takes around 1 hour 30 minutes to drive on to Fire Island, plus any traffic delays that you might encounter.
Taking the ferry from Bay Shore to Fire Island
It takes around 90 minutes to drive from Manhattan to Bay Shore ahead of your ferry to Fire Island, but you'll need to allow extra time in case the Manhattan traffic slows you down.
From your starting point in Manhattan, make your way to 2nd Avenue, then head east out of the city via the Queens Midtown Tunnel. Once you've exited the tunnel, follow Interstate 495 (I-495) across Long Island then turn onto Sagtikos Parkway which takes you down to Bay Shore.
You'll find the ticket office for Fire Island Ferries at the end of Maple Avenue. Ferries sail from Bay Shore to several destinations on Fire Island, so make sure you're on the correct departure! Check ahead for timings as the schedule varies seasonally.
You can't take your car with you on the ferry to Fire Island, so you'll need to find somewhere to park before boarding the ferry. You can park near the ticket office, and the ferry operator has two separate lots available on Maple Avenue. However, these spaces fill fast, especially in the summer.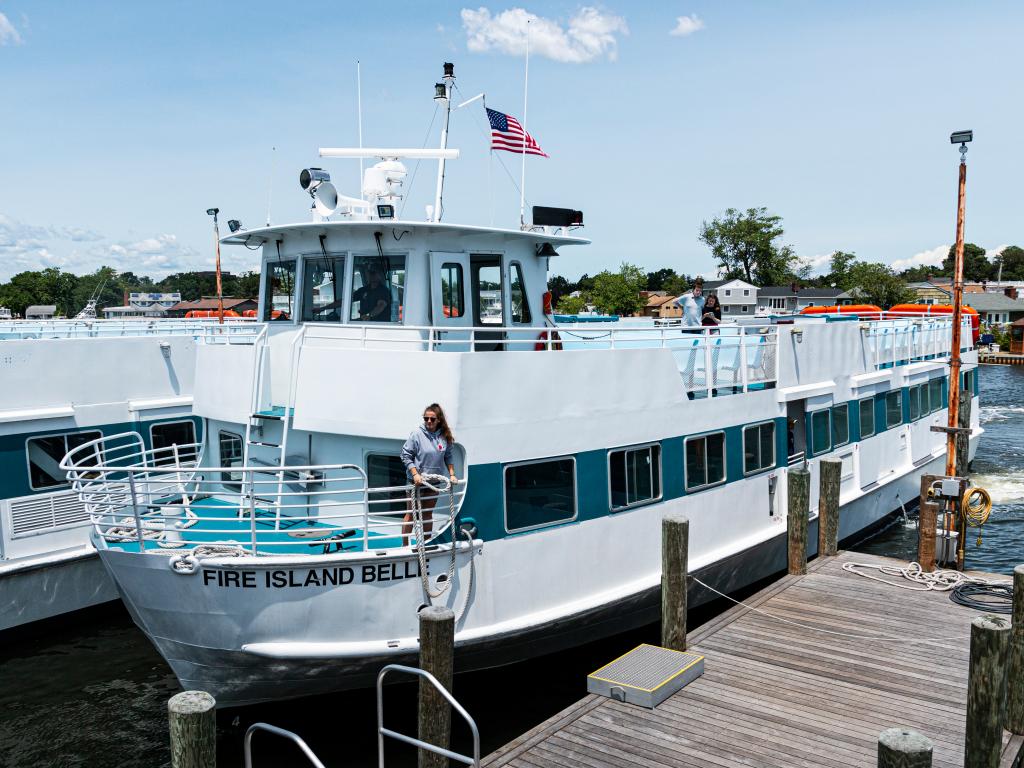 If you have any difficulty getting parked, try Maple Avenue Marina. It's also possible to catch an Uber from Bay Shore Train Station if you decide to leave the car at home.
Once you've arrived in Saltaire, you can relax in this quaint waterside village or explore other parts of Fire Island on foot. Kismet Beach is a 15-minute walk away, while Fire Island Lighthouse is 30 minutes.
You can also catch a ferry from Bay Shore to Kismet, Fair Harbor, Atlantique, Dunwood, Ocean Beach, Seaview or Ocean Bay Park if you'd prefer to explore other parts of Fire Island. Or take the water taxi between different parts of the island if you're staying for longer.
Taking the ferry from Sayville to Fire Island
A little further across Long Island is Sayville, from where you can take the ferry to Fire Island Pines. Like Bay Shore, it's a straightforward drive once you've left Manhattan. Simply follow I-495 as far as Ronkonkoma, then take Ocean Drive towards Sayville.
You'll have to navigate through the town to the ferry terminal, which you'll find on River Road opposite a large parking lot.
The schedule from Sayville varies seasonally. In summer, there are more crossings on Fridays and weekends, with departures as frequently as hourly on busy afternoons. However, check ahead to confirm details of departure times and return ferries.
It's also possible to reach Cherry Grove, Sailors Haven and Water Island from Sayville.
Reaching Fire Island from Patchogue via ferry
From Patchogue, you can take the ferry to Watch Hill or Davis Park. To reach the ferry terminal, follow I-495 east across Long Island, continuing as far as Holtsville. The route from Patchogue might appeal if you're staying at the eastern end of Long Island rather than driving from Manhattan.
Here, turn off for Patchogue, then make your way to either the Watch Hill Ferry Terminal or the Davis Park Ferry. They're both operated by the same company, but depart from different parts of town.
Taking the ferry from Patchogue gives you the choice to visit two very different parts of Fire Island. Davis Park is a beautiful beach destination, with its own marina and a waterfront restaurant, whereas Watch Hill is operated by the National Park Service with no permanent accommodation.
If you can't decide which one to visit, they're only a mile apart so it's possible to walk between the two.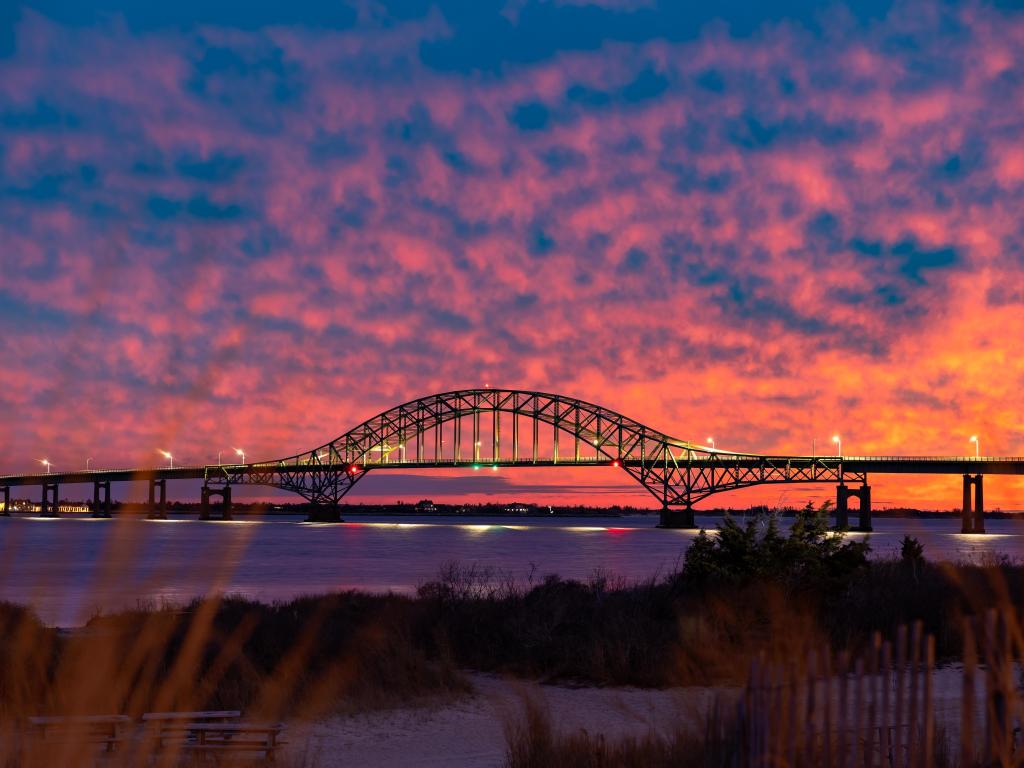 How long does it take to reach Fire Island from Manhattan?
How long it takes to reach Fire Island via ferry

| Route | Driving time from Manhattan | Ferry crossing |
| --- | --- | --- |
| Bay Shore-Saltaire | 1 hour 30 minutes | 30 minutes |
| Sayville-Fire Island Pines | 1 hour 35 minutes | 20 minutes |
| Patchogue-Davis Park | 1 hour 40 minutes | 20 minutes |
* This doesn't include the time you'll need for check-in and embarkation - check with your ferry operator for their exact requirements
Fire Island Ferries requires travelers to arrive 30 minutes before departure. However, you're recommended to arrive earlier than this in the busy summer months or holiday weekends, in order to secure a spot on your ferry of choice.
The crossing time and schedule can vary in stormy weather, so be prepared to be flexible, especially if you're travelling in the winter months. Tidal conditions can also affect the schedule and crossing time.
How much does it cost to travel from Manhattan to Fire Island?
Comparison of fares from to reach Fire Island via ferry

| Route | Operator | One-way fare | Round trip fare |
| --- | --- | --- | --- |
| Bay Shore-Saltaire | Fire Island Ferries | $13 | $25 |
| Sayville-Fire Island Pines | Sayville Ferry Service | $11 | $20 |
| Patchogue-Davis Park | Davis Park Ferry | $10.50 | $20 |
Each ferry company has its own pricing - check online before you travel for up-to-date pricing, as ticket prices can vary seasonally.
You'll have to pay a little extra for large luggage if you're traveling with luggage that won't fit underneath your seat, but at $2 per suitcase, this doesn't add significantly to the cost of your journey. Paying by card can increase the cost slightly too.
Parking costs in Bay Shore vary between weekdays and weekends. It's currently $12 per day to park from Monday to Thursday, increasing to $20 a day from Friday to Sunday and during holiday periods.
Don't forget to add the cost of bridge tolls and fuel if you're driving from Manhattan. Costs to drive through the Queens Midtown Tunnel range from $6.55 to $10.17, depending on whether you have an E-ZPass.
*Prices are calculated at the time of writing
Things you need to know about traveling to Fire Island from Manhattan
Fire Island is a beautiful and relaxed destination that's perfect for a day trip or a longer city escape. To make sure your trip goes smoothly, here are some useful facts about traveling to Fire Island.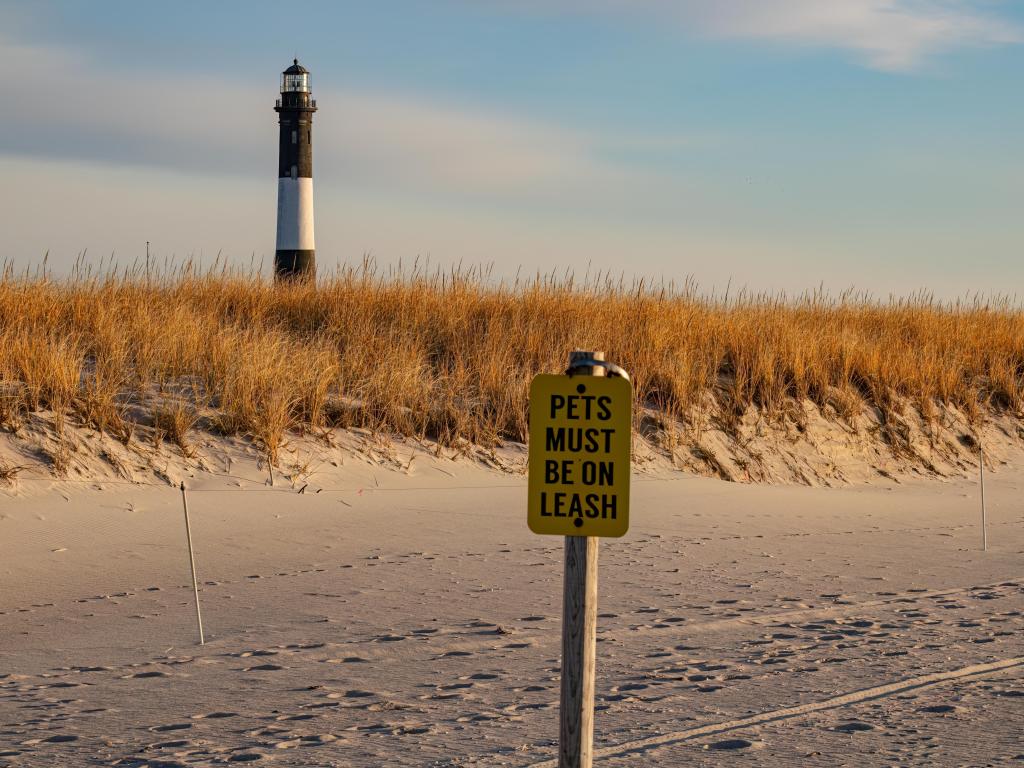 Leave plenty of time to exit the city as the ferry won't wait if you're late!
There's parking at or near all of the ferry ports on Long Island, but again, leave yourself plenty of time to find a space, especially if you're traveling in the summer.
In case that hasn't already persuaded you to arrive early for your ferry, be aware that ferries fill up fast at popular times so you're advised to arrive early to guarantee a space.
You can't take your car on the ferry from Bay Shore to Saltaire, but once you're on the island, there's a regular water taxi service that makes it easy to explore the 32-mile island.
Most ferry services won't take bikes either. It's possible to take them as freight on some services (for an extra fee) or to rent a bike on arrival, but keen cyclists should plan their routes in advance as some of the towns on the island are reserved for pedestrians only.
Check for regulations on the size of your luggage. Fire Island Ferries even sets limits on the size of cooler it will carry - and you don't want to have to leave your carefully packed picnic behind.
Ferries run back to Long Island later on Thursday, Friday and Saturday - perfect if you want to enjoy dinner by the ocean before heading home.
You can pay by card if you're traveling on the Sayville or Patchogue ferries, but Fire Island Ferries is currently cash only unless you download their ticketing app.
The island might look like the perfect place for a wild getaway, however, camping is only permitted in a few locations, so if you want to stay overnight, you're advised to book accommodation in advance.
Remember to keep your pets on leash once on Fire Island.
Best time to visit Fire Island
The ferry to Fire Island runs all year round, but as you'd expect from this ocean-front destination, you'll have a different experience depending on the time of year you travel.
Summer is the most popular time of year to visit Fire Island, with visitors visiting the beach to enjoy swimming and sunbathing. There are also events such as the Fire Island Dance Festival and the Ocean Beach Sand Castle Contest.
The school summer break means that Fire Island is much busier in the summer months, so avoid these times if you're hoping for a secluded getaway.
It's usually cheaper to travel in spring and fall, as well as being less crowded. Even in winter, the holiday season attracts visitors, so April, May, September and October are all budget-friendly times to travel to Fire Island.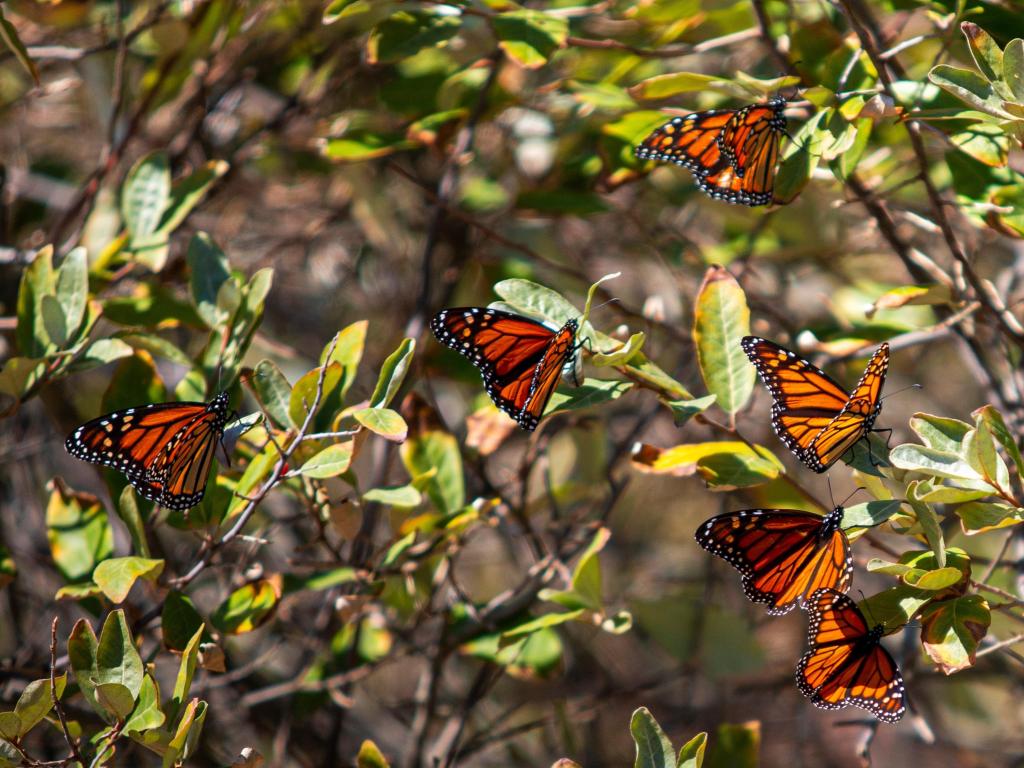 Things to see once you reach Fire Island
Fire Island is a beautiful waterfront getaway, but there's much more to see and do here than just sunbathing.
Fire Island Lighthouse - Climb to the top of the 168 feet historic lighthouse for panoramic views. There are also exhibits that delve into the island's maritime history.
Ocean Beach - A popular, charming village on Fire Island. Here you'll find boutiques, eateries, and sandy shores.
Sunken Forest - This rare coastal ecosystem is made up of dense holly trees. Head to the visitor center to pick up a map so you can enjoy a peaceful hike through the maritime forest.
Water Sports - Spend a day on the calm waters of Fire Island. You'll find kayaks and paddleboards available to hire once you reach the island.
Cherry Grove - Walk the boardwalks of Cherry Grove to find bars, restaurants and views across the water. Known for its quaint, distinct architecture and vibrant nightlife, Cherry Grove is especially bustling during Pride.
Fire Island is an easy day trip from Manhattan, and taking the ferry just adds to the sense of escape. Make sure to pack your sunscreen and swimsuit - then hit the road for a beautiful day by the water.