Can you drive to Roosevelt Island?
Located in the East River of New York City, Roosevelt Island is a favorite amongst tourists for its picturesque views juxtaposed with landmark buildings. It's a unique landscape to explore because you're just an inch away from the bustling city while being immersed in an oasis of green space, air, and water.
You can drive to Roosevelt Island from the mainland USA via the Roosevelt Island Bridge which is open year-round and is free to cross. Just under a half hour drive from Manhattan, a short drive to Roosevelt Island will be a straightforward and exhilarating one.
With a plethora of one-of-a-kind monuments to explore, accompanied by the serenity that comes with being at a distance from the chaos of New York City, keep reading to find out more about the drive to Roosevelt Island, places to see, and things to do!
Can you drive to Roosevelt Island?
Yes, you can drive to Roosevelt Island, while there are other alternative modes of transport like taking the Subway, cycling, or even taking a ferry to the island if you'd like. However, the 5-mile-long drive from Manhattan is a pretty convenient way to get to your destination.
The subway is a great option if you want to avoid finding and paying for a parking spot while you're on the island as it'll take you the same amount of time to reach from the stop at 81 Street, Museum of Natural History to the Roosevelt Island subway stop.
Another way to arrive, if you're feeling extra adventurous is via the NYC Ferry, along the Astoria Line, which costs just $4 (calculated at the time of writing).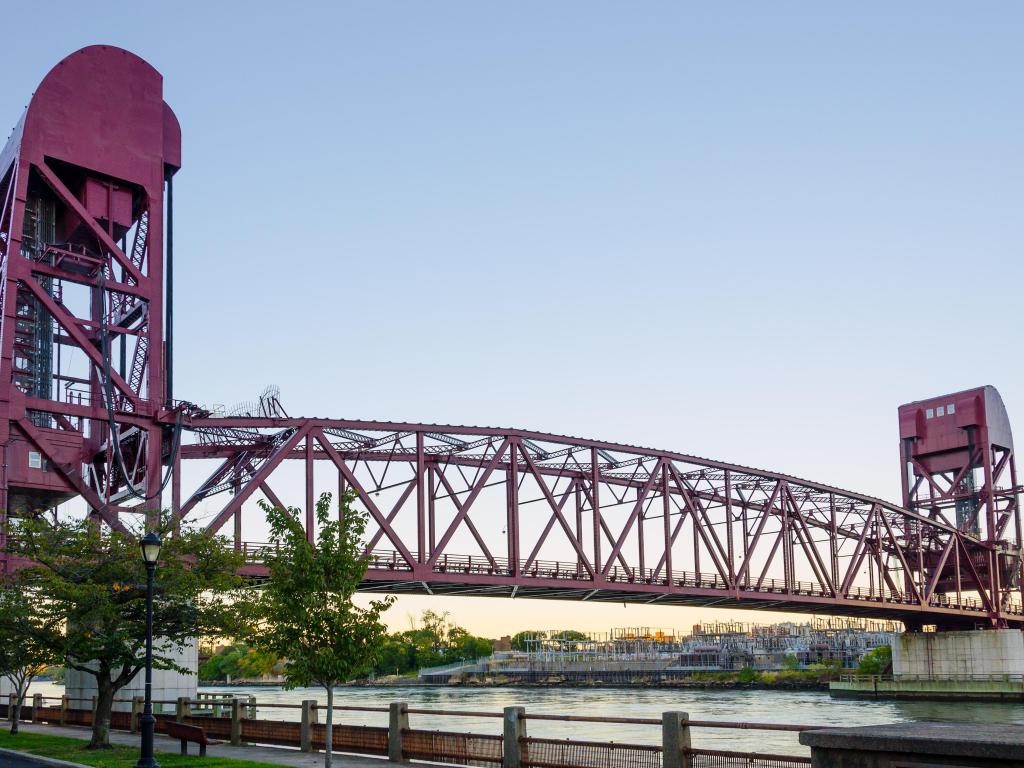 How to drive to Roosevelt Island from the mainland USA
If you happen to be driving from Manhattan, your 25-minute-long drive will take you through the best of New York City, taking you through Central Park, where you'll pass by the Metropolitan Museum of Art, Bethesda Terrace, and more, before making it to the outskirts of Queens, and the bridge to Roosevelt Island, and all its glory.
How long does it take to drive to Roosevelt Island?
Getting to Roosevelt Island from nearby cities is straightforward, if you have the patience to bear with New York City traffic.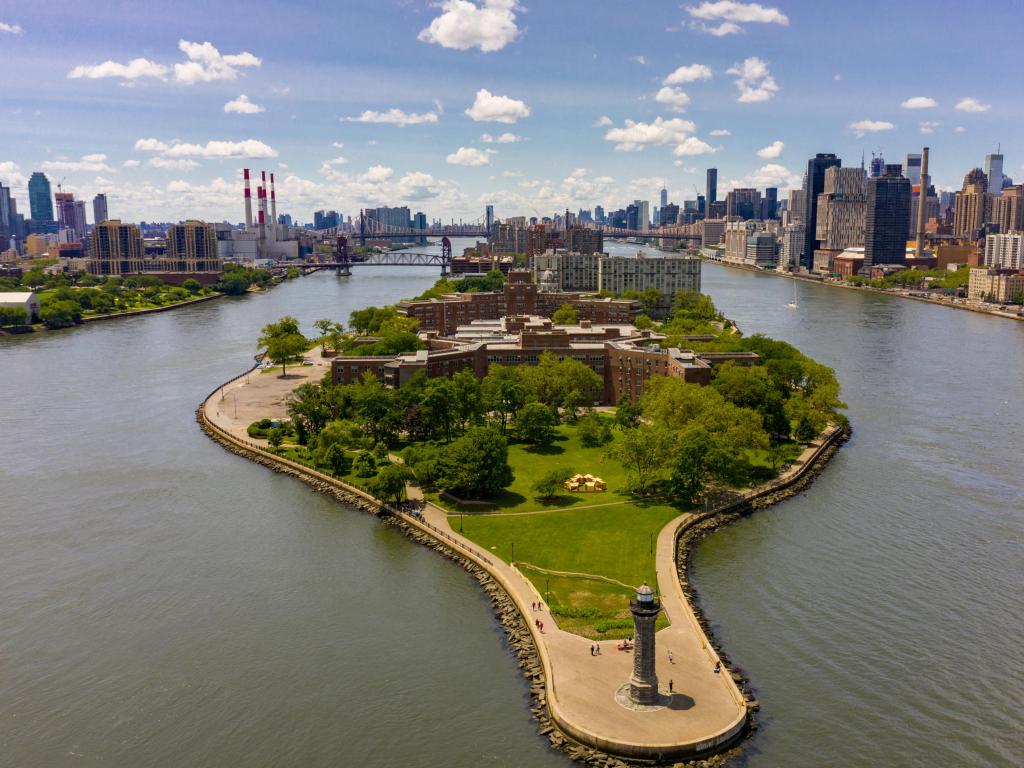 For each of the driving routes, you'll have to arrive at the Queens entrance onto the Roosevelt Island Bridge, while also crossing the Ed Koch Queensboro Bridge which crosses over the breadth of the island.
You'll arrive at Main Street on the Island, which is an easy access point to get to most parts of the island.
Traveling to Roosevelt Island from popular places nearby

| Origin | Mode | Distance | Travel Time |
| --- | --- | --- | --- |
| Midtown Manhattan | Ferry | 5 miles | 10 minutes |
| Brooklyn | Roosevelt Island Bridge | 10 miles | 30 minutes |
| Jersey City | Roosevelt Island Bridge | 15 miles | 40 minutes |
| Newark | Roosevelt Island Bridge | 30 miles | 50 minutes |
Which port should you arrive at on Roosevelt Island?
There's only one bridge, namely the Roosevelt Island Bridge, which begins in Queens at the crossing of 36th Avenue and Vernon Boulevard, connecting the island to the mainland.
The bridge is open all day, all year, though if you're driving from Manhattan, you'll also have to cross the Ed Koch Queensboro Bridge which is closes from 6am – 10am on weekdays.
If you happen to take the ferry, along the Astoria route, you can board from any stop along the line, from East 90th Street to Pier 11.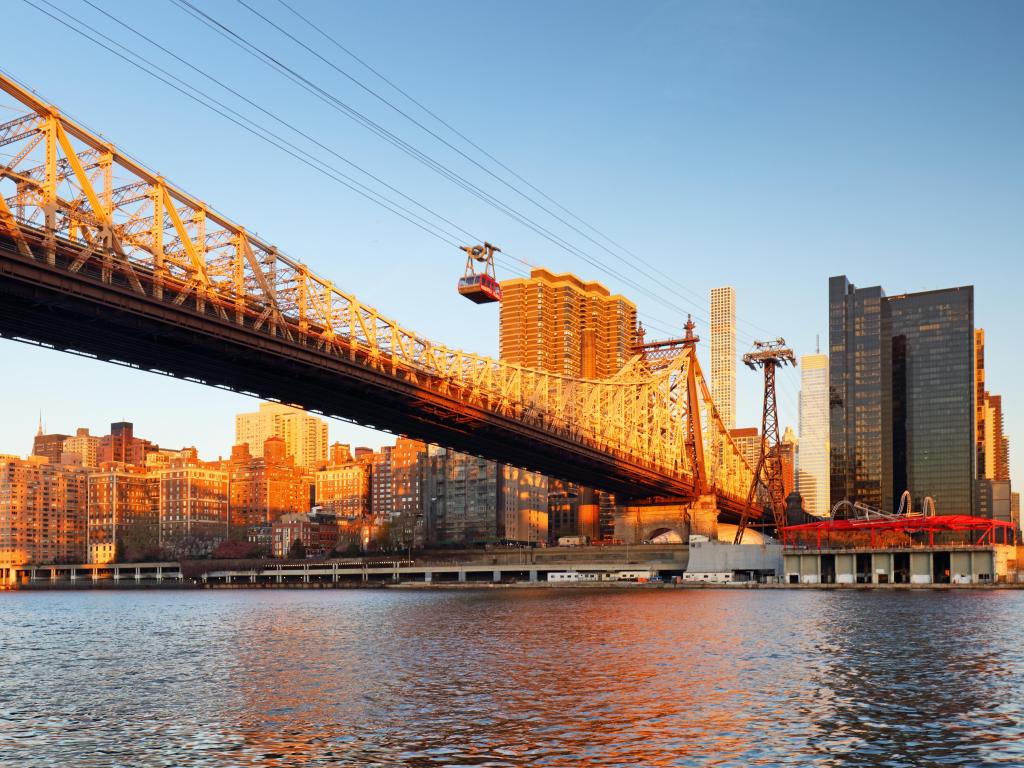 Things you need to know about driving to Roosevelt Island
To get to Roosevelt Island via car is a fairly easy feat, though some simple tips to make your journey as smooth and enjoyable as possible are:
To keep your driving time to a minimum, avoid traveling during rush hour traffic and remember that parts of the Ed Koch Queensboro Bridge Upper Roadway are closed between 6 and 10 AM on the weekdays, so don't leave during that time of day.
If you happen to take the ferry, you can purchase tickets via the NYC Ferry App, website or at a ticket kiosk on the Ferry landing – the cost ($4.00) remains the same and since it departs several times a day (calculated at the time of writing).
Getting a ticket at a kiosk wouldn't be hard, though during rushed times you may have to wait longer.
It can get crowded during the sunny days in Spring and Fall, so be ready to face some crowds if you're planning on traveling during that time as well.
Things to see once you reach Roosevelt Island
You can easily drive to Roosevelt Island from New York, so it makes a great day trip to visit all the amazing attractions right at your doorstep on the island. Here are our top recommendations for some of the amazing things to do on Roosevelt Island during your visit:
Roosevelt Island Tram - One of the most attractive destinations on the island, this tram glides over the Upper East Side and all the picturesque New York City views, all accessible through a MetroCard!
Smallpox Memorial Hospital - Opened to handle the smallpox crisis, the hospital ruins are now a memorial for the hardships faced in the 19th century & can be admired from afar, within a beautiful park
Franklin D. Roosevelt Four Freedoms State Park - Named after Franklin D. Roosevelt (like the island), this memorial is located on the Southernmost tip of the island. With beautiful architecture and scenic views of the river, it's worth a visit.
The Lighthouse - A granite gothic-style lighthouse, which is believed to be constructed by an asylum patient decades ago is a sight to see. It is located on the northernmost tip of the island, just a short walk from the last stop on the Island bus!
The Octagon - A massive 19th century mansion (with a dome) was the entryway to the New York City Lunatic Asylum, turned hospital, and then ultimately a historic landmark. Apparently, it was toured by Charles Dickens in its early days.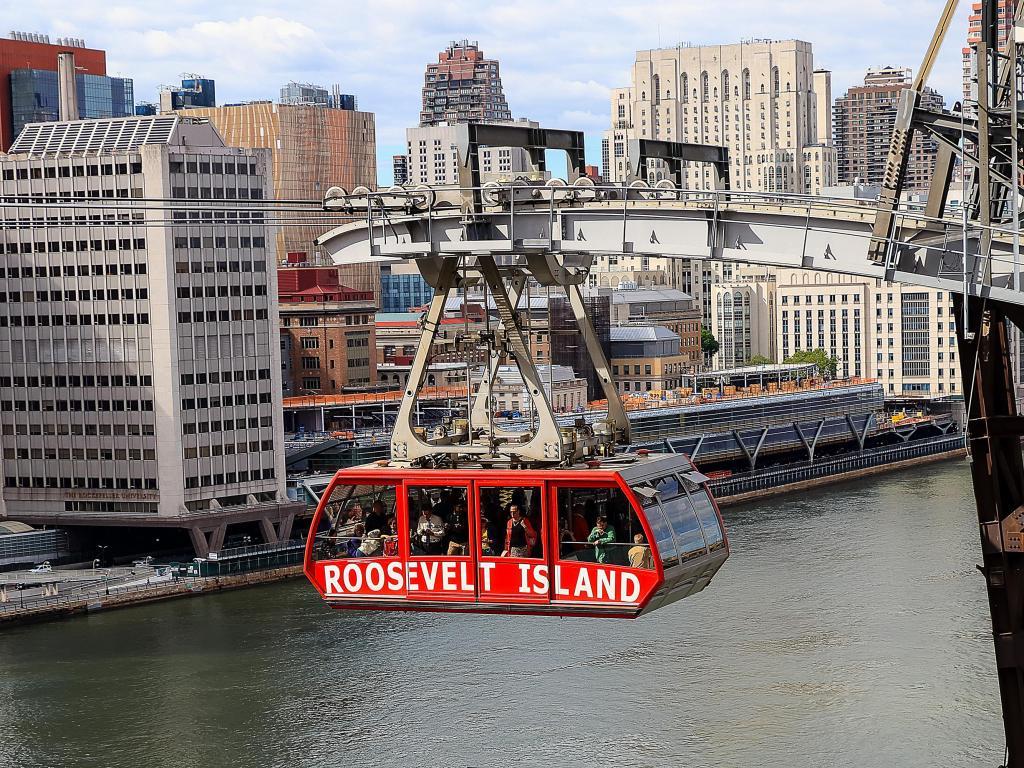 A trip to Roosevelt Island is a perfect way to get away from the hustle-and-bustle of the city for a while, especially on a sunny spring day where you can explore the landmarks of the region, eat at a nice restaurant with a view of the river, and truly soak in the hidden gems of New York!