Is there a Ferry from Nanaimo to Victoria?
By
Pat Dorri
| Published on 18 September 2023
The stunning coastline of Vancouver Island makes the cities of Nanaimo and Victoria popular destinations for visitors to British Columbia. Nanaimo sits directly across the Strait of Georgia from Vancouver, while BC's capital city, Victoria, is further south, looking out towards the San Juan Islands.
Nanaimo and Victoria are just 110 km apart, and it's possible to travel between them via driving or an indirect ferry route. Whichever route you take, it's a straightforward journey and you can spend time in both of these vibrant waterfront cities.
Nanaimo and Victoria are connected by Trans-Canada Highway 1, which means it is quite easy to drive form one to the other. Keep on reading to find out your options if you'd prefer to feel the fresh sea air as you travel between the two cities.
Is there a ferry from Nanaimo to Victoria?
There isn't a direct ferry from Nanaimo to Victoria, so most travellers prefer to drive via the Trans-Canada Highway instead.
However, there's a certain charm about making the trip between these two coastal cities over the water. If that's what floats your boat, you'll have to take two connecting ferries.
You can take your car on the ferry, meaning that it's possible to enjoy onward adventures if you want to head further out across Vancouver Island when you arrive in Victoria.
To help you with your planning, take a look at the travel times for the different route options.
Comparison of travel times to Victoria

| Route | Mode | Total travel time |
| --- | --- | --- |
| Trans-Canada Highway | Direct drive | 1 hour 40 minutes |
| Duke Point - Tsawwassen - Swartz Bay | Vehicle ferry | 24 hours |
*The times calculated above do not take the waiting times at the ferry ports into consideration
Taking the ferry from Duke Point
If you're taking the ferry, first, you'll have to make the 15-minute drive via Trans-Canada Highway 1 from Nanaimo to the ferry terminal at Duke Point. Allow a little extra time here if you hit traffic leaving the city.
Turn onto Duke Point Highway when you see the signs for Duke Point Ferry Terminal, then check-in for the first of your two crossings. This will take you across to the mainland, landing at Tsawwassen, which is a 35-km drive from Vancouver.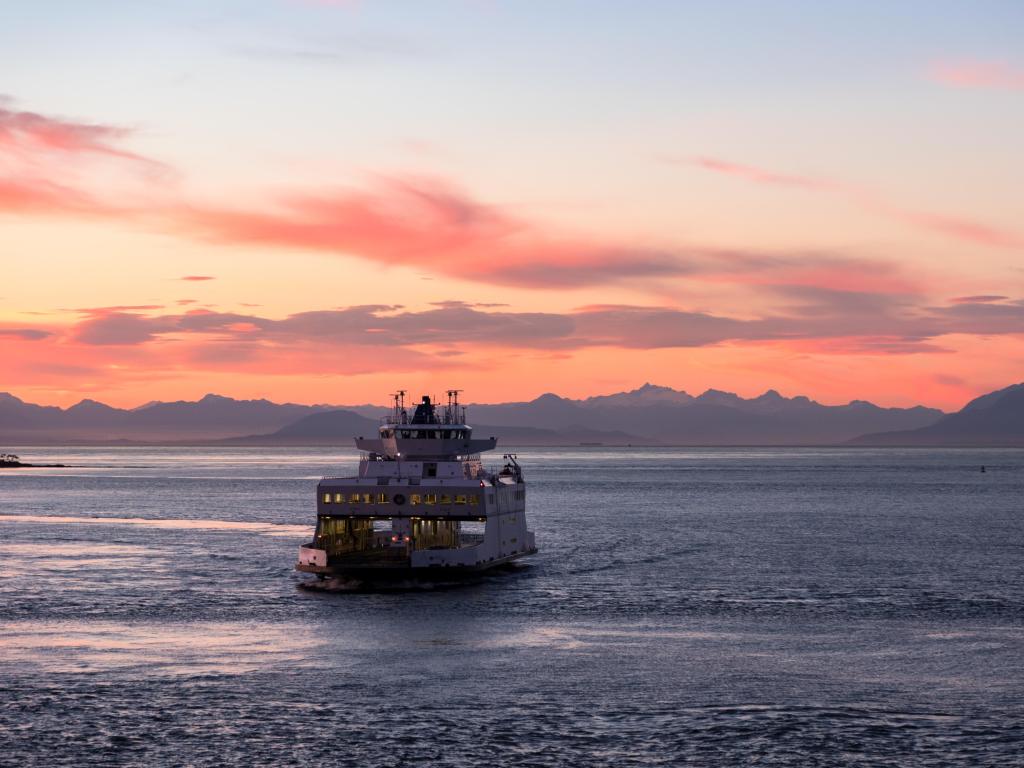 Unless you're visiting the city, you can stay at the ferry terminal and check in for the second crossing from Tsawwassen to Swartz Bay, near Victoria.
Between Duke Point and Tsawwassen, there are up to 8 crossings per day on weekdays, with fewer at weekends. For up-to-date schedules, please check the ferry operator's website.
There are more frequent boats between Tsawwassen and Swartz Bay, although the schedule and number of crossings varies depending on the day of the week. Please check the operator's website for most up-to-date
Driving from Nanaimo to Victoria
You've probably guessed by now that the drive between Nanaimo and Victoria is much easier and faster than taking the ferry.
The Trans-Canada Highway connects the two cities so there is no need for a ferry, and the 110-km journey will only take around 1 hour 40 minutes.
If you're driving, simply pick up Trans-Canada Highway 1 from your starting point in Nanaimo, then follow it south past Ladysmith, Eagle Heights, and Goldstream.
It's a really straightforward drive, and since you're not dependent on ferry schedules, you can depart at whatever time suits your travel plans best.
How long does it take to reach Victoria from Nanaimo?
Depending on how long you have to wait for your connecting ferry at Tsawwassen, it will take around 6 hours to travel between Nanaimo and Victoria using the ferry.
It takes 15 minutes to drive from Nanaimo to Duke Point Ferry Terminal, where you'll need to allow at least 30 minutes to check in for your ferry. The crossing to Tsawwassen usually takes 2 hours but can be slower in rough weather.
You'll need to check in again for your second ferry. Don't forget to leave some time to disembark the ferry from Duke Point for at least 30 minutes to check in for the ferry to Swartz Bay.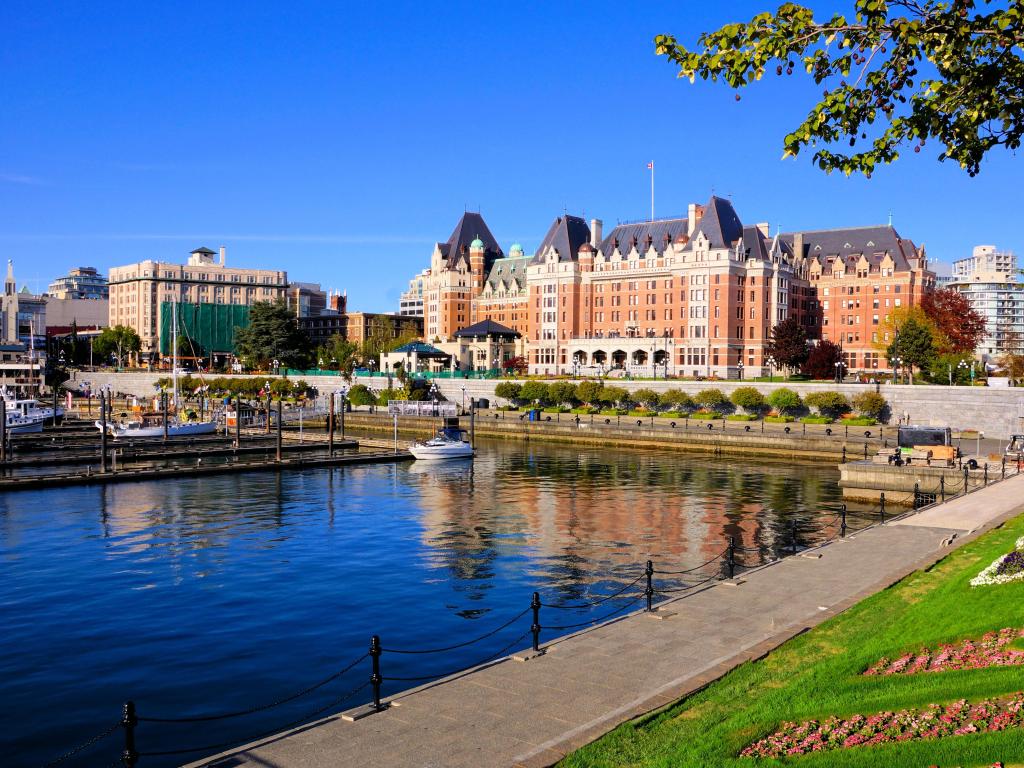 The crossing from Tsawwassen to Swartz Bay takes 1 hour and 35 minutes in average weather conditions. After around 15 minutes to disembark, you'll have a 35-minute drive into the center of Victoria.
The ferries won't wait if you're late to the port, so always double-check the exact timings for check-in and embarkation when booking your ticket. At busy times, ferry loading can take longer, so there's a chance you'll have to wait for a later departure.
On paper, you only need 45 minutes to disembark your first ferry and check in for the second, but we'd suggest allowing longer in between scheduled arrival and departure times in case you hit any delays.
As we've mentioned, it takes just 1 hour and 40 minutes if you're driving between Nanaimo and Victoria, making for a much quicker journey!
How much does it cost to travel from Nanaimo to Victoria?
BC Ferries operates both of the routes you'll need to take on your trip from Nanaimo to Victoria, so that should be your first port of call to check departure times and book your tickets. Separate tickets are required for each of the two crossings.
We've outlined the basic ticket costs below, though keep in mind that prices can vary throughout the day, with popular crossing times costing more. It pays to book ahead and to have some flexibility in your travel plans, as some crossings can cost $40 more at peak times.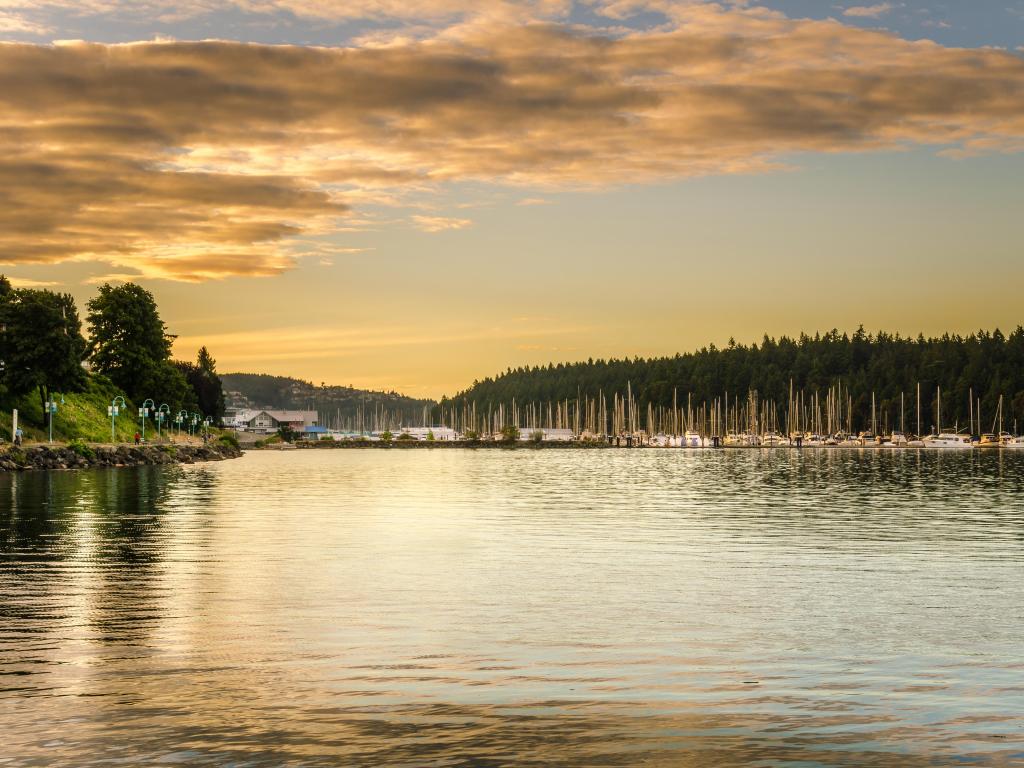 Don't forget to factor in the cost of fuel for your drive to and from the ferry ports. You'll also pay more to take a larger vehicle on the ferry.
If you're driving, you'll only have to allow for the cost of fuel for the 110-km journey. Below, you will only find the prices for the ferry tickets, as the price of the fuel will depend on the size of your car.
Travel prices to Victoria via ferry

| Route | Adult fare | Vehicle fare |
| --- | --- | --- |
| Nanaimo to Tsawwassen | $18.50 | $63.85 |
| Tsawwassen to Swartz Bay | $18.50 | $63.85 |
* All prices are based on a single journey, including 1 adult ticket, calculated at the time of writing
Things you need to know about traveling from Nanaimo to Victoria
It's such a straightforward journey when you're driving from Nanaimo to Victoria that you don't need to plan far ahead to make the journey.
If you're taking the ferry, there are a few more things to take into consideration:
Reservations aren't compulsory for these routes, but are recommended if you're travelling at popular times.
As you might expect, ferries between Vancouver Island and the mainland are busiest over periods and on Friday or Sunday evenings.
If you have a reservation, you should arrive at the ferry terminals between 30 and 60 minutes before the planned departure time.
If you don't have a reservation you can arrive as little as 10 minutes before departure, but you're not guaranteed a space on the ferry.
Ferries run all through the year, but your chances of being slowed down by challenging weather conditions are much higher in fall and winter.
You can stop for refreshments while you wait at the ferry ports in Duke Point and Tsawwassen.
You can take your pet on the ferry with you.
Best time to visit Victoria
Ferries between Nanaimo, Tsawwassen, and Swartz Bay operate all year round so you can take this trip whenever you need to. While crossings don't see a massive drop in prices according to the time of year, hotels in Victoria fluctuate in price.
You can take advantage of cheaper hotel prices in the off-peak season, which includes late fall (October and November) and early spring (March to April).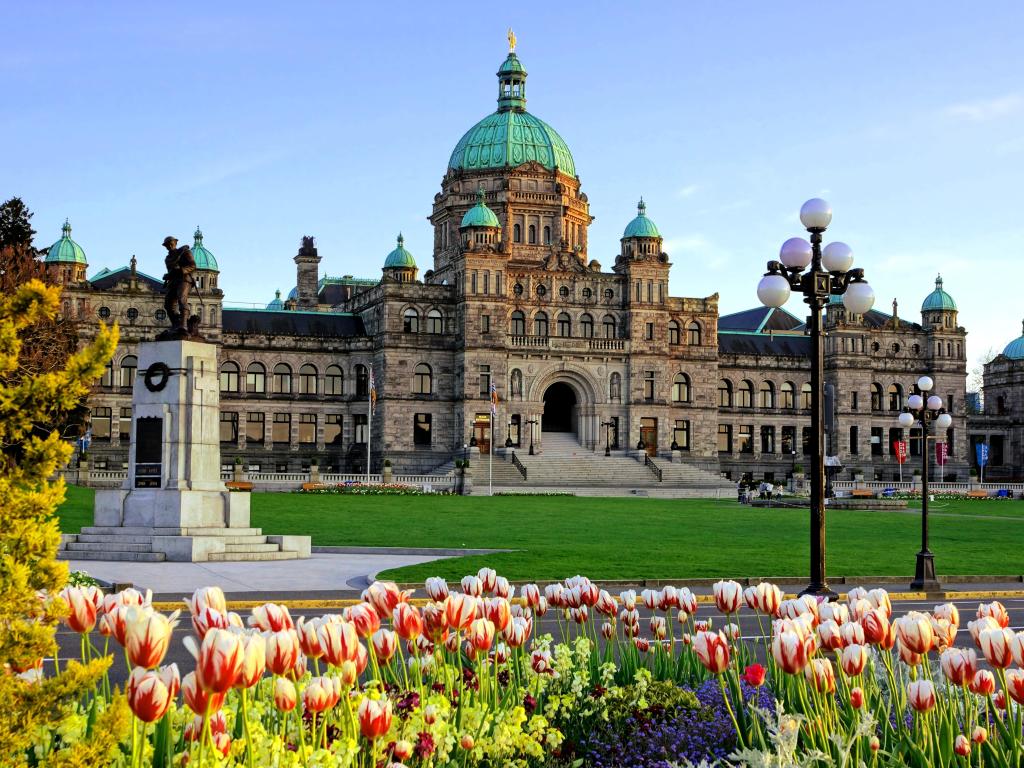 If you're travelling in early autumn, check out Victoria International Wine Festival, which is held in late September. Or if you're making a winter trip, you can look up the February's Victoria Film Festival schedule.
In contrast, Victoria is busiest between June and August, when the pleasant summer weather brings tourists to the city's attractions, gardens and outdoor activities. If you visit in the summer months, you might also catch the mellow vibe of Victoria Jazz Fest, which runs from late June to early July.
There are also more cruise ship arrivals at Victoria's Inner Harbour in the summer months, so you can expect the city's attractions to feel busier at this time of year.
There are also three notable holidays during the summer, with Canada Day on 1st July, then British Columbia Day and Labour Day falling on the first Mondays of August and September. Ferry crossings will be busier over these periods, so we'd recommend booking in advance.
Things to see once you reach Victoria
Victoria is a fabulous waterfront city that combines the best of natural scenery with varied historic and cultural attractions.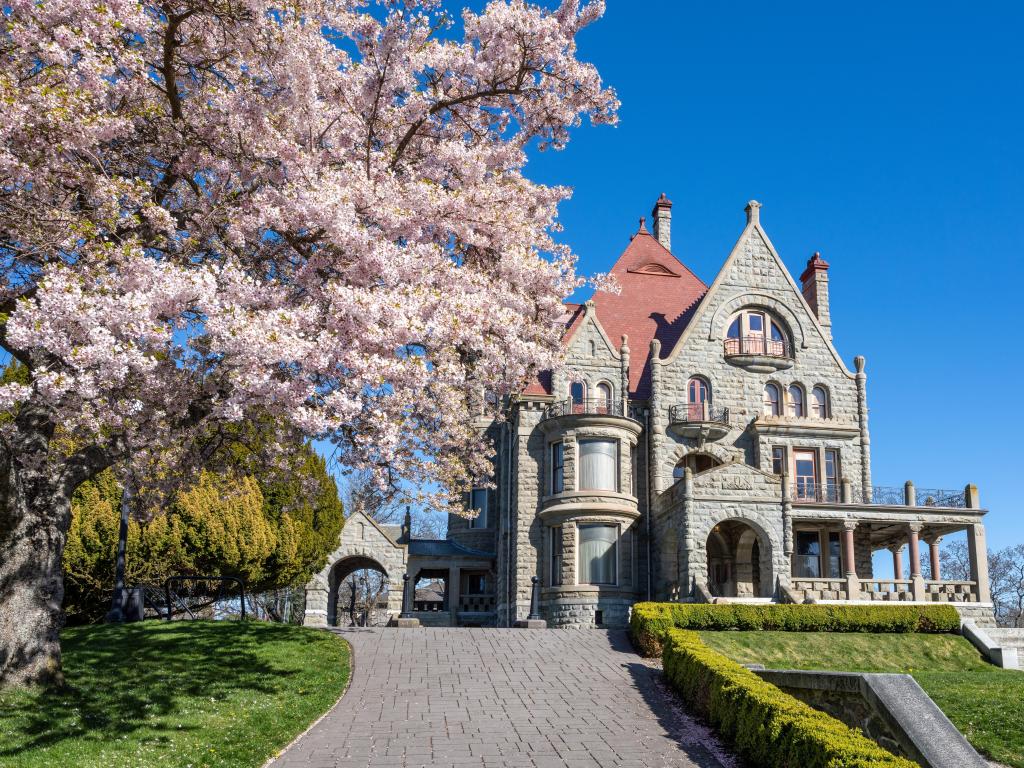 Butchart Gardens - Stroll through the world-famous Butchart Gardens, where the themed gardens let you immerse yourself in a floral paradise year-round.
Royal BC Museum - Discover British Columbia's history with exhibits that include life-size prehistoric creatures.
Inner Harbour - The scenic Inner Harbour is where you'll find historic architecture, street performers, and picturesque waterfront views. Visit the iconic Fairmont Empress Hotel while you're in the area.
Whale Watching - Join one of the many tour operators and spot orcas, humpback whales, grey whales, and other marine wildlife in their natural habitat.
Craigdarroch Castle - Explore the preserved Victorian-era mansion, where the stained glass windows and period furnishings will make you feel like you've taken a step back in time.
Whether you've decided to take the ferry to Victoria or to stick with the easy option and drive, there's plenty to see and do once you arrive.