Is There a Ferry From Seattle to Victoria?
Seattle is located on the northeast coast of Washington state and is situated on Elliott Bay. Victoria, the capital of British Columbia, lies northwest of Seattle on the southern tip of Vancouver Island on Canada's Pacific Coast. Given its Island location, it is impossible to drive directly from Seattle to Victoria, so is there a ferry connecting the two?
There is a ferry from Seattle to Victoria. The direct crossing passes through Puget Sound, with its picturesque coastal views of the surrounding Islands and its rich marine life. Another option is to drive to Port Angeles and take a ferry from there.
If a trip to Victoria and Vancouver Island with its rugged mountains and picturesque scenery is what you're after, then keep on reading to discover all you need to know about traveling from Seattle, including ferry routes, travel information, and top travel tips.
Is there a ferry from Seattle to Victoria?
A couple of ferry options are available when traveling from Seattle to Victoria. There is a direct ferry from Seattle to Victoria, and a good alternative is to drive from Seattle to Port Angeles and catch a ferry to Victoria from there.
Comparison of travel times to Victoria

| Option | Departure point | Arrival point | Time |
| --- | --- | --- | --- |
| Passenger ferry | Seattle | Victoria | 2 hours 45 minutes |
| Vehicle ferry | Port Angeles | Victoria | 1 hour 30 minutes |
| Flight | Seattle | Victoria | 1 hour |
* Travel time doesn't include the driving time from Seattle to the terminal or time at the terminal for check-in and boarding.
Taking the ferry from Downtown Seattle to Victoria
The fast ferry from Seattle to Victoria departs from Pier 69 in Downtown Seattle and takes you to Belleville Terminal in Downtown Victoria. The crossing takes 2 hours and 45 minutes, although adverse weather conditions may add to the journey time as the ferry operates year-round.
FRS Clipper runs the service and offers 2 crossings daily for most of the year, at 8am and 11am, although this increases to 4 sailings daily over the peak summer season.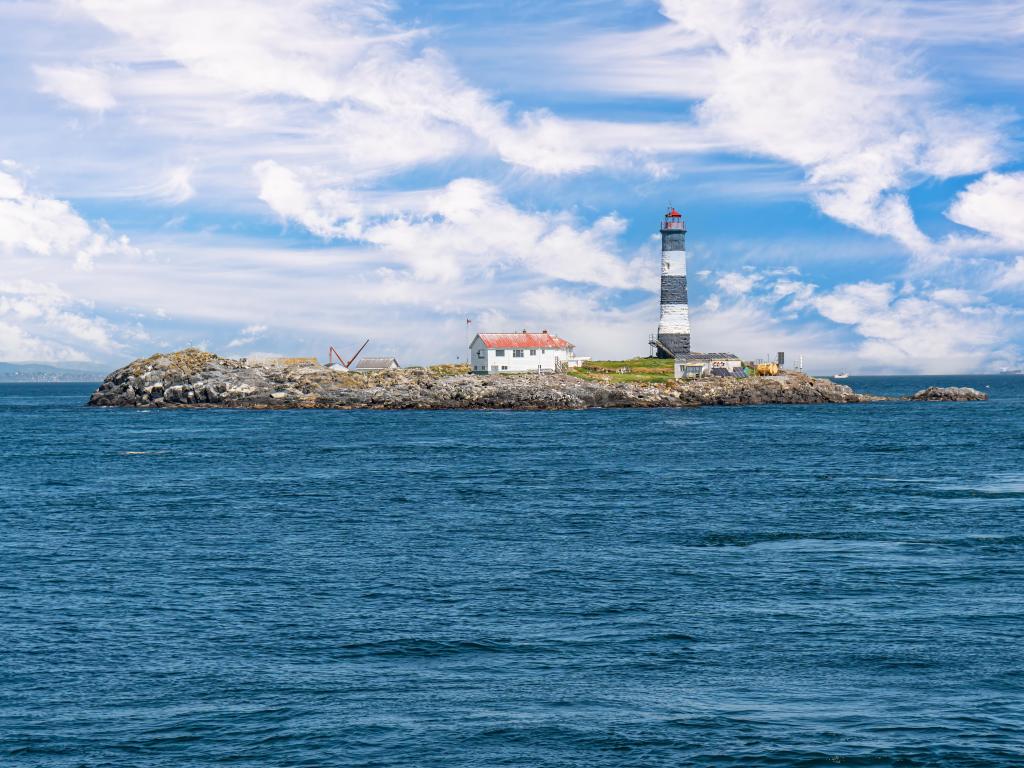 The ferry itself is passenger-only, so there is no chance to take your vehicle on board. Car hire is readily available in Victoria, close to the ferry terminal, if you are wanting to explore Victoria and more of Vancouver Island in your own vehicle.
Pier 69 is close to Seattle's iconic landmark, the Space Needle. If you are driving to the terminal, you can park at Bell Street Pier Garage which offers a reduced rate for Clipper passengers of $10 per day (calculated at the time of writing).
It is advisable to arrive at the terminal at least 1 hour before the departure time. This covers any delays you may encounter as boarding commences 45 minutes before departure. You can also save time by doing your check-in online in advance to make the whole boarding process quicker.
The crossing itself is usually calm, and you can sit back and relax, enjoying stunning views over Puget Sound and the neighboring Islands. Conditions can become choppy in the Salish Sea as weather and tidal conditions dictate, and the Clipper crew will provide medication to passengers who are prone to seasickness.
Getting to Victoria from Port Angeles via ferry
If you wish to take the ferry from Port Angeles to Victoria, you must drive to the terminal from Seattle. The journey is a little under 140 miles and takes around 2 hours and 35 minutes.
Leaving Seattle, take the I-5 S, passing the Museum of Flight and Lake Fenwick Park, heading for Tacoma. As you pass through the city, take the WA 104 W and head over the Tacoma Narrows Bridge heading north, and as the road skirts around the Sinclair Inlet, join WA 3 passing Silverdale.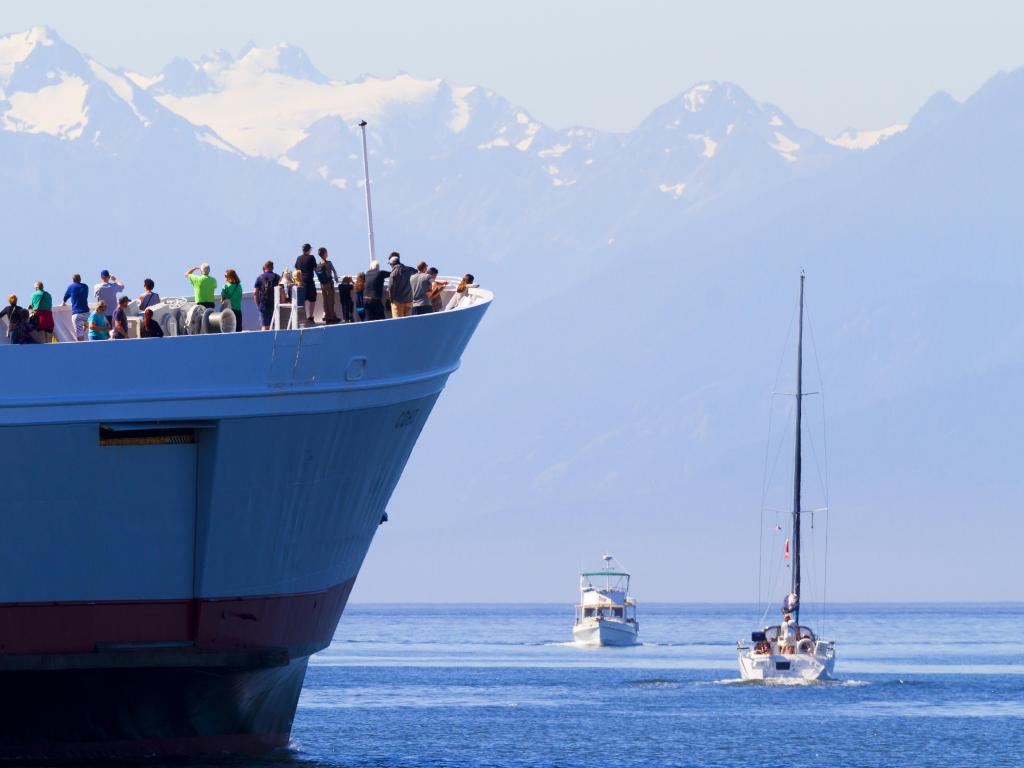 The road hugs the coastline, and you'll head left over the Hood Canal Floating Bridge, joining WA-104 W with impressive views over Squamish Harbor. Continue along the route as it turns and heads north and joins US-101 N, skirting the shores of Discovery Bay, and Sequim Bay before reaching Port Angeles.
Black Ball Ferry Line runs the service from Port Angeles to Victoria and the departure point is the Black Ball Ferry Terminal. The crossing itself takes 1 hour and 30 minutes and you can choose to travel as a foot passenger or with your vehicle, so you'll have your own car available for exploring Victoria.
Black Ball runs 3 ferries a day for most of the year, but this increases to 4 crossings during peak season and drops to 2 crossings over the winter months.
How long does it take to reach Victoria from Seattle?
If you are catching the ferry to Victoria, then remember to arrive around an hour earlier than the departure time to give yourself plenty of time for any queues, boarding, and checking in if not already done in advance. The ferry crossing itself from Seattle to Victoria takes 2 hours and 45 minutes.
The Port Angeles ferry journey takes 1 hour and 30 minutes, so the crossing itself is a quicker one, but the drive from Seattle to the terminal adds a further 2 hours and 30 minutes to the travel time. If you choose to travel on this route, then also factor in the traffic when planning your arrival time.
If you plan to fly from Seattle to Victoria, it is a direct flight that takes around an hour. This doesn't include time getting through airport security and check-in.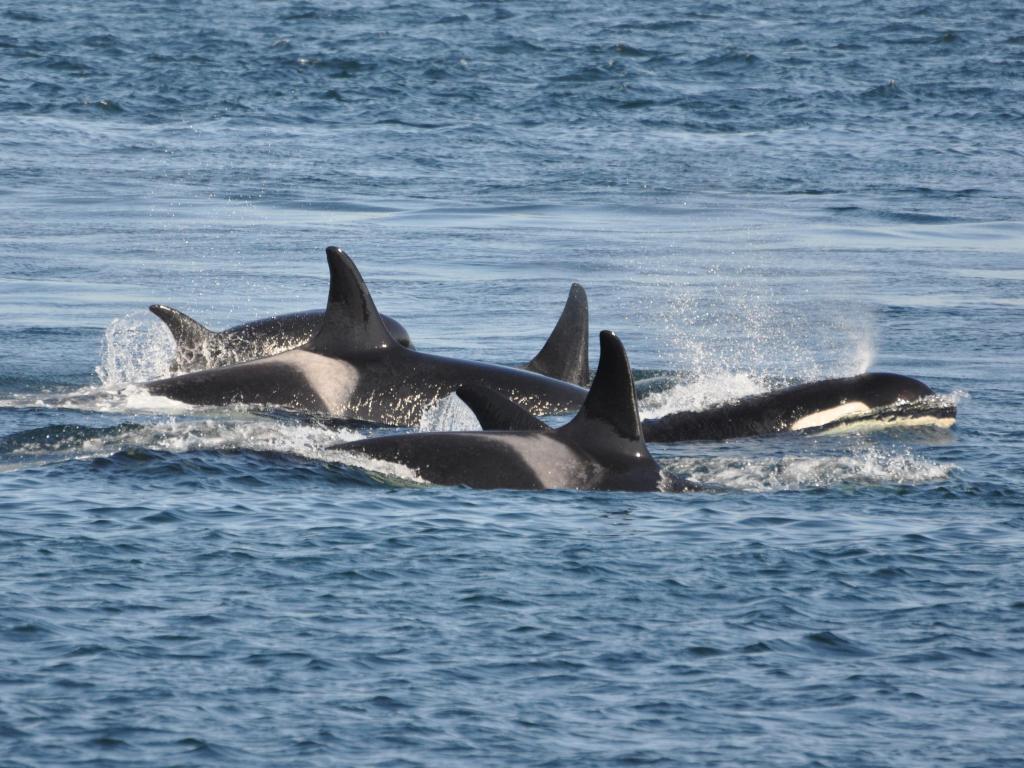 How much does it cost to travel to Victoria?
Comparison of travel prices to Victoria
Departure Point
Mode
Operator
Adult Fare
Seattle
Passenger Ferry
FRS Clipper
$119
Port Angeles
Vehicle Ferry
Black Ball Ferry Line
$22


plus $51 per vehicle

Seattle
Flight
Alaska Airlines
$150 - $300
* All prices are based on a single journey including 1 adult ticket, calculated at the time of writing
Things you need to know about traveling to Victoria from Seattle
When you're planning your trip, you'll be excited about the adventure ahead, so here are a few things to consider to help your journey go as smoothly as possible.
Here are our top tips when it comes to preparing for a ferry ride to Victoria:
Plan your trip, and book tickets in advance, to ensure you have a guaranteed place on the ferry.
Arrive at the terminal at least an hour before the departure time. This will give you plenty of time to check in and board, especially during peak season when it can be particularly busy.
Do remember to bring your passport, you'll need it to enter Canada, as well as any other travel documents and essentials.
Although the ferry service operates year-round, weather conditions may cause potential disruptions during the winter months so check before setting off for any delays or cancellations.
Best time to visit Victoria
When you're deciding on when to visit Victoria, it's important to remember that flights and both ferry services run year-round, so getting there should not be an issue, although prices on the Clipper ferry are lower during the winter months,
July and August are the busiest tourist months in Victoria. Temperatures are warmer and more suitable for hiking, whale watching, and enjoying the gardens. Victoria is also host to a number of summer festivals, including Victoria Film Festival and International Jazz Fest.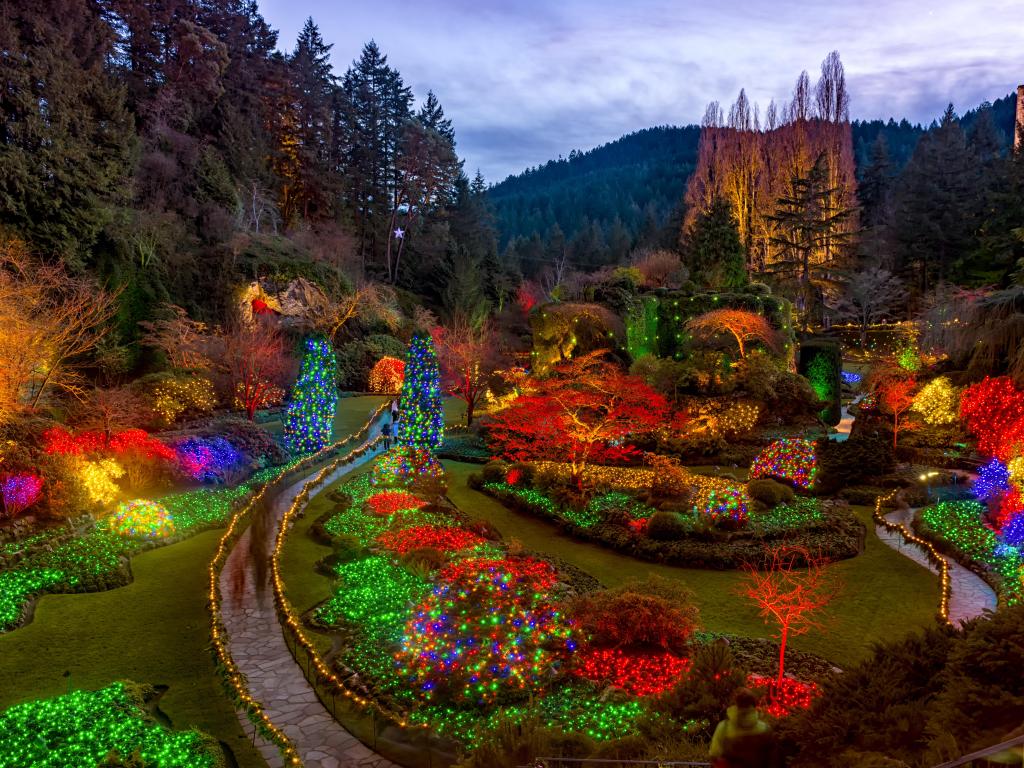 Visiting in the Fall offers ideal weather for hiking and exploring the outdoors as temperatures have cooled slightly from the summer highs. It's also a great time for whale watching and spotting other marine life and heading up the coast to visit the Pacific Rim National Park Reserve.
Winters in Victoria are generally mild, and whilst it may rain, it is rare for it to snow, which is unlike other parts of the country. This makes it an ideal time to explore the historic cultural sites and take in the museums and galleries and the renowned Christmas lights at Butchart Gardens.
Things to see once you reach Victoria
Once you've arrived in Victoria, you'll be spoilt for choice, with many attractions to see and places to explore. Here are some of our favorite things to do in Victoria.
Delve into the Inner Harbour - Stroll along the waterfront and enjoy waterside views. Popular landmarks include the Fairmont Empress Hotel and the Legislative Assembly of British Columbia.
Explore the Royal BC Museum - Discover British Columbia's history. Let the interactive exhibits, IMAX theatre, and artifacts teach you about the culture and natural history of Victoria.
Walk through Butchart Gardens - Take a short drive from downtown to walk the tranquil gardens with floral displays and serene ponds.
Witness history at Craigdarroch Castle - Craigdarroch Castle is a Victorian-era mansion dating back to the late 19th century. You can walk through the mansion and see the historic decor.
Whale Spotting - Jump on a whale-watching tour. Victoria is a hotspot to catch a glimpse of orcas and humpback whales.
With so much to see and do in and around Victoria, it is always a good time to visit. Whether you are visiting for its vibrant foodie scene, charm, and culture, or the beautiful natural surroundings and wildlife, it's a delightful and diverse destination that will not disappoint.