Road trip from London to Edinburgh
The road trip from London to Edinburgh offers the chance to explore a huge cross-section of the UK, including some of its most popular attractions and some hidden gems. You'll travel through ancient university towns, historic castles, national parks and along the beautiful North Sea coastline.
The 520-mile road trip from London to Edinburgh takes 11 hours 30 minutes to drive. You'll drive along the East Coast through Cambridge, York, Durham and Newcastle or swing inland to visit the Peak District, the Yorkshire Dales and the Lake District.
Spanning a significant length of the UK, this road trip shows off the English countryside and historic university towns to their full advantage, but also offers the opportunity to get to know some of its thriving modern cities.
How far is Edinburgh from London, and how long will the road trip take?
Comparison of road trip routes between London and Edinburgh

| Route | Distance | Driving Time |
| --- | --- | --- |
| The Lake District Route | 500 miles | 11 hours 20 minutes |
| The East Coast Route | 520 miles | 11 hours 30 minutes |
The East Coast Route is the marginally longer route and will take you 11 hours and 30 minutes to cover, spanning a distance of 520 miles. There are great places to stop along the way before continuing on to hug the coastline going north.
This route uses smaller A roads in places, which have one lane in each direction and limited places to overtake, so your journey could be slowed down by hold-ups on these roads.
The Lake District Route comprises a slightly shorter distance of 500 miles, which will take 11 hours and 20 minutes to drive. However, keep in mind that roads through the national parks can get congested during busy periods.
Neither of the journey times listed accounts for stops along the way, so we'd recommend leaving yourself 5 days or longer to explore some of the gorgeous countryside and characterful towns on both routes and squeeze in some memorable overnight stays.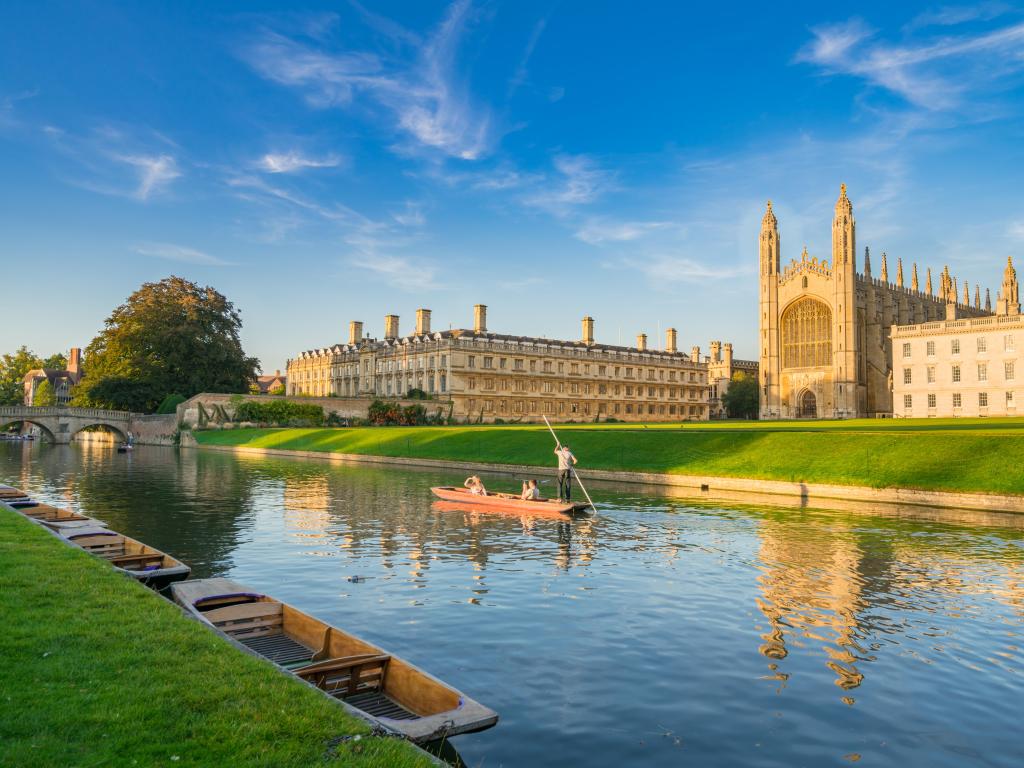 Best road trip route from London to Edinburgh
The East Coast Route covers a great mixture of cultural and natural attractions, including ancient cathedrals, Cambridge's historic colleges, buzzing modern cities, two beautiful stretches of coastline and the North York Moors National Park.
The blend of old and new combines the chance to see some familiar landmarks, while offering the chance to have a night out or two in the university cities on the route.
This route has more stops, so is a great option if you have the time to potter around quaint towns and enjoy some windy British beach days.
The Lake District Route takes you through three amazing national parks as well as through Oxford, Derby and Leeds, so you'll get loads of outdoor attractions with some fun city vibes. Though this route has fewer stops, you'll want to leave plenty of time to discover the crags and trails of the landscape.
There is also plenty of history to be found in the gateway towns to the national parks - Bakewell, Bolton Abbey and Windermere are idyllic towns and villages offering a picture-postcard snapshot of English country life.
The East Coast Route
Follow signs to M11 to leave London and follow this road north to Cambridgeshire. Take the exit for Cambridge and spend a day exploring the historic limestone university colleges.
Take A14 to head north and continue onto A1. You'll pass by Peterborough, which has a fabulous cathedral. Take B1081 to drive through Stamford and continue on A1 to A46, then take the exit for Lincoln, another medieval cathedral city.
Take M1 northwards and take the A64 exit for York. Take some time to explore this ancient city, which has Roman foundations. Rejoin A46 to enter North Yorkshire and arrive in the seaside town of Scarborough.
From Scarborough, you'll drive through North York Moors National Park, which is a beautiful setting to stretch your legs. Take A165 and continue on A171 to Whitby.
Hug the coast on A174 and follow A19 to Durham, another quaint university city. You'll then rejoin A1 to hop up to Newcastle, a vibrant city to enjoy great shopping and nights out.
Continue on A1 to reach Alnwick, home of the iconic castle where Harry Potter and Downton Abbey were filmed. Take A1 and B1340 to follow the coastline north to Berwick-upon-Tweed, the last stop in English before crossing the Scottish border and following the A1 to arrive in Edinburgh.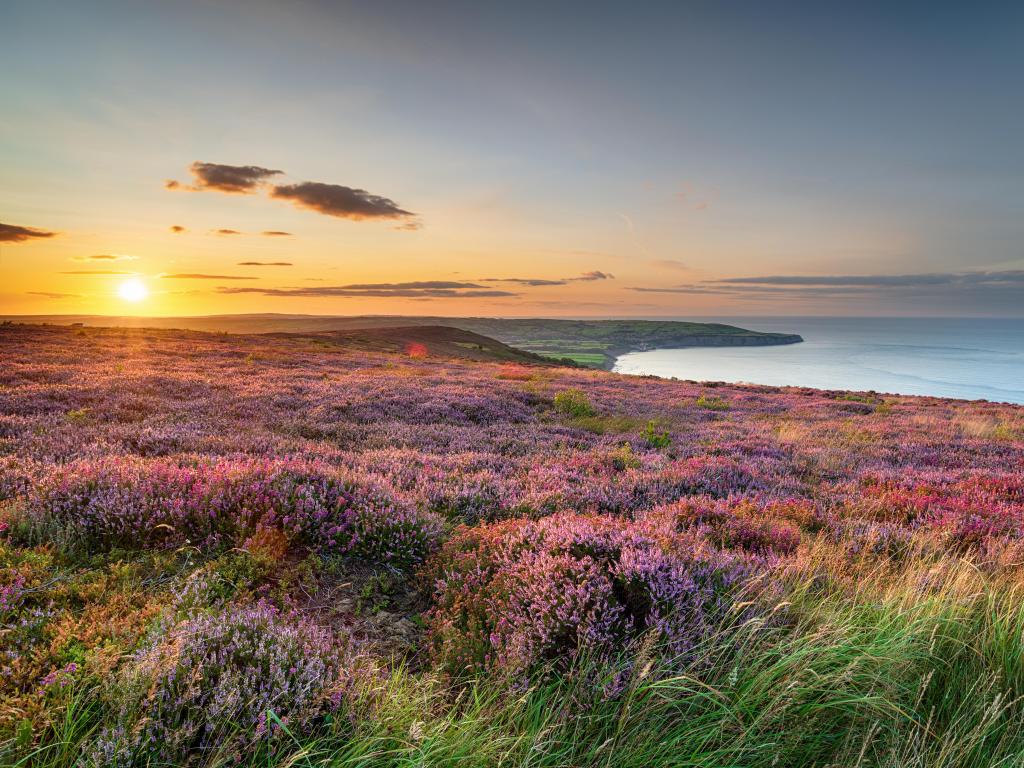 The Lake District Route
Take A4 out of London to join M4. Continue on M40 to arrive in Oxford. Spend some time exploring the city's famous libraries and touring the limestone colleges. Rejoin M40 to enter Warwickshire, with a quick detour to Warwick Castle to see the former royal residence.
Take M40 and M42 and take the exit for Birmingham, one of the UK's major industrial cities with a walkable network of canal routes. Follow M6 north and get on A38 to arrive in Derby.
Turn onto B5023 and B5056 to reach Bakewell, gateway to the Peak District National Park. Head north to Bamford, then follow signs for A616 and take the exit for M1. Continue on M621 to reach Leeds city centre.
Wander around the Victoria Quarter where you can do some shopping in the pedestrianised network of restored shopping arcades.
Follow signs for A660, then take A65 to Bolton Abbey, your stop-off point for exploring the picturesque Yorkshire Dales National Park. Get back on A65 to head up through Kendal to Windermere for your final national park. The Lake District has a historic literary past associated with the landscape.
Take A591 up through Keswick, then take A66 to get on M6 and cross the border into Scotland, then follow signs to arrive in Edinburgh.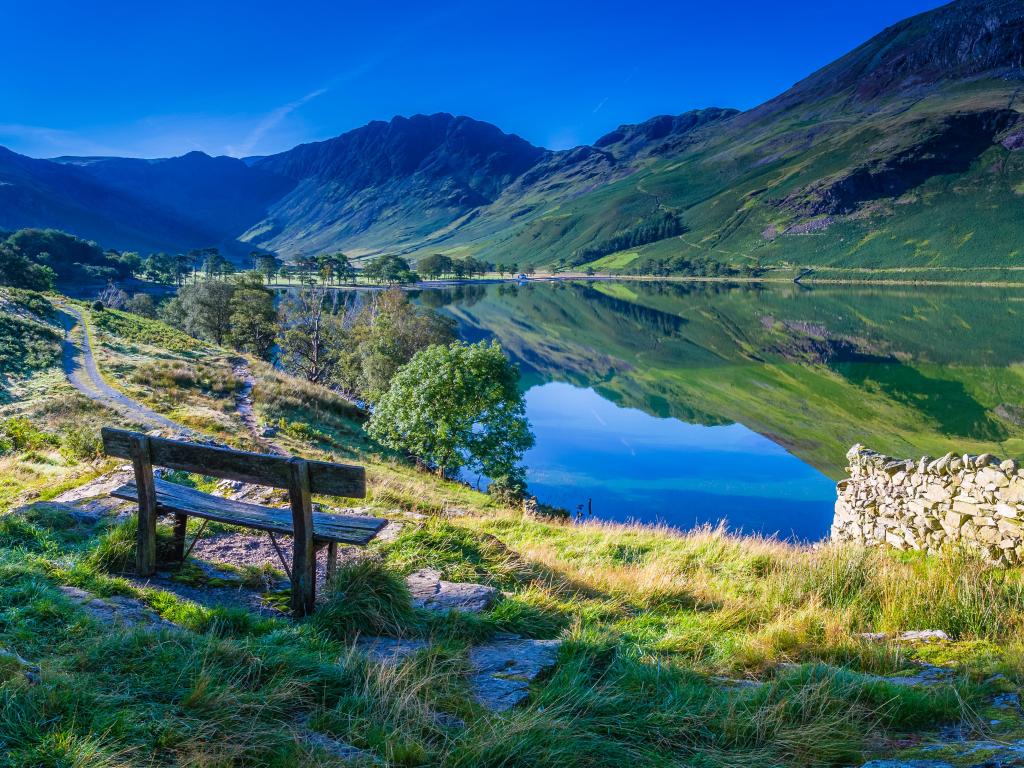 Best places to stop between London and Edinburgh
There are so many chocolate-box villages and urban hubs nestled along this route that you might have a hard time choosing where to bed down for the night and explore during the day.
We've selected a few of our highlight stops that tick all the boxes for cultural activities, historic landmarks and great overnight lodging options.
Discover historic York
Just under halfway on the East Coast Route is the cathedral city of York. One of the major cities along the route, York's ancient centre is picturesque, and its cobbled streets are worth exploring.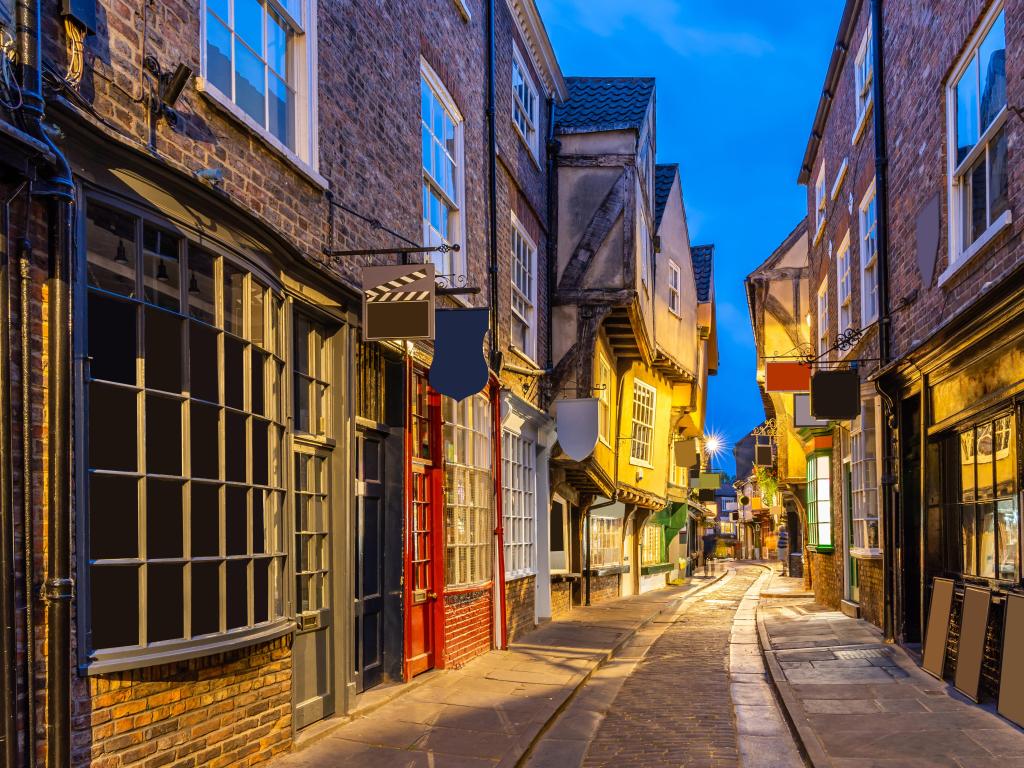 York's characterful mediaeval streets are known as The Shambles and are said to be the inspiration for Harry Potter's Diagon Alley - they are now home to a variety of independent shops.
You can't miss York Minster, a huge Gothic cathedral dating back to 1230, featuring beautiful stained glass - climb up the tower for stunning views across York.
To get a sense of the city's past, head to Jorvik Viking Centre. Built around the ruins of York's Viking settlement, this interactive museum takes you back to the 10th century to find out about the different cultures that helped shape the city.
The Dean Court hotel is located in the heart of the city and offers valet parking so you can head out on foot to explore. The rooms offer great views out across York Minster, and it's a short walk to York's many restaurants and bars.
The rooms are comfortable and spacious, and you can enjoy a fully cooked breakfast at the on-site restaurant so you're well-fuelled to head back out on the road the next day.
Eat sweet treats in Bakewell
Just about 4 hours from London on the Lake District Route, Bakewell is a great option for the first overnight stop of your trip. As well as being one of the larger towns in the area, Bakewell is a great place to stay if you're planning on exploring the Peak District for a few days.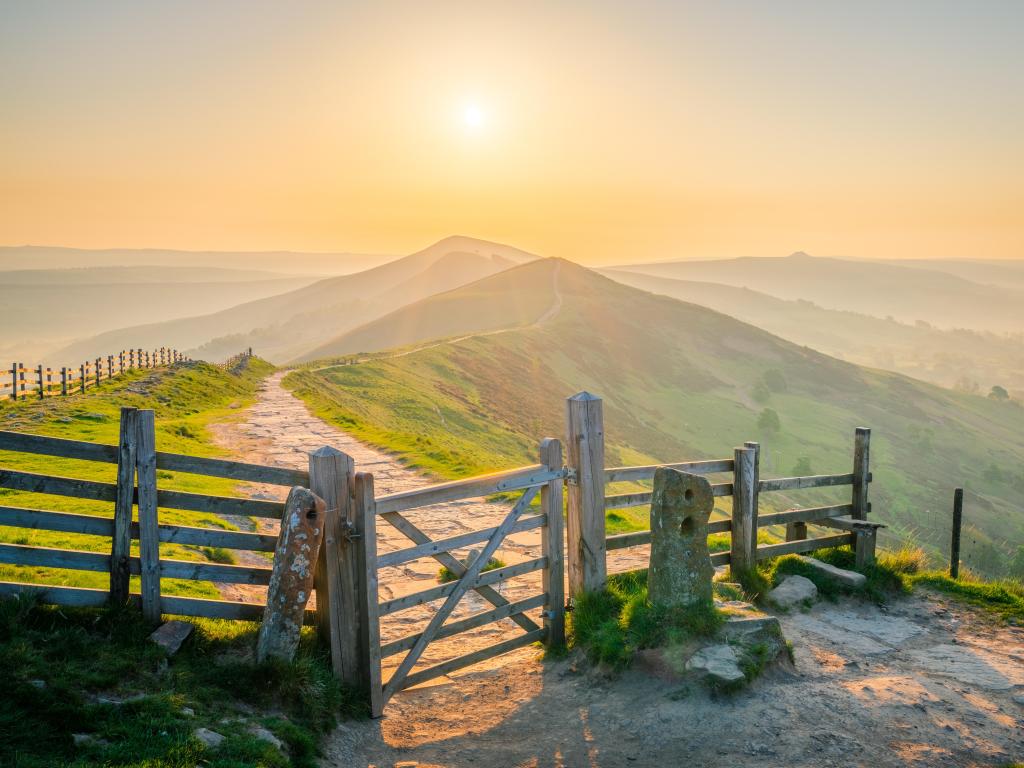 Bakewell's historic centre is a delight to explore, and it's worth adding on a trip to the Old House Museum which dates back to the 1530s. Make sure to stop by a bakery and sample one of the famous Bakewell tarts that originate here.
Take one of the many hiking trails heading out from Bakewell and the nearby area, or head out to explore the lanes of the Peak District. The Monsal Trail takes you along a former railway line and passes through some stunning scenery.
The famous Chatsworth House is under 3 miles from Bakewell, where you can take a tour of the stunning family home of the Dukes of Devonshire and explore its beautiful estate.
The Rutland Arms Hotel is a memorable place to stay, with quirky rooms in their own styles and fun splashes of colour. There is an on-site restaurant with outdoor seating in good weather and a well-stocked bar.
You can expect a warm welcome from the staff and the central location and parking make it a convenient place to stay.
Where to stay when you reach Edinburgh
There is so much to see and do in lively Edinburgh, and you'll want a comfortable place to stay after traipsing up and down all those hills. The Tigerlily hotel is centrally located in Edinburgh's New Town, within walking distance of Edinburgh Castle, Princes Street and the Royal Mile.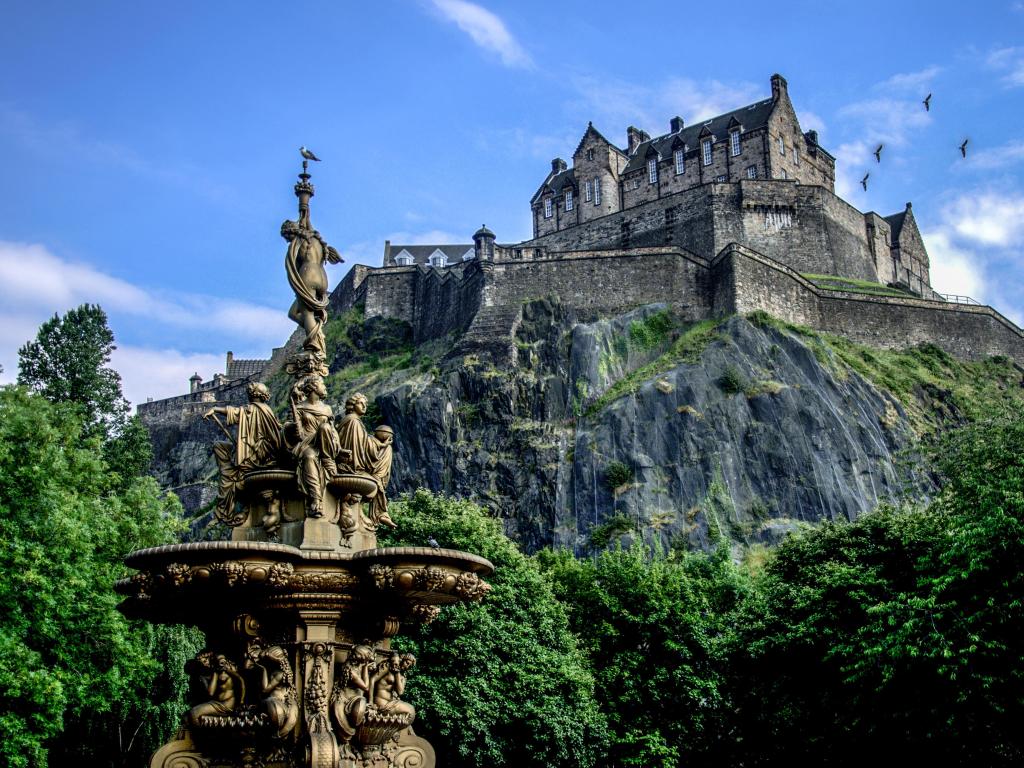 The hotel is beautifully decorated with a cocktail bar and restaurant on site, which are great for a tipple before heading out into the buzzing nightlife of Edinburgh.
Alternatively, try Ocean Mist Leith to see another side of the city out in the more rural district of Leith. They offer cosy cabins with views out across the water and a well-appointed bar.
Things to see on a road trip from London to Edinburgh
There are plenty of reasons to get out of the car and take out your camera as you wind from south to north. To help plan your route, we've selected some of the top attractions, landmarks and natural wonders to stop for along the way.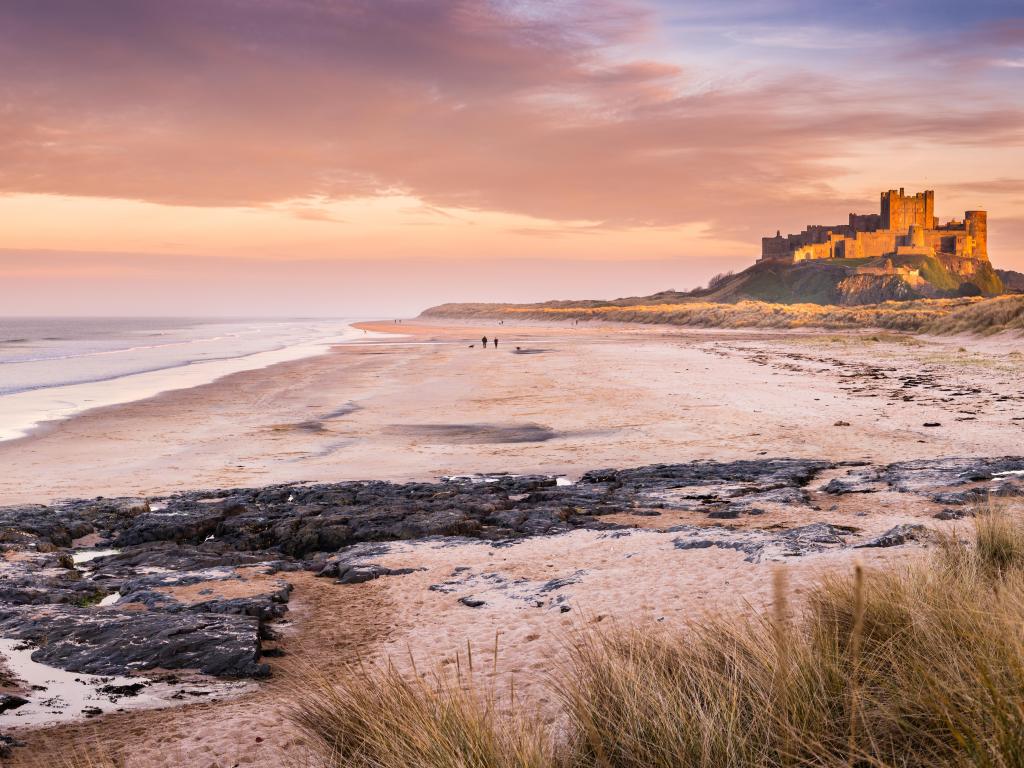 The East Coast Route
Cambridge - Take a tour of some of the historic colleges, go punting on the River Cam or dip into some of the city's excellent museums, including the Fitzwilliam gallery or the Scott Polar Research Institute.
Stamford - This Georgian market town is known for its limestone buildings and great quality of life. Elizabethan Burghley House is just on the edge of the town.
Lincoln - As you explore historic Bailgate and Lincoln Cathedral, look out for the Norman houses and independent shops on Steep Hill.
Battle of Britain Memorial Flight Museum - Lincolnshire is home to a number of RAF bases and a detour from Lincoln will take you via the RAF's heritage hangar at RAF Coningsby. When the WW2 aircraft here aren't flying, you can take a guided tour to learn more about these vintage aircraft.
Scarborough - With two sweeping sandy beaches, Scarborough was the country's first beach resort. You can still ride the town's two cliff railways and listen to the in-house orchestra at Scarborough Spa.
North York Moors National Park - Explore the moors on one of the many hiking trails, which are tailored to all different abilities, or ride the vintage North York Moors Railway on a restored steam train.
Durham - Durham Cathedral soars above the city, where you can also visit neighbouring Durham Castle or the Open Treasure exhibition at the cathedral, which explores the history of this UNESCO World Heritage Sight.
Beamish Museum - Take a detour from Durham to visit one of the country's best-loved living history museums.
Newcastle Upon Tyne - Famous for its riverside location and iconic bridges, Newcastle is a great place to enjoy a night out. You can also take an underground tour along the Victoria Tunnel, built for moving coal across the city and more recently used as a WW2 air raid shelter.
Alnwick - Alnwick Castle is the 900-year-old home of the Dukes of Northumberland, but more recently it provided some of the location shots for the Harry Potter movies.
Northumberland Coast - Follow the coast through Craster, famous for its kippers, to Seahouses, then on to Bamburgh where a ruined castle keeps watch over the coast.
Holy Island - Follow the mile-long causeway at low tide to visit this small island with its castle and ruined priory. In the 8th century, the illuminated manuscript known as the Lindisfarne Gospel (now kept at the British Library) was illustrated here by Celtic monks.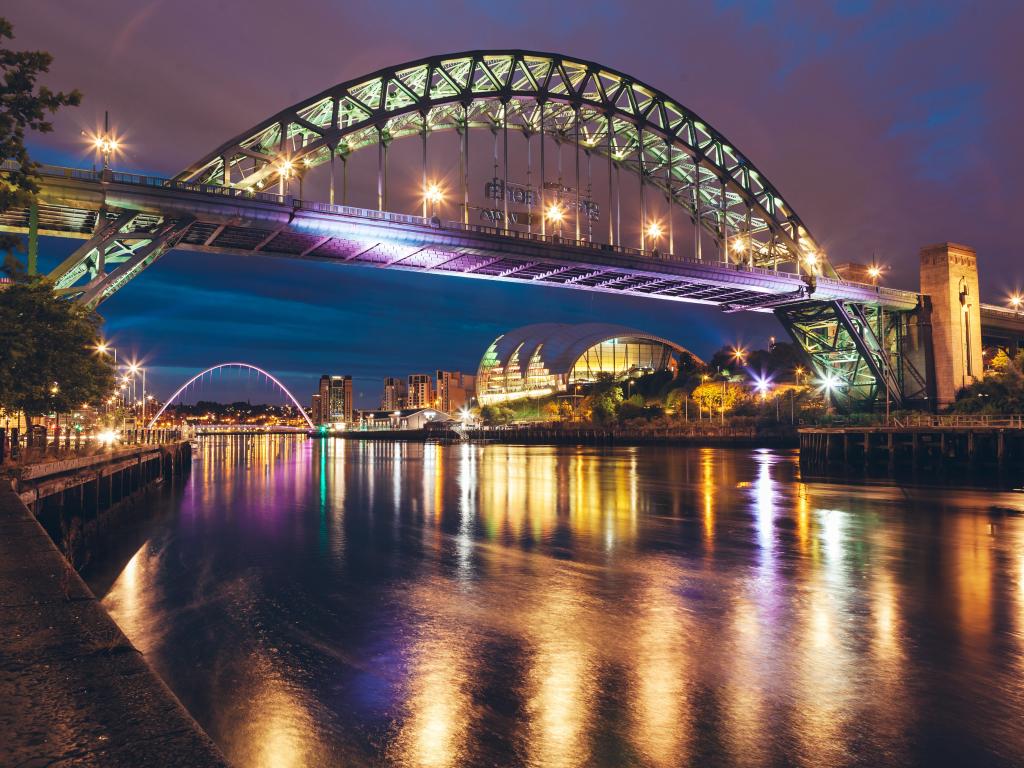 The Lake District Route
Windsor Castle - This royal castle, with its huge surrounding Great Park, was where Queen Elizabeth II spent much of her time. Castle tours are available.
Oxford - Go punting on the Isis, enjoy a pint in the sunshine, or roast marshmallows over an open fire at the Turf Tavern, in between touring some of the academic colleges which date back as far as 1263.
Warwick Castle - Built by William the Conqueror, this riverside castle now hosts seasonal exhibitions and jousting tournaments.
Peak District Lead Mining Museum - Find out about lead mining, which was one of the major industries in the Peak District.
Yorkshire Sculpture Park - Set in a huge parkland, this open-air gallery includes work by Barbara Hepworth and Henry Moore.
Bolton Abbey - Stop and explore the countryside around this ruined abbey on the edge of the Yorkshire Dales. Down by the river you'll find a shallow beach which is perfect for paddling in good weather, and 60 stepping stones which were originally one of the entry points to the abbey.
Yorkshire Dales National Park - Take a detour off the main road to explore the impressive landscape of the Yorkshire Dales. You can hike up to Malham Cove or Ingleton Waterfall, follow the River Wharfe along to Grassington, or admire the huge Ribblehead Viaduct.
Windermere - Explore Ambleside or Bowness on the shores of England's largest lake, where you can join a lake cruise or hire your own boat.
Keswick - This historic market town beside Derwentwater is also a centre for outdoor activities which run in the beautiful hills near the town.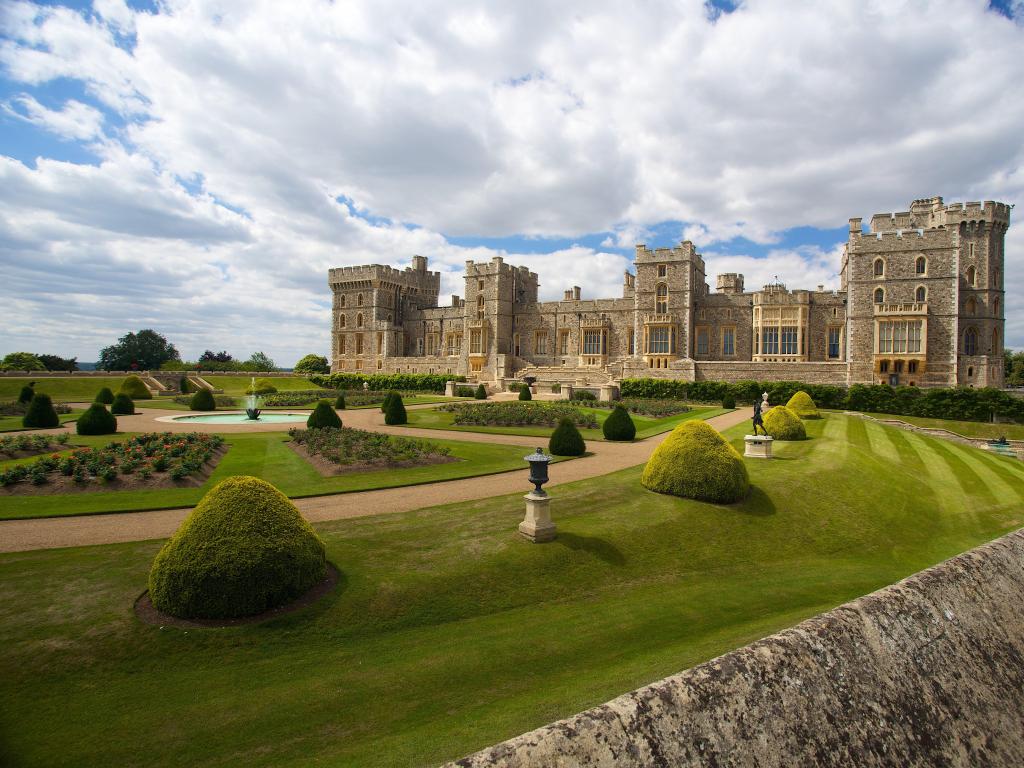 Best time to go on a road trip from London to Edinburgh
It's possible to take this trip all year round, as Edinburgh has cool summers and relatively mild winters. Rain is always a possibility in the UK, but as there are many indoor attractions there's plenty to do on wet days. That said, some of the outdoor destinations along the way are better enjoyed in the warmer months.
In Edinburgh, temperatures in summer tend to stick around 17-18 degrees Celsius but if you're lucky temperatures can hit the mid-20s at times. It rains frequently even in summer.
Edinburgh is extremely busy during the August festival period, so if you aren't travelling specifically for the festival, spring or autumn may be more peaceful times to travel.
Edinburgh's mild winters – with average temperatures around 7 degrees – mean it's possible to enjoy the city over the winter. It very rarely snows, but is very festive around Christmas, and is known for its famous new year celebrations.
Spring and autumn are great times to travel as there are fewer crowds (although Edinburgh receives many visitors all year round). Spring tends to be cooler from 8-14 degrees, while autumn can see temperatures up to 16 degrees. Outside of the school holiday period Edinburgh is likely to be less busy.
Edinburgh is a cultural capital, and consequently, there are plenty of events that draw people into the city - you may want to avoid these times as accommodation can be hard to come by and rates can increase.
Spring sees the Edinburgh Marathon when thousands of runners descend on the city for a weekend. August is the busiest time, with Edinburgh International Festival and Edinburgh Fringe bringing world-class theatre, dance and live music to venues across the city.
In winter, it's Hogmanay that draws the crowds to celebrate the new year, with a massive street party on Princes Street.