Road Trip from Detroit to Toronto
A road trip from Detroit to Toronto is perfect for a short but incredibly scenic getaway that will take you from the American border to the breathtaking Canadian views through charming towns, wonderful parks, tranquil lakeside beaches and historic museums.
The 280-mile road trip from Detroit to Toronto will take you 5 hours and 45 minutes to drive. Notable stops include Port Huron, Grand Bend Beach, London, Ingersoll, Hamilton, Mississauga as well as Point Edward village and Pinery Provincial Park.
Read on to find out what awaits you on this stunningly scenic adventure, including the best routes you can take, the places to stop overnight, our favorite things to do and the best time of year to make this fantastic trip from Detroit to Toronto.
How far is Toronto from Detroit, and how long will the road trip take?
Comparison of road trip routes between Detroit and Toronto

| Route | Distance | Driving Time |
| --- | --- | --- |
| The Port Huron Route | 280 miles | 5 hours 45 minutes |
| The Lake Erie Route | 280 miles | 5 hours 50 minutes |
The most direct route from Detroit to Toronto covers 230 miles and will take you about 3 hours and 50 minutes to drive nonstop, without accounting for any stops or detours you might want to take.
However, this would mean that you would miss out on the amazing scenery Canada is famous for. Alternatively, we suggest a more scenic 280-mile route that goes through Port Huron which will take you 5 hours and 45 minutes of nonstop driving.
There is another fantastic route option which will take you through Windsor by the beautiful shores of Lake Erie, which will similarly take 5 hours and 50 minutes to drive, covering the same amount of mileage as the Port Huron Route.
You will be driving on the main highways for the most part, which means that you can expect good road conditions and enjoy the scenery on this straightforward drive.
Best road trip route from Detroit to Toronto
The best road trip will depend on how much time you have on your hands and what kind of attractions and landmarks you wish to visit on the way.
Port Huron is known as the city where Thomas Edison spent his childhood, and our suggested route that shares the same name will take you through this historic city as well as the beautiful Grand Bend Beach as well as pretty Canadian towns and beautiful parks.
The Lake Erie Route will take you the same amount of time to complete but will take you past completely different scenery that will mostly follow the beautiful sights of Lake Erie and go through Windsor as well as some beautiful beaches and lakeside parks.
If you have the time, you can consider taking one route to and the other back on this beautiful road trip from "the Motor City" Detroit to Toronto.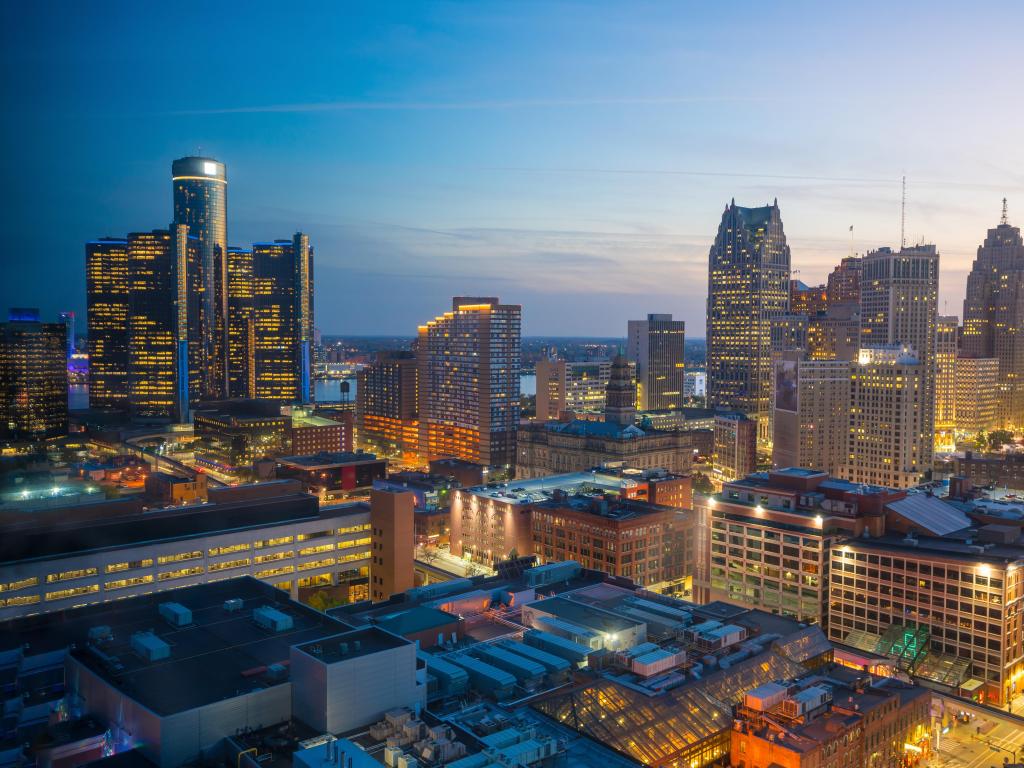 The Port Huron Route
Start your journey by following Interstate 94 out of Detroit as you keep Lake St. Clair on your right. Take Exit 266 as you approach Port Huron and follow Gratiot Boulevard into the city, threading the border between America and Canada.
Keep on Interstate 69 as you leave the city and cross the Blue Water Bridge to enter Canada. Continue onto ON-402 East and then turn left onto County Road 30/Oil Heritage Road, which will take you to Highland Glen.
Get onto County Road 7, which will merge onto County Road 21 and take you past Pinery Provincial Park and to Grand Bend Beach. Follow Route 81 and then 24 to reach Route 4, which will take you to London, Ontario.
Continue on ON-401 and drive past Ingersoll. Keep right at the fork to get onto ON-403 past Woodstock. This highway will take you through Brantford and to Hamilton, where you can take a break to visit the Royal Botanical Gardens and RBG Cootes Paradise Sanctuary.
Follow ON-403 out of the city after your visit, which will merge onto ON-407. Drive through Mississauga and turn right to merge onto Queen Elizabeth Way, which will take you all the way to your destination in Toronto.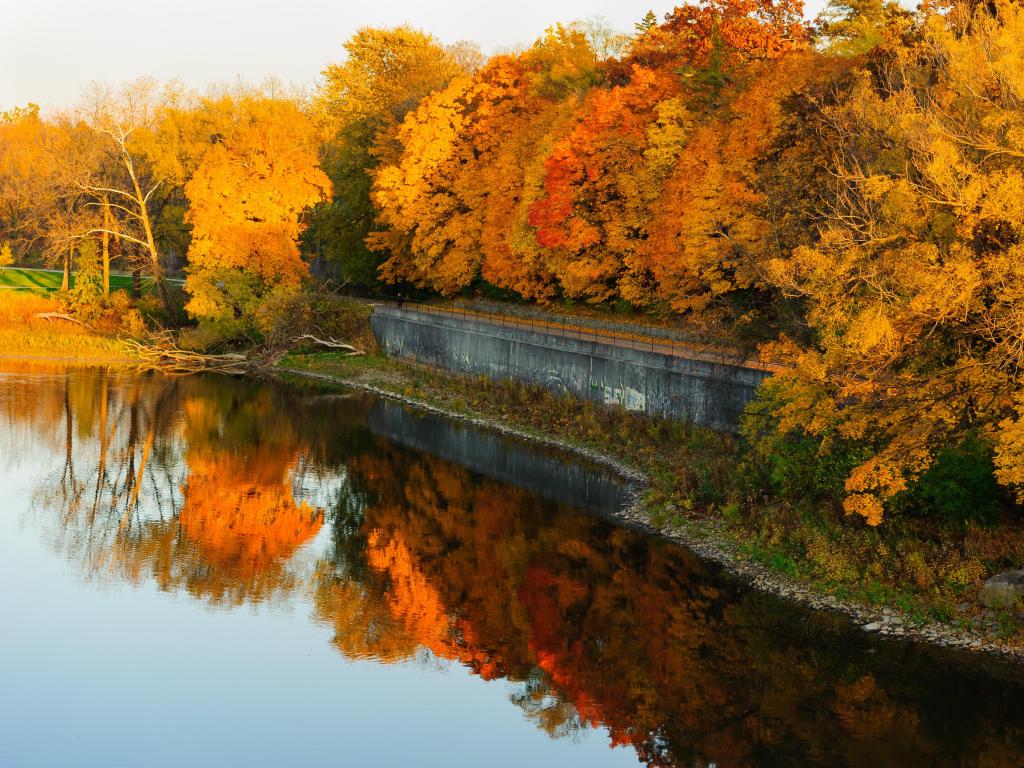 The Lake Erie Route
This route will take you from America into Canada right away as you leave Detroit. Take the Detroit-Windsor Tunnel and drive through Windsor, the first major city you will pass in Canada.
Following Ouellette Avenue and turning right onto E.C. Row Expressway will take you out of the city. Continue onto Essex County Road 22 and drive towards Lake Erie.
Drive past Lakeview Park West Beach and get onto Broadway Street and continue onto County Road 2. Follow this road past Stoney Point and Tremblay Beach Conservation Area on Lake Erie's shores.
Take a short detour to Lighthouse Cove by following County Road 39 and then get back onto County Road 2 and merge onto ON-401. Turn right onto Kent County Road 15 past Pinehurst, which will take you to Rondeau Provincial Park.
After your visit, get on County Road 3 and drive past Port Glasgow Beach and merge back onto ON-401. Drive through London, at which point you will merge with the Port Huron Route and follow the directions above to reach your destination in Toronto.
Best places to stop between Detroit and Toronto
Even though the road trip from Detroit to Toronto might be relatively shorter in miles compared to some road trips, it packs some beautiful sights. That is why we recommend taking at least 3 days on each route and making some overnight stops to enjoy your surroundings.
Here are some of our top suggestions for where you can make a fantastic overnight stop.
Take a scenic break in Port Huron
Located 1 hour from Detroit and a little less than 4 hours from Toronto on the Port Huron Route, the city of Port Huron is nestled along the stunning lake that shares the same name.
With a historic downtown that boasts incredible cultural, artistic and entertainment options, Port Huron is a perfect place to make an overnight stop and the Insignia Hotel is one of the best accommodation options located right across the river in Sarnia, Canada.
Located a short distance from the fabulous Lakeside Park Beach, this luxurious hotel features stylishly decorated rooms, an upscale restaurant and a fabulous pool you can unwind in after your exploration of Port Huron.
The hotel is situated right on the banks of River Clair, which means that you can take a leisurely stroll as you admire the views of America, which will seem an arm's length away, as you pass through the beautiful Bayshore and Centennial Parks nearby to reach Point Lands.
Before you call it a day and enjoy a much-deserved rest, make sure to sample some fine Canadian and American cuisine either in downtown Sarnia or in the comfort of your own hotel.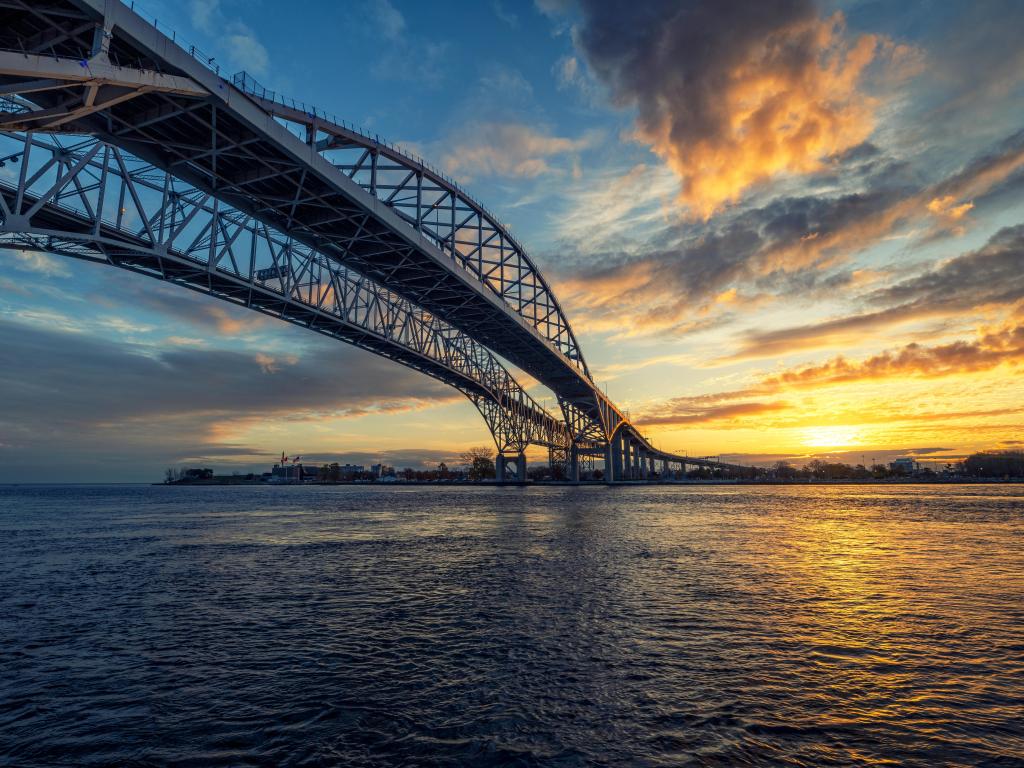 Explore the European roots of London, Ontario
You will drive past the city of London in Ontario on both routes, which makes this charming city a great overnight stop. Conveniently situated about 2 hours from Toronto, London is popularly known as "The Forest City" for its emerald-green scenic beauty and acres of rolling parkland.
Set in London city center, Delta Hotels by Marriott is hard to beat with its stellar location and comfortable rooms that feature modern amenities such as a smart desk and a luxurious spa shower to give you that feeling of home away from home.
You will find the Museum of London a short walking distance from the hotel, by the banks of Thames River (which might confuse you at first, compounded with the city's name). You might even start believing you are indeed on a different continent as you visit the nearby Victoria Park.
If you prefer to spend your time outdoors, you will be happy to hear that Boler Mountain is a short drive away from the city. This is one of the premier ski and winter sports resorts in the area which will meet all your needs if you are looking to hit the slopes.
No matter how you choose to spend your time in London, you will want to relax in comfort and luxury when you return to the hotel. You can take a refreshing dip in the fabulous indoor swimming pool before heading to the elegant restaurant located on-site for a delicious meal.
Alternatively, you can leave the relaxation to the next day and head to Elmhurst Inn & Spa in Ingersoll to get a pampering treatment after your time spent in the mountains. This hotel offers a luxurious spa and a fantastic restaurant.
Where to stay when you reach Toronto
No matter which route you follow, the first thing you will probably want to do once you reach Toronto will be to relax and unwind. The Bisha Hotel is the perfect place to do this as it is located in the heart of downtown.
Being located in Toronto's entertainment district means that you won't have to venture far to find the most popular points of interest such as the iconic CT Tower.
However, you might not want to leave the hotel, seeing that it features a rooftop infinity pool with a perfect view of the city and Lake Ontario. You will be spoiled for choice when it comes to dining as the hotel boasts 3 restaurants to impress your palate.
Things to see on a road trip from Detroit to Toronto
Despite the short mileage, there are many fantastic things to see and exciting things to do on a road trip from Detroit to Toronto.
To help you with your planning, we have come up with a list of some of the best attractions, landmarks and cities on both routes.
The Port Huron Route
Grand Pacific House Museum - Experience New Baltimore in Michigan as it once was; this city was a popular vacation destination for Detroit locals and you can learn about what they left behind in this museum dedicated to the history of the city.
Selfridge Military Air Museum - This museum in Harrison is dedicated to Military Aviation History, with a mission to help preserve the heritage and traditions of the Michigan Air National Guard, Selfridge Air National Guard Base, and their units.
Port Huron, Michigan - Known as the childhood home of Thomas Edison and for being "the Maritime Capital of the Great Lakes", Port Huron is home to Huron Lightship and the Great Lakes Maritime Center.
Brights Grove Beach - You might think of Miami at the mention of beaches but think again. Ontario's blue beaches boast stunning turquoise waters and fantastic opportunities for water sports.
Rock Glen Conservation Area - This stunning conservation area is famous for its beautiful waterfalls and great recreational opportunities, such as scenic walking trails. You can visit the Arkona Lions Museum to learn about the rich history of the area.
Grand Bend Beach - One of Canada's best beach towns, this area welcomes thousands of visitors each year and offers a variety of restaurants, shops, and nightlife destinations along the town's main strip.
Point Edward - A beautiful village in the Canadian province that sits opposite Port Huron, Point Edward is home to Judith & Norman Alix Art Gallery and the Waterfront Park. Point Edward's Moonlight Farmers' local Market is a must-visit.
Kenwick on the Lake Park - After driving for a couple of hours, you can enjoy the inspiring scenery of Lake Huron and have a picnic in the lovely park, just off the route.
Fanshawe Pioneer Village - This living history museum shares the impressive past of the London and Middlesex County areas between 1820-1920.
Pinery Provincial Park - Located on Lake Huron near Grand Bend, it is a natural environment-class Provincial Park created to help preserve oak savannah and the beach dune ecology.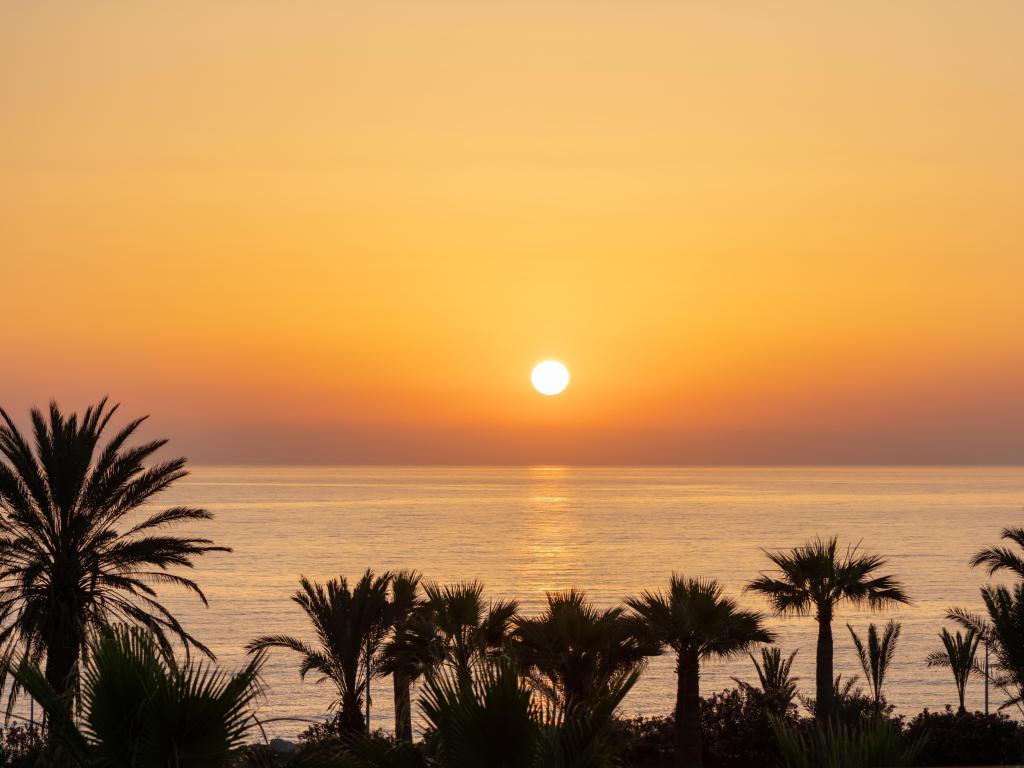 The Lake Erie Route
Windsor, Ontario - The Automotive Capital of Canada is famous for its connection to the original Ford Motor Factory. This fantastic city features a waterfront park, monuments and the popular Windsor Craft Beer Festival.
Lakewood Park South - This former golf course is now known as "The crown jewel of parks in the Town of Tecumseh", where you can relax outdoors and even do some rock climbing if you are feeling adventurous!
McAuliffe Park - Another scenic park you will pass by on the way, McAuliffe Park is located on historic farmland, so it is not surprising that it houses majestic orchard trees and historic farm buildings dating back to the late 1800s.
Lakeview Park - This beautiful park boasts a beautiful beach, easy hiking trails and picnic tables; the perfect excuse to stop by and enjoy a scenic lunch!
Tremblay Beach Conservation Area - Situated on the shore of beautiful Lake St. Clair, trails can be enjoyed along the shoreline as well as alongside the Creek. A viewing tower will give you a bird's eye perspective of the abundant wildlife in the marsh if you are a nature lover.
Ruscom Shores Conservation Area - You can enjoy a short but scenic trail that will help you stretch your legs after driving for hours in this conservation area.
Lighthouse Cove - This cover is home to the Lighthouse Conservation Area. The lighthouse that gave the cove its name is 200 years old and is one of the three oldest in the Great Lakes.
Rondeau Provincial Park - A picturesque park where you can take a relaxing break, Rondeau Provincial Park offers opportunities to hike, bike and even rollerblade. This park is also a world-renowned bird-watching destination.
Port Glasgow Beach - Fishing enthusiasts will love the opportunity to spend time on this beach. One of the prime fishing areas in Canada, this beach is located in the Port Glasgow Yacht Club and Marina, which is well known for its pickerel and perch fishing.
Both Routes
London, Ontario - Popularly known as The Forest City, it consists of numerous, beautiful pathways and acres of rolling parkland. It also features period houses, art, and history at the Museum London.
Ingersoll Cheese & Agricultural Museum - A quirky, must-visit attraction, especially if you're stopping over at the nearby Elmhurst Inn & Spa.
Stratford, Ontario - This pretty city with small town charms is known for its culinary selection, art scene and festival season including Stratford Shakespeare Festival and the Stratford Summer Music Festival.
Hamilton, Ontario - Hamilton is known for its industrial heritage, this city has a unique urban feel, a vibrant arts scene, and a bustling downtown. It houses Dundurn Castle, Bayfront Park, Waterfalls of Hamilton and the impressive Devil's Punchbowl Conservation Area.
Mississauga, Ontario - This impressive city is known for its vibrant art, historic villages and recreational parks. This city is home to many scenic points such as Port Credit, Rattray Marsh Conservation Area and Lakefront Promenade Park.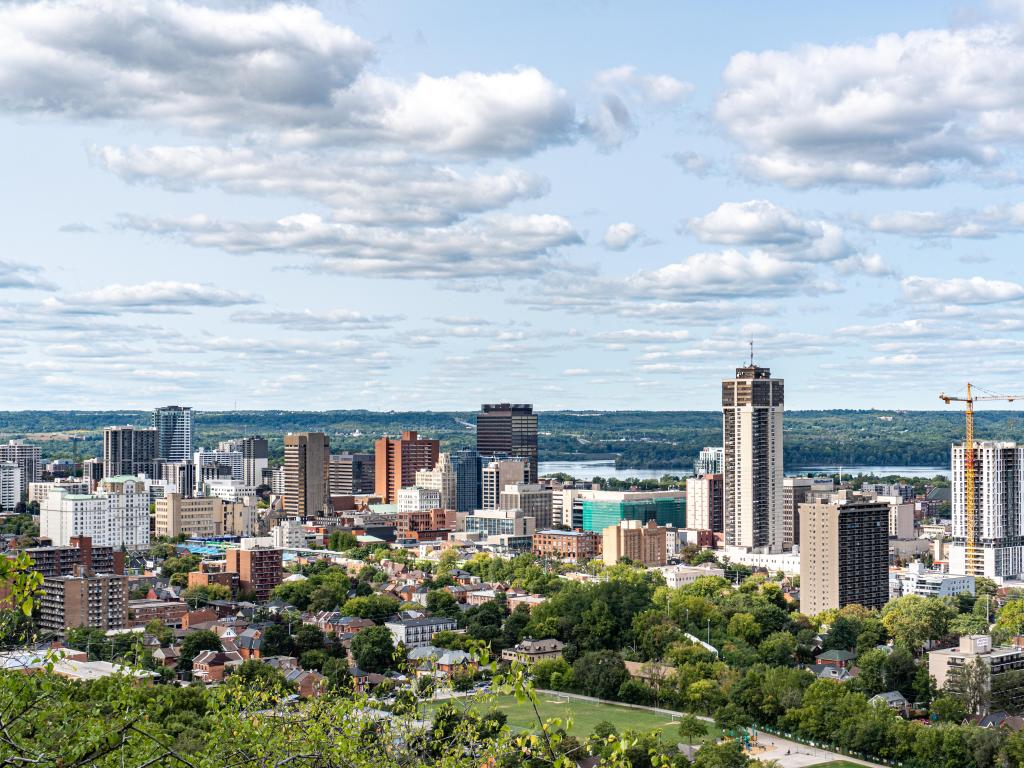 Best time to go on a road trip from Detroit to Toronto
The road trip from Detroit to Toronto can be done all year round because you will find a balanced mixture of indoor and outdoor attractions on the way.
That being said, the peak season in Toronto is summer when the average temperature reaches around 75 degrees Fahrenheit, and with the rising of the temperatures, unfortunately so do the hotel prices.
Summer is when Toronto comes to play and the whole city gets energized. However, if you are looking to avoid crowds, spring and fall are fantastic times to visit. The temperatures stay mild around 55-65 degrees Fahrenheit between late April-May and September-mid October.
If you are visiting in the fall, you will get the opportunity to participate in the popular Toronto International Film Festival in September.
Winter is a great season to make this road trip, especially if you like winter sports. You can try snowmobiling and dog sledding in January when the temperatures hit freezing 20-25 degrees Fahrenheit.
If you can brave the cold, you can experience these colder months with fewer tourists and lower hotel prices. You will be rewarded with cozy nights, twinkling lights and an abundance of snowy natural scenery in return.
If you are visiting in winter, make sure to check out the Next Stage Theatre Festival in January, which is one of the city's premier winter theater events.
No matter what time you choose to visit, you will have an amazing time on a road trip from Detroit to Toronto and make many memories that will last a lifetime.