Road Trip from Milwaukee to Niagara Falls
Are you looking for a road trip that embraces culture and amazing scenery, culminating with one of the true wonders of the natural world? Then a road trip from Milwaukee to Niagara Falls could be the perfect trip for you as you visit iconic cities and take in several of the Great Lakes on this truly epic journey.
The 675-mile road trip from Milwaukee to Niagara Falls takes 14 hours to drive. Notable stops are Chicago, Fort Wayne, Toledo, Cleveland, Erie, Sturgeon Point Marina, plus Holland, Grand Rapids, Ann Arbor, Detroit, London, Hamilton, and Toronto.
Continue reading to find out what lies in store on this memorable trip, and discover the best routes to take, when to make the trip and some of the amazing locations and attractions on offer along the way.
How far is Niagara Falls from Milwaukee, and how long will the road trip take?
Comparison of road trip routes between Milwaukee and Niagara Falls

| Route | Distance | Driving Time |
| --- | --- | --- |
| The Chicago Route | 695 miles | 12 hours 45 minutes |
| The Toronto Route | 675 miles | 14 hours |
We have recommended two routes for the trip from Milwaukee to Niagara Falls, and whilst both are unique, they have much to offer with many attractions and exciting places to see along the way.
The Chicago Route covers 695 miles and takes 12 hours and 45 minutes of continuous driving to complete the trip.
The Toronto route is slightly shorter, covering 675 miles and takes 14 hours without allowing for breaks and detours. It is entirely up to you which route you prefer and both are equally enjoyable.
Both routes involve mainly interstate driving and you should allow at least 3 days to undertake the trip although, with so many interesting places to visit and so much to enjoy, you may find yourself spreading the journey over a week.
Best road trip route from Milwaukee to Niagara Falls
Our Chicago route will appeal to art lovers, offer plenty of cultural attractions, and gives the opportunity to take in some amazing cities and visit some of America's top art galleries.
This route offers road trippers the choice of staying within the US as you journey up to the magnificent Niagara Falls.
Our Toronto route allows you to see some of Michigan and Ontario's beautiful cities and towns as you cross Lake Michigan, and travel along the Canadian side of Lake Erie up to Toronto and onto Niagara Falls.
If you would like to enjoy the best of both worlds, why not follow one route to visit the famous waterfalls and the other one on your way back? This way, you will get to enjoy the cultural and natural attractions on both our suggested routes.
The Toronto Route
Head to the shore of Lake Michigan where the Milwaukee to Muskegon Ferry will take you across the Lake. The 85-mile crossing takes 2 hours and 30 minutes.
From Muskegon, head towards Holland and then Grand Rapids. Leaving Grand Rapids, take the I-96 E skirting around Lansing before reaching Brighton past Whitmore Lake and the Island Lake Recreation Area leading you to Ann Arbor.
From Ann Arbor, follow the interstate to Motor City, Detroit. Then, cross the Detroit River and head over the border into Canada where the ON-401 E will take you to London.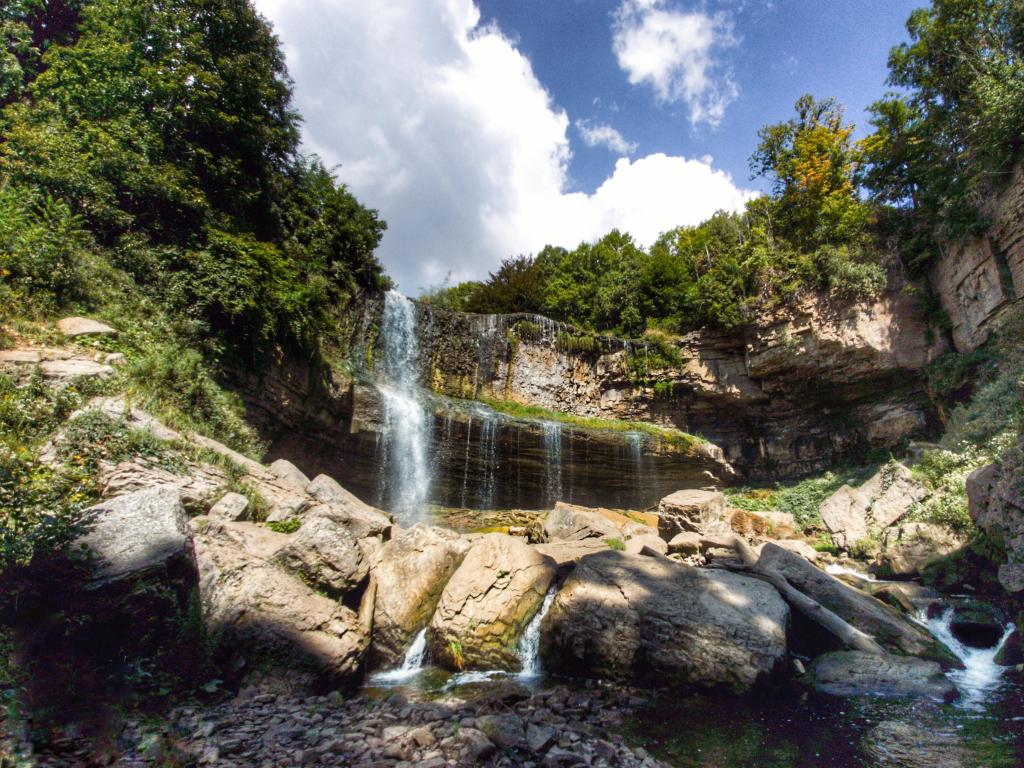 You will pass Stratford and Kitchener before reaching Hamilton where you will drive along the shores of Lake Ontario to Toronto. From Toronto, head towards Burlington and the Queen Elizabeth Way will take you to your destination in Niagara Falls.
The Chicago Route
Leaving Milwaukee and the shores of Lake Michigan, head south and join Interstate 94 (I-94) East running parallel to the shoreline before arriving at the Windy City, Chicago. Pass through Whiting and Portage before heading southeast until you arrive at Fort Wayne.
Back on the road, take the US-24 heading past Defiance and Napoleon before crossing the Maumee River and skirting Perrysburg before arriving in Toledo, at the western tip of Lake Erie.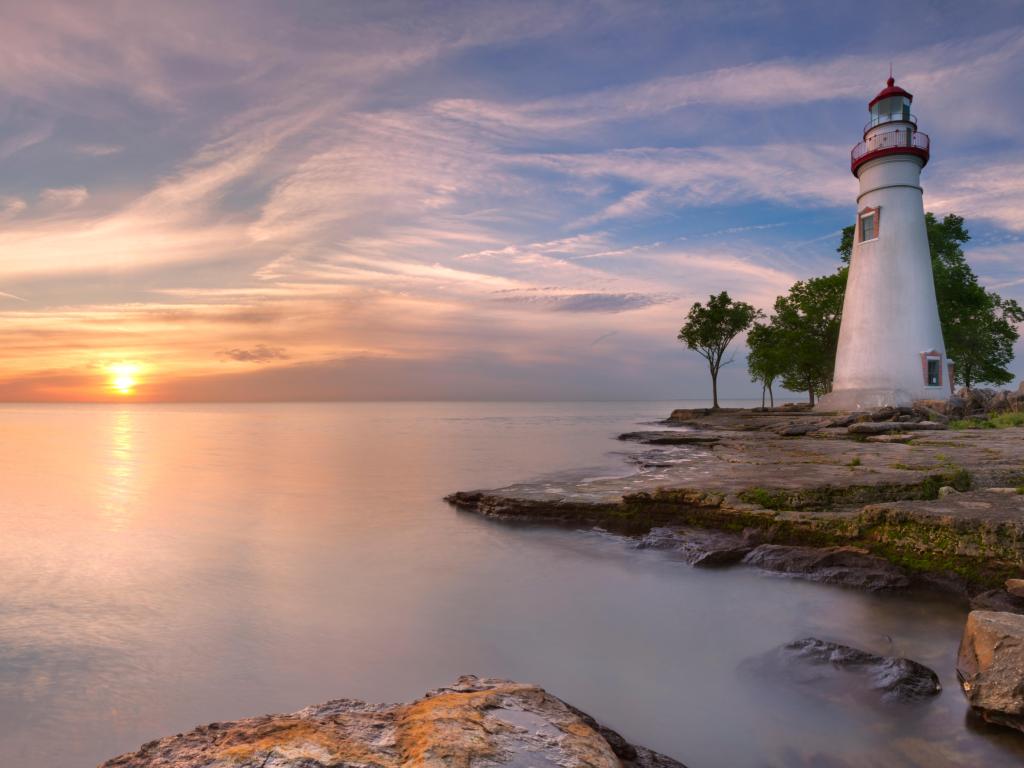 From Toledo, follow I-90 E along the southern side of Lake Erie before arriving in Cleveland. After your visit, continue on the interstate before taking the Bayfront Parkway into Erie, situated on the shores of Lake Erie.
Continue along the shoreline in places with excellent views of the coastline of Canada across the water. Continue past Sturgeon Point Marina and Buffalo before arriving at the final destination, Niagara Falls.
Best places to stop between Milwaukee and Niagara Falls
A road trip of this length will be even more enjoyable with a few overnight stops allowing the chance to explore some of the major towns and cities you'll encounter in more detail.
With so many amazing places to see on either route, you'll be spoilt for choice on where to stay so we have suggested a couple of our favorites for you to consider.
Enjoy a cultural stay in Cleveland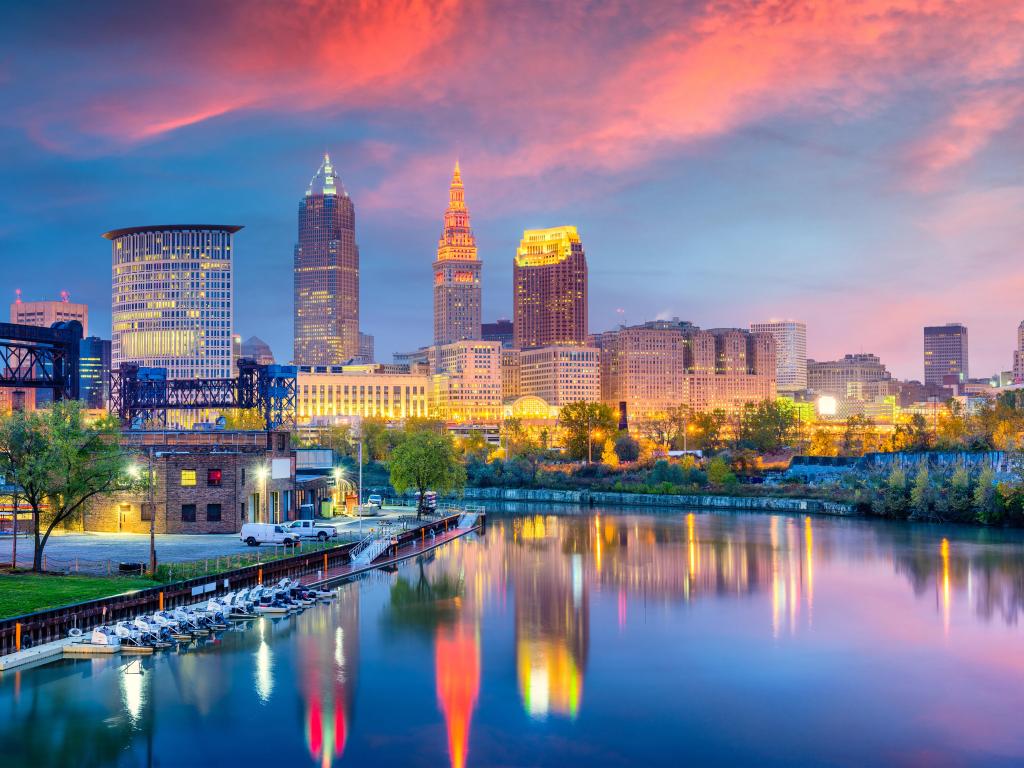 Situated on the southern shore of Lake Erie, Cleveland is around 4 hours away from Niagara Falls. It is located directly on the Chicago Route so there is no need for a detour when stopping off to explore this fantastic city.
A stay at the Hyatt Regency Cleveland at The Arcade will allow you the perfect opportunity to relax and refresh after a busy day of driving and sightseeing, enjoying the on-site spa, salon, and fitness center.
This hotel is conveniently situated in the center of Cleveland, within walking distance of the best shopping and dining destinations and you can indulge in Cocktails in the 1890 lounge.
The Rock and Roll Hall of Fame is within easy walking distance, where you can immerse yourself in musical history with one of the most impressive collections of music memorabilia in the world, including John Lennon's guitar.
Add a touch of class to your trip by taking in a performance of the Cleveland Orchestra at Severance Hall, one of the most beautiful concert halls in the world and embrace the diverse range of Art on display at the Cleveland Museum of Art, with exhibits ranging from Monet to Andy Warhol.
Admire the lakeside views in Toronto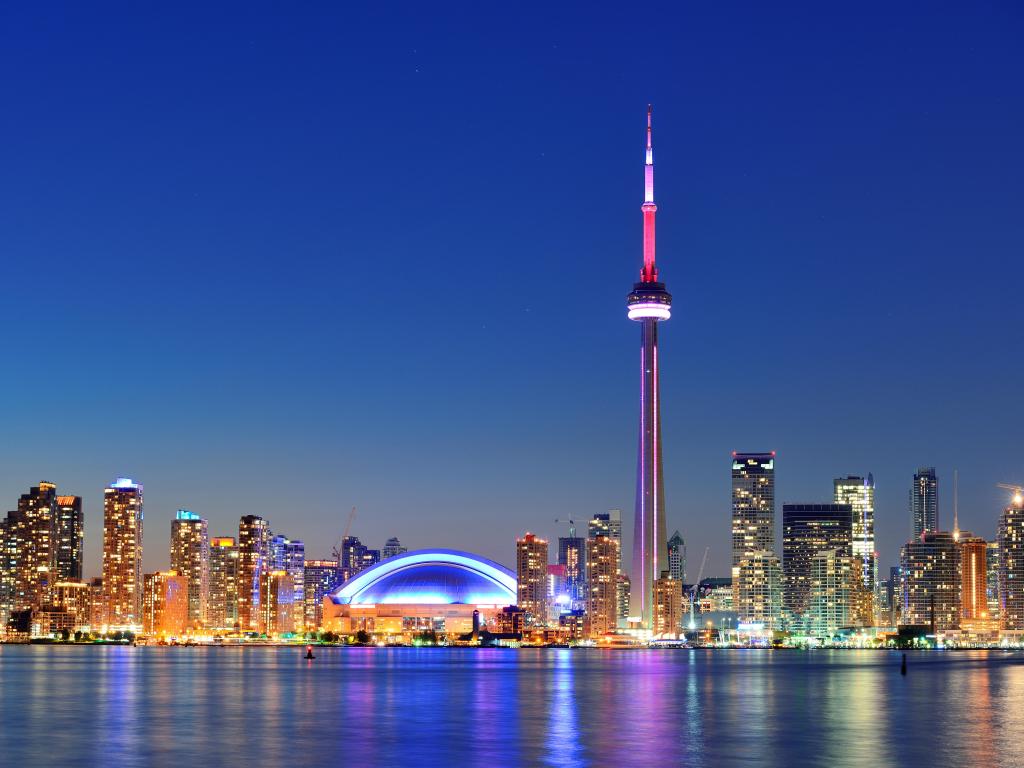 Toronto is the capital of Ontario, and one of Canada's main cities. Located around 90 minutes from Niagara Falls on the route that shares its name, it makes for a great overnight stop to rest and relax and allows you to arrive at your final destination fully refreshed.
As you would expect in such a thriving metropolis, there is an abundance of accommodation options to choose from and a stay at the Pantages Hotel Toronto Centre is an ideal base to explore this fantastic city.
Situated in the heart of downtown Toronto, this stylish and sophisticated hotel houses the Stages Restaurant and Lounge, which is the perfect place to sample delicious local cuisine and sip a cocktail before heading out to experience Toronto's music scene and nightlife.
This hotel is within walking distance of the Hockey Hall of Fame, the beautiful Harbour-front and many of the city's most famous attractions such as the Royal Ontario Museum, which is worth visiting for the architecture alone.
A trip to Toronto wouldn't be complete without visiting its most famous landmark, the CN Tower, one of Canada's architectural masterpieces. Enjoy spectacular 360-degree views over the entire city from the observation floor with stunning panoramic views as far as the eye can see.
Where to stay when you reach Niagara Falls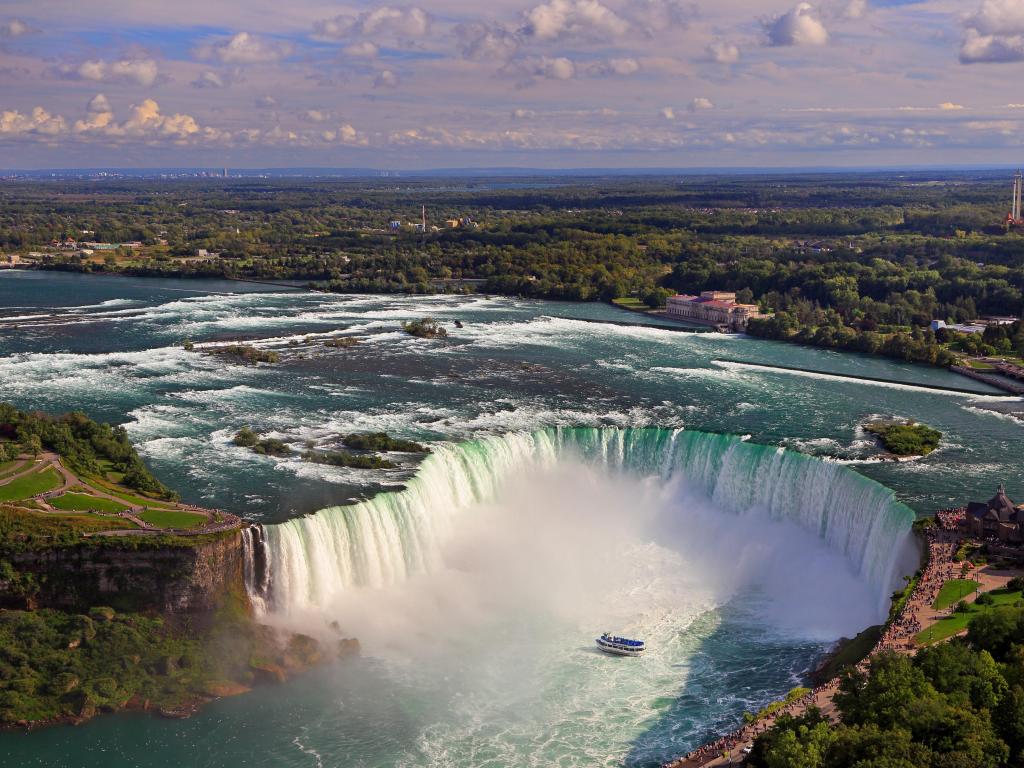 Once you've reached your final destination, you'll be in awe at the stunning Horseshoe Falls, one of the most visited tourist destinations in the world.
You can see the falls on foot from the many viewing areas or take a boat tour and view them from the water below. You can also enjoy spectacular views of the iconic waterfalls from the comfort of your own room with a stay at the Hilton Niagara Falls / Fallsview Hotel and Suites.
This luxury 4-star contemporary hotel also has a rooftop restaurant and lounge with fall views, in addition to a steakhouse, Italian eatery and a trendy bar and café so you can enjoy the incredible views in style.
Take a tour on the Maid of the Mist and sail as close to the falls as possible, to get a unique view of the falls from below, and visit the Cave of the Winds, where you'll don waterproofs and take a catwalk to the bottom of the falls for a rewarding view of the astonishing cascading waters.
Things to see on a road trip from Milwaukee to Niagara Falls
There is so much to see on a trip from Milwaukee to Niagara Falls that you will need to plan ahead to ensure you can fit everything in. WIth endless new attractions to discover, we have recommended a few of our favorites to help you plan a fun-filled itinerary:
The Toronto Route
Grand Haven - Located on the East shore of Lake Michigan, known for its sandy beaches and restaurant-lined boardwalk. This is a good stop after the ferry crossing. Beautiful walking trails with lake views can be taken from the Rosy Mound Natural Area.
Holland - Famous for its big red lighthouse, Holland is on the shore of Lake Macatawa, by the channel connecting it to Lake Michigan. Visit the beachfront Holland State Park to see deer and migratory birds.
Grand Rapids - Visit the Frederik Meijer Gardens and Sculpture Park to explore the tropical conservatory and many garden spaces. Art lovers will enjoy the art collection housed amongst the plants.
Ann Arbor - Home to the University of Michigan, Ann Arbor is a good stop for museum buffs. The University museum of art has huge collections of famous artists from around the world. Other museums of note include the Museum of Natural History and the Ann Arbor Hands-On Museum which is a great day out for kids.
Henry Ford Museum of Innovation - Find inspiration in past innovation, learning about the minds and lives of American innovators from history.
Detroit - Eat deep-dish pizza and explore the nightlife and shopping opportunities of this waterfront city. Learn about iconic Motown artists and see the industrial murals of Diego Rivera, the famous Mexican painter.
Lake St. Clair - Save some time to visit Lake St. Clair, a freshwater lake lying on the border between Canada and America. The bright blue waters are perfect for water sports and swimming.
London - Known as the Forest City, take some time out in this beautiful Canadian city. Home to the University of Western Ontario, London boasts an impressive range of museums exhibiting everything from classic art to historical artifacts.
Stratford - Named after Stratford-upon-Avon in England, this Canadian city offers plenty of Shakespearean experiences for visitors, including the Stratford Festival which sees Shakespeare plays in many theatres.
Hamilton - Split by the Niagara Escarpment, a 750km ridge of fossil-filled rock that runs from Niagara to Tobermory. Offering endless hiking and biking trails to explore. Hikers can expect to find waterfalls, impressive rock formations, wild forests, and wildlife.
Burlington - This city is home to a thriving arts scene, outdoor pursuits, and plenty of museums. Famous for the Royal Botanical Gardens featuring over 1500 types of plants.
Toronto - Take in the towering skyscrapers of the Toronto skylines and relax in the many green spaces of this wonderful city.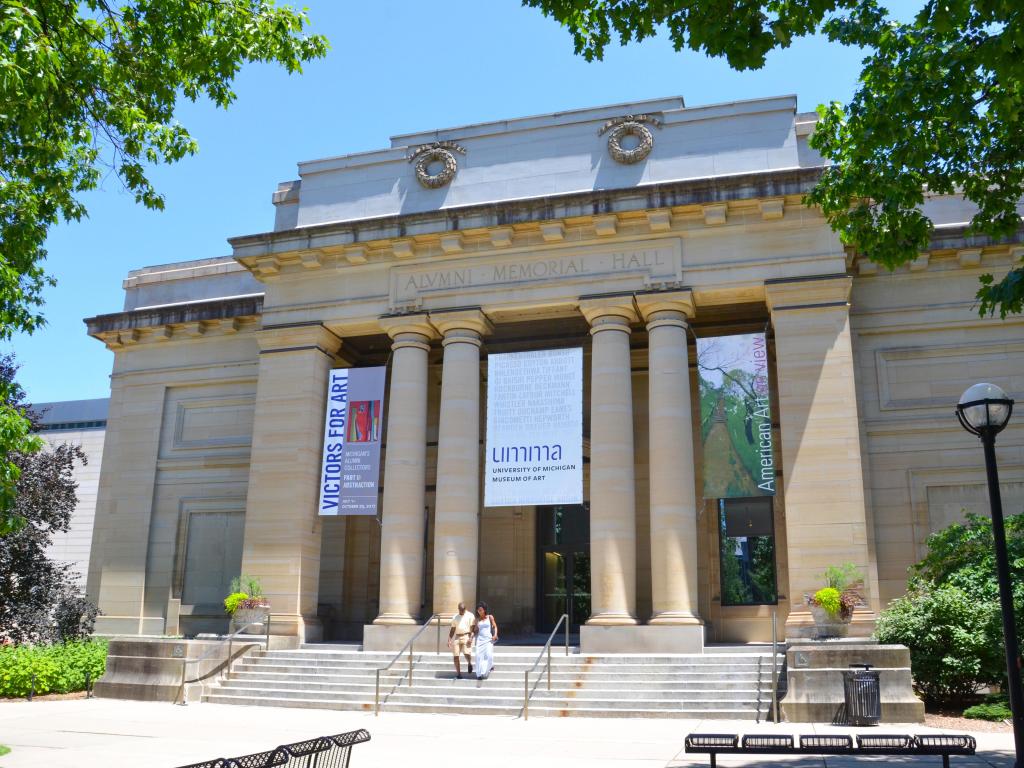 The Chicago Route
Chicago - Sitting on the banks of Lake Michigan, famous for its architecture and skyline filled with skyscrapers like John Hancock Center, Willis Tower, and Tribune Tower.
Art Institute of Chicago - Art museum famous for its collection of Impressionist and Post-Impressionist paintings. No visit to Chicago is complete without a visit.
Indiana Dunes National Park - Visit the beautiful national park on the Southern shore of Lake Michigan. With hiking trails, nature spotting, and swimming, take in the breathtaking views over Chicago or a spectacular sunset.
Fort Wayne - Known for its beautiful parks and boulevards, visit the Foellinger-Freimann Botanical Conservatory for indoor tropical and desert gardens. Or see American paintings and sculptures at the Fort Wayne Museum of Art.
Toledo Museum of Art - Sitting on the edge of Lake Erie, this city is home to the Toledo Museum of Art which boasts an impressive collection of modern and renaissance art. Nicknamed the glass city, the museum also reflects the impact this industry has had on the city.
East Sandusky Bay Water Trail - Walk this short trail for beautiful views of the bay, and learn about local cultures and wildlife.
Cuyahoga Valley National Park - Go chasing waterfalls in this scenic national park, just a short distance away from Cleveland. Walk the restored Ohio and Erie Canal Towpath Trail, or visit the Canal Exploration Center to learn about 19th-century waterway history.
Presque Isle State Park - A peninsula with beaches and walking trails, visit this isle for different views of the city of Erie.
Sturgeon Point Marina - Boat lovers will love visiting this marina, with picturesque views of Lake Erie. A beautiful place for a picnic break to break up the journey.
Buffalo - Buffalo is ranked fourth in a list of American Top Art Destinations, boasting over 50 private and public art galleries.
Best time to go on a road trip from Milwaukee to Niagara Falls
Niagara Falls is open all year round, however some attractions like Maid of the Mist and Cave of the Winds are only open until October or November. Visitor experiences in the winter can be negatively affected by icy conditions.
Summer is a busy time to visit Niagara Falls, but visitors benefit from warm weather with highs of around 80.6 degrees Fahrenheit and lows of 57 degrees Fahrenheit. All tourist attractions will be open and busy during the summer months.
Niagara Falls is beautiful in the winter but can be very cold. Average temperatures range from 28 degrees Fahrenheit and lows of 14 degrees Fahrenheit. As mentioned above, some tourist attractions will be closed in the Winter months, and some viewing areas will be inaccessible.
In Spring and Fall, average temperatures sit in the mid-80s degrees Fahrenheit in the shoulder seasons, but mists and breeze from the falls will make it feel cooler. Hotels and attractions will be quieter at this time of the year, and better hotel deals may be available.
Niagara Falls holds music and cultural festivals throughout the year, including the Northwest Jazz Festival at the end of August, and the Niagara Celtic Heritage Festival.