Road Trip from Los Angeles to Crater Lake National Park
Whether you fancy tracking the rugged Pacific coastline, or would rather survey majestic mountains and national Parks, a road trip from Los Angeles to Crater Lake has a route that will fit you perfectly. Take a journey to the deepest lake in the United States and reawaken your senses!
The 1,300-mile road trip from Los Angeles to Crater Lake National Park takes 22 hours to drive. You can see Malibu, San Luis Obispo, Big Sur, Monterey and San Francisco via the Pacific Coast Highway; or Lake Tahoe, Kings Canyon and Yosemite National Parks inland.
Read on to discover our favorite routes from Los Angeles to Crater Lake, based on the best things to see and do on the way. We'll also highlight our recommended stopover points, some fabulous hotels and the best time to take this amazing, nature-filled trip.
How far is Crater Lake National Park from Los Angeles, and how long will the road trip take?
Comparison of road trip routes between Los Angeles and Crater Lake National Park

| Route | Distance | Driving Time |
| --- | --- | --- |
| The Coastal Route | 1,160 miles | 24 hours |
| The Inland Route | 1,000 miles | 20 hours |
If small, laid-back beach towns and sunsets are your jam, then you'll absolutely love our Coastal Route, with its glorious stretch of the Pacific Coast Highway. It will take you 24 hours to drive from Los Angeles to Crater Lake via this route, covering a distance of 1,160 miles.
The Inland Route, on the other hand, comes in slightly shorter at 1,000 miles and 20 hours in duration. If you've got your hiking boots ready and crave the fresh mountain air, then this route will totally deliver, with Sequoia, Kings Canyon and Yosemite National Parks all via points on the way.
You are unlikely to find either of these routes all that challenging to drive. The Inland Route is perhaps the more tricky of the two, with mountainous areas leading to the national parks, but all of the roads involved are well-maintained and only open during seasons with suitable driving conditions.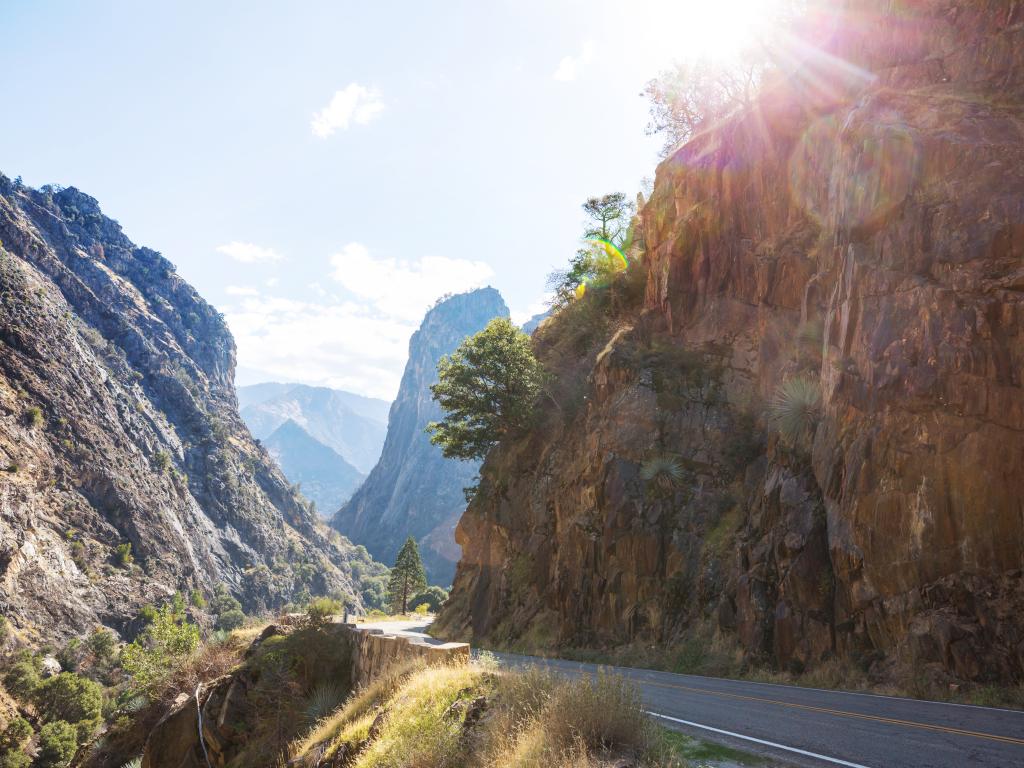 The Pacific Coast Highway is one of America's most popular drives and, as such, you're more likely to be caught in slow-moving traffic, as tourists flock to catch the incredible views. You'll also be passing through more towns on this route, so you can expect this to add time to your journey.
Whichever route you choose, you'll be blessed with some of the best scenery that the West Coast has to offer. Read on to look at the routes in a little more detail.
Best road trip route from Los Angeles to Crater Lake National Park
As we've already said, the road trip from Los Angeles to Crater Lake National Park is blessed with two contrasting, yet fabulous, route options. Ideally, we recommend that you take one route on your way to Crater Lake, and return via the other.
On the Coastal Route, you can expect rugged, dramatic cliffs over the Pacific Ocean, with Big Sur being one of our favorite stops. The route is also dotted with charming coastal towns, such as Carmel-by-the-Sea, where you can shop, dine, sightsee and take in that fabulous West Coast atmosphere.
And let's not forget those panoramic ocean views. Whether you're driving past Pismo Beach, Half Moon Bay, Monterey or any other town along the Pacific Coast Highway, you're perfectly placed to take in a stunning sunset over the sea. And if classic architecture is more your thing, you can also visit Mendocino and Santa Barbara which just ooze history.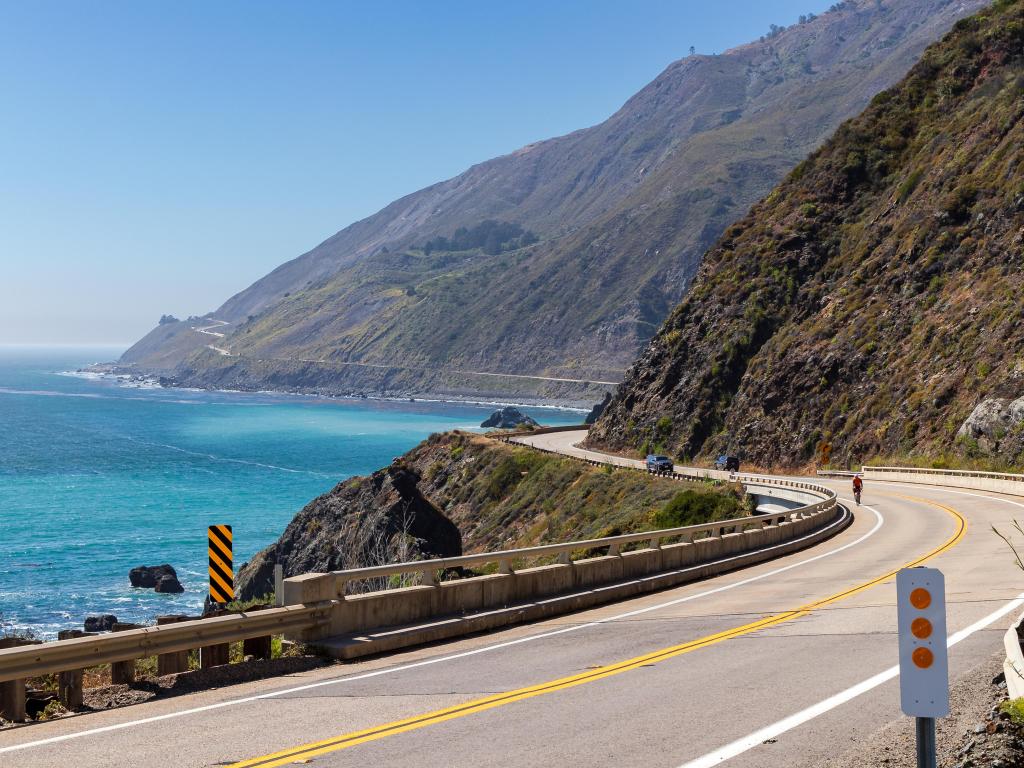 While the Coastal Route is undeniably gorgeous, we'd be shortchanging you if we didn't point you in the direction of the Inland Route. With the majestic granite cliffs of Yosemite, to the imposing Sequoias of Kings Canyon, this route is a hiker's dream.
The Inland Route also passes legendary Lake Tahoe, with its crystal-clear waters, surrounded by mountains. Be sure to choose this route if you are keen on winter sports or active summertime pursuits. There's plenty to do!
And just like the Coastal Route, there is plenty on offer for history buffs if you're taking the Inland Route to Crater Lake. Make a pit-stop at Sonora or Mariposa to appreciate their Gold Rush-era architecture and preserved 19th-century buildings.
Whichever route you choose, your road trip from Los Angeles to Crater Lake is sure to be an unforgettable one.
The Coastal Route
While the majority of the Coastal Route follows the famous Pacific Coast Highway, you'll begin your road trip on I-10 heading out of Los Angeles.
Once you join the Pacific Coast Highway, though, head straight to Malibu. Marvel at the coastal views, beaches, and upscale communities while making a pit stop at Malibu Pier or Surfrider Beach, around 45 minutes into your journey.
Continue up the Pacific Coast Highway through charming towns and picturesque beaches on your way to Santa Barbara, stopping by Carpinteria or El Capitan State Beach. Then, drive towards San Luis Obispo and admire coastal views, beaches, and vineyards along the way—Gaviota and Pismo Beach are must-sees!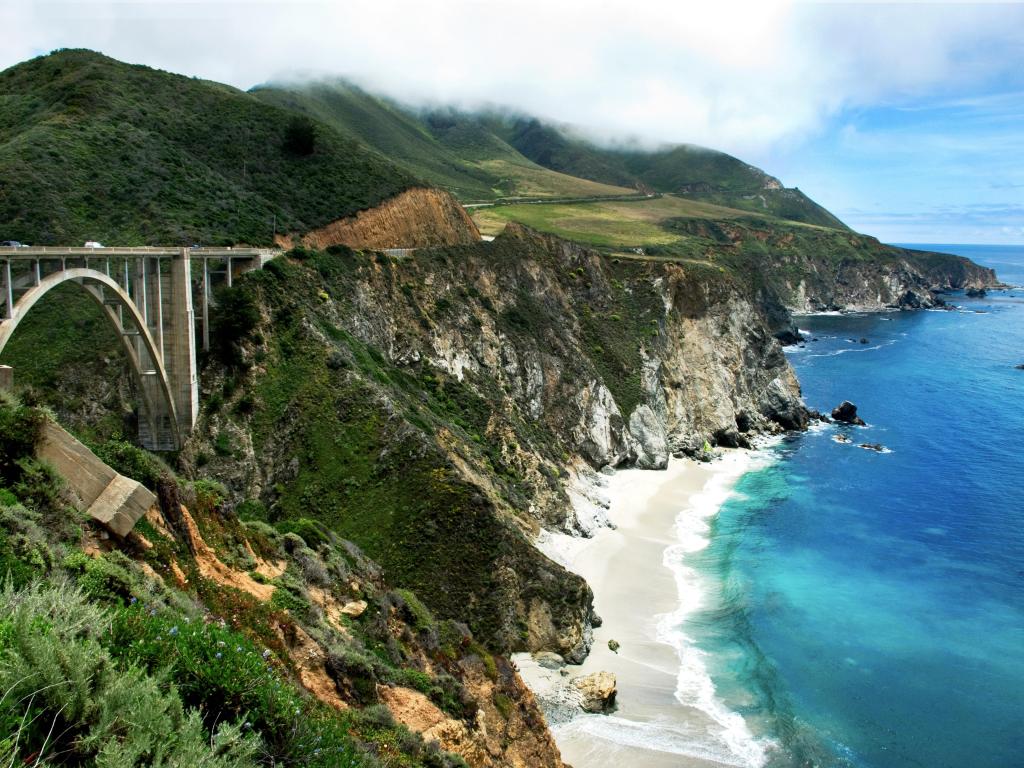 As you venture from San Luis Obispo to Monterey (another 3 hours), you'll encounter dramatic cliffs, rugged terrain, and unforgettable sights like Morro Bay, Big Sur, and Bixby Creek Bridge. Next, head to Santa Cruz and explore the enchanting 17-Mile Drive and Pacific Grove, featuring coastal views, forests, and beaches.
From Santa Cruz, drive for another hour towards Half Moon Bay, visiting Ano Nuevo State Park and Pescadero en route. Then, make your way to San Francisco and be captivated by the iconic Golden Gate Bridge and Ocean Beach.
Leave the city behind on US-101 N and immerse yourself in the awe-inspiring redwood forests of Redwood National and State Parks and Avenue of the Giants on your way to Eureka. This part of the road trip should take around 5 hours to drive. Next, take US-199 northbound to Grants Pass, enjoying Smith River, Jedediah Smith Redwoods State Park, and breathtaking coastal views, forests, rivers, and mountains.
Finally, travel for around 30 minutes on the I-5 to Medford and savor the stunning Rogue River and Applegate Valley before taking OR-62 E to Crater Lake National Park. Along the way, delight in the scenic Rogue River Gorge and Union Creek.
The Inland Route
The inland journey from Los Angeles to Crater Lake National Park begins on I-5 N to Bakersfield, where you'll encounter the Grapevine, Tejon Ranch, and a landscape of mountains and vast agricultural plains.
Next, take CA-99 N to Fresno, passing vineyards, Kings River, and Tule River Indian Reservation. Then, follow CA-41 N to Yosemite National Park (another two hours), passing through Sierra National Forest and Bass Lake, showcasing picturesque forests, mountains, and a scenic drive.
Travel along CA-120 E from Yosemite National Park to Lee Vining and be captivated by the forests, alpine lakes, and mountain pass of Tioga Pass and Tuolumne Meadows. Continue on US-395 N to Reno, taking in the high desert, ghost town of Bodie State Historic Park, and the beauty of Mono Lake.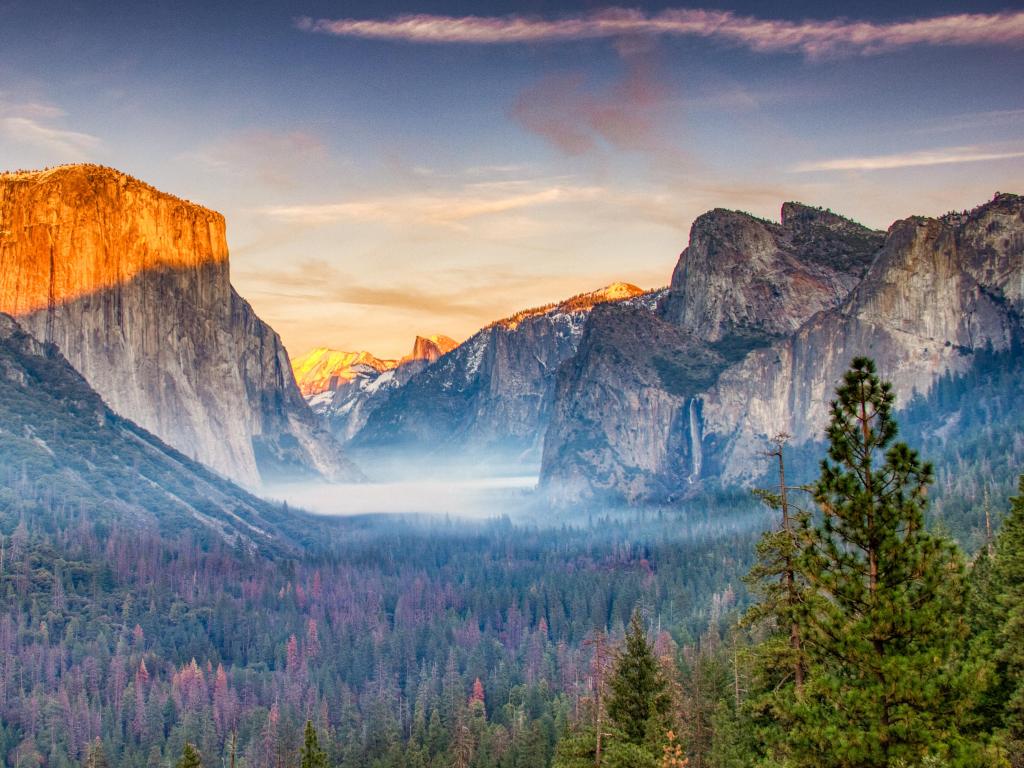 From Reno, navigate I-80 W, I-505 N, and I-5 N to Redding. Along the way, explore Lassen Volcanic National Park and Shasta Lake, boasting mountains, forests, and a volcanic landscape. Journey on CA-299 W from Redding to Eureka, via the Trinity River, Whiskeytown Lake, and captivating rivers, forests and mountain passes.
As with the Coastal Route, take US-199 N to Grants Pass and then head to Medford on I-5 N. Finally, follow OR-62 E to Crater Lake National Park and enjoy your beautiful destination!
Best places to stop between Los Angeles and Crater Lake National Park
On a trip like this - full of lovely towns and stunning nature spots - it can be difficult to decide on just where to choose to spend the night. Rest assured, though, as we've got you covered with two of our favorite overnight stops: one for each route. And we've also chosen our favorite place to stay near Crater Lake National Park.
Stroll along Moonstone Beach at Cambria
Located around a third into your journey along the Coastal Route, Moonstone Beach is an enchanting stopover destination that offers an array of natural wonders and unique attractions. The beautiful coastline, replete with tide pools, a boardwalk, and opportunities to view marine wildlife, makes it an unforgettable place to unwind and explore during your road trip.
One of the must-see attractions in the area is the Hearst Castle, an opulent historic mansion that once belonged to William Randolph Hearst. Situated just under 10 miles from Moonstone Beach, the castle features guided tours, an extensive collection of art and antiques, and breathtaking architecture.
For a more eclectic experience, consider visiting Nitt Witt Ridge, a one-of-a-kind folk art environment crafted from recycled materials and found objects. This quirky attraction showcases the creativity and resourcefulness of its builder and offers a fascinating glimpse into an unconventional artistic vision.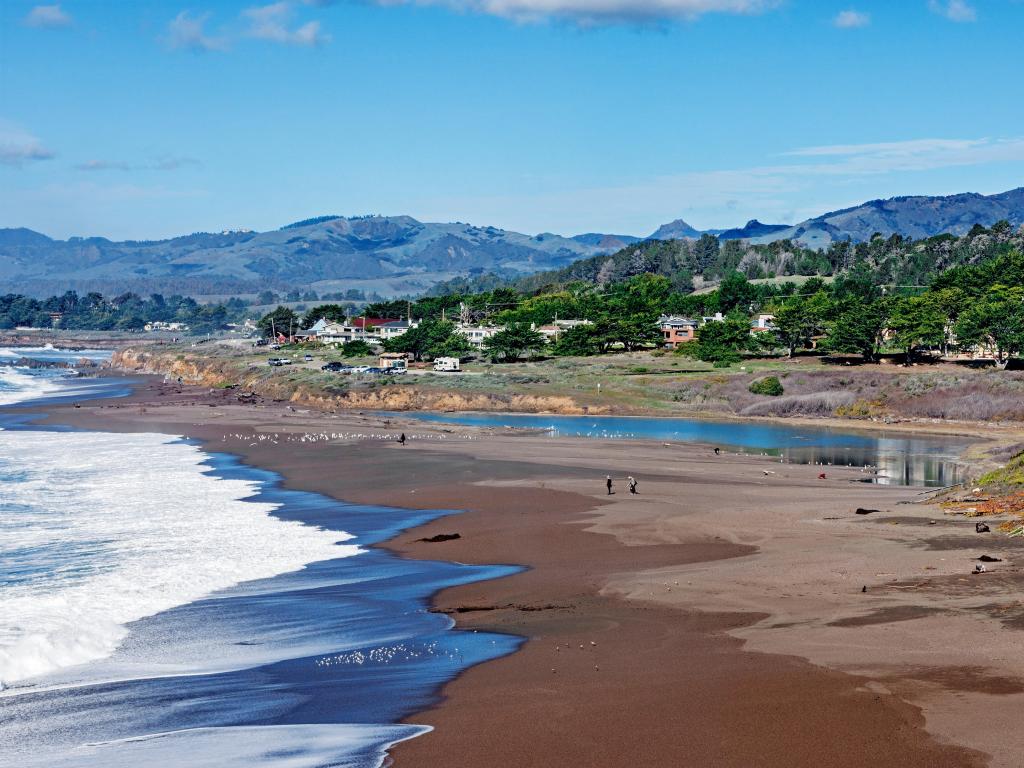 To make the most of your stay at Moonstone Beach, we recommend the White Water as your overnight accommodation. This oceanfront property boasts stunning views of Moonstone Beach and is just a 2-minute walk away from the coastline.
The White Water Hotel offers an on-site spa featuring a variety of treatments using locally-sourced, natural ingredients. Indulge in a pampering session while enjoying the spa's organic toiletries. Each room is also equipped with binoculars, allowing guests to fully appreciate the area's abundant wildlife and breathtaking ocean views.
Eco-conscious travelers will appreciate the complimentary electric vehicle charging stations available at the hotel, ensuring a convenient and environmentally-friendly experience. With its fantastic amenities, convenient location, and connection to the natural beauty of the area, White Water Hotel is the perfect base for your Moonstone Beach stopover.
Please check our comprehensive guide out to learn more:
READ MORE - Our Guide to Moonstone Beach
Embrace the great outdoors at Lake Tahoe
Nestled among the mountains, Lake Tahoe is a stunning alpine lake that provides a breathtaking backdrop, around two thirds along the Inland Route.
From skiing and snowboarding to hiking and boating, Lake Tahoe is an outdoor enthusiast's dream destination and a perfect stopover for your road trip.
During the winter months, don't miss out on a visit to Heavenly Mountain Resort, a premier ski destination located just 5 minutes from the recommended hotel. The resort offers skiing, snowboarding, and scenic gondola rides that showcase the area's awe-inspiring beauty.
Emerald Bay State Park is another must-see attraction in Lake Tahoe. This picturesque park features a historic mansion, hiking trails, and boat tours that allow visitors to fully immerse themselves in the region's natural splendor.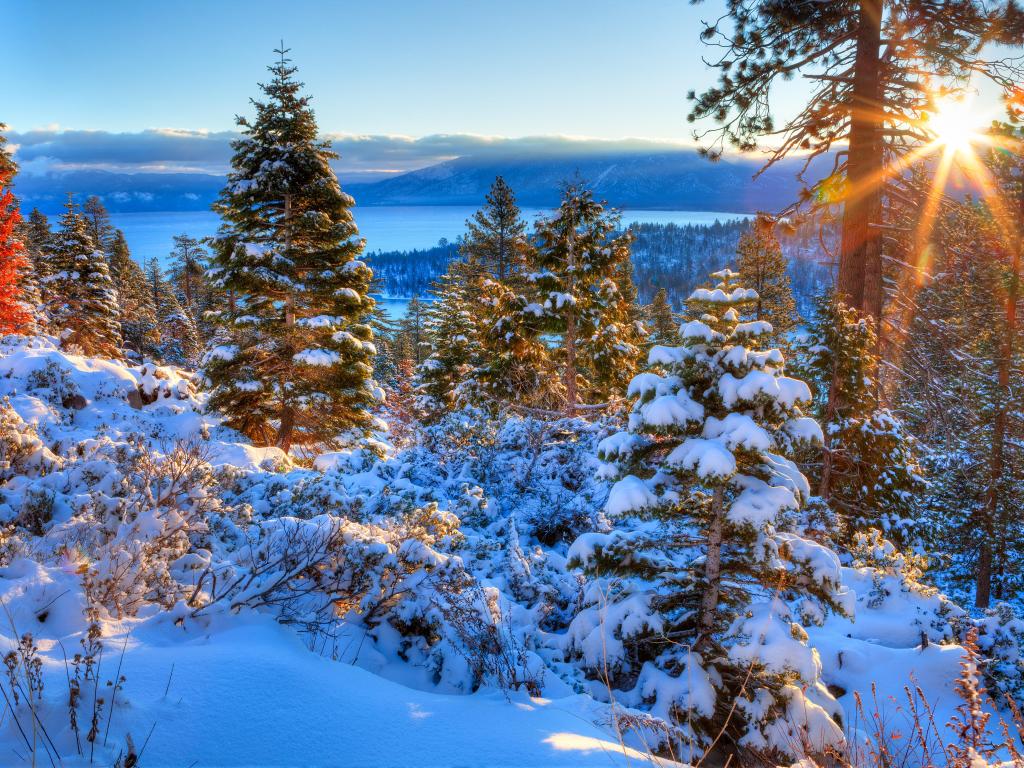 For your stay in Lake Tahoe, we highly recommend the Desolation Hotel. The rooms come with private balconies and fireplaces, creating a cozy atmosphere for guests to unwind after a day of adventure. The hotel also offers unique themed suites that reflect the natural beauty of Lake Tahoe, incorporating natural materials for a fresh and inviting mountain vibe.
Desolation Hotel ensures that guests have easy access to winter sports by providing an on-site ski and snowboard rental facility. Additionally, the hotel offers a complimentary shuttle service to nearby ski resorts and attractions, making your stay even more convenient.
To help you relax after a day of outdoor activities, Desolation Hotel features a heated outdoor pool and hot tub, which can be enjoyed year-round.
And for some memorable evening entertainment, consider attending the Tahoe Magic Show, just over 5 minutes away from the hotel by car. This intimate, family-friendly magic show features the talented magician Alex Ramon and is sure to delight guests of all ages!
Where to stay when you reach Crater Lake National Park
Crater Lake National Park is a remarkable destination known for its pristine lake, striking landscapes, and abundant outdoor activities. For your stay at this awe-inspiring location, we recommend the Crater Lake Resort which, as its name suggests, is one of the most conveniently-located hotels for the Park.
The resort features a rustic, eco-friendly design that blends seamlessly with the natural surroundings. Guests can enjoy breathtaking scenery from the comfort of their rooms, which come with private balconies or patios.
Crater Lake Resort offers guided tours and outdoor activities such as hiking, snowshoeing, and stargazing, allowing you to fully immerse yourself in the park's beauty. Complimentary bicycles are also available for guests who wish to explore nearby trails.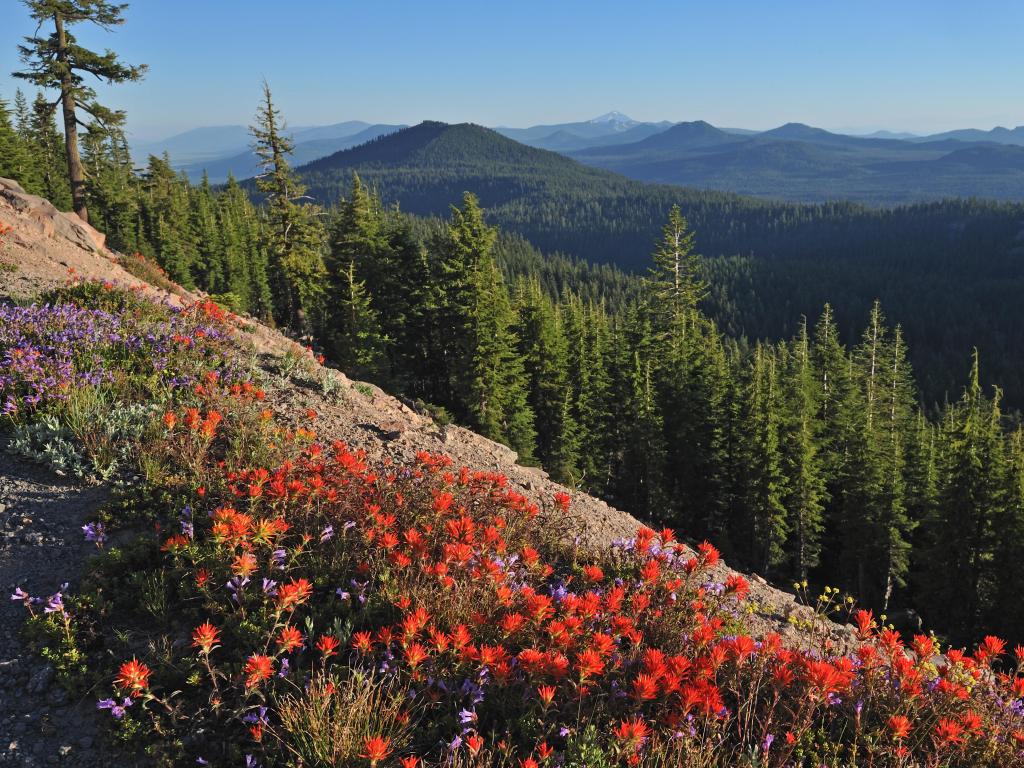 One thing you simply must try while you're at Crater Lake National Park is the legendary Rim Drive: a scenic 33-mile loop that offers stunning viewpoints of the lake and its surroundings. You can also take a boat tour for an opportunity to explore the Lake's deep blue waters and the intriguing Wizard Island.
For a unique geological experience, visit The Pinnacles, an area of volcanic spires formed by erosion and accessible via the Pinnacles Trail.
With its outstanding location, comfortable accommodations, and array of outdoor activities, Crater Lake Resort is the perfect base for your adventure in Crater Lake National Park.
Things to see on a road trip from Los Angeles to Crater Lake National Park
Whether you decide to cruise along the coast or take a hike inland, a road trip from Los Angeles to Crater Lake is overflowing with things to see, do and enjoy.
We've handpicked a few of our favorite attractions from either route to help you make the tricky decision of which one to take!
On The Coastal Route
El Matador State Beach - Renowned for its striking sea stacks and rugged shoreline, El Matador State Beach offers a stunning backdrop for photography enthusiasts and a perfect setting for tranquil beach strolls.
Point Lobos State Reserve - A diverse coastal reserve that boasts tide pools, hidden coves, and picturesque trails, Point Lobos State Reserve is a haven for nature lovers and offers a glimpse into California's rich marine biodiversity.
Half Moon Bay State Beach - Comprising a stretch of protected sandy beaches bordered by scenic coastal bluffs, Half Moon Bay State Beach is an idyllic location for leisurely walks, sunbathing, and enjoying the picturesque landscape.
Glass Beach - Located in Fort Bragg, Glass Beach features unique sea glass formations, created by years of natural erosion, which lends the shoreline an unforgettable, shimmering appearance that draws visitors from far and wide.
Pigeon Point Lighthouse - Standing 115 feet tall, this historic lighthouse was built in 1871 and offers visitors breathtaking coastal views, along with a rich maritime history that enhances the charm of California's coastline.
Mendocino Headlands State Park - A historic park with captivating vistas, Mendocino Headlands State Park is also the site of the former Mendocino Indian Reservation, adding a layer of cultural significance to its natural beauty.
Monterey Bay Aquarium - A world-renowned institution, Monterey Bay Aquarium showcases a diverse array of marine life and focuses on conservation efforts, featuring adorable sea otters as one of its star attractions.
Chandelier Drive-Thru Tree, Leggett - Towering at 315 feet, this remarkable redwood tree features a tunnel carved through its base, offering visitors a unique photo opportunity and an unforgettable encounter with nature.
Exploratorium, San Francisco - An engaging hands-on science museum, the Exploratorium offers a wealth of interactive exhibits and experiences that inspire curiosity and learning for visitors of all ages.
Duarte's Tavern, Pescadero - Established in 1894, this historic family-owned tavern is renowned for its delicious seafood, mouthwatering pies, and local artichoke dishes, making it a must-visit destination for food and history enthusiasts.
Bixby Creek Bridge, Big Sur - Featured in movies like "The Sandpiper" and TV shows like "Big Little Lies," the iconic Bixby Creek Bridge is a testament to architectural beauty and offers spectacular views of the surrounding landscape.
Julia Pfeiffer Burns State Park, Big Sur - Known for the enchanting McWay Cove Beach and WcWay Falls, an 80-foot waterfall that cascades into the Pacific Ocean, Julia Pfeiffer Burns State Park is a magical destination that captivates nature lovers and photographers alike.
Bubblegum Alley, San Luis Obispo - A quirky and colorful narrow alleyway, Bubblegum Alley has attracted visitors for decades, who come to leave their mark by sticking their chewed gum on the walls, creating a vibrant, ever-changing piece of art.
Morro Bay State Park - Featuring a serene lagoon, diverse marsh habitat, and the iconic Morro Rock, Morro Bay State Park is an ideal destination for birdwatching, boating, and soaking in the stunning beauty of California's coastline.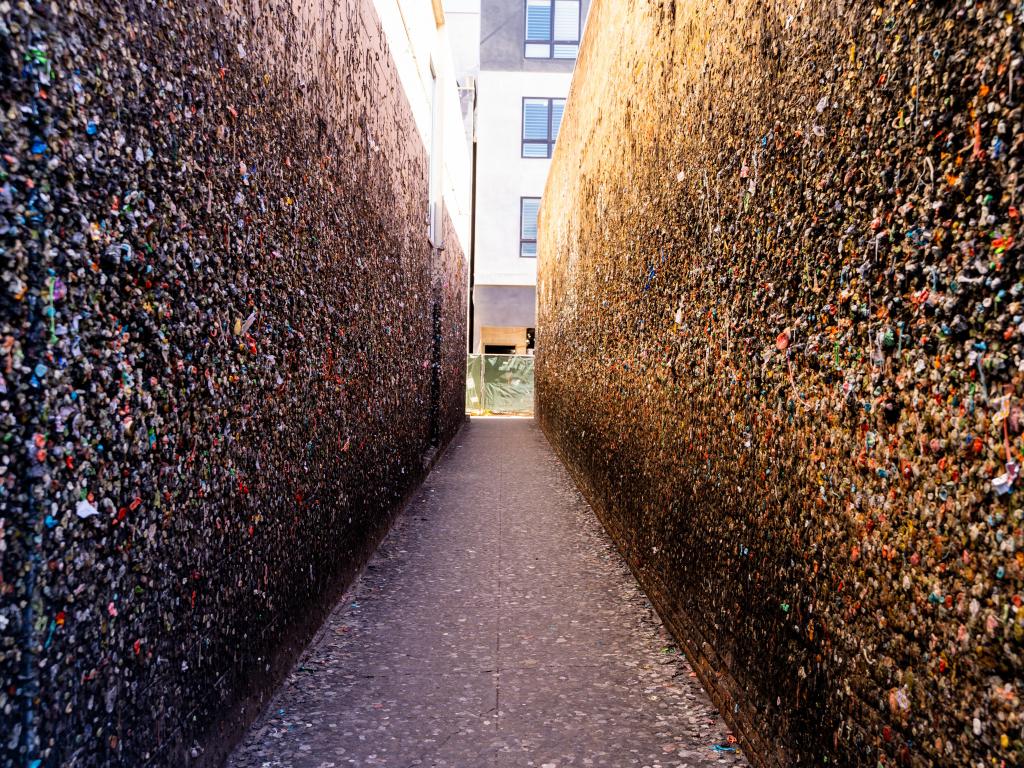 On The Inland Route
Six Flags Magic Mountain, Santa Clarita - This thrilling amusement park features world-class roller coasters, exciting attractions, and fun-filled entertainment for the entire family, making it a must-visit destination in Southern California.
Buck Owens' Crystal Palace, Bakersfield - A legendary music venue and restaurant that pays tribute to country music star Buck Owens, Crystal Palace offers live performances, great food, and a museum filled with memorabilia.
Sequoia National Park - Home to the world's largest trees, including the famous General Sherman Tree, Sequoia National Park offers majestic forests, hiking trails, and opportunities for wildlife spotting in a serene natural setting.
Kings Canyon National Park - Known for its dramatic landscapes, including the deep Kings Canyon, this national park offers picturesque vistas, serene meadows, and diverse hiking trails suitable for all levels of experience.
Fresno Art Museum - A cultural gem in the heart of Fresno, this museum showcases a diverse collection of contemporary and modern art, featuring local and international artists, along with engaging educational programs.
Yosemite National Park - This world-famous national park boasts granite cliffs, waterfalls, and pristine wilderness, offering visitors unparalleled opportunities for hiking, rock climbing, and wildlife observation.
Railtown 1897 State Historic Park, Sonora - A fascinating park that transports visitors back in time to experience California's railroad history, featuring historic locomotives, train rides, and a working roundhouse.
Emerald Bay State Park, Lake Tahoe - A jewel of Lake Tahoe, this picturesque state park features the historic Vikingsholm mansion, striking landscapes, and opportunities for hiking, boating, and other outdoor activities.
Sand Harbor Beach, Lake Tahoe - A pristine beach with crystal-clear waters, Sand Harbor offers a perfect setting for swimming, kayaking, or simply relaxing on the shore while taking in the breathtaking views.
Lassen Volcanic National Park - Home to Lassen Peak, an active volcano, this national park offers visitors a unique blend of hydrothermal features, lava formations, and scenic hiking trails that showcase the park's volcanic history.
Subway Cave, Lassen Volcanic National Park - A massive lava tube, Subway Cave offers a unique opportunity to explore the park's volcanic features up close, with guided tours available to provide geological context and ensure safety.
Lithia Park, Ashland - A beautiful 93-acre park in the heart of Ashland, Lithia Park features meandering trails, lush gardens, and tranquil water features, making it the perfect place for a relaxing stroll or a family picnic.
Rogue Creamery, Central Point - Located near Crater Lake National Park, Rogue Creamery is an award-winning artisan cheese maker, offering a delicious selection of handcrafted cheeses, along with wine and chocolate pairings.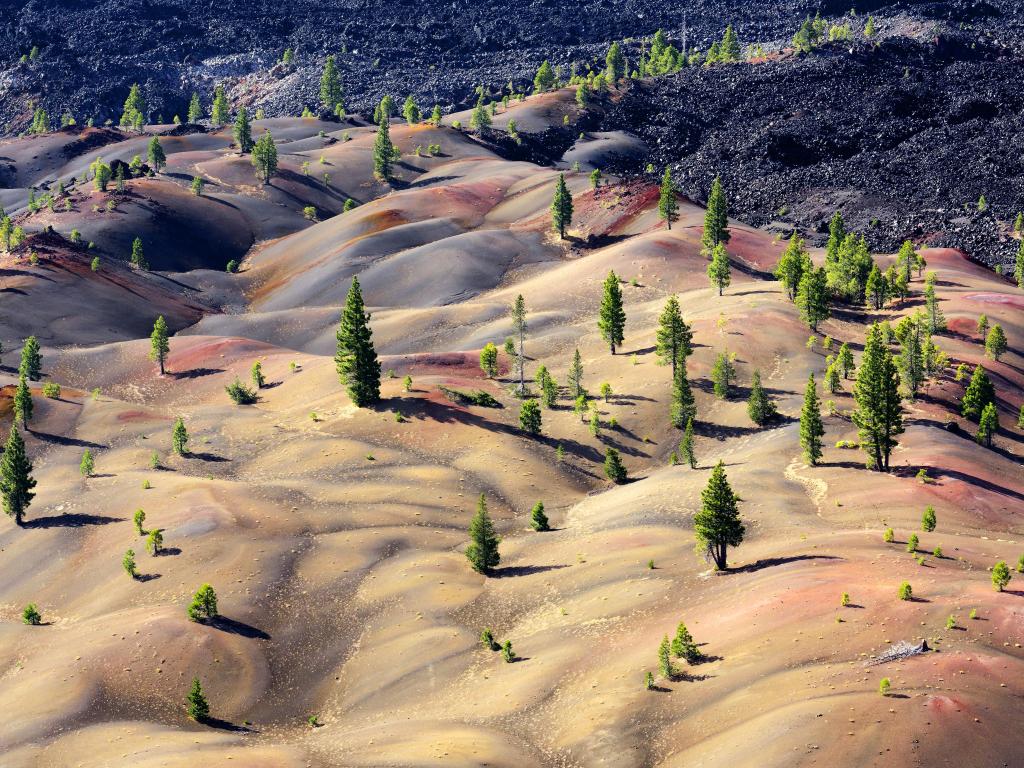 Best time to go on a road trip from Los Angeles to Crater Lake National Park
A road trip from Los Angeles to Crater Lake National Park can be taken year-round, but each season offers unique experiences.
Spring brings temperatures ranging from 40-75 degrees Fahrenheit along the coast and 40-80 degrees Fahrenheit inland. This season is perfect for witnessing wildflowers blooming and enjoying the Whalefest Monterey in March. At higher elevations, snow is still present, but waterfalls in Yosemite and Sequoia are active. Don't miss the Blossom Trail in Fresno in March.
Summer offers temperatures between 55-85 degrees Fahrenheit along the coast and 60-100 degrees Fahrenheit inland. It's peak season for coastal towns, beaches, and attractions, with cooler temperatures along the coast. National parks, including Lake Tahoe, Yosemite, Sequoia, and Kings Canyon, are busiest during this time. Check out the Kings Canyon Dark Sky Festival in July.
Fall features pleasant temperatures of 45-80 degrees Fahrenheit along the coast and 40-80 degrees Fahrenheit inland. Enjoy the fall foliage in northern parts of the route and fewer crowds. This season is ideal for hiking in cooler temperatures. The Mendocino Mushroom, Wine & Beer Festival takes place in November.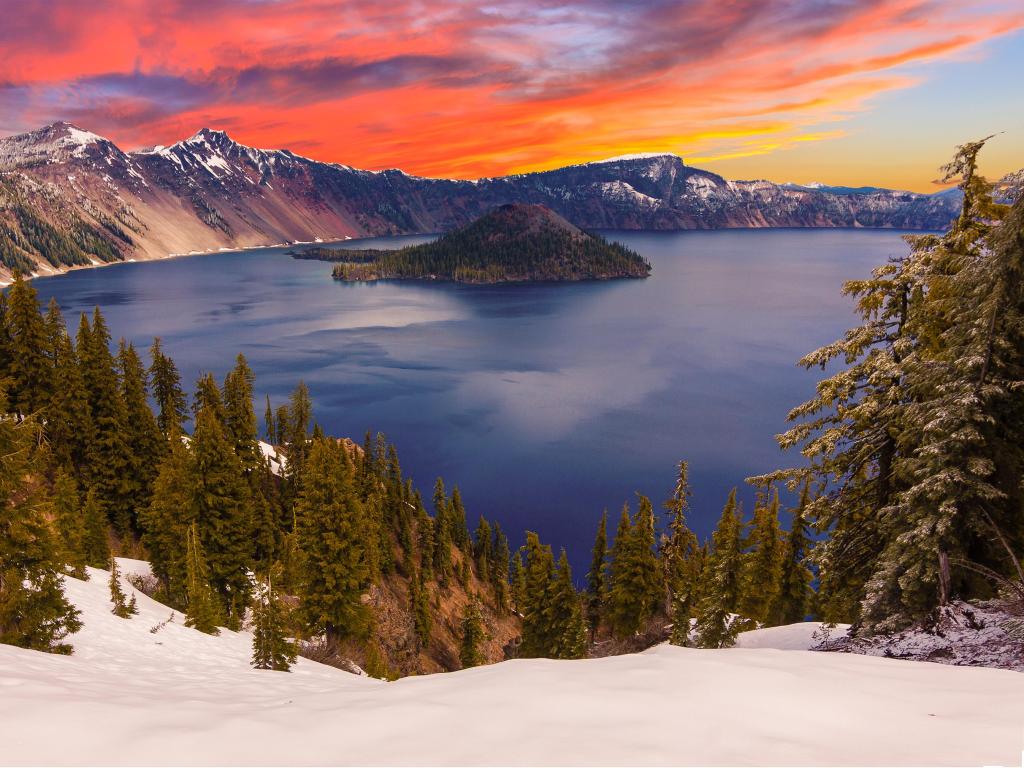 Winter has temperatures ranging from 35-65 degrees Fahrenheit along the coast and 20-60 degrees Fahrenheit inland. Expect winter storms and rough seas, fewer crowds, and opportunities for storm watching along the coast. Snow in national parks and Lake Tahoe offers winter sports, but be aware of possible road closures.
And if you're planning a festive visit to Crater Lake, you can time your trip to coincide with the Victorian Christmas in Eureka on the Inland Route in December, a festive holiday celebration with Victorian-themed events, carolers, and a holiday market.