Moonstone Beach, Cambria Travel Guide
Looking for a beach offering something different than a typical sandy shoreline? Then look no further than Moonstone Beach, Cambria, with a unique rocky coastline dotted with driftwood and "moonstones", for a beachcombing experience like no other. This unusual beach makes for an interesting and memorable visit along the Pacific Coast Highway.
A quick overview of Moonstone Beach, Cambria
Street Address
📍6700 Moonstone Beach Dr, Cambria 93428
Facilities at this beach

🕒 Opening hours (Sunrise to sunset)

🚗 Parking (Typically free)

🚻 Public restrooms

🧺Picnic tables
Where can I find the Moonstone Beach along the Pacific Coast Highway?
Just a couple of miles from Cambria city center, you'll find Moonstone beach between Monterey to the north and San Luis Obispo to the south.
As you approach Cambria there will be signs and turnoffs that lead directly to Moonstone Beach Drive, where you can access the beach. There is free parking all the way along Moonstone Beach Drive and at day-use area lots
While other beaches along the Pacific Coast Highway can get crowded, Moonstone Beach tends to be quieter, so head here for a more peaceful beach visit.
Why we love visiting Moonstone Beach
You are in for a treat during a visit to Moonstone Beach, where you can hunt for "moonstones", admire rocky outcrops, and explore tide pools. For those wanting a quieter coastal trip it ticks plenty of boxes, and is a must-visit for beachcombers and photographers.
How we rate the different aspects of Moonstone Beach
Feature
Our rating
Natural beauty and scenery
⭐⭐⭐⭐
Cleanliness and water quality
⭐⭐⭐
Peace and quiet
⭐⭐⭐⭐
Activities on offer
⭐⭐
Accessibility
⭐⭐
Moonstone Beach is best known for its rocky coastline dotted with tide pools and "moonstones". These unique features make it a haven for beachcombers.
West facing, Moonstone Beach boasts some of the most beautiful sunsets on the coast. Stay into the evening and you too can enjoy this beautiful sight.
Moonstone Beach Boardwalk stretches for about a mile along the coastline Along the way, benches and viewpoints offer great spots to relax and soak in the ocean views.
Cambria is a delightful coastal town with boutique stores, art galleries, and a range of restaurants. This charming town is ideal for people looking for both relaxation and adventure.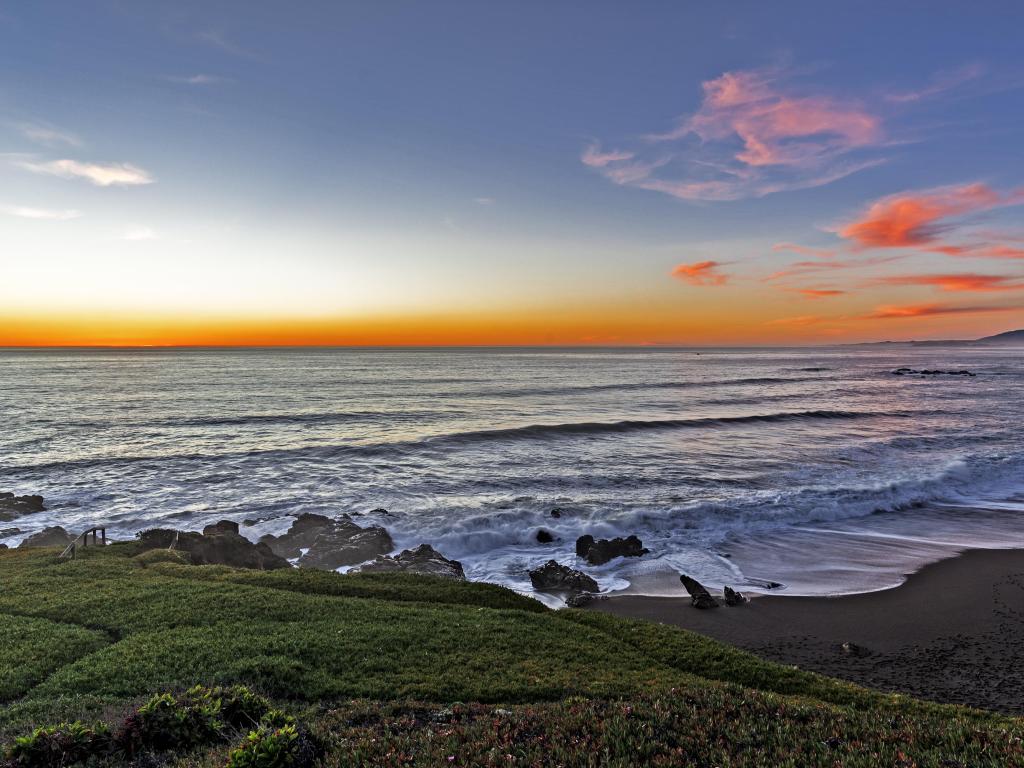 What else is there to do near Moonstone Beach?
There is plenty to keep you entertained during a visit to Moonstone Beach, however if you are looking for an attraction or two to add onto your trip, then why not check out our list of local attractions.
Shamel Park - Located by the sea, this six-acre community park offers a playground, BBQ areas, and a seasonal pool, and is a favorite spot for families and picnickers.
Cambria Historical Museum - Located in a beautifully restored 1870s home, this museum delves into Cambria's rich history.
Cambria's East and West Villages - These twin centers of Cambria merge history with modernity, with the historic architecture housing boutique shopping, art galleries, and restaurants.
Lampton Cliffs Park - This scenic park provides breath taking views of the Pacific Ocean, with plenty of walking trails and viewing decks to enjoy.
Common questions about visiting Moonstone Beach
Moonstone Beach is an interesting coastal stop off, and something different from the golden sandy shores you typically see. However, as this coastal retreat is a little different, and quieter than other beaches, check out which facilities you can expect to see during a visit here.
Is Moonstone Beach accessible and open year-round?
❌ No, most of Moonstone Beach is closed between April 1st to September 15th to protect the nesting Piping Plovers.
⭕ If you are planning to head to Moonstone Beach from April 1st to September 15th then visit the small section of beach at the end of Moonstone Beach Road which remains open.
Can I enjoy water sports at Moonstone Beach?
⭕ Yes. Moonstone Beach is not typically known for water sports, however some do swim, surf and paddle board at this beach.
Is Moonstone Beach easily accessible for those using wheelchairs or strollers?
❌ No, reaching the sandy or rocky parts of Moonstone Beach would be challenging for those with mobility issues as the ground is uneven.
❗ For those with lower mobility head to Moonstone Boardwalk which is wheelchair and stroller friendly.
Is there anywhere to buy refreshments at Moonstone Beach?
❌ No, at Moonstone Beach you are unable to purchase refreshments. However at Moonstone Beach Drive, which runs parallel to the beach, there are several hotels, restaurants, and cafes where you can purchase refreshments.
Are dogs allowed on Moonstone Beach?
❌ No, dogs are not allowed at Moonstone Beach, however dog are allowed on a leash along the Boardwalk.
Are there any changing facilities at Moonstone Beach?
❌ No, there are no changing facilities and public showers at Moonstone Beach.
Are there any beach chairs or umbrellas to hire at Moonstone Beach?
❌ No, you can not hire beach chairs and umbrellas at Moonstone Beach.
Is there anything else to watch out for when I visit Moonstone Beach?
Moonstone Beach is known for its smooth, polished, stones, but don't be tempted to take them home. It's important to look after this beautiful and unique beach!
Unlike other local larger baches, Moonstone Beach is not typically staffed with lifeguards, so be careful if you decide to take a swim.