If you are looking for something a bit different from a beach visit, when you can enjoy impressive views alongside beachcombing, then make sure to stop at colorful Glass Beach, Fort Bragg, a secluded and pretty beach that is a real talking point.
A quick overview of Glass Beach, Fort Bragg
Street Address
📍W Elm St and Glass Beach Dr. Fort Bragg, CA 95437
Facilities at this beach

🕒 Opening hours (All Day)

🚗 Parking (Free)

🚻 Public restrooms
Where can I find the Glass Beach along the Pacific Coast Highway?
Glass Beach is part of the MacKerricher State Park, just a short 4 minute drive from the center of Fort Bragg.
From the Pacific Coast Highway you'll need to head towards Pine Street, onto Main Street, and then Elm Street before arriving at Glass Beach. Follow signs then to the parking lot, where you are then just a short walk down to the beach along a dirt trail.
If you are arriving from San Francisco, then it's around 165 miles away, and a 3 and a half hour journey.
Why we love visiting Glass Beach
There are plenty of reasons why you should add Glass Beach to your itinerary as you journey along the Pacific Coast Highway.
You will get a chance to see the unique seaside gems that are dotted along the coast, and make for a very interesting visit! This is a great spot to stop at for nature lovers, beachcombers and photography fans.
How we rate the different aspects of Glass Beach
Feature
Our rating
Natural beauty and scenery
⭐⭐⭐⭐
Cleanliness and water quality
⭐⭐⭐
Peace and quiet
⭐⭐⭐
Activities on offer
⭐
Accessibility
⭐⭐
The appeal of Glass Beach is the colorful sea glass. This unique coastline makes for a curious and different experience.
Over time the waves have turned the debris into small, smooth, colored fragments. You can expect unique and striking photographs against the Pacific Ocean.
As a protected area, you must leave what you see at Glass Beach. It is important to continue to preserve this beautiful setting.
During your visit there are plenty of marine life in the rock pools along the beachfront. Look closely and may even spot sea lions from the shore.
Glass Beach is one of the most photographed shorelines along Pacific Coast Highway. Check out our list of the most popular places to take a snap, along with Glass Beach, as you make this journey.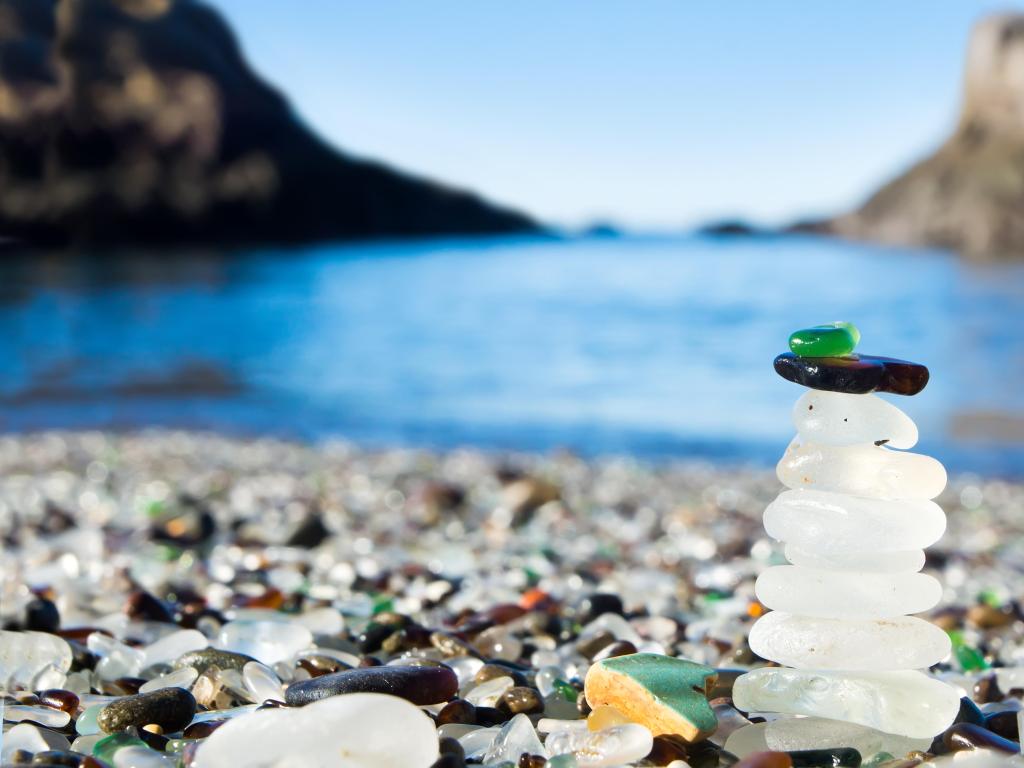 What else is there to do near Glass Beach?
Glass Beach, Fort Bragg, is a spectacle in itself, where you can enjoy a stroll across the unusual coastline. How about also checking out some of these other memorable attractions during your visit.
Mendocino Coast Botanical Gardens - The Mendocino Coast Botanical Gardens offer an impressive display of native plants and flowers.
Pudding Creek Trestle - The Pudding Creek Trestle stands as a testament to Fort Bragg's history, with a scenic bridge over the serene waters of Pudding Creek.
Guest House Museum - Housed in a beautifully preserved Victorian-era home, the Guest House Museum delves into Fort Bragg's history.
Fort Bragg Coastal Trail - Stretching along the Pacific, this trail offers a chance to experience breath taking ocean views, with plenty of local wildlife to also spot.
Noyo Headlands Park - With rugged cliffs and ocean views, this is an ideal spot for hikers to explore this beautiful coast.
Common questions about visiting Glass Beach
Glass Beach makes for a unique visit with polished glass, and different from the other sandy sites along Pacific Coast Highway. However, this less typical beach visit also has some considerations when it comes to accessibility and facilities.
Is Glass Beach accessible and open year-round?
⭕ Yes, Glass Beach is accessible year-round, and it is just a short walk from the car park.
Can I enjoy water sports at Glass Beach?
❌ No, you can not enjoy water sports at Glass Beach.
❗ The lack of sand and potential sharp stones make water sports and swimming unpopular here.
Is Glass Beach easily accessible for those using wheelchairs or strollers?
❗ You need to large rocks at Glass Beach which is harder to access with a stroller or wheelchair.
Is there anywhere to buy refreshments at Glass Beach?
❌ No, there is no convenience store or refreshment stand at Glass Beach, so make sure to stock up on supplies before you arrive.
Are dogs allowed on Glass Beach?
⭕ Yes, dogs are allowed on leashes at Glass Beach along trails and beaches.
Are there any changing facilities at Glass Beach?
❌ No, there are no changing facilities or showers at Glass Beach.
Are there any beach chairs or umbrellas to hire at Glass Beach?
❌ No, there are no beach chairs or umbrellas to hire at Glass Beach.
Is there anything else to watch out for when I visit Glass Beach?
It safe to visit Glass Beach but do follow the rules when it comes to being careful along the shoreline. Wearing protective gloves would allow you to sift through the glass treasure during your visit!