If you are seeking a classic California beach town vibe, with vast dunes and delicious seafood, then make sure to stop at beautiful Pismo Beach, which gives you all that and more. Close to amazing spectacles including Monarch Butterfly Grove and Oceano Dunes, this really is a jewel of a beach.
A quick overview of Pismo Beach, California
Street Address
📍340 Pomeroy Ave, Pismo Beach
Facilities at this beach

🕒 Opening hours (6am to 10pm)

🚗 Parking (Free from 4am-10am and 6pm-11pm, or otherwise $2.00 - $5.00/hour)

🛟 Lifeguard station

🚻 Public restrooms
Where can I find the Pismo Beach along the Pacific Coast Highway?
The closest major town to Pismo Beach is San Luis Obispo, which is about 13 miles, and a short 15 minute drive, to the north of Pismo Beach. Here you will find various restaurants, stores, and services.
If you're traveling on the Pacific Coast Highway then once you are closer to the area you'll be able to spot the Pismo Beach Automated Pay Parking Stations on each block and parking lot. This shows where pay parking is needed and "Pay to Park" signs show where paid parking receipts need to be placed in cars.
Conveniently, Pismo Beach is roughly midway between San Francisco and Los Angeles, just over three hours to reach each.
Why we love visiting Pismo Beach
There are plenty of good reasons why you should take time to visit Pismo Beach as you journey along the Pacific Coast Highway.
Located between Los Angeles and San Francisco, you can enjoy sandy shores and impressive sand dunes, ideal for anyone from families to off-roading adventurers.
How we rate the different aspects of Pismo Beach
Feature
Our rating
Natural beauty and scenery
⭐⭐⭐
Cleanliness and water quality
⭐⭐⭐⭐
Peace and quiet
⭐⭐⭐
Activities on offer
⭐⭐⭐
Accessibility
⭐⭐⭐
Pismo Beach has soft, golden sands perfect for sunbathing, sandcastle building and taking leisurely walks. As the sun sets, the pier becomes a favorite spot for locals and tourists to take in the breath taking horizon.
Pismo Beach is known for its Pismo clams and famous clam chowder. If you are a fan of seafood then this is the place to be!
Famous for the Oceano Dunes, these sprawling sand dunes offer off-roading and exploring. This unique landscape attracts adventure seekers from all over.
Between October and February, thousands of Monarch butterflies migrate to Pismo Beach. This annual migration is an incredible spectacle, attracting nature lovers and photographers.
The Monarch butterfly migration is one of the most popular for photographing along Pacific Coast Highway. Take a look at all the other wonderful photo spots along this route in our dedicated photography guide.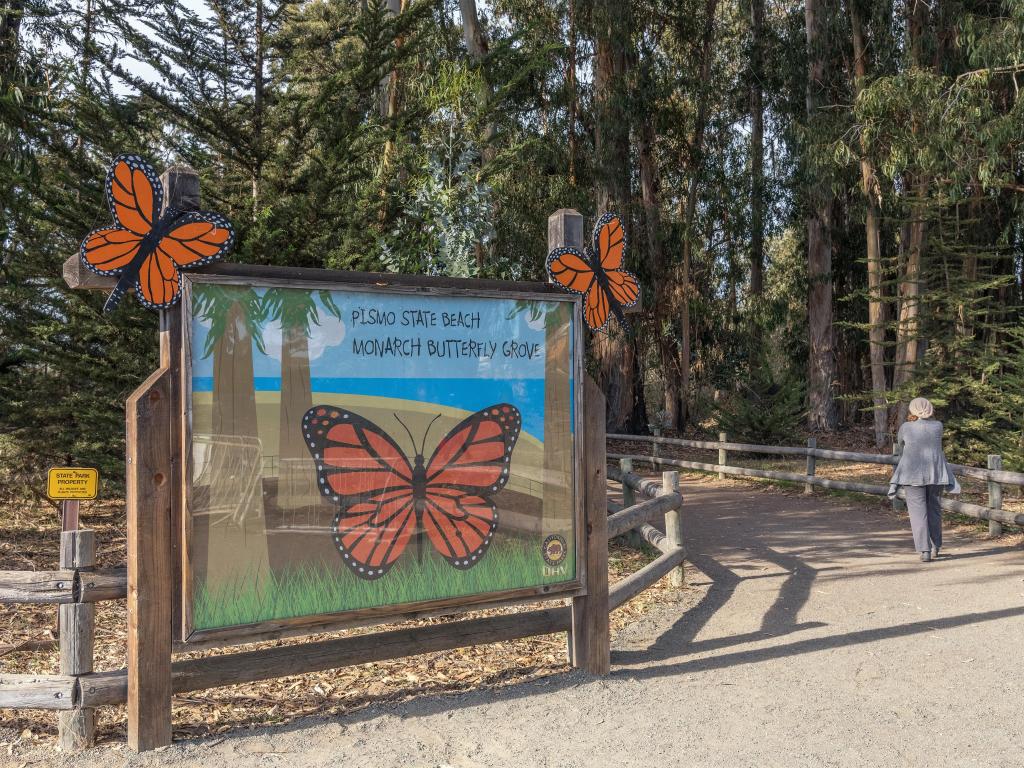 What else is there to do near Pismo Beach?
There is plenty to keep you entertained during a visit to Pismo Beach, however here are some of the other local top attractions that you can stop off at close by.
Oceano Dunes SVRA (State Vehicular Recreation Area) - A unique state park in California where visitors can drive vehicles on miles of sandy dunes, for a thrilling off-road experience.
Monarch Butterfly Grove - Located in Pismo Beach, this grove is a seasonal gathering spot where thousands of Monarch butterflies migrate and cluster on eucalyptus trees.
Dinosaur Caves Park - Overlooking the ocean, this family-friendly park offers walking trails, play areas, and sculptured dinosaur eggs.
Pismo Preserve - A conservation area spanning over 880 acres, you can enjoy hiking, biking, and equestrian trails here, alongside stunning views of the coast.
Downtown Pismo Beach - The vibrant heart of the city, Downtown Pismo Beach is lined with a variety of stores, restaurants, and entertainment venues.
With so much to see and do Pismo Beach is a great stopover destination along Pacific Coast Highway. Check out our 7 day Itinerary for travelling along Pacific Coast Highway, to see where to stay and explore during your Pismo Beach visit.
Common questions about visiting Pismo Beach
Pismo Beach has a beautiful coastline, with sandy shores, iconic pier, and seasonal delights such as butterfly watching and off-roading on dunes. There is everything you need in one place, so keep reading to see what facilities you can expect during a visit to Pismo Beach.
Is Pismo Beach accessible and open year-round?
⭕ Yes, Pismo Beach is accessible year-round, with a pretty good climate every season making it popular whatever the weather
Can I enjoy water sports at Pismo Beach?
⭕ Yes, at Pismo Beach there are opportunities for surfing, kayaking, paddleboarding, and you can hire jet skis and enjoy boat rides
Is Pismo Beach easily accessible for those using wheelchairs or strollers?
⭕ Yes, Pismo Beach is accessible for those with low mobility, with beach wheelchairs available at Grand Avenue and Pier Avenue beach entrance stations
⭕ The Pismo Beach Boardwalk is also accessible to wheelchairs
Is there anywhere to buy refreshments at Pismo Beach?
⭕ Yes, there are several cafes around Pismo Beach
Are dogs allowed on Pismo Beach?
⭕ Yes, dogs are allowed on Pismo Beach leased, however they are not allowed on Pismo Pier
Are there any changing facilities at Pismo Beach?
⭕ Yes, there are changing facilities and public showers
Are there any beach chairs or umbrellas to hire at Pismo Beach?
⭕ Yes, you can hire beach chairs and umbrellas at Pismo Beach during peak season
Is there anything else to watch out for when I visit Pismo Beach?
Pismo Beach is one of the few places in California where you can drive vehicles on the sand, with nearby places like Oceano Dunes where you can rent ATVs or dune buggies. However, if you're planning to visit the Oceano Dunes, make sure to follow safety guidelines.