Road trip from New Orleans to Los Angeles
Are you ready for a big adventure out west? The epic road trip from New Orleans to Los Angeles will take you from the sultry Bayou to the otherworldly southwestern deserts. Along the way you'll pass iconic landmarks, stunning national parks, city stops and breathtaking scenery.
The 1,960-mile road trip from New Orleans to Los Angeles takes 29 hours to drive. Key stops include Houston, El Paso, San Diego, Las Vegas, and Albuquerque, plus Grand Canyon, Joshua Tree National Park, Petrified Forest National Park and Hoover Dam.
This trip is packed full of incredible landmarks as you drive to the City of Angels, including stunning parks to explore and world famous destinations like the Grand Canyon. Read on to find out the best routes, places to visit and time of year to enjoy this adventure.
How far is Los Angeles from New Orleans, and how long will the road trip take?
Comparison of road trip routes between New Orleans and Los Angeles

| Route | Distance | Driving Time |
| --- | --- | --- |
| The Border Route | 1,960 miles | 29 hours |
| The Desert Parks Route | 2,240 miles | 35 hours |
Even the most direct way from New Orleans to Los Angeles will still take 27 hours to drive non-stop. Our recommended routes are slightly longer, but really make the most of the stunning locations you'll pass along the way as you drive east to west.
The quickest of our two routes will take you along the border of Mexico and spans a distance of 1,960 miles. Without making any stops along the way, this route will take 29 hours to complete.
Our alternative option makes the most of the beautiful desert parks in Arizona and Nevada, though you'll need to be prepared for a longer drive. This option covers 2,240 miles and as such, will take at least 35 hours of non-stop driving.
Whichever epic route you decide to follow, you'll need to spread the driving over several days. As you'll be including plenty of stops, attraction visits and activities along the way, we'd recommend spending between four and seven days.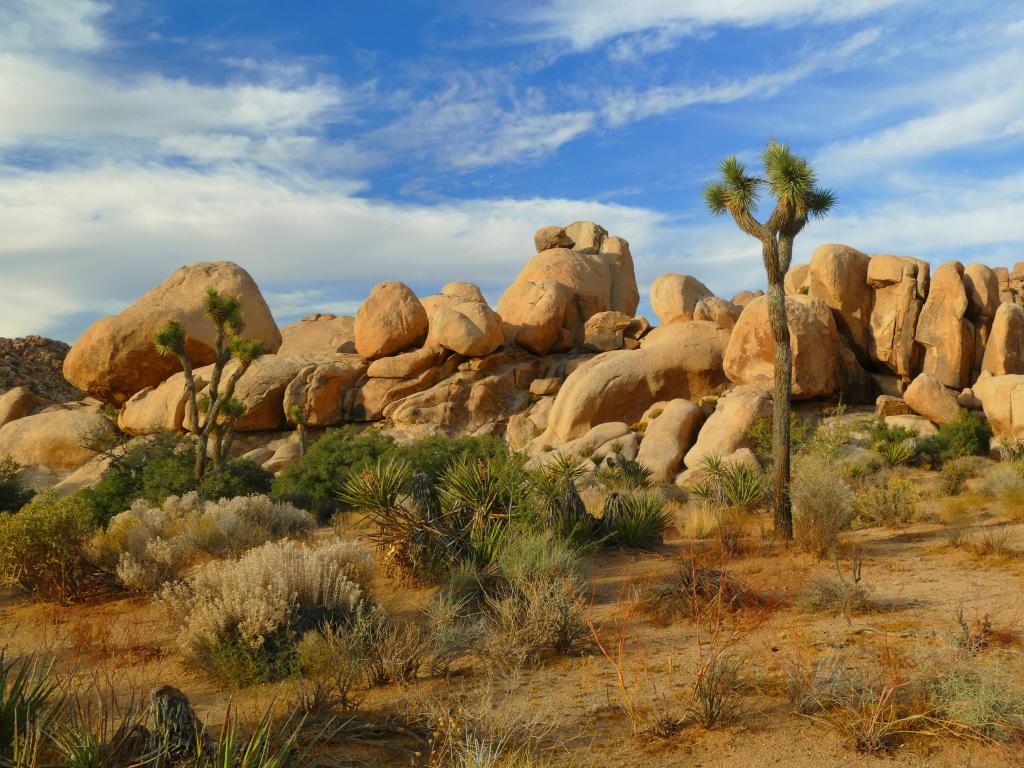 Best road trip route from New Orleans to Los Angeles
The best way to drive from New Orleans to Los Angeles will really depend on how long you'd like to spend on the road and the kind of attractions you'd like to see along the way.
The more straightforward and quickest of our two suggested options is the Border Route. Taking you through several distinct climatic zones and plenty of vibrant border towns, you'll get to discover how the Spanish and Mexican have influenced them historically and culturally.
Though heavily influenced by urban vibes, this route also has a long desert drive stretch and several natural spaces to explore, including Atchafalaya National Wildlife Refuge and a short stretch of coastal driving before reaching the city.
If you really want to go big and epic, then you should consider our Desert Parks Route. Offering stunning desert scenery and some of America's most spectacular southwestern states and national parks, this route is a real bucket-list pleaser.
Even though this trip doesn't feature border sites, passing through vibrant cities like Dallas and Las Vegas, this trip borders on the epic. You'll also get to stop by the Grand Canyon, Joshua Tree National Park and Albuquerque - all top locations for road-trippers.
You'll need a few extra days to enjoy this longer trip, though if you aren't interested in stopping at the Grand Canyon and Las Vegas, you could always cut them out and shave off a significant amount of miles from your overall trip.
The Border Route
Leave New Orleans on Interstate 10 (I-10) and head west along the shore of Lake Pontchartrain towards Baton Rouge. Drive past Atchafalaya National Wildlife Refuge and take an optional detour for the Louisiana Swamp Tours.
Continue west alongside several great lakes and Sabine National Wildlife Refuge to Beaumont. Visit McFaddin National Wildlife Refuge on the coast, otherwise follow signs for Houston.
Drive west to San Antonio, where you can make a detour to the city of Austin. Join the desert landscape still on the interstate to Fort Stockton and follow the border towards El Paso. Visit nearby Guadalupe Mountains National Park or White Sands National Park.
Continue west near Gila National Forest as you cross into Arizona. Pass several great mountains and parks, including Coronado National Forest and Mt Lemmon before reaching Tucson. Follow signs for I-8 or pop to Phoenix for a visit.
Follow the interstate passing Yuma and close to Kofa National Wildlife Refuge and head to San Diego. Follow the coast on I-5 North to San Clemente. You can stop by several great beach resorts, including Huntington Beach and Long Beach, before arriving in Los Angeles.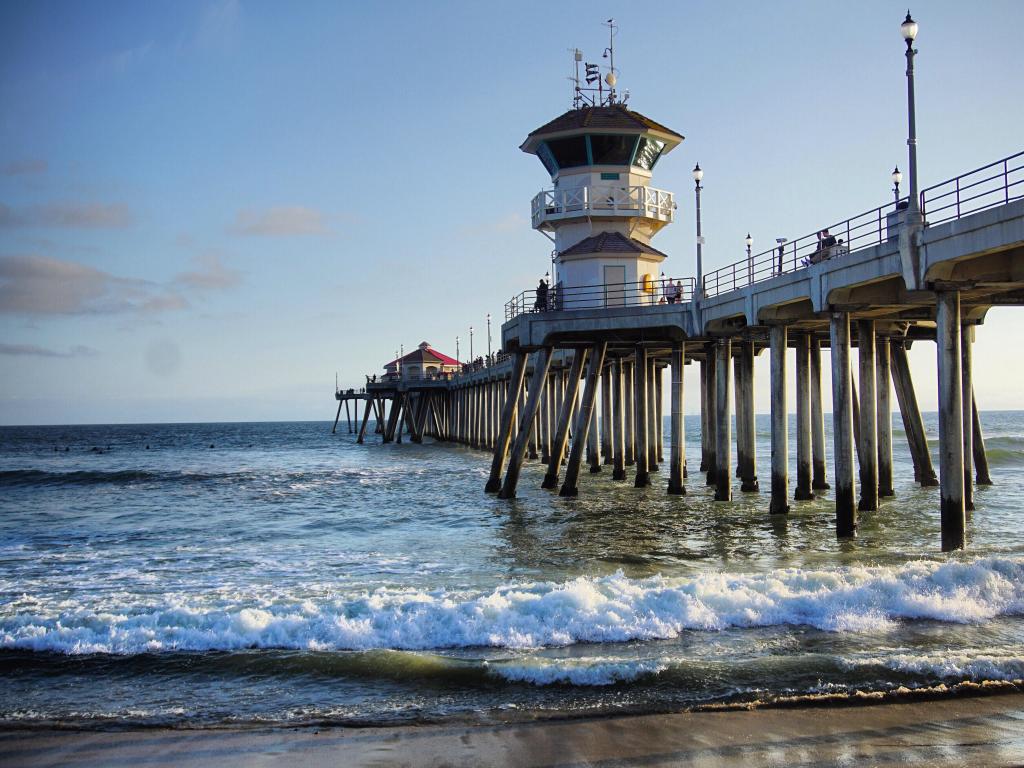 The Desert Parks Route
Follow I-10 West from New Orleans to Baton Rouge, before heading north past Atchafalaya National Wildlife Refuge, Kisatchie National Forest towards Shreveport. Cross into Texas towards Dallas, detouring to Angelina National Forest if you'd like a hike or to stretch your legs.
Follow signs for US-287 North and Wichita Falls, passing near to Wichita Mountains National Wildlife Refuge. You will then head for Amarillo and cross the border into New Mexico.
Drive through Santa Rosa and Albuquerque, where you can stop and visit Sandia Crest for stunning views or head north to Santa Fe. Continue west, stopping at Cibola National Forest, otherwise follow the interstate into Arizona and make a stop at Petrified Forest National Park.
Afterwards head to Flagstaff, where you can visit Coconino National Forest or drive through Kaibab National Forest to the south rim of the Grand Canyon.
Back on the interstate, exit at Kingman and head north to Hoover Dam where you can explore Lake Mead, before arriving at Las Vegas. From the city, you can visit Red Rock Canyon National Park.
Afterwards, pass Sloan Canyon National Conservation Area as you head south towards Mojave National Preserve. Make a stop at Joshua Tree National Park and continue west near Palm Springs and through San Bernardino National Forest, before following the interstate to your final destination.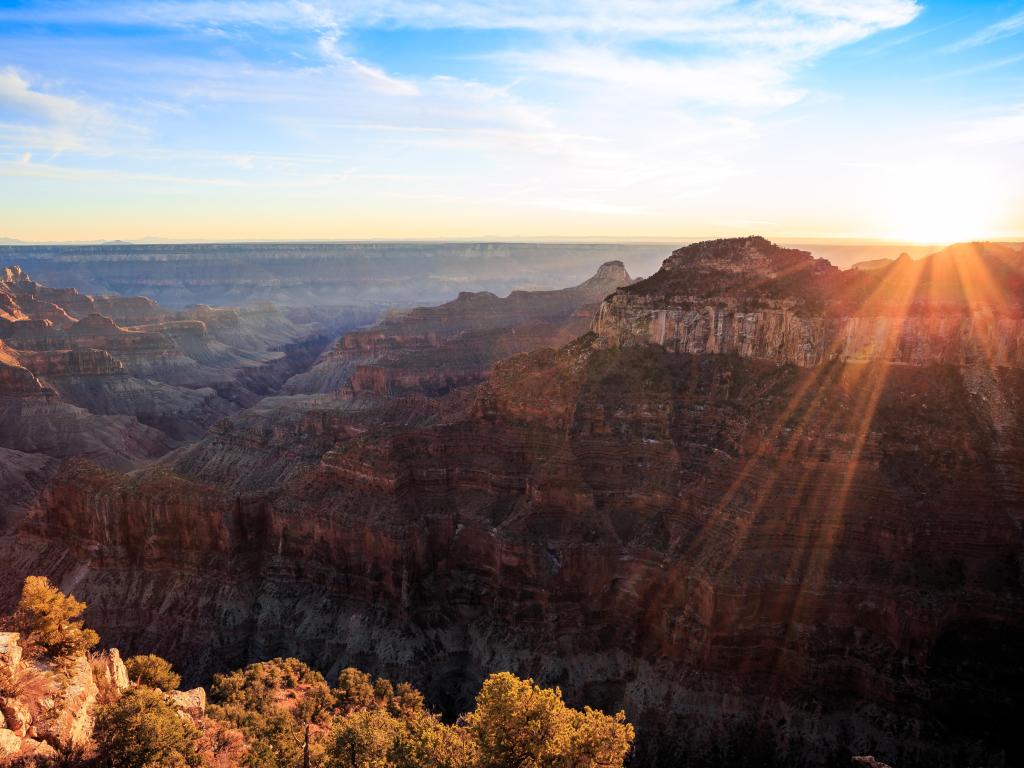 Best places to stop between New Orleans and Los Angeles
You'll definitely be spoilt for stops on this road trip. Given the epic distance, you'll want at least a couple of overnight hotels to ensure you're refreshed before arriving in LA. Here are a couple of our favorite places that you might want to consider when planning your drive.
Modern luxury in El Paso
Conveniently located on our Border Route at the halfway point, El Paso is an underrated stop that could easily be missed when passing through Texas, yet it offers a great choice of activities as well as being surrounded by the stunning desert.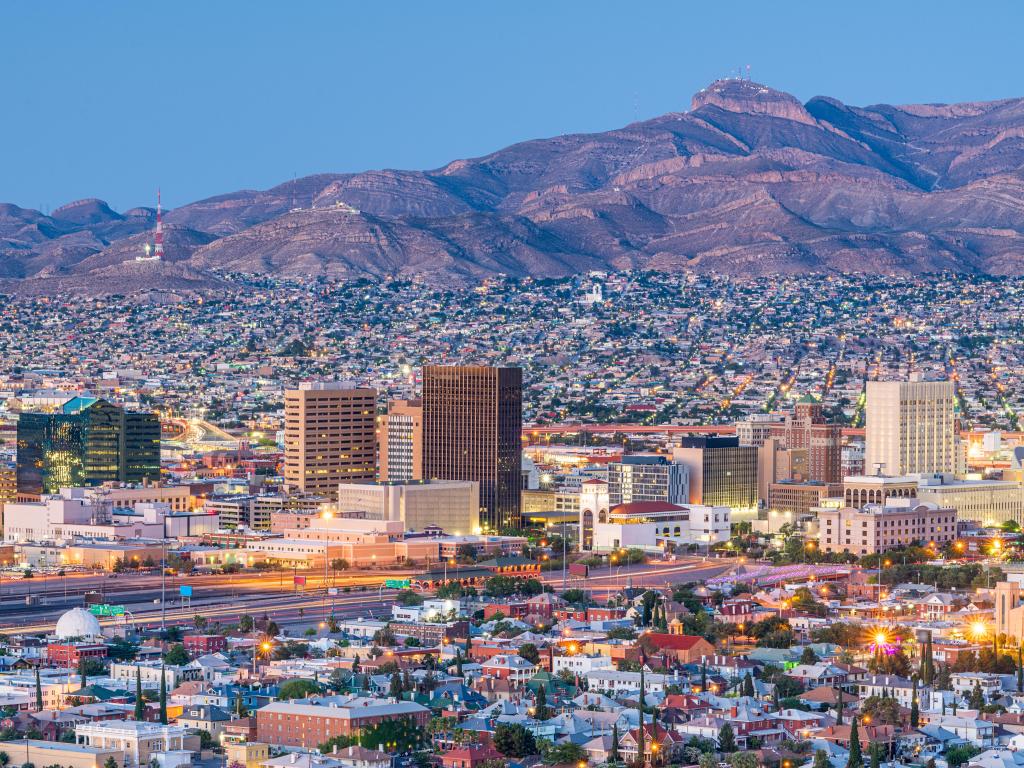 There's no need to pack an umbrella for your stay at Sun City. In addition to bright weather, be ready to skip the calorie counting and indulge in the world's best Tex-Mex cuisine.
Surrounded by the Chihuahuan Desert, there are great parks to explore including Franklin Mountains State Park. There's also tons of history that you can learn about on the El Paso Mission Trail, or by visiting Texas' oldest structure, the Ysleta Mission built in 1682.
If you're looking for a touch of luxury while stopping in the desert, the Stanton House is a fabulous choice. This gem of a hotel blends subtle Southwestern themes into a starkly modern, clean, and luxurious property.
Here you can pamper yourself and enjoy a five-star meal at Taft Diaz on-site while you recover from a long drive. Walking distance from San Jacinto Plaza and the fabulous Museum of Art, you couldn't ask for a better base from which to explore El Paso.
Explore the desert at Albuquerque
One of our favorite spots in New Mexico, Albuquerque, makes a perfect stop halfway on the Desert Parks Route. Made famous by the TV series Breaking Bad and Better Call Saul, this town combines stunning scenery and great local attractions to make a one or two-night stop here fun.
In addition to being the backdrop for the revitalization of American television, Albuquerque has many natural and cultural delights. Right on the border with Mexico, across the Rio Grande from Ciudad Juarez, this stop has a scenic drive and a bustling downtown.
Get the best of Tex-Mex cuisine and enjoy the bustling arts scene downtown or take a ride on the Sandia Peak Tramway to Sandia Peak for spectacular vistas over the city and surrounding desert.
There are plenty of great resorts you can choose from, but a top choice of ours is the Hotel Chaco. This chic 4-star hotel is ideally located off the interstate and within the walking distance of the Old Town Plaza and just a short drive to the ABQ BioPark.
The hotel itself offers a modern interior, comfortable and spacious rooms and the all-important outdoor pool (which you'll be glad of after a day spent exploring the desert). Onsite parking, plus a restaurant and bar make this stylish hotel a great all-around option.
Where to stay when you reach Los Angeles
After your epic journey to Los Angeles, you'll need a comfortable base where you can unwind before beginning your exploration of this great city. There are a wealth of incredible hotels you could stop in, but to really immerse yourself in the Hollywood lifestyle, Pendry West is ideal.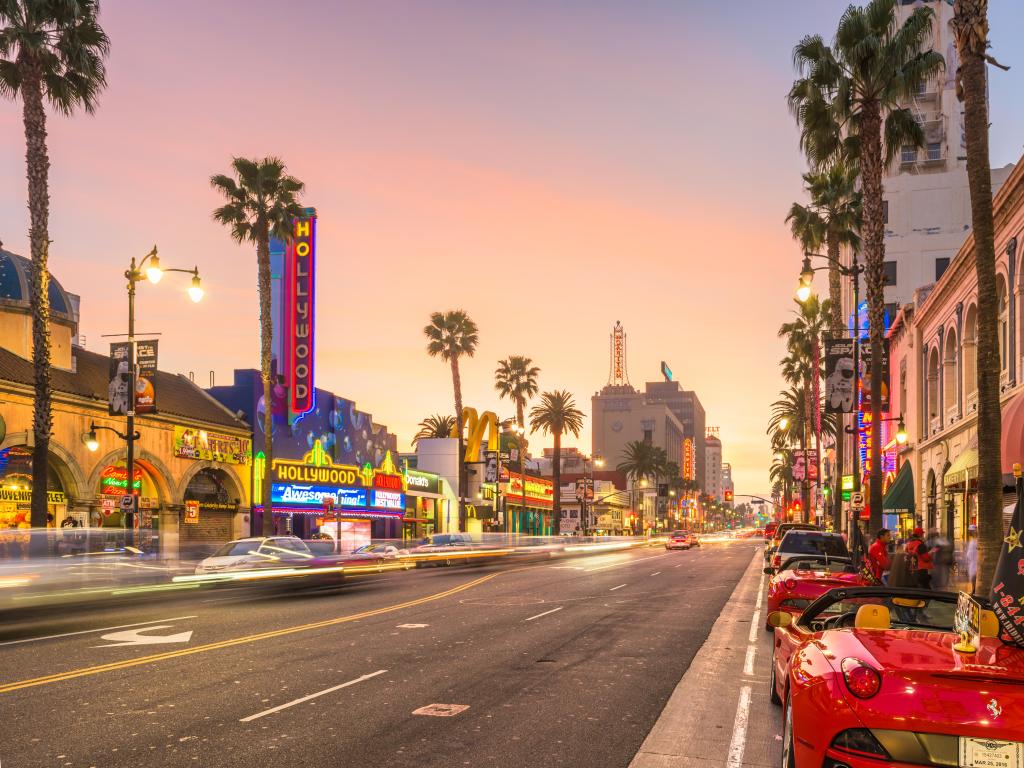 This newly built 5-star hotel in the historic Hollywood area has a stunning interior, sumptuous rooftop pool and great views over LA. Other amenities include a stylish bar, onsite restaurant and private parking (at a fee).
One of the best bits of this hotel is its incredible location. After a day of relaxing by the pool, you can take a walk to the Sunset Strip, visit Dolby Theater, or take a short drive to Beverly Hills.
The beautiful interior, amenities and great location make the Pendry West Hollywood a popular choice, so we'd recommend booking early to avoid disappointment, especially during the busy tourist months of summer.
Things to see on a road trip from New Orleans to Los Angeles
Spanning almost entirely from the east to west of America, you won't go short of incredible places to visit along the way. There's a lot to see between New Orleans and Los Angeles, so to help you plan your trip, we've listed some of the highlights from both routes below.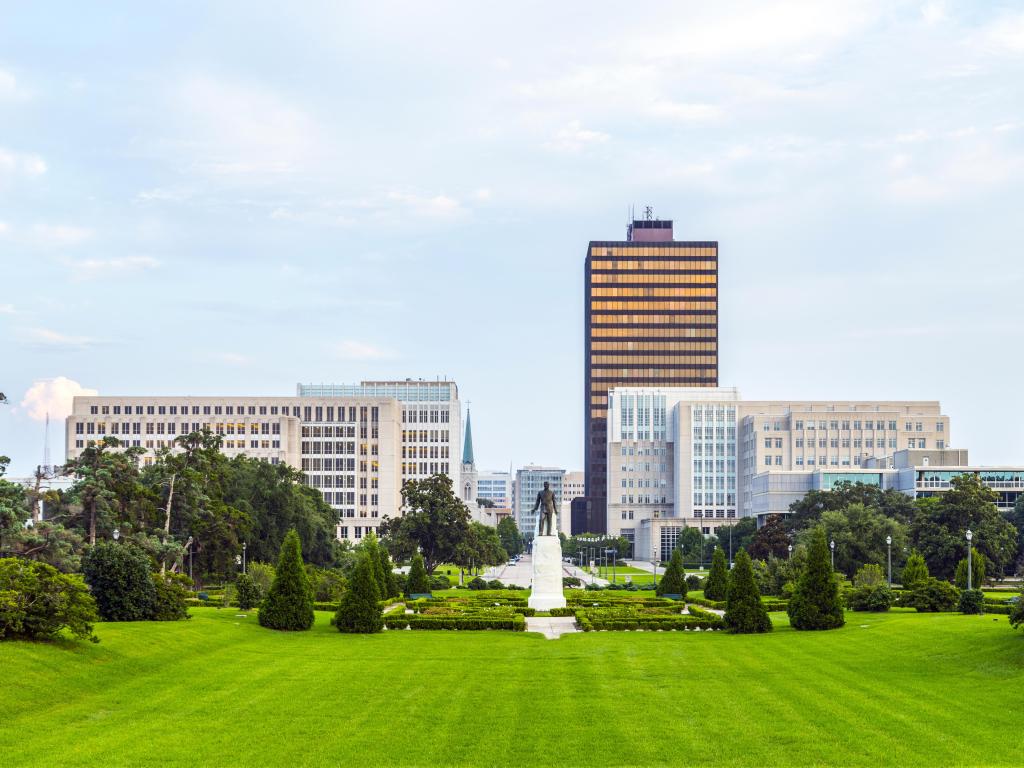 Both Routes
Baton Rouge, LA - Be sure to check out the observation deck of the stunning art deco capitol building, the floating Veterans Museum aboard the USS KIDD, or unwind with a local craft beer at Rally Cap, Tin Roof, or Cypress Coast breweries.
The Border Route
Atchafalaya National Wildlife Refuge - Located just north of I-10, this refuge includes parks, trails, and lookouts that feature plenty of aquatic landscapes typical of the Bayou. It is a great place to observe wildlife and stretch your legs before the long drive ahead.
Louisiana Swamp Tours - Located in Breaux Bridge, this women-owned touring company offers boat rides on Lake Martin where you can catch a glimpse of moss-covered trees, great white egrets, and even some alligators on their one-hour tour.
Lafayette, LA - Another great Cajun city, Lafayette has several points of historical interest, including a 23-acre recreation of an 18th-century village at Vermilionville and the magnificent Cathedral of St. John the Evangelist which was founded in 1821.
Beaumont, TX - The first stop in the Lone Star State, Beaumont has plenty to see. Take a walk around Beaumont Botanical Gardens or visit a full recreation of a prosperous Gulf town at the Spindletop-Gladys City Boomtown Museum at Lamar University.
Houston, TX - This larger-than-life Gulf town has too much to offer! Learn about NASA at the Space Center Houston, visit the Kemah Boardwalk or be refreshed at the Gerald D. Hines Waterwall.
San Antonio, TX - Home to the famous Battle of the Alamo, San Antonio has attractions that span centuries of natural and cultural history. Visit the Alamo, San Jose, and San Antonio missions, or stroll along the stunning River Walk to see the city's modern vibrancy.
Stonehenge II - If you love Neolithic architecture, but haven't managed to see Stonehenge, this could be a great opportunity to see a stateside replica right off I-10 in Ingram.
Old Ice House Ranch Museum - This carefully curated, tiny roadside museum in Sonora can be the perfect place to break up a long drive and take in a bit of the history of the Old West.
El Paso, TX - Right on the border with Mexico, across the Rio Grande from Ciudad Juarez, this often overlooked stop has plenty to take in from the Scenic drive to a bustling downtown. Get the best of Tex-Mex cuisine and enjoy a bustling arts scene downtown.
Tucson, AZ - Bordered by desert oases, including Saguaro National Park and Sabino Canyon, you will get a full sense of the Southwest in Tucson. Immerse yourself in the Arizona-Sonora Desert Museum or enjoy the botanical gardens for cactus lovers.
Yuma, AZ - Who doesn't love a border town surrounded by red rocks and azure skies? Yuma is yet another place to feel the unique blend of cultures the southern US border has to offer. Highlights include the Castle Dome Mines Museum & Ghost Town, plus the Yuma Territorial Prison State Historic Park.
Painted Rock Petroglyph Site and Campground - In addition to the many date palms of Dateland, those with an interest in Native American culture will want to take the short detour from I-8 to this site will well-preserved prehistoric rock carvings.
San Diego, CA - Since you've already driven so far, you might want to consider adding a few more miles to check out San Diego before you reach your final stop. The San Diego Zoo is a must-see, as is La Jolla Cove, and the USS Midway Museum.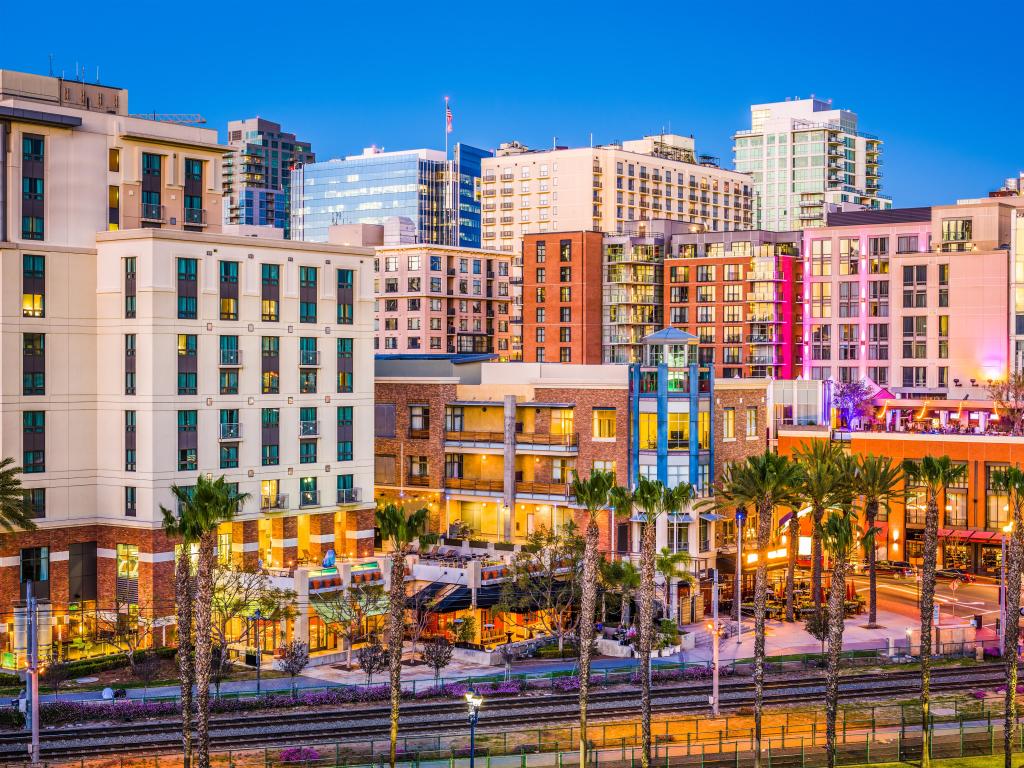 The Desert Parks Route
Kisatchie National Forest - Near Provencal, this forest has plenty of forest trails and views over lakes and streams. Great for birders and a stroll before the long drive to Texas.
Shreveport, LA - This town a stone's throw from the Texas border has a few niche attractions, including the Shreveport Water Works Museum, an Aquarium featuring sting rays, and the Louisiana State Exhibit Museum housed in an impressive building.
Dallas, TX - Home to the Cowboys NFL franchise, Dallas has something for everyone from the Dallas Museum of Art to trendy urban walkways like Klyde Warren Park. You can also visit the Dealey Plaza Landmark and the Sixth Floor Museum where you can learn more about the assassination of JFK.
Wichita Falls, TX - This small city is very proud of its north Texas history. You can take a break on your journey at the peaceful falls in Lucy Park or be a patron of the arts at the Backdoor Theater.
Amarillo, TX - Amarillo is filled with Western nostalgia. The premier heritage attraction is Cowgirls and Cowboys in the West where you can say "giddyup!" and ride a pony into the sunset yourself. For those who crave kitsch, head straight for the Jack Sisemore Traveland RV Museum or Cadillac Ranch.
Albuquerque, NM - From the historic Old Town to countless tours to Breaking Bad filming locations, Albuquerque has a surprising array of treats. The Sandia Peak tramway and ABQ BioPark are popular attractions, as is the New Mexico Steam Locomotive and Railroad Historical Society.
Petrified Forest National Park - In addition to the titular fossilized trees, this park in Holbrook also features hikes that will have you feeling like you're inside an exquisite painting – no wonder they call it the painted desert.
Grand Canyon (Yaki Point) - This adds about 100 miles roundtrip from the direct route along I-40, but it is a worthwhile addition if you have not yet marvelled at the Grand Canyon. Yaki point offers spectacular views of one of America's greatest natural treasures.
Hoover Dam, NV - Not only an engineering marvel made with over 3,250,000 cubic yards of concrete, this gravity-arch dam build during the Great Depression also played an important part in America's historical and economic development in the pre-WW II era.
Las Vegas, NV - Why not? Even if casinos and showgirls aren't your thing, the dazzling lights of the strip and the Fountains of Bellagio are worth a peep. You can also check out phenomenal shows and take in the full view of the city in the desert from the Stratosphere Tower.
Mitchell Caverns - Located within the Providence Mountains State Recreation Area of the Mojave Desert, this series of limestone caves is an underground wonderland. You can book a reservation for a guided tour ahead of time on the state park website.
Joshua Tree National Park - In addition to the unique trees and otherworldly landscapes, this park also contains traces of 5,000 years of human history. There are also chances to practice or learn rock climbing and rappelling.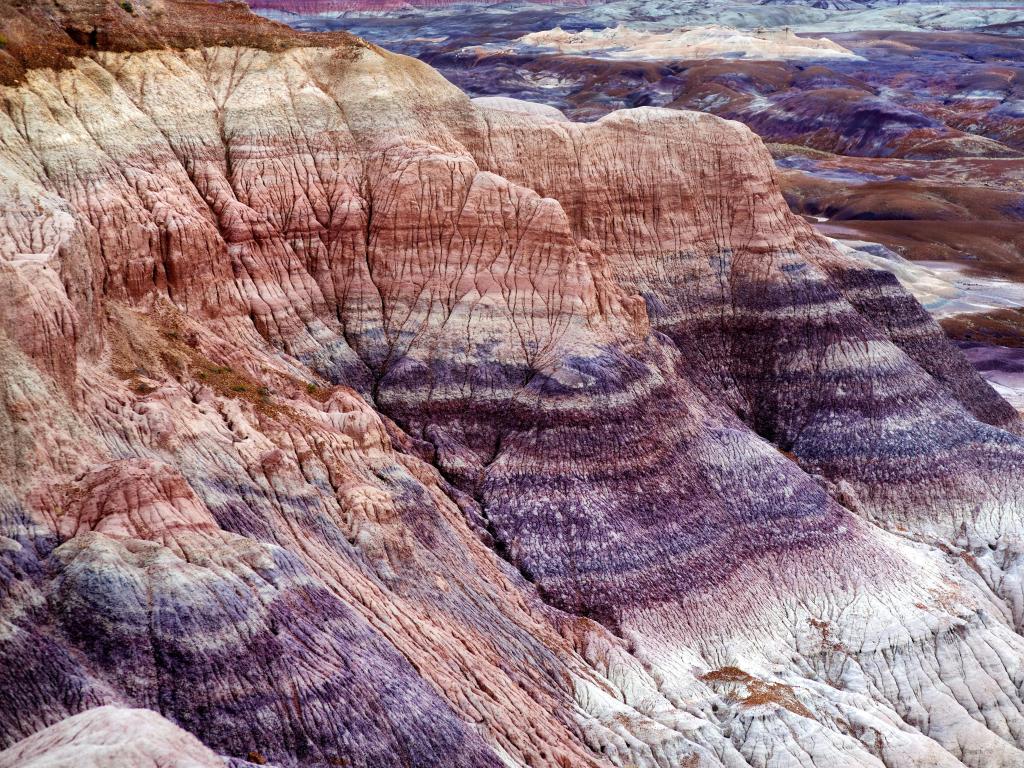 Best time to go on a road trip from New Orleans to Los Angeles
As long as you don't mind the heat, this is definitely a trip you can make at any point in the year. Southern California is famous for its ample sunshine and endless outdoor possibilities, though given the crowds and heat, you might want to avoid peak summer season in LA.
That said, Los Angeles is surrounded by great beaches, including Huntington State Beach in the south to Ventura in the north. If you do decide to visit in summer, you'll need them as temperatures in the city will reach around 80 degrees Fahrenheit.
While you might find respite from the heat by the coast, the summer temperatures en route are even more extreme, especially through the Desert Parks Route. You'll also find the popular tourist spots, like the Grand Canyon, will be really busy this time of year which could spoil your experience.
In comparison, winter particularly in LA is good if you're looking to avoid large crowds as well as any snow. Temperatures hover around 70 degrees, so this is a great season for hiking, outdoor activities and cruising the Camino del Real.
Aside from the school break periods, both spring and fall are great times for this trip. Some of the best rates for hotels can be found in September and October and you'll still get to enjoy pleasant weather.
In case you weren't invited to the Oscars, but you'd still like to get a sense of glamour and excitement that surrounds LA's famous film industry, you could time your trip to coincide with the American Film Institute Festival in November.
There are also dozens of other cultural, food, and art festivals every year in LA, including Cinco De Mayo celebrations, the Abbot Kinney Festival, and the Hollywood Halloween Carnival to enjoy during your visit too.