Road Trip From Houston To New Orleans
The Deep South is home to some of the most incredible landscapes in the United States, and if you're looking to see the best of Texas and Louisiana, you should plan a road trip from Houston to New Orleans.
The 350-mile road trip from Houston to New Orleans takes 5 hours 15 minutes to drive. Notable attractions include Sam Houston and Kisatchie National Forests, San Jacinto Battlefield and Oak Alley Plantation, and the cities of Lake Charles and Lafayette.
Keep reading for all the details of this scenic drive that includes gorgeous lakes, forests, and cities.
How far is New Orleans from Houston and how long will the road trip take?
Best routes from Houston to New Orleans
Route
Distance
Driving Time
Inland Route
350 miles
5 hours 15 minutes
Coastal Route


(via Interstate 10)

420 miles
7 hours 15 minutes
Along the quickest route, the road trip from Houston to New Orleans takes 5 hours and 15 minutes, and it covers around 350 miles of ground without detours.
As such, the route can easily be driven in a single day, but if you want to explore the sights along the way, consider taking it slow.
In particular, taking a detour via the Gulf Coast at virtually any point of your trip will lead you to a beautiful lake or wildlife refuge, just waiting to be explored.
The interstate drive is pretty straightforward and easy but the adventure of rural routes will more than make up for the twists and turns!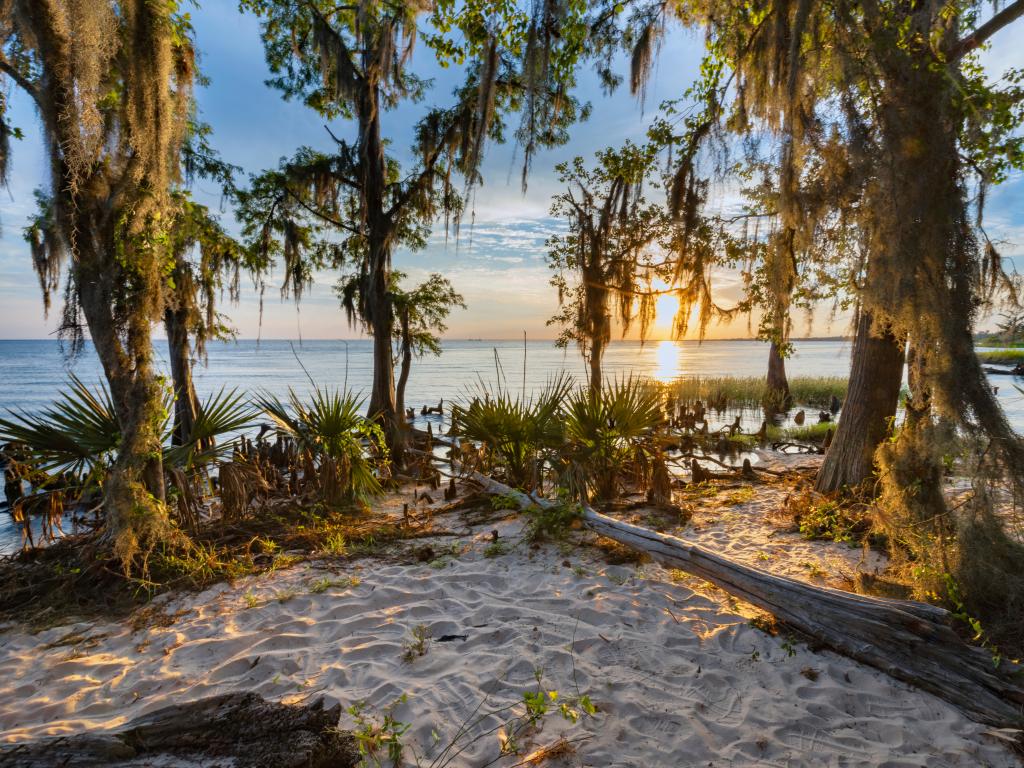 A great alternative, albeit one that takes you further from the coast, covers 460 miles and takes around 7 hours 15 minutes to drive - 2 hours longer than going direct.
This route will take you past all four of Texas' national forests, more than justifying the extended drive time.
Whichever route you end up taking, Baton Rouge may or may not throw a wrench in your plans in terms of time – narrow roads and congestion are an issue in the area, so make an effort to monitor the traffic with an app before pulling into town.
Best road trip route from Houston to New Orleans
There really is no "best" route from Houston to New Orleans – both the itineraries bring something different to the table. With that said, the routes complement each other well, so you should consider taking one to New Orleans and the other on the way back.
How to drive from Houston to New Orleans
The map above shows our suggestions for the best road trip routes between Houston and New Orleans. Keep reading for detailed descriptions of both routes, where to stay on either, and the best things to do on the way.
The Inland Route
Leave Houston via Interstate 69, then take Route 59 along Sam Houston National Forest to Livingston. From here, either detour to Davy Crockett National Forest, or get onto Highway 190, following it past Big Thicket National Forest and all the way to Jasper.
From there, take State Highways 63 and 8 between Clear Creek Wildlife Management Area to the south and Sabine National Forest to the north.
Just out of Leesville, follow Route 28 to Alexandria and check out Kisatchie National Forest. Once you're done, take Highway 71 past Thistlethwaite State Wildlife Management Area, then follow Highway 190 past Atchafalaya National Wildlife Refuge to Baton Rouge, where the two routes converge.
The Coastal Route (Interstate 10)
Leave Houston via Interstate 10, following it past Herman Brown Park. Sherman Lake, and San Jacinto Battleground State Historic Site. Further east is Mont Belvieu City Park, just before crossing Trinity River and passing Lost Lake and Lake Charlotte.
Past Trinity Bay, you can detour to the coast and visit Anahuac National Wildlife Refuge, followed by McFaddin National Wildlife Refuge and Sea Rim State Park.
Once you're done, drive through Beaumont and get into Louisiana. Pass through Lake Charles, then detour to Grand and White Lakes, or continue along the interstate through Lafayette.
Pass right by Atchafalaya National Wildlife Refuge before crossing the Mississippi River and entering Baton Rouge. Follow the river east past Maurepas Swamp Wildlife Management Area and Lake Pontchartrain before pulling into New Orleans.
Best places to stop between Houston and New Orleans
Although it could be a 5 to 7 hour journey, the road trip from Houston to New Orleans will make you want to slow down and check out everything there is to see on the way. Consider choosing these resorts when planning your trip:
Enjoy a memorable night out in Lafayette
Lafayette is the ideal stopover if you're driving the Coastal Route, as it's roughly at the halfway point of your trip. The city is ripe with the best hotels, but if you want to stay in one of the most tranquil hotels in Louisianna, book yourself a room at DoubleTree by Hilton Lafayette.
Booking a large suite on a high floor is bound to make your stay amazing – the window view of the city (especially in spring, when everything is in bloom!) is nothing short of spectacular, and the rooms themselves are extremely comfortable and inviting.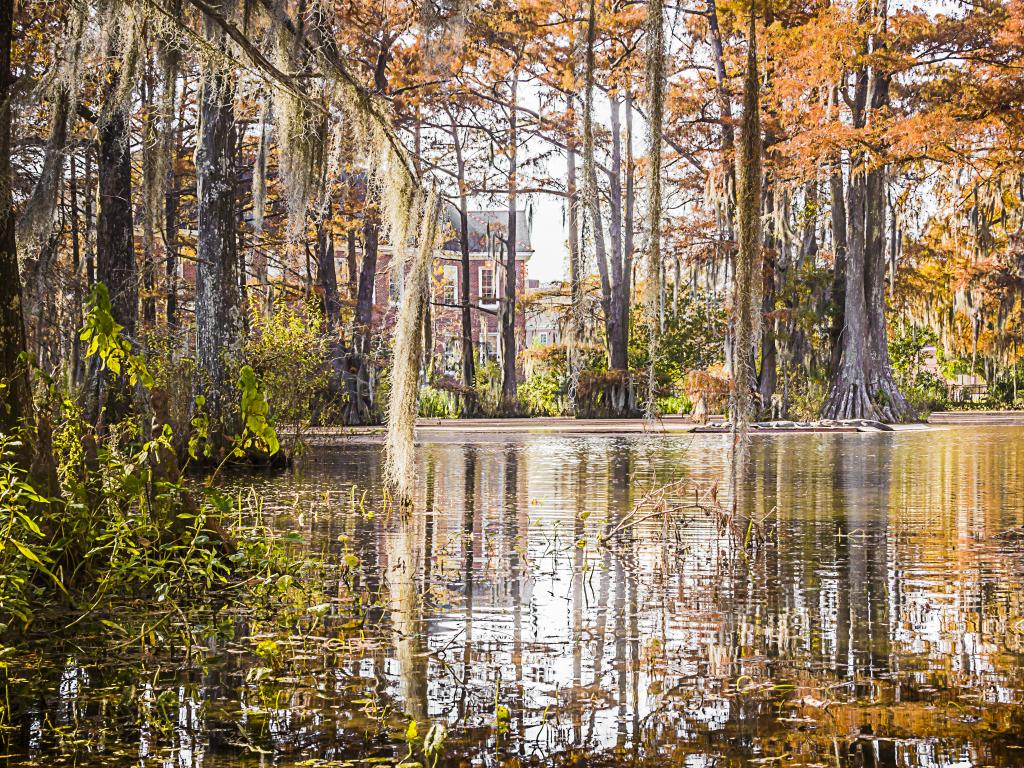 As far as recreation goes, the hotel features a fitness center and an outdoor swimming pool. Whether you're up for a classic American meal or something a little different, the on-site restaurant has you covered, and the bar is a great place to enjoy a drink and play a game of pool.
Located less than a couple of miles from the city center, you couldn't ask for a much better location. Also, the resort is extremely affordable for how great it is – if you're visiting New Orleans during festival season and don't want to overspend on the trip, this is by far your best option.
Vacation in style in New Orleans
Being the tourist attraction that it is, it should come as no surprise that New Orleans has plenty of great hotels to choose from. If you thought Lafayette's DoubleTree hotel was incredible, just wait until you've tried the pool at DoubleTree by Hilton New Orleans.
The best way to describe this place would be "white and bright" - the soothing color palettes of the rooms will put you at ease as soon as you step inside. If you're still not ready to hit the hay after a day of exploring, you can enjoy a workout at the on-site fitness area.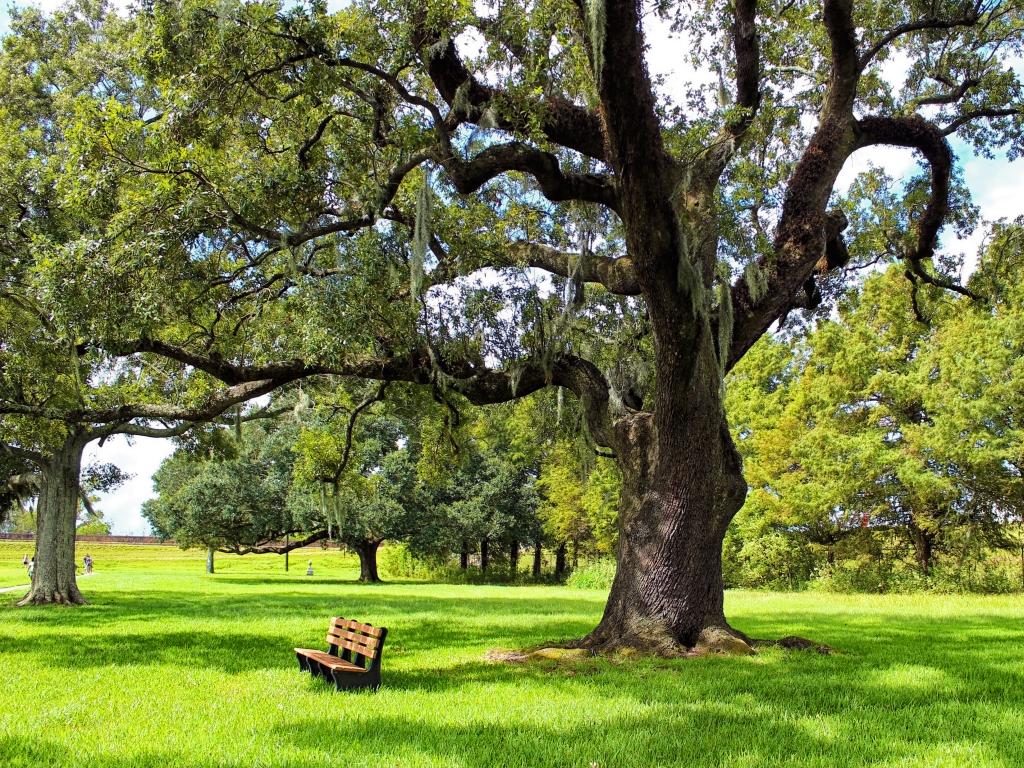 If the bar & dining areas don't win you over with their gorgeous design, the swimming pool on the terrace with the spectacular city view certainly will. There really is no better place in town for catching a tan!
Despite being part of one of the finest hotel chains in the region, this resort is extremely fairly priced. Most importantly, a number of interesting places like Harrah's Casino and St Louis Cathedral are right around the corner.
Things to see on a road trip from Houston to New Orleans
Despite the relatively short drive time, there's a fair amount to see on a road trip from Houston to New Orleans. Be sure to spread out the trip over at least a couple of days to see as many of the following places as possible:
San Jacinto Battleground State Historic Site –This area features the USS Texas, and visiting is integral to understanding Texas' history.
Sea Rim State Park – Combining scenic beaches and countless bird watching and canoeing opportunities, this park perfectly captures what Texas is all about.
Beaumont – No trip through southeastern Texas would be complete without stopping at one of the area's bigger cities.
Big Thicket National Preserve – Given the impressive checklist of plant and animal life indigenous to this area, it should come as no surprise that the preserve is one of Texas' main natural attractions.
Lake Charles – An important hub for students and tourists alike, Lake Charles is perhaps best known for the bevy of lakes that surround it.
Lafayette – A key player in Louisiana's oil industry and a cradle of Cajun culture, this city is the perfect place to prepare you for the festivities of New Orleans.
Rockefeller Wildlife Refuge – By and large one of the best places to learn about the local wildlife, particularly alligators and other reptiles.
Atchafalaya National Wildlife Refuge – A gorgeous, expansive blend of swamps and wetlands that countless water birds and other animal species call home.
Baton Rouge – Thanks to its beautiful antebellum architecture and positioning along the Mississippi River, Louisiana's capital is a mandatory stopover along either route.
Oak Alley Plantation – This historic building is perhaps best known for its gorgeous garden area and iconic oak tree-decorated walkway.
Fontainebleau State Park – A beautiful park next to Lake Pontchartrain that offers a plethora of campsites and scenic beaches.
Sam Houston National Forest – One of only four national forests in Texas, this is a perfect area for hiking, camping, and admiring the local wildlife.
Sabine National Forest – This beautiful forest is renowned for its gorgeous oak and hardwood trees, and housing one of the States' largest man-made reservoirs draws plenty of camping and fishing enthusiasts.
Kisatchie National Forest – Louisiana's only national forest is defined by its soaring longleaf pines.
Jackson Square – Although it's hard to choose a single highlight when it comes to New Orleans, this historic square is perhaps the city's most iconic landmark.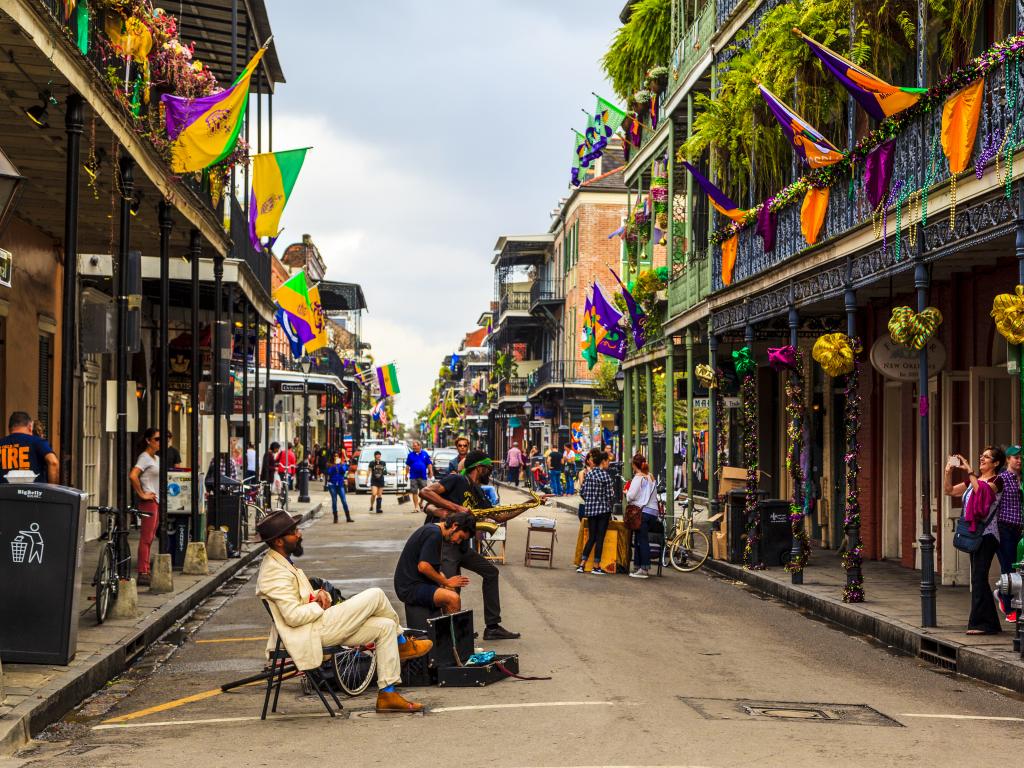 Best time to go on a road trip from Houston to New Orleans
Chances are, if you're doing a road trip from Houston to New Orleans, you're planning on checking out some of Crescent City's famous seasonal festivals and events. With that in mind, certain times of the year are better suited for the trip than others.
Spring and fall visits are highly encouraged, as this is when the temperatures are most pleasant and when most of New Orleans' festivals are held. Needless to say, the crowds tend to rack up hotel prices, and it won't be easy to find a room unless you book well in advance.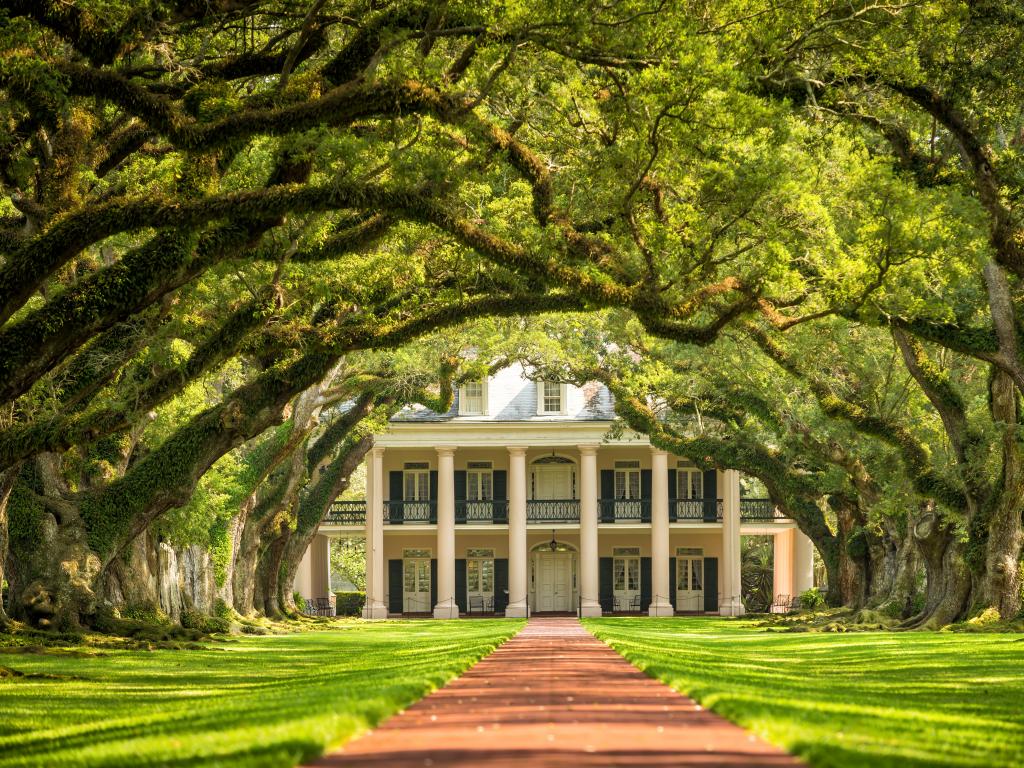 If there's one thing you know about New Orleans' annual events, it's probably Mardi Gras, which falls either in February or in March in any given year. The city becomes quite hectic during this particular celebration, so be sure to book a room well in advance if you'd like to take part.
Although it might sound counterintuitive if you're not from the South, summer is one of the definitive times to do this trip if you're on a budget – the hot summers don't lend themselves to outdoor activities, so there are fewer tourists and hotel rooms are more affordable.
Even cheaper, however, are winter trips to New Orleans. Visiting between December and February is perhaps the best way to see a quieter side of the city, but this comes with the obvious drawback of having few to no events or festivals worth checking out.