Road trip from Rome to Venice
Travelling between the two iconic cities of Rome and Venice is an incredible road trip which takes you to some of the most celebrated natural landscapes in Italy. The route is peppered with world-renowned historical sites and attractions which are sure to leave lasting memories.
It takes 12 hours 30 minutes to drive the 960-km road trip from Rome to Venice, visiting Florence, Pisa, Cinque Terre, Lake Garda and Verona on the way. Or take a shorter route via San Marino to visit Assisi, Bologna, Rimini and Parco del Delta del Po.
From the sun-drenched Tuscan landscape, sparkling Mediterranean Sea and quaint hill towns, to buzzing city restaurants and stunning national parks, there's something to inspire nearly every traveller on this fabulous road trip.
How far is Venice from Rome, and how long will the road trip take?
Comparison of road trip route options between Rome to Venice

| Route | Distance | Driving Time |
| --- | --- | --- |
| The San Marino Route | 660 km | 9 hours 30 minutes |
| The Florence Route | 960 km | 12 hours 30 minutes |
The longer of our two recommended road trips (the Florence Route) takes an indirect but scenic 960-km route through Florence, Pisa and the Cinque Terre.
The driving time for this route is around 12 hours 30 minutes, not allowing for any traffic you hit on the way, but with so many world-famous monuments to see along the way we'd suggest taking at least 4 days for the trip.
For a shorter but no less impressive road trip, you can also travel the 660-km route via San Marino which will take around 9 hours and 30 minutes to drive.
Although they're not the most direct ways to travel between Rome and Venice, both of these road trips are a manageable length and let you see some spectacular parts of Italy. Keep on reading to help you decide which route to take.
Best road trip route from Rome to Venice
By taking local roads instead of the highway you could spend weeks exploring Italy on your way from Rome to Venice, but to help you with your planning we've put together two fabulous road trip routes.
Taking you through the iconic Tuscan landscape and through world-renowned sights including the Leaning Tower of Pisa and The Duomo di Firenze, your memories of the epic Florence Route will last a lifetime.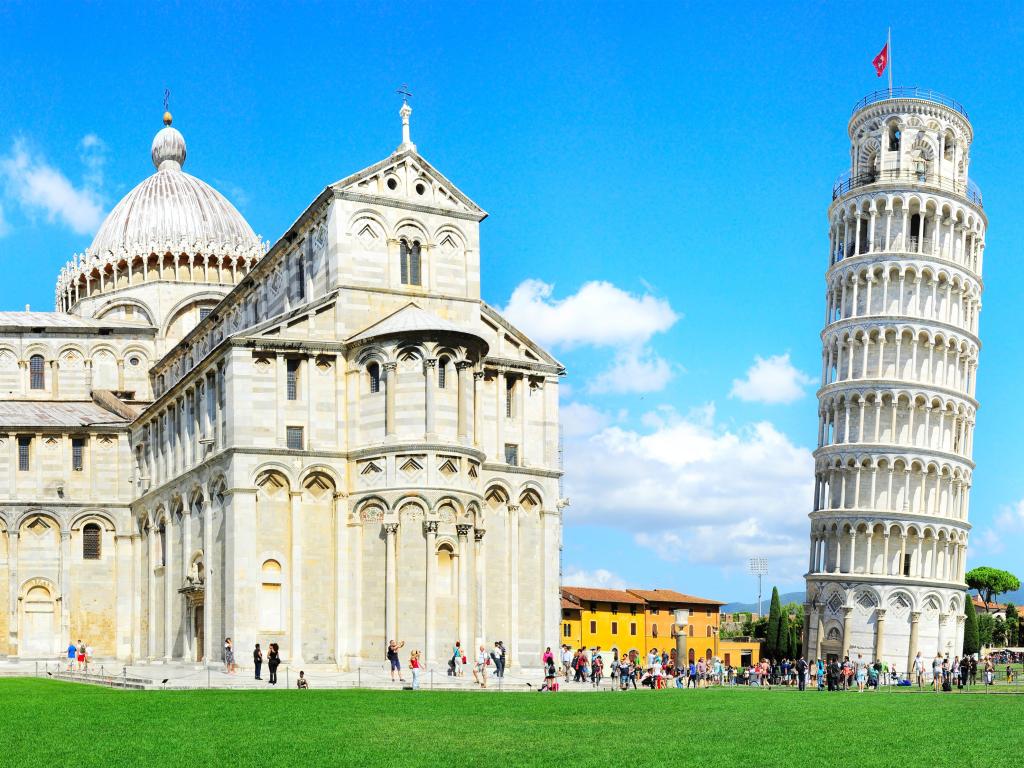 It's an opportunity to visit the unique Cinque Terre on Italy's western coast, with breathtaking views and picturesque walks between each town. You'll stop at wonderful historical sites including Castenedolo, enjoy local speciality meals in Parma, or take a sailing boat across the calm waters of Lake Garda.
The more direct route via San Marino also takes you to some amazing destinations. You can visit the breathtaking manmade waterfalls of Cascata delle Marmore, which are illuminated so beautifully once the sun sets, and admire the natural beauty of Parco Nazionale dei Monti Sibillini.
This route also takes you briefly to the Mediterranean coast as you pass through Rimini and you'll also be able to see historical sites in San Marino and spot wildlife in the stunning Parco del Delta del Po.
With two such fantastic routes available it might be hard to pick just one of them to enjoy, so why not consider making this into a round trip for a truly epic Italian adventure?
The Florence Route
This road trip starts out on some of the country's fastest roads, the E35 and A1, which you'll follow north up through Lazio and Umbria until you reach Florence in Tuscany.
After spending some time exploring the delights of Florence, head west out of the city on the Firenze-Pisa-Livorno Road which will take you to the next major city on this route, Pisa.
From Pisa, pick up the E80 and follow it north as it runs parallel to the Mediterranean coast. Take the exit at Piano to descend along the winding road towards beautiful Cinque Terre.
Moving on, retrace your route back to the E80 and head south again until you cross the River Magra, which marks the border between Tuscany and Liguria. Here, change onto the E33 which starts out running alongside the Magra on its way towards Parma, where you'll join the A1 again.
You can bypass the city of Piacenza to join the E70 which heads north past Cremona then on to Lake Garda. Take your time to hop off the highway and explore this beautiful area, starting by following the SS45bis to Maderno then returning south along the lake shore when you're ready to carry on towards Venice.
Once you're back on the E70 the rest of the route is straightforward to navigate as you simply follow the highway all the way to Venice. Along the way you'll pass Verona and Padua before you reach the famous canals of Venice.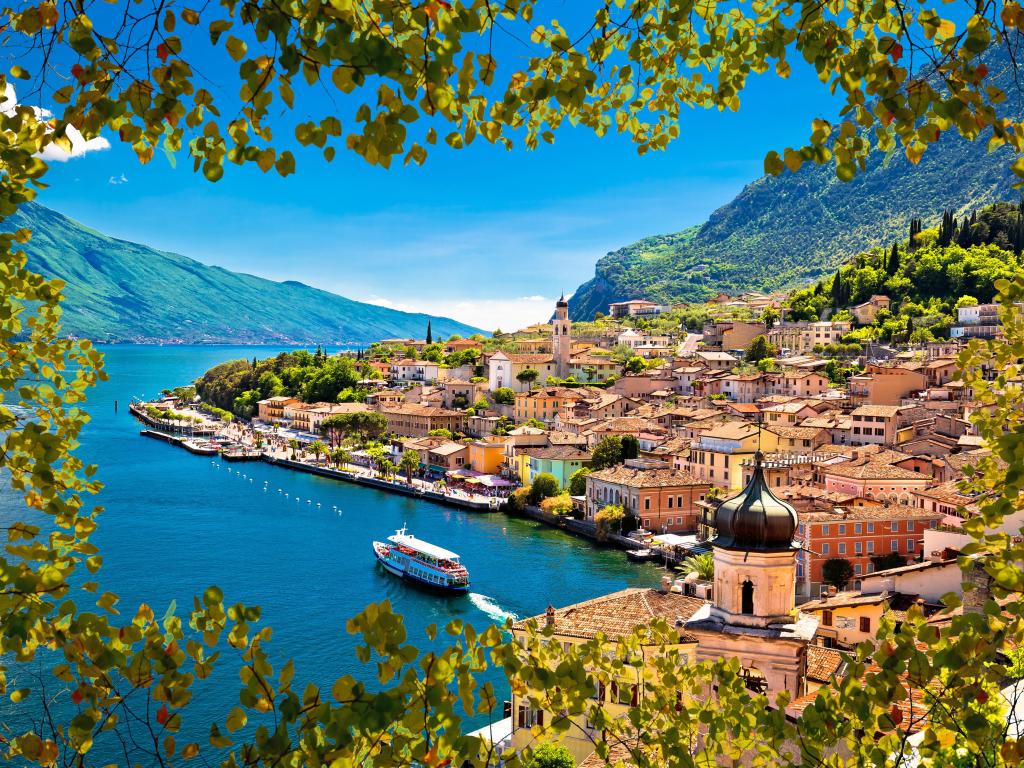 The San Marino Route
This route also starts out along the E35 and A1, but this time leave the highway at Caldare to drive through Umbria on smaller state roads which will take you through Terni, Trevi and Assisi.
Continue north from Assisi through Palazzo and Petrignano then turn onto the SS318. Turn off at Branco to follow the road through Gubbio before waving goodbye to beautiful Umbria and continuing your journey through Le Marche to Calmazzo, where you'll turn left to head towards Urbino.
From here you'll slow the pace a little, follow the winding back roads through Casinina and Montelicciano before arriving in the city state of San Marino.
Leaving San Marino to the north, pick up the SS72 which will take you out to the E55, the Autostrada Adriatica. Follow this to Ravenna then turn inland to connect with E45 to Bologna.
From Bologna, follow the Autostrada to Ferrara then on to Padua, from where it's just a short final stretch on the E70 to reach Venice.
Best places to stop between Rome and Venice
The driving distance means you'll need to stop at least once on your road trip from Rome to Venice. We've picked out some atmospheric places to spend the night so that your hotel stay becomes just another amazing part of this unforgettable experience.
Watch the sunset over the Mediterranean in Cinque Terre
The coastal area Cinque Terre, or 'five towns', is the perfect midway stop off if you're taking the Florence Route. It's around midway between Rome and Venice and an opportunity for some rest and relaxation in the most stunning location.
It's best to explore the Cinque Terre by foot, so you can take advantage of a break from driving when you visit this wonderful location. Park your vehicle in one of the many car parks in Monterosso and walk to the train station to explore during your stay.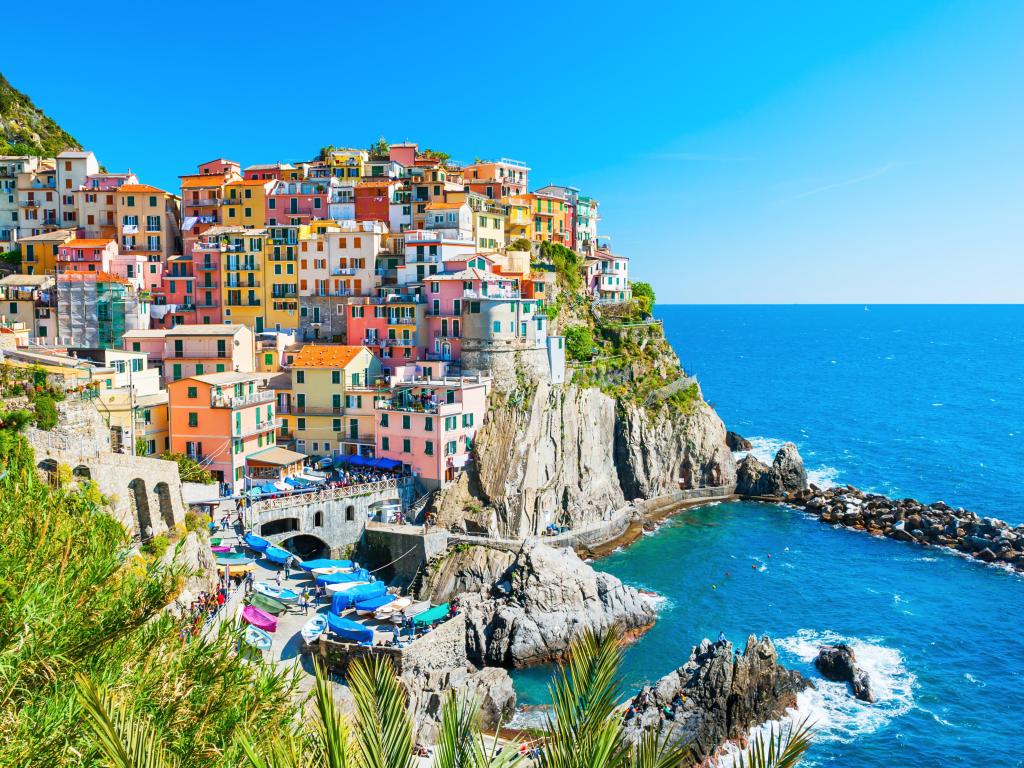 Cinque Terre is unrivalled when it comes to beautiful landscapes, impressive sights and delicious cuisine, so follow the Cinque Terre Trails which wind between the different towns and across the landscape. The Cinque Terre Card enables you to explore the most popular sites across the towns, using the train between them if needed.
There's no avoiding the fact that Cinque Terre is a popular destination, but to see a quieter part of Cinque Terre, head to the pretty beaches of Borgo Antico to soak in the sights. Head out on a boat tour to experience the best views – a sunset cruise is also particularly recommended.
Over in Monterosso al Mare, sit back and relax with an afternoon of wine tasting at Buranco Agriturismo. If you want to stay longer, a delicious speciality dinner is also available to enjoy.
A stone's throw from the coast, with a terrace and gardens where you sit back and enjoy the views, Ca' D'Andrean offers a fantastic overnight stay. It's close to several popular beaches including Riomaggiore and each room enjoys unrivalled views across the stunning landscape.
The hotel has a highly rated traditional breakfast to get your day off to a great start and is close to plenty of other cafes and bars where you can try out the local cuisine.
It's also close to other attractions including Parco della Rimembranza and Amedeo Lia Museum.
Cars can't be parked inside Manarola itself but parking is available nearby and as Ca' D'Andrean is close to two train stations, it's easy to leave your car behind and travel through the Cinque Terre by train.
Stay in historic San Marino
San Marino is roughly halfway along the route from Rome to Venice. Known for its historic sites, it's teeming with castles, churches and cathedrals so it's a fascinating place to visit.
San Marino claims to be the oldest surviving republic, having been founded in 301 AD, and there are plenty of opportunities to learn more about the history and culture of the area.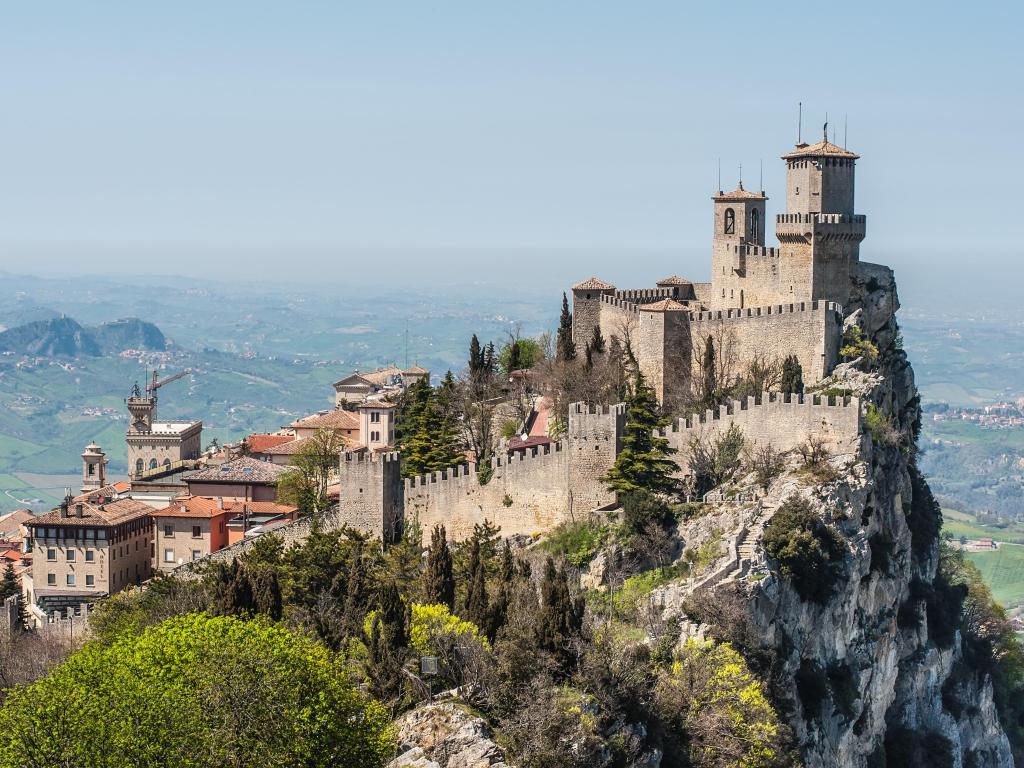 The Three Towers, Guaita, Cesta and the Montale Tower, are prominent attractions in San Marino. They are even included on the San Marino flag. Beautiful views can be seen on top of the Guaita tower in particular.
Back down at ground level, head to Piazza della Libertà, a picturesque piazza where you can sit back and watch the Guardia di Rocca changing guards. Of course, you can also enjoy a coffee in one of the many cafes located on this main square.
Cesta Tower is another landmark with incredible views over San Marino. Visit here to learn more about Archaic Arms with informative displays and tours.
When you've finished exploring for the day, head back to Titano Suites where you can relax on one of the terraces to enjoy the evening sunshine and spectacular views - with an Aperol Spritz from the onsite bar too perhaps?
The hotel is in a great location within sight of Palazzo Pubblico Palace and the Basilica of St Marino and has elegantly decorated rooms. There's also a restaurant and bar on the property and delicious dining options on the doorstep.
Free parking is available on site, so once you arrive in San Marino it will be easy to leave your car and explore by foot for the rest of your stay.
Where to stay when you reach Venice
Located in the heart of Venice just yards from St Mark's Square (San Marco) and other top attractions including the Bell Tower of San Marco and Palazzo Franchetti, Rosa Salva Hotel has elegantly designed rooms and its terrace is the perfect place to enjoy the incredible views of Venice.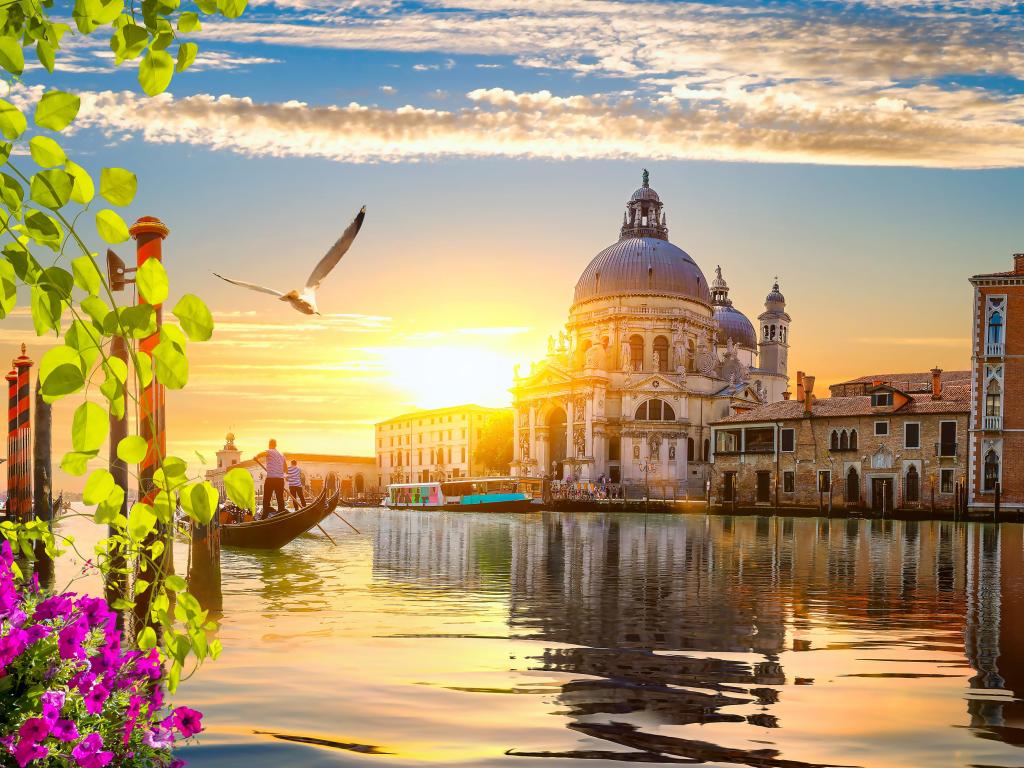 You can enjoy the delicious traditional buffet breakfast which is served here every day or head out on foot to nearby cafes and restaurants.
As with many hotels in Venice, you'll need to park off-site during your stay, then it's easy to get to Rosa Salva by water bus or taxi. With this unrivalled location exploring the area by foot is a must.
Things to see on a road trip from Rome to Venice
There's so much to see and do on a road trip from Rome to Venice that the challenge will be deciding how to fit everything in! Here are some of top picks for each route to help you narrow down your favorites.
The Florence Route
Arezzo Cathedral - A highlight during a visit to Arezzo, take a guided tour around this incredible cathedral before climbing up the Bell Tower for panoramic views across the city.
The Duomo di Firenze - A must-see when visiting Florence, the Renaissance Era is best seen through its artwork and sculptures and as a result attracts millions of visitors each year. Take on the hundreds of steps to the top of the Duomo for incredible views.
Leaning Tower of Pisa - World-famous due to its height and not properly supported foundations! Stand in the foreground and pretend to keep this bell tower up – it's one of the photographs you wouldn't want to go home without.
Massa - In this historic town, the popular Diocesan Museum is a good place to visit to understand more about the region's history and art. Afterwards head for a relaxing afternoon by the sea at Marina di Massa.
Cinque Terre - Pretty colored houses and stunning views are throughout the '5 towns' of Cinque Terre. Ramble between them where you can, or get a Cinque Terre freedom pass where you can hike or take the train between each interesting town.
Parco Nazionale dell' Appennino Tosco-Emiliano - An expansive park teeming with outdoor adventure. For thrill seekers, there is the chance to rock climb and mountain bike through the woodlands or enjoy more scenic gentle walks through this park.
Parma - Known best for speciality foods, a visit to Parma wouldn't be complete without a food tour to learn about – and sample – plenty of Parmigiano Reggiano and Parma Ham. Delicious!
Torrazzo of Cremona - Standing next to Cremona Cathedral, this bell tower at the heart of Cremona is one of the tallest in the world. Known as the Vertical Museum, head here to climb the tower for the impressive views.
Castenedolo - A hidden gem, Castenedolo is full of interesting historical and religious sites to visit, including Parrocchia San Bartolomeo Apostolo.
Lake Garda - This is Italy's largest lake, so big in fact that it's split across Verona, Brescia and Trento. A sailing tour across the calm waters is the best way to see the best sights and scenery of this impressive landscape.
Verona Arena - The beautiful river city of Verona is a must-see stop-off. Head to the Verona Arena for a tour around this incredible amphitheater, which is even older than the Roman Colosseum and just as architecturally impressive.
Vicenza - Take a spot at the central square here in Vicenza, the Piazza dei Signori. Head here after a busy day sightseeing to enjoy an aperitif, sit back and relax.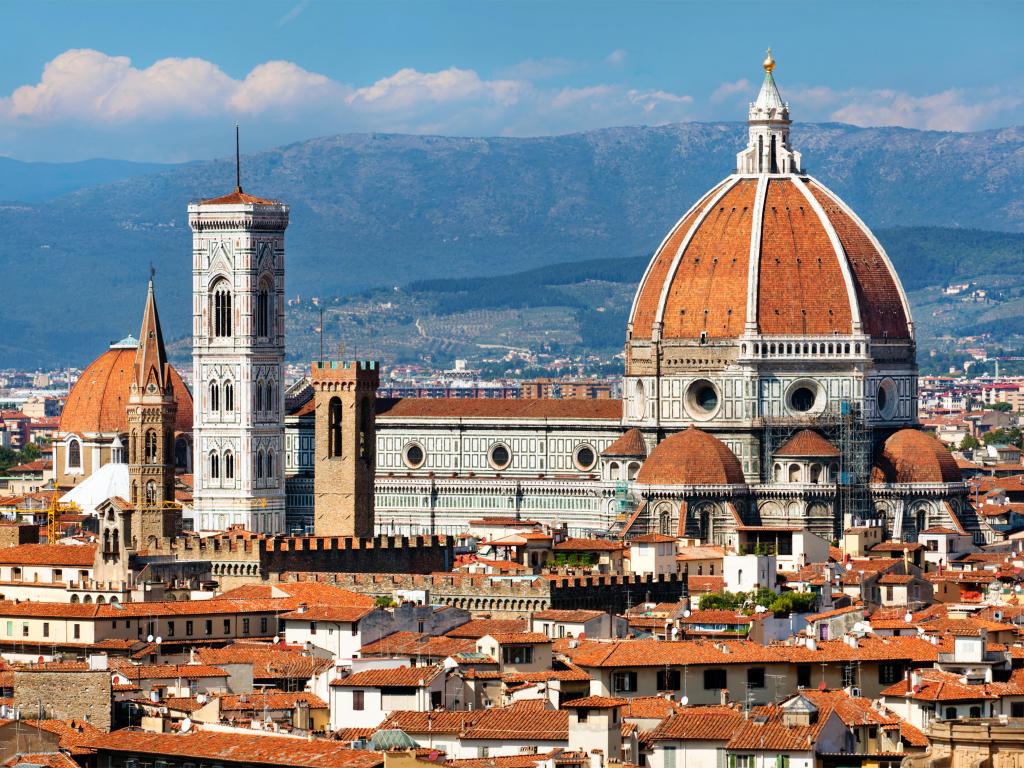 The San Marino Route
Cascata delle Marmore - Stop off in Terni to picture the breathtaking manmade waterfalls, with many routes which let you see the sights from all angles. Arrive when the sun sets and the impressive waters are illuminated.
Parco Nazionale dei Monti Sibillini - Stunning Monti Sibillini National Park is a must-visit natural site. The heights of Mount Vettore are nestled in the middle and there are many trails across this park to explore. Fancy resting your legs? Take a horse or donkey ride to explore even more of this landscape.
Assisi - Explore Assisi by foot (car parks are easy to find outside the center) and learn more about this medieval town. A UNESCO World Heritage site, many pilgrims head here to visit the place where St Francis was born.
Urbino - The huge Ducal Palace, Palazzo Ducale, is a key destination in Urbino. Make sure to take a guided tour around this Gothic work of art.
San Marino - San Marino is teeming with castles, churches and cathedrals and there are plenty of opportunities to learn more about this area – the oldest republic in the world.
Basilica di San Vitale - Stand in awe when arriving to see the interesting and original sights of Ravenna. Get a pass to visit all five signature monuments, including Battistero Neoniano, for a memorable and informative day trip.
Bologna - Take some down time to wander the Quadrilatero, browsing the local market and quaint shops. After a busy few days sightseeing it's a great spot to unwind.
Parco del Delta del Po - A bird lover's paradise, head here for the opportunity to spot some amazing wildlife across these wetlands. In Spring many head here from all over Europe as it is one of the best bird-watching spots around.
Centro Storico Ferrara - Take in the sights and piazzas during a visit to Ferrara. Wander the pretty cobblestone streets, before heading to Piazza Cattedrale to visit the impressive cathedral that takes centre stage.
Both Routes
Riserva Naturale della Marcigliana - This natural reserve near Rome is the perfect stop off to explore the pretty grasslands and medieval towers that dot the landscape.
Castello Ducale Orsini - Stop off in Fiano Romano to explore this castle and feel like you're stepping back in time. There are plenty of quaint places for a bite to eat afterwards too.
Scrovegni Chapel - Padua's Scrovegni Chapel is breathtaking. The beautiful paintings in this small church are by Giotto and are known throughout the world. A popular landmark and rightly so.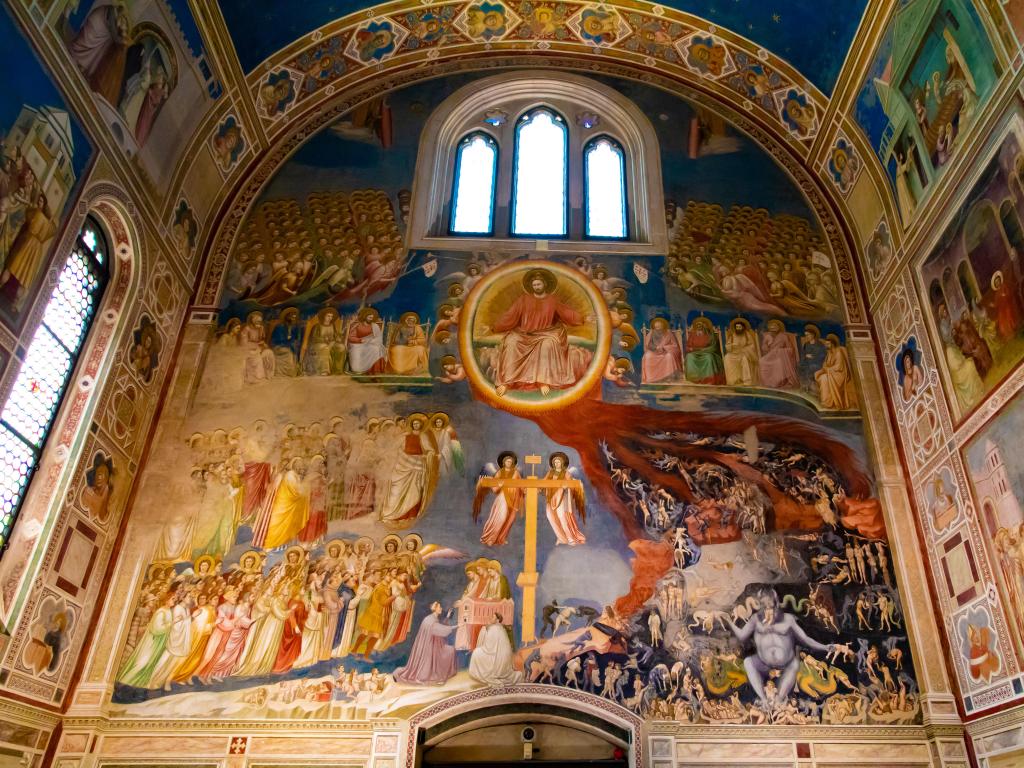 Best time to go on a road trip from Rome to Venice
Venice's museums and attractions are open all year round and make this destination absolutely one to visit whatever the season. The days are longer during the summer months, however there's plenty of evening entertainment when the sun goes down whatever the time of year.
The weather is warmer during summer, with average temperatures around 28 degrees Celsius, however, the hot weather, humidity and regular thunderstorms can make sightseeing a little uncomfortable at this time of year.
Summers see a large influx of tourists, so crowds are more likely. Accommodation costs will also be higher during this period, so if you plan to visit in the summer book ahead to secure the best accommodation and attraction prices.
The low season is at the start of the year when Venice also takes on an interesting winter atmosphere. Temperatures usually range from 4-7 degrees Celsius, but if you wrap up warm you'll still be able to see all the sights.
The temperatures also do not dip often to freezing, so the waterways for a gondola or water taxi still remain open whatever the season.
Although crowds can typically be smaller in the winter, Carnevale in February does bring in huge numbers of visitors, and it's easy to see why. Beautiful, colorful floats fill St Mark's Square during this historic event held since the 13th century.
Spring and fall are both great times to visit Venice, the shoulder months of the busier peak summer. Attractions and accommodation are not at a premium, so many tourist spots should also be slightly quieter – and cheaper. And with the weather also fairly mild, you can explore before the muggy summer heat descends.
There is plenty happening in Venice throughout the year that draws crowds in from around the world. This ranges from Venice Film Festival, the oldest film festival in the world, to many religious occasions celebrating faith and devotion.
In May, La Sensa sees a celebration of man and sea, where a huge regatta gathers a huge crowd with many vessels taking part. The Regata Storica in September is also a popular water-based festival to attend.
Watch as the skies over the waterways light up in early July for The Festa del Redentore, an absolutely breathtaking way to mark the end of the plague in 1577.
Whatever time of year you visit Venice, you're in for a real treat. It's a unique and iconic city packed full of culture, history and landscapes that will stay with you for a lifetime.