22 Best Road Trips from Portland, Oregon
With its volcano views, fabulous nightlife, foodie culture and insightful museums, Portland, Oregon is a destination in itself. It's located in the Pacific Northwest, 70 miles from the coast and roughly half way between California and the Canadian border, so if the open road is calling, you'll have plentiful road trip options to choose from.
It's quick and easy to enjoy a coastal escape from Portland, and with the city's great access to the interstate it's also the perfect starting point for a longer road trip to California, Yellowstone or even the Grand Canyon if you have something more adventurous in mind.
There are so many choices when it comes to planning a road trip from Portland. We've put together 22 of our favorites to inspire you, whether you're in the mood for a great day out, a weekend away or the long-distance trip of a lifetime.
Best road trips from Portland, Oregon: a quick overview
Day trips from Portland (under 3 hours each way)
One of the great things about Portland is that there's so much to see and do nearby. That means there's a whole host of short road trips on offer that will keep you entertained, even with just a day to spare.
1. Silverton and Silver Falls State Park, Oregon
1 hour 20 minutes from Portland (55 miles)
Why you should visit: After the urban buzz of Portland, nearby Silverton is known as the state's Garden City, and it's a real breath of fresh air. Just over an hour out of the city you'll be driving through lush green farmland and stunning vineyards.
There are fabulous hiking opportunities once you reach Silver Falls State Park. As the name suggests, there are many waterfalls in the park, making it a really scenic place to explore.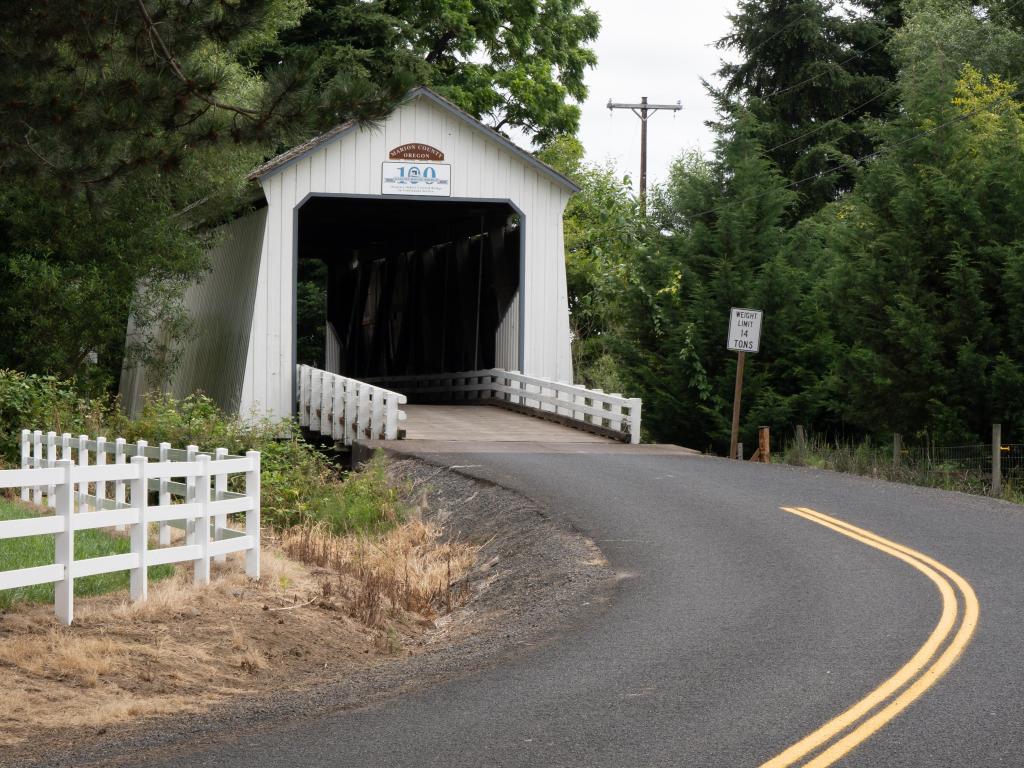 How to get there: Head south from Portland on I-5 then exit onto the highway just after crossing the Willamette River at Wilsonville. Take a left when you reach Woodburn, then follow the road through Mt Angel to Silverton and on to Silver Falls State Park.
Our highlights: Silver Falls State Park is a great place to hike, bike or horse ride. If you have time, hike the 9-mile Trail of Ten Falls to visit many of the park's beautiful waterfalls.
You might also like to take a tour of one of the local wineries or tasting rooms such as Vitis Ridge or Paradis Vineyards. Silverton is right in the heart of Oregon's wine country so it's a great place to come if you'd like to discover more more about the vintages and varieties that the region produces.
Also nearby is Frank Lloyd Wright's Gordon House, which will appeal to architecture buffs. Or if you're looking for a moment of calm on your break from the big city, you can relax in the huge open space of the Oregon Garden, an 80-acre botanical garden in Silverton.
Bonus: The Gordon House stood in the way of development a couple of decades ago. It was fully deconstructed and rebuilt on its current site in order to preserve it.
Our travel tips: Visit Silverton on a Saturday to relax at the Farmers Market where you can try out more delicious local produce and shop for artisan gifts.
2. Rockaway Beach, Oregon
2 hours from Portland (90 miles)
Why you should visit: Rockaway Beach has been a popular seaside getaway for Portland residents since the early 1900s thanks to its beautiful sandy beaches, atmospheric forests and ocean views.
It's one of the closest ocean destinations to Portland so it makes a perfect day trip if you wake up wanting to feel the sand beneath your feet.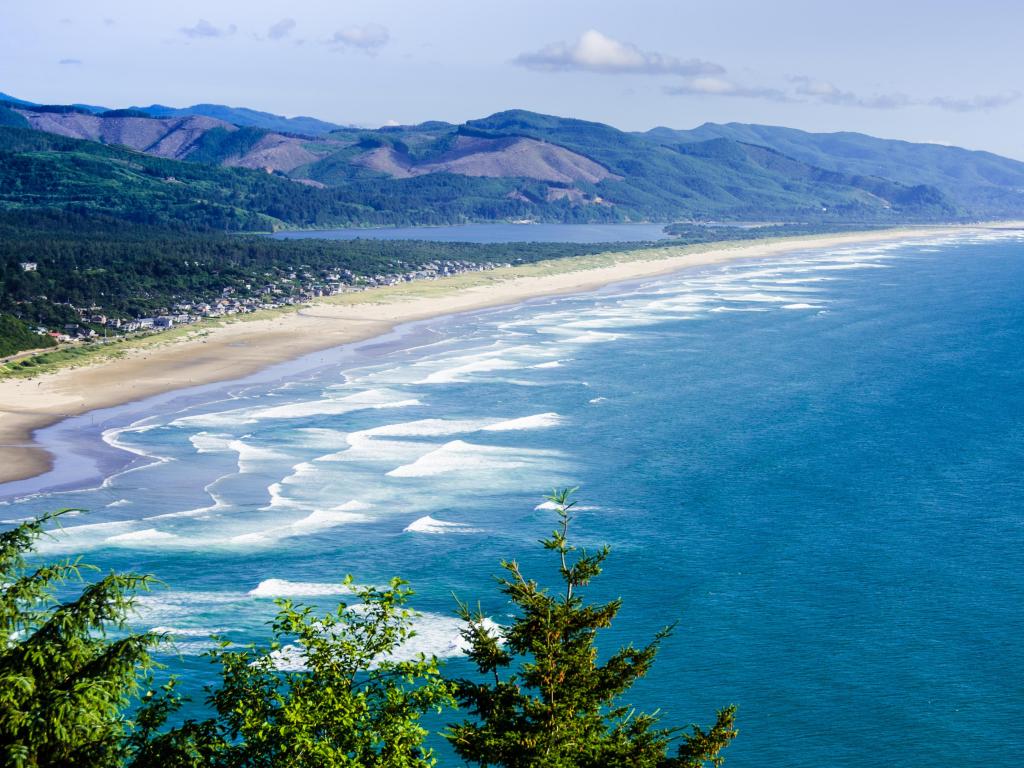 How to get there: Head north west out of Portland on US-26, the Sunset Highway, which you'll follow through Buxton and Mishawaka. Next, take a left onto ON-53, which winds its way through forests and farmland.
At Wheeler, join Route 101 heading south for a few miles around Nehalem Bay then follow the coast through Manhattan Beach to reach Rockaway Beach.
Our highlights: There's a long stretch of stunning sands to explore at Rockaway Beach – 7 miles to be precise. Take your camera to capture the sun setting over the ocean, or views of the Twin Rocks that stand just out to sea.
Following in time-honoured seaside tradition, sit out on the dock to fish for crabs. You might also see people searching for razor clams on the beach too. This requires a little more experience and a licence, so weekend visitors are probably best to enjoy this delicacy in one of the town's seafood restaurants.
The surrounding forests, wetlands and clifftop paths are a hiker's paradise, and the atmospheric outlook changes with the seasons. Look out for the huge Grey whales that migrate along the Oregon coast. You can sometimes spot them from land, or join a boat trip to try and get a closer look.
Bonus: Just over a century ago, a ship ran aground off Rockaway Beach and its wreck is still visible at low tide.
Our travel tips: Rockaway Beach Kite Festival (currently held in September) is a visual feast where you can watch expert kite fliers display their stunning kites, or have a go yourself. Even if you're not here for the weekend of the Kite Festival, the wide and sometimes windy sands of Rockaway Beach are a great place to learn to fly a kite.
There's also a huge 4th of July celebration here, so be prepared for the town and beach to be much more crowded over the Independence Day holiday.
3. Astoria, Oregon
2 hours from Portland (95 miles)
Why you should visit: Perched on the shore, where the Columbia River meets the Pacific Ocean, Astoria is the oldest city in Oregon, and the first to be founded by European settlers this side of the Rocky Mountains.
Walk through Astoria's historic streets and you'll get a feel for the city's pioneer history and the influence of the different European cultures that found their way all the way to the Pacific.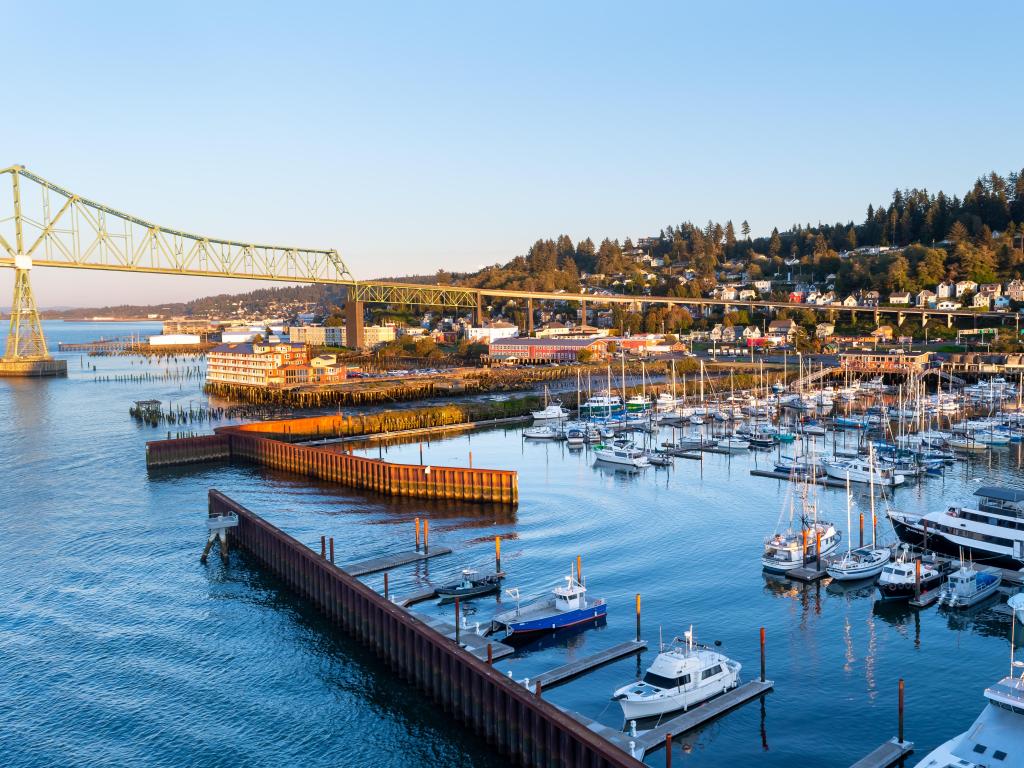 How to get there: This road trip is really simple to navigate, since it follows just one road all the way from Portland to Astoria. You'll begin by heading north from Portland on US-30, which follows the Columbia River along the Oregon/Washington border.
At Rainier the highway swings west, continuing through Clatskanie and Westport before hitting Cathlamet Bay on the run in to Astoria.
Our highlights: When you reach Astoria, head to the Columbia River Maritime Museum to learn about the city's long relationship with the river and ocean. You can tour the historic Lightship Columbia here too.
To see some more of the city itself, ride the restored Astoria Trolley along the waterfront to soak up the city's vintage vibes the climb the Astoria Column for fabulous views across the water.
You can step even further back in time at Fort Clatsop, a living history museum that takes you back to Lewis and Clark's expedition to the coast in the early 19th century.
Astoria isn't just about its history though. When you're ready for refreshments, you can tour Astoria's many craft breweries, though be warned you might need to turn this day trip into a weekend trip if you want to try more than a couple!
Bonus: You might recognise Astoria and the surrounding area from some classic 80s and 90s movies. Scenes from The Goonies, Short Circuit and Kindergarten Cop were filmed in Astoria, and Free Willy made his final dramatic leap to freedom a few miles outside the town.
4. Cannon Beach and the Oregon Coast
2 hours 20 minutes from Portland (115 miles)
Why you should visit: Cannon Beach is one of the best known stretches of the Oregon coast, thanks to the stunning views out to Haystack Rock and the beautiful coastal landscape.
If you need to recharge after spending time in the busy city, it's the perfect place to come and stretch your legs with a long hike, with stretches of rainforest to explore. It also has a thriving arts scene.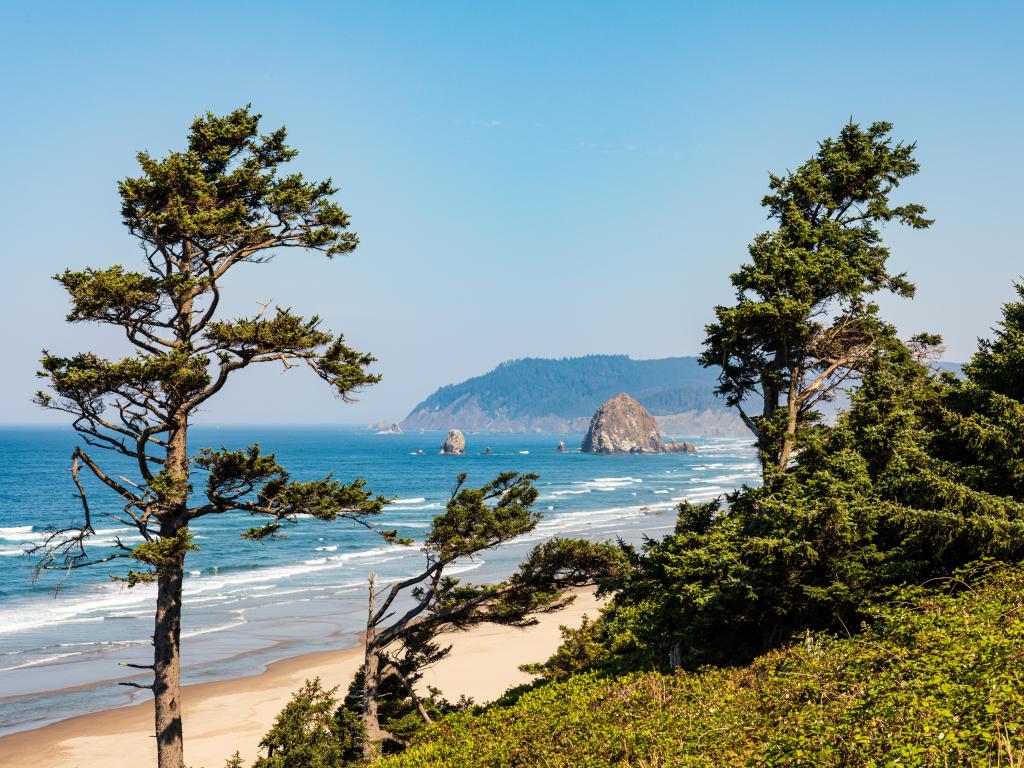 How to get there: Follow US-26 northwest out of Portland then turn onto OR-6 which winds through Tillamook State Forest until it meets Route 101 at Tillamook.
From here, follow the highway north around Tillamook Bay then up the coast, passing Rockaway Beach and Nehalem Bay State Park along the way.
Our highlights: First stop for most visitors is to sit back and relax on the soft sands of Cannon Beach itself. The seascape is always changing depending on the light and weather, so even if you've visited before it's worth a return trip to enjoy the view again.
Head out to nearby Arcadia Beach and Hug Point to see the rugged coast from different angles. If time allows, you might like to stop along the way to hike Neahkahnie Mountain Loop, an 8-mile circuit that offers great views.
If you're feeling active, it's possible to swim at Cannon Beach, though you should always check for local information on tides and currents. When it's time to warm up, explore the galleries and public artworks that are dotted around Cannon Beach.
Carry on up the coast just a couple of miles and you'll reach beautiful Ecola State Park. As well as some stunning beaches, you'll also have a good chance of spotting wildlife as you hike through the state park.
Bonus: This stretch of the Oregon coast is a great surfing spot – as long as you're tough enough to take on the cold water.
It's also another place that's been used as a filming location. You can spot the Tufted Puffin rock formation in the Twilight movies.
Our travel tips: Unless you're very hard, you might want to rent a wetsuit in town to take the edge off the chill of Oregon's cool water.
Come out of peak season for the best chance of whale watching – the months from December to April are best.
5. Carlton, McMinnville and Tillamook, Oregon
2 hours 30 minutes from Portland (110 miles)
Why you should visit: This is a short road trip that really packs in the sites – while it's easy to drive as a day trip, this is a route that combines historical sites, more of Oregon's wine country and a stunning shoreline so you could definitely stretch this out to fill a weekend.
Seeing as this is an epic road trip in miniature, you'll find something to please every member of your party, with minimal travel time too.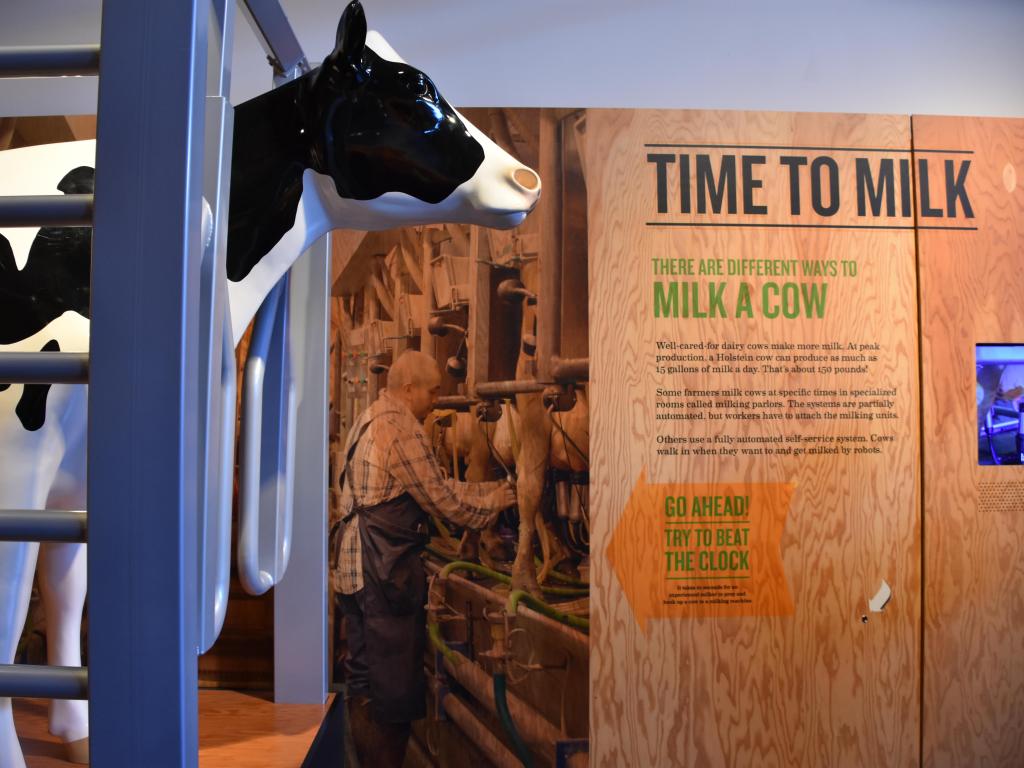 How to get there: Follow the Pacific Highway West towards Newberg then detour along OR-240 and NE Hendricks Road to visit your pick of wineries on the way to Carlton.
When it's time to move on, turn south to return to the highway, which takes you to McMinnville. From here, join OR-18 and follow it to Valley Junction where you'll turn right onto OR-22 which winds through lush forests to reach Hebo. Then join US-101 which takes you north to Tillamook.
Our highlights: Your first stop on this road trip is Carlton. With more than 20 tasting rooms to explore in and around the town, wine lovers are recommended to book an overnight stay here!
Once you reach McMinnville, head to Evergreen Aviation & Space Museum where the impressive exhibits take you on a ride through the history of air and space travel. For a more traditional step back in time, Yamhill County Heritage Center, just outside McMinnville, recreates Oregon life in the late 1800s.
Moving on, branch off from McMinnville to explore the beautiful Willamette Valley. This is a hiker's paradise, and it's a real treat to walk through the vineyards. There are more opportunities to try out Oregon's wines here too.
As well as its stunning shoreline, Tillamook is famous for its cheese factory. Chances are you've tasted one of its cheeses before, but when you're in the region you can also enjoy the creamery's delicious ice creams, which they prefer to keep close to home.
Bonus: Have you ever ridden a waterslide that launches from a jumbo jet? At McMinnville's Wings and Waves Waterpark – connected to Evergreen Aviation & Space Museum – you can tick that right off your bucket list.
Our travel tips: Visit in late June to catch the Tillamook Rodeo.
Click here to skip to the top.
Weekend trips (3-5 hours each way)
If you're heading a little further afield then you have even more fabulous road trip options to explore. Again, there's huge variety depending on whether you hit the coast or drive inland.
Unlike our shorter road trips from Portland, where an overnight stay is optional, we'd recommend stretching these trips out over at least 2 days so that you can fully enjoy them without spending half of the day behind the wheel.
6. Eugene and Willamette River, Oregon
3 hours from Portland (140 miles)
Why you should visit: This route takes you along the Willamette Valley, travelling between Oregon's largest and second largest cities and visiting the state capital along the way.
It's a great mix of city and country vibes – take the highway rather than the interstate and you can stop to explore hidden corners of the Willamette Valley as you make your way south.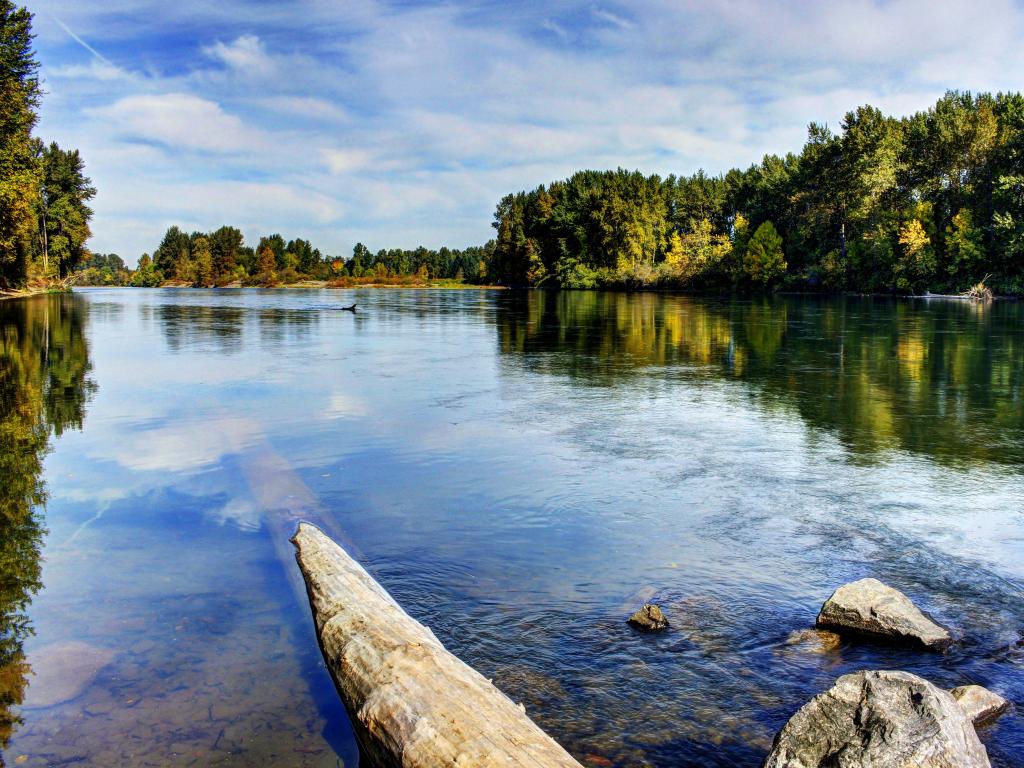 How to get there: Leave Portland on the Pacific Highway W (OR-99 W) then at Dayton turn onto OR-221 towards Lincoln before continuing on to the state capital, Salem.
Head back towards the highway then turn south just past Eola, following the Willamette River until you meet US-20, which takes you into Corvallis. From here, the Pacific Highway continues to trace the route of the Willamette River as it leads you to your destination, Eugene.
Our highlights: This is one of those trips where it really pays to enjoy the journey as well as the destination. First, stop for a wine tasting with views over the Willamette Valley at one of the many vineyards between Newburg and Dayton.
The route takes you through Salem, Oregon's state capital. For a captivating journey through the city's chequered past, join one of John Ritter's engaging history routes.
Once you reach Eugene, tour the Museum of Natural and Cultural History to find out more about the indigenous cultures that shaped this region. Then relax at Euguene's 5th Street Public Market, where you can sit out in the sunshine with a glass of Oregon pinot noir once you've finished browsing.
If time allows, pack your hiking boots and head out of Eugene to hike to the fabulously-named Too Much Bear Lake. There's also the chance to spot waterfalls along the way.
Bonus: Thanks to its plentiful produce and wineries, the Willamette Valley has been called the 'land of milk and honey' – making it the perfect destination for a foodie road trip.
Our travel tips: Visit in mid-July for Salem Art Fair and Festival, or come in early fall to catch the grape harvest.
Check ahead for weather reports if you're travelling in winter though, as this part of Oregon sees more snow than the coast.
7. Newport, Oregon
3 hours from Portland (140 miles)
Why you should visit: As you'd expect, you'll find stunning beaches in and around Newport, plus you get to drive part of the Oregon Coast Highway so this weekend escape creates a Pacific road trip in miniature.
Newport is still a vibrant fishing port and you'll be able to see the Historic Bayfront merging into 21st century coastal life when you visit.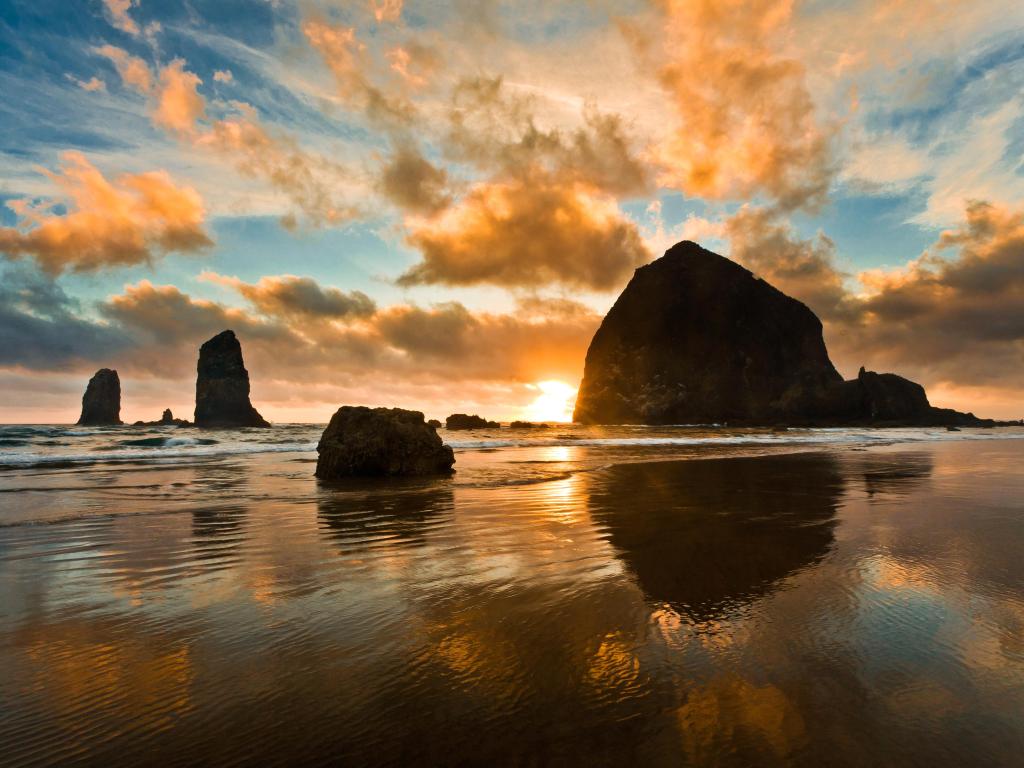 How to get there: Follow US-26 and OR-6 from Portland to Tillamook then join US-101 which runs along the coast through Pacific City, Lincoln Beach and Otter Rock on the way to Newport.
Our highlights: As you make your way towards Newport, stop off at Pacific City's Pelican Brewing Company for some beachfront refreshments with a fabulous view of Haystack Rock.
If you're feeling active, you can also take to the water to explore this gorgeous stretch of coast by kayak. Guided tours are available from Lincoln City, right on Route 101.
When you reach Newport you can find out more about the marine life of Oregon's northwest Pacific coast at the excellent Oregon Aquarium. Keen photographers will definitely want to head across to the Yaquina Bay Bridge and Yaquina Head Lighthouse for some atmospheric shots of these city landmarks.
Bonus: You can't come to Newport without trying a crab-based meal – the city calls itself the "Dungeness Crab Capital of the World" and you'll find this local delicacy on offer in many different forms across Newport's eateries. If you pick up an Oregon Shellfish Licence you can even fish for your own dinner.
8. Florence, Oregon
3 hours 35 minutes from Portland (170 miles)
Why you should visit: Florence is one of the smaller coastal cities so you'll feel like you're jumping off the beaten track a little when you visit, without having to take a long detour from US-101. It's situated at the edge of the continent's largest coastal dunes, so the coast around Florence feels different from other parts of the rugged Oregon coastline.
You can explore a longer stretch of the beautiful Oregon coast on the way to Florence, as well as spending time in Newport and Lincoln City.
How to get there: Follow the Pacific Highway to McMinnville then continue on past Bellevue and Otis to join up with US-101 by the coast. From here, follow the highway south, passing Newport then continuing past Seal Rock and Searose Beach to reach Florence.
Our highlights: There are some fabulous chances for coastal exploration when you take a road trip to Florence. The Oregon Dunes run for more than 40 miles from the city, and offer an other-worldly beachscape that's home to plentiful wildlife.
For some more amazing views - the kind most people think of when they picture the rugged Oregon coast - head to Heceta Head Lighthouse, where lush green forest runs down to the vivid blue sea. Once you've completed the short walk to the lighthouse you can learn about the history of this part of the coast at the lighthouse visitor center.
You can also head out to see Sea Lion Cave. This vast sea cave is maintained as a wildlife preserve and, as it's name suggests, is home to a large colony of sea lions.
Make your way back to Florence when you're ready to warm up and enjoy a delicious meal. You can explore Florence's charming Old Town district too.
Our travel tips: You can enjoy hiking, kayaking and quad biking along the Oregon Dunes, but follow local advice and signage if you're visiting between March and September – sea birds nest in the dunes during these months and it's important to respect this important habitat.
9. Mt Hood and Columbia River Gorge Loop
3 hours 40 minutes from Portland (165 miles)
Why you should visit: Mount Hood is a potentially active volcano that offers fabulous winter sports, stunning views and great photo opportunities, plus excellent hiking and climbing. You can also explore the Columbia River Gorge if time allows – you don't even have to leave the interstate to get fabulous views across the gorge though.
This circular loop starts and ends in Portland so you get a great ratio of milage to sights on this weekend road trip.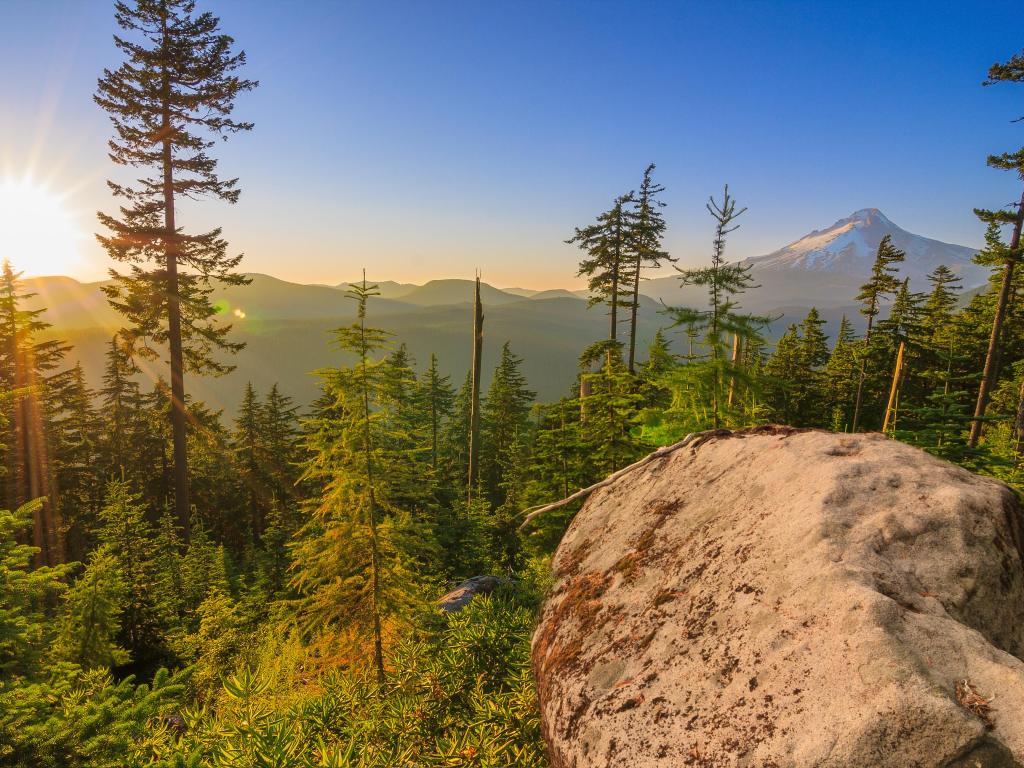 How to get there: Take the interstate east out of the center of Portland then change onto US-26, still heading east. After passing Boring and Cherryville, turn onto OR-35 which skirts Mt Hood.
You can follow a scenic circuit from Mt Hood Meadows Drive, then return to the main route, continuing north until you reach the interstate at Hood River.
To make your way back toward Portland, follow I-84 west along the Columbia River.
Our highlights: If you're travelling in the winter months, hit the slopes on Mt Hood, where you'll find excellent and varied skiing and snow boarding runs. As the snow begins to melt, hiking trails open up around Mt Hood. If you don't fancy the strenuous hike, ride the cable car to the top of Mt Hood for epic views across the surrounding landscape.
You can stop to admire the many waterfalls along the Columbia River Gorge. Horsetail Falls, Wahkeena Falls, Bridal Veil Lakes and Shepperd's Dell Falls are all just a quick hop off the interstate and open up onto hiking trails too.
As we've mentioned, you can get outstanding views of the Columbia River Gorge from the interstate but take the chance to pull over and admire the impressive landscape as often as you can. To see the Gorge from a different perspective, you can also take boat trips.
Bonus: Many believers think that Oregon's vast expanse of forest wilderness and salmon-filled rivers are Bigfoot's natural home. Find out more at the North American Bigfoot Center in Boring.
Our travel tips: Mt Hood has one of the longest ski seasons in North America, with limited parts of the mountain often ski-able all year round. Check ahead for availability before making a trip out for a sun-and-ski weekend though, as slopes can be reserved for pro training.
If you'd rather make a warmer weather trip, spring is a great time to visit the Columbia River Gorge. The wildflowers bursting into life will fill the surrounding area with color.
10. Waterfalls and Bend, Oregon
4 hours 20 minutes from Portland (200 miles)
Why you should visit: This stunning route lets you immerse yourself in countless waterfall views as you travel towards the inland city of Bend.
It's a super-scenic route to get to a fun city – the perfect combination or city and the great outdoors condensed into a manageable weekend trip.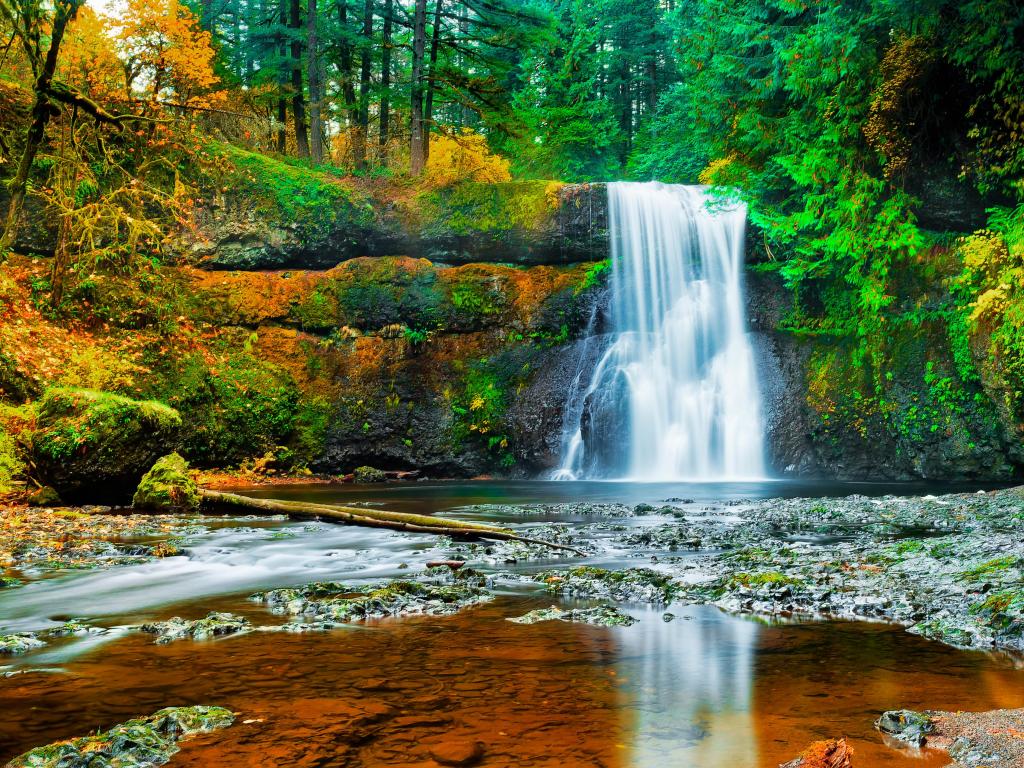 How to get there: Follow I-5 south to Wilsonville then change onto local roads through Barlow and Monitor. Next, pick up OR-214 which takes you to North Falls before winding its way to South Falls in Silver Falls State Park.
After leaving the state park, continue on OR-214 for a few miles then bear south on smaller roads which meet up with OR-22 at Mehama. Continue east along the highway, skirting Detroit Lake then swinging south for a while until you reach Santiam Junction.
From here, detour to visit Sahalie Falls and Koosah Falls before heading back onto US-20 which takes you west to your destination, Bend.
Our highlights: This road trip is all about the waterfalls, so stop along the way to explore cand admire the park's spectacular cascades. Further along the route you can hike to the impressive Sahalie and Koosah Falls, which put on a spectacular show, especially when water levels are high.
Once you reach Bend, head to the interesting High Desert Museum to learn more about this fascinating part of the state. It's a real contrast to Portland.
Then, to bring you and your fellow travellers back into the present day, take a brewery or distillery tour to enjoy Bend's more modern attractions.
Click here to skip to the top.
Long Weekend Trips (5-8 hours each way)
Oregon is the perfect place to head out and explore if you have three or four days to spare. Whether you make for the coast or head inland, there's so much to keep you occupied that you'll be planning your next trip by the time you pull up again in Portland.
11. Central Cascade Volcanoes
5 hours from Portland (210 miles)
Why you should visit: This is a scenic route that winds its way through Oregon's once-volcanic landscape – a real contrast to Portland's city streets.
There are some stunning trails along this route which let you explore the lakes and forests of Central Oregon at your own pace.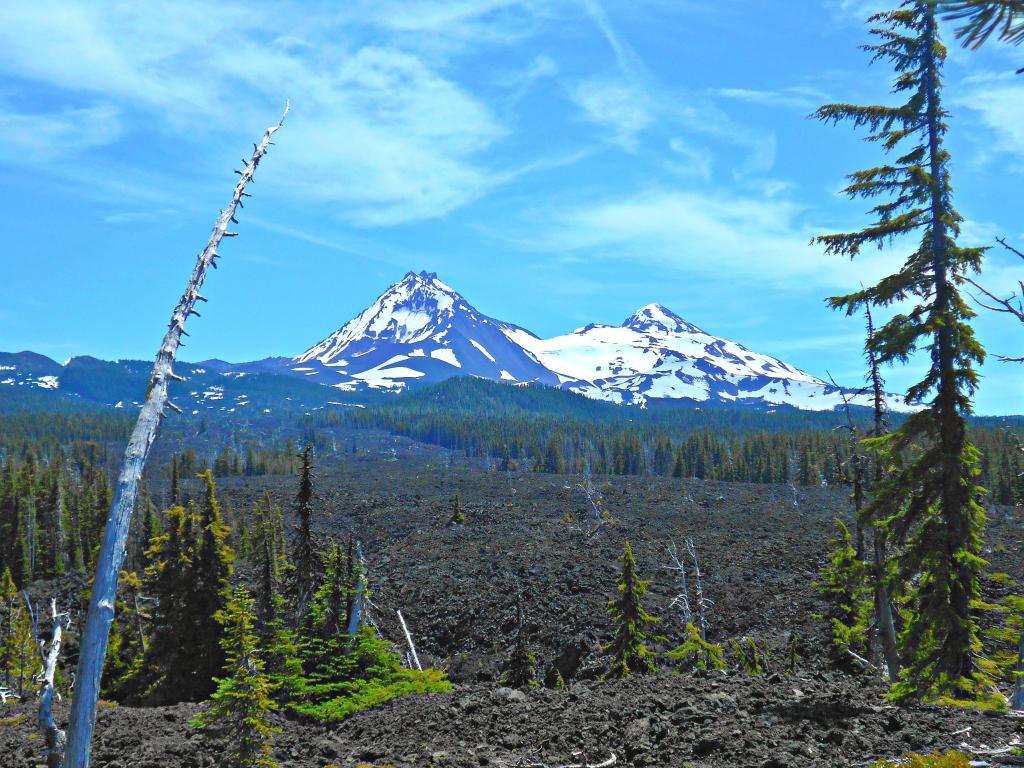 How to get there: Head east out of Portland on I-84 then turn south on US-26 to Mt Hood. Stop to visit Trillium Lake then continue south on US-26.
Turn right onto Skyline Road and follow its twists and turns through the forests of Central Oregon to Detroit, which looks out over Detroit Lake. From here, continue south east on OR-22 which follows the North Santiam River through Marian Forks.
Along the way to Santiam Junction, detour to the trailhead for Pamelia Lake. Then when you reach Santiam Junction, join US-20 to Sisters then continue on to McKenzie Pass to complete the trip.
Our highlights: This road trip is the perfect way to spend a long weekend if you enjoy spending time in the great outdoors. You'll start out by driving along the Columbia River Gorge and passing Mt Hood, so you can weave in some of the attractions from our shorter road trip. Pack your skis or snowboard if you want to stop for some winter sports at Mt Hood!
Heading on, you'll visit Trillium Lake, where you can enjoy knockout views and extensive water-based activities - you can kayak, SUP and fish here.
Next, head to Pamelia Lake to explore its mountain meadows and beautiful rivers and streams. If time allows, when you're ready to rest your feet for a few hours, follow the McKenzie Pass-Santiam Pass Scenic Byway which takes you past stunning volcanic landscapes shaped by lava flows.
Bonus: Timberline Lodge, near Trillium Lake is a national historic landmark best known as the location for classic horror The Shining.
Our travel tips: You need a Central Cascades Wilderness Permit to explore many of the trails in this part of the state – apply in advance as numbers are limited.
12. Oregon Caves
5 hours from Portland (290 miles)
Why you should visit: Oregon Caves National Monument and Preserve is a huge cave system running beneath the Siskiyou Mountains. Naturally carved out of the marble rocks, a tour through this underground world is a stunning and magical experience.
You can either drive direct to Oregon Caves, or add in some of the stops from our shorter road trips, making this a really varied road trip that you can tailor to your group's preferences.
Alternatively, Ashland is less than 2 hours away so you could curate a longer adventure by combining our Oregon Caves trip with a return leg to Portland via Ashland and Mt Hood.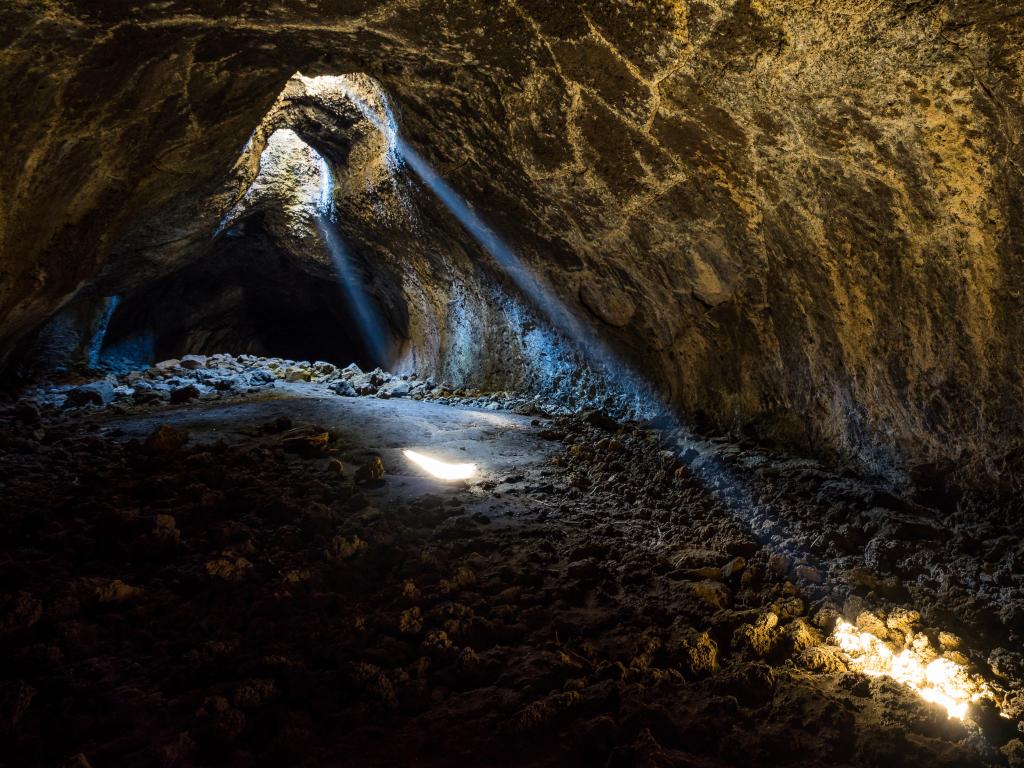 How to get there: Although this is a relatively long drive, it's a very straightforward one. Start out by following I-5 south from Portland all the way to Grants Pass - you can stop at Salem or Eugene if you want to explore some of Oregon's fabulous cities along the way.
Then take US-199 – the Redwoods Highway – to Cave Junction, where you'll turn off to reach the caves themselves.
Our highlights: The caves are the real highlight of this road trip, so be sure to take a guided tour that lets you explore this stunning underground world. Check ahead in case advance booking is recommended at the time of your visit.
Thrill seekers can join a caving tour where you scramble and squeeze your way into hidden parts of the cave system. This isn't for the faint-hearted, but adrenaline junkies will love the experience.
Above ground, 6 hiking trails criss-cross the national monument. It's beautiful area with forest tracks to explore, so pack your hiking boots and a picnic.
As we've mentioned, you can stop to explore Salem or Eugene on your way to the caves. Check out our shorter road trip for inspiration!
Bonus: The caves were created millions of years ago by water dripping through the rock, but only discovered about 150 years ago.
Our travel tips: To protect the bats that live in the caves, it's important that you don't wear clothes that you've worn when visiting other cave systems.
There are limited food and drink options at the caves at the time of writing due to renovation works – plan your refreshment breaks for outside the park.
13. Ashland, Oregon
5 hours 40 minutes from Portland (285 miles)
Why you should visit: Ashland is regularly included on lists of the best small towns in America, and has all the scenic, foodie and cultural ingredients for great weekend away.
This road trip is mostly straightforward to navigate as it follows the interstate for much of the way. That makes it a great choice for travellers who like to plug in a playlist, stock up on snacks and hit the road as smoothly as possible.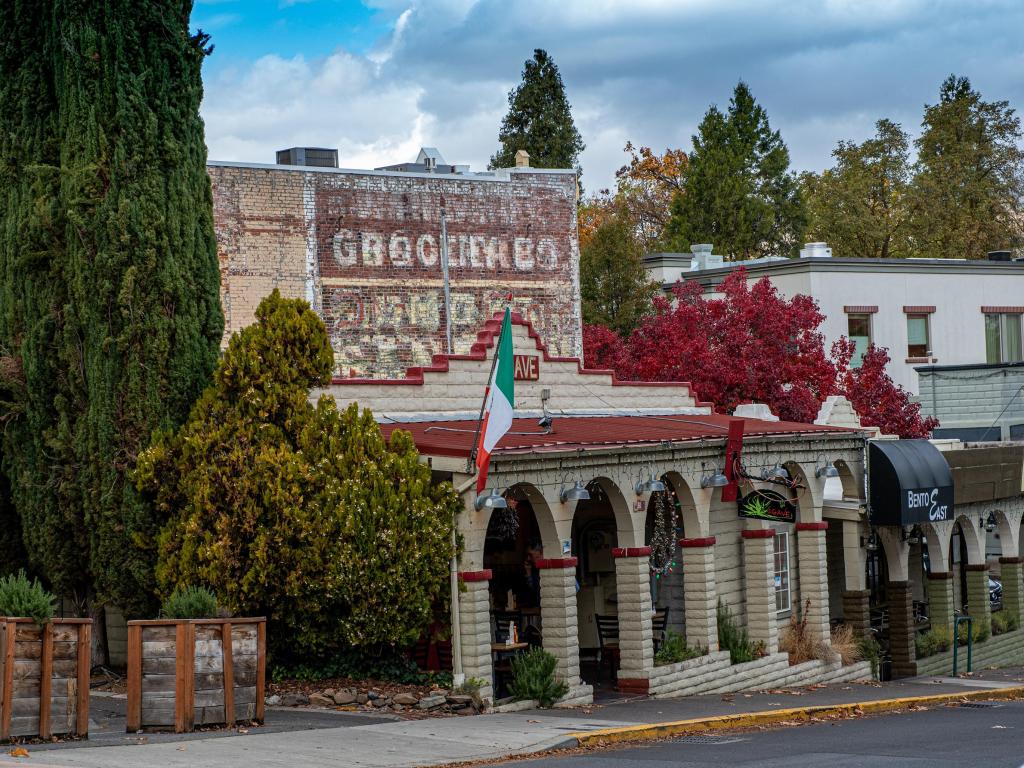 How to get there: For the quickest drive to Ashland, head south out of Portland on I-5 then keep going until you reach Ashland, close to the state border with California. This trims down the driving time too, so you can reach Ashland in under 5 hours.
For a more varied road trip, you can leave the interstate at Eugene and take the Willamette Highway. Where it meets US-97, continue south then turn west again at Chiloquin. To complete you trip, follow the road around the northern end of Upper Klamath Lake then make your way to Ashland via OR-140 and Dead Indian Memorial Road.
Our highlights: Stretch your legs when you arrive with a stroll through Lithia Park, a huge open space in the center of Ashland. Then explore more of Ashland by seeking out its colorful street art and sculptures.
For a more traditional cultural fix, head to the Schneider Museum of Art. It has a fantastic collection, and as a bonus, entry to the museum is free all year round.
Just outside the city, Mt Ashland Ski Area is easily accessible and great for downhill skiing and snowboarding. With the straightforward interstate drive, a winter road trip to Ashland is possible except in extreme weather conditions, and you can combine city and slopes perfectly on arrival.
If you prefer to explore the great outdoors in the warmer months then wait until the snow melts to lace up your hiking boots and explore Cascade-Siskiyou National Monument, a stunning landscape where three mountain ranges meet. It's a great place for wildlife spotting as well as hiking, with bears and mountain lions sometimes seen.
Bonus: Ashland is the home of Oregon Shakespeare Festival. Once upon a time this was just a weekend of Shakespeare's plays, but the festival has grown into a leading cultural programme that runs most of the year. It now features modern theatre and musicals plus innovative short films, as well as Shakespeare of course.
14. Crater Lake, Oregon
5 hours 40 minutes from Portland (285 miles)
Why you should visit: Crater Lake is a stunning destination that's accessible from Portland in a weekend. The centerpiece of Crater Lake National Park is the vivid blue lake which occupies what's left of a now-dormant volcano.
Visit in winter, when the snowy landscape is even more spectacular, and you can stop for a day's skiing at Mt. Hood then warm up in Bend along the way.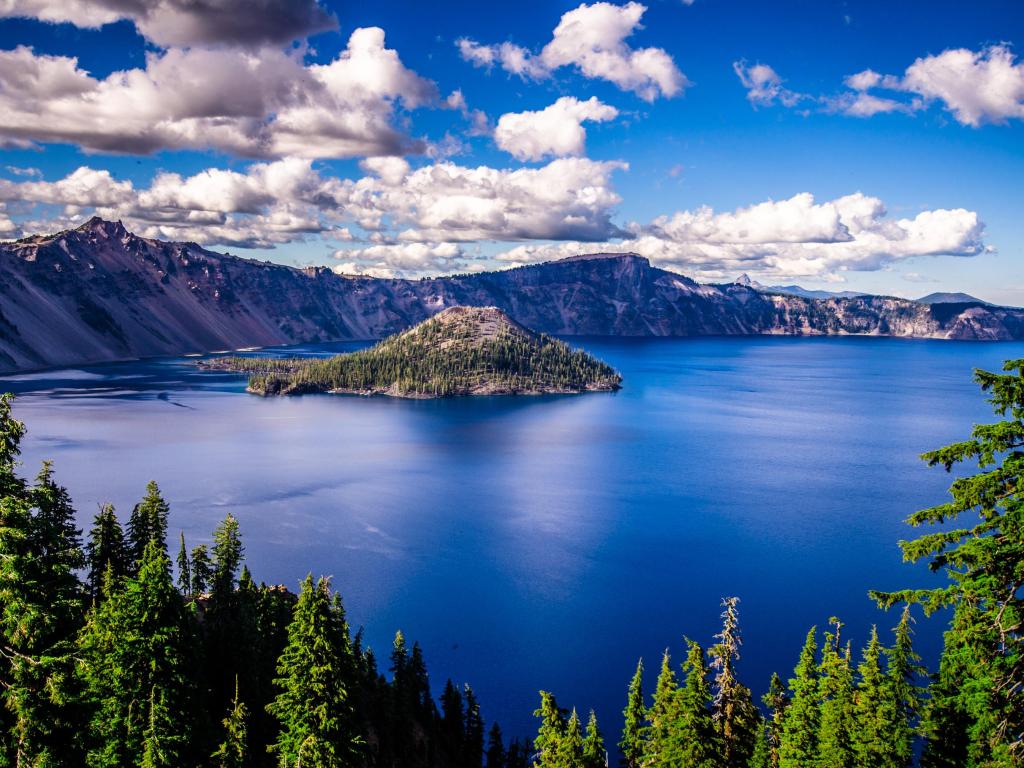 How to get there: Follow I-84 and US-26 to Mt Hood then continue south on US-26 to Madras. Here, change onto US-97 and follow it through Bend and Three Rivers.
A few miles after Chemult, leave the highway and follow signs to Crater Lake National Park.
Our highlights: As its name suggests, the 33-mile Rim Drive takes you all the way around the lake. Take it slowly and stop off at as many lookouts as possible.
That's not the only way to explore Crater Lake National Park though. Take a boat trip in summer and you'll get to see the lake from a different perspective.
Heading out on foot, there are dozens of miles of trails through Crater Lake National Park, with varying levels of incline and challenge. Call in at the visitor center to look out the route that's best suited to you and your fellow travellers.
If you'd rather take things slowly, fishing is also permitted in the national park, subject to following local regulations.
Bonus: Fun fact - Crater Lake is the deepest lake in America.
The uneven terrain of Newberry National Volcanic Monument, which you'll pass on the road between Bend and Chemult, was used by NASA to train astronauts for the moon landings.
Our travel tips: Crater Lake and the surrounding area see significant snowfall through the winter months. The national park remains open all year round, but check ahead for access information in case of unavoidable road closures or detours.
Note that you won't be able to follow the whole of the Rim Drive during the winter months.
Crater Lake gets really busy during July and August – it's best to arrive early to guarantee a parking spot. It's just under a 2 hour drive from Bend so hit the road promptly if you've stayed in the city overnight.
15. Seattle and Mt Rainier, Washington
5 hours 40 minutes from Portland (290 miles)
Why you should visit: This is the only one of our road trips from Portland to head north into Washington - and it really does take you to some stunning parts of the state.
This road trip combines the remote landscapes of Mt Rainier National Park with Seattle's urban vibe. Stop and explore the national park in depth or simply drive through to turn it into a super-scenic detour en route to the city. In clear weather you can see Mt Rainier from Seattle, so combining the two on a road trip gives a sense of completeness.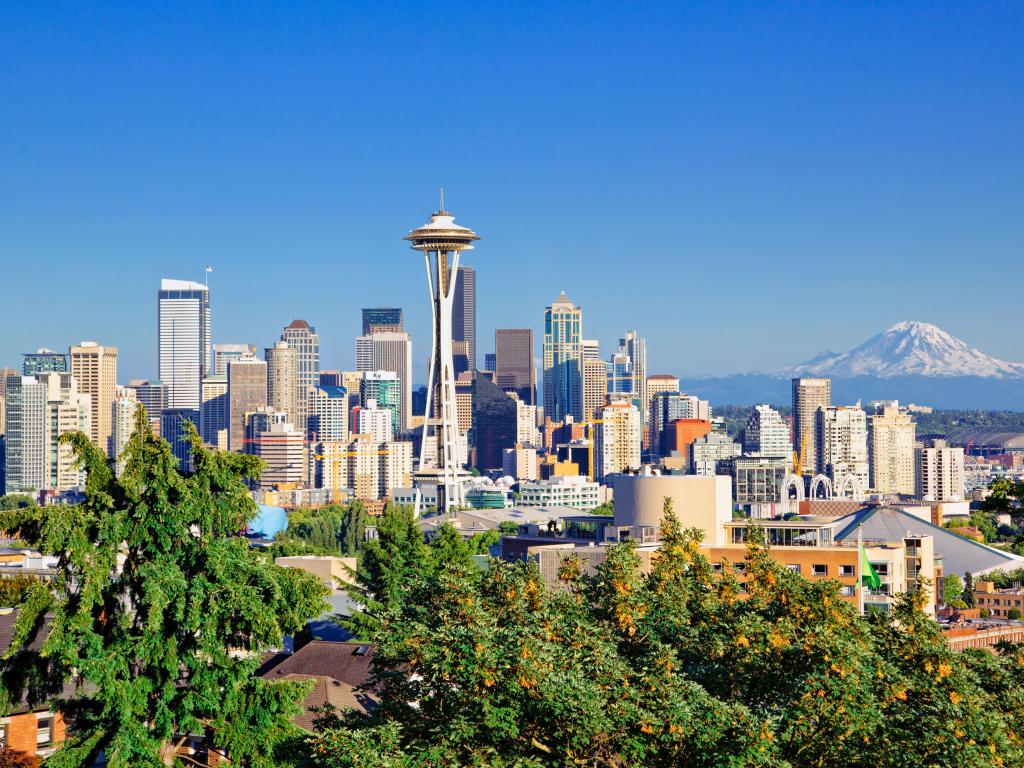 How to get there: Leaving Portland, head north on I-5 and you'll soon cross the Columbia River, which forms the border between Oregon and Washington.
Exit onto US-12 and follow the road to Elbe. From here, follow the highway past Mt Rainier National Park Headquarters, continuing straight ahead on Paradise Road which then winds through the hillside to Longmire.
If you have a head for heights you can follow the road through Paradise which meets up with OR-123 on the eastern side of Mt Rainier National Park.
Or to stick to lower elevations, retrace your route past Copper Creek then turn left and make your way to Packwood. Here, join US-12 for a few miles then turn onto OR-123 and continue north.
Merge onto OR-40 which follows the White River past Crystal Mountain Resort then on to Enumclaw. From here take the highway which rejoins I-5 to take you the rest of the way north to Seattle.
Our highlights: Longmire, in Mt Rainier National Park, is a great place to begin your visit to the national park. It's a National Historic Landmark District and includes a museum about the history of the national park. It's also the gateway to explore other parts of the national park, especially the road up to Paradise and nearby trailheads, and you can visit the picturesque Nisqually Suspension Bridge from here too.
In the winter months you can enjoy skiing, snowboarding and other winter sports at Crystal Mountain. This is a great way to combine time on the slopes with a trip to the city, but check for local travel advice before setting out to make sure you can comfortably complete you whole trip as planned.
Even if the great outdoors isn't your thing, or perhaps if you hit poor weather, there's still plenty to do on this road trip. Stop in Enumclaw to visit the Thunder Dome Car Museum or the Museum of Flight.
Once you're in Seattle you'll be spoilt for choice - you could easily fill a long weekend in the city alone. Ascend the Space Needle for views back towards Mt Rainier, or enjoy the urban vibe at Pike Place Market or the Museum of Pop Culture.
Bonus: Per head, Seattle is a cultured place. There are more libraries and book stores in Seattle than anywhere else in America. It's also one of the best places in the country to see live music, with more performances than anywhere else apart from New York.
Our travel tips: Expect to wait for at least an hour for entry if you head to Mt Rainier National Park on a summer weekend. To avoid the queues, visit very early, or come midweek instead. Sunny winter days can be almost as busy so be prepared to wait!
Mt Rainier experiences significant snowfall in winter so roads and trails are likely to close. The Nisqually Entrance, which you'll use in this road trip, remains open all year round so you'll be able to enter the park unless weather conditions are extreme. Traction laws apply in winter though, so you're likely to need chains.
16. Wallowa Lake, Oregon
5 hours 40 minutes from Portland (325 miles)
Why you should visit: Surrounded by mountains, Wallowa Lake is a beautiful destination for a relaxing, outdoor road trip.
You can also spend some time exploring the stunning Columbia River Gorge along the way. I-84 offers great views across the river, and you can stop at the waterfalls and lookouts featured in our Mt Hood and Columbia River Gorge Loop road trip.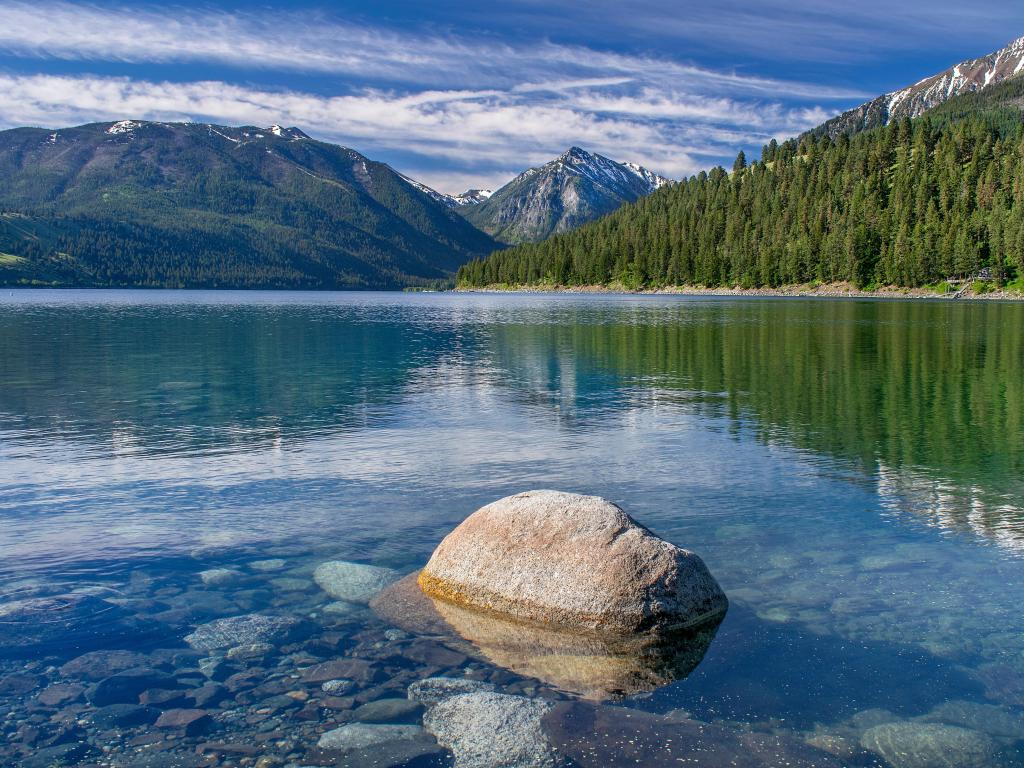 How to get there: Follow I-84 east from Portland all the way to La Grande. Then exit onto OR-82 which travels to Wallowa Lake via Elgin and Minam.
Our highlights: As well as enjoying the impressive views, stop at Hood River in the Columbia River Gorge to enjoy some more active watersports – it's a popular spot for windsurfing.
There are also two impressive hydroelectric dams along the Columbia River on this route, at Bonneville and the Dalles. At Bonneville you can get a glimpse of the fish ladder that's been built to make sure fish can still navigate up and down river.
As you make your way towards the lake, drive the Hood River Fruit Loop for some beautiful farmland views and the chance to try Oregon wine and other local produce.
Once you arrive, you can swim, boat, hike or fish along the shores of Lake Wallowa. Stay overnight and you'll be able to look up at the Milky Way which lights up the dark skies around the lake.
Bonus: There's an impressive firework display above the lake for Independence Day.
Our travel tips: This is a popular destination with only limited accommodation so book ahead if you want to stay in the area. However, you won't hit the same crowds here as in other popular recreation areas.
17. John Day Fossil Beds and Smith Rock State Park
6 hours 15 minutes minutes from Portland (340 miles)
Why you should visit: This road trip takes you inland to two destinations that really contrast with the places you'll visit on our other road trips from Portland.
The towering rocks at Smith Rock State Park are a haven for climbers, attracting visitors from all over the world.
The vast expanse of the John Day Fossil Beds is a really unique attraction where you can hike and enjoy time in the remote landscape as well as spotting fossils.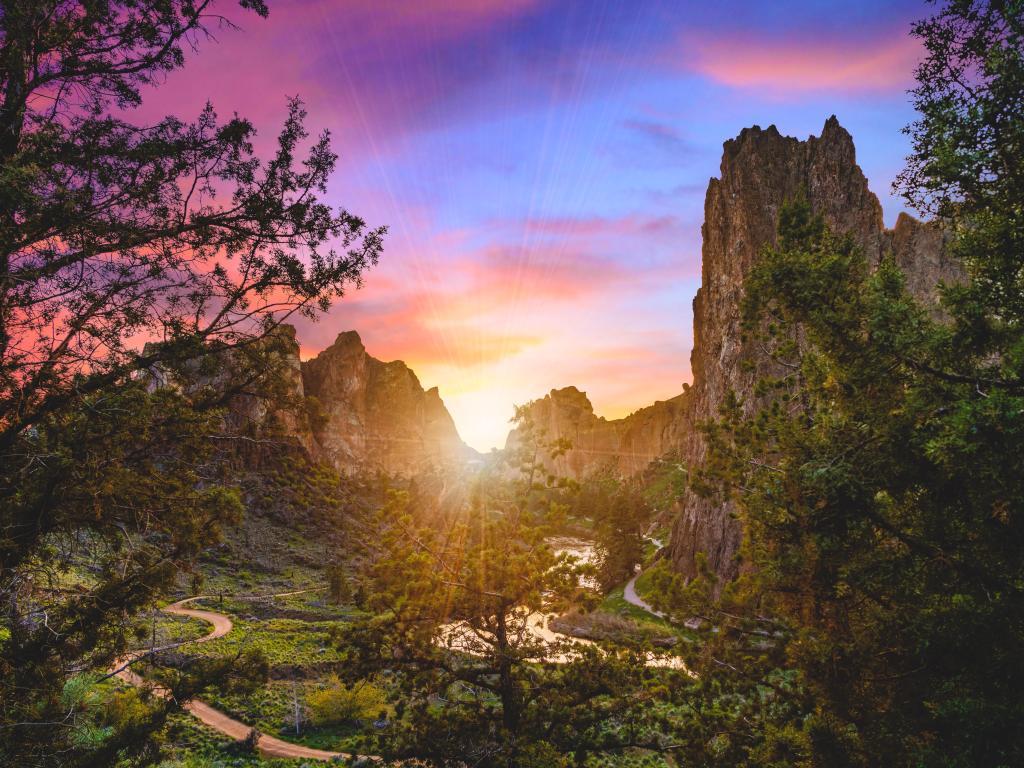 How to get there: Follow I-84 as far as Lake Celilo then turn off onto OR-206. This road travels past Cottonwood Canyon State Park en route to Condon, where you'll join OR-19 and head south.
A few miles past Kimberly, stop to explore the Blue Basin Overlook Trail then visit Thomas Condon Palaeontology Center. Continue onto US-26 where you'll find the John Day Fossil Beds National Monument.
To complete the road trip, take US-26 west through Ochoco National Forest, turning off at Prineville to read Smith Rock State Park.
Our highlights: Smith Rock State Park is a fabulous outdoor destination, with epic climbing opportunities plus mountain biking and hiking.
The State Park is also a haven for nature lovers – you can see golden eagles, beavers and otters in this high desert landscape.
At the Thomas Condon Visitor Center you can see some of the fossils that have been discovered in the surrounding fossil beds. The fossil beds are spread out across a wide area, which adds to the sense of adventure on this trip.
The Painted Rocks Unit (one of the three areas of the John Day Fossil Beds) is known for its colorful rock formations, laid down in stripes of color over the millennia, so it's a beautiful place to hike.
Our travel tips: The three areas that make up the Fossil Beds are up to 2 hours drive from each other, so plan for a full day exploring the area if you want to visit all of them.
18. The Oregon Trail (Oregon City to Baker City)
6 hours from Portland (360 miles)
Why you should visit: Thousands of European pioneers followed the Oregon Trail west in search of farmland and fortune, and the route they travelled through Oregon helped to shape the state as we know it today.
This road trip follows the Oregon Trail east across the state, taking you to Baker City where you can visit the National Historic Oregon Trail Interpretive Center.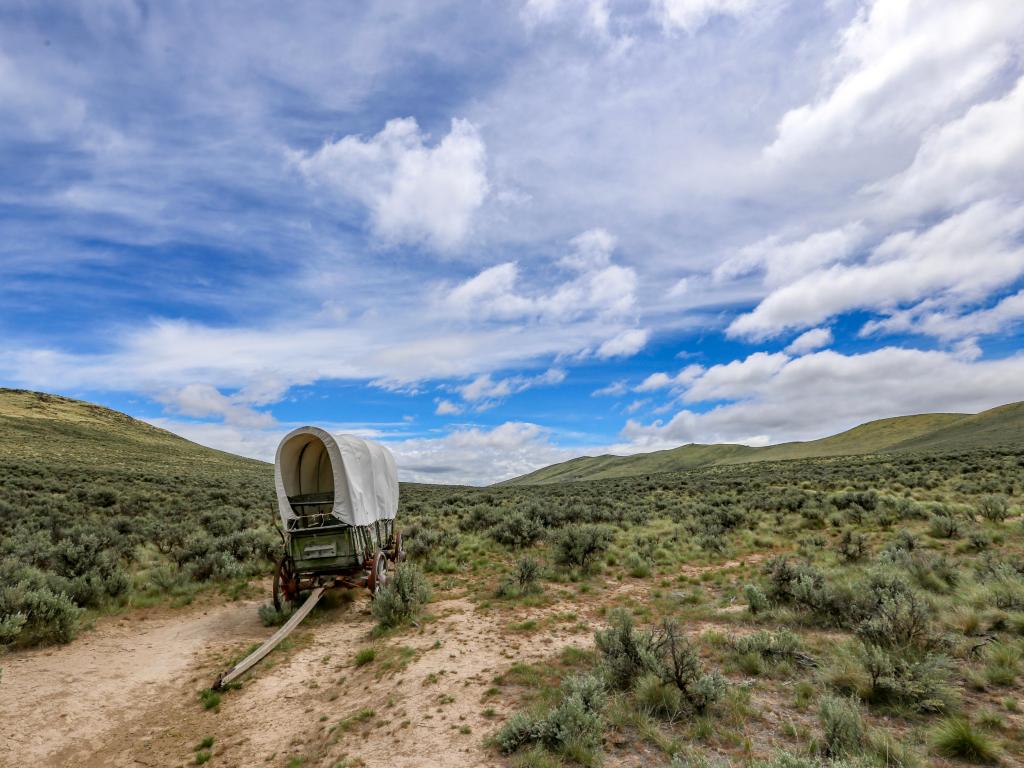 How to get there: Take OR-99 E to the southeast of Portland to visit the McLoughlin House. Then head onto OR-224 and OR-211 east to join US-26, which will take you much of the way from here.
Along the way you'll pass to the south of Mt Hood. After Prineville, the road turns northeast then continues through Mitchell and Dayville to Prairie City.
At Austin, change onto OR-7 which takes you past Phillips Lake then on to Baker City and the National Historic Oregon Trail Interpretive Center.
Our highlights: On the outskirts of Portland you can visit the home of the "father of Oregon" John McLoughlin, an early settler who helped other arrivals build their new lives in Oregon when they reached the end of the trail.
Once you're approaching the end of your road trip, the National Historic Oregon Trail Interpretive Center is a must-see attraction. This unique living history museum looks out across the landscapes that 19th century emigrants would have travelled.
Between the Interpretive Center and Baker City you can see still several miles of wagon ruts which run across the landscape.
Back in Baker City, visit the Sumpter Valley Railroad, a heritage steam railway that shows how the wagon trail evolved.
Bonus: Legendary computer game The Oregon Trail was originally designed to teach students about this important historical trail, but has now earned a place in modern history books for its longevity and its importance in game design.
Our travel tips: The National Historic Oregon Trail Interpretive Center is closed for renovation at the time of writing, with some exhibits and demonstrations moving to the Baker Heritage Museum until work is complete.
Click here to skip to the top.
Longer Trips (8+ hours each way)
If you're feeling the pull of the open road, there are plenty of fabulous road trips that set out from Portland. Each one is an adventure in itself, but you might like to build in elements of our shorter road trips to make your longer drive even more memorable.
19. Yellowstone (via Boise)
12 hours 10 minutes from Portland (820 miles)
Why you should visit: Yellowstone, the first national park in the United States and – according to some – the world, is a destination that hardly needs an explanation. Known for its stunning landscapes and hot spring-fuelled geysers, it's a must-see destination for many travellers.
As you make your way there from Portland, you can also visit some of Idaho's cities, including Boise, Idaho Falls and Twin Falls.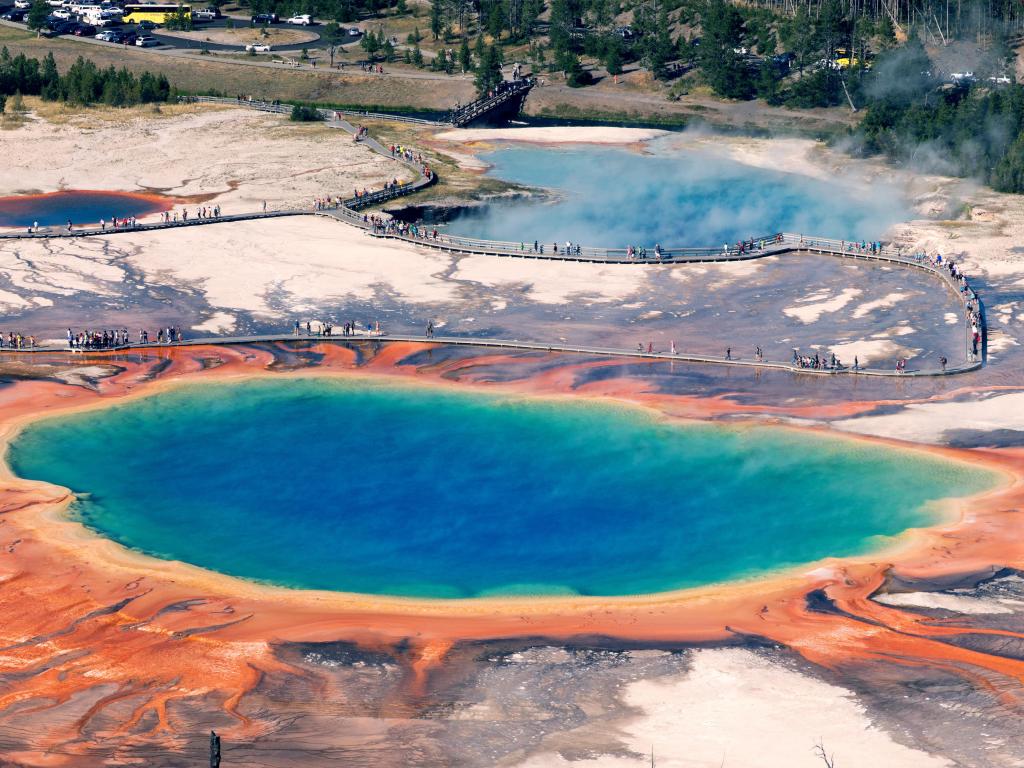 How to get there: Follow I-84 east all the way across Oregon and into Idaho. You'll pass Boise and Idaho Falls, then change onto I-86 where the interstate divides just after Twin Falls. Join I-15 heading north at Pocatello then exit at Idaho Falls, from where US-20 takes you the rest of the way to Yellowstone.
Our highlights: Yellowstone National Park is a true bucket list destination, but we'd definitely recommend giving yourself some time to stop and explore the cities you'll pass through along the way too.
Boise, Idaho, has a great selection of museums as well as the state capitol. Some of the most memorable are the Old Idaho State Penitentiary and the Anne Frank Human Rights Memorial.
Next, stop in Idaho Falls to explore its historic downtown or just to walk along the Snake River. Detour to visit Craters of the Moon National Park, a few miles to the north, if time permits, to admire this unique landscape. Then when you reach Twin Falls, cool off in the swimming hole at beautiful Shoshone Falls.
Once you've arrived at Yellowstone, you can follow the scenic drives around the park to take in the spectacular landscapes of this huge wilderness area. The geysers of Yellowstone are a real highlight – no visit is complete without waiting to watch Old Faithful erupt then take a drive to look for wildlife.
Bonus: Yellowstone is a huge natural wilderness – so big that you could fit the states of Delaware and Rhode Island inside it and still have room to spare. Don't expect to see the whole park in just a couple of days!
Our travel tips: Parts of Yellowstone close to traffic in winter so plan your route carefully if you're travelling between October and April.
As you might have guessed, the national park gets extremely busy during the summer vacation period so travel midweek or in the shoulder season if that's an option.
20. San Francisco via Redwood National Park
16 hours 20 minutes from Portland (880 miles)
Why you should visit: San Francisco is another stunning Pacific West city that makes a great road trip destination. Travelling there via the coastal highway, Redwoods National and State Parks, plus Larssen National Volcanic Monument adds an extra layer of excitement to your adventure.
The view of the Golden Gate Bridge is unforgettable, as are the might California Redwoods that you'll stand beneath on this route.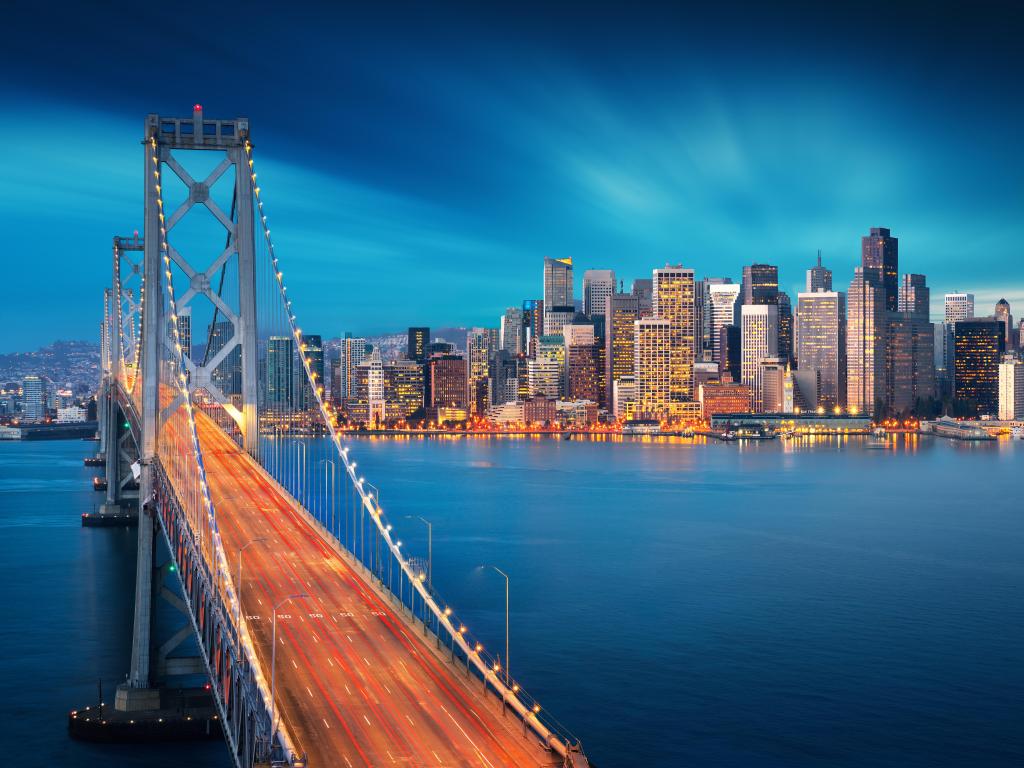 How to get there: Follow I-5 south to Curtin then take the Umpqua Highway west towards the coast. At Reedsport join US-101 and head south. Continue along the coast as you cross into California, stopping at Redwood National and State Parks as you pass.
At Alliance, turn inland on CA-299. Continue on the highway past Redding to Paynes Creek then join CA-36 to visit Lassen National Volcanic Monument.
From here, CA-32 takes you south to CA-99 which runs into Sacramento. Then take I-80 to reach your destination, San Francisco.
Our highlights: This road trip takes you to Redwoods National and State Parks, where you can stand beneath the huge, awe-inspiring trunks of some of the tallest trees in the world. You can follow a scenic drive which takes you to the different areas of Redwoods National and State Parks, or stop to hike stunning trails if you have time to linger.
We'd also recommend a hike through the beautiful landscapes of Lassen National Volcanic Monument. Pack your camera to get photos of the volcanoes reflected in clear blue lakes.
Your route will take you through Sacramento, where you can take a fascinating underground tour. Then once you reach San Francisco, why not sail across to the impenetrable prison of Alcatraz. You'll have the chance to drive across the iconic Golden Gate Bridge on your road trip - another unforgettable experience.
Bonus: There are 4 types of volcano – and Lassen National Volcanic Monument is one of the only places where they all occur together.
Our travel tips Check for road conditions as inland parts of this route can be affected by snow in winter, especially around the volcanic monument.
21. Las Vegas and Grand Canyon
19 hours 40 minutes from Portland (1,250 miles)
Why you should visit: Las Vegas and the Grand Canyon are both world-famous destinations that hardly need an introduction. From the bright lights of the Las Vegas strip to the big skies over the Grand Canyon, they're both destinations of epic proportions.
Wherever you're starting from, a road trip to Las Vegas and the Grand Canyon is one of the all-time greats, driving across the desert to reach these two unforgettable attractions.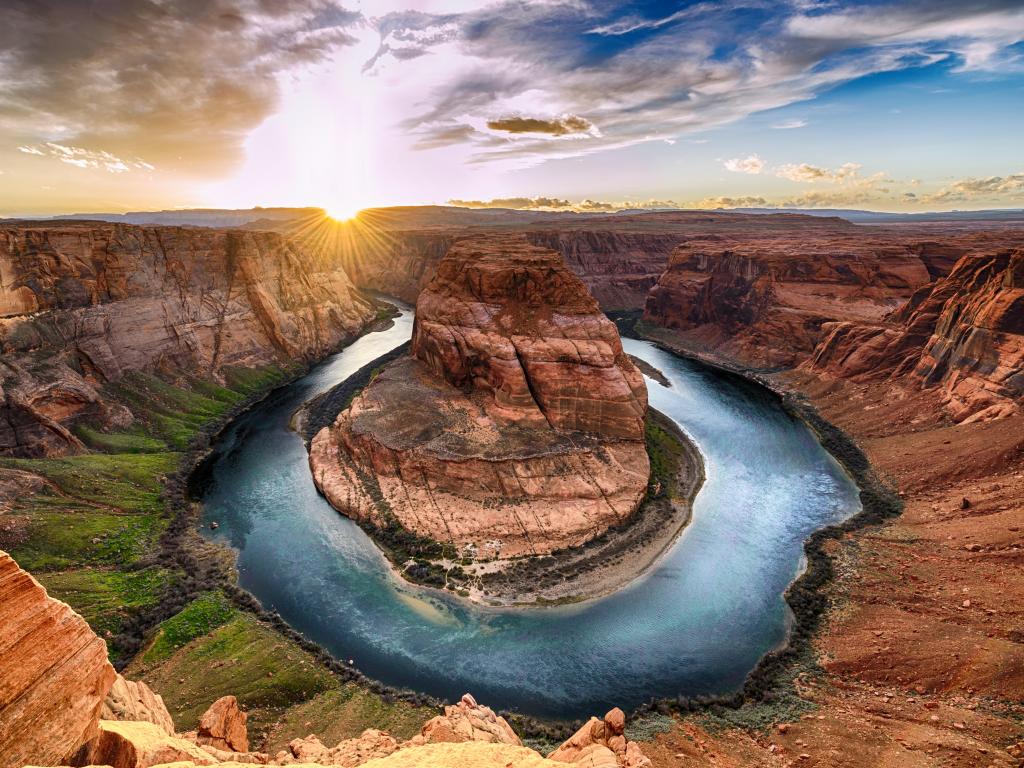 How to get there: Follow US-26 and US-20 as far as Burns then join US-95 which takes you south into Nevada. After a short stretch on I-80, US-95 branches off again and takes you all the way to Las Vegas.
Continue on from Sin City by taking I-11 to Hoover Dam then picking up US-93 to cross the desert to Kingman. From here follow I-40 to Williams then turn north onto AZ-64 to reach the Grand Canyon.
Our highlights: As you make your way south, detour into Death Valley National Park to visit one of the hottest places on earth. It's a real contrast to the forests and rugged coast around Portland - and to the bright lights of Las Vegas too.
Don't forget to take your camera to capture the extravagant hotels and resorts you'll encounter as you explore Las Vegas - snap a selfie in front of the famous Welcome to Las Vegas sign too. And of course, there are plentiful opportunities to try your luck on the Las Vegas Strip.
If you just can't wait to see the Grand Canyon, you can take a helicopter tour to see the canyon from above. It's a great way to appreciate the scale of the canyon before continuing your road trip to see it from a closer perspective.
As you make your way from Las Vegas to the Grand Canyon, stop at the Hoover Dam to admire this impressive feat of engineering and enjoy views across Lake Mead.
Once you've arrived at the Grand Canyon you can travel to different parts of the canyon rim to enjoy stunning views. If you're making a longer trip it's also possible hike or explore inside the canyon. You can even take a multi-day rafting trip along the Colorado River.
Bonus: On the average day, around 300 couples say "I do" in Las Vegas.
Our travel tips: Make sure you're prepared for desert driving when you hit Nevada, especially if temperatures feel much cooler when you set off from Portland.
22. The Pacific Coast Highway
27 hours from Portland (1,365 miles)
Why you should visit: This is one of America's most iconic drives, letting you experience the ever-changing Pacific coast all the way from rugged central Oregon to southern California.
The Pacific Coast Highway is a beautiful stretch of road that definitely lives up to its reputation. As you drive this unforgettable route you can stop to explore countless natural attractions and fabulous oceanfront cities.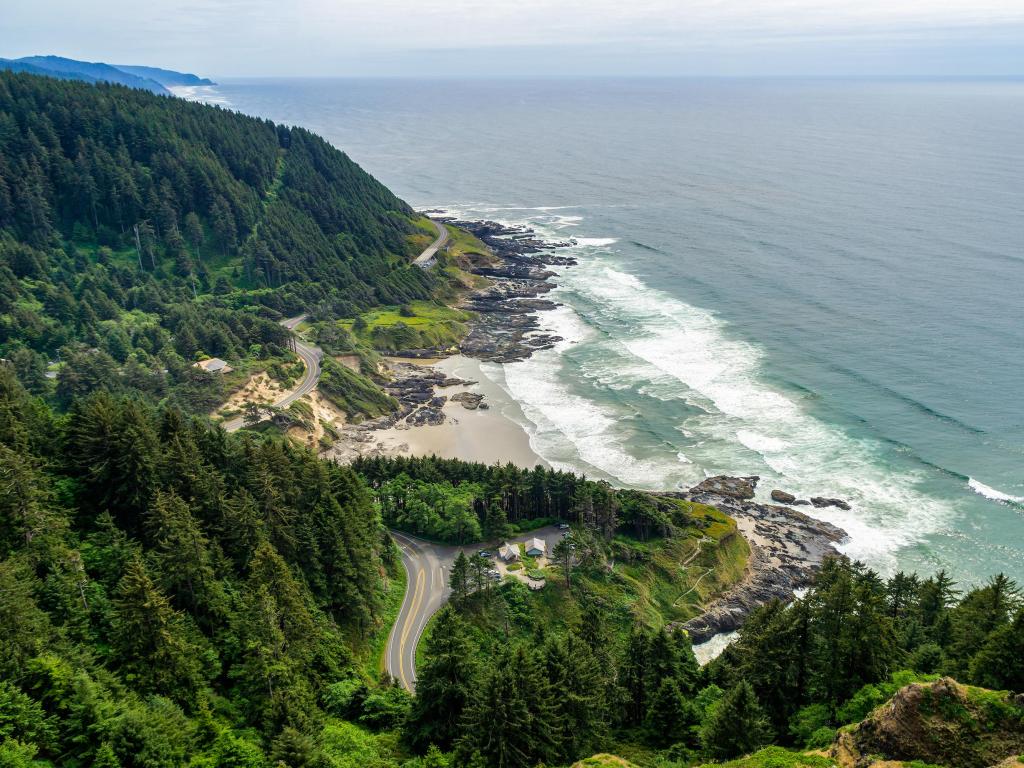 How to get there: Head south from Portland on I-5 then swing towards the coast on OR-38. Next, join US-101 at Reedsport and simply head south.
Once you've crossed into California you'll pass Redwoods National and State Parks, then turn onto CA-1 at Leggett to follow the Pacific Coast Highway down to San Francisco. Alternatively, stick on US-101 to visit Santa Rosa.
From San Francisco, follow US-1 around Monterey Bay then on through Pfeiffer Big Sur National Park. Carry on along US-1 and US-101 to reach Los Angeles then complete the drive on I-5 running own to San Diego.
Our highlights: This trip is packed full of highlights so you'll want to leave at least a week to fully enjoy it. You can draw inspiration from many of our shorter road trips, adding in stops at Salem, Eugene and Redwoods National and State Parks. Then when you reach San Francisco, drive across the Golden Gate Bridge and ride an iconic trolley through the city.
Moving on to Monterey Bay you can watch the sun set over the Pacific, with a glass of Californian wine and some delicious local seafood of course.
Carrying on south, you'll drive the iconic coast road around Big Sur before the road leads you straight into the beaches of Malibu and Santa Monica.
Next, follow in the footsteps of legends in Los Angeles. Here you can visit the Hollywood sign and the walk of fame then head to the theme parks, where you can immerse yourself even more in the world of movies at Disneyland or Universal Studios.
Our travel tips: The road through Pfeiffer Big Sur National Park is currently closed for repairs following a huge landslide. Check local advice for potential reopening dates.
Plan your departure times carefully so that you steer clear of rush hours when you're travelling through cities, especially as you travel through California. Just don't set out too early in the morning as you might find your Pacific view shrouded in sea mist.