Road trip from Rome to Florence
Florence is one of the most beautiful cities in the world and a jewel of the Italian Renaissance, offering jaw-dropping architecture, a celebrated art scene and plentiful opportunities for fine dining.
It takes 7 hours 45 minutes to drive the 480-km road trip from Rome to Florence. Heading through Tuscany and Umbria, you can at Terni, Civita di Bagnoregio, Orvieto, Perugia, Montepulciano and Cortona, or travel via the coast to see Livorno and Pisa.
A trip through the beautiful regions of Umbria and Tuscany lets you discover charming medieval and Etruscan towns as well as touring through celebrated wine country. Whichever route you take you'll have an unforgettable journey through the region's distinctive landscapes.
How far is Florence from Rome, and how long will the road trip take?
Comparison of road trip routes between Rome and Florence

| Route | Distance | Driving Time |
| --- | --- | --- |
| The Pisa Route | 450 kilometres | 6 hours |
| The Perugia Route | 480 kilometres | 7 hours 50 minutes |
You can drive between Italy's capital city, Rome, and nearby Florence in around 3 hours via the Autostrada, but why rush when you have the chance to explore the picturesque landscapes of Umbria and Tuscany along the way?
Head inland through Orvieto and Perugia and take your time to stroll through picture-perfect hill towns, vineyards and rolling countryside.
This colourful 480-km road trip will take 7 hours and 50 minutes to drive, so although it's not the quickest route between the two cities, you could still drive it in a couple of days if you're short on time.
If you'd rather spend time by the Mediterranean, you also have the option of taking a slightly shorter 6-hour route which runs along Italy's western coast. This trip covers 450 km.
With so much to see and do on both routes, we'd suggest taking 4 to 5 days to enjoy this road trip. Not only does this give you plenty of time for sightseeing, but this way you'll have even more chances to sample the fabulous local cuisine.
Best road trip route from Rome to Florence
Both of our recommended routes for the road trip from Rome to Florence take you through some fabulous countryside.
Head inland to explore central Italy on the route through Perugia. Along the way you'll spend time in Umbria, known for its many medieval towns and olive groves, before reaching Tuscany, with its historic and artistic legacy. Both regions are significant for their culinary cultures and produce some fabulous wines too - the perfect combination!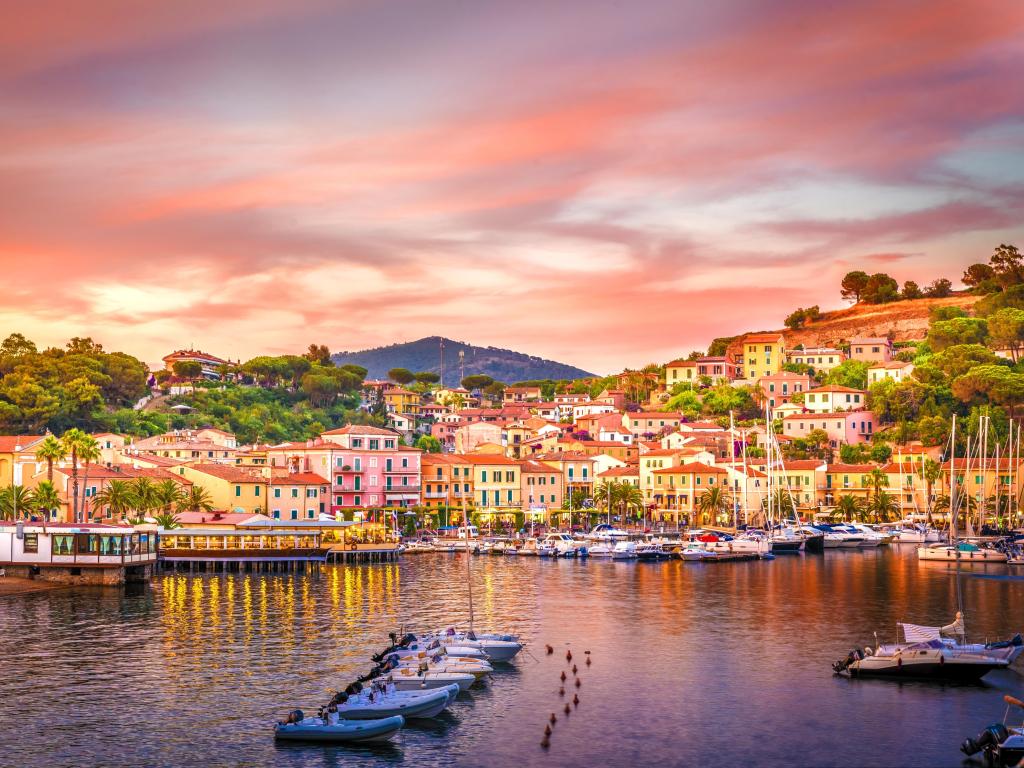 You won't hit the coast on the Perugia Route, but you'll have the opportunity to relax on the beach at Lake Trasimeno, where you can cool off in the calm lake waters.
Along the Perugia Route you'll have plenty of opportunities to take in both medieval and roman ruins, with a highlight being the stunning Civita di Bagnoregio. You'll also visit the stunning city of Perugia, the capital of Umbria, which is famous for its chocolate industry.
The shorter Pisa Route takes you along the beautiful Western Coast of Italy, stopping in the cities of Livorno, Grosseto and Pisa.
Along the way, you'll pass other wonderful coastal town like Civitavecchia, where you can see Roman and Greek ruins and San Vincenzo. As the name suggests, this route includes a stop in Pisa, which boasts one of Italy's most recognizable monuments, the Leaning Tower, as well as stunning canals and a rich student life.
The Perugia Route
Head north out of Rome to connect with the E35 which merges with the A1 after around 20 km. Follow the River Tiber north as far as Caldare then turn off the Autostrada to detour through San Pellegrino to Terni.
Retrace your route towards Caldare but instead of rejoining the Autostrada, continue straight ahead on the SS675 in the direction of Viterbo. A short distance after Paparano, turn off the highway at the exit for Montefiascone.
Follow the local roads through small towns, rolling fields and olive groves as far as Bagnoregio where you can explore the beautiful hill town. Then, continue north towards Orvieto, crossing into Umbria before you reach your next stop.
Leave Orvieto heading for the E35, but instead of joining the Autostrada continue to follow the SS205 towards Ponte, which runs parallel. Where the road divides at Ponte, turn left towards Lago di Corbera and follow the road along the lake shore and River Tiber as it travels through a scenic gorge.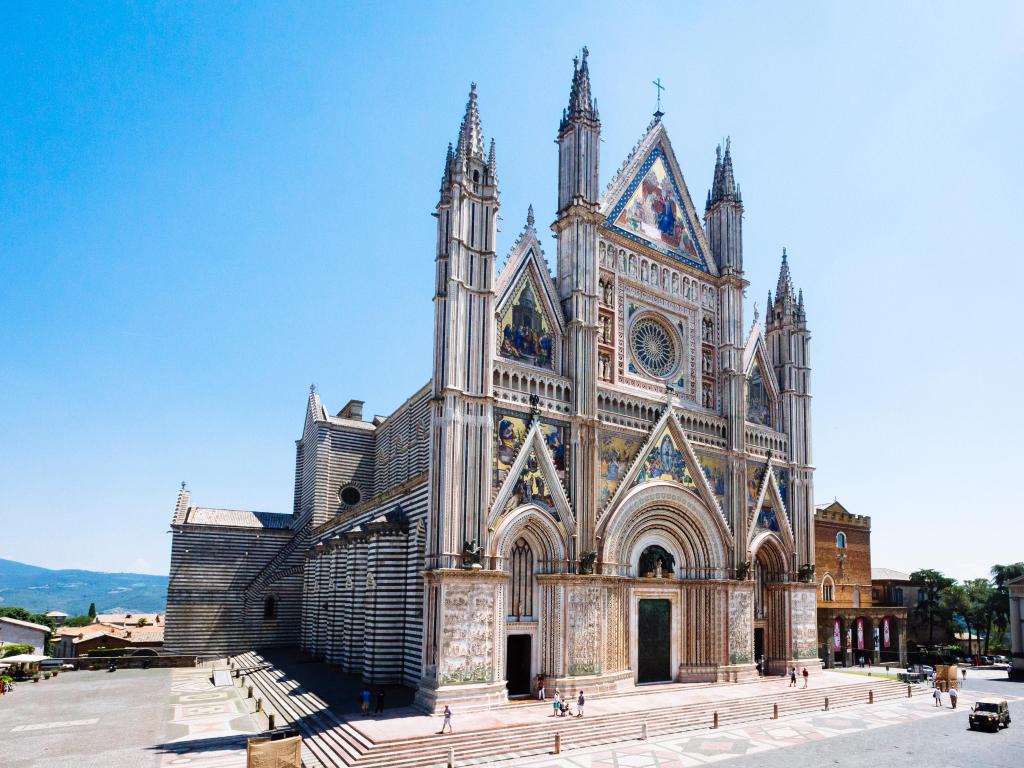 Turn onto the E45 towards Perugia, then after spending some time in this beautiful city make your way towards the northern end of Lake Trasimeno. Leave the car behind to take the short boat trip to Isola Maggiore if you have time.
Carry on west from Lake Trasimeno, turning off towards Pietraia then following signs towards the stunning hill town of Montepulciano. To continue, retrace your route then head through Centoia and Le Fosse towards Cortona.
From here, make your way north through the Tuscan countryside, heading to Arezzo then joining the A1 which takes you to Florence to complete your journey.
The Pisa Route
The shorter route to Pisa is much simpler to navigate as it follows the Autostrada for much of the way, but you can still take your time to hop off the highway and explore some of the towns and beaches that it bypasses as you head north.
Leave Rome to the southeast, joining the A91 to connect with the E80 which runs parallel to the coast for some 300 km, passing Citavecchia, Grosseto and Cecina on the way north to Livorno.
From Livorno, the SS1 takes you a short distance to Pisa. There's a whole host of Renaissance gems to enjoy in the city before you head out to the suburb of Ospedaletto to join the Superstrada Firenze-Pisa-Livorno which takes you to your final destination in Florence.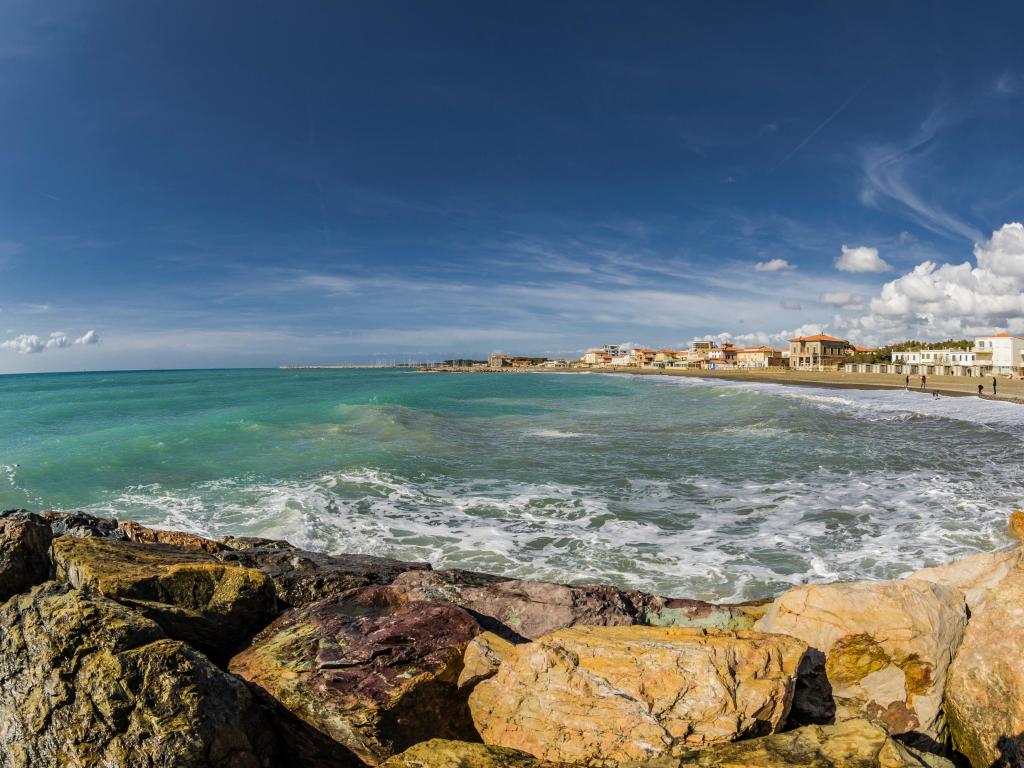 Best places to stop between Rome to Florence
We'd recommend taking 4 to 5 days to wind your way between Rome and Florence, so you're going to need to make a few overnight stops along the way.
There are some amazing hotels dotted along both routes, but here are some of our favorites to get you started with your planning:
Discover Renaissance gems in Perugia
Around halfway along your drive, Perugia is the capital of the Umbria region and the largest city you'll visit on the Perugia Route. It's the ideal spot to spend a night in.
Perugia is known as being the home to Perugina, the producer of Italy's most beloved chocolate, Baci. It also has a significant Etruscan history, being one of 12 cities of the Etruscan federation.
Having been the artistic center of Umbria during the 15th and 16th centuries, it's no surprise that you'll find the Galleria Nazionale dell Umbria in the city. Located within the Palazzo dei Priori, the gallery displays sculptures and paintings from the celebrated Umbrian school of art.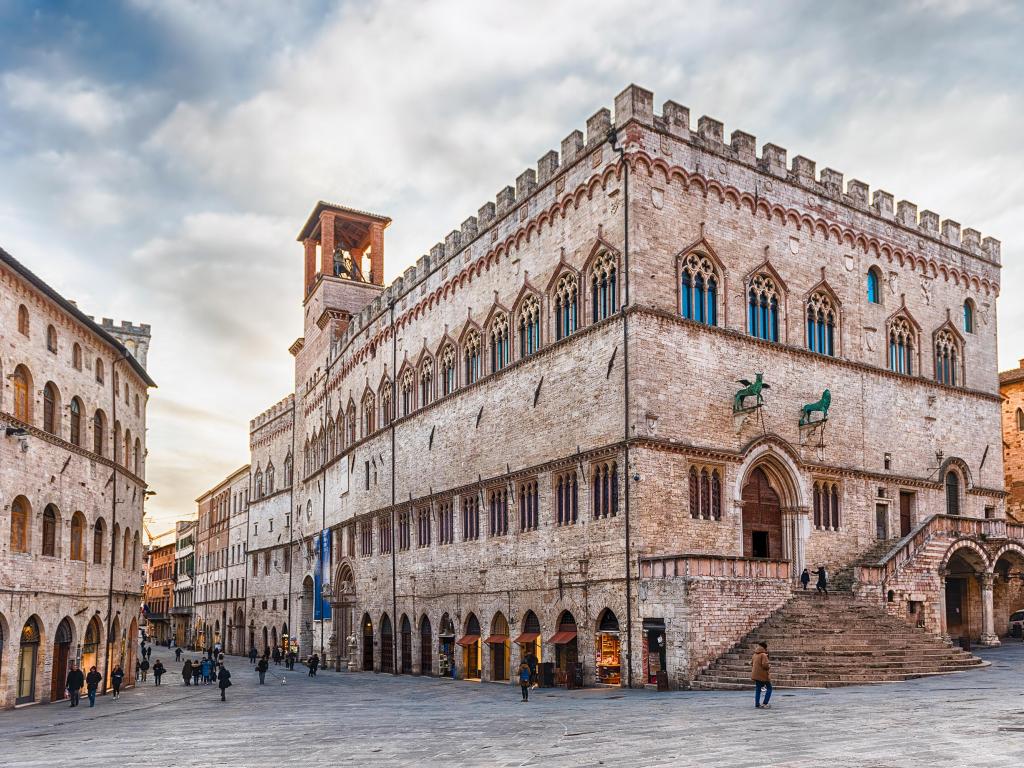 Next, head to Piazza IV, Perugia's main square, around which you'll find wonderful restaurants and cafes surrounding the stunning 13th-century Fontana Maggiore.
One of the most prestigious and luxurious hotels in Perugia, Sina Brufani boasts stunning views of the Umbrian hills and medieval rooftops. As well as its spacious rooms and fresco ceilings, you can relax in the unforgettable indoor swimming pool, which has a glass floor that reveals 3,000-year-old Etruscan ruins below.
The hotel is in the heart of Perugia, on the outskirts of the historic center so you'll still feel a great sense of privacy during your stay. It's the perfect place to unwind at the end of a day of driving and sightseeing, with a fabulous meal of regional cuisine and fine wine on the beautiful terrace.
Look out over the Leaning Tower in Pisa
If you're taking the shorter route, Pisa is a charming small city around two-thirds of the way along the route. Best known for the Leaning Tower, it also boasts many other wonderful attractions that make the city well worth an overnight stay.
You can't visit Pisa without paying a visit to the iconic Leaning Tower, completed in the 14th century. Don't forget to explore some of the other monuments in the vast Campo dei Miracoli or Square of Miracles.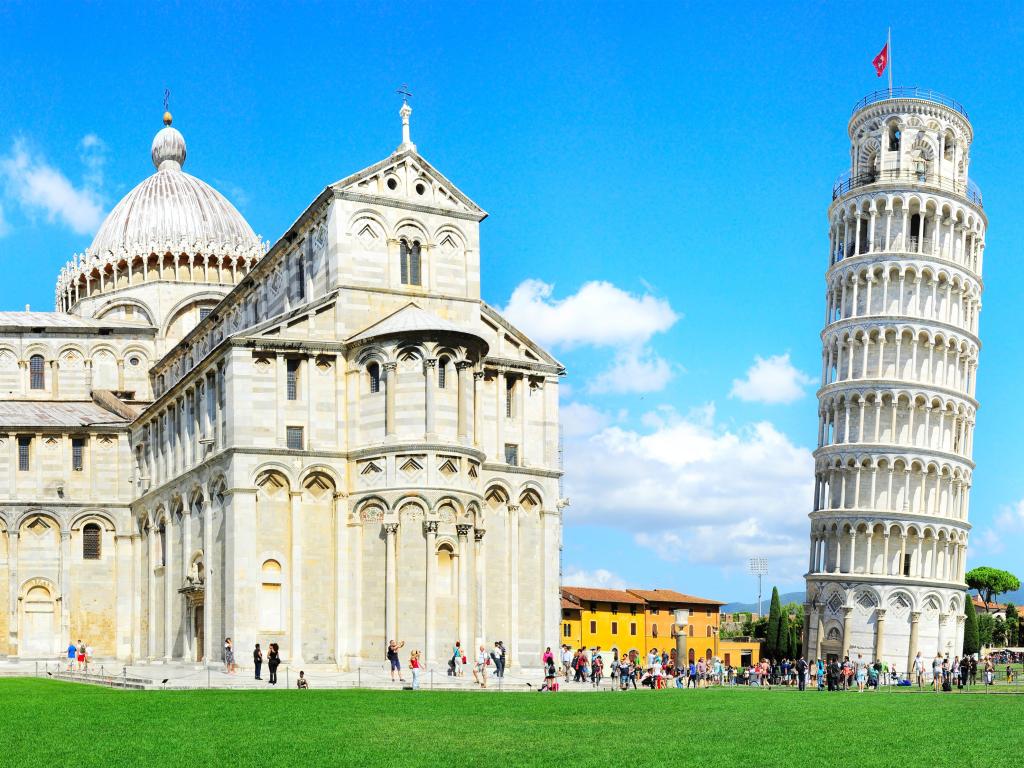 Take a walk through the city to admire the beautiful palaces and stunning bridges that cross over the River Arno then head to Palazzo Blu. This famous blue art museum is home to a permanent collection of Italian art, as well as interesting temporary exhibitions.
Seeing as you'll be here for the evening, head to Piazza Garibaldi. This central square comes alive at night when residents and visitors alike commune for a drink or a famous Pisa Bombolo.
Located close to Pisa's most interesting attractions, including Campo dei Miracoli, you'll find Grand Hotel Duomo. Its rooftop terrace has panoramic city views, as well as a bar so make sure to come and enjoy the views at both ends of the day.
There's a breakfast buffet here every morning, as well as a wonderful restaurant offering regional cuisine. There's a parking garage attached to the hotel, which is handy when you're staying so close to the historic center of Pisa.
Where to stay when you reach Florence
When you arrive in Florence, chances are you're going to want to base yourself in the city's historic center, so why not book into Hotel della Signoria which is just a short walk from the Pitti Palace and the Palazzo Vecchio.
As a bonus, the simple, elegant rooms, outstanding service and unforgettable view from the rooftop terrace come with a reasonable price tag for the hotel's central location.
Alternatively, if you're looking for a luxury finish to your road trip, the 5-star Hotel Bernini Palace has everything you're looking for. This 15-century building, close to the Duomo and the Ponte Vecchio is furnished with Murano-glass chandeliers and stylish antiques.
Its restaurant offers panoramic views over the city and serves regional and international dishes. To round off the night, head to the lounge bar for a cocktail.
Things to see on a road trip from Rome to Florence
The road trip from Rome to Florence is short but packed full of unforgettable sights and the beautiful landscapes of Tuscany and Umbria.
Here are just a few of the highlights that you can enjoy when you take this trip.
The Perugia Route
Terni - Known as the "City of Lovers" for being the birthplace of Saint Valentine, the city of Terni also has plenty on offer when it comes to historical and natural sites, including beautiful Roman ruins and stunning nearby waterfalls.
Civita di Bagnoregio - There is little in Italy that can compare to Civita di Bagnoregio when it comes to medieval charm and arresting architectural beauty. The city, reachable by footbridge, is situated right atop a hill overlooking an Umbrian valley.
Orvieto - Orvieto is a striking and majestic hill town, which boasts a gorgeous cathedral as well as charming cobblestoned streets and a rich culinary scene.
Lake Trasimeno - Head to Castiglione del Lago to walk the town's historic streets or cool off with a swim at one of the nearby lake beaches. You'll get fabulous views over the Umbrian landscape towards your next stop, Montepulciano.
Montepulciano - Famous for it's red wine grape, but also boasting some gorgeous Renaissance and Medieval architecture, Montepulciano is a must-see along your route.
Cortona - A town and commune in the province of Arezzo, Cortona was famously featured as the setting to the film "Under the Tuscan Sun". It offers a bevy of unique museums, as well as a stunning medieval and Etruscan center.
Arezzo - Arezzo is bursting with attractions, including the gorgeous Medici Fortress, historic Arezzo Cathedral and the celebrated Roman Amphitheatre - don't skip this one!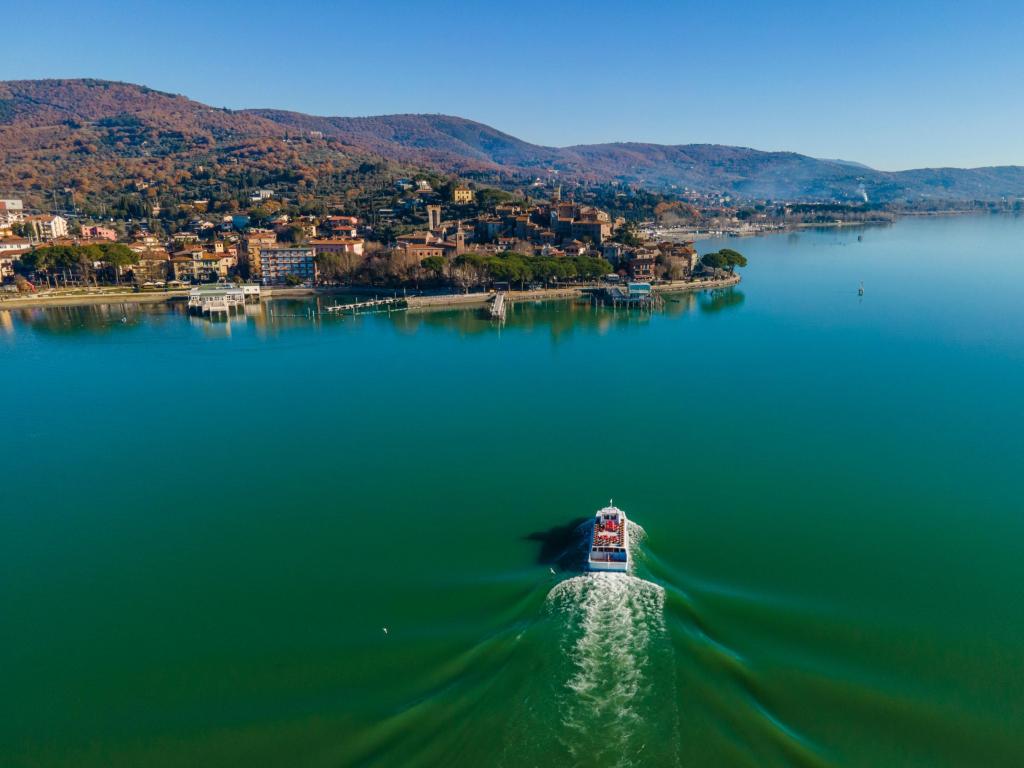 The Pisa Route
Lago di Bracciano - This beautiful lake located close to Rome is perfect for a few hours (or even a few days) exploration, boasting stunning blue waters.
Orsini-Odescalchi Castle - A stunning castle that dominates the southern shore of Lake Bracciano, the Orsini-Odelscalchi is historic and well worth the visit.
Civitavecchia - Don't hesitate to explore the beautiful city of Civitavecchia, whose name translates to "old city" in Latin, and which boasts many historic Roman monuments and structures.
Maremma Archaeology and Art Museum - Discover this stately museum, which offers a closer look into medieval archaeology and medieval artwork with religious themes. It's right along your route in Grosseto.
San Vincente - This small beach town is a favourite amongst locals and an ideal place to stop if you're looking to take a dip into Italy's beautiful Mediterranean waters.
Livorno - A coastal city located a few hours from Pisa, Livorno has tons on offer when it comes to attractions, including the Mimbelli Villa and a "New Venice" complete with gorgeous canals.
Lucca - This small city on the Serchio river is known for its well-preserved Renaissance walls, as well as a rich classical music history, having been the birthplace of one of Italy's most celebrated opera composers, Giacomo Puccini.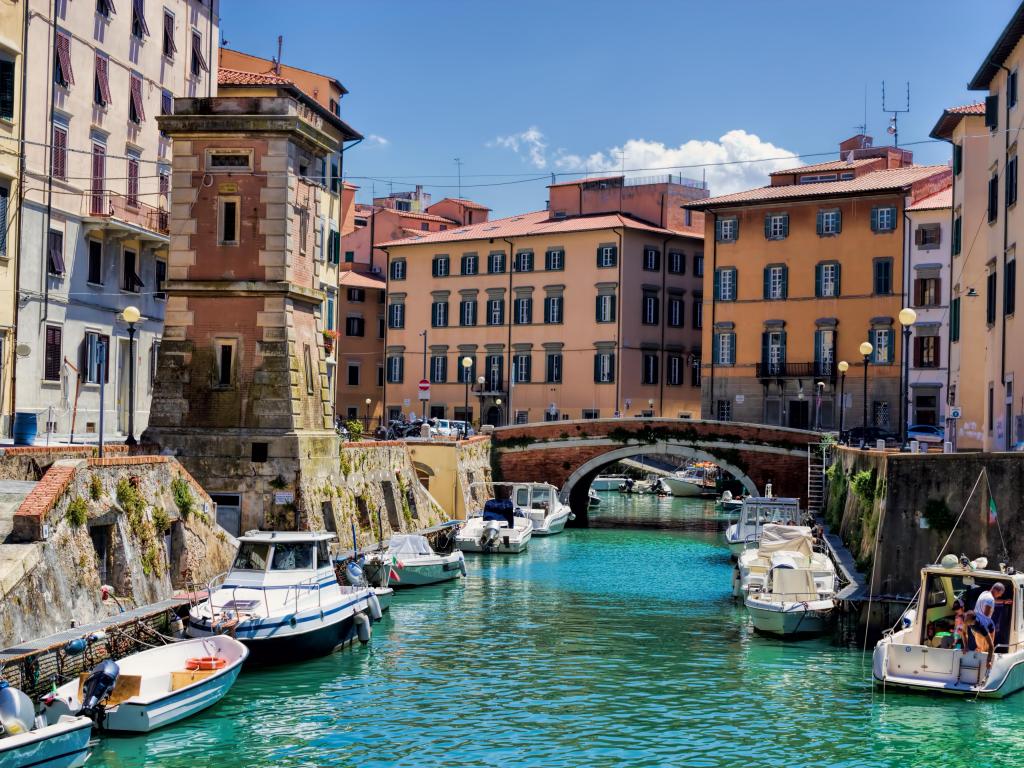 Both Routes
Prato - Located just outside of Florence, the charming and quiet little city of Prato is known for its historic textile industry and offers a rest from the bustle of its larger cousin.
Parco Nazionale delle Foreste Casentinesi - This hilly national park is a wonderful place to enjoy a hike or bike ride, boasting ancient beech forests and several gorgeous streams.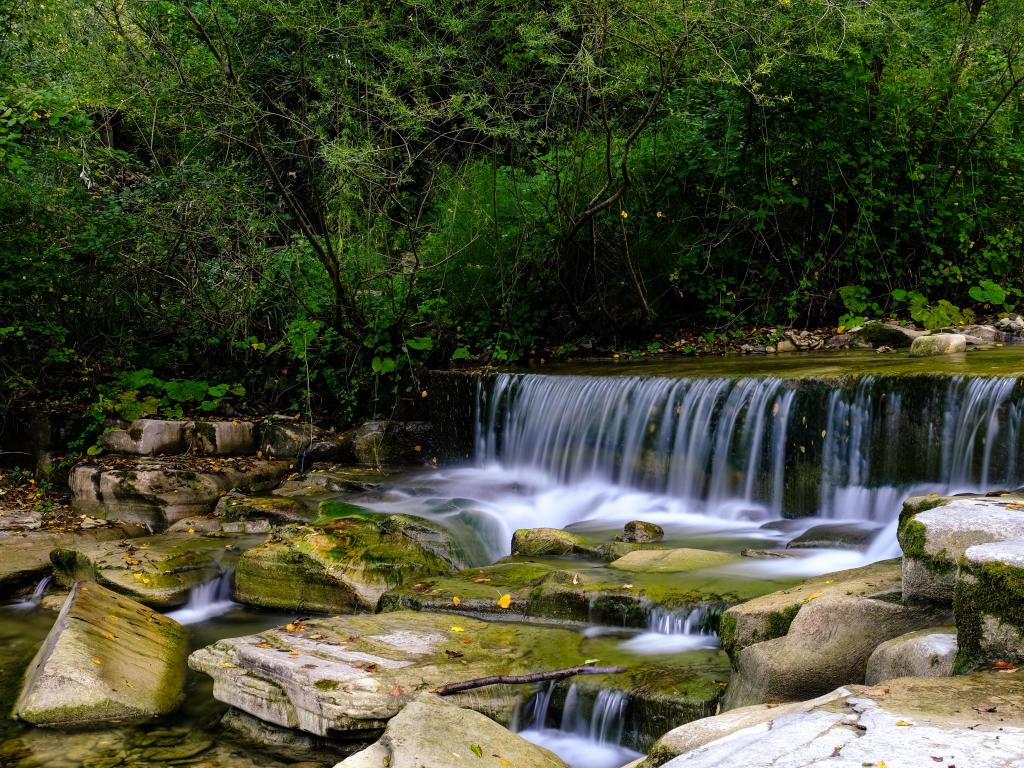 Best time to go on a road trip from Rome to Florence
Florence is definitely a year-round destination - you can enjoy its architecture, fine dining scene and iconic museums at any time of year. However, there are still some important things to factor in when you're planning your trip.
Florence can get hot and busy in the summer, with temperatures averaging 30 degrees Celsius and sometimes shooting up above 40. The warm weather means you can enjoy dining al fresco or stand out in the sunshine to watch the Festa di San Lorenzo celebrations in August, but some travellers might find the heat overwhelming.
If you have the option to visit at another time, we recommend avoiding a trip in summer, which also comes with larger crowds and pricier accommodation.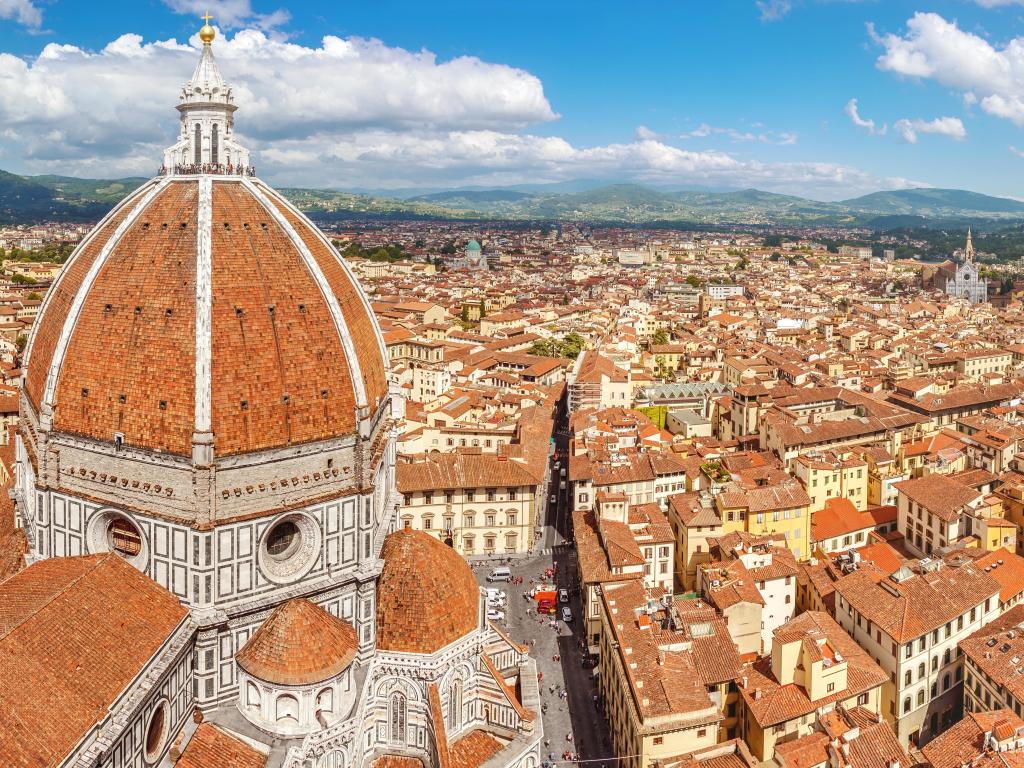 Florence is most quiet during the winter, with the exception of the holiday season when tourism picks up again. Carnevale in February can be particularly busy. If you're looking for a quiet vacation and don't mind colder temperatures (fluctuating between 2 and 12 degrees Celsius), winter is an ideal time to visit this beautiful city.
Spring and fall are great times to visit Florence. The weather is mild enough to dine al fresco and it's often less crowded than in the summer, although since tourists flock to the city all year round, don't expect to have the main attractions to yourself.
If you're visiting in spring you might be able to catch the Florentine New Year celebrations, held in late March. Despite its name, Maggio Musicale Fiorentino runs from April through to July and sees many classical music, ballet and opera performances taking place.
Whatever time of year, this is an absolutely stunning route to an unforgettable destination - just don't forget to pack your sunscreen and your passport!