Wild Atlantic Way Road Trip: Our Ultimate 7-Day Itinerary on Ireland's West Coast
Expect imposing landscapes, breathtaking views and plenty of Irish charm on this incredibly scenic road trip from Muff to Kinsale on the Wild Atlantic Way. At 7 days long, this ultimate road trip takes in the entire west coast of Ireland, from the northernmost point to the most southerly point of the country.
This 7-day road trip along Ireland's Wild Atlantic Way is 1, 790 km long and has a drive time of 32 hours and 20 minutes. On this drive, you will visit Dunfanaghy, Enniscrone, Galway, Limerick, Dingle, Kenmare and Kinsale and admire coastal sights.
Your 7-day road trip on Wild Atlantic Way: the best day-by-day itinerary
What is the best 7-day road trip on the Wild Atlantic Way?
Quaint villages, friendly welcomes, Irish music and plenty of fun await you on this road trip. If you like the outdoors, you will be bombarded by opportunities for walking, hiking, swimming, water sports, land sports and horse riding along the way.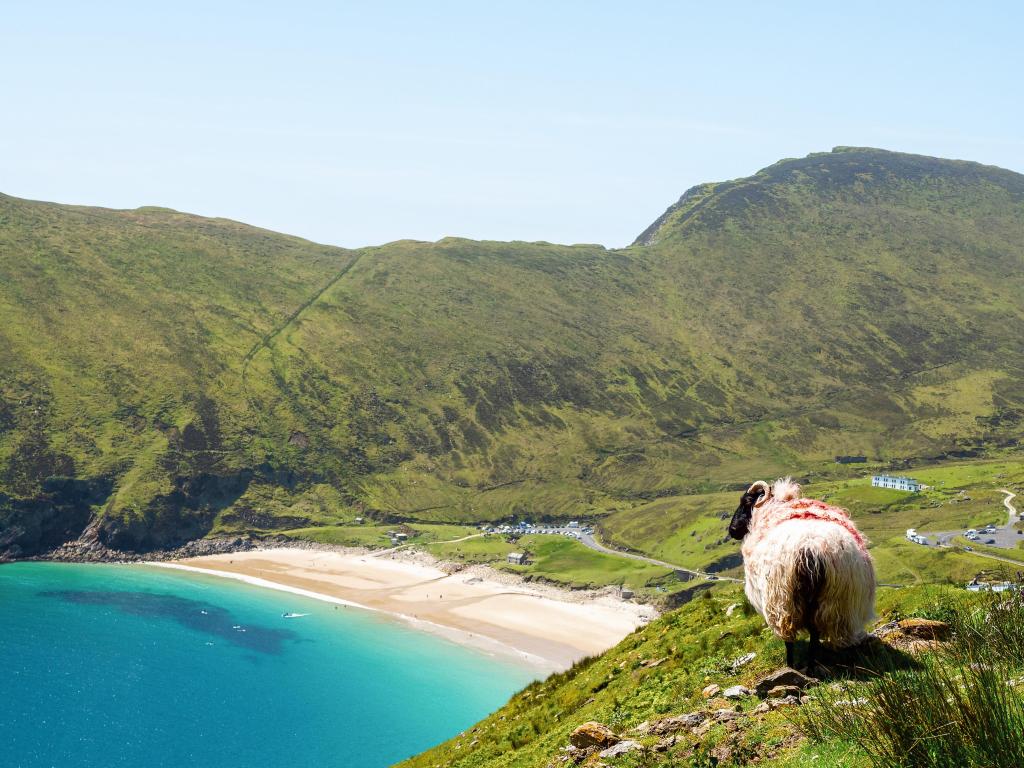 For a more sedate experience, there will be plenty of views to admire and beaches to stroll along. This will be an unforgettable trip, jam-packed from start to finish.
If you want to stretch this out, you could easily spend a couple of extra days in Connemara, Achill Island or the Dingle Peninsula.
The average daily drive is 4 hours 30 minutes, and the longest drive will be the one from Enniscrone to Galway on day 3 at 5 hours and 50 minutes. If this road trip sounds like a bit of you, keep reading to find our ultimate 7-day itinerary including daily distances, places to stay and things to do along the way.
Day 1: Driving from Muff to Dunfanaghy
The first day's drive covers nearly 240 km and has a drive time of 4 hours 30 minutes, not accounting for any stops en route. This is a spectacular way to start this epic road trip of a lifetime, and an excellent introduction to the Irish coastline.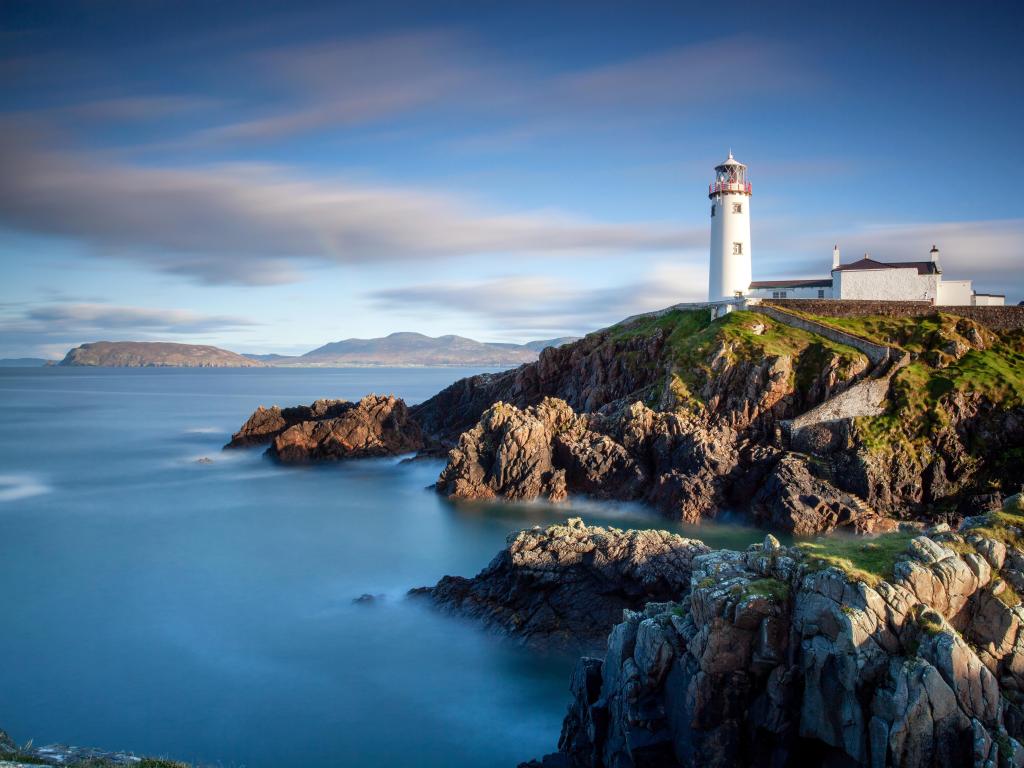 Road trip route from Muff to Dunfanaghy
Your unforgettable coastal road trip starts in Muff, Co. Donegal and heads along the north coast of Ireland. It's a bit of a curvy drive as you follow the coast to Malin Head, through the Fanad Peninsula and on to Dunfanaghy.
Along the way, you'll pass through the capital of Co. Donegal, Letterkenny, which is a good spot to pick up some supplies or grab a bit of lunch. As you drive along the coast, you'll pass by many beaches and viewpoints, which make great rest stops along the way.
Things to explore on the way to Dunfanaghy
Visit Malin Head, the northernmost tip of mainland Ireland, which also served as the backdrop to the Star Wars movies and the perfect place to visit for any sci-fi fan!
As well as stunning views and dramatic landscapes, there are two hiking trails here. Named Hells Hole and Devils Bridge, these trails promise breathtaking views and will bring you up close and personal with the Irish natural landscape.
Once named the second most beautiful beach in the world, Ballymastocker Beach is the perfect place to enjoy the Irish shoreline. You will get to admire long stretches of silky sand and a gorgeous dip in crystal-clear waters if you are visiting during the warmer months.
This beach is a hotspot for surfers, but if you aren't feeling quite adventurous, the white sandy beach, blue ocean, panoramic views and the surrounding rugged landscape make this a must-see on your road trip alone. Consider packing lunch to enjoy as you soak in the views and atmosphere here.
Where to stay in Dunfanaghy: make the most of the coast
Dunfanaghy is known for its charm as a typical Irish village. Overlooked by the Derryveagh Mountains and surrounded by beaches and shorelines, this village offers an activity to meet all tastes.
Visitors can play golf, go hiking, ride horses, enjoy water sports or take a stroll along one of the many surrounding beaches. If you fancy a dip in the Atlantic Ocean, the village has a number of Blue Flag beaches which are ideal for a swim.
Offering views of the sea, hills and countryside at every turn, the Shandon Hotel and Spa makes the most of its surroundings. An on-site restaurant and bar with open fires and live music ensure that you will experience excellent food and the fun of an Irish pub during your stay.
The hotel also has an indoor pool, sauna, steam room and luxury thermal spa, which are great for relaxing after a day's travel and activity. With a great location and free on-site parking, this is a great choice for a road trip.
Click here to skip back to the top.
Day 2: Driving from Dunfanaghy to Enniscrone
3 hours and 50 minutes and 240 km make up the drive on day 2, which is a bit shorter than the first day. This route starts to take you south and out of Co. Donegal, into Co. Sligo. You'll also be passing from the Ulster province to the province of Connacht.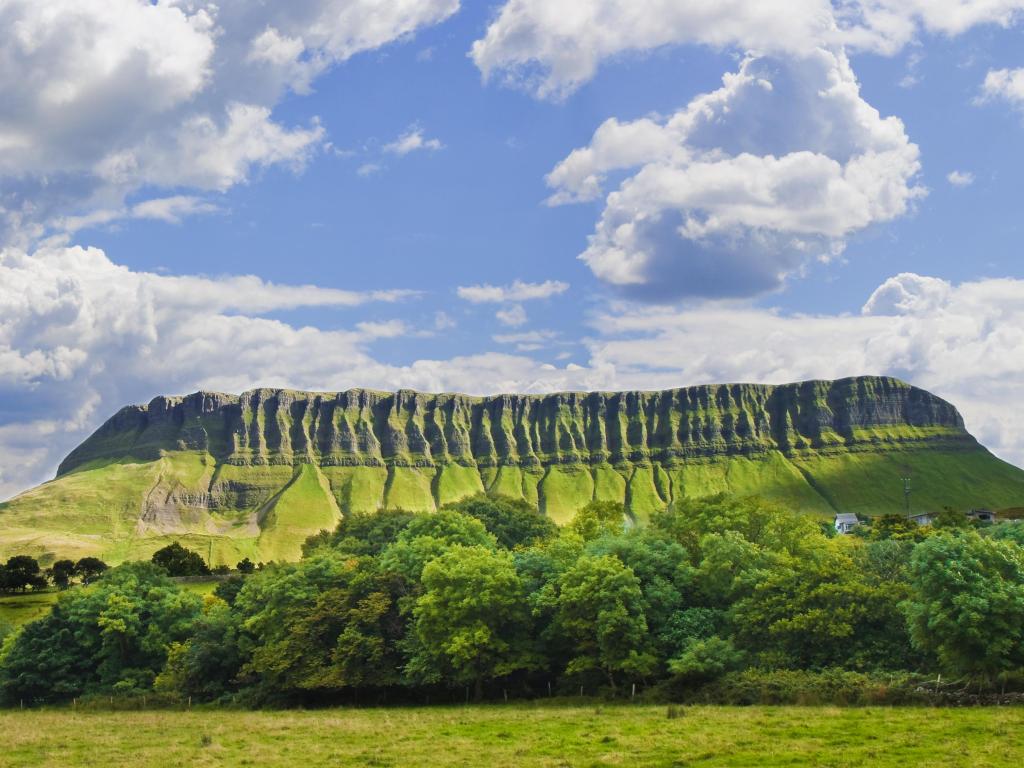 Road trip route from Dunfanaghy to Enniscrone
While this drive takes more of an inland route, the views and drive are still as captivating as the coastline. You'll stay on the coast until you get to Glengesh Viewing Point, which is a beautiful drive.
You'll continue inland until you approach Mullaghmore Head. From here, you follow the coast into Sligo Town and on to Enniscrone.
Things to explore on the way to Enniscrone
Prepare for some hairpin bends and narrow Irish roads as you take a short detour up to the Glengesh Viewing Point. The view from the top will be worth the extra kilometres though! The beautiful, peaceful Irish countryside is simply stunning here.
A very popular holiday destination for Irish and tourists alike, Mullaghmore is one of the best-known places in the west of Ireland. Derived from the Irish word that means "the great summit" this picturesque village is dotted with great eateries, luxurious lodging and amazing recreational activity opportunities such as surfing.
If you fancy getting off the mainland and exploring some of Ireland's islands, you can take a ferry from the pier in Mullaghmore to Inishmurray Island. Keep an eye out for Classiebawn Castle and Benbulben Mountain as you drive along.
Where to stay in Enniscrone: soak up the Seaweed
A popular seaside resort, Enniscrone offers a beautiful beach and a spectacular place to watch the sunset.
Why not visit the Kilcullen Seaweed Baths? Open since 1912, this family-run business offers traditional seaweed baths. Known for their high iodine content and therapeutic properties, seaweed baths are becoming increasingly popular for their restorative and rejuvenating properties.
After spending some time pampering yourself in the baths, you will be spoilt for choice of great accommodation options in Enniscrone. The modern Diamond Coast Hotel is a natural choice that overlooks 5 km of sandy beaches and an 18-hole golf course.
Newly built, this lovely hotel offers comfortable rooms finished to a high standard. If you'd like to enjoy water sports, the luxurious hotel is a short walk from the golden beaches. However, if you are not a fan of open waters, you will find a fantastic outdoor pool at your disposal during your stay.
An on-site restaurant and bar offer good food and a nice spot for an enjoyable evening. Location-wise, swimming, surfing hiking and walking are all on your doorstep here.
Click here to skip back to the top.
Day 3: Driving from Enniscrone to Galway
Day 3 will be your longest drive on this road trip. It is likely to be your longest day also as there are some incredible sights that you won't want to miss. Your drive time will be 5 hours and 50 minutes, covering 340 km, but it is likely that you will spend much longer out and about.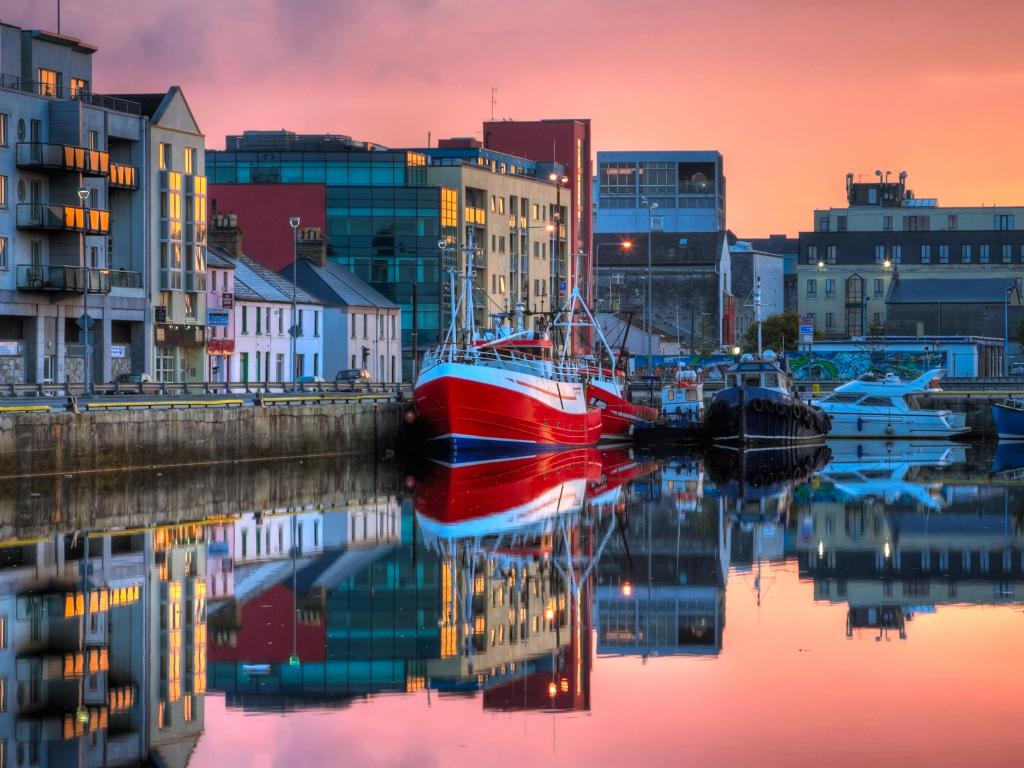 Road trip route from Enniscrone to Galway
Leaving Co. Sligo, you'll head through Co. Mayo and onto Co. Galway. Stick by the coast when leaving Enniscrone, heading west, then south to Achill Island. From here, head back to the mainland and drive to Westport, the capital of Mayo.
The next part of your drive takes you through Connemara National Park and on to Galway. Oh, and keep an eye out for sheep wandering around! They are known to stop traffic as they crowd the roads in Connemara.
Things to explore on the way to Galway
Achill Island is a favourite among Irish holidaymakers and tourists alike. It's easy to see why with its many beaches, Irish pubs and lovely landscape.
You can spend anything from a couple of hours to a couple of days exploring the Island and everything it has to offer. Keem beach is worth a visit if you can squeeze it into your day.
Arguably, one of the most incredible places on the Island of Ireland, Connemara is a must-see. Famous for the pony of the same name, Connemara is packed full of rugged stone landscapes, small villages and winding roads.
It is an Irish-speaking area, so you'll hear a lot of the locals speaking Irish here. Don't worry if you are not familiar with the language, they speak English too. If you are looking for a hike, consider stretching your legs on Diamond Hill in Connemara National Park.
Where to stay in Galway: a great Irish night out
Galway will be one of the biggest and most popular cities on this road trip. Enjoy the hustle and bustle of a small city with its abundance of cafes. restaurants and shops.
Galway is also known for its great nightlife, so you'll be sure to have an evening filled with fun, good food and friendly locals if you plant to head out and venture.
Just 200 metres from Eyres Square, The Galmont Hotel and Spa offers an excellent location to explore Galway city. An award-winning restaurant located on the premises, with spa and leisure facilities at hand, this hotel makes an excellent all-rounder.
With a second on-site restaurant and bar, you have freedom of choice as well as all the amenities you will need to enjoy your stay here. Onsite parking ensures your vehicle will be safe for the night.
Large, comfortable and modern rooms are tastefully decorated to create a luxurious feel and cosy atmosphere to relax in after a long day of driving or a night on the town!
Click here to skip back to the top.
Day 4: Driving from Galway to Limerick
A little shorter your drive on the previous day, day 4 should take you just under 5 hours to complete. Just 270 km separate the cities of Galway and Limerick. If you're looking to shorten this route, you can opt to not make the stop in Kilbaha and drive directly to Limerick instead.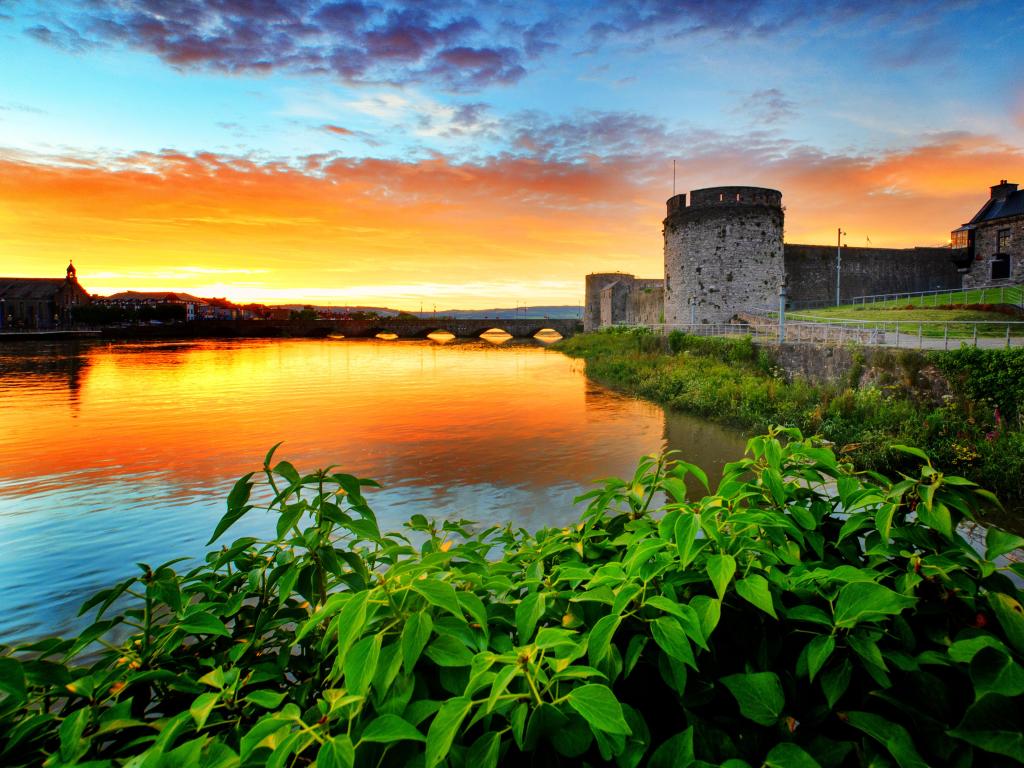 Road trip route from Galway to Limerick
Leave Galway and travel around the bay, entering Co. Clare and the province of Munster. Your first waypoint will be The Cliffs of Moher, probably one of the most well-known attractions on the island.
Shortly after you'll pass Lahinch beach as you follow the coastline south to Kilbaha. Stay by the coast as you pass by Ennis and arrive in Limerick City.
Things to explore on the way to Limerick
A road trip along the Wild Atlantic Way is not complete without a stopover at the famous Cliffs of Moher. An awesome and imposing landscape awaits with incredible cliffs, crashing sea waves and breathtaking views. Make sure you have your camera ready!
There are a number of walking trails and hikes around the area if you wish to stretch your legs.
Close to the Cliffs of Moher is Lahinch Beach, loved by avid surfers worldwide. A great spot for a refreshing dip, some water sports or a stroll along the beach, Lahinch makes for a nice stop along the way.
Make sure to visit the Bridges of Ross on your way to Kilbaha, a quaint fishing village positioned on the western end of the Loop Head Peninsula. Here, you will not want to miss a visit to the Loop Head Lighthouse. The lighthouse closes for the winter season, so check ahead of time whether you can visit.
Where to stay in Limerick: A lively city stopover
Another bustling spot along your route, Limerick city, is a great spot for an overnight stay. King John's Castle is not far outside the city centre and is a great example of a restored medieval castle.
Similarly to Galway, Limerick's abundance of restaurants and pubs gives you many options for a great night out. If you have extra time on your hands, we recommend sparing an extra night or two staying here.
Located in the heart of Limerick city, the George Limerick Hotel offers luxury interiors with modern and comfortable rooms. The hotel's fabulous restaurant and bar have something for every meal, with local produce sourced from artisan suppliers.
This cosmopolitan-style boutique hotel is within walking distance of the main attractions in Limerick city and offers private parking to all guests so that you can leave your car behind and easily explore the city on foot.
Click here to skip back to the top.
Day 5: Driving from Limerick to Dingle
At just 3 hours and 40 minutes, the drive from Limerick to Dingle is pretty short in comparison to the others. The 210 km takes in Tralee, Brandon Point and part of the Ring of Kerry.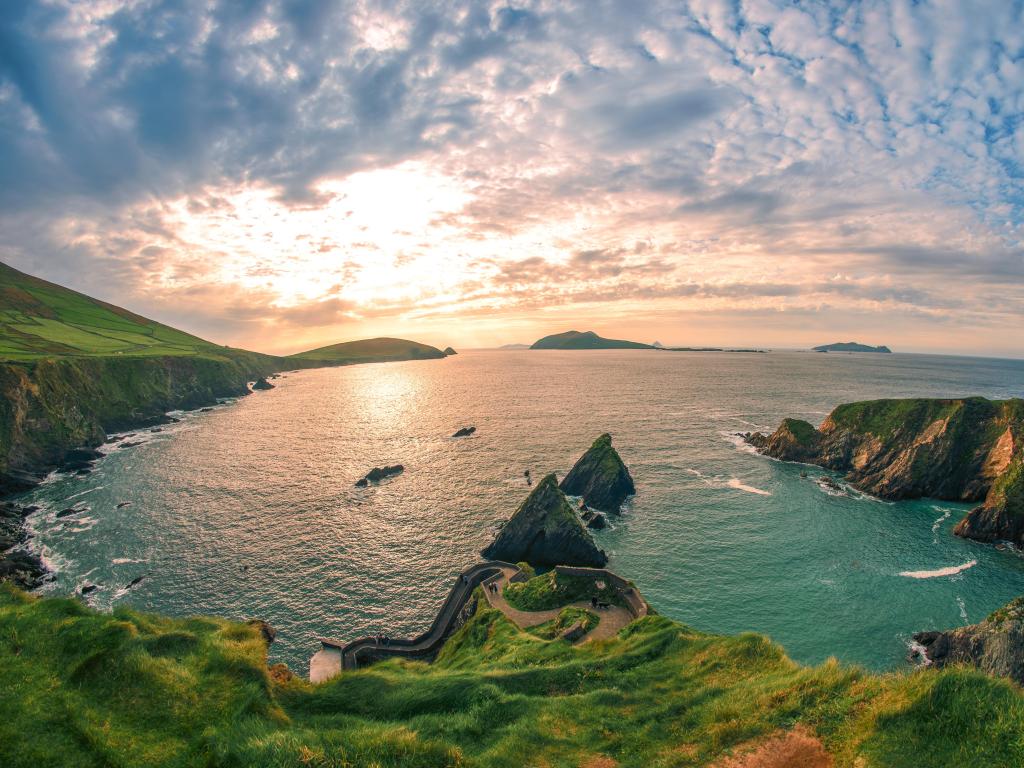 Road trip route from Limerick to Dingle
From Limerick, you'll follow a more inland route as you head towards Dingle. Your first suggested stopover is Brandon Point and Brandon Mountain. Both offer fabulous views of the bay and the surrounding area.
If you don't feel like a mid-drive hike, you can always return tomorrow as it's very close to Dingle. From here, you'll drive around the mountain, through Dingle and on to Dunquin. You'll do a loop of the peninsula before returning to Dingle for the night.
Things to explore on the way to Dingle
Birdwatchers and hikers, Brandon Point is the perfect place for you to visit. Bradon Point is located at the foot of Mount Brandon, and is an excellent hiking spot. Enjoy the panoramic views before you ascend the mountain, and then enjoy even more beautiful views from the top.
Slea Head Drive is another winding drive along narrow single-lane roads that we absolutely recommend doing. You will be left in awe by its stunning scenery. Coumeenoole Beach is also located on this stretch and is good for a swim or a stroll.
If you're looking for a more strenuous walk, head up to Dunmore Head. This is another shooting location for Star Wars, which will be a treat to visit for any fans of the movie franchise.
From nearby Dunquin, you can sail across to the Blasket Islands, and get off the mainland for a while. As you drive along, keep an eye out for the beehive huts where prehistoric settlers once lived.
Where to stay in Dingle: a colourful port town
Dingle is a fishing port, with Mount Brandon overlooking it from the north. A major hub in the Dingle Peninsula, the town is the only way to get from east to west around the mountain.
Its colourful buildings, excellent food and charming hustle and bustle make Dingle a great option for an overnight stay. There are also plenty of things to do here, such as hopping on one of the sea safari tours to enjoy the rugged scenery of the area from a different perspective.
You can also visit the ancient ruins of the Gallarus Oratory to learn more about the fascinating history of Dingle which goes back hundreds of years. If history is not your thing, head to Dingle Oceanworld to learn about fascinating marine life instead.
If you're looking for a quaint Irish guest house with an Irish welcome in Dingle, stay at The Waterfront. With modern and well-equipped rooms, parking and an excellent location, this guest house offers a great place to stay.
An excellent breakfast is offered each morning and a sea view room can be requested when booking. Make sure to visit Kerry County Museum, which is a short drive from the guesthouse, before setting off on the next leg of your trip.
Click here to skip back to the top.
Day 6: Driving from Dingle to Kenmare
The sixth day will mean that you will drive from the Dingle to the beautiful Kenmare. This will not be a long drive and should take you just under 4 hours to drive the 210 km to Kenmare, Co. Kerry.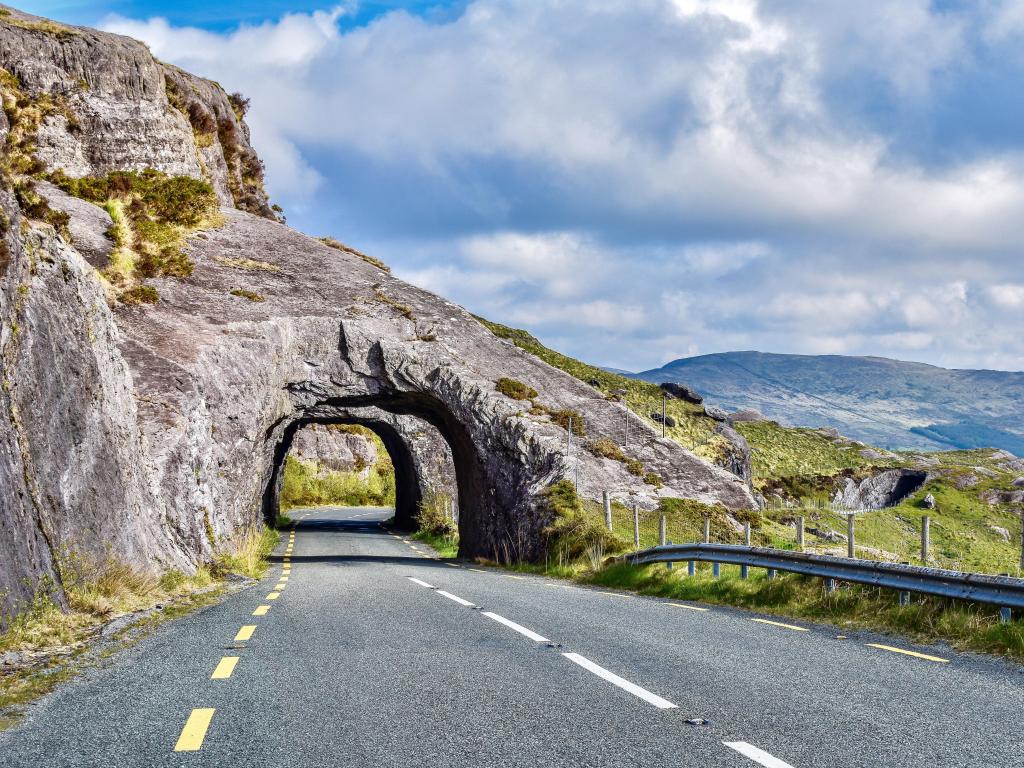 Road trip route from Dingle to Kenmare
The coastal views on this drive will make up for the lack of them on Day 5. You'll continue around the Ring of Kerry, driving out to Valentia Island, on to Caherdaniel and then into Kenmare. Killarney national park is just a short hop from Kenmare if you fancy a walk or a cycle.
Things to explore on the way to Kenmare
As well as being an all-year-round surfing destination, the super long Inch Beach is great for a walk to blow away the cobwebs on your way to Kenmare. Bring a picnic and a flask for a beachside lunch or snack.
Located on Valentia Island, Knightstown is one of the few planned towns in Ireland and is built in a grid shape. This quaint town is a good starting spot to explore Valentia Island, or a good end point for something to eat after a day of exploring.
You can also visit Geokaun Mountain and Cliffs, the Valentia Island tetrapod footprints and St. Brendan's Well during your visit here.
Continuing on, make sure to make a stop and take in the majestic views of Kerry Cliffs en route. If you are a history buff, the Ballinskelligs Castle and Abbey are great places to explore.
Where to stay in Kenmare: experience truly luxurious Irish hospitality
Located on Kenmare Bay, Kenmare is another traditional Irish county town, which is the Wild Atlantic Way is so famous for, with winding streets lined with colourful buildings. Boasting charming shops, restaurants, arts and culture, Kenmare offers something for every palette.
Have you ever wanted to ride a horse but not sure where to start? Kenmare has multiple stables and equestrian centres offering a number of different rides and treks.
The Park Hotel Kenmare is one of the most famous hotels in all of Ireland - and with good reason. This 5-star luxury property will give you the celebrity-style treatment with its exquisite rooms and top-notch customer service.
If you want to spend your time relaxing at the hotel, you might be delighted to hear that this fantastic property houses its own 12-seat cinema, not something you come across in most hotels!
If you are an adventurer, the hotel offers deep sea diving tours, but also a 30 feet outdoor pool for those who would like a more tranquil dip. No matter what activity you choose, you will want to head to the full-service spa on-site afterwards to treat yourself after an exhilarating day.
You won't have to venture far for an upscale meal as the restaurant features a fantastic restaurant with a changing menu dependant on seasons that feature the freshest of the local products.
If you are looking to treat yourself to a special occasion lodging option on your road trip on the Wild Atlantic Way, Park Hotel Kenmare is it; it may cost more than its competitors but this once-in-a-lifetime experience will be worth it.
Click here to skip back to the top.
Day 7: Driving from Kenmare to Kinsale
The last day of this amazing road trip packs a punch like the previous days and brings with it a 280 km drive over 5 hours and 40 minutes. This drive includes a stop at Ireland's most south-westerly point and crosses into Co. Cork, Ireland's biggest county.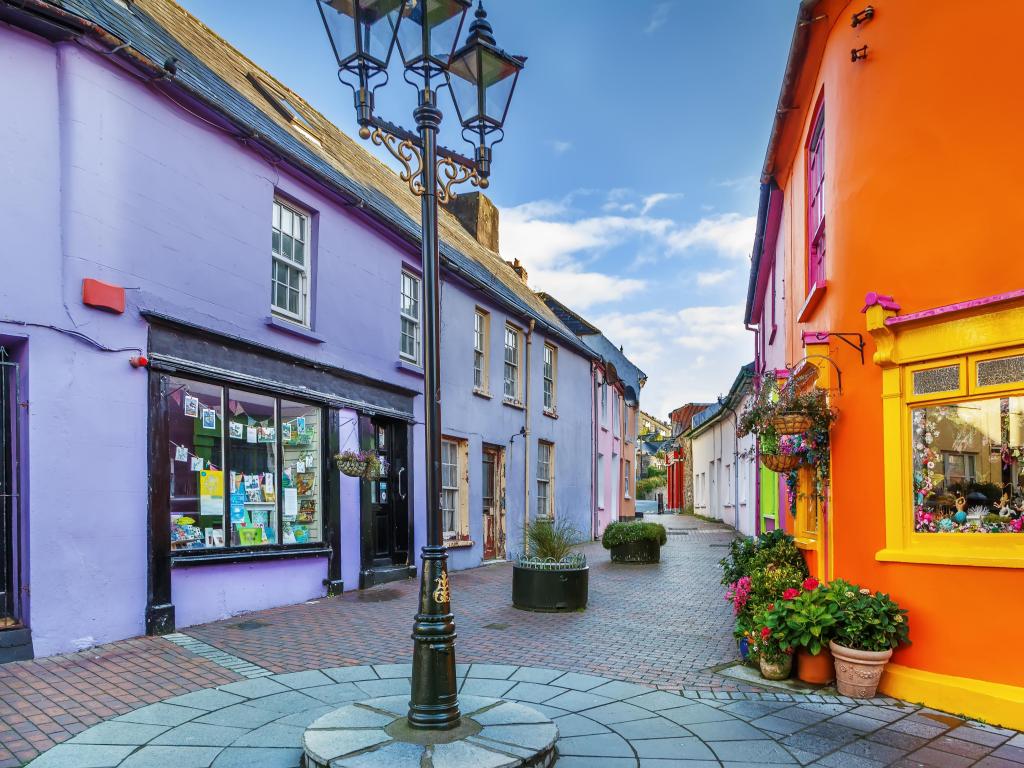 Road trip route from Kenmare to Kinsale
The route from Kenmare will stay inland until you reach Glengarriff, where it meets the coast again. Follow the coast around the tips of the country and you will come to Mizen Head. Head east from here, winding your way along the coast until you get to Kinsale.
Things to explore on the way to Kinsale
Mizen Head is Ireland's most southwestern point, jutting out into the Atlantic Ocean. The surrounding cliffs, landscape and crashing waves make this a place that is hard to forget.
For those looking for an adrenaline rush, go to visit Mizen Head Lighthouse, which is located across the land and is accessible via a 52-metre-long bridge.
Famous for its Clonakilty Black Pudding, this little town will be one of the stars of this road trip. Voted Best Town in Europe in 2017, the locals here have a reputation for being extremely friendly and welcoming.
The Friday farmers market is full of local produce including cheese, vegetables, coffee, baked goods and fish, so make sure to stock up if you are planning a home-cooked meal or a picnic when you arrive in Kinsale.
Where do stay once you reach Kinsale: End your trip in style
Kinsale is the official start or end point of the Wild Atlantic Way. Its town centre is full of brightly coloured buildings, great shopping and delicious places to eat. With year-round events, a harbour, water sports and many walking tours, there is something for everyone here.
There is no better way to end a road trip than in a spa hotel! Kinsale Hotel and Spa is located outside of the main town centre and has everything you need onsite.
Set in 90 acres of woodland, the location of this hotel is tranquil and picturesque. The onsite spa offers a range of treatments, while the onsite restaurant and bar serve international cuisine. The rooms are modern, spacious and comfortable, ensuring you have a great night's sleep after your week of exploring.
Things to see on a 7-day road trip on the Wild Atlantic Way
One thing is for sure, you will not be short of things to see and do on this road trip. As well as the items listed below, the Irish coastline is littered with viewing points, castle ruins and little villages which you can stop at along the way.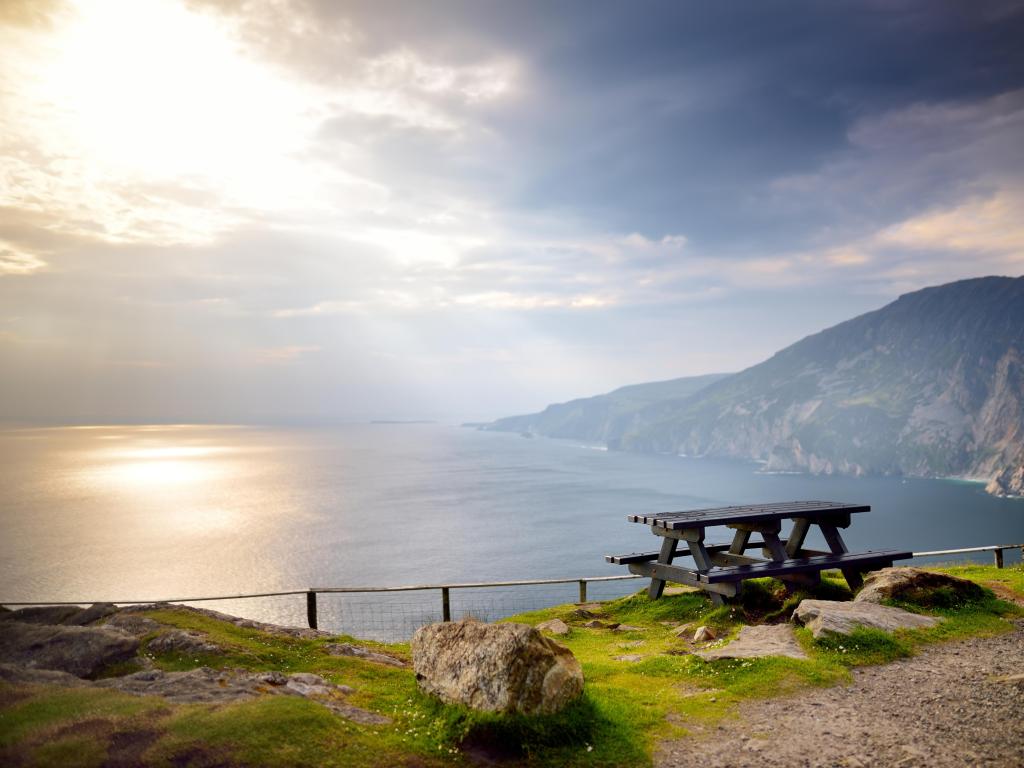 Tory Island, Co. Donegal - The inhabitants on this remote island take immense pride in the preservation of their cultural heritage through music, song and dance. A must-see!
Slieve League Cliffs, Co. Donegal - Experience Ireland's highest sea cliffs in Donegal. There is also a cafe, gift shop and guided tours on offer.
Benbulben, Co. Sligo - This tabletop mountain is a great one to either climb or admire from the 5km walking track around the base.
Clew Bay, Co. Mayo - It is said that Clew Bay has an island for every day of the year and is also said to be Ireland's best example of sunken drumlins.
Croagh Patrick, Co. Mayo - Ireland's Holy Mountain, Crough Patrick is a cone shaped peak made famous as the place where St. Patrick fasted for 40 days. Today, it remains an important site of pilgrimage for many.
The Burren, Co. Clare - The Burren is a sight like no other in Ireland. A moon like formation of limestone, filled with crevices, caves, fossils and native flowers, it is not to be missed!
Treaty City Brewery, Co. Limerick - Visit this working microbrewery to taste some artisan beers and learn how they are made.
Connor Pass, Co. Kerry - A beautiful, scenic drive in Kerry, Connor Pass is the highest mountain road in Ireland.
Dingle Cookery School, Co. Kerry - Head to this award-winning culinary school to learn how to cook fish, bake bread or take a traditional Irish cookery class.
The Skellig Islands, Co. Kerry - Visit a UNESCO world heritage site, 27,000 pairs of gannets and a set from Star Wars by taking a boat out to the Skellig Islands.
The Beara Peninsula, Co. Cork - With 100 islands to sail around, sunsets to watch and castles to explore, the Beara Peninsula has it all.
Atlantic Sea Kayaking, Reem Pier Co. Cork - For an unforgettable kayaking experience, choose one of the night kayak tours to see the Atlantic after dark.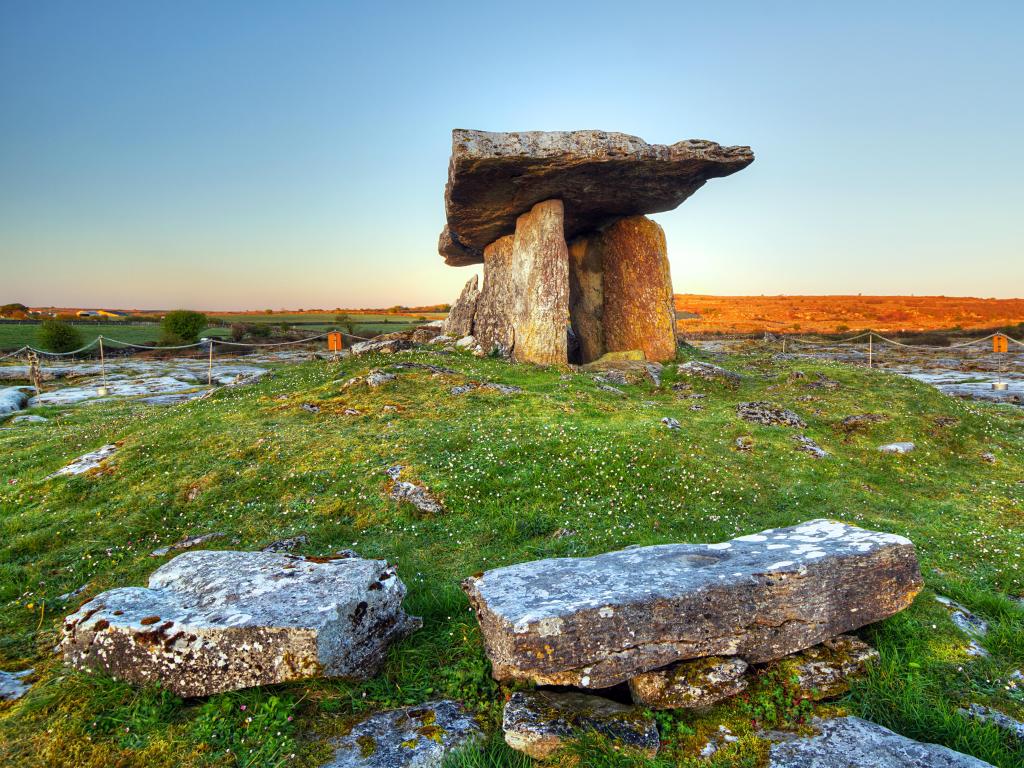 Best time to go on a 7-day road trip on the Wild Atlantic Way
Ireland has a pretty steady year-round climate, and rarely sees extremes of weather. That being said, the west coast tends to experience more wind, rain and storms than the other parts of the country.
Spring or Autumn are the best times to do this road trip as the weather will be fine and there will be fewer tourists around. Ireland in the sunshine and heat is a spectacular place to be, but it usually brings with it crowds of Irish and tourists alike.
Traveling in winter
Winter on the west coast of Ireland is likely to be rainy, windy and changeable. In recent years, winter storms with strong gales and local flooding are becoming a more regular occurrence.
Average daily temperatures are between 5 and 8 degrees Celsius with a rare chance of snow. Prices will be cheaper at this time of year, and there will be fewer people around. However, some places and attractions may be closed, so be sure to check beforehand.
Traveling in summer
Average temperatures on the west coast are between 12 and 15 degrees Celsius, however in recent years, temperatures of 20 - 30 degrees Celsius are becoming more common.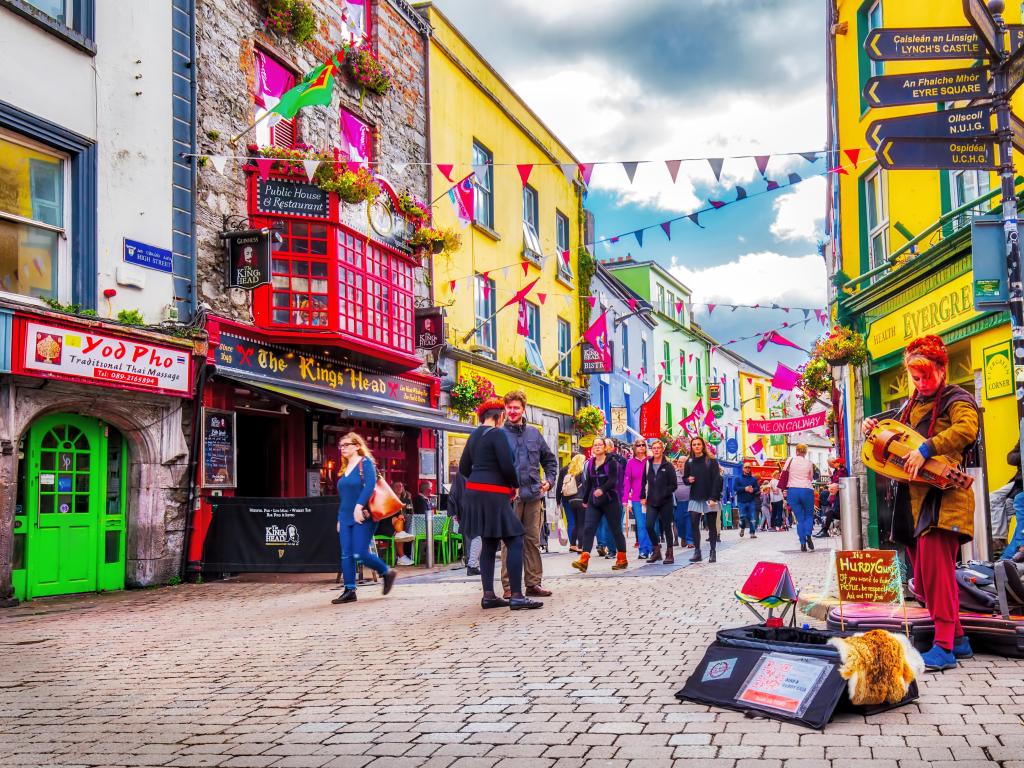 Summer is a good time for a road trip as you have a higher chance of getting good weather. There will always be a chance of rain though!
The downside of traveling at this time of year is that it will be busy with Irish and international holidaymakers and accommodation prices will be a lot more expensive.
Traveling in spring or autumn
Spring or autumn are two of the best times to visit Ireland and the west coast. The weather tends to be a bit milder with average temperatures of 10 - 11 degrees Celsius across both seasons.
There are usually fewer people around and accommodation prices tend to be more reasonable.