Road Trip from Dublin to Galway
A road trip from Dublin to Galway takes you from Ireland's Ancient East, through its Hidden Heartlands and ends at the epic Wild Atlantic Way. Discover the unique culture and heritage of Ireland through its abundance of castles, stunning waterways and its inherent connection to the equine industry.
A 310 km road trip from Dublin to Galway will take about 5 hours to drive. You'll get to visit Trim Castle, Kildare, Tullamore, Charleville Castle, Portumna, Athlone, Roscommon, Wicklow National Park, Clonmacnoise Monastery and Belvedere House.
This road trip takes you directly across Ireland and offers a myriad of places to visit along the way. Keep reading to find our complete guide to this trip from route plans, things to see, places to stay and the best time to go.
How far is Galway from Dublin, and how long will the road trip take?
Comparison of road trip routes between Dublin and Galway

| Route | Distance | Driving Time |
| --- | --- | --- |
| Castle Route | 310 kilometers | 5 hours 20 minutes |
| Fairyhill Route | 310 kilometers | 5 hours 30 minutes |
Both of our suggested routes are similar length and driving time, so your decision rests largely on the type of route you want to take.
The Fairyhill Route is our slightly longer option which will take 5 hours and 30 minutes to drive nonstop, covering 310 km. This route is jam-packed with hiking and biking opportunities, so it will likely take you longer as you enjoy these.
The Castle Route will take slightly shorter (though not in distance) to drive in 5 hours and 20 minutes. This route also spans 310 km and is filled with some of Ireland's most impressive historical castles.
Whichever one you choose, you'll need at least 2 -3 days to complete it so you can enjoy the landscape along the way.
Best road trip route from Dublin to Galway
Countless adventures await; our routes offer an endless number of activities from hiking, boating, cycling and horse riding. The history buffs among us will also be pleased with the excellent choice of old castles, historical landmarks and natural wonders that adorn these routes.
Our Fairyhill Route makes the most of the natural landscape it passes through as part of Ireland's Ancient East. Nature and outdoor enthusiasts will love this route as there are plenty of options for hiking, walking, biking and water sports.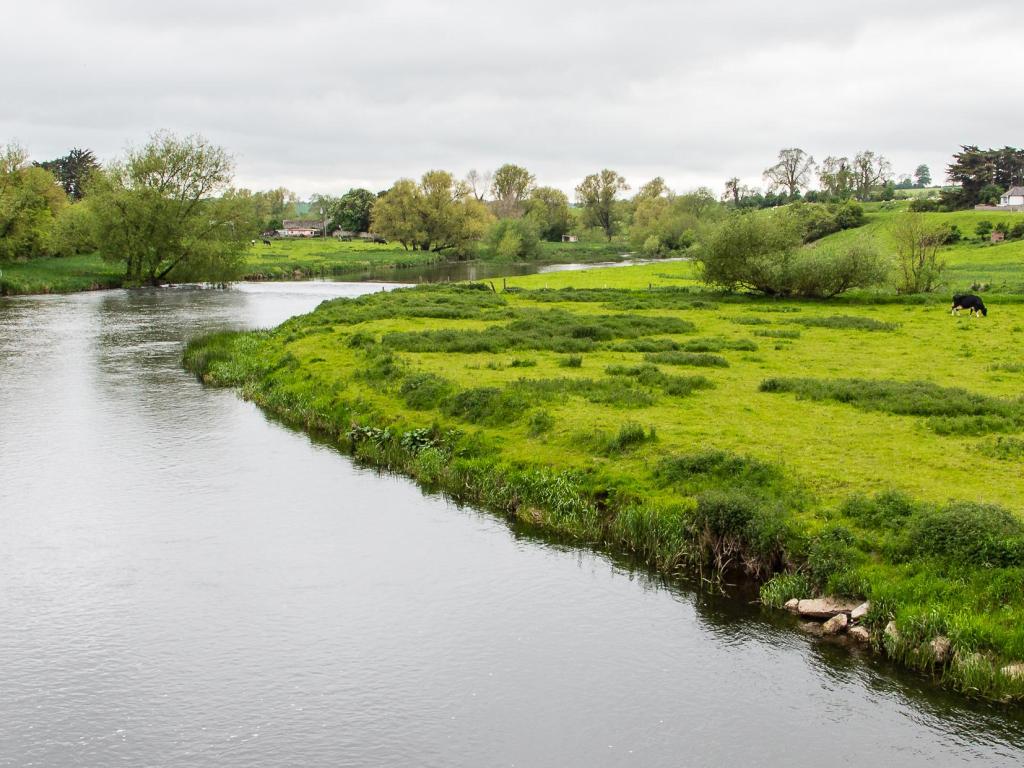 Ireland's longest river can be visited along the way, a great spot for some water-based activities. There aren't as many historical castles and landmarks on this route, it's more geared towards those who like the outdoors.
The Castle Route is for history buffs as it is adorned with famous castles and landmarks. It passes through Athlone, the heart of Ireland, which is on Lough Ree, a great spot for some water sports.
There aren't as many options for walking, hiking or outdoor pursuits compared to the other route.
The Fairyhill Route
Leave Dublin city centre heading south, following R115 past The Hell Fire Club and Ticknock Forest. Stay heading south, crossing the border into County Wicklow and head for the Wicklow Mountains National Park and stretch your legs among the luscious greenery.
From here, head northeast out of Wicklow and get on the N7 to Naas, County Kildare. Take the M7 from Naas to Newbridge, passing The Curragh Racecourse on your right.
Your next stop is Kildare Village, a great place for grabbing a designer bargain. Once you've done all your retail therapy, get back on the road towards Tullamore on the R420.
Drive southeast to Birr Castle, a nice spot to enjoy some Irish history. Continue east to Portumna in County Galway. Keep going east to Coole Park, another great spot to stretch your legs and enjoy the local flora and fauna.
The last part of your route takes you north, past Cregganna Marsh Natural Heritage Area, through Oranmore and finally into Galway city.
The Castle Route
Head north out of Dublin, passing the famous Phoenix Park on your left. Take the M3 to Drumree before going slightly northeast to Trim Castle. Drive southeast for a short time before getting on the N4 to Mullingar.
Follow the N52 southeast to Belvedere House and Gardens on the shores of Lough Ennell. Continue on N52 through Kilbeggan and Tullamore before arriving at Charleville Castle. Take a break here to enjoy the castle and grounds and maybe grab a bit of lunch in Tullamore.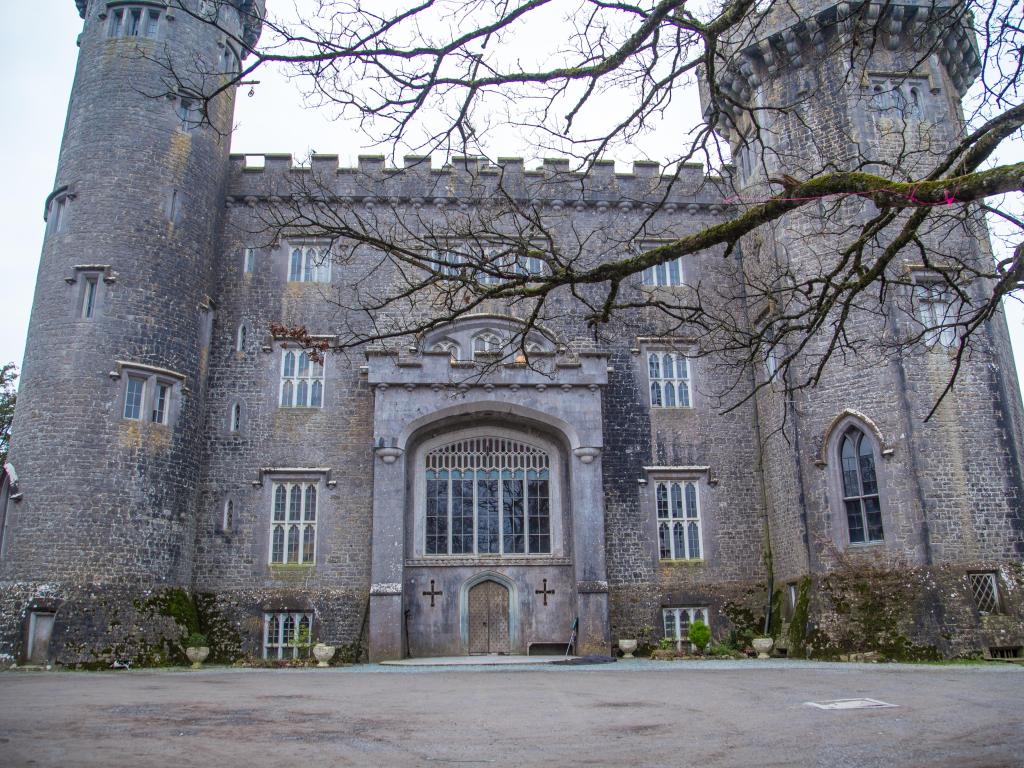 Drive east past the Clara Bog Nature Reserve to Clonmacnoise Monastery on the banks of the River Shannon. Retrace your steps for a short time before going north into Athlone, County Westmeath.
Take the N61 briefly north up to Roscommon, before returning southeast to Castlestrange Scribed Stone, Claregalway and then finally into Galway City.
Best places to stop between Dublin and Galway
While this drive can be done in one day, you are much better off enjoying it over several days and resting at overnight stops. Here are our top picks for excellent options for an overnight stay on each route.
Stay in a quaint Irish village in Tullamore
About three hours from Dublin on The Fairyhill Route is Tullamore, County Offaly. This typical Irish town is both a good halfway mark and a chance to spend some time in a quaint midland village.
An overnight stay allows you to do a tour and taste over 200 years of history at the famous Tullamore Dew Whiskey Distillery. If you fancy a nice walk, the Grand Canal Greenway runs through Tullamore.
This is a dedicated walking and cycling route along one of two canals that connect the River Shannon with Dublin. For history enthusiasts, Charleville Castle is nearby and is a fine example of gothic architecture from the 1700s.
The Tullamore Court Hotel is an excellent option for an overnight stay. It is in the centre of town, with on-site parking and easy access. The onsite pool, spa and fitness centre give you plenty of options for relaxing after a day's driving.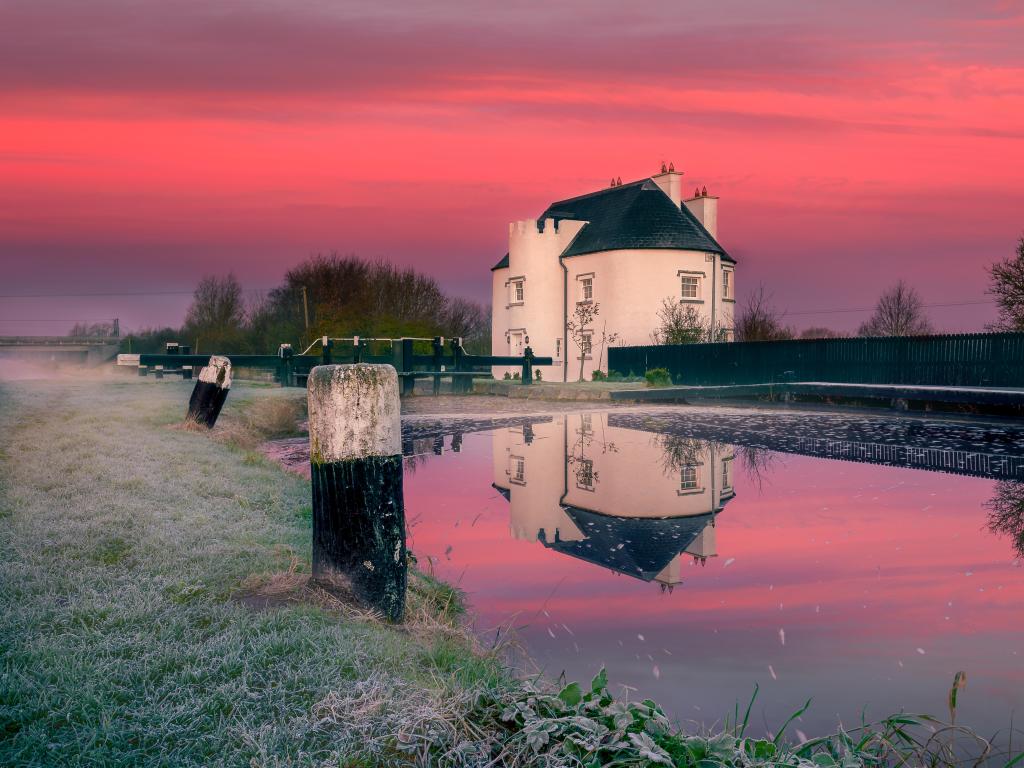 The on-site restaurant and bar mean you can get a good, hearty Irish meal from the comfort of your hotel. You will also find live music and evening entertainment which will give you a taste of some traditional and local Irish music.
It boasts an excellent location with Tullamore Dew Whiskey Distillery only a short walk away. The town centre is within walking distance (restaurants, bars and cafes can be found here) and Charleville Castle is a short drive away.
If you'd like a round of golf, several golf courses are nearby including the exclusive and prestigious K Club.
Action packed Athlone
3 hours and 30 minutes from Dublin on The Castle Route, you'll find Athlone, County Westmeath. Just over halfway through our road trip, this is a small but bustling town in the heart of Ireland and has plenty of attractions for all tastes including castles, heritage centres, outdoor activities and shopping.
Following an old railway line, the Athlone Greenway is open all year for cycling and walking. If you'd like to immerse yourself in some history while getting your steps in, climb to the top of the keep in Athlone Castle.
For something more adventurous, bounce and wobble your way through Ireland's largest inflatable waterpark and then whizz down the world's largest inflatable waterslide at Baysports.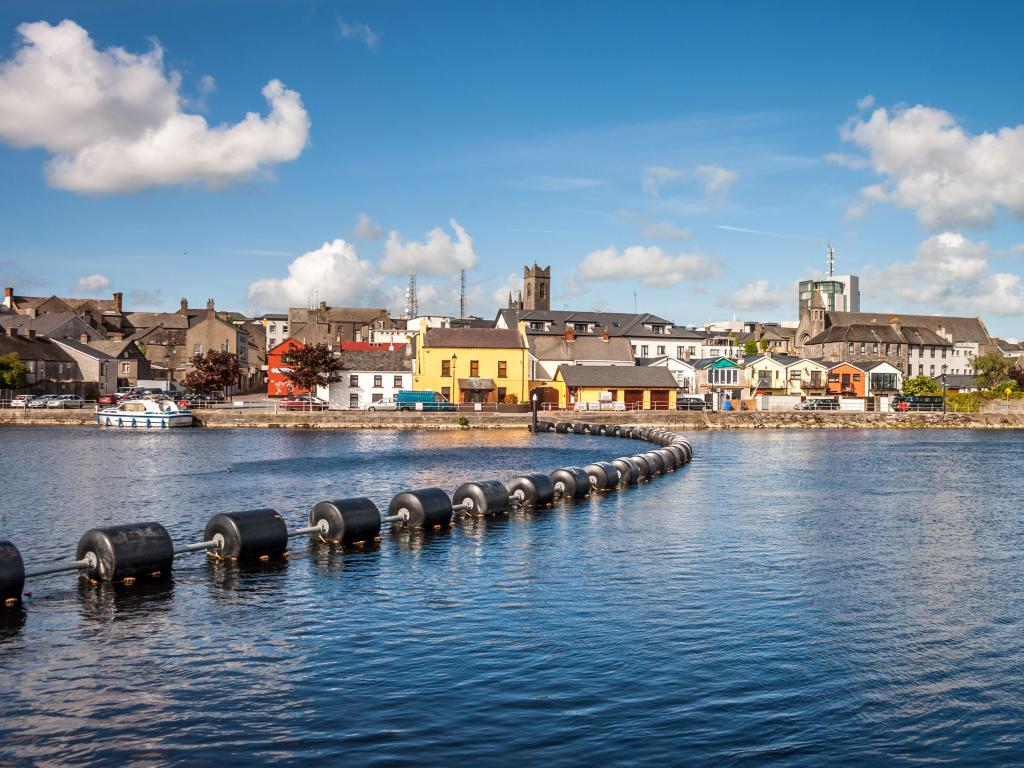 With an excellent location in the centre of town, The Sheraton Athlone Hotel is a great option for a stopover. Free on-site parking, a pool, a full-service spa and a fitness centre make this hotel uniquely well-rounded to cater for all of your road trip needs.
There's also an onsite bar and restaurant serving traditional Irish and international cuisine if you don't feel like venturing out after driving and sightseeing.
Its central location is highly rated by guests. Athlone Castle and Burgess Park are a stone's throw away. Plenty of bars, restaurants, cafes and shops are within a short walk. River Shannon and its waterfront are close by, which is lovely for an evening stroll.
Where to stay when you reach Galway
Galway has an endless number of places to stay but The Hardiman stands above them all. Set in a historic old building with a beautiful facade, the interior decor is luxurious with a tasteful vintage twist.
Their onsite bars and restaurants serve Irish cuisine, so you won't have far to go to get a good meal. They have secure parking nearby for an additional charge.
Galway's main cobbled shopping street, Shop Street is very close by and Eyres Square is just minutes away. If you'd fancy some time by the coast, the Spanish Arch and seafront are within walking distance.
Things to see on a road trip from Dublin to Galway
Ireland's landscape is hard to resist, as is its abundance of historical landmarks. We've crammed as many of them as we can into our lists of things to see along these routes. There are plenty of opportunities for stretching your legs throughout this road trip.
The Fairyhill Route
Wicklow National Park - Take an offroad adventure on one of the many hiking trails found in the Wicklow National Park.
Glendalough Valley - Immerse yourself in nature and history in Glendalough. Climb to the top of The Spink or take a more leisurely stroll around the dedicated walking trails.
Newbridge Silverware Visitor Centre - Explore the home of one of Ireland's most famous jewellery brands. Take a factory tour, enjoy some delicious food and indulge in some retail therapy - bring a piece of Ireland home with you!
The Curragh Racecourse - Check out the upcoming fixtures at The Curragh Racecourse and enjoy a day at the races. The first race took place here over 200 years ago.
The Irish National Stud and Gardens - Learn about Ireland's equine history and legacy that continues to be a key part of Irish culture. Book a tour or wander around the stud and gardens, where you can see horses and foals of all ages .
Kildare Village Outlet - Discover over 100 designer boutiques with fantastic discounts at this outdoor outlet .
Annaharvey Farm - If you'd like to get even closer to some Irish horses, consider booking a ride or a stay at Annaharvey farm. They cater for all levels of riders and even offer equestrian holidays.
Tullamore Dew Distillery - Take a tour and sample some excellent whiskey at Tullamores famous distillery .
The Grand Canal Greenway - Rent a bike or take a walk along the Grand Canal Greenway - a purpose built trail connecting Dublin and the River Shannon .
Birr Castle - Visit a 400-year-old castle and its award-winning gardens, jam-packed with rare flora, fauna, walking trails and history.
Portumna Forest Park - Bike or walk around Portumna Forest Park. Take a break to spot some local bird species and enjoy Lough Derg at the local marina.
Killaloe River Cruises - Take a short detour to Killaloe, where you can explore the River Shannon and Lough Derg on a boat tour. If you feel up to it, you can even rent a cruise boat and spend a few days boating up and down the river .
The Lough Derg Blueway - Another trail from Ireland's Blueway network. Walk or cycle along this recently opened trail to discover the wonders of River Shannon.
Coole Park Nature Reserve - Follow a marked trail through Coole Park Nature Reserve, a unique wetland, which includes underground rivers and turloughs (seasonal lakes).
Thoor Ballylee Tower - Climb the Thoor Ballylee Tower, which is closely linked to the famous poet W.B Yeats.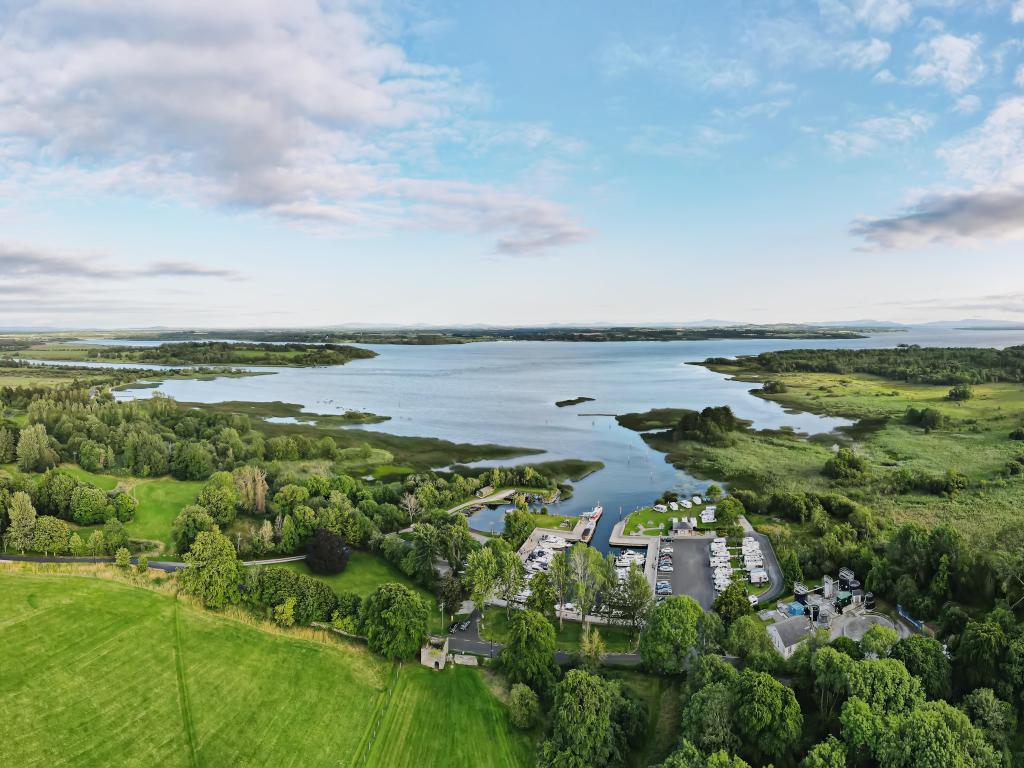 The Castle Route
Tayto Park - Named after an iconic Irish crisp (chip), this amusement park has something for all the family from rollercoasters to crisp sandwiches!
Hill of Tara - The Hill of Tara brings you back in time - thousands of years back to a time of high kings, tombs and forts.
Trim Castle - Take a guided tour of Trim Castle, a medieval masterpiece.
Belvedere House, Gardens and Park - On the shores of Lough Ennell, this historic landmark is a great place to stretch your legs during the drive.
Charleville Castle - Explore this gothic-style castle built in the 1700s - visit the castle to learn all about its history, which includes some ghost stories!
Clara Bog Nature Reserve - Enjoy the natural bog and its wildlife from the looped boardwalk.
Clonmacnoise Monastery - Learn about the history and significance of this 6th-century monastery on the banks of the River Shannon.
Baysports Athlone - Bounce your way along Ireland's largest inflatable obstacle course and brave the world's largest inflatable waterslide!
Castlestrange Scribed Stone - This impressive carved boulder is from 200 BC and is on the grounds of Castlestrange House.
Roscommon Castle - Take a wander around the ruins of this castle and explore the adjacent Loughnaneane Park.
Carrownagappul Bog - Galway's living bog is one of the largest of its kind in Ireland. Recent restoration works have turned this into an excellent spot for a walk.
Connemara National Park - About 2 hours west of Galway is the beautiful and rugged landscape of Connemara. Famous for the pony of the same name, this area offers tonnes of opportunities for riding, hiking and biking.
Best time to go on a road trip from Dublin to Galway
Thanks to its temperate climate, devoid of extreme differences in weather, Ireland really is a year-round destination. The west coast, where Galway is, tends to get the brunt of any harsh wind or rain, but when the sun shines, it is simply a glorious place to be.
Summer is the busiest time for tourism in Galway, with visitors flocking here from all over the world. Average temperatures are between 10 and 19 degrees Celsius which makes it very pleasant to visit in the summer.
However, Galway is known as one of the wettest parts of the country, with a high chance of rain throughout the year. Be sure to pack a good rain jacket and waterproof shoes.
Don't be put off by the prevalence of rain though, as it is very hard to escape in Ireland! As the locals say - "summer in Ireland means warmer rain".
There is plenty to do in Galway in the summer; Trad on the Prom features the best of Irish music and dancers and runs from May to September. The Galway Sessions in June bring performers from all over the world to celebrate all things traditional Irish music.
Average winter temperatures are between 3 and 9 degrees Celsius, with a high chance of wind and rain most days. With some good outdoor clothing, however, it can still be a really enjoyable time to visit.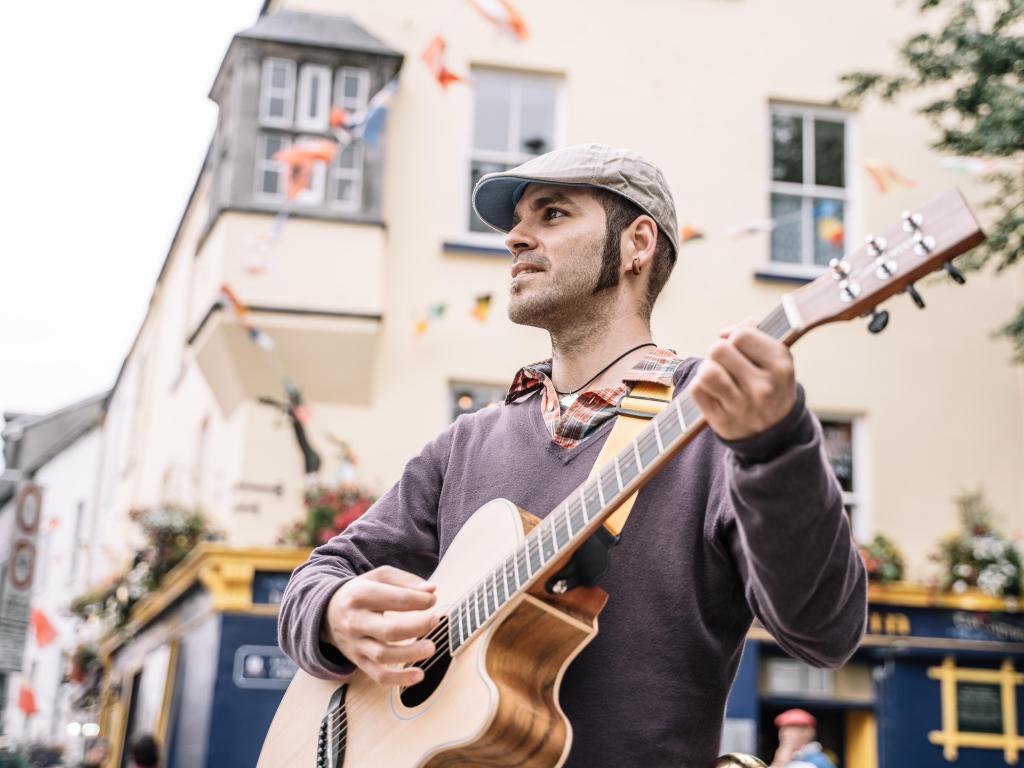 There is nothing better than warming up by a turf fire, with a bowl of Irish stew and a pint of Guinness after a day of exploring. Galway's Christmas market with a 32m high Ferris wheel is on in November and December, which is another good reason to visit.
Spring and autumn can be great times to visit Galway. Spring brings the blooming of flowers and the first rays of the summer sun. As it is still in the low season, accommodation prices will remain cheaper.
Average temperatures are between 5 and 17 degrees so be sure to pack warm clothes and waterproofs. The Galway International Oyster Festival is one of the longest-running food festivals in Europe and the world's longest-running oyster festival. It is on in September every year.