Is there a Bridge from England to Ireland?
Ireland is located in northwest Europe, to the west of England. It is separated from England by the Irish Sea on its eastern side, and its Atlantic coastline on the west is level with Canada, a little over 2000 miles away. Ireland shares a land border with Northern Ireland, and as an island, is not connected by land to any other countries.
There isn't a bridge from England to Ireland. You can, however, make the journey by ferry and there are regular direct flights available from most major airports in England. The Liverpool - Dublin Ferry will take you over the Irish Sea in 8 hours.
Taking the ferry to Ireland is an enjoyable way to start your journey to one of the most hospitable and beautiful islands in the world. Continue reading to learn about the travel options available, with some helpful ideas of what to see and do once you arrive.
Is there a bridge from England to Ireland?
The short answer to this is no, there isn't currently a bridge from England to Ireland. There are however other excellent alternatives available allowing you to make the trip. You can take a ferry, travelling across the Irish Sea from Liverpool to Dublin, or you can fly from many of England's airports to several destinations in Ireland.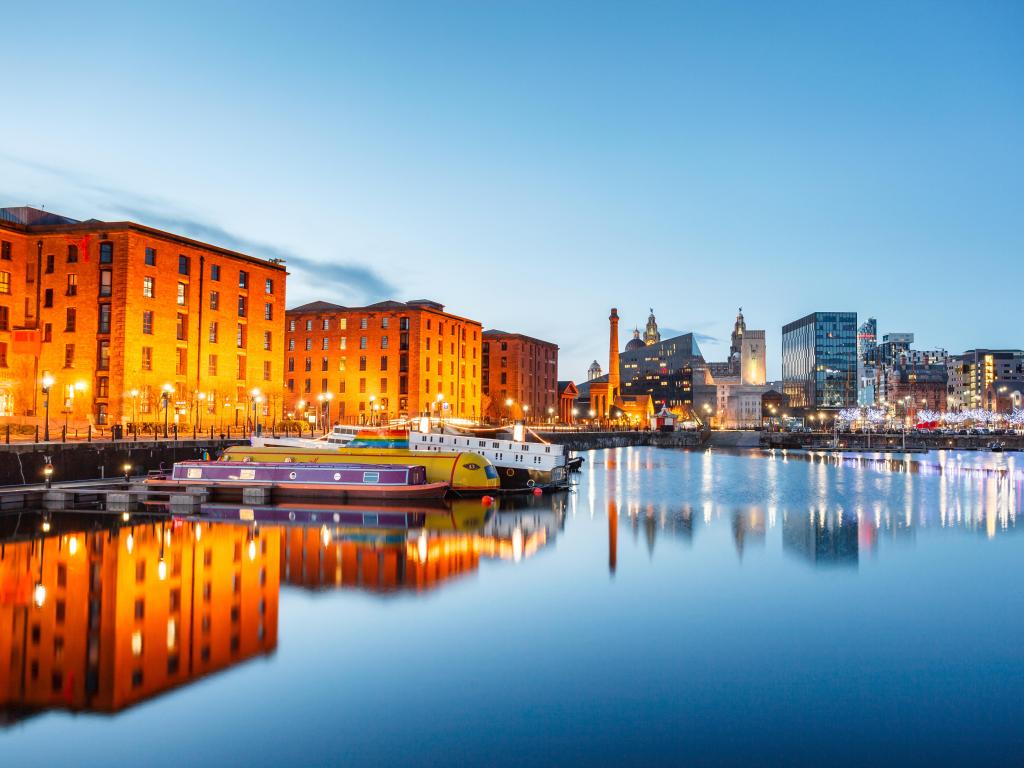 How to reach Ireland from England
As it isn't possible to drive all the way to Ireland, taking the ferry to Ireland is a popular choice, although there is only one route available at the present time. You will board the ferry in Liverpool and then spend a relaxing few hours on board before disembarking in Dublin and driving off to explore.
There are many routes available if you are wishing to make the trip by air and catch a flight to Ireland. Wherever you are situated in England, it won't be far to find an airport offering flights to Ireland. Likewise, there is a choice of airports available as a destination point in Ireland, although Dublin is the overwhelming choice amongst travellers.
How to get to Ireland from England by ferry
There is only one ferry route available to make the journey from England to Ireland. The ferry departs from the port of Liverpool in the northwest of England, once the busiest and wealthiest port in the world and the registered home of the Titanic, carrying the name of the city on her stern.
The ferry takes you to the Irish port of Dublin, the capital city, and for many visitors, this will be their only destination when reaching Ireland. Famous as being the home of Guinness, and full of many attractions, including Dublin Castle, St. Patrick's Cathedral and O'Connell Street.
The 140-mile journey across the Irish Sea takes 8 hours and you can enjoy a comfortable crossing by taking advantage of the onboard shopping facilities, brasserie and cafe/bar.
You can relax in the TV lounge and enjoy free Wifi, and arrive refreshed, ready to continue your adventure. It is only around 5 miles from the ferry port to the centre of Dublin, and if you are heading further afield, 135 miles to Galway and 170 miles to Cork.
The ferry sails twice daily all year round, with a day and night option available. The daytime crossing departs at 09:30 and arrives in Dublin at 17:30. If you wish to take the overnight option, departure is at 21:00, arriving in Dublin at 05:00.
How to fly from England to Ireland
Choosing to fly to Ireland is the quickest way to make the journey from England and there are many permutations available when you are choosing where to fly from and to. Most major airports in England offer flights to Ireland, primarily to Dublin, but also to Shannon, Cork and Knock.
With many routes and flights available, taking to the skies and making the short journey over the water is the quickest and most flexible option for this particular trip. No sooner has the plane reached its maximum altitude before it begins to descend for landing.
How long does it take to reach Ireland from England?
Comparison of transit times for travelling to Ireland from England

| Departure Point | Destination | Mode | Time |
| --- | --- | --- | --- |
| Liverpool | Dublin | Ferry | 8 hours |
| Manchester | Dublin | Ferry | 9 hours |
| Birmingham | Dublin | Ferry | 9 hours |
| Newcastle | Dublin | Ferry | 12 hours 30 minutes |
| London | Dublin | Ferry | 13 hours |
| Liverpool | Dublin | Flight | 55 minutes |
| Liverpool | Dublin | Flight | 55 minutes |
| Manchester | Dublin | Flight | 1 hour |
| Birmingham | Dublin | Flight | 1 hour 5 minutes |
| Newcastle | Dublin | Flight | 1 hour 5 minutes |
| London | Dublin | Flight | 1 hour 30 minutes |
*Note the ferry times above involve driving from the departure point to Liverpool, and then taking the ferry from there to Dublin.
The journey from England to Ireland will vary depending on where you are travelling from. The ferry crossing from Liverpool to Dublin takes 8 hours, and as the only sailing option available, journey times to drive to Liverpool should be considered.
The motorway network in England links Liverpool with most major cities and makes it easily accessible.
Flying to Ireland from England can be done in under 2 hours from all major airports, and this is the quickest way to get there. It is possible to hire a car on arrival and explore Ireland at your leisure, although this will make it a more expensive option than driving yourself and taking the ferry.
There are four available airports in Ireland, Dublin on the east coast, Cork in the south of the country, Shannon in the southwest and Knock in the northwest.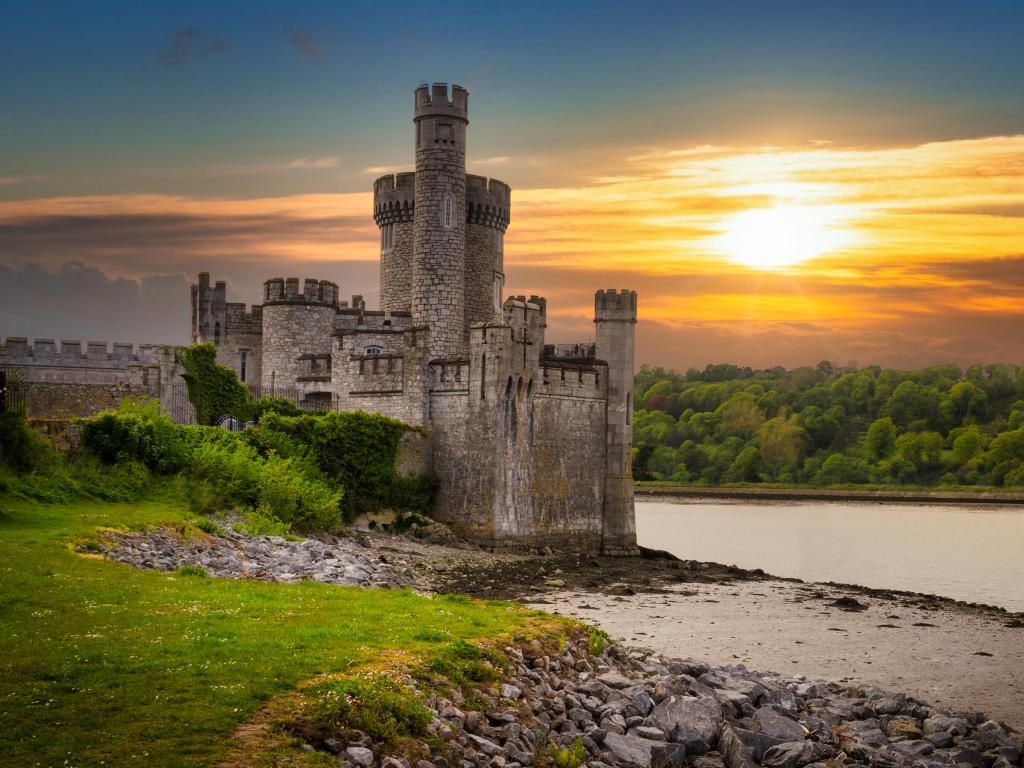 How much does it cost to travel to Ireland from England?
Travelling by ferry is only available with a vehicle, and prices are cheaper on the daytime crossing. A one-way ticket for a passenger with a vehicle is £99 by day and £188 at night. It is possible to book a cabin for the night crossing for an extra £39 per person.
There are many flight options available and it is possible when booking in advance via a budget airline to find a one-way flight for around £10, making this the cheapest mode of transport. Do remember to also factor in transport costs on arrival, be it public transport or car hire, if you are choosing to fly to Ireland.
Which port should you choose as your destination in Ireland?
There is only one port to arrive at in Ireland when travelling from England, and that is Dublin. Most people make the journey simply to visit Dublin and it is the sixth most-visited city in the world.
Steeped in historical and religious significance, it is worth spending a few days exploring all this magnificent city has to offer and you'll receive the friendliest of welcomes from the locals wherever you go.
Things you need to know about travelling to Ireland from England
Ferry and flight times remain fairly constant throughout the year, although it is always advisable to book in advance as prices do tend to increase as the departure date approaches and there may be special offers available if you book early.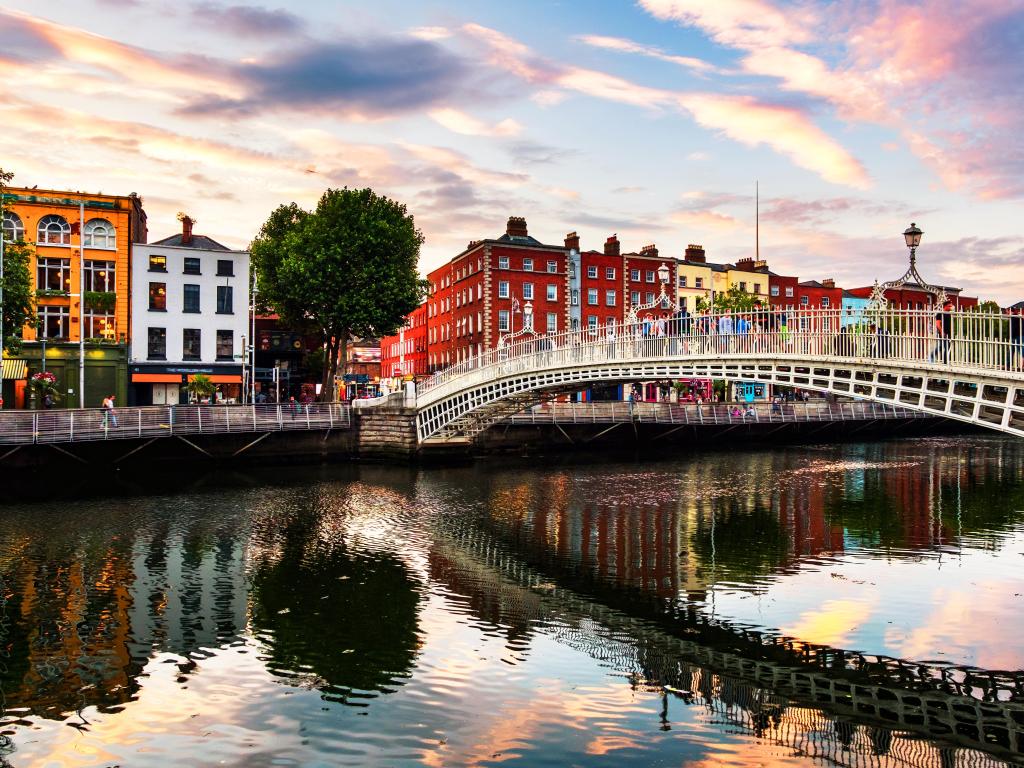 On arrival, accommodation prices will be higher around the school holidays and over the summer months, so it will be cheaper to travel earlier in the year or during the autumn months.
The ferry route is only available when travelling in a vehicle and it is not possible currently to make the journey as a foot passenger on this route. Due to its popularity, the car deck is regularly booked to full capacity so booking in advance is essential to avoid disappointment.
There are alternative ferry options available from other UK ports travelling to Ireland that do allow foot passengers.
Whilst high winds and rough seas can affect crossing times, this is a rare occurrence and generally affects the smaller Swift services that run from other UK ports to Ireland. Sea conditions will tend to be rougher in winter, making the crossings more choppy and it is worth bearing this in mind if you suffer from seasickness.
Best time to visit Ireland
It is always a good time to visit Ireland, and the best time to visit depends on what you are planning to see and do once you arrive on the Emerald Isle. Here are our tips on what to expect throughout the year.
When is the best time to travel to Ireland?
Visiting Ireland in spring is an excellent time to take a hike through the Irish countryside, and taking in its natural beauty is best enjoyed with a visit in April or September when the weather is pleasant and the summer crowds can be avoided.
Sports fans visiting at this time of year can take in a six nations rugby union match at the Aviva Stadium, the home of Irish Rugby, where the atmosphere is always electric, especially as they are currently ranked the number one team in the world.
Making the journey in March can see higher prices given the popularity of St Patrick's Day when visitors from around the world descend on the Emerald Isle to enjoy the legendary celebrations, which can be known to extend over several days.
The best weather will be found in the summer months, with longer days giving more time to explore this beautiful country. However, the weather can be unpredictable and there is no guarantee that visiting in summer will bring you hot sunny days. April and June are known for being the driest months of the year.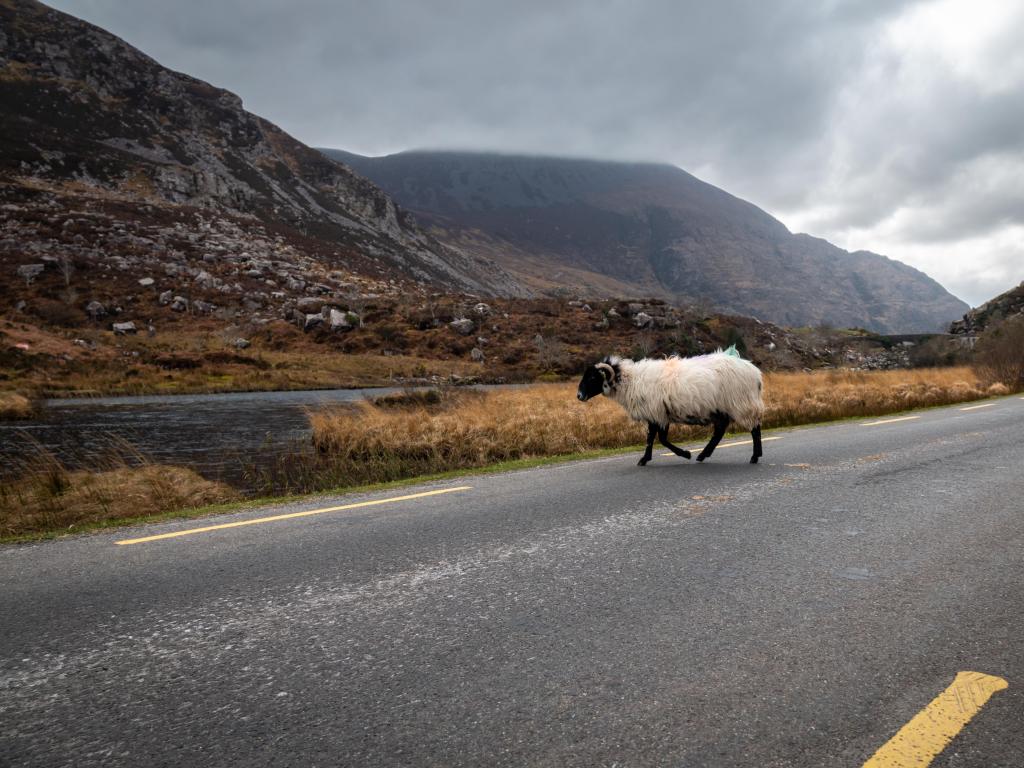 The Bloomsday Festival in Dublin is popular with literary enthusiasts, and this annual celebration of one of Ireland's most famous literary giants, James Joyce attracts thousands of visitors from all over the world to enjoy a weekend of Ulysses-themed events.
Music lovers may wish to visit the many festivals that take place throughout the year. Rebel Fest in County Donegal takes place over the May Bank Holiday weekend where visitors can enjoy the best of Irish Ballads and Rebel Music. Forest Fest in late July takes place in County Laois where you can enjoy an alternative weekend of Boutique Indie Music.
The wettest months of the year tend to be December/January but visiting Ireland at any time of year is always a pleasure and encountering four seasons in one day simply adds to the experience. This is also the time to take in the Winter Festival at Punchestown Racecourse, a 2-day celebration of Irish National Hunt Racing.
Things to see once you reach Ireland
There is much to see and do in Ireland, and something for all visitors to enjoy, from its bustling capital city, magical mountains, glorious countryside, fantastic scenery and some of the friendliest natives around. Here are a handful of amazing attractions you should definitely include in your itinerary:
Dublin - Famous for enjoying the "craic", visit the capital city and take a trip to the famous Guinness Storehouse to see how the famous black stuff is made. Jameson's whiskey distillery is also extremely popular, and so many traditional pubs to sample the iconic atmosphere and traditional local music. A river cruise on the Liffey is a great way to see the city from the water.
Copper Coast Drive -Encounter some of the most incredible scenery in Ireland with a drive along the spectacular County Waterford coastline, with its many cliffs, beaches and bays to explore. Stop off at the Tannery and sample the award-winning menu and mouthwatering fresh Waterford produce.
Wicklow Mountains - Journey through the beautiful rolling countryside on a trip to the Wicklow Mountains National Park and enjoy panoramic mountain views, with many trails to explore and visit Glendalough Wood Nature Reserve. See where Braveheart was filmed before taking in Wicklow Gap and the historic city of Kilkenny.
Cork - Take a trip to the food capital of Ireland and enjoy the delicious locally sourced fare from many of its talented chefs. Take a trip to Blarney Castle and Gardens and kiss the famous Blarney Stone and spend a day or two exploring one of Ireland's most beautiful little towns.
Galway - The Bohemian city of Galway lies on the beautiful west coast. It is known for its traditional pubs, live folk music and boutiques and galleries around its Latin Quarter, where you can still see parts of the original medieval city walls.
With its great outdoors, charming countryside, and outstanding architecture, Ireland is an excellent destination no matter when you plan to visit. It's a beautiful country steeped in history and culture and combined with its relaxed atmosphere and fun-packed cities, there are so many reasons to make this your next trip.