26 Best Road Trips from Charlotte, NC
Nestled along the North Carolina's border, Charlotte is an eclectic city that oozes Southern hospitality. From NASCAR to prestigious museums, funky boutiques, delicious dining, and craft breweries, it offers a little something for everyone. Just outside the city, there are ample opportunities for outdoor adventure, including kayaking and canoeing on nearby Lake Norman.
You can also get your fill of history and adventure with a road trip from Charlotte. Its central location makes it a great jumping off point for exploring tons of East Coast destinations.
Below you'll find 26 destinations sure to inspire your next day trip, weekend, or week-long getaway.
26 Best Road Trips from Charlotte, NC
Day trips (under 3 hours each way)
These trips make great for day trips since each one is under three hours.
1. Lake Norman and Huntersville, North Carolina
40 minutes from Charlotte (20miles)
Why you should visit: The quick drive through Huntersville and on to Lake Norman is the perfect trip is perfect for a sunny afternoon.
Located just 20 miles outside of Charlotte, Lake Norman is the largest man-made body of fresh water in North Carolina that is a mecca for water sports, fishing, and other recreational activities.
Its 520 miles of shoreline are dotted with vacation homes, docks, beaches, and parks, making it a great place to unwind. The laid-back lake community of Huntersville is super close to Lake Norman and offers great local dining and shopping.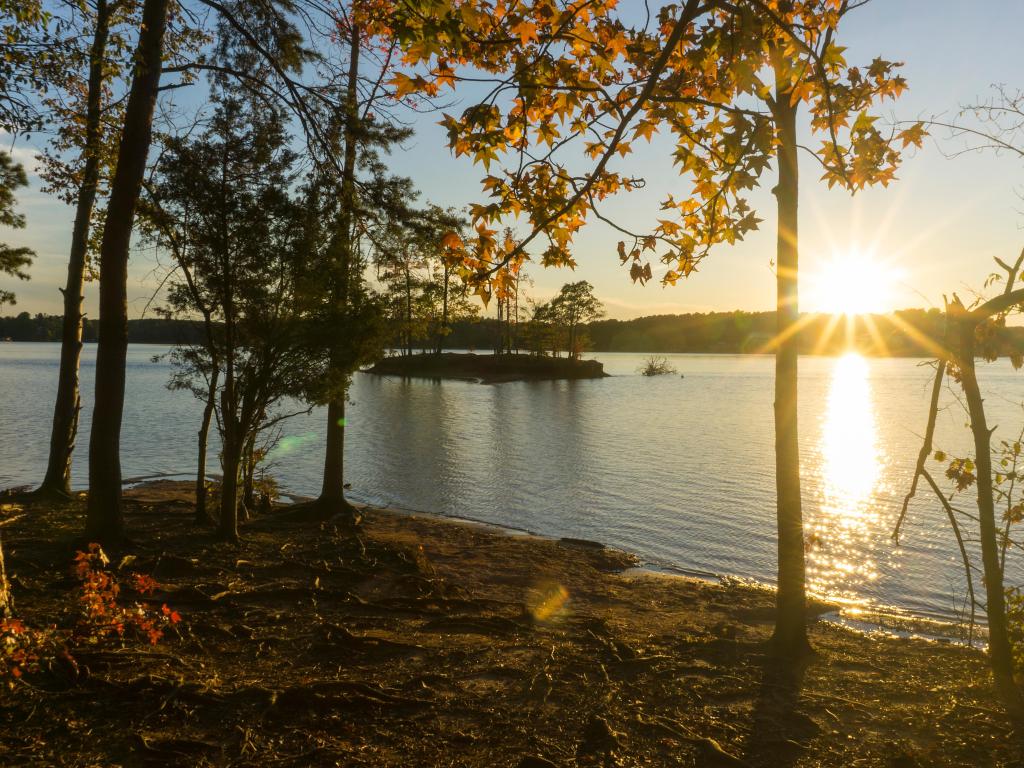 How to get there: Leaving Charlotte, take 77 North and exit at Gilead Road, which will take you right into Huntersville. To continue on to Lake Norman, head back out of town on Gilead Road and take 21 North to Westmoreland Road. Follow Westmoreland Road until you see signs for Lake Norman.
Our highlights: To really experience Lake Norman at its finest, take a boat out on the water. It's the perfect place to water ski, wake board, and rev a jet ski.
For a more serene experience, try kayaking or canoeing to look for birds along the lake's many fingers. Stocked with catfish, perch, and white bass, if you're into fishing you'll want to bring or rent gear.
On the way to Lake Norman, do some dining and shopping at Huntersville's colorful Birkdale Village. If you're spending a few days on or near the lake and want to get off the water, tour Huntersville's historic homesteads of Rural Hill and Latta Plantation and hike 16 miles of trails at the Latta Nature Preserve.
Bonus: When you visit Lake Norman, be on the lookout for "niNormie," the lake's local monster, whose sightings and stories rival that of the legendary Scottish Loch Ness Monster.
Our travel tips: If you go boating, be sure to pay attention to the signs and your boat's instruments as the depth of the lake varies a lot and it can suddenly become quite shallow.
2. Winston-Salem, North Carolina
Via Lexington, North Carolina
1 hour 20 minutes from Charlotte (80 miles)
Why you should visit: Known as a city of arts and innovation, Winston-Salem impressively blends history and modernity.
Winston-Salem's unique history and eclectic arts and tech scene attracts foodies, historians, and retirees from all over the country. With the Blue Ridge Mountains located just outside of the city, there are also tons of opportunities for hiking, biking, and adventuring.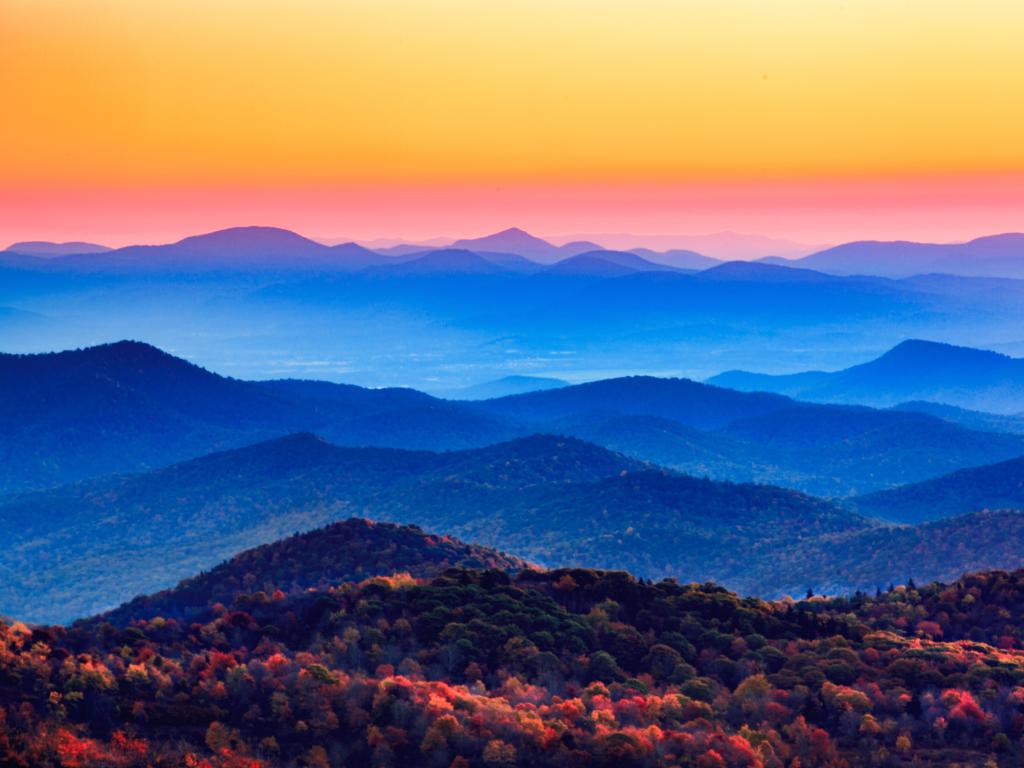 How to get there: Sail north on 85 and take 70 East into Lexington. Leaving Lexington, take 285 North to 52 North to 421 North to reach Winston-Salem's South Main Street.
Our highlights: You can get a taste of the best of Winston-Salem by visiting Reynolda Mile, which houses the Reynolda House Museum of American Art, historic estates and houses, the beautiful Reynolda gardens; and boutique shopping at Reynolda Village.
For a peek at the city's history, take a hands-on tour of Old Salem Museum and Gardens, settled in 1766 by Moravians – the same religious immigrants who founded Colonial Salem that same year.
If you're a beer lover, don't miss the city's 10 downtown craft breweries. If wine is your jam, Winston-Salem is the gateway to the Yadkin Valley wine region, which features over 45 wineries within an hour of the city.
Just 10 minutes from downtown you can kayak, boat, hike, or bike around Salem Lake and its lush woods. If you're more of a land lover, three of North Carolina's most iconic state parks are nestled in the Blue Ridge Mountains less than an hour's drive from Winston-Salem. You can hike Pilot Mountain's iconic peak; explore waterfalls at Hanging Rock; and marvel at the sweeping views from atop Stone Mountain.
On the way to Winston-Salem, stop off in Lexington to go antiquing; visit one of the town's many wineries; sample some of its famous BBQ; and check out some of Dale Earnhardt's race cars at the Richard Childress Racing Museum.
Bonus: Winston-Salem is most famous for its tobacco and cigarette industry and is nicknamed the Camel City since the cigarette brand was started there in 1875.
Our travel tips: If you're traveling in November, don't miss the annual Piedmont Craftsmen's Fair, which features unique home goods, ceramics, glass, and jewelry handcrafted by local artisans.
3. Columbia, South Carolina and Lake Murray
2 hours from Charlotte (110 miles)
Why you should visit: The capital of South Carolina, Columbia is home to the University of South Carolina and is known for its entrepreneurship and public arts scene.
Columbia's thriving art and live performance scene will surprise you. It's also got an amazing restaurant scene that extends well beyond its famous BBQ and tons of local breweries. The city's artists, entrepreneurs, pitmasters, and brewers alike are all eager to share their craft and passion with visitors.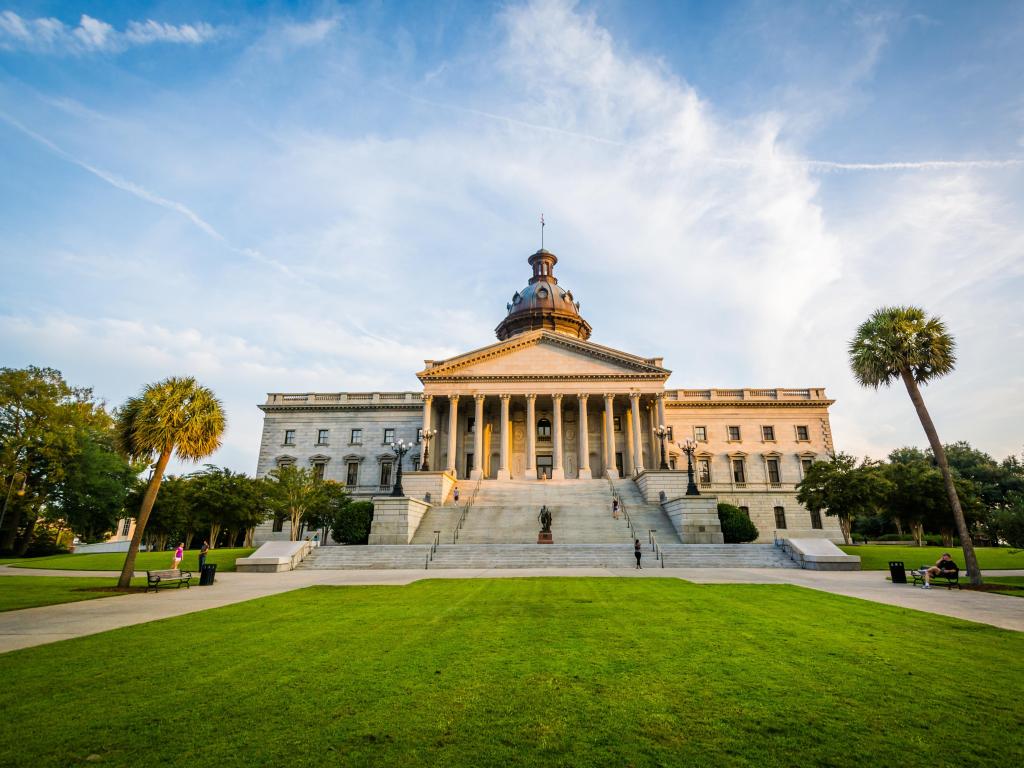 How to get there: Highway 77 South will take you all the way from Charlotte into Columbia. To get to Lake Murray from Columbia, take 26 West to 60 West, also known as Lake Murray Boulevard.
Our highlights: Whether you're into theatre, music, murals, or sculpture, you'll want to sample Columbia's arts scene. Check out the city's many public murals, like the 3D-like mirage "Tunnelvision" that was first painted in 1975 and transforms a concrete wall into a tunnel leading to a picturesque sunset.
Listen to the Southern Carolina Philharmonic Orchestra; take in a show by one of the city's many theater companies or the University of South Carolina's departments of dance, theater, opera, music, and art.
Foodies will love Columbia's abundance of locally grown food and farmers markets. You won't want to miss the city's mouth-watering BBQ, which is best washed down with a craft beer from one of the it's many breweries.
You can walk off your lunch amidst the gardens and animals at the Riverbanks Zoo; the diverse collection at the Columbia Museum of Art; or while soaking in some history at the South Carolina State Museum.
Just outside of the city there are several excellent places for outdoor fun. The 400-acre Saluda Shoals Park is just 20 minutes from downtown and offers miles of hiking and biking trails. You can also rent a boat to get out on the water on the Saluda River. Only 28 minutes away, the 50,000-acre Lake Murray is a retreat from the city and a great place to boat, fish, paddleboard, hike, bike, picnic, or birdwatch.
Bonus: Columbia was the first U.S. city to be named after Christopher Columbus, but today has the nickname "Soda City" thanks to locals shortening Columbia to "Cola." You can't make this stuff up!
Our travel tips: The annual South Carolina State Fair takes place every October and offers a quintessential state fair experience with exhibits, food, rides, and farm animals coupled with a circus and quirky art exhibitions.
This is a fantastic opportunity to visit one of the many gorgeous lakes near Charlotte. Read our ultimate guide to the lakes near Charlotte here.
4. Boone and Blowing Rock, North Carolina
2 hours 10 minutes from Charlotte (110 miles)
Why you should visit: This Blue Ridge Mountain town is home to Appalachian State University and surrounded by amazing outdoor adventure destinations, sitting on the legendary Blue Ridge Parkway.
Boone has the thriving bustle of a university town and the explorer spirit of its legendary namesake, Daniel Boone. Rugged adventure lovers will revel in the hiking, biking, and river adventures to be had just outside the city.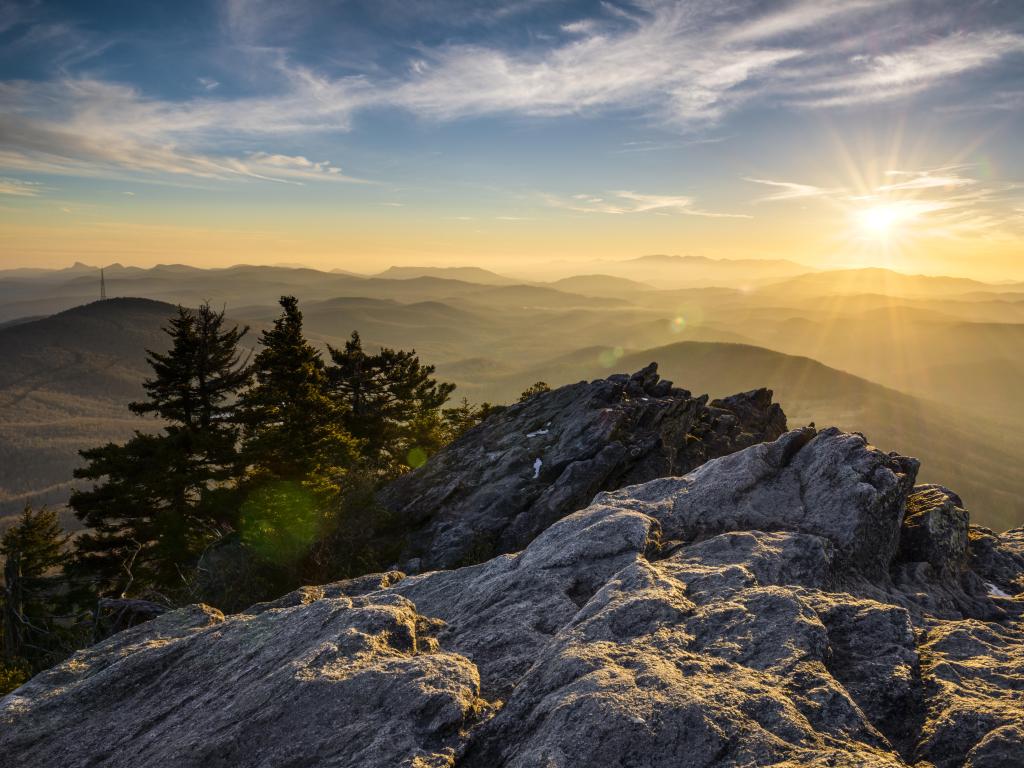 How to get there: Follow 85 South to 321 North all the way to Blowing Rock. Continue on to Boone by getting back on 321 North and taking it straight into the downtown.
Our highlights: At Daniel Boone Park's Hickory Ridge Living History Museum, you can experience life as a homesteader in the 1700s, complete with candle dipping and tomahawk throwing.
Gem mining played a big role in Boone's history, and you can experience that search for treasure at Foggy Mountain Gem Mine. Kids will especially love buying a bucket of gems mixed with soil and rocks and sifting through it to see what they can find.
Outside Boone, you can teeter on a high suspension footbridge at Grandfather Mountain, which also features a nature museum. At Howard's Knob, you can hike the Appalachian Mountains and get some magnificent views of Boone.
For some heart pumping fun, try Whitewater raft Watauga Gorge. If you're visiting in the winter, you can shred some powder on Appalachian Ski Mountain's 11 slopes and three terrain parks.
On your way to Boone, stop of in Blowing Rock to see its legendary rock formation that's been dubbed by Ripley's-Believe-It-Or-Not as "the only place in the world where snow falls upside down."
Bonus: Many Appalachian State University graduates come back to town after graduating, which locals attribute to the "Boonerang" effect (queue the rimshot).
Our travel tips: Every Saturday from December to March local farmers sell their wares at the Winter Farmers Market, located at the Watauga County Agricultural Conference Center.
5. Asheville, North Carolina, Pisgah National Forest and Lake Lure
2 hours 30 minutes from Charlotte (120 miles)
Why you should visit: Mountain vibes meld with Southern Charm in Asheville, which is the perfect home base to explore Pisgah National Forest's mile high peaks and cascading waterfalls.
A small mountain town with big city amenities, Asheville is filled with historic architecture and has an edgy energy thanks to its bustling arts scene, unique restaurants, and locally owned shops.
Tucked between the Blue Ridge Mountains and the Great Smoky Mountains, Pisgah National Forest is packed with some of the best recreational opportunities along the East Coast.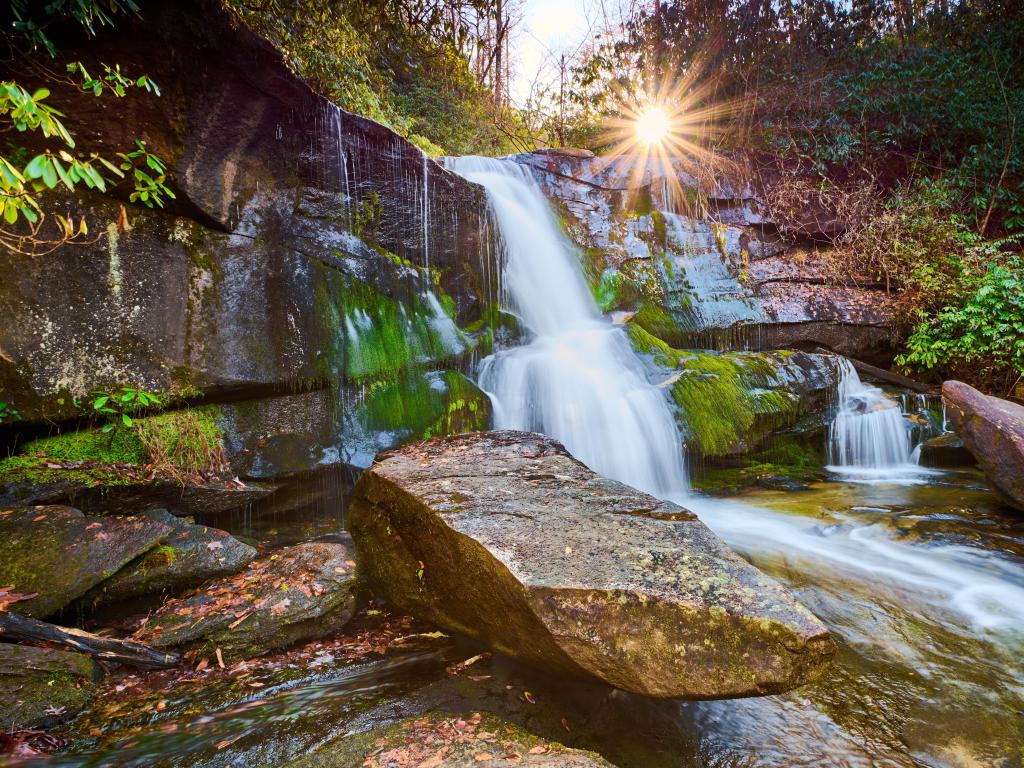 How to get there: Take 85 South to 74 West and 74 West ALT into Lake Lure. To reach Asheville, continue on 74 West ALT to 240 West.
Our highlights: Known for its art scene, you can explore Asheville's more than two dozen art galleries and museums. Foodies will love taking a culinary tour to taste local specialties in Asheville's restaurants and sample craft beer at its pubs.
Millionaire George Vanderbilt's Biltmore Estate is one of the largest private estates in the United States. Built in French Renaissance-style, you can tour its 250 rooms and cap off your visit with wine tasting at Antler Hill Village and Winery, which located on the grounds and included in the Biltmore's entrance fee.
In West Asheville, you can take a 2.7 mile bike ride along the French Broad River Greenway, which starts from French Broad River Park and follows the river through forests, parks, and local neighborhoods
Pisgah National Forest is an hour and a half outside Asheville and is amazing for white water rafting, hiking, biking, camping, and exploring waterfalls. You can also go fishing on Lake Powhatan, ride horses at Pisgah Stables, and camp with horses at Wolf Ford Horse Camp.
On the way to Asheville, spend some time on the water in Lake Lure and check out its interactive Right Track Toy Museum, which has three trains running on more than 50 feet of track.
Bonus: With the highest density of breweries in the country, Asheville is known as the "Napa Valley of beer."
Bought by the US. government in 1914 from the estate of millionaire George Vanderbilt (who built the Biltmore Estate), Pisgah National Forest is the first national forest to be created on purchased land rather than public domain.
Our travel tips: Many of Asheville's studios stay open longer on the second Saturday of the month and the evening is punctuated with live music, performances, receptions, and exhibits.
Click here to skip back to the top.
Weekend trips (3-5 hours each way)
Clocking in between three and five hours, these trips are perfect for a weekend getaway.
6. Abingdon, Virginia
Via Blowing Rock, North Carolina
3 hours 20 minutes from Charlotte (150 miles)
Why you should visit: Voted one of the "Coolest Small Towns in America," Abington draws visitors in with its historic charm, artsy vibe, and easy access to outdoor fun.
Abingdon's historic dining and lodging offer a unique way to experience the town's rich past. Nestled in the Appalachian Mountains just 12 miles from the Appalachian Trail, the area surrounding Abington is replete with activities like hiking, biking, and fishing.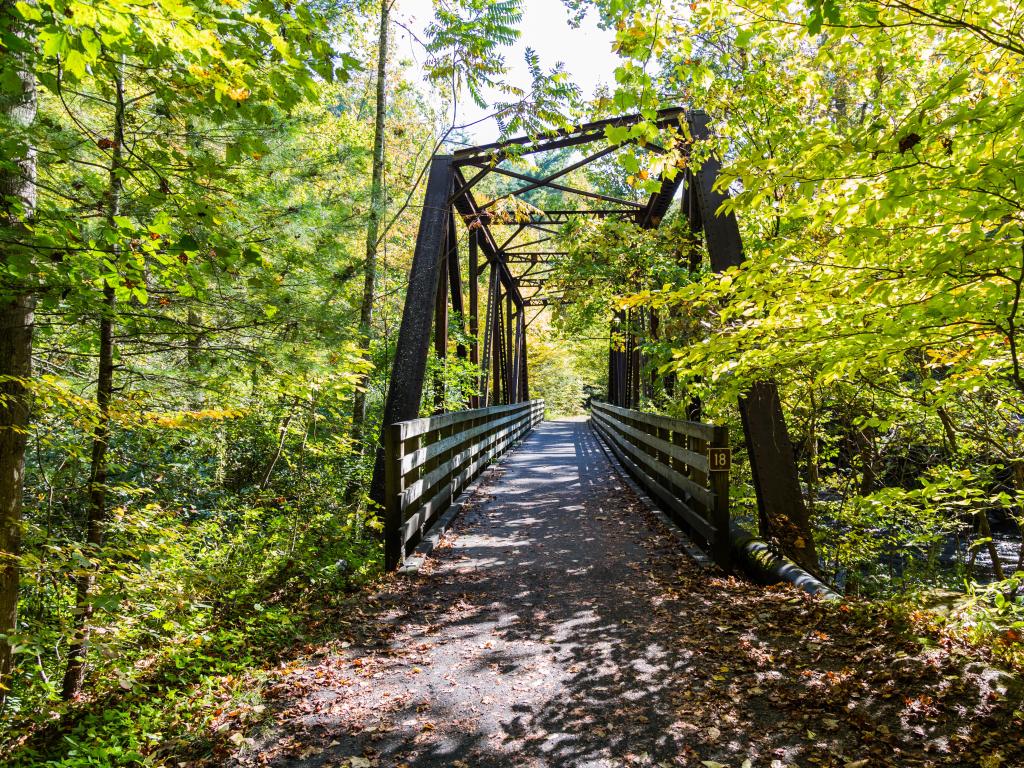 How to get there: Highway 85 South will take you straight into Blowing Rock. From there, take 321 North to 105 South and then pick up 321 North.
Our highlights: Kick your visit into high gear with a bike ride on the Virginia Creeper Trail, one of the state's best bike trails. The trail starts in Abingdon and covers 34.3 miles before ending in Mount Rogers National Recreation Area, which is a great place to camp and rest your legs.
Visiting the Abingdon Arts Depot is a great way to sample Abingdon's art scene. The non-profit community-based center features three galleries with works by local artists, including seven resident artists who you can chat with while visiting their studios.
You also won't want to miss the unique shopping opportunities and architecture of Abingdon's 20-block historic district, which is full of classic small town American storefronts from the last two centuries.
In Abingdon, even the restaurants are historic. Built as a tavern and inn for visitors traveling by stagecoach, the Tavern Restaurant dates back to 1779 and is the perfect place for dinner during your stay. Who knows, maybe you'll get to sit where the King of France Louis Philippe I or President Andrew Jackson sat when they dined there!
After dinner, stay over at the Martha Washington Inn & Spa, a historic hotel with elaborate décor that dates to 1832. Its luxurious spa and restaurant will make for the perfect last day to your getaway.
Split up your road trip with a stop in Blowing Rock, North Carolina, where the rock's size and shape make wind currents blow vertically, which makes things float upward towards the sky.
This magical phenomenon earned Blowing Rock the title of "the only place in the world where snow falls upside down" by Ripley's Believe-It-Or-Not.
Bonus: The Virginia Creeper Trail is named after early steam engine trains that used to creep up the mountains like Virginia Creeper, the groundcover plant native to the area.
Our travel tips: The Abingdon Farmers Market takes place every Saturday in downtown Abingdon and has an array of fruits, veggies, baked goods, crafts, jewelry, and flowers from local farmers and artisans.
7. Cherokee, North Carolina and Great Smoky Mountains National Park
3 hours 10 minutes from Charlotte (180 miles)
Why you should visit: Located at the entrance to the iconic Great Smoky Mountains National Park, Cherokee is the headquarters of the Eastern Band of Cherokee Indians and offers rich activities for the whole family.
A visit to Cherokee combines access to outdoor fun with history and culture, and you can practice your Cherokee since signs are in both English and Cherokee!
Just six minutes outside Cherokee and laced with 800 miles of trails through pine forests, the opportunities for adventure are just about endless at Great Smoky Mountains National Park.
How to get there: Follow 85 South to 74 West until you reach Cherokee. Continue on to Great Smoky Mountains National Park by heading north on 441.
Our highlights: A great way to start your trip is with a visiting to the Museum of the Cherokee Indian, which traces the history of the tribe from its creation through the Trail of Tears.
Next, make your way over to Ocanaluftee Indian Village, where you can tour a replica of a 1750s Cherokee Village and learn about the tribe's beliefs, traditions, and songs.
Round out your journey back in time with a stop at the Mountain Farm Museum and Mingus Mill. This collection of historic log buildings includes a farmhouse, barn, smokehouse, and working blacksmith shop and gives you a sense of how settlers lived in the mid-1800s.
If you want to try your luck, hit the slots and tables at Harrah's Cherokee Casino Resort. Check the casino's calendar to see if anyone is performing at its 3,000-seat theater, which has hosted the likes of Dolly Parton and Chris Rock.
You'll love the Great Smoky Mountains National Park's the year-round exploration opportunities. From horseback riding at one of four rental stables, to fishing for trout, climbing the mountain tops for breath-taking views, and hiking and biking in serene forests, there's something for everyone.
Bonus: The Eastern Band of Cherokee Indians was formed by Cherokees who avoided being forced from their land during the Trail of Tears in the 1830s.
Our travel tips: Get the audio tour to make the most of your visit to the Museum of the Cherokee Indian.
8. Myrtle Beach, South Carolina
3 hours 30 minutes from Charlotte (180 miles)
Why you should visit: Myrtle Beach has 60 miles of wide sandy beaches, turquoise waters, and celebrity-designed golf courses.
Unwind on the beach, stroll the boardwalk, channel your inner child on the rides at the boardwalk, and top it all off with local seafood and some mouth-watering Carolina BBQ.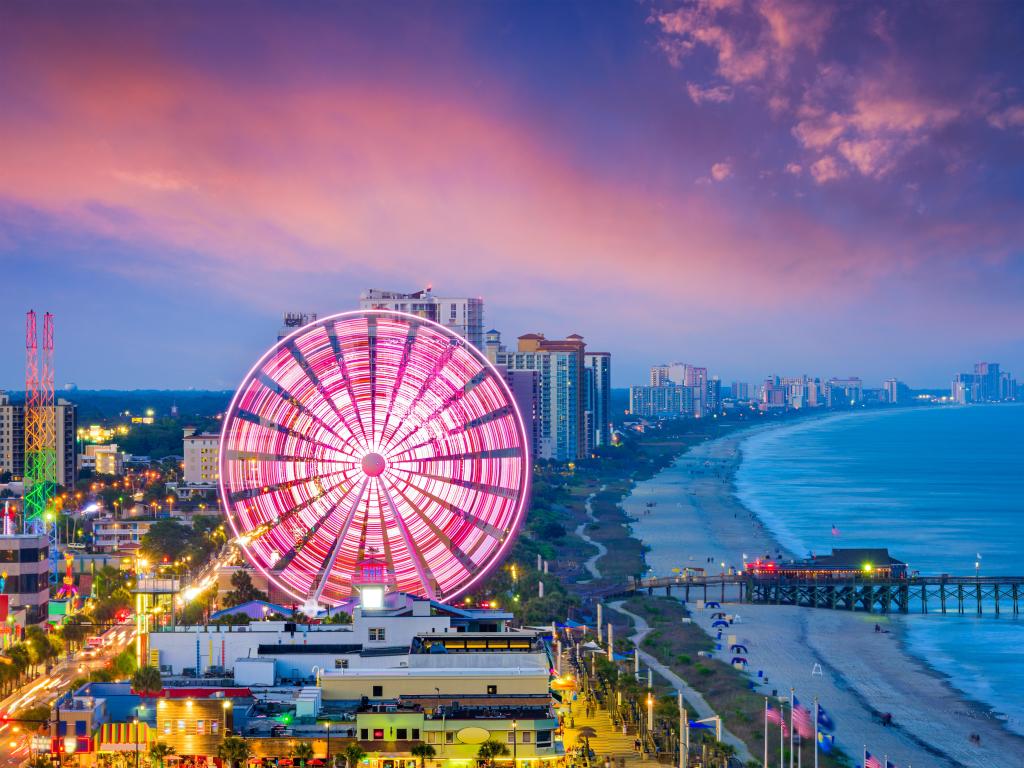 How to get there: Take 74 East to 9 South before picking up 15 North and then 501 South, which will take you into Myrtle Beach.
Our highlights: Kick off your visit to Myrtle Beach with your feet in the sand at Myrtle Beach State Park. Removed from the hubbub, you can focus on the soothing sound of the waves and get lost in the horizon.
Now that you're all zen, head over to the 1.2-mile-long boardwalk for some lunch and rides. For an amazing view of the coastline, take a whirl on the SkyWheel.
For a different beach experience, try the pseudo-underwater experience of the 330 foot moving path beneath the reef at Ripley's Aquarium of Myrtle Beach. Hop off the path to pet sharks and stingrays or take pics with the mermaids (yes, real mermaids, the kids will love it).
Head over to Broadway at the beach for shopping and a sundowner overlooking Lake Broadway. See what's on the schedule for entertainment and stay for a show.
Book a tee time one of Myrtle Beach's 90+ golf courses, which have been designed by some of the game's legends.
Bonus: Myrtle Beach was known as "New Town" in the late 1800s and early 1900s and the town held a contest to name the town. The winning name was inspired by the wax myrtle trees growing along the coast.
Our travel tips: If you're into fishing, bring your gear and fish from the pier at Myrtle Beach State Park.
9. Charleston, South Carolina and Congaree National Park
3 hours 40 minutes from Charlotte (210 miles)
Why you should visit: Charleston's stunning beaches and Southern charm are an unbeatable combination.
Where else can you take a horse-drawn carriage ride past historic Victorian homes in the morning and then stroll over to the beach to gaze out at the sea under stately palm trees? Charleston also has an impressive food and arts scene to feed your body and soul.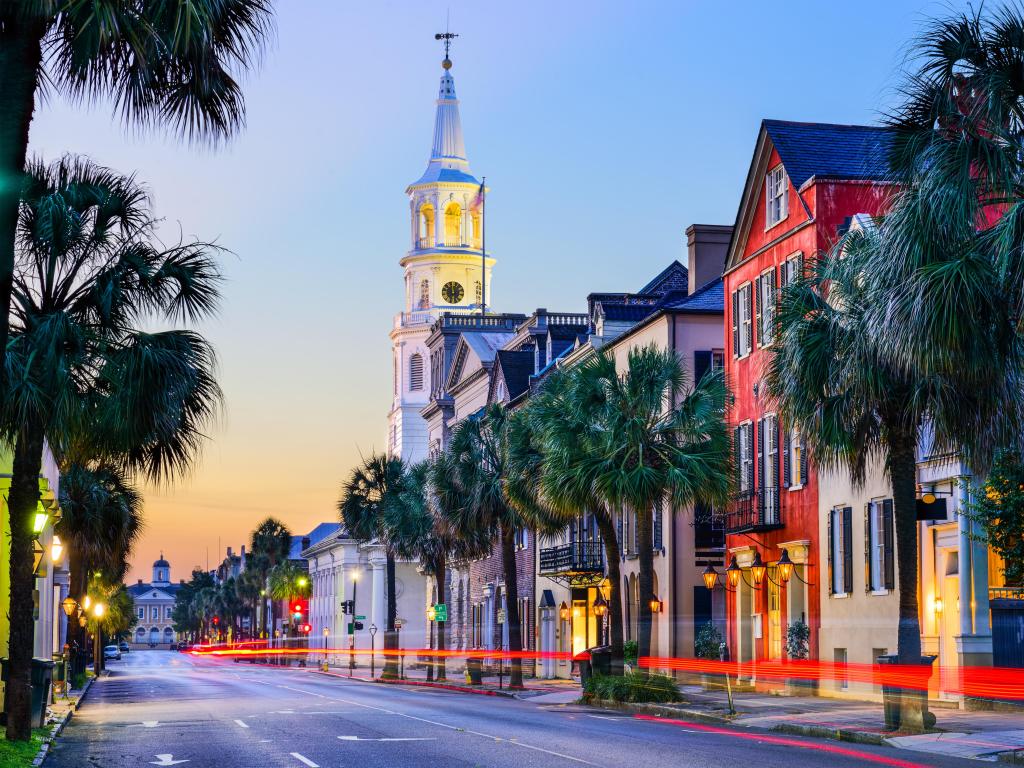 How to get there: Take 77 South to 48 East and follow signs for Congaree National Park. After exploring the park, head south on 95 South and then take 26 East into Charleston.
Our highlights: A great way to experience Charleston's history is with a horse-drawn carriage ride over cobblestone streets in the downtown historic district. You'll be impressed by the quarter's huge mansions, gardens, churches, and parks.
Be on the lookout for Rainbow Row, Charleston's iconic pastel-hued block of restored row homes. After your tour, spend the afternoon on one the side sandy beaches of Sullivan's Island, one of Charleston's six beaches.
If history's your thing, you won't want to miss Fort Sumter, where the first shot of the Civil War was fired. Reached by ferry, Fort Sumter National Monument boasts Civil War-era cannons and caverns and has a museum that explains its historical use and significance.
You can't leave Charleston without trying some Lowcountry staples like fried chicken, fried green tomatoes, and po' boys and local coastal treats like oysters and shrimp.
Split up the drive to Charleston with a walk in Congaree National Park, which is one of the only old growth floodplains left in the country. Keep your eyes peeled for otters, boar, and bobcats (oh my)!
Bonus: Here's a little tidbit "fore" you: The first golf club in America was established in Charleston in 1787.
Our travel tips: The Charleston Gallery Association (CGA) hosts a First Friday Artwalk from 5-8pm on the first Friday of the month. Download a map from the CGA to participate in this self-guided tour through over 40 art galleries while enjoying complementary wine and snacks.
10. Wilmington, North Carolina and Carolina Beach
3 hours 40 minutes from Charlotte (215 miles)
Why you should visit: Wilmington is a vibrant riverfront city that acts as the gateway to Cape Fear Coast beaches like Carolina Beach, which features a vintage boardwalk with all the trimmings.
Wilmington's mansions and gardens give way to the pedestrian-friendly Riverwalk that traces the Cape Fear River and gives visitors a unique way to experience the city's dining and nightlife.
Carolina Beach takes you back to the iconic summer vacation memories of your childhood with arcade games, mini golf, batting cages, pizza, and ice cream all available along its white sand beaches.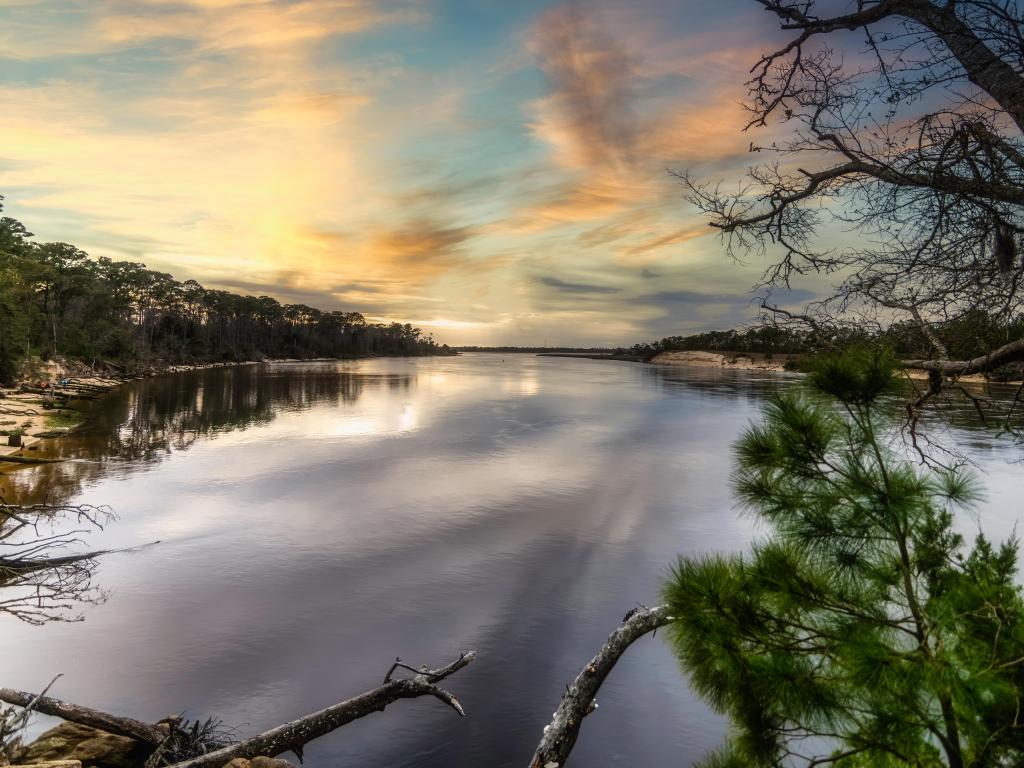 How to get there: You'll sail straight into Wilmington on 74 East. Hop on 132 South to reach Carolina Beach.
Our highlights: Wilmington's Riverwalk is perfect for a stroll to shop at one of the many boutiques along the Cape Fear River. After shopping, try some local specialties at one of the restaurants, breweries, and bars along the walk.
Located right across the river from the Riverwalk, don't miss touring the nine decks of the WWII-era Battleship North Carolina, which served in the South Pacific. If you're visiting in the summer, go early as it gets hot inside.
For another iconic setting for a walk, try Airlie Gardens. Beautiful year-round with its enormous oak trees and water features, spring is especially gorgeous since the azaleas are in full bloom.
You can soak in the city's rich history at the Bellamy Mansion, which lets you step back in time to imagine what life was like on this ornate urban plantation in the 1800s. You'll need a smartphone and headphones (and data on your phone since the Wi-Fi there can be spotty) to take advantage of the audio tour.
Head over to the Poplar Grove Plantation to see what life was like outside the city in the 1850s. The grounds include the manor house, smoke house, tenant house, and black smith shop. If you're hungry after touring, flash forward back from 1850 and try one of the food trucks outside.
If you want to escape the city, the pristine white sand beaches of Carolina Beach State Park are perfect for a tranquil beach day or a weekend camping trip. It's also got lots of great shaded trails through the sandy pine forest.
For a bit more action, head to Carolina Beach's boardwalk for quintessential beach grub, games, rides, and entertainment.
Bonus: Though filmed in Florida, the movie Cape Fear is set on the Carolina coast near Carolina Beach.
Our travel tips: Don't miss Wilmington's Riverfest, an annual street fair held in October, and the North Carolina Azalea festival each year in April.
11. Roanoke, Virginia and Smith Mountain Lake
4 hours from Charlotte (230 miles)
Why you should visit: Tucked in the Blue Ridge Mountains, Roanoke's downtown offers boutique shopping and dazzling local dining while the surrounding area is an outdoor playground. Nearby Smith Mountain Lake's rural charm makes for a perfect escape from the humdrum of everyday life.
In Roanoke you can enjoy local arts and crafts; visit a craft brewery; go wine tasting; kayak; hike the Appalachian Trail; or hop on your bike some of the East Coast's best mountain biking trails.
A short hop from Roanoke, Smith Mountain Lake is a quintessential mountain lake retreat on this road trip from Charlotte, perfect for forgetting what day it is and making family memories to last a lifetime.
How to get there: Follow 277 North to 77 North and hop on 81 north until you reach Roanoke. Departing for Smith Mountain Lake, take 24 East to State Route 801 in Bedford County. Get on 122 South and then turn left on State Route 608 and follow it to Smith Mountain Lake.
Our highlights: In downtown Roanoke, you'll find one-of-a-kind shops with both antiques and handmade crafts. You can also eat your way through Roanoke with fabulous dining infused with locally grown ingredients. Cap things off with a visit to Roanoke's wineries and breweries, which form part of Virginia's Blue Ridge Cheers Trail.
Work off that food and drink with an iconic hike along the Appalachian Trail, along which Roanoke is the largest city; a bike ride along some of the 400 miles of mountain trails around Roanoke; or a kayaking adventure along the Upper James River Water Trail.
For a great pit stop on the way to Smith Mountain Lake, stop at the Booker T. Washington National Monument, just 20 minutes outside Roanoke. There you can tour the preserved buildings from the Burroughs tobacco plantation where Washington was born a slave in 1856.
After being freed at age nine, he gained international recognition as an educator, author, speaker, and college president before his death in 1915. The little ones will love the abundance of farm animals roaming the grounds.
The crystal-clear waters of Smith Mountain Lake are just an hour outside Roanoke. Surrounded by the Blue Ridge Mountains, it's perfect for renting a house on its 16 miles of lake front with family or friends and getting out on the water or just enjoying the sandy beach.
During the summer, the water is brimming with boaters and jet skiers and vacation spirit. In the fall and winter, the lake makes for a is a super cozy setting for fireside hot cocoa while enjoying water views.
The lake also has great golfing, hiking, and fishing opportunities, as well as indoor fun for rainy days. There are also six wineries and four brew pubs around the lake. Try Hickory Hill Vineyards, the lake's oldest winery, which has been family run for three generations and has amazing vineyard views.
Bonus: The county where Roanoke is located, Franklin County, has a reputation for bootleg liquor production and is known as the "Moonshine Capital of the World."
Our travel tips: Don't miss the Smith Mountain Lake Wine Festival every September. It's the lake's biggest annual event and features live music by national and local bands.
READ MORE - Road Trip from Charlotte to Smith Mountain Lake and Roanoke
12. Cherokee National Forest and Douglas Lake, Tennessee
Via Asheville, North Carolina
4 hours 30 minutes from Charlotte (230 miles)
Why you should visit: Cherokee National Forest's diversity of wildlife and vistas is impressive, as is Douglas Lake's serenity.
If you want to get away from it all, this is the road trip for you. Get lost in Cherokee National Forest amidst the legendary Great Smoky Mountains National Park and continue on to Douglas Lake to hike along the beautiful shoreline or get out on the water for adventure, fishing, or just to cruise around and soak in your surroundings.
How to get there: Highway 85 South will take you to 40 West, which lead you into Asheville. Leaving Asheville, get on 26 West and then go North on 25 until you reach 107 West, which will take you to Cherokee National Forest. From there, head east on 107 to 70 West and pick up 40 West to reach Douglas Lake.
Our highlights: With over 700 miles of trails, numerous waterfalls, and seven whitewater rivers, Cherokee National Forest is chock full of fun. Between adventures, you can camp out under the stars right along the water at one of 30 campgrounds or take a break during a day trip at one of its picnic areas.
After your hike, mountain-lined Douglas Lake is the perfect place to let life slow down for a while. Rent a pontoon boat and cruise around the lake's fingers admiring the calm blue waters and pine capped shores. Bring your fishing pole and see if the bass or bluegills are biting.
On the way to Cherokee National Forest, take a detour to Asheville, North Carolina for some historic architecture and an energetic art scene just outside the high mountain peaks and postcard-worthy waterfalls of Pisgah National Forest. Don't miss the extraordinary Biltmore Estate, built as millionaire George Vanderbilt's historic country estate.
Bonus: Cherokee National Forest is the largest tract of public land in Tennessee and is home to at least twenty thousand species of plants and animals.
Our travel tips: If you're camping at Cherokee National Forest, read the rules carefully because they are sticklers for them. Be especially vigilant if you plan to bring a hammock as there are specific rules for where and how you can hang them.
13. Pigeon Forge and Knoxville, Tennessee
4 hours 40 minutes from Charlotte (230 miles)
Why you should visit: Pigeon Forge will surprise you with its musical pull and quirky attractions and Knoxville will scratch your history itch while also offering outdoor fun.
Pigeon Forge is like an adult playground, with shows and rides for days, including at Dollywood's country music themed amusement park. Knoxville's nature-loving-artsiness perfectly rounds out its historical offerings, and it is gaining a reputation as a foodie city.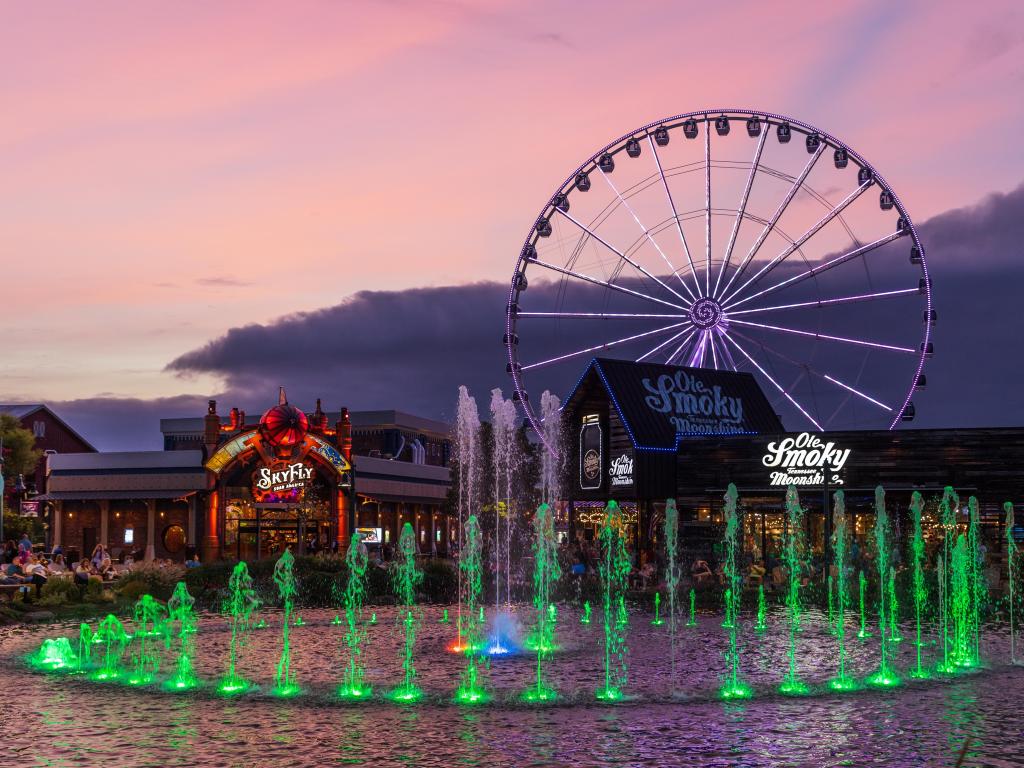 How to get there: Follow 85 South to 74 West and on to 40 West. Pick up 339 West and follow it into Pigeon Forge. Leaving Pigeon Forge, take 411 North into Knoxville.
Our highlights: Pigeon Forge has a hot live music scene. Hit one of the local theaters for a musical extravaganza or head over to Dollywood got a show. Be sure to check out the rest of all that Dollywood has to offer because it's so much more than music.
It's a full on theme park, complete with rollercoasters and waterslides and is not to be missed. It's also got a stellar resort, complete with a full-service spa so go ahead and treat yourself.
If you're itching for a touch of history amid Pigeon Forge's fun, visit Titanic Museum, which traces the ship's history from construction to its sinking and eventual discovery in 1985.
Enjoy a relaxed afternoon of shopping in Knoxville's Market Square, which is lined with restored historic buildings and street performers. Take yourself back to Knoxville's roots with a visit to the James White Fort, which was Knoxville's founder's pioneer log cabin back in 1786.
Just outside Knoxville, you can get your pulse racing with Navitat Canopy Adventures' unforgettable treetop zipline adventure.
Bonus: Pigeon Forge has a population of just 6,000, but welcomes 10,000 visitors each year.
Our travel tips: The James White Fort in Knoxville offers a free audio tour, just bring your smartphone to scan the QR codes.
14. Savannah and Tybee Island, Georgia
3 hours 50 minutes from Charlotte (250 miles)
Why you should visit: Savannah screams southern elegance with its cobblestone streets and manicured parks lined with oak trees dripping with Spanish moss.
Savannah is a city of contrasts, in a good way. Here you can enjoy historic mansions and streets by day, eclectic shops and restaurants by night, and then escape for a day at the beach at Tybee Island.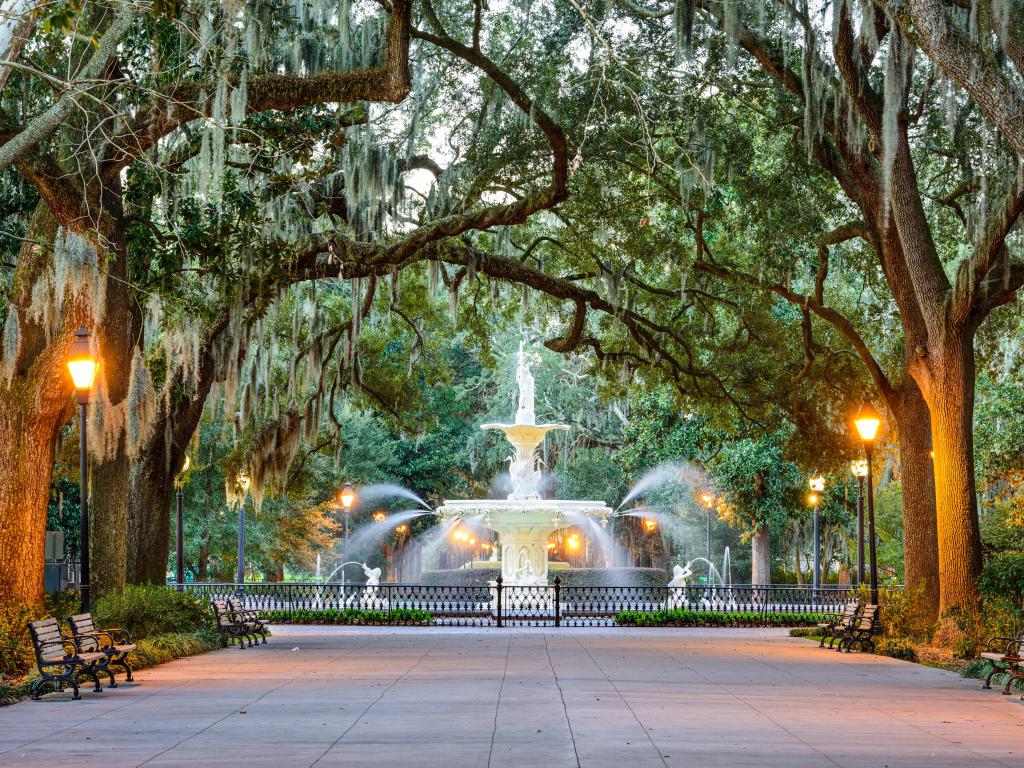 How to get there: Getting to Savannah is smooth sailing on 77 South and then 95 South. From there, pick up 404 South and follow signs for Savannah.
Our highlights: Savannah's historic district is stunning. Between the architecture of the homes and the landscaping, you won't be able to stop snaping pics. It's also replete with shops and dining and super walkable.
Continue your shopping and dining on River Street, which overlooks the Savannah River and is always full of life. Look for savannah's iconic Waving Girl Statue along the sidewalk.
Forsyth Park conjures up iconic scenes from Midnight in the Garden of Good and Evil with its elegantly drooping trees and resplendent water fountains. Grab a coffee and just stroll to take it all in.
Head to the beach with an easy 30-minute drive across the Georgia border to Tybee Island, a laid-back family beach destination with broad sandy beaches and beautifully renovated lighthouses.
Bonus: Savannah is Georgia's oldest city and the first planned city in the United States.
Our travel tips: Maximize your time with the Old Town Trolley, which gives you history on the city's history and landmarks and lets you hop on and off around Savannah.
15. Atlanta, Georgia
Via Greenville, South Carolina and Athens, Georgia
4 hours 50 minutes from Charlotte (270 miles)
Why you should visit: Dubbed "the Capital of the new South," Atlanta is a hopping cosmopolitan city with a unique Southern flair.
One of the fastest growing cities in the country, Atlanta is creative and dynamic with its booming business scene, superb dining, and tons of cultural activities, historical attractions, sporting events, and nightlife fun.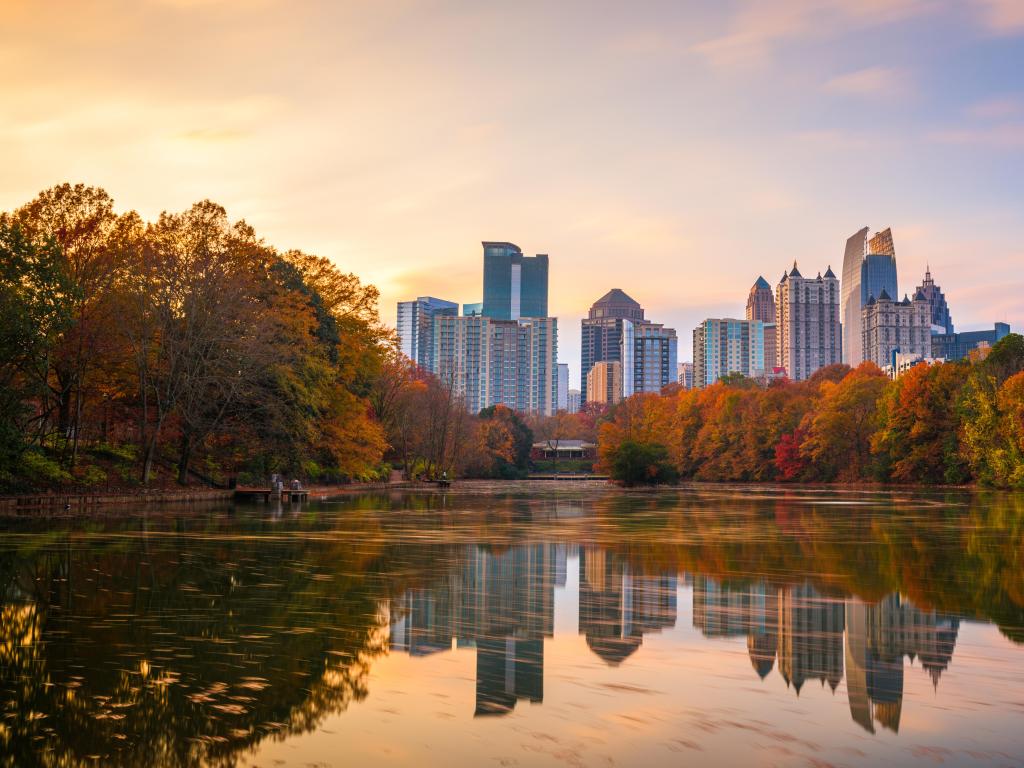 How to get there: Take 85 South into Greenville and then continue on 85 South to 106 South into Athens. To reach Atlanta, take 29 South to 85 South.
Our highlights: Animals abound in Atlanta! You could easily spend a full day at the Georgia Aquarium, which has more than 70 habitats with thousands of species of animals. Don't miss the Dolphin Tales show, which features a Broadway-inspired music.
When you've had your fill of marine life, head over to Zoo Atlanta to see more than 1,000 animals from around the world, including giant pandas and one of the largest zoo populations of great apes.
Move from fauna to flora with a stop at the Atlanta Botanical Gardens, which is beautiful year-round but really sparkles as the seasons change and new decorations and lights go up.
At the Martin Luther King Jr. National Historical Site, you'll see the home where the Civil Rights leader was born, the church where he preached, and his burial site. Learn more about the Civil Rights Movement with a visit to the phenomenal National Center for Civil and Human Rights, which also teaches about social justice movements around the world.
After visiting museums and attractions, take a stroll in Piedmont Park. Located right in the heart of the city and featuring beautiful lakes and open green space, it's the perfect place to let the kids run wild.
Just outside the city, the Jimmy Carter Presidential Library and Museum is definitely worth a visit. Here, you can learn about his life and work promoting peach and health and snap a pic behind a replica of the resolute desk in a copy of the Oval Office that is stunningly detailed.,
We've got two pit stops for you on your way from Charlotte to Atlanta. First, drive through Greenville, South Carolina to explore its much heralded downtown and gasp at the view of the Blue Ridge Mountains from its unique "floating" suspension bridge. Second, stop in Athens, Georgia to try out the live music scene in this hip college town.
Bonus: Atlanta is the birthplace of Coca-Cola, which is still headquartered here. There's even a Coca-Cola Museum where you can learn how the drink was created and took off to become a global phenomenon.
Our travel tips: Be prepared to get wet if you sit in the first ten rows of the dolphin show at the Georgia Aquarium!
READ MORE - Road Trip from Charlotte to Atlanta
16. Richmond, Virginia
4 hours 10 minutes from Charlotte (290 miles)
Why you should visit: One of the United States' oldest cities, Richmond's rich history comes alive with well-preserved homes, churches, cemeteries, and battlefields.
Richmond played an important role in both the Revolutionary and Civil Wars, and you can trace and tour 15 historic landmarks and then take a load off at one of the city's eclectic shops and restaurants.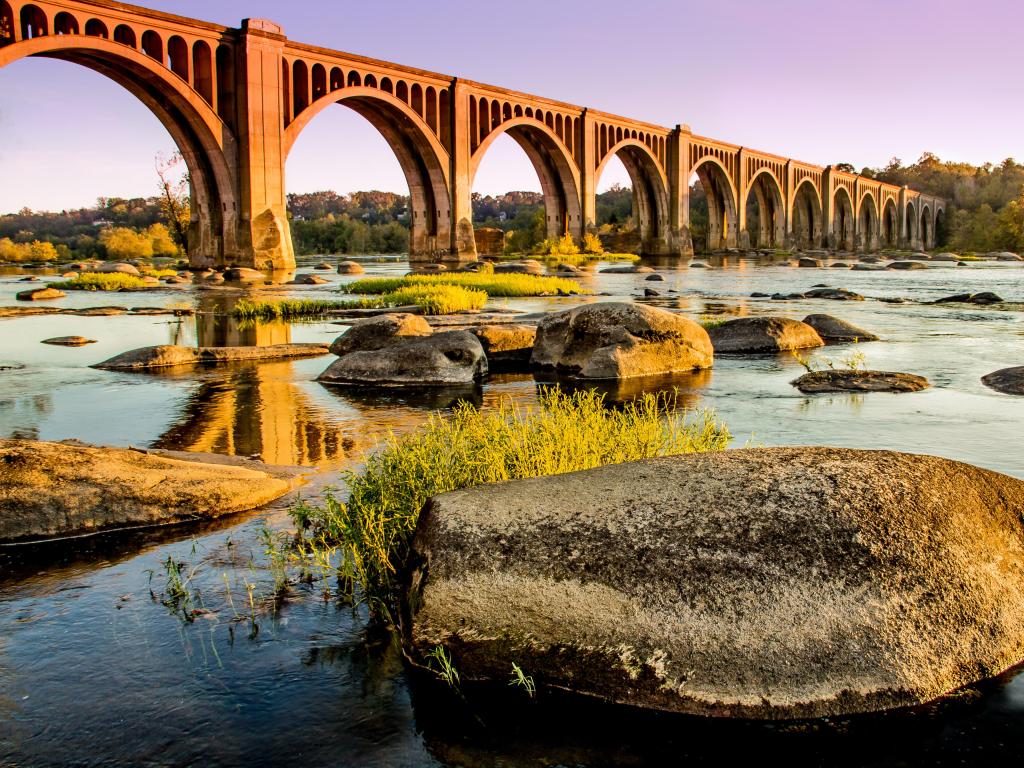 How to get there: It's a pretty straight shot from Charlotte to Richmond. Just follow on 85 North past Greensboro and the outskirts of Raleigh and it'll take you straight into downtown Richmond.
Our highlights: Historians will love the self-guided Liberty Trail walking tour, which takes you through 15 historic sites, including St John's (the oldest church in the city), the Virginia Capitol building, Confederate President Jefferson Davis' home, and Hollywood Cemetery where two U.S. Presidents and 18,000 Civil War soldiers are buried.
Continue your education by tracing the experience of slaves in the areas along the Richmond Slave Trail. Learn about Richmond's literary past with a visit to the Edgar Allan Poe Museum, which walks visitors through the Richmond native's life and writings.
With your head full of knowledge, take a break and explore Richmond's culture in the Carytown neighborhood of the Museum District, which has over 200 shops, restaurants, and a farmer's market. If you're into beer, check out the self-guided Richmond Craft Brew Trail.
Walk off your meal with a visit to the Maymont. One of Atlanta's historical jewels, you'll be impressed by this gilded age mansion and love exploring its 100 acres of lush gardens and wildlife center.
Richmond also has a thriving outdoor scene. Bike the 52 mile Virginia Capital Trail; go whitewater rafting on the James River; or enjoy hiking and rock climbing on Belle Isle right downtown.
Bonus: In 1775 at Richmond's St. Johns Church, U.S. Founding Father Patrick Henry declared "Give me liberty or give me death," which led to the Revolutionary War.
Our travel tips: Sign up for a food tour to get a feel for Richmond's dining scene and how the city's history has influenced it.
17. Shenandoah National Park and Charlottesville, Virginia
4 hours 50 minutes from Charlotte (300 miles)
Why you should visit: Shenandoah National Park offers some of the best hiking in the country and Charlottesville is full of history and charm.
With over 500 miles of trails and excellent camping in the Blue Ridge Mountains, Shenandoah National Park is a great place to unwind. It feels far from everything, but is only 30 minutes away from Charlottesville, which was home to three of America's founding fathers and is today the bustling home to the University of Virginia.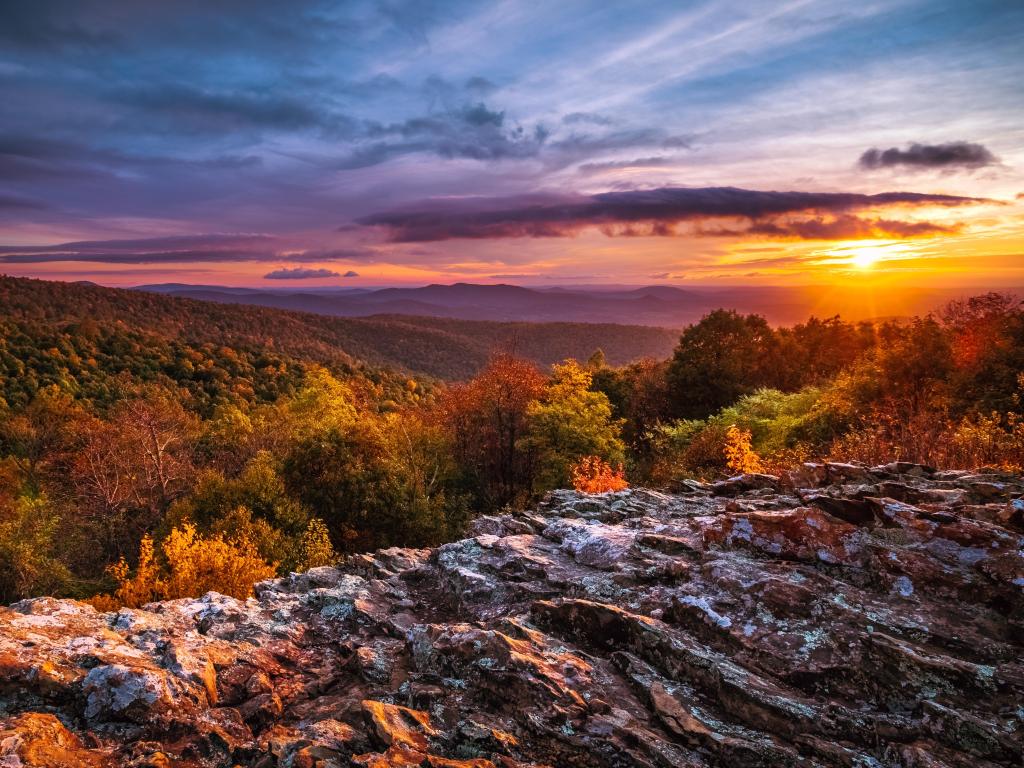 How to get there: Follow 85 North past Greensboro to 29 North in Danville. Continue on 29 North to 64 East until you hit 20 North, which will take you into Charlottesville. Keep on toward Shenandoah National Park by taking 64 West to 250 East and following iconic Skyline Drive to the park entrance.
Our highlights: There is so much to do and experience at Shenandoah National Park, so stay overnight at one of its 500+ campgrounds.
Wake up in the Blue Ridge Mountains and discover waterfalls and treetop views while walking the Appalachian Trail, just of the many hiking options in the park. Hiking Old Rag Mountain is one of the most popular routes, and all those switchbacks are worth it once you make it to the summit.
If your legs need a rest, hop in your car and cruise down Skyline Drive, which has 105 miles of spectacular mountain vistas.
In Charlottesville, you can step back in time by visiting the homes of Presidents Monroe, Jefferson, and Madison. Of these, Jefferson's Monticello is arguably the most famous and you can tour not just the house itself, but also its expansive gardens and adjacent slave quarters.
Continue your historical journey by touring the University of Virginia campus, which was designed by Thomas Jefferson. Wind down your touring with a visit to Charlottesville's brick-lined historic downtown, full of fantastic restaurants and unique shopping.
Even wine tasting is historic in Charlottesville. While there are tons of great wineries to visit in and round the town, don't miss Jefferson Vineyards, which Thomas Jefferson created in 1774, making it Virginia's first commercial wine company and vineyard.
Bonus: The oldest rocks in Shenandoah National Park are 1.1 billion years old. That's a quarter of the earth's age! If rocks could talk…
Our travel tips: Cell phone coverage is not so great throughout Shenandoah National Park, so download any maps or music you may need for your journey. Free, public WiFi is available at the Byrd Visitor Center, Big Meadows Lodge, and Skyland Resort.
If you want to do the Old Rag Mountain hike in Shenandoah National Park, you might need to make a reservation, so check ahead of time.
Click here to skip back to the top.
Long weekend trips (5-8 hours each way)
Grab your calendar and start circling three-day weekends to hit one of these stand-out destinations.
18. Raleigh, North Carolina and Lake James
5 hours from Charlotte (305 miles)
Why you should visit: The capital of North Carolina, Raleigh is an energetic, eclectic, and affordable city full of culture, history, and outdoor activities
Raleigh has several excellent museums, great food, and lots of opportunities for biking, hiking, canoeing, and more.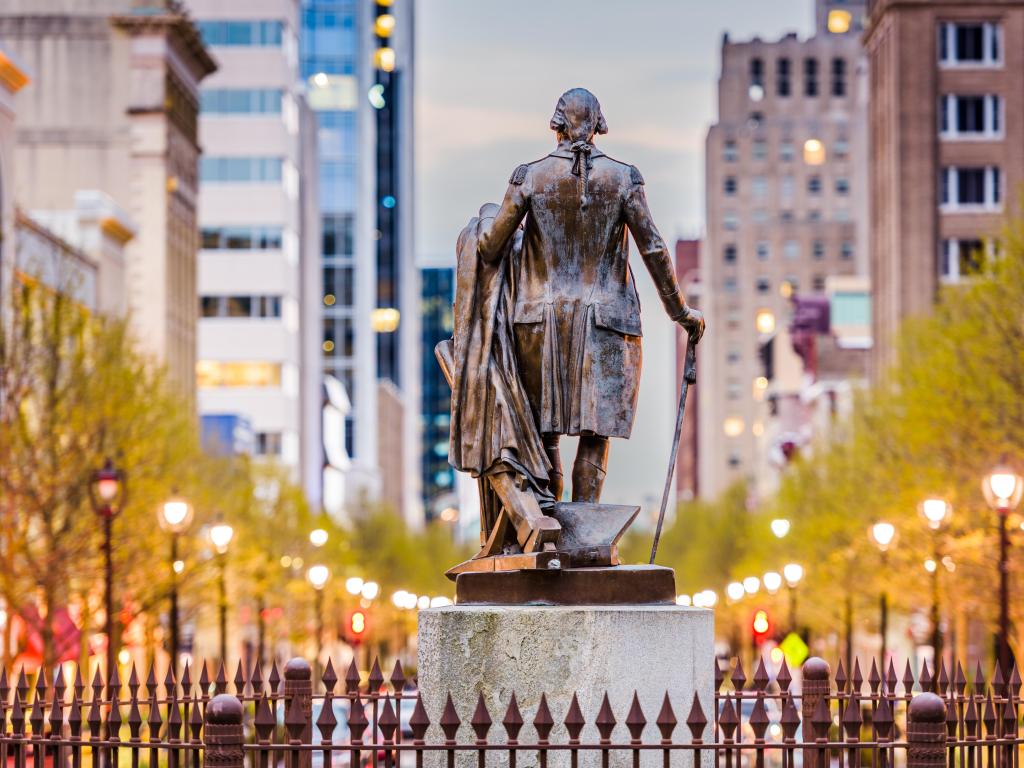 How to get there: Head south on 85 to pick up 321 North and then 40 West. Exit onto 70 West and follow it into Lake James. Continue on to Raleigh by taking 40 East straight into the city.
Our highlights: Raleigh is rapidly gaining a reputation for its culinary scene. Try a smattering of what the city has to offer at the Morgan Street Food Hall or Transfer Co. Food Hall.
For Happy Hour, don't miss Raleigh Beer Garden's selection of more than 350 beers, which is said to be the largest draft beer selection in the world.
North Carolina's Museum of History will teach you all about the state and it's capital city, and it's free! Also free are the North Carolina Museum of Natural Sciences and North Carolina Museum of Art.
For outdoor fun, bike or walk along the 27-mile-long Neuse River Greenway Trail, with is dotted with historical sites and scenic wetlands. Or, rent a canoe and paddle the Neuse River Canoe Trail.
On the way to Raleigh, stop at Lake James State Park to paddle around the lake, fish, bike, or hike the forest amidst the Blue Ridge Mountains. You can also have a beach day along the Lake's sandy beachfront.
Bonus: Raleigh's reputation for arts and culture earned it the nickname "Smithsonian of the South."
Our travel tips: Lake James State Park is an awesome place to camp and makes for a great summer family getaway.
19. Outer Banks, North Carolina
5 hours 50 minutes from Charlotte (370 miles)
Why you should visit: The Outer Bank's enormous sand dunes give way to broad sandy beaches and the coastline is peppered with laid back beach towns primed for year-round fun and relaxation.
The 100 miles of barrier islands that make up the Outer Banks have something for everyone. The coast has been the backdrop for serious historical and technological advancements; is breathtakingly beautiful; offers laid-back nightlife; and reaps excellent seafood.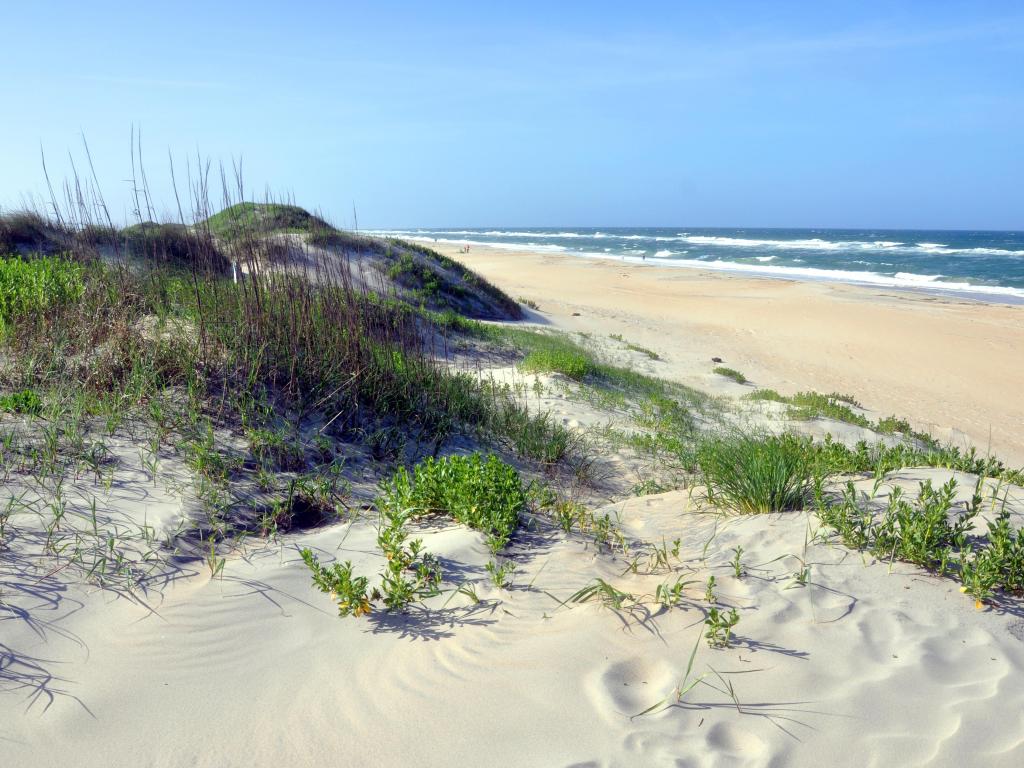 How to get there: Take 85 North to 40 East and past Raleigh on to 64 East, which will take you across Roanoke Island and into the Outer Banks, where you can head north for Corolla, Duck, Kitty Hawk, Kill Devil Hills, and Nags Head, or south for Rodanthe, Avon, and Hatteras.
Our highlights: Start your visit with some Outer Banks classics: spend time relaxing on the Outer Banks many beaches; watch wild horses wander along Currituck Beach; and explore the region's light houses.
Some of our favourite lighthouses are Cape Hatteras Lighthouse (the tallest in the nation!); Currituck Beach Lighthouse; and Bodie Island Lighthouse, all of which offer amazing views if you can manage the hundreds of steps to the top.
At Jockey's Ridge State Park, you can climb two of the highest sand dunes on the East Coast and go hang gliding over the dunes and the ocean. Photos don't do the place justice and with sand as far as the eye can see, these immense dunes will have you thinking you're in the desert.
When you're ready to step off the sand, venture over to the Wright Brothers National Memorial in Kill Devil Hills, where you'll learn about the unrelenting spirit of the Wright Brothers, who flew the first airplane right there over the Outer Banks.
The museum traces their story and shows how it influenced the course of mankind, including paving the way for space exploration. The statues at the outdoor memorial make for fun "selfies" with the brothers.
Watch the story of Roanoke Island come to life with The Lost Colony, a musical about one of America's oldest unsolved mysteries that's performed under the stars from June through August every summer in Manteo. Learn more about the colony at the museum at Fort Raleigh National Historic Site where the theater is housed.
Round out your lost colony experience with a visit to Roanoke Island Festival Park, a 25-acre park with replicas of Indian Town, the settlement site, and the Elizabeth II ship and staff in period dress to explain what life was like for the first English settlers.
Bonus: In 1587, Sir Walter Raleigh founded a small colony with 117 English men, women, and children on what is today called Roanoke Island. It would have been the first permanent English colony in the New World, if the settlers hadn't mysteriously disappeared in 1590.
Our travel tips: If you're lucky enough to see wild horses on the beach, stay 50 feet away and don't try to entice or feed them. Visiting hours for the lighthouses vary so check their schedules online to see what hours they're open or climbing.
20. Washington, DC
6 hours 10 minutes from Charlotte (400 miles)
Why you should visit: One of the most famous cities in the world, Washington, DC is full of history and outstanding museums, which are free!
There's so much more to the nation's capital than the White House, Capitol, and Smithsonian. In D.C., you can sample food from every part of the world; shop along cobblestone streets; hear music legends perform; and explore beautiful gardens and trails.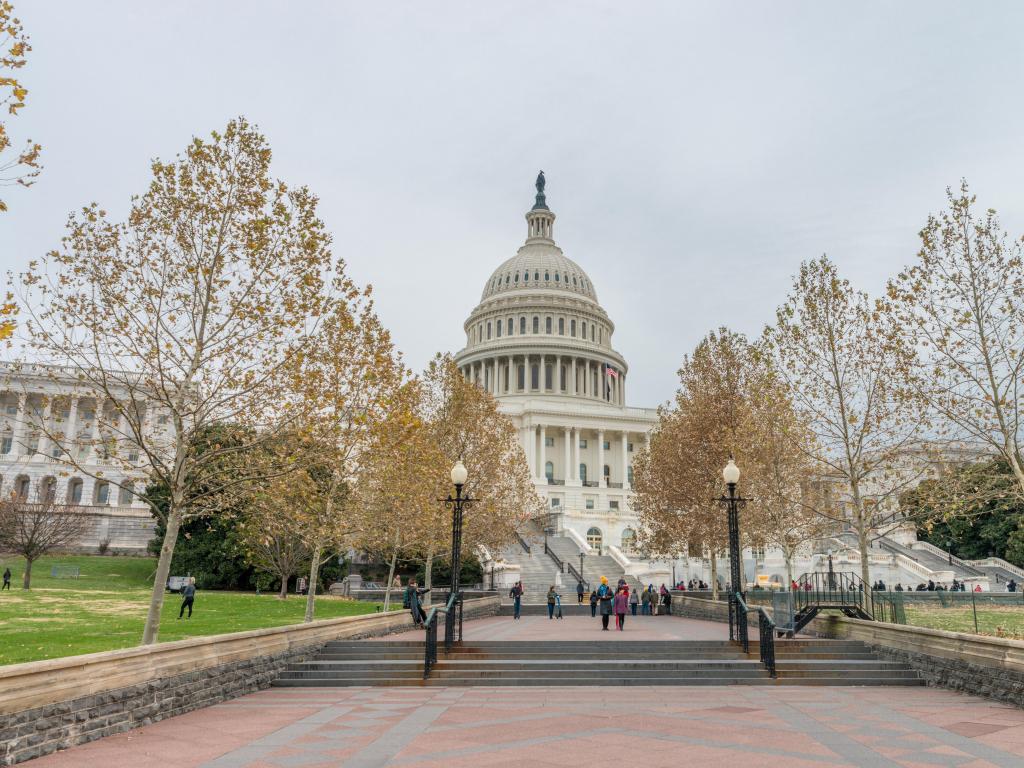 How to get there: Head north on 85 to 95 North, which will take you to 395 North, Washington, DC's beltway. From there, take 1 North to drive into the city on 14th Street SW.
Our highlights: Start out with some of DC's most iconic attractions: snap a selfie in front of the White House, tour the US Capital (or at least the Visitor's Center), and pop into the Smithsonian museums along the National Mall, which are world-class and free.
Two of our favorite museums for all ages are the National History Museum and the National Air and Space Museum.
Near the Tidal Basin, spend the day at the Holocaust Museum which does an amazing job at showing the immensity and impact of the Holocaust and sharing individual stories of victims and survivors.
Get a feel for some of DC's most distinctive neighborhoods by shopping along Georgetown's cobblestone streets; seeing how Chinatown has been revitalized and interwoven with the culinary-rich downtown neighborhoods of Gallery Place and Metro Center; taking in dining and cultural attractions in Dupont Circle and Adams Morgan; and experiencing the unique row home architecture and markets of Capitol Hill.
On Capitol Hill, visit the red brick Eastern Market on a Saturday morning to see it in full swing with vendors bearing local produce and crafts. Eat at one of the eclectic eateries lining Barracks Row and catch the U.S. Marine Band play at the Evening Parade at the Marine Barracks every Friday night during the summer (tickets are free, just reserve online). Round out your Capitol Hill visit at Union Market, an indoor food hall with a host of unique flavors.
You may not realize it, but there are lots of opportunities for hiking, biking, and boating in and around D.C. Rock Creek Park cuts right through the middle of the city and has miles of trails (there's even horse stables where you can ride).
Rent a kayak from the boathouse in Georgetown and paddle down the Potomac River for unparalleled views of the DC skyline and monuments. At Teddy Roosevelt Island you just might forget you're in the city as you explore the island's dense vegetation and memorial.
Bonus: For a surreal, local's-only experience, plan a picnic at Gravelly Point and feel the power of flight as airplanes roar over your head before landing at Reagan National Airport.
Our travel tips: If you're going to DC in the spring, time your visit with the Cherry Blossom festival to see the Tidal Basin in full bloom and witness this memorable annual celebration.
21. Orlando, Jacksonville and St. Augustine, Florida
8 hours 10 minutes from Charlotte (530 miles)
Why you should visit: Orlando is pretty much synonymous with Disney World, but with over a dozen theme parks, there's plenty more to do in this central Florida city.
Live out your childhood fantasies with your favorite Disney characters at the Magic Kingdom, see what it's like behind the scenes at Universal Studios, transport yourself to other countries and revel in technology and fantasy at Epcot. These are just a few of the adventures that await you in Orlando.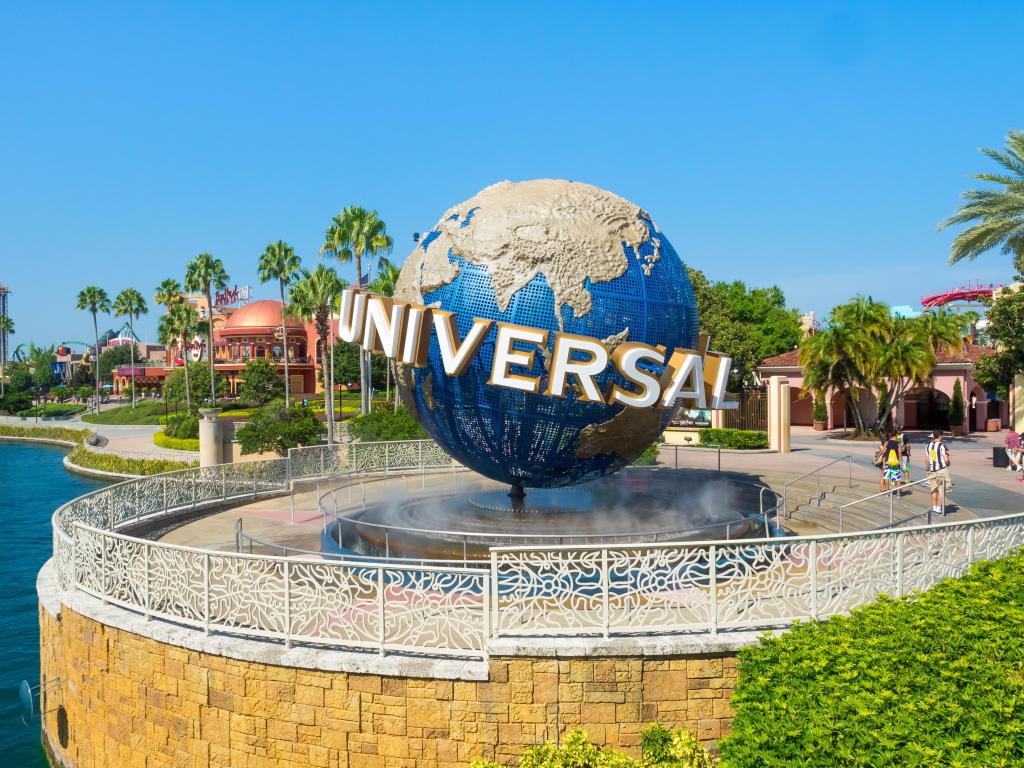 How to get there: Take 77 South to 26 East and then get on 95 South, which will take you right into Jacksonville. Continue on to St. Augustine on 95 South and when you're ready to carry on to Orlando, just hop back on 95 South until you get to 4 West, which will take you right into town.
Our highlights: Kick off your trip with a visit to Disney World, starting with the Magic Kingdom, where you're sure to spot Mickey and friends and revel in the iconic rides. To maximize your time and dollar, invest in a multi-day park hopper pass and check out Disney's Animal Kingdom and Epcot too.
The Animal Kingdom is like an amazing zoo with rides interspersed and will be a hit with your whole family. Don't miss the live performance in-the-round musical Lion King show but be prepared to wait in line unless you have a fast pass available.
Epcot offers an amazing pseudo-round-the-world trip complete with themed food and drinks. The rides might not be as high thrill as the other parks, but the architectural attention to detail will astound you as you wander from "country" to "country."
When you've completed the Disney trifecta, head over to Universal Studios to hand you're your favorite superheroes and immerse yourself in the Wizarding World of Harry Potter where you can visit and ride on all of Harry's haunts and gorge yourself in butter beer.
If you're all theme parked out, go shopping and grab some food along the water at Disney Springs, a souped-up outdoor mall with a distinctive Disney vibe.
Break up the drive to Orlando with a stop in Jacksonville to enjoy its beautiful beaches, nature preserves, historic neighborhoods, enjoy craft beer, and play a round of golf. Make another pit stop to St. Augustine, which is the oldest European settlement in the United States and has amazing beaches and architecture.
Bonus: Did you know Disney World is not Orlando's first theme park? That honor goes to Gatorland, which opened in 1949 and today is home to over 2000 alligators (shudder). Magic Kingdom didn't open until 1971. It's hard to imagine Orlando without it today!
Our travel tips: For the Disney Parks, download the app and load your tickets into it so that you can plan your visit and take advantage of free day of fast passes. You only get one at a time and you have to act fast when you see them pop up in the app but they will save you tons of time in line.
If you want to eat at the restaurants at the Disney parks, be sure to reserve via the app well in advance.
Click here to skip back to the top.
Longer trips (Over 8 hours each way)
If you're due for a longer vacation, try one of these destinations. Pack some tunes for the drive since each of these is over eight hours away.
22. Nashville and Memphis, Tennessee
9 hours 40 minutes from Charlotte (620 miles)
Why you should visit: Nashville and Memphis are both music meccas. Nashville is known as "Music City" and Memphis as the "Home of the Blues and Birthplace of Rock 'n' Roll," they are bursting with soul and have tons of music history and memorabilia to explore.
Get your honky-tonk on with a live show in Nashville and learn about the greats of Country Music at the Country Music Hall of Fame and Johnny Cash Museum.
Continue your musical journey with some live soul music in Memphis and a tour of Elvis Presley's legendary Graceland mansion. Memphis also has a deep connection to the Civil Rights movement to share with visitors, including the motel turn museum where Martin Luther King was shot. As if that's not enough, the food in both cities is outstanding.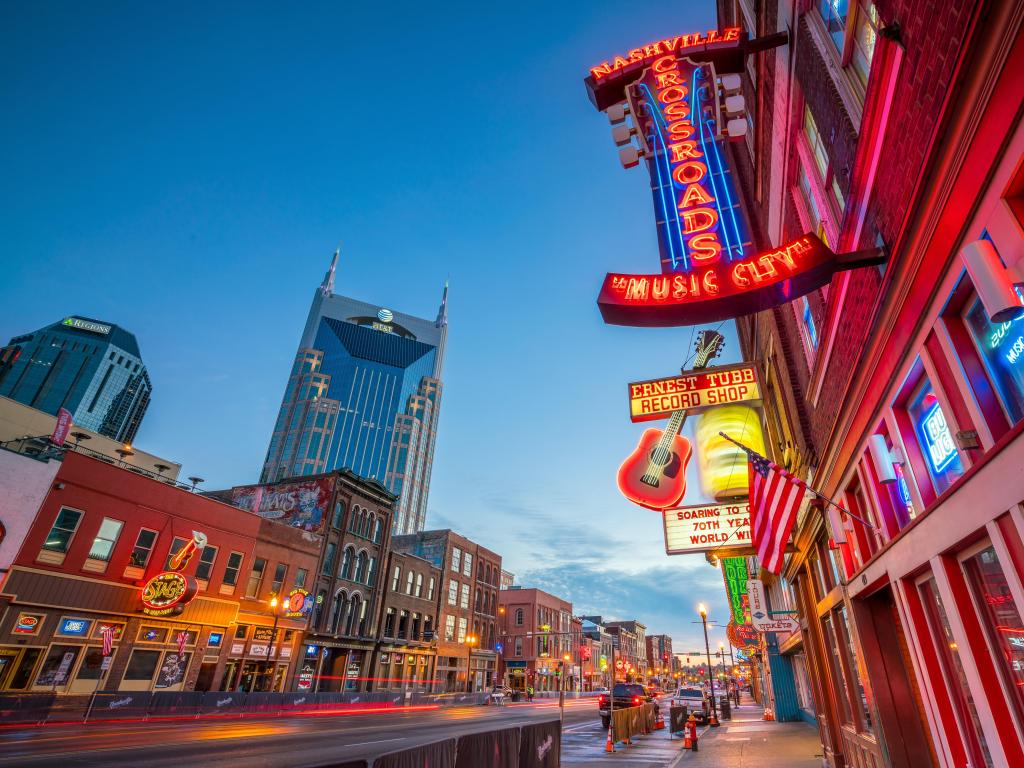 How to get there: Start off on 85 South and connect to 74 West and then 40 West, which will take you straight into Nashville. From Nashville, get back on 40 West and follow it to Memphis.
Our highlights: Nashville is the home of country and the best place in town to see legends and newcomers perform is at the famed Grand Ole Opry. Several nights a week, eight or more artists get together and put on a two-hour live show with a music festival feel.
The Country Music Hall of Fame has over 2.5 million country music artifacts, including cars, outfits, instruments, records, and awards. The museum also includes the historic RCA Studio B, which is where greats like Elvis and the Everly Brothers recorded their hit songs.
A guided tour breathes life into the original recording studios, and you can even tinkle the same ivories as the stars. If you're into the Man in Black, check out the world's largest collection of Johnny Cash artifacts and memorabilia at the Johnny Cash Museum.
While in Nashville, try the city's famous hot chicken at the legendary Prince's Hot Chicken, which started the culinary phenomenon decades ago.
When you get to Memphis, spend an evening listening to incredible live music on the always buzzing Beale Street.
From there, start your music tour with a visit to the former Stax Records recording studio, where greats like Otis Redding and Isaac Hayes laid down their tracks. Today, it's the 17,000 square foot Stax Museum of American Soul Music and houses a huge array of instruments, cars, and other memorabilia.
You'll want to set aside a full day to tour the King of Rock 'n' Roll's mansion at Graceland, which tells the story of Elvis' climb to fame and houses the largest and most comprehensive collection of artifacts from his life in the world. Visiting Sun Studio gives you a peek into the actual studios where rock 'n' roll was born when Elvis recorded his first song.
Now that you've hit some of Memphis' iconic music stops, visit the Civil Rights Museum to learn about the turbulent plight of African Americans in the United States and see the room at the Lorraine Motel where Martin Luther King Jr. was assassinated in 1968.
Don't leave Memphis without sitting down for a plate of the city's famous barbeque at Charlie Vergos' Rendezvous, which has been slinging ribs, brisket, and more since 1948.
Bonus: Aretha Franklin is most associated with Detroit, but she was born and grew up in Memphis. Stop by her childhood home at 406 Lucy Avenue, which is a bit dilapidated but is soon to be transformed into an Aretha Franklin Museum.
Our travel tips: Book tickets well in advance for Nashville and Memphis' music attractions. They tend to sell out and you don't want to be disappointed.
Take your visit to the Grand Ole Opry to the next level by booking a guided backstage tour, which lets you peek in dressing rooms and brings the venue's memorabilia to life.
READ MORE - Road Trip from Charlotte to Nashville
23. New York City, New York
Via Washington, DC and Philadelphia, Pennsylvania
10 hours 20 minutes from Charlotte (630 miles)
Why you should visit: America's biggest city is a swirling mix of culture and industries that offers an electric experience for visitors of all ages.
New York's entertainment scene is unparalleled, as are its shopping and dining opportunities. The intensity of the financial district is palpable, and Lady Liberty still stands as a welcoming beacon for visitors from around the world.
The city's history is immense and there are hidden landmarks tracing Alexander Hamilton's life awaiting intrepid visitors.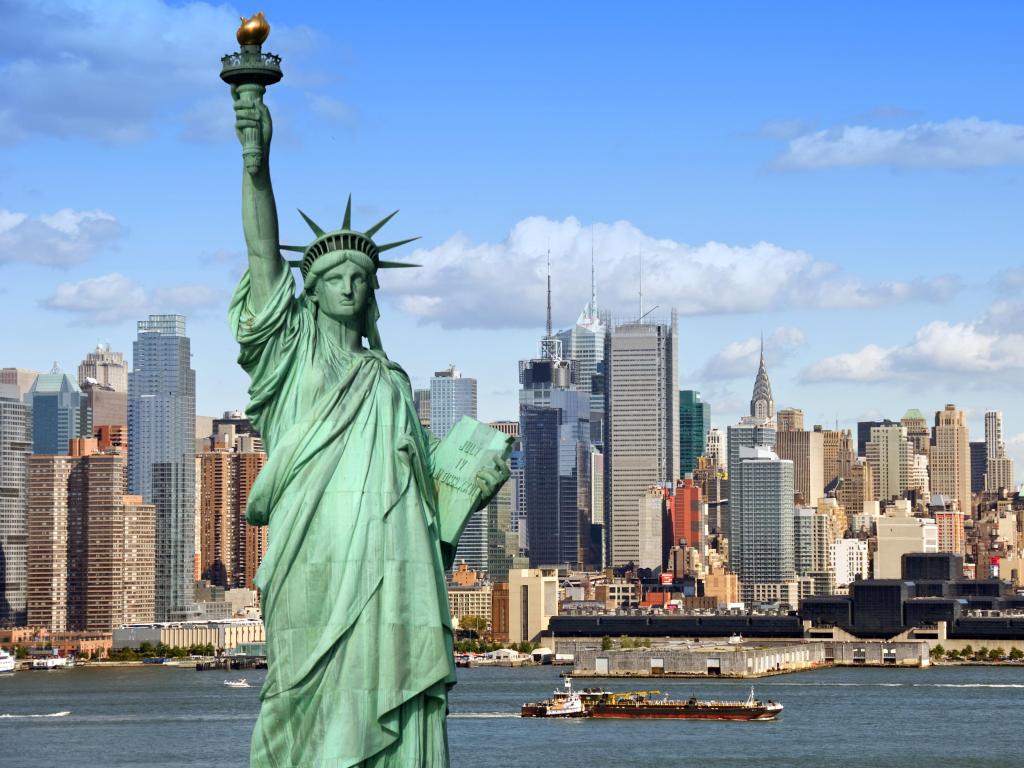 How to get there: From Charlotte to New York, 85 North connects to 95 North, which leads straight to DC. From there, hop back on 95 North to reach Philly and then get back on 95 North to get to the Big Apple.
Our highlights: To get an appreciation for Manhattan's vastness and density, head to the top of the 1,454-foot Empire State Building. Bring yourself down to ground level and feel the bustle of the city up close by walking through Times Square.
Central Park's 843 acres smack in the middle of Manhattan will have you forgetting you're in America's biggest city. It's the perfect place for a walk or a picnic between sightseeing.
You'll need a full day to really experience the National 9/11 Memorial and Museum, which sits on the location where the Twin Towers once stood. Likewise, set aside plenty of time to soak in the masterpieces on display at the Metropolitan Museum of Art.
No trip to New York is complete without seeing a live show. If you're lucky enough to score tickets, get a surge of Broadway energy by seeing the award-winning musical hit Hamilton.
See the room where it happened at 57 Maiden Lane, where founding father and then Treasury Secretary Alexander Hamilton met with Thomas Jefferson and James Madison to develop the Compromise of 1790, which moved the US capital from New York to the yet-to-be-created Washington, DC.
Pay your respects at 82 Jane Street where the Hamilton died after losing his dual with Vice President Burr in 1804 and head to Trinity Church in Wall Street to see where he and his wife are buried.
You might hear the lyrics "Immigrants, they get the job done" ringing in your ears as you learn about New York's role in welcoming immigrants to America with a trip to Ellis Island.
You'll get a sweeping view of the harbor and Manhattan skyline by climbing to the top of the Statue of Liberty, which the French gifted to the United States as a symbol of friendship in 1886.
If you're into entertainment, seeing a live show or taping of one of TV's most famous shows should be at the top of your list. Search on-line well before you visit try for tickets for iconic hits like Saturday Night Live or the Tonight Show Starring Jimmy Fallon.
On the way to the Big Apple, stop off in Washington, DC for its world-class (and free!) museums and international dining scene and in Philadelphia to try its world-famous Philly Cheesesteak and take a selfie with the Liberty Bell.
Bonus: New York was originally named New Amsterdam by Dutch settlers who arrived in 1624. In 1664, the English took over and renamed the city after the Duke of York.
Our travel tips: New York is amazing over the Christmas holidays. If you're there then, be sure to catch the Rockettes' Christmas Spectacular at Radio City Music Hall.
READ MORE - Road Trip from Charlotte to New York
24. Niagara Falls, New York
Via Pittsburgh and Erie, Pennsylvania
11 hours from Charlotte (690 miles)
Why you should visit: Niagara Falls' three waterfalls – American Falls, Bridal Veil Falls, and Horseshoe Falls – span the border between the United States and Canada and have been aweing and delighting visitors for decades.
This is one place where you should go chasing waterfalls. Get up close to the falls and feel the spray and power of the water as it crashes down. Learn about the role of the falls in hydroelectric power and their symbolism in the American conservation movement.
Explore the Niagara Falls National Heritage Area, one of only 55 such areas designated by Congress across the country, to discover its important history.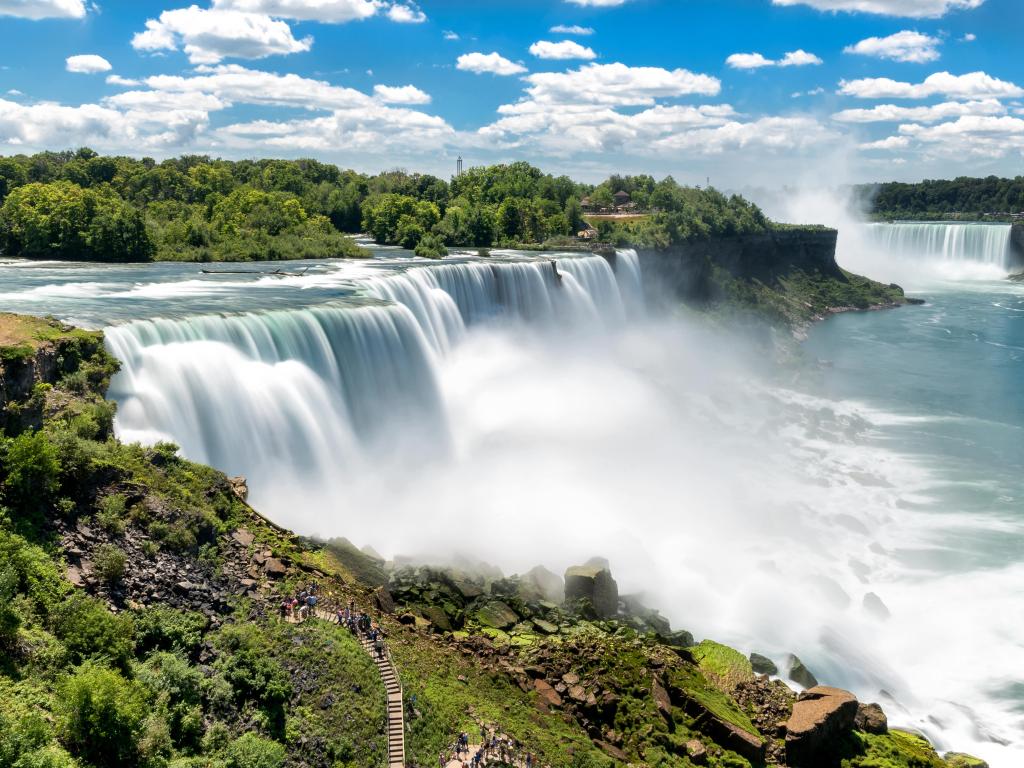 How to get there: On this road trip from Charlotte, head straight north on 77 North and connect to 79 North to reach Pittsburgh. From there, get back on 79 North and drive to Erie. Leaving Erie, take 90 East to 62 North to get to Niagara Falls.
Our highlights: The 400-acre Niagara Falls State Park is anew great place to get your bearings on the immense falls. Don a poncho and take a ride on the Maid of the Mist to experience the thrill of floating beneath the falls.
Get a different perspective on foot by walking the series of wooden walkways that takes you to the "Hurricane Deck" of the Cave of the Winds and Pavilion, where you are just a few feet from the crashing waters of Bridal Veil Falls and the weather is always full of tropical storm energy thanks to the power gushing water.
You can also stay completely dry with a birds eye view from 775 feet above Niagara Falls from Skylon Tower, where you can also enjoy a meal in the revolving dining room overlooking the astounding view. Whatever mode you choose for exploring the falls, don't miss seeing them get bathed in color each night from Prospect Point.
There's more to Niagara Falls than waterfalls. Venture beyond the falls to enjoy pristine hiking trails, amazing orchards that fuel local cideries, and fabulous wineries. Old Fort Niagara traces the history of the area as a lookout point for the French, then the British, and eventually the Americans.
The area also played a pivotal role in the Underground Railroad. The Niagara Falls Underground Railroad Heritage Center tells the story of Underground Railroad seekers and abolitionists in Niagara Falls,l including Harriet Tubman, who helped sneak escaped slaves into the Niagara Falls Suspension Bridge into Canada after the passage of the Fugitive Slave Act of 1850, which made it a crime for any American to aid an escaped slave.
On the way to Niagara Falls, spend the eating your way through Pittsburgh's incredibly diverse food scene and paying homage to Mister Rogers' Neighborhood (which was set in Pittsburgh) at the Duquesne Incline with a trip to the top of Mount Washington in, you guessed it, a red trolley.
Just before you get to Niagara Falls, stop in Erie at to dip your toes in the emerald waters of Lake Erie and enjoy all the outdoor hiking, biking, and sailing opportunities the city has to offer.
Bonus: Established in 1885, Niagara Falls State Park is the nation's oldest state park.
Our travel tips: You can save time and money with the free hop-on, hop-off Discover Niagara Shuttle around the Niagara Falls National Heritage Area's 21 visitor destinations from "Falls to the Fort."
READ MORE - Road Trip from Charlotte to Niagara Falls
25. New Orleans, Louisiana
Via Birmingham and Talladega and De Soto National Forests
13 hours from Charlotte (810 miles)
Why you should visit: The Big Easy lives up to its name with its laid-back energy and fusion of Creole and Cajun cultures, and this road trip from Charlotte will be one of a lifetime!
New Orleans has fabulous and unique food; a vibrant jazz and blues scene; stunning architecture; and an incessant and insatiable festive atmosphere. It's also a very cosmopolitan city whose attractions are not limited to its famous French Quarter.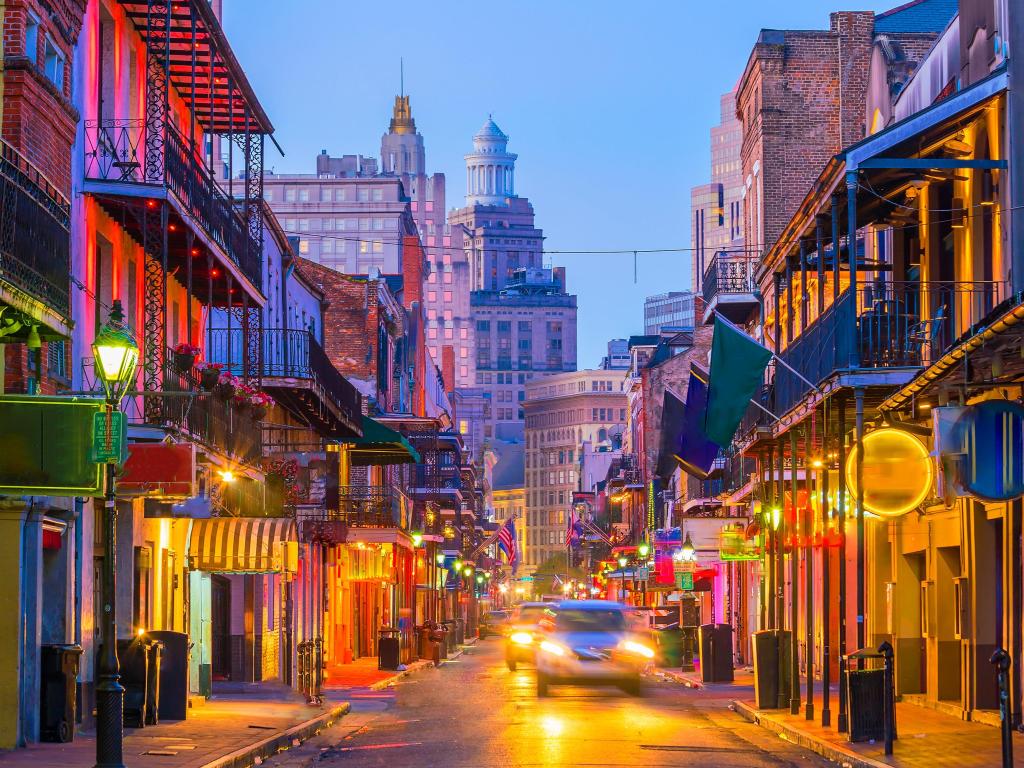 How to get there: From Charlotte, take 85 South to 20 West until you reach Birmingham. Continue on to Talladega National Forest by taking 20 West to 83 East and following signs for the forest.
From there, take 20 West to 59 South and 15 South to reach De Soto National Forest. Sail along to New Orleans with a quick drive on 59 South to 10 West, which will take you into the city.
Our highlights: The sights and sounds of the French Quarter are a great way to kick off your visit to the Big Easy. Ornate balconies peer over Bourbon Street, which is alive with music, street performers, and revelers at all hours of the day.
Stop for beignets at Cafe Du Monde and wander over to Jackson Square to enjoy them while you people watch and take in the beauty of the spired circa-1700s St. Louis Cathedral.
New Orleans' cuisine is famous for its mixture of flavors and influences and the French Quarter is brimming with excellent lunch options. For an introduction to the city's flavor profile, try gumbo, andouille sausage, jambalaya, fried oysters, crawfish etouffee, or a simple po-boy sandwich.
After lunch, head over to the historic Garden District for a stroll among its stunning houses adorned with intricate balconies spilling over with flowers and vines. To double up on the true NoLa experience, rest your legs while enjoying the sights from the St. Charles Streetcar.
You'll want to block off a full day to experience the expansive National World War II Museum, which sits halfway between the French Quarter and the Garden District.
The museum is an immersive experience that transports visitors to and through the war's theaters and pivotal moments. Be sure to leave time for the film encapsulating the war's purpose and impact narrated by Tom Hanks.
On the way to New Orleans, we have three pit stops for you. First, stop in Birmingham to trace the history of the Civil Rights movement, listen to live jazz and blues, and admire the world's largest collection of motorcycles and Lotus race cars at the Barber Vintage Motorsports Museum.
From there, drive on to stretch your legs at Talladega National Forest and hike the trails through the rolling hills, lakes, and vast protected timber forest. Make another stop at De Soto National Forest for a picnic along Black Creek.
Bonus: Though it was twice the state's capital in the past and is arguably its most famous city, New Orleans is not the capital of Louisiana.
In 1879, Louisiana moved its capital from New Orleans back to Baton Rouge, which had been chosen as a location that would be convenient for travellers and close to New Orleans but free of seasonal flooding from the Mississippi River.
Our travel tips: Mardi Gras is a fun time to visit New Orleans and experience the two-month celebration, which culminates with a big parade each year in late February or early March.
If you're into music, don't miss the annual Jazz Festival, which takes place each year in late April/early May.
READ MORE - Road Trip from Charlotte to New Orleans
26. Los Angeles, California
Via Memphis, Tennessee, Santa Fe, New Mexico, and Flagstaff, Arizona
37 hours from Charlotte (2,470 miles)
Why you should visit: Buckle up for a cross country road trip! This trek takes you across the American South, experiencing deep pockets of Civil Rights history and then the vast expanse desert with its unique culture and history before arriving at the palm tree lined streets of the City of Angels.
The undisputed capital of America's film and television industry, Los Angeles is full of glamor, bustle, and excitement. While visiting Los Angeles, you can brush elbows with the stars; scream your heart out on world-class thrill rides; and kick back and relax on its beautiful beaches.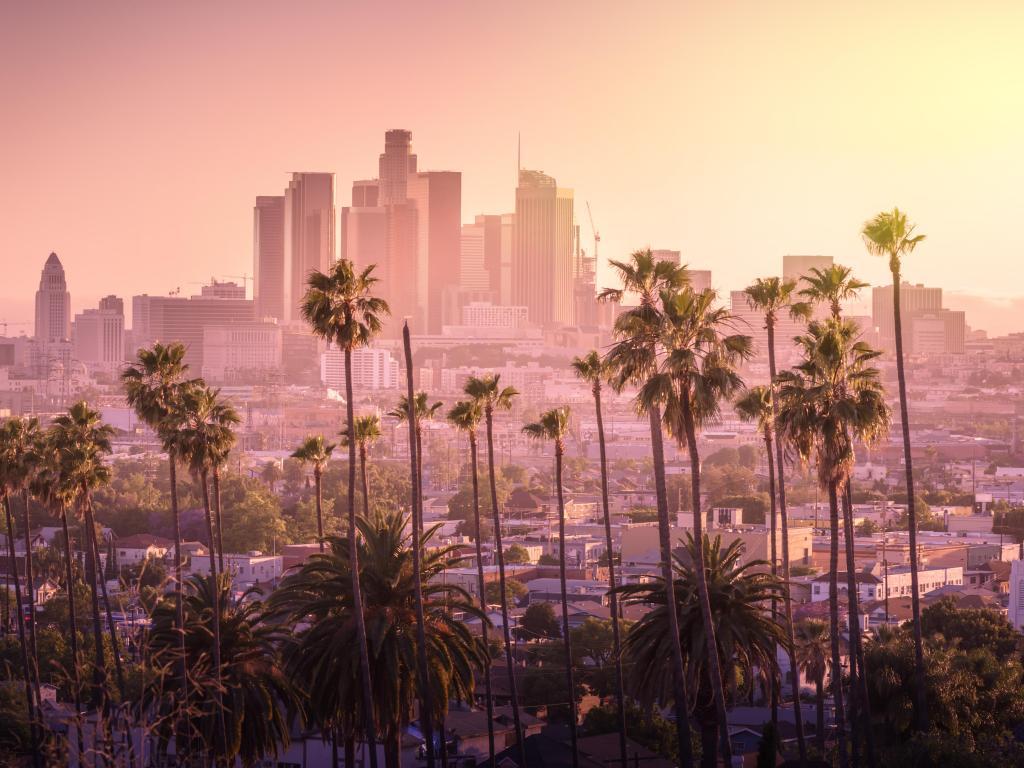 How to get there: Take 85 South to 74 West to reach Memphis. Continue on to Santa Fe by hopping on 40 West, 466 North, and then 25 South. Head toward Flagstaff on the iconic 66 West and connect to 40 West until you hit 15 South, which will lead you to Los Angeles.
Our highlights: Los Angeles is synonymous with stardom so keep your eyes peeled as you venture out in the city. Go shopping at the Grove, an outdoor mall with a high potential for celebrity sighting.
Afterword, see if you can get a table at the Ivy, a kitschy cottage setting that is a favorite for A-list celebrities. Take a page from Sheryl Crow and have some fun on Santa Monica Boulevard, which is lined with restaurants, shops, and entertainment options.
If all else fails, you can snap as many uninterrupted selfies as you want with your favorite celebrities past and present at Madame Tussauds Hollywood. You can even "shake" their hands (well, their handprints anyway) and stand in their shoes (ok, footprints) along the Hollywood Walk of Fame outside TCL (formerly Grauman's) Chinese Theatre.
Head over to Hollywood and snap selfie with the Hollywood sign, which has been a landmark since it went up in 1923 to attract buyers for a new development. Take a tour to see the star's houses and imagine what life is like behind their huge gates.
You could easily spend a full day in Santa Monica. Channel your inner child with the rides and games on at Pacific Park at the Santa Monica Pier. Stretch out on Santa Monica Beach's 3.5 miles of shoreline and watch the waves crash. Watch the sun set over the Pacific from Palisades Park, whose 26-acres overlook the ocean and the Santa Monica Pier.
If you've got time, try a different stretch of sand on Venice Beach. You'll get a kick out of people watching at Venice Boardwalk, with rollerbladers, bikers with surfboards, street performers, and bodybuilders at Muscle Beach.
North of Hollywood, visit Universal Studios Hollywood to peek behind the scenes on real production sites; hit the rides; and drink some butter beer at the Wizarding World of Harry Potter. Just outside the city, feel the enchantment of Disneyland which has been delighting visitors from all over the world since it opened its doors in 1955.
Before you depart Los Angeles, get a sense of its vastness with a visit to the Griffith Observatory. Perched atop Mount Hollywood, it's a great place to watch the lights of Los Angeles twinkle below as you look out over the city.
Split up your drive from Charlotte to Los Angeles with visits to some of the United States' iconic Southern and Southwest cities: Memphis, Santa Fe, and Flagstaff.
See a live blues show in Memphis, see how Elvis lived with a visit to his Graceland mansion, and visit the Civil Rights Museum to learn about the movement and see the motel where Martin Luther King Jr. was assassinated.
Don't let Santa Fe's rugged desert landscape fool you, the city has a vibrant art scene and is full of colonial charm and top-notch dining. In Flagstaff, you can go back in time wandering its historic downtown, exploring its Pioneer Museum, and visiting ancient pueblo at Wupatki National Monument.
Bonus: The Santa Monica Pier's Pacific Wheel is the world's first and only solar-powered Ferris wheel. Pretty neat!
Our travel tips: If you visit in late February during Oscar season, hang out near the Dolby Theatre where the award show is held, and you might get to hob nob with some of Hollywood's finest.
Likewise, the Golden Globes are held each January at the Beverly Hilton, the Grammys are held in February at the Cypro.com Arena, and Emmys happen every September at the Microsoft Theater so position yourself accordingly if you want to catch a piece of the action.
READ MORE - Road Trip from Charlotte to Los Angeles