Road trip from Charlotte to Nashville
Planning a road trip but cannot decide between an urban adventure filled with museums, live gigs, buzzing metropolises, or stunning scenery with postcard-perfect landscapes? The drive from Charlotte to Nashville has everything you have been looking for!
The 460-mile road trip from Charlotte to Nashville will take 8 hours and 40 minutes to drive. Highlights include Asheville, Bryson City, Gatlinburg, Pigeon Forge, Knoxville, Atlanta, Chattanooga, Great Smoky Mountains National Park and Dollywood.
From breathtaking national parks to some of the most famous music venues, this road trip from Charlotte to Nashville has it all. Read on below to learn more about our recommended routes, the best places to stay, top highlights, and the best seasons to travel.
How far is Nashville from Charlotte, and how long will the road trip take?
Comparison of road trip routes between Charlotte and Nashville

| Route | Distance | Driving Time |
| --- | --- | --- |
| The Great Smoky Mountains Route | 460 miles | 8 hours and 40 minutes |
| The Atlanta Route | 550 miles | 9 hours and 10 minutes |
The Great Smoky Mountains Route on a road trip from Charlotte to Nashville spans approximately 8 hours and 40 minutes, covering a distance of 460 miles.
Choosing the alternative Atlanta Route isn't very different in terms of duration, taking roughly 9 hours and 10 minutes and stretching across 550 miles.
While you can complete either route in a day, with so many incredible cities and attractions along the way, we recommend taking at least 2-3 days for a more leisurely and immersive experience.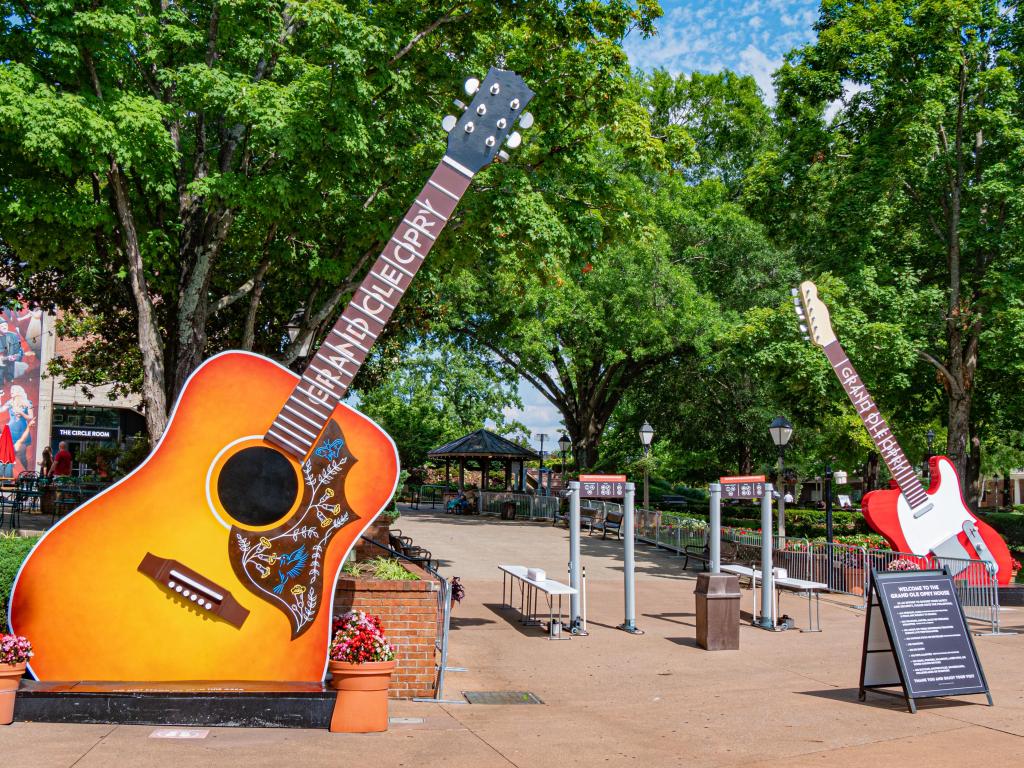 Best road trip route from Charlotte to Nashville
Both routes will be filled with incredible culture, nature, beauty, and events and end in Music City, Nashville. However, each route has its own unique charm, so which one you choose will depend on what you want to see the most.
The breathtaking Great Smoky Mountains Route carries you from Charlotte to Nashville through the majestic Great Smoky Mountain range as its name suggests. The drive offers vistas so spectacular they might seem almost unreal.
In addition to the Great Smoky Mountains National Park, you can visit national forests like Pisgah, Nantahala, and Cherokee for endless nature and hiking.
Not to be missed, the famed Dollywood in Pigeon Forge adds a touch of entertainment to your adventure. The route also takes you through picturesque cities like Asheville, the ideal entry to the Blue Ridge Parkway, and the scenic towns of Bryson City and Gatlinburg.
If you wish to visit urban hubs and charming cities instead, the Atlanta Route might be more your speed. This route brings you through southern landscapes and towns on your way to Nashville.
While there's no challenging mountainous terrain to navigate, the journey is steeped in musical legacy, particularly as you roll into Atlanta – a hub for live music. The drive also offers a scenic pit stop in Chattanooga, one of the most beautiful cities in the USA.
How to drive from Charlotte to Nashville
The map above shows our suggestions for the best road trip routes between Charlotte and Nashville. Keep reading for detailed descriptions of both routes, where to stay on either, and the best things to do on the way.
The Great Smoky Mountains Route
Starting in Charlotte on Interstate 85 (I-85), make your way northwest up to Hickory and get on I-40. Continue on to the beautiful destination of Black Mountain.
From here, continue driving on to the beautiful city of Asheville. This destination is packed with incredible nature and stunning architecture.
Continue on to Bryson City and explore the Great Smoky Mountains National Park. After exploring the great outdoors and admiring the views, take US-441 to the city of Gatlinburg.
Once you spend enough time in this incredible city, head back on route to Pigeon Forge to see the world-famous Dollywood.
Then, get back on route and drive to Knoxville. After getting your fill of this beautiful city, continue en route on I-40 through Cookeville and into your destination of Nashville.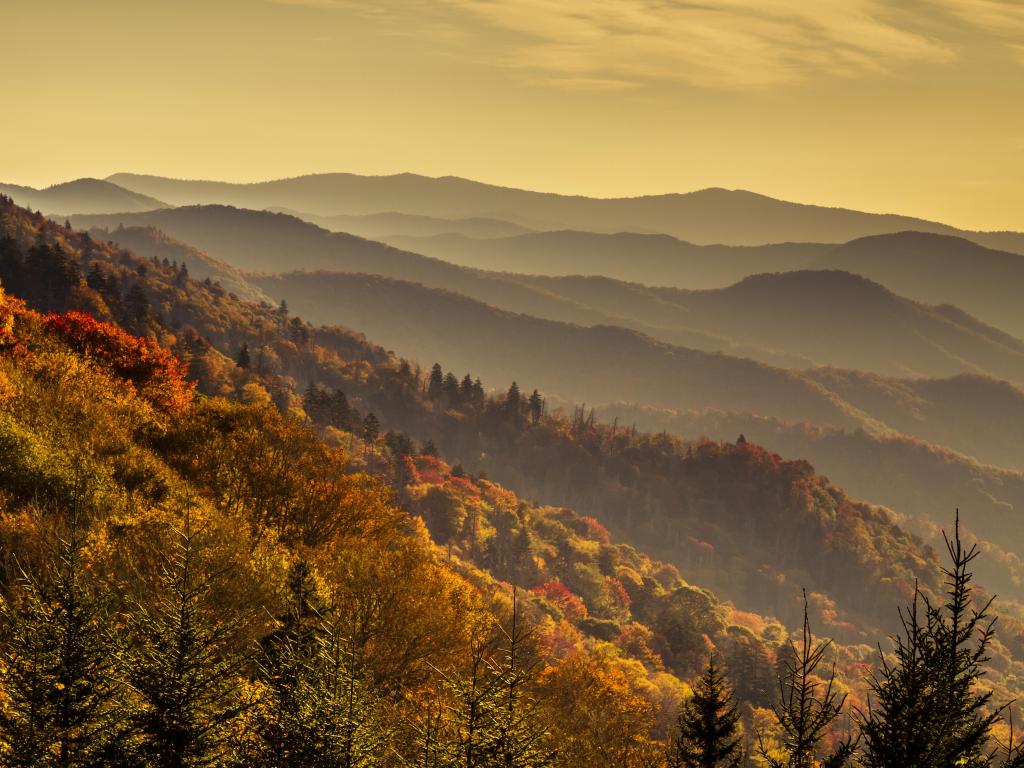 The Atlanta Route
From Charlotte, head on I-85 to Greenville. Here, you can experience the exciting downtown and visit the city's famous zoo.
Continue en route southwest to the city of Athens. After enjoying this historical city, drive into beautiful Atlanta, an urban hub that will impress you with its museums, venues and famous Atlanta Botanical Garden.
From here, drive north through Marieta and into the city of Rome. From here, take the route into the city of Chattanooga.
After enjoying the beautiful landscapes and charming city, drive past Prentice Coope State Forest and head north on I-24 to your destination of Nashville.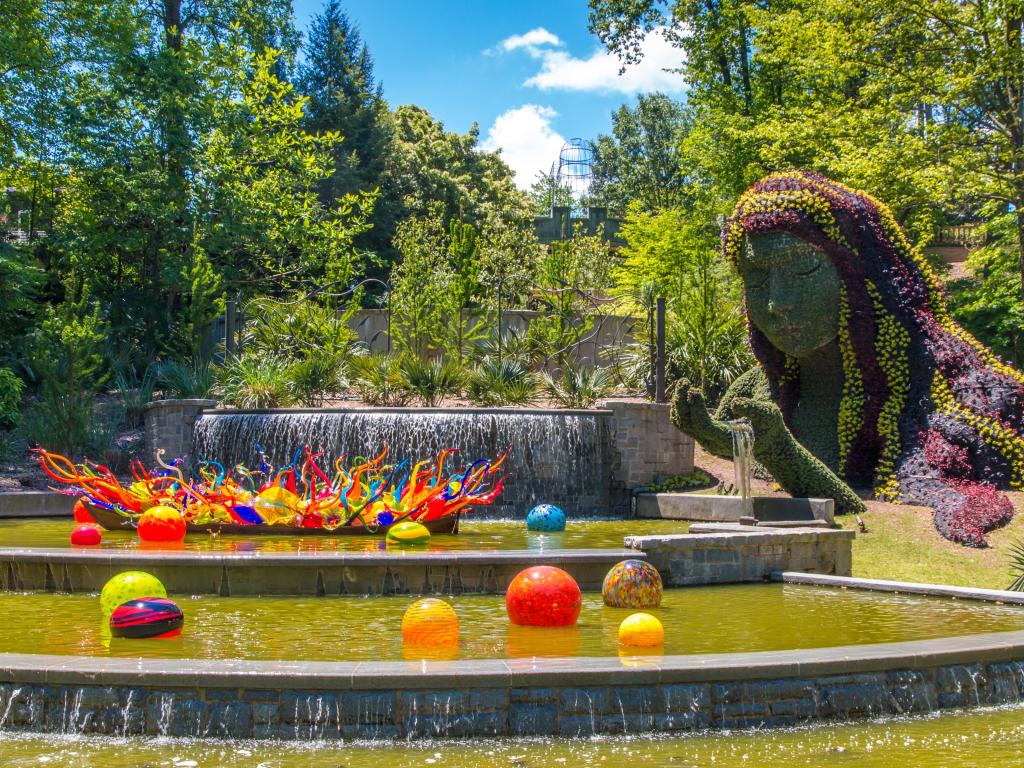 Best places to stop between Charlotte and Nashville
There are so many amazing destinations to visit along the way. To get the most out of these jam-packed regions and destinations, we recommend staying the night at one of the destinations below.
Let your inner child out in Pigeon Forge
Pigeon Forge is a perfect place to take a break on the Great Smoky Mountains Route, located about 3 hours and 40 minutes into the drive. The town's energy combined with the backdrop of the Smokies will surely captivate you.
One of the must-visit places in Pigeon Forge is the enchanting Dollywood - an amusement park co-owned by the country music icon, Dolly Parton. Here, you can immerse yourself in thrilling rides, toe-tapping music, and the rich Appalachian culture.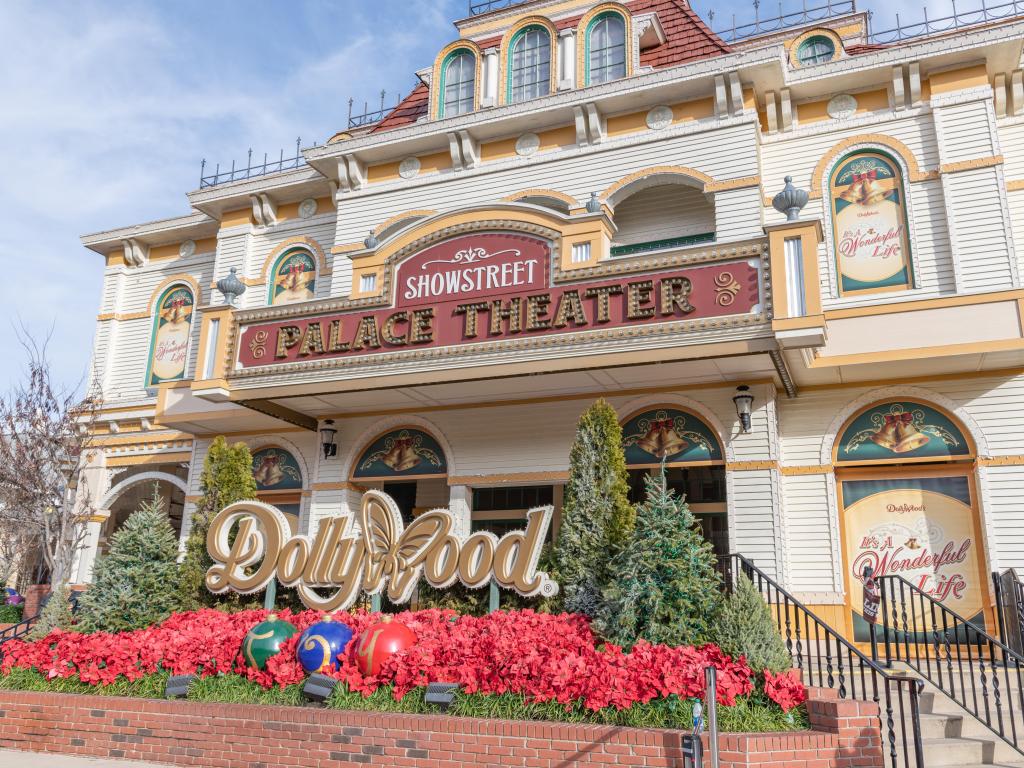 Another major attraction is the Great Smoky Mountains National Park itself. This gorgeous UNESCO World Heritage site offers a myriad of hiking trails, cascading waterfalls, and breathtaking vistas. Delve deep into its wild woods and marvel at the fascinating fauna.
While in Pigeon Forge, we suggest staying at the luxurious RiverStone Resort & Spa. This exceptional resort is nestled close to both the grandeur of the Smokies and the nonstop fun of the town, featuring plush condos, rejuvenating spa facilities, and entertainment for the entire family.
During your stay, you'll have a beautiful view, two swimming pools, and a hot tub to enjoy. If you're looking to explore further, the Dolly Parton's Stampede Dinner Theatre is a mere half-mile away. Additionally, the Titanic Museum Experience is just a 10-minute drive from the property.
Admire the cityscape in Atlanta
Atlanta is an ideal place to pause on the Atlanta Route, located approximately 4 hours and 30 minutes into your journey. This bustling metropolis, dripping with southern charm, offers a blend of history, culture, and artistry, plus plenty of amazing bars and restaurants.
One of our favorite places to visit in Atlanta is World of Coca-Cola, an immersive museum where you can learn about the history of the world's most famous beverage. Revel in taste-testing sessions, witness the bottling process, and maybe even discover some of the brand's most guarded secrets.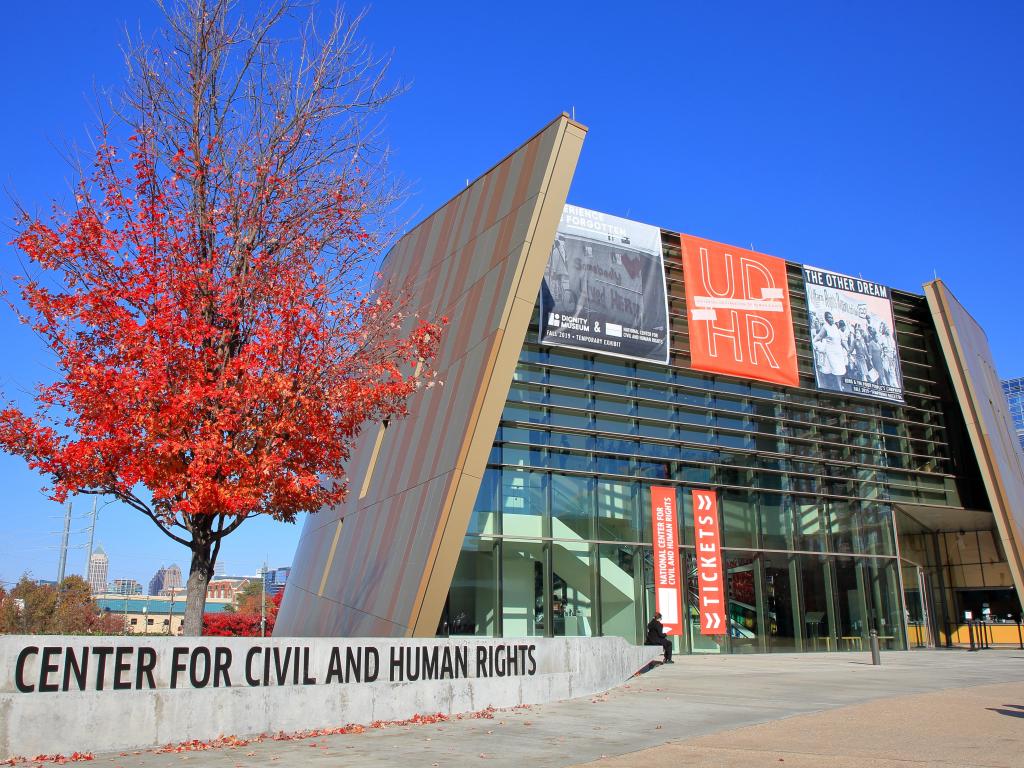 Another of the city's highlights is the poignant National Center for Civil and Human Rights. This institution offers a deep look into America's Civil Rights Movement, as well as global human rights issues.
While exploring Atlanta, we recommend a stay at the highly-rated Thompson Atlanta Buckhead. Located in the upscale Buckhead area, this hotel boasts of a sleek design coupled with unbeatable views.
Whether you're lounging at the rooftop bar and pool, dining at their exquisite on-site restaurant, or sipping on expertly crafted cocktails, the Thompson promises a luxurious experience.
For those eager to explore the vicinity, the vibrant Atlanta Botanical Gardens are just a 10-minute drive away, offering plenty of floral beauty. Additionally, a short 15-minute walk will take you to the Atlanta History Center.
Where to stay when you reach Nashville
Nashville deservingly holds its reputation as the epicenter of American music. From the soulful twangs of country to the vibrant beats of bluegrass, this city serenades you at every turn.
If you're itching to experience the musical roots of the city, the Country Music Hall of Fame and Museum is a must-visit, celebrating the legends and legacies of the genre.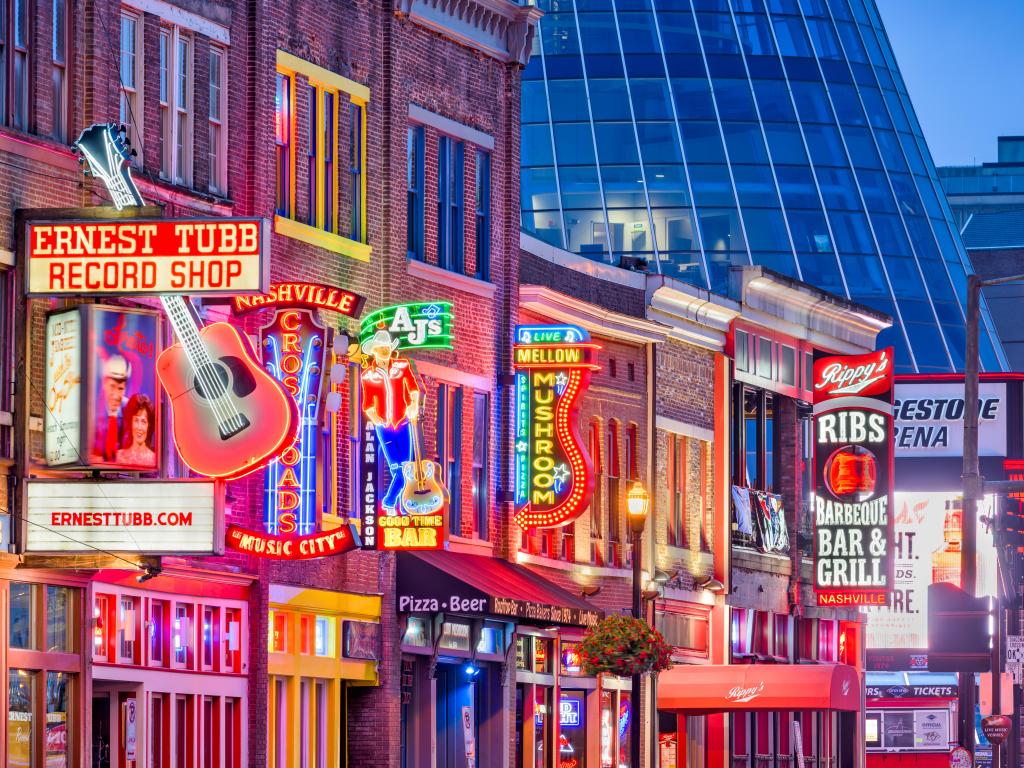 Take a step back in time as you stroll through Nashville's Old Town, where the streets reverberate with tales of yesteryears intertwined with the melodies of today.
A noteworthy mention, especially for aspiring musicians and songwriters, is Nashville's 'Tin Pan South', the world's largest songwriter festival, showcasing the city's commitment to nurturing and celebrating the art of songwriting.
Nestled in this music city's exciting downtown is The Hermitage Hotel, a Nashville institution with over a century's history wrapped in luxury.
While the hotel's high-end restaurants promise an unforgettable dining experience like nothing else, you'll find endless dining opportunities within walking distance, each offering a taste of the South.
Things to see on a road trip from Charlotte and Nashville
Within this short drive are tons of memorable highlights, beautiful views, and endless cultural attractions to explore. To help your planning go smoother, we've included our top destinations to visit below.
Great Smoky Mountains Route
River Arts District, Asheville - Nestled in Asheville, the River Arts District is a vibrant and eclectic area home to numerous artists' studios, galleries, and workshops. You can immerse yourself in the local art scene, with colorful murals and street art accenting historic industrial buildings.
Lake Junaluska - Lake Junaluska is a tranquil retreat set against the backdrop of the Smoky Mountains, offering serene waters and picturesque views. The area hosts spiritual retreats, conferences, and festivals, ensuring a blend of relaxation and community engagement.
Dillsboro Chocolate Factory - This delightful establishment in Dillsboro offers an array of artisan chocolates, handmade confections, and sweet treats. Visitors can indulge in rich flavors and watch chocolatiers craft their creations through viewing windows.
Great Smoky Mountain Railroad - A historic railroad that offers scenic journeys through the majestic landscapes of the Great Smoky Mountains. Travelers can relish panoramic views from vintage cars and enjoy themed events like the Polar Express during holiday seasons.
Museum of Cherokee Indian - This museum in Cherokee provides an in-depth look into the rich history, culture, and traditions of the Cherokee Nation. Interactive exhibits, ancient artifacts, and multimedia presentations make it a comprehensive and educational experience.
Great Smoky Mountains National Park - A UNESCO World Heritage Site, this national park boasts a diverse ecosystem, stunning vistas, and abundant wildlife. With over 800 miles of trails, it's a paradise for hikers, nature enthusiasts, and photographers.
Gatlinburg SkyLift Park - Offering spectacular views of the Smoky Mountains, this park features the SkyLift chairlift, a suspension bridge, and elevated viewing platforms. It's a must-visit for panoramic vistas of Gatlinburg and the surrounding landscapes.
Dollywood - Co-owned by country music legend Dolly Parton, Dollywood is a vibrant theme park in Pigeon Forge celebrating music, the Smoky Mountains, and southern hospitality. The park features thrilling rides, live entertainment, and showcases the cultural heritage of the region.
World's Fair Park Knoxville - Commemorating the 1982 World's Fair, this park in Knoxville boasts iconic structures like the Sunsphere and offers green spaces, water features, and performance venues. It serves as a venue for festivals and concerts.
Cookeville Depot Museum - Located in the historic train depot of Cookeville, this museum offers insights into the railroad history of the region. Displaying vintage railroad equipment, artifacts, and memorabilia, it takes visitors on a nostalgic journey through time.
Center Hill Lake - A pristine reservoir nestled in the hills of Tennessee, Center Hill Lake is a hotspot for boating, fishing, and camping. Its serene waters and scenic surroundings make it a favorite getaway for nature lovers.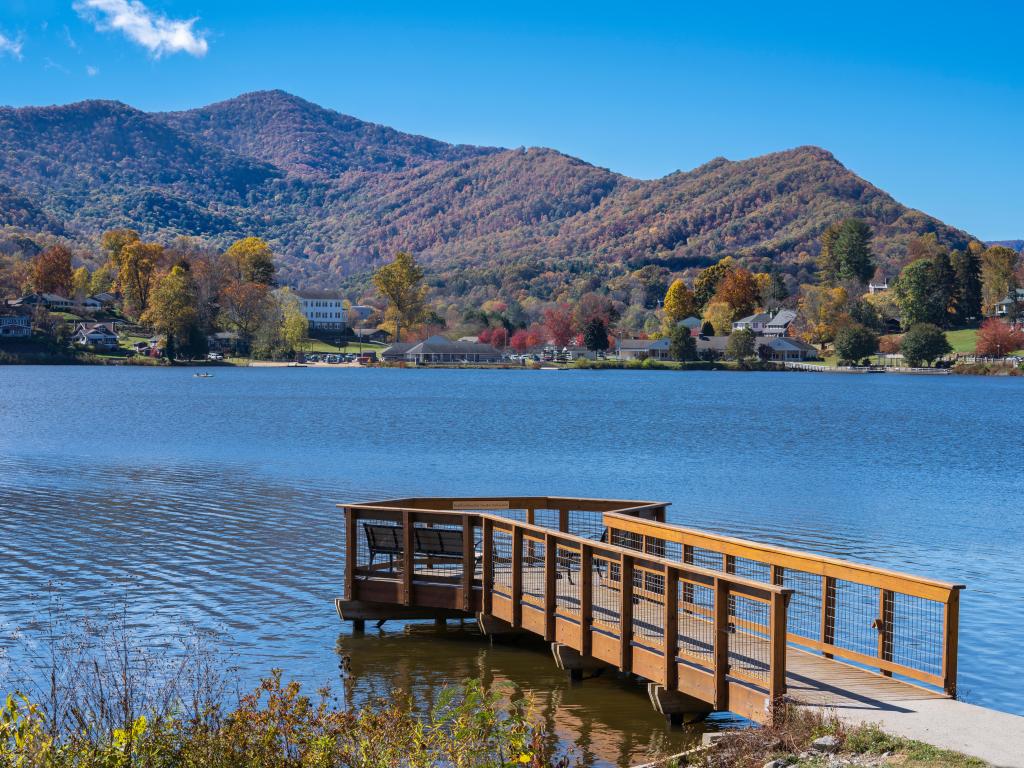 Atlanta Route
Adventure Landing Gastonia - A family-friendly entertainment center in Gastonia, Adventure Landing offers mini-golf, arcade games, and batting cages. It's a perfect spot for a day of fun and recreation for both kids and adults.
Crowders Mountain State Park - Dominating the landscape near Gastonia, Crowders Mountain State Park offers rugged terrain, soaring peaks, and extensive hiking trails. It provides breathtaking views of the surrounding region, making it a favorite among hikers and rock climbers.
Peachoid - An iconic water tower in Gaffney, South Carolina, the Peachoid stands as a quirky tribute to the region's peach industry. Resembling a giant peach, it's a popular roadside attraction and symbol of local pride.
Greenville Zoo - Located in the heart of Greenville, this zoo showcases a diverse collection of animals from around the world. It's a great destination for families, offering educational programs and up-close animal encounters.
Anderson County Museum - Highlighting the rich history of Anderson County, this museum offers exhibits showcasing artifacts, photographs, and memorabilia. Visitors can delve into the area's past, from Native American history to modern times.
Lake Hartwell State Park - Straddling the border between Georgia and South Carolina, Lake Hartwell offers recreational activities like boating, fishing, and camping. The state park provides scenic lake views, well-maintained facilities, and a peaceful ambiance.
Georgia Museum of Art - Located in Athens, this museum is the official state museum of art and boasts a rich collection of American and European artworks. Rotating exhibitions and educational programs make it a cultural hub in the region.
World of Coca-Cola - This interactive museum in Atlanta celebrates the iconic beverage, offering a multi-sensory experience with exhibits, tasting sessions, and behind-the-scenes looks. Visitors can discover the history, manufacturing process, and global impact of Coca-Cola.
Martin Luther King Jr Historical Site - Situated in Atlanta, this site honors the life and legacy of Dr. Martin Luther King Jr. It encompasses his childhood home, Ebenezer Baptist Church, and his final resting place, providing a deep insight into the Civil Rights Movement.
Six Flags White Water - A premier water park located near Atlanta, Six Flags White Water offers thrilling slides, lazy rivers, and splash zones. It's a summer favorite, providing a refreshing escape from the southern heat.
Lake Allatoona - A sprawling reservoir in Georgia, Lake Allatoona offers recreational opportunities like boating, fishing, and picnicking. The scenic shores and calm waters make it a popular weekend destination.
Southern Belle Riverboat - An iconic attraction in Chattanooga, the Southern Belle Riverboat offers scenic cruises along the Tennessee River. Guests can enjoy dining, dancing, and panoramic views of the city and surrounding landscapes.
Old Stone Fort State Archaeological Park - Located in Manchester, Tennessee, this park protects Native American archaeological sites dating back over 2,000 years. The park features hiking trails, waterfalls, and informative displays about the area's prehistoric inhabitants.
Earth Experience – Middle Tennessee Museum of Natural History - Situated in Murfreesboro, this museum offers insights into the planet's history, geology, and paleontology. Exhibits include fossils, minerals, and a full-size T-Rex replica, making it a treasure trove for earth science enthusiasts.
Stones River National Battlefield - A historic site in Murfreesboro, this battlefield commemorates a pivotal Civil War battle. Visitors can explore the preserved grounds, monuments, and a national cemetery while learning about the events that shaped the nation's history.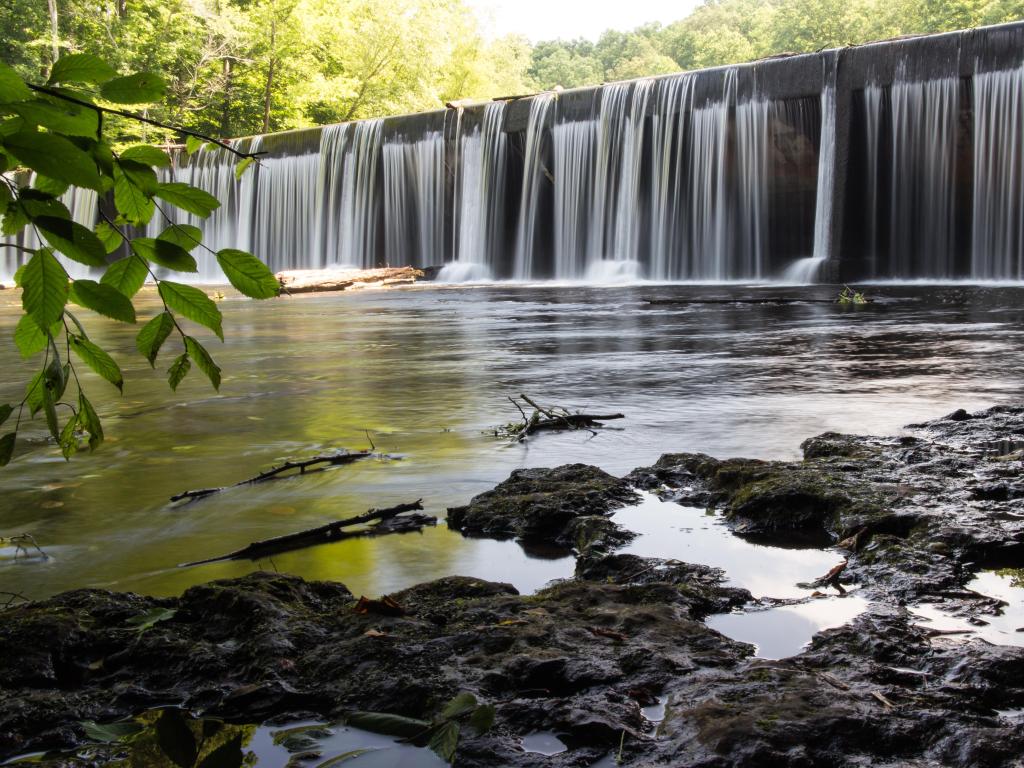 Best time to go on a road trip from Charlotte to Nashville
Nashville, often known as the heart and soul of music in the US, is the perfect destination throughout the year. The city's temperatures vary, giving you a full spectrum of seasonal experiences.
Winters can get chilly, with temperatures falling between 30 and 50 degrees Fahrenheit. During the winter, you'll get to experience Winterfest in Pigeon Forge and Gatlinburg between November and February.
If you travel during winter, be mindful of snowfall and ice, especially in the mountains. Although rare, snowstorms can turn the mountain passes into a difficult drive.
Springtime sees a comfortable range between 55 and 75 degrees, making it an ideal time to indulge in the city's many outdoor offerings, such as the Cherry Blossom Festival in April.
Also in spring is April's Dogwood Arts Festival in Knoxville. Here, you'll get to experience local and national artists, plus plenty of other excitement and live events.
Summer is hot in the south, with temperatures reaching 90 degrees in Nashville but pleasant in the mountains. You'll be able to see events such as the CMA Music Festival in June, Music Midtown in Atlanta in September, and the Chattanooga Film Festival in July.
Fall is a beautiful time to travel, with plenty of fall foliage and pleasant temperatures between 50 and 70 degrees Fahrenheit. You'll be able to experience Thanksgiving Day parades and the excitement of football season.