Road Trip from Charlotte to Orlando
What's the first thing that comes to mind when we say Orlando, Florida? If you pictured a particular mouse and his friends, we get it. Orlando is a playground for all kinds of entertainment - and this scenic road trip from Charlotte to Orlando will get you there.
The 630-mile road trip from Charlotte to Orlando will take about 11 hours to drive nonstop. Notable sights are Columbia, Charleston, Beaufort, Brunswick, Savannah, St Augustine, Jacksonville, Atlanta, Macon, and Ponce de Leon Inlet Lighthouse.
Weave through the southern USA on this drive featuring a mix of coastal and big city attractions. With ocean views and entertainment for everyone, you'll want to see, do and eat as much as possible. Read on to find out how to do that.
How far is Orlando from Charlotte, and how long will the road trip take?
Comparison of road trip routes between Charlotte and Orlando

| Route | Distance | Driving Time |
| --- | --- | --- |
| The Charleston Route | 630 miles | 11 hours |
| The Atlanta Route | 910 miles | 16 hours 40 minutes |
The Charleston Route is mostly direct, with an 11-hour drive covering 630 miles nonstop. It passes along the coast of the Atlantic Ocean and does not account for any detours along the way.
The Atlanta Route is about 16 hours and 40 minutes, covering 910 miles. It's a much longer path through larger cities in Georgia.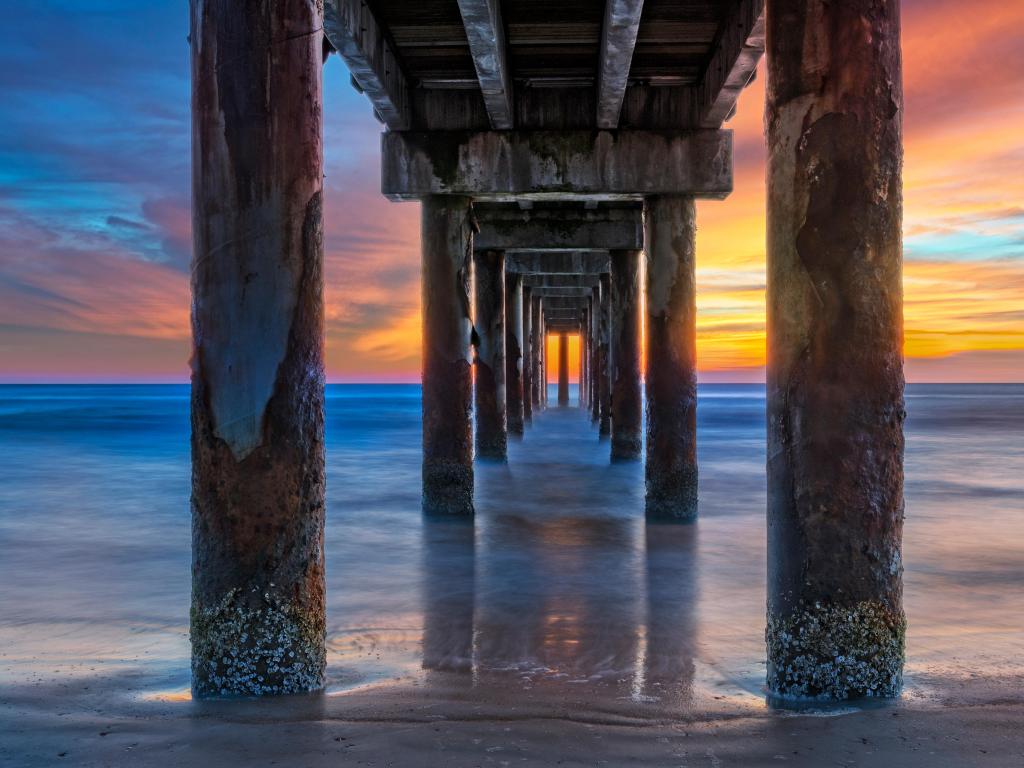 Both routes pass through scenic states with lively tourist cities, so we recommend setting aside at least four to five days for the drive to enjoy the journey to the fullest.
Best road trip route from Charlotte to Orlando
From the Deep South to sunny Florida, there's nothing more exhilarating than hitting the open road on the Southern coast. Traveling from Charlotte to Orlando means visiting major US hubs and landmarks while enjoying the cool ocean breeze.
The Charleston Route is coastal, with the gorgeous sea alongside you. Small towns like Beaufort and St Augustine are charming stops on this route. Experience signature Southern hospitality in cities like Charleston and Savannah. Take a detour to Jekyll Island - it's the perfect beach hideaway.
Big city attractions, buzzing nightlife, and Gulf Coast views are the highlights of the Atlanta Route. It's a leisurely trip through Georgia and Florida, with stops in Columbus, Atlanta, and Tallahassee.
If you want a direct drive to Florida while exploring a few cities, then the Charleston Route is for you. If you have time to spare, consider the Atlanta Route to explore more of the South. Both routes are exciting previews of what to expect in Orlando.
The Charleston Route
Follow Interstate 77 (I-77) S out of Charlotte to Charleston, your first stop. Drive through the streets of this historic town and check out the Fort Sumter National Monument, Magnolia Plantation and Gardens, and Rainbow Row to appreciate this city's antebellum architecture.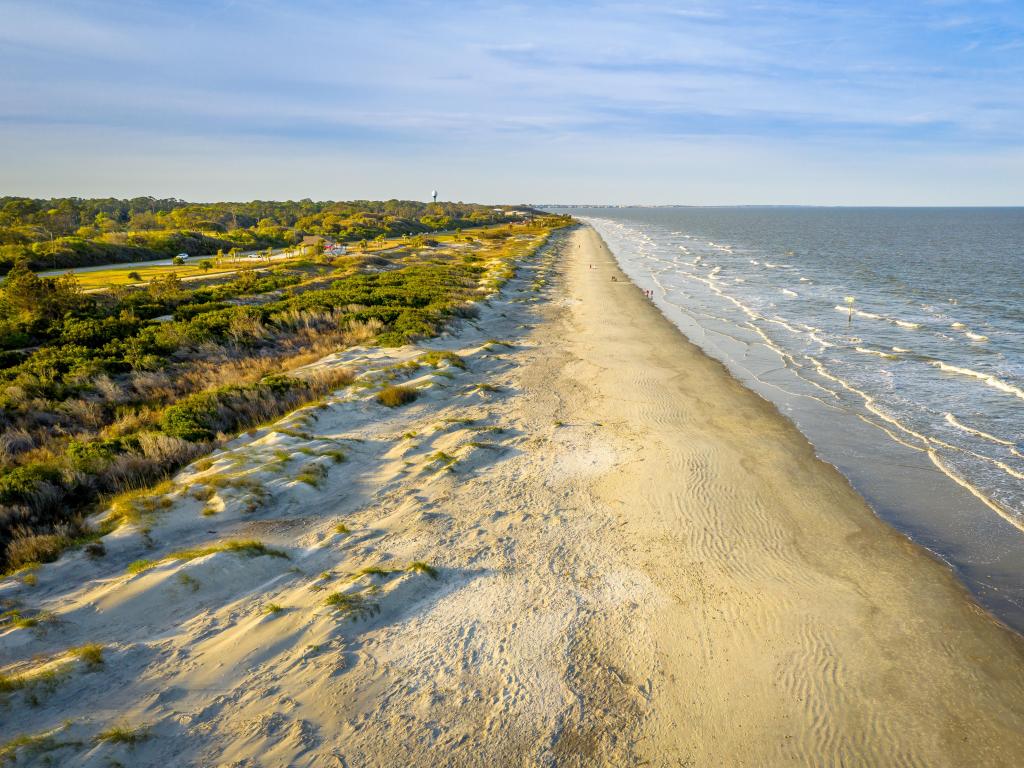 When ready, head to Beaufort on Hwy 17 S. This lovely port city has the perfect mix of small-town amusements and postcard-perfect views. It's also the film locations of Forrest Gump, The Big Chill, and The Prince of Tides.
Explore and then take SC-170 W to Savannah and stay here overnight. This friendly coastal city is a visual feast: beautiful views, well-preserved architecture, and vibrant city skylines. Enjoy the sights, food, and drink here before hitting the road again on the I-95 S.
Breathe in the fresh air of the Atlantic Ocean and take a detour to Jekyll Island. The pristine beaches and tranquil wilderness of this area are worth stopping for. When you're ready to tackle the road again, get onto I-95 S.
As you enter Florida, stop at St. Augustine, a beautiful, historic place that's said to be the oldest US city. There are some fascinating sights and plenty of Spanish colonial architecture to enjoy.
Take your time, then follow the I-95 S to your final stop, Orlando.
The Atlanta Route
From Charlotte, take the I-85 S to your first stop, Greenville. There's a charming downtown district here with a thriving performing arts scene. Explore and enjoy before hitting the road to Athens on the GA-106 S.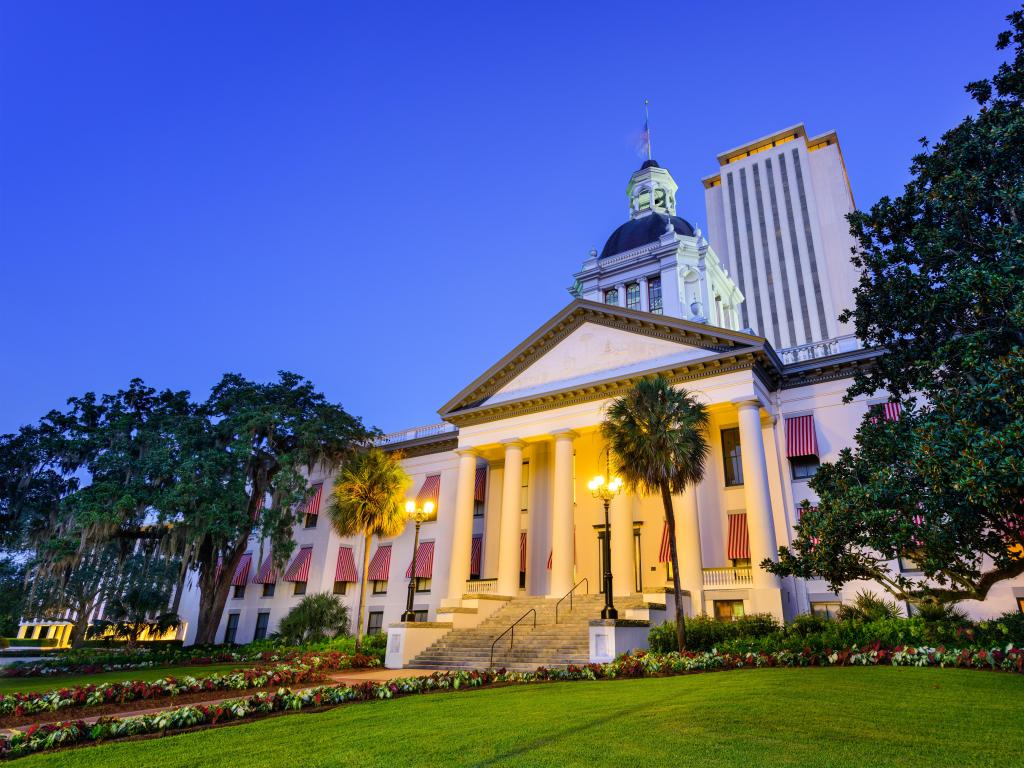 Athens is a curious little college town with interesting antebellum architecture and Civil War history. Go sightseeing, then head out to Atlanta on the GA-10 Loop.
An entertainment capital, Atlanta is so iconic that it has its own TV show. Stop here overnight to understand why. Take a walk and enjoy the glittering skylines, delicious food, museums, and green spaces. It'll be hard to say goodbye, but when you're ready, get onto the I-85 S.
Stop at Macon, a fascinating city with interesting museums, and Columbus, a beautiful port town that offers travelers exciting outdoor adventures. From here, go to Tallahassee on US-431 S. It's a quaint state capital with rolling hills. Explore and then get back on the US-98 S.
Stop at Crystal River, a picturesque coastal city with beautiful wildlife refuges and natural springs. Go hiking and swimming before getting on the US Hwy 41 N to Ocala, a scenic town with historic sites and outdoor activities.
Enjoy the serenity, then head to your final stop, Orlando, on the FL-414 E.
Best places to stop between Charlotte and Orlando
You won't have to drive far on this road trip from Charlotte to Orlando to find good music, food, and good old Southern hospitality. The serene views of the sea are spectacular whether you're driving along the Atlantic or the Gulf coastlines.
You will want to explore as much as possible on this road trip, so here are some great recommendations for overnight stops on each route.
Get a dose of Southern hospitality in Savannah
Travelers have dubbed Savannah one of the world's friendliest cities, so it's safe to say this is a great place to make a pit stop. It's about halfway on the Charleston Route.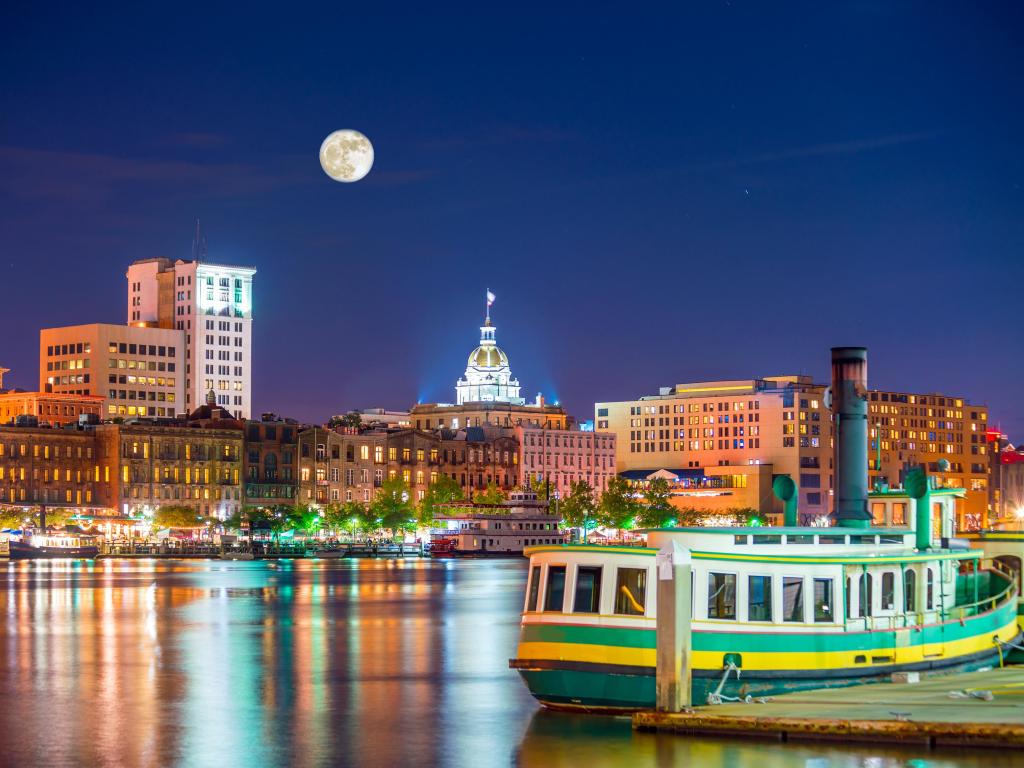 This historic city is enchanting inside and out, with stunning architecture, culture, and history. Explore the Savannah Historic District - including City Market, Ellis Market, and Franklin Square, a cobblestoned area with shopping, dining, and entertainment.
For nature lovers, Forsyth Park is a beautiful place for a stroll or a picnic. Visit the Cathedral Basilica of St. John the Baptist and the Georgia State Railroad Museum to learn some history. Don't forget to try out the local cuisine and enjoy the bustling nightlife – it's one of the highlights of this town.
While in Savannah, we suggest staying at the JW Marriott Savannah Plant Riverside District. This gorgeous hotel is centrally located on the riverfront and has private parking. The suites are so spacious and comfortable, you may want to move in!
You can enjoy a meal at the fabulous onsite restaurant if you don't feel like venturing out or. get luxury treatments at the spa and wellness center for the ultimate relaxation.
The JW Marriott Savannah Plant Riverside District is within walking distance of the Savannah Historic District and the Cathedral Basilica of St. John the Baptist. It's about 2 miles away from Forsythe Park.
Feel the heat in Atlanta
Stop in Atlanta – just over halfway on the Atlanta Route. Atlanta has diverse culture, food, and nightlife and the city hosts tons of festivals and events throughout the year, so there is something to do no matter when you decide to visit.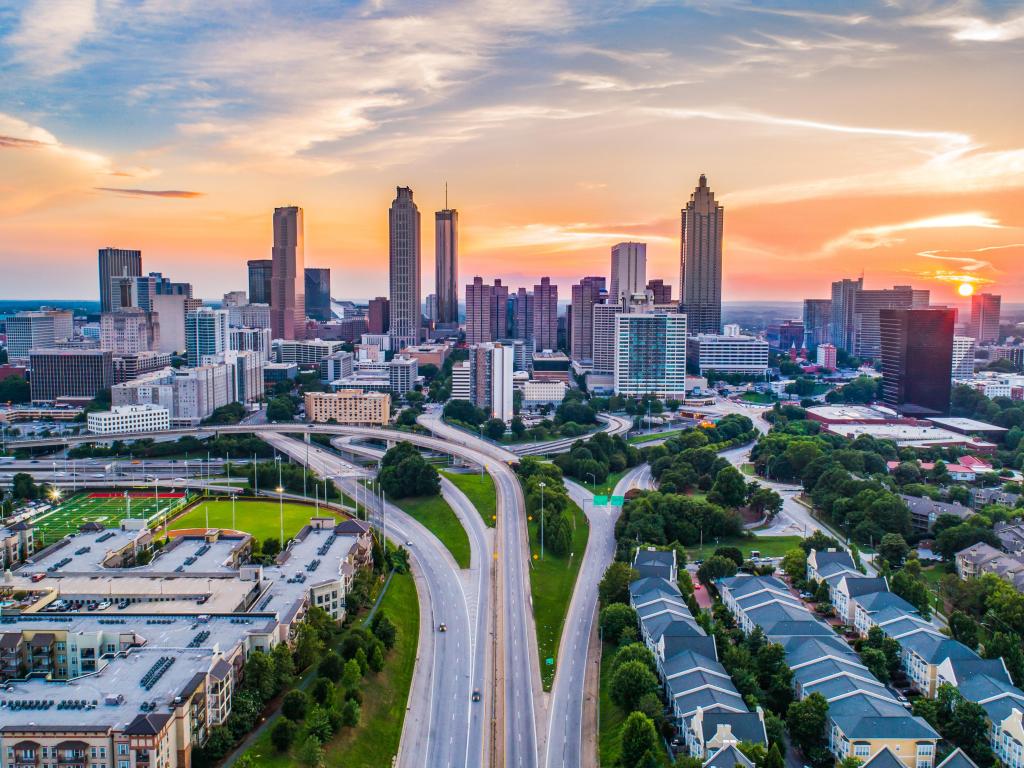 Check out the iconic Coca-Cola HQ while here. If you're into aircraft, the Delta Flight Museum has interactive exhibits and vintage planes. The Zoo Atlanta is a great place to see over 1500 animals. The High Museum of Art has a stunning collection of visual art.
Catch a show at the FOX Theater and stroll around the beautiful Atlanta Botanical Garden or Piedmont Park. Explore Buckhead Village – a lavish neighborhood of the city's best nightlife.
We suggest staying at Epicurean Atlanta while here. It's a beautiful, contemporary hotel in downtown Atlanta with free parking for guests. The rooms are stylish, spacious, and comfortable. There are gorgeous city skyline views from the suites.
Head to the bar and restaurant to enjoy a meal and a cocktail. There's an outdoor swimming pool, so take a dip, or work on your tan on the terrace. The hotel has a fitness center on-site.
The Epicurean Atlanta is about a mile from the Atlanta Botanical Garden, Piedmont Park, and FOX Theatre. There are entertainment, shopping, and dining options all around the hotel.
Where to stay when you reach Orlando
Orlando may be the "Theme Park Capital of the World", but it has so much more to offer visitors. There truly is something for everyone in this urban and natural playground.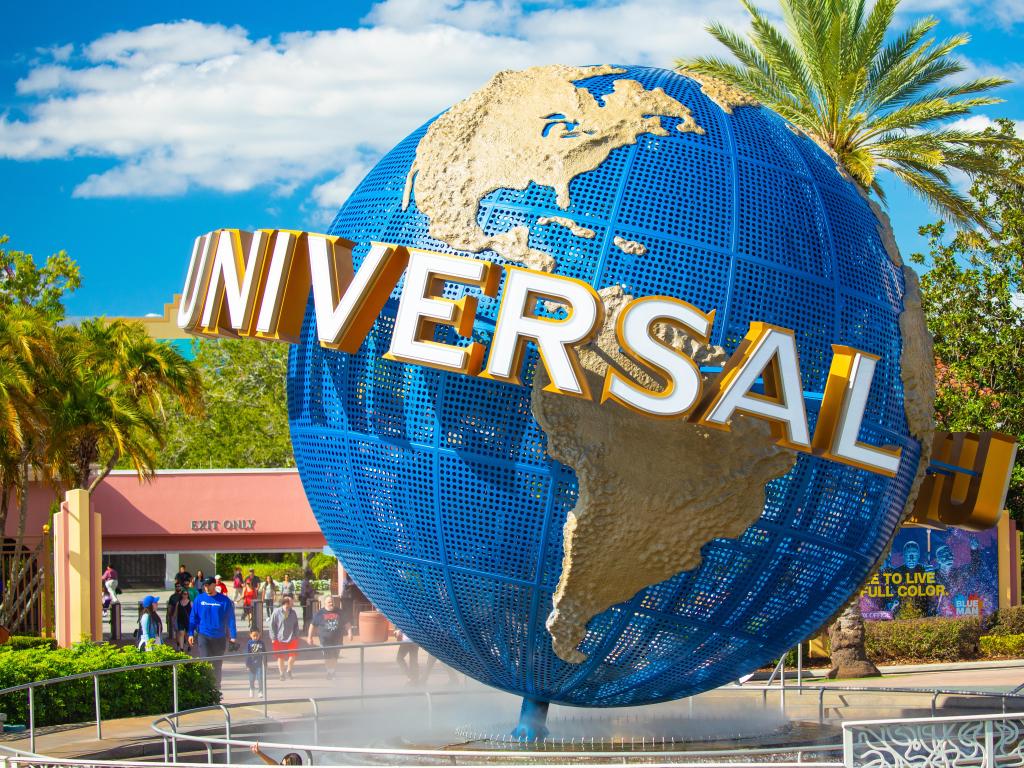 Of course, the iconic Disneyworld is at the top of the itinerary, so enjoy Magic Kingdom and Mickey. Be sure to visit other theme parks like Aquatica Orlando, Discovery Cove, and Universal Orlando.
Visit SeaWorld and Gatorland and check out the Kennedy Space Center Visitor Complex and Madame Tussauds Orlando. Old Town is a unique entertainment, dining, and shopping district. This city has over 6,000 restaurants featured in the Michelin Guide, so eat as much as you want.
We suggest staying at the iconic Four Seasons Resort Orlando at Walt Disney World Resort. It's the perfect hotel to end your road trip and is a luxury stay with sprawling gardens, pools, and palm trees.
There are six on-site restaurants overlooking the beautiful lakeside. The hotel has a private 5-acre water park on site – with water slides, a lazy river, and a camp for kids. For adults, there is the Oasis, an infinity-edge pool dotted with palm trees. There is a luxurious spa and salon with a fitness center for guests.
Things to see on a road trip from Charlotte to Orlando
Ocean views, city sights, and vibrant entertainment are the highlights of this trip from Charlotte to Orlando. From South Carolina to Florida, the south coast is beautiful, distracting, and absolutely worth tripping through.
Here's a list of things to do, places to visit, and cities to pop into on both routes.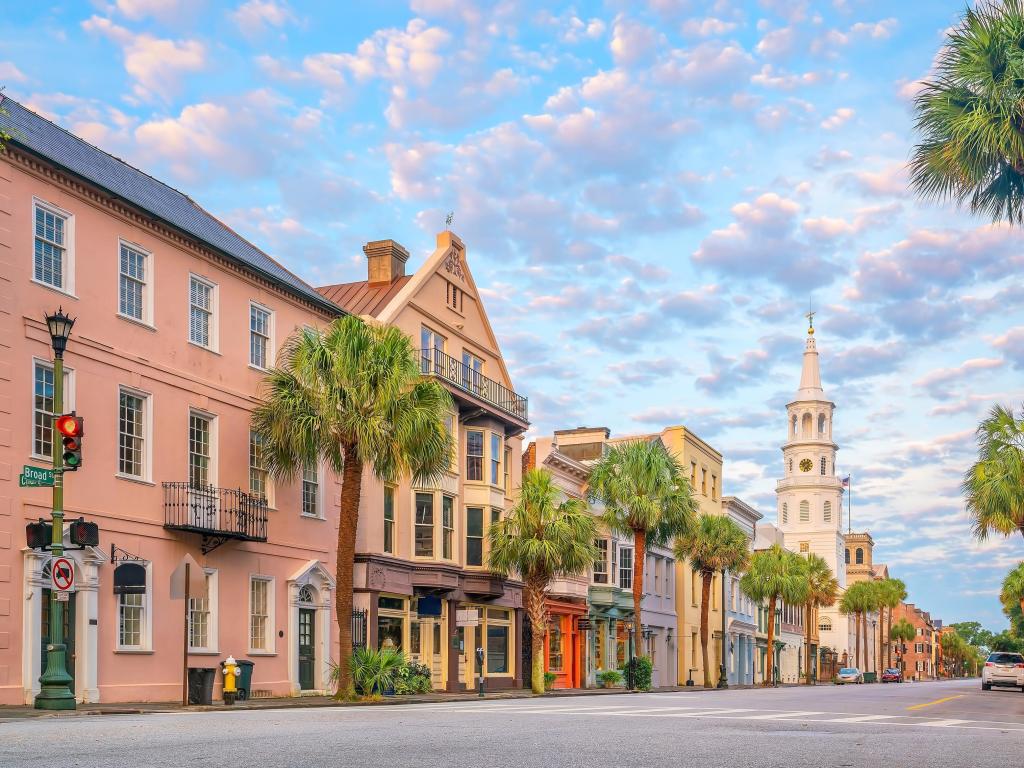 The Charleston Route
Columbia Museum of Art, Columbia – Located in downtown Columbia, take a tour and explore the exhibits and rich collections of contemporary and historic art.
South Carolina State Museum, Columbia – There are four floors of art, history, nature, and science and tech exhibits to explore at this fascinating museum.
Cypress Gardens, Charleston – You may recognize some towering trees in this beautiful garden because it's a popular film location. Take a boat tour and enjoy the pretty butterfly enclosure.
McLeod Plantation Historic Site, Charleston – This massive plantation features a Georgian-style mansion with slave cabins – a dark reminder of American history.
Henry C Chambers Waterfront Park, Beaufort – What better place for a rest stop than a riverfront park? Enjoy the green space and playground.
Savannah Wildlife Refuge, Savannah – Just outside of Savannah, this beautiful park is about 29000 acres. Go hiking, biking, fishing, and wildlife-watching here.
Pinball Palace, Brunswick – This quaint little attraction has almost 100 pinball machines, 40 arcade games, and three bouncy castles. Great for kids and nostalgic adults!
McIntosh Sugarmill Park, Georgia – Just outside of Jacksonville, this historical landmark features ruins from a 19th-century sugar mill. The grounds are beautiful, with picnic tables and massive oak trees.
St. Augustine Alligator Farm, Florida – This 100-year-old alligator sanctuary has dozens of species of birds and reptiles. Enjoy the daily wildlife shows and go on a thrilling zipline ride over the zoo.
Ponce de Leon Inlet Lighthouse, Florida – A neat and historic lighthouse attraction with stunning views of the Florida coast from the top. There's also a museum here.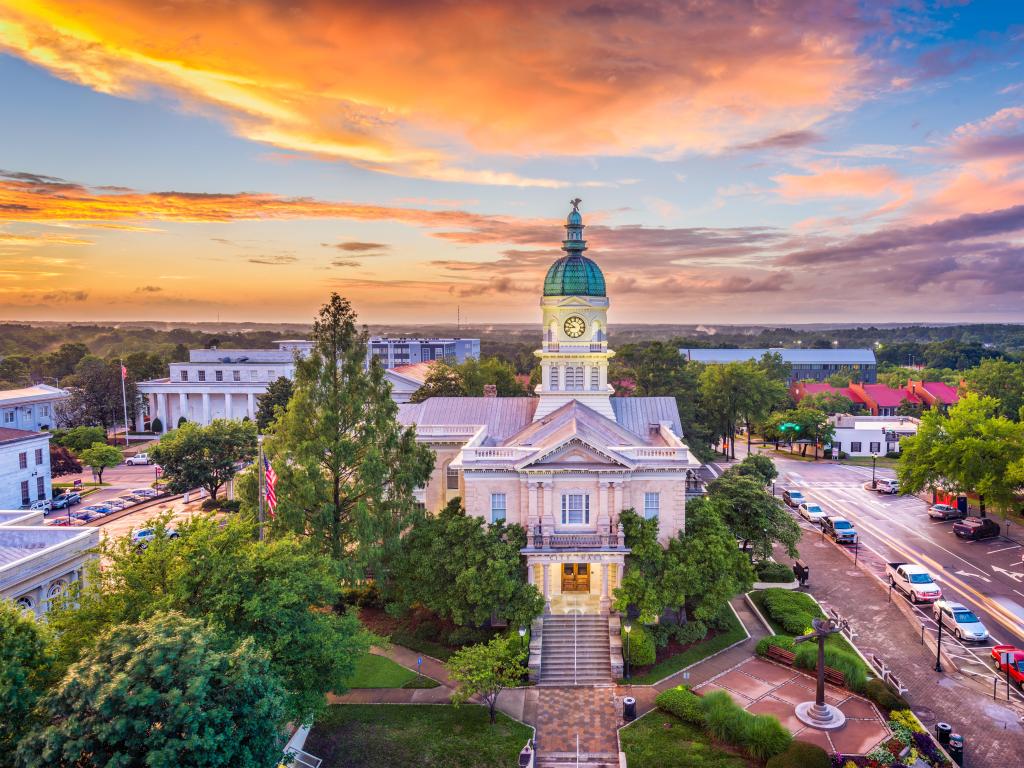 The Atlanta Route
Adventure Landing Gastonia, North Carolina – An amusement park for the whole family. Enjoy baseball/softball batting cages, mini-golf, and a huge collection of arcade games.
Kings Mountain State Park, South Carolina – Go hiking or horse riding in this stunning park, with picture-perfect lakes and a replica of a 19th-century farm.
The Peachoid, South Carolina – You'll have to drive a little off route to find this silly roadside attraction – it's a 135-ft tall water tower resembling a giant peach.
Lake Hartwell State Park, South Carolina – Lake Hartwell is beautiful and serene. It's a popular place for boating, fishing, and hiking.
Zoo Atlanta, Atlanta – Before you get into Atlanta, visit Zoo Atlanta. The enclosure features over 1500 animals, including dozens of adorable pandas.
Southern Belle Farm, Georgia – This fun family-owned farm offers fresh produce and berry and peach picking. Take a min to sample the cobblers, jams, preserves, and pastries.
Jarrell Plantation State Historic Site, Georgia – About twenty minutes from Macon, this historic site is a stark look at Georgia's slave history.
Ocmulgee Mounds National Historic Park, Georgia – This park was the site of the largest archeology dig in American history and has fascinating Native American ceremonial earth mounds. There is a museum with artifacts dating back to 12 000 BC.
Museum of Aviation, Georgia – Enjoy dozens of classic planes and a free museum and educational center here. There is also an exciting flight simulator.
Jimmy Carter Peanut of Plains Statue, Georgia – An amusing roadside attraction, this iconic sculpture is inside the Jimmy Carter National Historical Park. It's about a 30-minute detour.
Stephen Foster Folk Center Museum, Florida – A museum in honor of the legendary American composer. Learn about Florida's Folk History and check out the 200-foot-tall Carillion Tower, the world's largest tubular bell instrument.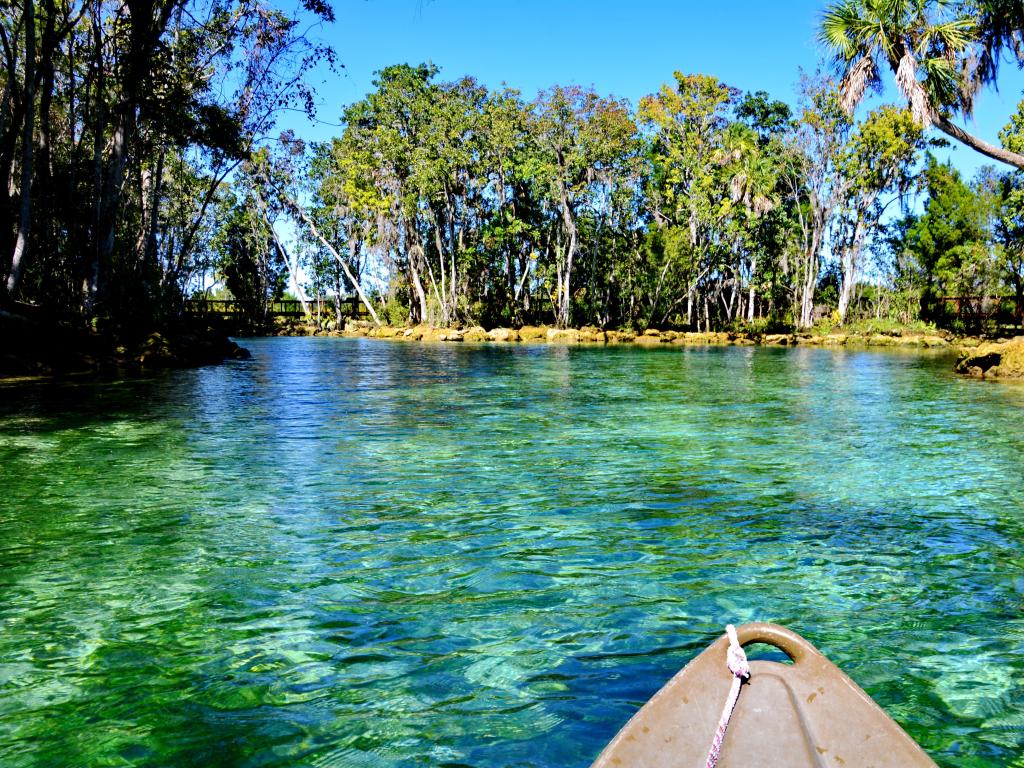 Best time to go on a road trip from Charlotte to Orlando
Orlando is one hundred percent a year-round destination, with indoor, outdoor, and theme park attractions. That said, be prepared for seasonal weather when on the road from Charlotte to Orlando.
Summers are long and hot in Orlando, about 61-91 degrees Fahrenheit. It's peak tourist season, so expect crowds and higher rates.
Winters are short, cool, and cloudy, about 52-74 degrees Fahrenheit, sometimes dipping to 40 degrees. Though slightly less busy, there are still tourists around the holiday season.
Spring and fall are great for a road trip to Orlando, as there is beautiful weather during these seasons. Average temperatures are between the mid-50s and mid-70s Fahrenheit. Crowds are minimal, and you may get more reasonable rates during these seasons.
Orlando has a packed calendar of events and festivals year-round, especially at the Disney and Universal Theme Parks.
In February, enjoy the Bach Festival and Indie Folkfest. The Florida Puerto Rican Parade & Festival is in April, along with the Orlando Pottery Festival in the same month. The GayDays Orlando and the Girls in Wonderland LGBTIQA+ events are in June.
In summer, look forward to the Florida Strawberry Festival. The Orlando Renaissance Festival is in December, and the Light Up UCF Christmas Event happens during the holiday season.