Road Trip from Charlotte to Niagara Falls
Are you looking for a trip where you can soak in stunning views and enjoy some quaint historic towns? If so, the road trip from Charlotte to Niagara Falls, where you will admire the views over the Blue Ridge Parkway or the Appalachian Mountains, is the perfect adventure for you!
The 820-mile, 15-hour road trip from Charlotte to Niagara Falls passes Roanoke, New River Gorge National Park, Pittsburgh and Lake Erie, plus the Blue Ridge Parkway, or alternatively through Charleston, Cleveland and the Appalachian Mountains.
This trip takes you across 6 states and right up to the US-Canada border. With some fantastic places to explore along the way, read on to find out how to make the most of this drive as well as its show-stopping conclusion.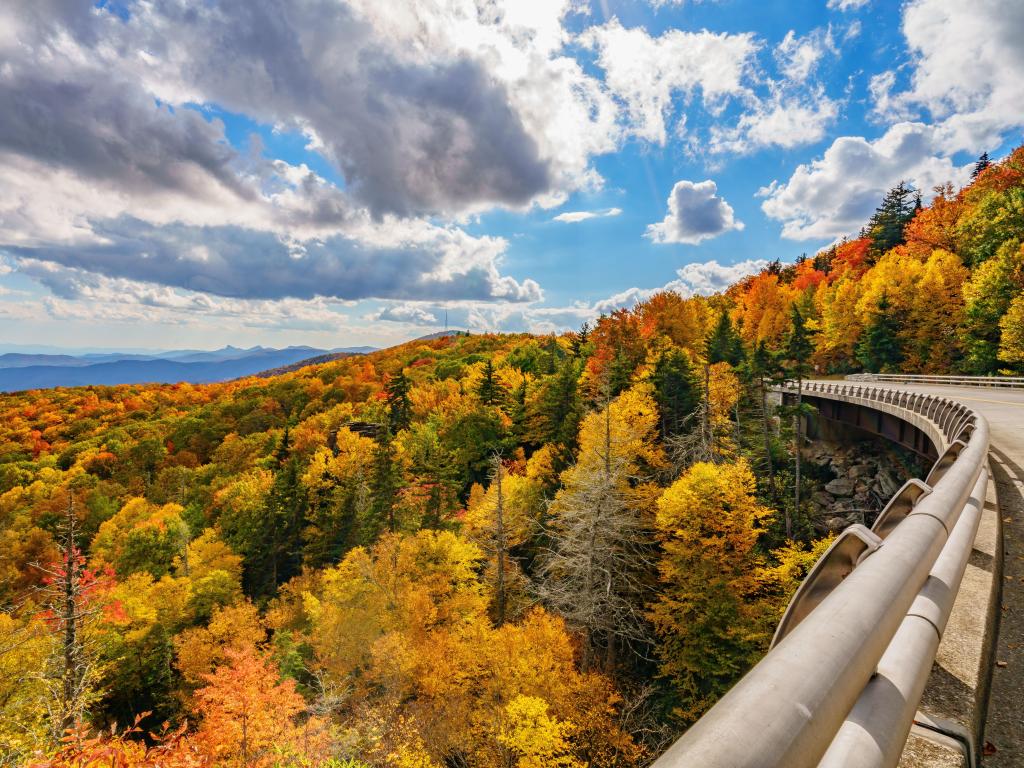 How far is Niagara Falls from Charlotte, and how long will the road trip take?
Comparison of road trip routes between Charlotte and Niagara Falls

| Route | Distance | Driving Time |
| --- | --- | --- |
| Pittsburgh Route | 820 miles | 15 hours |
| Cleveland Route | 740 miles | 12 hours 20 minutes |
While you can drive the most direct route between Charlotte and Niagara Falls in around 10 hours, we suggest two options that take a little longer. The payback for that extra time on the road is that you'll see much more along the way - and after all, isn't that the aim of a road trip?
The longer of our two options, the Pittsburgh Route, takes around 15 hours to cover 820 miles. Some of those extra hours come courtesy of a detour along the stunning Blue Ridge Parkway, which is definitely worth taking your time over.
If you'd prefer to travel more directly, the Cleveland Route will get you to Niagara Falls in 12 hours and 20 minutes. This route is shorter in distance too, coming in at only 740 miles, but you'll still pass by plenty of exciting stops along the way.
With such a variation in route lengths, you're going to want to find out what's in store before committing to one or the other. They're two very different journeys, so read on to find out which will tick more of your road trip boxes.
Best road trip route from Charlotte to Niagara Falls
The longer Pittsburgh Route is an incredibly scenic drive that passes through part of the legendary Blue Ridge Parkway.
On this route you'll drive through the heart of West Virginia and Western Pennsylvania, taking in breathtaking views and stunning state parks as well as passing some charming historic towns and attractions along the way. This route will also take you through the iconic city of Pittsburgh.
In contrast, the more direct Cleveland Route doesn't include the show-stopping Blue Ridge Parkway, but it does take you through pretty small towns of West Virginia and Ohio before reaching the bigger cities of Akron and Cleveland.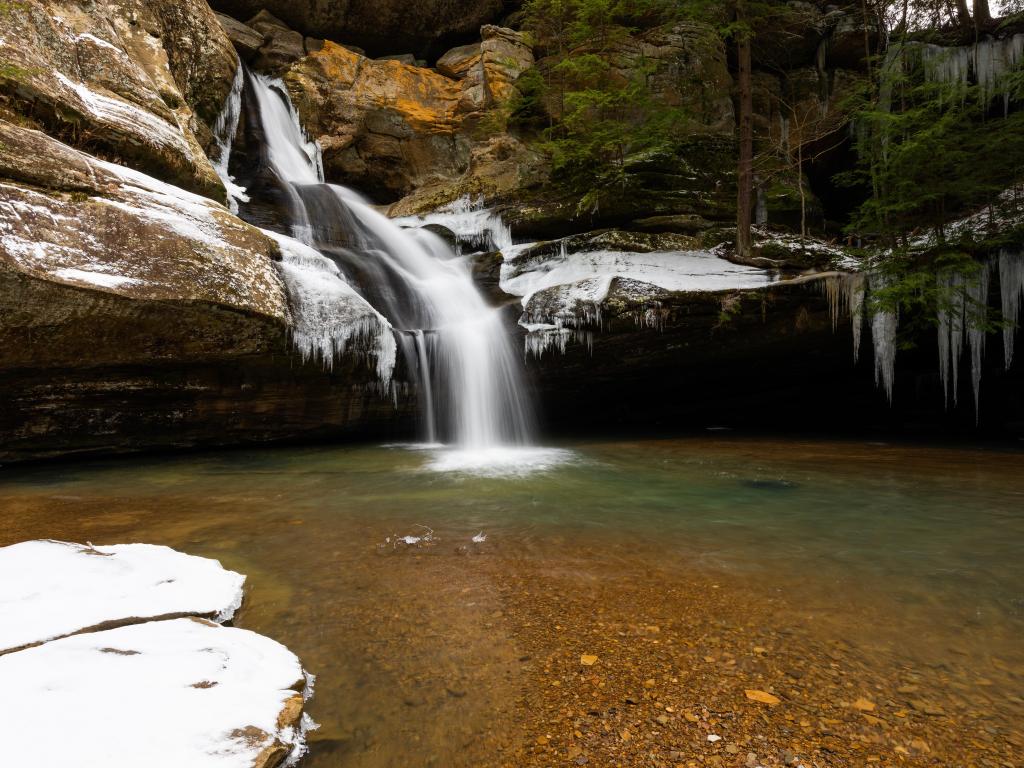 Although you won't be driving right through the heart of them, you'll still get stunning views of the Appalachian Mountains at times.
You'll also have the option to make detours to the Wayne National Forest and the vibrant city of Columbus on the way, and of course, there's the Lake Erie waterfront to enjoy before you reach your destination, Niagara Falls.
Pittsburgh Route
Leave Charlotte heading north on Interstate 77 (I-77), which will take you past Lake Norman and Statesville as you travel through North Carolina.
At Exit 100, join NC-89 E and follow it to Mount Airy. If you're not stopping in the town to stretch your legs, join Highway 52 heading north, and follow it all the way to Fancy Gap in Virginia.
In Fancy Gap, follow signs to the Blue Ridge Parkway, then turn right to follow the Parkway north at the top of the ramp. Then, simply follow the Parkway past Grounding Hill, Mabry Mill, Rocky Knob and Devil's Backbone Overlook, making sure to take your time to enjoy the fabulous views along the way.
After around 60 miles on the Blue Ridge Parkway, follow the clearly marked left turn towards US-221. At the end of the ramp, turn right onto US-221 and follow it until you approach Roanoke.
Here, turn right onto VA-419 Electric Road which leads you up to US 220. Leave at Exit 6 if you want to spend some time in the city, or otherwise, continue to make your way north.
Next, join Interstate 81 (I-81) heading south as far as Exit 118B, where you'll merge onto US-460 N. This will follow the route of the New River until you reach I-77 at Princeton.
After about an hour, I-77 merges with Interstate 64 (I-64). Here, continue to follow I-77 N past MacArthur, before joining US-19 at Exit 48. New River Gorge National Park and Preserve is right by US-19 as it crosses the New River again - a stop here is highly recommended.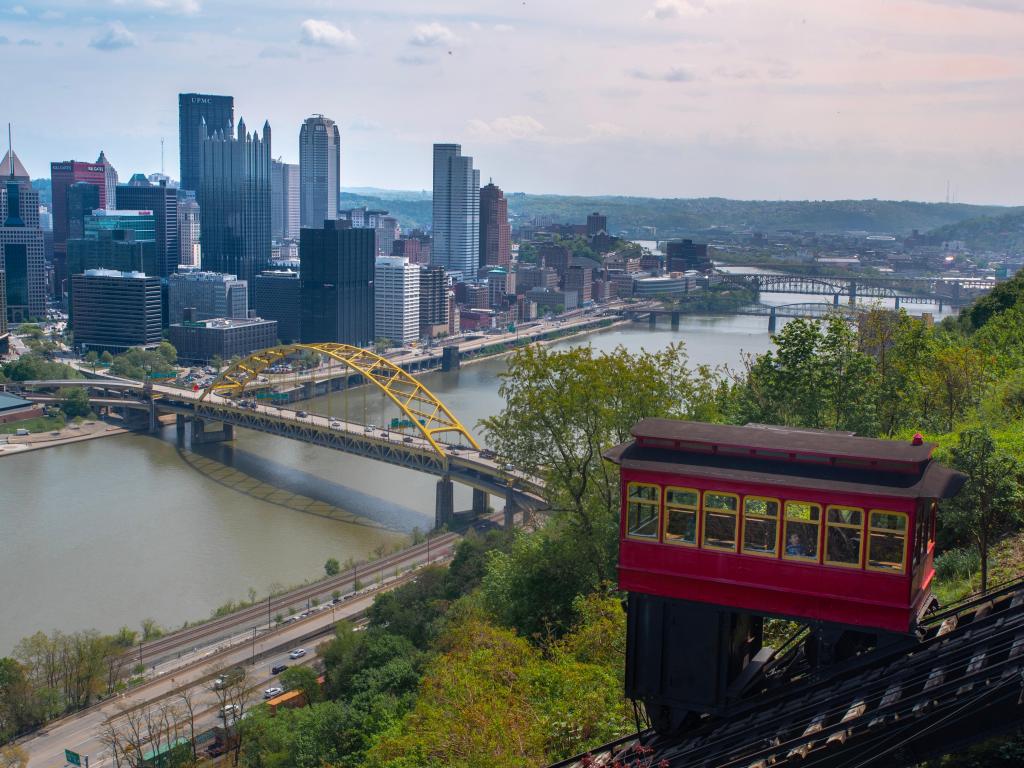 Continue along US-19 past Summersville, until you reach Interstate 79 (I-79). You'll follow this north almost as far as Pittsburgh, with the option to make a stop at Morgantown along the way.
Approaching Pittsburgh, at Exit 59A you'll join Interstate 376 which will take you into the heart of the city. When you're ready to move on, pick up Interstate 579 (I-579), merging onto Interstate 279 (I-279), which takes you back to I-79 near Franklin Park.
This road takes you all the way to Erie, where you can spend some time enjoying the Great Lake which bears the same name.
To continue on to Niagara Falls, leave Erie via OH-290 to join up with Interstate 90 (I-90). As you approach Buffalo, turn off onto NY-75, which merges with NY-5 to take you into this riverside city.
For the final stretch of the route, simply pick up Interstate 190 (I-190) which follows the Niagara River and crosses Grand Island before arriving at your destination, Niagara Falls NY.
Cleveland Route
This route option starts off the same way as the Pittsburgh Route. You'll leave Charlotte via I-77, then join NC-89 E and follow it to Mount Airy.
If you're stopping in Mount Airy, follow NC-89 into the town itself. Turn left onto N Main Street then left again onto W Lebanon Street which will take you onto US-52 to continue your journey north.
Instead of joining the Blue Ridge Parkway at Fancy Gap, turn left onto Chances Creek Road, which leads you to I-77 N.
I-77 joins up with I-81 for a few miles but continue on I-77 when the roads separate again. Next, you'll cross into West Virginia, continuing along the same road.
Eventually, I-77 and I-64 merge. You'll continue along I-64 from this point, which makes its way through a beautiful stretch of forested and undulating country before starting to follow the Kanawha River into Charleston, WV.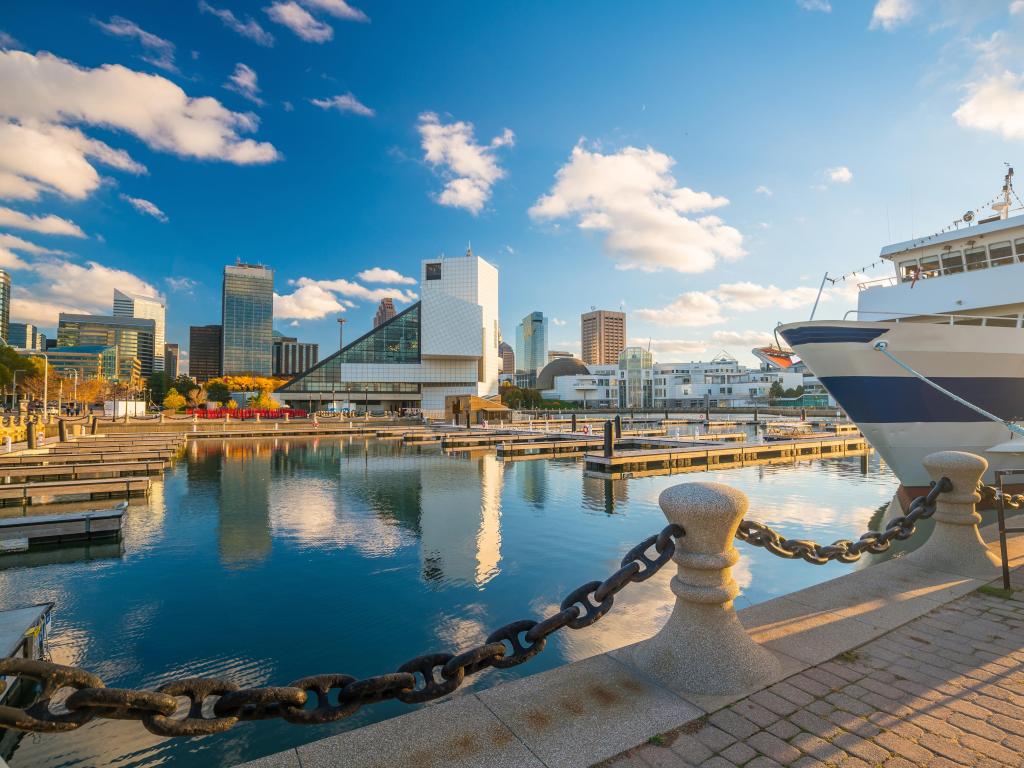 Here, the interstates divide again, follow I-77 from here. As you cross into Ohio you might like to make a stop at Marietta, or detour from here to visit Wayne National Forest.
Otherwise, continue north on I-77. If you're not stopping in Akron, take Interstate 277 (I-277) and then Interstate 76 (I-76) to rejoin I-77 which takes you into the heart of Cleveland. On your way into the city, Cuyahoga Valley National Park would make for a stunning stop, especially if you're a fan of hiking.
Moving on from Cleveland, pick up Interstate 90 (I-90). Then, as with the Pittsburgh Route, turn off onto NY-75 then merge onto NY-5 to make your way into Buffalo.
From here, simply pick up I-190 which follows the Niagara River and crosses Grand Island before arriving in Niagara Falls NY.
Best places to stop between Charlotte and Niagara Falls
While, in theory, you could power through from Charlotte to Niagara Falls with just one overnight stop, that wouldn't leave much time to enjoy the many fabulous places you'll pass by on the way.
For this reason, we'd recommend at least a couple of overnight stops whichever route you take - or more if time allows.
Relax in Roanoke
If you're taking the Pittsburgh Route and looking for a place to stop for the night that's halfway between Charlotte and Niagara Falls, Roanoke is the perfect location.
After your scenic drive along the Blue Ridge Parkway, you might be looking for a country getaway to refresh before hitting the road again. In that case, Stonewall Resort is the perfect place to stop and relax.
The property features a golf course, spa, striking indoor/outdoor pool, fire pit, and a hot tub. What better way is there to recharge your batteries than that?
Located on Stonewall Jackson Lake, where you can enjoy activities like fishing, boating and hiking trails, Roanoke is also known for its handmade craft markets. Nearby, the 88-foot manmade star at Mill Mountain Star & Park is the largest in the world and a must-visit.
Even if the weather doesn't allow for outdoor activities, Roanoke has the Virginia Museum of Transportation, which is well worth a visit.
Explore Pittsburgh, the City of Bridges
Around three-quarters of the way along the trip, Pittsburgh is an amazing city worth spending some time in as you drive on our suggested route that shares the same name. It boasts a beautiful skyline, fun things to do and see, as well as great bars and restaurants.
Located at the junction of 3 rivers, Pittsburgh is made up of many unique neighborhoods with museums and other gems scattered throughout.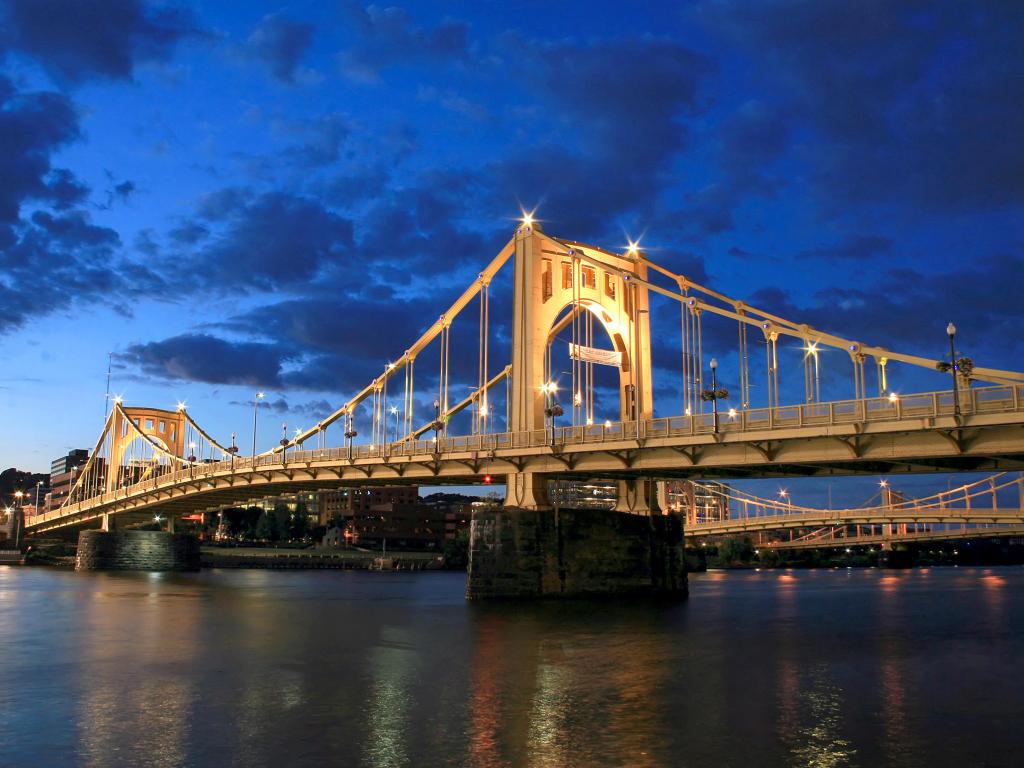 If you're looking for a modern and stylish hotel in the heart of downtown, you can't go far wrong with a stay at Kimpton Hotel Monaco. Just a short walk away from the Cultural District, it means you can leave your car behind and explore Pittsburgh on foot.
Rooms here have great views across either the park or the city, with a seasonal rooftop beef garden if you want to enjoy those views with a sunset drink. It's famous for its fabulous brunch too.
From here, the stunning Phipps Conservatory and Botanical Gardens is just a short drive away - you can easily spend a day here admiring the sights before you hit the road again.
There's also the Andy Warhol Museum, where you can explore the legacy of the eccentric artist who helped shape modern pop art. Or the four distinct Carnegie Museums, which each warrant a visit while you're in the city.
Chill out in Charleston, West Virginia
If you're traveling on the Cleveland Route, Charleston is a charming city located right after the route passes through the scenic Appalachian Mountains. It's the perfect place to take a break, with around 4 and a half hours of driving left before you reach Niagara Falls.
Charleston is the state capital of West Virginia and is known for its beautiful river views and for housing the State Capitol.
You can also visit the East End Historic District, where you'll find the Clay Center for the Arts and Sciences of West Virginia and the Capitol Market. Also nearby is the West Virginia State Museum, where you can head to learn about the history, art and culture of the area.
For a comfortable and convenient stay close to the downtown area, head to Hampton Inn Charleston Southridge. It's located in the Southridge Center, a fantastic shopping and dining complex, meaning you won't have to venture far to reach some of the city's best restaurants.
It has an indoor pool for relaxation after your long drive, but if you're not ready to put your feet up just yet, you could also make the short trip out to Kanawha State Forest, which offers fantastic opportunities to hike, bike and horseback ride among other outdoor activities.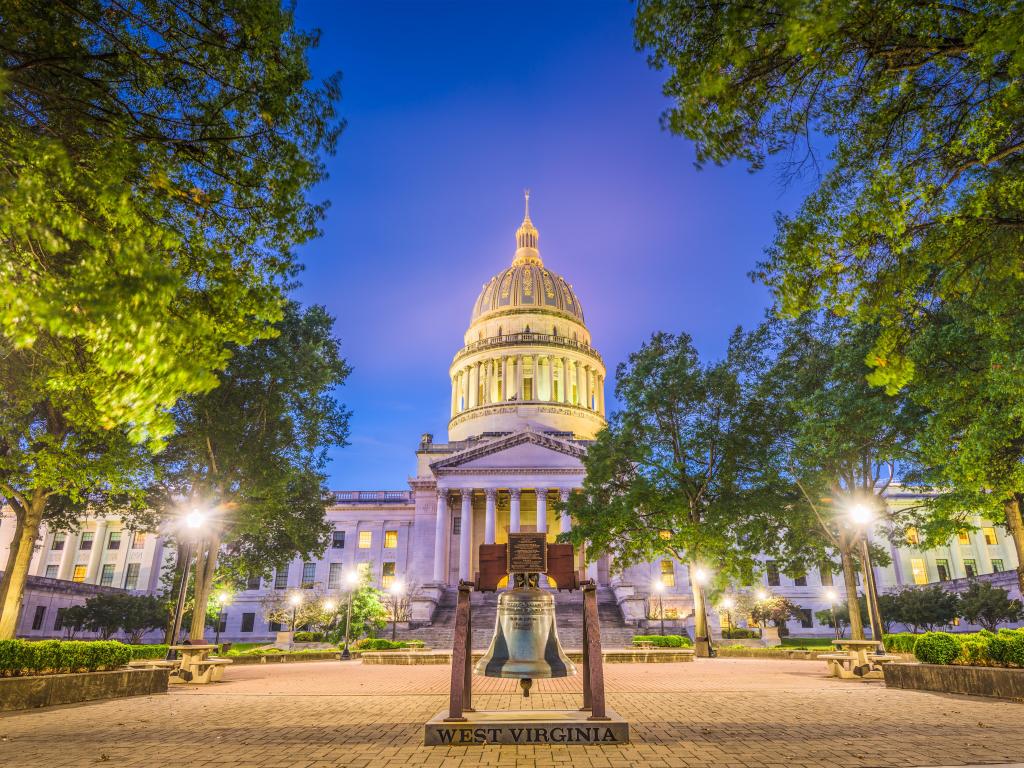 Where to stay when you reach Niagara Falls
There's no shortage of accommodation options once you reach Niagara Falls, so why not choose Hyatt Place Niagara Falls to place yourself in walking distance of the city's major attractions.
With its comfortable rooms and indoor swimming pool you'll be able to relax after the long drive from Charlotte. Then, when you're ready, head out to enjoy Niagara Falls State Park, take a trip out on the Maid of the Mist.
For something a little different, try your luck at Seneca Niagara Casino.
Things to see on a road trip from Charlotte to Niagara Falls
With so many miles to cover, it won't come as a surprise to hear that there's no shortage of places to enjoy along the way.
Here are some of the highlights:
Pittsburgh Route
Blue Ridge Parkway - Get your cameras ready as you prepare to drive on one of America's most scenic parkways, also known as "America's Favorite Drive".
Blackwater Falls State Park - Located in the Allegheny Mountains, this park is known for its cascading waterfalls. The park has hiking trails for all ability levels and is a great stop to enjoy the views.
Roanoke, Virginia - Known as the capital of "The Blue Ridge", this city is the perfect gateway to exploring the Blue Ridge Parkway and its wonderous scenery.
Lost World Caverns - This underground cave system is open for self-guided tours through the mesmerizing stalactites and stalagmites.
Fallingwater - This interesting house built on a waterfall was designed by Frank Lloyd Wright, so it's no surprise to hear that you can take a guided architectural tour of the house as well. It's located in the Laurel Highlands in Pennsylvania.
Kentuck Knob - Also designed by Frank Lloyd Wright, this house is an architectural attraction with its unique hexagonal designs. It has stunning views of the Laurel Highlands and is often less busy than Fallingwater.
Pittsburgh, Pennsylvania - Known as a scenic city sitting at the junction of 3 rivers, Pittsburgh is home to Phipps Conservatory and Botanical Gardens, Mount Washington and PNC Park.
Duquesne Incline - The best way to soak in the city skyline of Pittsburgh is at Mt. Washington Overlook which is accessible by the Duquesne Incline. From the top, you can see how to city rests at the meeting point of three rivers.
McConnells Mill State Park - Especially known for the mill house, McConnells Mill State Park is one of the most beautiful parks in Western Pennsylvania. Take a drive through the property and enjoy the covered bridges.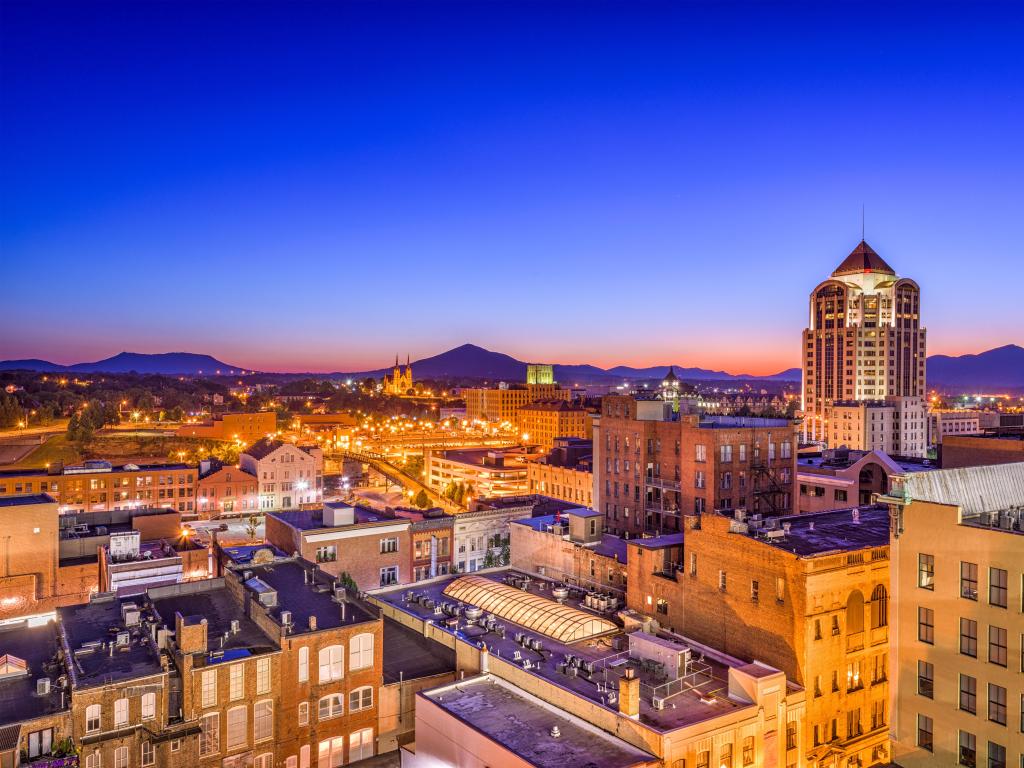 Cleveland Route
Appalachian Mountains - One of the most stunning mountain ranges in Northern America, the Appalachian Mountains are home to countless hiking trails of various difficulty levels.
Charleston, West Virginia - The capital of West Virginia is home to the State Capitol, East End Historic District and the West Virginia State Museum.
The Castle Home Museum - Though not exactly a castle, this Victorian-era home is open for tours for those interested in stepping back in time. The museum includes beautifully preserved antique furniture.
World's Largest Cuckoo Clock - If strange roadside attractions are your thing, you don't want to miss the world's largest cuckoo clock! Just south of Akron, Ohio, this clock is over 23 feet tall and was featured in the Guinness Book of World Records in 1977.
Brandywine Gorge Trail - This 1.5-mile loop trail takes you along the gorge to an impressive waterfall. The fall colors of the trees can be enjoyed in Fall while temporary freshwater pools can be seen in the Spring.
Cleveland, Ohio - Cleveland is known as "the Forest City" due to its beautiful green scenery. This bustling city is home to the Rock & Roll Hall of Fame, Cleveland Museum of Art and West Side Market.
A Christmas Story House - The location of this classic Christmas movie is now a museum. Visitors can walk through the house and relive their favorite memories from the movie. Special props like the bunny PJs and leg lamp can also be seen on display here.
Both Routes
Mount Airy - This small historic town is especially popular among Andy Griffith fans. The main street is lined with boutique and souvenir shops.
Mabry Mill - Located along the Blue Ridge Parkway, Mabry Mill is one of the most photographed stops along the iconic road. It features a restored gristmill, restaurant, and demonstrations.
New River Gorge National Park - One of the most visited parks in West Virginia. Offers plenty of adventures along the river including hiking trails, a catwalk under the New River Gorge Bridge, and even a ghost town.
Presque Isle State Park - Situated on the shoreline of Lake Erie, the park features a sandy peninsula with relaxing sandy beaches. You can go swimming in the refreshing water or take a boat tour.
Buffalo, New York - Known for its winter weather and world-famous chicken wings, Buffalo houses Franklin Lloyd Wright's Martin House Complex.
Ripley's Believe It or Not - This interesting and quirky museum of oddities from unusual art to rare finds is located on the Canadian side of the falls.
Best time to go on a road trip from Charlotte to Niagara Falls
Given that Niagara Falls is located in the Northern part of the States, bordering Canada, winters can get quite harsh, with freezing weather and the average temperatures around 32 degrees Fahrenheit. The Falls can also be more difficult to reach in the colder months.
Additionally, the drive from Charlotte includes several stretches through mountainous regions where roads can get icy, and sections of the Blue Ridge Parkway can be closed completely.
Although summer is the height of the tourist season, and can get quite crowded as a result, it is for good reason. The cool mist of the Falls is the perfect way to cool off on a hot summer day with an average daily high above 70 degrees Fahrenheit.
Tours on the Maid of the Mist are best enjoyed during the summer months.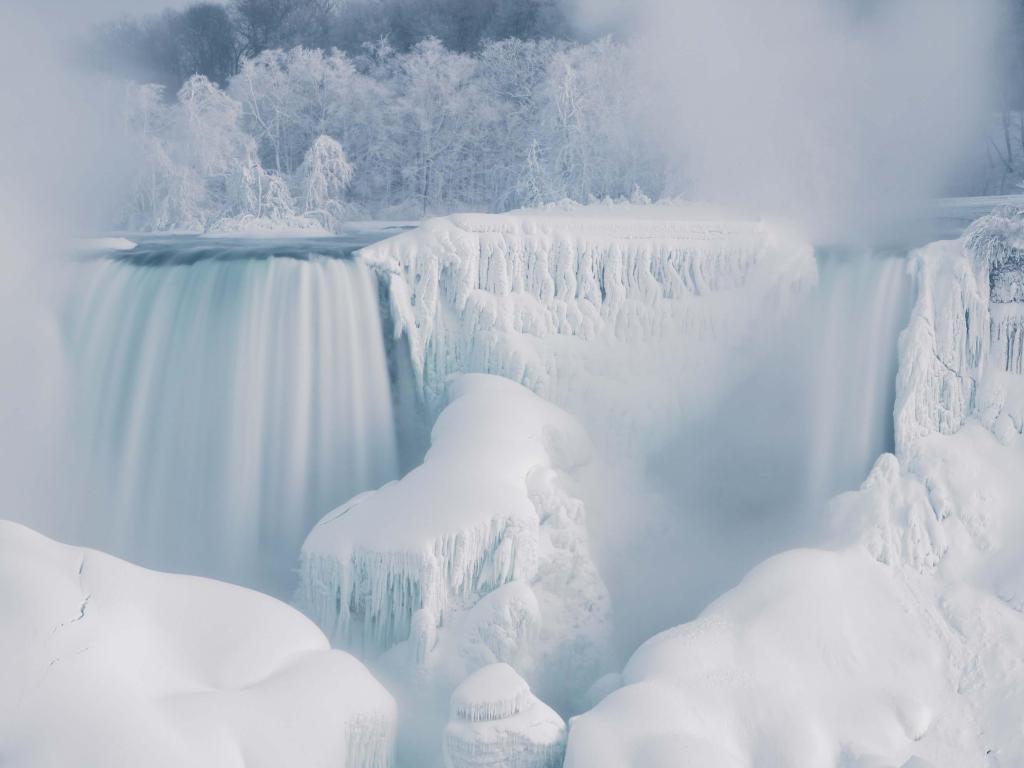 If you'd prefer to visit at a less crowded time of year, spring and fall are both options for this route. Spring boasts beautiful flowers in bloom which can be fully enjoyed at the Botanical Gardens and the Butterfly Conservancy. Fall months bring their own charm with plenty of Autumn festivals and leaves changing on the drive North.
Whatever time of year you visit, Niagara Falls is known for its firework show that begins at 10pm every night. There is also a light show beautifully displayed on the falls intermittently throughout the night.