Road Trip from Charlotte to Los Angeles
If you're looking for a journey that encapsulates the heart of America, then the road trip from Charlotte to Los Angeles is the one for you. Traveling between the peaceful Great Smoky Mountains to the bright lights of Hollywood, you'll experience variety that's second to none.
The 2,460-mile road trip from Charlotte to Los Angeles will take 36 hours to drive. Key stops include Nashville, Atlanta, Memphis, Dallas, Flagstaff and Palm Springs plus Joshua Tree National Park, Grand Canyon, Santa Fe and Coconino National Forest.
To help you make the most of your journey, we've set out the best routes and places to stop overnight, as well as our favorite things to see and the best time of year to make this amazing road trip from Charlotte, North Carolina, to Los Angeles.
How far is Los Angeles from Charlotte, and how long will the road trip take?
Comparison of road trip routes between Charlotte and Los Angeles

| Route | Distance | Driving Time |
| --- | --- | --- |
| The Albuquerque Route | 2,420 miles | 36 hours |
| The El Paso Route | 2,470 miles | 37 hours |
There's no getting away from the fact that the road trip between Charlotte, North Carolina to Los Angeles is a fairly lengthy journey.
The Albuquerque Route will take 36 hours to drive nonstop and cover 2,420 miles. This doesn't account for the many pit stops and detours you will want to make on such a mammoth journey.
This route is the quicker of our two recommended routes, but there is the option to take a detour on the Albuquerque Route to visit the wonder of the Grand Canyon, which should you take advantage of, and this detour will add about 1 hour and 30 minutes to your travel time.
The El Paso Route will cover 2,470 miles and similarly, take 37 hours of nonstop driving.
Given the distance and the sheer number of amazing attractions you'll pass en route, we would recommend you spend between 10 and 14 days on this trip, although you could easily spend much longer if you wanted to and still have plenty more to see.
Best road trip route from Charlotte to Los Angeles
There is no stand-out 'best' route on this trip, so the direction you'll choose should be entirely dependent on what kind of cities and landscapes you'd like to see.
Our Albuquerque Route will give you the opportunity to soak in the culture, history and some of the best live music in Nashville and Memphis, before exploring varied terrain and ancient civilizations as you cross New Mexico.
You'll also get within striking distance of some of the United States' most loved natural landscapes, including Santa Fe and Coconino National Forests, plus the incredible Grand Canyon, if you choose to take the optional detour at Flagstaff.
At a similar distance, the El Paso Route is no less impressive. Jam-packed full of great places to visit, from the bright lights of Atlanta to the profoundly historic Jackson - plus not forgetting the beauty of Joshua Tree National Park. This route truly has something for everybody.
The difference between the two is that the slightly more urban El Paso Route won't give you the opportunity to visit the Grand Canyon, so if that's on your bucket list, you should follow the alternative option. That said, both routes offer many beautiful natural places to visit.
The Albuquerque Route
Begin by leaving Charlotte in North Carolina on NC-16 before taking US-74 west until you reach Interstate 26. Follow this a short distance before taking Interstate 40 west.
As you cross into Tennessee, you'll drive through the pretty Cherokee National Forest and beside the Great Smoky Mountains National Park, a great short detour for unbelievably nice views.
Following I-40 west, you'll soon head into Knoxville, your first city on this route. Continue on the same interstate as you leave, passing the towns of Kingston and Crossville, alongside the Catoosa Wildlife Management Area.
Passing through several more towns, you'll come to the music center of Tennessee - Nashville. This is a great city for an early overnight stop, simply because there's so much to explore that you'll need an extra day to get around it all.
When you leave, you'll still be heading west on I-40, passing Hatchie National Wildlife Refuge, and arriving in yet another music city, this time the wonderful Memphis.
The next stretch will see you heading towards Little Rock in Arkansas, passing close to the White River National Refuge, which you can stop and stretch your legs before carrying on with your trip.
Past Little Rock, I-40 will take you through some stunning landscapes, including alongside the Ozark-St. Francis National Forest, and close to Ouachita National Forest. You will pass more towns as well as the Arkansas River, as you head onwards to Oklahoma City.
Continue west on I-40 through the state of Oklahoma to Amarillo in Texas. You could stop here for the night or continue for a little longer to Santa Rosa in the state of New Mexico.
The changing landscape of New Mexico is stunning, as is Albuquerque, which is the next city you'll pass through. Stop here to explore the surrounding monuments, including the Petroglyph National Monument.
Leave the city on I-40 and make a stop at Petrified Forest National Park, which is directly on your route, before arriving in Flagstaff. From here you can visit Coconino National Forest or take the slightly longer detour to the Grand Canyon National Park.
When you rejoin I-40, you'll continue heading west before crossing into California. The road will pass near Mojave National Preserve before you exit the interstate and follow I-15 south at Barstow.
Follow this road alongside Mount San Antonio before taking Exit 115A and Interstate 210 which will take you the rest of the way to your destination of Los Angeles.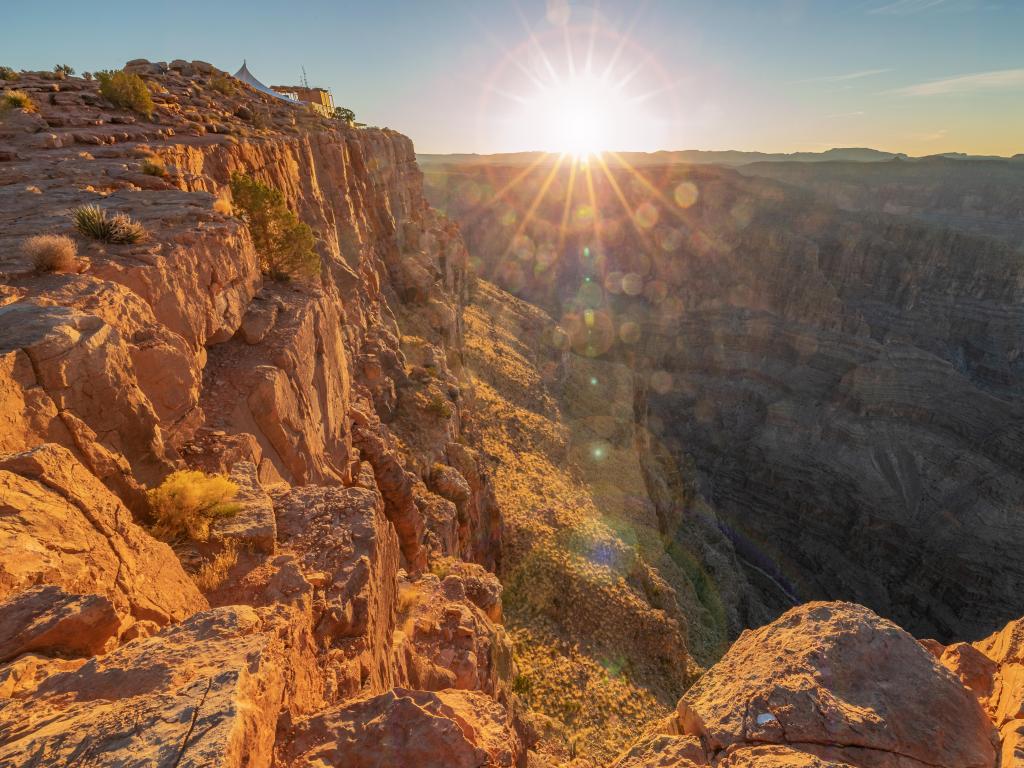 The El Paso Route
Our alternative route will see you driving further south from Charlotte, leaving on Interstate 85 through several towns and close to Chattahoochee-Oconee National Forests as well as Oconee National Forest, both a short detour from the main route.
Change to Interstate 285 to arrive in the city of Atlanta, an ideal first overnight stop on this epic drive. When you leave the city, you'll need to take Exit 247 and then follow Interstate 20 west.
Follow this road alongside Talladega National Forest in the state of Alabama, before arriving at Birmingham. Follow Interstate 459 South before rejoining I-20 west. After passing several towns, you'll drive through the stunning Bienville National Forest before arriving at Jackson in Mississippi.
This next stretch offers a lot of detours to stunning parks, including Delta National Forest and Upper Ouachita National Wildlife Refuge. You will continue on I-20 all the way to Dallas in Texas, changing just before the city to US-80.
From Dallas, you are just a short drive to nearby Fort Worth. From here you'll rejoin I-20 west as you leave the green landscape and drive further into the desert landscape of Texas.
Just past Toyah you will merge onto I-10 West and follow the road to El Paso, where you can make a stop and explore nearby Guadalupe Mountains National Park if you have the extra time.
Leave the city by following I-10 west, passing alongside Coronado National Forest to Tucson where you can visit several mountains (great if you like a hike or two).
Continue on I-10 past the city of Phoenix in Arizona, before following the road as you cross over states again into California. Past Chiriaco Summit, you'll be within easy access to Joshua Tree National Park as well as Santa Rosa and San Jacinto Mountains National Monument.
Take Exit 126 to follow CA-111 to Palm Springs, before rejoining I-10 past San Bernardino National Forest. You will then stay on this interstate the rest of the way to Los Angeles.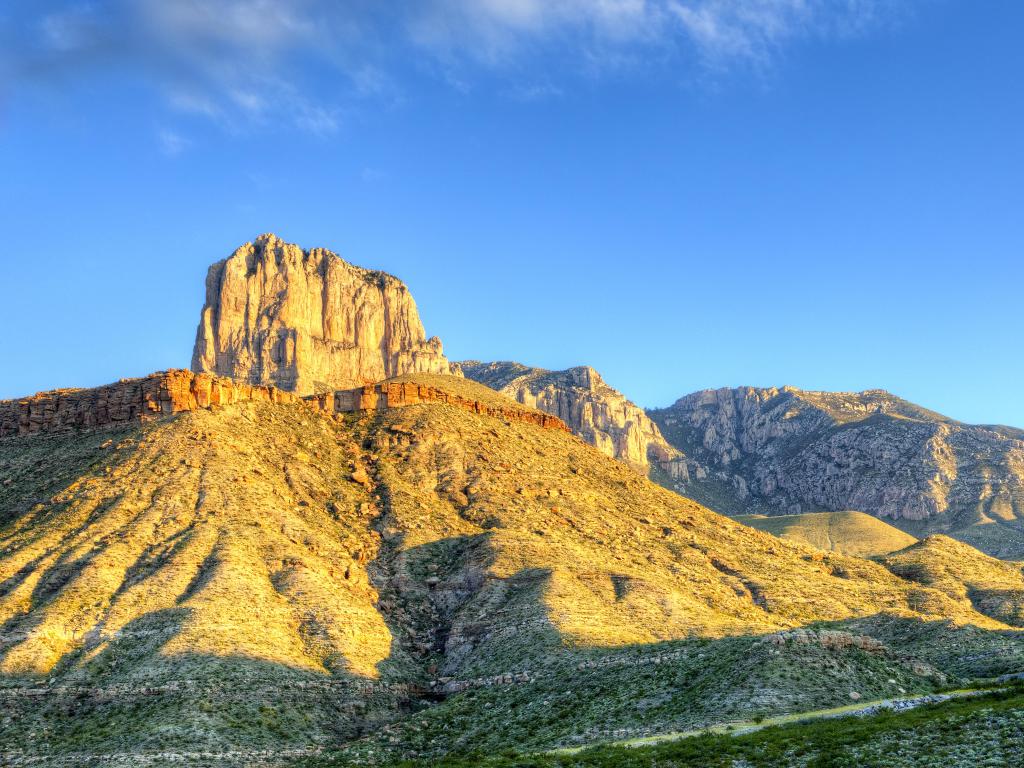 Best places to stop between Charlotte and Los Angeles
A road trip of this distance will require several overnight stops along the way in order to fully appreciate the stunningly beautiful and amazing attractions the trip between Charlotte and Los Angeles has to offer.
There are so many incredible places you can stop at, from busy cities to quaint villages, but here are just a few of our favorite hotels you might want to consider:
A music-lover's dream, Memphis
Just over a quarter of the way to Los Angeles and at 9 hours and 30 minutes from Charlotte on the Albuquerque Route sits the city known for its incredible live music - Memphis.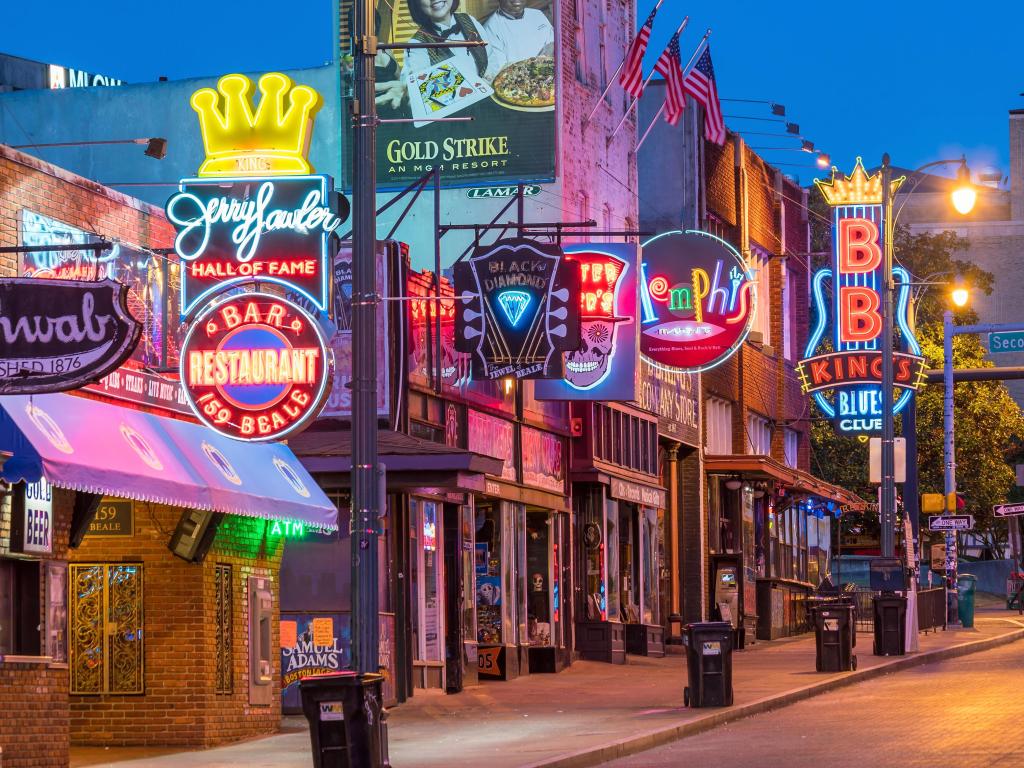 Ideally located for your first stop (if you're prepared for a fairly long first day of driving) or a possible second stop on the way, Memphis' reputation as the birthplace of Rock 'n' Roll makes this a place of pilgrimage for many.
As well as its musical history, you'll also have the opportunity to visit the National Civil Rights Museum plus (with a short detour out of the city) Graceland. Make a date to visit the iconic Beale Street for incredible live music or follow the footsteps of the superstars at the Sun Studio.
For a hotel admired for its southern charm and upscale hospitality, the Peabody Memphis is an excellent choice when staying in the city. First opened in 1869, it's the city's most esteemed historic hotel, guaranteeing you a flavor of the past.
Conveniently located in the heart of "Blues City", this stunning 4-star hotel has a superb indoor pool and to get yourself in the mood for a night of fine music, you can even start your evening off with a drink in the luxurious lobby, where live piano music sets the tone.
A visit to culture-rich Albuquerque
For a more cultural and historical stop, Albuquerque on the route named after it, makes an ideal overnight rest. Set two-thirds of the way from Charlotte and just 12 hours to Los Angeles, it's a great city to rest and enjoy the stunning scenery.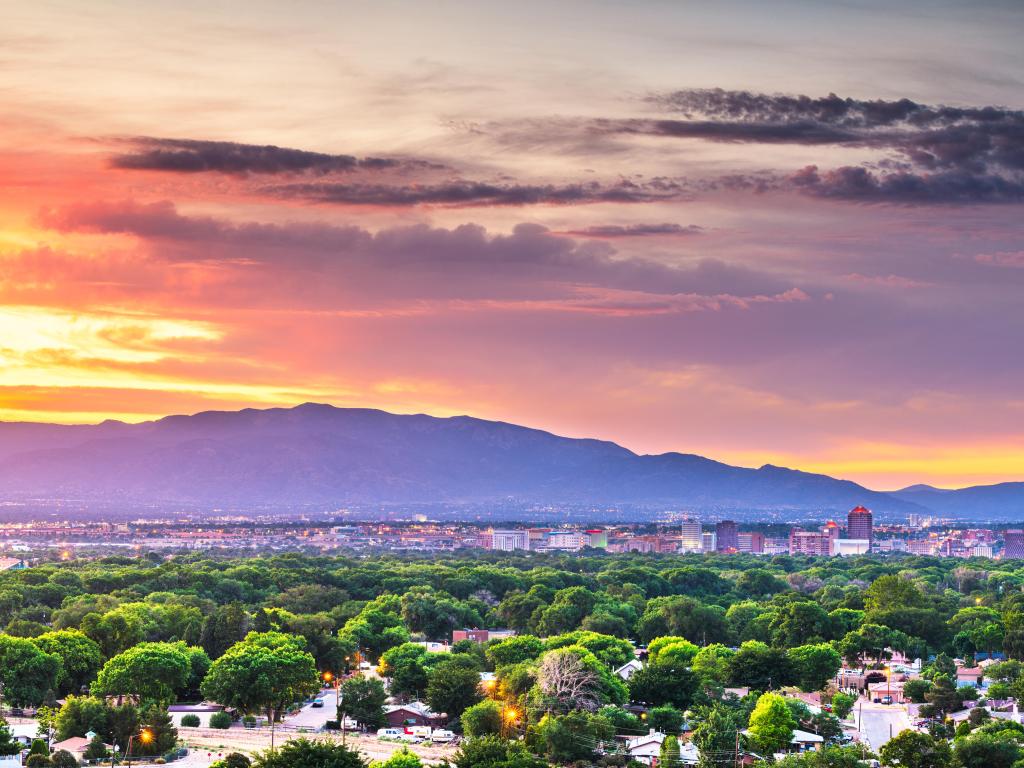 A great base for exploring this part of New Mexico, including Santa Fe and Cibola National Forest, Albuquerque is the highest metropolitan area in the US, at an elevation of 5,314 feet. It's also surrounded by a wealth of stunning natural landscapes and cultural relics of past peoples.
Of all the great hotels you can stop at, we'd recommend Hotel Chaco for its ideal location close to Old Town Albuquerque and within walking distance of the New Mexico Museum of Natural History and Science.
After exploring the nearby attractions, including the Petroglyph National Monument, an area full of carvings made by Nature Americans and Spanish Settlers, you can relax back at the rest's modern and stylish interior with thoughtful local details, such as New Mexico art.
As an added bonus, the Hotel Chaco also has a fabulous pool area and there's even valet parking included in the price. This means you'll be free to enjoy as much of Albuquerque as you'd like, knowing you'll have a restful stay before embarking on the rest of your journey.
Immerse yourself in history at Jackson
If you've opted to follow our El Paso Route instead, then why not stop at the capital of Mississippi - historical Jackson? Not only is this a great city to explore, but it's just 10 hours from Charlotte making it a great early stop at around a third of the way to Los Angeles.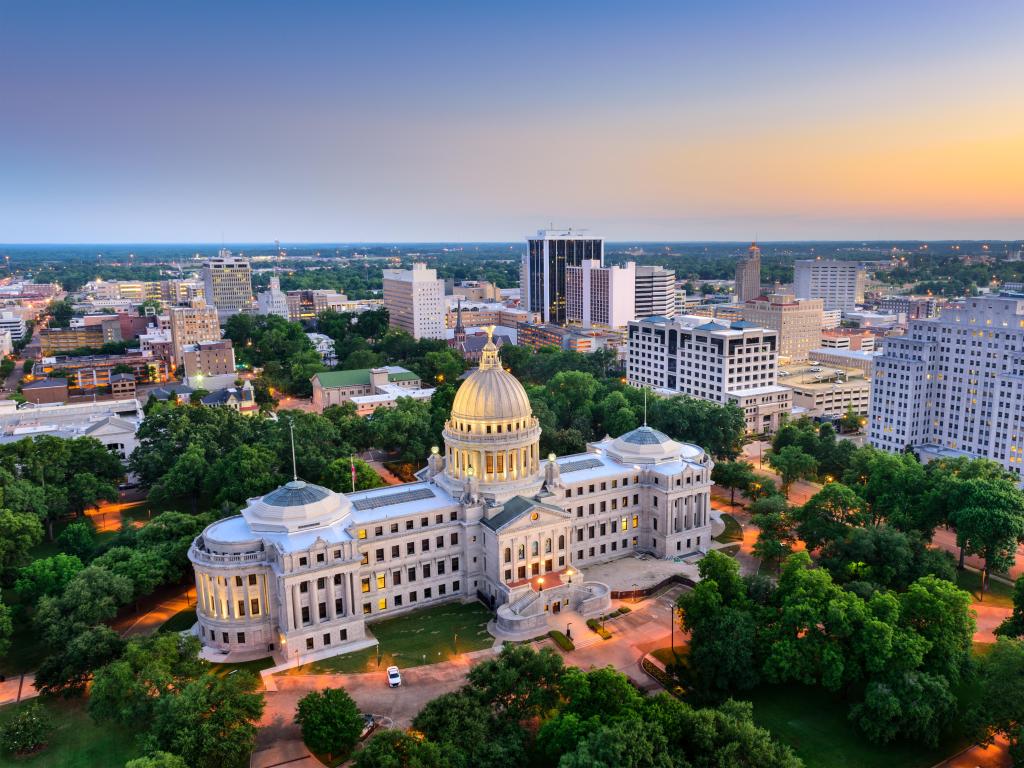 Known for its southern charm and hospitality, Jackson is an ideal visit if you're interested in history. Here you can learn more about the fight for equal civil rights.
Make sure you pay a visit to the Mississippi Civil Rights Museum which was newly opened in 2017. The museum's many exhibitions and galleries are linked together by dark tunnels which represent dark periods in the history of the fight for social, legal and economic equality.
Just across the street from the Mississippi Museum of Art and well located for the city's top cultural attractions is The Westin Jackson. This modern hotel features stylish and comfortable rooms, an outdoor pool and superb views of the downtown city.
Featuring a highly rated restaurant and spa, The Westin Jackson has wide appeal, so if you're travel-weary and looking for a convenient and restorative rest stop, this could just be the place for you.
Explore the great outdoors in El Paso
Finally, a stay in the significant city the route is named after is a must, right? El Paso itself is only 10 hours from Los Angeles, meaning that if you were up for a long final day on the road, you could arrive in LA after your stop here.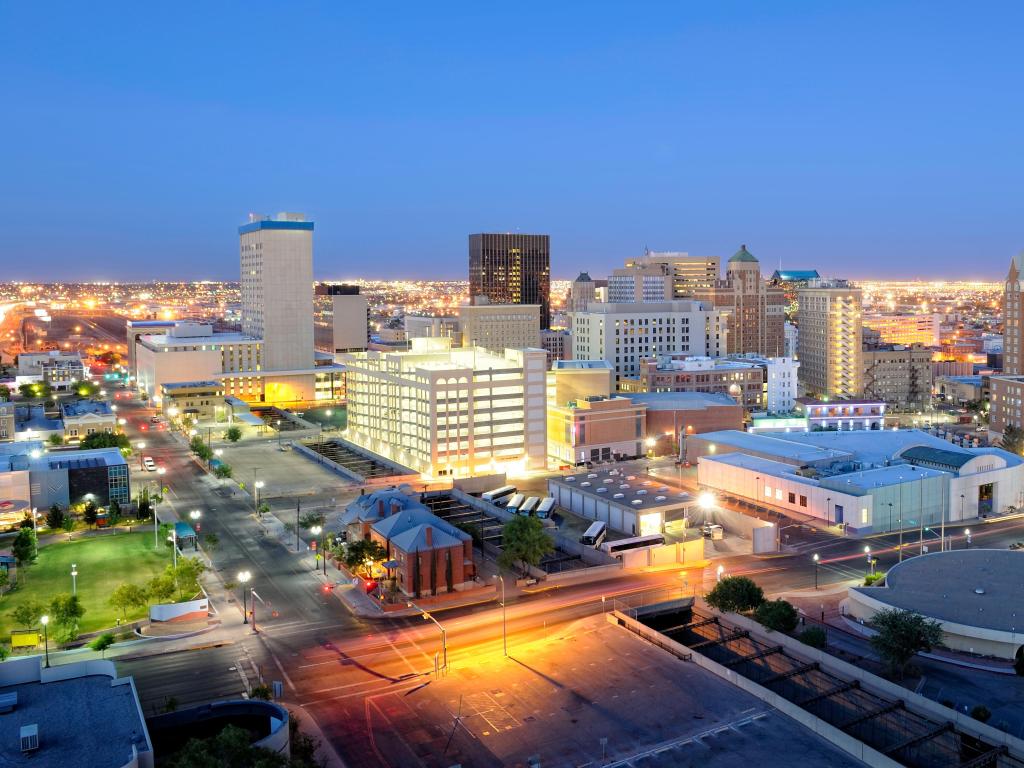 Known as "Sun City" because of its 300-plus days of sunshine each year, El Paso is also famed for fantastic Tex-Mex cuisine making it a great stop if you love food and culture.
Despite having a great choice of high-end hotels, El Paso is right in the heart of stunning outdoor areas offering you the chance to stretch your legs and enjoy some fresh air.
Just some of the great places nearby that you should try and visit include Franklin Mountains State Park, a great place for hiking, or the Wyler Aerial Tramway within the mountains themselves which offer arguably some of the best views of El Paso and the surrounding area.
After a day in the great outdoors, you'll want a touch of luxury. The Stanton House El Paso, with its Stylish and boutique-style decor, is just the ticket. With modern upmarket furnishings and carefully chosen artwork, this hotel has a highly curated vibe.
Not just a beautiful hotel, the Stanton is also known for its beautiful food and great cocktails. There's also parking on site and with a fabulous location in the heart of downtown, you can enjoy leaving your car behind for the night and enjoy this unique Texan city.
Things to see on a road trip from Charlotte to Los Angeles
This incredible road trip from Charlotte to Los Angeles will take you from the east to the west of the US, past several states, incredible cities and stunning natural landscapes. You could easily spend a month and still not see everything this route has to offer.
Here's a list of some of our top things to see along the way to help you get started with your planning: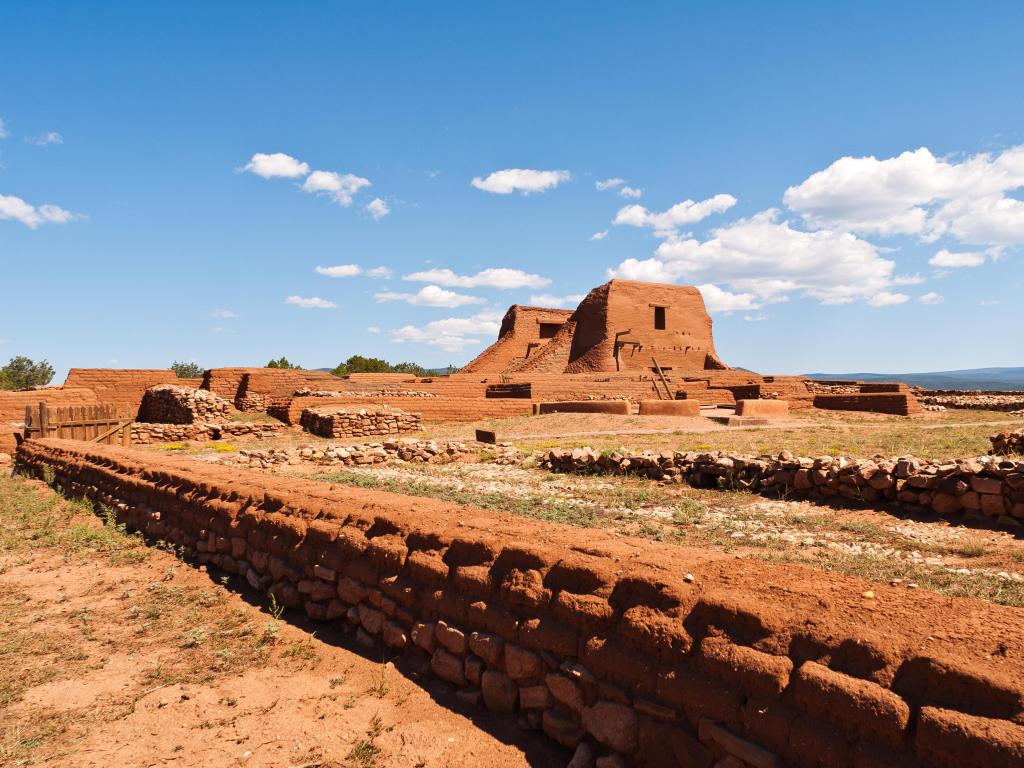 The Albuquerque Route
Knoxville Museum of Art - Enjoy learning about the art – and artists – of East Tennessee at this museum. Works in this vast cultural space span historic and contemporary genres.
Country Music Hall of Fame and Museum - Make a pilgrimage to the home of Country Music and learn more about the greats at this extensive museum. Be sure to check out historic RCA Studio B, Nashville's oldest surviving recording studio too.
Grand Ole Opry - Make time during your Nashville pit stop to take in a concert at the Grand Ole Opry, the famous country music institution.
Natchez Trace State Park - Popular for hiking and fishing, and a great opportunity to stretch your legs, with over 10,000 acres of trails, the park is named after the Natchez Trace woodland path, which was a prominent wilderness trail during the 18th and 19th centuries.
Beale Street - Be sure not to miss the heart of Memphis' live music scene. Beale Street (which actually encompasses a three-block area) is packed with bars showcasing the best of the blues and adjacent music styles.
Graceland - Explore the place that Elvis called home. The Graceland experience includes Presley's imposing mansion, his entertainment complex, the sprawling, peaceful grounds that surround it – and even the star's customized airplanes.
National Civil Rights Museum - This poignant and highly significant museum is built around the former Lorraine Motel in Memphis, which was the site of the assassination of Martin Luther King Jr. in 1968.
Pioneer Village - Visit this meticulously recreated small collection of 1880s buildings, close to Little Rock. Self-guided tours are available, supported by enthusiastic volunteers.
Pecos National Historical Park - This park contains excellent examples of Indian pueblos and Pecos cultural remains, with prehistoric archaeological significance. Learn more about the area's prominence as a cultural meeting and crossing point.
Canyon Road, Santa Fe - Santa Fe is known as an artists' hub and Canyon Road is acknowledged as the hub of the city's creative arts scene.
Petroglyph National Monument - An escarpment that stretches 17 miles along the city of Albuquerque, the monument is striking. Learn about the history of the area through the carvings made into volcanic rock by Native American and Spanish settlers.
Petrified Forest National Park - This distinctive natural site is home to stunning colorful petrified wood scattered throughout the park. Check out the Rainbow Forest Museum to learn more about the area, especially its palaeontology exhibits.
Flagstaff - A great place to visit in its own right, Flagstaff is also an excellent base for making the short (1 hour 30 minute) detour to the Grand Canyon.
Mojave National Preserve - Best accessed via the paved road to the south of the Preserve, this is an excellent place to experience the vast majesty of the desert. There are many well-defined hikes, though we'd recommend avoiding these during the hotter parts of the day.
San Bernardino National Forest - Home to the tallest alpine mountains that Southern California has to offer, this National Forest actually contains eight designated wilderness areas – perfect connection with nature before entering the madness of LA!
The El Paso Route
World of Coca-Cola - Take a voyage through the history of one of the world's most iconic brands. This 20-acre site in the bustling metropolis of Atlanta is simply staggering, full of interactive exhibits and historical details!
Talladega National Forest - Home to a huge range of species, including black bears, white-tailed deer and the gopher tortoise, to name but a few, this almost 400,000-acre forest has been brought back to its former glory after suffering extreme logging and erosion.
Birmingham Civil Rights Tour - Take time to learn more about the civil rights movement and its continuing significance on one of Birmingham's tours, which will include a visit to the Birmingham Civil Rights Institute.
Mississippi Civil Rights Museum - Continue your education in the fight for equal civil rights as you travel to Jackson, with a visit to this interactive, story-focused museum.
Spring Street Historical Museum - Housed in an 1860s bank building, this museum is a diverse collection of exhibits depicting nineteenth-century life in Shreveport: from transportation and maps to clothing.
Sixth Floor Museum at Dealey Plaza - This poignant collection illustrates the life, times and death and continuing legacy of President John F. Kennedy, as well as the life of Lee Harvey Oswald. The exhibit also covers the conspiracy theories surrounding the assassination.
Dallas Arboretum and Botanical Gardens - 66-acre botanical garden in East Dallas, positioned on the shores of White Rock Lake. Contains 11 lush garden areas.
Kennesaw Mountain National Battlefield Park - Well-preserved civil war battleground from the Atlanta Campaign in 1864. While there, check out the Civil War to Civil Rights Project exhibition.
Franklin Mountains State Park - Popular hiking spot, just 15 minutes from the heart of El Paso. Situated within the park, the Wyler Aerial Tramway gives incredible views of El Paso and the surrounding area.
El Paso Mission Trail - Enjoy the 9-mile stretch along El Paso County's Mission Valley at El Paso Mission Trail, which features three missions to visit.
Coronado National Forest - Discover the place where desert and forest meet in one place – the Coronado National Forest which is spread across around 1.78 million acres.
Saguaro National Park - Home to the United States' largest cacti, this stunning national park. Set across two separate districts: The Rincon Mountain District and the Tucson Mountain District.
Desert Botanical Garden - Take a walk in the 140-acre botanical garden in Phoenix. Discover the vibrant variety and beauty of desert plants.
Heard Museum - Located in Phoenix, this museum displays the greatest collection of Native American art and culture in the nation. Showcases exhibits, demonstrations and live events.
Joshua Tree National Park - Expansive park spanning the Mojave and Colorado ecosystems. Come for the Joshua Trees, stay for the fantastic hikes, boulders and stunning sunsets.
Palm Springs - Visit iconic Palm Springs and soak in its vintage vibe and old Hollywood glamor. While you're there, consider a trip to the nearby Coachella Valley Preserve.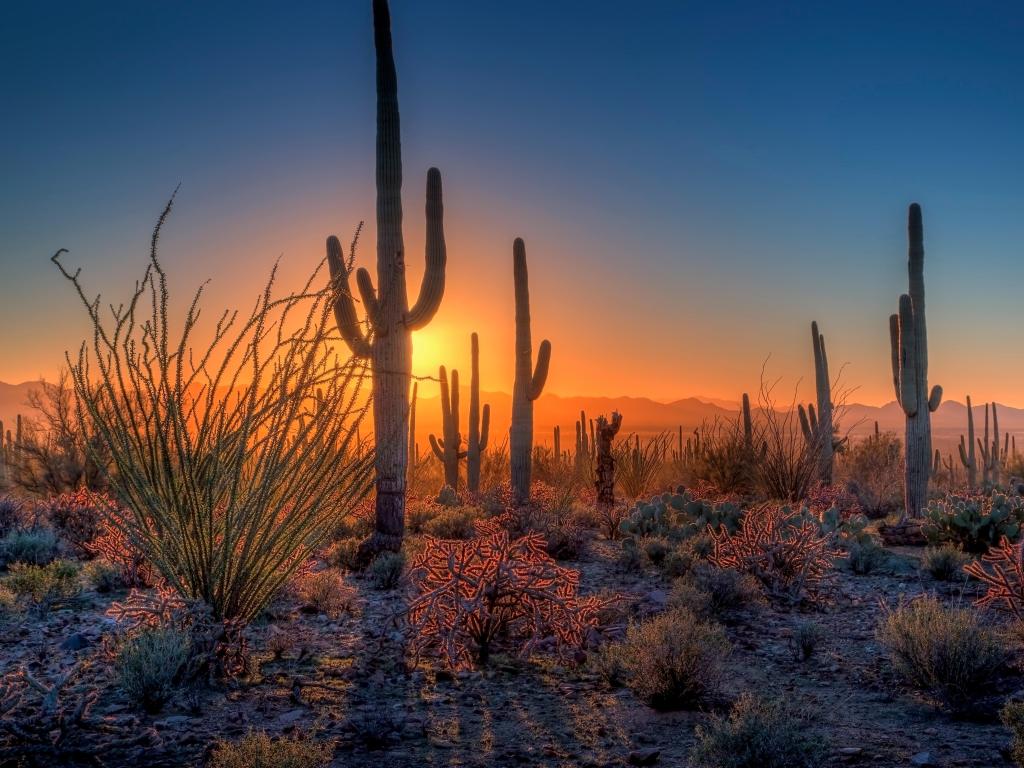 Best time to go on a road trip from Charlotte to Los Angeles
Thanks to the fact that Los Angeles is known for its warm and pleasant weather all year round, this road trip is one that can be enjoyed in all seasons. Given that this trip passes through such a large swath of the US, though, you might want to time your trip carefully.
Expect crowds during the hot summer months when the temperatures reach the upper end of 80 degrees Fahrenheit, especially during school vacation time and around the theme parks, which will result in higher hotel rates.
If you're following our El Paso Route, it's also worth bearing in mind that this option takes you even further south, where temperatures regularly hit the mid-90 degrees Fahrenheit.
At the other end of the season, Los Angeles is pleasant in winter, with January temperatures rarely dipping below the mid-50s. If you're looking to travel near Christmas, many of the major attractions run seasonal specials, such as Grinchmas at Universal Studios Hollywood.
An optimum time to travel could be either spring or fall. You'll find all seasons attract tourists in LA, although hotel rates will be lower in the springtime, while temperatures are still very pleasant.
If you want to try whale watching, winter and spring are the best times for this as it's migration season.
If crowds don't bother you, you can attend the LA Film Festival in June which holds free screenings and exclusive premiers. Or if you've followed the Albuquerque Route, the first two weeks of October will see the Albuquerque International Balloon Fiesta take to the skies.