Best Time To Visit Nashville - Full Month by Month Guide
Nashville is known as a place where the music never stops - some honky-tonks literally have live performers on around the clock! But if you're visiting the Music City for the first time and want to know see all of Nashville's best sights or to get the best deal, it's important to choose the right time to go.
The best time to visit Nashville is in April to May or September to October. The weather is ideal and not as hot as the summer months and there are less tourists in the city which means better hotel prices and shorter queues at the main sights.
Read our guide to find out exactly when you should go, see the detailed climate information and a month-by-month guide for the best events and festivals in Nashville.
When should you go to Nashville?
When to visit Nashville - Summary
Best Time for Good Weather: Coming to Nashville for the weather depends slightly on what you like. If you're like me and you love the summer even when it gets hot, then you want to visit any time between May and September with July and August being the two hottest months. For those who don't like it hot and humid or if you're visiting with kids, you might want to avoid the summer heat and visit Nashville in April or October. During these months the weather is nice and mild - it's pleasantly warm and October is also the driest month of the year making it a great time to go to Nashville.
Best Time for Sightseeing: April to May and September to October are best for visiting Nashville for sightseeing and going around the city. The weather is great and not too hot for moving from one location to another and you avoid the summer crowds which means you avoid long lines to get into some of the museums.
Best Time for Saving Money: Hotel prices and travel to Nashville are cheapest during the winter months from December to February and these are the cheapest months to come to the Music City. The tourist season is at its lowest and so hotels offer discounts to try and get people to come and stay. January and February have the Nashville Originals Restaurant Week and the East Nashville Restaurant Week where restaurants all over Nashville offer cut price meals and fixed price menus which can help out a lot with saving money on your trip.
Best time to visit Nashville
Best Time for Events and Festivals If you love going to street fairs, events and festivals, you really should visit Nashville in September or October. You've got food and drink festivals ranging from beer and wine to barbecue and music festivals including Live on the Green, Breakaway Nashville and the Grand Ole Opry Birthday Bash. Film lovers get the Nashville Film festival, car fans can go to Nashville Auto Show and Germantown hosts the Oktoberfest for 4 days in October. The Tennessee State Fair is also in town so there is always something on!
Best Time for Restaurants: For the foodies, Nashville has a great selection of restaurants and you can visit any time to try out great local food. If you want to get more for your money, the Nashville Originals Restaurant Week and the East Nashville Restaurant Week take place in January and February - you can try some amazing venues at a fraction of the usual price and try unique dishes that are created for these weeks. The Tennessee Flavors event in March is a festival that brings together the best of local chefs and April has the East Nashville Beer Festival and the Cocktail Festival. The biggest food and drink event in Nashville is the Taste of Music City in June and if you want to try the best of local cuisine, the Hot Chicken Festival in July is the time to come. For BBQ lovers, the Old School BBQ event is in September and October brings the Jack Daniels BBQ World Champinoship is in October. Last but not least is the Wine on the River event in September which is a perfect way to enjoy some fine food and wine on the bank of the Cumberland.
Best Time for Concerts and Music: Music events and concerts take place in Nashville virtually all year round - there are events specific to country and bluegrass music but June is the month to come if you want to see all the big stars in Nashville at the same time as the CMA Fest and CMT Awards take place in town. If you are after some local performers in honky-tonks, any time of the year is good, but try to visit outside the summer months when the tourist season is at its peak and the venues can get very busy in the evenings.
Best Time for Families and Kids: The shoulder tourist seasons are perfect for visiting Nashville as a family. You want to avoid going during the hot and humid summer months if you have kids and less tourists means less waiting in lines. It's even less busy over the winter, but the cold and wet or even snowy weather is not great for going around with kids or strolling around the different neighborhoods, so I'd avoid going then.
Best time to Avoid Crowds: If your objective is to have Nashville all to yourself, avoid the crowds and not have to wait in line, then you should visit from November to March. This is the bottom of the tourist season and you will find many of the museums and sights around town very quiet. The weather turns cold and miserable during these months and so very few people come over the winter. If you don't want to go to Nashville during the worst weather, then late October and late March through to early April are good compromises - the weather is still mild and sometimes can be pretty good, but it's still very much outside the popular part of the tourist season.
Best time to visit Nashville for live music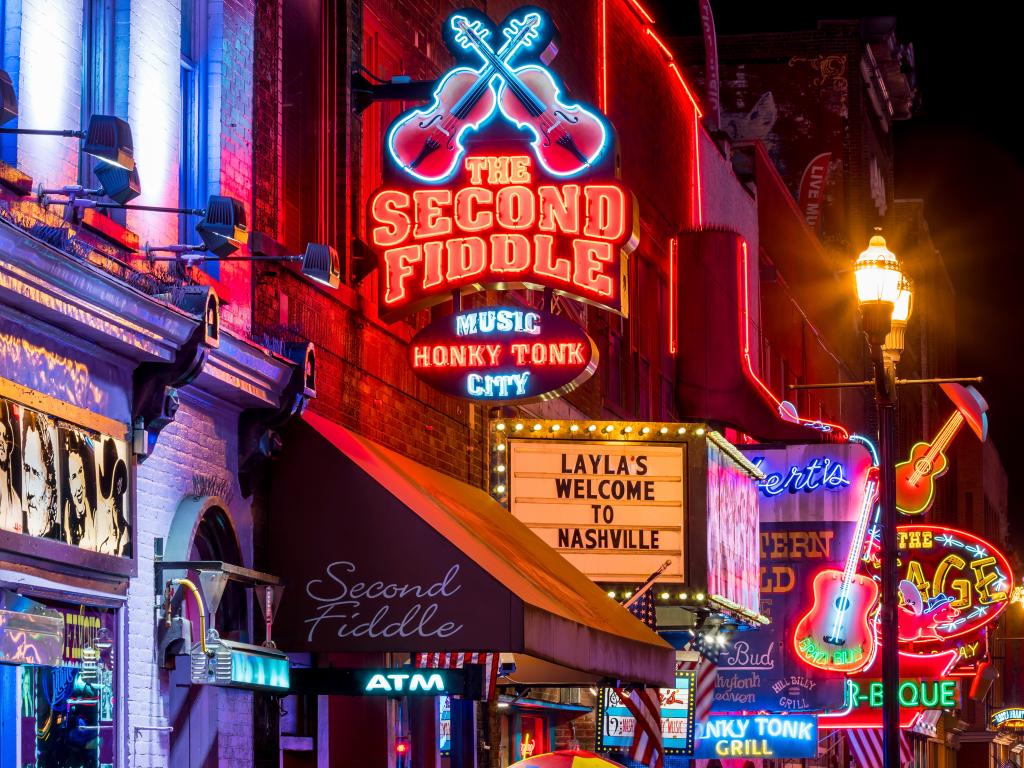 Nashville is known as a fantastic city to visit for listening to live music all year round. The honky-tonks, bars and clubs have live music on every day and some of them will have performers at virtually any hour from the morning through to very late at night.
There are a few music events through the year that can be good if you time your visit right. The Cashville Blues Festival is in February, Tin Pan South is in March, Rites of Spring Music Festival takes place in April and Musicians Corner in Centennial Park kicks off in May. Check the event schedule below for more information.
The biggest music month of the year is June - the CMA Fest and CMT Awards both take place in June in Nashville and attract the biggest names in country music to the city. You'll find lots of concerts in genres ranging from rock to bluegrass as well.
The CMA Awards used to be held at the Bridgestone Arena in Nashville but they have recently moved to Las Vegas and are now off the local roster.
Nashville travel seasons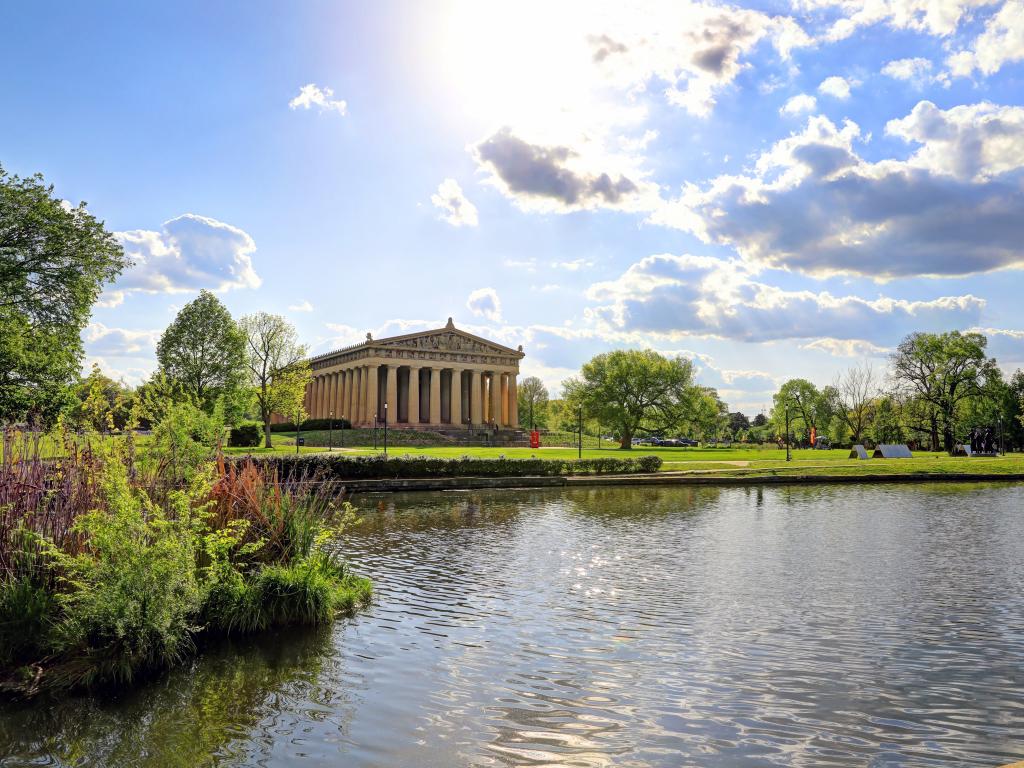 High Season for Tourists (June to August)
Nashville is busiest with visitors during the summer months between Memorial Day and Labor Day. Despite the hot and relatively humid conditions, the tourist season peaks starting in June with people coming during their summer breaks and over the school holidays.
Expect to see lines at some of the more popular tourist sites like the Parthenon and Andrew Jackson's Hermitage if you visit Nashville over the summer. The honky-tonks in town also get a little more crowded so you might want to head out a little earlier to try and get a seat.
As the weather can get very hot at the peak of the tourist season in late July and August, make sure you have plenty of water with you - you may have to wait in line outside and even just walking around town and taking in the views from the John Seigenthaler Bridge can get uncomfortable in the middle of the afternoon.
Shoulder Seasons (April to May and September to October)
Late spring and early fall are the shoulder seasons where visitors still come to Nashville, but as it's outside the popular summer window, it's a less busy period.
The weather gets warmer through April and stays very mild almost all the way through October making it a good time to enjoy everything Nashville has to offer and those who have more flexibility with their time will often choose to visit during these months.
Hotel prices and travel will typically be a little cheaper either side of Memorial Day and Labor Day, but there isn't as much of a difference as you might think. Nashville is very popular with older tourists visiting for the music and culture which means the shoulder seasons remain relatively popular.
Low Season (November to March)
November to March is the low point of the tourist season in Nashville. The weather turns quickly in November, almost skipping through fall and heading for the cold winter season.
Late November and December are cold and wet and January brings with it snow and ice. The visitor numbers dry up considerably - the humidity makes the temperatures feel colder than they are and the Cumberland river breeze adds to the chill factor.
As the weather improves through March, visiting Nashville becomes more pleasant and you will see an increase in popularity towards the end of March as the shoulder season starts.
Weather in Nashville across the year
Average monthly temperature and rainfall for Nashville
Average temperature highs and precipitation
Data sourced from U.S. NOAA Climate Data
Month
Temperature
Rainfall
January
46.9 °F / 8.3 °C

---

3.75 in / 95 mm

---

February
51.8 °F / 11.0 °C

---

3.94 in / 100 mm

---

March
61.0 °F / 16.1 °C

---

4.11 in / 104 mm

---

April
70.5 °F / 21.4 °C

---

4.00 in / 102 mm

---

May
78.2 °F / 25.7 °C

---

5.50 in / 140 mm

---

June
86.0 °F / 30.0 °C

---

4.14 in / 105 mm

---

July
89.3 °F / 31.8 °C

---

3.64 in / 92 mm

---

August
89.0 °F / 31.7 °C

---

3.17 in / 81 mm

---

September
82.4 °F / 28.0 °C

---

3.41 in / 87 mm

---

October
71.7 °F / 22.1 °C

---

3.04 in / 77 mm

---

November
60.3 °F / 15.7 °C

---

4.31 in / 109 mm

---

December
49.5 °F / 9.7 °C

---

4.24 in / 108 mm

---
Nashville weather by month
Nashville weather in January: January is the coldest month of the year in Nashville and is usually the start of the snow season. Although it doesn't usually snow a lot and when it does, it doesn't get heavy, but expect to see occasional snowfall and ice forming overnight. Nighttime lows average 28.4 °F (-2.0 °C) and it will sleet or snow two to three times a week. Average temperature: 37.7 °F / 3.2 °C. Average precipitation: 3.75 in /95 mm.
Nashville weather in February: February continues being cold and icy with occasional snow still falling in Nashville. The daily temperatures become a little warmer with January with virtually every day thawing in the afternoon and daily highs reaching the high 50s (over 13 °C) towards the end of the month. Average temperature: 41.7 °F / 5.4 °C. Average precipitation: 3.94 in / 100 mm.
Nashville weather in March: Spring arrives in Nashville in March and although in the first couple of weeks some nights still dip below freezing, nighttime lows average 39.0 °F (3.9 °C). Sleet and snow turn to springtime rains with heavier rainfall twice a week. Daily highs warm to over 65 °F (18 °C) in late March making for pleasant afternoon and early evening weather. Average temperature: 50.0 °F / 10.0 °C. Average precipitation: 4.11 in / 104 mm.
Nashville weather in April: April is the middle of spring and big season of change in Nashville. While the total rainfall remains relatively steady, expect some spring thunderstorms which can bring hail and even tornadoes (although these are rare). Daily highs average over 70 °F (21 °C) and the lows get to about 50 °F (10 °C) at night as April progresses making it comfortable to get around the city and do some sightseeing. Average temperature: 59.0 °F / 15.0 °C. Average precipitation: 4.00 in / 102 mm.
Nashville weather in May: Weather becomes genuinely warm in May with daily highs averaging a very pleasant 78.2 °F (25.7 °C) and a few days reaching into the high 80s (over 30 °C). Nighttime lows increase to average over 60 °F (16 °C) in the second half of May. May is also the wettest month of the year with an average of 12 rainy days during the month and 8 of them having substantial downpours. Average temperature: 67.5 °F / 19.7 °C. Average precipitation: 5.50 in / 140 mm.
Nashville weather in June: The hot summer months start in earnest in June. Daily highs average a very warm 86.0 °F (30.0 °C) and a fair few days later on in the month will creep over the 90 °F mark (32 °C). Rainfall reduces from the high in May and the summer humidity makes the weather feel hotter. It's not as bad as many parts of the South, but you'll need shade and plenty of water if you're walking around Nashville in mid-afternoon on a sunny day! Average temperature: 75.7°F / 24.3 °C. Average precipitation: 4.14 in / 105 mm.
Nashville weather in July: July is Nashville's hottest month. 1 in 2 days reach a high of over 90 °F (32 °C) and some will go above 95 °F (35 °C). As humidity reaches an average of 73%, July will feel hot even later on in the evening. Although the majority of the summer the skies are bright and clear, the humid climate leads to rains once every 3 days on average - they tend not to last and provide a welcome respite to the searing heat. Average temperature: 79.4 °F / 26.3 °C. Average precipitation: 3.64 in / 92 mm.
Nashville weather in August: August continues on from July in feeling very hot. The average highs are a fraction lower at 89.0 °F (31.7 °C), but the humidity is a few notches higher and August is usually the month in the year where one day can break the 100 degree mark (38 °C). Rainfall reduces significantly in August - it's the start of a drier spell through to October, although there is still around 8 days with rainfall during the month. Average temperature: 78.7 °F / 25.9 °C. Average precipitation: 3.17 in / 81 mm.
Nashville weather in September: Weather begins changing in September - early in the month the summer heat remains but as the month progresses daily highs drop towards around 75 °F (24 °C) making it feel a lot more pleasant than peak summer temperatures. Although precipitation is a little higher on paper than August, the rain usually comes in bursts and September has the fewest rainy days averaging 7.5 in the month with less than 5 having any significant rainfall. Average temperature: 71.5 °F / 21.9 °C. Average precipitation: 3.41 in / 87 mm.
Nashville weather in October: October in Nashville is surprisingly pleasant with the typical fall weather that reaches other parts of the United States largely holding off until November. Daily highs average a very mild 71.7 °F (22.1 °C) and even the nighttime lows stay above 50 °F (10 °C) until late on in October. Humidity takes a sharp drop from the summer levels and October is also the driest month of the year in Nashville with only 3 inches of rain falling over 8 days during the course of the month. Average temperature: 60.3 °F / 15.7 °C. Average precipitation: 3.04 in / 77 mm.
Nashville weather in November: Fall season in Nashville comes in November with temperatures dipping, rainfall increasing and leaves turning all shades of gold and red. Daily highs drop to just 60.3 °F (15.7 °C) and nights get cold with lows dipping towards the freezing point as November wears on and going below at the end of the month. Rainfall increases to 4.3 inches adding 2 more rainy days. Average temperature: 49.8 °F / 9.9 °C. Average precipitation: 4.31 in / 109 mm.
Nashville weather in December: The short fall season ends at the beginning of December and winter takes over. The weather gets cold with average highs at just 49.5 °F (9.7 °C) and most nights freezing over. Although it's cold and December is one of the wettest days of the year with over 11 rainy days on average, it's unlikely to snow until January with only a rare flurry just before the New Year in most years. Average temperature: 40.4 °F / 4.7 °C. Average precipitation: 4.24 in / 108 mm.
Nashville events and things to do by month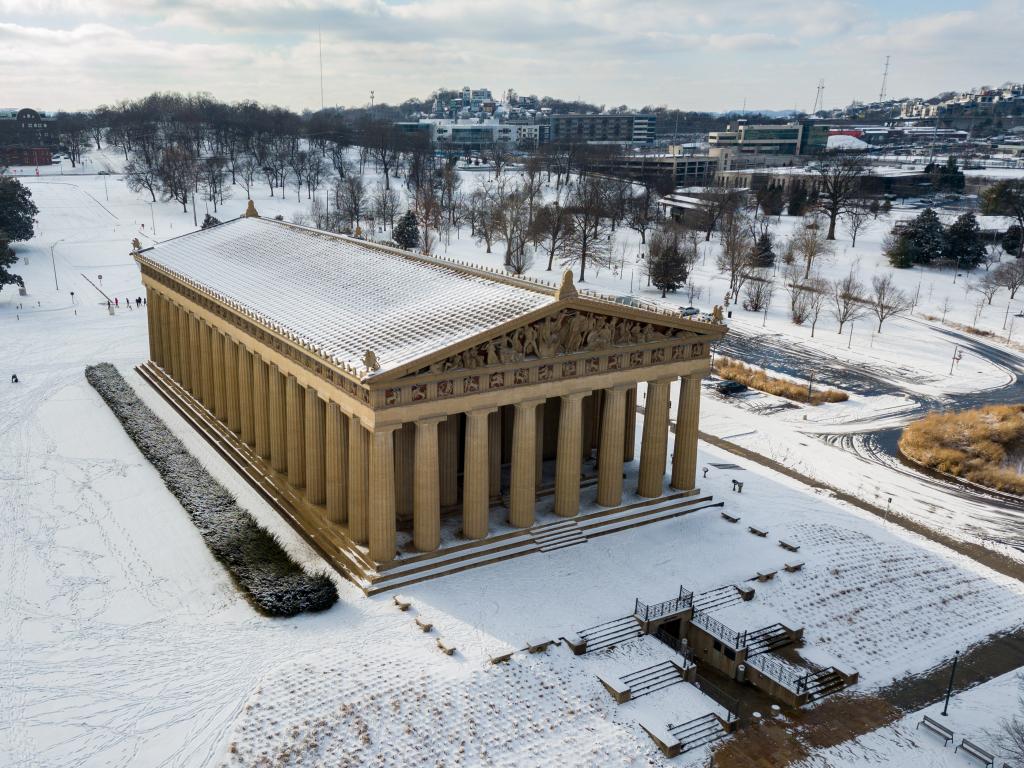 January in Nashville
Nashville Boat Show - A huge indoor boat show that draws visitors from all over the region with everything from jet skis to powerful speed boats, accessories, parts and marina equipment. Usually takes place in early January with one-off special deals available on Super Thursday.
Battle of New Orleans Celebration - The battle that took place all the way in Louisiana where Andrew Jackson led a misfit U.S. Army to victory against a superior British fleet is celebrated at the Hermitage which was the home of Jackson, the 7th President of the United States during the time and throughout his presidency.
February in Nashville
Antiques & Garden Show - One of the leading events in the country dedicated to antiques and landscaped gardens that has run for over 30 years. It takes place over the first weekend in February and brings over 150 vendors for an exhibition, lectures and presentations and garden cocktail parties!
East Nashville Restaurant Week - A selection of local restaurants in East Nashville offer discounts, fixed price $35 menus and special $1 cocktails supporting a local children's charity.
March in Nashville
April in Nashville
May in Nashville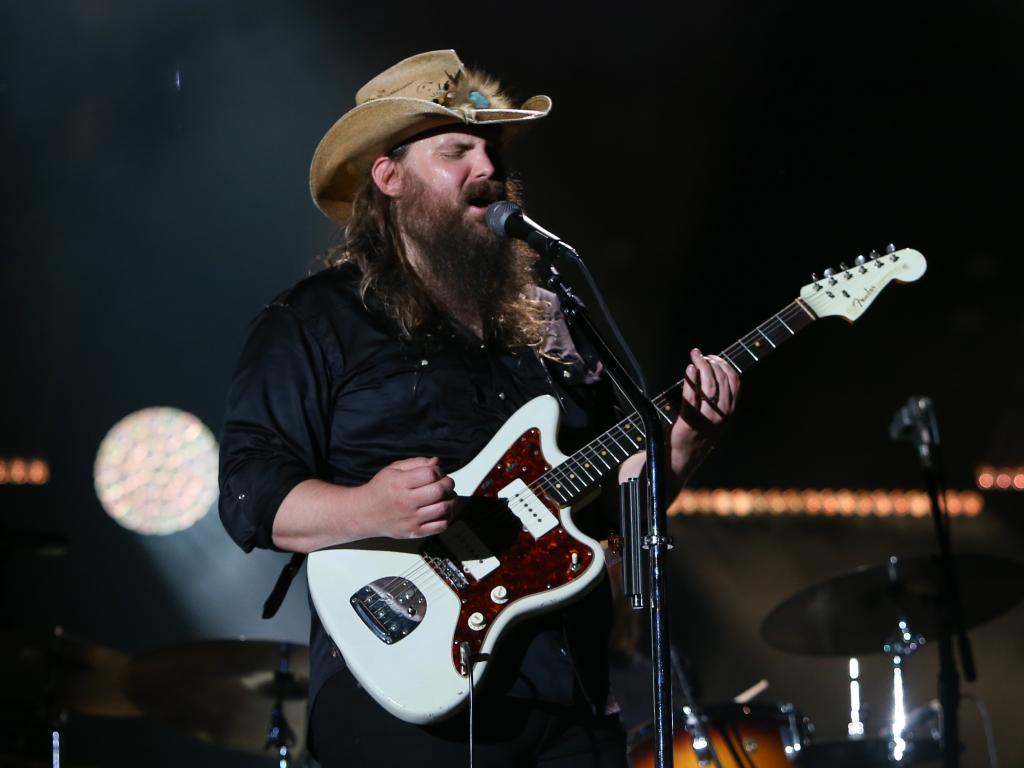 June in Nashville
July in Nashville
August in Nashville
September in Nashville
October in Nashville
November in Nashville
A Country Christmas - The Gaylord Opryland Resort transforms into a winter wonderland with 3 million holiday lights, a 48-foot tall Christmas tree, many miles of garlands and ribbons and millions of pounds of ice. A great day out for the whole family - it runs from early November through to the New Year.
December in Nashville
Nashville Christmas Parade - An annual event that has run since 1927 has giant floats, famous musicians, marching bands in the run up to Christmas.
Music City Bowl - A big season ending game for the FBS football season that takes place just after Christmas at the home of NFL's Tennessee Titans - Nashville's Nissan Stadium.
Jack Daniel's Music City Midnight - New Year's Eve in Nashville is special with a huge party at the Bicentennial Capitol Mall State Park - expect big name performers and a huge turnout.