Road Trip from Dallas to Nashville
An epic journey from Dallas to Nashville should be on everyone's bucket list, and it is especially a treat for music and history lovers. This drive will take you through some beautiful plains and the most charming cities you're ever likely to see before you reach the Music City.
The 670-mile road trip from Dallas to Nashville takes 10 hours of driving. Key stopovers include Ouachita and Ozark National Forests, Cooper Lake and Natchez Trace State Parks, as well as the cities of Memphis, Jackson, Little Rock, and Texarkana.
If you are preparing to set off on this legendary road trip, read on to learn about the best stops, places to detour, and the best time to take a road trip from Dallas to Nashville.
How far is Nashville from Dallas, and how long will the road trip take?
The road trip from Dallas to Nashville takes 10 hours of nonstop driving and covers 670 miles of ground. You could do the drive in a couple of days, but instead, you should try to stop in as many cities in Arkansas and Tennessee as you can.
Although there are several ways to approach the drive, by far the best option is to follow Interstates 30 and 40 and make detours to the gorgeous attractions and landmarks on the way whenever you feel like it.
Since you'll be staying on a major road the entire time (driving through the plains, no less), you can expect a very smooth drive regardless of your experience with road trips - this makes the adventure suitable for novices and experienced adventurers alike.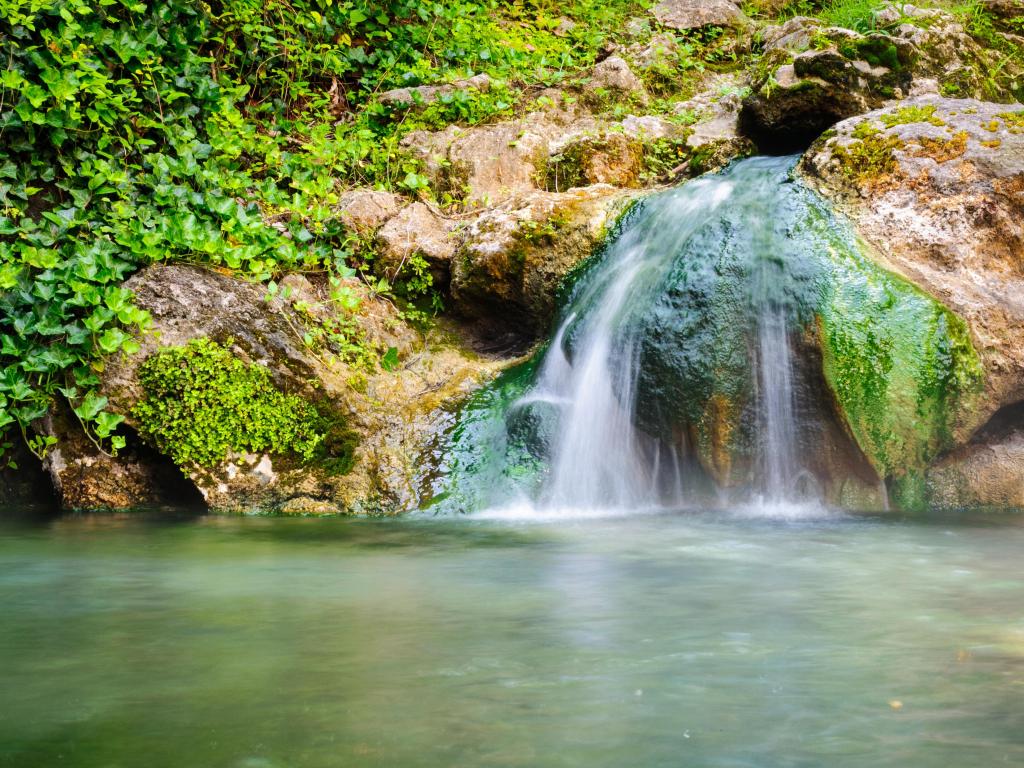 Best road trip route from Dallas to Nashville
The best route for the road trip from Dallas to Nashville is both the quickest and the most scenic. Sticking to Interstates 30 and 40 most of the way, you'll see a long string of parks and urban areas just waiting to be explored.
There are many detour options on the way, which will take you to some of the most stunning national parks and forests of Texas, Arkansas and Tennessee. You will also drive through Texarkana as well as the iconic cities of Memphis and Jackson.
One thing to keep in mind is the traffic around the major cities, especially around the midpoint of the drive - you'll be passing through a long chain of major cities in Arkansas and Tennessee, so keep a close eye on the congestion before pulling into and out of each one.
Road trip from Dallas to Nashville
Take Interstate 30 (I-30) out of Dallas, following it over Lake Ray Hubbard, and be sure to take a quick break at Greenville. Continue east past Cooper Lake State Park, and drive through Sulphur Springs and Mt Pleasant before crossing over into Arkansas via Texarkana.
Pay a quick visit to Millwood State Park by following US-71 if you have the time, then get back on the interstate and continue to Rockport. From here, you have the option of detouring to Hot Springs, and even further north to Ouachita and Ozark National Forests.
Once you're done, get back on the interstate and follow it to Little Rock. Take a breather here and take Exit 11 for Interstate 40 (I-40) East, following it over The White River. Past Forrest City, take a brief detour to Village Creek State Park. Return to I-40 and drive out to Memphis.
After exploring the city, take a quick drive north to Meeman-Shelby Forest State Park, then go back to the interstate and cut through Hatchie National Wildlife Refuge. Soon after that, you'll drive through Jackson and past Natchez Trace State Park.
Continue east and cross the Tennessee River and be sure to visit Montgomery Bell State Park further down the road. Not long after that, you'll pass Cheatham Wildlife Management Area - this is your signal that you're about to pull into Nashville.
Best places to stop between Dallas to Nashville
The road trip from Dallas to Nashville can be made in a day, but with so much to see and do, you could easily extend the experience to a week of driving and adventuring.
Here are some of the places along the way that are guaranteed to relax your mind and body while featuring the utmost fun activities:
Discover the heart of country music in Memphis
The iconic city of Memphis sits less than 7 hours away from Dallas, which makes it a perfect stop en route. If you want to get a taste of how the King of Rock and Roll lived, The Guest House at Graceland offers the fanciest rooms and interior design in the city.
You'll have your pick of two spectacular restaurants, and once you're full, you can enjoy a relaxing dip in the amazing pool. After that, reward yourself with a refreshing drink from the poolside bar and head out into Memphis.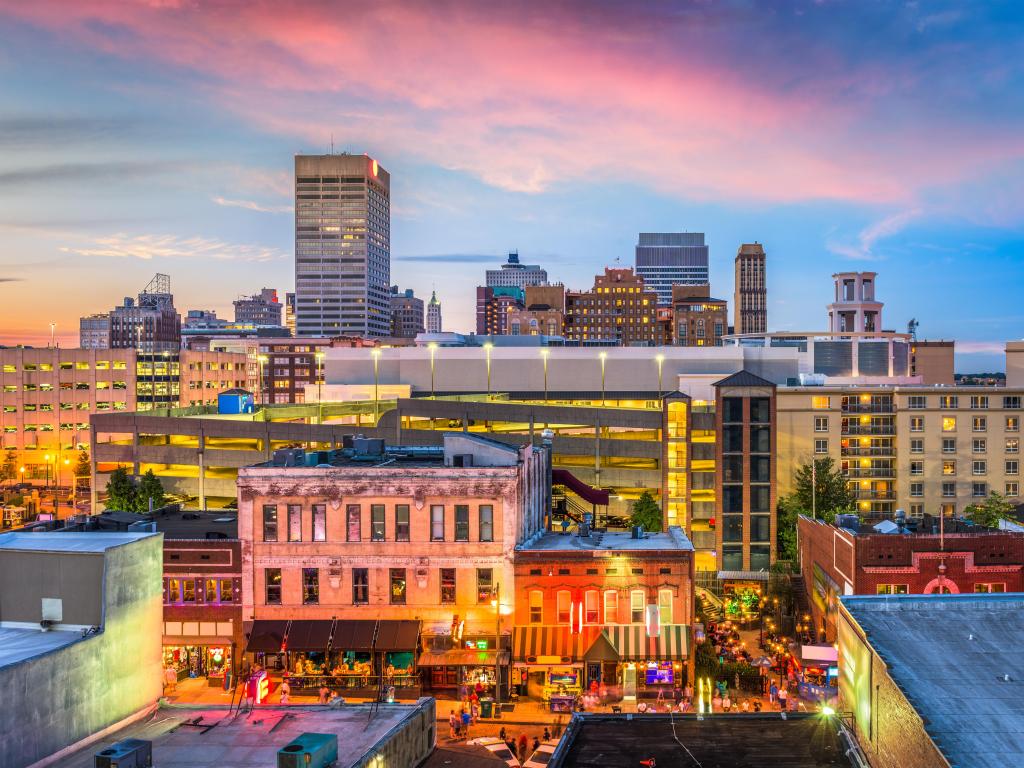 The hotel is located less than a 5-minute walk from Elvis Presley's Graceland Mansion, where you can see the remains of the King's opulent lifestyle. Perfect for music lovers, you can take a tour of the mansion to learn more about one of the most prominent figures in music history.
The musical heritage of Memphis does not end there. Stax Museum of American Soul Music and the legendary Beale Street entertainment district, where you can enjoy listening to some fantastic live bands, are a short drive away.
The iconic Sun Studio, known as the birthplace of rock and roll, is also located downtown. You can take a leisurely stroll in the Memphis Botanical Garden or stop by the Memphis Zoo on your way back for a much-deserved rest.
Where to stay once you reach Nashville
Unsurprisingly, a popular city like Nashville has heaps of amazing hotels to make your road trip unforgettable. With that said, if you want to be spoiled with the fanciest accommodation and longest list of amenities in the city, The Hermitage Hotel is the place for you.
The rooms at this place are rustic, yet incredibly eye-catching, and the same is true for the entire hotel's interior - a definite highlight would have to be the lobby, whose cathedral-like ceiling and colorful furniture create an incredibly unique atmosphere.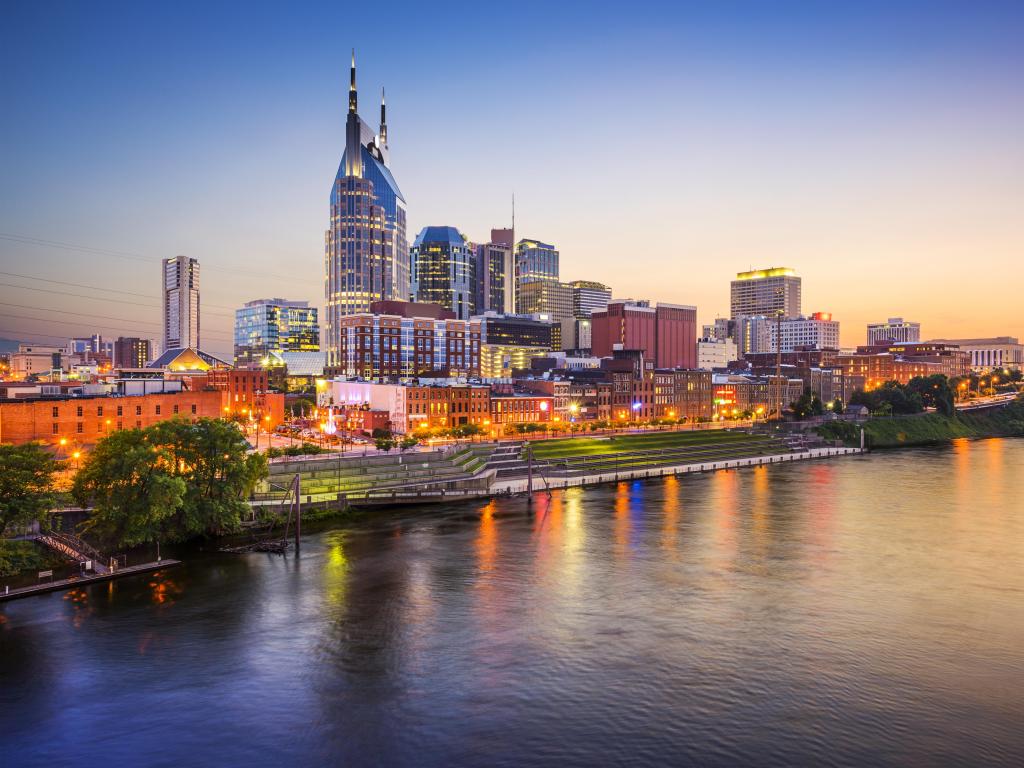 Located in the heart of downtown, you will have easy access to some of the most fascinating landmarks in the city, such as the Johnny Cash Museum, Musicians Hall of Fame & Museum, and Tennessee State Capitol.
Nashville is famous for its significant role in the history of music, but it is also known for its stunning architecture and breathtaking sunsets, which you can admire if you visit Riverfront Park by the Cumberland River at the right time.
After a day delving deeper into the fascinating history and the fantastic scenery of the city, you can enjoy a meal downtown as Nashville is also known for its vibrant food scene. Alternatively, you can head to the hotel and book a table at its popular on-site restaurant.
Things to see on a road trip from Dallas to Nashville
The road trip from Dallas to Nashville may only be a half-day drive along the interstate, but there are lots of opportunities for adventure and fun along the way. This scenic route is a great way to explore art, history, and nature as you cross Texas, Arkansas, and Tennessee.
There are several visit-worthy places along the road, and here are some of the stops you'll need to include in your itinerary to make the most of your road trip from Dallas to Nashville.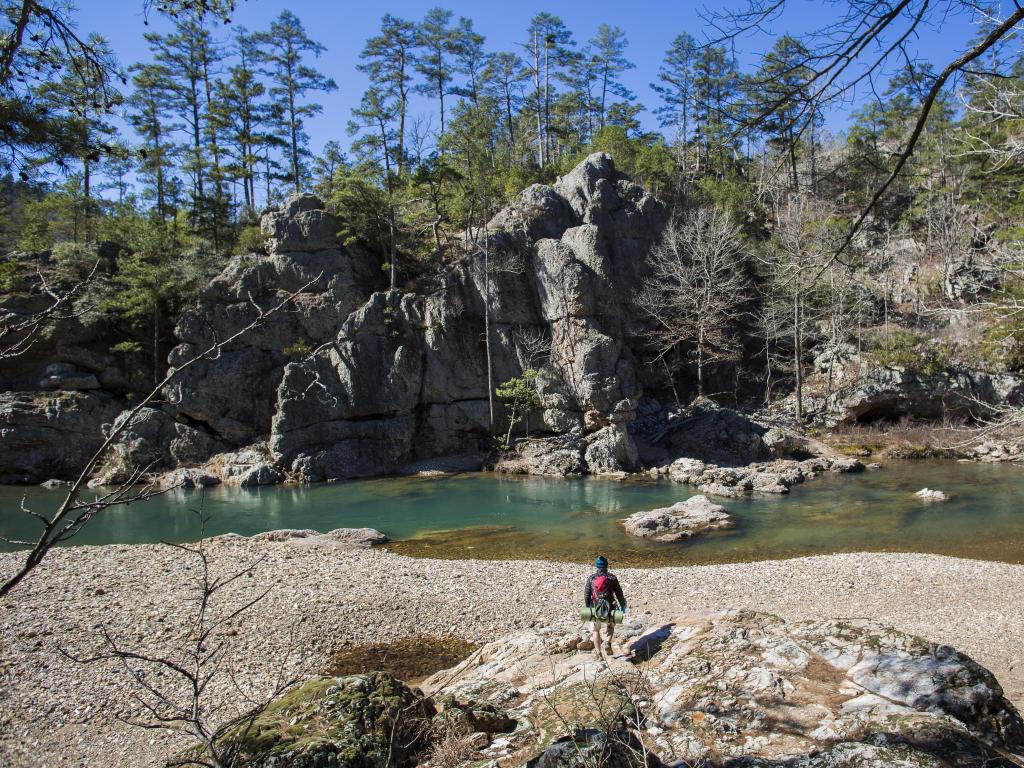 Cooper Lake State Park, Texas - Cooper Lake makes for an incredible spot for camping out and enjoying nature. Here you can fish, picnic, swim, boat, paddle, water-ski, hike, bike, bird watch and ride horses.
Texarkana, Texas/Arkansas - This city is unique in that it is split between the states of Texas and Arkansas. It boasts unique architectural landmarks such as the Perot Theater and Draughon-Moore Ace of Clubs House.
Millwood State Park, Ashdown - This is the park to visit if you like fishing for seabass. It also features beautiful hiking trails where you can do some birdwatching.
Crater of Diamonds State Park, Arkansas - The only diamond-producing site that you can visit in the world and a wonderful place to experience unearthing valuable gems like amethysts and garnets.
Rockport, Arkansas - Stop by this charming city to experience country living. Their farmers' market alone makes this small town worth a visit.
Gangster Museum of America, Hot Springs - Located in the heart of the historic downtown area, this quirky museum will take you to an era when gangsters and mobsters roamed the city.
Hot Springs National Park, Hot Springs – A must-visit for relaxation in its famous bathhouses and spring water pools, this park is also great for hiking across 26-mile trails.
Ouachita National Forest, Arkansas – This stretch of forested land is one of the most beautiful spots in all of Arkansas, where you can enjoy the stunning scenery and camp, hike, bike, horseback ride and dig up minerals.
Ozark-St. Francis National Forest, Russellville – Covering 1.2 million acres of lively flora and fauna, a must-see wonder for its majestic nature views and serene waters.
Little Rock, Arkansas – A fantastic stop for hiking, touring museums, and experiencing nightlife at the River Market. The state capital of Arkansas is also home to the Little Rock Zoo and the Museum of Discovery.
Village Creek State Park, Wynne - Encompassing nearly 7,000 acres of stunning forests and crystal-clear waters, this park is the perfect place to stretch your legs after a long drive.
Memphis, Tennessee – Home to great music genres and a wonderful place to experience and learn about music, history, and art. You can visit the famous Graceland Mansion as well as many museums to learn about the key place of this city in music history.
Graceland Mansion, Memphis - The home of the King of Rock and Roll is a must-visit, even if you aren't a music fan or history buff. You will get to see how the King and his family lived in this mansion.
Rusty's TV and Movie Car Museum, Jackson - A quirky museum that features many cars and vehicles you will recognize from movies and TV shows.
Meeman-Shelby Forest State Park, Millington - This stunning forest borders the Mississippi River and boasts some unforgettable scenery. It provides perfect opportunities to paddle and boat as well as hike and bike.
Hatchie National Wildlife Refuge, Stanton – If you can appreciate the rugged beauty of the marshlands, you won't want to miss out on this Tennessee refuge.
Natchez Trace State Park, Tennessee – This impossibly scenic park is one of the most popular hiking locations in Tennessee and for a good reason; you will want to make sure your camera is charged to make the most of how photogenic this park is.
Montgomery Bell State Park, Burns – An amazing park close to Nashville that features three lakes where you can fish. You can also camp or relax while having a picnic by their shores.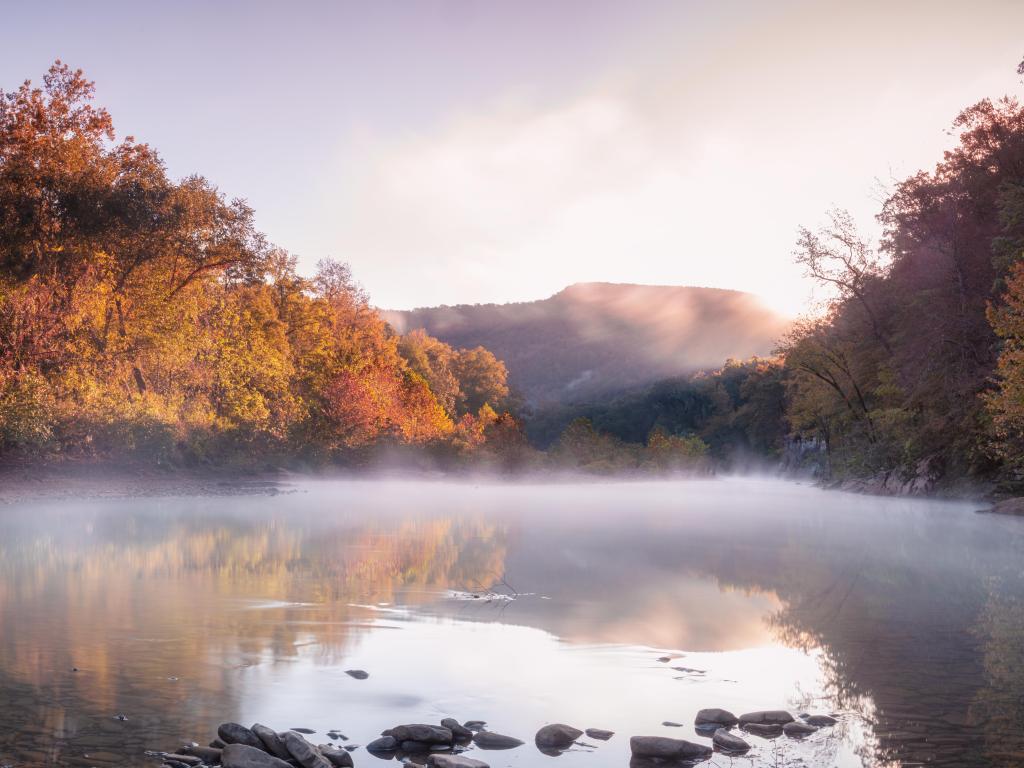 Best time to go on a road trip from Dallas to Nashville
You can take and complete the road trip from Dallas to Nashville at any time of the year. However, the best time to explore the wonders along the way is in fall and spring, owing to the spectacular conditions in the plainlands.
These seasons bring the best weather with temperatures fluctuating around 70 degrees Fahrenheit, perfect for all your exciting adventures whether in the great outdoors or relaxing indoors. The drive will also be more comfortable during these milder seasons.
If you are visiting during early fall, you will be able to experience Nashville Film Festival and Nashville Songwriter Awards in September.
If you are taking your trip in winter, it is always best to check the weather advisories as the interstate is prone to some winter weather problems resulting in road closures. The temperatures drop down to around 40 degrees Fahrenheit during these colder months.
As for Nashville itself, spring and summer make for the best times to visit the city if you're looking to catch it "in bloom". Temperatures hover around the high 70s in the spring and can almost reach 90 in the summer, so expect sweat, heavy crowds, and lots of events.
On the other hand, if you want to keep the trip cheaper and just can't stand the heat, visiting in late fall or winter will get you some amazing deals on hotel rooms. Just make sure to pack warm as the temperatures can drop below freezing degrees on cold winter nights.