Road Trip From Chicago To Nashville
A drive to Music City through a chain of incredible landmarks should be on everybody's to-do list - the road trip from Chicago to Nashville will take you past some of the fanciest cities, deepest caverns, and greenest forests in the Midwest and Upper South.
The 470-mile road trip from Chicago to Nashville takes 7 hours 10 minutes on the road. Sights en route include St. Louis and Fort Knox, Housier and Shawnee National Forests, stops at Mammoth Cave and Horse Cave, and the amazing Louisville Mega Cavern.
There's a lot of ground to cover during the trip, so continue reading until the end to make sure you don't miss a thing along this epic journey.
How far is Nashville From Chicago and how long will the road trip take?
There are a couple of routes you can take during the road trip from Chicago to Nashville, and they have virtually no overlap. Best of all, both routes stick to an interstate, making the drive very easy for beginner road trippers.
The quicker route will have you following Interstate 65 through Indiana and Nashville. It covers 470 miles and takes around 7 hours 10 minutes to drive, and it'll take you all the way through Indiana and a decent chunk of Kentucky.
One thing to keep in mind is that traffic near Indianapolis and Louisville (both from the north and south) can get rough, so on a bad day, this route could wind up taking you an extra hour.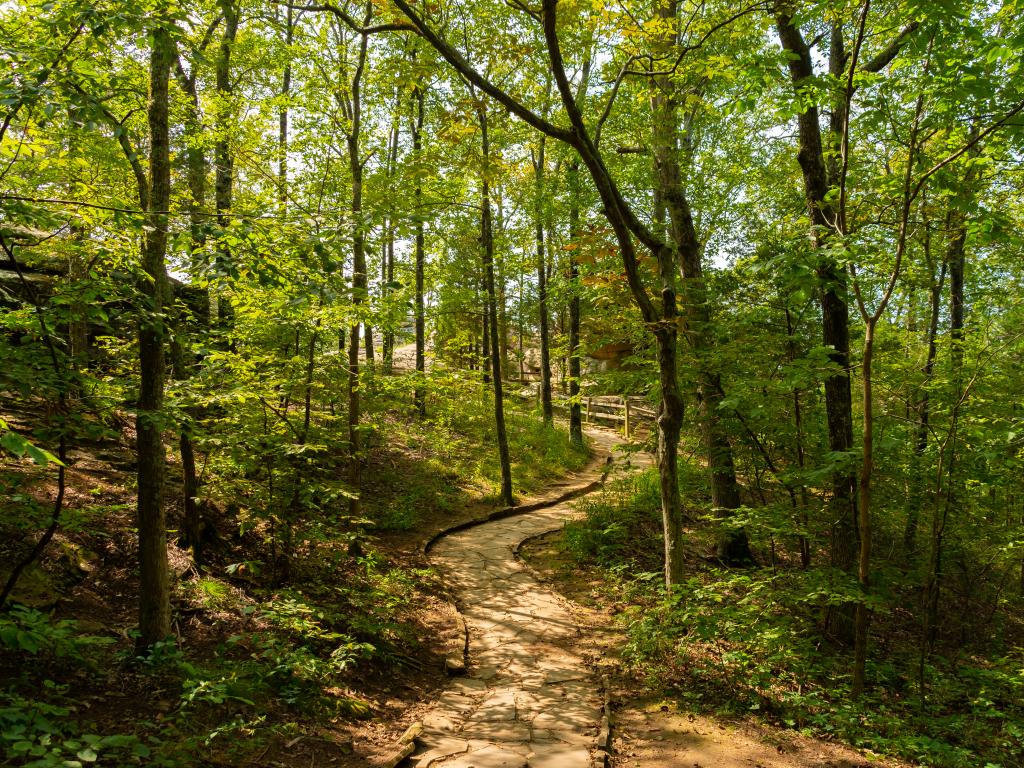 Another option is to add 30 miles to the drive by taking Interstates 57 and 24 through Illinois and a chunk of Kentucky. In terms of landmarks, this route is comparable to the first one, only instead of driving through Louisville, you can detour to St. Louis in Missouri.
An advantage of taking this route is bypassing the traffic problem since Champaign and Mt Vernon don't have the same levels of congestion as the cities on the other route. Still, consider monitoring the traffic with an app if you're traveling during the holiday season.
Both drives can be done in a single day, but for the best experience possible, be sure to split the trip up into at least 3 days to explore as much as you can on the way.
Best road trip route from Chicago to Nashville
There genuinely isn't a definitive road trip route from Chicago to Nashville. The route you choose should depend on which specific landmarks you want to check out, although your best bet is to take one on the way to Nashville and the other on the return trip.
The Indiana Route (via Interstate 65)
Leave Chicago via Interstate 90, following it to Gary - from there, continue south along Interstate 65, passing through Lafayette and Indianapolis.
Check out Yellowwood State Forest and Brown County State Park, then take a day or two to explore Louisville. Further south is Bernheim Arboretum and Research, followed by the action-packed Horse Cave and Mammoth Cave.
Further south, make an optional (but much-recommended) detour to Bowling Green before entering Tennessee. Take the time to explore Moss-Wright Park and Rockland Recreation Area in Goodlettsville, then continue south to Nashville.
The Illinois Route (via Interstates 57 and 24)
Take Interstates 90 and 94 south to Roseland, and from there, hop onto Interstate 57 and follow it out of Chicago, past Kankakee River State Park. From Champaign, do a detour to Allerton Park & Retreat Center, or continue along the interstate through Mattoon and Effingham.
If you feel so inclined, you can take Interstate 70 from Effingham to do a detour to St. Louis, which is sprawling with attractions like City Museum LLC and the Gateway Arch.
Back on the main route, once you're past Marion, get onto Interstate 24 and follow it through Shawnee National Forest before crossing the Ohio River into Kentucky. Once there, pass Land Between the Lakes National Recreation Area, and stop in Clarksville before reaching Nashville.
Best Places To Stop Between Chicago And Nashville
The great thing about the road trip from Chicago to Nashville is that there are heaps of luxurious stopover options. Here are some of your best accommodation options:
Enjoy the meal of a lifetime in Louisville
The City of KFC is renowned nationwide for its spectacular cuisine, and since you'll be passing directly through, there's virtually no excuse not to stop here and relax at a fancy hotel. With its legendary interior design, the swankiest resort in town would have to be The Brown Hotel.
The communal sitting area is almost cathedral-like in terms of presentation, and the bright, airy rooms are bound to leave a lasting impression. There's even a world-class "concert hall" with a grand piano and some of the most elegant decor you've ever seen.
To commemorate your stay with some regional artwork, be sure to stop by The Brown Gift Shop and Gallery for a souvenir, and follow it up with a meal at The Lobby Bar or one of the two on-site restaurants.
This historic hotel is definitely expensive, but when you consider all it has to offer, it has every reason to be. On top of that, the place gets bonus points for being so close to many major landmarks in the city, as it's only a mile from the center.
Take in the music in Nashville
The only thing that can make the sound of classic all-American tunes sweeter is a stay at a luxurious resort. Although Nashville has them in spades, the biggest standout is definitely The Hermitage Hotel.
From its luxurious lobby to the top-of-the-line rooms, the attention to detail at this hotel is second to none. A definite highlight would have to be The Deluxe King rooms, which look world-class yet have that unmistakable feeling of home.
Whether you're eating at the restaurant or enjoying a drink at the bar, every evening at this hotel feels like a business meeting in the best possible way.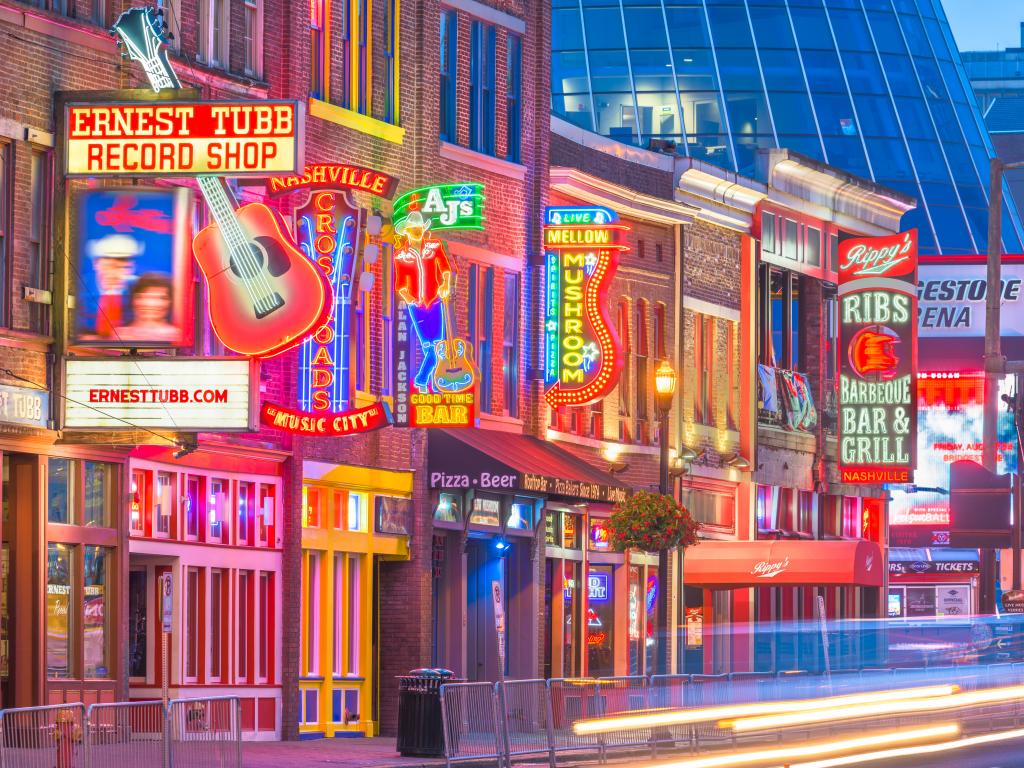 If exploring Nashville doesn't tire you out, a workout session at the on-site fitness area definitely will. Once you're good and tired, take advantage of the concierge service and enjoy an in-room meal while enjoying the city view.
It should go without saying that this hotel isn't for a budget traveler, but if you can afford it, a stay at The Hermitage Hotel is one of the greatest Nashville experiences you could hope for.
Things to see on a road trip from Chicago to Nashville
The number of things there are to see on the road trip from Chicago to Nashville is quite staggering, and a lot of the attractions are located in or near major cities, so you don't have to do much offroading. It would be impossible to list everything there is to see, but be sure to check out the following places:
Lake Michigan - The first part of your journey will take you around the southern point of Lake Michigan, the second largest of the Great Lakes and the only one located entirely in the United States
Lafayette - Site of the Battle Of Tippecanoe during the American-Indian Wars; many museums and historic sites remain to tell its story
Indianapolis - The capital and most populous city in the state of Indiana
Louisville - The most populous city in the state of Kentucky
Louisville Mega Cavern - A gargantuan cave system with an underground zipline system
Hoosier National Forest - A premier hiking and fishing spot near Louisville
Jim Beam American Stillhouse - Take a tour around the legendary factory of one of America's most famous whiskey producers
Bernheim Arboretum And Research Forest - A 35-square-mile forest and nature reserve that plays home to numerous species of animals, plants, and trees. Miles of hiking trails and streams make this a perfect spot to get lost in nature for a while
Fort Knox - The area was first used as a fort in 1861 during the civil war, before the legendary army base and gold depository was constructed in 1936
Mammoth Cave - The largest known cave system in the world
Horse Cave - a city known for the Kentucky Down Under Adventure Zoo and an array of intricate cave systems
Bowling Green - Home to the Kentucky Museum and Library, as well as the National Corvette Museum and Historic Railpark and Train Museum
St. Louis - A major city in Missouri housing the tallest monument in the States, the Gateway Arch
Shawnee National Forest - Filled to the brim with sweeping hilltop views, this is one of the area's most popular forests for a reason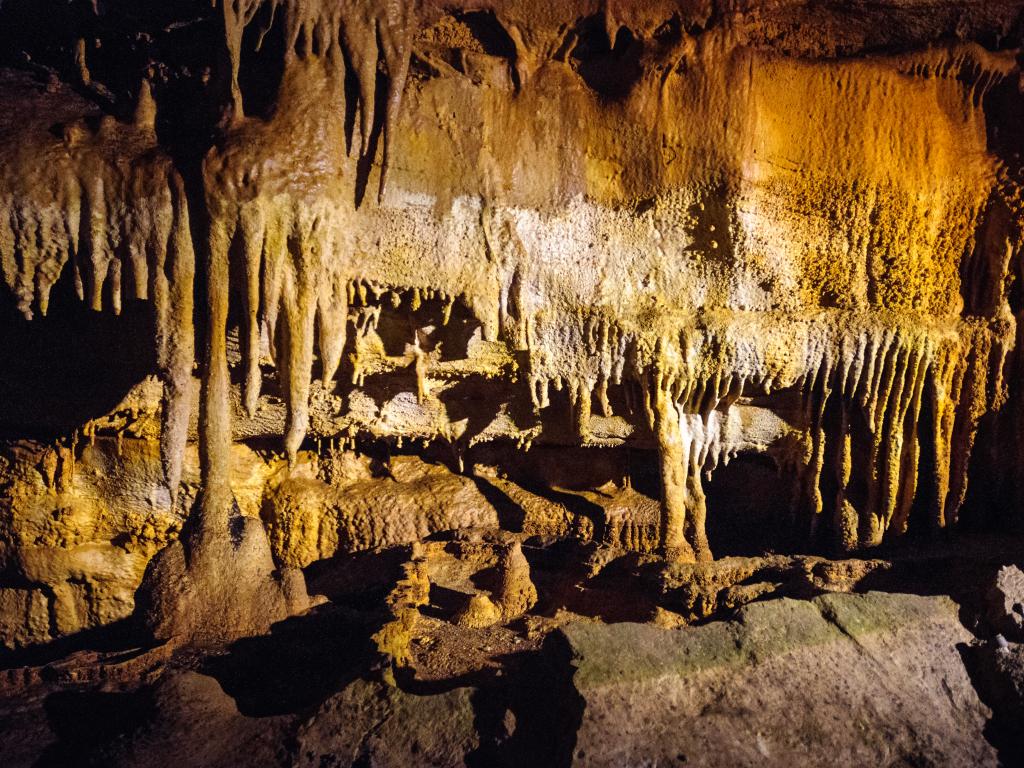 Best time to go on a road trip from Chicago to Nashville
You can do the road trip from Chicago to Nashville almost any time of year and find something to enjoy, although Nashville's peak season is unique in that it lasts over 6 months.
Nashville is generally bustling and active while the weather is pleasant - mid-spring to mid-fall is when many of the local music festivals take place, attracting major crowds.
Be warned that mid-summer temperatures can reach the 90s, not to mention that the city can go from blazingly hot to massive rainstorms at the drop of a hat this time of year.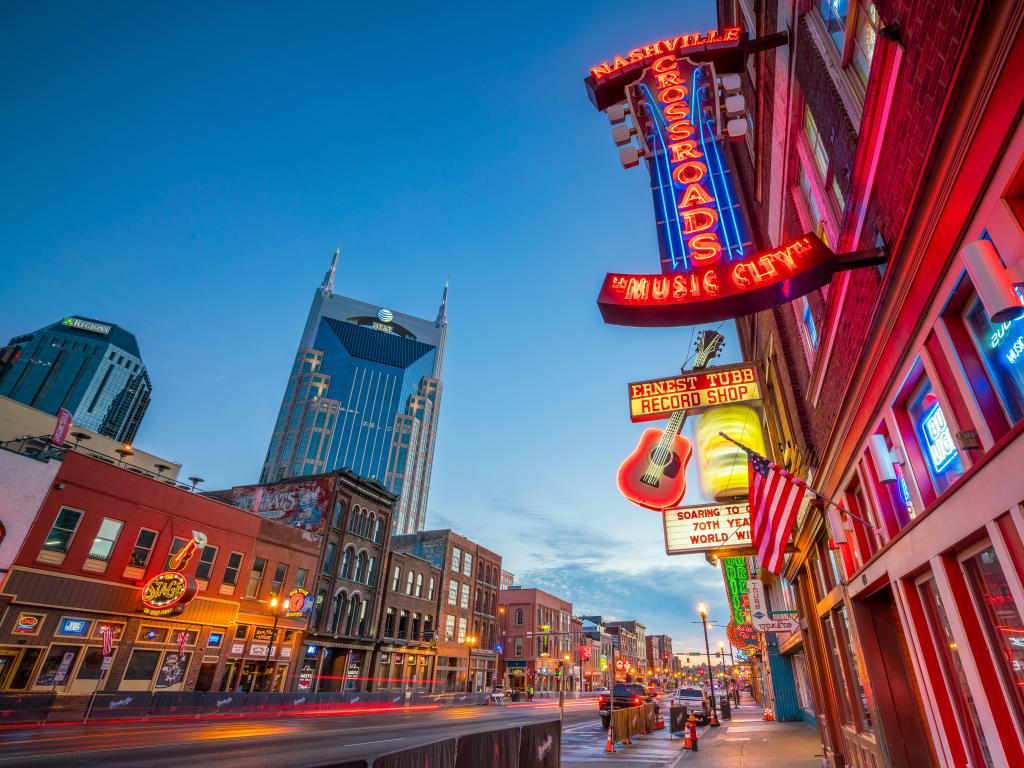 Although there's not as much to check out, visiting in late fall might also be a decent option if you're just looking to roam the city. Temperatures in November hover around 60 degrees, and hotel rooms come really cheap too.
Another viable alternative could also be winter, assuming you don't mind the constant 50-or-so degrees. If you're looking to keep your trip quiet, the city has relatively few visitors in February, and the weather gets noticeably warmer around early March.
You may also want to plan your trip around some of the stopover towns, as they all have their own seasonal highs and lows. For instance, Louisville summers tend to be on the rainy side, while St. Louis' hotel prices skyrocket around June.